14 Ways to Hack a Slurpee into a Crafty Cocktail Creation
Jul 11, 2016
Today is July 11 (as in 7/11), and is also known as 7-Eleven National Slurpee Day. Since the only thing better than a free slushy drink is a boozy slushy, it's normal to daydream about the flavor combos and boozy additions you can hack today. If hum-drum rum and Coke is what comes to mind, it's time to up your game. With plenty of new Slurpee flavors like Piña Colada, pineapple mango and banana, the tropical drink combos are endless. Think beyond your liquor of choice to include extra fruit flavors and herb garnishes, like apple slices and muddled mint. Here are 14 ingenious frozen cocktails that will inspire your next spiked Slurpee creation.
---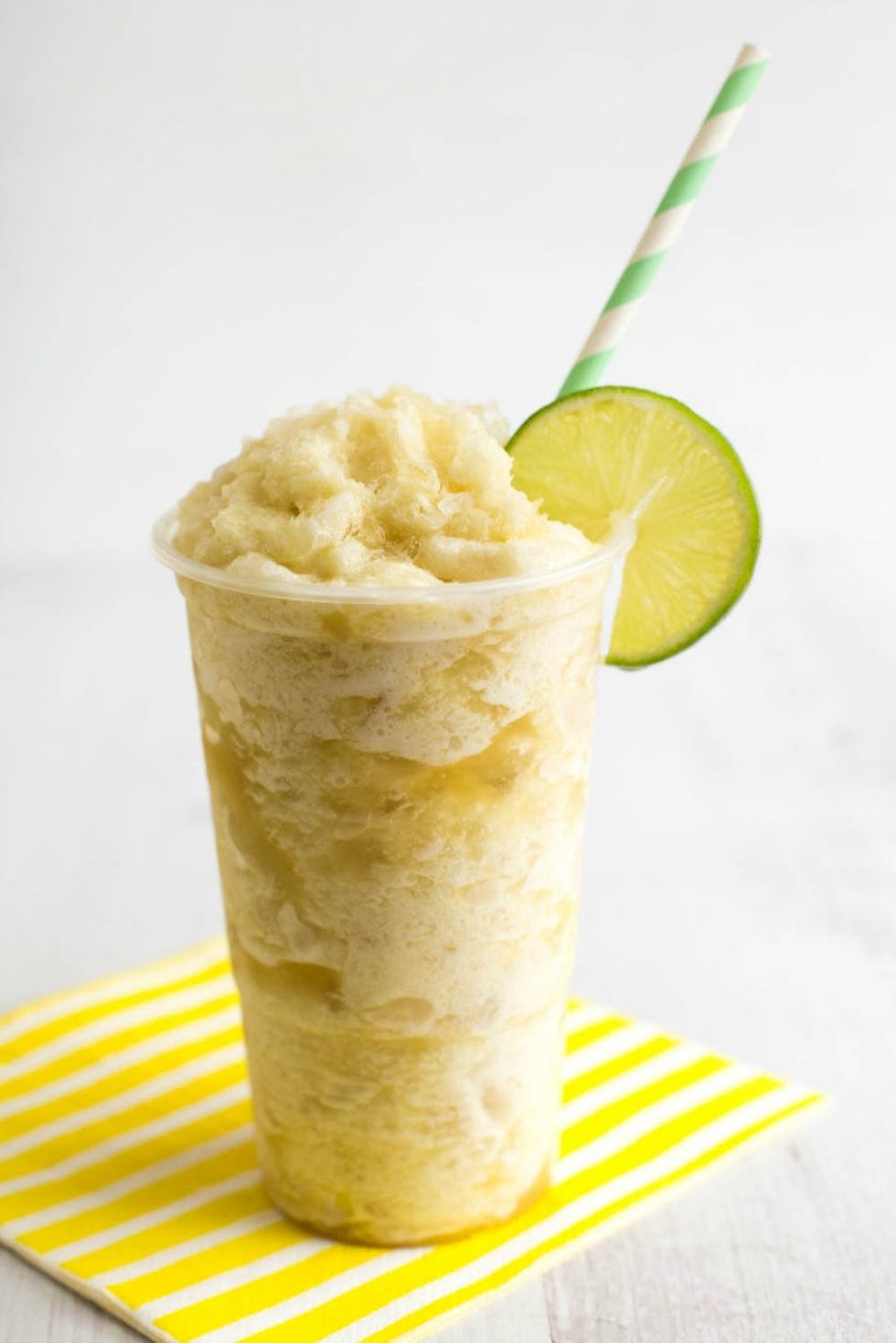 1. Homemade Slushies: Homemade lime and pineapple slushies are quick and easy to make, and they're the perfect icy refreshment at the end of a long, hot workday. This recipe calls for pineapple ice cubes, but you can achieve the same flavorful bliss by using a Pineapple Mango Slurpee — just add your choice of liquor and a squeeze of lime. (via Brit + Co)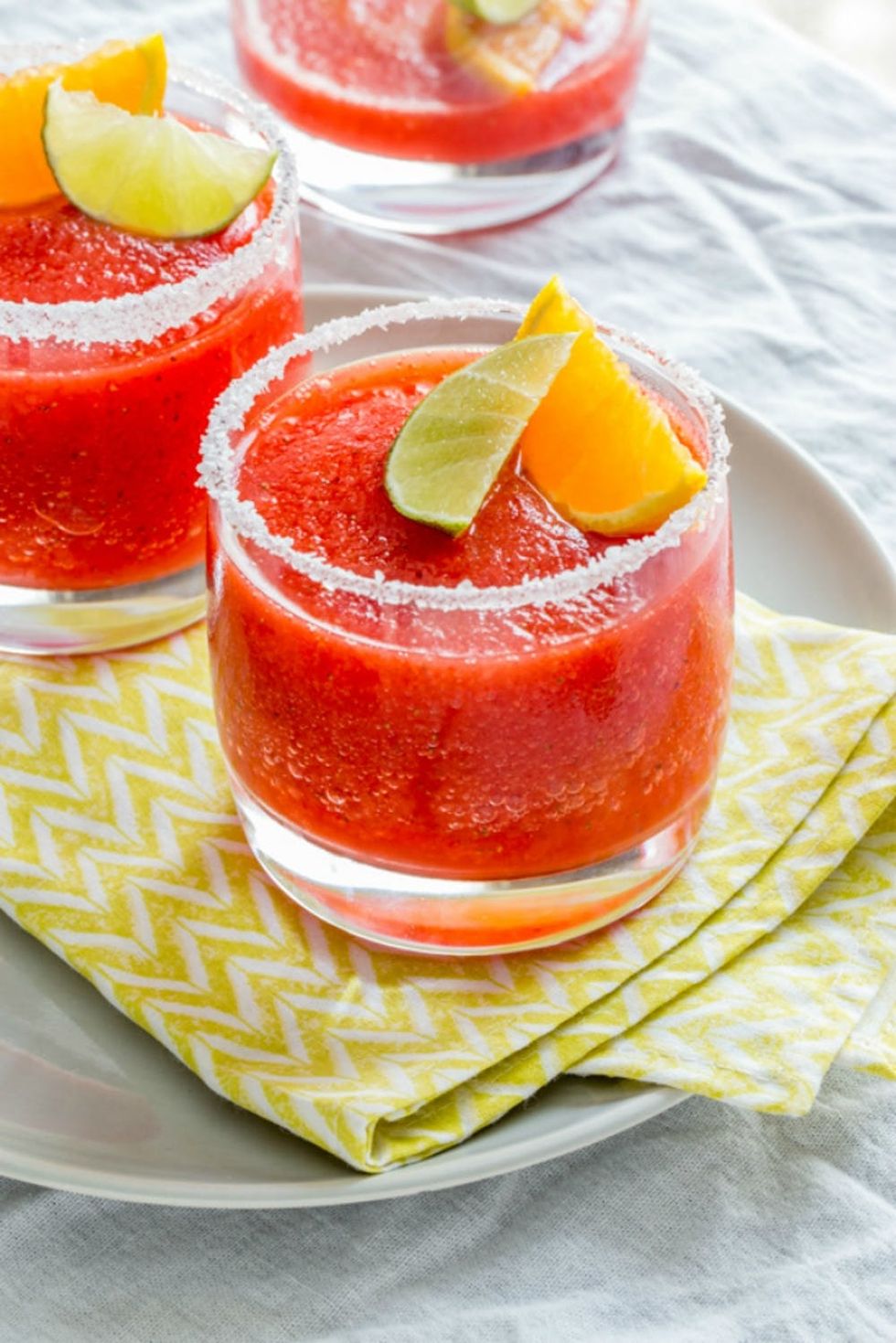 2. Strawberry Margaritas: Like most traditional margarita recipes, this one calls for chopping fresh fruit and boiling up a simple syrup, but you can forget all that and jump-start yours by hacking the new Sour Patch Red Berry Slurpee. Spike with tequila and garnish with lime and an orange wedge, and don't forget to salt the rim if you want that authentic brine. (via Jelly Toast)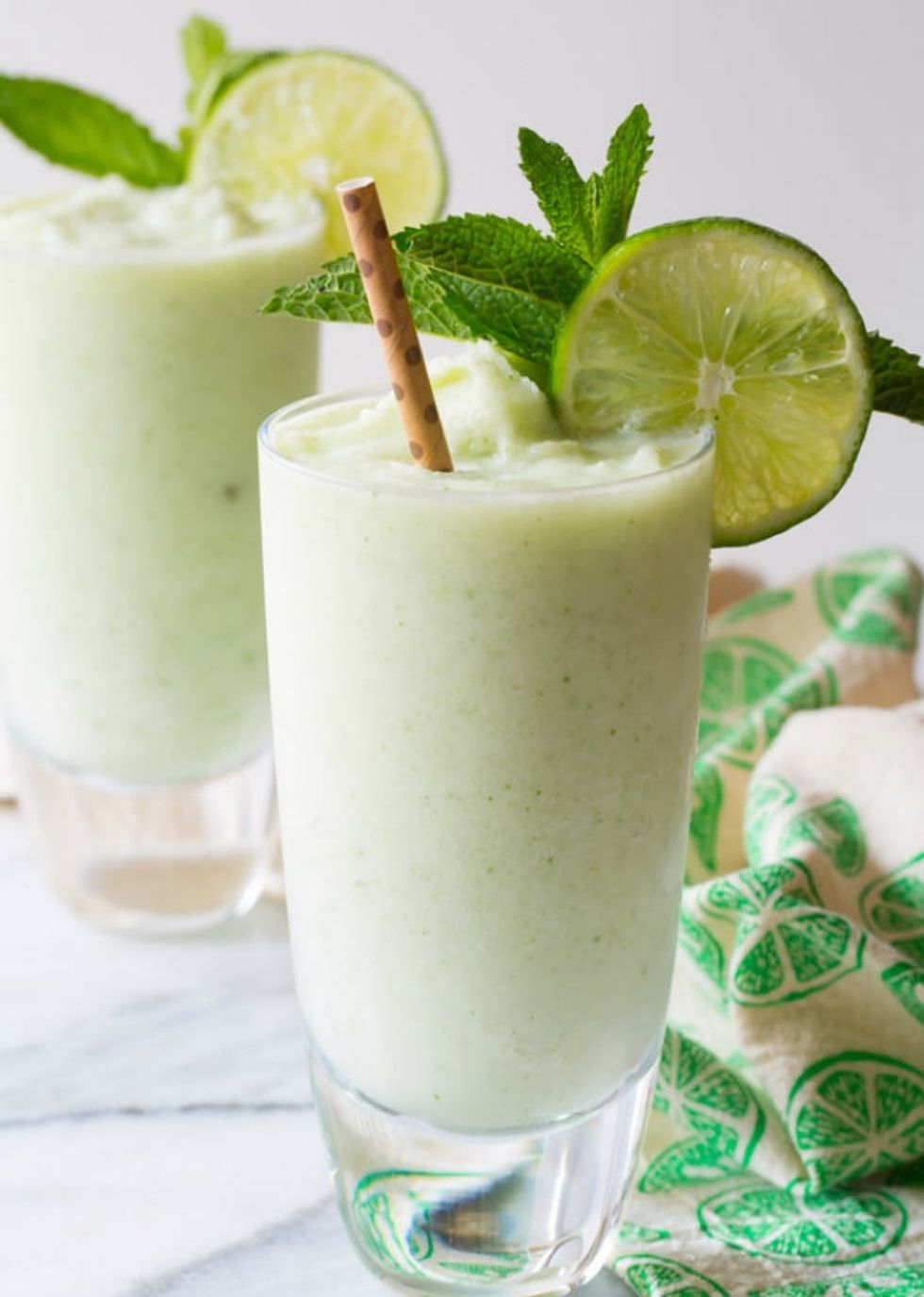 3. Frozen Coconut Mojito: Frozen coconut drinks are SO delicious that they immediately transport you to a hammock on a warm, sandy beach somewhere — at least in your imagination. But don't bother breaking out the blender since you can get this one started with a Piña Colada Slurpee. Just add rum and muddled mint to get you on your way to the Caribbean. (via A Spicy Perspective)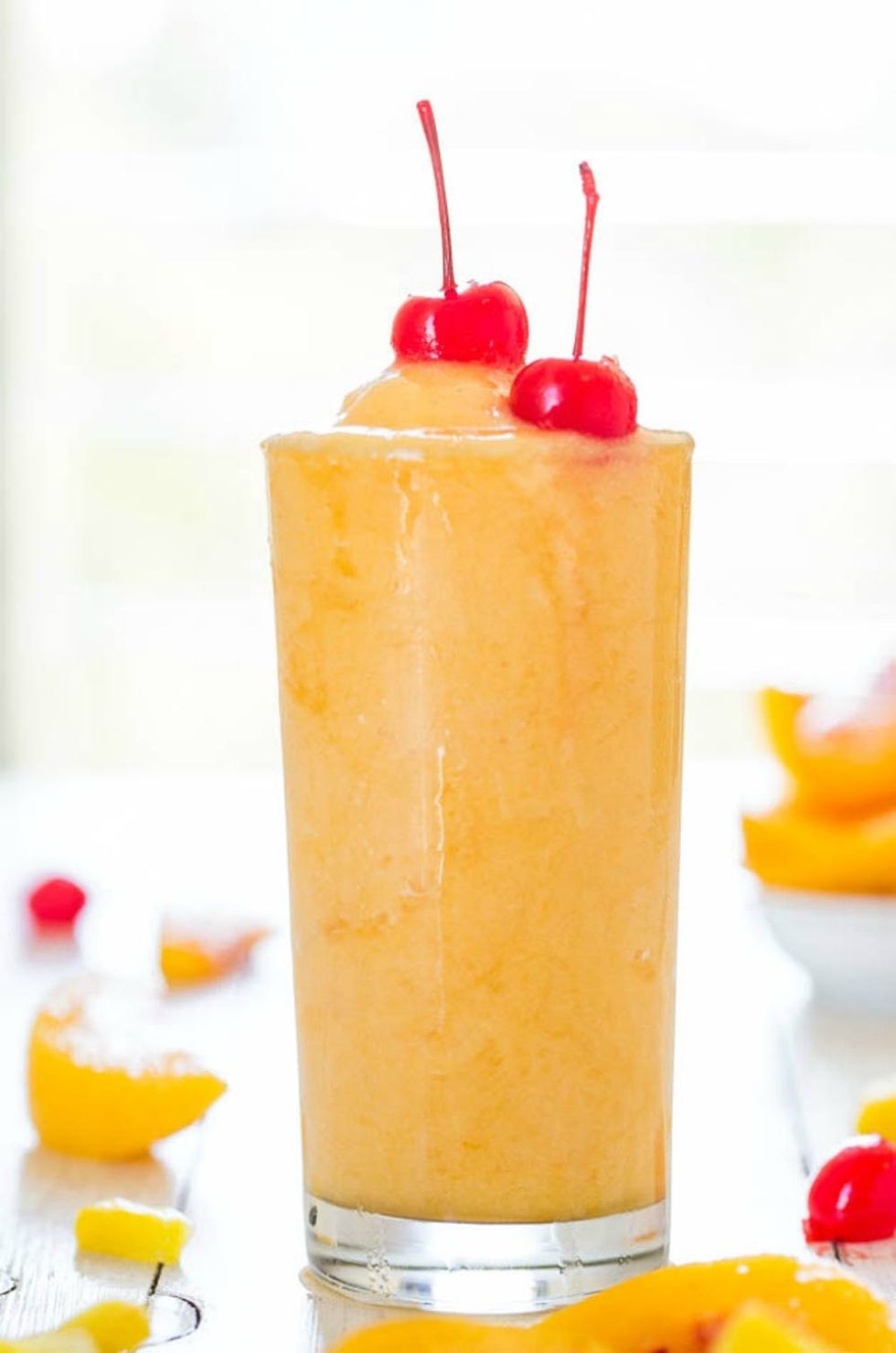 4. Tropical Peach Pineapple Slushies: This sweet tropical cooler calls for fresh peaches and pineapple, but you can get all the right flavors by hacking the new Pineapple Mango Slurpee. Just add Malibu spiced rum, vodka and peach schnapps. And don't forget the Maraschino cherry on top for a pop of festive color! (via Averie Cooks)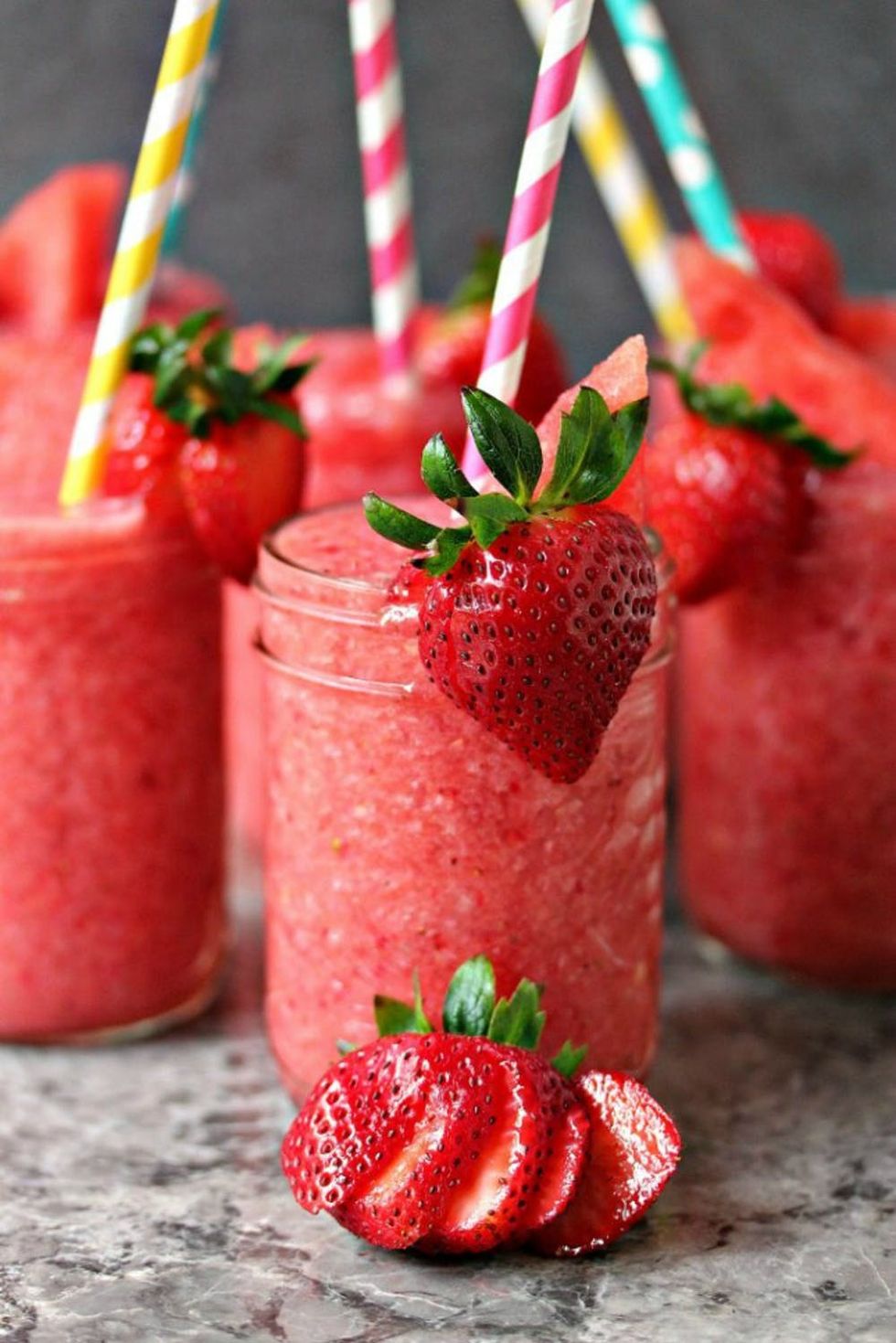 5. Boozy Strawberry Watermelon Slushies: This ruby red slushie calls for fresh strawberries and watermelon, but you can achieve the same flavor nirvana by grabbing a Blue Raspberry Slurpee and spiking it with watermelon-flavored vodka. Bonus: Blue drinks have a cheerful summer vibe. (via Cravings of a Lunatic)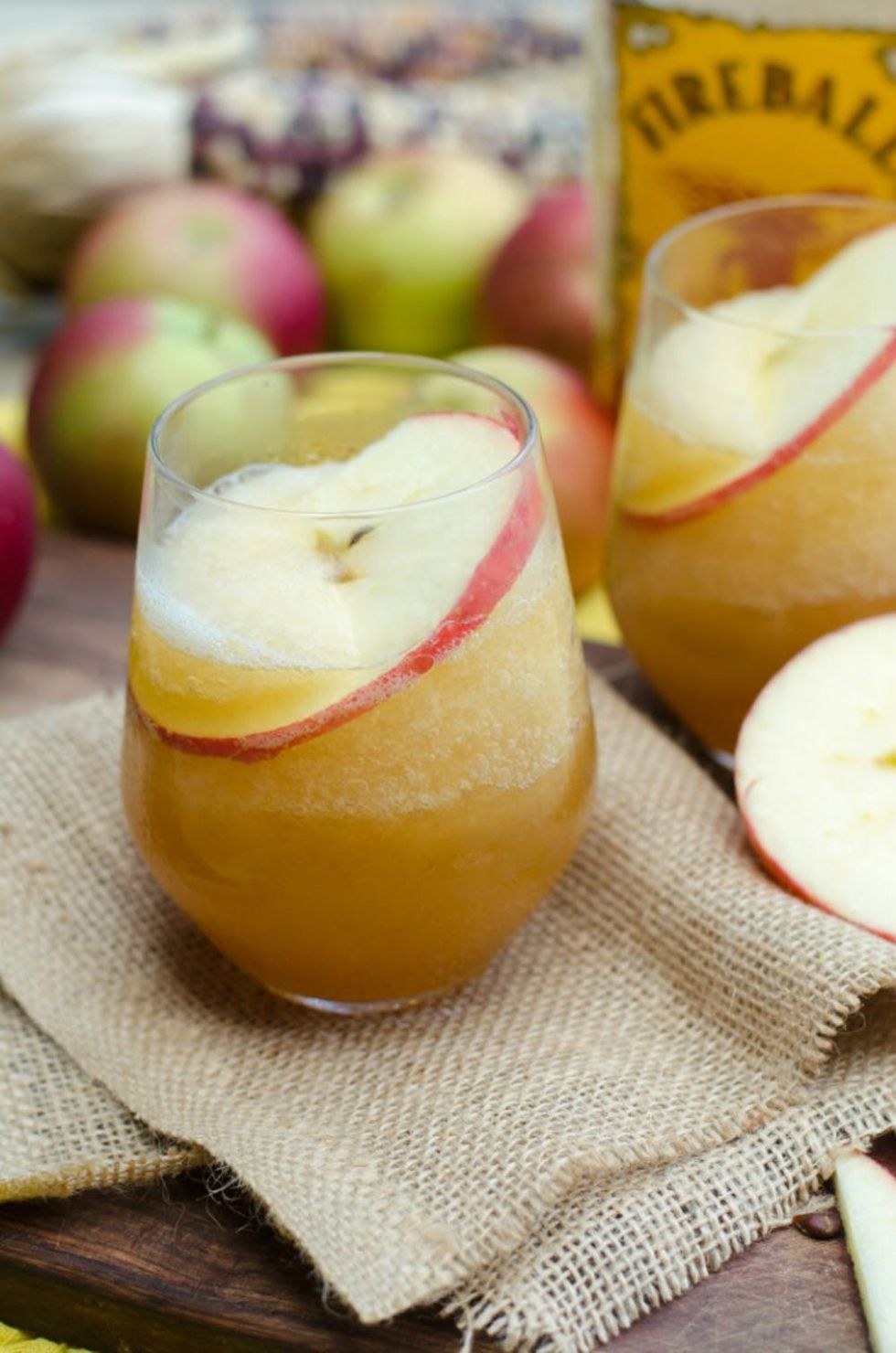 6. Apple Cider Fireball Slushie: Apples and cinnamon are a natural flavor combo, so this drink goes down real easy (think: a liquid caramel apple). Start yours with the new Fanta Birthday Cake Slurpee, with its strong caramel-vanilla flavors, then add a shot each of cinnamon whiskey and apple schnapps. Don't forget the apple slices for garnish. That boozy piece of fruit to eat when you get to the bottom of the glass is part of the package. (via Go Go Go Gourmet)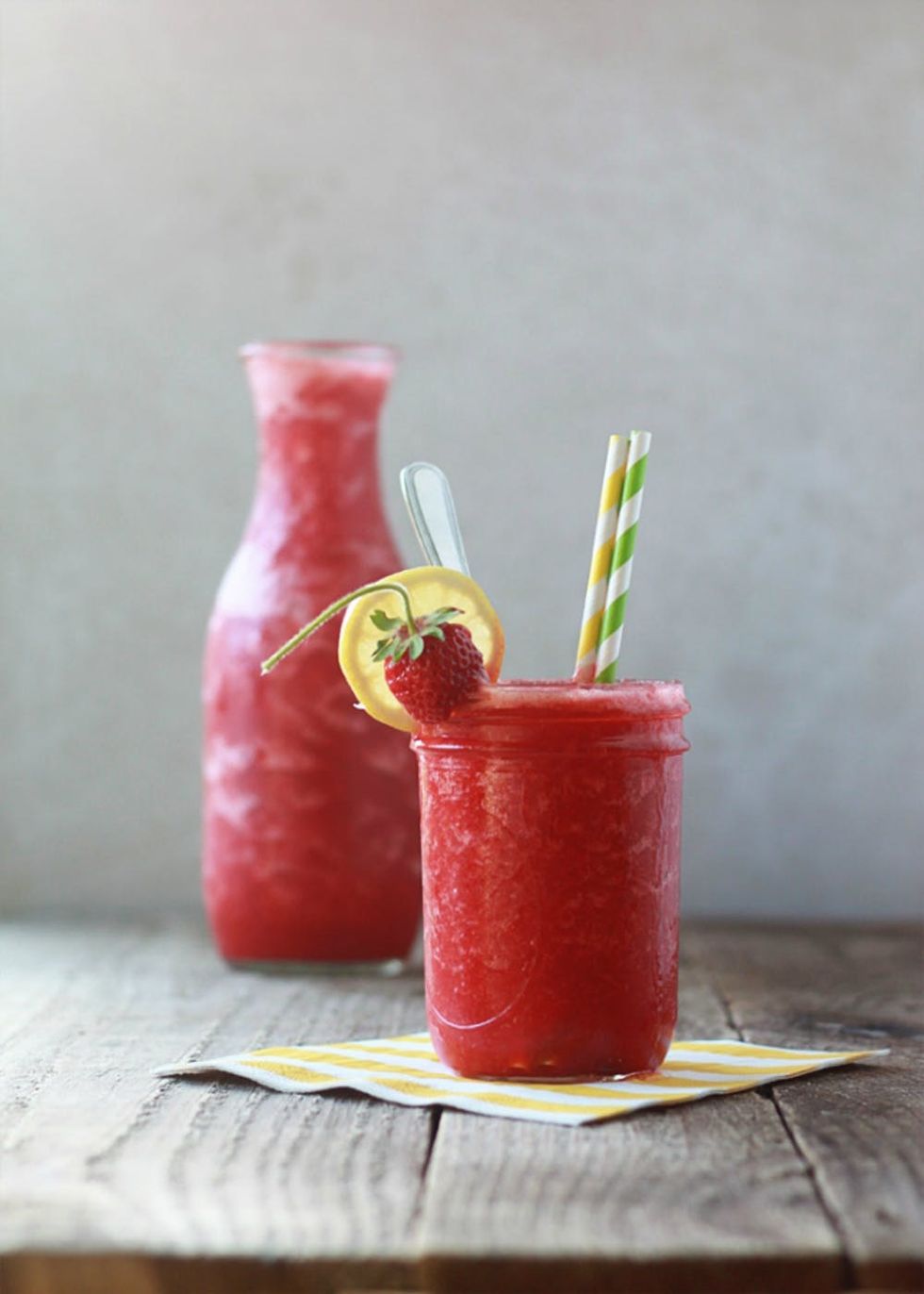 7. Boozy Strawberry Lemonade Slushies: There's nothing like the sweet and sour combo of strawberries and lemonade. The tartness of the lemon is a real palate cleanser in an otherwise sweet drink, and SO refreshing on a hot day. The same yin-yang flavor combo is what makes a Sour Patch Redberry Slurpee so delicious. Just spike yours with a shot of vodka and you're good to go. (via Kitchen Treaty)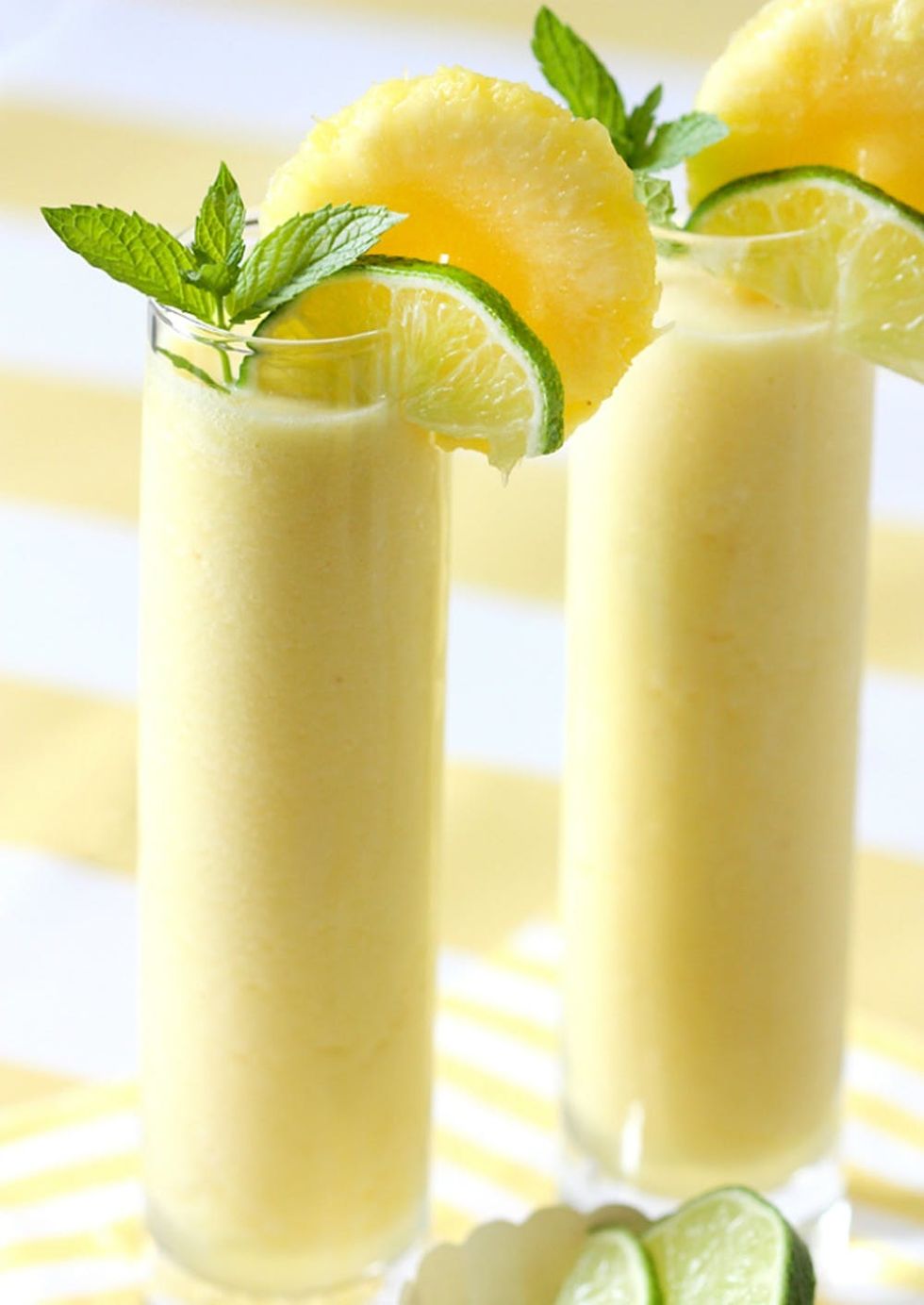 8. Pineapple Coolers: With the flavors of lime, pineapple and coconut mixed with rum, this drink is reminiscent of a traditional Piña Colada. Start yours out with a Piña Colada Slurpee, then spike it with rum and you can skip all the traditional prep work to just fast forward to the kick back and the "ahhhhhh." (via Pizzazzerie)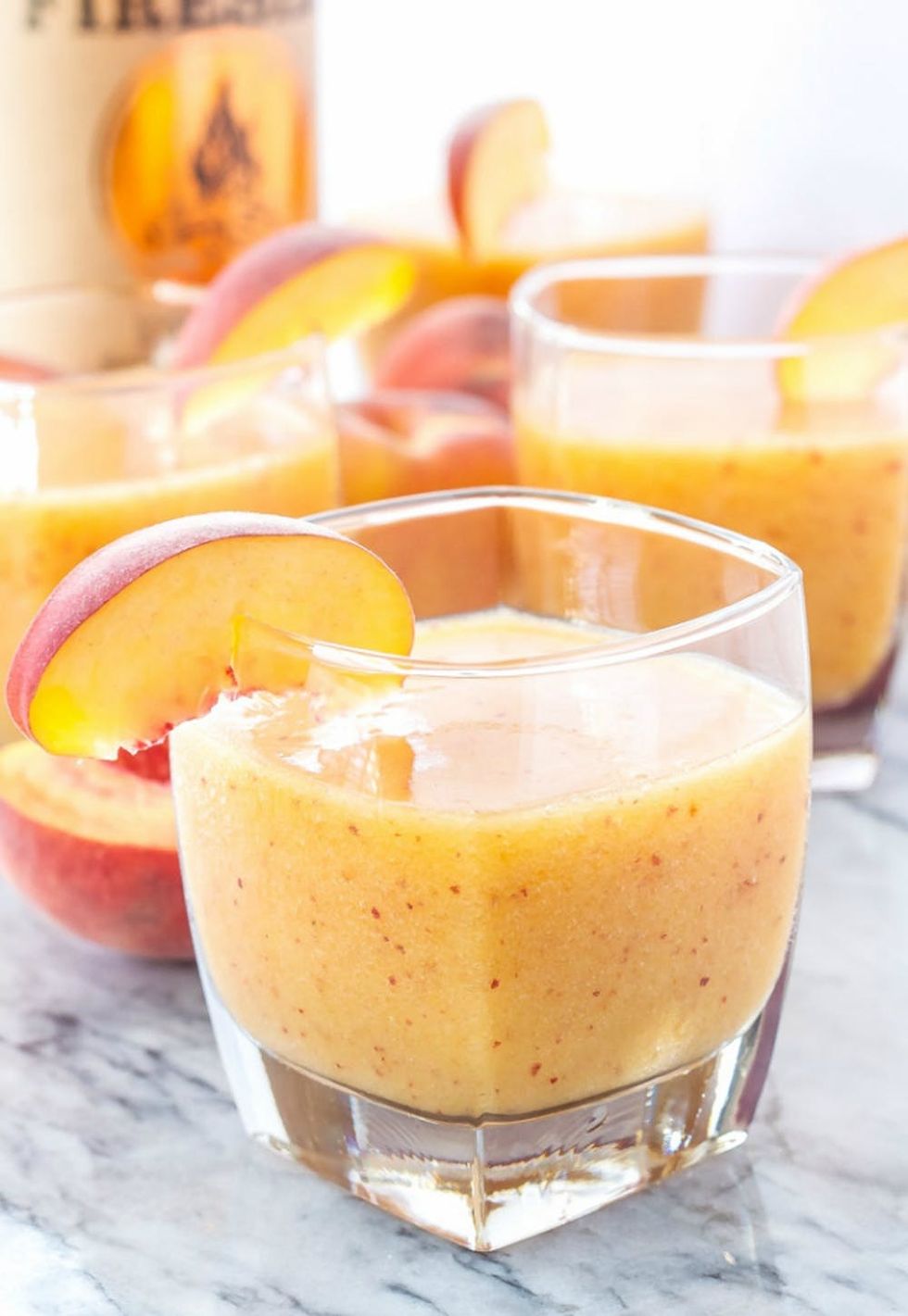 9. Bourbon Peach Slush: Summer peaches aren't here yet, but you can still enjoy an instant peach slushie. Grab your freebie Pineapple Mango Slurpee, add a glug of peach schnapps and a shot of bourbon, then find yourself a porch to kick back on. This tasty Southern combo is going to reset your body clock to instant relaxation mode. (via Recipe Runner)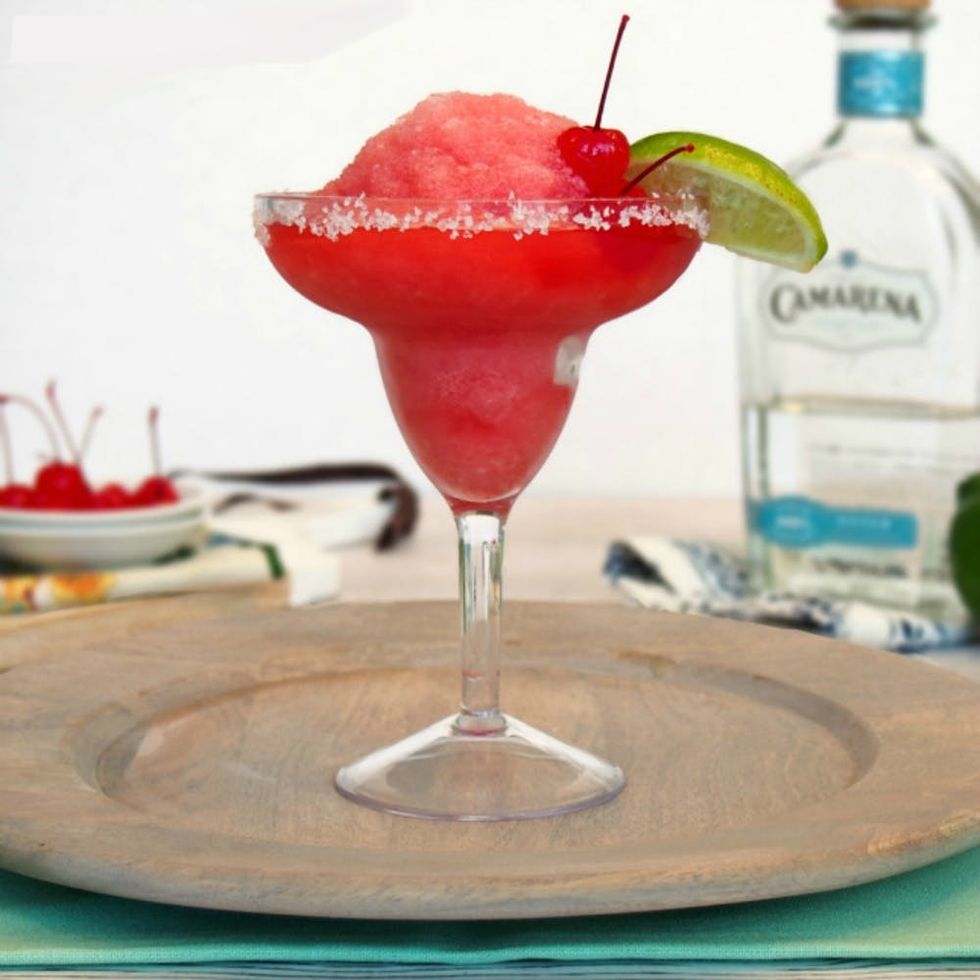 10. Cherry Limeade Margaritas: This sweet 'n' sour combo is tailor-made for a Sour Patch Redberry Slurpee hack; just add a few shots of tequila. This one's so easy! Here's the group text to your buds: "Meet parking lot 7-11 Slurpee Day; par-tay back at my place." (via The Cookie Rookie)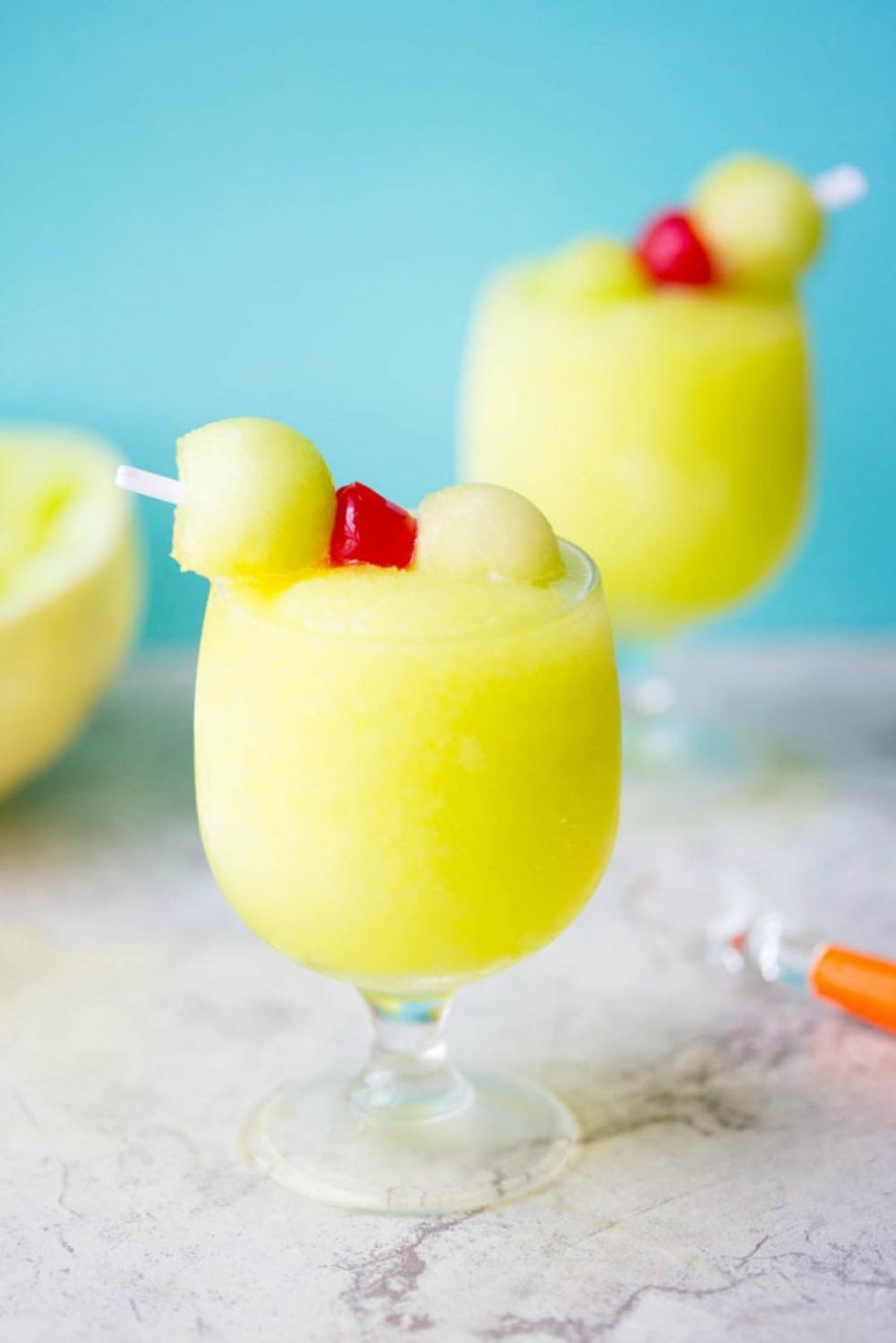 11. Spiked Melon Ball Slushies: This drink calls for Midori melon liqueur and melon-flavored vodka mixed with crushed pineapple. You can get the same delicious flavor combo in no time by recreating this cocktail with a Pineapple Mango Slurpee. If you've got some melon ice in your freezer, it's time to break those goodies out now. (via Slim Pickin's Kitchen)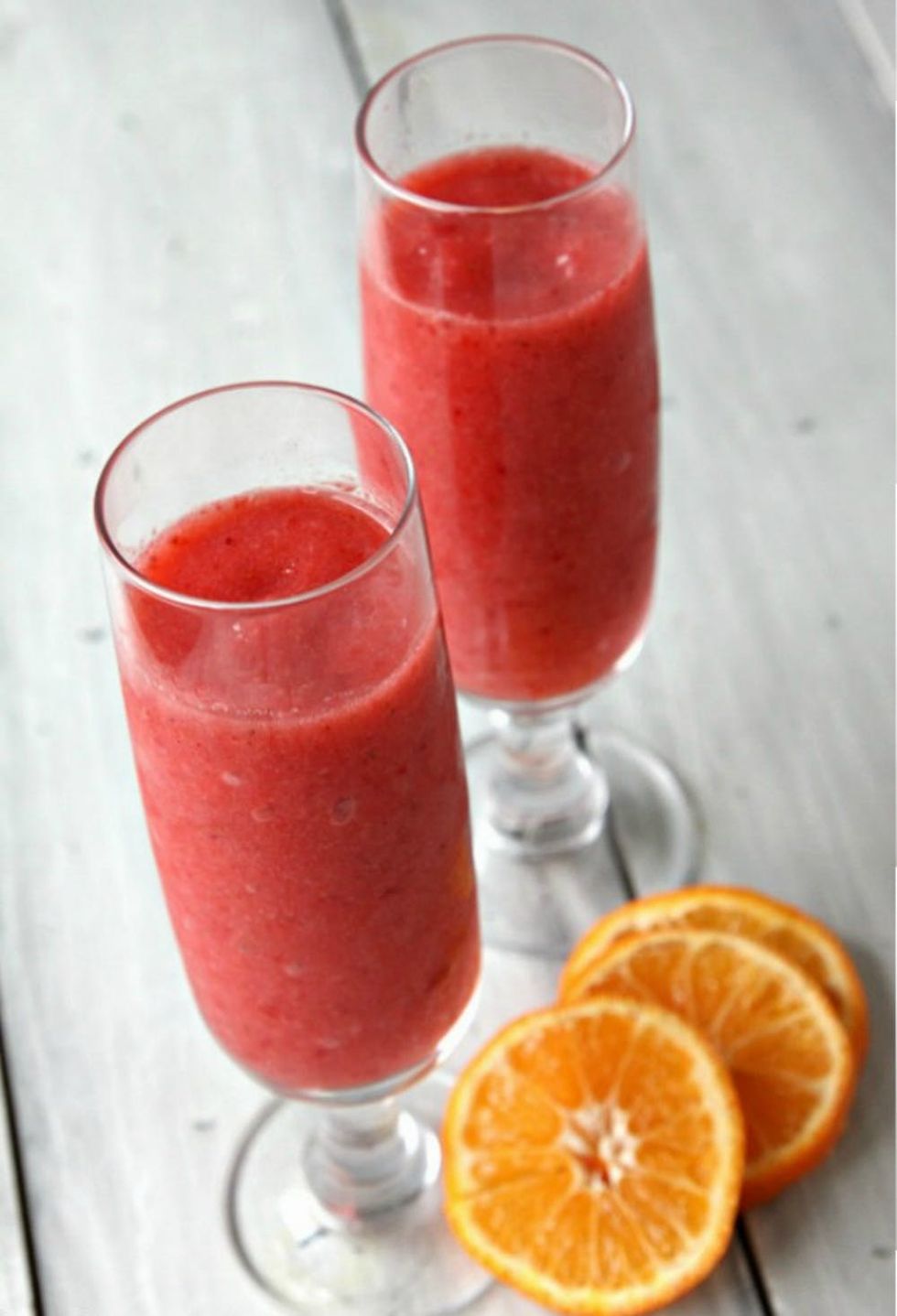 12. Strawberry Prosecco Slushie: You may not immediately think of sparkling white wine when you think of spiked Slurpees, but strawberries and fizz are a classic combo. Grab yourself an Air Heads Xtreme Rainbow Berry Slurpee and pop the cork on some Prosecco. Your cup will runneth over with bubbly, slushy deliciousness. (via Snappy Gourmet)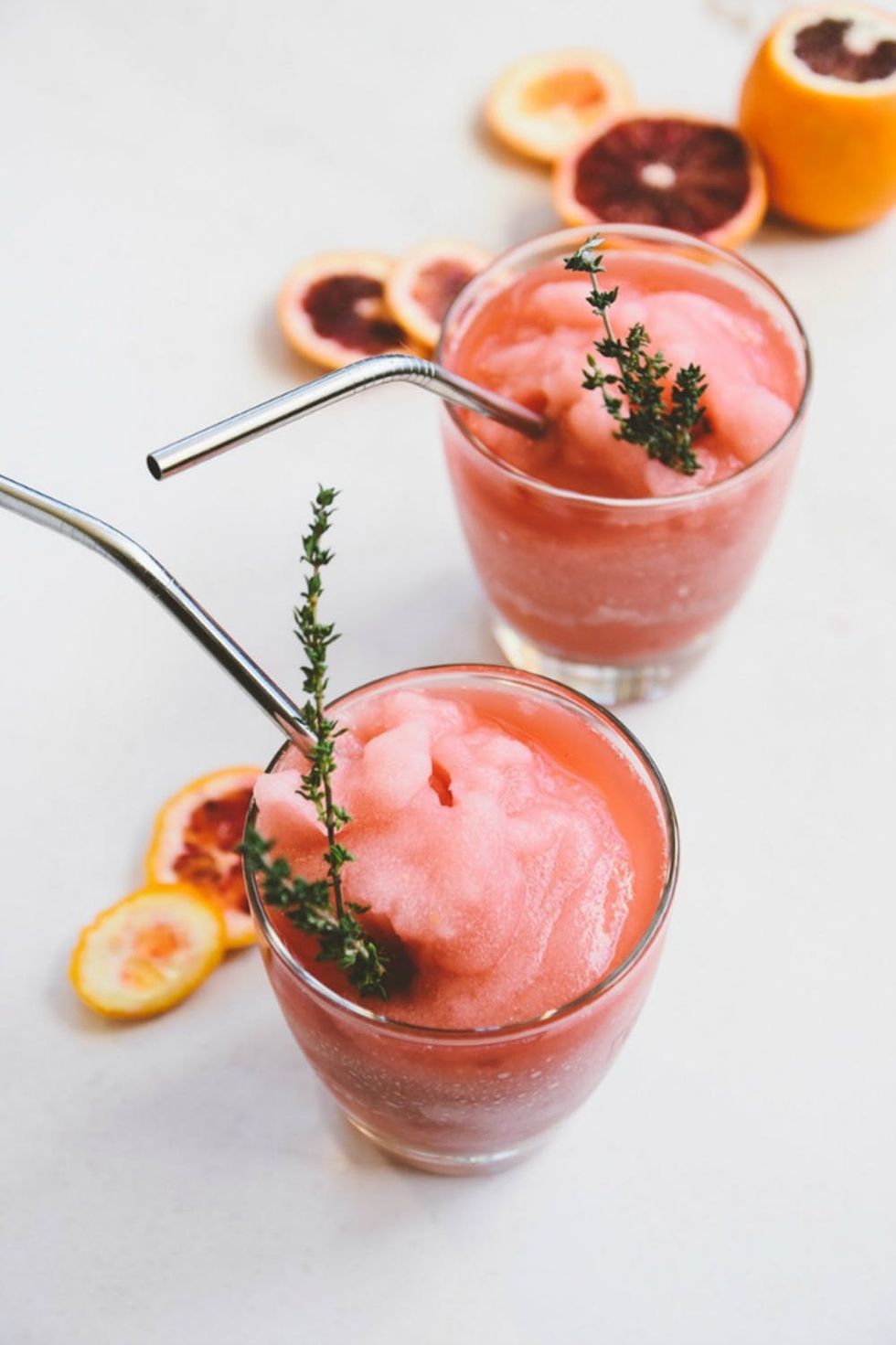 13. Frozen Blood Orange Negroni: Equal parts gin, Campari and sweet vermouth, the classic Negroni cocktail pairs bitter with sweet. This recipe calls for blood orange juice, so you can get a similar effect on free Slurpee day by spiking a Pineapple Mango Slurpee with the same bitter liquors and a splash of blood orange purée. Don't forget the rosemary sprig that looks SO festive. (via The Kitchn)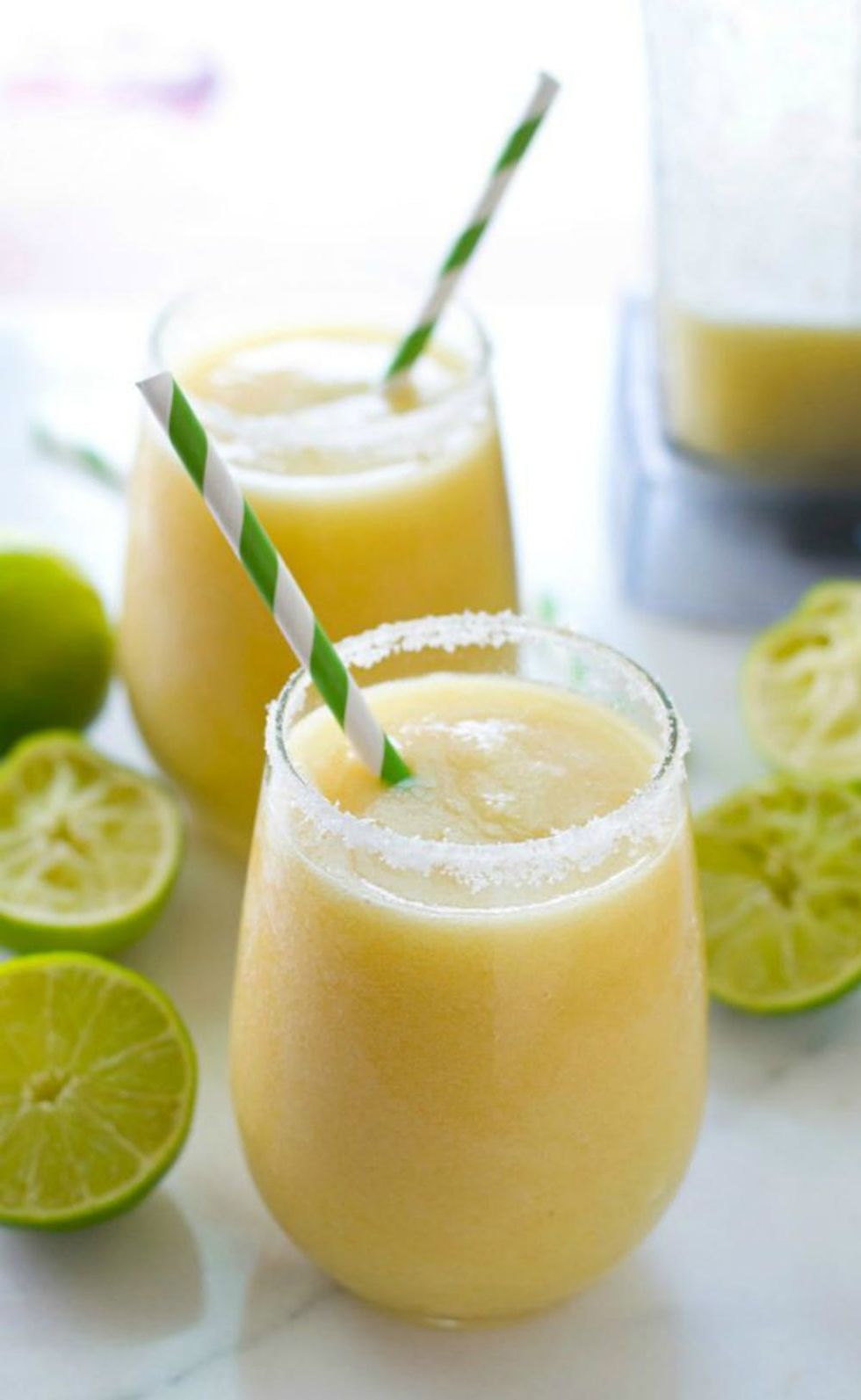 14. Tropical Pineapple Margarita Slushies: This recipe calls for triple sec to sweeten up the pineapple and lime juice, but a pineapple-flavored Slurpee is already sweet. You can hack this baby by taking a Mango Pineapple Slurpee and adding a glug of tequila. You'll be singing "Margaritaville" in your flip-flops in record time. (via Whole and Heavenly Oven)
Are you drooling over boozy Slurpee inspo? There's more where this came from. Follow us on Pinterest.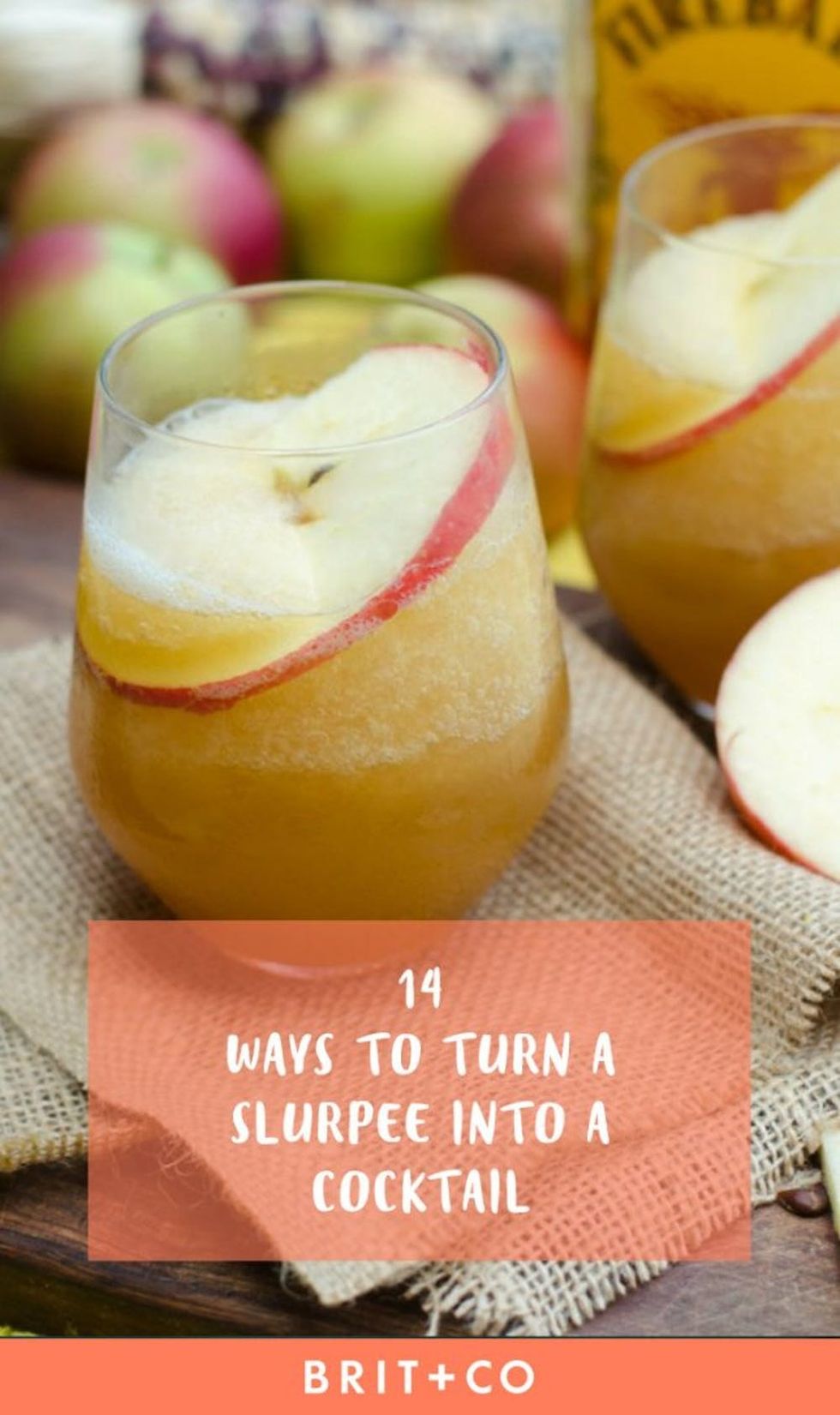 Sally Jones
Sally Jones is a writer and editor living in New York City. She has worked at many websites including iVillage, Ladies Home Journal, More, Parenting, Cosmopolitan, The Knot and YourTango, in jobs ranging from editor to COO. Renovation and interior design are her
unhealthy obsessions
hobbies. She has renovated every home she's lived in, including the rentals, and like... whoa, who does that? You can catch her at her blog
Renov8or
.