I Kept a Spending Diary for a Week and This Is What I Learned
Apr 17, 2017
Religion, sex, politics, and money. They're the taboo topics we're not supposed to talk about, but damn if they aren't the most important issues women should be discussing! We totally understand that even among your closest BFFs, it can be awkward to lay your finances on the line. (We allspend too much money on pizza and wine, or is it just enough?) But sharing our savings struggles and Amazon Prime addictions can make us feel less ashamed about our spending habits and give us real motivation to spend smarter. Accountability partners FTW!
Which is precisely why I decided to chronicle my own spending for a week. Before we get started, let me just say I'm sure I can use some budgeting tips. But in my defense, it was my birthday week and I finally started making enough money as a writer — after about seven years of struggling as a self-employed business owner and part-time writer — to indulge a little. Let me live! Next weekend is definitely going to be a spending-free weekend, pinky promise.
---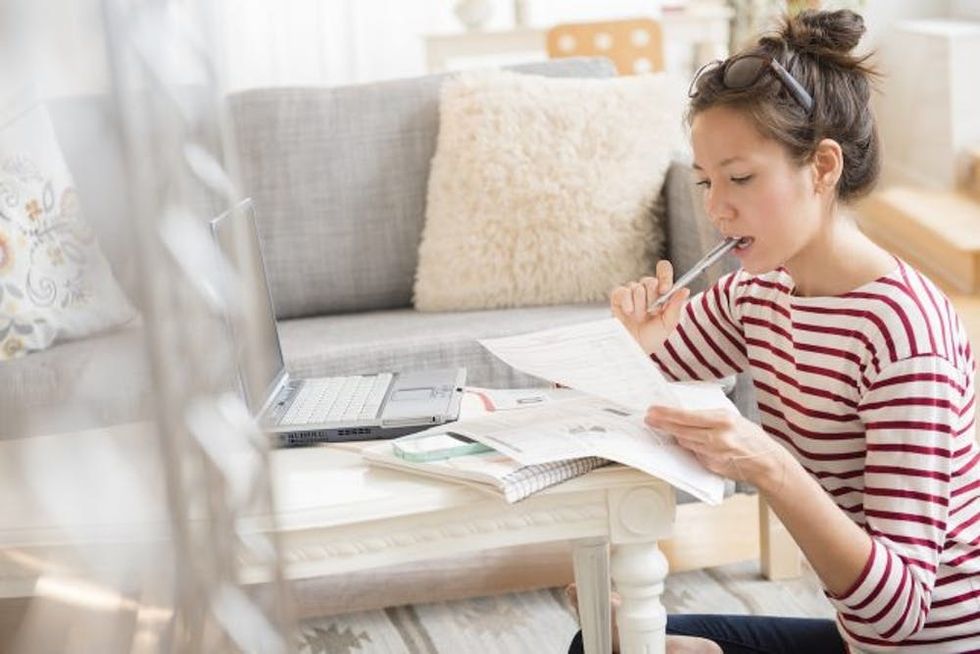 my monthly expenses
For reference, here are my monthly expenses (I won't include these payments in the diary): rent, electric, student loan, credit card, car payment, savings, and car insurance. That equals out to about $2,000 a month. I recently moved to a city with public transportation, so I'm looking to sell my car, which will cut down my costs significantly. My apartment building takes care of the WiFi, and my employer pays for my health insurance.
Monday
I bought groceries on Saturday for the week that totaled about $30. I know that I'm going to be dining out quite a bit because it's my birthday week, so I bought accordingly. I have a croissant for breakfast, and lunch was leftover zucchini noodle pad thai. Dinner was a quinoa and spinach bowl with sweet potato, beets, and chèvre. I also have a glass of wine with dinner (because obviously) from a $12 bottle of rosé I picked up Friday after work. $0
A couple weeks ago, I bought a backpack on super sale at a retailer that shall remain nameless. It never arrived (even though it said it was delivered) and when I called, they said they'd have to offer me a refund since the backpack was out of stock. Huge bummer. I hop on their site today — just to check! — and lo and behold, there was the backpack, still on sale but not super sale. I buy it again on the spot and sent an email to their customer service team asking for a shipping and sale difference refund. TBD if I get it. Right now though we're looking at $62.45.
My coworker and I both have in-store pick-ups ready at the Anthropologie near our subway stop today. I bought the Volcano reed diffuser last week for my bathroom because I'm super paranoid that my apartment smells. It cost $20.74 when I bought it last week, but I didn't buy anything new today. $0
Total: $62.45
tuesday
It's my coworker's birthday today, so I treat her to a coffee. Okay, I treated myself to one too. $6.05
I have a first date tonight! We meet up at a cute wine bar down the street from my place. Sparkling conversation, sparkling wine, and a split tab of $40.22 with tip. Worth it.
Total: $46.27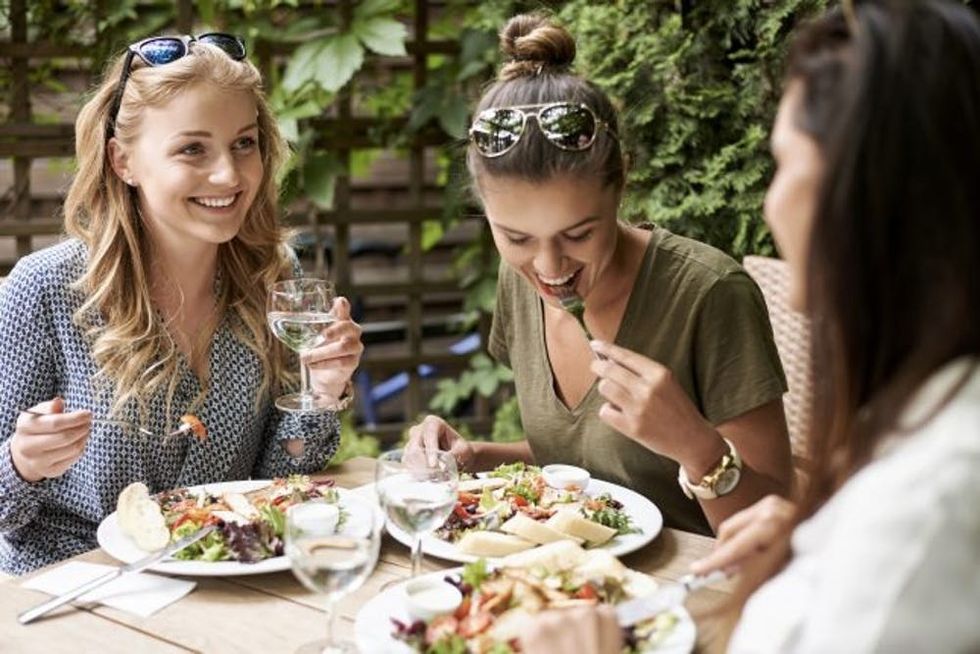 Wednesday
I eat oatmeal and almond butter for breakfast and have a green smoothie from the cafe for lunch. $7.42
A friend got accepted into a dance showcase with a piece she choreographed herself. She's performing next week, so I grab a ticket online for next weekend's opening night. $13.71
Since my birthday is on Friday, my coworker and I go out to eat tonight for a joint birthday celebration. We settled on a small Italian spot where I get a full pizza: Brussels sprout truffle with a poached egg. OMG, it is divine. I had one glass of wine. With tip, my meal came out to $37.02.
Total: $58.15
Thursday
I have a group of friends from home coming in tomorrow for my birthday weekend, so I spend this evening cleaning and prepping for their arrival. I have to get $10 in quarters for laundry, and I spend $21.59 on a bottle of Cremant. I try and keep my wine budget low if it's just for me, but I'll splurge a little when there's something to celebrate with friends. Otherwise, I have oatmeal for breakfast, I don't eat lunch (oops!), and I have leftover pizza for dinner.
Total: $31.59
Friday
Today is my birthday! Hooray! My lovely team brings in a latte, doughnuts, cupcakes, cannoli, and croissants, so I subsist on sugar and caffeine treats until I leave work at 3pm. $0
My first date on Tuesday turned into a second date. He buys me a drink before my friends arrive at 7pm. He's cute, and celebratory cava is a must on your birthday. $0
There's nothing like hugging old friends for the first time after not seeing them for months. It feels good to be with these girls! We head to dinner where we split a bunch of small plates, and I have two glasses of wine. The truffled pappardelle is out of this world. $31.59
After dinner, we take an Uber to a speakeasy a couple miles away. I pay for our ride. $7.99
We get lost in hours of conversation and sip on two super fancy cocktails along the way. With tip, my part of the bill comes out to $33.80.
Total: $73.38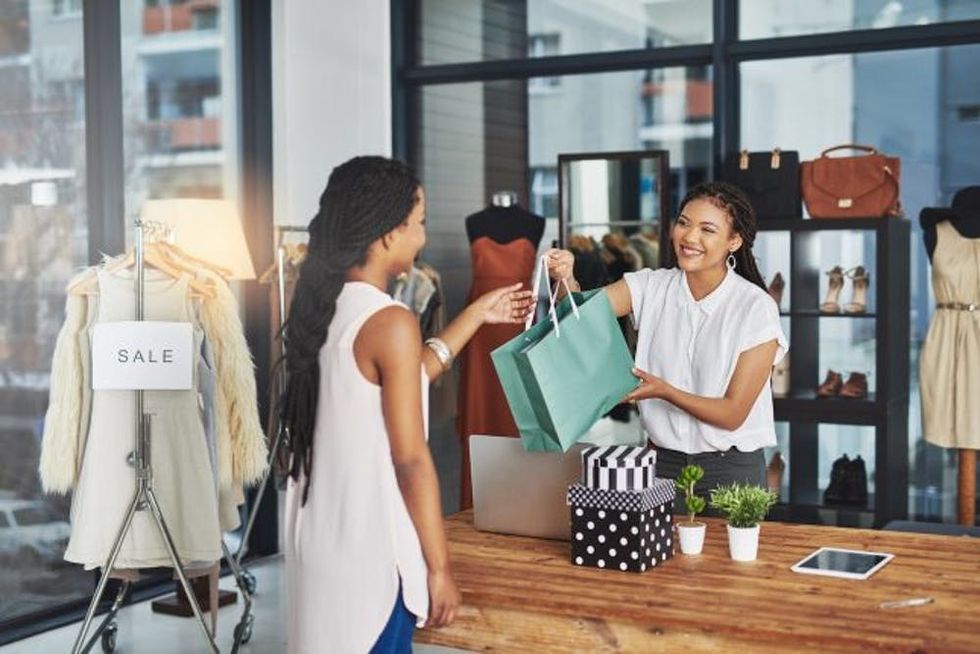 saturday
Ugh. I'm too old for this. We wake up way too early after going to bed way too late. To help cure the hangovers, we get bagel sandwiches and coffee for breakfast. $11
We spend the morning wandering around the art museum. I'm a member, so I get in free! $0
After getting sufficiently cultured, we need a snack. We split a salad at sweetgreen, and I get a ginger lemonade. $7
Shopping is a must when you're with your girlfriends on a birthday bender, so we pop into a few of our favorite spots. I pick up a caftan at Buffalo Exchange and a keychain at Madewell. $22.34
Spanish tapas is on tap for tonight's dinner. We split a ton of small plates and a pitcher of sangria. I honestly think that when it comes to economical dining out, tapas is the way to go. It's only $34.26 a person with tip, and we got a ton of food. We scoot over to a cozy dark bar for two bottles of wine post-dinner. $22.50
I pay for our Uber home. $10.99
Total: $108.09
sunday
I hate goodbyes. We reminisce over our fun-filled weekend over lattes, fries, and omelets at a nearby French bistro for brunch. With tip, it's $24.18.
Once the girls leave on the train and I have a good cry (I hate goodbyes; did I mention that?), I start getting my life together again. I clean up, do some laundry, and catch up on emails. I also reload my subway pass with $10 for the next week.
Total: $34.18
what I learned
My total spending for the week: $414.11. I knew I'd be spending wayyy more on eating out than I usually do. While that number makes me look like the wide-eyed emoji, I'd already budgeted for the extra spending, so it's not a total shock. I'm going to be extra careful this coming week and eat at home. That reminds me — I have to get to the grocery store!
Do you have any budgeting tips to share? Tweet us @BritandCo and let us know what works for you!
(Photos via Getty)
Megan Parry
Megan Parry is a lifestyle writer living in Philadelphia where she's making generous use of her library card, obsessively reading friends' natal charts, and learning how to differentiate between "dried apricot" and "juicy apricot" notes in wine.
Adulting
Pocket doors are so delightful in and of themselves. They appear when you need them, get tucked away when you don't, and make it easy to define rooms while keeping an open floor plan. Add to the pocket door a joyful patterned wallpaper surprise, and you will be sent right into fits of visual jubilation! Or something ;) Today we're sharing two simple and impactful pocket door makeovers that zhuzh up your space in a jiffy.
Anjelika Temple here, co-founder of Brit + Co and proud owner of several pocket doors! When I moved into my first real grown-up house a couple years ago, I knew I wanted to incorporate wallpaper so reached out to our friends at Chasing Paper to see how we might collaborate. It felt like a total lightbulb moment when I realized I could create a surprise pop of pattern on a couple sets of pocket doors.
Not only is it a whimsical way to bring color into a space, but the doors double as picture-perfect backdrops for all your SFH (selfies from home, obvs).
A few pro tips about install:

Removable wallpaper is miraculously forgiving! You can take it on and off multiple times without it losing integrity (or mucking up your surface).
I ordered this adhesive wallpaper installation kit with a squeegee and xacto knife and it worked super well. I also recommend a sharp pair of scissors for cutting longer lines.
This is a two-person job! Get a friend, put on a playlist, and get ready to bond.
Wild, organic patterns like Tally are great because it's challenging to spot any imperfections in pattern alignment; keep pattern choice in mind if you've got a lot of corners to match up. More geometric patterns and larger shapes leave less room for error (but are awesome in their own right!).
BATHROOM POCKET DOORS
In our primary bathroom, we chose the wallpaper pattern Tally, designed by Kelly Ventura, in White and Navy. In our space, the navy reads as a soft black, which is perfect for the space. It's easy to combine an ever-rotating collection of linens with the Tally pattern.
I love how the white trim becomes the perfect frame around this pocket door piece of art.
My favorite moment in this space is the fact that you actually get a third pop of pattern thanks to our serendipitously placed mirror!
And yes, this one works pretty darn well as a backdrop too ;)
LIVING ROOM DOUBLE DOORS
This set of doors is definitely a focal point of our home. It separates our living room from our primary bedroom which opens onto our backyard. The doors are pretty much always open, but when they're closed we wanted to evoke a fun, nature-inspired vibe. With that in mind, we selected the Lines and Moons pattern by Thimblepress in Green and Brown.
Earth mama vibes up in here! I love how the shapes and colors echo the ferns you see through the windows and the acorn wood details throughout the house.
Love this pattern moment, and xacto-ing out the door handle is def on the oddly satisfying DIY list.
For a pattern lover like me, I love that now I have this instant photo backdrop!
Thanks to Chasing Paper for providing these rolls of pure pattern amazingness. Head to chasingpaper.com to find our own favorites and start adding patterns to your home!
Share your wallpaper wins with us on Instagram @britandco and find me @anjelikatemple.
(Wallpaper wingwoman: Kayla Haykin; Photography: Kurt Andre)
Home