15 Stylish Wedding Table Setting Ideas for Every Couple
Jun 27, 2016
One of the best parts of planning a wedding — after choosing your bachelorette party destination, of course — is how you can totally make it as unique as the two of you by personalizing the smallest details like table settings and tablescapes. While choosing the right plates and centerpieces might not make you as excited as choosing your white dress, you still want to wow your guests with the customized menus and vintage plates. Since no two couples are alike, we rounded up 15 creative and unique table setting ideas that will be perfect for just you two. Scroll on and get ready for that Pinterest board to get a whole lot prettier.
---
Table Settings for the Modern Couple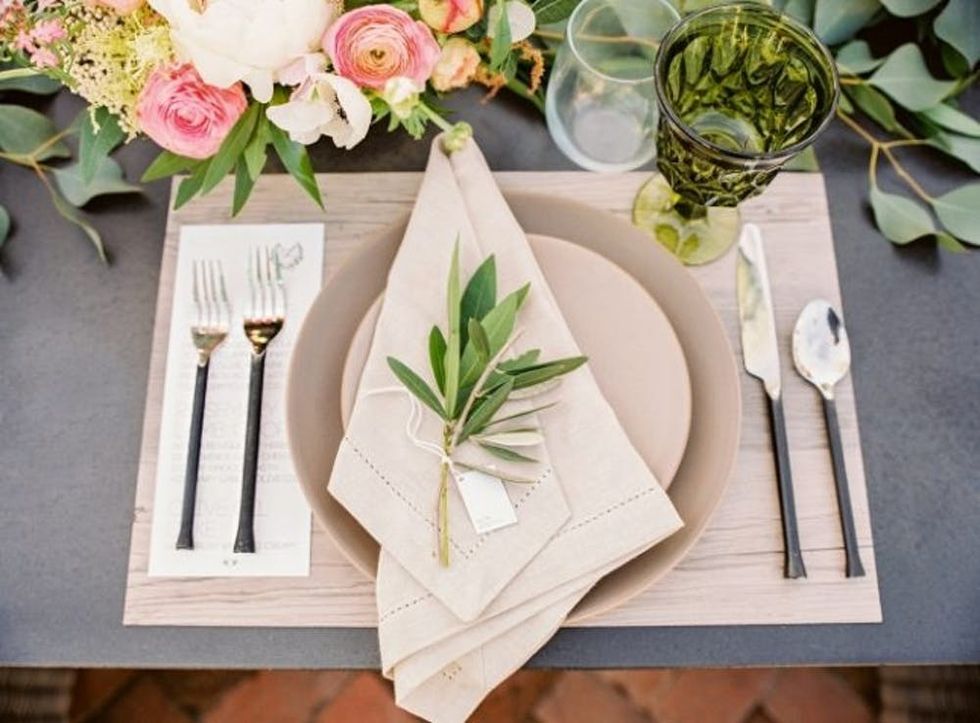 1. Fresh + Neutral Palette: Having an outdoor garden-themed fete? Then this modern neutral table setting look will be your go-to. A little goes a long way, so you won't need to add much to make it super pretty. For a whimsical touch, include natural accents like olive sprigs or an herb garnish that your guests can add to their iced tea or cocktails as soon as they sit down. (via Jody Miller Photography)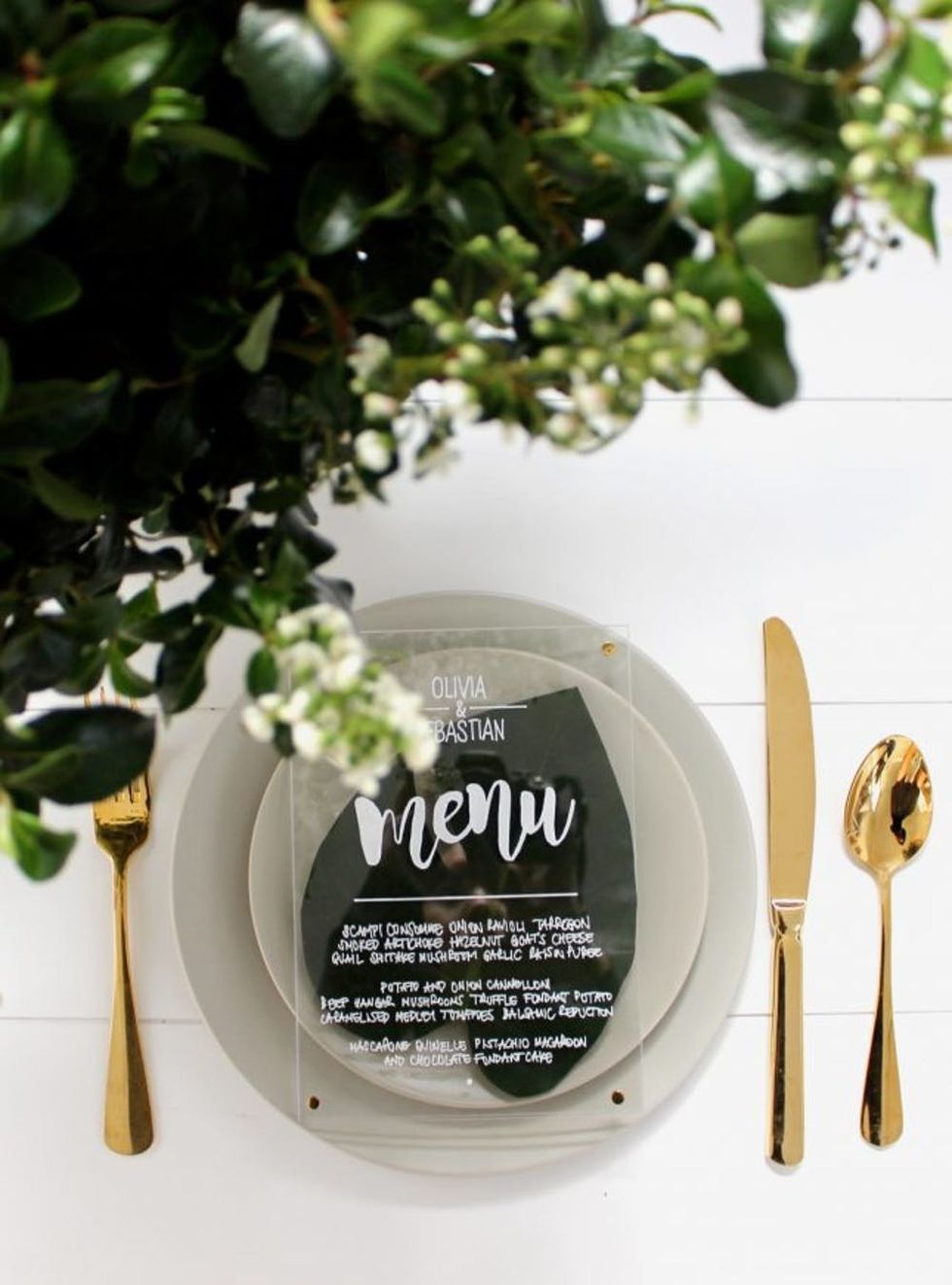 2. Botanic Perspex Menu: Whether you're entertaining several hundred guests or several dozens, this fab little perspex menu is the perfect DIY project for your contemporary celebration. Pair it with golden utensils, modern plates and a leaf (or any simple accent) in between the two perspex sheets for a fresh, minimal table setting look. (via Nouba / Lenzo)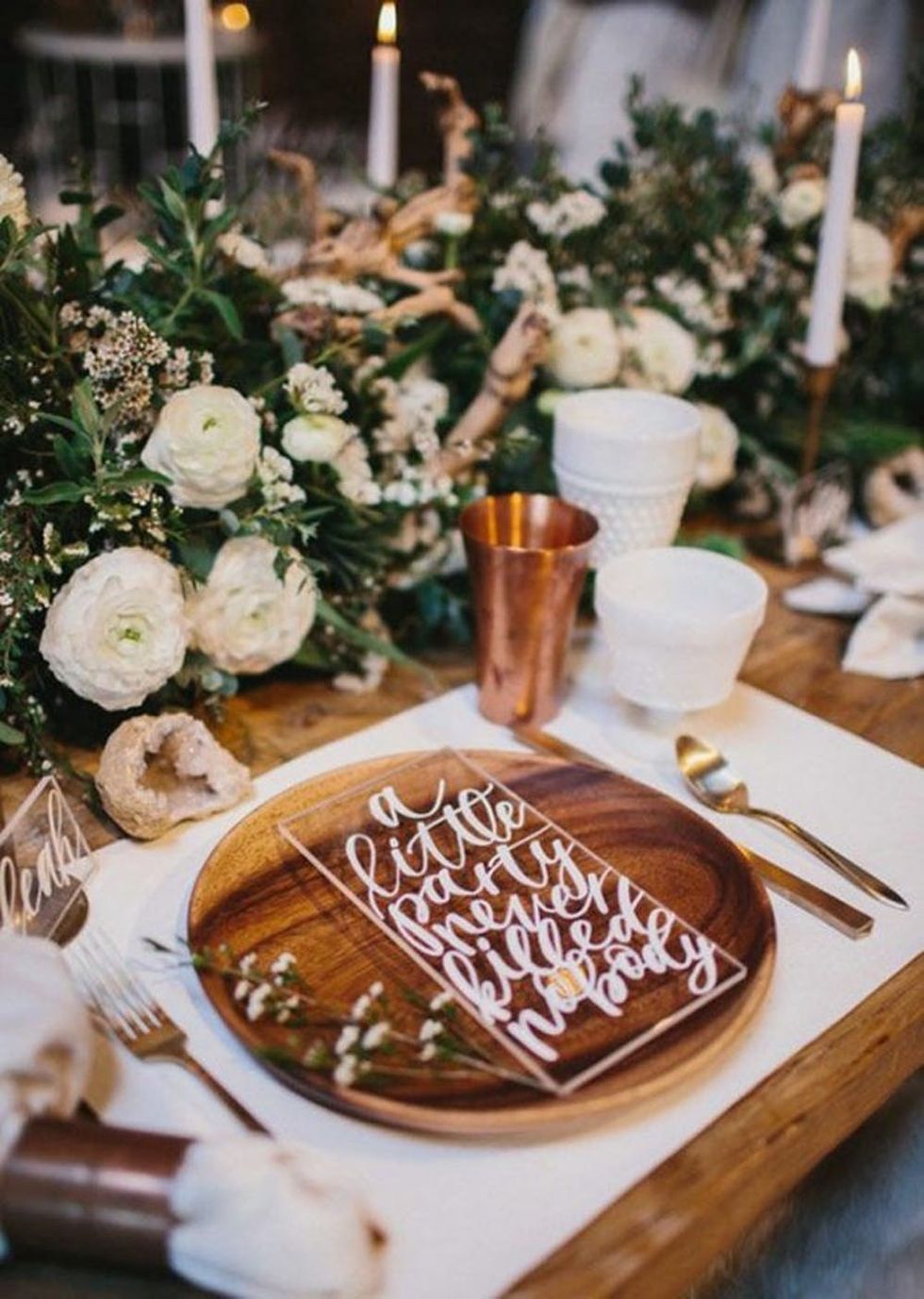 3. Whimsical Acrylic Signage: Regular chalkboards may have had their moment, but acrylic signage is totally awesome. Set up a menu at each table and let your guests take home their own acrylic name tag at the end of the reception. It'll be too breathtaking to pass up! (via 100 Layer Cake / Yes, Dear Studio)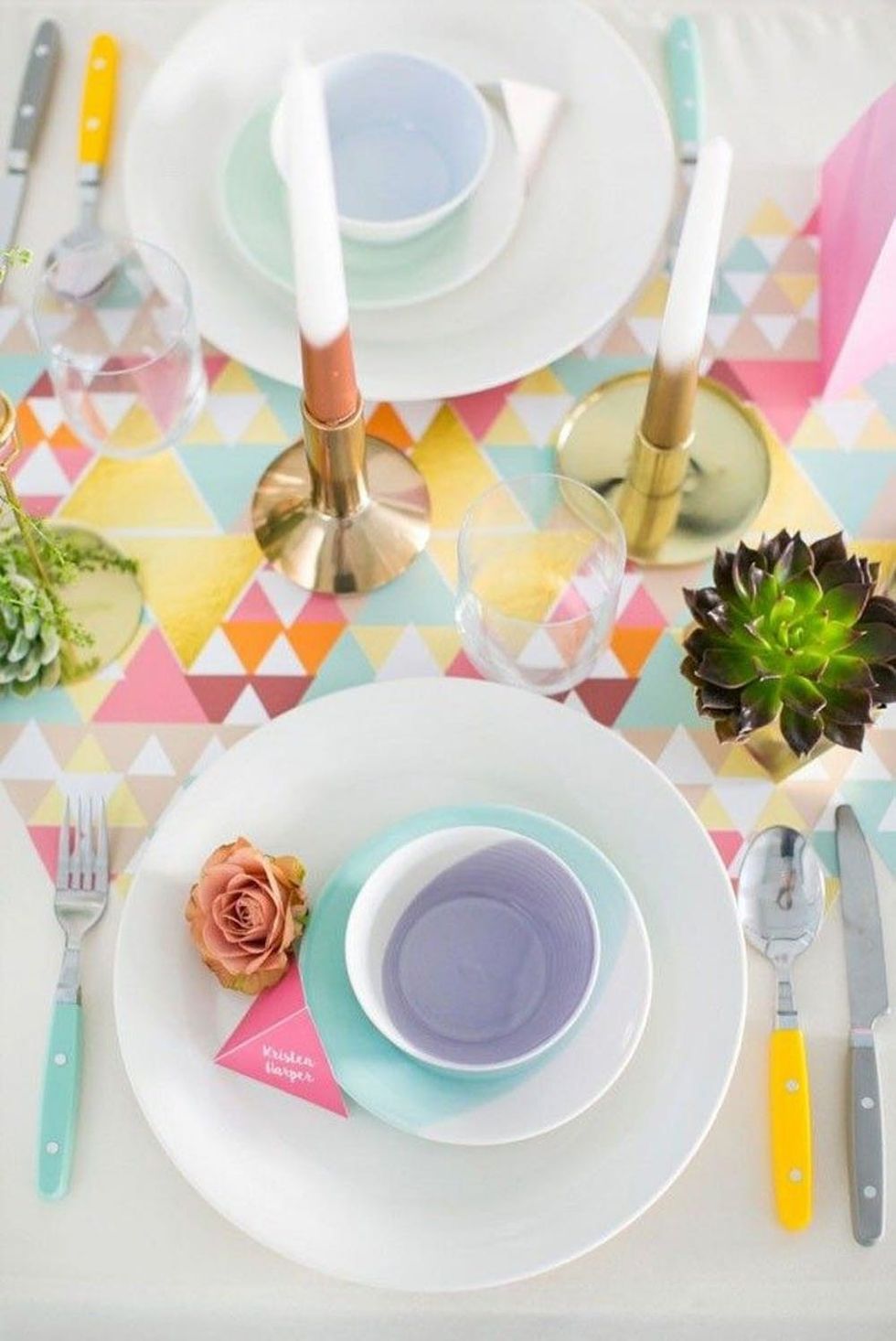 4. Colorful Geometric Runner: If you chose a geometric theme for your wedding, go all out with the place setting and table runner. Adding hints of succulents and colorful silverware will give this entire look just the right amount of natural vibes. (via Anneli Marinovich / B.Loved)
Table Settings for the Boho Couple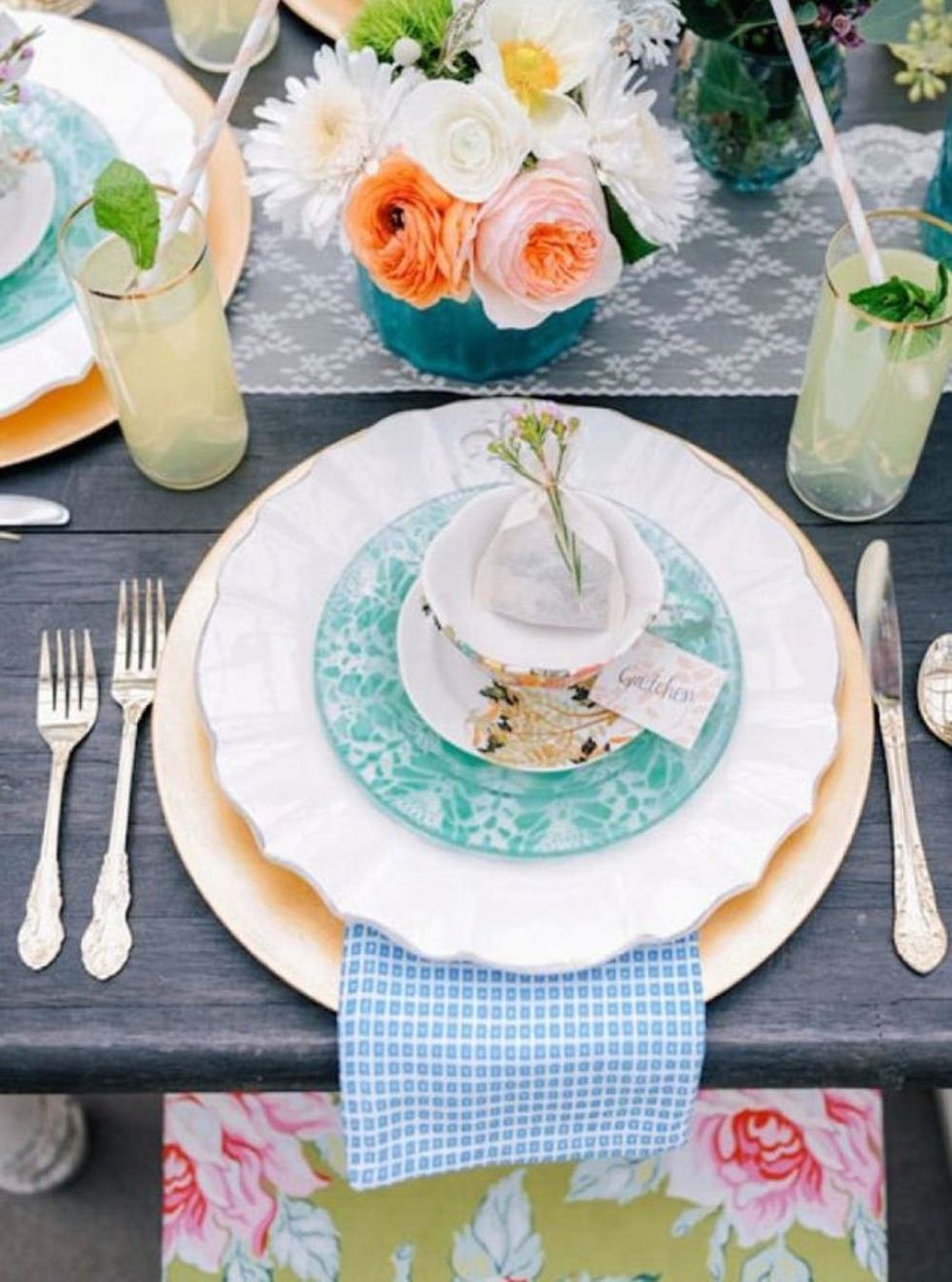 5. Vintage Tea Party: Hit up some flea markets and thrift stores to find the perfect details for your table setting decor. Having lots of vintage plates and silverware is a great option to make your wedding super unique. And if it's plates you love, you've got a piece of wedding decor you can use around the house for years to come. (via 100 Layer Cake / Ashley Sawtelle Photography)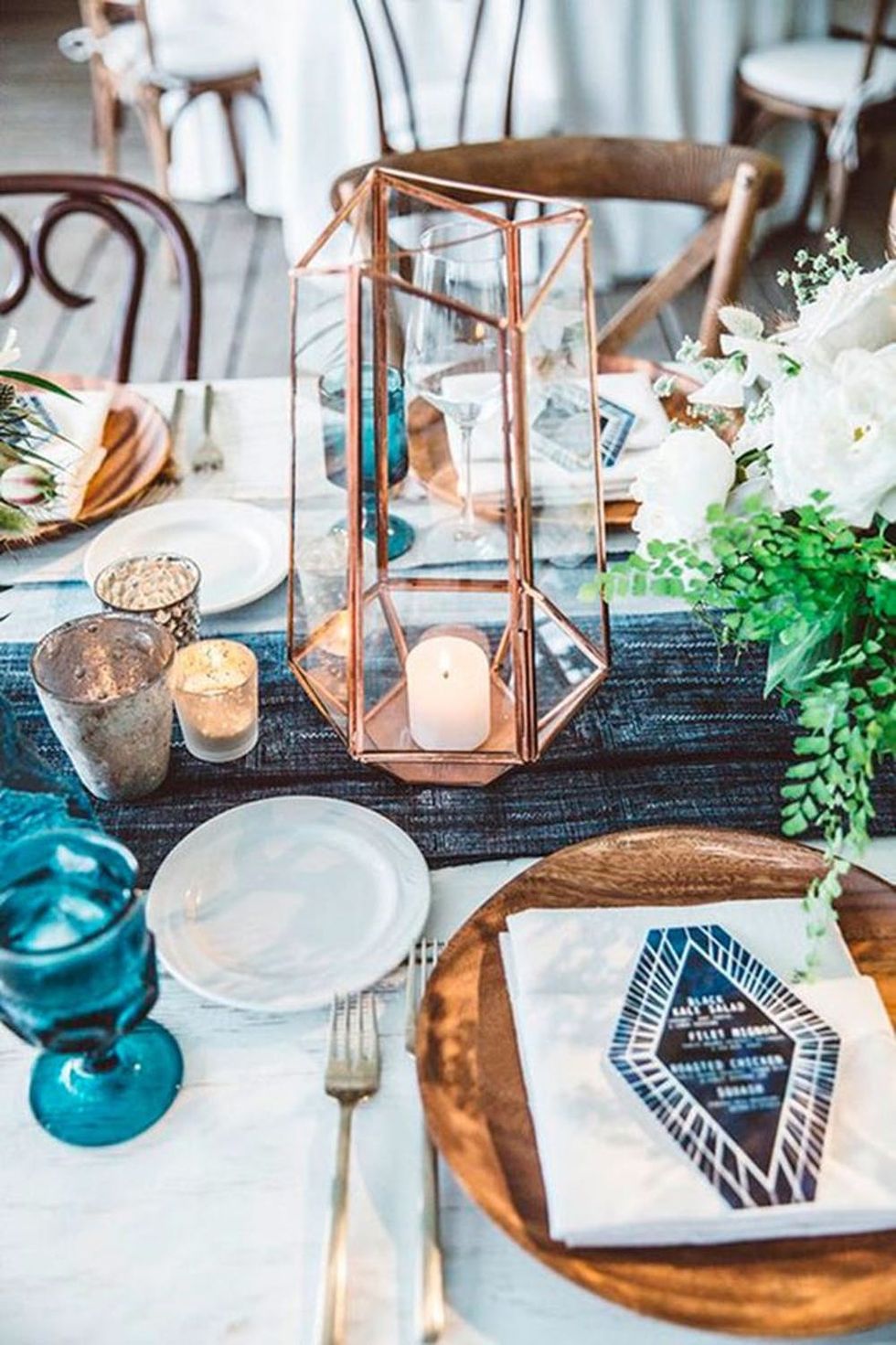 6. Deep Sea Bohemian: If your style is more laid back, this serene deep blue look is a no brainer. You can combine it with a shibori-like menu plus some stunning geometric lanterns for a beautiful boho vibe. These dreamy details will have you and your guests totally smitten. (via 100 Layer Cake / Melissa Fuller Photography)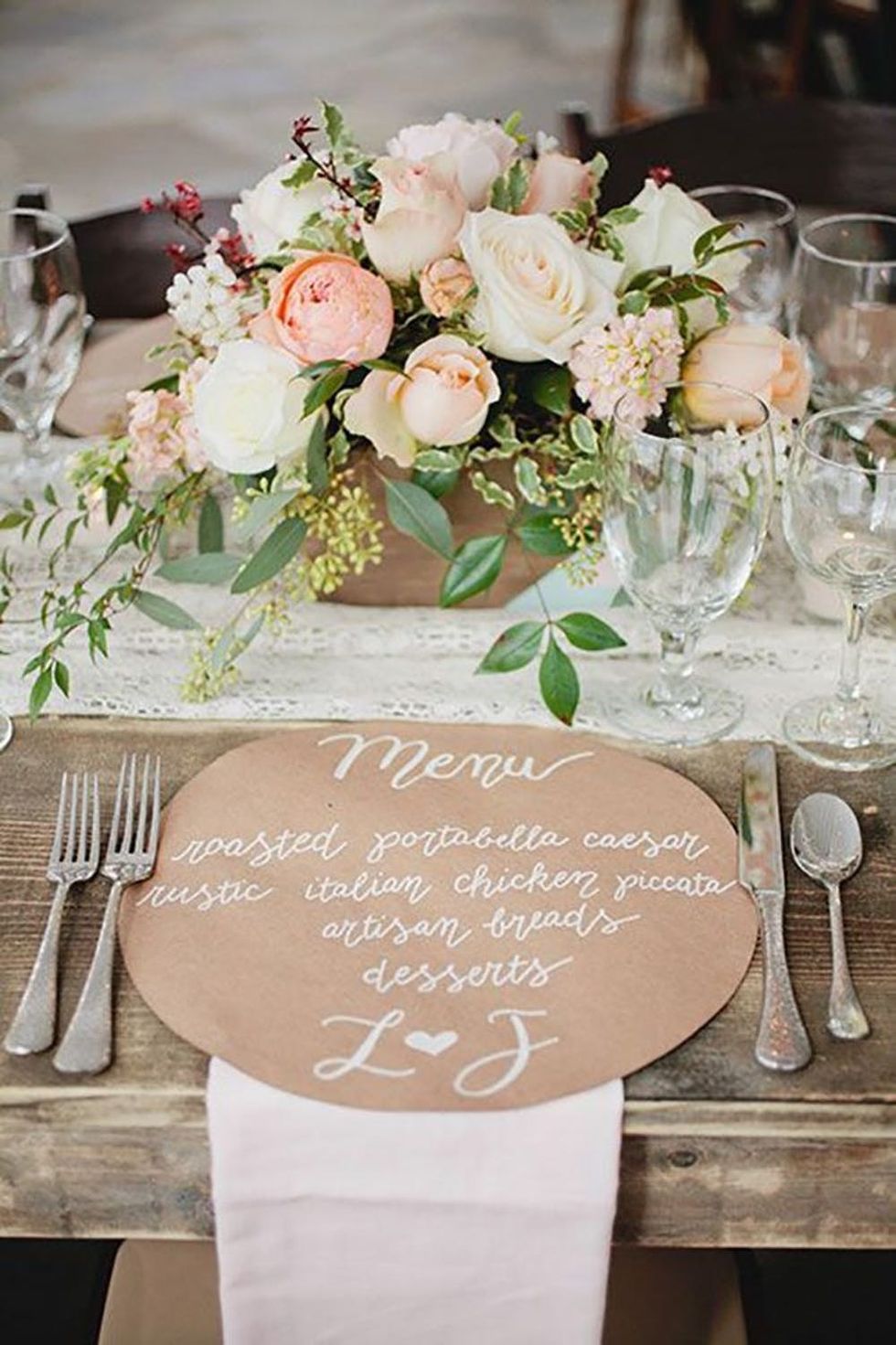 7. Giant Paper Placemats: Brown paper placemats look surprisingly elegant when you combine them with white calligraphy and the prettiest blooms. You can easily DIY these yourself with a little help from your gals. They won't mind getting an early sneak peek at the menu either. (via Brides / Kristyn Hogan)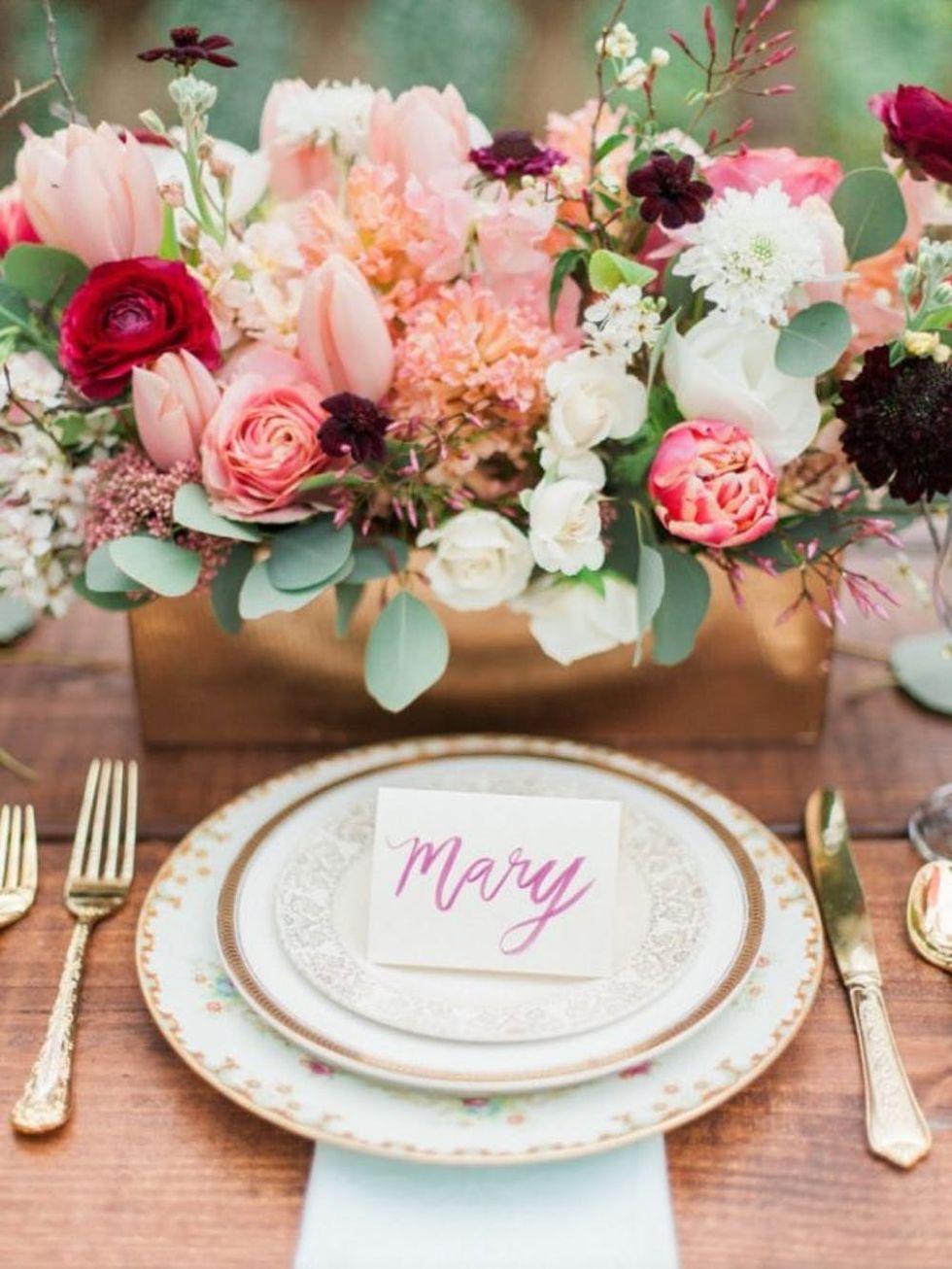 8. Whimsy Pink Garden: Get ultra inspired by the romance of gardens and recreate it via your table setting with this pretty-in-pink look. The colors in the flower arrangements are so gorgeous and they pop ever so perfectly against the shimmering metallics. (via Mod Wedding / Kate Anfinson)
Table Setting for the Nautical Couple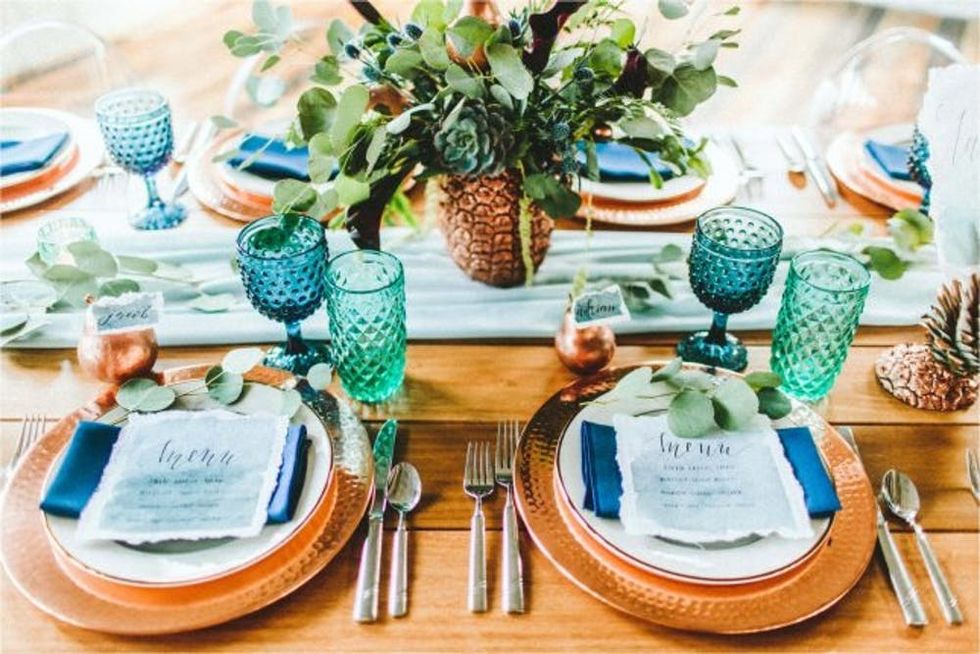 9. Copper Tropical Island: Copper is one of those accents we just can't resist. Pair it with watercolor menus and spray-painted pineapple vases (or any other spray painted fruit) for a total tropical island style that will make all your ocean dreams come true. (via Ruffled / Giving Tree Photography)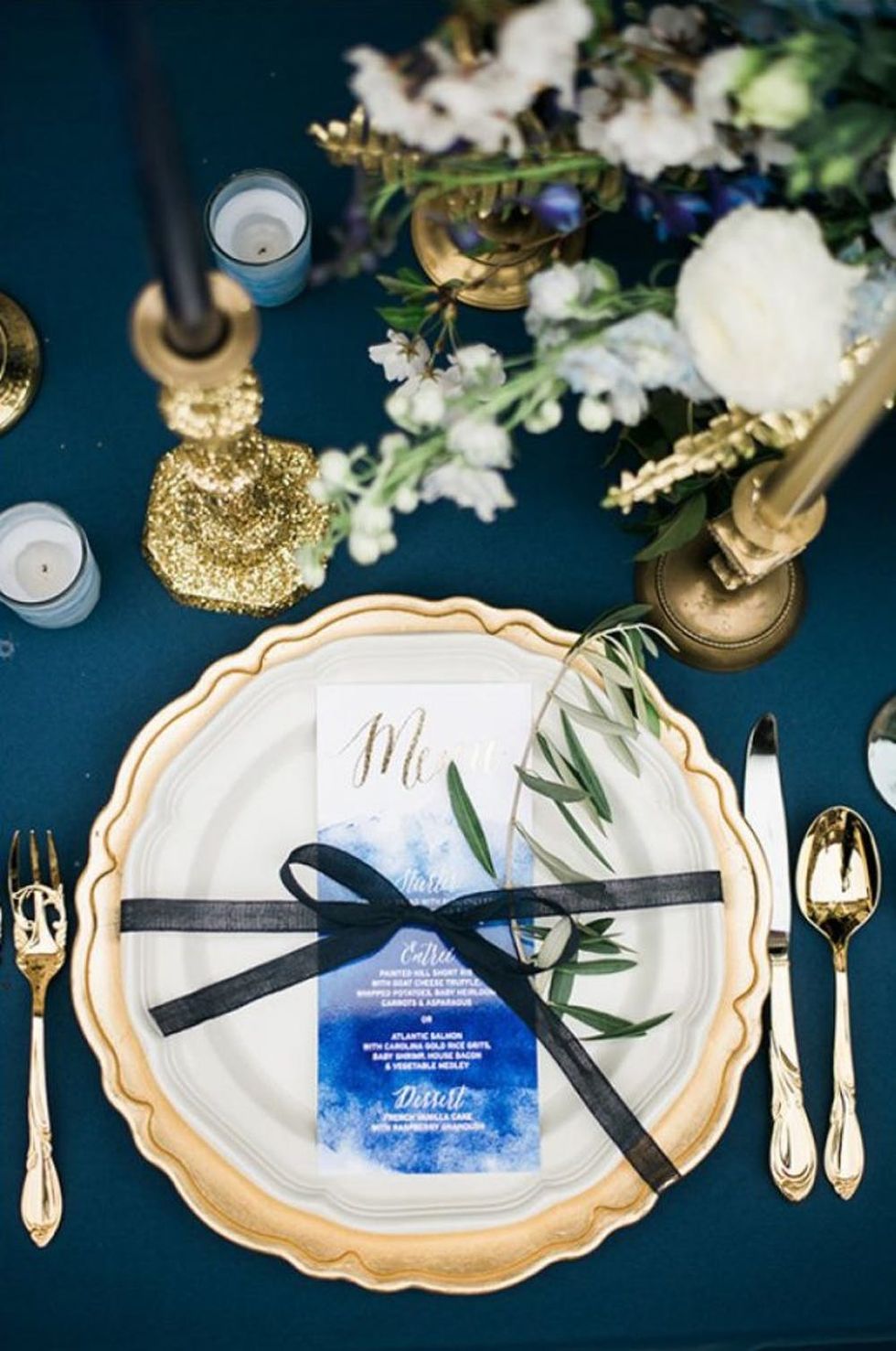 10. Navy + Gold Watercolor: If you're looking for a more elegant nautical feel to your big day, try this watercolor and gold nautical look. Watercolor is already unique, dreamy and so romantic, but you can glam it up even more with glitter candlesticks and handmade paper flowers for a unique ceremony scene. (via Wedding Chicks / Henry Photography)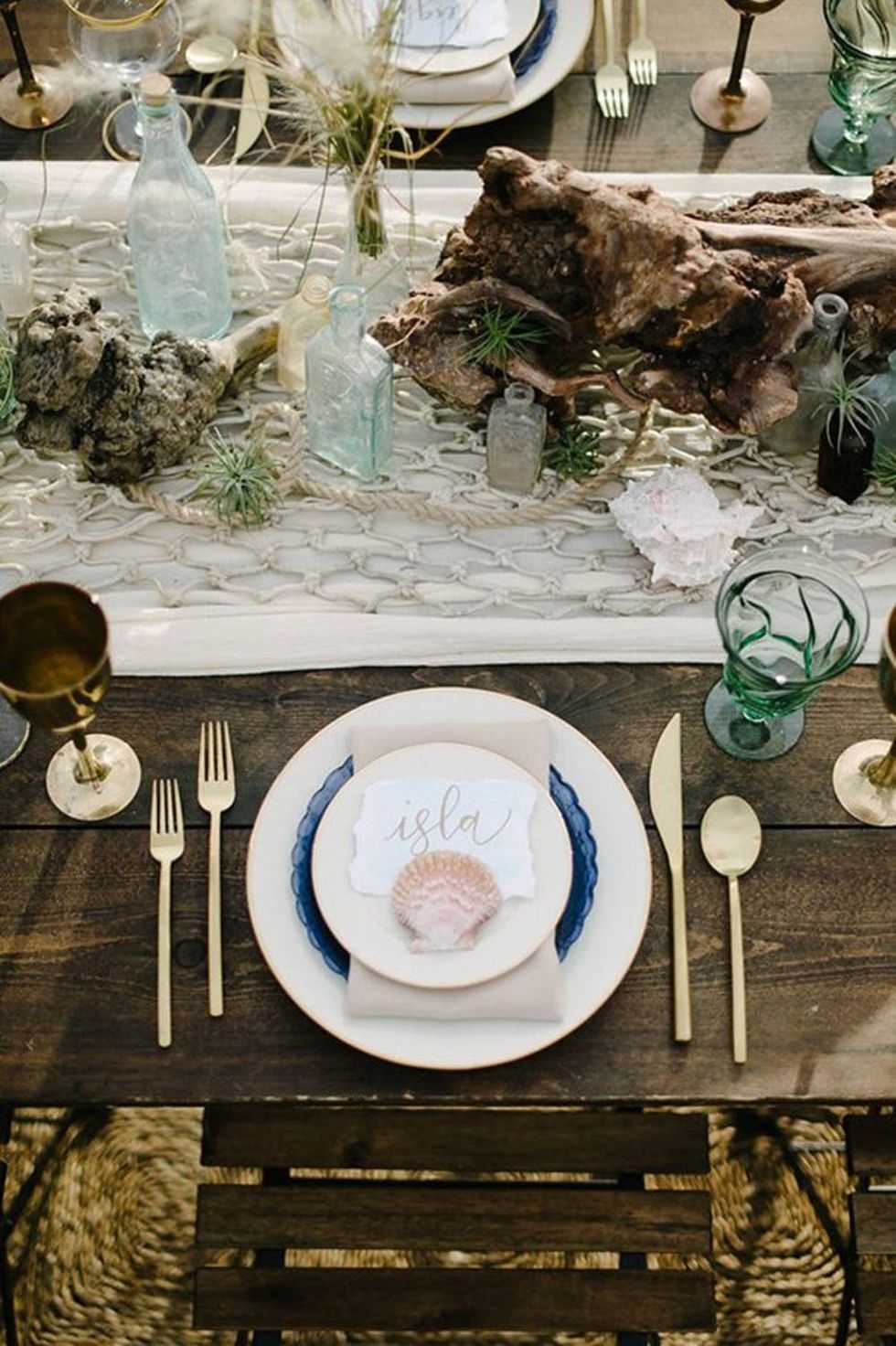 11. Rustic Seaside Escape: Forget expensive flowers! This ethereal coastal table setting is a MUST and is so simple to create. Just take advantage of the landscape and grab glass bottles, driftwood and fishing ropes and nets, and you'll end up with an ultra-beachy table. Some gold and brass details won't hurt either. (via Ruffled / John Schnack Photography)
Table Settings for the Minimalist Couple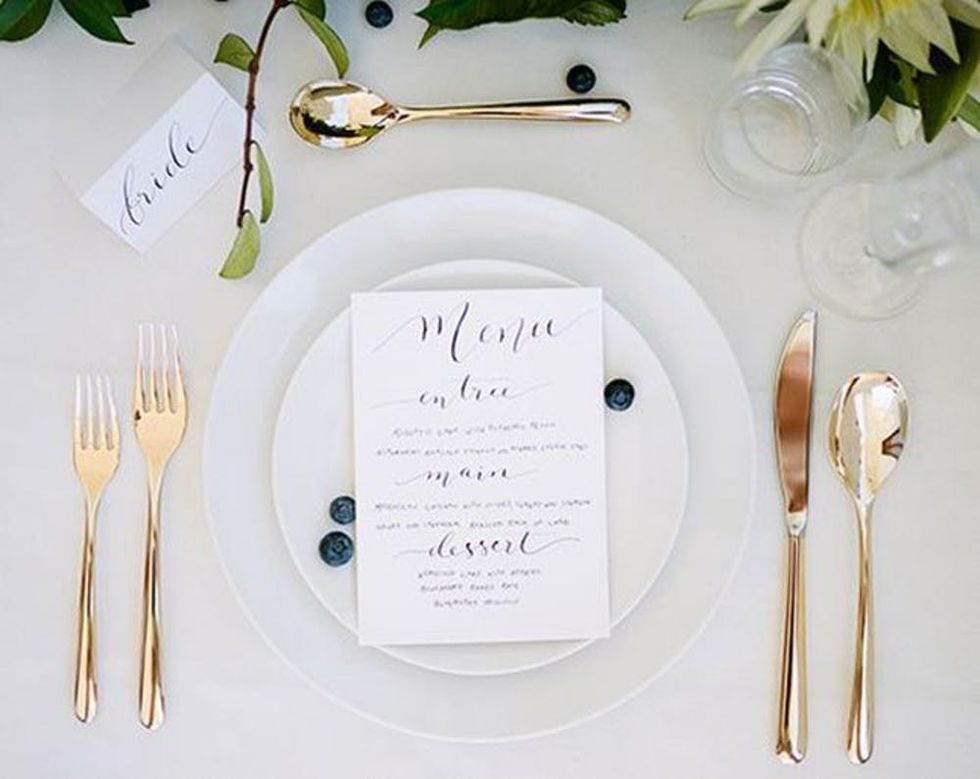 12. White + Gold Details: Make your minimalist dreams come true with this gorgeous all white and gold table setting. All you need are some shiny gold utensils, clear glasses and a simple black and white calligraphy menu and place card. It's classy and organic, which is pretty perfect for a destination wedding too. (via Magnolia Rouge / Max Wanger)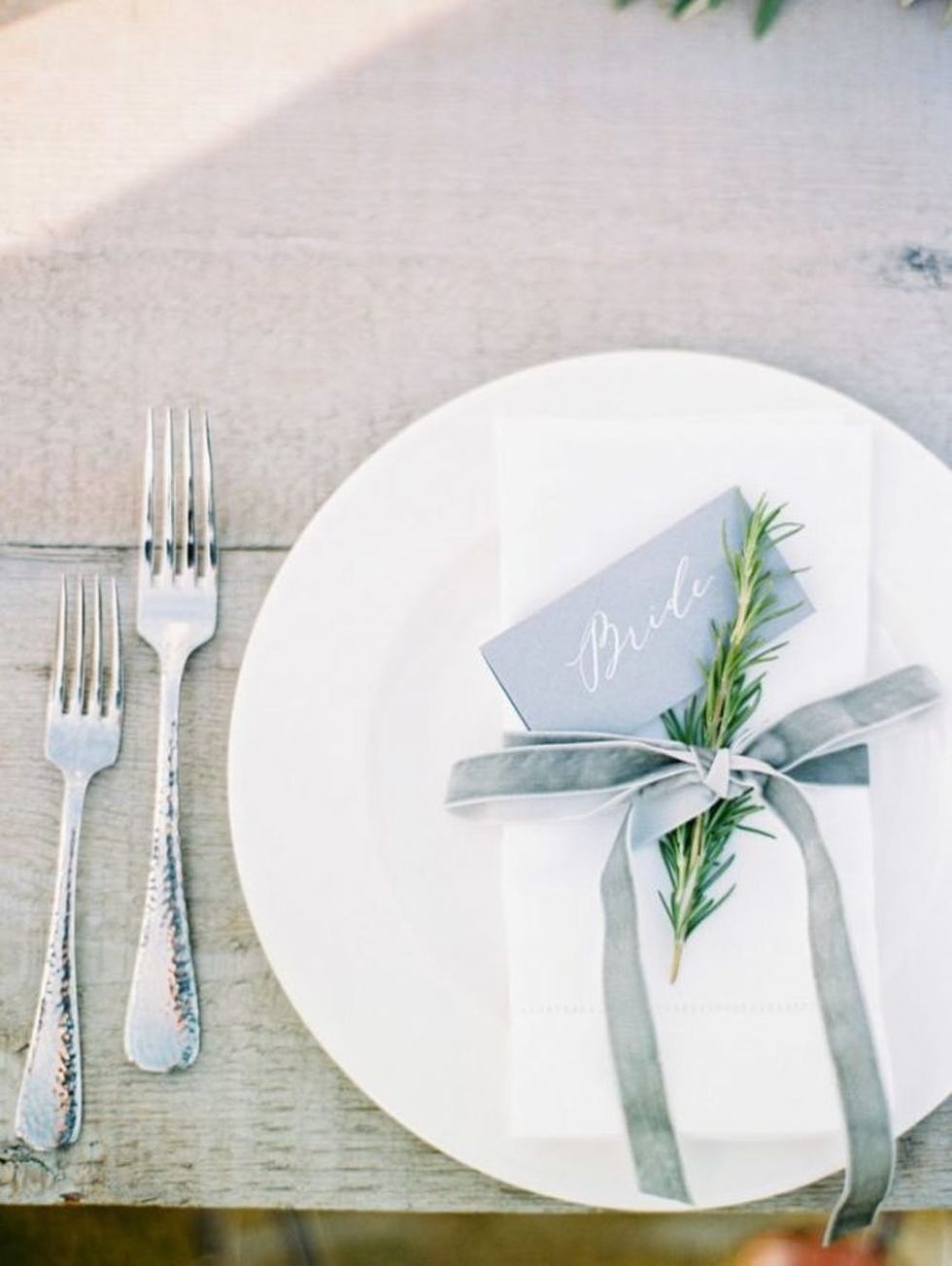 13. Modern Rosemary Minimalist: Sometimes all you need is a bit of rosemary and some gray velvet ribbon to guarantee a magical table setting. If gray is not in your wedding palette, no worries. Just grab crimson, navy or even off-white velvet ribbon to match your modern or rustic vibe. (via Style Me Pretty / Lauren Kinsey Fine Art Weddings)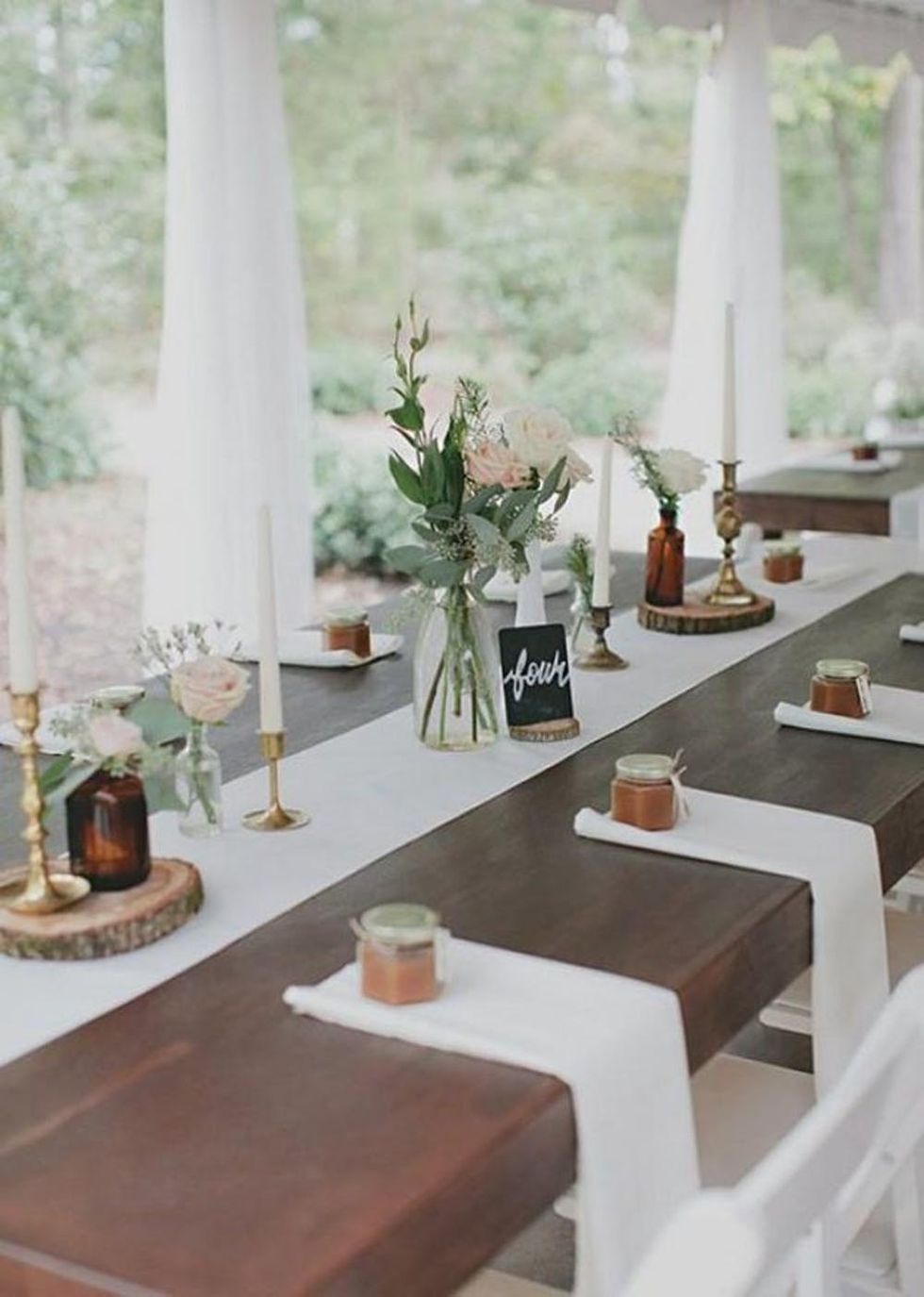 14. Modern Organic Decor: Don't make your guests wait for their dessert! Put them out front and center with white cloth napkins. It is dinner and a show, after all, right? The informal, playful aspect will win you major points from both the kids and the adults, and the minimalist look will save you big bucks too. (via 100 Layer Cake / Alively Photography)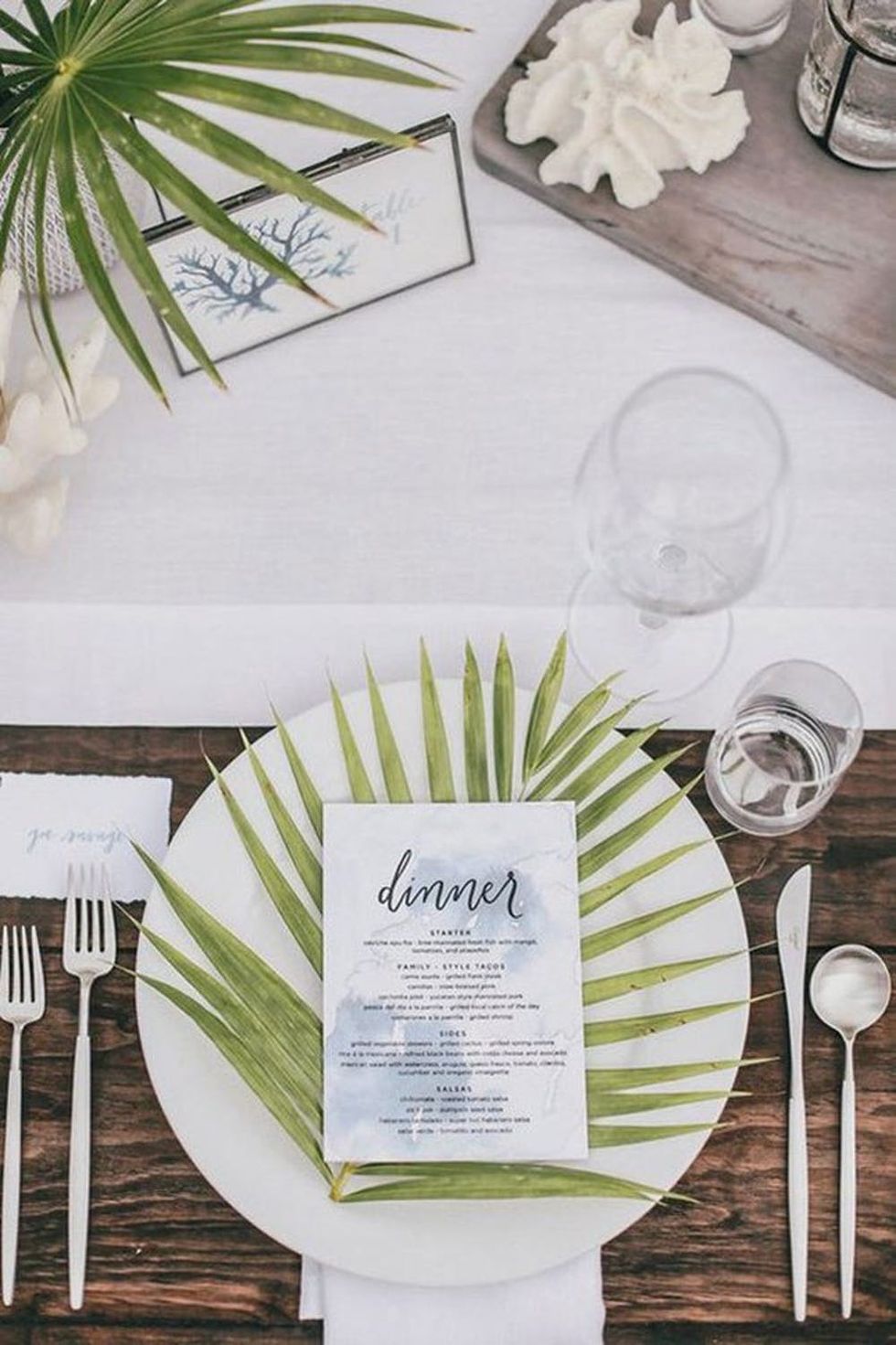 15. Palm Leaf Menu: Go totally au natural and use a giant leaf for your menu decor. You can keep the leaf upright in a vase or leave it on each table for guests to admire. You'll get that minimalist style and it'll look super pretty with your watercolor calligraphy menu and skinny silverware. (via 100 Layer Cake / Max Wanger)
Your big day is just starting! Check out all things Brit + Co Weddings, and follow us on Pinterest for more beautiful + creative wedding inspo.