Today Is Juneteenth — Here's What It Is and Why We Celebrate
Jun 19, 2017
Today President Trump issued an official statement: "Melania and I send our warmest greetings to all those celebrating Juneteenth, a historic day recognizing the end of slavery." If you're confused about what this means, we've got you covered.
Abraham Lincoln issued the Emancipation Proclamation on September 22, 1862, which would liberate slaves from the Confederate South. But it wasn't until June 19th, 1865 that the last of the slaves being held in seceded Texas were finally granted their freedom.
---
Union Major General Gordon Granger made the historic June 19th announcement in Galveston, Texas, as he arrived with nearly 2,000 troops to gain control of the state for the US government. "Juneteenth" — a word made from the combination of "June" and "nineteenth"— has been celebrated ever since. Today people are taking to Twitter to mark the date, with some calling for June 19 to become an official national holiday.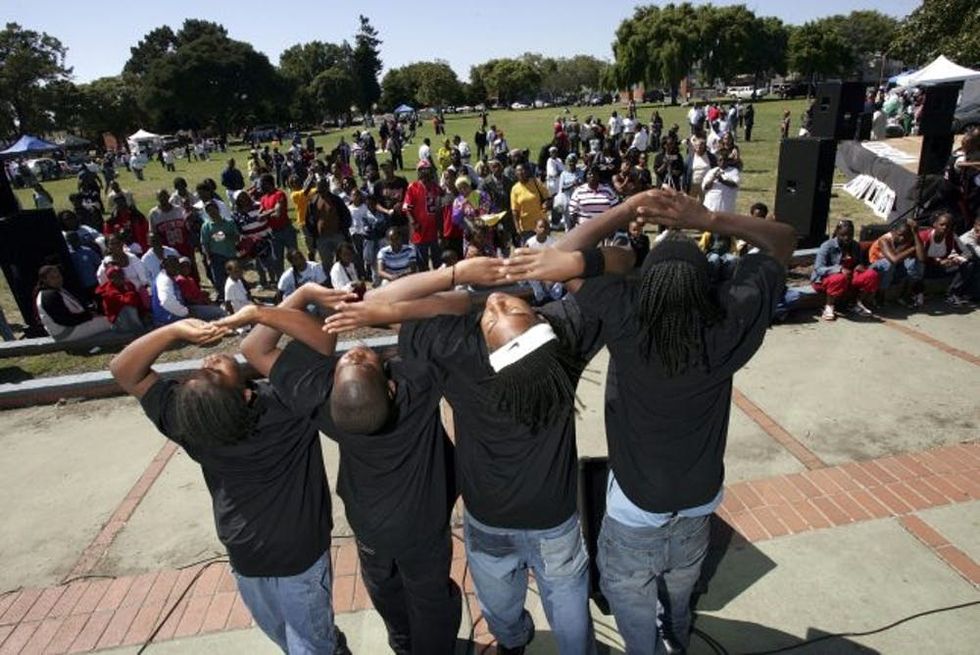 The state of Texas officially recognized June 19 as a public holiday in 1980. Now, with organizations like Black Lives Matter bringing civil rights back into the fore by pressuring media to broadcast the continued injustices faced by black Americans (like Philando Castile and Sandra Bland), Juneteenth is seeing another huge resurgence. Some of that is renewed interest can be found on Twitter:
This #Juneteenth, we celebrate emancipation and remember those who have fought for freedom. We must continue their work.

— Kamala Harris (@KamalaHarris) June 19, 2017
#Juneteenth isn't just an obscure black holiday. It should be a national celebration.

Here is why Juneteenth is important for America. pic.twitter.com/wlii6MnBZK

— The Root (@TheRoot) June 19, 2017
Soldiers of @NOIaustin on the move in the #Juneteenth parade. Community showing love. pic.twitter.com/1xuc49FoEp

— Brother Jesse (@BrotherJesse) June 19, 2017
Happy #Juneteenth Everyone. It's our Independence Day, but know we're still fighting to be truly free. ✊🏾♥️🖤💚

— E.M. Price, II (@mrprICE06) June 19, 2017
This morning I woke up excited to celebrate my first #juneteenth . This morning, I also learned a new name among too many: #CharleenaLyles

— King Sol (@K1ng50l) June 19, 2017
That #Juneteenth is not a national holiday is a poignant reminder of just how little we've done to reckon with the history of slavery. https://t.co/1bU53sDHbj

— Sam White (@samwhiteout) June 17, 2017
With cities across the country recognizing Juneteenth with parades and public celebrations, today is a great occasion to work toward ensuring freedom and equality for all across the country.
What do you do to celebrate Juneteenth? Tell us @BritandCo!
(Photos via David Paul Morris/Getty)
Kat Armstrong
Kat has been a writer, social media maven and mom for longer than she's willing to admit. She's also spent time in front of and behind the camera, interviewing celebs, politicians and acting as a producer for fashion and artistic photography shoots. When she isn't writing for various orgs and publications, she's hanging with her kids, husband and French Bulldog, Peter, in Toronto, Canada.
Diversity