28 Ways to Hack, Update and Repurpose Thrift Store Finds
Aug 10, 2015
Oh, the thrift shop. It's been a friend of ours since junior high when we realized that vintage/retro things might actually be cooler than new ones. For a lot of DIY enthusiasts, making updates to thrift store finds is what helped them catch the creative bug, especially when on a budget. The act of thrift shopping is similar to a treasure hunt — you never know what you're going to come across, and you are probably going to find something you love! It's invigorating to see potential in patterns, textures and materials, and you can make any piece your own unique item with a few simple DIY tricks. Well, guess what else? Thrift Shops now have their very own holiday, and it's coming up — August 17!
We teamed up with Savers to share a collection of DIY hacks that are all about updating, upgrading and modernizing the types of goodies you can find at a thrift shop. If you're not familiar with Savers, it's time to get in the know. This epic thrift store family includes Savers, Value Village, Village des Valeurs and Unique Thrift, boasting over 330 locations throughout the US, Canada and Australia.
---
Oh, and be sure to follow the hashtag #ThriftShopDay on August 17 to get the scoop on all the National Thrift Store Day activity — we've even got some of our own new projects up our sleeves to share with you :)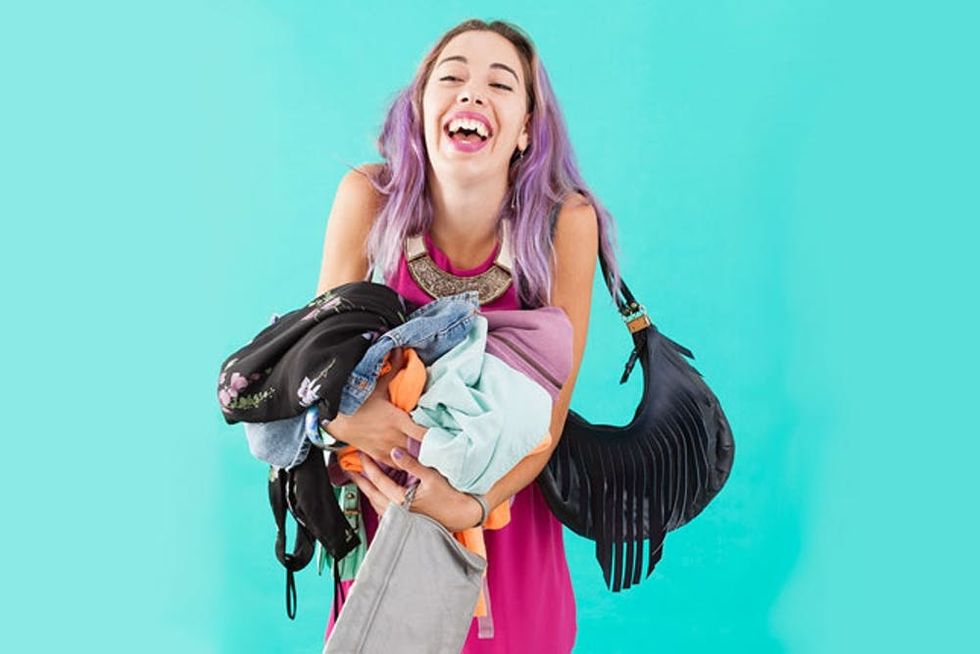 To kick things off, we sent DIY Editor Kelly Bryden on a mission to Berkeley, the home of our local Savers. She picked up a ton of goodies that we can't wait to DIY with! Scroll on to check out 28 projects from our archive that are all about reinventing your thrift store finds, along with one brand new DIY hack to add to the mix!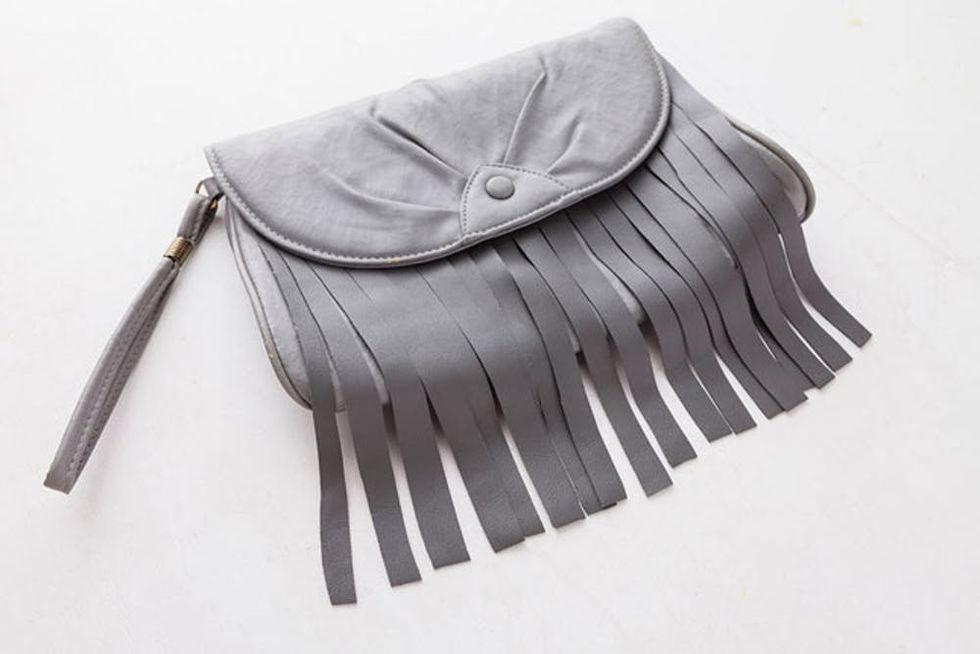 1. Add Fashion-Forward Fringe to a Basic Satchel: This first project is a quick one that we created after our trip to Savers. We found a cool gray satchel, and decided to add fringe to it! Here's how it's done.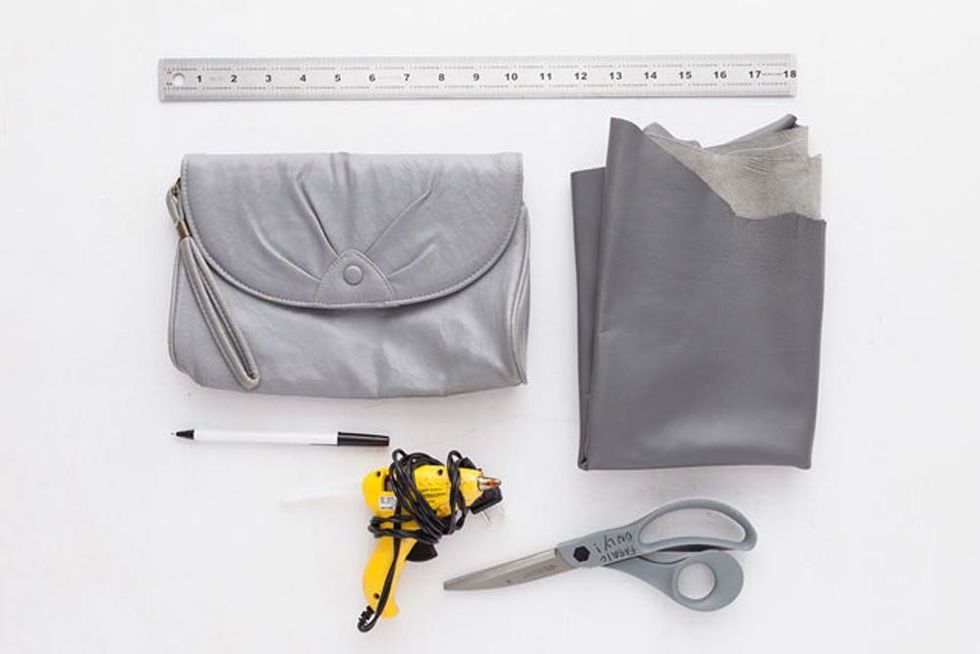 You need these tools and materials: ruler, leather (or faux leather) to match your purse, hot glue gun, fabric scissors, pen.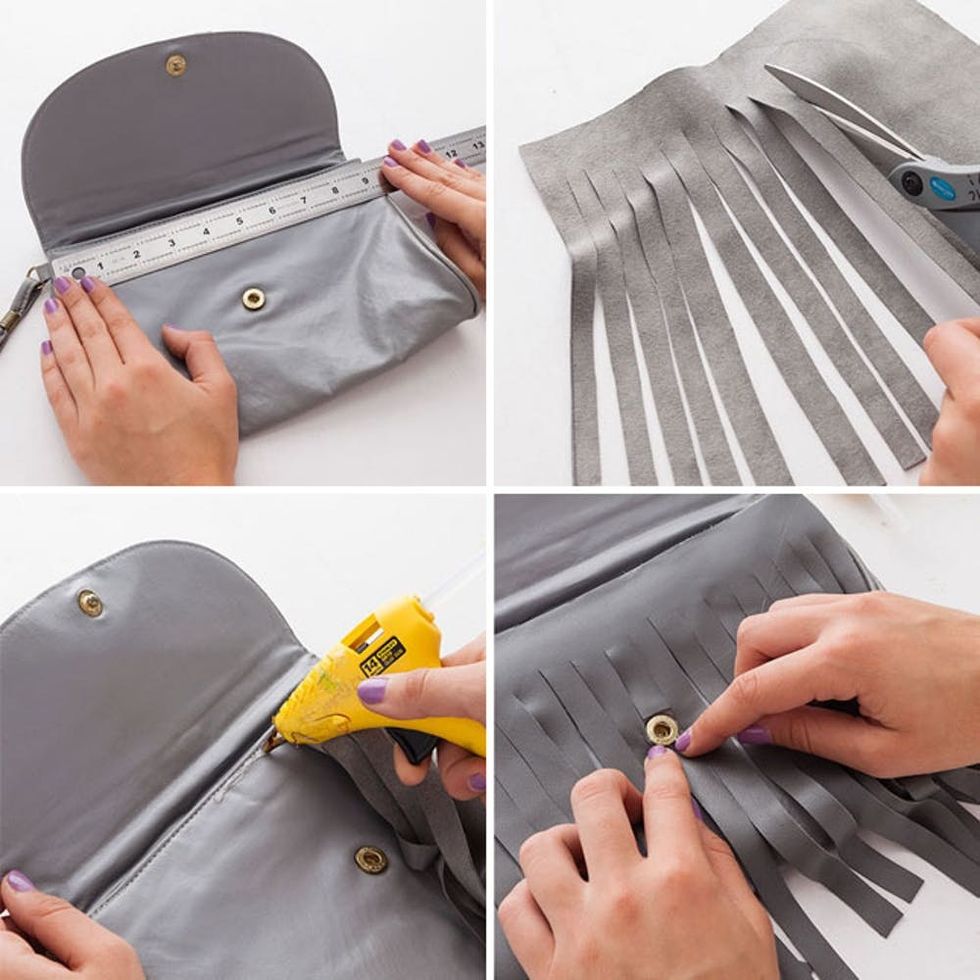 Then, it's as simple as 3 easy steps.
1. Measure the width and height of the part of the bag you will like to cover in fringe.
2. Mark these measurements onto the leather and cut out using fabric scissors. Create fringe by cutting the leather every 1/4 inch.
3. Attach the fringe to the bag using hot glue. Make sure to trim any fringe that is covering a button or a latch. Done and done!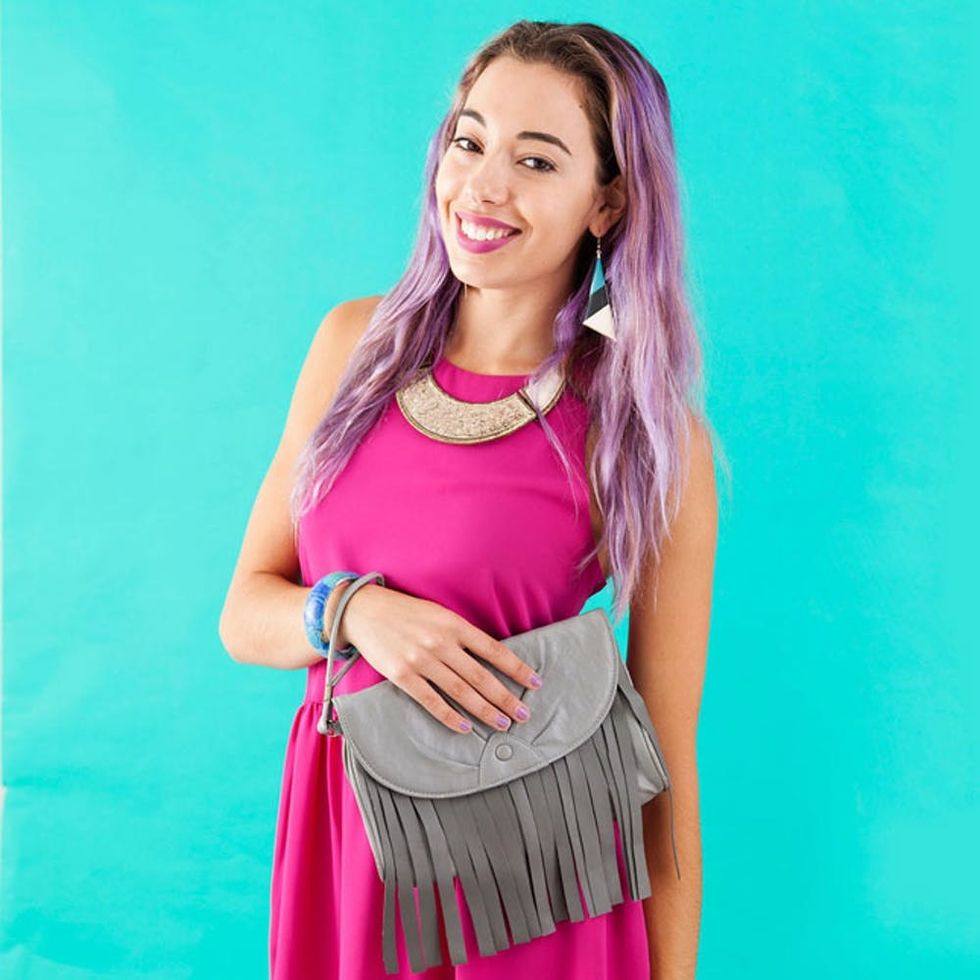 Updated thrift store bag FTW :) Stay tuned for a few more hacks as part of our partnership with Savers in the weeks and months to come. Now, on to all those other hacks.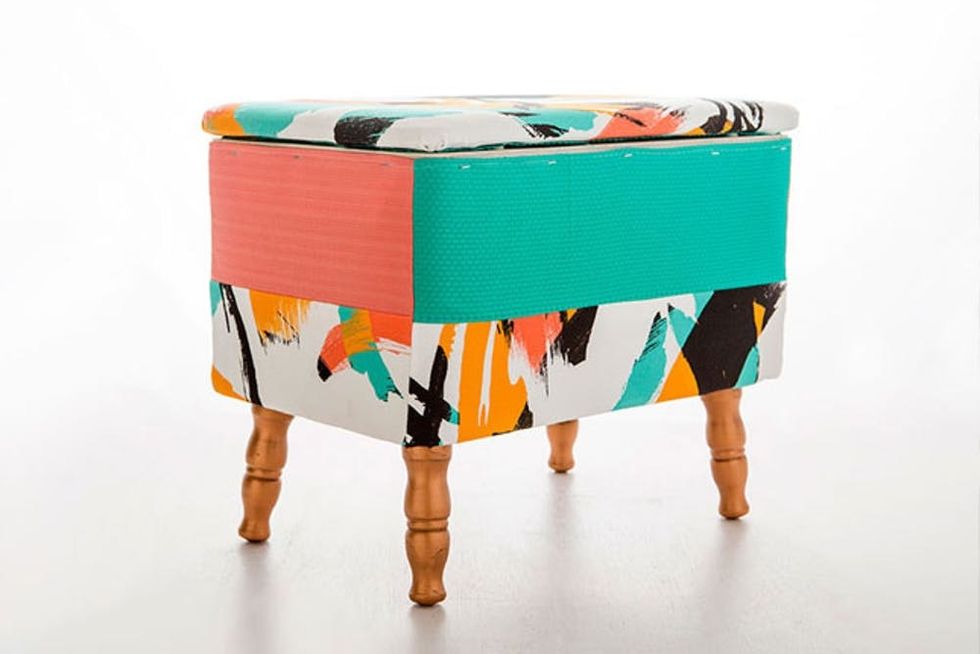 2. Reupholster an Ottoman: How gorgeous is this? We found a perfectly functional ottoman that needed a straight up pattern, color and fabric makeover. Staple guns and bright colors to the rescue.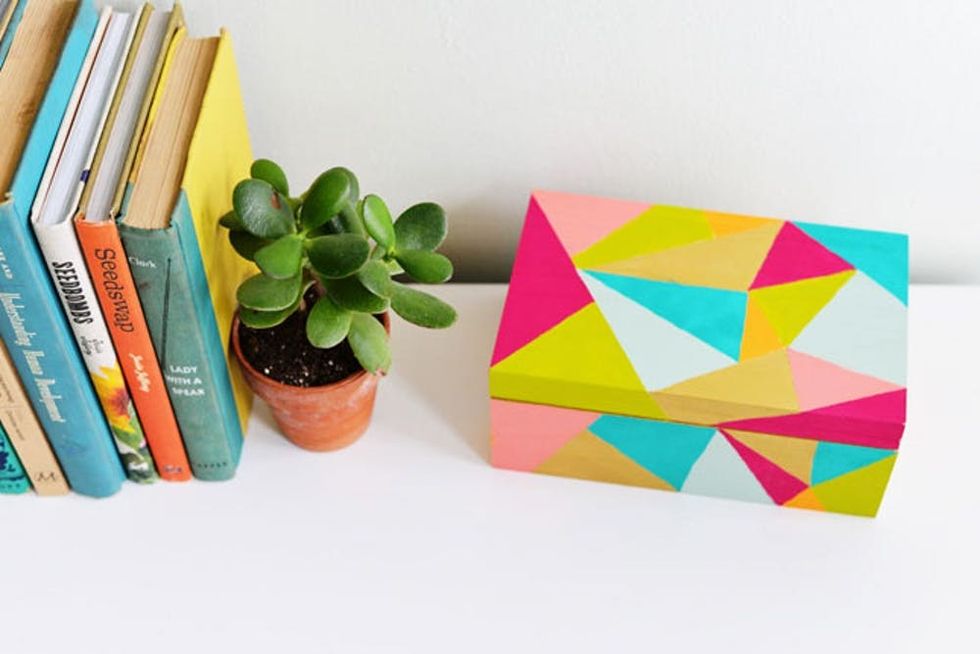 3. Paint a Simple Jewelry Box: If you've found a jewelry box that could use a little TLC, you can use paint to add a few swatches of geometry and you've instantly got a modern piece. You'll be proud to keep this on display anywhere in your home.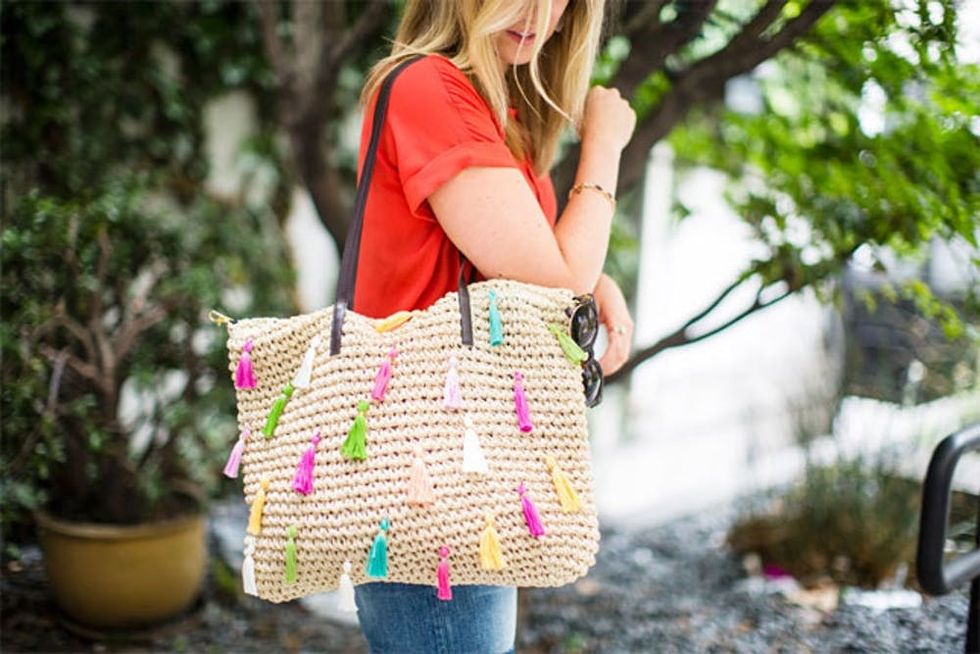 4. Tassel Up Your Tote: If you love the look of a beachy bag but need a little somethin' somethin', amp up the look of your tote with tassels. This takes under 20 minutes to make!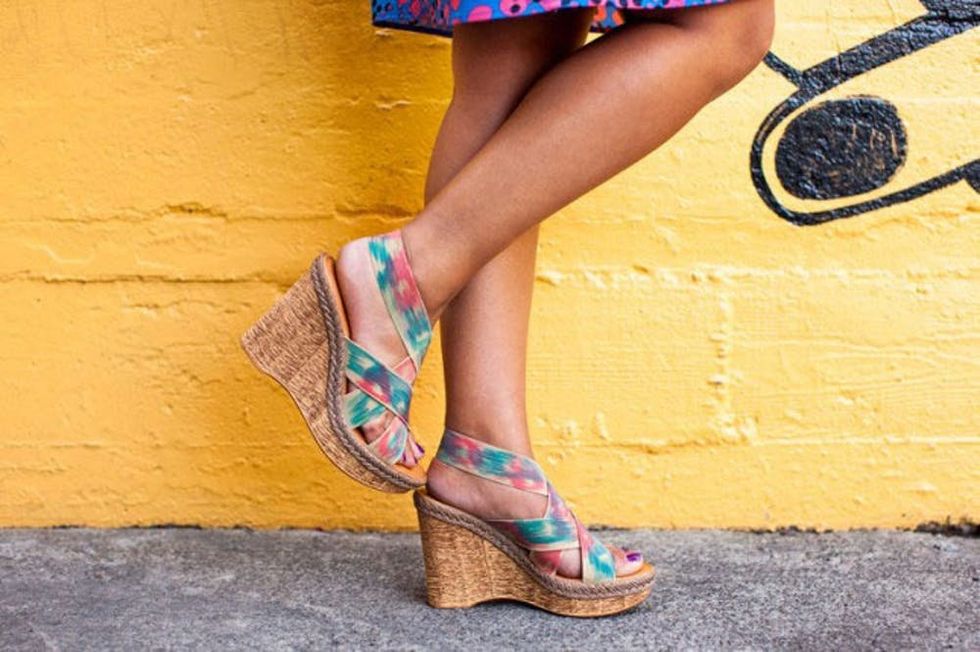 5. Paint Your Wedges: Sometimes a plain canvas wedge needs an update. We used fabric paint to add an Ikat-inspired pattern and it's as if we got a whole new pair of shoes.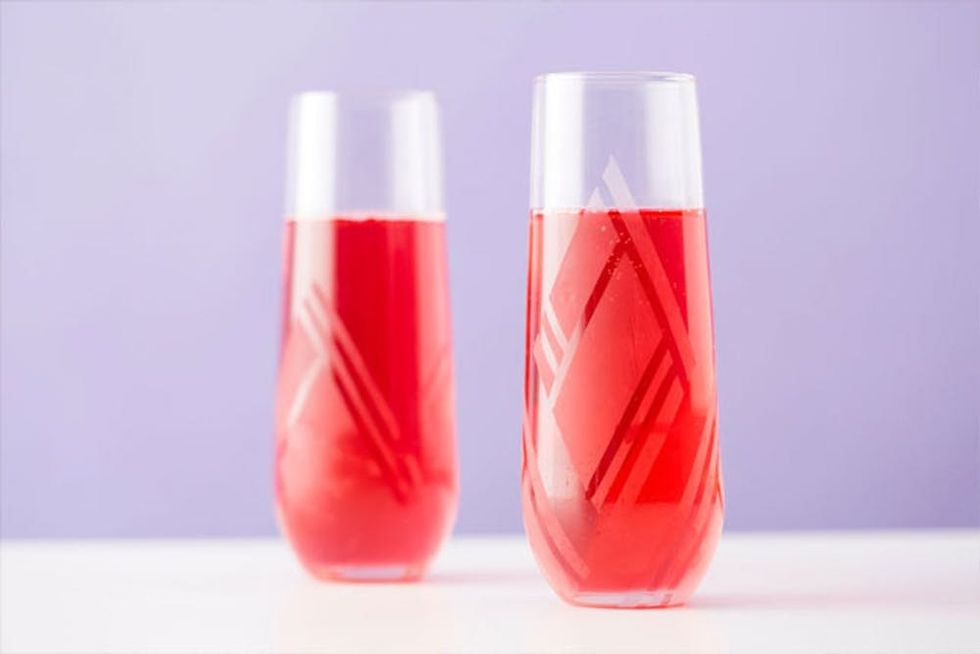 6. Etch Your Glassware: This is one of our all-time favorite DIY techniques. This magical etching cream makes it so that you can add any design of your choosing to any piece of glass. It's a great way to turn a mismatching set into a matching one.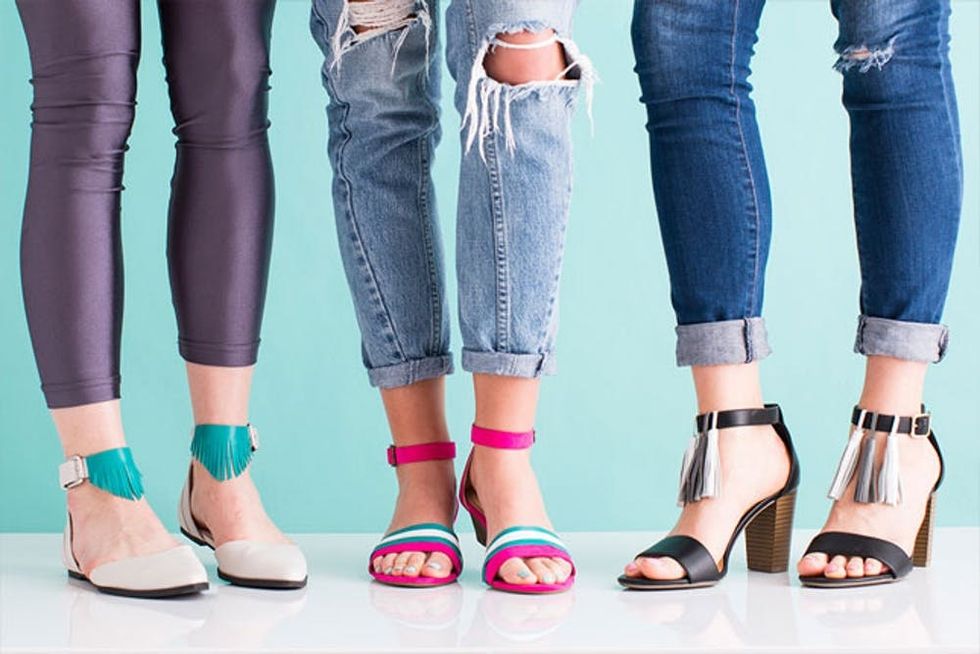 7. More Tassels? Yes, Please: Tassels, fringe and a couple bands of color, actually ;) To update last season's sandals, we added a few leather pieces.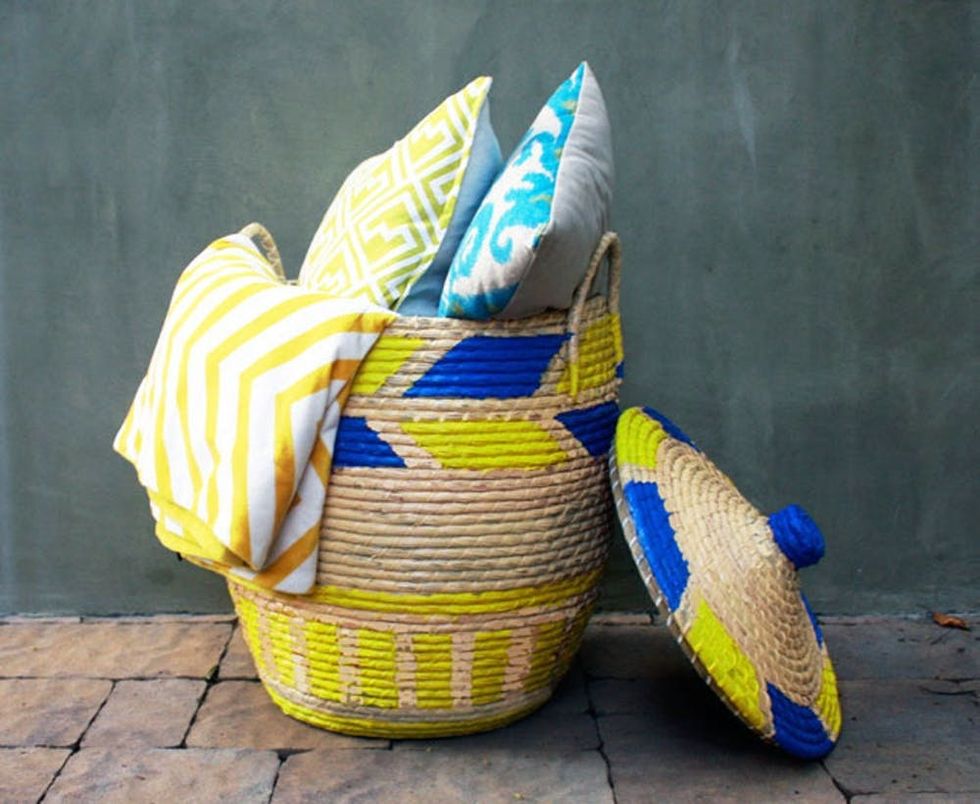 8. DIY Painted Basket: We believe that if you love your laundry basket, you *might* be one step closer to loving laundry in general. Or at the very least, your basket can double as decor.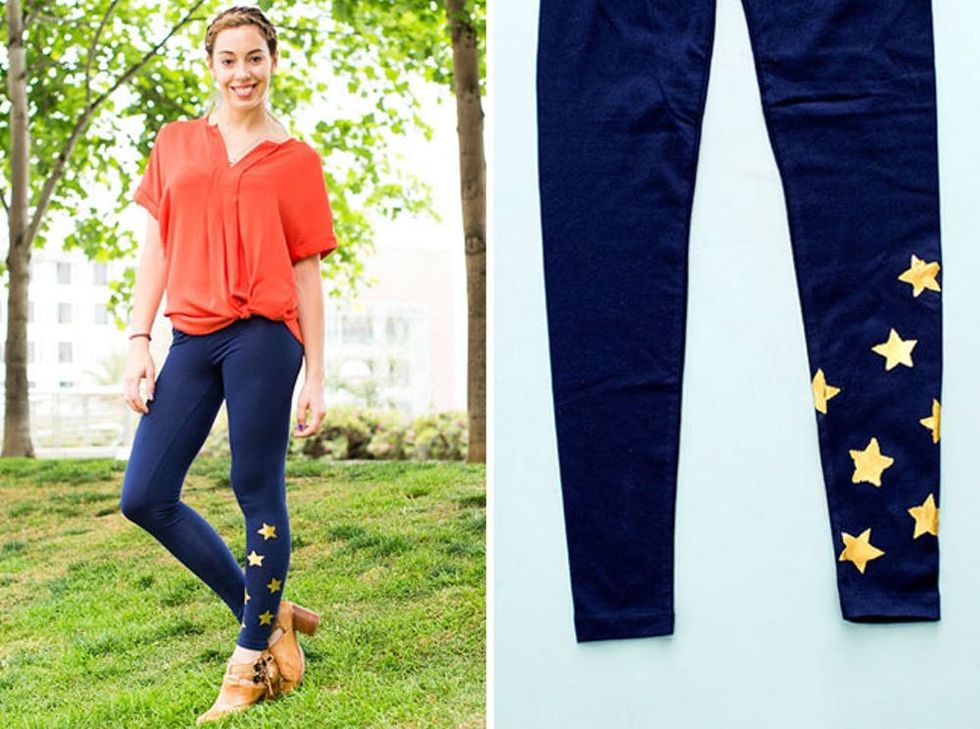 9. Make Your Leggings Luxe With Gold Foil Patterns: Second to glass etching on the level of "whoa, I can't believe how easy that is" is gold foil transfer paper. It makes it easy to iron gold foil onto any fabric, and even some other materials like cork! For this style hack, we added a burst of stars to one leg of a pair of leggings.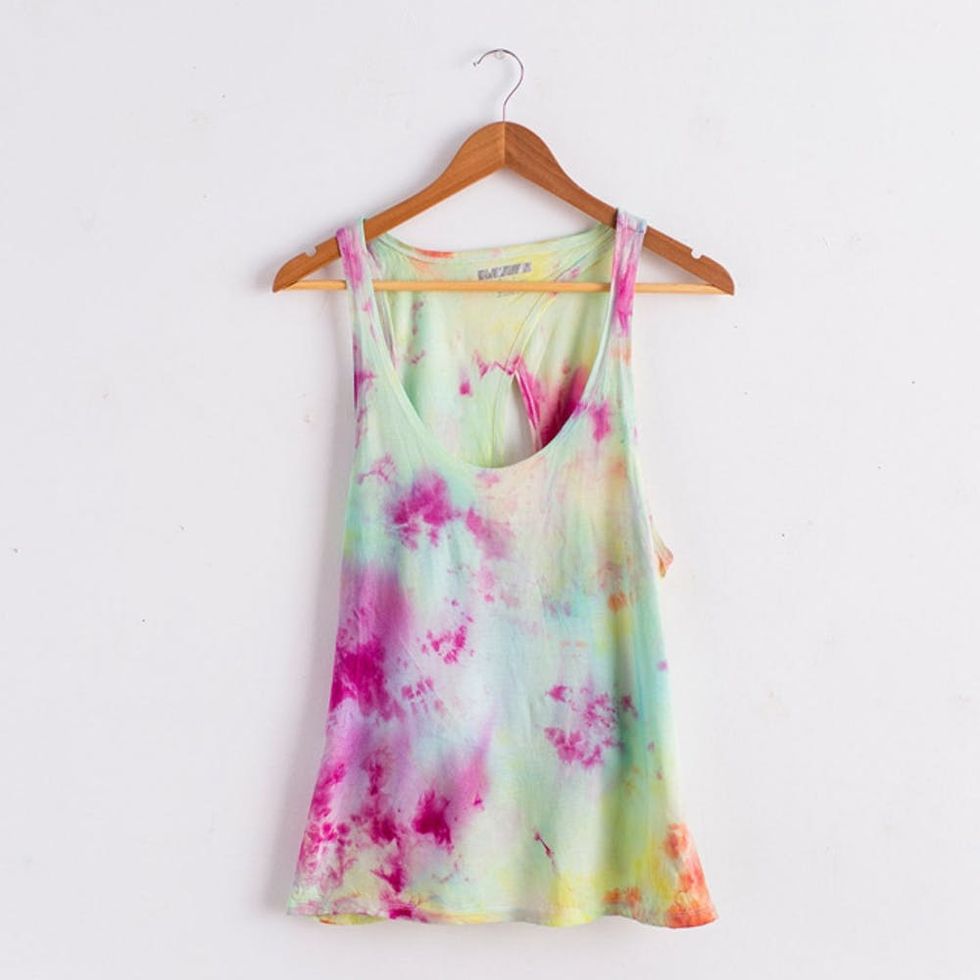 10. Use Ice to Tie Dye Your Whites: You read that right. You can actually use ICE to tie dye! Take any white garment, sprinkle a little dye on it, cover with ice and then let the ice melt. The patterns you get are totally unique and impossible to replicate. We love how it turned out on this summery sundress.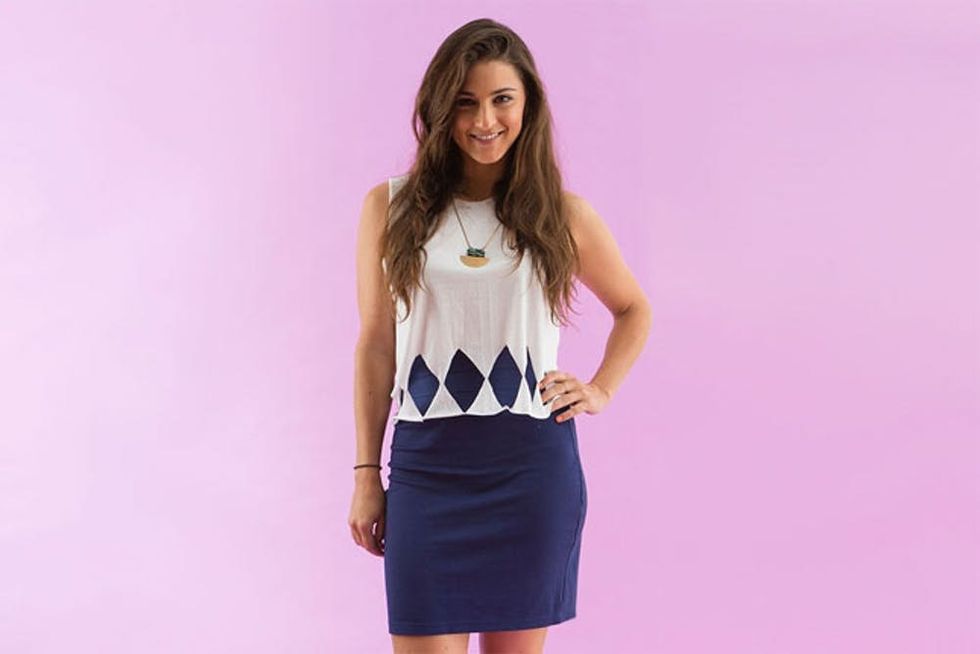 11. Embrace the Art of the Geometric Cut-Out: A classic white t-shirt will always be a DIY'ers BFF. You can cut it, dye it and tie it and it will always look on point. For this little number, we took the cut-out trend and added a geometric twist.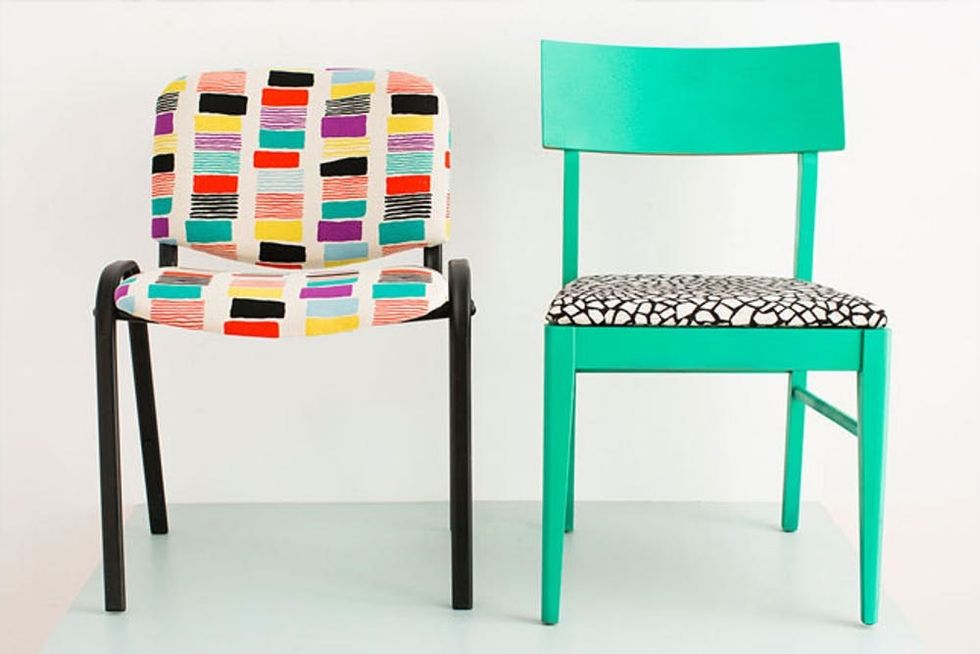 12. Give Old-School Chairs a Brand New Look: When we found these chairs, we knew they needed a little love. On the left, we went with a straight upholstery job using a fabric we love. On the right, we refinished and painted the whole thing, and then reupholstered the cushion. The result? Two totally modern chairs that look brand new!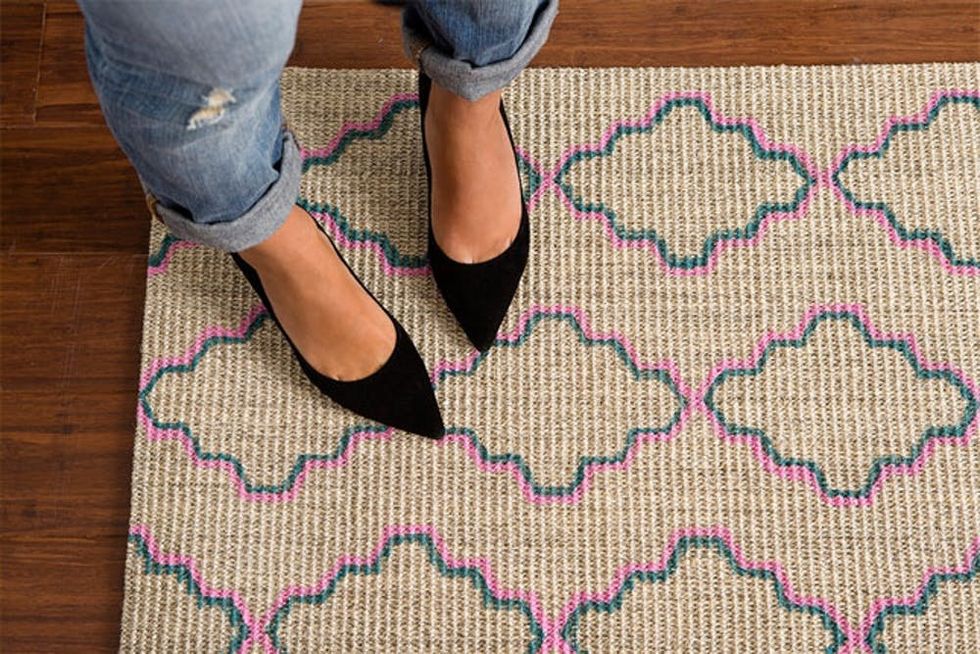 13. Add Patterns to Any Plain Rug: A good rug can be tough to find, especially if you're on a budget! Lucky for you, we've got a tutorial to make it a little bit easier. Find yourself a plain rug, or even part of a rug (you know you've seen those carpet remnants at a thrift shop or two) and come up with a design you like. Make a stencil and get your fabric paint and paintbrush.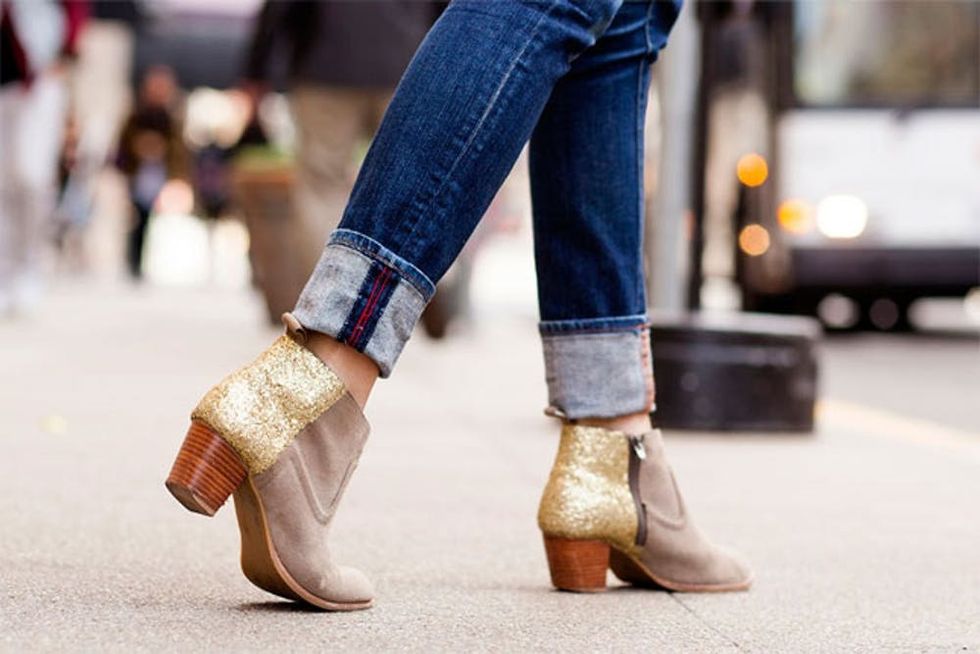 14. Glitter Up Your Boots: Honestly, we thought the moment for glitter boots had passed, but it's here to stay, and is an awesome way to punch up a pair of boots that aren't quite perfect.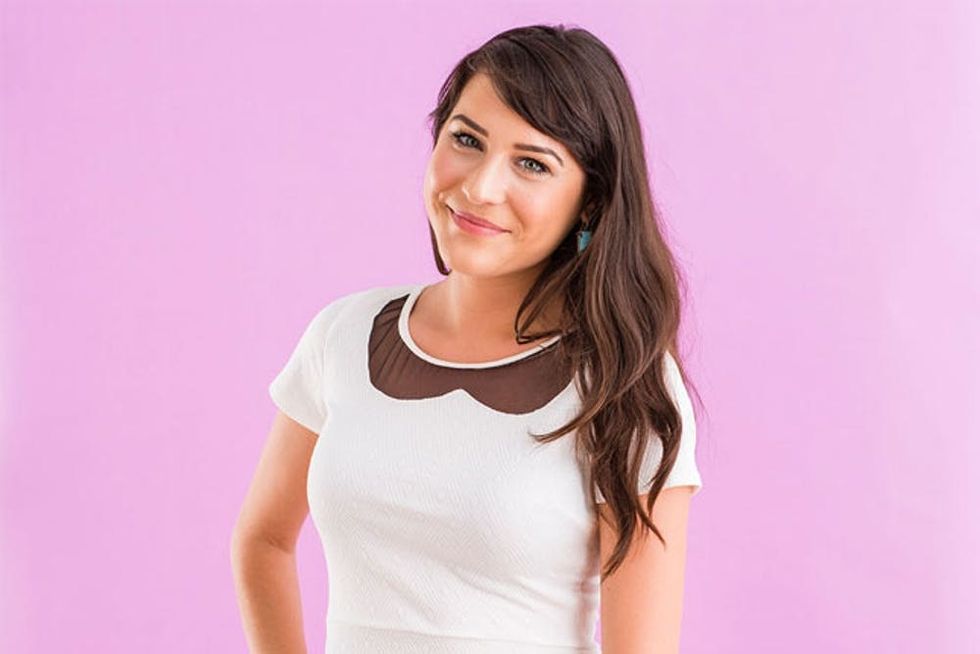 15. Embrace the Illusion Collar: Next up, one of our favorite recent trends: the illusion collar. You can add it to just about any top you find, and it's an awesome way to combine old styles with new.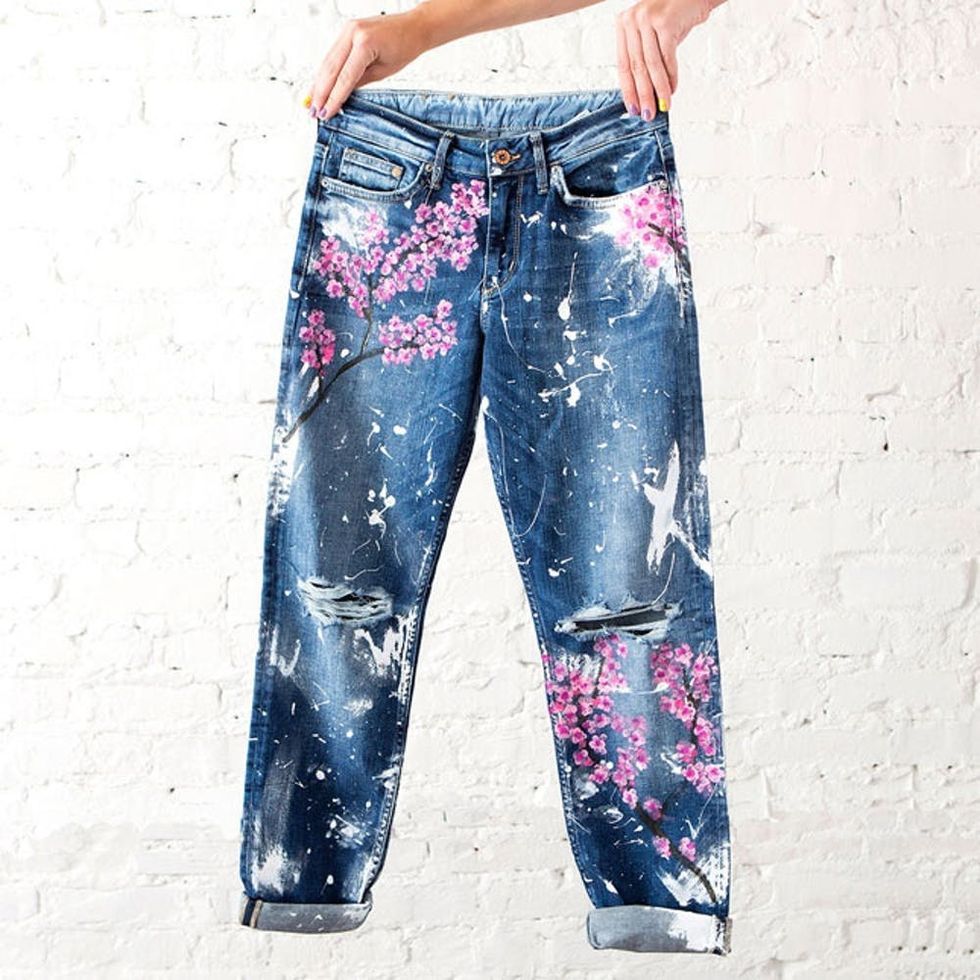 16. Make Your Own Cherry Blossom Jeans: Inspired by a pair of jeans on Blake Lively's Preserve site, we took fabric paint to denim to bring these floral beauties to life.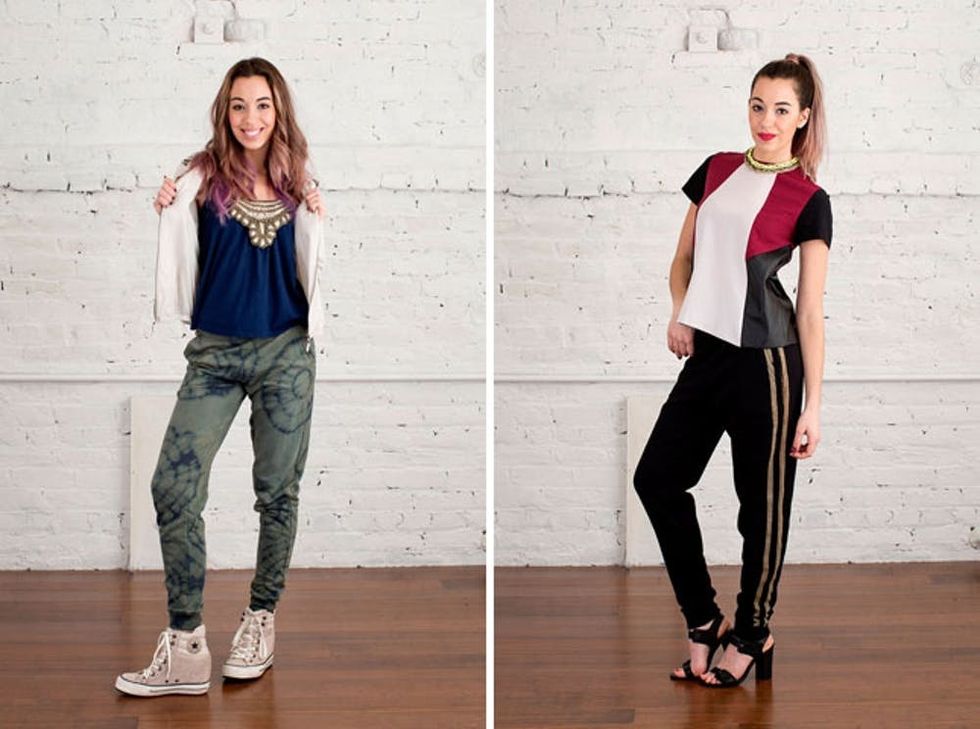 17. Use Bleach to Personalize Joggers: Did you know that you can use bleach to actually dye your clothes? Technically, you're removing the dye that is already there, and the color and pattern results can be pretty cool. On the left, we went with a boho twisted tie dye design and on the right we're channeling our inner sporty spice. And once you create a hack of your own, you're one step closer to being able to wear sweatpants to work. Aka #winning.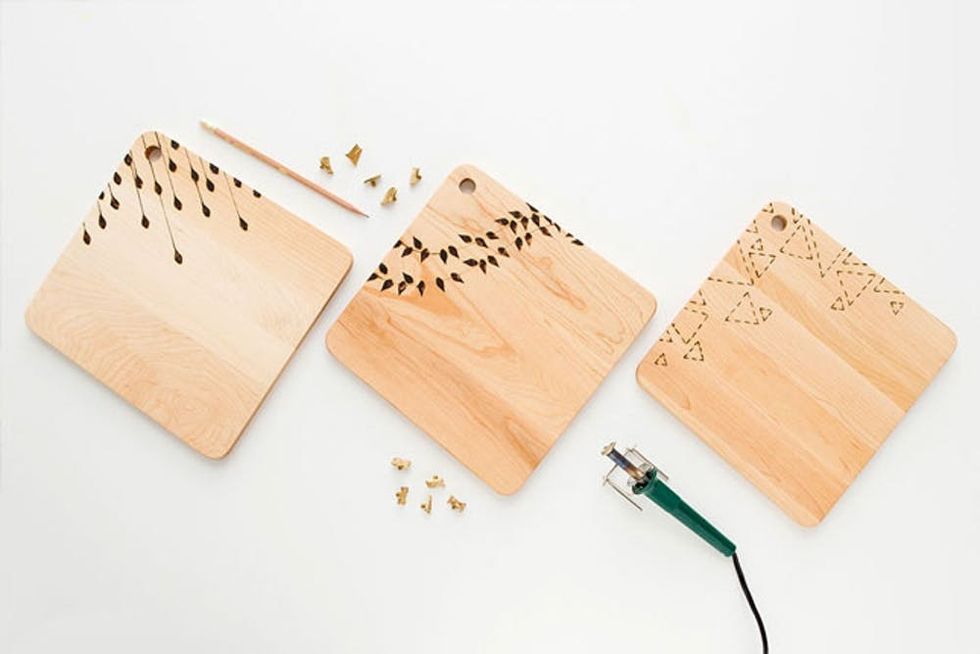 18. Customize a Cheese Board: Confession: I personally have an addiction to cheese boards, cutting boards and wooden serving boards. They're just so… pretty. And I've seen a few here and there at thrift shops in the past and hadn't thought twice about purchasing them. That is, until I fell in love with our easy wood-burning tool. You can use this doodad to add just about any design you like to any piece of wood.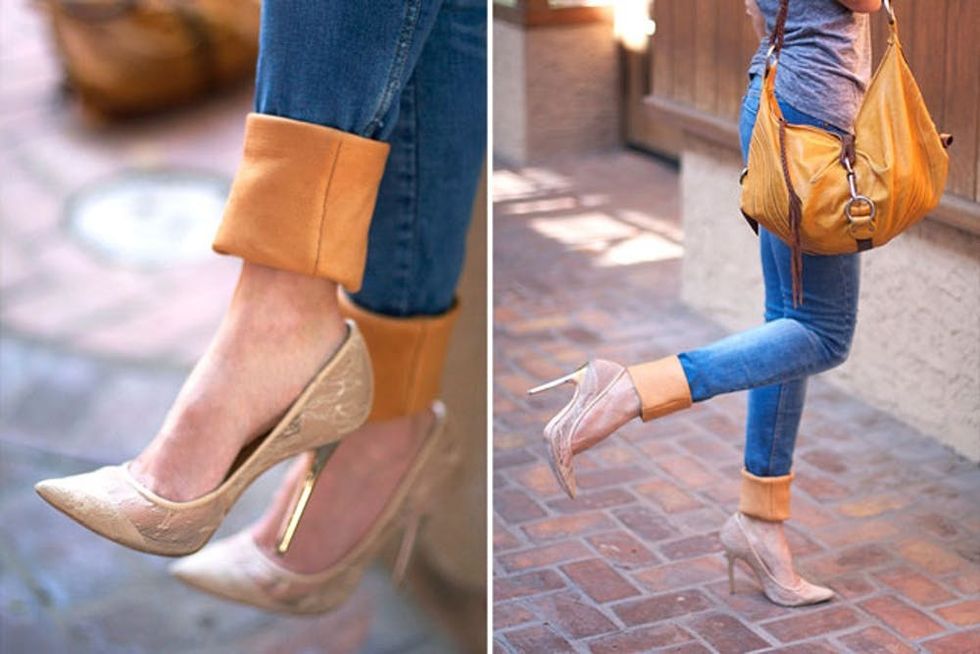 19. Add Leather Cuffs to Jeans: Looking to fancy things up in the jeans department? Leather to the rescue.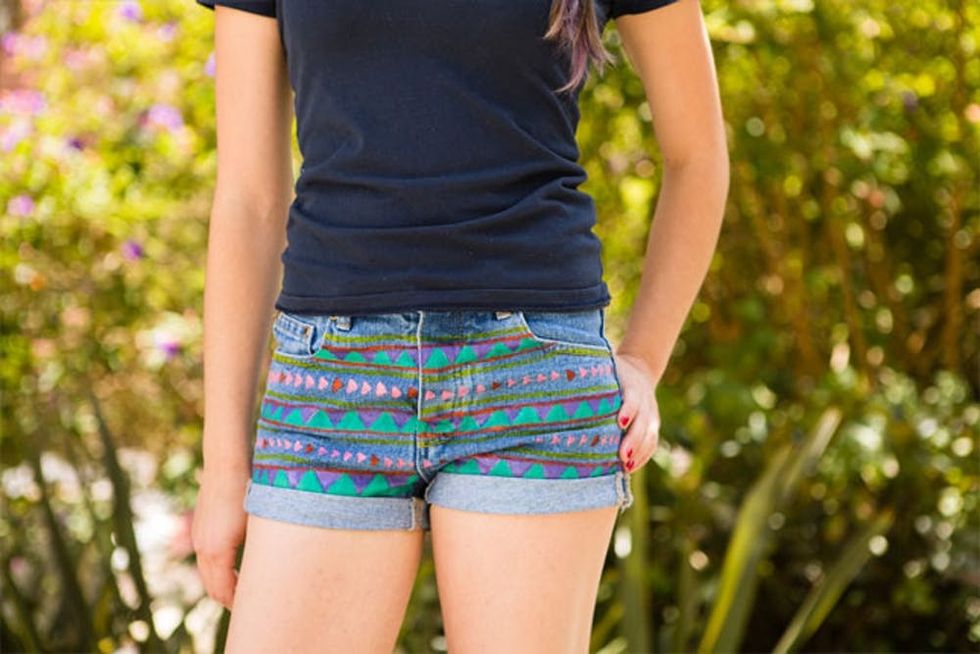 20. Customize Your Cutoffs: Speaking of getting fancy with your denim, plain old cutoffs are so last year ;) But seriously, if you're looking to up your jort game this summer, get yourself to Savers, buy a pair or two of jeans and start cutting, fraying an painting!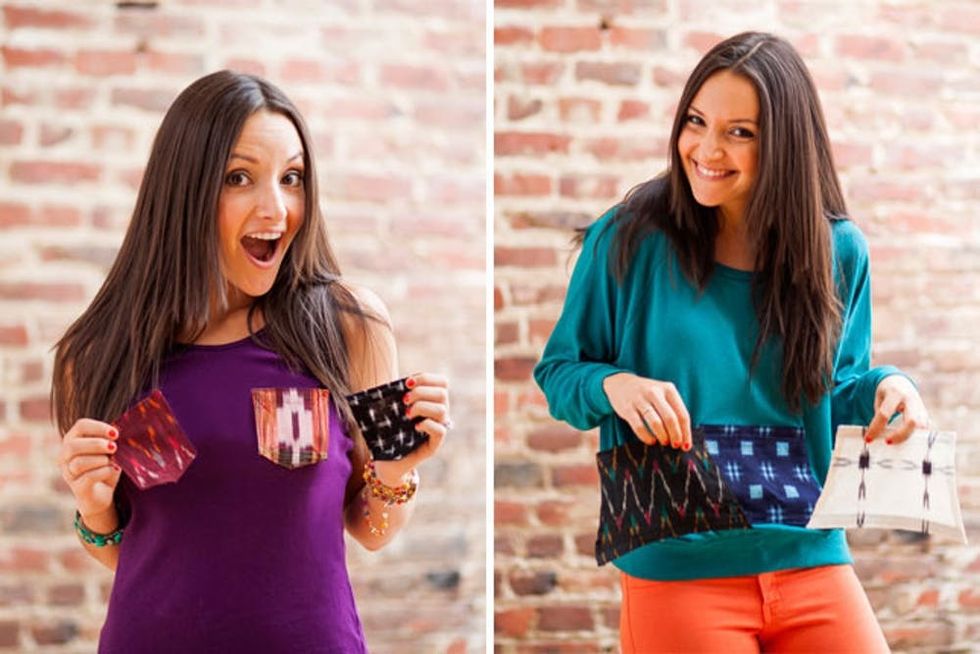 21. Put a Pocket on It: Want to pep up a plain old tank, tee or sweatshirt? You can use Velcro to add patterned pockets to all of the above.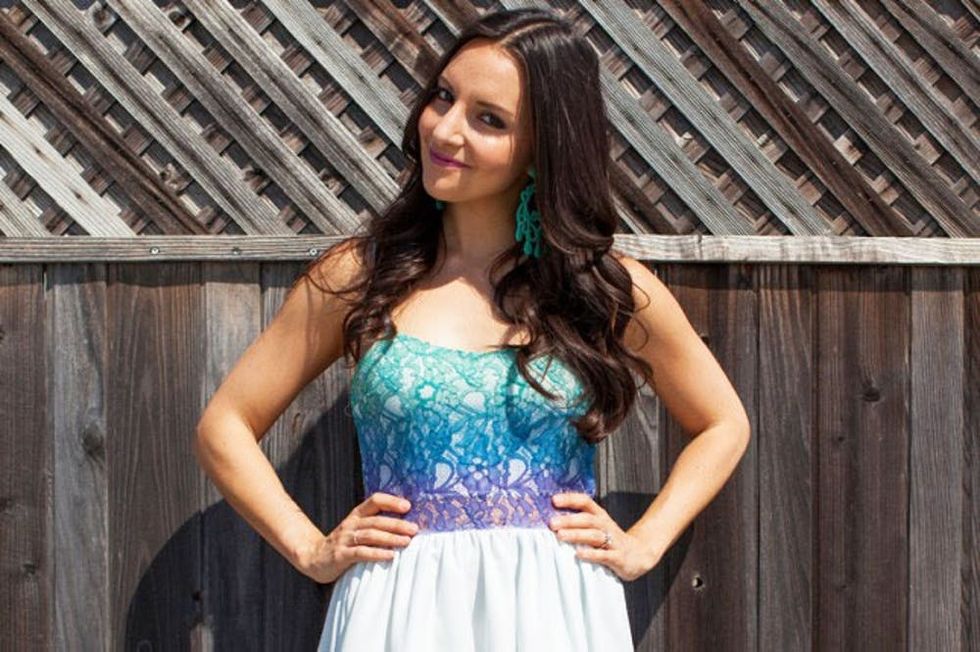 22. Dip Dye a Sundress: This gorgeous piece is an oldie but a goodie. We took a white lacy sundress that was a little bit past its prime and gave it a whole new style. We love the purple to blue to teal ombre look.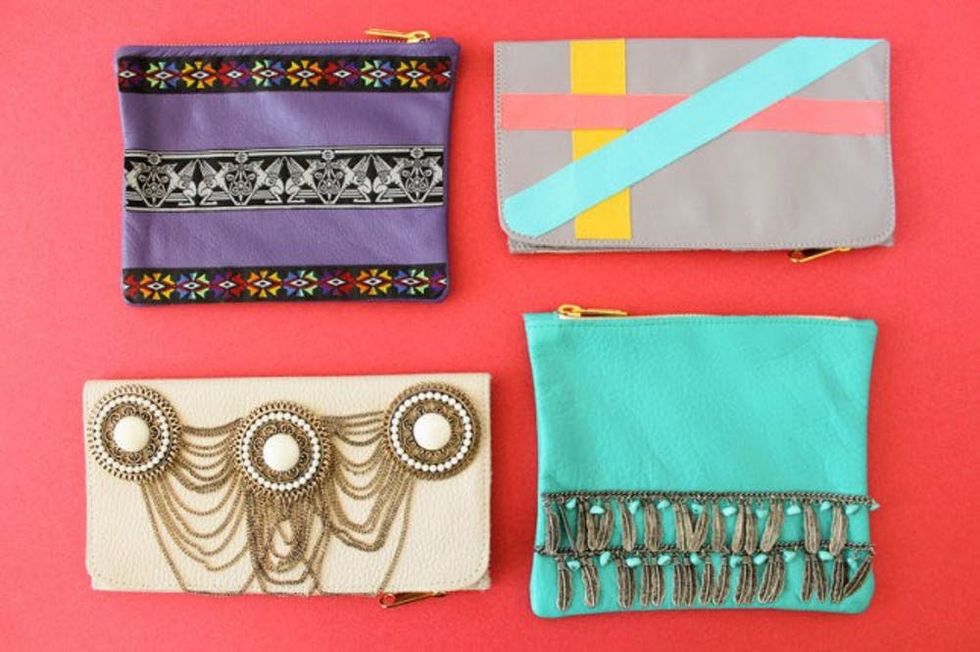 23. Add a Necklace, Seriously: That's right. The two clutches on the bottom actually have necklaces attached to them! We were on the hunt for a super unique piece and took to a thrift store to make our embellished clutch dreams come true.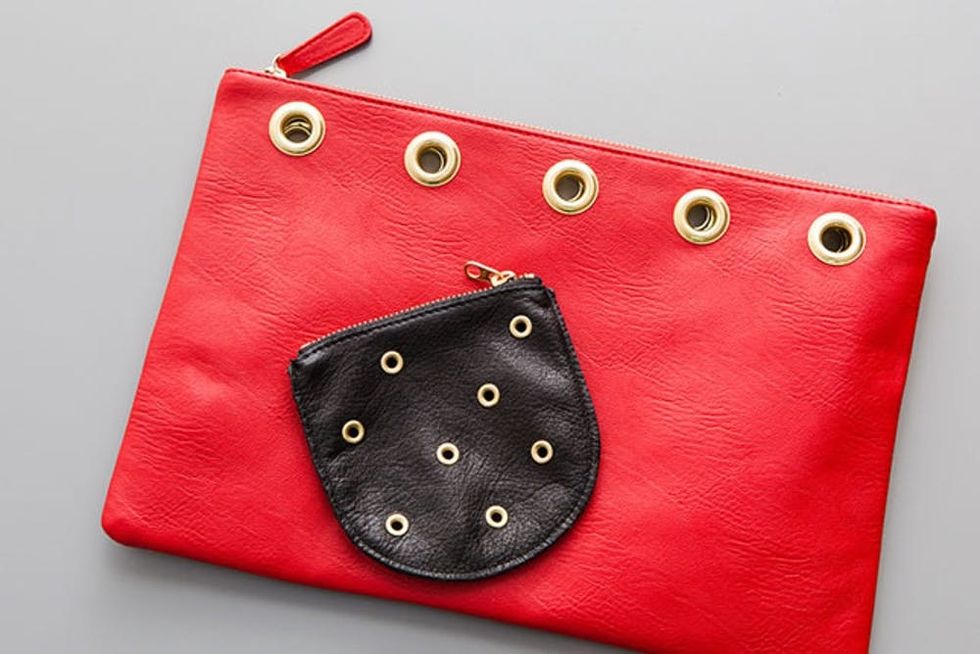 24. Grommet It Up: Are grommets the new studs? You decide. And also, feel free to drool over these two edgy bags.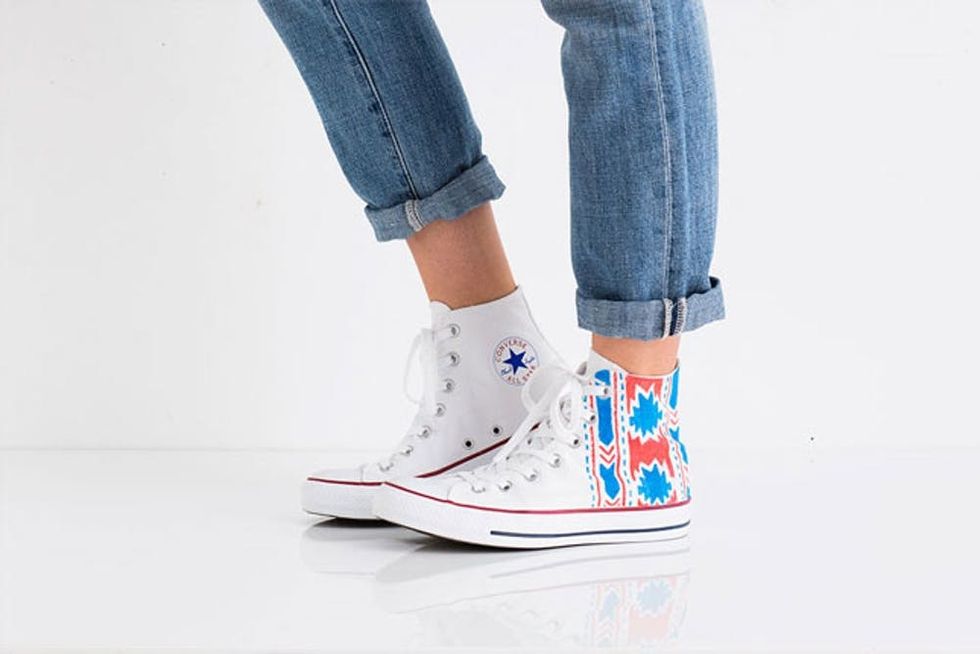 25. Draw on Your Sneakers: As you can tell, we're all about adding our personal touch to the kinds of basics that you can find at most thrift shops. Case in point: sneaks.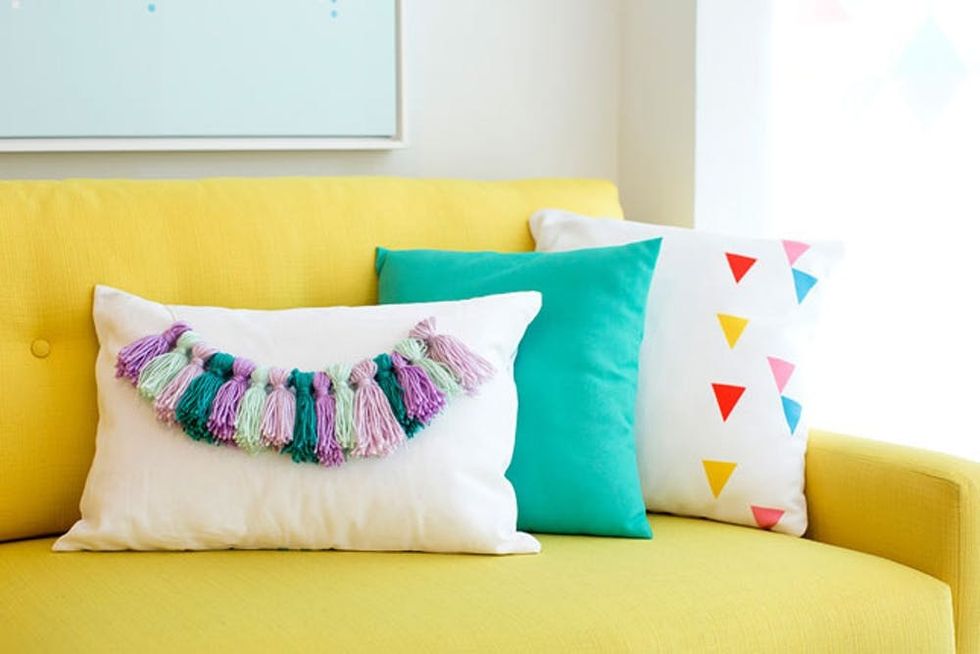 26. Attach Yarn Tassels to Throw Pillows: Add texture to your throw pillow game by adding… more tassels!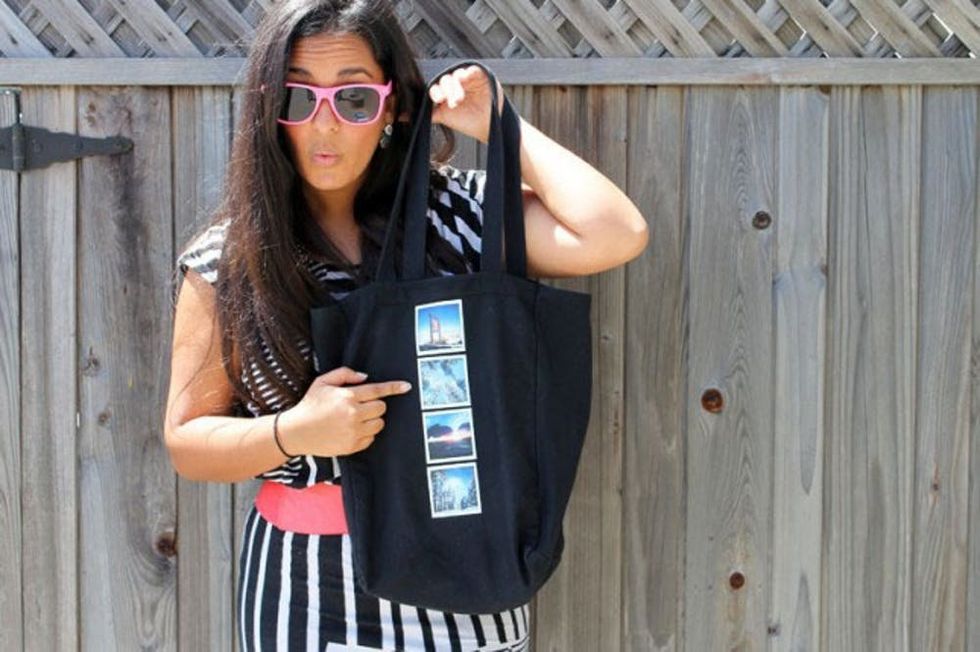 27. Iron-on Photos For the Win: I created this bag using photos from a road trip my husband and I took across the country (actually, when we moved from NY to SF!) and just love it.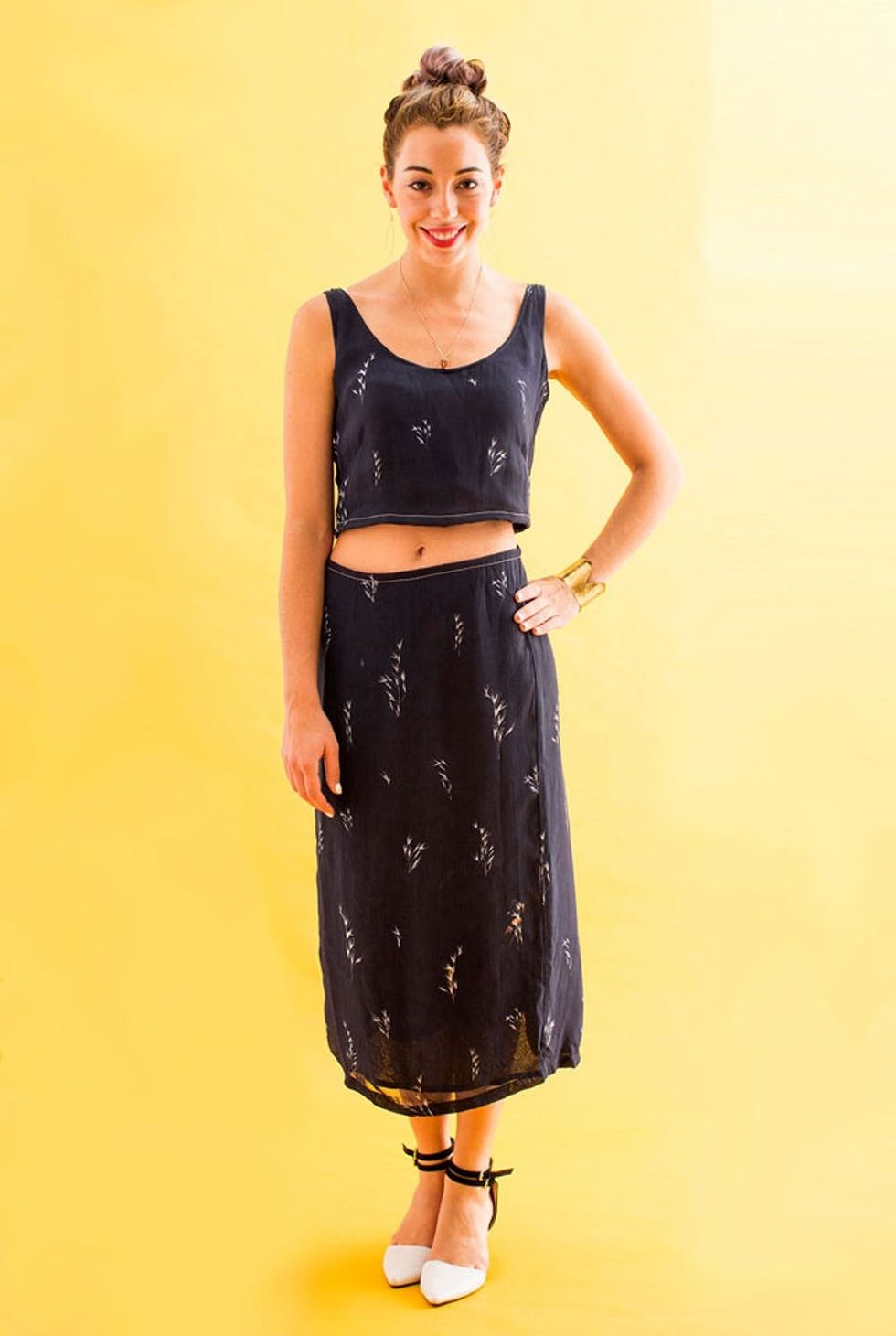 28. Turn a Thrift Store Dress into a Twin Set: How awesome is this? We took a thrift shop dress that just didn't fit quite right and turned it into a twin set. Taylor Swift would most definitely approve.
What cool things have you created with thrift store finds? Share them with us in the comments below.
This post is a collaboration with Savers.
Anjelika Temple
As Chief Creative Officer and Founding Partner at Brit + Co, Anjelika Temple brings her voracious consumption of all things creative and colorful to DIY projects, geeky gadgetry finds and more. When she's not DIY-ing her heart out, you'll find her throwing dinner parties with friends or adventuring with her husband David, their daughter Anokhi, and their silly dog Turkey.
DIY Style