How to Wear the 19 Hottest Looks from the VMAs Red Carpet
Aug 25, 2014
Can you believe it's been an entire year since Miley Cyrus' crazy twerk-filled performance? Yeah, we can't either. Time has flown, but we aren't complaining; it just means that we get to check out more red carpet fashion! The VMAs are known for bringing us some of the boldest and most head-turning outfits, and last night was no exception. Here are our 19 picks for the best dressed of the night, along with easy ways to add the looks to your own wardrobe.
---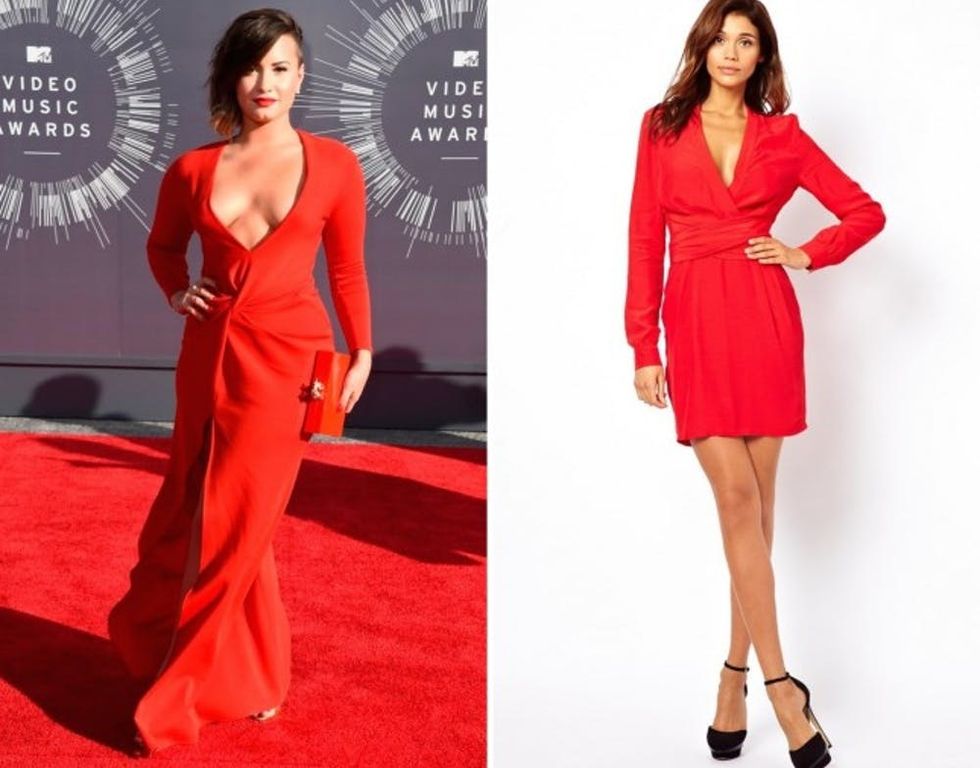 1. Wrap Dress With Tulip Skirt ($47): Demi loves to be bold on the red carpet, which was pretty obvi when she arrived in this red hot number. For a slightly more demure look, check out our ASOS pick, complete with a fun tulip skirt.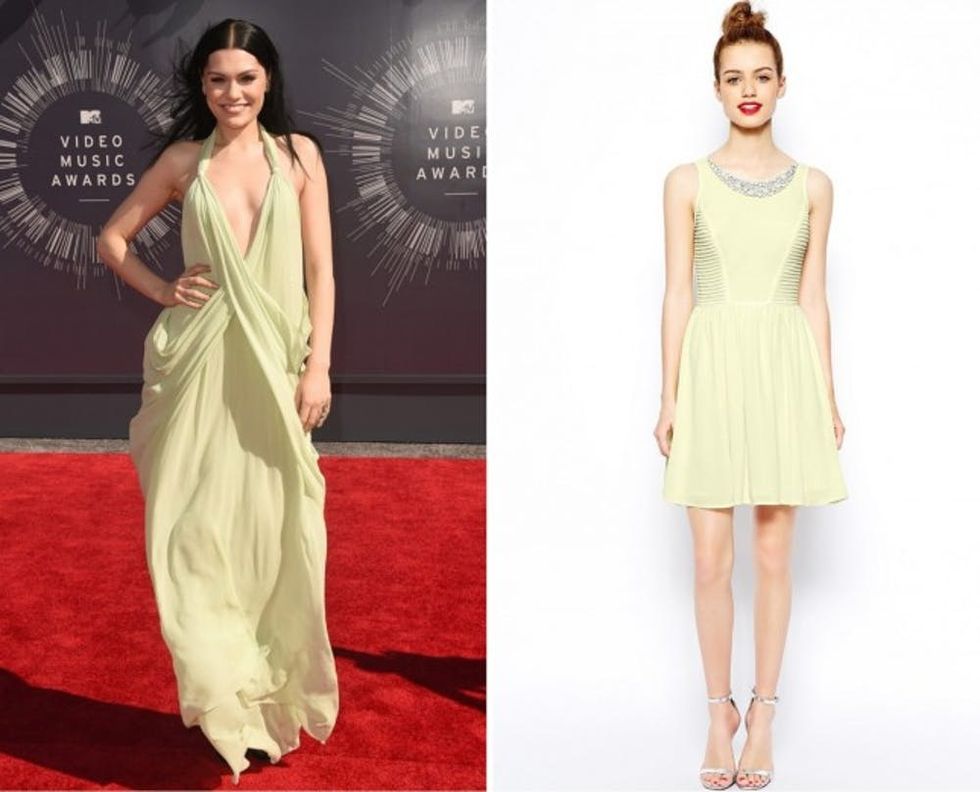 2. Chiffon Neck Trim Dress ($37): Lighter, almost pastel shades are generally reserved for the spring and summer months, but we're throwing caution to the wind and rockin' it during the fall as well. Jessie J, thank you for introducing us to this wonderful hue (which we're calling Summer Lime).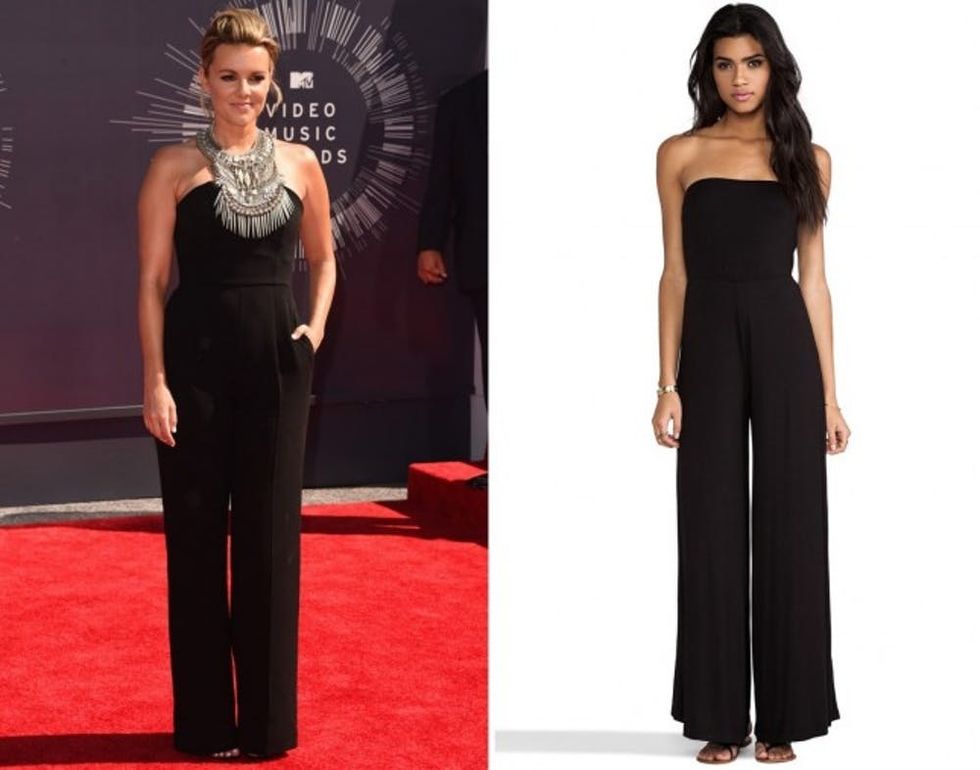 3. Casuals Strapless Jumpsuit ($52): Bachelorette alum Ali Fedotowsky took this sleek black jumpsuit from fab to, well, even more fab with a stunning statement necklace. We really want to find a way to DIY one, but we'd totally spend big bucks on that beauty any day.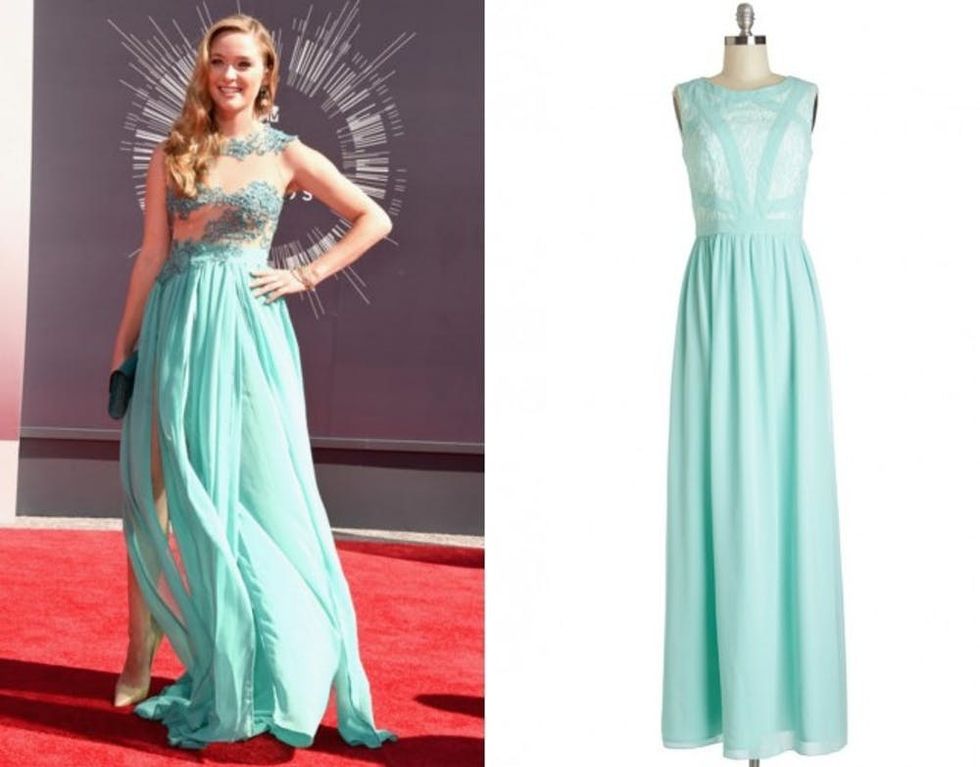 4. Magnificent to the Max-i Dress ($90): A graceful, feminine gown is not really what you'd expect to see at the VMAs, but Awkward actress Greer Grammer convinced us that they work for every. single. event. This gorgeous dress would be oh-so excellent for bridesmaids.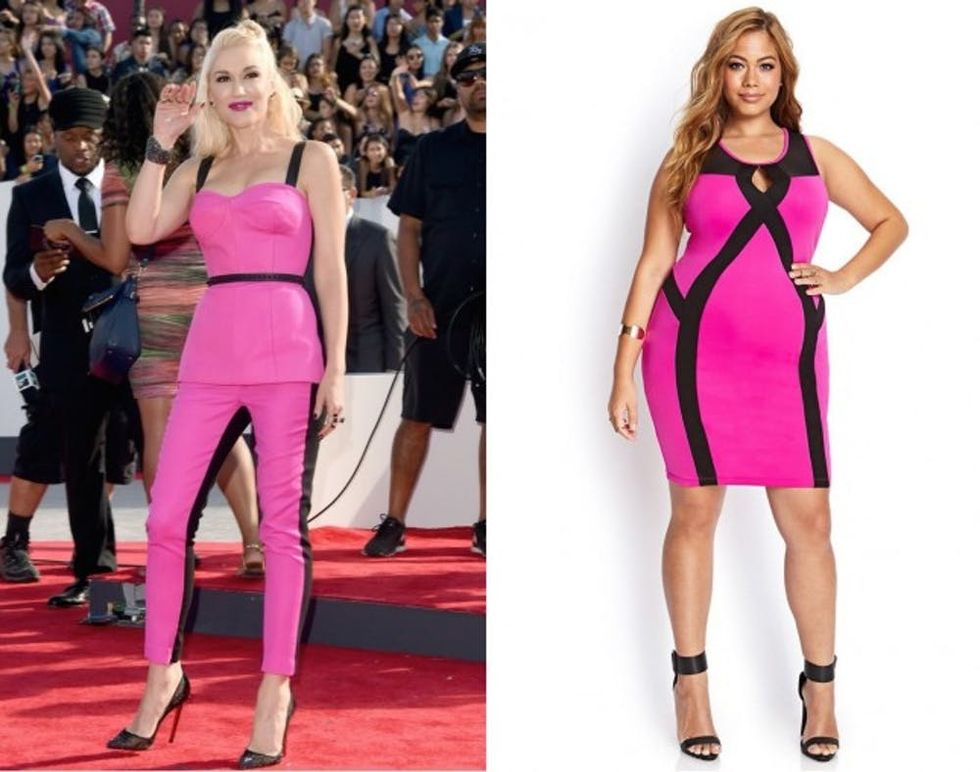 5. Color Block Scuba Knit Dress ($25): After nine incredibly long years, this lovely lady finally attended the VMAs again, and she did it in a rockin' peplum outfit from her very own LAMB Couture label. Well, that's Gwennie Gwen Gwen for ya.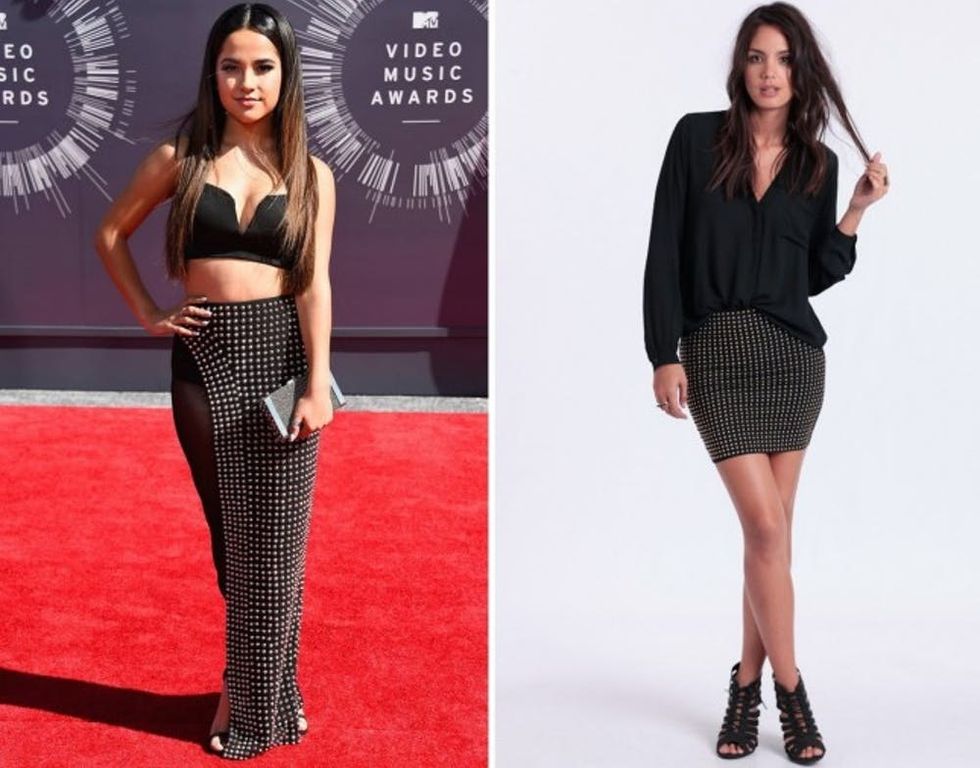 6. Take the Stage Studded Skirt ($48): Singer Becky G took the words "studded skirt" to a whole new level and got this amazing result. Studs quite possibly might be the new sequins (too far?).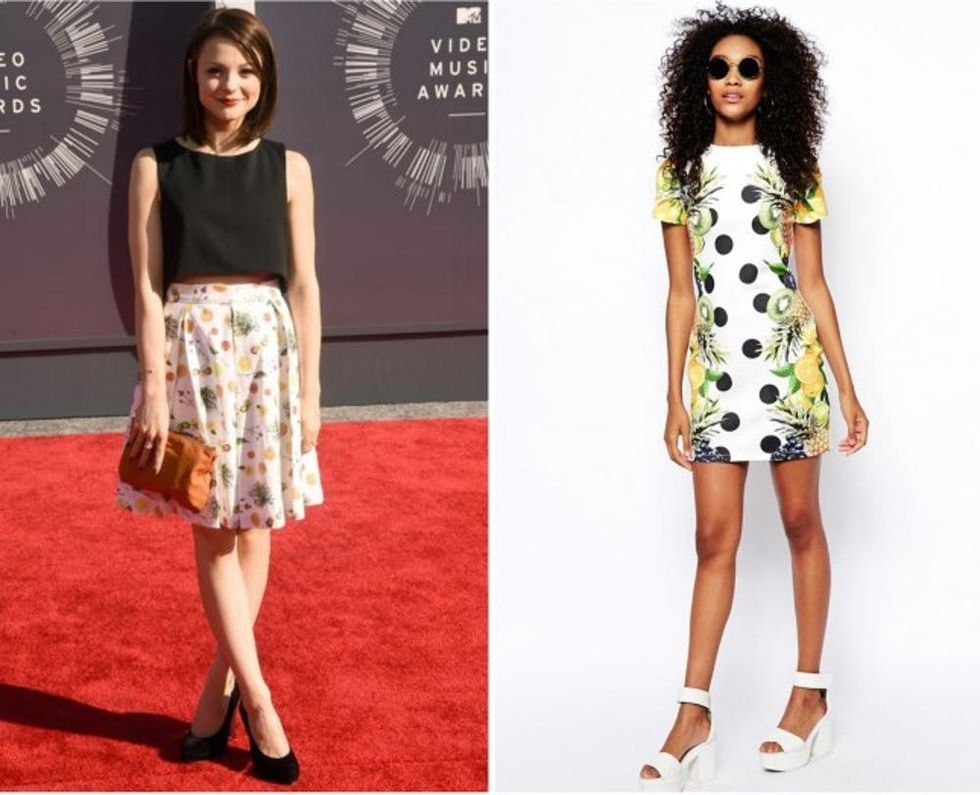 7. Tropical Fruit Print Dress ($37): Fruit prints are hands down one of the best results of summer fashion. As Finding Carter actress Kathryn Prescott knows, what better way to show your love for the sweet stuff than through your clothing?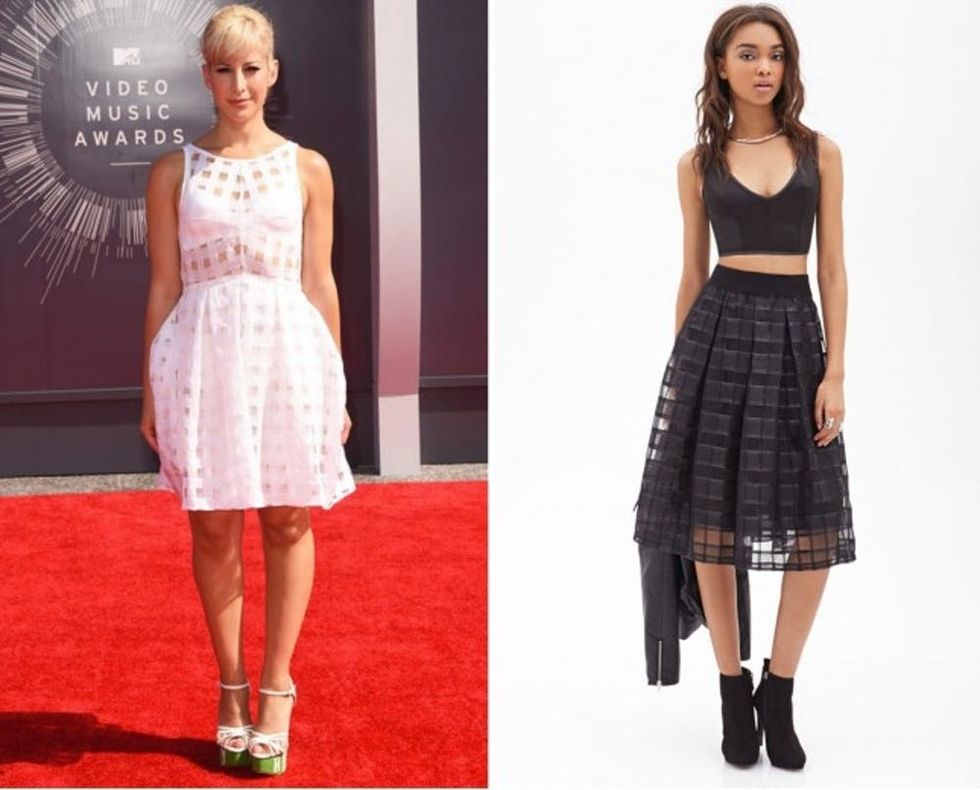 8. Windowpane-Patterned Skirt ($25): Rachel Antonoff is a well-known fashion designer, so we'd pretty much expect her to rock every red carpet. Even so, she surprised us with this peekaboo windowpane fabric, which we're dying to see more of.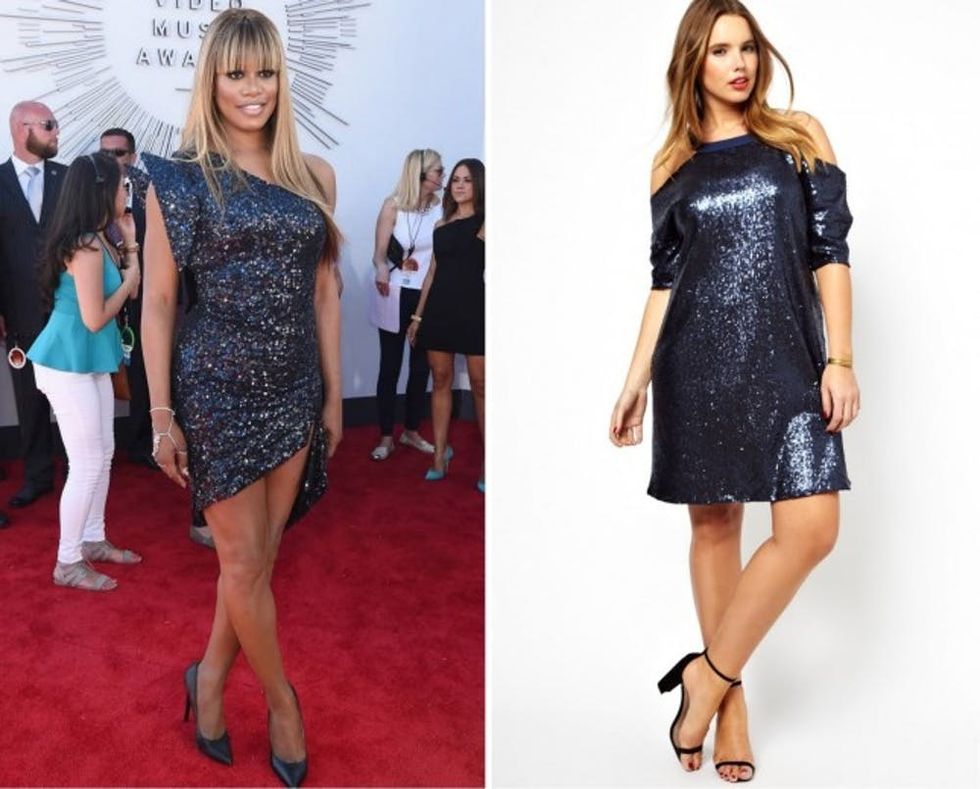 9. Curve Cold Shoulder Dress in Sequins ($59): Laverne Cox, you've done it again. Not only does is she constantly stealing scenes in the beloved Orange Is the New Black, but she's also one of the trendiest cast members in real life. This sparkly number is perfect for dancing the night away.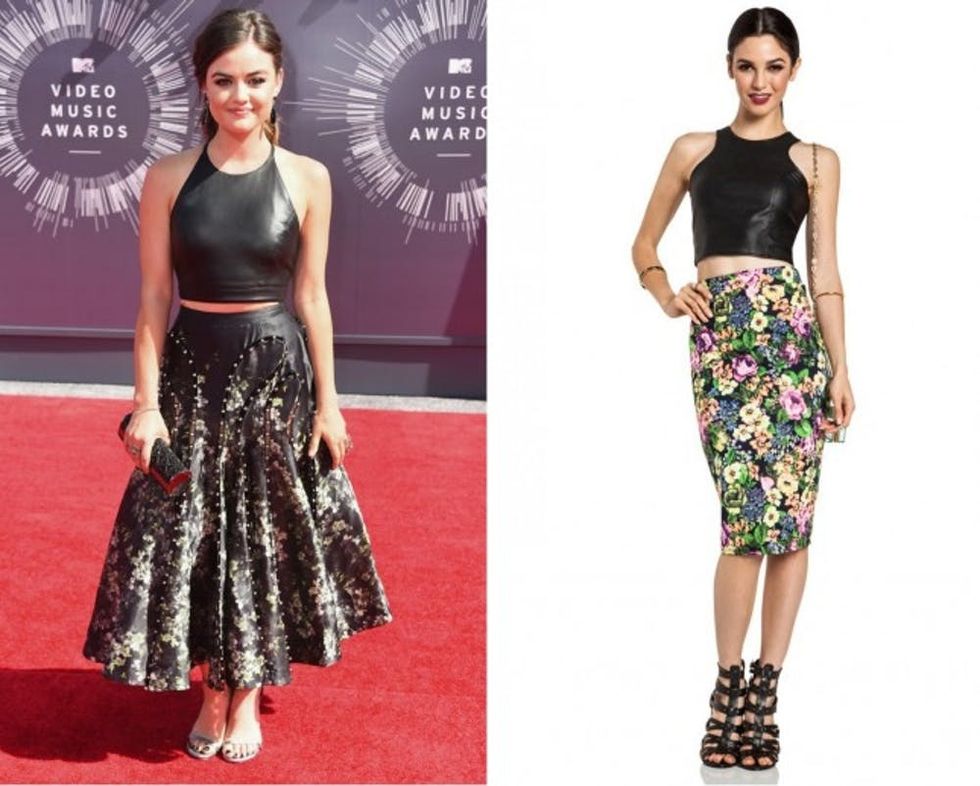 10. Vegan Leather Crop Top ($30): Pretty Little Liars star Lucy Hale's look is just more proof that leather works for every single season. This affordable crop top is so versatile; it'll work with anything from a high-waisted midi to a pair of printed shorts.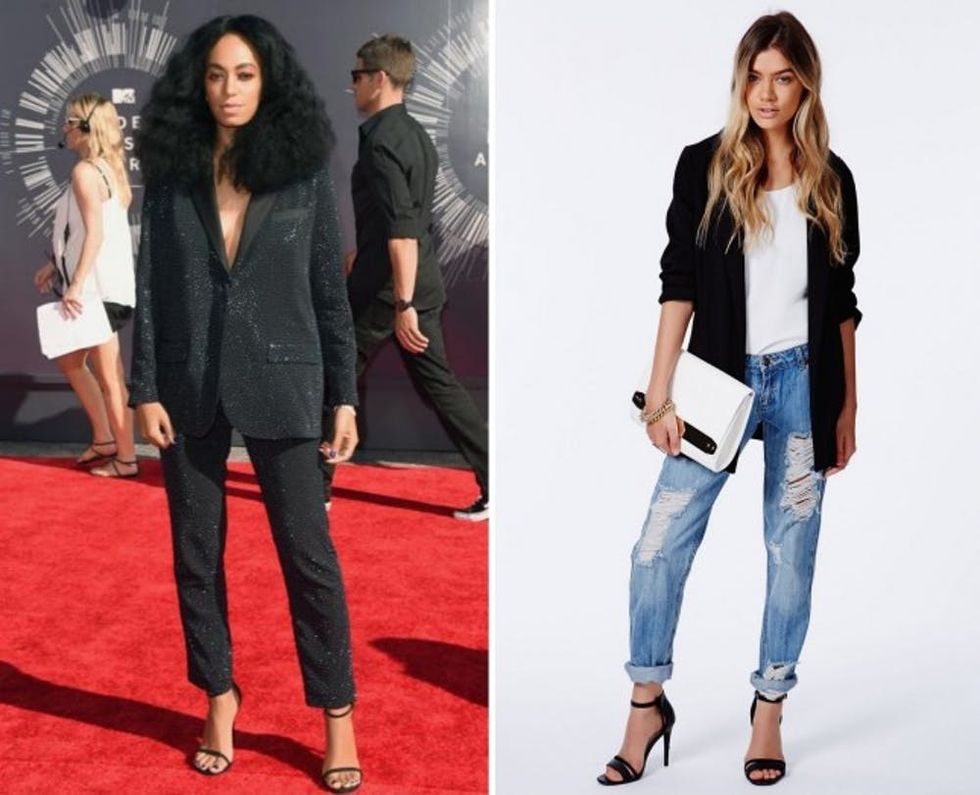 11. Black Textured Blazer ($45): Her big sis may have stolen the show, but Solange Knowles is always at home on the red carpet. Usually a fan of bold colors and prints, Solange pleasantly surprised us with this menswear-inspired look. Blazers are an excellent investment, especially when they're cool and textured like this one.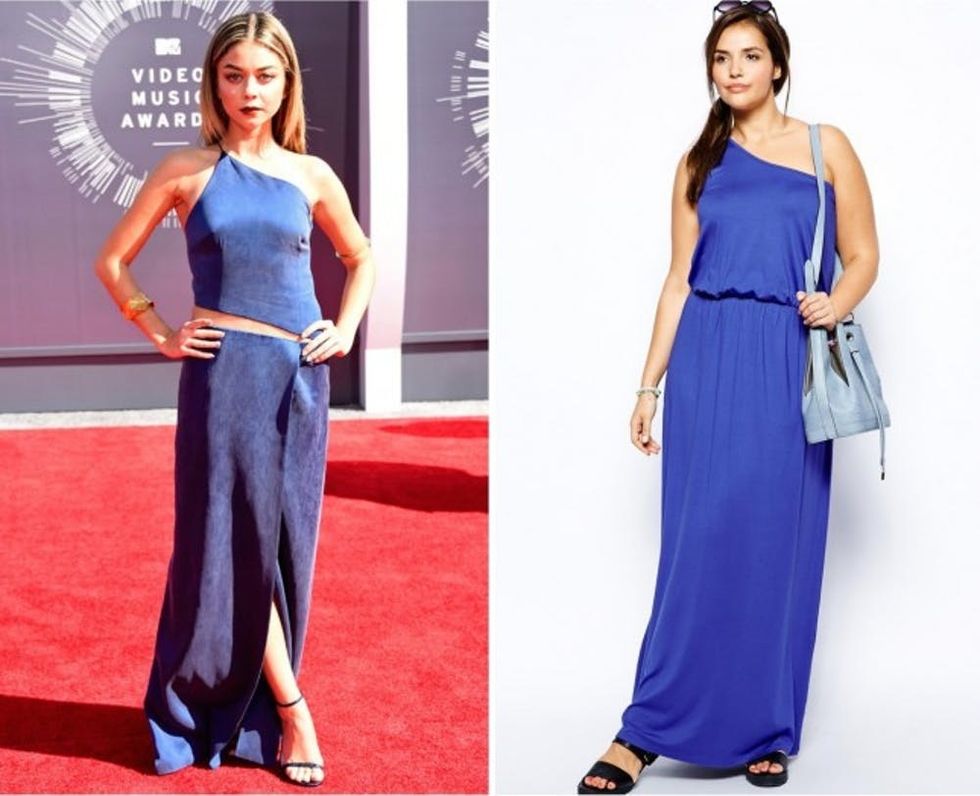 12. Curve Maxi Dress With One Shoulder ($55): Funny gal Sarah Hyland took a turn to the dark side (of fashion) in this sleek one shoulder gown. While we chose a more casual maxi, it could easily be dressed up with some sparkling earrings.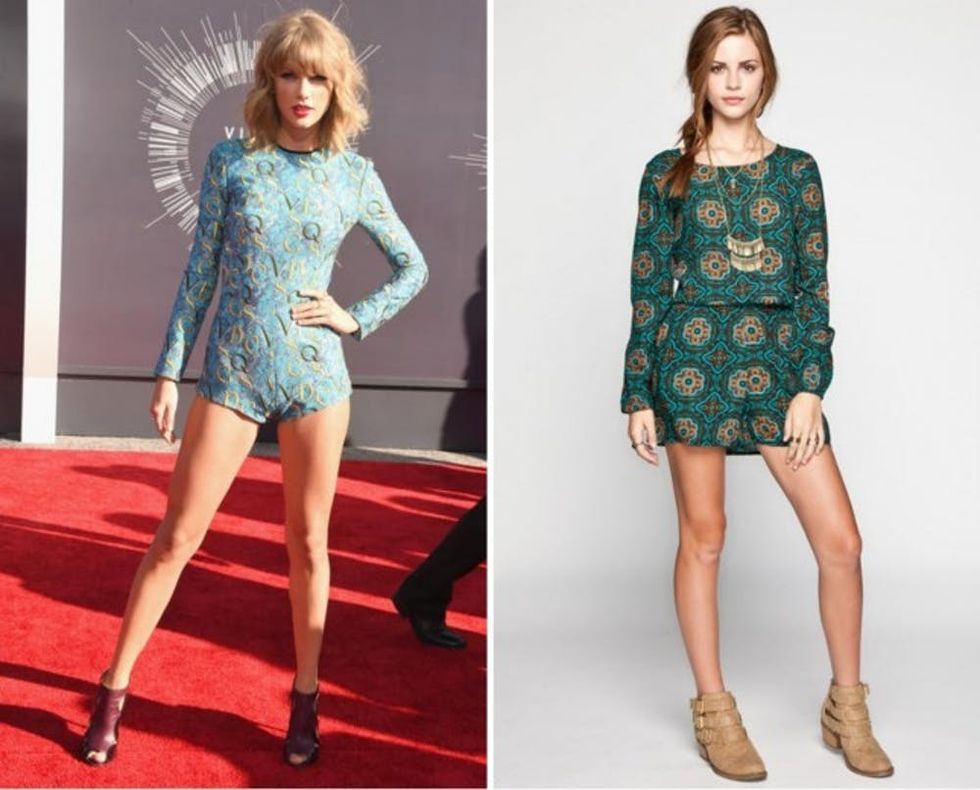 13. Tile Print Romper ($40): Taylor Swift pretty much wore a onesie on the red carpet but, in a way that only she could, pulled it off. We're taking cues from Tay with this fun printed long-sleeved romper that comes just in time for the start of fall fashion.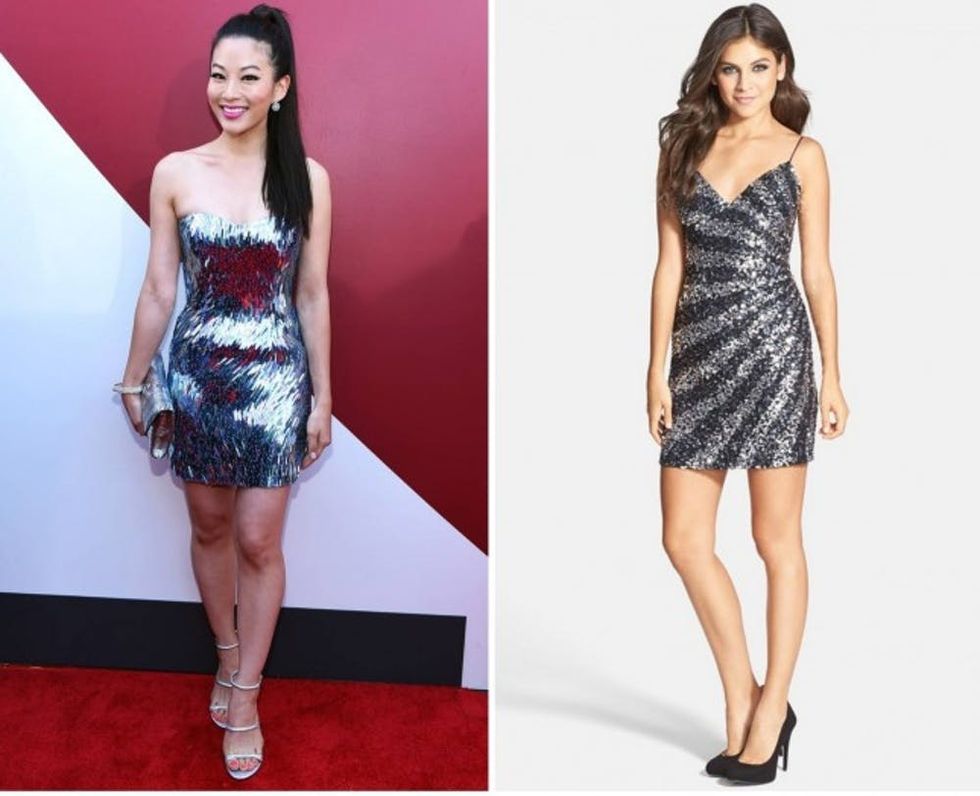 14. Sequin Silk Bodycon Dress ($268): Teen Wolf 's Arden Cho got her shine on last night in this spectacular bodycon dress. Okay, so we guess sequins really aren't going anywhere. No complaints here!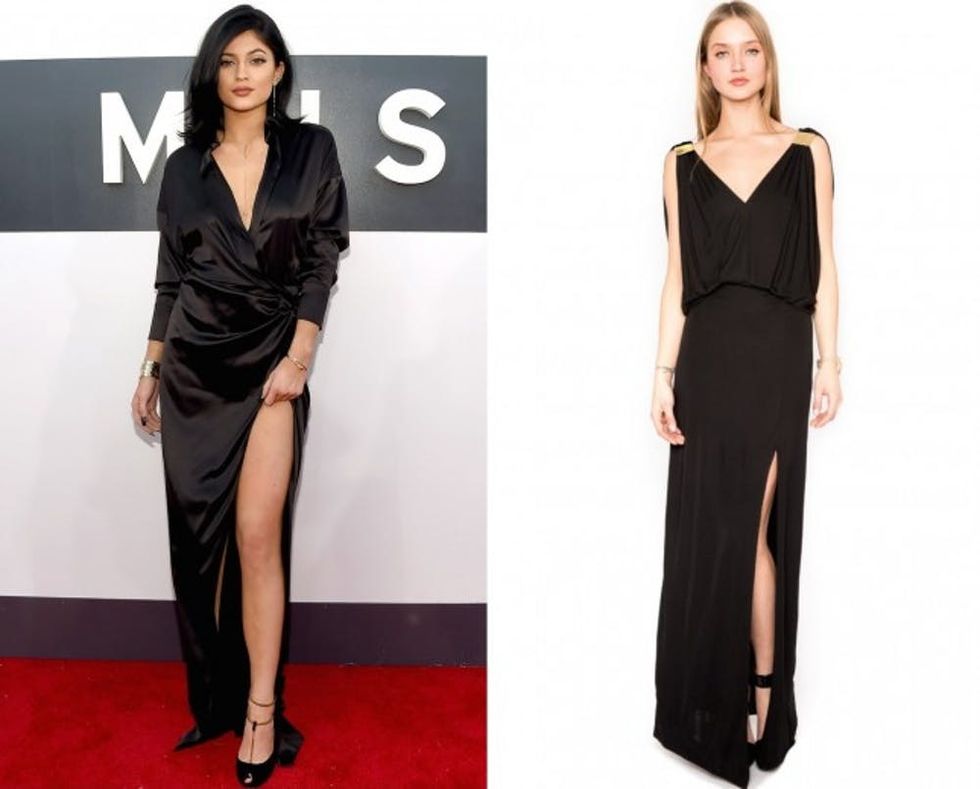 15. Cold Shoulder Dress ($68): Can you believe that Kylie Jenner is only 17?! We know, it's crazy. This high slit gown would even make Angie proud.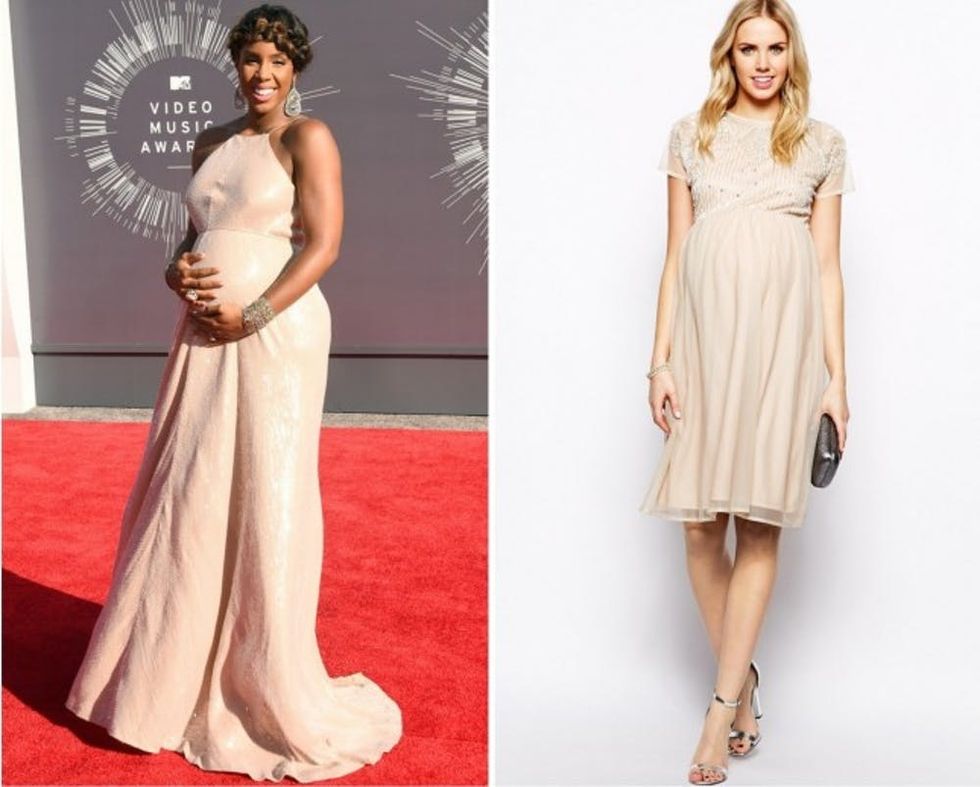 16. Maternity Embellished Skater Dress ($126): Kelly Rowland was the definition of ethereal yesterday. With that gorgeous crown braid and her simplistic gown, she basically looked like Mother Nature walking on the red carpet. Mamas-to-be, here's your chance to look just as amazing!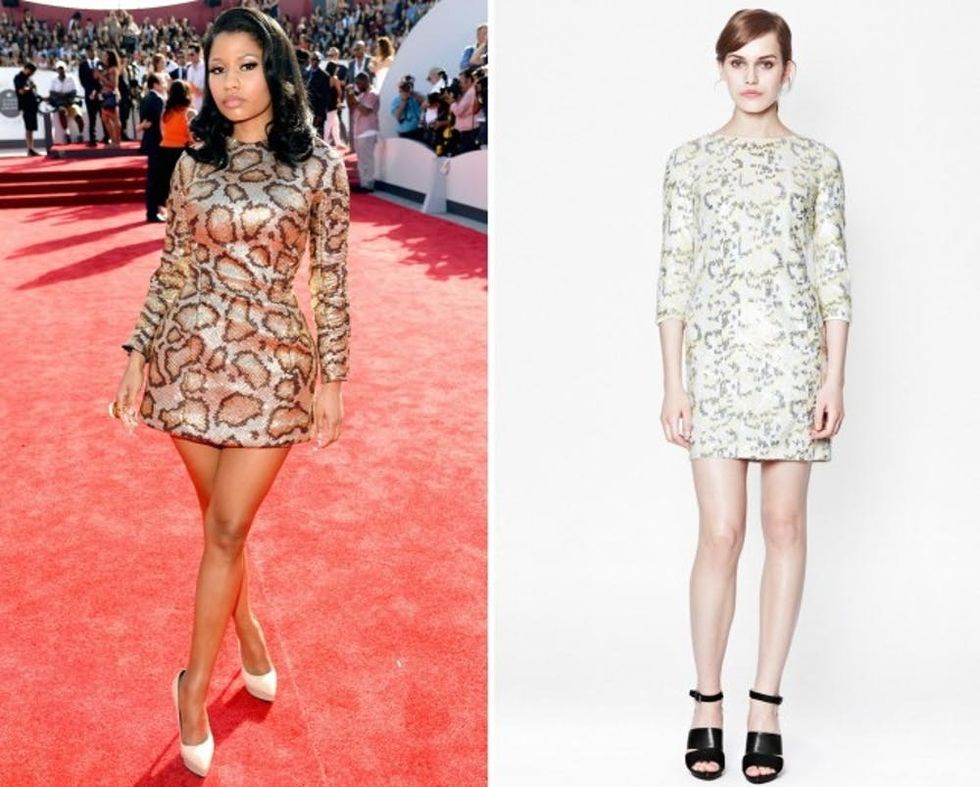 17. Animal Wave Splash Dress ($70): We all witnessed Nicki Minaj's unfortunate wardrobe malfunction, but let's take a look at her previous, unharmed outfit, shall we? Glitzy sequins seemed to be a theme of the night, but pairing 'em with an animal print was such a great move. Our French Connection pick is even cooler, in our opinion, because it uses colors uncommon to the animal print world.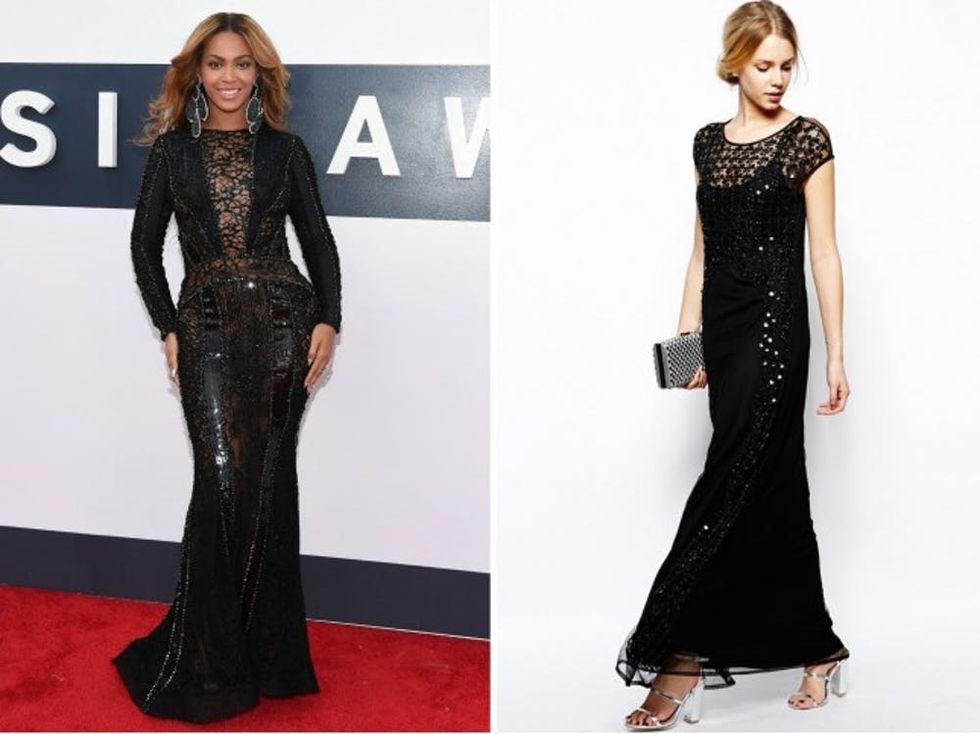 18. Embellished Maxi Dress ($66): All hail Queen Bey! And that's all we have to say about this.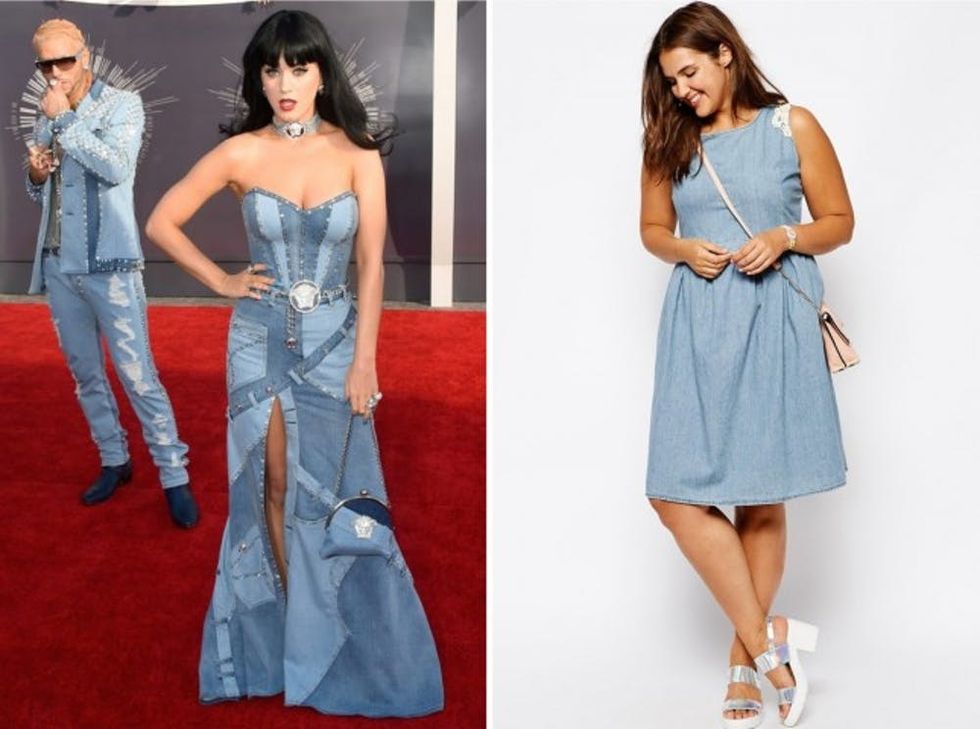 19. Curve Skater Dress With Crochet Trim ($68): And solely due to the fact that we love a good Britney + Justin throwback, THIS! Plus, our pick is pretty darn cute.
What was your favorite look of the night? Share your thoughts with us in the comments below!