This Site Will Write the Best OOO Message for You
Oct 26, 2015
Ever wish you could spice up your OOO auto reply and make things more interesting the next time you head out for a while? Westin and McSweeney's do too, which is one of the reasons why the hotel brand and almighty home of the best dry humor on the internet have teamed up to concoct the perfect out-of-office email. Whether you're heading out for an extended vacation or just taking a holiday weekend off, they've got something witty written up for you the next time you log off and get out of town.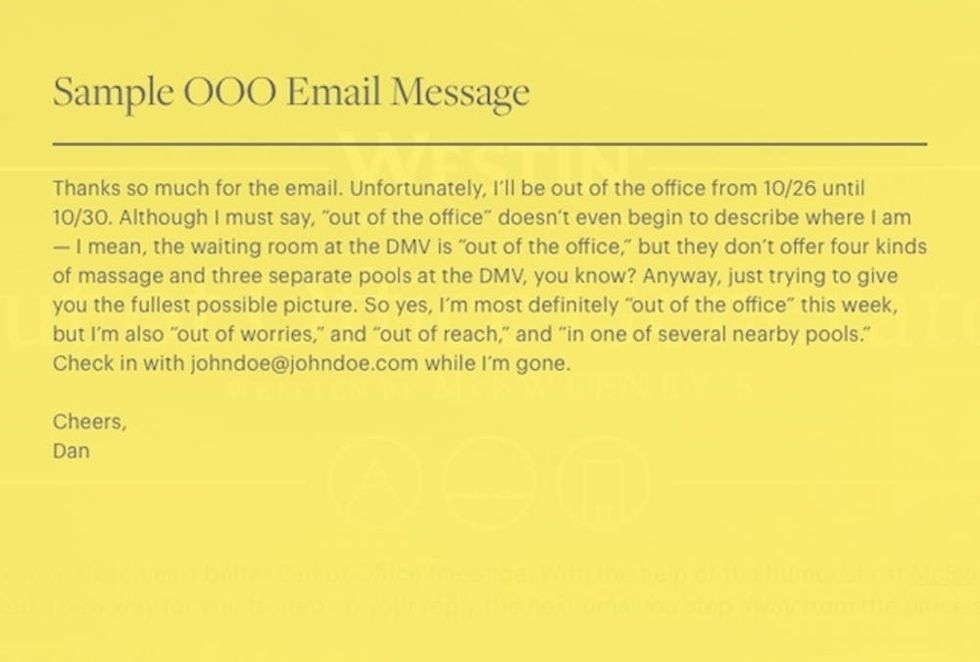 ---
"A better vacation deserves a better out-of-office message," the Westin microsite explains. "With the help of the humorists at McSweeney's, we've created a new way for you to step up your reply the next time you step away from the office and social media." Clearly a ploy to get us all to consider taking a vacation and staying in a Westin. While we're at it, you have to give them credit: it's a crafty little marketing moment that really does make you consider booking a trip somewhere great, or at least playing hooky from the office for a day.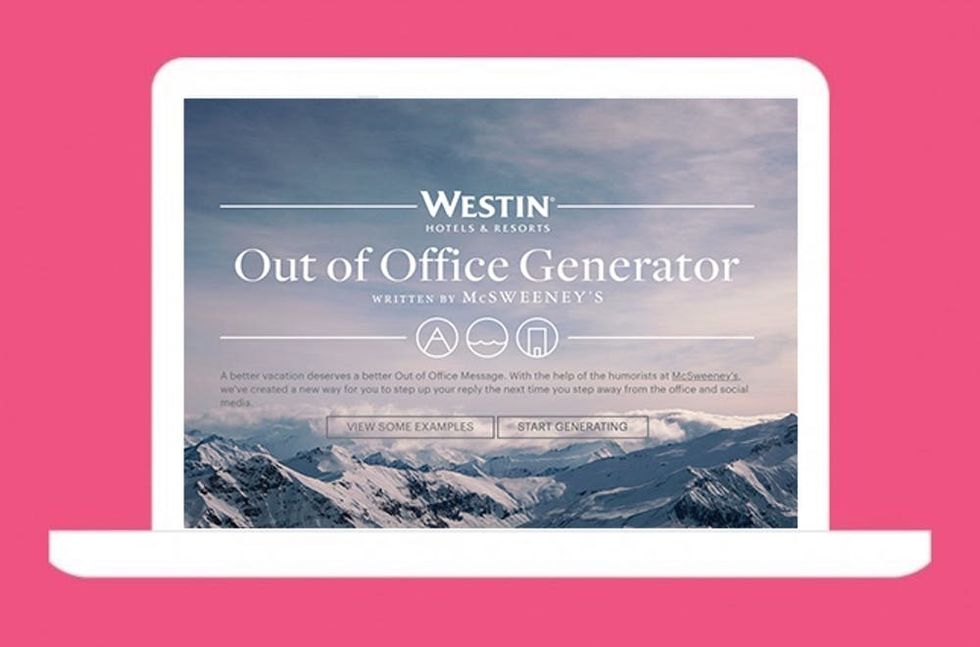 The interface is simple and quick. Just type in some basic info about what kind of trip you're taking and who your point person is while you're out. Instantly, you've got a highly detailed, very conversational auto reply that may or may not be in total conflict with company policy.
Ah, life in the fast lane.
Where's your holiday vacation taking you? Spill in the comments below!
(Photo via Westin and McSweeney's)
Amy Lynch
Amy is a freelance writer and editor, telling the stories of progressive people and projects that move the world forward. Her work has appeared on The Hairpin, Refinery29, Citygram and more, and she's developed content for the likes of Alternative Apparel, Milkshake and Silvercar. She lives, works and plays with her fiancé and their dog, Bogey, in the weird, wild heart of Austin, Texas.