Ombre Hair — Get This Red Hot Look
Jan 16, 2016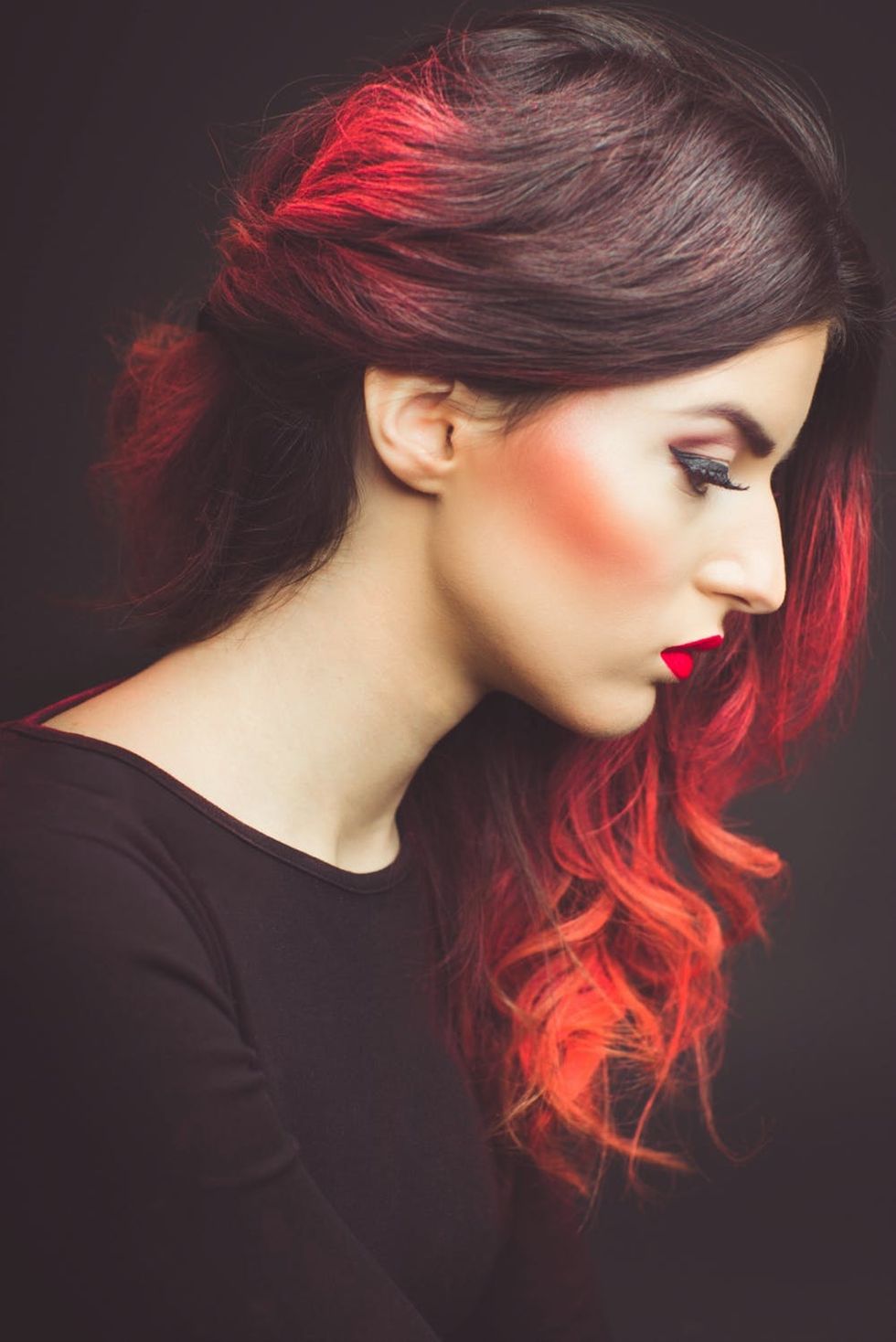 Before ombre was a hairstyle, it was just an adjective describing anything, commonly a fabric, where the color faded gradually from shades of dark to light. Ombre hair, said to have started as a French trend, starts out darkest at the roots, gradually fades lighter, and culminates in the lightest hue at the ends. The best applications reveal seemingly no transition from mid-hair to ends. Natural looking hair colors will fade dark to light. On the opposite end of the spectrum (hah), hair dyed pastel colors can start out light at the roots and fade into color mid-hair, culminating in the deepest color saturation at the ends.
---
Ombre is achieved with a technique known as balayage — in french, "to sweep" — where the colorist sweeps on dye with the tip of a brush, often using powder dyes for precision. In this case the lighter color is directed more on face-framing sections of hair, giving a sun-kissed look. More natural, subtle applications of ombre are referred to as sombre.
The balayage technique may also be used to create a tortoiseshell effect, using shades of browns, golds, and caramels. This is called ecaille.
Bye, Bye ombre; tortoiseshell is the new new thing!
Have you gone ombre? C'mon show us your hair-selfie! Tag us on Instagram @britandco. Come on — you know you want to!
(Photo via Getty)
Sally Jones
Sally Jones is a writer and editor living in New York City. She has worked at many websites including iVillage, Ladies Home Journal, More, Parenting, Cosmopolitan, The Knot and YourTango, in jobs ranging from editor to COO. Renovation and interior design are her
unhealthy obsessions
hobbies. She has renovated every home she's lived in, including the rentals, and like... whoa, who does that? You can catch her at her blog
Renov8or
.
Hair
Still haven't taken up that new creative skills you swore you'd learn this year? Or ready to take your design skills to the next level? Let's say so long to the weirdest year ever by checking those big learn-something-new goals off our perpetual to-do lists.
We've teamed up with Clorox to give you the gift of unlimited creativity now through the end of the year. Once you sign up, you can take as many of our 120+ classes as you want for FREE for one whole month!
Here's how it works:

Head to brit.co/learn and sign up for the "All Access Pass."
Use the code "CLOROXCARES" at checkout to redeem your free month of classes.
You will be automagically signed up for Clorox's email list once you redeem your free all access pass. (It's the #1 Choice for Disinfection!)
Your pass lasts one month from when you checkout. This means you have unlimited access to all the classes during that month.
This offer is valid now through December 27, 2020.
Browse our catalog to find the right class for you, tell a friend and take the class together over Zoom, or organize a 'cocktails + crafts' night with a friend in your bubble so you can learn something new together.
What are you waiting for? Time to start learning all the things!

Thanks to Clorox for making this happen! When it counts, trust Clorox.
Lifestyle