13 Americana Wedding Details for Labor Day
Aug 31, 2016
While most of us catch up to the idea that it's already Labor Day, some couples decide that a wedding-filled weekend is the perfect way to cap off the summer. Not going to lie, we LOVE this idea, and if you decide to go this route, you'll want to check out these Americana wedding ideas! Between the rustic decor, vintage venues and of course some pops of red, white and blue, this may be the best last big celebration before summer ends.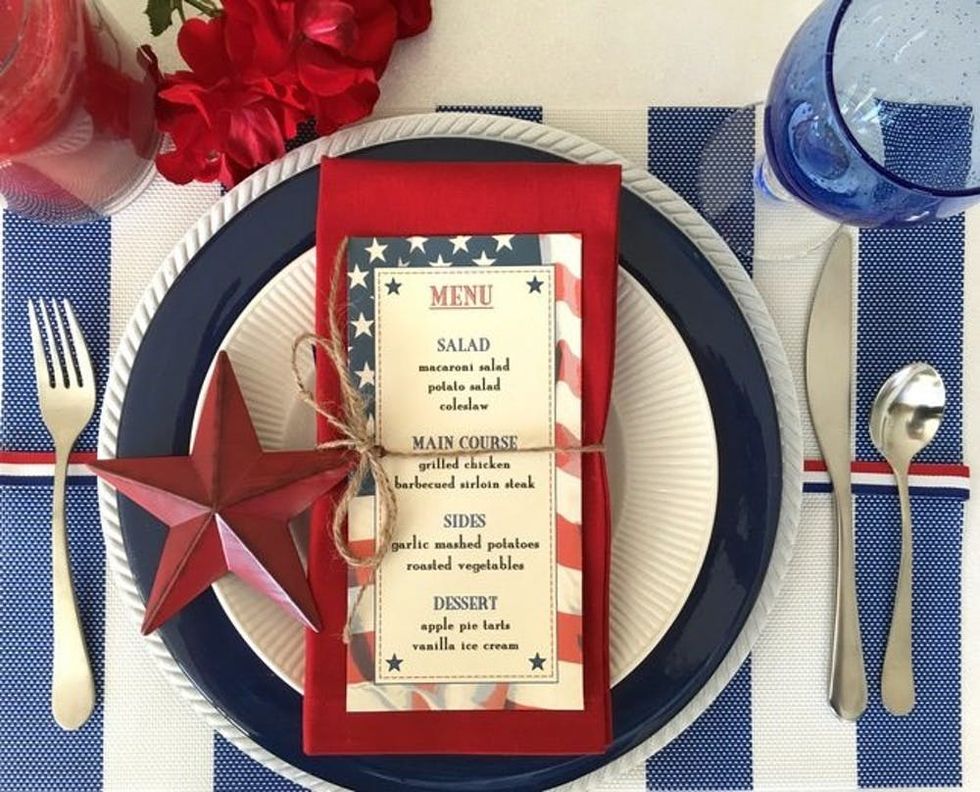 ---
1. Festive Table Setting: Whatever you do, don't forget the stars and stripes! Take your place setting to a new level of patriotic with this fun and festive touch. (via Mysty and Bella Designs)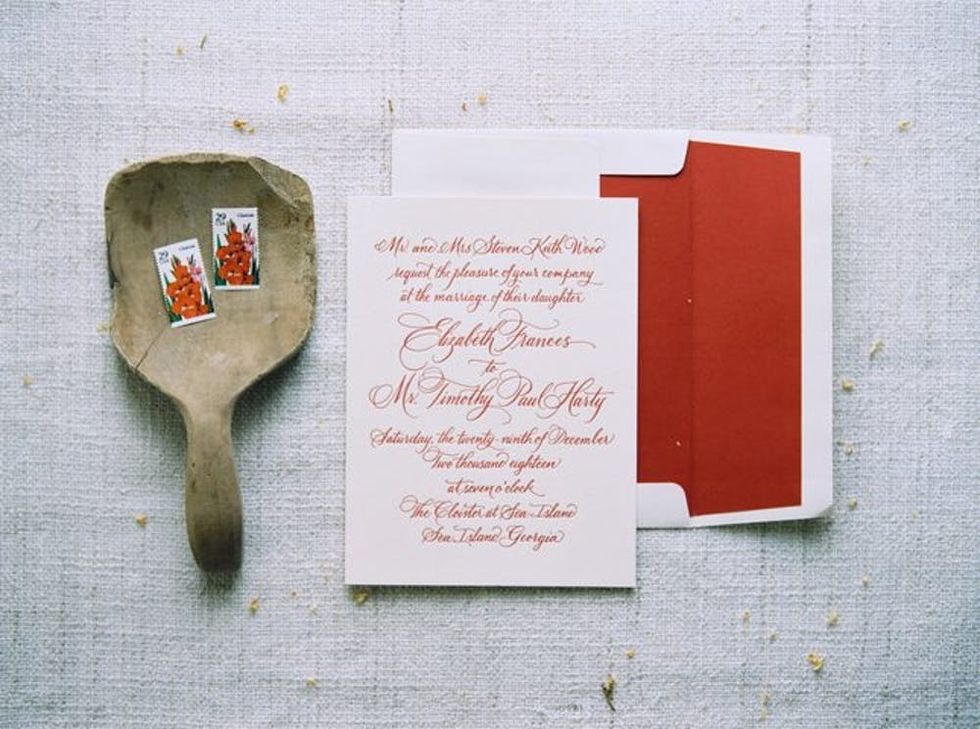 2. Vintage Stationery: Give your stationery a vintage touch with classic, bold calligraphy. The deep red coloring is perfect for a late summer wedding. (via Bella Figura / Kate Ignatowski)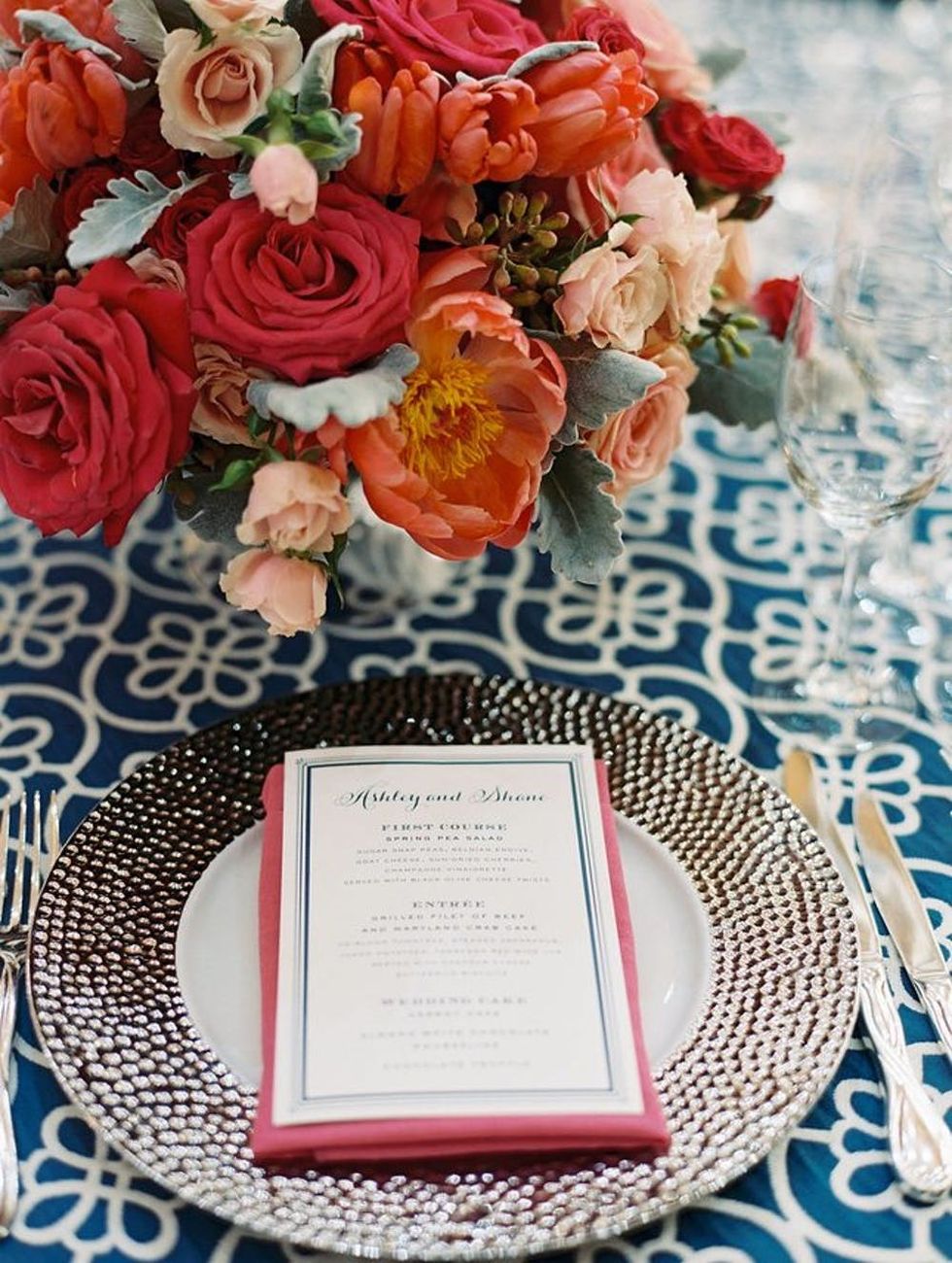 3. Patterned Linen: Forgo the classic backyard look with a checkered linen. Instead, use a patterned navy and white one for a bit more pizzazz. It'll spice up your backyard look instantly. (via A. Dominick Events / Abby Jiu)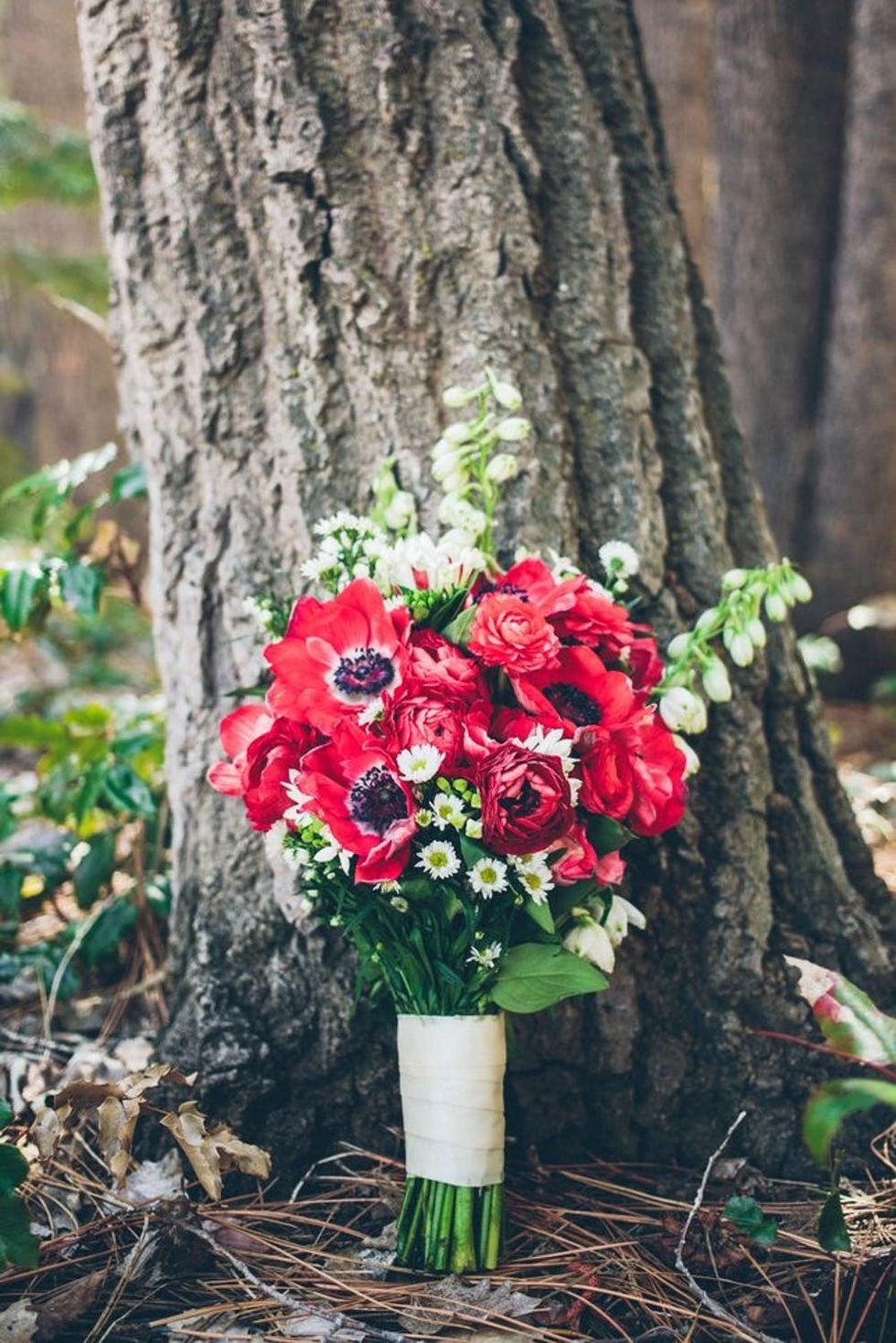 4. Colorful Bouquet: Just because summer is ending doesn't mean your bouquet can't be colorful and bright. Mix neutral and bright flowers together for a picture-perfect bouquet. The red anemones' bright red hue and navy center give this bouquet a patriotic touch. (via Vitae Weddings)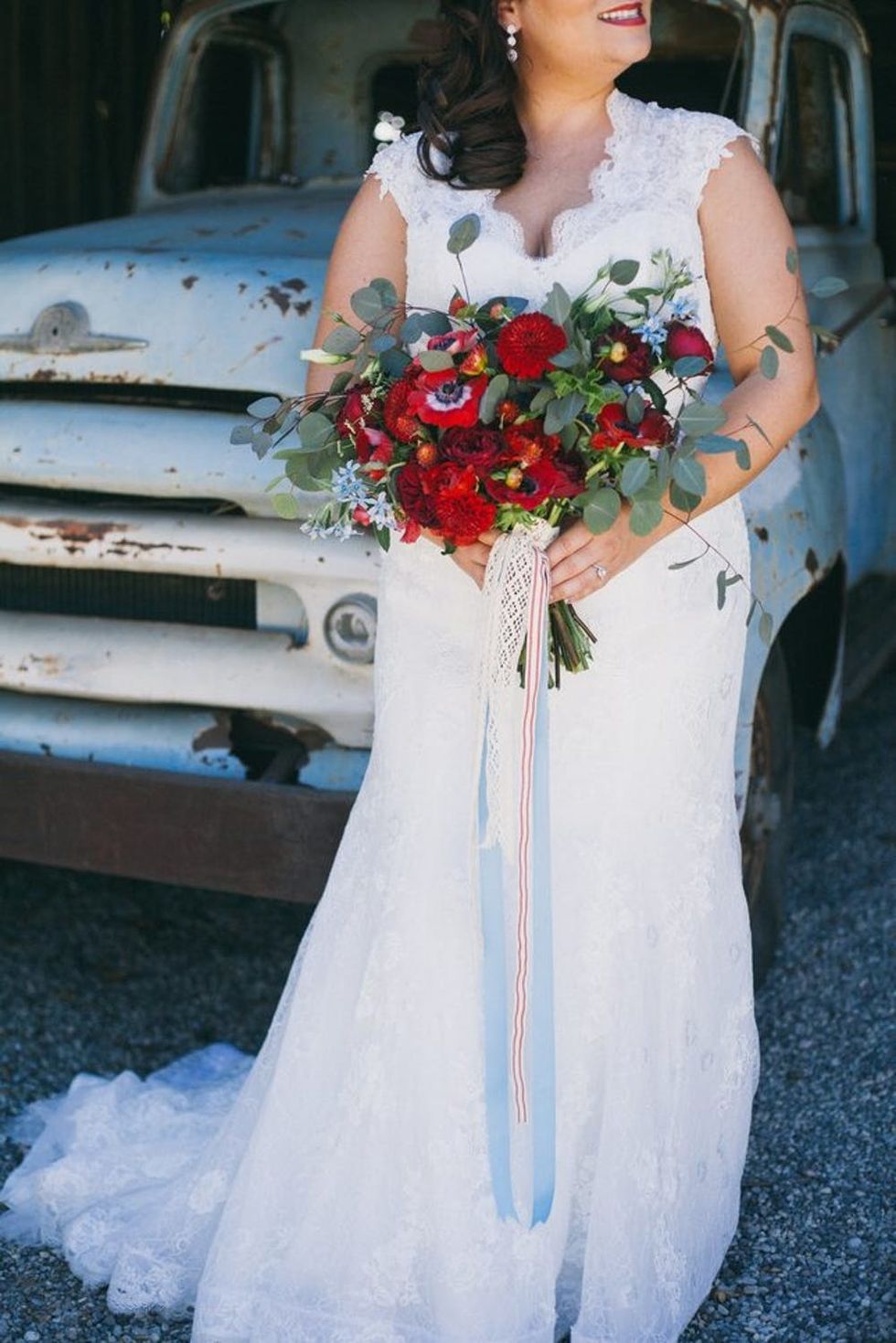 5. DIY Details: Incorporate a DIY element into your bouquet with some lace and ribbon. This is a subtle yet beautiful way to bring in those Americana vibes. (via Alexandra Wallace)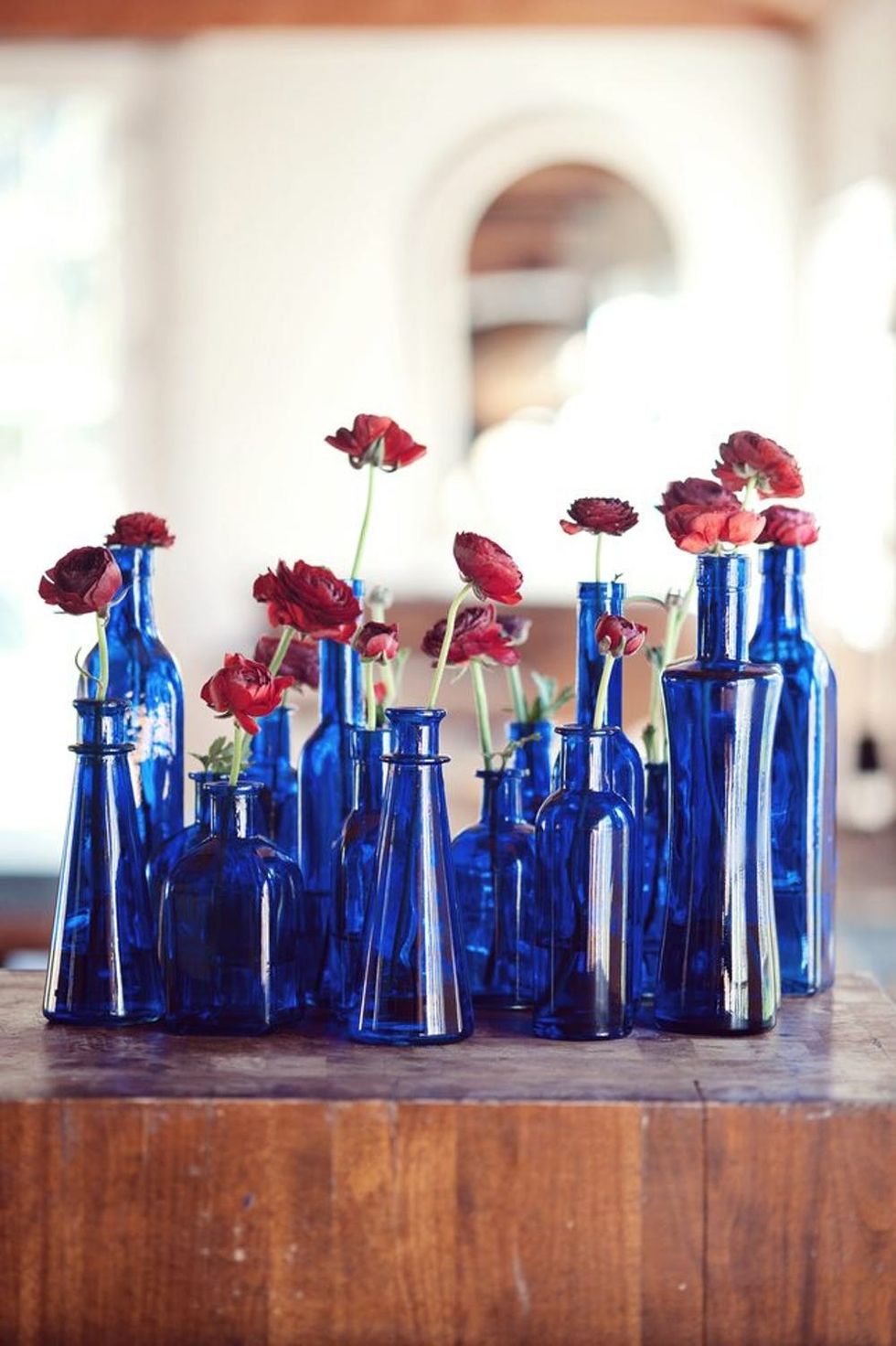 6. Blue Accents: Add pops of blue throughout your decor to tie in Americana colors without going overboard. Think: vases, glasses and other tabletop fixtures. (via Callista & Company / Claire Barrett Photography)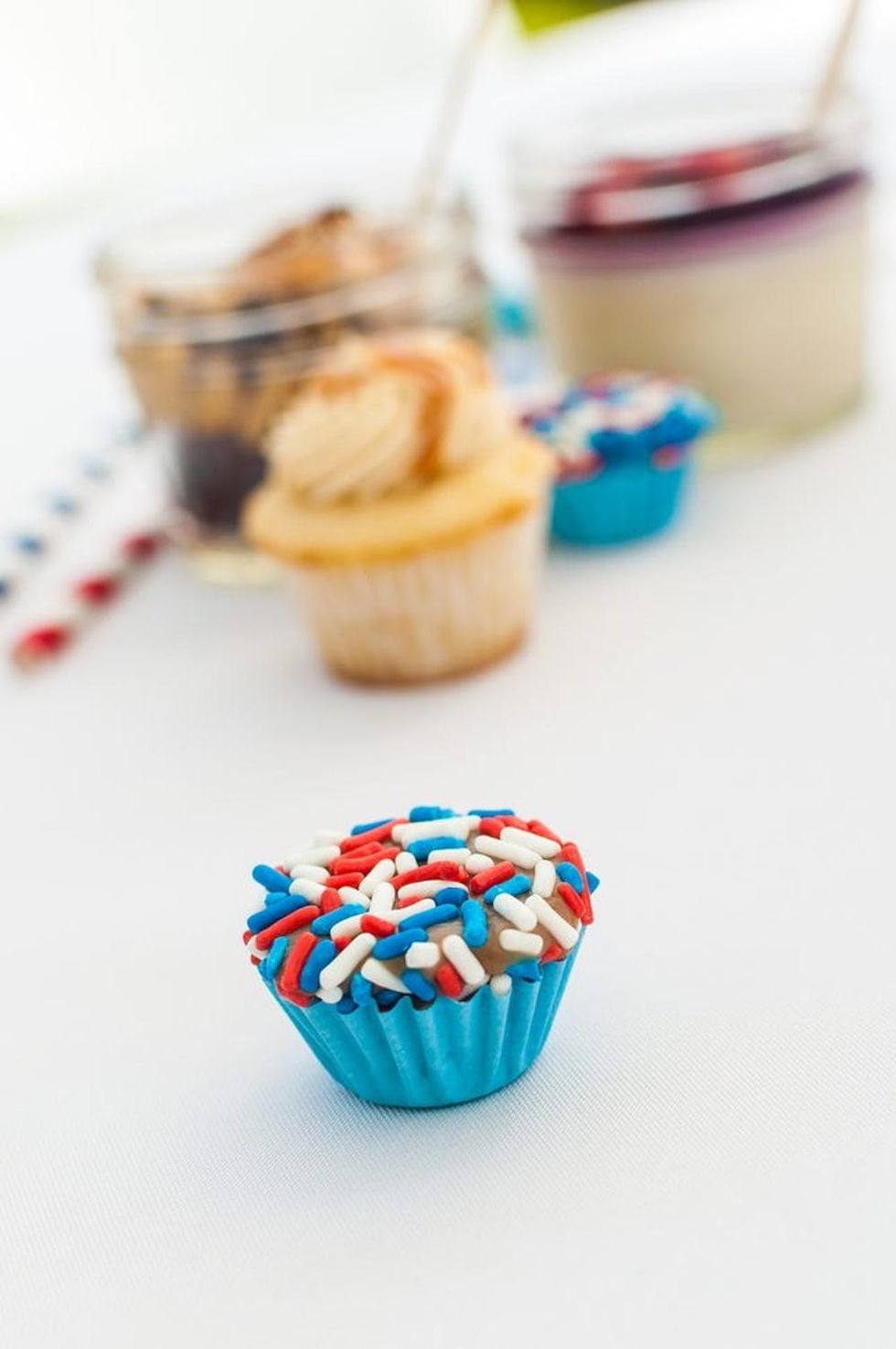 7. Bite-Size Treats: You're most likely going to have a few bambinos running around, so you'll need to find a way to keep them busy. These patriotic brigadeiros are totally cute and also great treats for the little ones! (via Simply Brigadeiro / Love at First Sight Photography)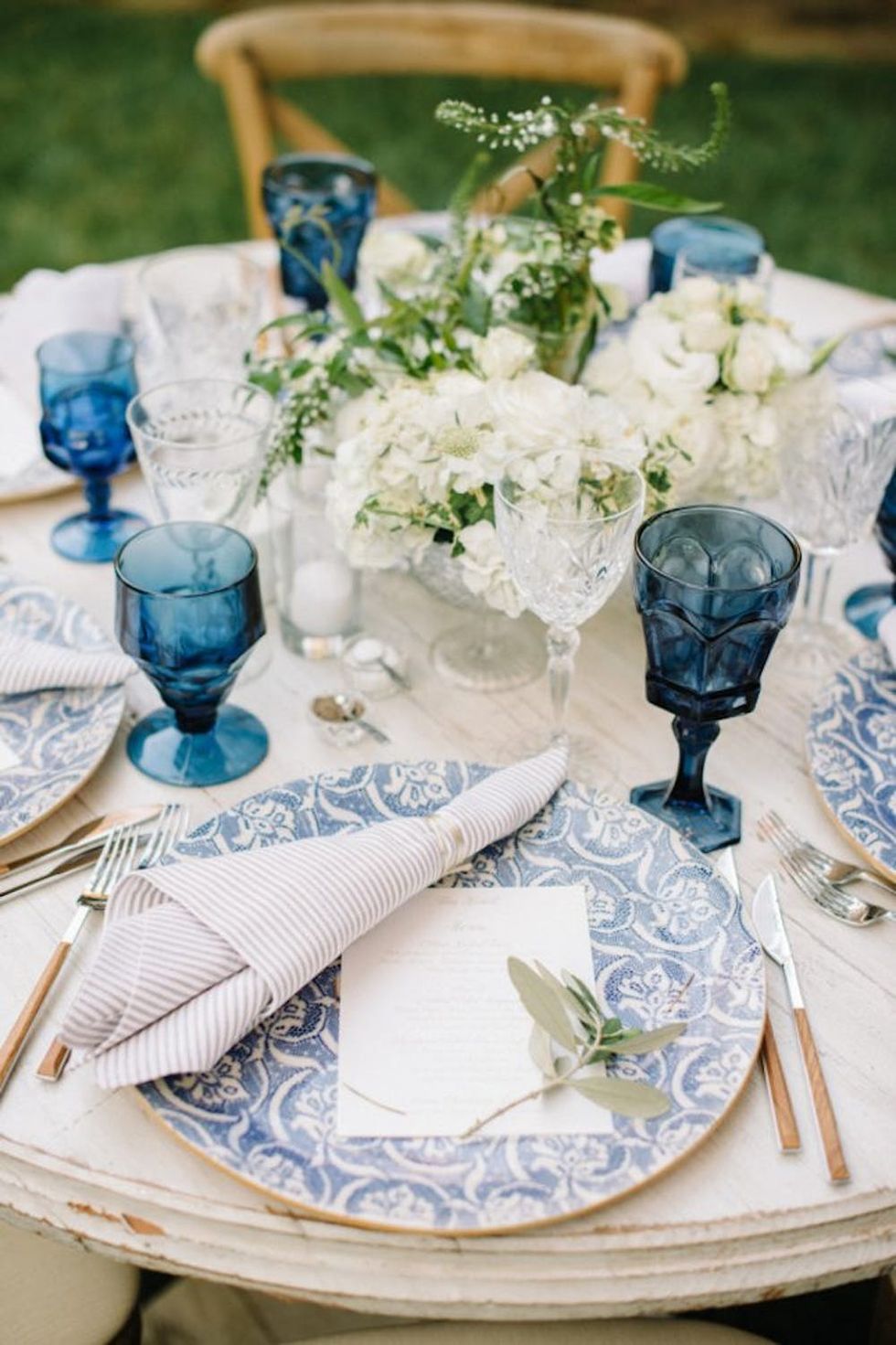 8. Rustic Table: An Americana wedding begs to be outside, but that doesn't mean you have to sacrifice style. Capture the essence of rustic-glam with a wooden table, indigo-colored glassware, patterned plates and copper-adorned flatware. (via Hidden Garden Flowers / borrowed BLU / Krista Mason Photography)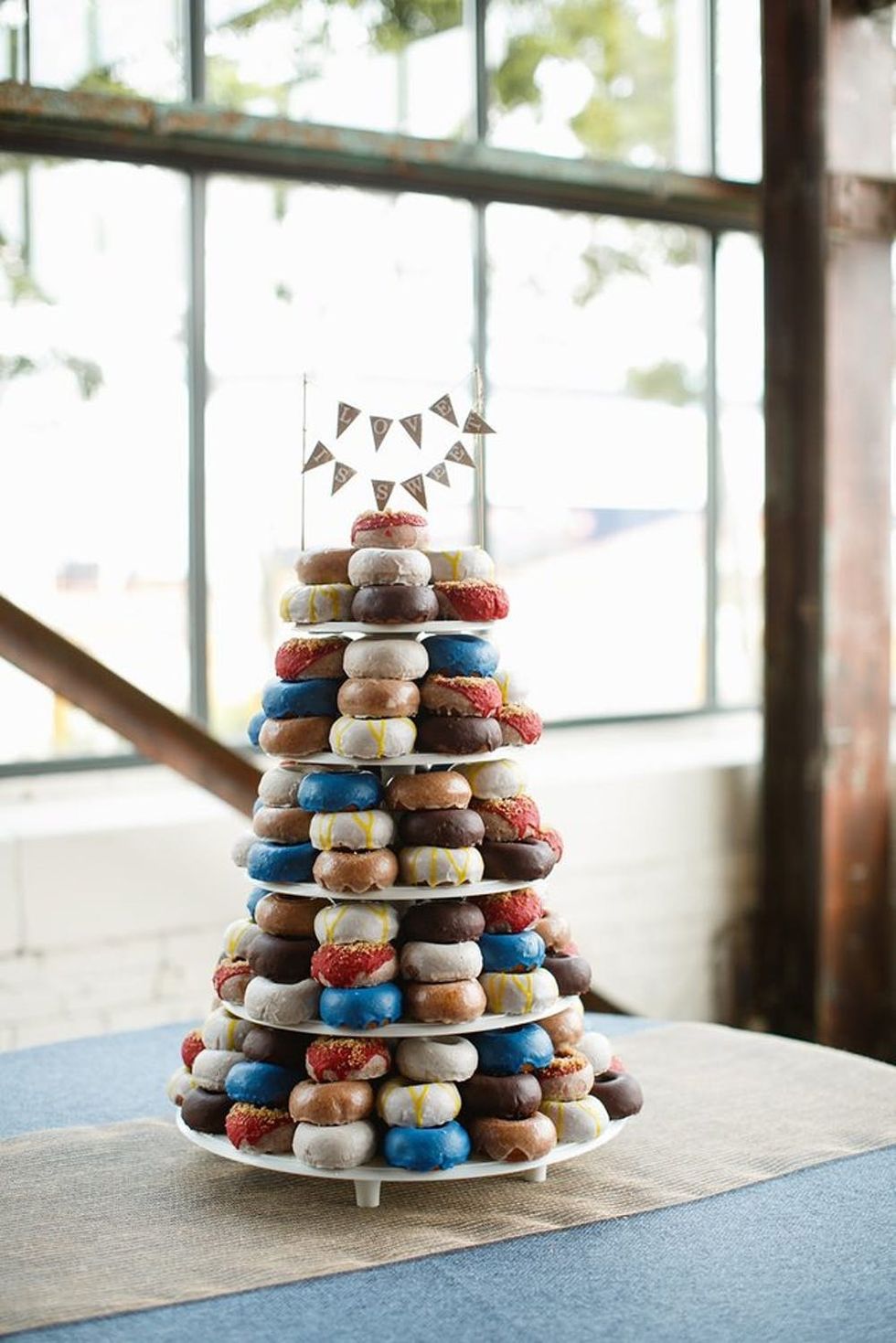 9. Donut Cake: Donut let anyone say you can't have a donut cake instead of a traditional cake. This all-American favorite will keep your guests at the dessert table all night long. (via Love Me Do Photography)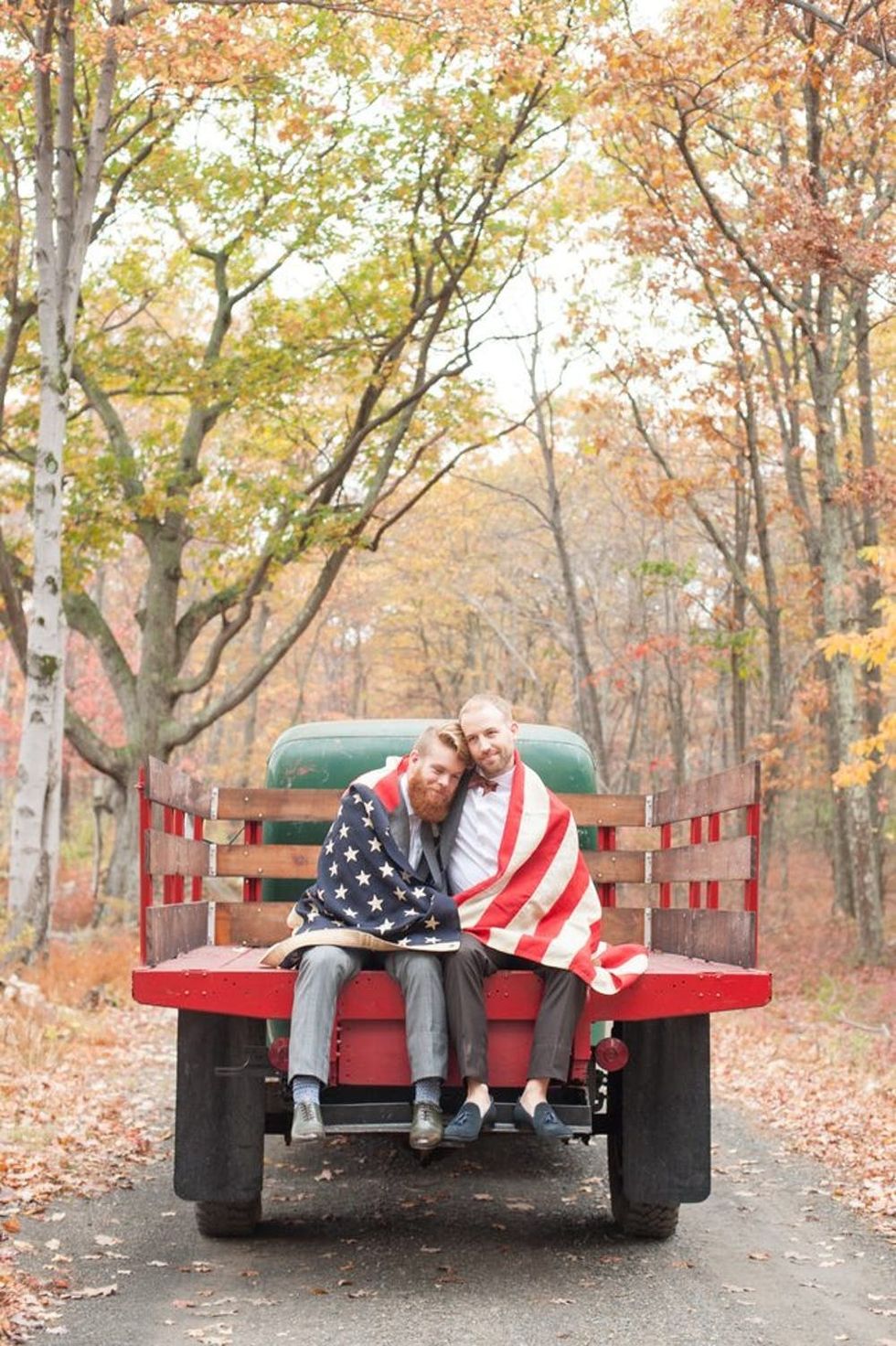 10. Photo-Opp: Set up a picture-perfect moment for your guests that screams Americana. All you'll need is a flag, a countryside setting and a vintage pickup truck! (via Jove Meyer Events / Mikkel Paige Photography)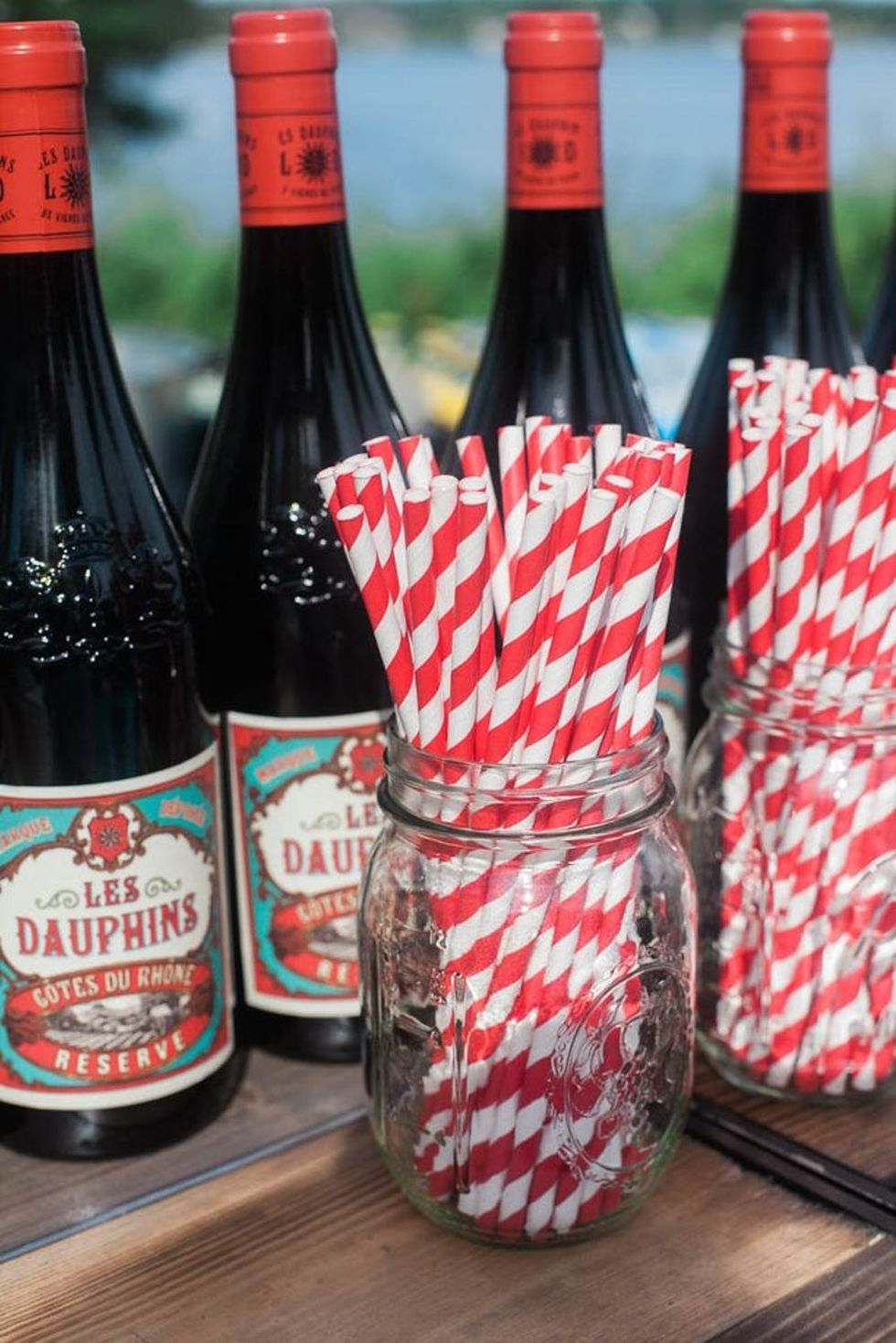 11. Striped Straws: Step up your drink station with festive red and white straws. Who wouldn't love sipping their wine or cocktail from a pretty straw?! (via White Peacock Events / La De Da Photography)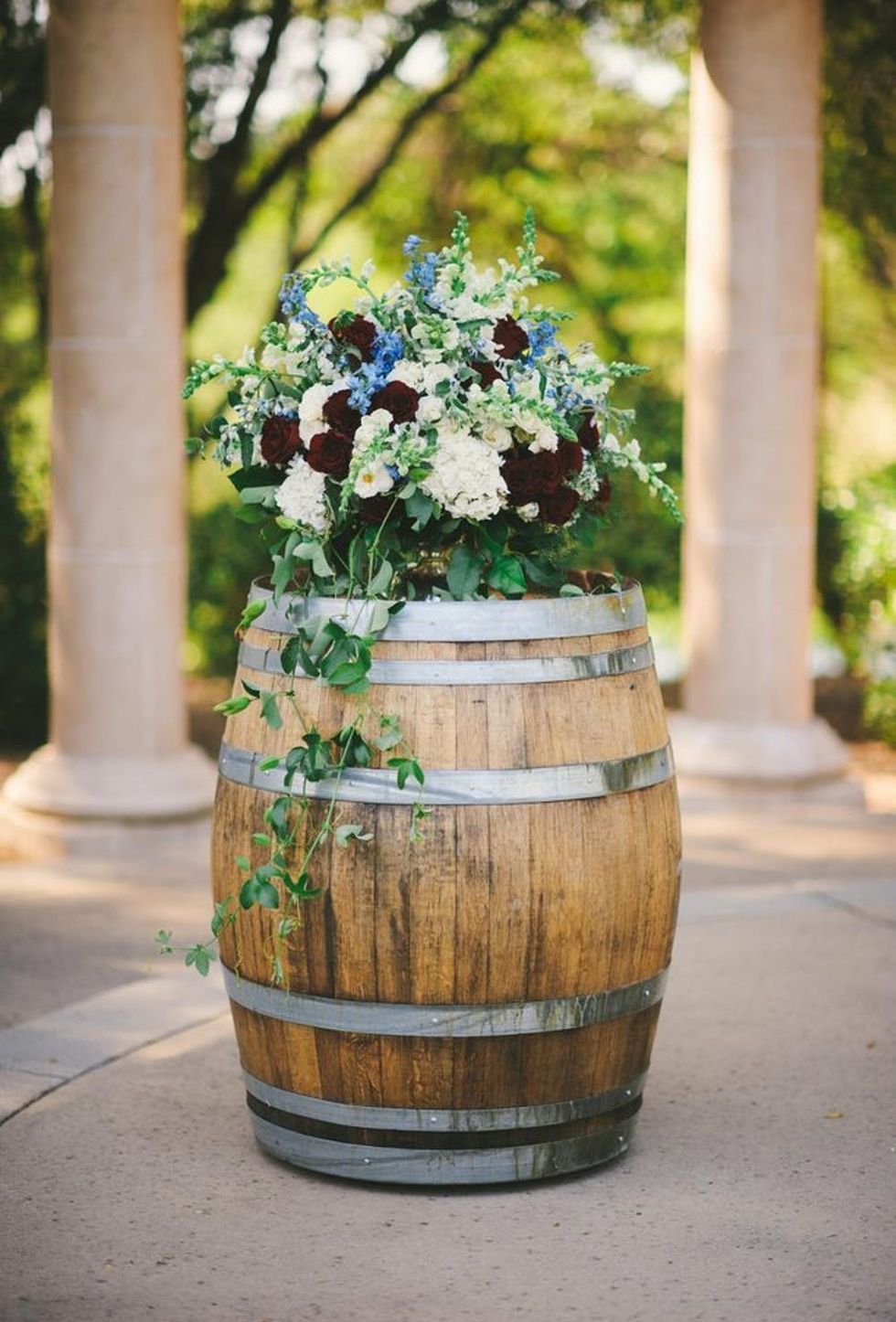 12. Repurposed Wine Barrel: Repurpose a wine barrel for a variety of needs at your wedding. From holding Americana-colored arrangements to wedding signs, it's the perfect rustic addition. (via Kate Whelan Events / Sarah Maren Photography)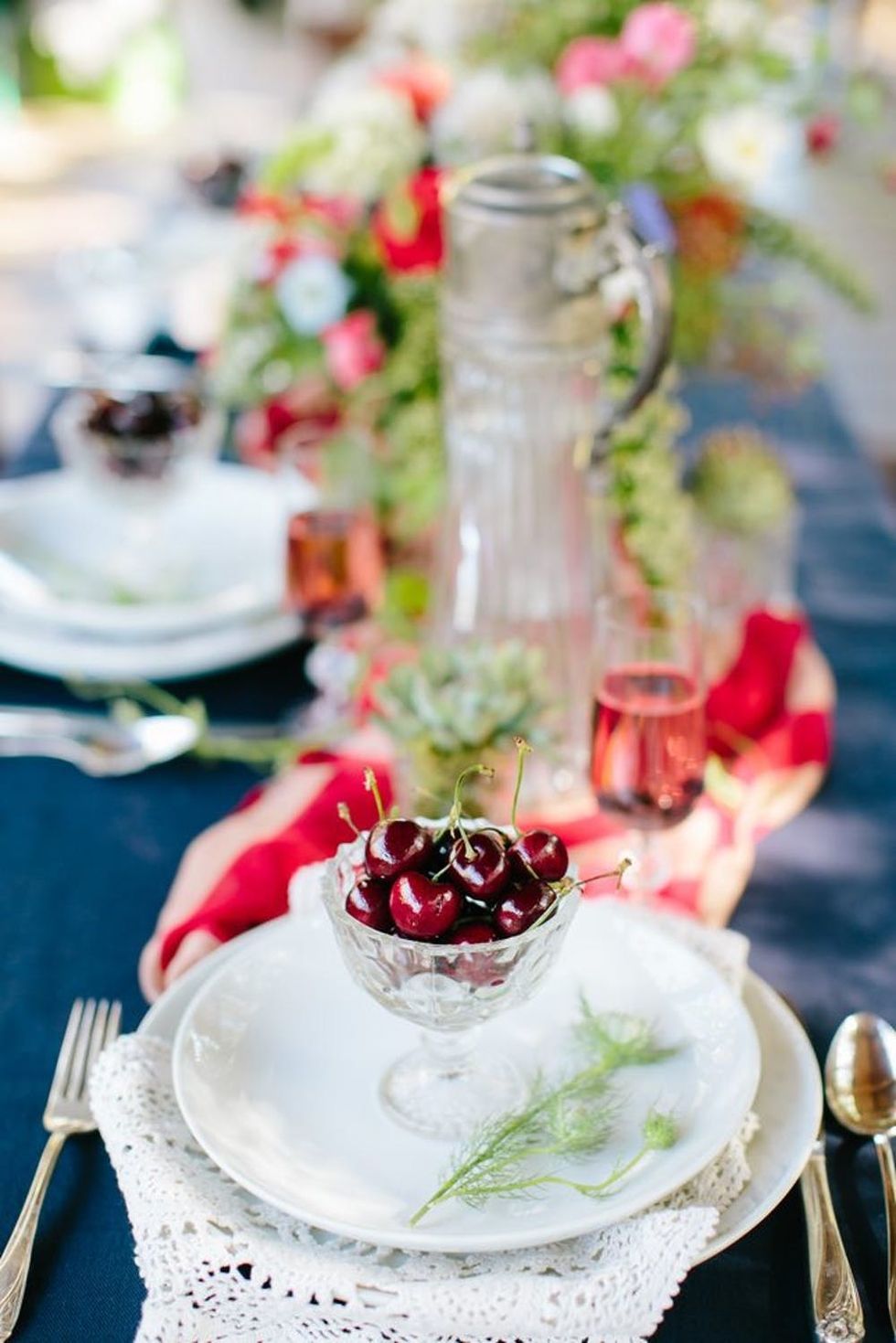 13. Cherry Dish: Who knew fresh cherries would make such an eye-catching place setting? This summer favorite fruit is a delicious way to tie in some deep red hues to your big day. (via Mirelle Carmichael Photography)
Which of these charming ideas will you incorporate into your Americana wedding? Follow us on Pinterest for more wedding ideas and inspo!
Leila Lewis
As a business school graduate from Santa Clara University, Leila (Khalil) Lewis' career began in publishing, where she worked in marketing and editorial roles for business and lifestyle publications. Since transitioning into the wedding business in 2004, Leila has over 10 years of wedding marketing experience under her belt. Leila created Be Inspired® PR in 2007, the first full-service public relations agency dedicated to the wedding and special event industry.
Wedding Planning and Decor