Celeb Babies of 2017 Who Are Already More Famous Than You
Mar 06, 2017
Let's just say it: 2017 is the year of the celebrity baby. In just the first three months, we've seen Janet Jackson become a first-time mom at age 50, Helen Lasichanh and Pharrell Williams say hello to triplets, Amber Tamblyn and David Cross show off a new daughter with the most epically hilarious (and fake… we think) name, and Natalie Portman and Benjamin Millepied welcome an undoubtedly talented baby number two.
Here are the future movie stars, superheroes, humanitarians, and recording artists coming our way. We don't know what's in the water, but we hope Hollywood keeps hydrating.
---
1. Beyonce and Jay-Z: It was the Instagram heard 'round the world when power couple Bey and Jay announced that they were gifting the universe with not only one, but two, Beybies this year. If the twins follow in the footsteps of big sister Blue Ivy, who at just five years old upstaged everyone at the Grammys in a pink Gucci suit and has her name trademarked for a possible future (and likely best-selling) line of beauty products, it's clear that it's the Carters who run the world. Update: The twins, a boy and girl named Sir and Rumi, arrived June 13 and almost took down the Twittersphere with excitement.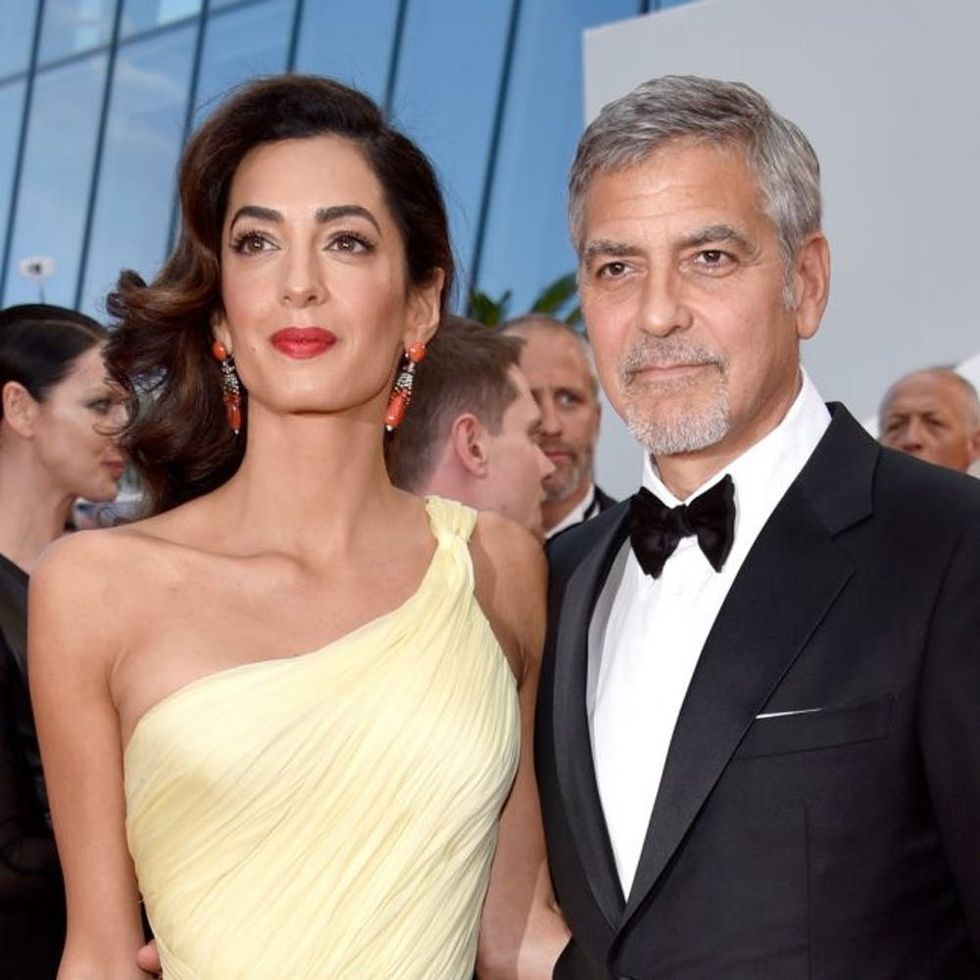 2. Amal and George Clooney: The high-profile international and human rights lawyer and her former ER star husband announced in January that they too are expecting twins. It's as if, after the abomination that was 2016, celebs have taken it upon themselves to repopulate the world with amazing global citizens, two at a time. Activism runs in the family, so when the family isn't spending time at their British countryside manor or vacationing on Lake Como, we expect the littlest Clooneys to be out saving the world. Update: Twins Ella and Alexander arrived happy and healthy on June 6. (Photo via Pascal Le Segretain/Getty)
3. Gal Gadot and Yaron Varsano: Wonder Woman Gal Gadot and her Israeli businessman husband announced they were expecting on Gadot's Instagram page with the hashtag #mommyforthesecondtime. The new baby will join big sister Alma, just in time to watch mom kick butt and take names in three upcoming DC superhero movies. Update: The family's newest Wonder, daughter Maya, was born on March 20.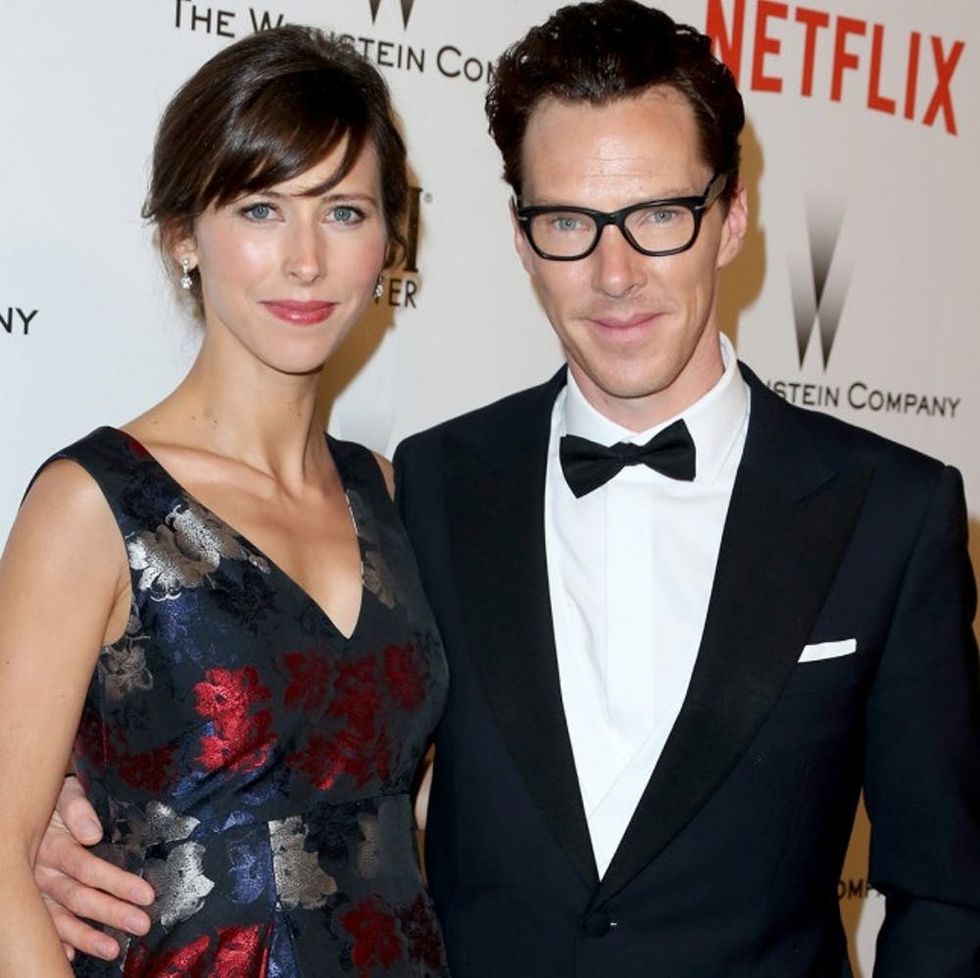 4. Sophie Hunter and Benedict Cumberbatch: The couple revealed at the October 2016 premiere of Doctor Strange that they are adding to their Cumberbrood this year. With genes like these — Mom is an accomplished theater director fluent in French and Italian, and Dad (AKA the internet's boyfriend) has transformed into everything from a dragon to a genius superhero — Cumberbaby number two is destined for greatness. Update: Baby Hal was Cumberborn on March 3. (Photo via Valerie Macon/Getty)
5. Lauren Conrad and William Tell: Conrad, The Hills alum turned fashion designer, started 2017 with a new year, new baby announcement. Soon after, she shared pics of her baby bump along with her team's favorite baby names on her blog. No doubt her effortless maternity style will inspire all women, bump or no bump. Update: Baby Liam joined the Tell family on July 5.
6. Whitney Port and Tim Rosenman: Port, another alum from The Hills (and now also a fashion designer) showed off her own adorable baby bump on Instagram and her blog shortly after her pal Conrad did. With this latest announcement, Baby Rosenman joins the rest of the next gen of The Hills, which includes Kristin Cavallari's three kids and Audrina Patridge's daughter. Update: Baby Sonny made his debut on July 27.
7. Rosee Huntington-Whiteley and Jason Statham: The former Victoria's Secret angel took to Instagram to reveal her baby bump in a way only a model could — casually sitting on a beach in a Missoni bikini. Huntington-Whiteley and her fast-driving actor fiance met on the set of Transformers in 2011 and revealed their engagement last year. Update: And little Jack Oscar Statham made three on June 24.
8. Marion Cotillard and Guillaume Canet: The Oscar-winning actress wrote a lengthy Instagram post that both shut down rumors she was having an affair with Brad Pitt and confirmed the pregnancy of her second child with her actor/director partner (the couple already have a son, Marcel). And she did it in two languages. Bien sûr. Update: The couple's baby girl said Bonjour on March 10.
9. Cheryl Cole and Liam Payne: The pop singer and boy band cutie crossed paths twice on The X-Factor — she was a judge in 2008, when he auditioned solo, and again in 2010, when he was 1/5 of the phenomenon that became One Direction. Cole confirmed the pregnancy on Instagram while shooting an ad for L'Oreal, and this will be the second 1Der baby (Louis Tomlinson welcomed son Freddie last year) to light up the world like nobody else. Update: Cole had the ultimate (UK) Mother's Day gift when their son Bear arrived on March 22.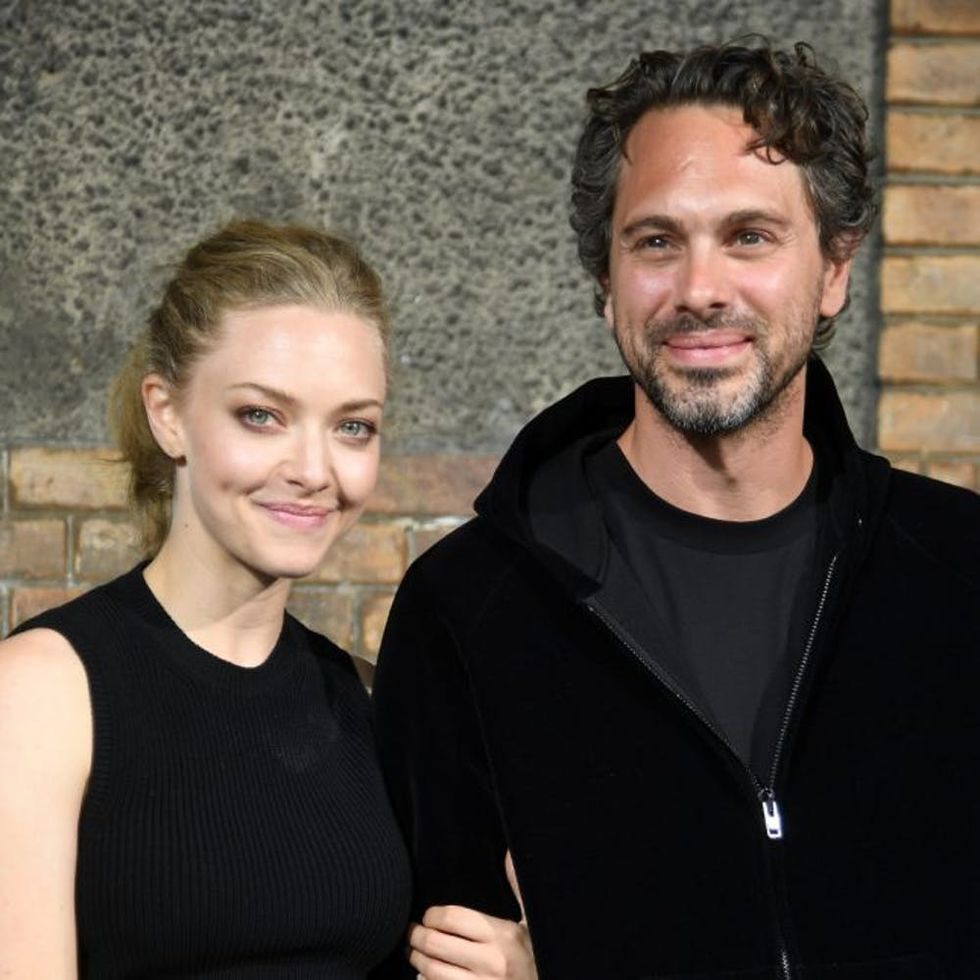 10. Amanda Seyfried and Thomas Sadoski: The couple announced their engagement in September and their pregnancy shortly after, and the duo just starred in the film The Last Word (where they began their romance) together. No word yet if the baby will wear pink on Wednesdays. Update: The couple confirmed they low-key eloped AND had their baby girl in March. (Photo via Pascal Le Segretain/Getty)
11. Ciara and Russell Wilson: In October, the R&B singer announced via Instagram that she was getting the greatest birthday gift: a new baby with her NFLer husband (Ciara also has a son, Future, Jr., from a previous relationship with rapper Future). With both a Superbowl trophy and a Grammy in the household, Baby Wilson is #winning. Update: Little Sienna Princess Wilson was born on April 28.
12. Molly McNearney and Jimmy Kimmel: Last December, the late-night host used his show's monologue to announce that he and his screenwriter wife are expecting their second child. Kimmel said they are waiting until birth to find out the gender of the baby and joked that he's been trying to think of unisex names. "So far, all I've come up with is Dyson, after the vacuum, or Jelatin with a 'J'." We can't wait to meet little Jelly Kimmel. Update: William John Kimmel was born on April 21, and despite a health scare related to a heart murmur, baby Billy had surgery and is now recovering.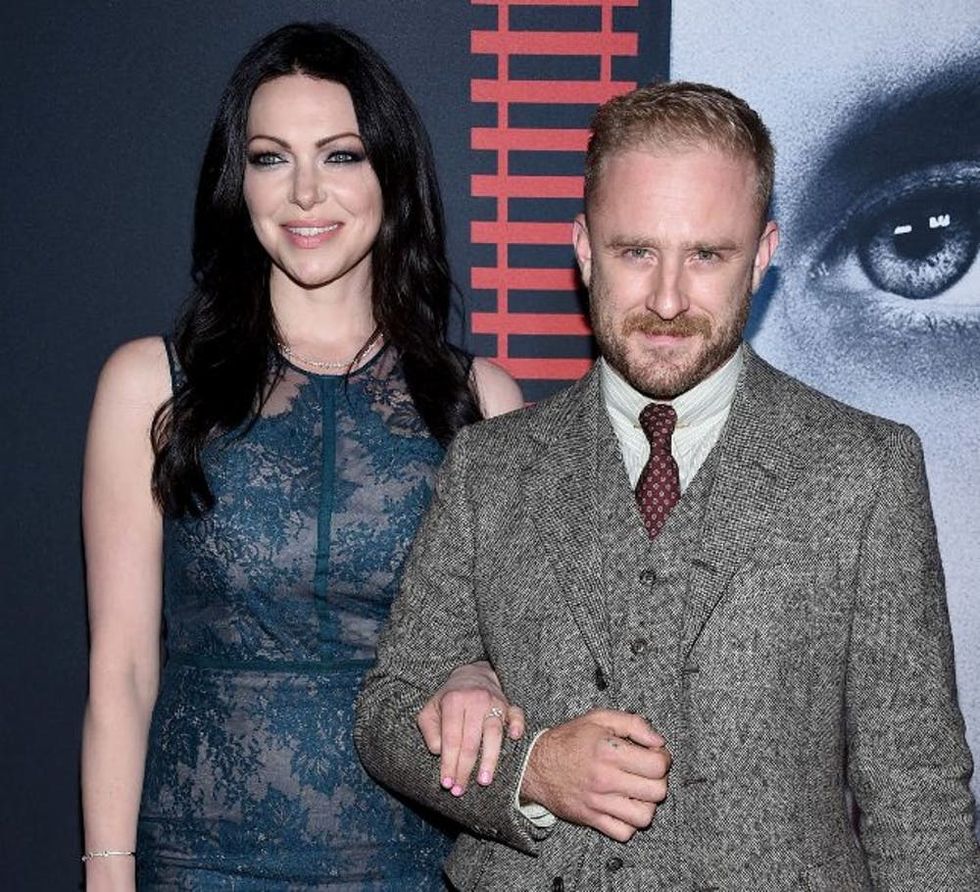 13. Laura Prepon and Ben Foster: The low-key couple got engaged last October (and they have been friends since they were 18!), and in January, confirmed that their first child was on the way. OITNB has been renewed for the next three seasons, so maybe we'll see a new face visiting Litchfield in the near future. Update: The couple welcomed a baby girl in August. (Photo via Dimitrios Kambouris/Getty)
14. Genevieve Cortese and Jared Paladecki: The Supernatural co-stars are welcoming baby number three (the couple already has two sons, Thomas and Shepherd) this year. Regardless if you're #TeamDean or not, we'll raise a cup (or three) of coffee to the growing family. Update: Baby girl Odette Elliott joined the family on March 17.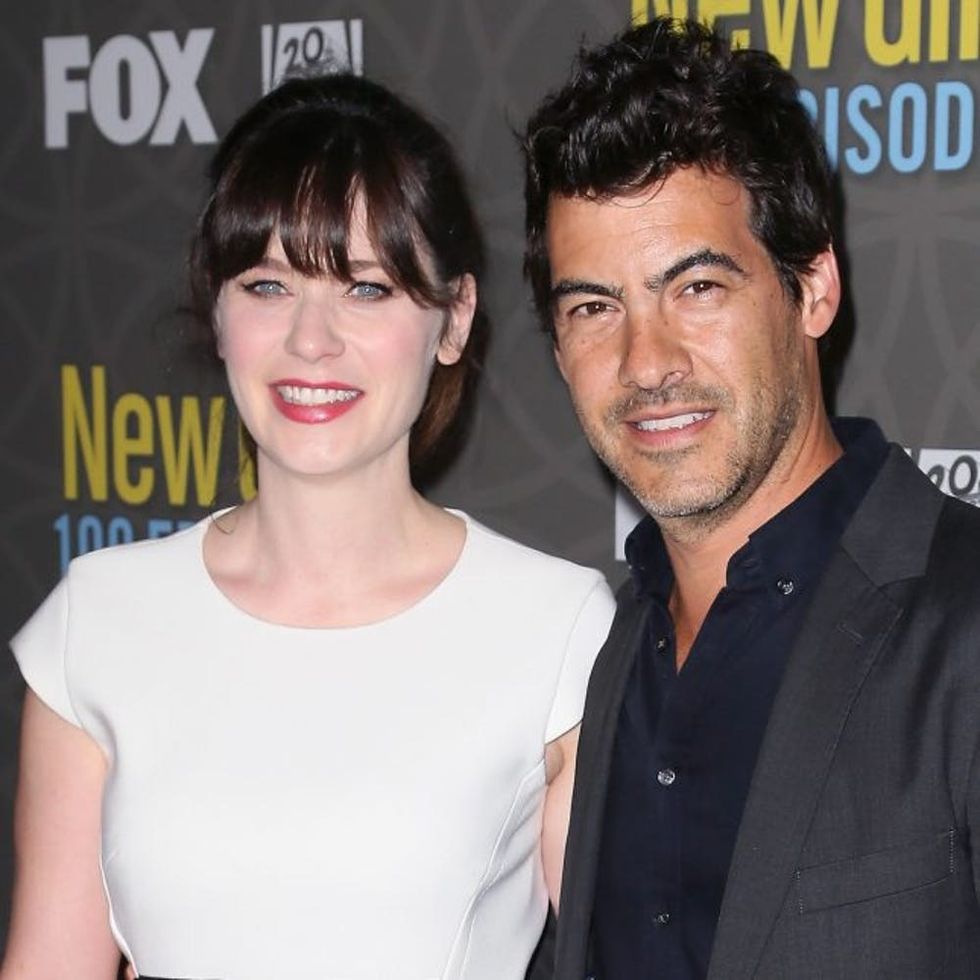 15. Zooey Deschanel and Jacob Pechenik: There's a new girl (or boy) on the way for the actress and her producer husband. Self-professed animal lover Deschanel admitted that they "went a little bit wild" with their first daughter's middle name, Elsie Otter, naming her after the super playful animal. Here's hoping Dolphin or Penguin is next. Update: The couple did not disappoint with an animal themed middle name: son Charlie Wolf arrived in May. (Photo via David Livingston/Getty).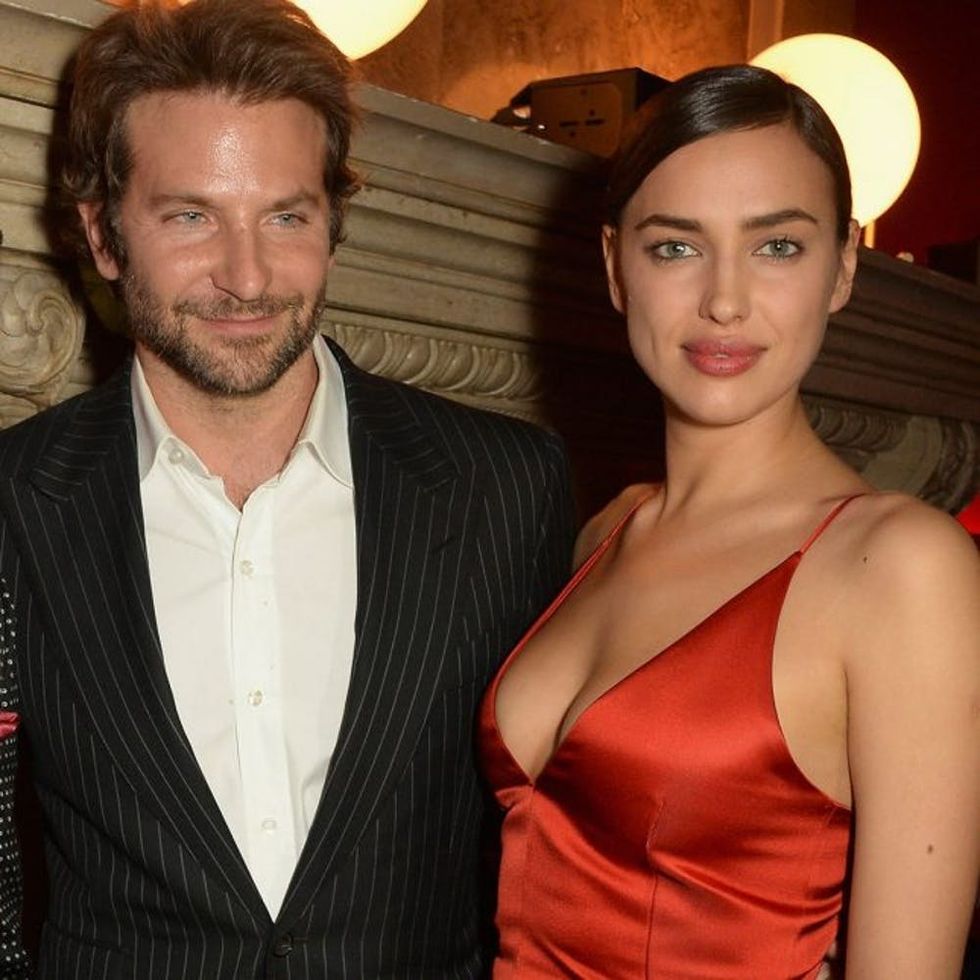 16. Irina Shayk and Bradley Cooper: The Victoria Secret model and Oscar nominee revealed in November that they were expecting their first child together. The private yet PDA-filled jet-setting couple has been dating since 2015. Update: The couple welcomed a daughter, Lea de Seine Shayk Cooper, to the world on March 21. (Photo via David M. Benett/Getty)
Who's your favorite celeb baby? Let us know @BritandCo!
(Featured photo via Theo Wargo/Getty)
Lesley Chen
Lesley Chen is a California native who writes about travel, health/fitness, and other lifestyle topics. She has a serious case of RBF and exercises mainly to balance out an aggressive candy addiction.
Celebrity News
This Jewelry Designer Infuses '90s Hip Hop, Caribbean Spice + Vibrant Hues into Everything She Makes
Vibrant hues, '90s-era boldness, and raw artisanal beauty — these are just a few of the characteristics that make the work of today's creative crush truly swoonworthy. Named for a potent Caribbean pepper, Tracey-Renee Hubbard's Scotchbonnet is a gorgeous line of earrings and accessories made by hand with love, thoughtfulness and a resolute passion for the art of making.
Anjelika Temple here, co-founder of Brit + Co and super fan of Scotchbonnet! Like so many creative connections these days, I first connected with designer Tracey-Renee when she DM'ed the @britandco IG account and we featured her work in a story roundup of BIPOC makers. A few weeks later, she applied and won a scholarship to our first session of the Selfmade program where Brit and I both had the privilege of mentoring and working with Tracey-Renee on her brand, her business plan, and her mission. Since then she's been awarded a minority creative grant from JOANN Fabrics, and seriously upleveled her production process thanks to a collaboration with Glowforge. (PS: B+C readers can get 20% off their own Glowforge Pro by clicking here!)
Now I am thrilled to be able to share more about this brilliant maker's journey, inspiration and creative process in this edition of Creative Crushin'.
Anjelika Temple: Before we get into learning all about your creative inspiration, tell us a little about your background.
Tracey-Renee Hubbard: I was born and raised in Wisconsin. Yep, lots of cheese and cows. Growing up in Wisconsin right outside of Milwaukee provided me with a surprisingly diverse and eclectic foundation. My parents stressed the importance of academics, but they didn't believe that excelling at school needed to come at the expense of creativity or other hobbies. Art, music, books and softball were a big chunk of my childhood. Crafting and creating have been a part of my life for as long as I can remember.
One of my favorite shows to watch when I was growing up was "A Different World." It was about the college experience at a fictitious HBCU (Historically Black College/University) called Hillman College. Watching that show inspired me to go to Florida A&M University (an HBCU) where I received a BS in Business Management and an MBA.
The world changes quickly and I love learning new things! After completing my MBA program, I studied graphic design, multimedia art and completed the Merchandise Product Development program at FIDM (Fashion Institute of Design and Merchandising) in San Francisco. My academic and professional experiences have given me the opportunity to live and work in lots of interesting places; but for now I am based in the San Francisco Bay area.
Anj: Did you always know that you wanted to be a professional artist/creative?
Tracey-Renee: Yep, but for a long time I was afraid to do it because of the "starving artist" stigma (all lies, btw). I tried to compartmentalize my creative practices as just a "hobby", but when something is truly in your spirit the desire never really goes away…and so now here I am!
Anj: What do you love about making things? What keeps the spark going for you?
Tracey-Renee: I've been inspired to create for as long as I can remember! I've always been fascinated by color, texture, travel and cultural connection. I grew up watching my grandmother quilt, sew and mend garments, I saw my Mom create beautiful home décor and heirloom holiday decorations and spent time in my Dad's workshop. Being surrounded by unique handmade items that hold special stories has fueled my passion for being a designer and maker.
Anj: Like so many artists, you've got a day job in addition to your creative hustle. Tell us about your career path.
Tracey-Renee: My first "real job" was in pharmaceutical sales and marketing. I loved the left brain/right brain mix of processing all the data and scientific information and then finding creative ways to relay that information to doctors and health care providers. That role really opened my eyes to the power of messaging and visual communication tools which ultimately led to me returning to school to study digital design and multimedia arts. I've had fun using my marketing and digital design skills in several different industries. I currently work as the Director of Marketing and Creative Strategy for a candy company. I spend a lot of time working in the digital realm – I think most of us do- and that makes me really appreciate the time I spend making handmade jewelry for Scotchbonnet.
Anj: Tell me more about your brand Scotchbonnet! How would you describe your brand's mission?
Tracey-Renee: I want to make pieces that are cherished - special but not so "precious" that they sit in a box stored away for special occasions that are far and few between. My accessories are known for their bold shapes, bright colors and eye-catching patterns. Each piece is handmade with love (I hope my customers can feel it when they wear their Scotchbonnet accessories)!
Scotchbonnet jewelry has been described as "conversation starters" and I love the fact that they connect people and get them to start conversing. I am excited about elevating those conversations by creating capsule collections connected to social causes; that way the chat can go beyond just "cute earrings, where'd you get them?"
Anj: At Brit + Co, we are enamored with bright colors, patterns and geometric shapes -- and clearly, you are too! How did you hone in on your aesthetic?
Tracey-Renee: I chose the name Scotchbonnet for my jewelry brand because scotch bonnet peppers add a distinctively potent spice to Caribbean food and I feel that my jewelry has the same vibe. My accessories are known for vibrant hues, bold shapes and eye-catching patterns. I am inspired by the flashiness of 90s hip-hop, the simplicity of modern luxury, and the raw beauty of artisan goods from the African Diaspora. My aesthetic continues to evolve based on the things I love, the places I've been and the community I want to serve.
Anj: We LOVED mentoring you + helping your business grow during our first Selfmade session. What were your main takeaways from the program and experience?
Tracey-Renee: Selfmade helped me understand the importance of having a clear vision and trusting my intuition. It can be inspirational watching other entrepreneurs "hustling and winning" on their social media feeds, but without clarity about my vision that "inspiration" can be overwhelming and make things confusing. It's easy to confuse movement with progress – Selfmade helped me craft an action plan that ensures each step builds momentum and accelerates me toward my goals. Selfmade also provided me with a vibrant, uplifting community of founders, entrepreneurs and go-getters.

Anj: When you get creatively blocked or burnt out, how do you reset? Do you have tips you can share?
Tracey-Renee: I take a break. We're inundated with "hustle culture" that can make us feel guilty for taking a break, but at the end of the day we're of no value to anyone when we're burnt out. When I have a creative block I usually log off for a while… there's this duality with the internet where on the surface it seems to be an endless pool of inspiration, but in reality everything that's on the internet has already been filtered or curated by someone else. Sometimes it's helpful to see things through a new lens and find inspiration in ("real" physical) books, at a museum or out in nature. Seeing things in a new light from a different angle can be a really refreshing creative jolt.
Anj: What does your workspace look like? What tools do you use and how has it changed over the years?
Tracey-Renee: I'd describe it as "choreographed chaos". It's organized enough so that I can be efficient with the administrative parts of my business like: inventory management, packing and shipping. It's creative enough so that it still feels inspiring, and it's tidy enough that it doesn't feel overwhelming to sit down and start working. It smells like coconut or tropical fruit (thanks to my candles) and it sounds like hip-hop, dance hall, soca or afrobeats.
The primary mediums I work with are wood, paint, glass beads and recently brass. With that being said my paint brushes, needle & thread and jeweler's saw are always within close reach. The most recent addition to my studio is my Glowforge Pro 3D laser printer; it is a game changer! It shrunk my product development cycle time infinitely. Prior to the Glowforge the process was time consuming and costly; now, I can literally "print" a new design within minutes of sketching out an idea. It's also been awesome when it comes to inventory management and sustainability. I no longer have to worry about over-producing or wasting materials; I can make exactly what I need right when I need it without any waste. The Glowforge can make millions of things and I'm excited about trying new design ideas in the future. I have a ton of sketches and inspo photos on my magnet board and in my notebooks waiting to be explored. (ICYMI: B+C readers can get 20% off their own Glowforge Pro by clicking here!)
Anj: What advice do you have for emerging artists and designers just getting started? What advice do you have for creatives struggling to find their unique voice?
Tracey-Renee: Start with your "why" and not your "what". Your "why" will be the secret weapon that competitors will never be able to touch. Once you have that part figured out; dive in! I think that now is a really exciting time for creatives. The rise of entrepreneurship powered by social media has removed a lot of barriers that used to make creative careers seem out of reach. Protect your work, but don't be afraid to put yourself (and your stuff!) out there. Connect with other artists and build a community, it's so important to have a sounding board for difficult times and a crew with whom you can celebrate your successes.
Anj: What's next for your brand?
Tracey-Renee: Scaling and growing in a way that feels authentic. I have new colors and new products coming soon and I am super excited about that! My upcoming premium capsule collections are close to my heart; designing jewelry inspired by social causes and having a "give back" component means the world to me. I want to keep having fun with my brand, sharing joy with fun colors and patterns and infusing love into each handmade piece.
Find yourself the perfect pair of fresh, colorful earrings at HeyScotchbonnet.com, and be sure to follow Tracey-Renee on Instagram at @heyscotchbonnet and @tracey.renee.
Lifestyle