We Tried a Burger Made by a Robot and Liked It
Dec 10, 2018

Before you subject your tastebuds to the weird and wonderful new foods and drinks going viral on Instagram, check out Brit + Co's reviews on First Bite, our new series where we tell you if they are truly snack-tastic or totally terrible.
---
The future is now, and it tastes good. The latest high-tech lunch spot to hit San Francisco is Creator, a fast food joint that cooks and assembles burgers by a robot assembly line. Removing the middle man (literally) means Creator can serve tasty, fresh gourmet burgers in only five minutes for only $6 each. Almost every element of your burger is made to order, from the grinding of the meat and grating of the cheese to the slicing of pickles, onions, tomatoes, and buns. We had to see what all the fuss was about, so we visited the restaurant and tried the burger firsthand.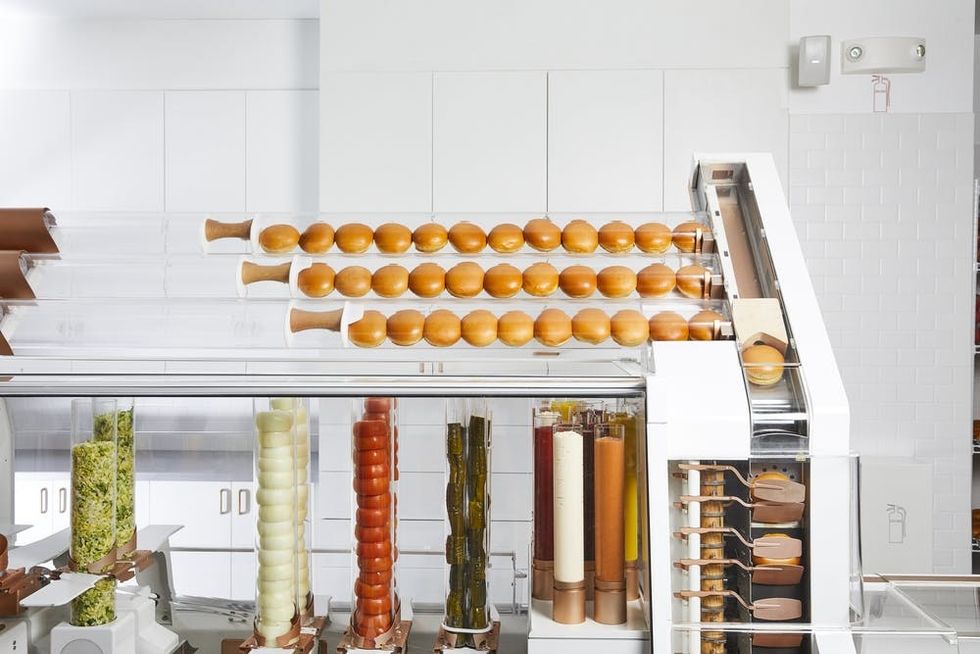 When you enter the restaurant, you're greeted by a human with an iPad that helps you order and check out. You can choose from six different types of burgers like Creator Vs. The World, a classic California-style burger developed by Chef David Bordow of Chez Panisse (the same place Samin Nosrat from Netflix's Salt Fat Acid Heat learned to cook) or a Tumami Burger that has an Asian twist from Top Chef's Chef Tu.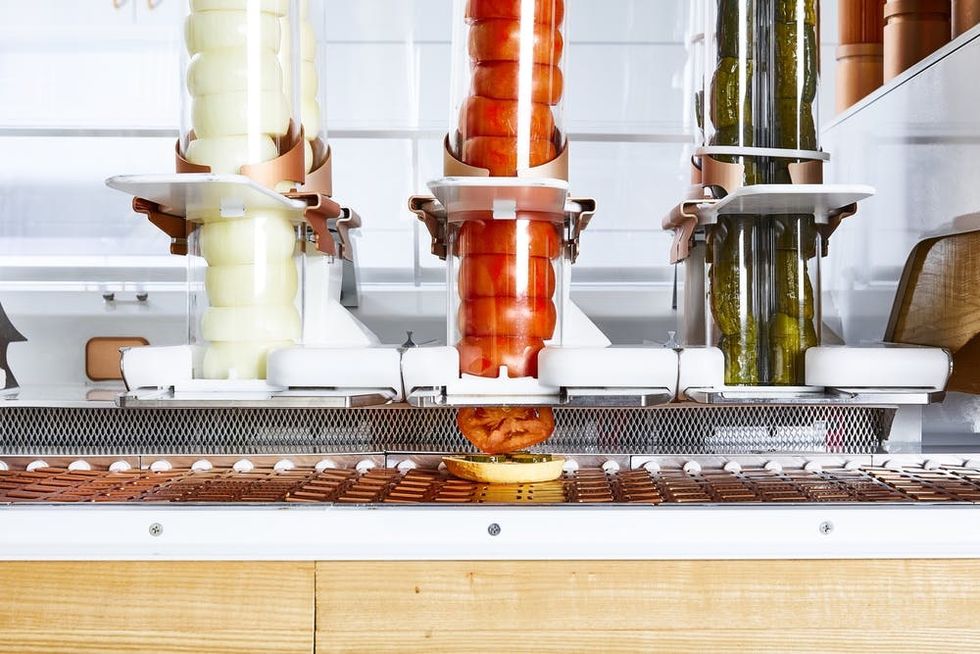 After you order and pay, watch as the large robot assembles the burger (a bit like Pee-wee Herman's Rube-Goldberg-style breakfast machine). First the brioche buns are cut and toasted to golden perfection, then they travel down a conveyer belt to receive just the right amount of sauce and sliced-to-order toppings.
Meanwhile, on the other side of the machine, the beef is seared on both sides using a panini-press-like grill. Lastly, the machine slips the patty onto the bun and finishes it with grated cheese (which melts faster than sliced cheese) and a pinch of shredded lettuce. Order up!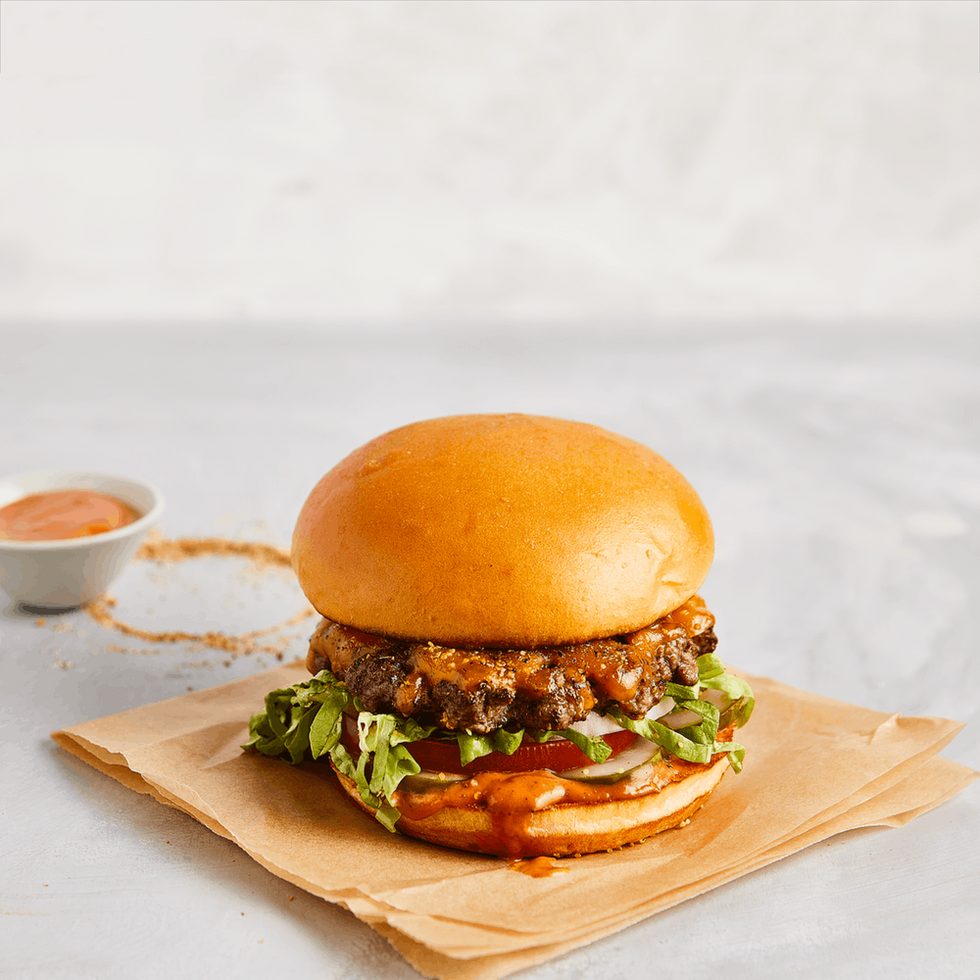 We tried the original Creator Vs. The World burger, and it tasted like an ideal version of the classic American cheeseburger (as it should — it only took the team eight years to perfect every component). The brioche buns come from a nearby bakery. All the produce used in the burger (lettuce, tomatoes, onion) is organically grown from local farms. The housemade sauces and pickles will make you wish you asked for extra.
The most distinguishable difference from other burgers out there is the meat patty itself. The GAP four rated beef is pasture-raised (AKA grass-fed) but doesn't taste gamey or too lean. Chuck and brisket chunks are ground with the grain of the meat (an engineering feat that even the top restaurants can't recreate because it requires special machinery). This produces a burger that doesn't become gummy or gristly. It's remarkably melt-in-your-mouth tender — and yet still has that coveted, slightly crunchy, caramelized exterior.
Would you try a burger made by a machine? Let us know on Twitter.
(Images via Aubrie Pick for Creator)
Gabi Conti
Gabi Conti has two passions in life: food, and dating. She went on 10K hours of dates in her 20s and is sharing her knowledge in her first book 20 Guys You Date In Your 20s, which drops with Chronicle in the spring of 2020. Gabi is a writer and host, who currently hosts and writes a weekly entertainment show Hollywire Vlogs, she wrote and hosted 423 episodes the Elite Daily Show for Verison's go90 and Elite Daily. She has contributed dating and wellness articles to Cosmopolitan, Hello Giggles, POPSUGAR, mindbodygreen, and Elite Daily. You can follow her on Instagram @ItsGabiConti.
Food News
If you lack a certain way with words, then perhaps you can rely on showing how you feel this holiday season with an artful greeting card you can make at home! Brit dropped by our crafting studio where we teamed with Camp by Walmart to create a choose-your-own-adventure holiday card tutorial. In the interactive video, it's up to you to decide what type of card you want to make — sentimental, or stylish? Three-dimensional, or keep it simple? After you've selected your design vibe, Brit helps you assemble it all together so your last-min card is ready to send. Get ready to pick up a few new DIY tricks when you watch the video now!
Holidays