10 Most Inspiring Quotes from Hillary Clinton's Recent PBWC Speech
Mar 29, 2017
A spirited Hillary Clinton took the stage as the closing keynote speaker at the 28th annual Professional Business Women of California conference in San Francisco on March 28. Joking that she was "thrilled to be out of the woods and in the company of so many inspiring women," the former Secretary of State — and former presidential candidate, lifelong public servant, grandmother, mother, best-selling author, and all around nasty woman — once again enthralled a crowd of thousands with a stirring speech covering everything from the recently failed GOP healthcare plan to why we need to continue to persist. Here are 10 highlights from her speech.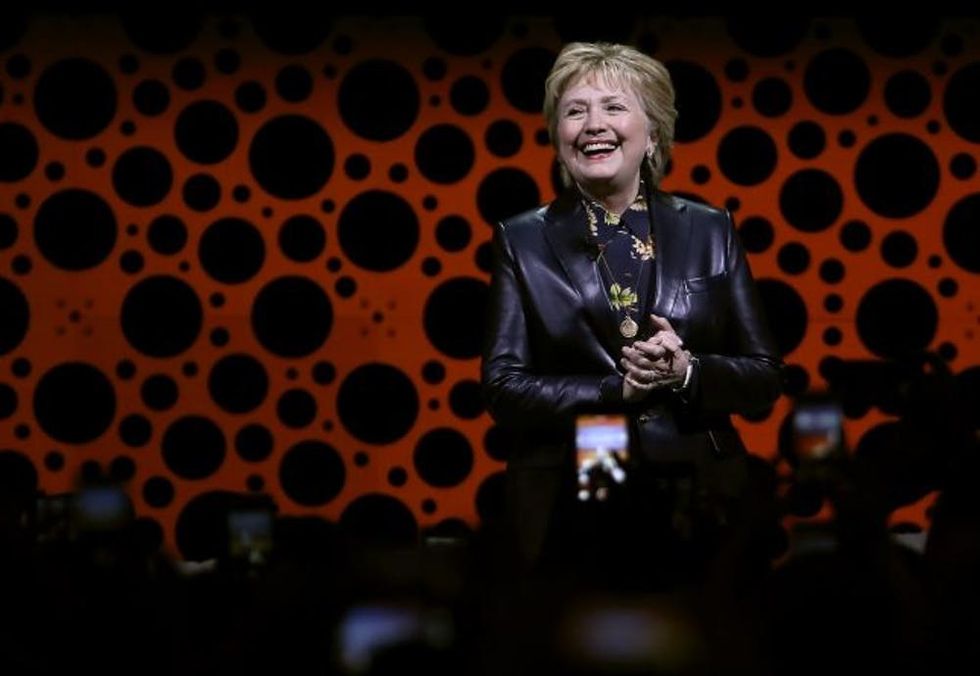 ---
1. "There's no place I'd rather be, here with you, other than the White House." We understand.
2. "There has never been a more important woman than the woman who stands up, and says, not just for herself, but for everybody else, we want diversity and inclusion in everything we do in our country." Representation matters, and we are stronger together.
3. "We know from decades of data that encouraging women's full participation is both right and smart." It's not a zero-sum game; when we empower and lift up women, everyone wins.
4. "We need to reset the table so women are no longer required to accept or adapt to discrimination and sexism at work." Women don't just need a seat at a table, we need a new table.
5. "It's not like I didn't know all the nasty things they were saying about me… but you just have to keep going." The woman is made out of Teflon.
6. "Where some see a dark vision of carnage, I see a light shining on creativity and opportunity." This is a great reminder that even through these crazy times we are living in, there is always hope.
7. "Human rights are women's rights, and women's rights are human rights, once and for all." Clinton also said, "Advancing the rights of women and girls is the great unfinished business of the 21st century." So let's finish it.
8. "Resist. Insist. Persist. Enlist." Clinton encouraged everyone to resist bias and bullying, hate, and fear; insist on putting people first by working together; persist (a la Elizabeth Warren); and enlist in the effort and "get in the arena."
9. "Now is the time to demand the progress we want to see and to work together to make it real in our own lives, in our business, in our government, in our families, our country, and the world." Stay vigilant; stay active.
10. "I do know what I'm still fighting for. I'm fighting for a fairer, big-hearted, inclusive America." And we couldn't ask for a better fighter in our corner.
What are your favorite Hillary Clinton quotes? Share them with us @BritandCo!
(Photo via Justin Sullivan/Getty)
Lesley Chen
Lesley Chen is a California native who writes about travel, health/fitness, and other lifestyle topics. She has a serious case of RBF and exercises mainly to balance out an aggressive candy addiction.
Politics