How to Turn Kylie Jenner's 18th Birthday Makeup into Your 30th Birthday Look
Sep 17, 2015
When the Kardashian-Jenner sisters simultaneously launched their websites FULL of beauty tutorials this week, you know I just had to creep on that. Of all the content I scrolled through, I couldn't peel my eyes away from Kylie Jenner's video tutorial called My Sexy 18th Birthday Look, which, turns out, is SO Kylie Jenner. Whether you idolize her or throw shade her way, there's no arguing that the youngest of the clan already has an infamous roll in the world of beauty and insane fan following for a reason, and this vid showed why: girls want to look like a bombshell for a big event, and Kylie is that explosion of edgy, cool, sexy and confident all rolled up into one. Even *we* can get behind her smoldering look when we want to turn it up with our makeup.
---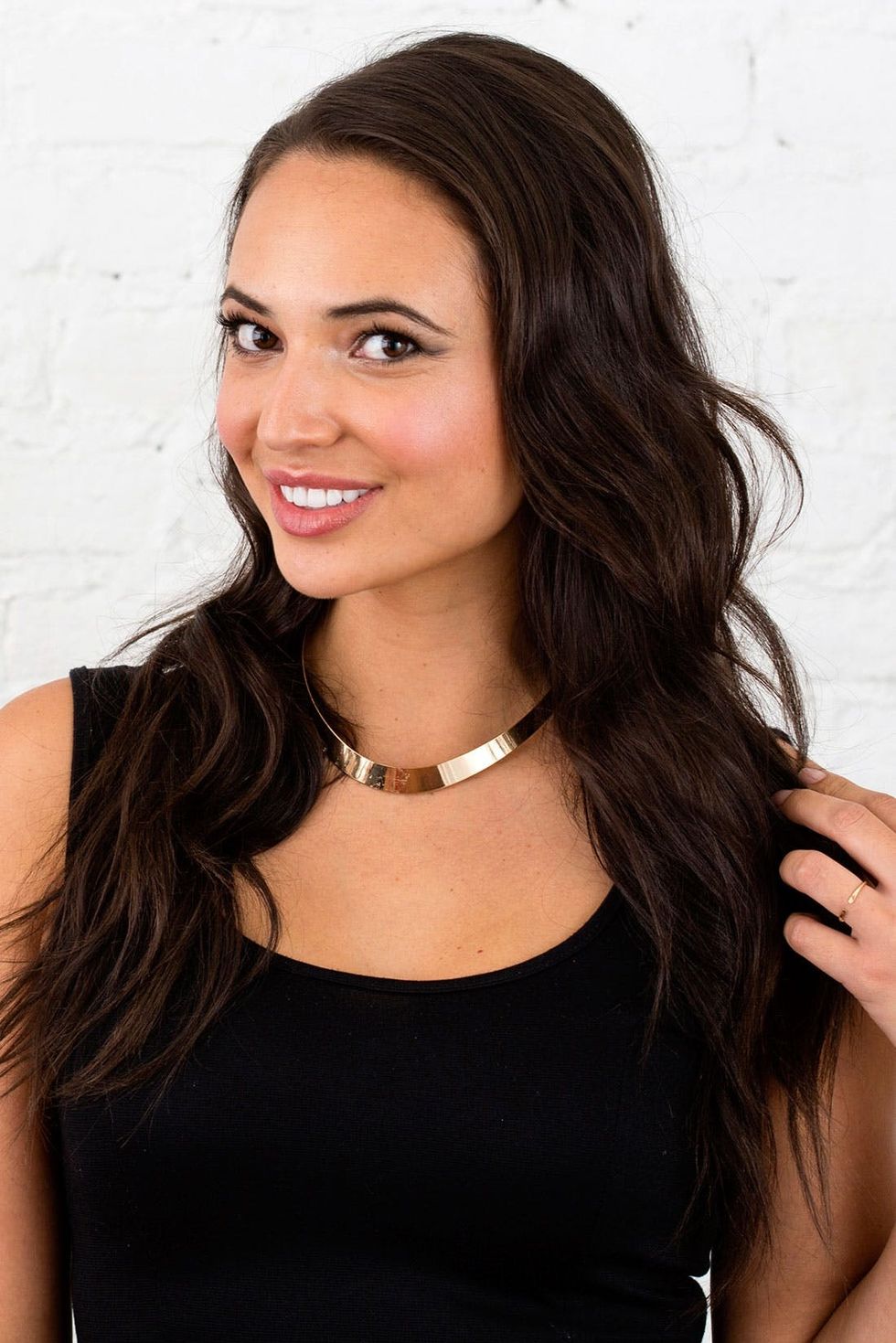 Of course, here at Brit + Co, we aim to deliver a realistic way for all of you to get on board with moments that we find beautiful. Personally, I think for the average girl, Kylie's final look is a little heavy. So rather than copy her routine step by step, we came up with this toned-down (but still turnt up!) tutorial inspired by her 18th birthday makeup look that's fit for any woman getting ready for their big bash, night out or any other major event. Check out the 10 steps to getting super sultry below.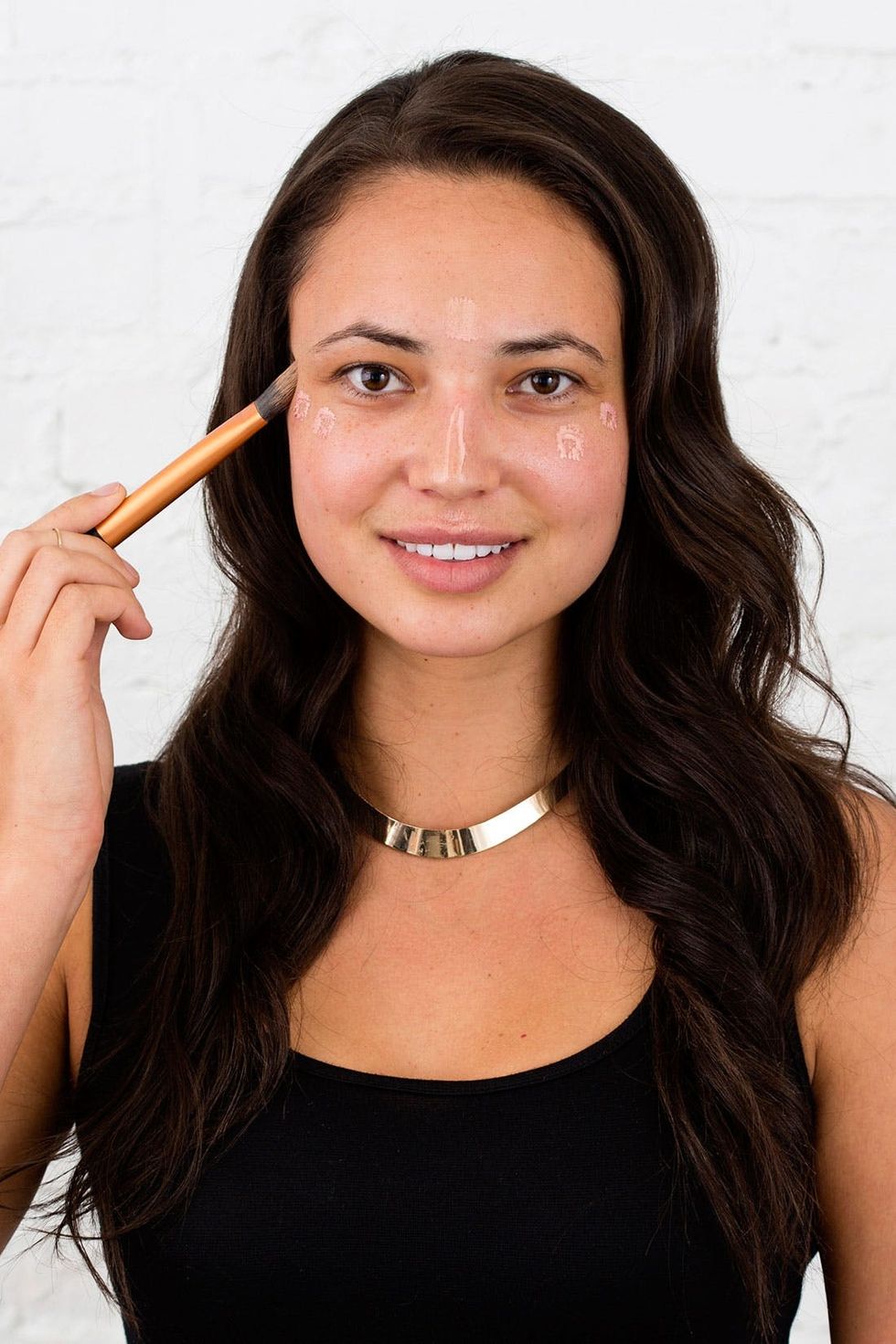 This is actually a really good way to prep for your foundation daily if you wanted to take the extra step, but especially for a special event. The trick is to only apply highlighting primer to your upper cheekbones, bridge of your nose, slightly above the center of your nose around your third eye and on your cupids bow (slightly above the center of your upper lip). On our model Caitlin, we're using Benefit Cosmetics Girl Meets Pearl Liquid Pearl Luminizer ($30). Apply with a flat foundation brush by tapping it into your skin.
Step 1: Highlighting Primer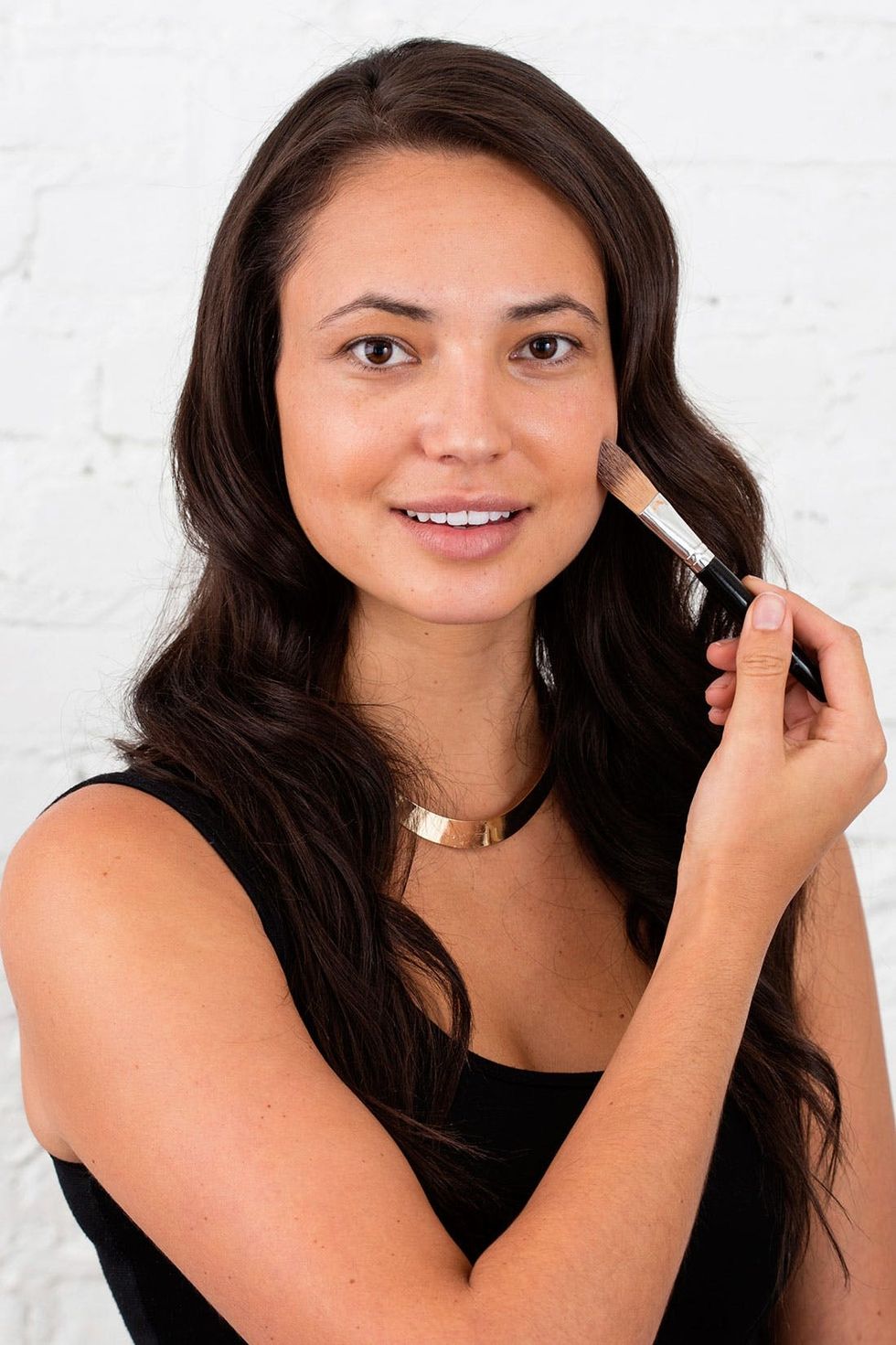 Apply your foundation all over your face with a foundation brush, being careful to tap the foundation over where you applied the highlighting primer so you don't wipe the product off and lose the effect. A current obsession of mine (and what we are using on Caitlin) is Juice Beauty Perfecting Foundation in Sand ($35).
Step 2: Foundation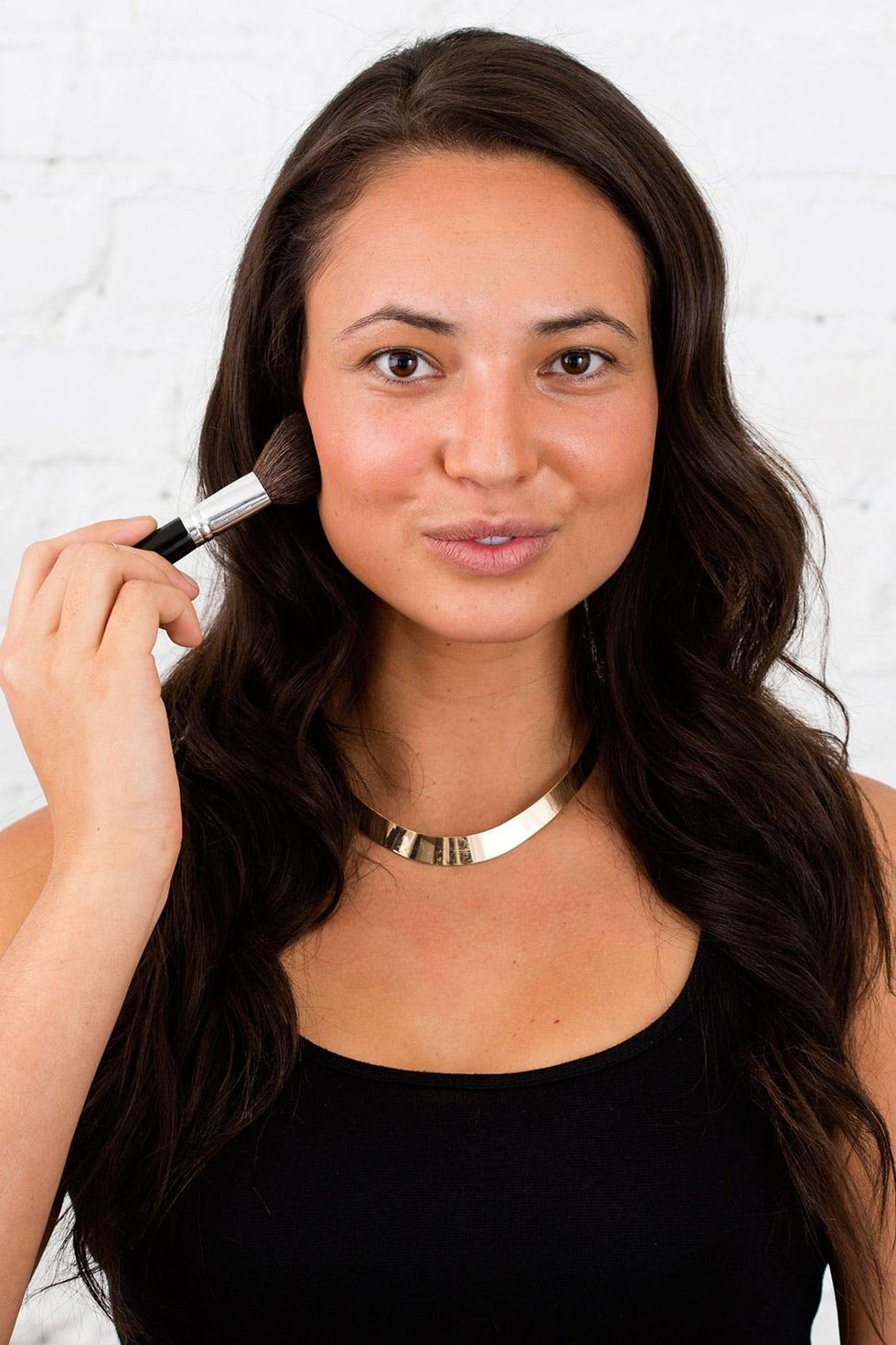 This is the moment to go big! You can go a little heavier on your bronzer for an event if it will be darker and you will be indoors (or if you're just feeling extra sassy). Apply in the hollows of your cheeks, down each side of your nose, along your hairline, temples and along your jawline down on your neck to blend onto your decollete. This is going to bring a softness to your face while also giving it dimension. For this look, we went with a warm bronzer by Rimmel London Natural Bronzer in Sun Bronze ($5).
Step 3: Bronzer
<em>twice</em>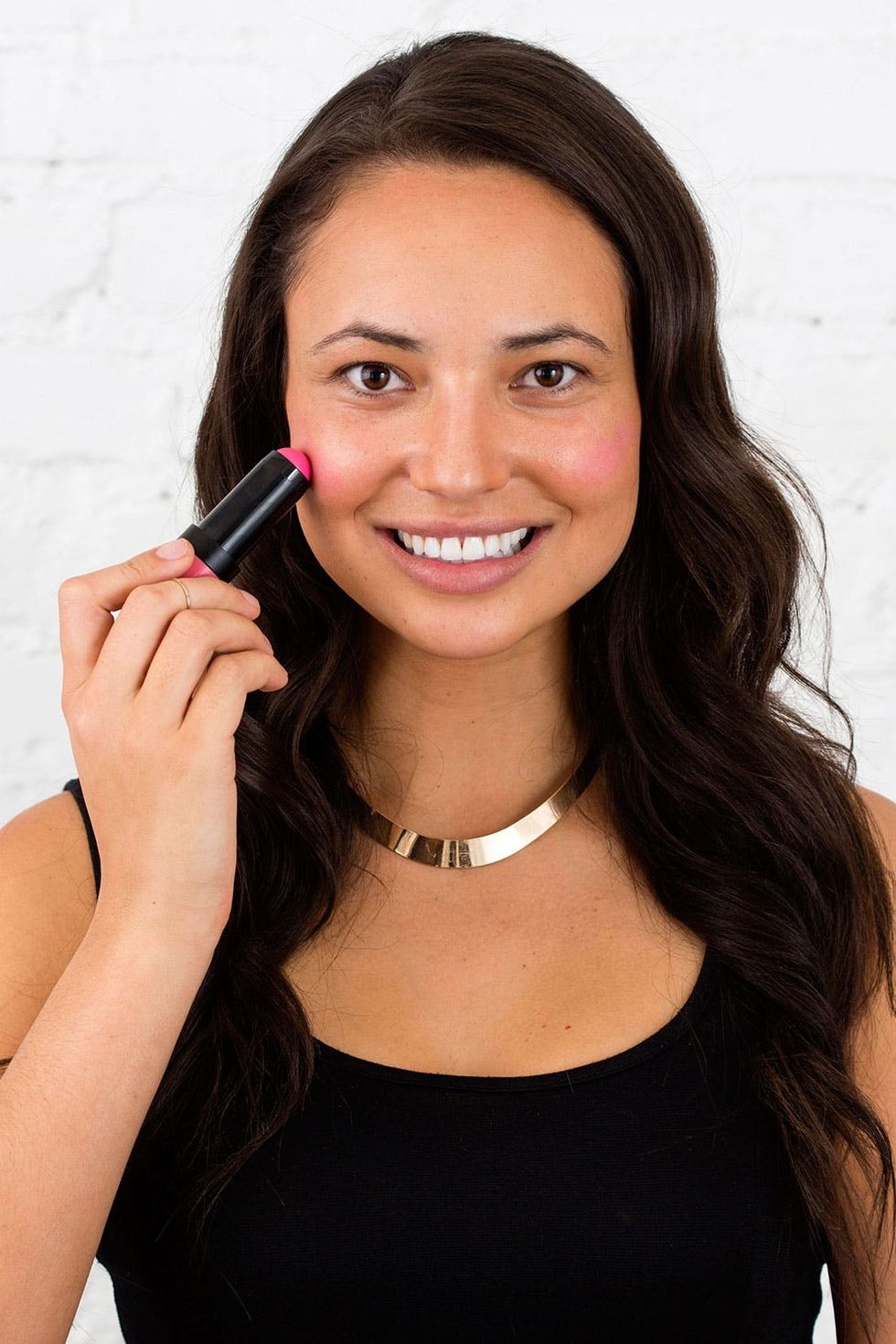 first
. This is going to give your skin a more dewy, hydrated finish as well as serve as a base to take your powder blush to a whole new level. This gorgeous pink is
TrèStiQue Blush Stick in St.Barths Pink
($34). Apply to the apples of your cheeks and slightly towards your temples and blend into your skin using a tapping circular motion with the brush on the other end of the blush stick.
Step 4: Two-Step Blush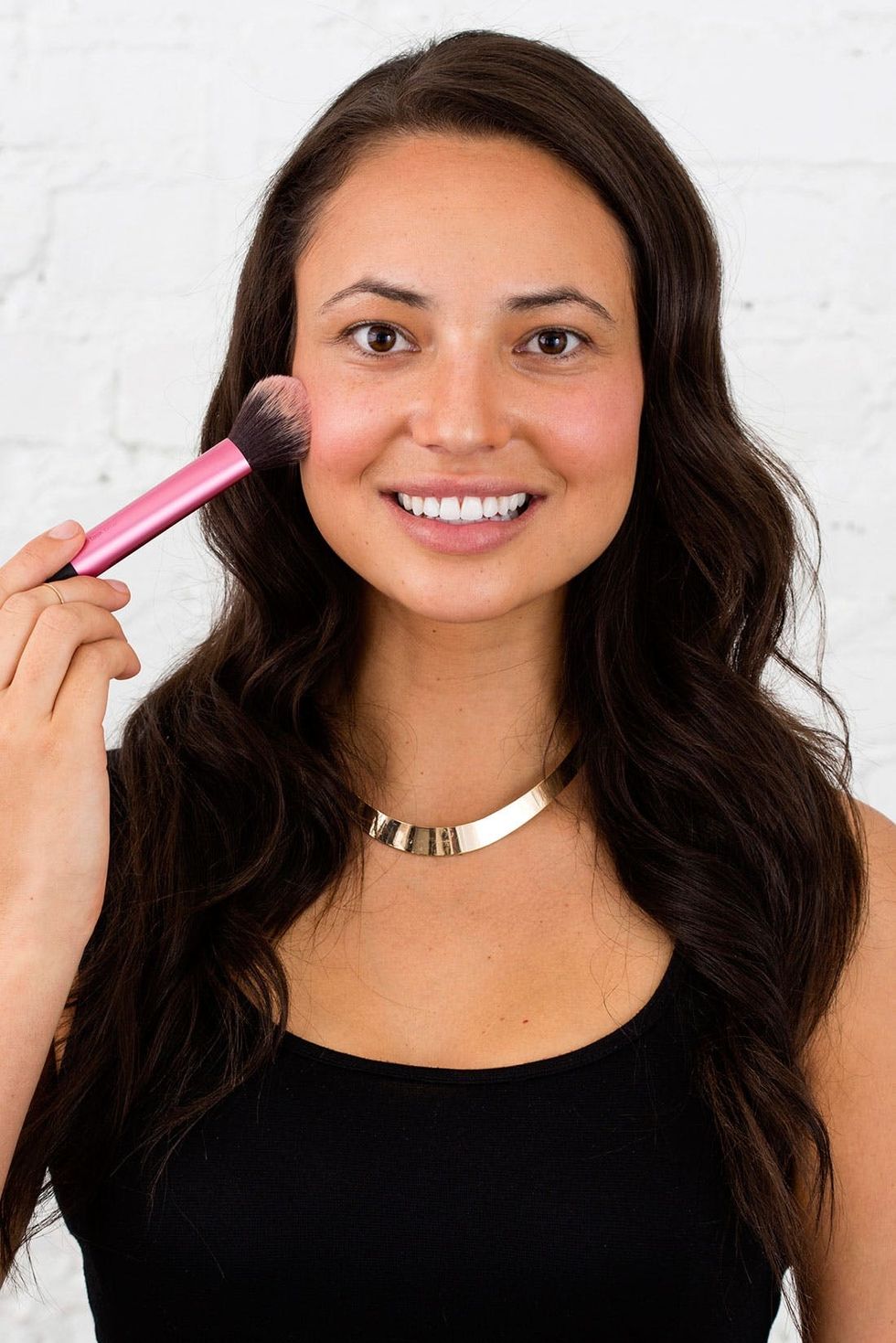 Now go over your cream blush with a slightly iridescent soft pale pink like Juice Beauty Glowing Cheek Color in Pink ($16). Focus this hit of color on the apples of your cheeks to give that portion of your cheeks an extra pop of color and dimension. This look and color combination makes your smile so much dreamier when the light reflects off of your cheek bones.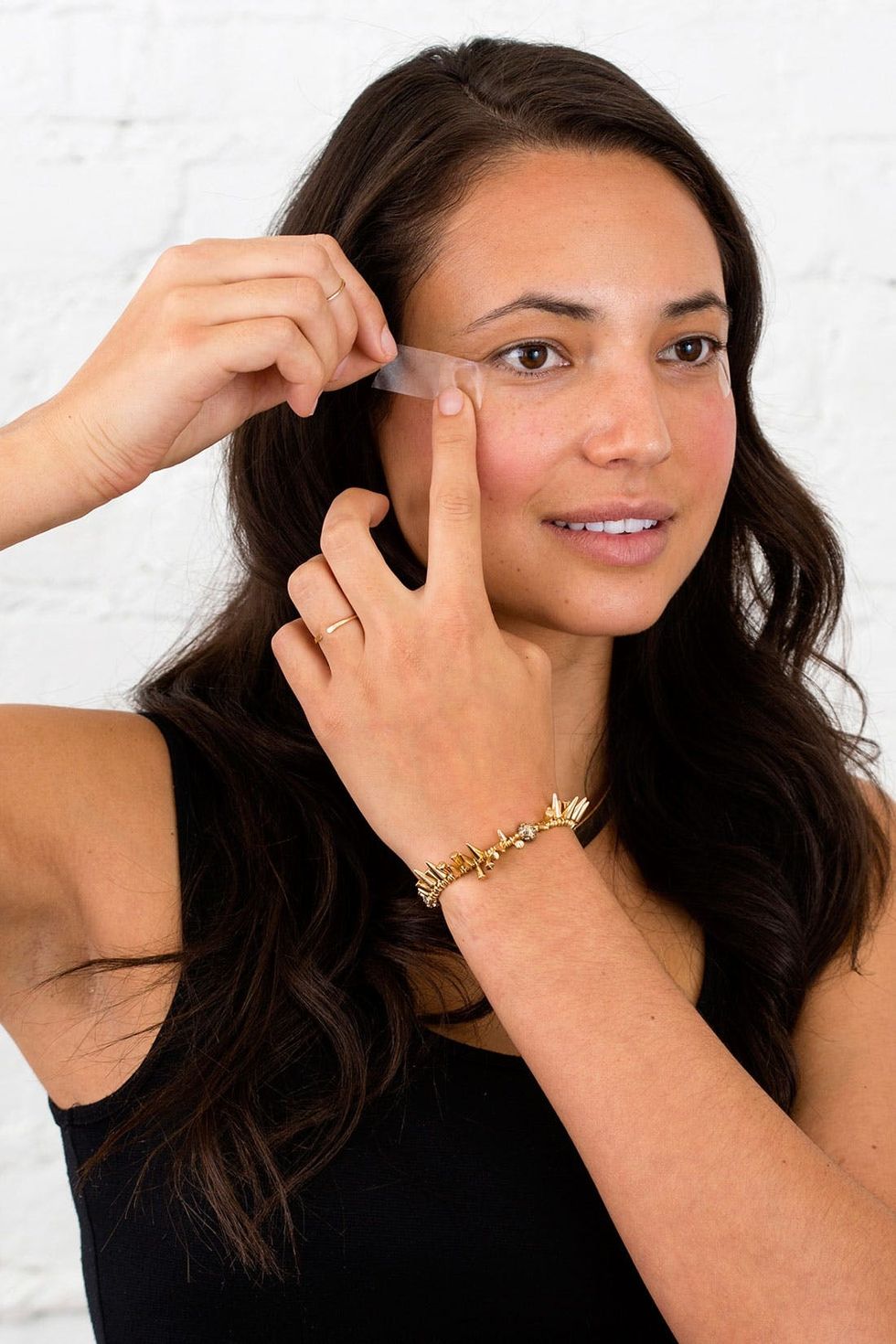 Here's another hack we saw in the video that we HAD to try: using office tape to get a super straight-lined smokey eye. It's a few extra steps, but guess what? It works! So, if you like the look, you should totally try this. Apply a small piece of tape starting at the the outside corner of your eyes angled up towards slightly below the ends of your eyebrow points.
Step 5: Tape Hack Smokey Eye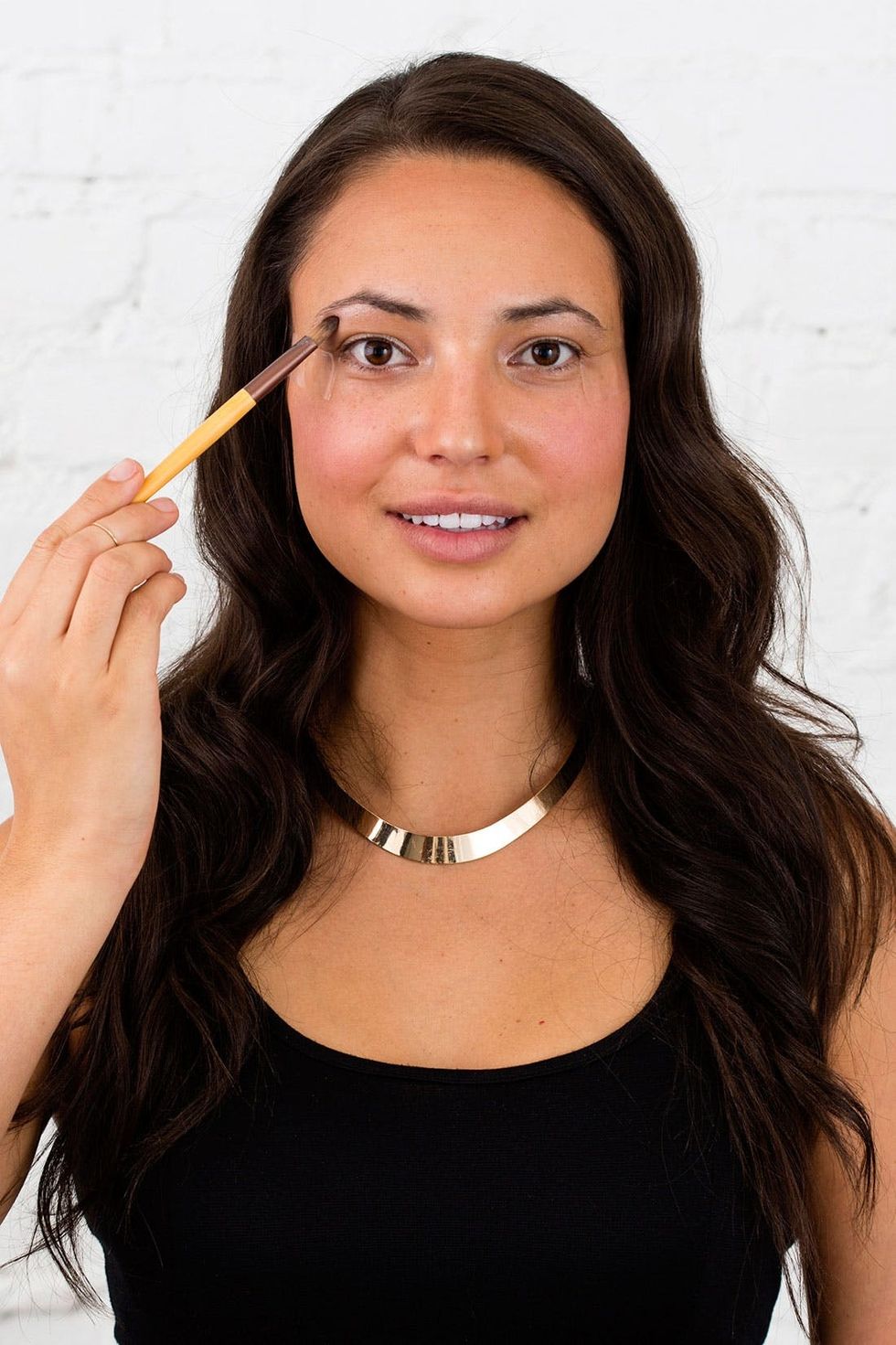 Apply a pearlescent brightening eyeshadow color like Urban Decay Naked Palette in Sin ($54) to highlight your brow bones, inside corners of your eyes and slightly onto the center inside part of your eyelids.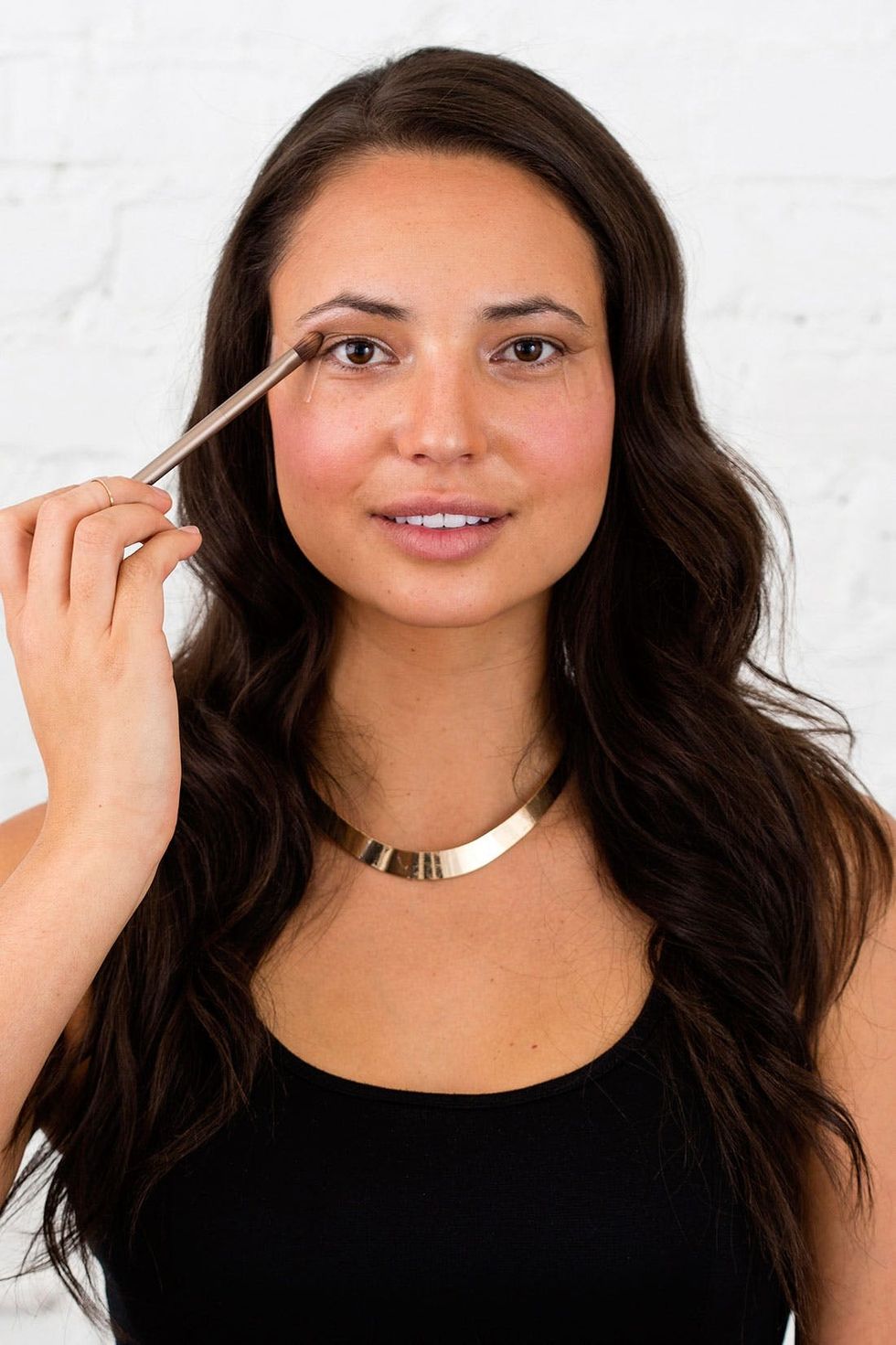 From the same palette, apply Buck — a medium warm brown eyeshadow — to contour the creases of your eyes blending it slightly outside the edges of your eyes to start the winged shadow effect that will really pop when you pull the tape off later.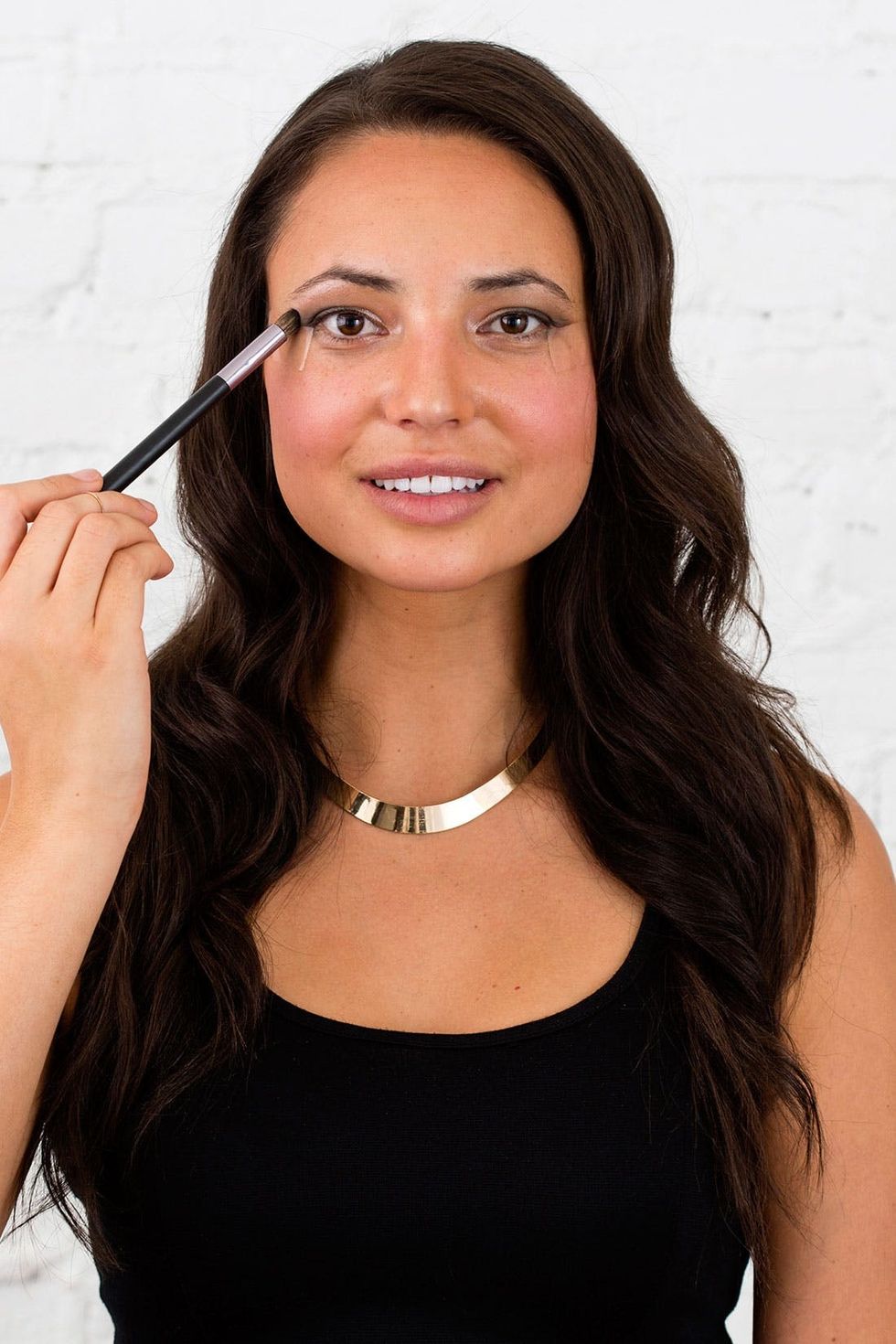 Now for the drama! Apply Creep from the same Naked Palette into the outside corners, creases of your eyes blending slightly outwards over the neutral brown you applied in the previous step.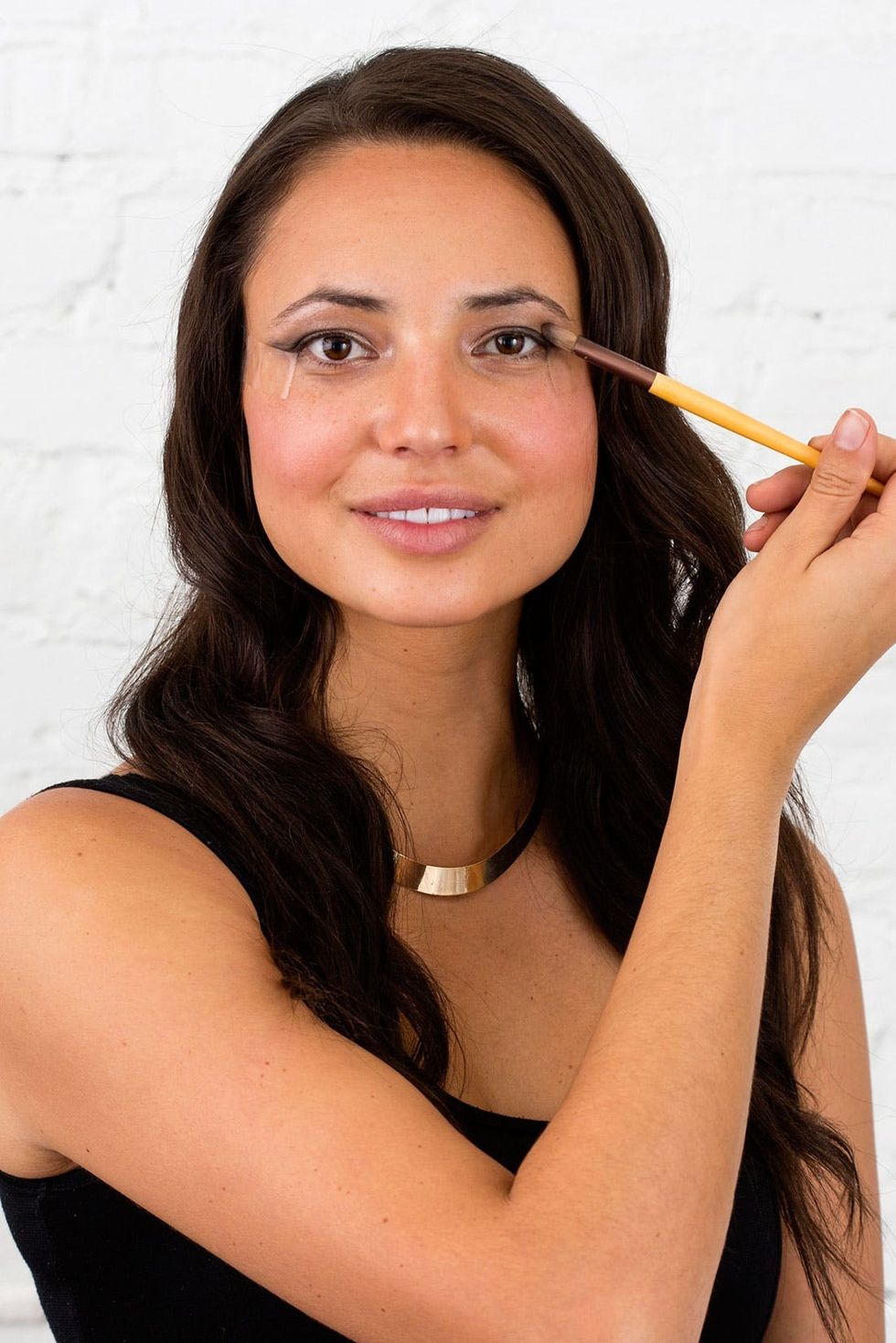 Finally add a pop of shimmer by applying a shimmering reflective metallic shadow like Side Car from your Naked Palette to the center of your eyelids. This is going to catch the light making your eyes look a little bigger, more dreamy and will photograph phenomenally.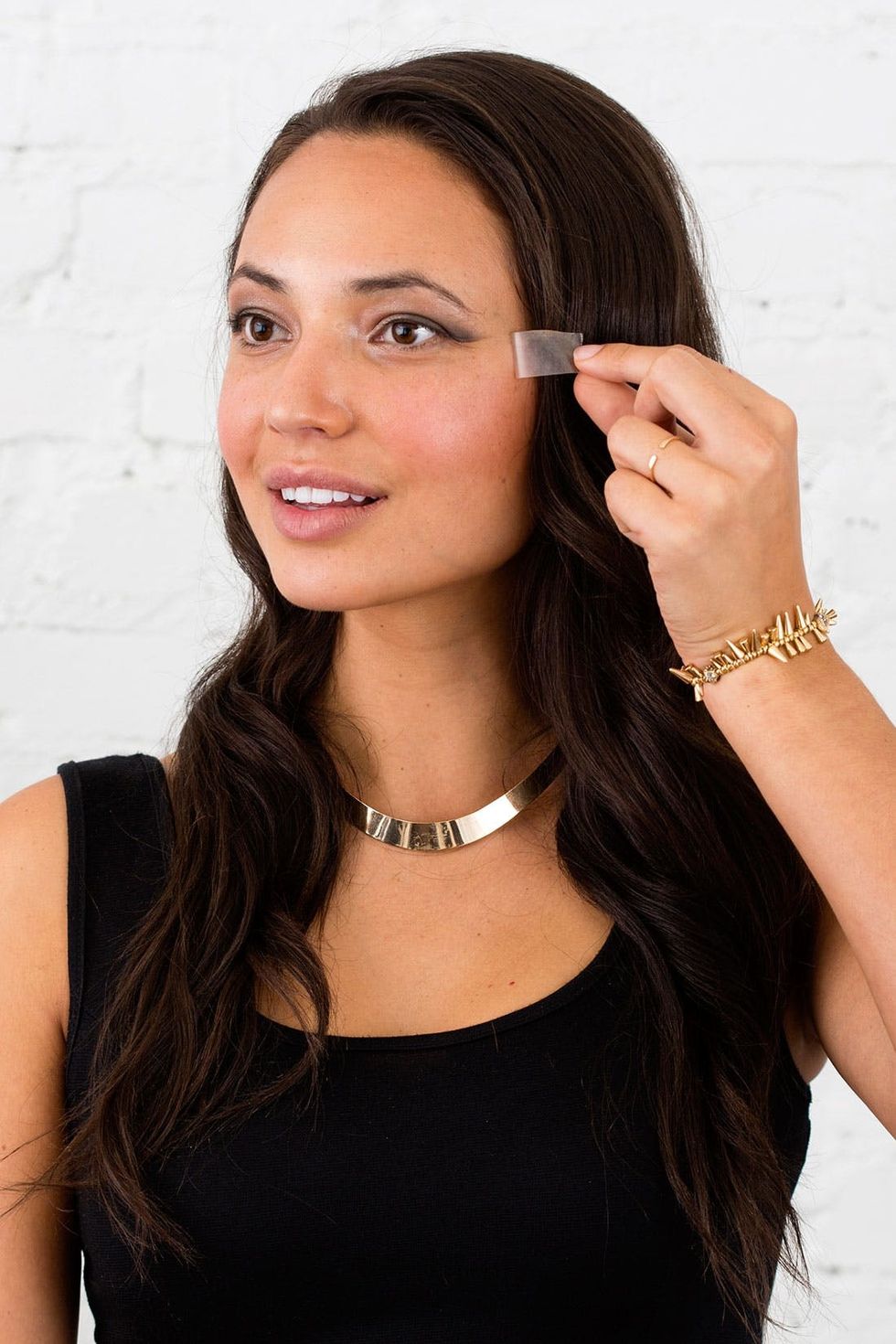 Gently take off the tape and get ready to oooh and ahh! If you have any fallen shadow on your lower lash line, just clean up with a cotton swab and makeup remover or even water will work. Don't worry about any of your makeup being pulled off with the tape or after you've cleaned off the fallen shadow because we'll apply concealer later.
Step 6: The Reveal!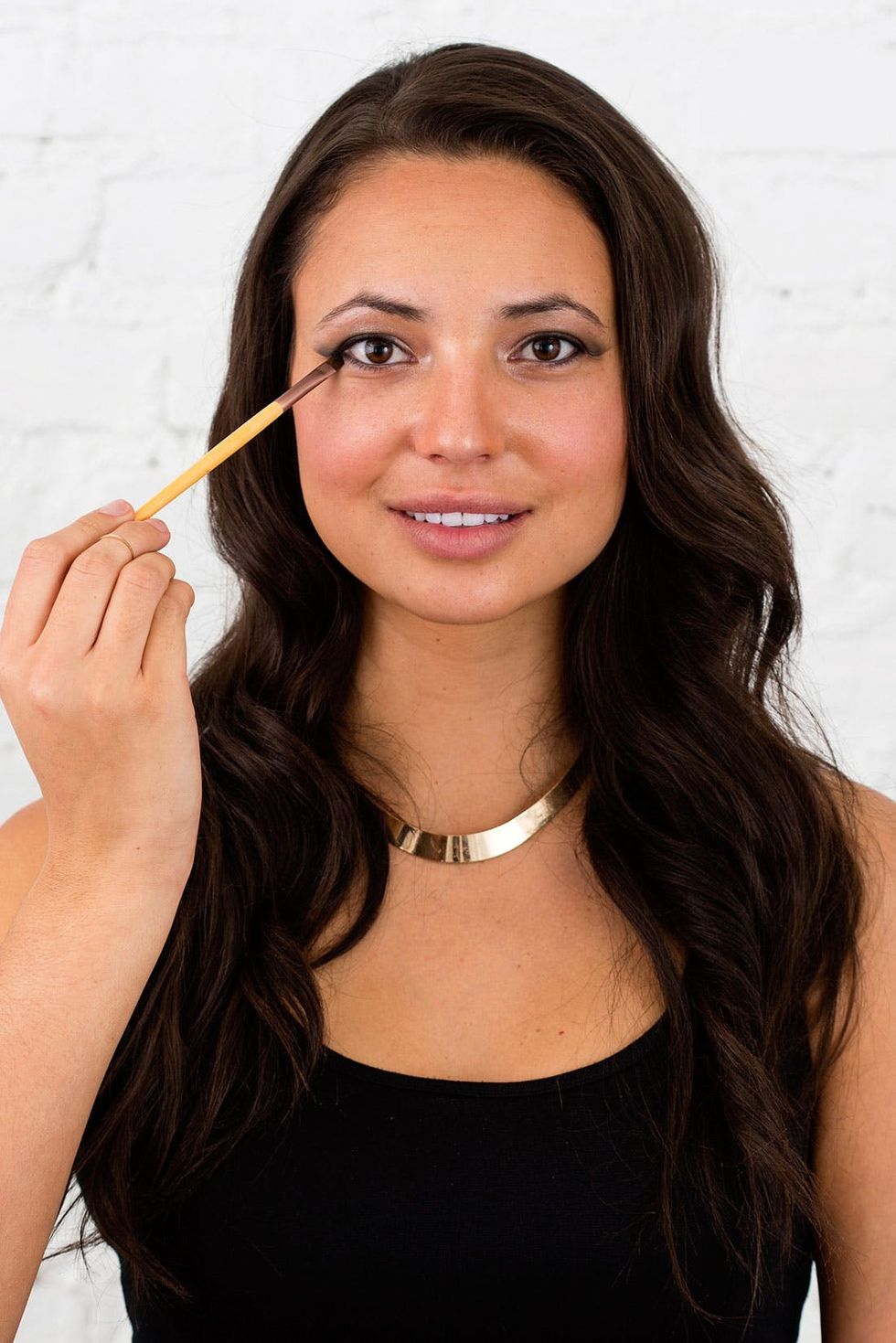 You can either opt for a dark liquid liner or for a softer finish, which I am a huge fan of, apply eyeshadow as your eyeliner. Use a black shadow with a flat angled brush to get into your upper lash line and only apply on your lower lash line on the outside corners blending out towards the center inside corners of your eyes.
Step 7: Eyeliner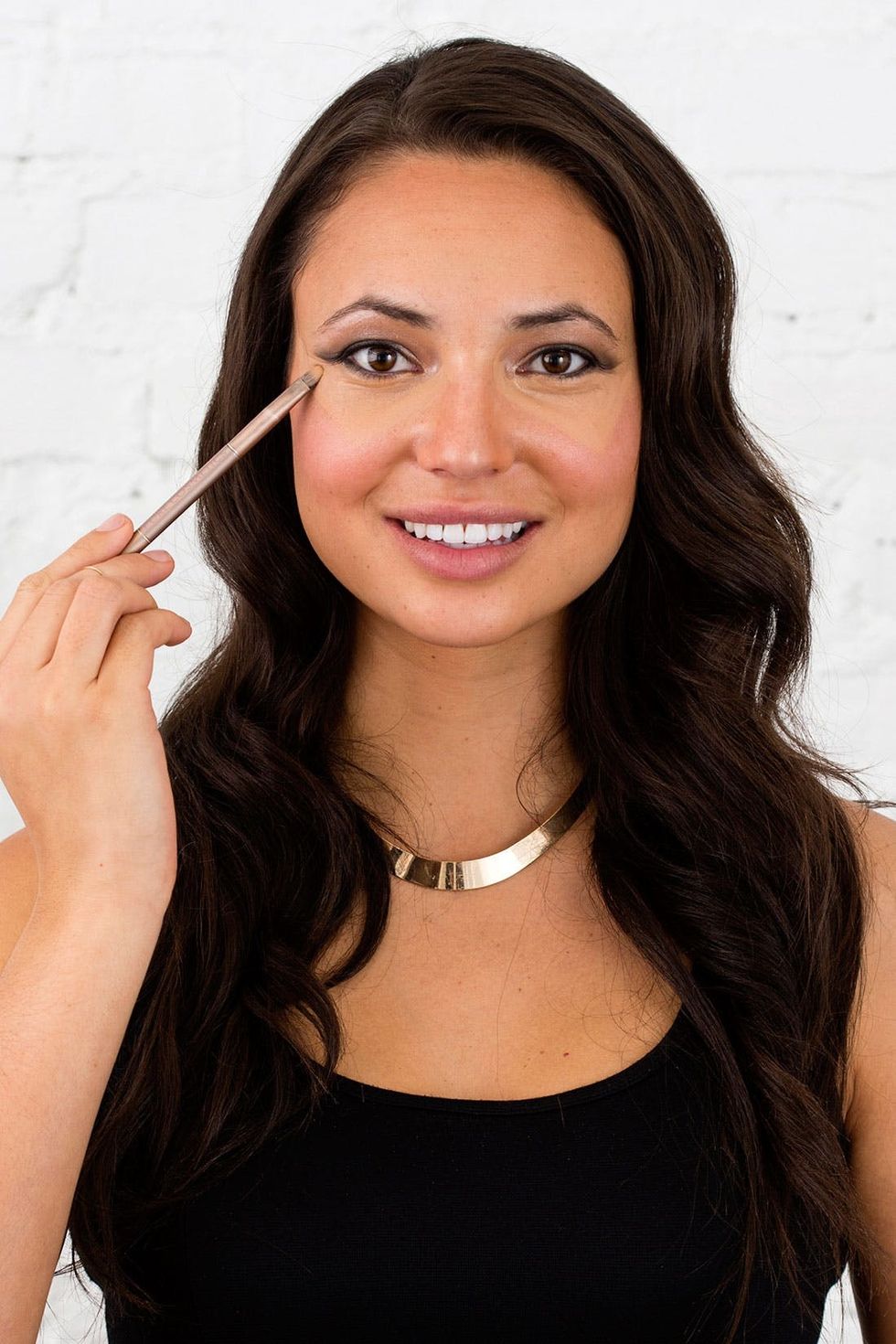 Here you can see that we really stepped it up a few levels in the concealer department. This is a move you probably want to steer clear from on the daily but for a special event, it plays a huge role in giving you a more polished look. Apply a generous amount of hydrating concealer like Juice Beauty Correcting Concealer in Sand ($18) in an upside down triangle shape below each eye.
Step 8: Concealer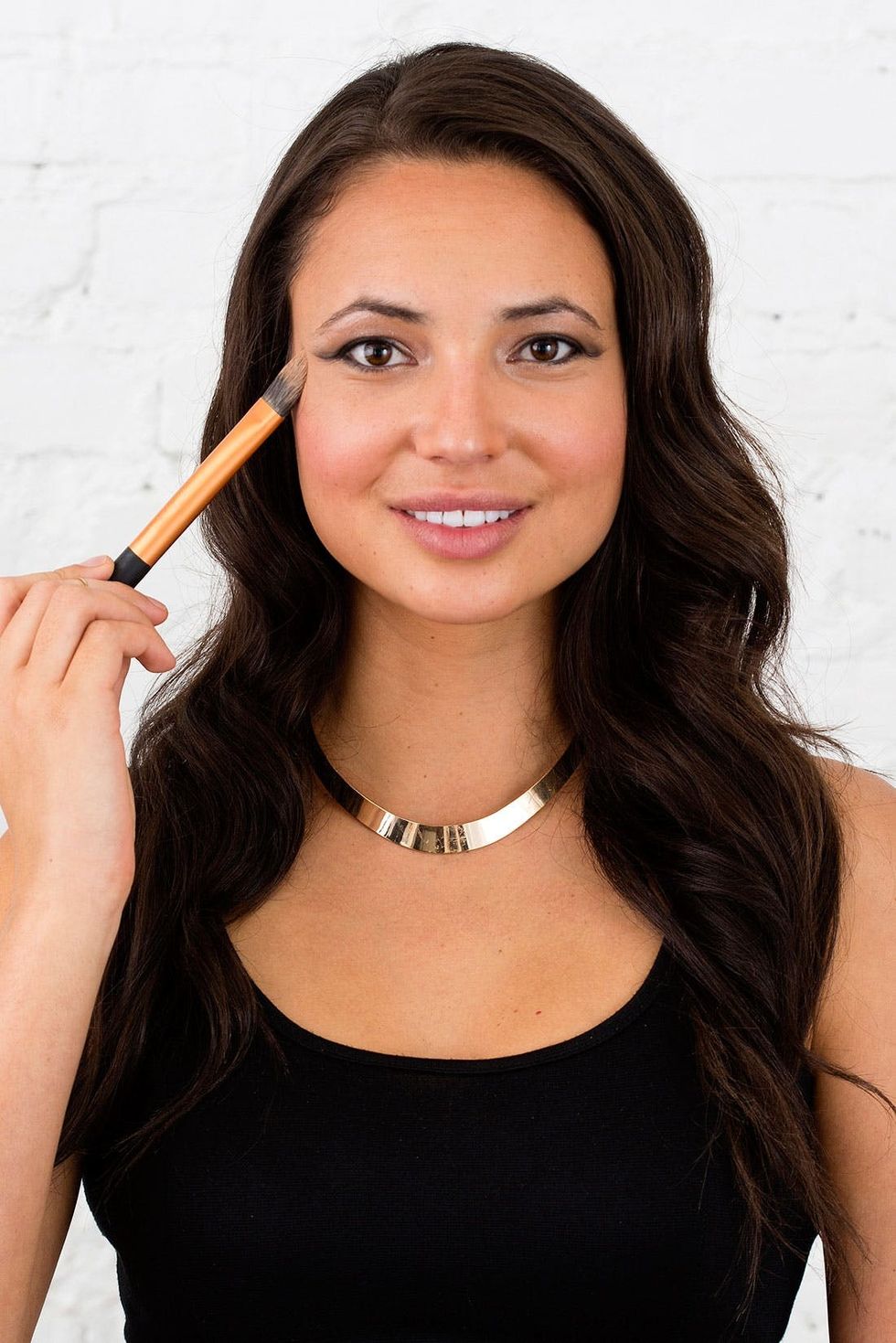 Blend in with a slightly larger flat brush using tapping motions. You can press over the area with your fingers for a natural finish. This helps when using more product because the heat of your fingers helps to melt the product into your skin.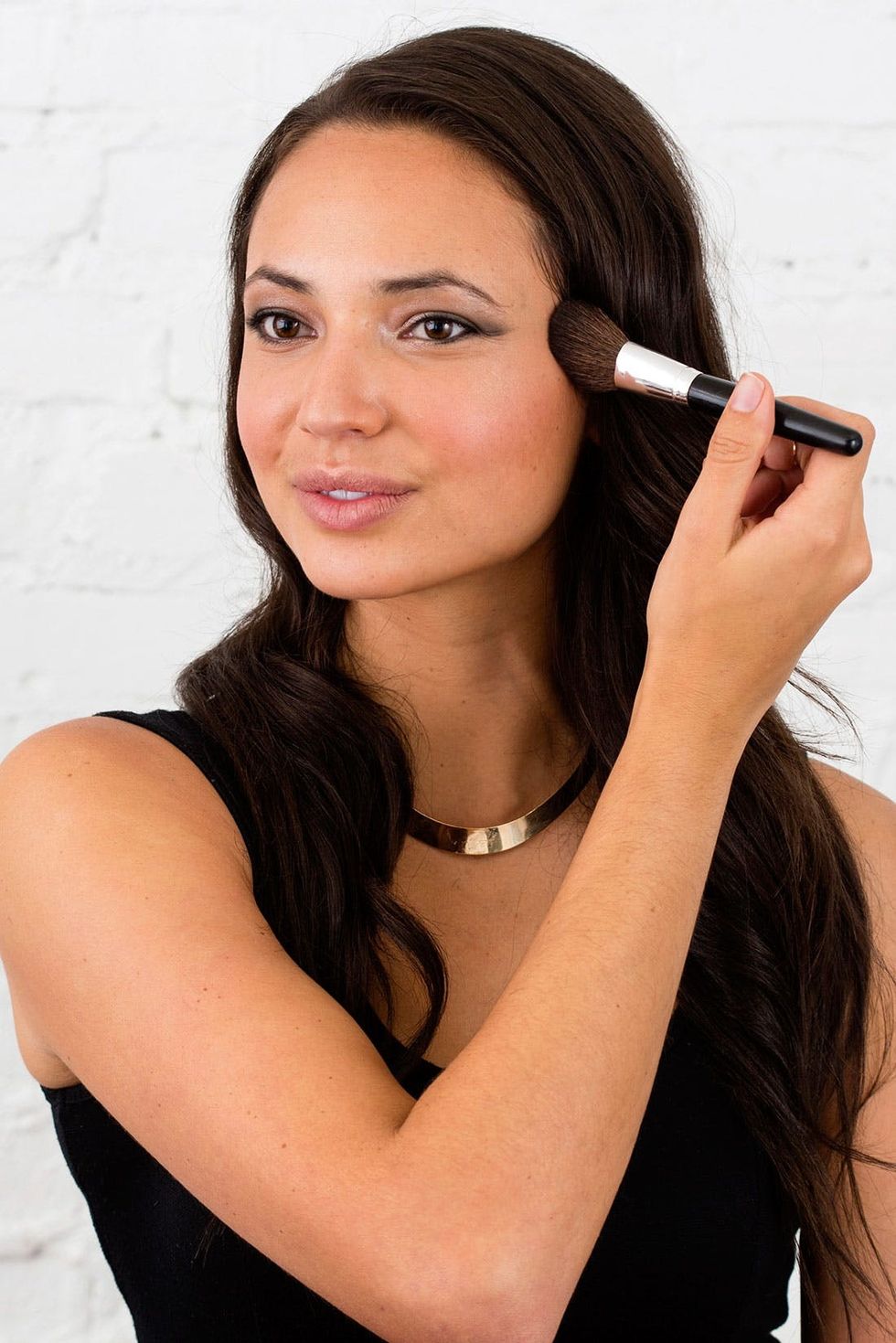 Another nighttime makeup move is to set your makeup over the parts you applied the highlighting primer to with a shimmering highlighting powder like Becca Cosmetics Shimmering Skin Perfector Pressed in Opal ($38). Just set the rest of your face with a translucent powder, but avoid going over your blush that you set with the powder blush already.
Step 8: Set Your Makeup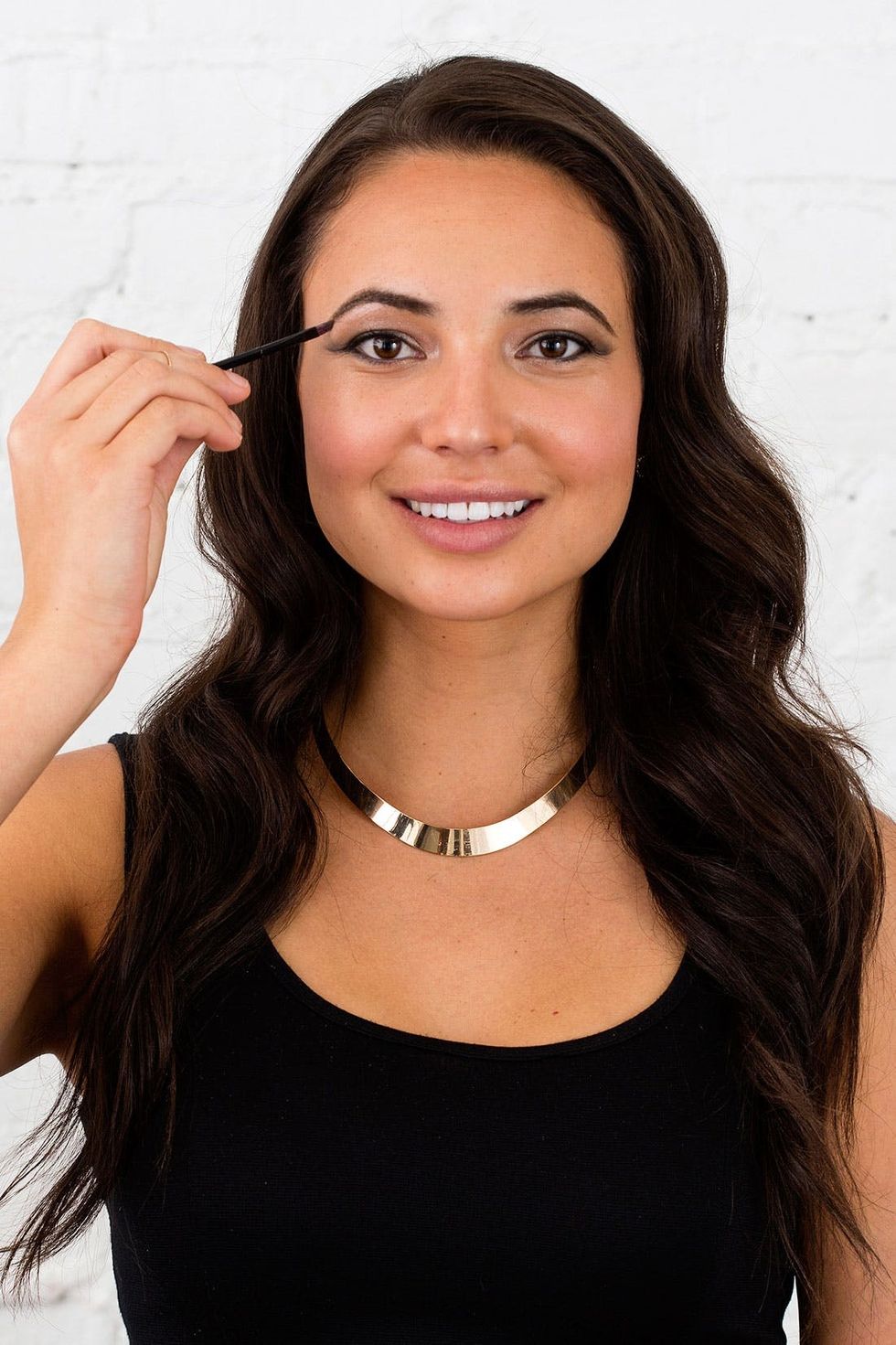 I just discovered the best product for natural defined eyebrows EVER — Toppik Brow Building Fibers Set in Medium Brown ($20). It's a two step process where you apply the conditioning wax to your brows to shape and give a base for the second part, which is applying a powder that is made up of small fibers that adhere to your eyebrows as if they were little tiny hairs. This is one of the first products that delivers on shaping your eyebrows, filling them in and still remaining completely natural looking. This is exciting for us natural, minimalist gals!!
Step 9: Define Your Brows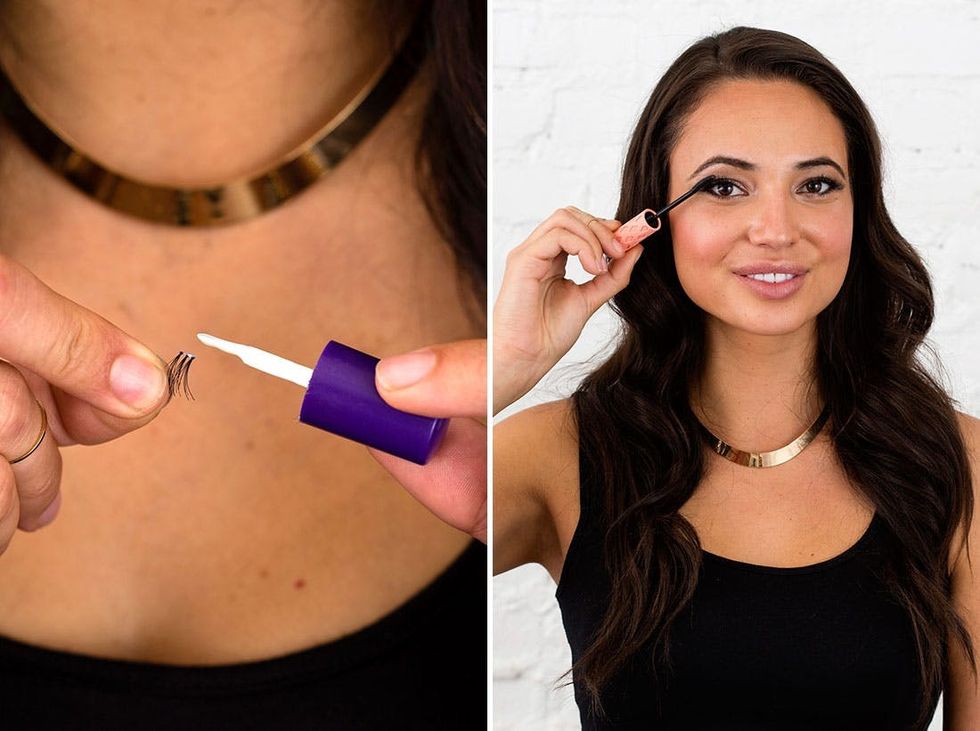 You can definitely go big if you desire with your lashes, but again the idea here is to keep this look full of drama without going over the top. A good way to find that balance is to use these trio individual lashes by Kiss EZ Trio Lash Collection ($5). Honestly one of the easiest false eyelashes to apply, you can even apply them with your fingers! Once they are on to your liking and dry, carefully apply a thin coat of mascara to blend your lashes.
Step 10: False Eyelashes + Mascara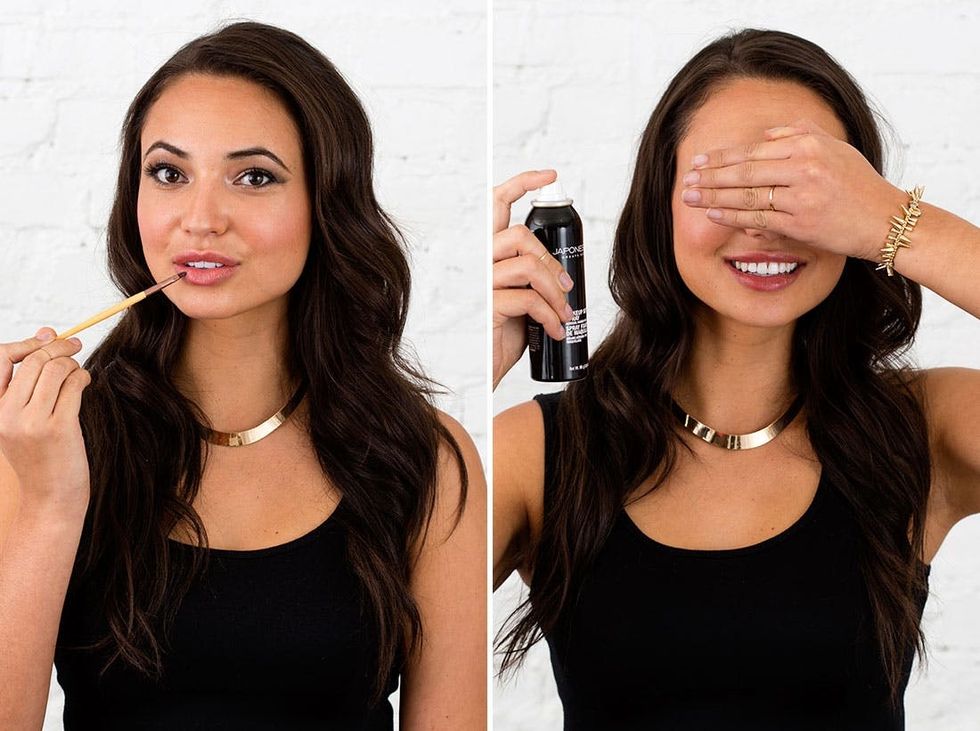 Ok, I have to admit, I had never seen setting spray done while covering your eyes, but in the moment I saw this move in the video tutorial it made so much sense! What a way to get a dewy finish on your skin without compromising the finish on your eye makeup. Thank you Kylie Jenner's makeup artist for this little genius move I will be stealing! For your lips, keep it neutral with a little pop of color. We used a mauve gloss to slightly bump her natural lip hue up a bit.
Finishing Touches: Lips + Setting Spray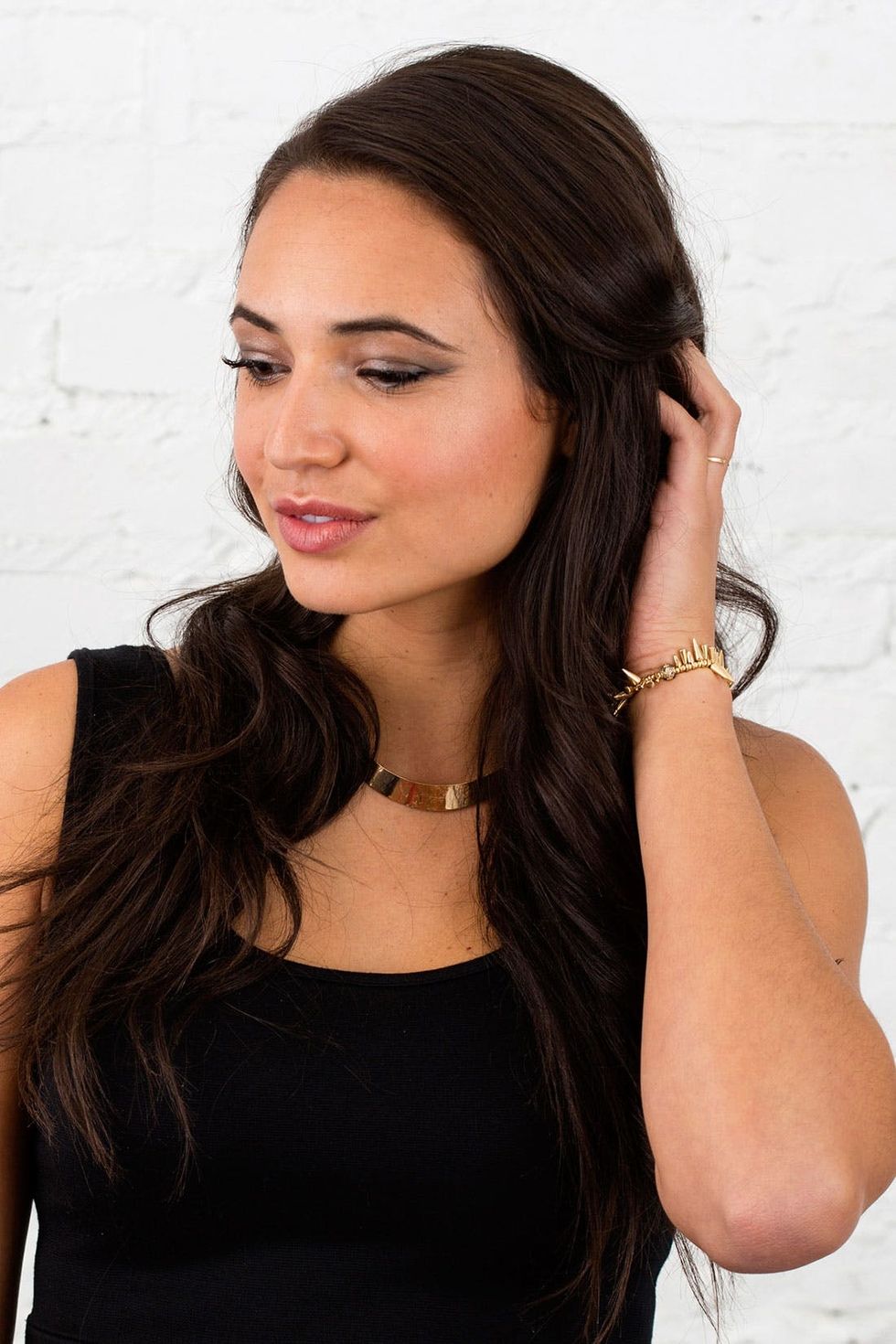 Trying to channel Kylie's 'I'm So Sexy look' only had Caitlin busting out in laughter! Hahah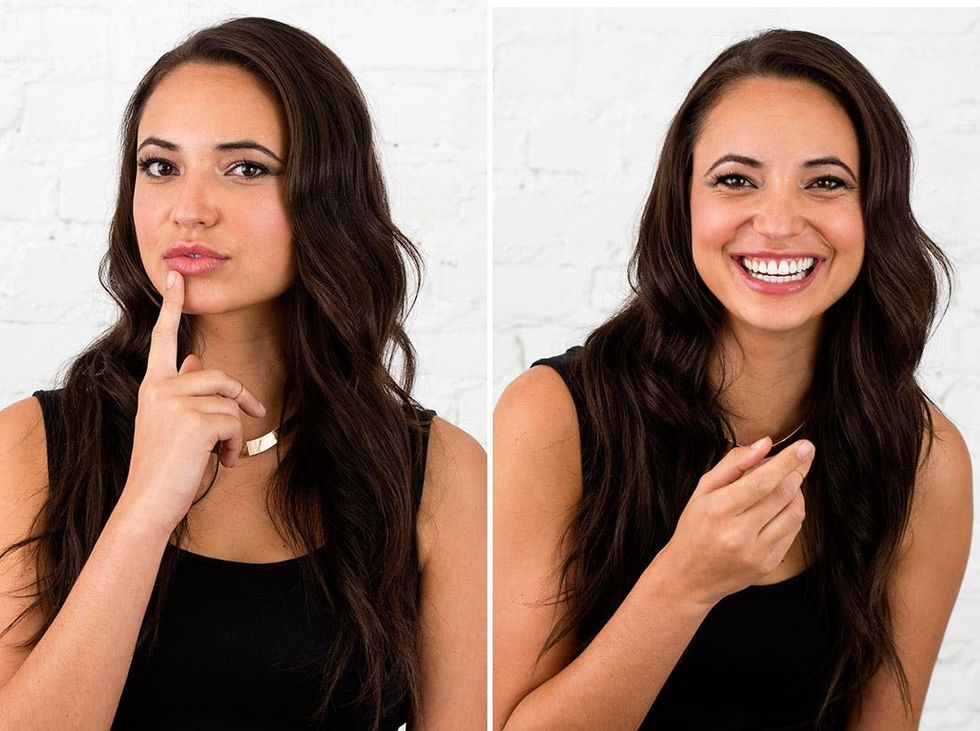 This was our version of sexy! Playful and done in a way that is hopefully relatable to a lot of women.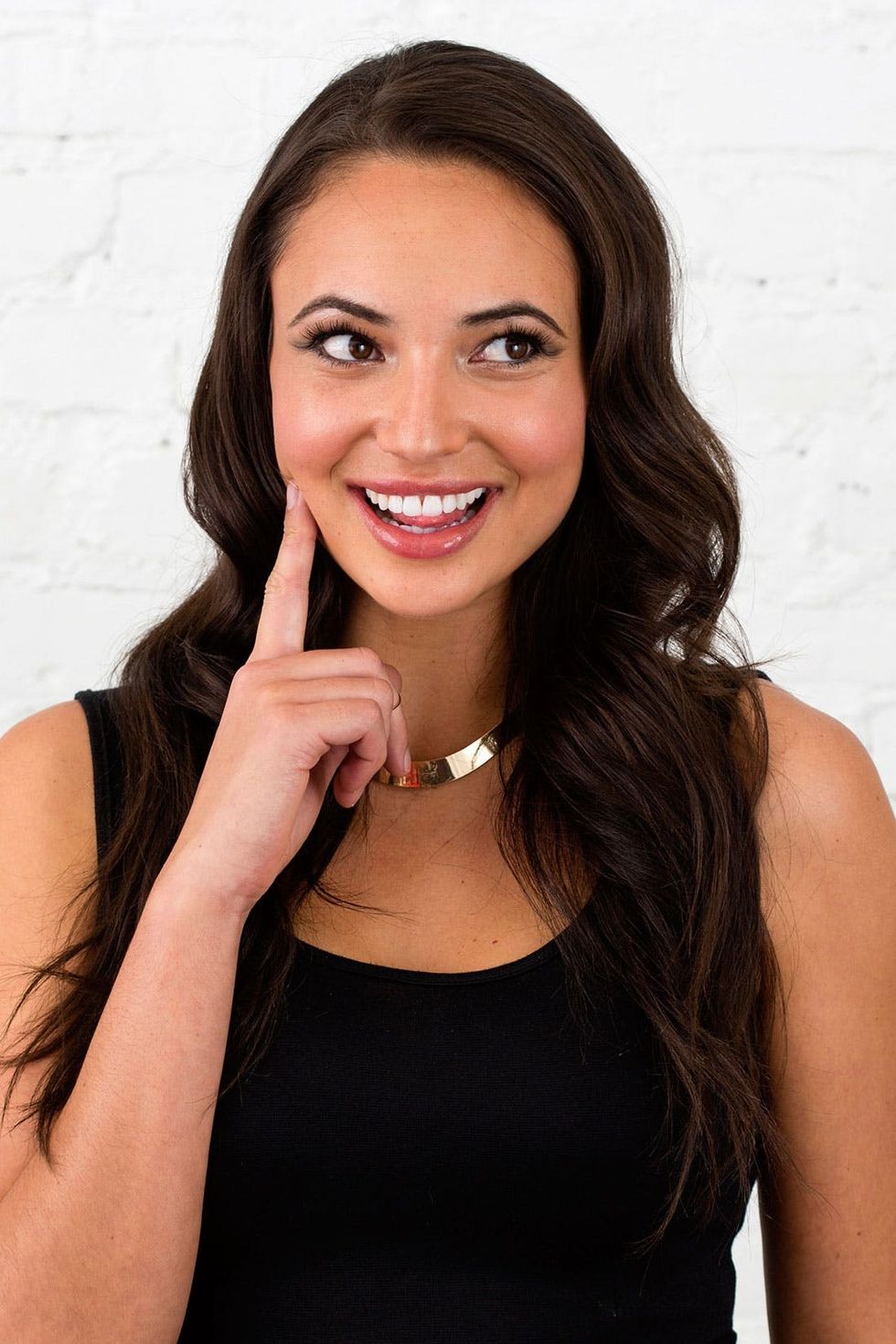 These 10 steps will allow you to do your makeup like a pro and leave you feeling like a gorgeous badass channeling your version of the sultry vixen vibes Kylie brings to the table. Have fun with this and don't take it too seriously, or yourself for that matter. Chances are, if you're turning 30, you have already discovered this in life! You 20 somethings-don't worry, your time will come ;)
Misty Spinney
Misty Spinney is a hair stylist, makeup artist, and fashion stylist with a strong background in design and deep passion for creativity.
DIY Beauty