Here's What Happened When I Ditched Takeout (and Cooked Instead!) For a Week
Oct 19, 2015
First things first, let's get one thing straight: I am not a bad cook. I am a lazy cook. I'm also a 24-year-old living in San Francisco and sometimes there are just more exciting things to do than go home and make dinner. However, as much as my laziness and taste buds benefit from already-prepared meals, my bank account would aggressively disagree.
So in an effort to cut back on cost and get back in touch with my inner Julia Child I decided to stop eating out for a week and make my meals at home instead. To help me along my journey, I teamed up with BELLA Housewares who provided me with a few of their ceramic coated appliances which are eco-friendly (PTFE and PFOA free), coated with a nonstick ceramic that eliminates the need for cooking oils and sprays (hello, healthier kitchen habits!) and makes cleanup a breeze (seriously, you can wipe bacon grease away with a towel!). Oh, did I mention it also cooks food 20% faster than regular non-stick coated appliances?
---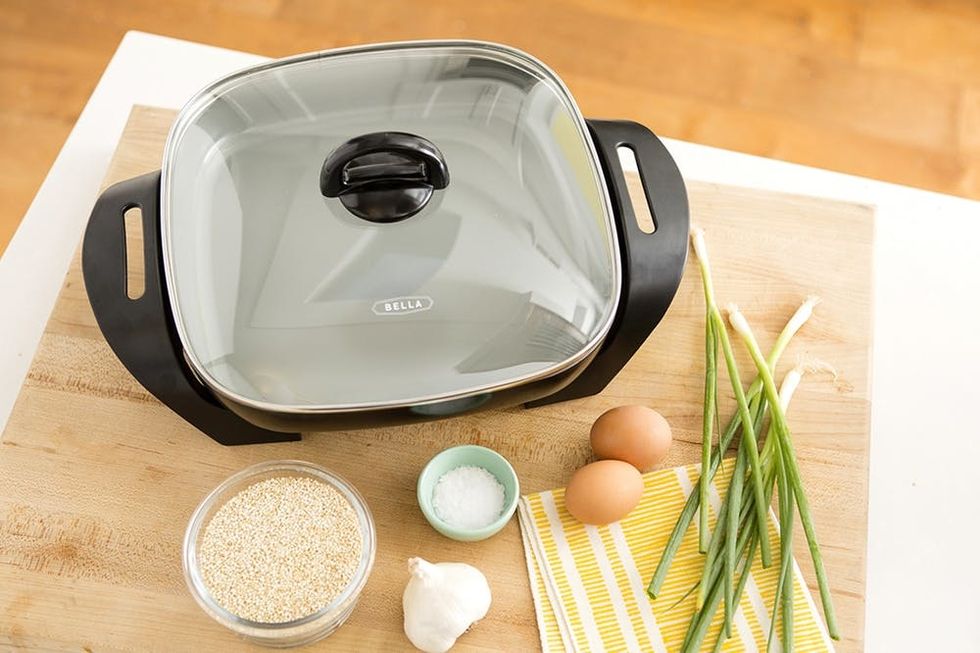 Now, before you scroll down and think that I survived on two meals a day, let me clarify, I didn't include everything I ate in here. Sometimes I ate a PB&J at work for lunch and I didn't really think you needed a photo and description of my sandwich. But beyond the quick lunch or basic breakfast I did decide to use this week to try out a bunch of new recipes in order to make this experiment a little more exciting.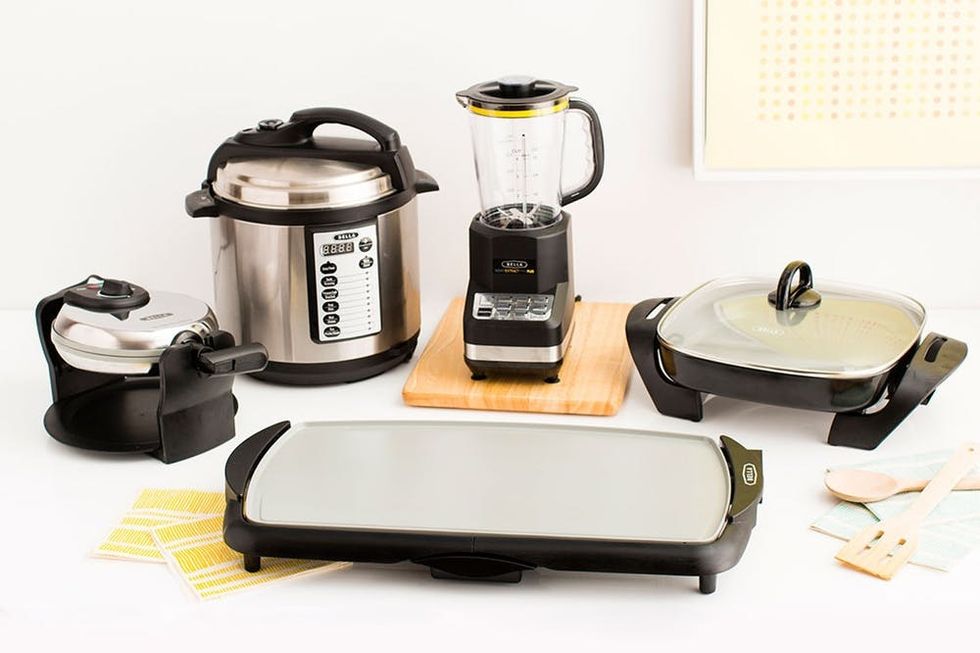 And guess what? You can enter to win EVERY SINGLE GADGET I used in this post so you can bring more cooking into your life too! Simply enter your email address below and you'll be entered to win a Rocket Extract Pro Plus Blender, 6QT Pressure Cooker, Ceramic Coated Waffle Iron, Ceramic Coated Skillet and Ceramic Coated Griddle — all in all, a $250 value.
This contest is now closed.
Submitting your email address also means you'll be subscribing to the Brit + Co newsletter (if you're not already). This sweeps ends at 11:59PM EST on November 8, 2015. Full contest terms HERE.
Here's a rundown of all the new things I made, ate and let's be honest, shared with my roomies throughout the week.
Monday
I decided to start the week off strong with an extra boost of energy followed by a BFF pizza party. Because Mondays are hard and sometimes those two things are all really all you need to get through the first day of the week.
What I made: Lemon Energy Bites
What gadget I used: Rocket Extract Pro Plus ($51)
How long it took to make: 10 minutes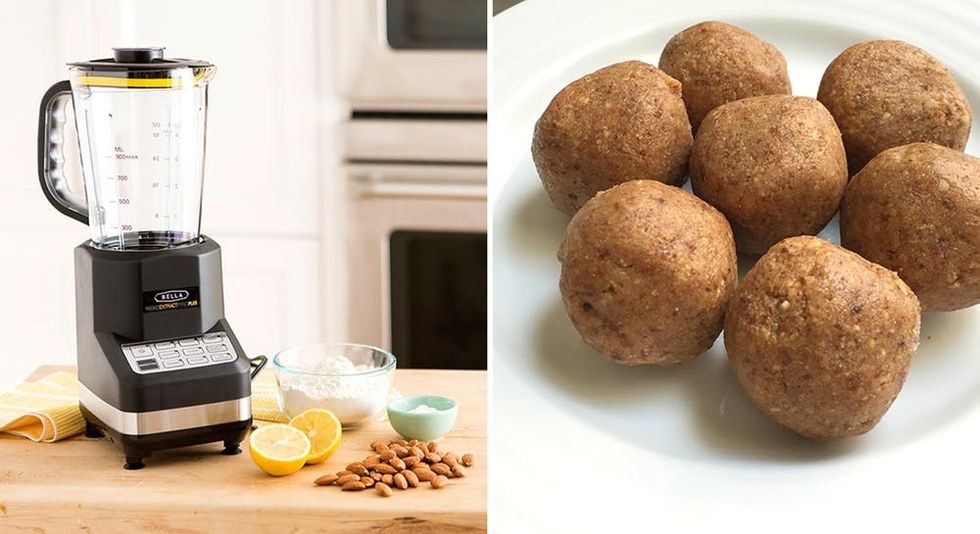 These energy balls aren't exactly a brand new recipe for me. I've made them a few times before. But this week I decided to see how they would work with BELLA's Rocket Extract Pro Plus (rather than a food processor). The blender comes with seven pre-programmed settings, which not only cut down on my prep time but blended almonds into a crumble like it was no big deal. The results were pretty impressive. After the almonds, I added in dates, lemon zest, lemon juice, whey protein powder and a pinch of salt. Then for the magic part: when it was nice and blended, it shut off by itself! After I formed them into bite-size portions, I tried my very best not to eat them all in one sitting.
What I made: Skillet Pizza
What I used: 12" x 12" Ceramic Coated Skillet ($18)
How long it took to make: 15 minutes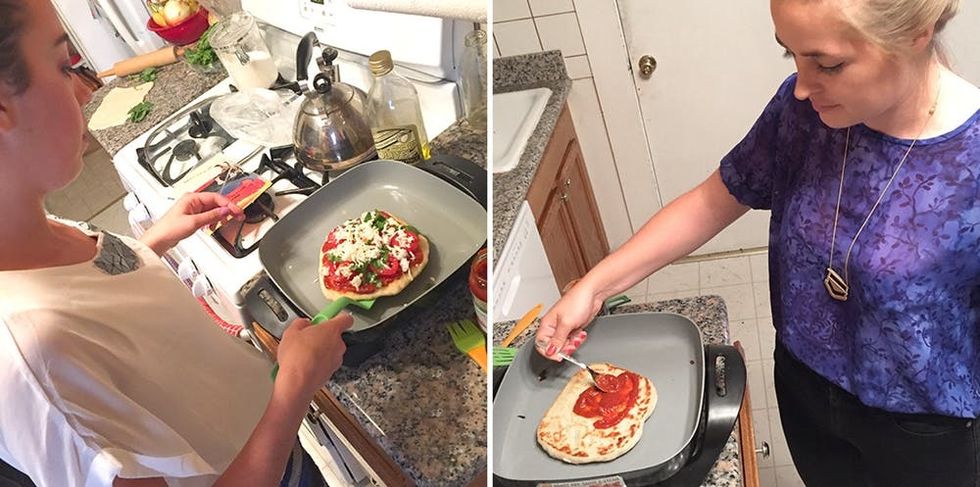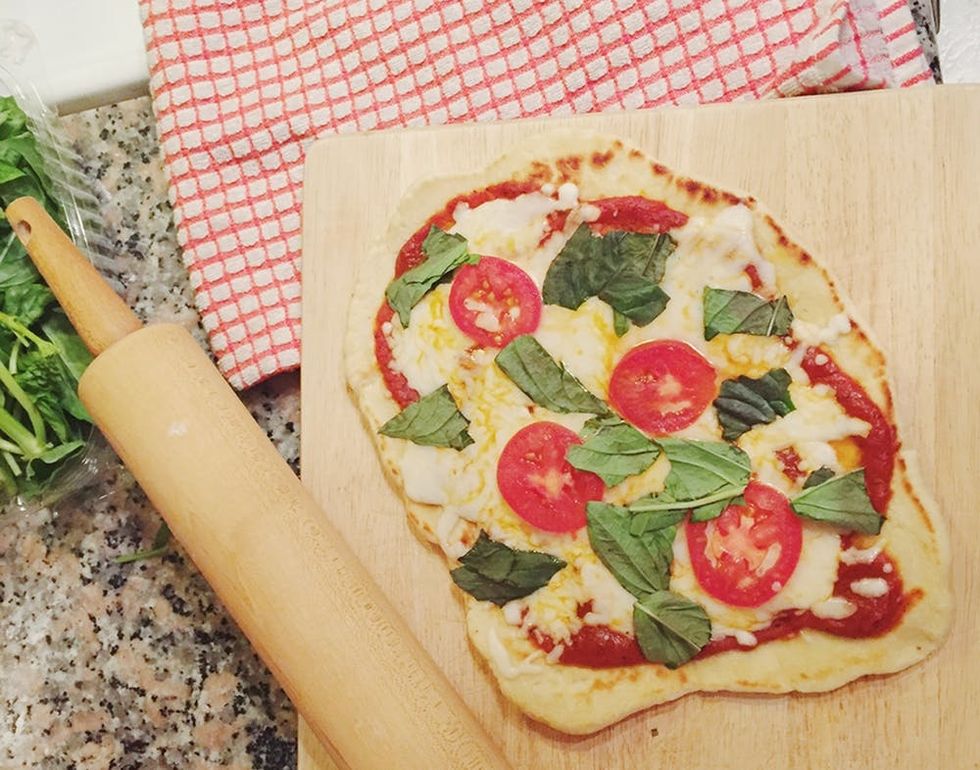 After work I invited a couple of my besties (and fellow Brit + Co employees) over for a new kind of pizza party… a SKILLET pizza party! I heard about this hack a while back and have been dying to try it ever since. The process is super simple: roll out pizza dough like normal and toss on a skillet over medium heat. We didn't add any oil to the pan because the skillet is ceramic coated and didn't need it. Once one side cooks, flip it over and deck your pizza out with sauce, cheese and toppings and place the lid on to melt the topping into gooey, cheesy goodness. This hack was a total success. I will definitely be making this again.
Tuesday
Little known fact about me: I'm kind of a freak about breakfast. To say I love it would be a massive understatement. Once I even met Rob Riggle and asked him only breakfast related questions. So today I decided to embrace my favorite meal by eating it not once, but twice.
What I made: Blender Muffins
What I used: Rocket Extract Pro Plus ($51)
How long it took to make: 20 minutes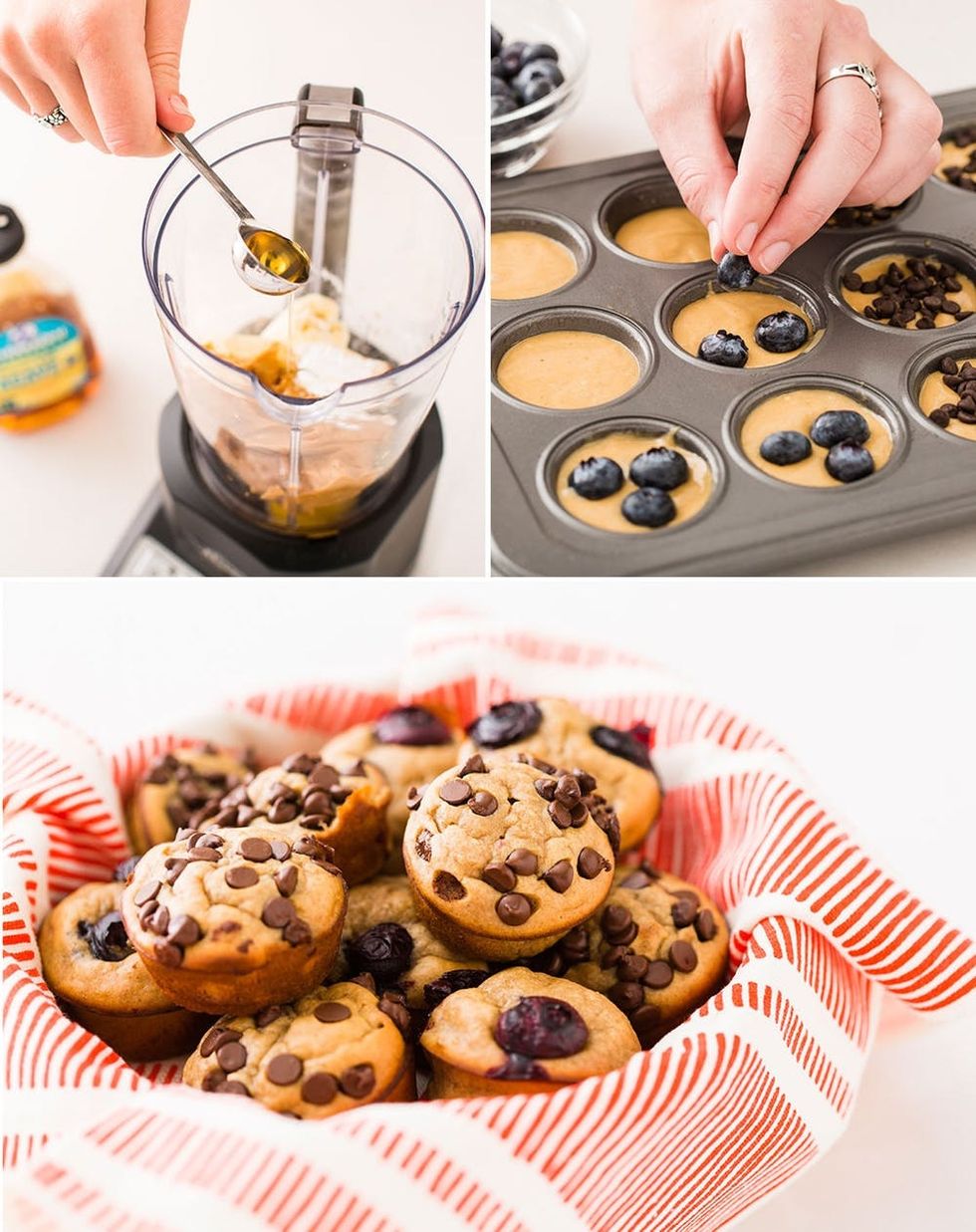 These little guys are quite the treat and they took maybe 20 minutes to make. All I did was throw the ingredients (which are mostly peanut butter, banana and an egg) in a blender and then just poured the batter straight from the blender into the mini muffin tin. The beauty of these is that you can make as many different varieties as your heart desires. My heart is a purist and so I went with a basic chocolate chip and blueberry combo.
What I made: Breakfast for Dinner (including Blender pancakes)
What I used: 10.5″ x 20″ Griddle ($17)
How long it took to make: 25 minutes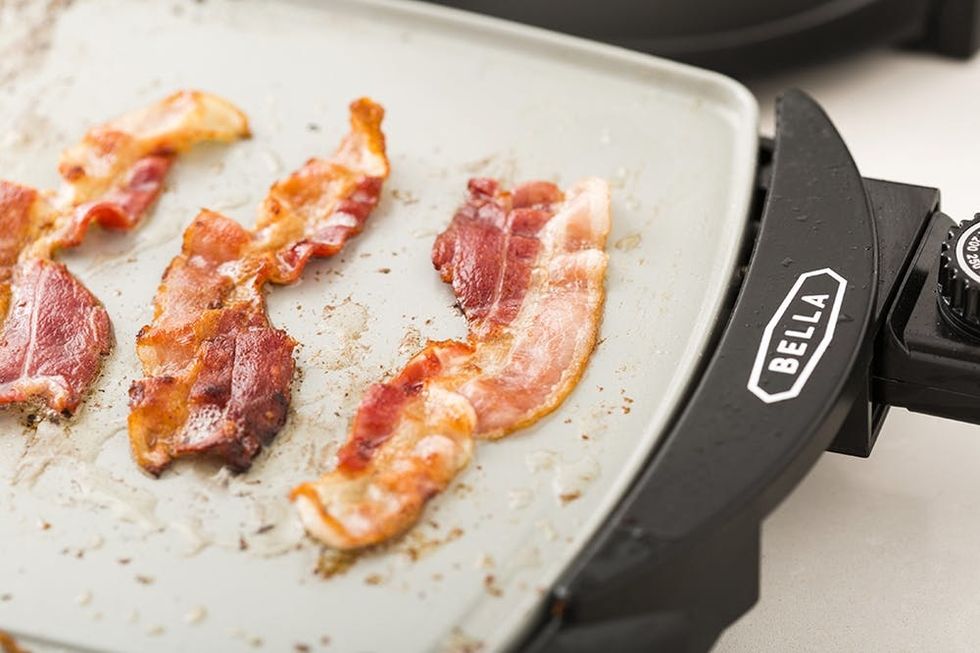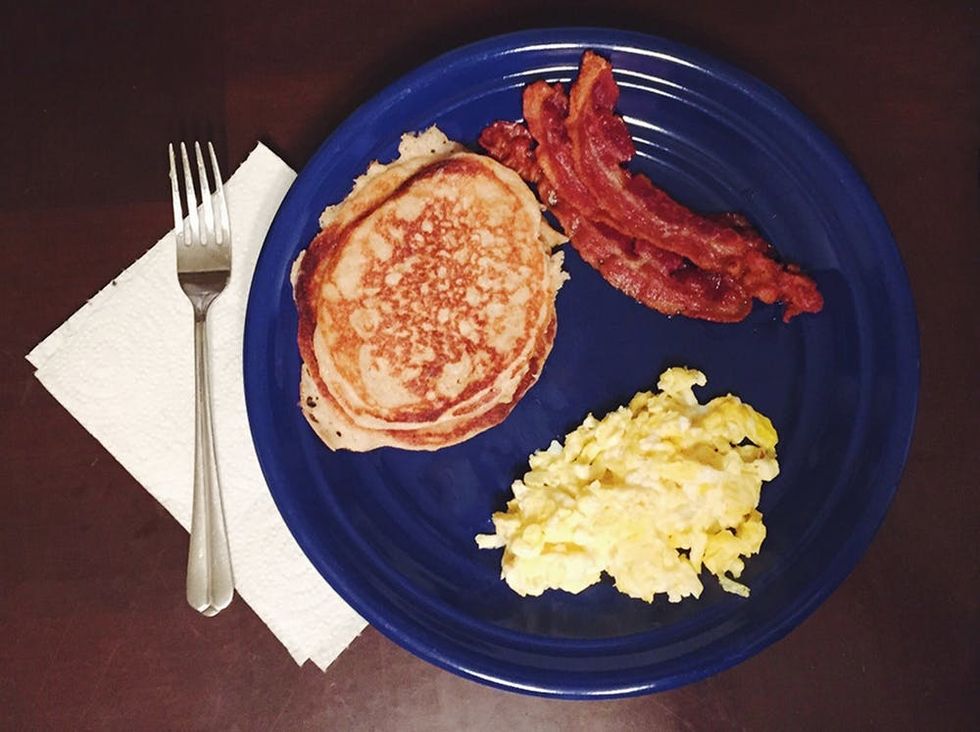 I won't lie, this is pretty much what my dinner looks like most nights (I really wasn't kidding about the breakfast obsession thing). However, on this particular night I switched things up by trying a blender pancake recipe that includes oats, cottage cheese, egg whites, baking powder, vanilla and agave – and you guys! I am in love. Once all the ingredients are pureed and cooked on a griddle, they taste just like regular pancakes. These are on my list to make again ASAP.
Wednesday
After a day of breakfast, I spent most of Wednesday snacking on mini muffins and leftover pizza. Then after work I decided to really do it up with a recipe hack that is supposed to take all day but only took me an hour.
What I made: Pulled Pork
What I used: 6QT Pressure Cooker ($80)
How long it took to make: 1 hour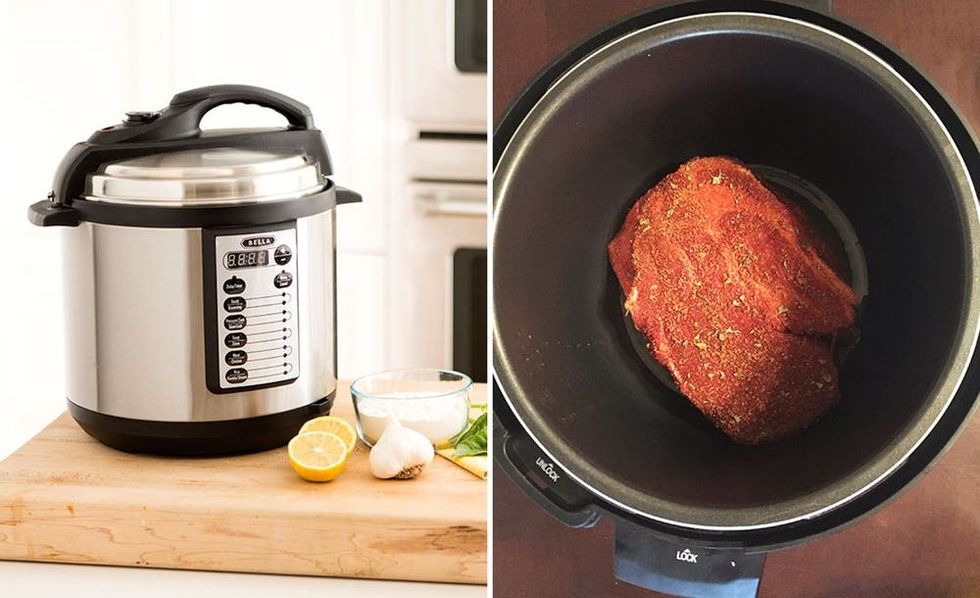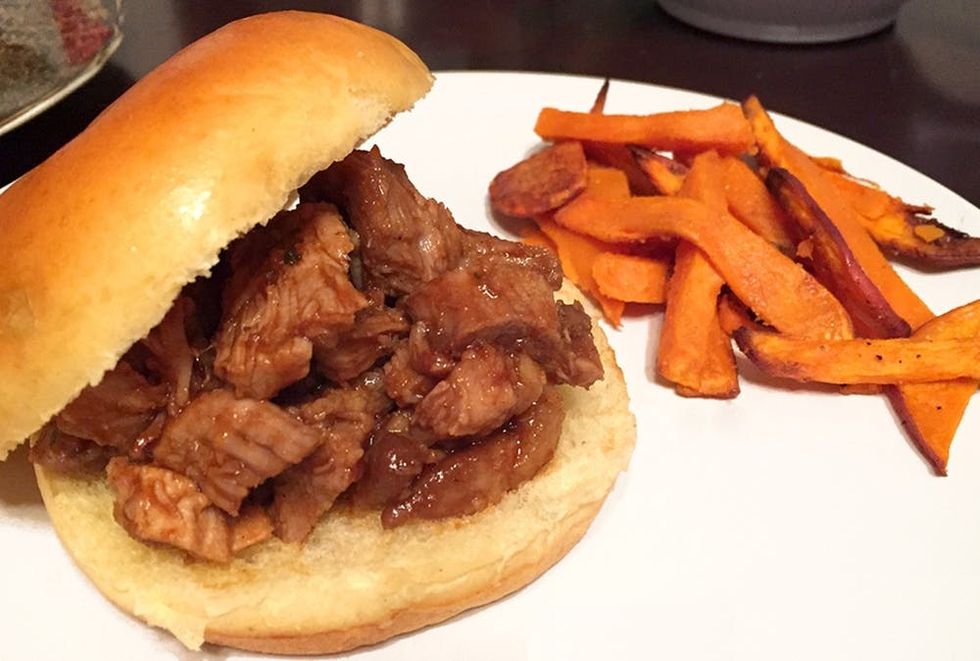 I was pretty nervous about this one. I had never used a pressure cooker before this week and it can be kind of intimidating. But since BELLA's six quart pressure cooker can cook foods up to 70% faster than conventional cooking I had to see what it was all about. I decided to try out a pulled pork recipe that could be cooked in less than an hour (a fraction of the time it usually takes).
After creating the dry rub, I took advantage of the multiple features offered on the device. You can slow cook, brown, steam, etc., but for this particular recipe I needed the sautée feature. Once I browned the sides, I popped the top on and let the appliance do its thing. When I pulled it out it was definitely cooked through, but I had to let it cool before I could shred it apart with total ease.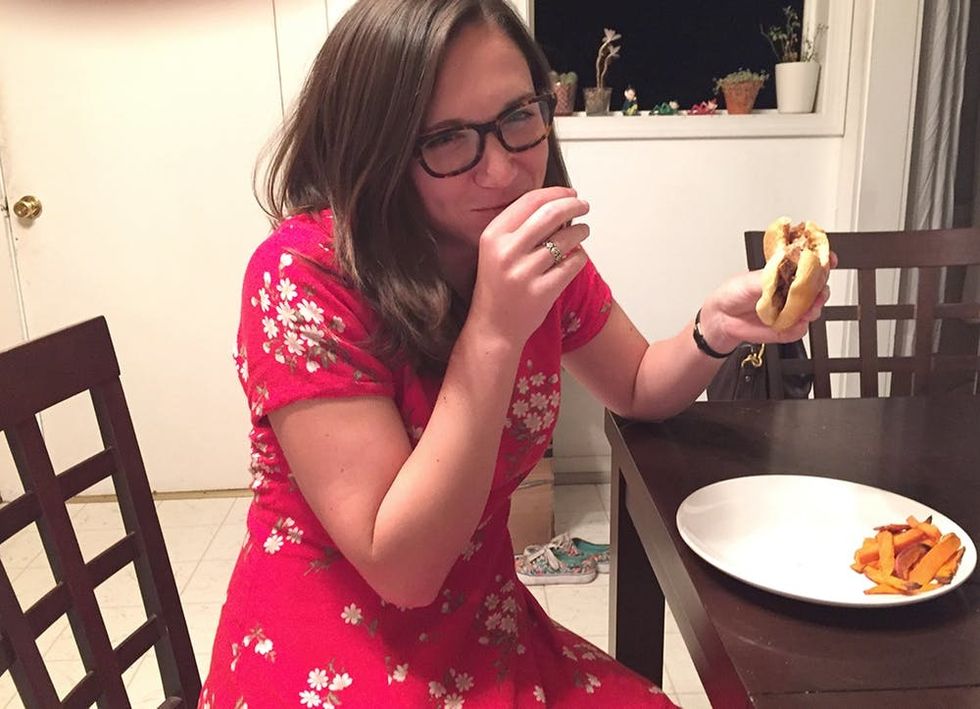 Here I am really enjoying the fruits of my labor (most of which are nicely sandwiched in between a brioche bun).
What I made: Waffle Iron Cookies
What I used: Ceramic Coated Rotating Belgian Waffle Maker ($17)
How long it took to make: 15 minutes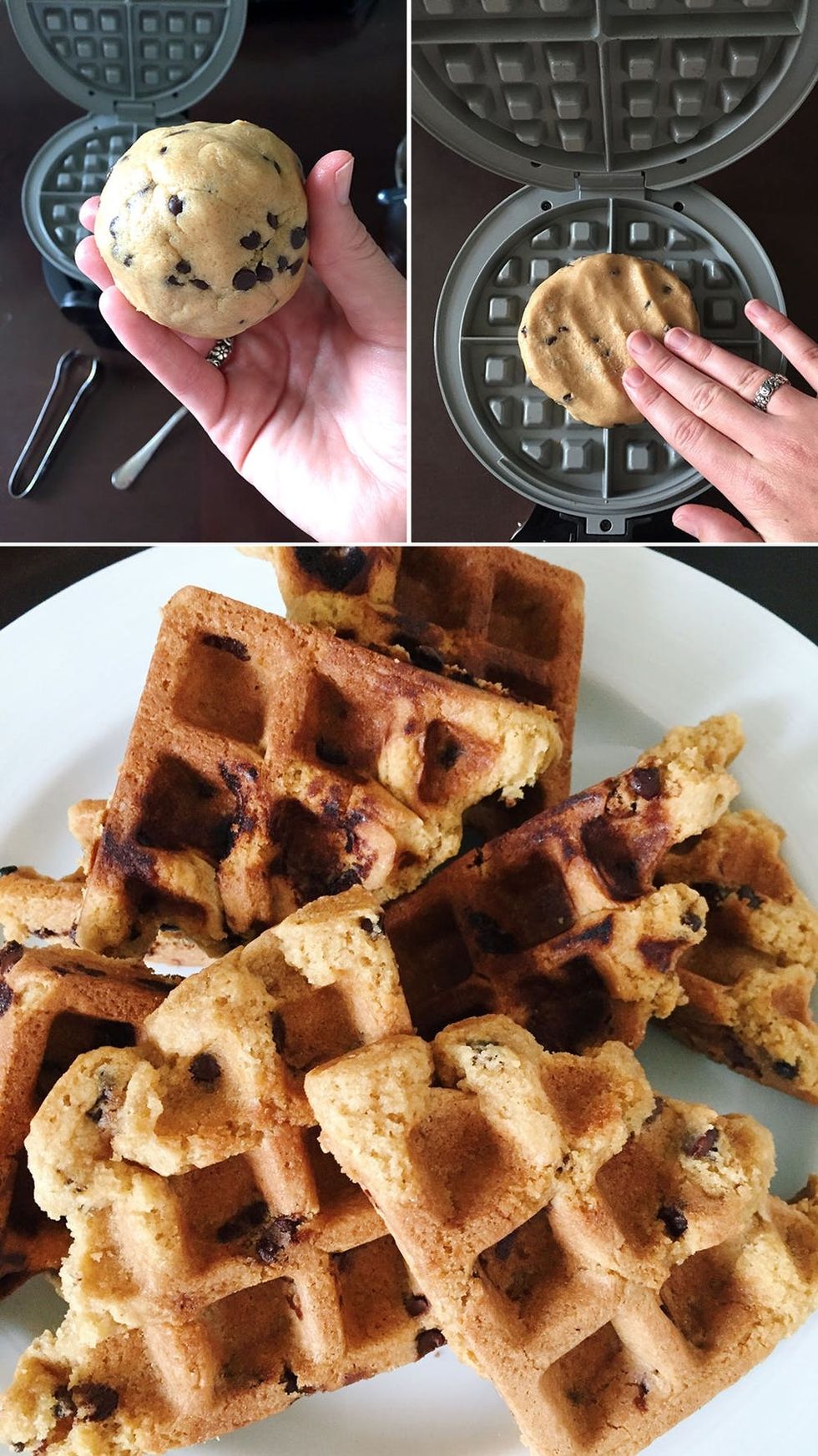 Baking cookies in a waffle iron might just be the best life decision I've made in 2015. This process was pretty straightforward: make a giant, baseball-sized ball of dough and place it on the iron that's set to medium-high heat. I pressed it down a bit to make sure it wasn't too thick. These cook in about two-minutes (AKA instant cookie gratification!) and didn't require any sort of non-stick spray because of the ceramic coating. One thing to note is that the cookies are really fragile while in the iron so remove them carefully!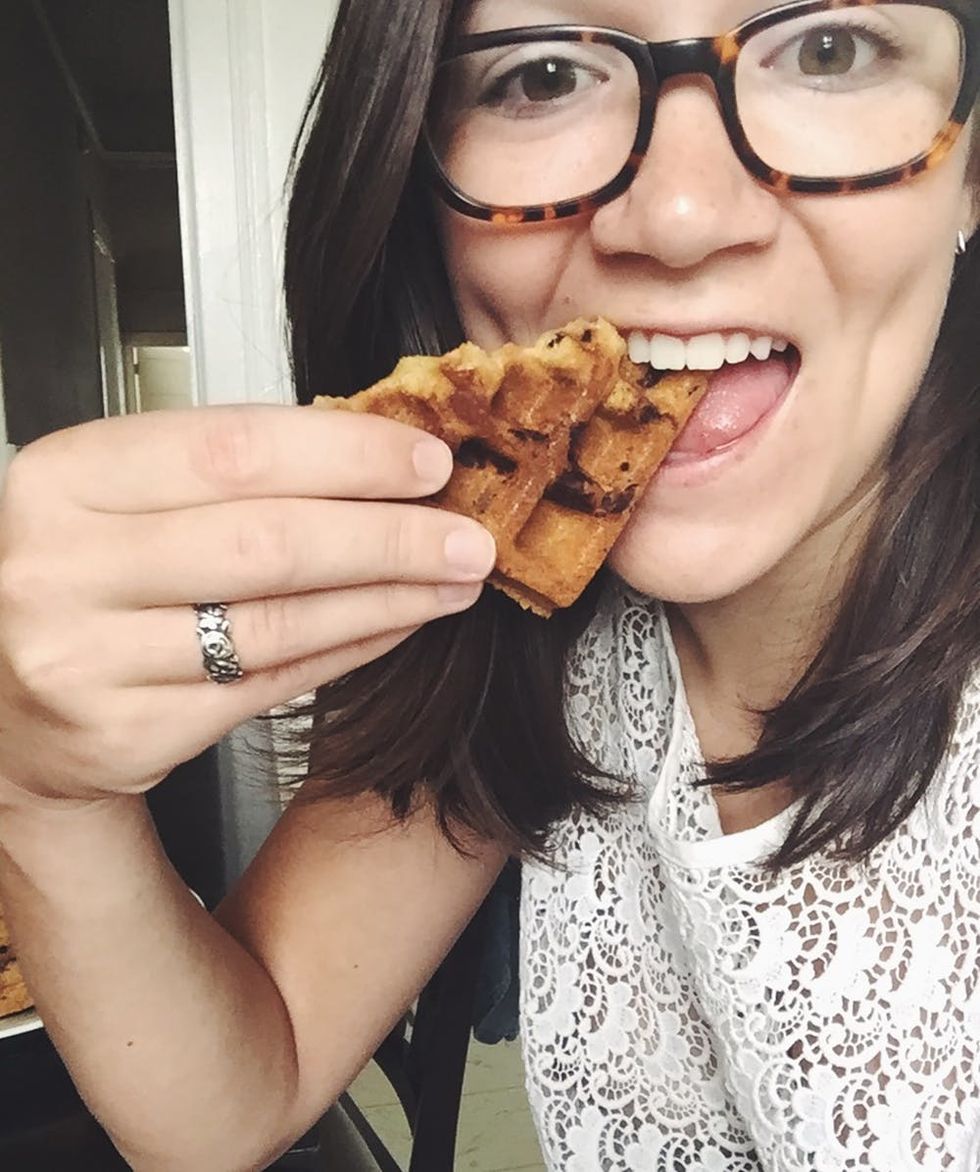 I call this one "Cortney the Cookie Monster."
Pro tip: Waffle irons are notoriously difficult to clean. If you're mostly just dealing with a little bit of leftover residue from waffles or cookies, wet a couple of paper towels and place them in the waffle iron for a super easy steam clean.
Thursday
After my night of pulled pork sandwiches and chocolate chip cookies I decided to go in a slightly healthier direction – and what's healthier than a smoothie and quinoa?
What I made: Antioxidant Green Smoothie
What I used: Rocket Extract Pro Plus ($51)
How long it took to make: 5 minutes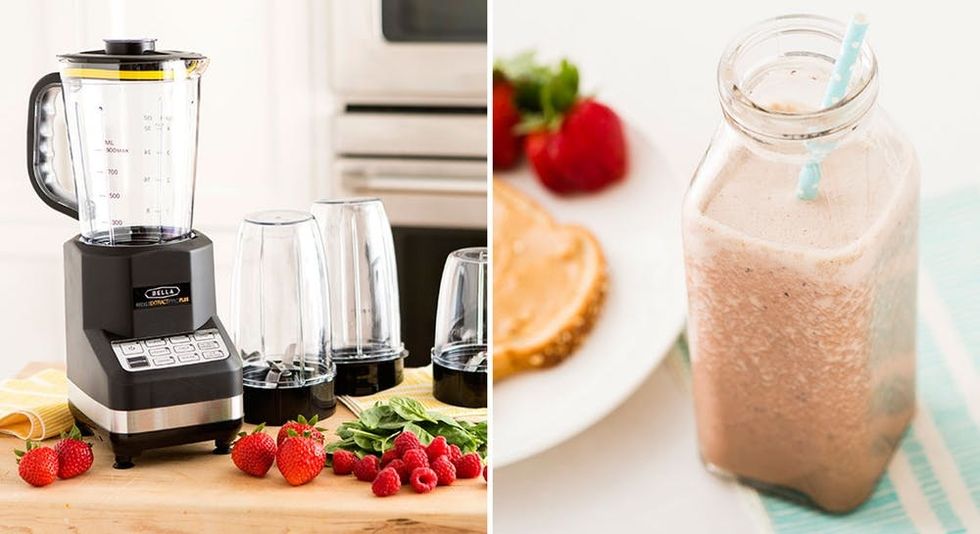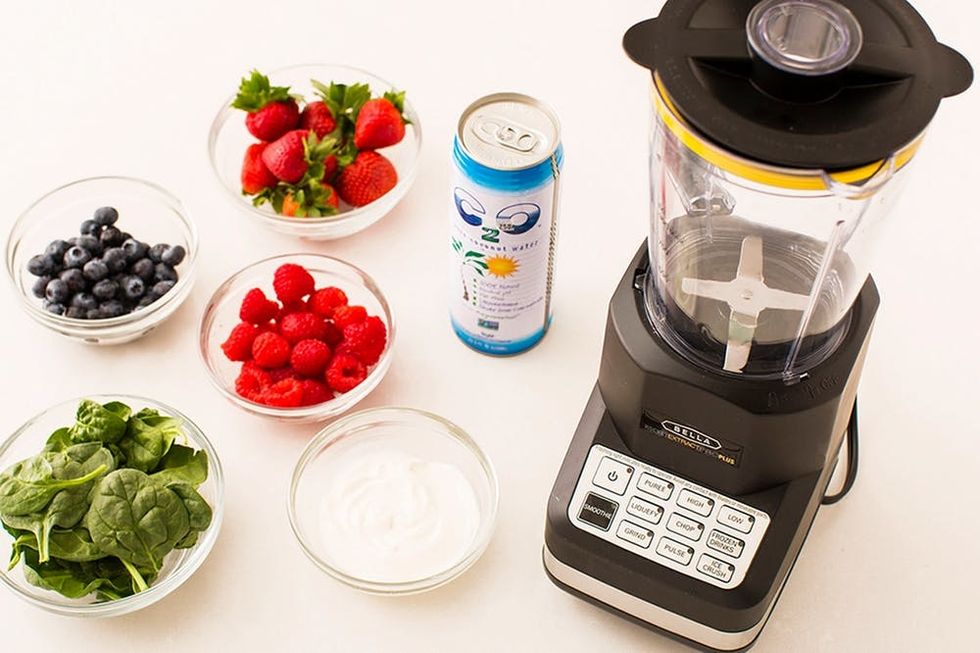 For a quick and clean breakfast I used BELLA's blender to make an antioxidant smoothie that included: coconut water, greek yogurt, blueberries, raspberries, strawberries and spinach. Unlike other blenders that can destroy important nutrients found in fruits and veggies the Rocket Extract Pro Plus is able to maintain that nutrition and pulp for healthier juices and smoothies. I just pressed the "smoothie" setting on the blender and then enjoyed my quick and healthy breakfast.
What I made: Cheesy Quinoa Cakes
What I used: 12" x 12" Ceramic Coated Skillet ($18)
How long it took to make: 20 minutes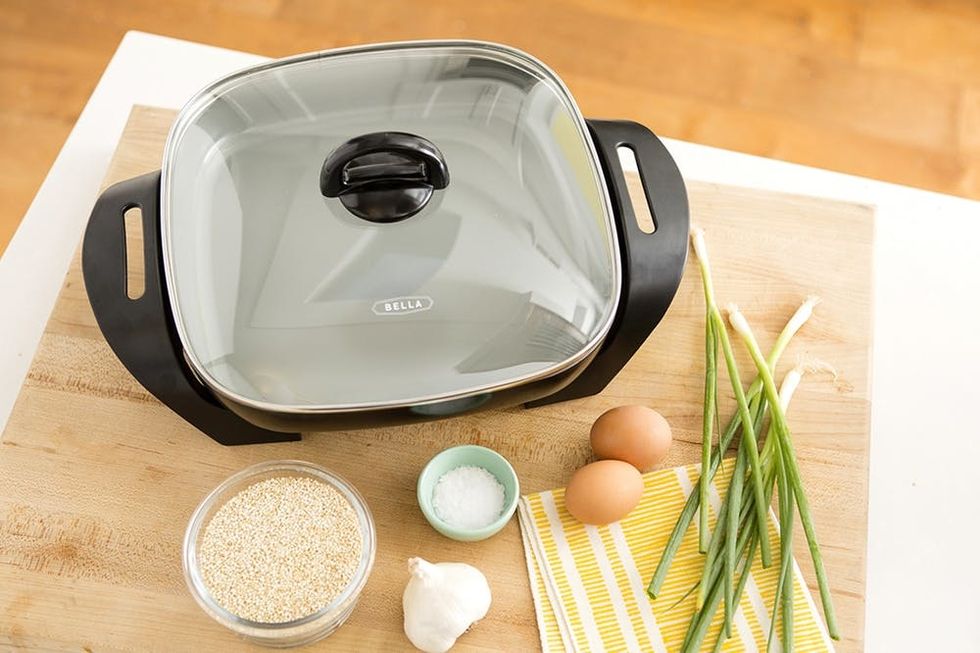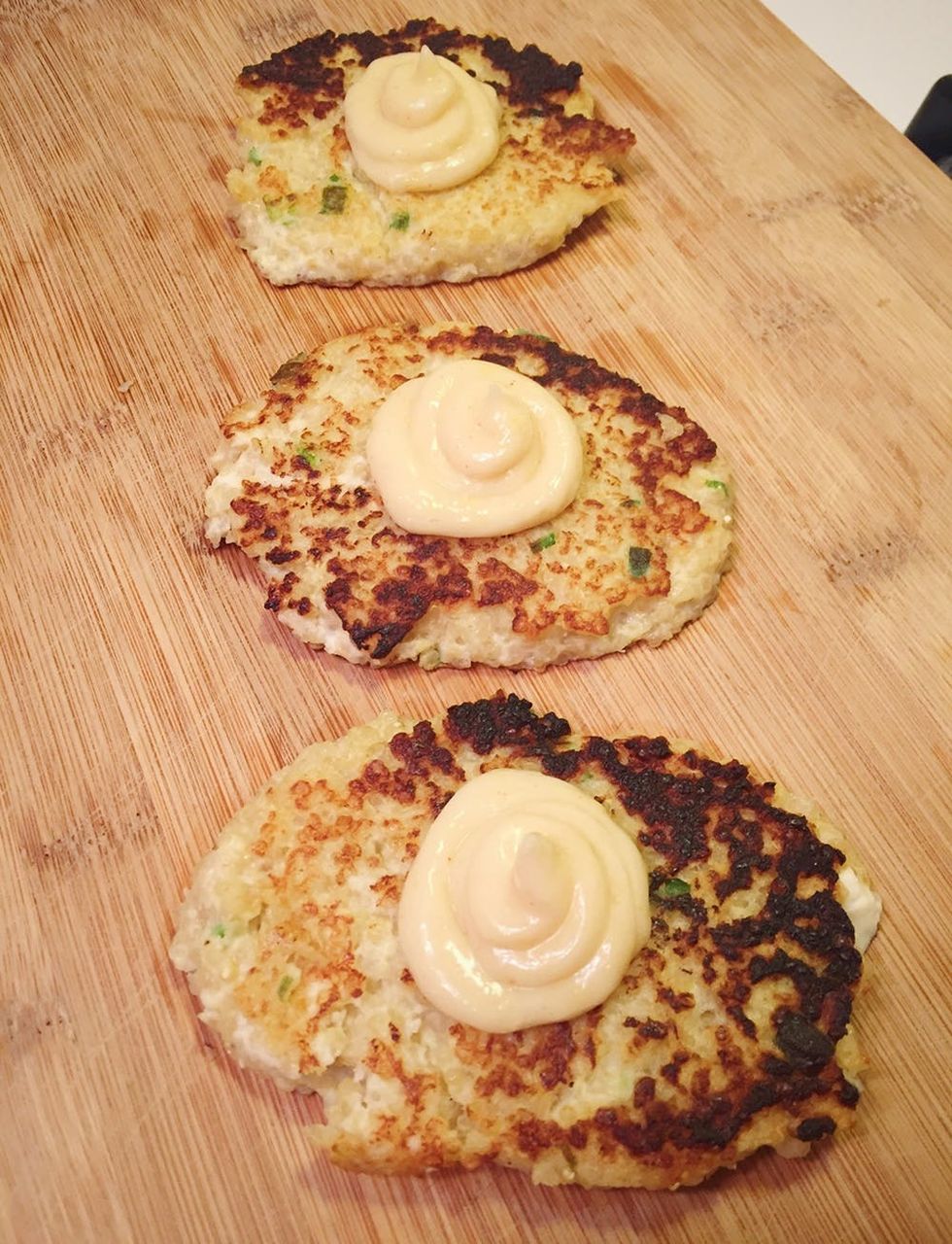 These cakes are a semi-regular go-to dish for me. The recipe calls for fontina cheese, but I swapped that for ricotta this time, which seemed to make them a little bit firmer and easier to work with. I ate them with a dollop of garlic + red pepper aioli, but I've also topped them with a fried egg and avocado, which makes for a delicious for breakfast, lunch or dinner.
Friday
Okay guys, so here's the thing about making a week's worth of food when you're a single woman: you have SO many leftovers. On Friday, I had just about reached my wit's end in the kitchen and decided to celebrate the end of the work week by eating all the previously made goodies in my fridge..
Saturday
When Saturday rolled around my urge for a big weekend brunch couldn't be suppressed. It was time to bust out the waffle iron again and eat ALL the bacon (seriously guys, why does my love for bacon know no end?).
What I made: Waffle Iron Cinnamon Rolls
What I used: Ceramic Coated Rotating Belgian Waffle Maker ($17) and 10.5″ x 20″ Griddle ($17)
How long it took to make: 10 minutes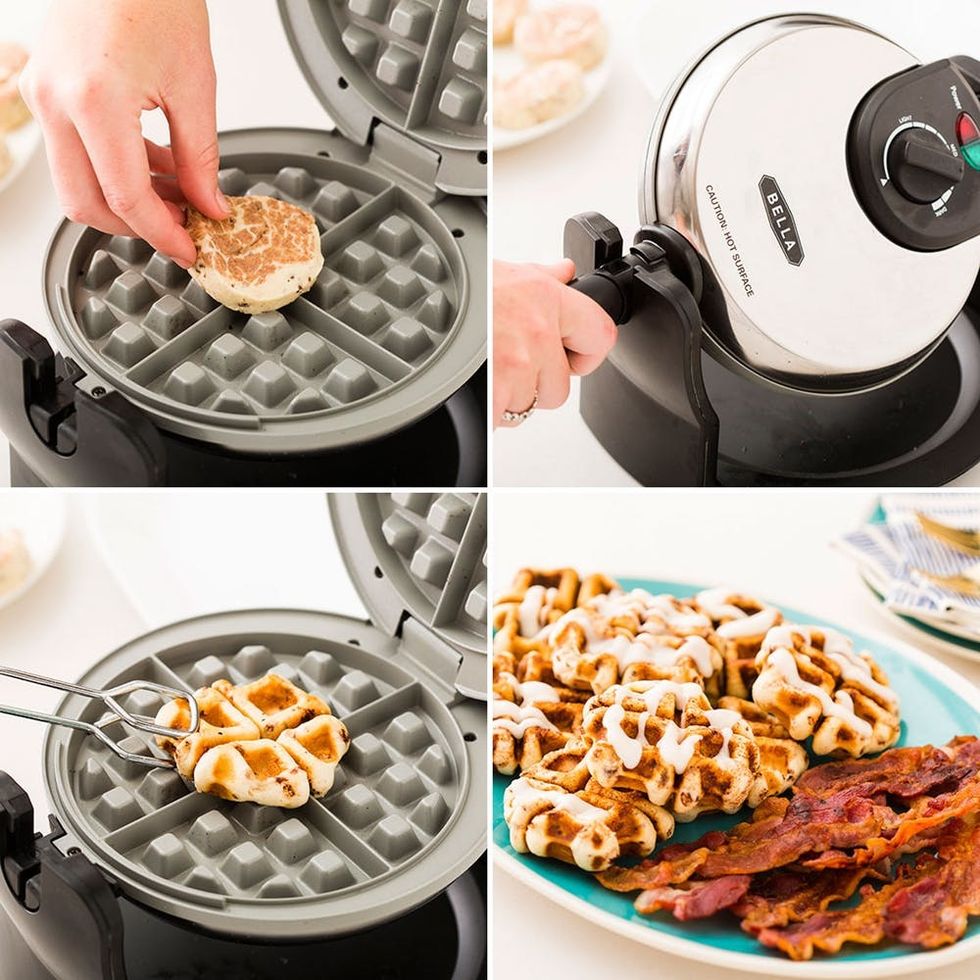 I know what you're thinking: is she EVER going to make waffles in her waffle iron? The answer is no. There are just too many other fun things to try! For a big breakfast at home I decided to treat my roomies (and myself) to cinnamon roll waffles and bacon. The cinnamon rolls are much easier to work with on the waffle iron than the cookies. Just place, press, remove, frost and devour!
What I made: Honey Dijon Garlic Chicken
What I used: 6QT Pressure Cooker ($80)
How long it took to make: 15 minutes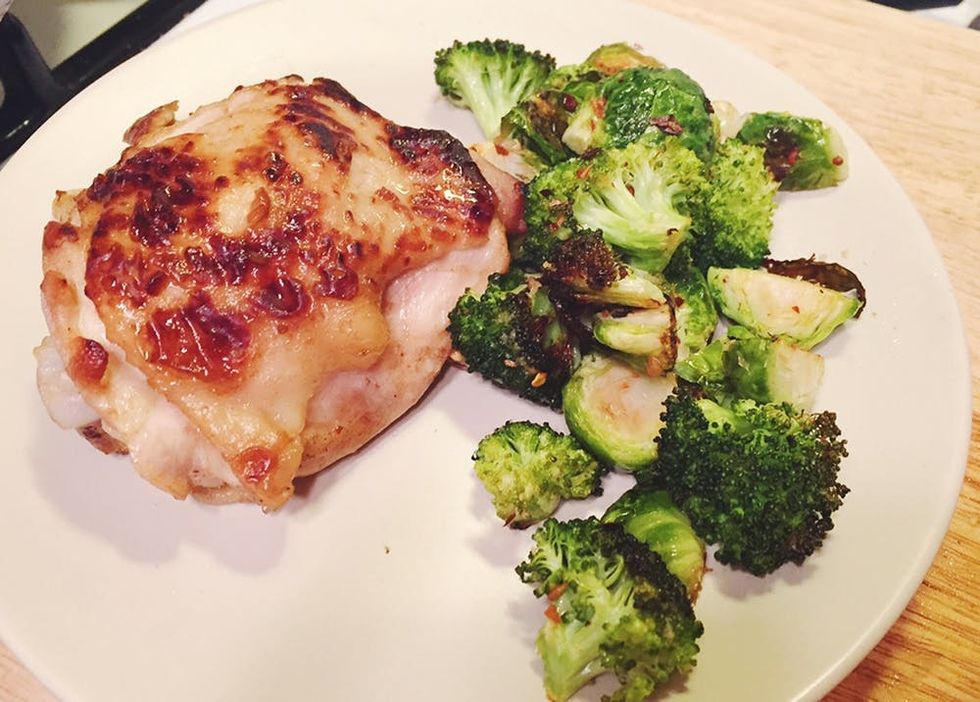 To wrap up my week spent in the kitchen I tried using the pressure cooker again. This time I was attempting a honey garlic chicken. It worked like a charm and cooked in ten minutes. The pressure cooker wasn't quite as intimidating this time around. And since this appliance has a safe lock feature that won't open until all pressure has been released, I wasn't quite so worried about steaming my face off. It's not much to look at but damn, it was delicious.
Final Thoughts: Phew! That was a lot of cooking! If I told you this made me want to cook everything I eat from now until eternity, that would be a lie. I'm still going to eat out (and it's still probably going to be more than my wallet would like), but I will say this past week has rejuvenated my love for cooking. It was hard to say no to dinner invites and happy hour cocktails, but it was a great test of my discipline and I was able to try recipes I'd been pinning and forgetting about for a very long time. Now if you don't mind I'm going to go home, order a pizza and do some serious Netflixing. But don't be surprised if you find me with cookie dough in a waffle iron after I've binge watched an entire season of Scandal.
This post is in collaboration with BELLA Housewares.
Additional photography by Chris Andre
Cortney Clift
Cortney is the senior writer and special projects editor at Brit + Co. She typically covers topics related to women's issues, politics, and lifestyle. When she's not buried behind her computer you'll find her exploring New York City or planning her next big adventure.