15 Gorgeous Naked Wedding Cakes Perfect for Fall Nuptials
Nov 09, 2016
The naked cake trend has been hot on the list of wedding trends for a while now. By forgoing frosting, you can showcase the flavors of the doughy, moist cake underneath. Add some sprigs, flowers and a cake topper, and you have a rustic-looking yet super elegant creation that will set the tone for your entire wedding. (Don't worry, frosting lovers, there's still frosting in between the layers!) If you're planning a fall wedding, this unique wedding cake trend can easily be incorporated into your color and design scheme. Scroll on for 15 of our favorite autumn-approps naked cakes and get ready to start drooling with envy.
---
Multi-Tonal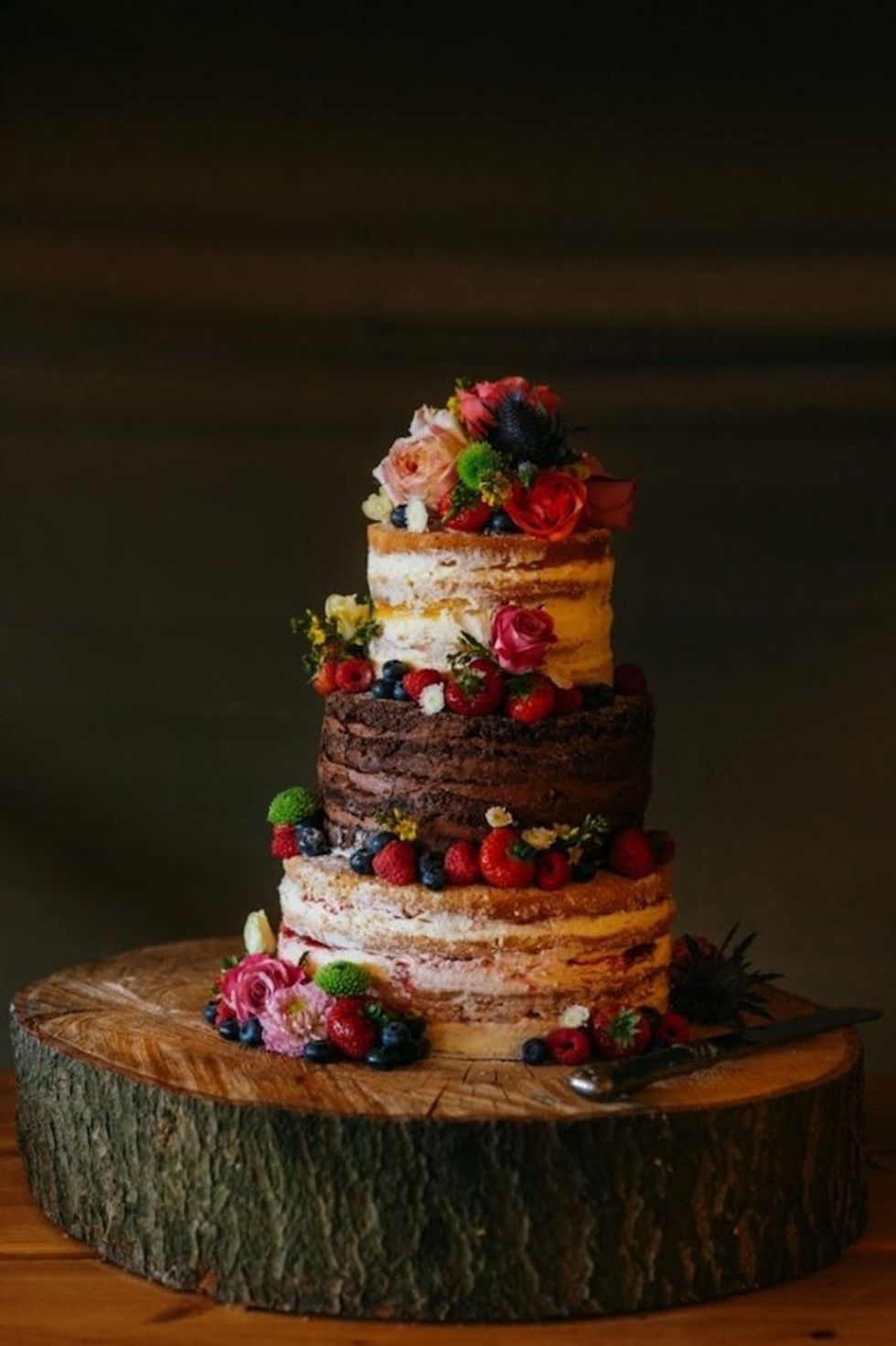 Yes, you CAN incorporate an eclectic-looking color scheme in your naked cake. You just have to use different flavors of the cake itself. Bonus points for a colorful array of fresh fruit and flowers. (via Babb Photography)
A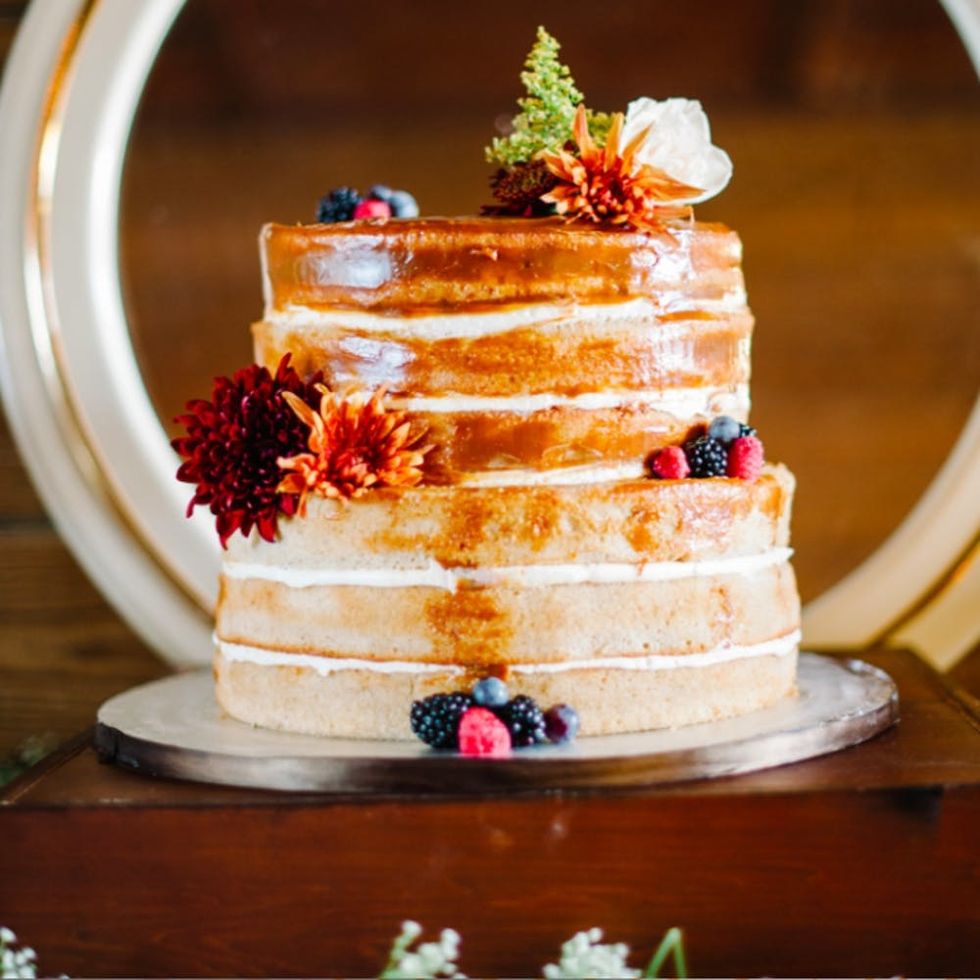 : Berries and orange- and red-hued flowers grace this elegant naked cake inspired by fall. A little caramel coating over top gives it a bit of shine (and a sweet flavor too!). (via The Knot)
Fall Neutrals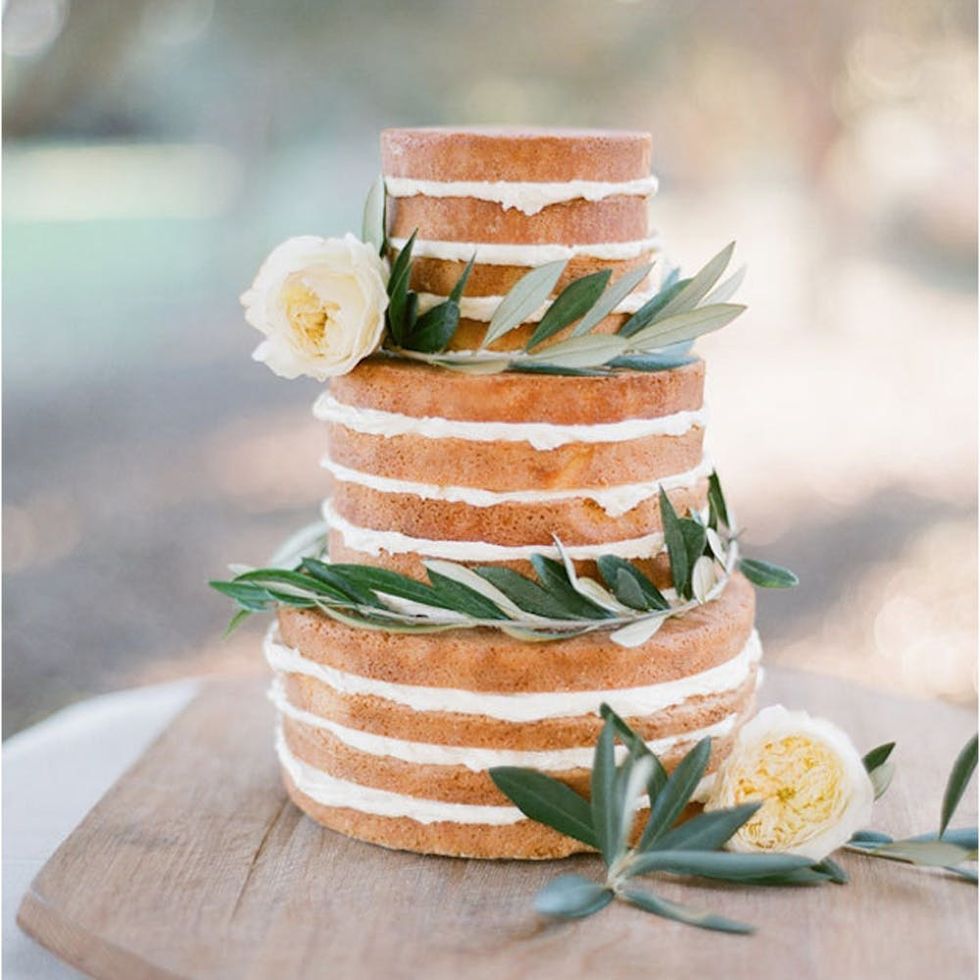 Just because you're getting married during the fall season doesn't necessarily mean you have to go deep with your color scheme. This naked cake showcases the beautiful olive branch, as well as a neutral palette that looks classy all year round. (via Project Wedding)
Naked Red Velvet
On the other hand, maybe you DO want a gorgeous color palette of deep reds and purples. This naked look is made with red velvet cake and surrounded by pears, figs and cherries, which make for a perfect autumn display. (via Weddingomania)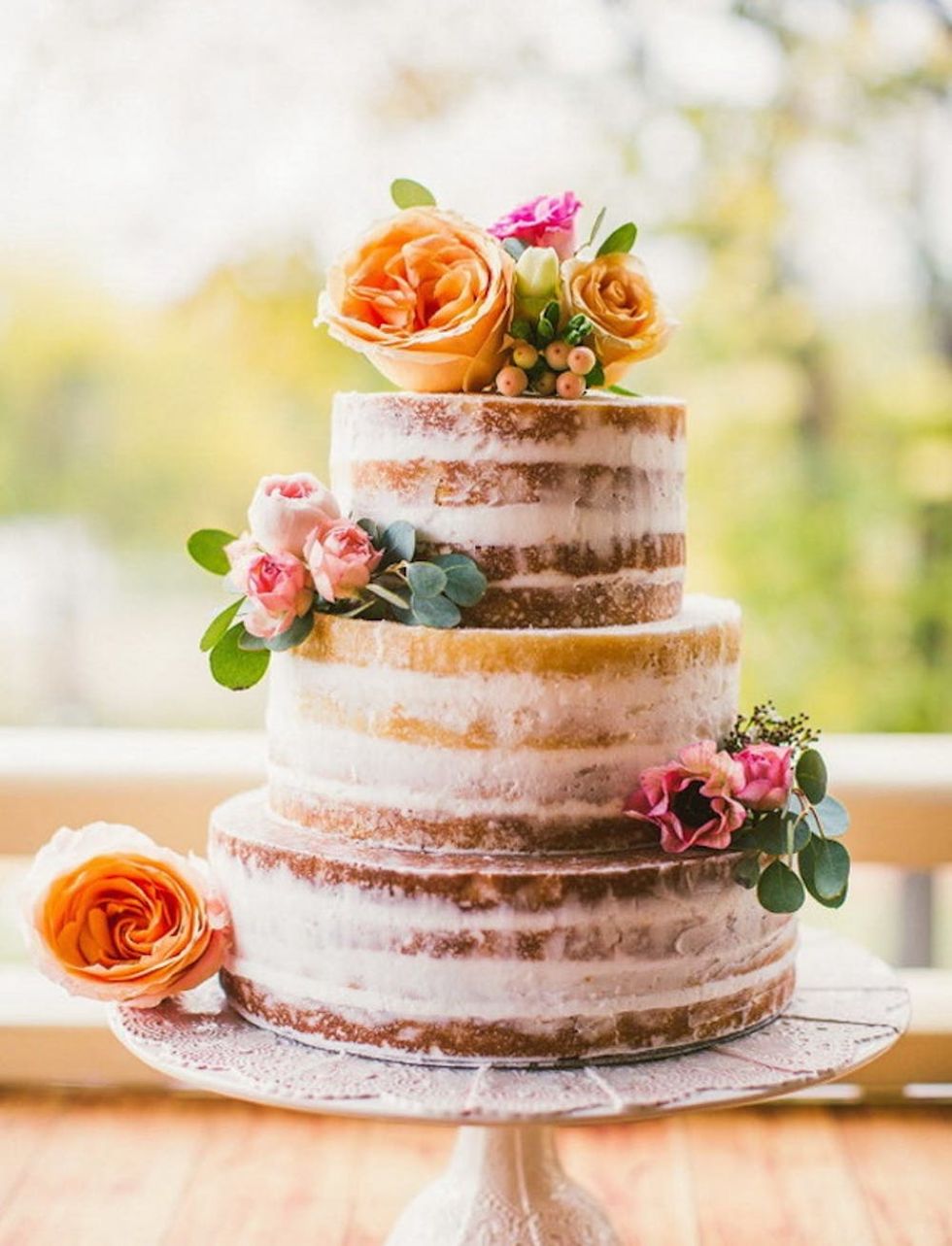 5. A Bright Autumn Day: Keep your color palette on the lighter side with this fall wedding cake. Instead of deep hues, this palette takes inspiration from bright sunny days and the golden leaves of early fall. (via Tulle and Chantilly)
Standing Tall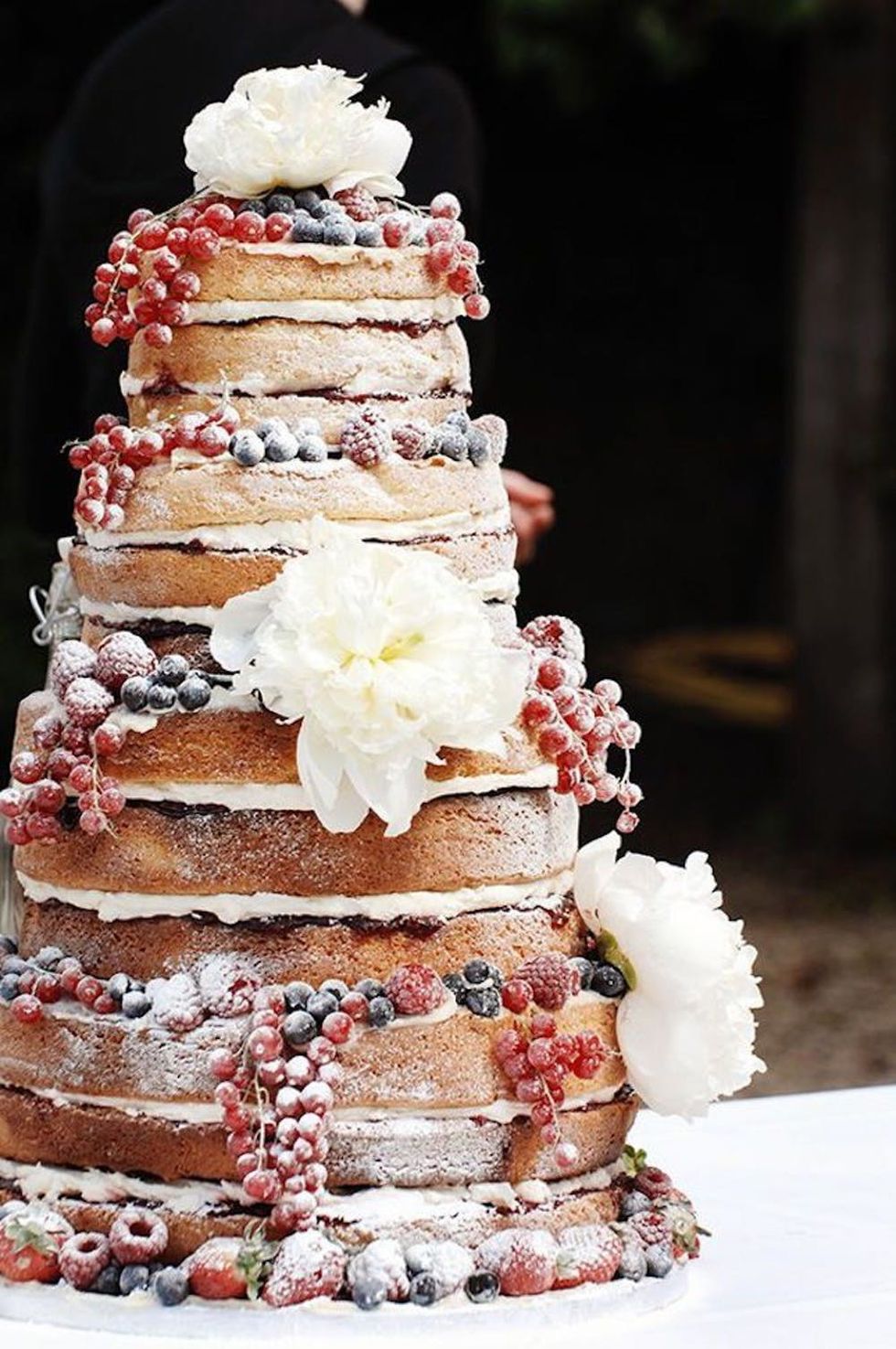 Go big or go home, baby! This cake has not one, not two, but TWELVE layers bound together with both buttercream and chocolate ganache. (via The I Do Moment)
Herbs and Ombre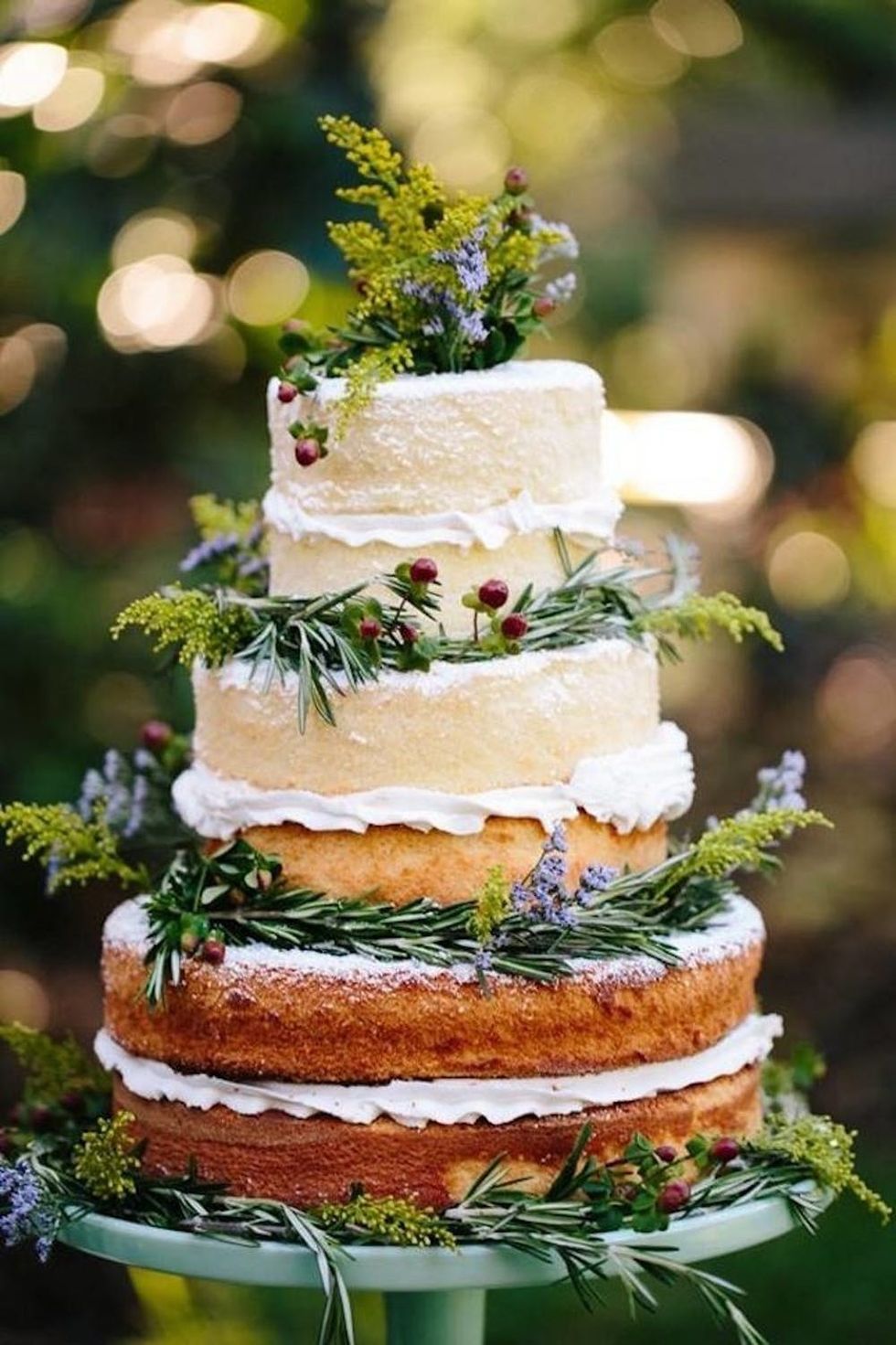 Sprigs of fresh rosemary and lavender line this gorgeous ombre-inspired wedding cake. If you thought you needed frosting to create an ombre effect, think again. (via My Wedding)
Dark Chocolate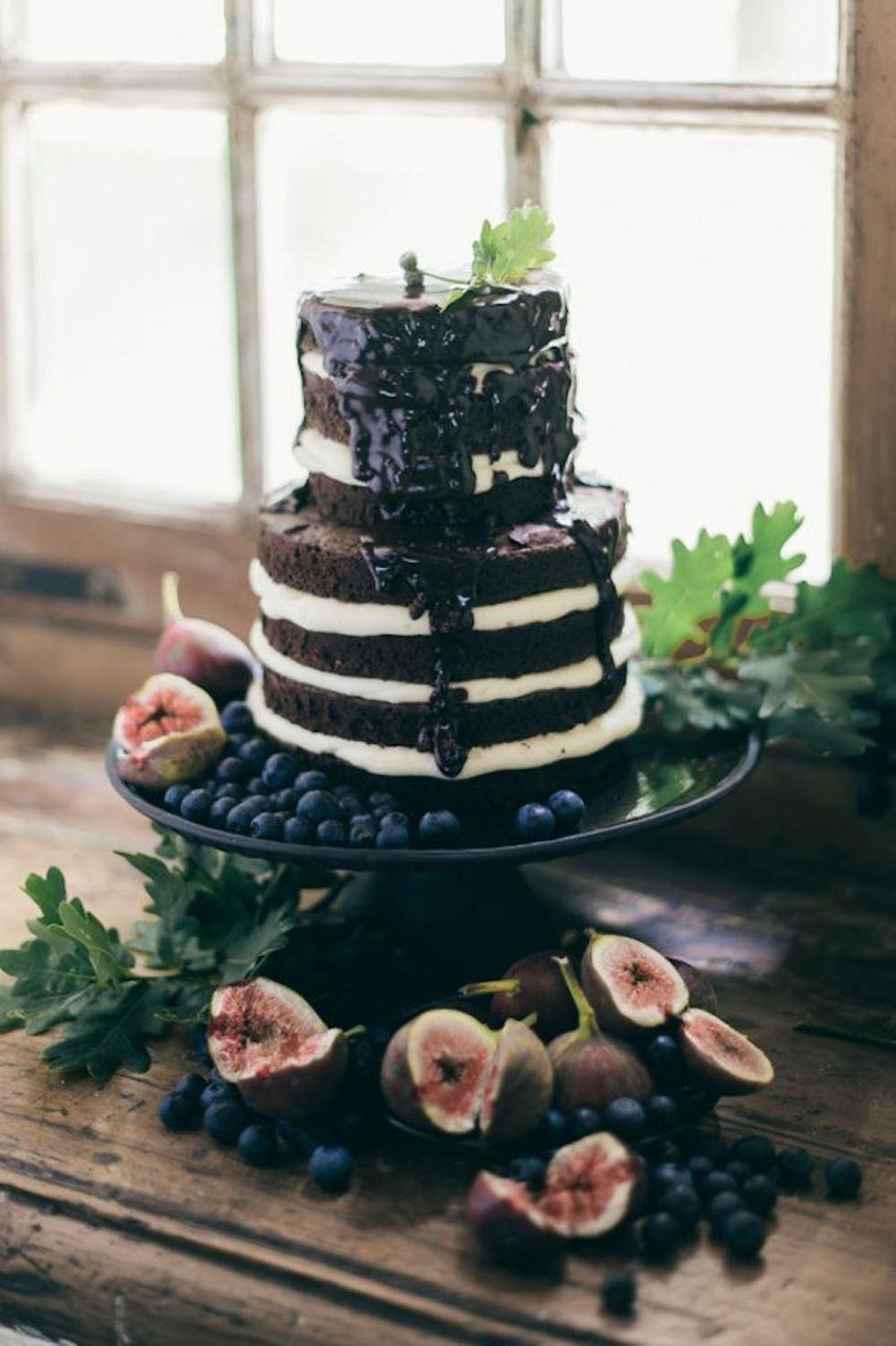 This gorgeous combination features rich melted chocolate oozing down the size of a naked cake, surrounded by fresh figs and blueberries. We LOVE how this cake is only semi-naked; it definitely gives a new angle to this wedding cake trend. (via Chic Vintage Brides)
Sagittarius Season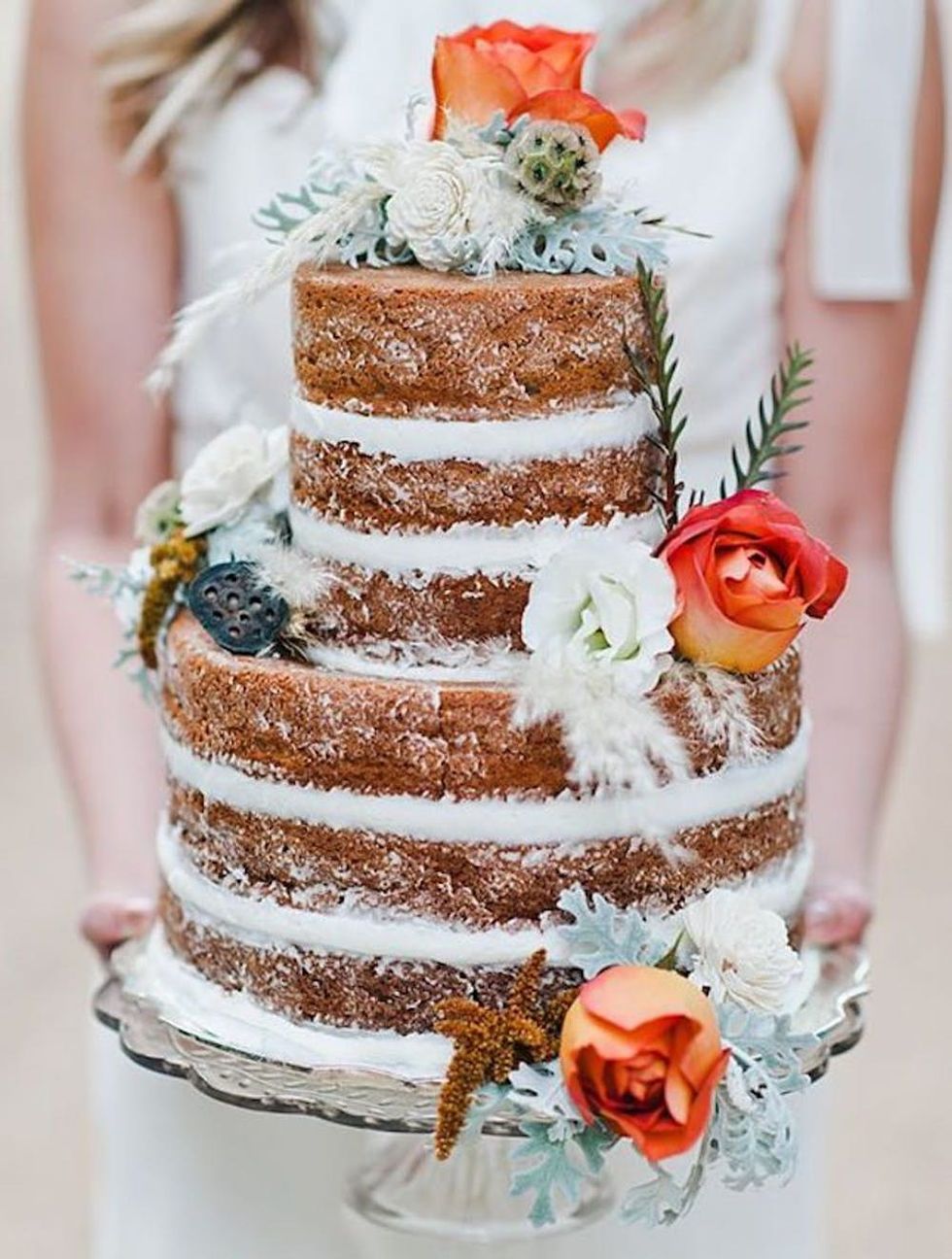 Is your wedding taking place in that spot somewhere in between fall and winter (late November through mid-December)? Play off the traits of Sagittarius season, choosing bright, optimistic orange roses and playful white feathers. Pretty frosted ferns are also super approps for the late fall/early winter season. (via Crazy for Us)
Holiday Season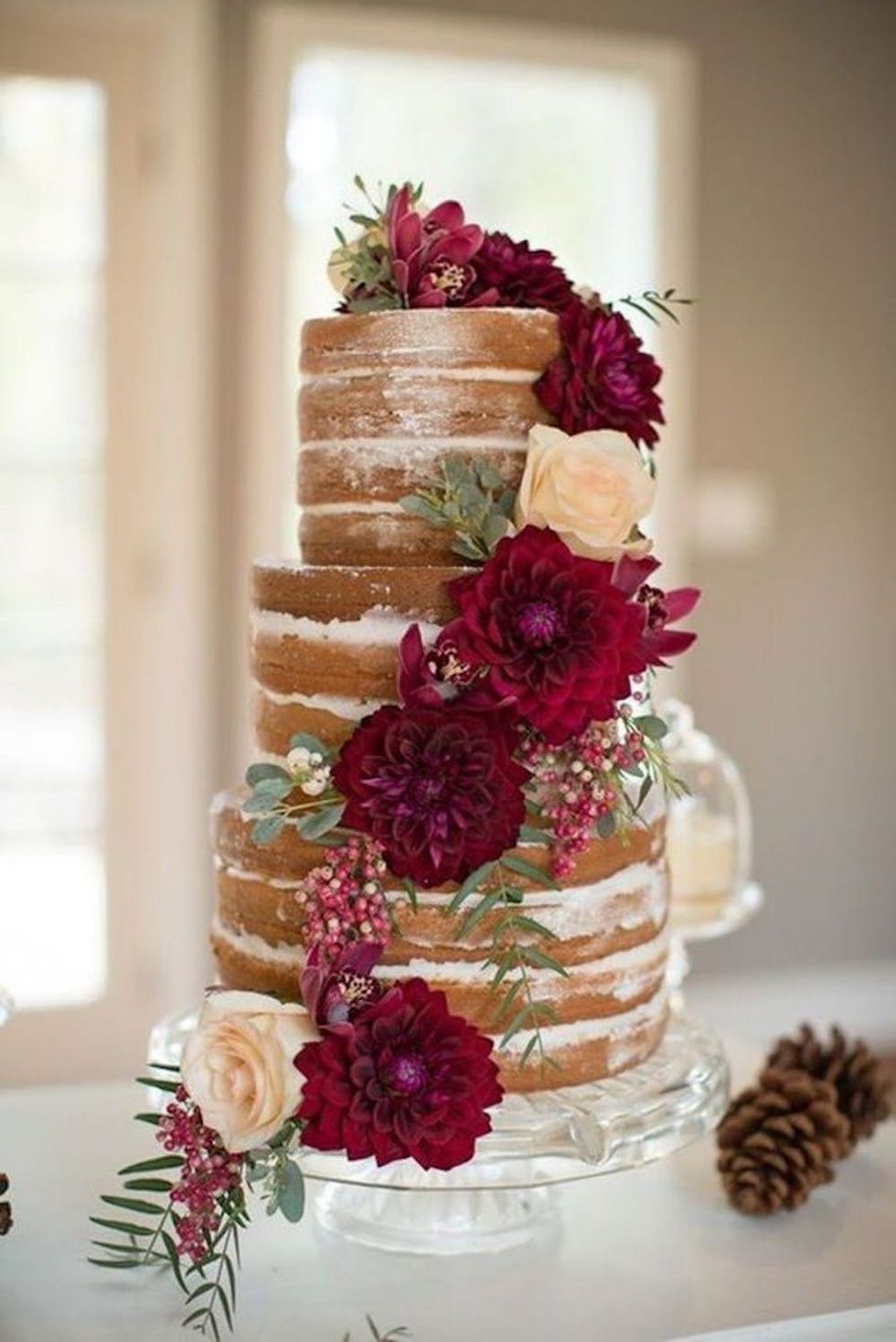 Whether your wedding falls closer to Thanksgiving or Christmas, this cake showcases the spirit of the season. Deep red dahlias and natural greenery accompany this cake, which is also surrounded by fresh pinecones for a delightfully woodsy look. (via Weddingomania)
The New Romantics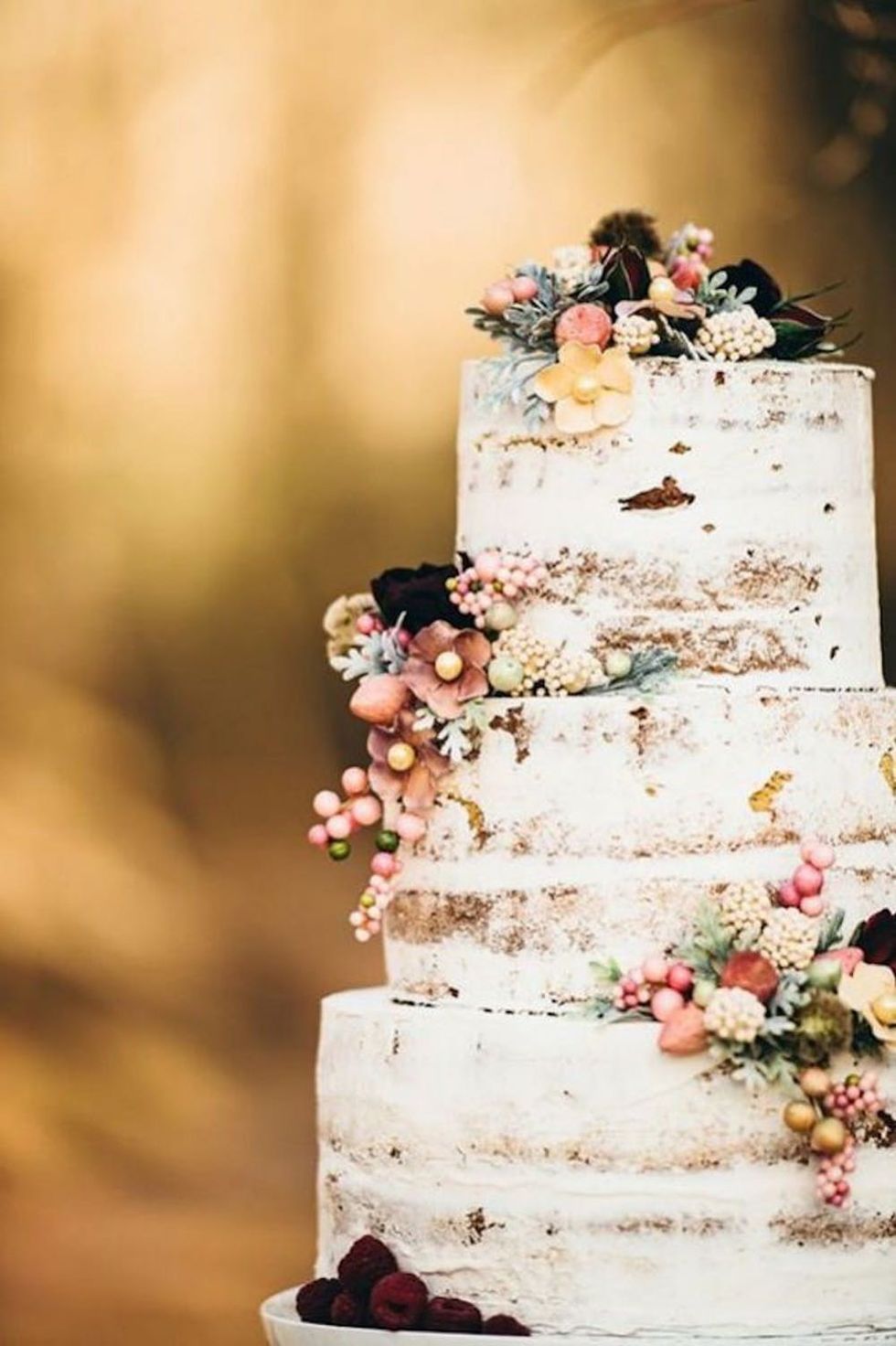 This pretty and super romantic cake is mostly neutral, incorporating dusty pink roses, cream-colored pearls and tiny ivory berries. We can definitely picture this gorgeous cake in a vintage-inspired wedding. (via Weddingomania)
Top Tier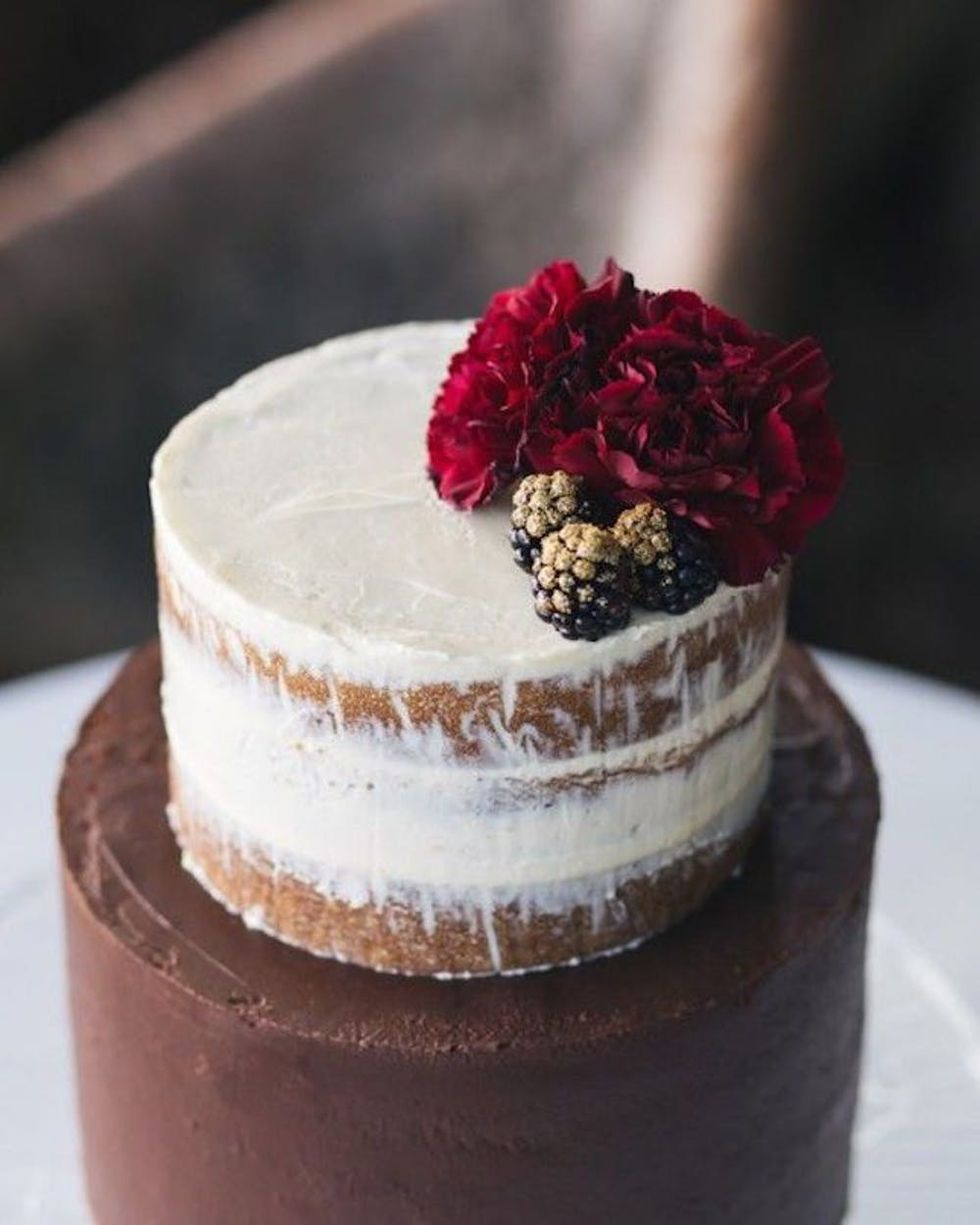 While we LOVE naked cakes, your cake doesn't have to be entirely devoid of frosting. This idea incorporates the naked look on the top tier of the cake while keeping things more traditional below. (via Weddingomania)
Caramel Corn Cake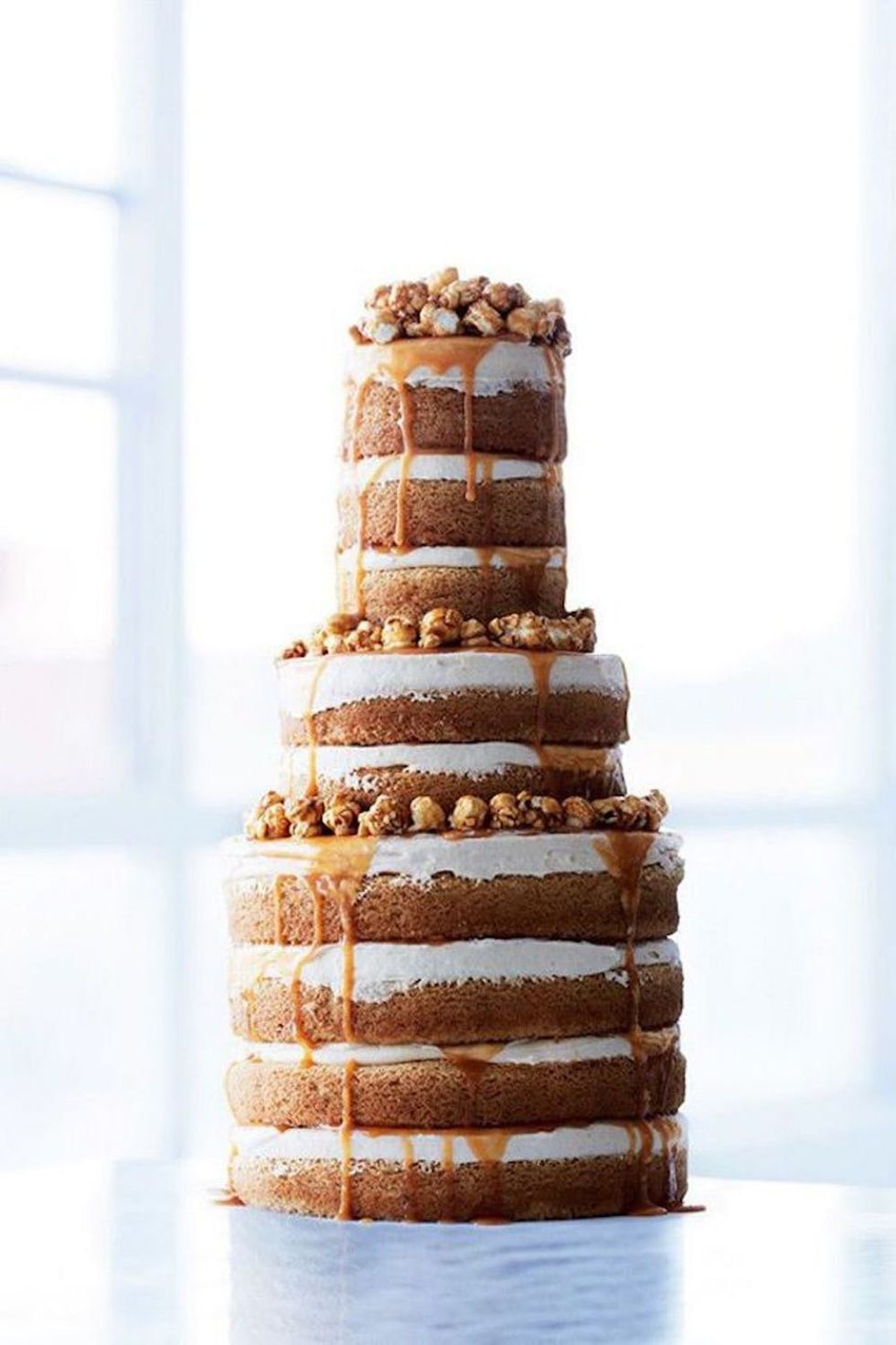 If you and your boo are big fans of popcorn, try this caramel corn-inspired creation. The popcorn itself (and the subsequent dripping caramel, OMG) add the wow factor to this otherwise neutral-hued cake. (via Wedding Party)
Raspberry Frosting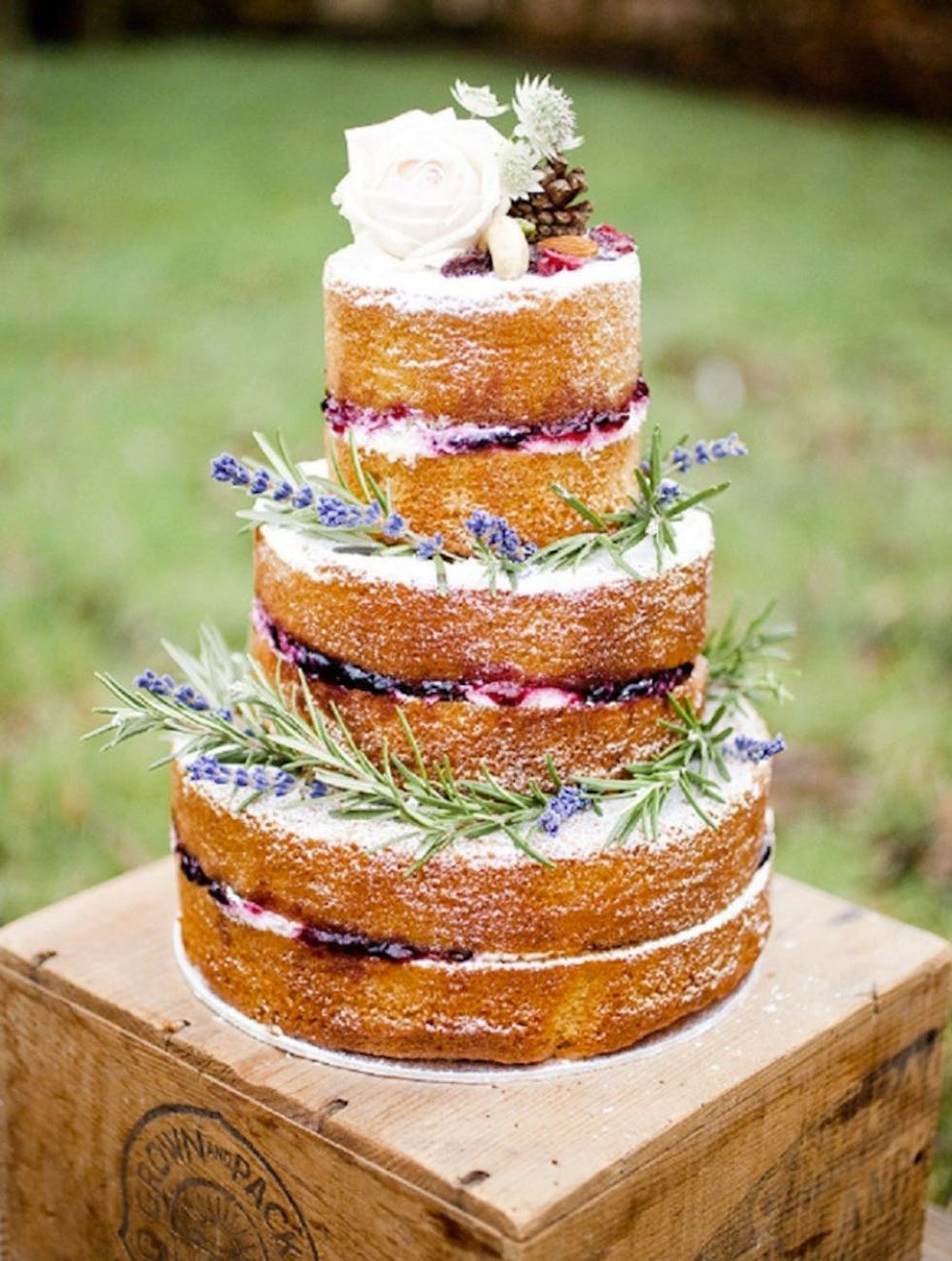 Add some color to your naked cake by incorporating a colorful berry-flavored frosting. This pretty cake combines the purple hue with white powdered sugar and sprigs of lavender. (via Mod Wedding)
The Vintner's Cake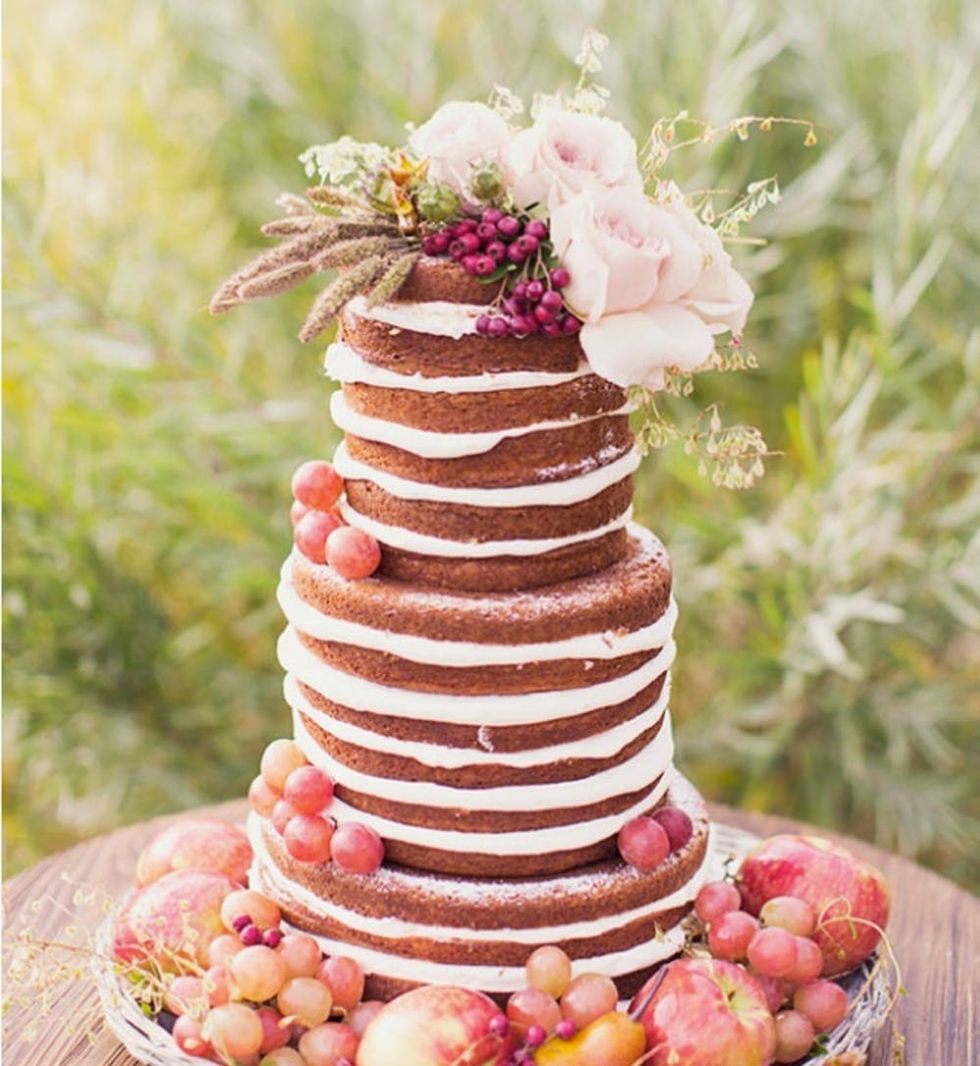 Whether your wedding is at a vineyard or you just love wine, this grape-surrounded cake could be right up your alley. The grapes keep things looking fresh and rustic, as do twigs and berries. (via Modwedding)
Maggie McCracken
Maggie McCracken is a freelance writer, blogger and aspiring digital nomad. She writes primarily about food, travel, yoga and healthy living, and she has a background in health and science journalism. You can read more of her work on her lifestyle and travel blog, The Olive Branch.
Wedding Planning and Decor
More From Wedding Planning and Decor