22 of Taylor Swift's Best Curly, Straight + Short Hairstyles
Jun 04, 2014
Taylor Swift has had as many hairstyles as she has best friends. Her fab inner circle includes current crushes like Lorde, Cara Delevingne and Ellie Goulding (no biggie) and they + her bombshell hair are both equally enviable. So while we wait for T.Swift to drop in on one of our big events to play gal pals (we'd DIE to take a slo-mo photo booth vid with you at Re:Make SF, Tay!), we'll just swoon over her hair. Her perfect, perfect blonde hair. Whether she's posing for paps on the red carpet or just jaunting about the streets of NYC, earbuds in and all, Taylor's curly looks, straight styles + glamorous updos are always total perfection. Since she's on tour, we're not sure if she + her locks will make an appearance at tonight's CMT Music Awards :( but in celebration of the country cutie, here are 22 (ooh-ohh!) of Taylor's most fab hairdos. And if we get a glimpse tonight, we'll happily make it 23.
---
Serious Glamour Curls: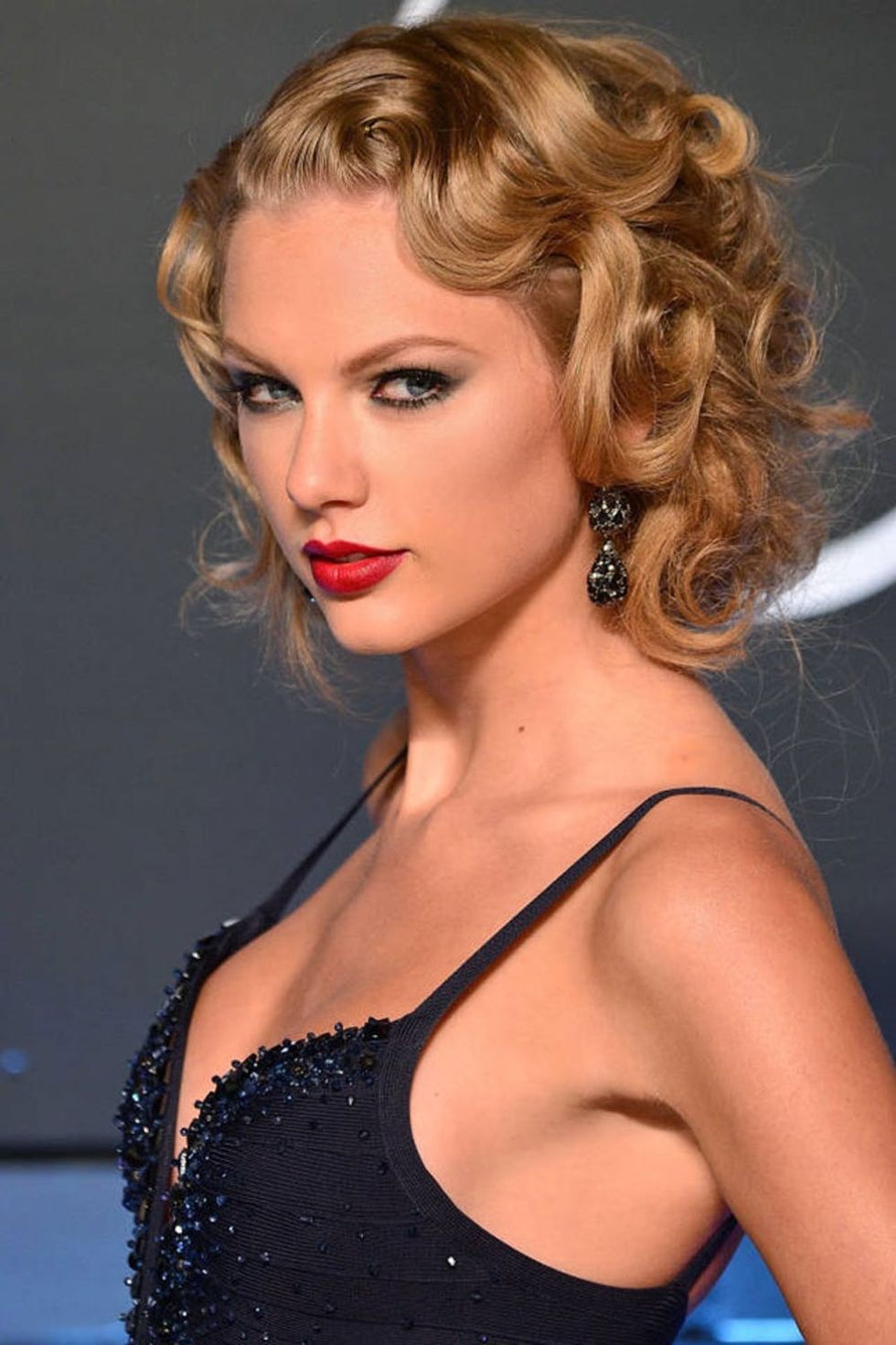 drop earrings (don't think we don't have our eyes on those!).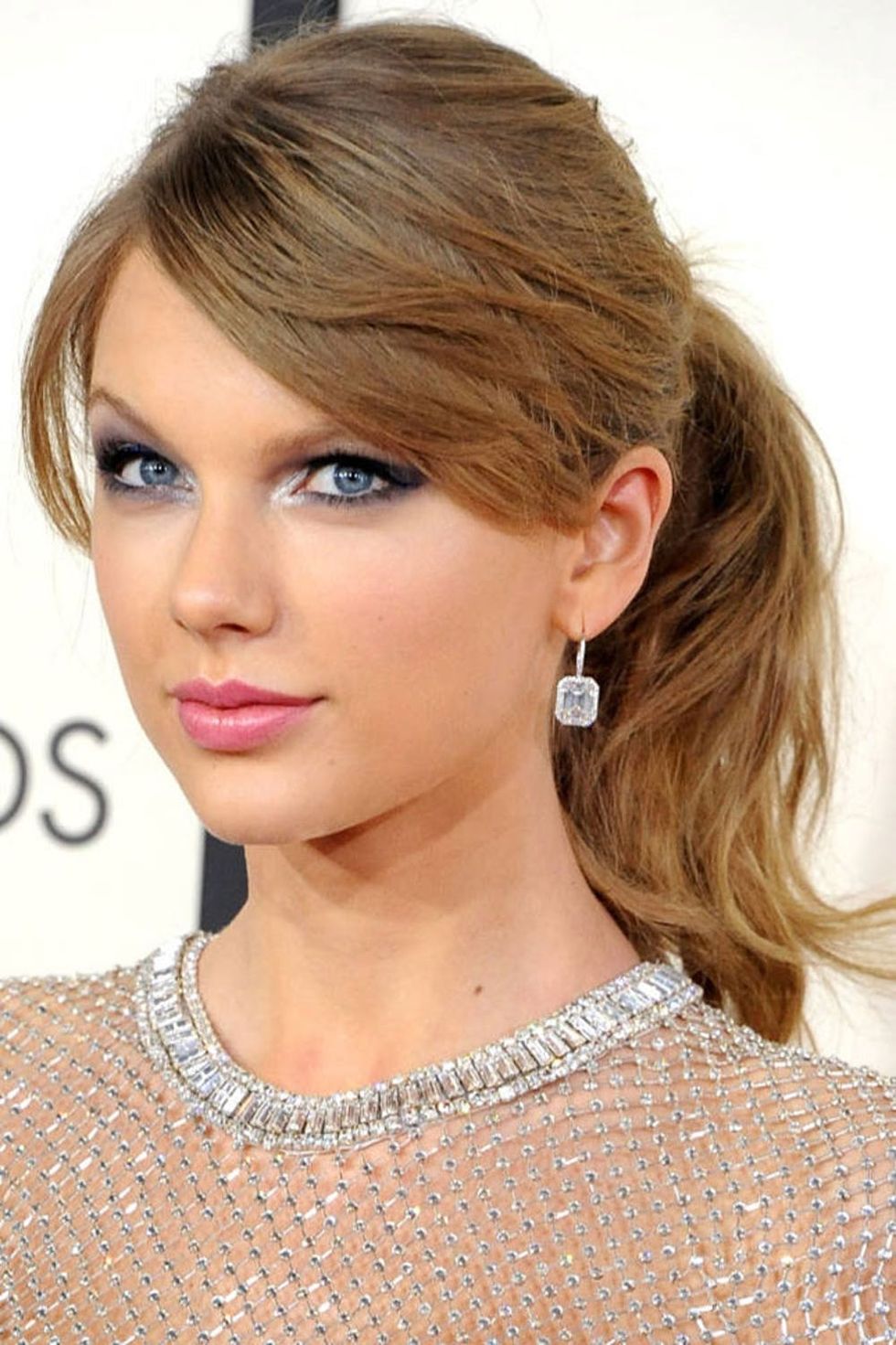 2. Preppy + Pulled Back: Even the most basic of ponytails looks stunning on Taylor. She pulls it off with the slightest curl in her pony and effortlessly sideswept bangs.
Milkmaid Braid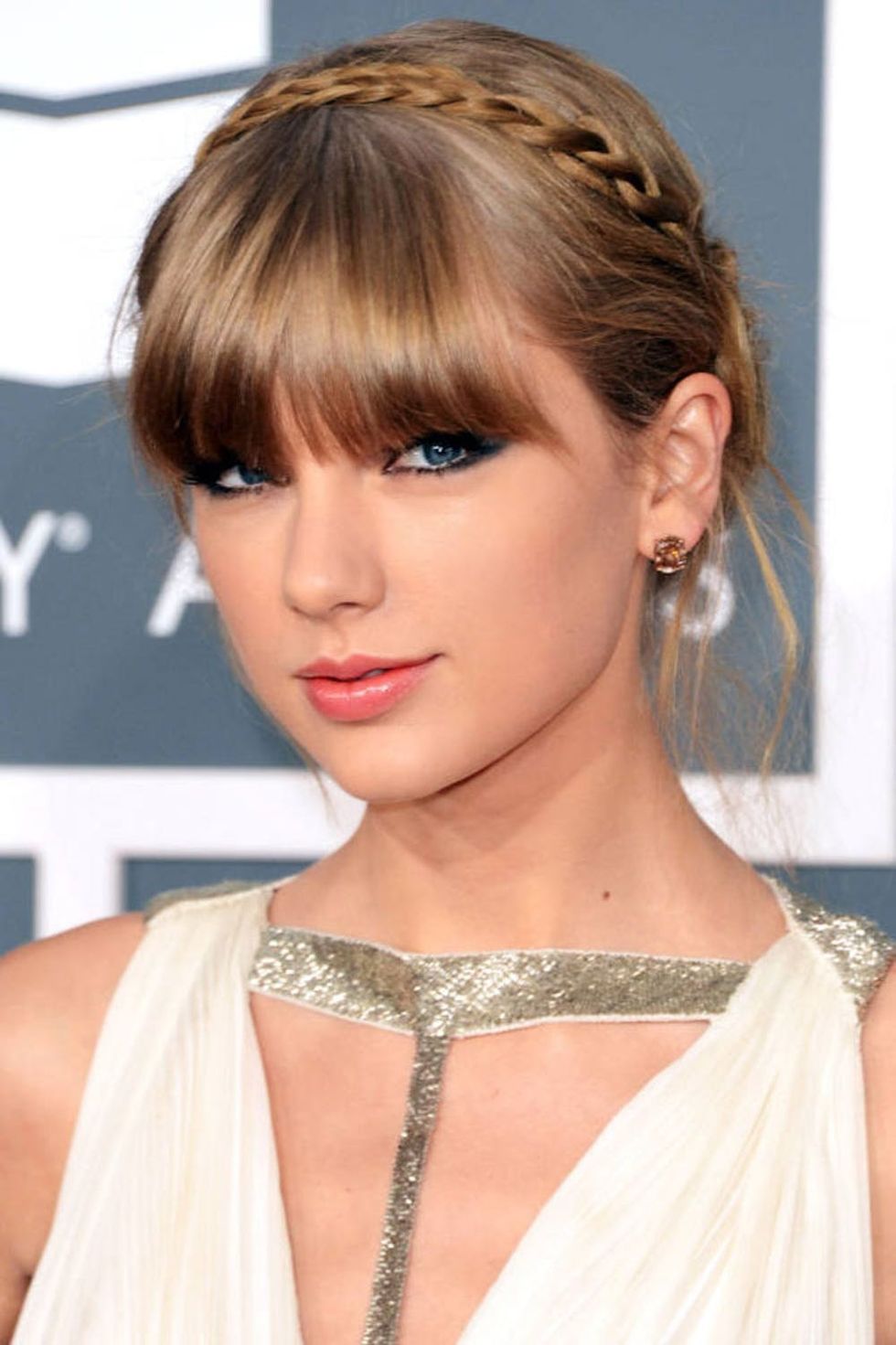 The milkmaid braid had a big moment last year, but we're ready to copy Taylor's boho braid from the 2013 Grammys this instant. Coachella 2015 hair, anyone?
Gently Falling Curls: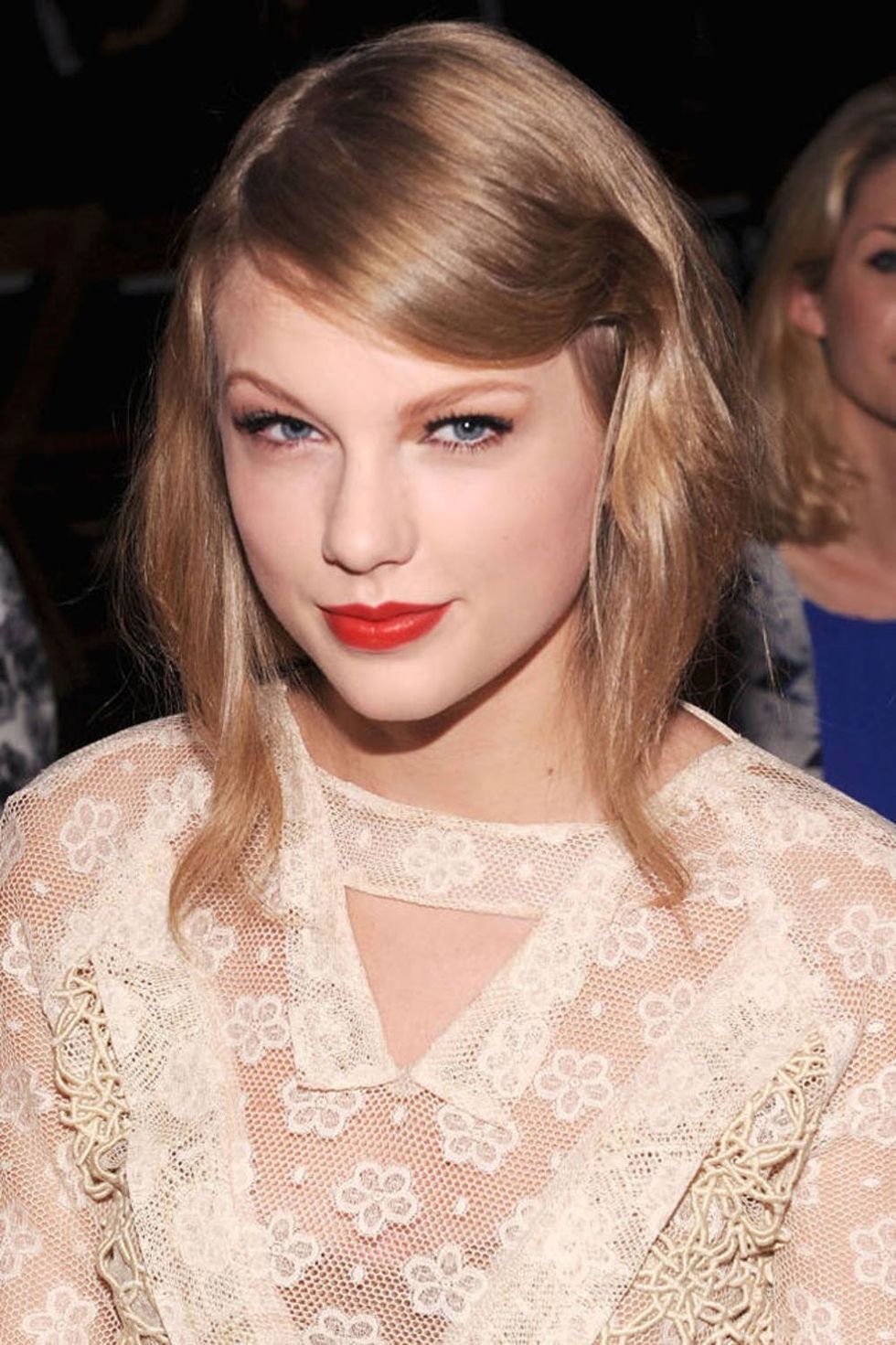 curly lob (long bob) frame her face while pulling back the rest. But that elegant side part is what really makes this look.
Headband Hotness: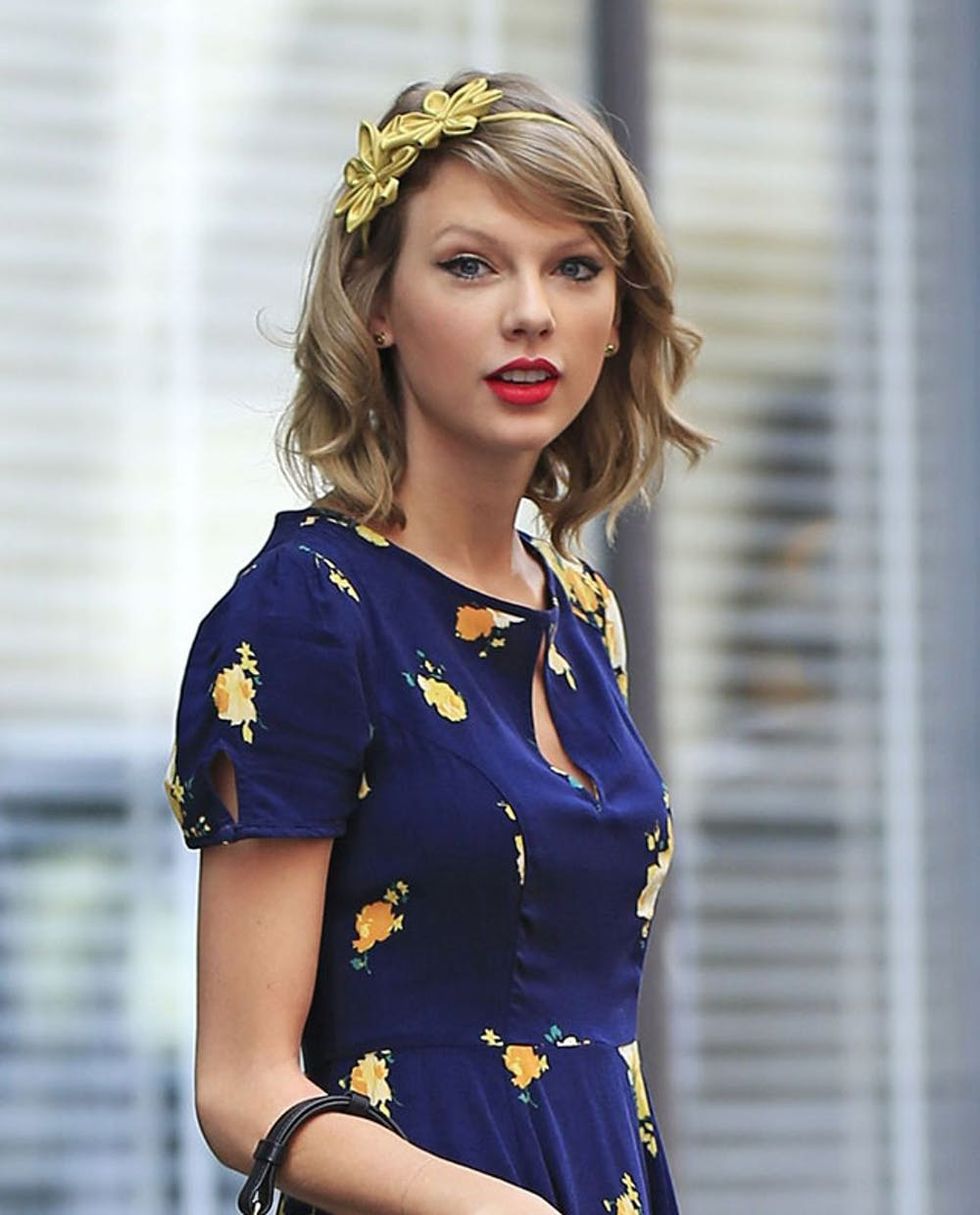 hair accessories, like now.
Subtle Waves: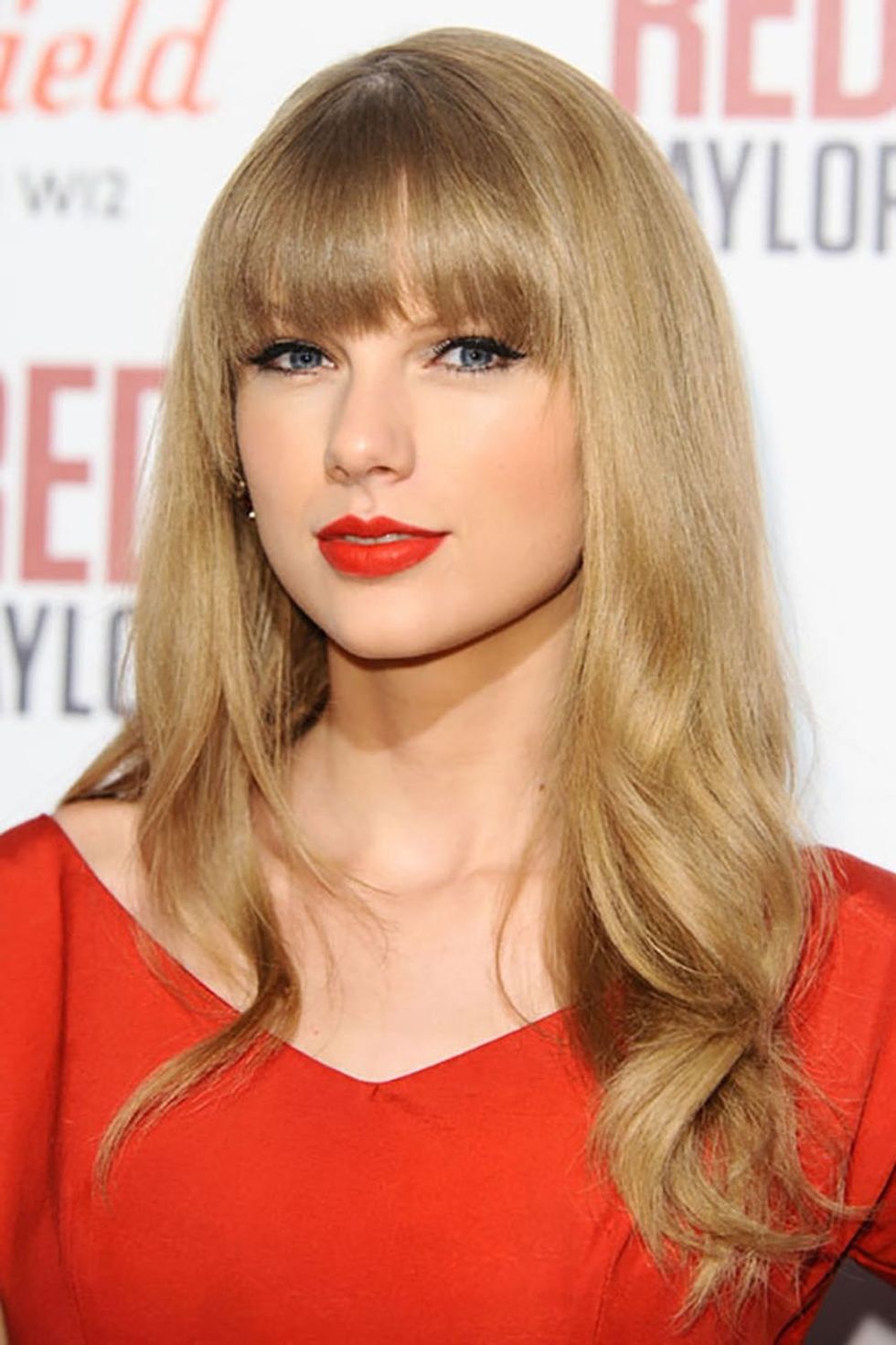 subtle waves that still make a huge hair statement.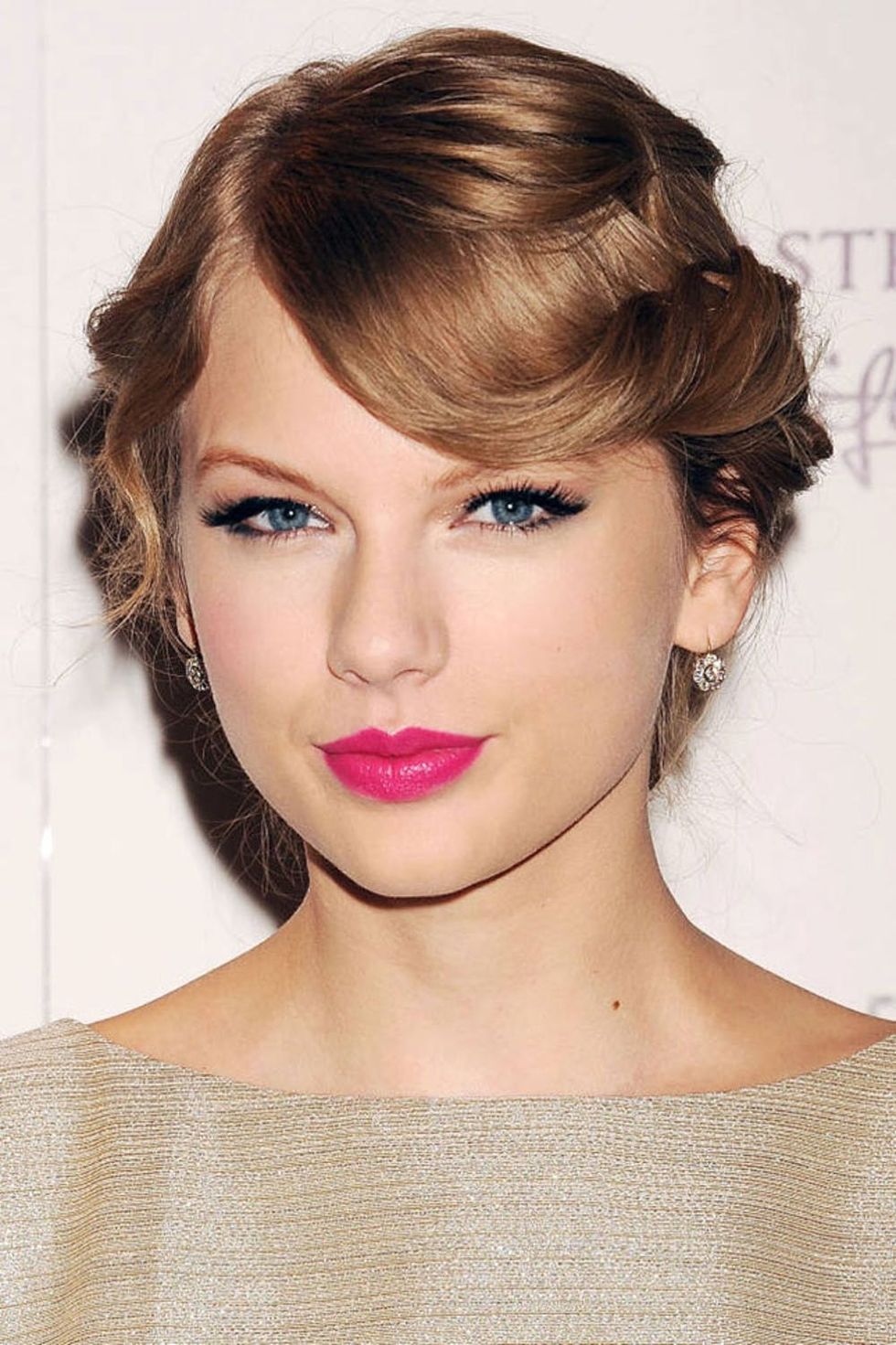 7. Twisted to Perfection: We're all over this hyper-styled updo that's twisted into a modern take on old Hollywood glamour. Those lush lashes make the look even more luxe.
Fancy Ponytail: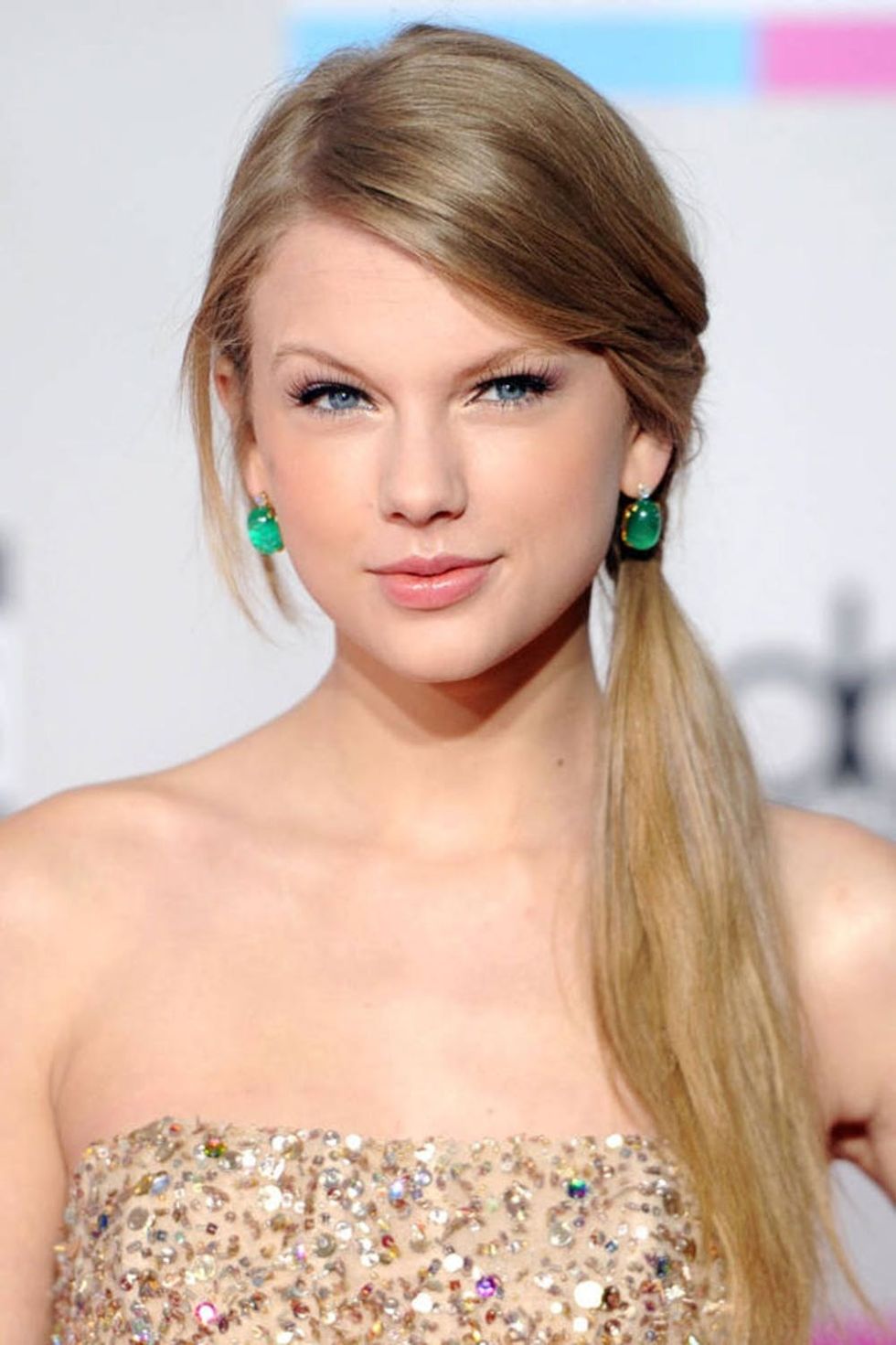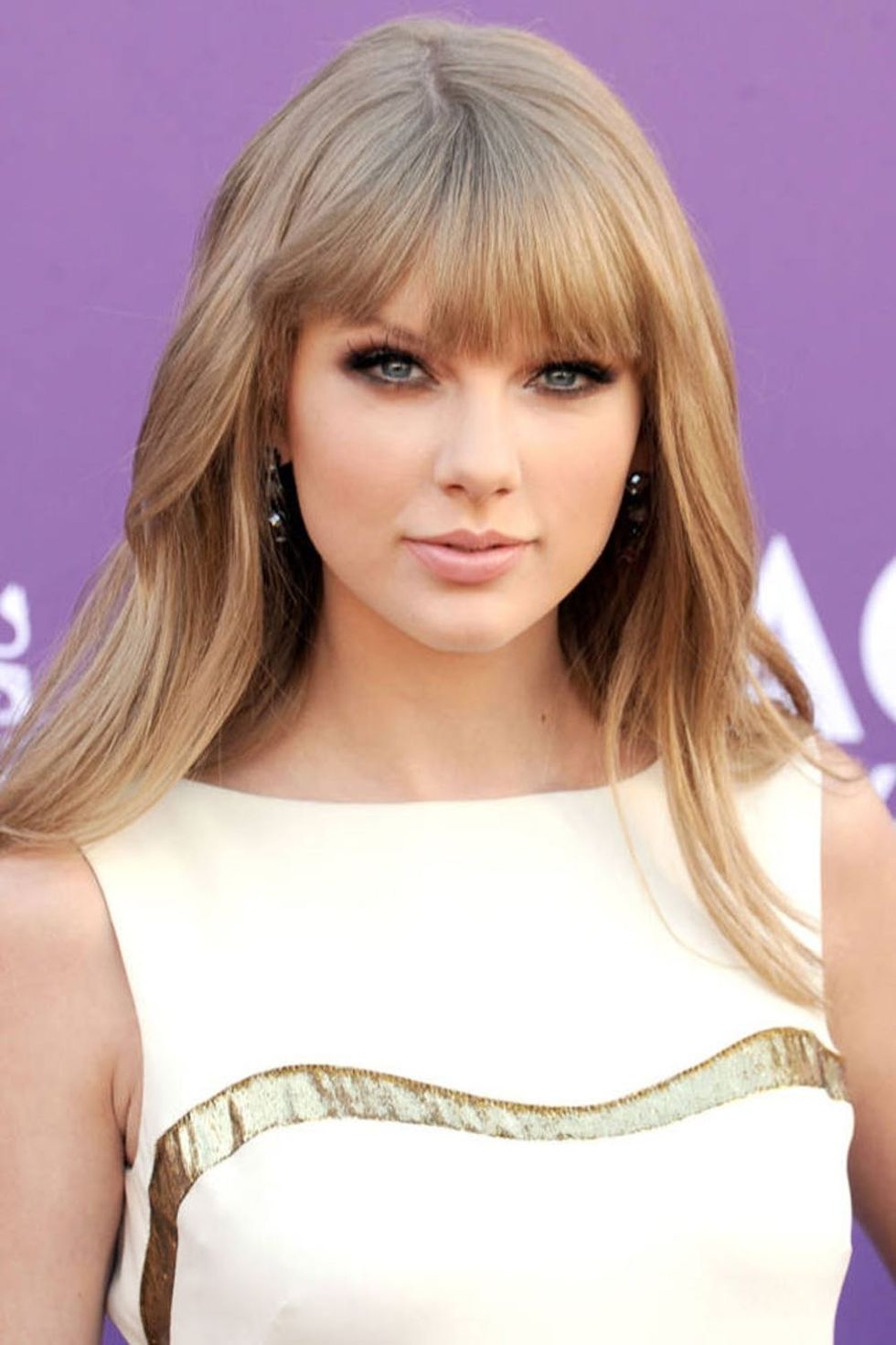 9. Natural Bangs + Soft Waves: Even without dramatic curls and intricate updos, Taylor can still steal the spotlight. We're all about her just-there curls and thick fringe.
Way-Cute Casual Braid: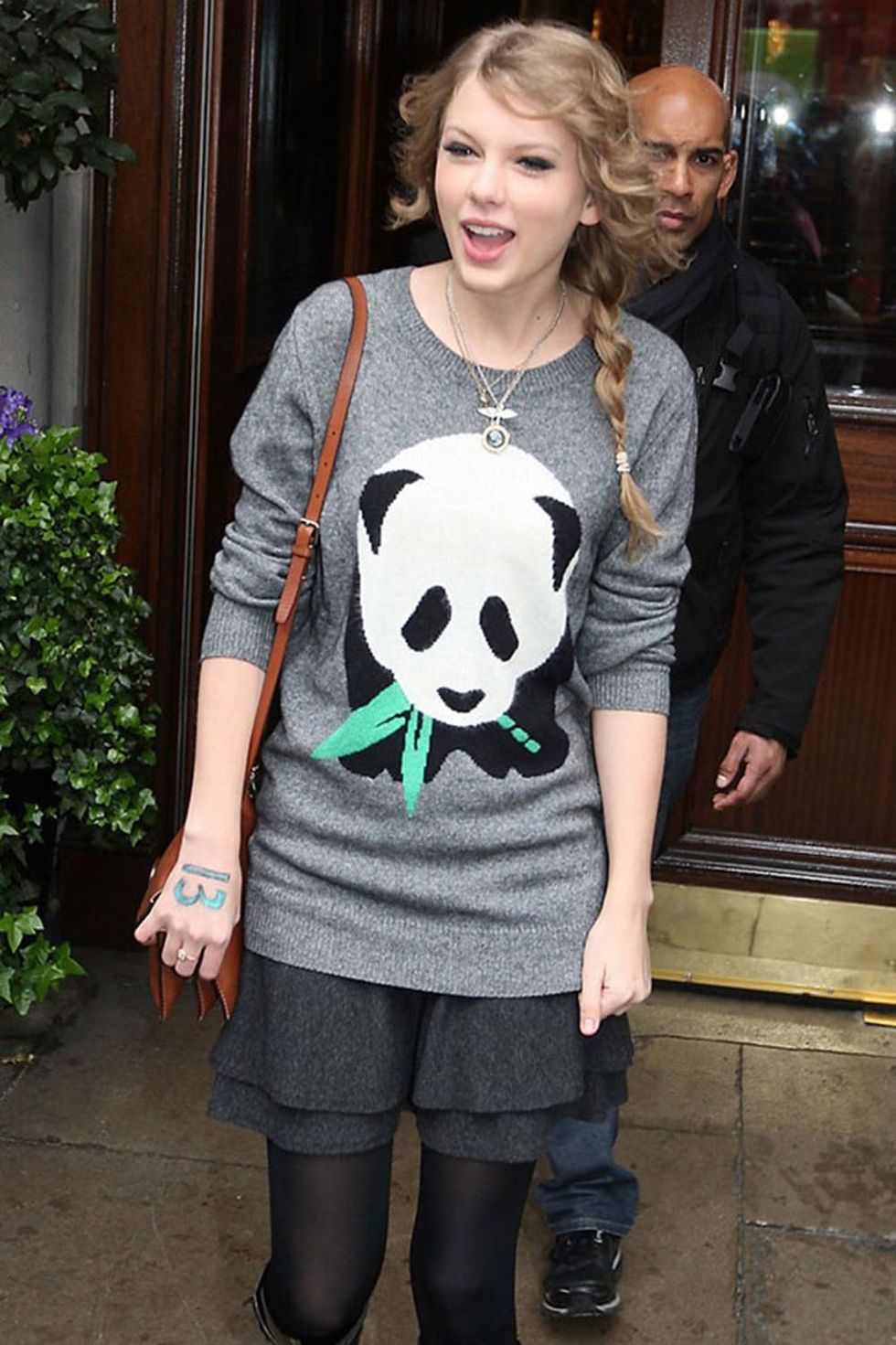 peppy braid might be one of our fave hairstyles Taylor's ever rocked. Besides being utterly cute + playful (just like that panda sweater), it's a look that any gal could give themselves. Thanks for the inspo, Tay.
Super Glam Faux Bob: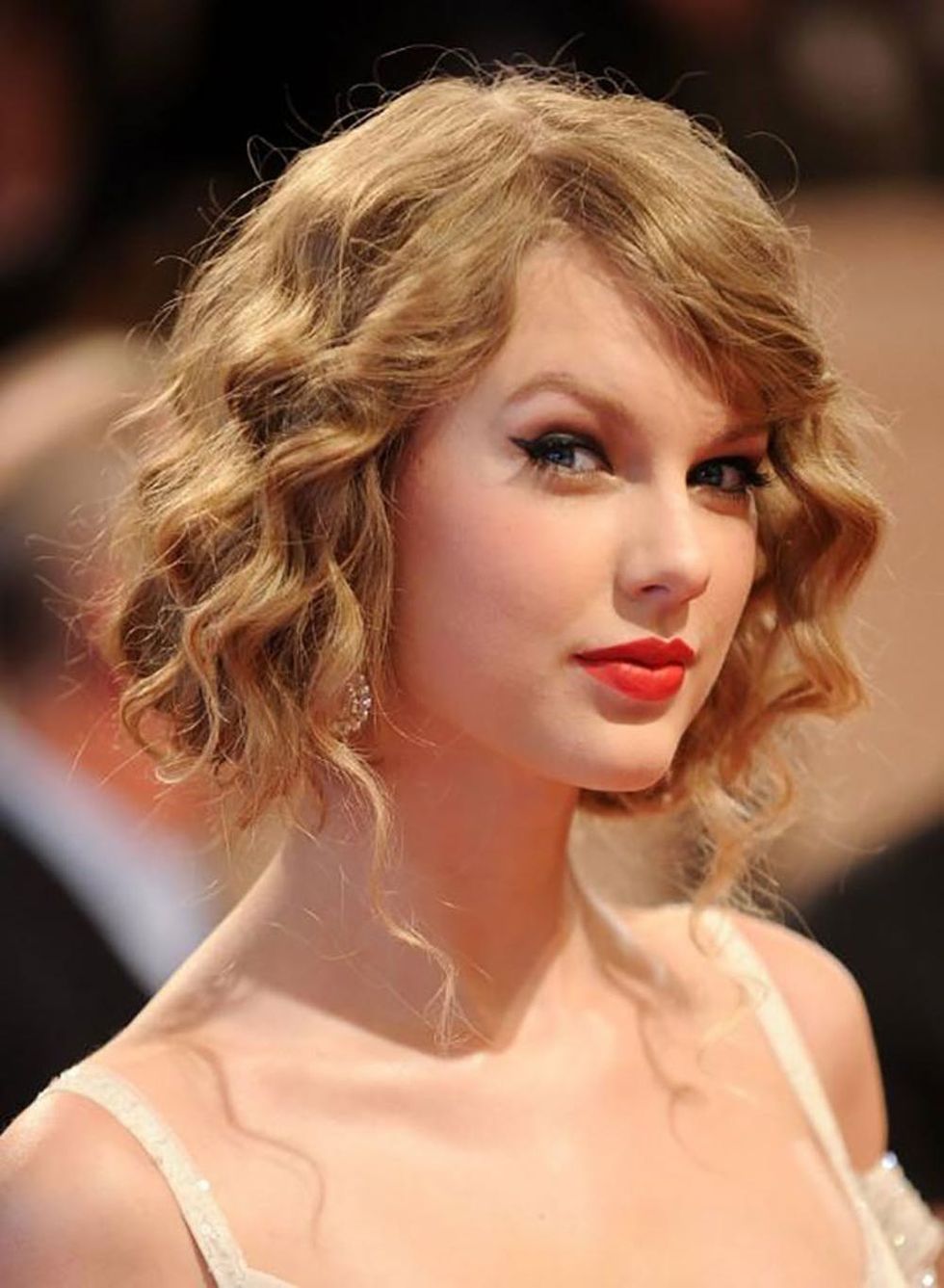 just like this: A foxy faux bob with beyond bouncy curls. We're crushing hard on that cat eye, too!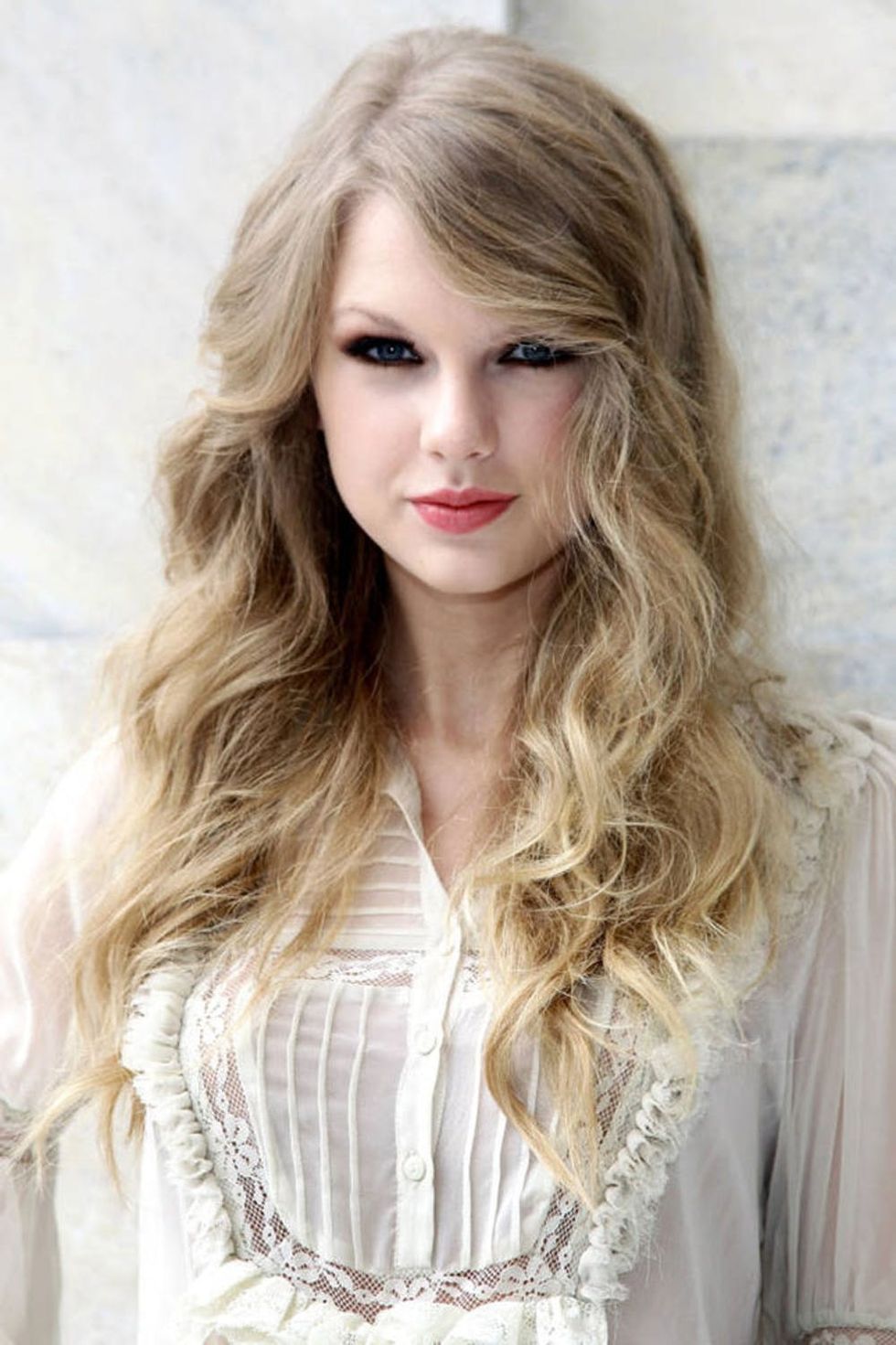 12. Beach Babe Curls: If you ask us, no one can pull off the day-at-the-beach look better than Taylor. Here, her tousled locks compliment her bold eye makeup in the best way possible.
Sleek + Chic Updo: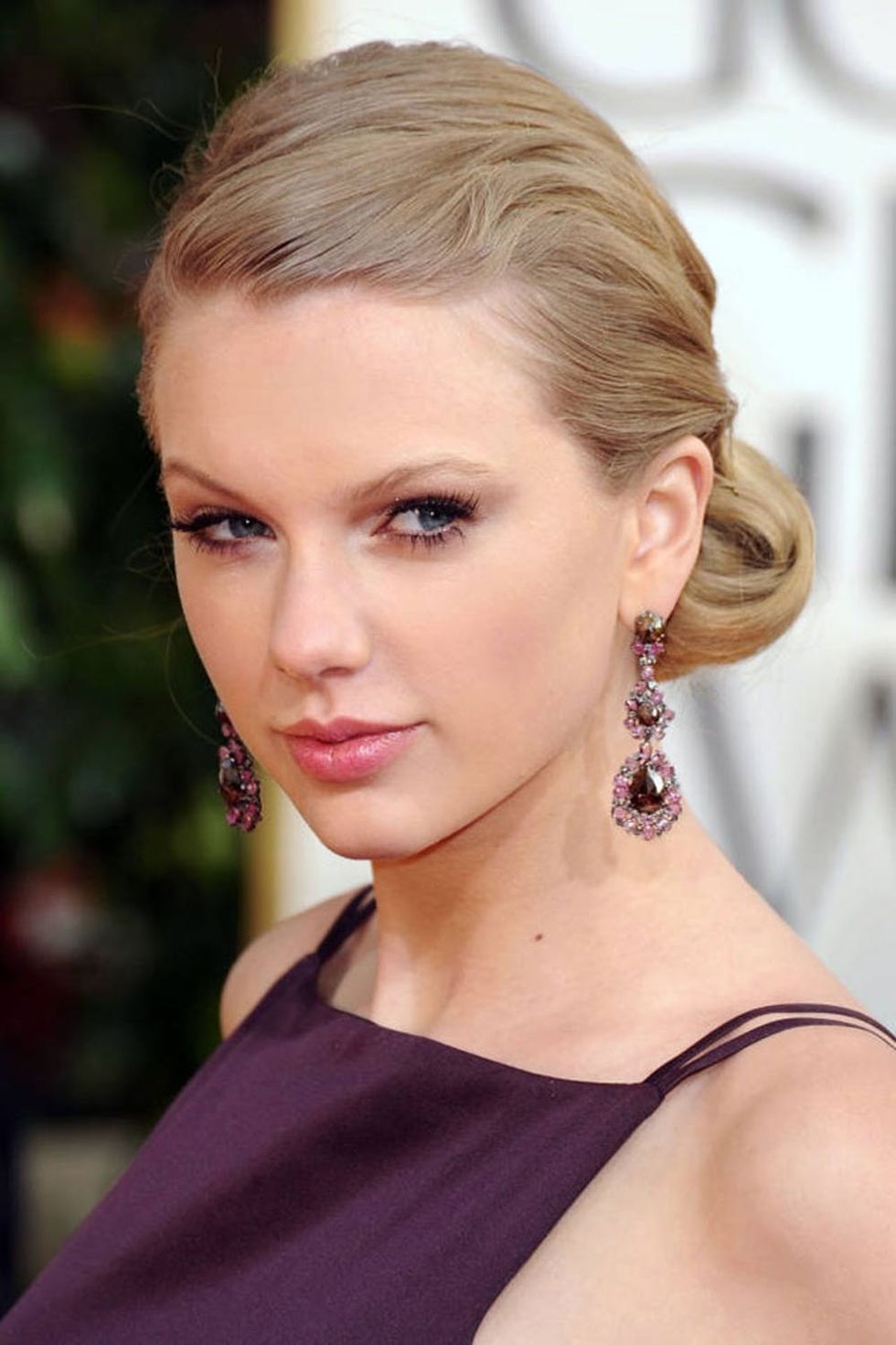 classic chignon is exceptionally chic.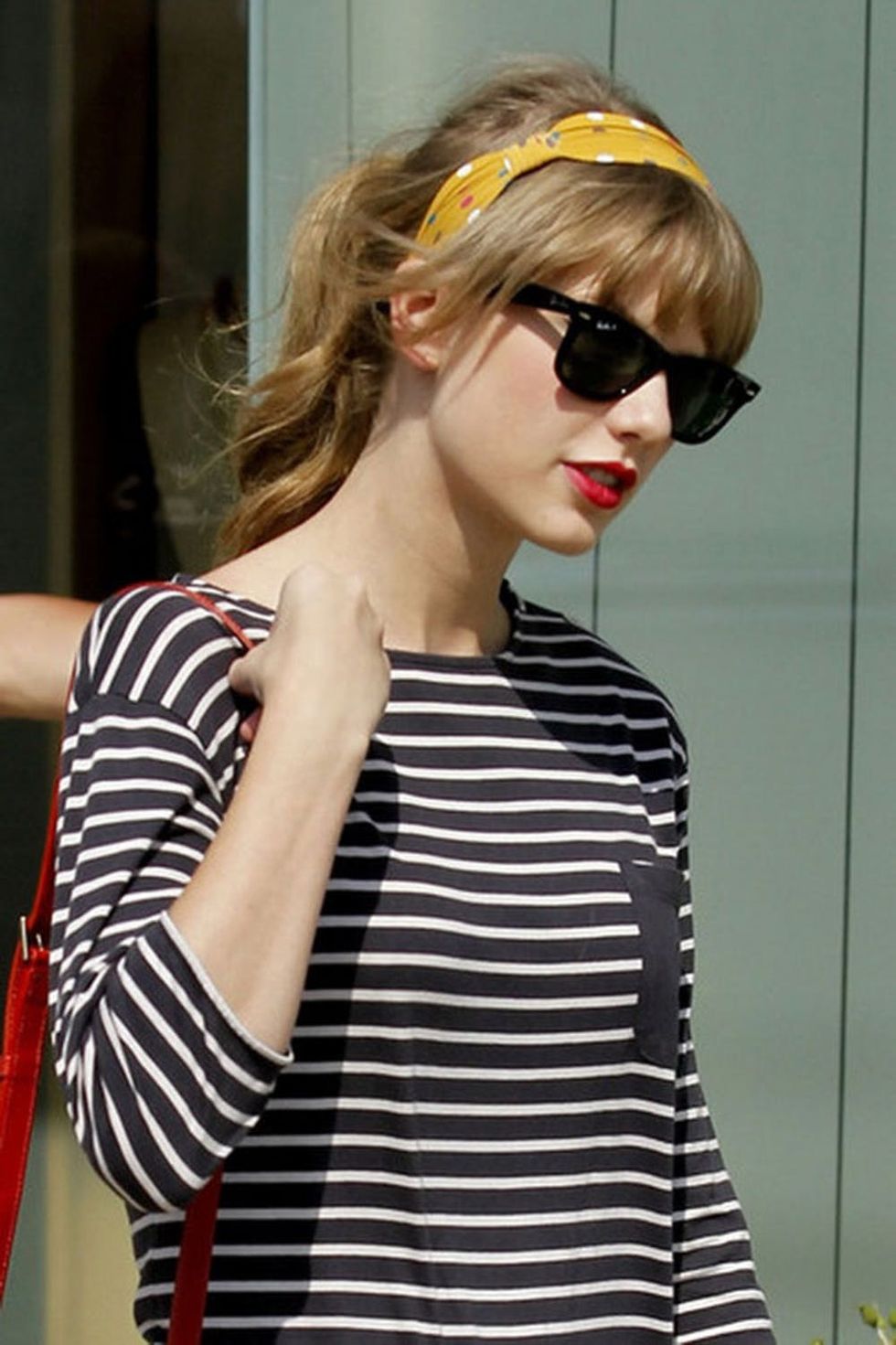 14. Scarf + Pony: Could her casual looks be any cuter? Copy Taylor's effortlessly cool hairdo with your most colorful scarf, hippest shades and, of course, a bold red lip.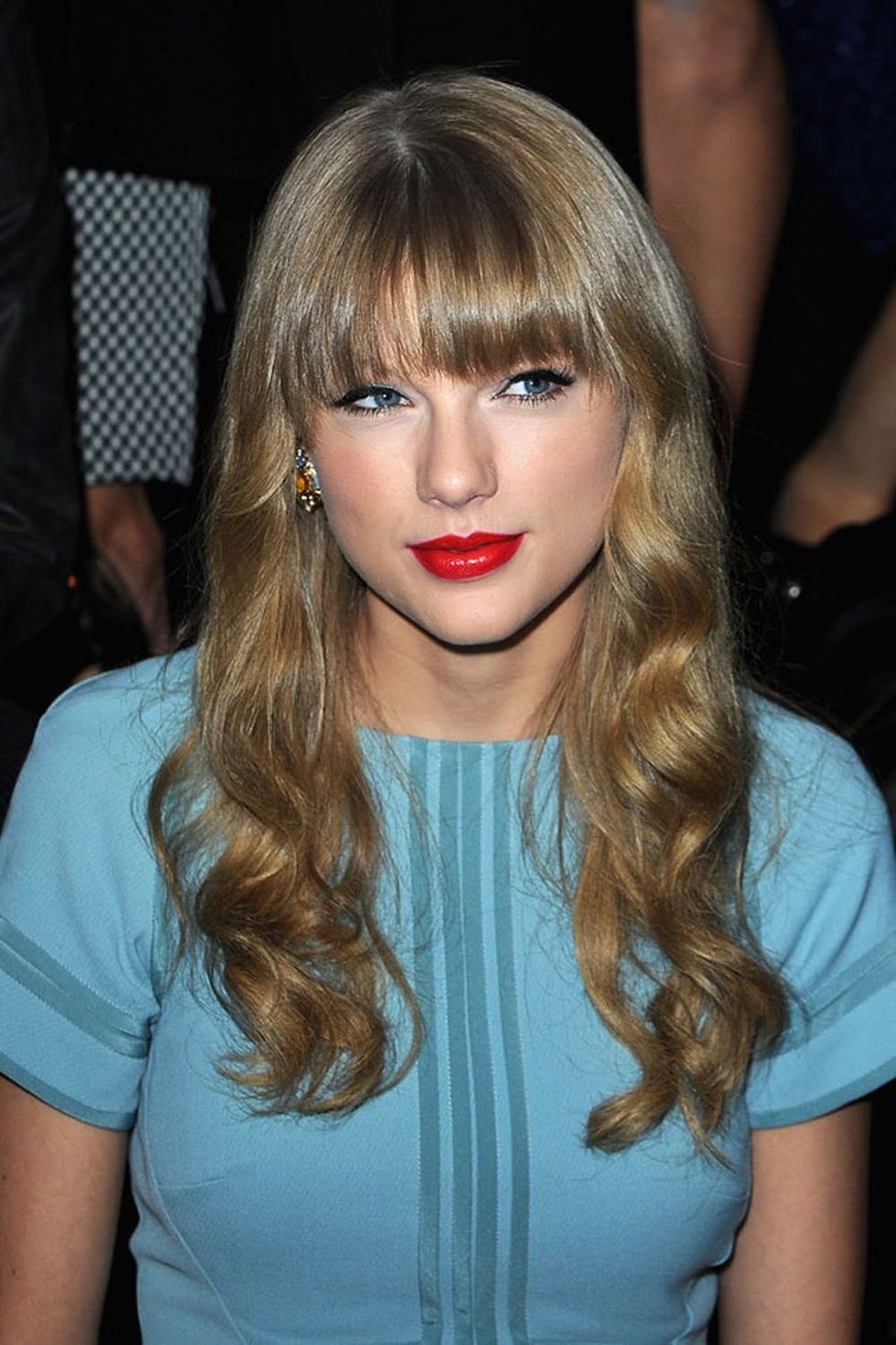 15. Retro-Styled Locks: Zooey Deschanel isn't the only A-lister who can pull off the quirky-as-ever retro styled 'do. Of course, Taylor looks like a modern Marsha Brady with loose curls and long bangs.
The Most Perfectly Curled Updo Ever: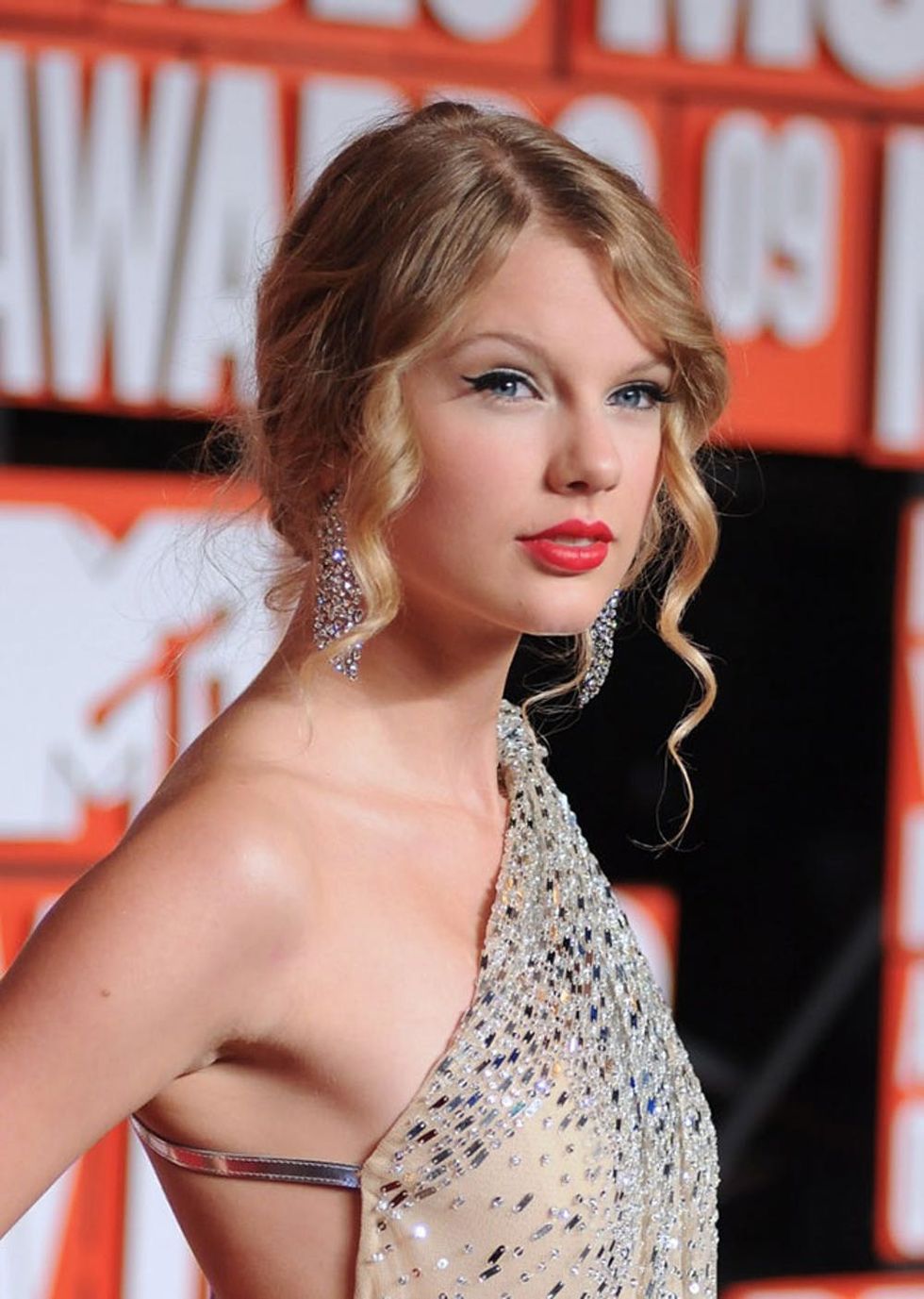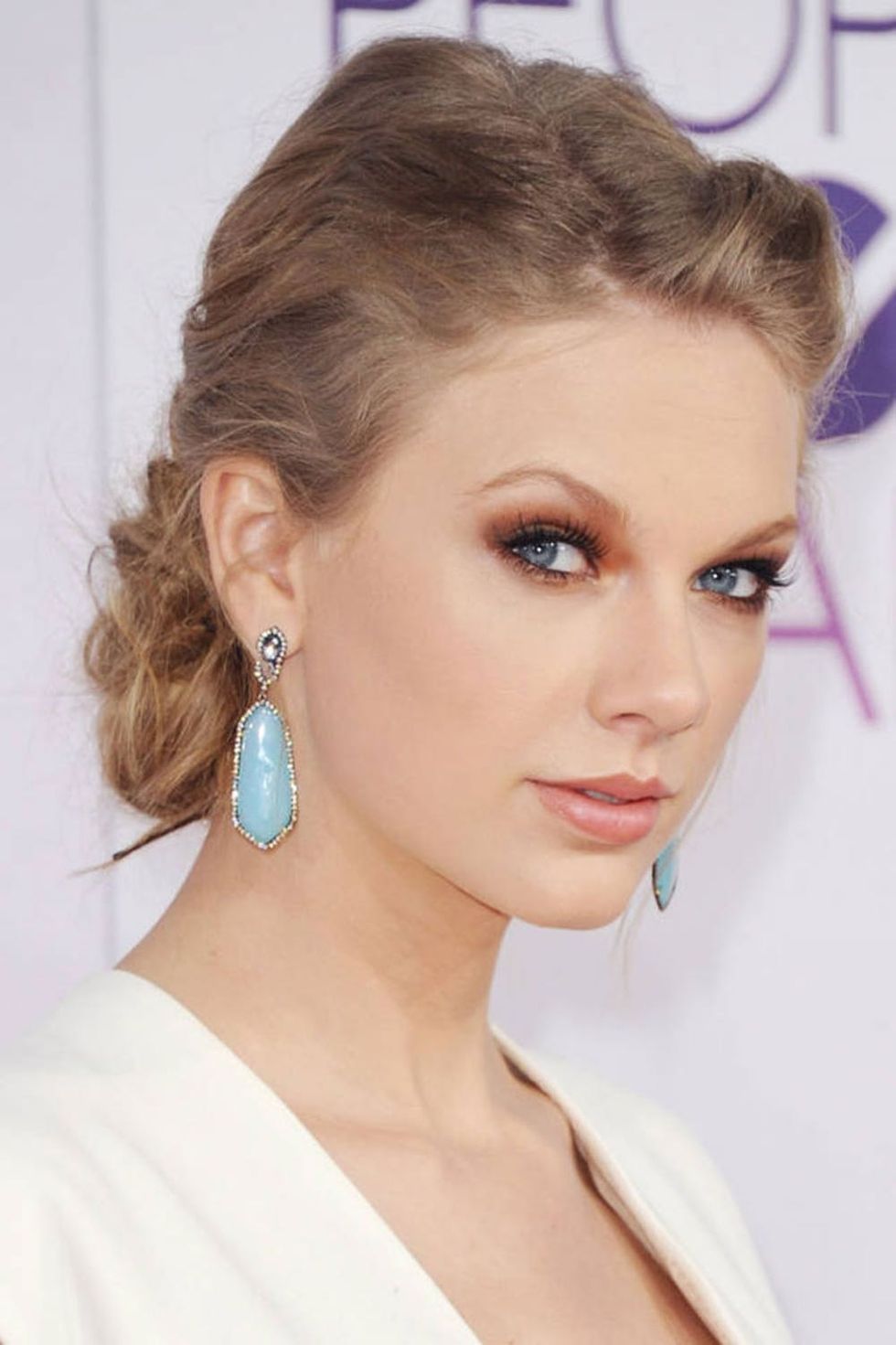 17. A Little Bit Rock n Roll Updo: Our favorite country music songstress shows off her rockstar side and we're obsessed. That crimpy updo + wild copper makeup will have us swooning forever.
Pinup-Style Curls: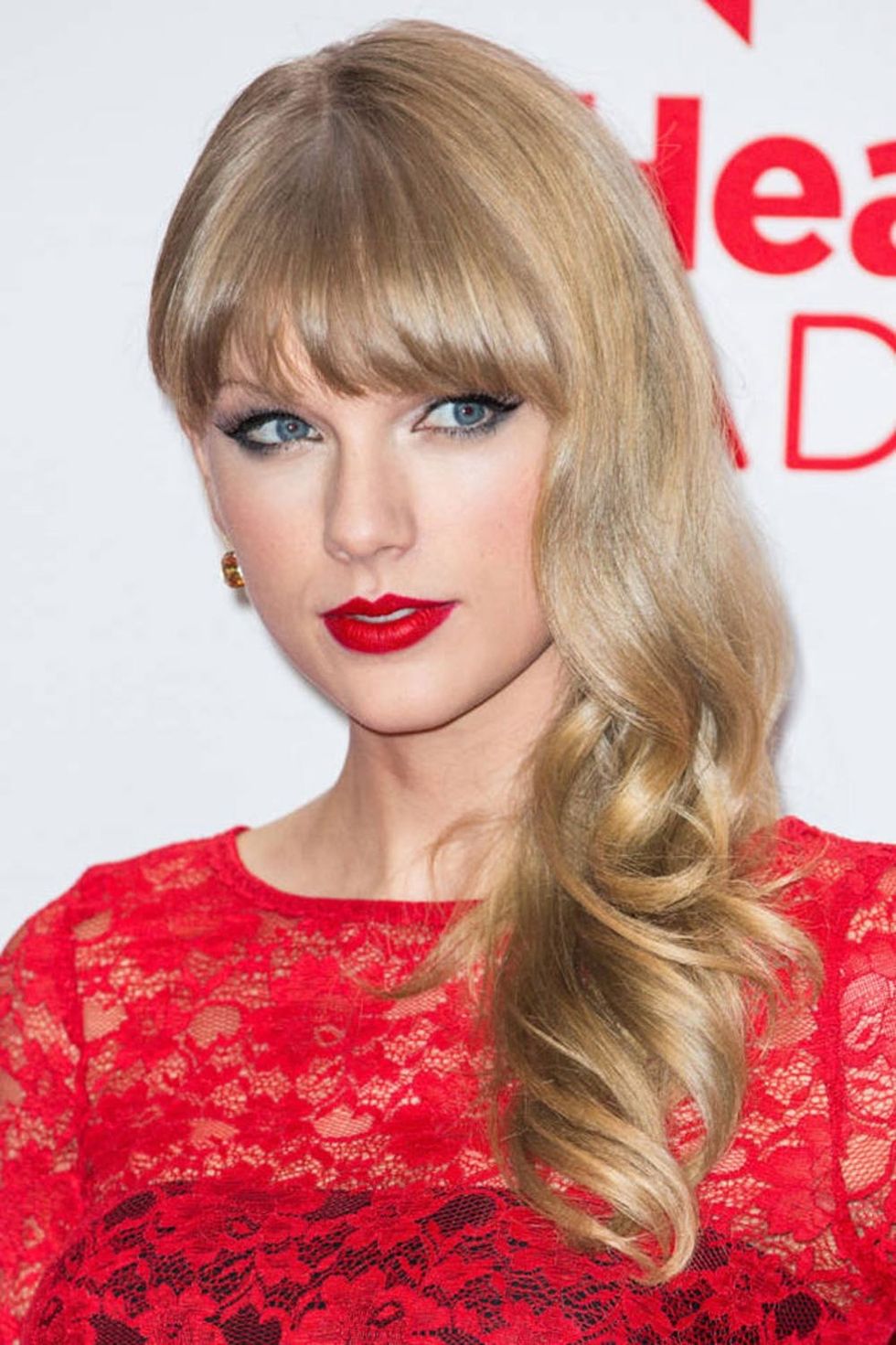 No-Fuss Side Part: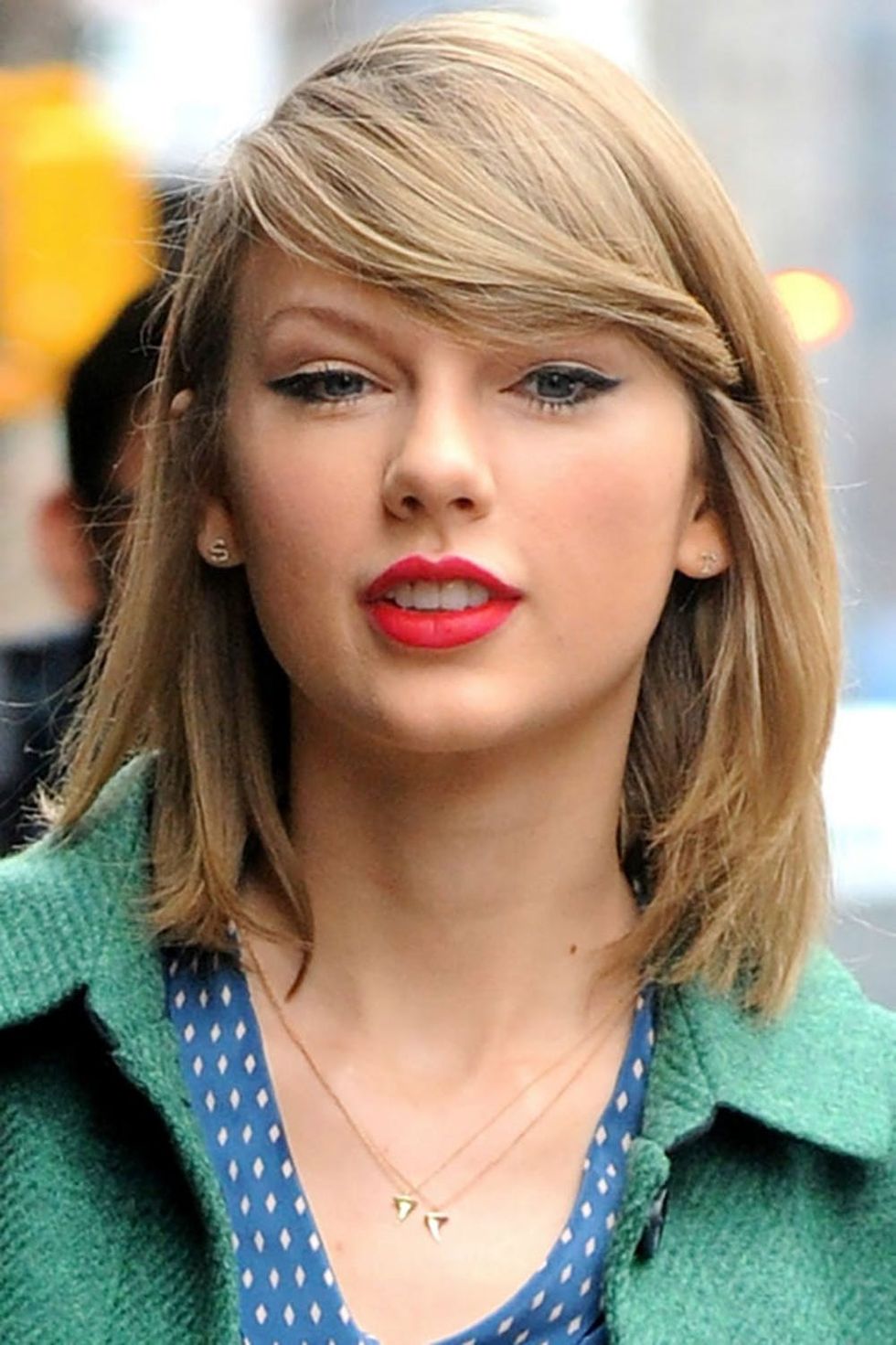 no-fuss lob crowned with a side part and effortlessly twisted + tucked bangs. A Pinnable look we'd wear on every errand run.
Poised + Polished Lob: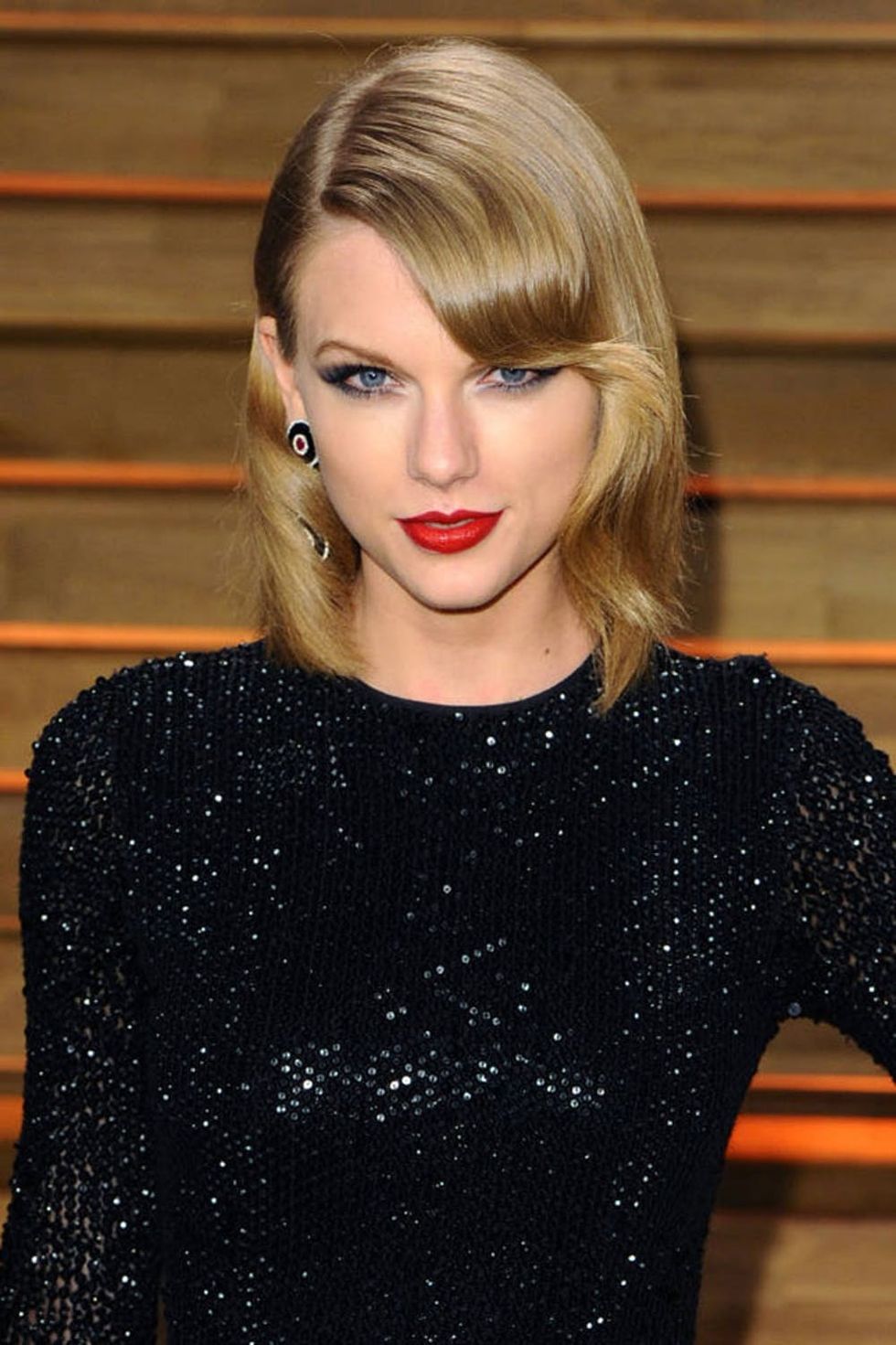 Slicked back ever so slightly, her waterfall waves are simply gorg.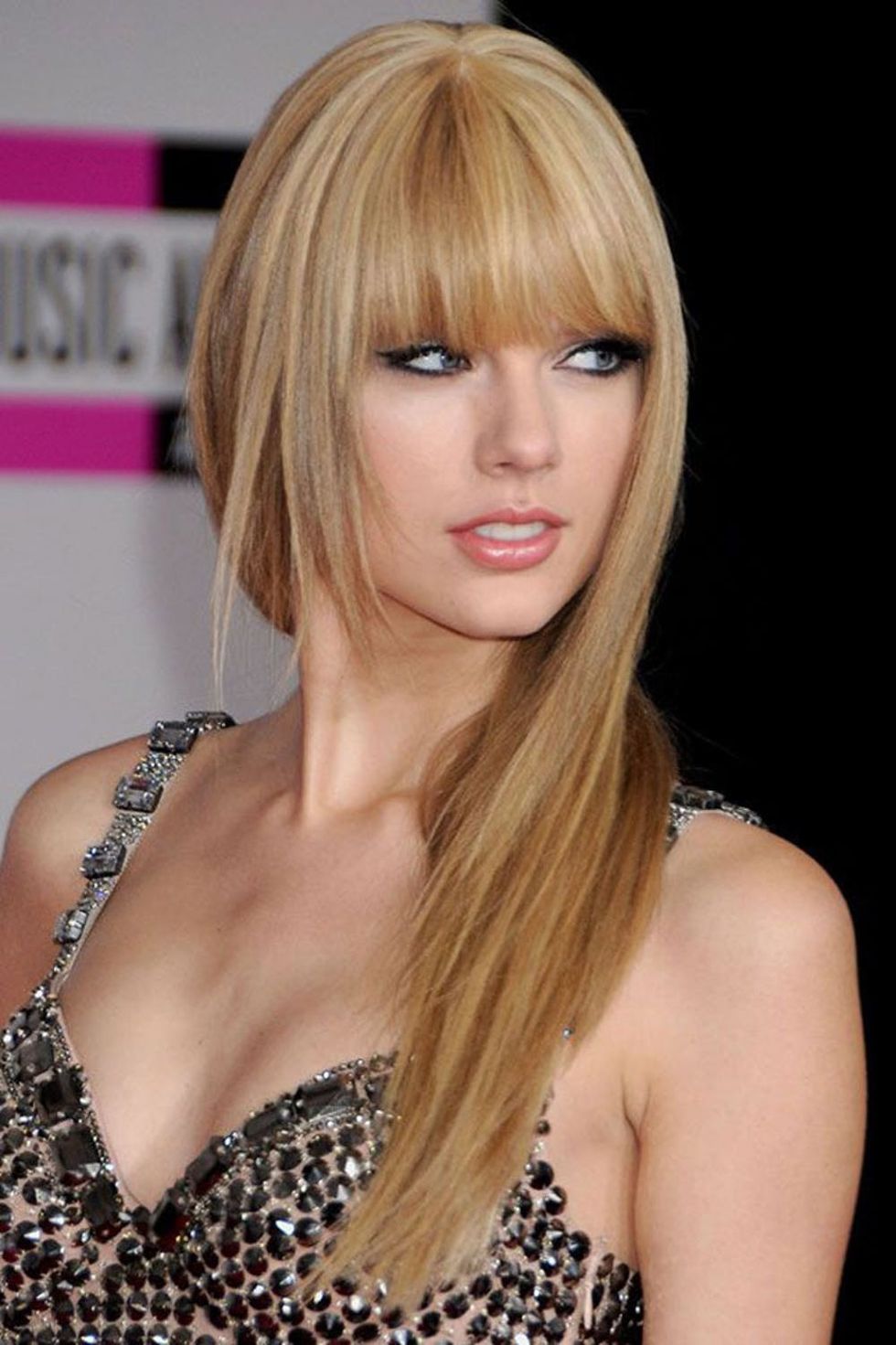 21. Straight as a Board Bangs + Hair: This photo will make you want to reunite with your straightener, stat. Blunt bangs and long layers make it clear she's one of pop music's most stylish sirens.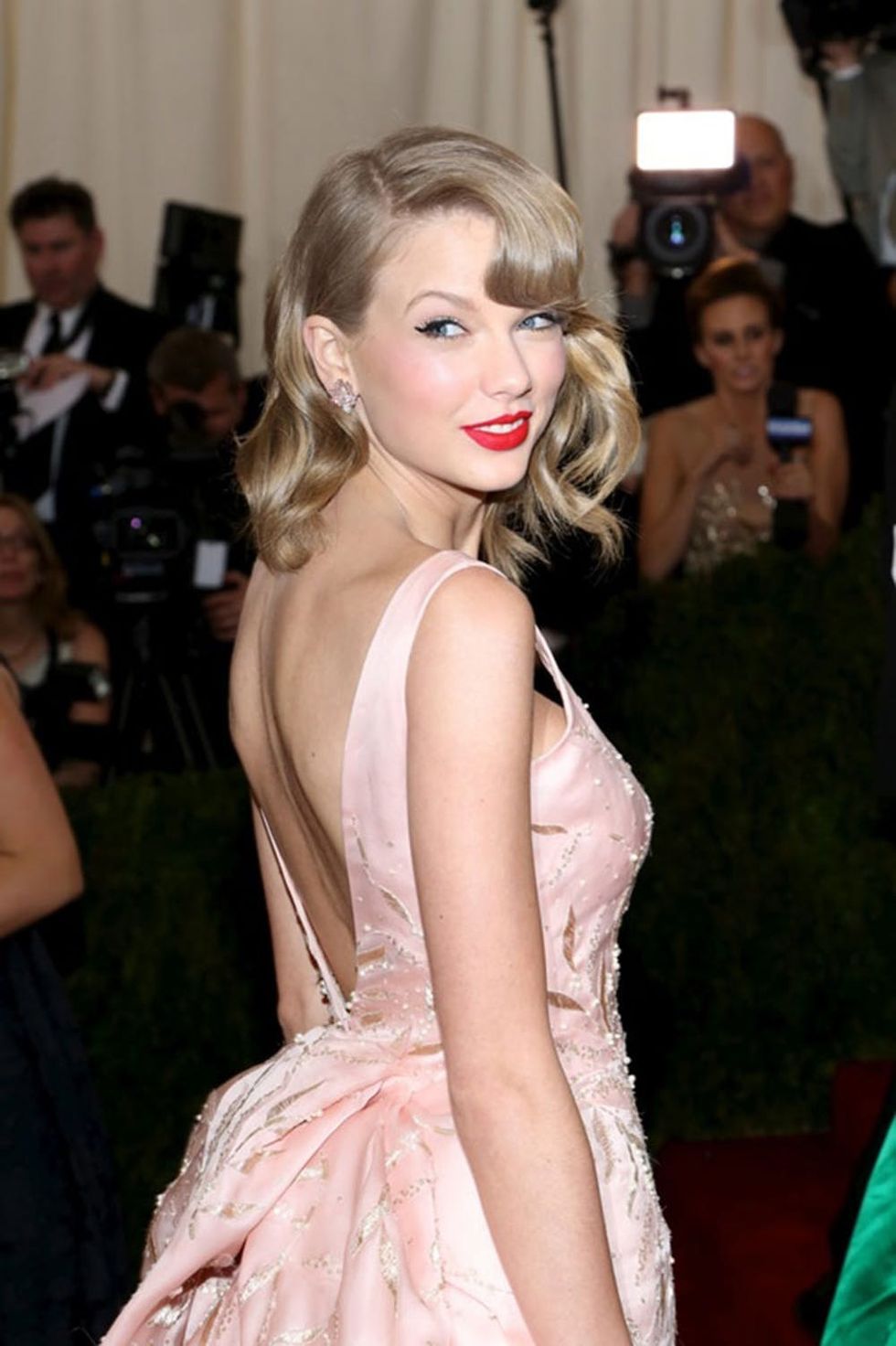 22. All-Star Glamour Curls: These glamour curls are posh from every angle, and Taylor knows it. We're in love with her eye-sweeping bangs, terrific curls and pretty much everything else about her!
Hair