Everything We Know About 'This Is Us' Season 3
Sep 04, 2018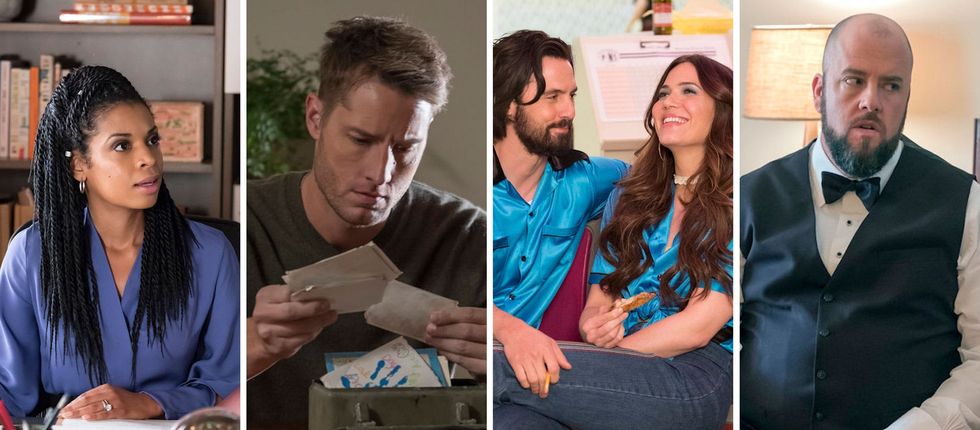 When we left the Pearson family at the end of season 2 of
This Is Us
, we had just as many new questions as answers. Who are future Tess and Randall referring to when they say they aren't ready to see "her"? Why is Toby depressed? And why are Kevin and Zoe going to Vietnam? (Also, Kevin and Zoe?!) We'll have to wait until season 3 premieres on September 25 to get the answers to any of those questions, but we do know a few things about what to expect in the upcoming episodes. Click through to find out more about what's ahead for the Pearson family. (Photos via Ron Batzdorff/NBC)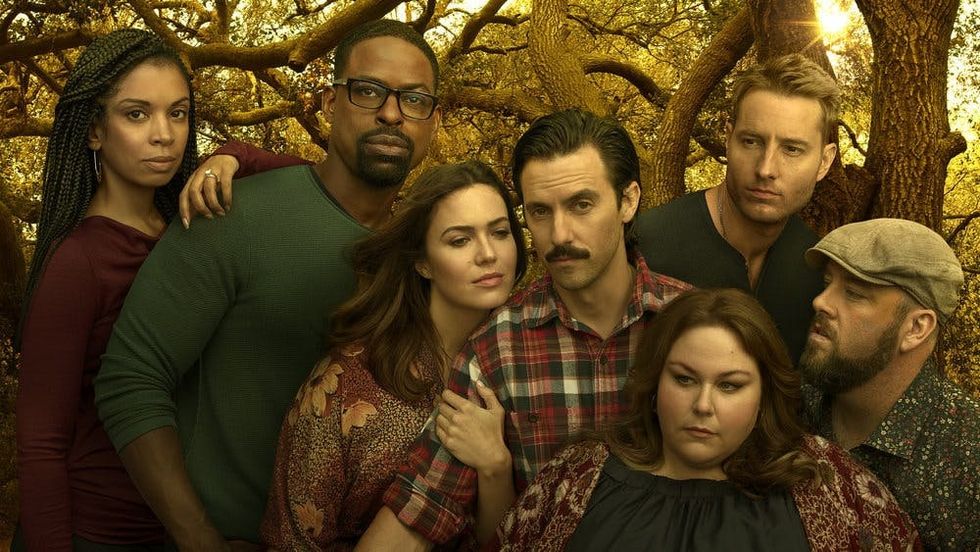 This will be the most ambitious season yet.
Co-showrunner Isaac Aptaker said the team is really pushing the boundaries of what they've done in the past. "We are challenging ourselves in season 3," Aptaker said at a TCA panel. "Now that we've figured out that our audience is along for the ride ... we're kind of breaking all the rules. We're challenging ourselves to jump to decades we've never been to before … and really play with the storytelling format in a way that's just much more complicated than we were able to in earlier seasons, when we were kind of showing people how the show worked." (Photo via NBCUniversal)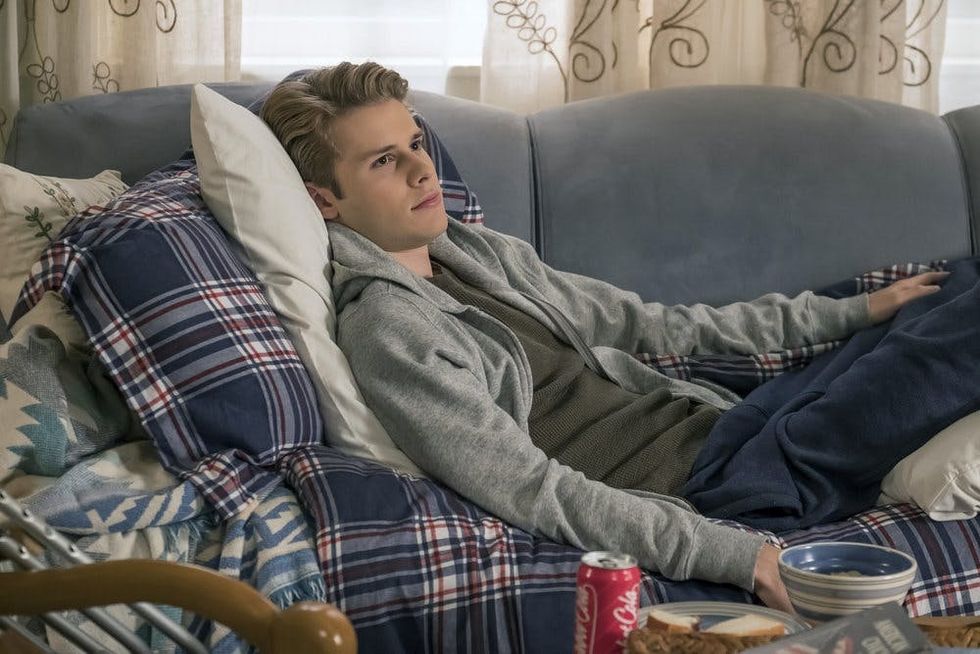 We'll go back to the immediate aftermath of Jack's death.
Co-showrunner Issac Aptaker told
Glamour
that one of the stories they're most excited to tell in season 3 is what happened to the Big Three in the first year after Jack's death. "I'm really excited to dig into this period that we haven't touched, which is this seminal year for the Big Three after the death of their father," Aptaker said this past winter. "It happened in February of their senior year of high school, which is a seminal time no matter what. They also had this tragedy occur, which affects the rest of their lives, so we're going to dive into that year where there are so many stories to tell about the decisions they make, and the way they react to their father's death shaped the trajectory for the next 20 years of their lives." (Photo via Ron Batzdorff/NBC)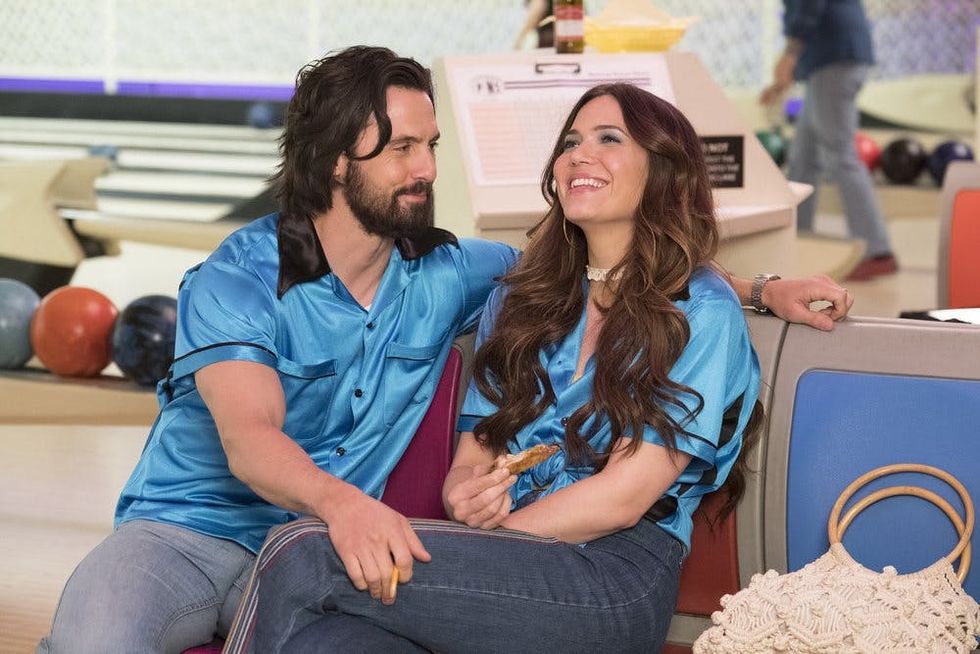 We'll see the early days of Jack and Rebecca's romance.
A sneak peek at the season 3 premiere
reportedly
showed Jack and Rebecca's first date at a carnival. And Moore told
TV Guide
that we'll be "getting a fuller picture of who Jack and Rebecca were when they first started dating," which both she and Ventimiglia are excited to portray. "On the positive side, we get to see Jack and Rebecca's budding love — their courtship," Ventimiglia told Jimmy Fallon in August. "There's a lot of that." (Photo via Ron Batzdorff/NBC)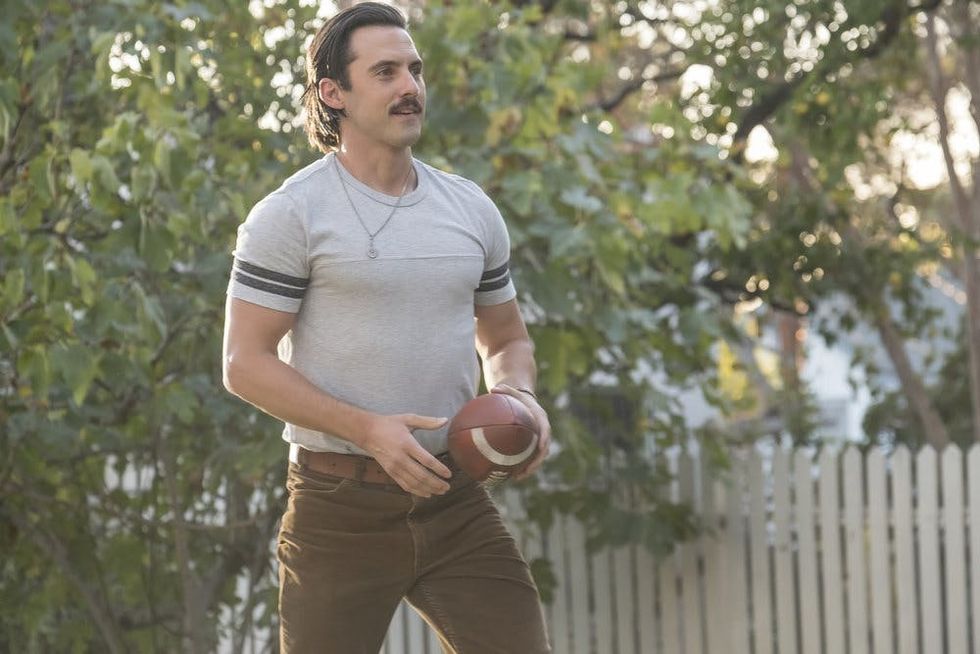 We'll also journey further into Jack's past, pre-Rebecca.
In April, Ventimiglia told
People
that the new season will explore Jack's time in Vietnam. "At the end of the Super Bowl episode when people were ultimately confronted with how he passed away, there was a trailer to show Jack in a helicopter over Vietnam in uniform," Ventimiglia explained. "We're going to explore that side of Jack's 20s and what brought him into the man that we all knew." (Photo via Ron Batzdorff/NBC)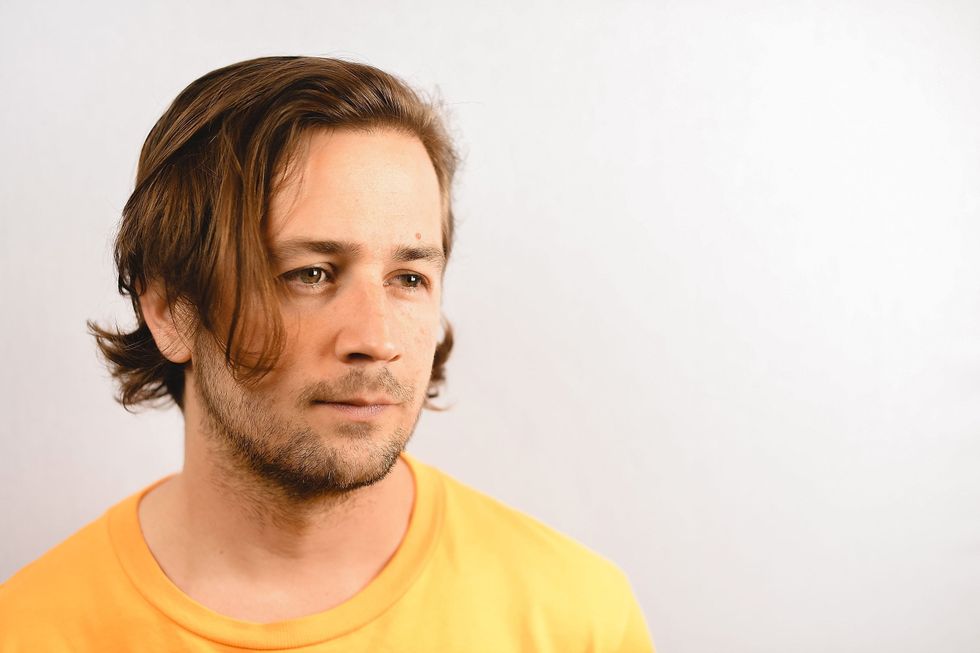 We'll meet Jack's little brother, Nicky.
At the show's FYC panel discussion in August, Fogelman announced that Michael Angarano had been cast in the role of Jack's younger brother. Angarano himself later
tweeted
about the news, writing, "I am beyond grateful and very excited to be a part of this show — my grandmother even told her dentist." We're not entirely sure which parts of the timeline will feature Angarano/Nicky, but we suspect he'll figure into the period Jack spent in Vietnam. Spoiler alert: Nicky didn't return from the war. (Photo via Matt Winkelmeyer/Getty for SXSW)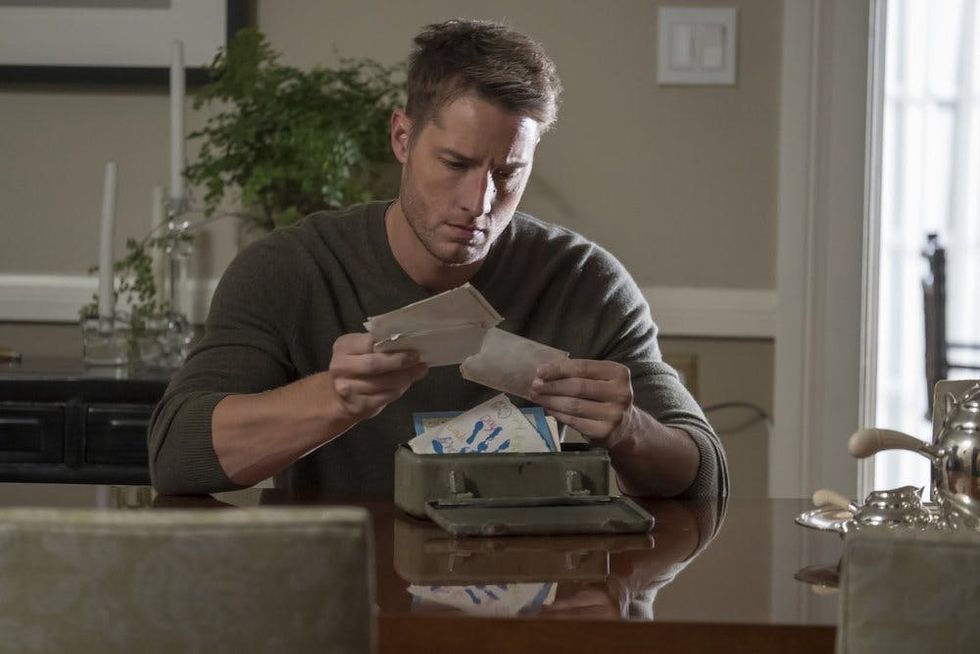 Kevin will make some "shocking" discoveries about his father.
As we saw in the season 2 finale, Kevin takes a trip to Vietnam to try to find out more about Jack's time there. And what he uncovers is "super heartbreaking," according to Hartley. The actor told
Entertainment Weekly
that the trip is going to "jar a few things" for his character. "It's not what anyone is expecting," he said. "No one is going to see it coming. It's ambitious stuff." (Photo via Ron Batzdorff/NBC)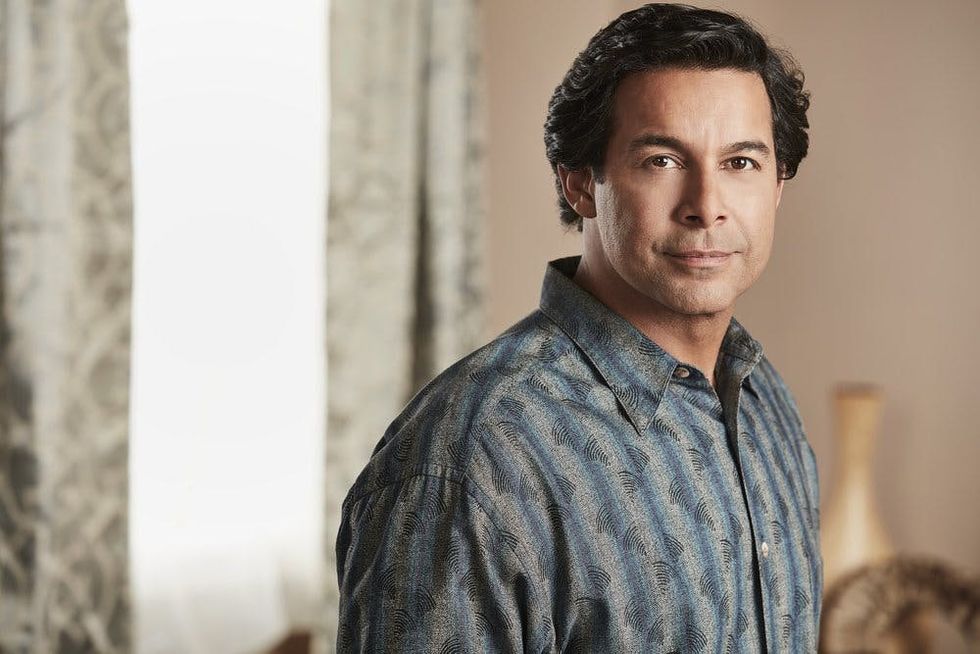 We'll get to know (and maybe even like?) Miguel.
Fogelman told
Deadline
that Rebecca's relationship with Miguel (Jon Huertas) — which has been very polarizing among fans of the show — will be a big part of the upcoming season, especially as the series gets further into the aftermath of Jack's death. "You're seeing the beginning of a storyline where Miguel starts trying to help this family along, this character who has always been polarizing," Fogelman explained. "I think last season, people actually started to love him, and then started to hate themselves for loving him. But then they gradually figured out that this guy really has done nothing untoward and is a guy trying to do the right thing. We're going to dive deeper into that this season and begin this long play of making people actually start rooting for Miguel in a serious way." (Photo via Maarten de Boer/NBC)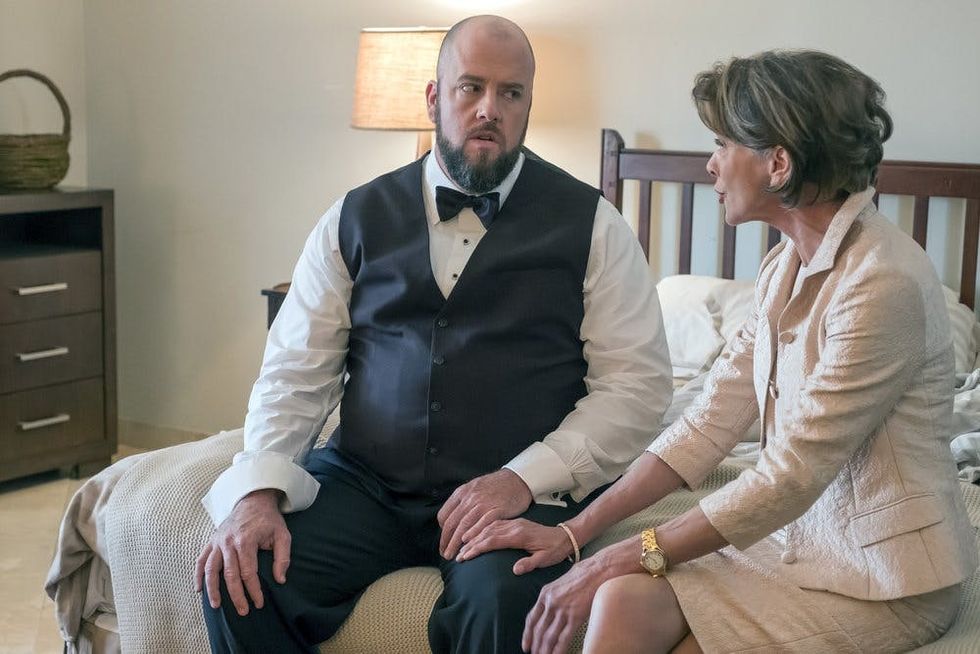 We'll get some insight into Toby's depression.
A flash-forward at the end of season 2 showed Toby unable to get out of bed, seemingly in the throes of depression, which he previously battled toward the end of his first marriage. We don't yet know about the events leading up to the flash-forward, but co-showrunner Elizabeth Berger says we'll learn more soon. (We'll also find out why his brother didn't attend his wedding.) "Moving forward as we get to know Toby better in season 3, we're definitely going to be exploring his family and his relationships in a deeper way," Berger told
Entertainment Weekly
. "Kate and Toby will be thrust into some stressful situations as we move forward, and that will definitely have an impact on Toby's state of mind." (Photo via Ron Batzdorff/NBC)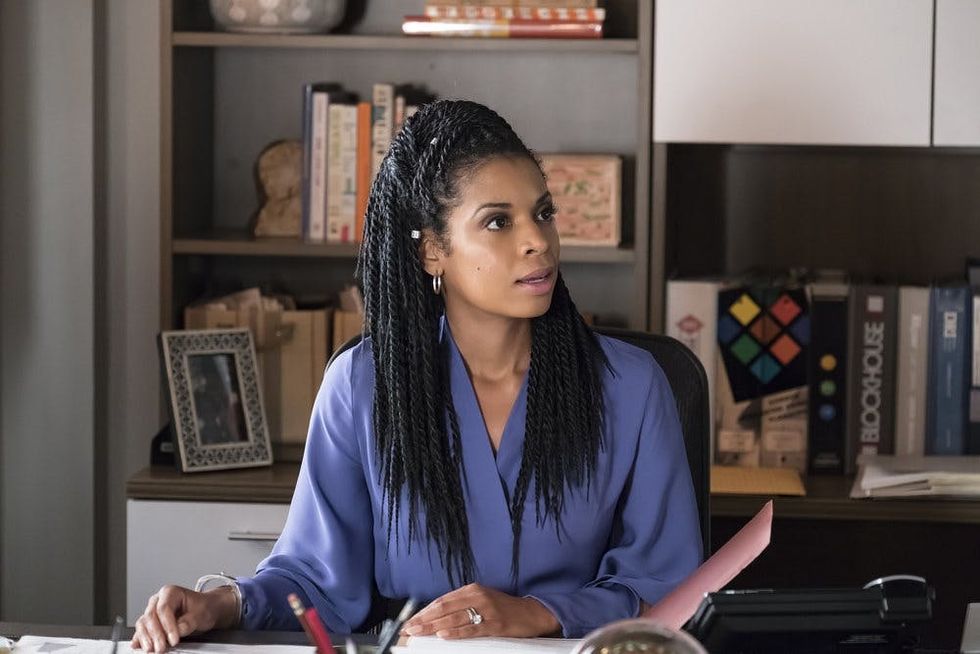 We'll find out more about Beth's backstory.
While some fans worried that the mysterious flash-forward with Randall and Tess in the season 2 finale was a hint that
This Is Us
planned to kill off Beth in an upcoming episode, Susan Kelechi Watson told
TV Guide
that her character is very much alive in season 3. In fact, Fogelman has planned an entire episode dedicated to Beth. "We have some stuff coming for Beth right away early in season 3 where you really learn about her and where she comes from and what her background is that I think is going to be really exciting for the audience," he told
E! News
in May. (Photo via Ron Batzdorff/NBC)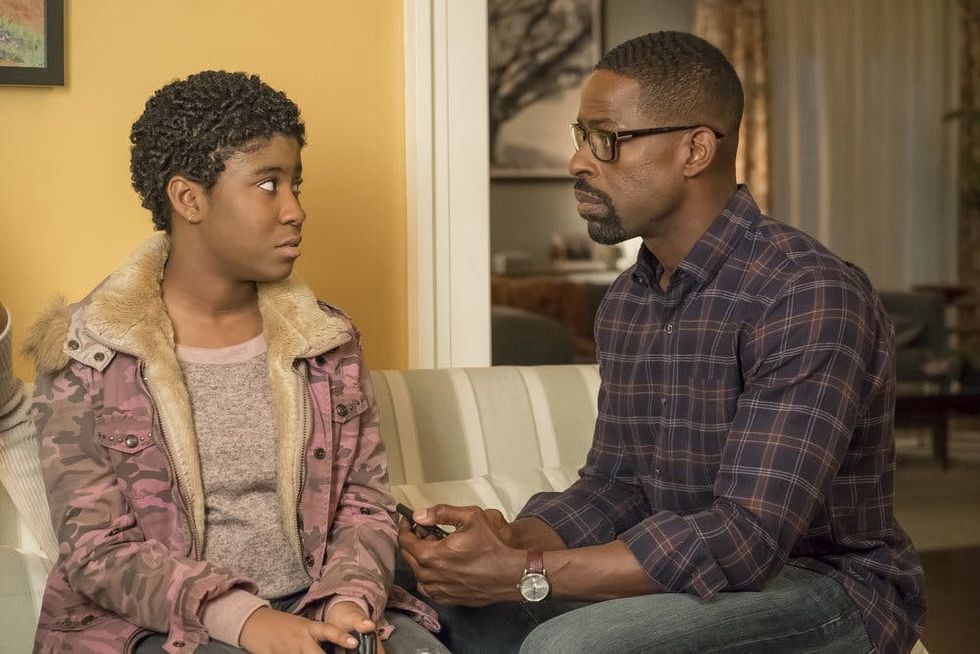 We'll also get some information about Deja's father.
There's been some speculation that although Deja's mother gave up her parental rights, her birth father may come into play at some point. "Obviously, Deja has had almost no relationship with him, but she may know more about him than we previously let on," executive producer Elizabeth Berger told
Entertainment Weekly
. (Photo via Ron Batzdorff/NBC)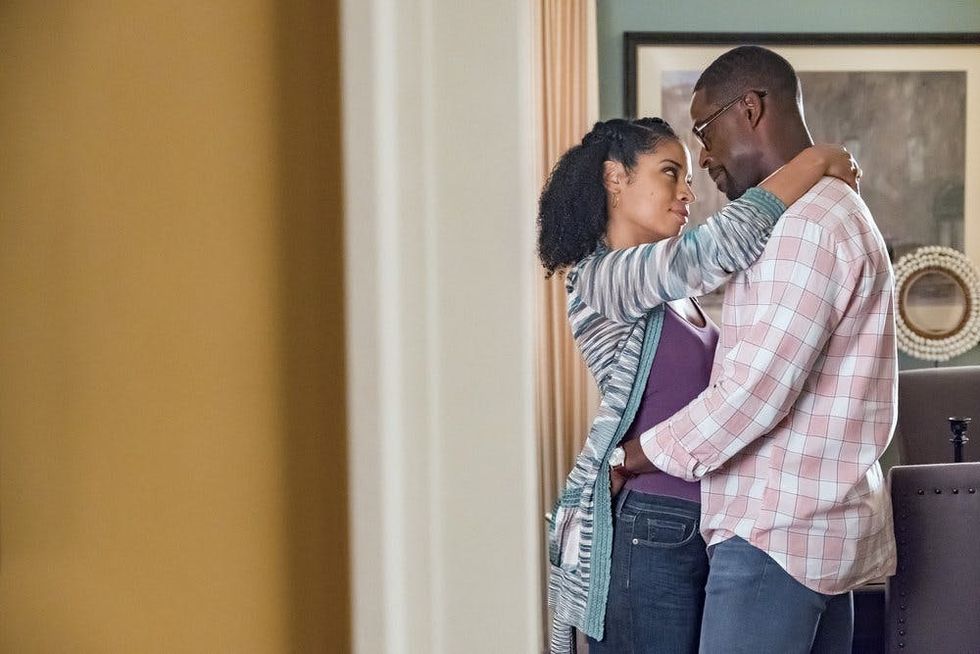 Randall and Beth may hit a few bumps in the road.
The usually rock-solid couple will be dealing with a lot this season, including Deja's reappearance in their lives and Randall's decision to buy an old apartment building, and according to Brown, the stress will take a toll. "There will be a bit of an exploration of marriage with regards to Randall and Beth going through times that aren't all sunshine and rainbows," Brown told
People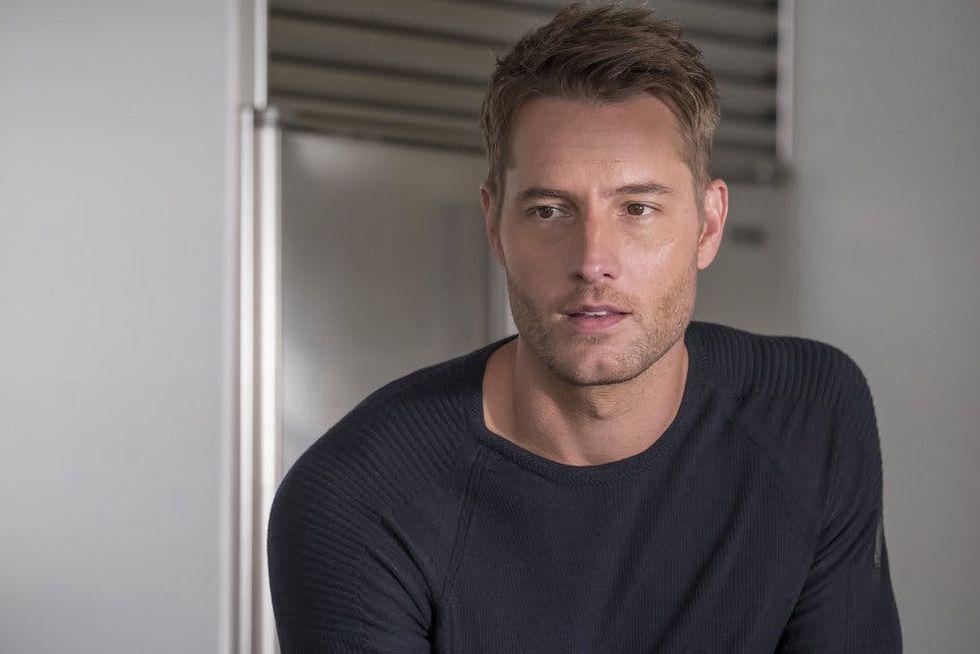 Kevin and Zoe's relationship will be explored in more detail.
Fans were surprised to see Zoe (Beth's cousin, who's more like a sister to her) cuddled up with Kevin at the end of season 2 — but no one will be more surprised than Beth. "There's a very interesting familial dynamic there, as well as a racial dynamic that's going to be interesting to explore," Fogelman said at a SXSW panel last spring. (Photo via Ron Batzdorff/NBC)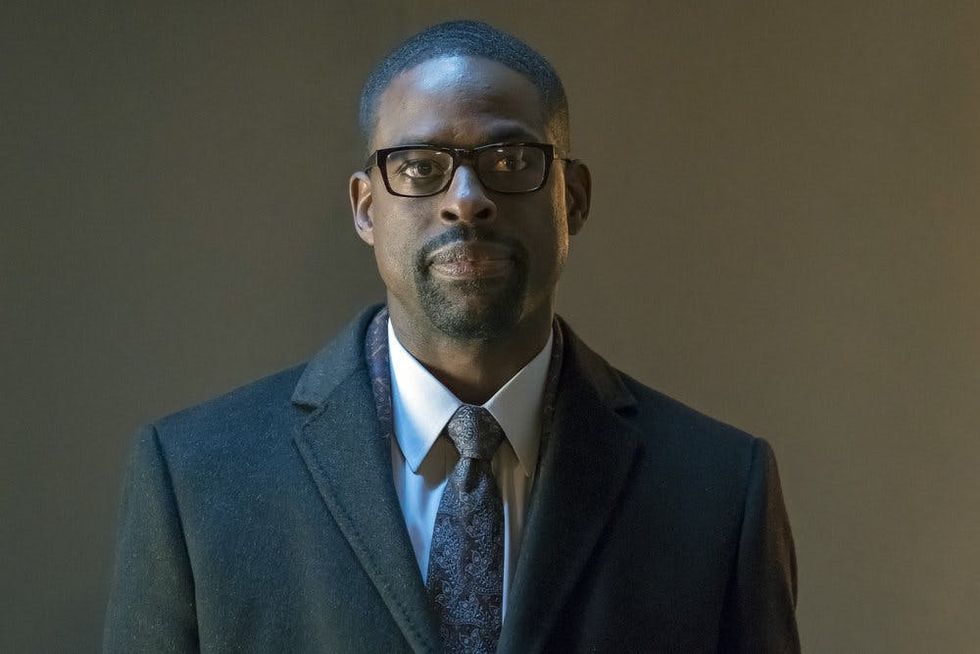 That Randall and Tess flash-forward will eventually make sense, but there are going to be some complications along the way.
Fogelman told
Entertainment Weekly
that the Randall-Tess mystery — which he called the show's "ending timeline" — will unfold over the course of the season. "The mystery is actually informing a lot of stuff that has happening in the present day as well," he explained. "The interesting part is in the course of the season as we mention this mystery, we're going to be putting a lot of those things in the stories that it's not. So it's not just one — estrangement, death, love, marriage — all those things are part of jumping a family [deep] into the future. The question isn't just who's estranged, or who's in prison, or any of the other theories that I've heard from people, it's about where are all the other characters at that point in their lives." (Photo via Ron Batzdorff/NBC)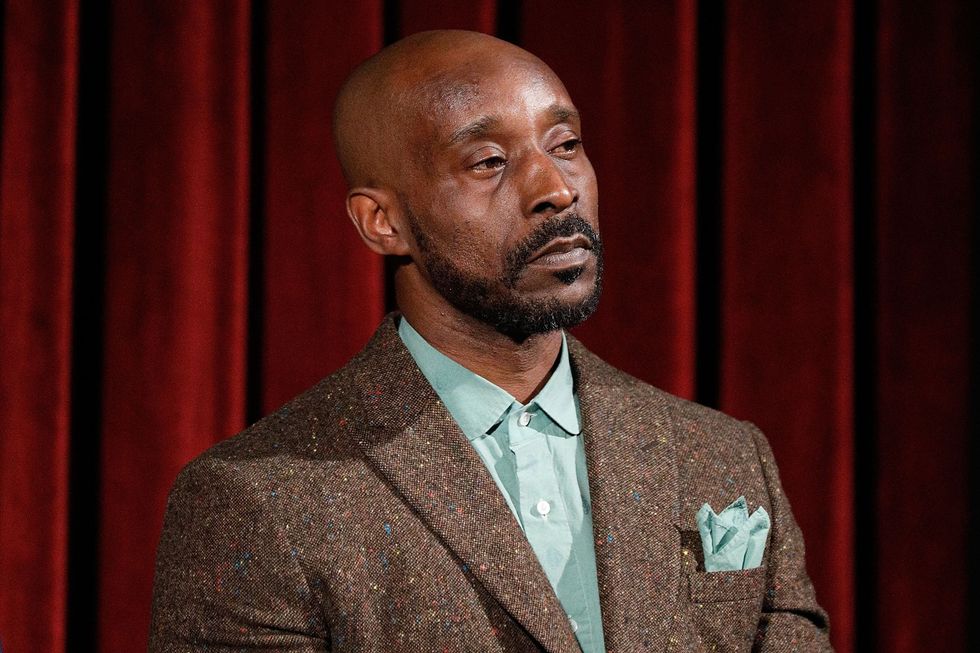 Rob Morgan will have a recurring role.
Morgan, best known for his work in
Mudbound
, will play city councilman Solomon Brown, according to
The Hollywood Reporter
. Brown oversees the district where William used to live.
"Someone starts entering the world of local politics," Fogelman told
THR
. "It's nothing big and national — nothing Republican vs. Democrat or left vs. right — but we're going to dive into some community hot political waters with a surprising character." (Photo via Lars Niki/Getty for The Academy of Motion Picture Arts & Sciences )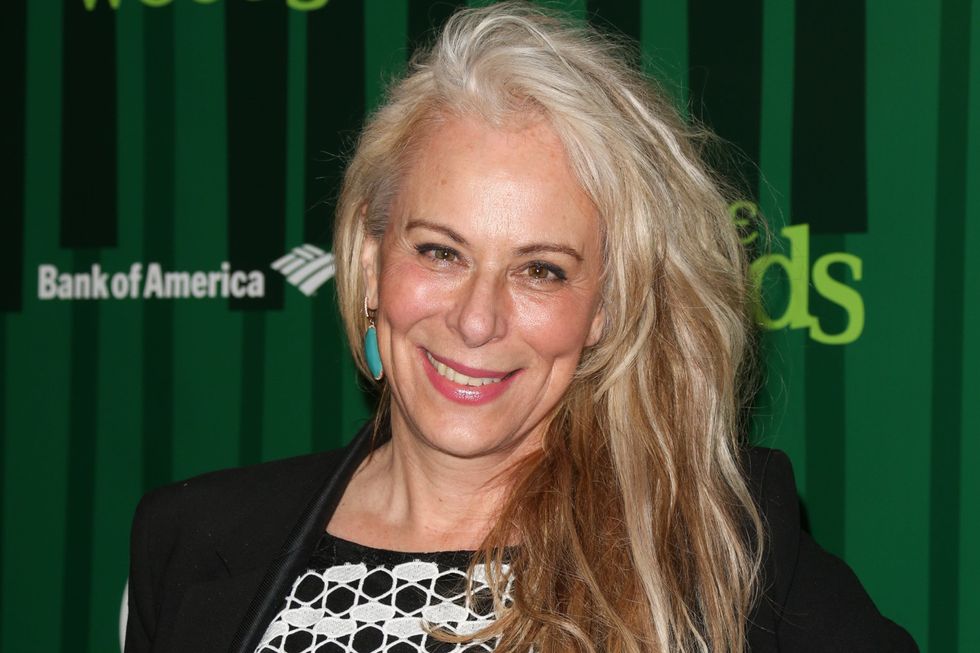 Jane Kaczmarek will guest star on an upcoming episode.
According to
Entertainment Weekly
, the
Malcolm in the Middle
actress will play an "intelligent, warm, and down-to-earth" college professor. It's not yet known how she'll fit into the story. (Photo via Paul Archuleta/FilmMagic)
Kat Armstrong
Kat has been a writer, social media maven and mom for longer than she's willing to admit. She's also spent time in front of and behind the camera, interviewing celebs, politicians and acting as a producer for fashion and artistic photography shoots. When she isn't writing for various orgs and publications, she's hanging with her kids, husband and French Bulldog, Peter, in Toronto, Canada.
TV