Why You *Need* to Follow the US Women's Soccer Team Beginning Immediately
Jun 27, 2018

Ladies First highlights women and girls who are making the world better for the rest of us.
---
*
As attentive soccer fans (or anybody who pretends to be one every four years), you probably know that the US men's soccer team didn't qualify for this year's World Cup. You also probably know that it's the first time in 30 years this has happened. It's disappointing to not be represented in the World Cup — some fans won't watch if their country isn't playing — but it's frustrating when you know that the men get paid more than the women, who have consistently performed better.
After the US Women's National Team (USWNT) won the Women's World Cup in 2015, the team filed a federal complaint with the US Equal Employment Opportunity Commission charging the US Soccer Federation with wage discrimination.
The team launched an Equal Play, Equal Pay campaign, but that's not what they received. In April 2017, almost a year after they went public with their complaint, the USWNT reached an agreement with the US Soccer Federation.
The New York Times reported that the agreement would include a more than 30 percent increase in base pay for the players, in addition to matching bonuses that could double some of their incomes to $200,000 to $300,000 in any given year, and potentially more if that year contained a World Cup or Olympic campaign — a major win, but still not the guarantee of equal pay with the men's team that they'd asked for.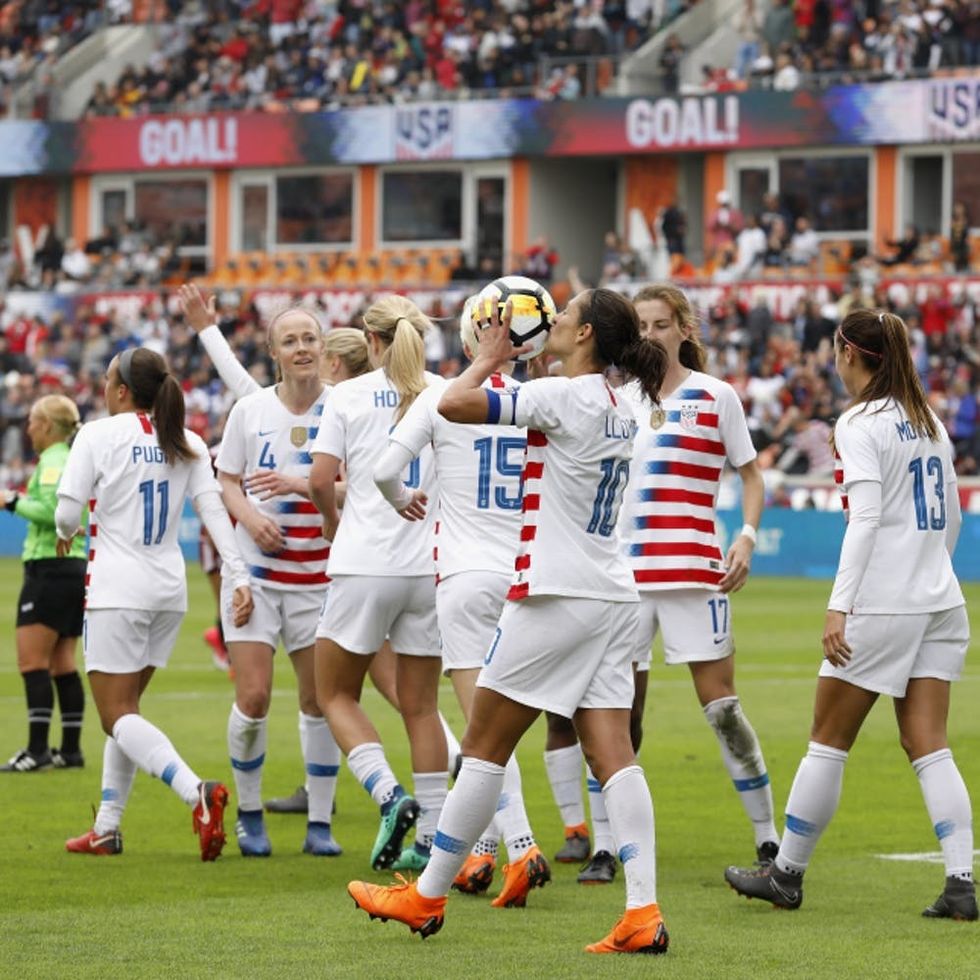 The USWNT is now a year away from their next World Cup with a new salary intact, but the EEOC complaint hasn't been dropped, which could very well mean that this discussion isn't over.
Becky Sauerbrunn, the defender for the US Women's National Soccer Team who also plays for the Utah Royals, is still incredibly passionate about the equal pay debate. She knows that it goes beyond soccer and is proud to be a visual representation of the fight for it.
"I think the agreement that we made with the Federation was a stepping stone in the right direction. We didn't close the gap completely, but it's a good first step that we're still building on," says Sauerbrunn.
She describes the year leading up to the World Cup as "absolutely crucial." Before the US women's soccer team can compete in next year's event, they'll be competing in the CONCACAF Women's Championship in October, hosted by the US. It's a significant series of games; three teams from the CONCACAF Championship automatically qualify for the 2019 FIFA World Cup. However, it comes right after the National Women's Soccer League season ends. Due to the fact that the majority of the national team also plays on club teams, their time training together as one is actually very limited.
"We need to quickly be able to shift focus knowing that we're preparing for the qualification process. We know from watching the men's team that you can't take anything for granted. Any team could win at any moment."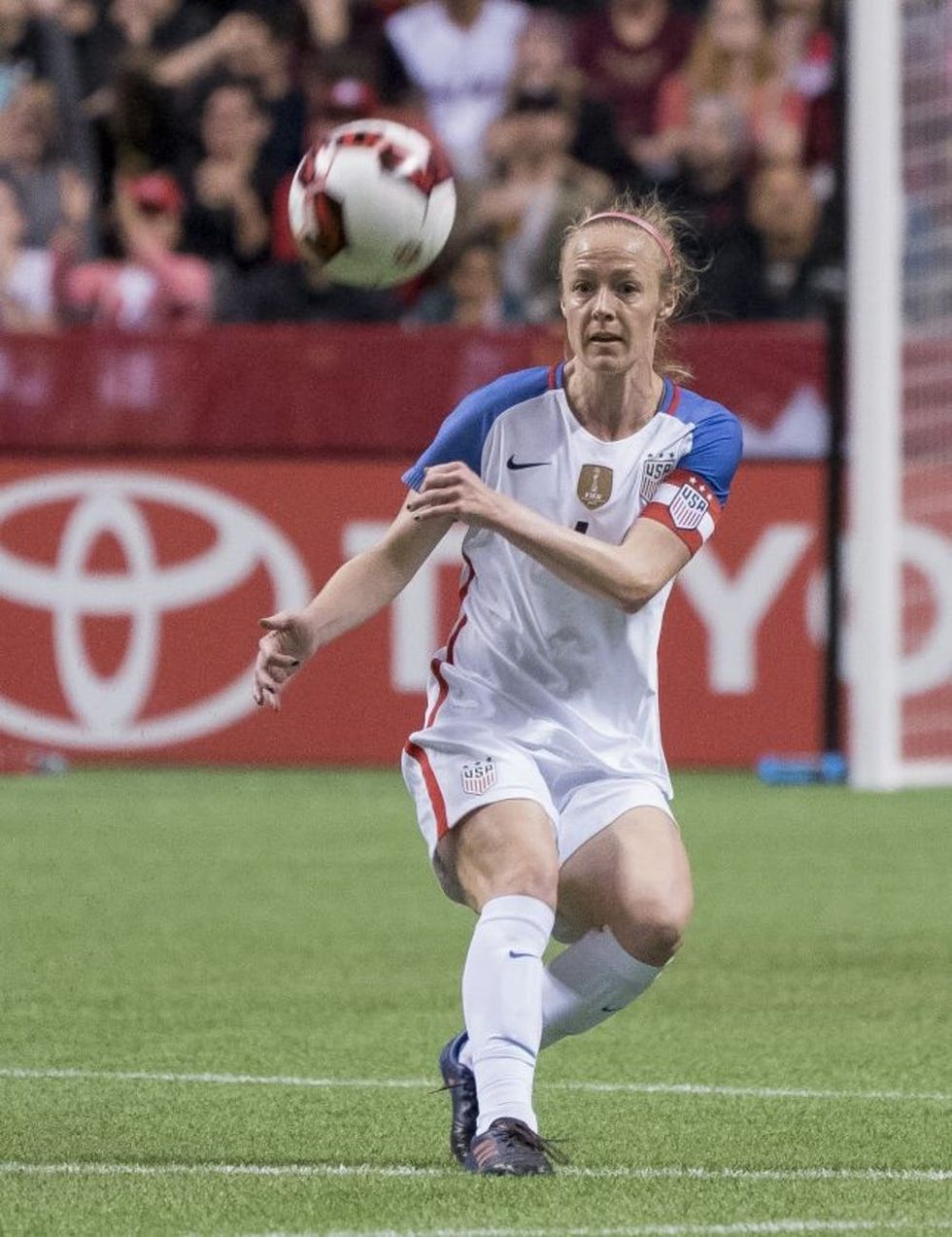 In a statement provided to Brit + Co by the USWNT, Coach Jill Ellis acknowledged that despite the team's top ranking, the competition in women's international soccer is increasing. Her approach has been to allow newer and veteran players an equal opportunity to show what they can offer to the team's future and eventually decide what the best combination looks like.
"We want the best personnel. We're not just experimenting without purpose," said Ellis.
All that Sauerbrunn asks of soccer fans is to show up, whether that be at a live NWSL game or by tuning in to Lifetime or ESPN.
"If we're successful, if we draw high attendance and high viewership, it helps to show the value that we can bring to the federation and the sponsors. It will also draw more eyes to the issue, which is what we want," she explains.
She also encourages fans to learn more about the players and their interests off the field. Sauerbrunn is currently Playing for Pride to raise money for LGBTQ+ rights in sports and had previously worked to raise money and awareness for youth homelessness as she helped send young soccer players to the Street Child World Cup in Moscow.
"You find that the players on the women's side have a lot of interests and a lot of motivation to make a difference," she says.
It's no doubt that the USWNT have faced their fair share of challenges — or at the very least one big challenge — but they continue to play and perform to the highest of standards. They've influenced female athletes, both nationally and internationally, to take up the same fight and have made an impact on the athletes of younger generations.
America might have missed its chance at this World Cup, but it would be foolish to think that our chances aren't higher next year. And as fans, it's time to accept that the potential for victory happens to be thanks to a team of women.
How will you be supporting the USWNT? Tell us @BritandCo!
(Photo by Tim Warner + Rich Lam / Getty)
Natalie Zisa
Natalie Zisa is a freelance writer based in New York City. When she's not writing about inspiring women, she's pursuing dance professionally. Otherwise, you can find her searching for free fitness classes, lip syncing to her favorite Italian music, and enjoying her mom's homemade pizza. If she could interview one person, it would be Chelsea Handler.
Empowerment