The Silkiest Vegan Cashew Cream Sauce — and 9 Ways to Use It
Dec 28, 2017

---
If you don't eat dairy, cashews are your BFF in the kitchen. They'll satiate any creamy craving — and you'll never miss the milk, cream, or butter. When it comes to creaminess, they simply can't be beat, which is why we use them as the basis for our favorite vegan cream sauce. Silky smooth and easy to make, this sauce is absolutely irresistible. Drizzle it over stuffed squash or rainbow pasta, or, since it's dairy-free, serve it with your favorite Whole 30 recipes. (Oh, and it's gluten-free too!)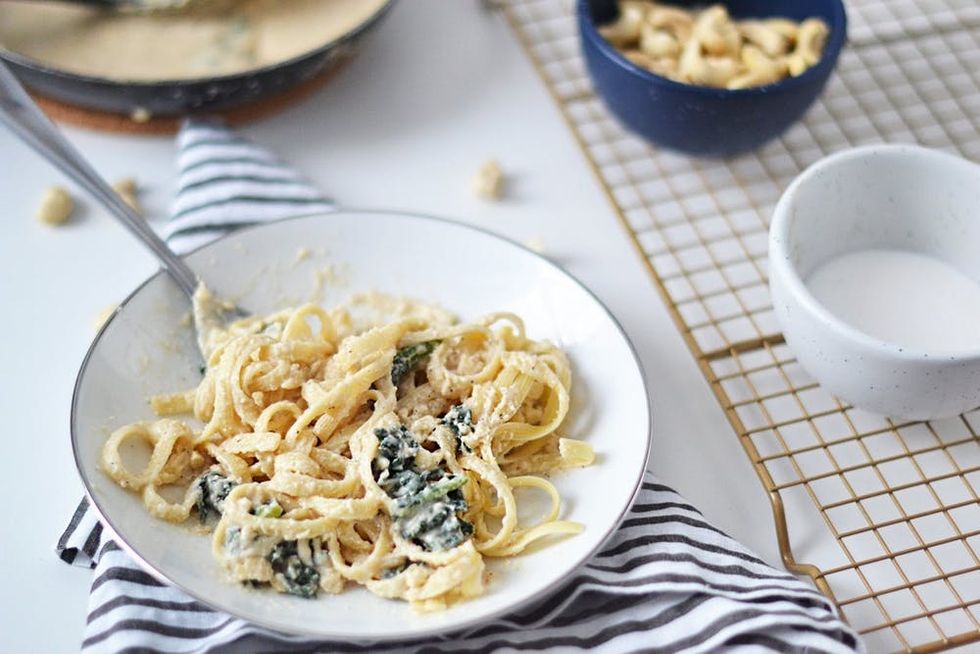 Here's the recipe:
Cashew Cream Sauce
*If you have a high-powered blender, you only need to soak your cashews for 30 minutes. If your blender isn't very strong, you'll need to let them soak longer. Make sure you're using raw, unsalted cashews in this recipe (see above). Roasted or salted ones won't work.
If you can't stop eating this sauce, you're not alone. Thankfully, it's easy to customize. Here are some of our favorite ideas:
9 Variations on the Cashew Cream Sauce
Caramelized Onions
Thinly slice two onions, and cook with 1/2 teaspoon dried thyme over medium-low heat in two tablespoons olive oil for 45 minutes, until golden brown and richly flavored. Season to taste with salt and pepper, then fold into the cashew sauce. Serve over spinach-herb fettuccine or with crusty bread for dipping.
Roasted Garlic
Swap in one head roasted garlic for the fresh garlic. Toss with zucchini noodles.
Roasted Red Peppers and Capers
Purée two roasted red peppers with the sauce ingredients, then fold in one tablespoon capers, drained. Drizzle over orzo.
Smokey Chipotles
Stir in or purée 1/2 cup chipotle salsa. Drizzle over refried beans and rice or over burritos.
Herbed Mushrooms
Sauté one pint mushrooms in one tablespoon olive oil with two tablespoons chopped fresh rosemary until fragrant and dark brown. Fold into the sauce along with one teaspoon Dijon mustard, and serve with thick, wide noodles or over mashed potatoes.
Pumpkin-Sage
Sauté two tablespoons freshly chopped sage leaves in two tablespoons olive oil until crispy and fragrant. Stir in 1/2 cup pumpkin purée, then add the sauce. Serve with gnocchi.
Fresh Herbs
Stir in 1/2 cup chopped fresh herbs — such as cilantro, parsley, or basil — just before serving. Serve with steamed redskin potatoes.
Beets
Purée one small roasted beet with the sauce ingredients, along with one teaspoon dried dill. Serve with lentils and quinoa.
Spinach-Artichoke
Before heating the sauce, stir in one bag frozen artichoke hearts and one package frozen spinach, thawed and squeezed dry. Cook over low heat until bubbly. Serve with tortilla chips or baguette slices.
Get more recipe inspiration by following us on Pinterest.
Stepfanie Romine
Stepfanie Romine is a journalist turned ACE-certified health coach, yoga teacher, and freelance writer who lives in the mountains of North Carolina. When she's not writing about health and wellness or developing recipes, Stepfanie loves trail running, hiking, and yoga — and exploring all the food and health trends Asheville has to offer. She has co-authored and contributed to several books about healthy living, and her most recent is "The No Meat Athlete Cookbook." Find more from Stepfanie on her blog, The Flexible Kitchen, or on Facebook or Instagram.