These 4 Brides Will Make You Want to Go Vegan for Your Wedding
Jun 29, 2015
Wedding planning can make any girl want to run off and elope. Throw your vegan lifestyle into the mix, and there is a lot more to consider beyond the cutest wedding favors ever. If you're wondering how you'll have the best cake tastings if your local bakery has no idea what a vegan cake is, have no fear. Four vegan brides (two of them are sisters!) share their best advice for celebrating a cruelty-free ceremony in style. From dealing with your strictly carnivore parents to finding the right vegan-friendly makeup, you'll be strutting down the aisle with animal-friendly flair.
---
Creating a Delicious Vegan Menu
If you're worried about what your non-vegan friends, family or crazy uncle will say about your meat-free bash, vegan bride Jaya Bhumitra says, "You may hear competing opinions from your friends and family about whether or not the menu should be vegan. Some may suggest that you offer non-veg options for your guests. But this is your day, and it should be a celebration of love and compassion — the love you share with your partner and the compassion you extend to all animals. It's not too much to ask your guests to eat vegan for one meal. Especially when vegan food can be so decadent and delicious!"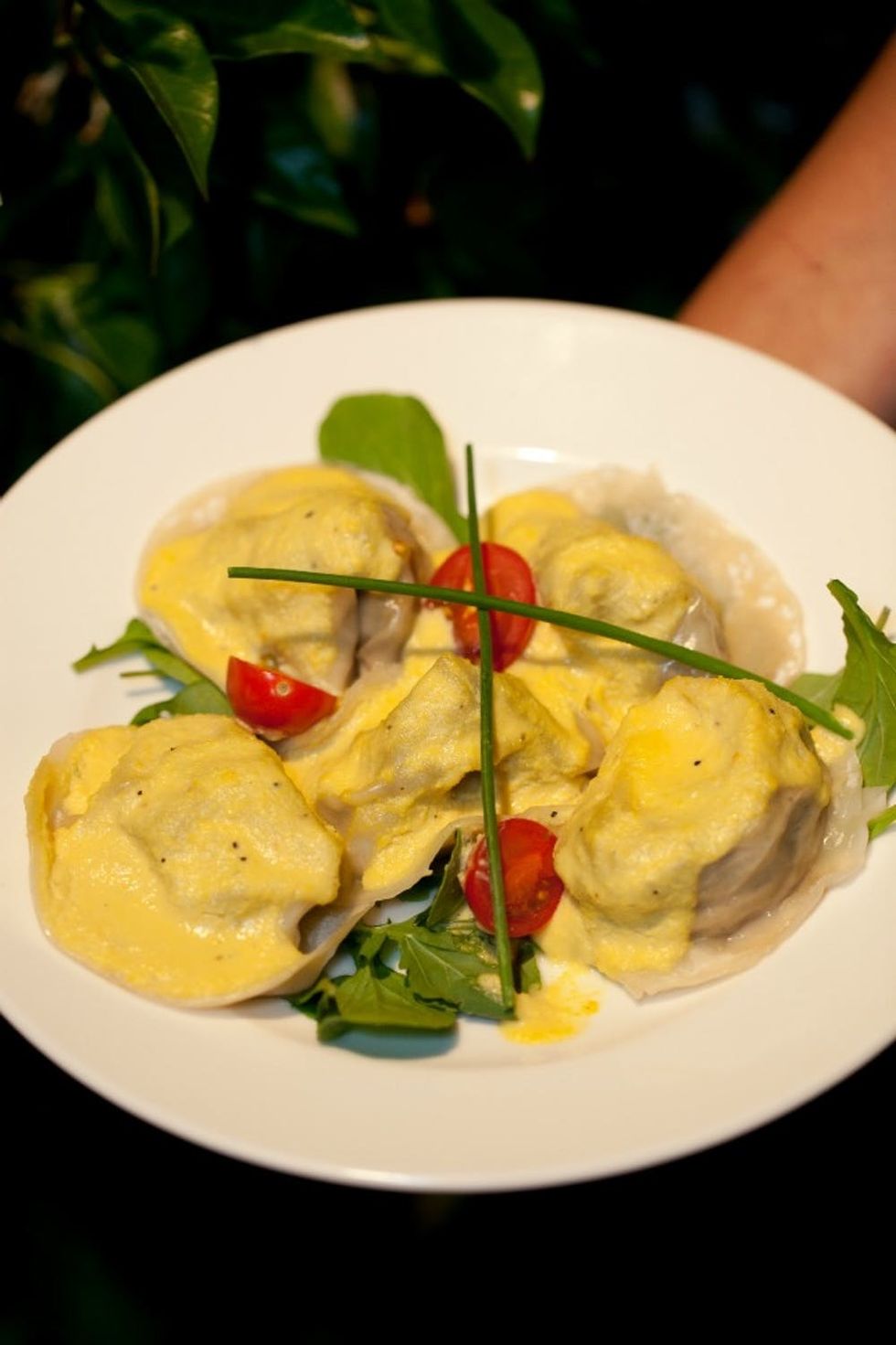 (Jaya and Chris's vegan artichoke tortellini. Photo via The Long Haul)
Jaya and her husband Christopher wanted to showcase their favorite foods on their wedding day, so rather than choosing a venue first, they picked out the food first, designing a menu from The Conscious Cook cookbook and then finding a venue willing to make the menu. Says Jaya, "Chef Larry at La Venta Inn was open minded about using our recipes and eager for the challenge." The wedding day menu included artichoke tortellini with saffron cream sauce and pine-nut-and-basil-seared Gardein chick'n breast with lobster mushroom beurre blanc. The cocktails were also a big hit: Happy Daze (Maker's Mark and Virgil's cream soda) and Tickled Pink (Veuve champagne and guava juice).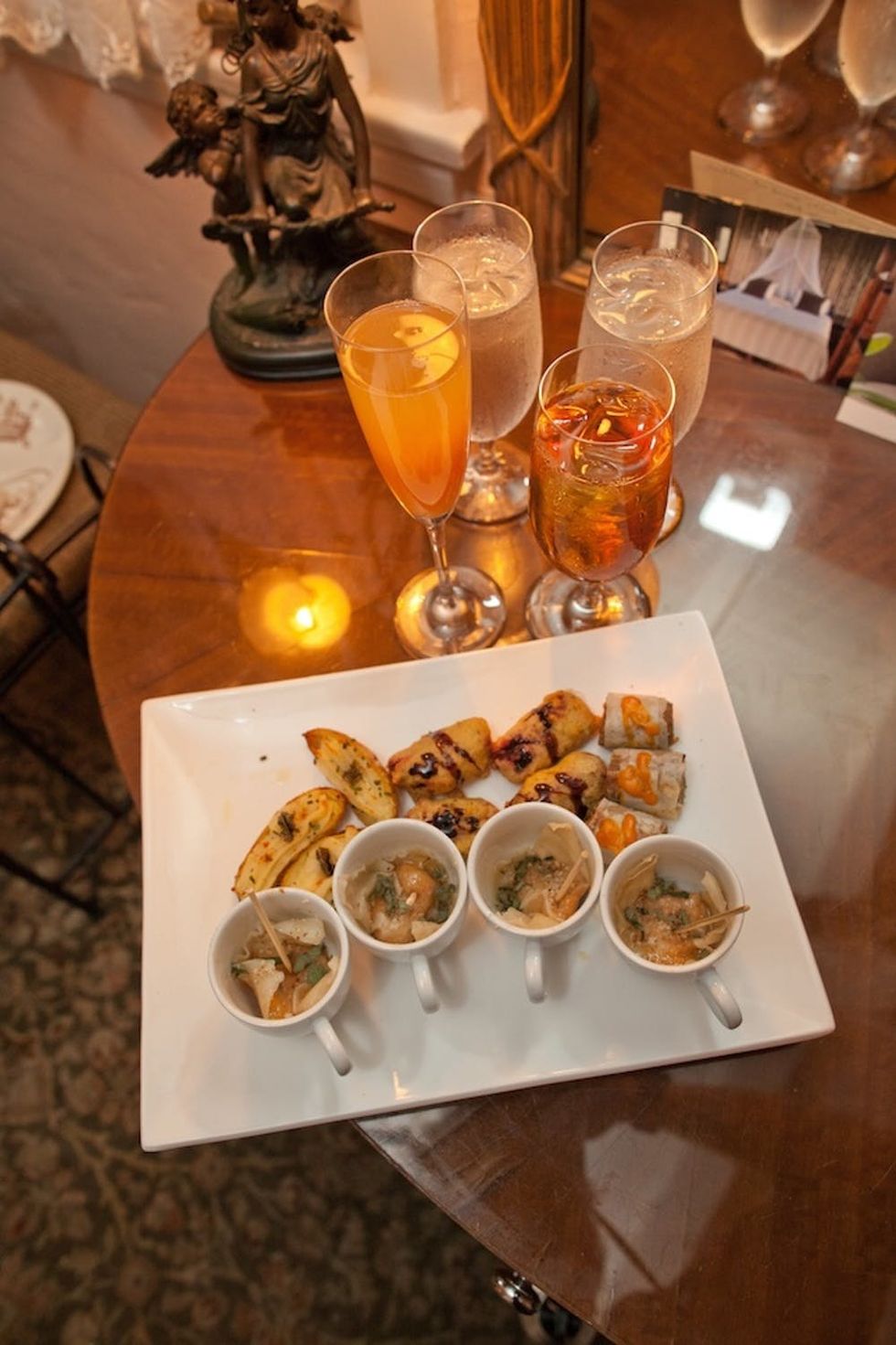 (Jaya Bhumitra and Christopher Locke's vegan appetizers. Photo via The Long Haul)
Sisters Heather Goldberg and Jenny Engel are experts at creating amazing vegan dishes as the co-owners of Spork Foods, a plant-based cooking class company. Spork Foods launched a partnership with Eco Caters, "who create all-organic and local dishes in LA, San Diego and Washington DC," says Heather. For Heather's wedding, Eco Caters created her ideal comfort food menu complete with vegan mac and cheese, grilled corn with whipped maple herb butter and a fully loaded Cobb salad. Any LA-based vegan or vegetarian bride and groom interested in working with Eco Caters can check out this blog post the Spork sisters put together of venues that partner with Eco Caters (plus a ton of other great wedding advice!).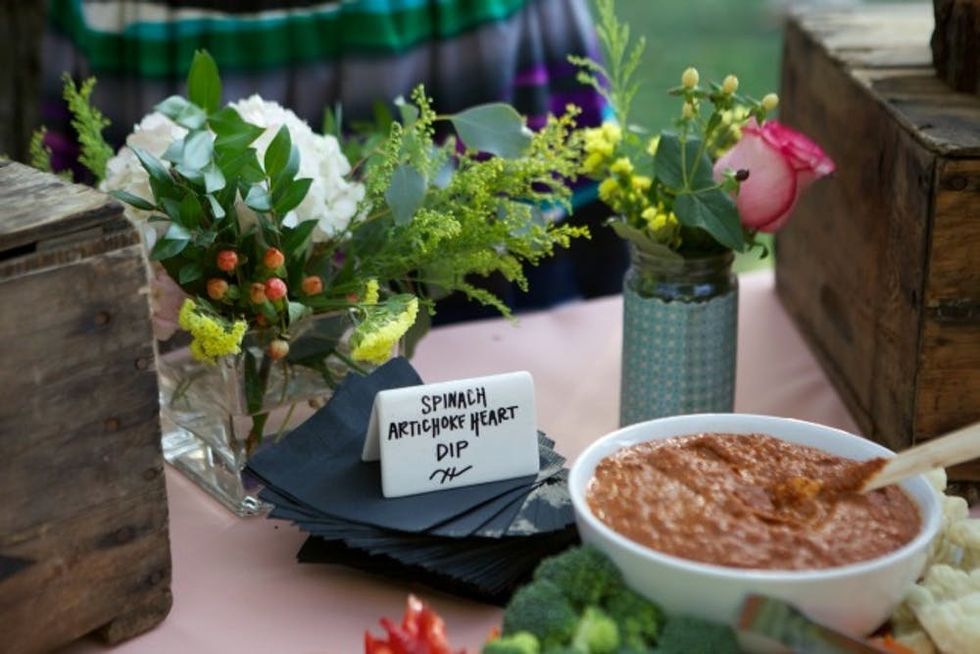 (Heather Goldberg's appetizers. Photo via Klose Up Photography)
The sisters suggest choosing vegan dishes that appeal to a large crowd. Says Jenny, "If you want your cuisine to blend well with a non-veg crowd, go for bean or veggie-based dishes and leave out the tempeh or seitan. We always love pushing the boundaries a bit, so if you're feeling adventurous, throw in just one super interesting item like jackfruit that people haven't tried before but will love at your wedding. It will help to open their eyes to new ways of thinking about food."
For Jenny, the highlight of her menu was the tofu feta croquettes with a cashew herb cream that the caterer made from her and her sister's cookbook, Spork-Fed. "It was so much fun to see all of our friends and family at the buffet, all enjoying this beautiful vegan meal together. What is better than that?"
Selecting a Vegan-Friendly Venue and Vendors
If you're worried that your ideal venue won't be willing to go all vegan for your big day, get creative, suggests Laura Beck, who recently married her best friend in Los Angeles. "You don't necessarily need to get married in a hotel and use their caterers. What about getting married in your favorite restaurant? Or do a rec hall and a food truck? Or a backyard shindig that you and your friends cater? Any vendor worth their salt will be able to work with you. The wedding industry in an enormous behemoth. There will be someone even more awesome who will beg to work with you."
(Laura's vegan Bananas Foster wedding cake by Bramble Bakeshop. Photo via @IsaChandra)
Laura and her husband Jonas made a list of their best-loved places to eat and worked with those vendors to create their ideal wedding weekend. Says Laura, "We chose a vegan-friendly food truck for the Friday-night welcome party (and asked them to do all vegan), a vegan-friendly brewery for the actual event (who worked with our custom menu) and brunch at a favorite vegan restaurant (who were happy to work within my budget)." Laura suggests making a list of what you love and work off that list. "Maybe your cousin makes amazing vegan cupcakes and she would do a couple hundred for your wedding if you paid for ingredients. Or maybe your friend makes amazing vegan deviled eggs and she'd love to make some for your reception. People WANT to help you with your wedding (and if they don't want to, they'll politely decline), so let them."
Suggests Jenny, "If you're planning to use a venue that already comes with a caterer, just see if they're open to creating vegan dishes or if they see it as a thorn in their side. As long as they have an open mind, they will put in the time and effort needed to make your food great. If that seems like too much trouble, go with a caterer that already knows about vegan food and can make it well. Often times, if you know which caterer you like, they can lead you to a venue that they partner with — so it can work both ways."
The Wedding Dress and More
For gals who abstain from wearing animal products, such as silk, wool and leather, finding the ideal dress for the big day can seem like a challenge. Laura went to a boutique and explained what she meant by a "vegan" wedding dress, and they were able to show her some styles. For inspiration, Laura suggests the Ethical Bride's Pinterest board, which is full of gorgeous vegan-approved gowns and tons of other eco-friendly options for shoes, invitations and bouquets.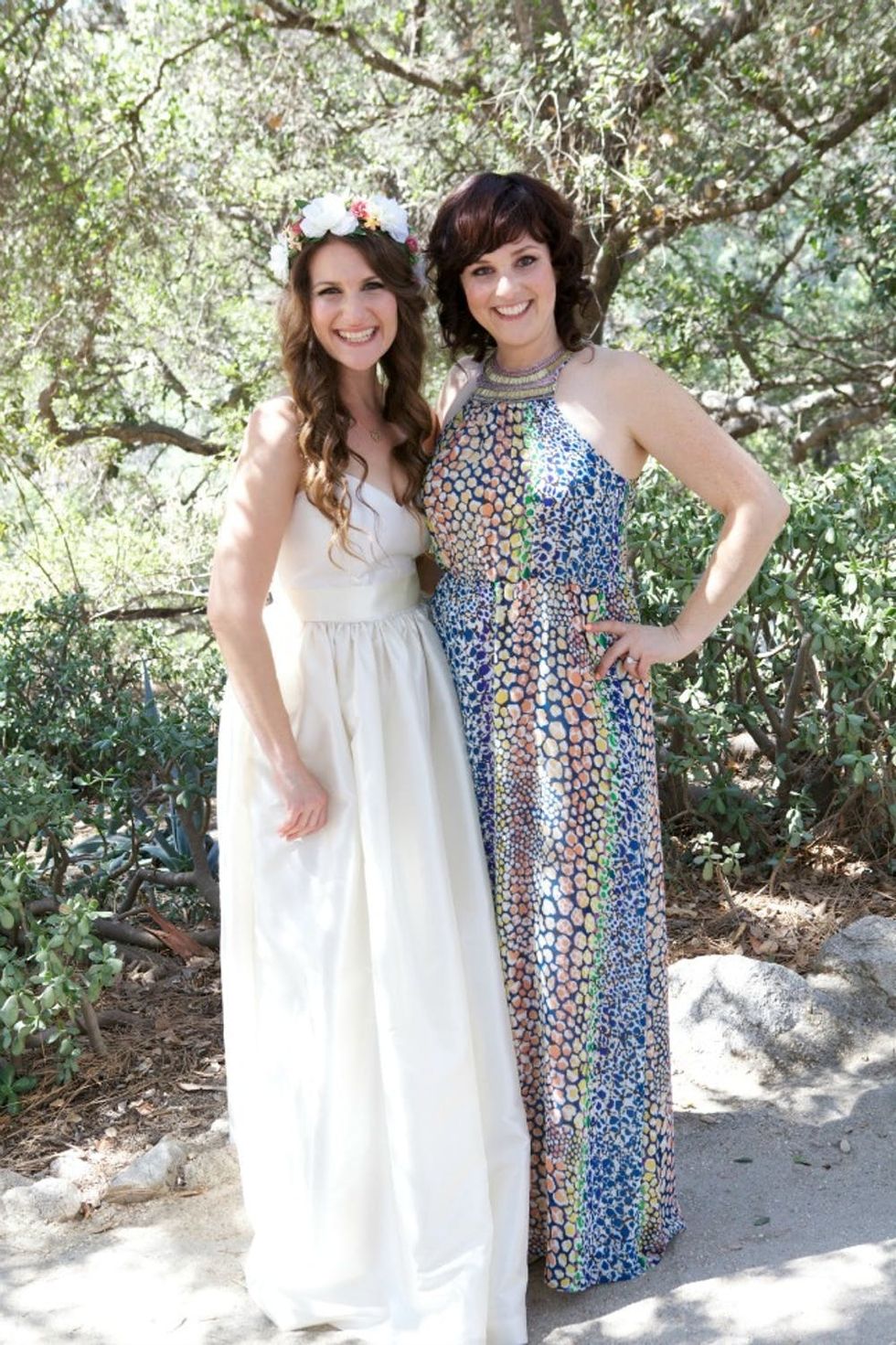 (Heather Goldberg and Jenny Engel. Photo via Klose Up Photography)
Says Heather, "Finding a dress can be a huge challenge for someone who wants to avoid wearing silk (silk is made from silkworms that are boiled alive.) The good news is that vegan materials are cheaper than silk and still look and feel amazing." Her sister Jenny purchased a vintage-inspired dress from Dolly Couture (prices range from $300–$800) in Los Angeles for a non-traditional looking dress. Heather opted for a custom vegan dress (around $600) from Shareen in downtown LA.
Or try non-traditional wedding dress options. Jaya bought her gown from RueLaLa, a discount clothing website. Her husband Chris "wore a beautiful non-wool suit from Indochino (just ask them to leave off the bull horn buttons and have a local tailor replace them with plastic) and a Jaan J. tie."
If you're still struggling to find the right dress, Laura suggests Nordstrom ("There are some surprisingly cute vegan-friendly dresses"), having a friend make it or going the vintage route.
Vegan makeup — meaning the product was not tested on animals and contains no animal ingredients — can easily be found through brands such as Pacifica, Obsessive Compulsive Cosmetics and 100% Pure. If you want to try out some cosmetics before the wedding, vegan beauty box subscription service Petit Vour has a plethora of choices.
Best Vegan-Friendly Wedding Blogs and Websites
While many wedding websites and blogs exist, these four vegan brides turned to different resources to get inspired. Laura loved using A Practical Wedding (search vegan) and Vegan Weddings HQ. Heather and Jenny rave about No Wedding Debt. Says Heather, "Weddings can be really insane and costly, but if you're willing to do some research and make it a little bit DIY, you can save a ton of cashola."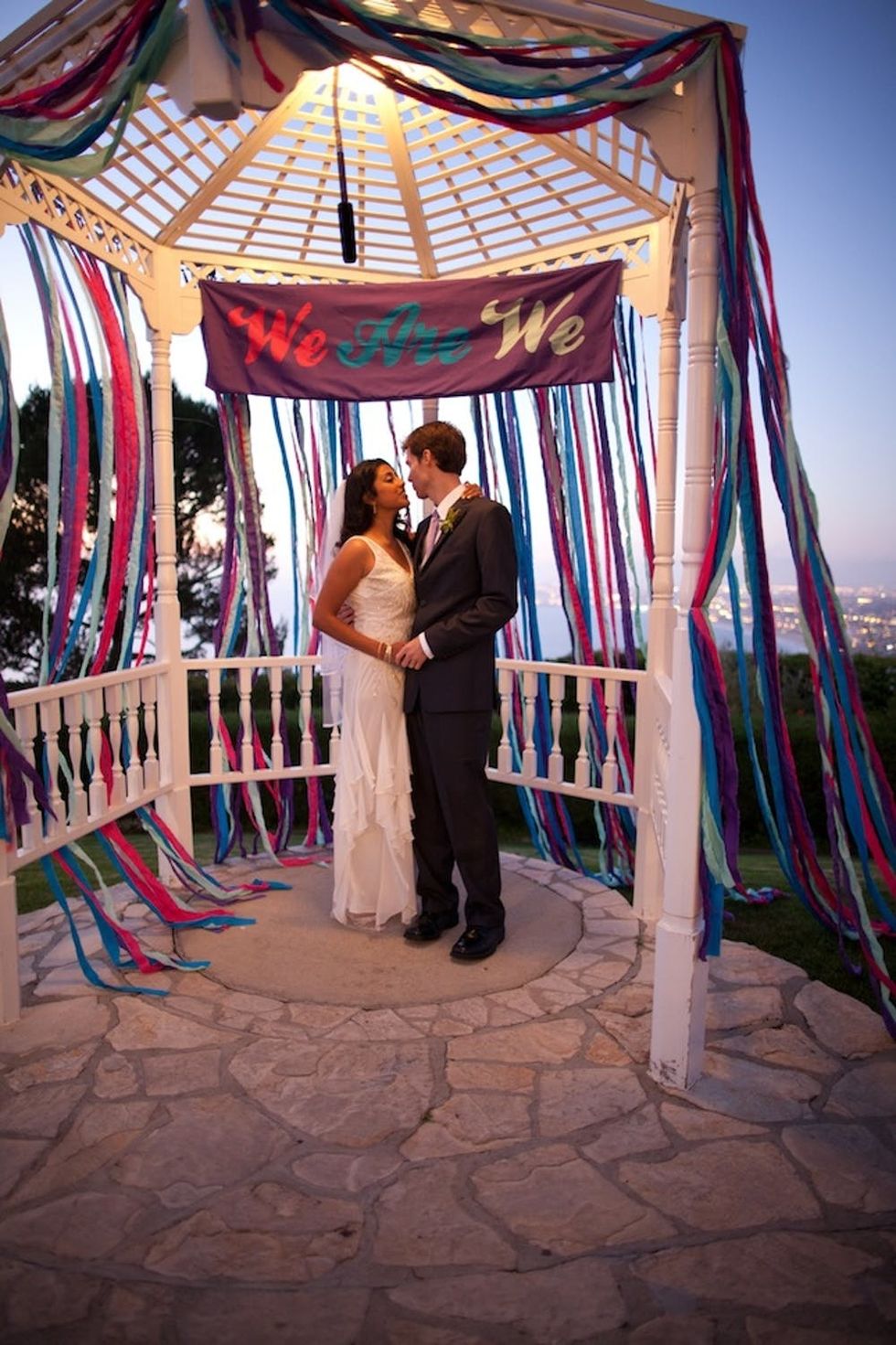 (Jaya Bhumitra and Christopher Locke. Photo via The Long Haul)
Jaya turned to vegan lifestyle magazine VegNews for the annual weddings issue. The happy couple was featured in the magazine for their beautiful wedding. Says Jaya, "I enjoyed seeing the variety of ways loving couples integrated their values into their celebrations. Budgets big or small, every story was special."
Dealing With Non-Vegans Who Gripe
Of course, some well-meaning friend or your future mother-in-law might chime in with their suggestions or complaints about an all-vegan wedding. Laura says, "The people who matter will know, and everyone else will enjoy a delicious vegan meal and cake and not be any wiser. Just have amazing food, and when your goofy uncle who likes to make fun of your food choices chows down into a cupcake and is all, 'Mmmm, so good!,' you can be all, 'Yeah, right? And it's all vegan! BAM!'"
Jaya and Chris respectfully requested their guests attend in cruelty-free clothing. "We listed our favorite purveyors from MooShoes for shoes, belts and purses to Jaan J. for ties on our wedding website. So many people were so proud to show us the new items they had purchased!"
Says Jenny and Heather, "We strongly believe that you and your partner know what is best for you — so just trust yourself and do what makes you happy. Many family members love to dole out their opinions, whether solicited or not, but it's important to stand firm and keep your ideal vision in mind. Just remember that this whole thing is about you and your partner celebrating your love. You two are the center of your big day."
Did you have a vegan wedding? If yes, share your tips and advice with us in the comments!