Save $10,502 and DIY Gwyneth Paltrow's goop Gift Guide
Nov 18, 2014
Gwyneth Paltrow doesn't keep quiet about her penchant for enjoying the finer things in life. And at no time of year are her tastes made more known than around the holidays, when her website goop releases its notoriously out of touch gift guide. For as many sighs and side eyes Gwyn has endured for promoting all-things posh without any regard for the price tag — this is a woman who designed a $7,000 backgammon table, people — this year's Gwyn-approved list seems a bit more considered. "We tried to keep as much as possible around the $100 mark," noted the guide, and it largely sticks to its self-imposed budget… minus a dozen or so dream purchases and really only a few WTF picks (a $4,000 gold juicer takes the cake).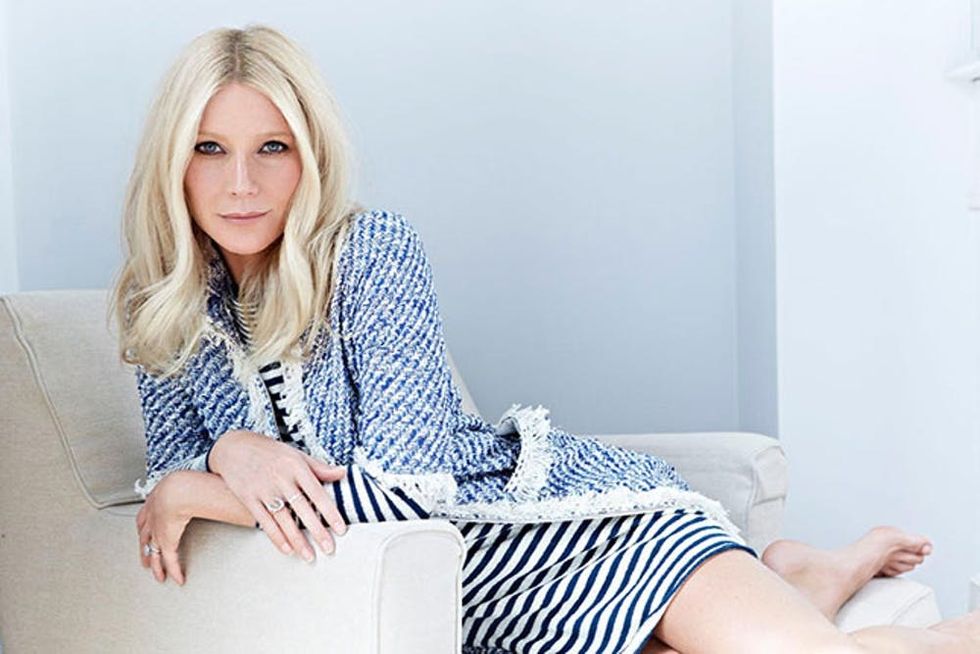 ---
Even with that privileged handful aside, picking and choosing from list, as with any gift guide, still adds up. But don't think you can't use it as intended without an Oscar-winner's savings to spend. We've hacked the 2014 goop gift guide, highlighting 28 luxury items you could *actually* make, tutorials and all. With a total of $10K in spending at stake, why buy (or ogle, or roll your eyes in Gwyn's direction) when you can DIY? Scroll through for major giftspiration for everyone on your nice list ahead.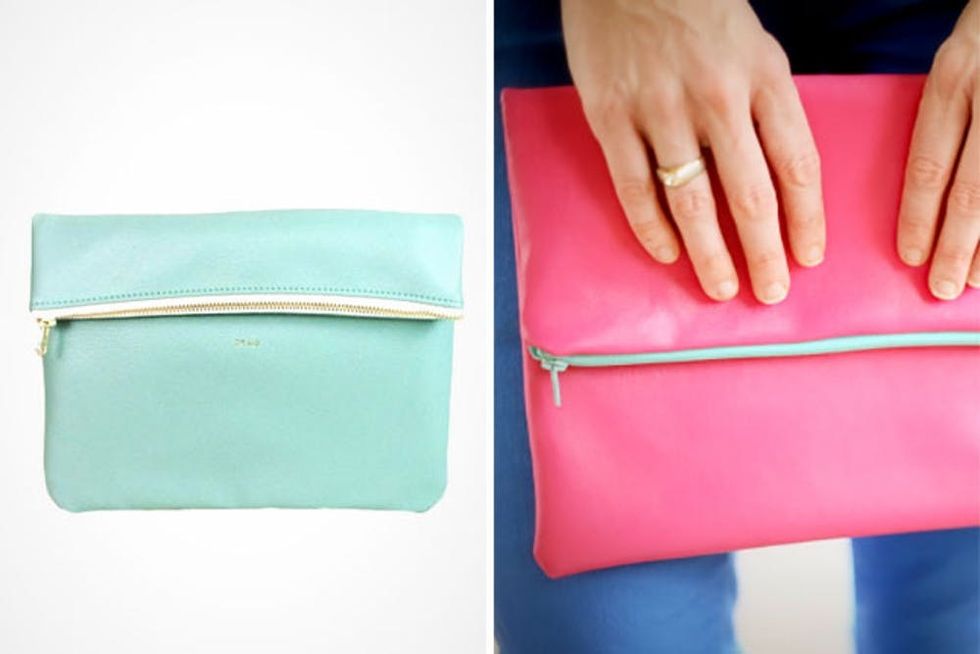 1. Craig Laptop Case ($90): We commend the genius who first used a fold over clutch as a laptop case. With basic sewing skills, you can customize the color and size of your own chic tech carryall. (via Say Yes)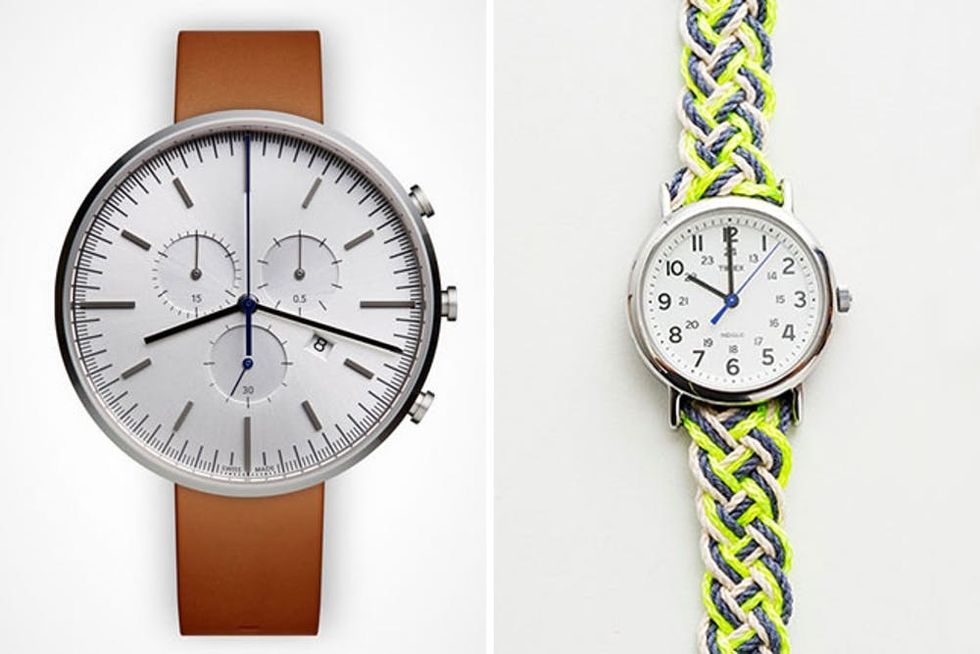 2. M42 Polished Steel Watch ($1,090): This Swiss-made watch has a lot going for it: stainless steel hardware, a scratch-resistant, sapphire glass face + a dreamy leather band — and you bet it's impressive stats come with a price tag to match. Upgrade your existing watch without breaking the bank by restyling the band — then learn how to style it with the rest of your everyday arm candy right here. (via Brit + Co)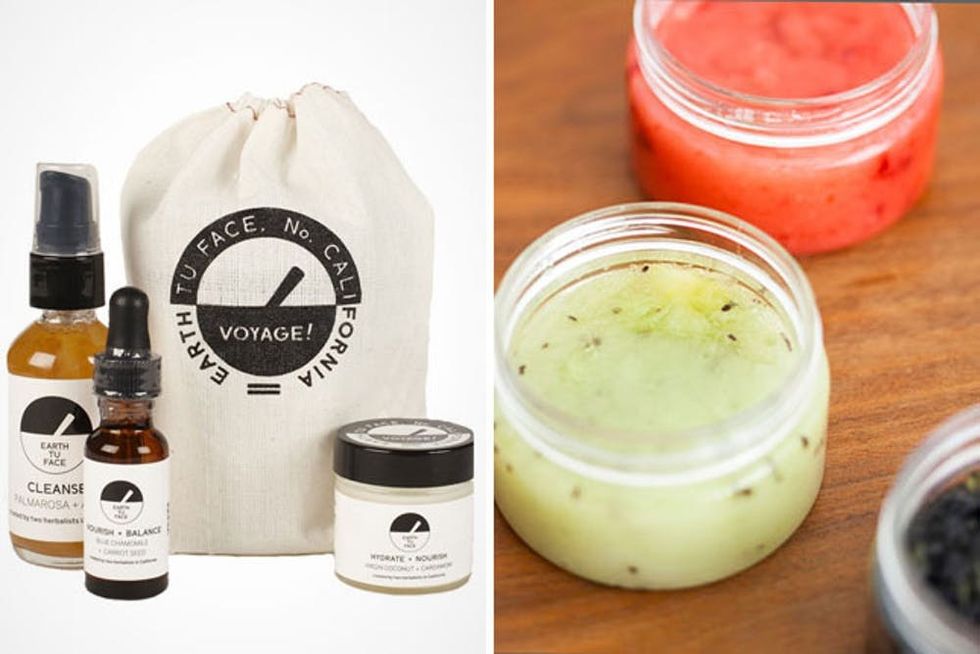 3. b-glowing Voyage! Travel Kit ($64): Just because you want to switch up your on-the-go skincare routine to products that feature 100% plant-based, food-grade ingredients doesn't mean you need to splurge on boutique serums. Instead, just go look in your fridge. Common fruits like kiwis and strawberries (and many, many more) possess brightening + tightening properties your skin will love as much as your stomach. Combine with pantry staples like oils and sugar and you've just DIY-ed your very own organic face scrubs. (via Brit + Co)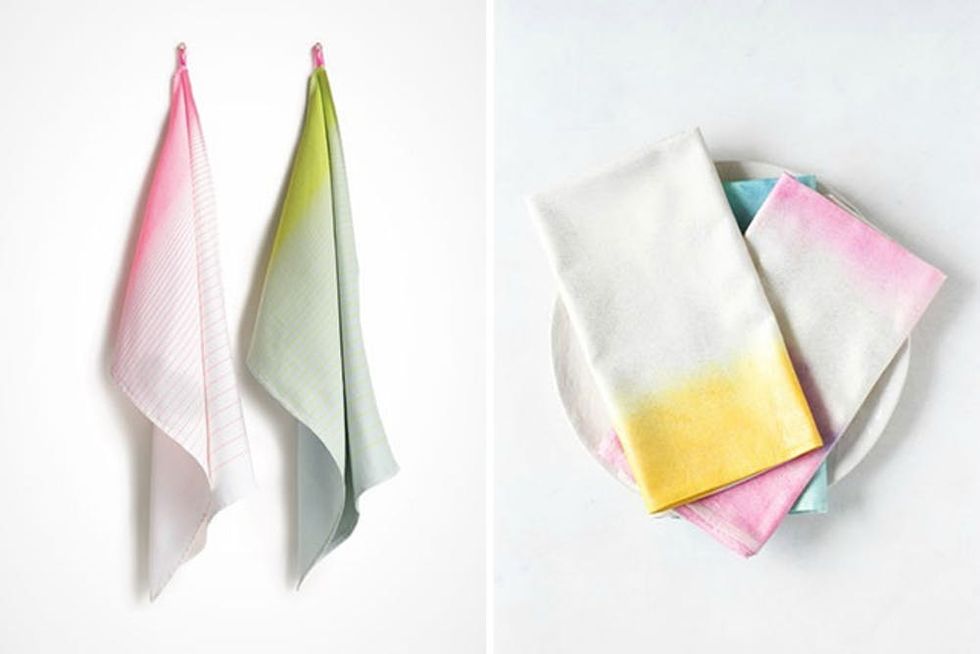 4. Hay & Scholten & Baijings Tea Towels ($32): There's no denying that these Danish tea towels are beyond dreamy, but you can actually get the look with the plain white napkins you've already got tucked behind your hand-me-down placemats. Dampen each linen and then lightly apply fabric paint to get a watercolor-like effect. Saturate the ends with more paint for an ombre look. (via Paper & Stitch)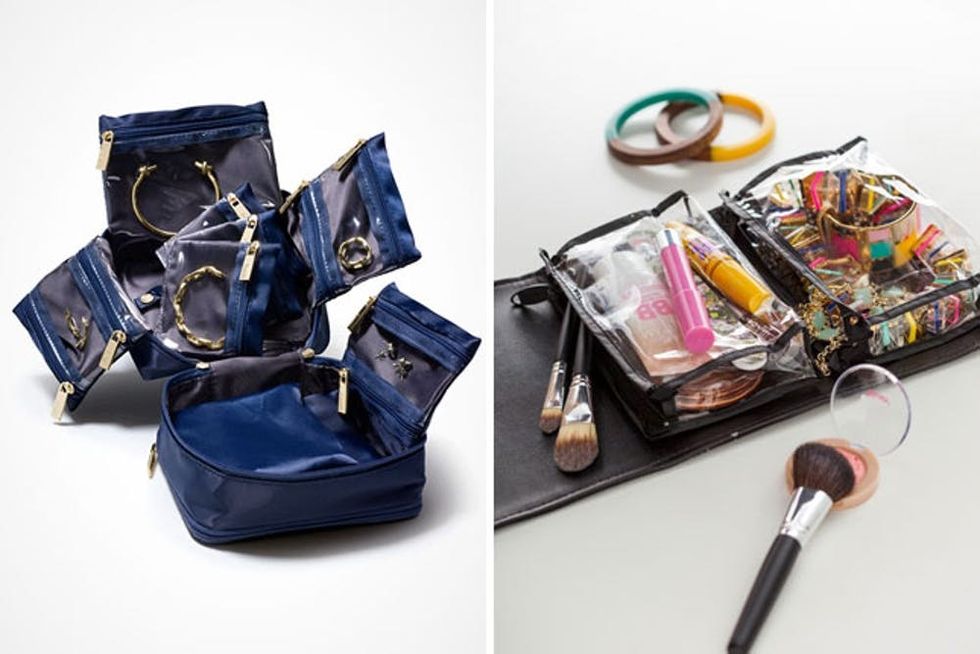 5. Pursen Jewelry Organizer ($42): The struggle is real when it comes to traveling tangle-free with your delicate jewels. We're loving Gwyn's expandable pick, but not as much as this roll-up DIY travel case that you can customize with whatever-size zip pouches and a strip of vinyl (and wait till you see the flip side — we splatter painted it with nail polish). (via Brit + Co)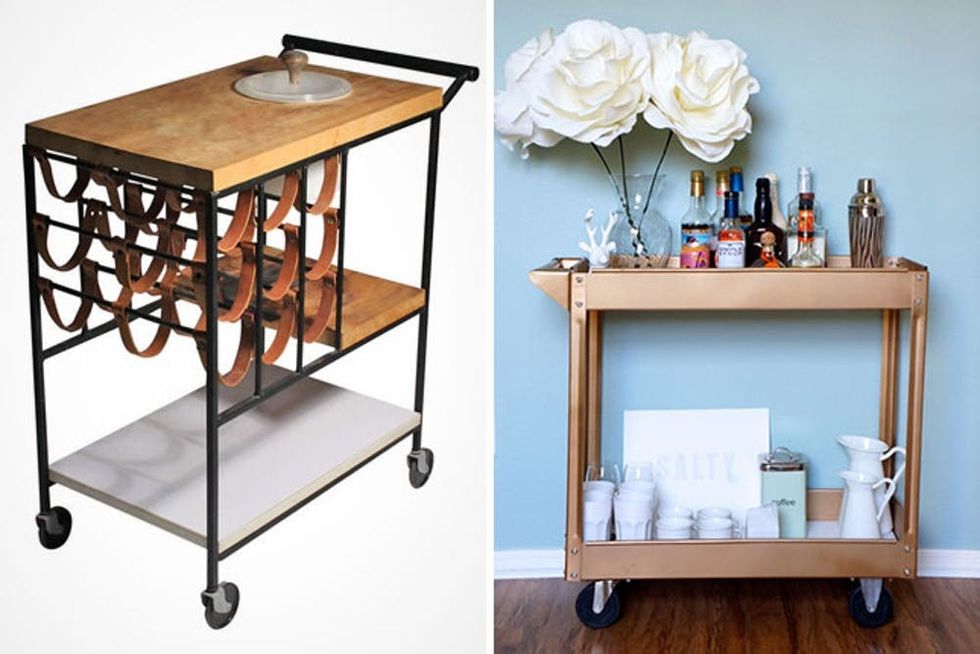 6. Arthur Umanoff Bar Cart ($1,495): It seems like no hostess' home is complete without a bar cart, and so we know better than anyone the temptation to splurge on the first one you can see fitting into that corner with ease. But a fairly easy upcycle — try a tool cart + a few coats of gold paint — could save you major bills, leaving you with a budget to *actually* stock your new rollie. (via Brit + Co)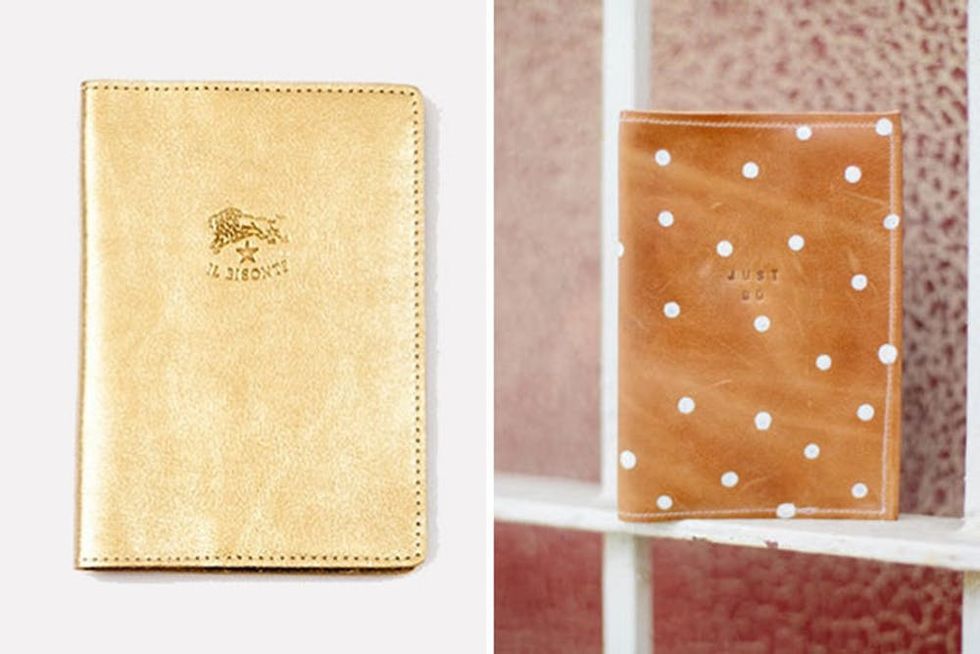 7. il bisonte yellow gold leather passport holder ($65): Treat your passport like the golden ticket it is with a luxe cover that will make it easier to ID in your carry on. This handmade version was constructed out of leather scraps, then dotted and stamped for a whimsical finish. Or, if Gwyn's sleek metallic pick has caught your eye, hunt for gold vinyl or accent the case with gold leafing. (via Always Rooney)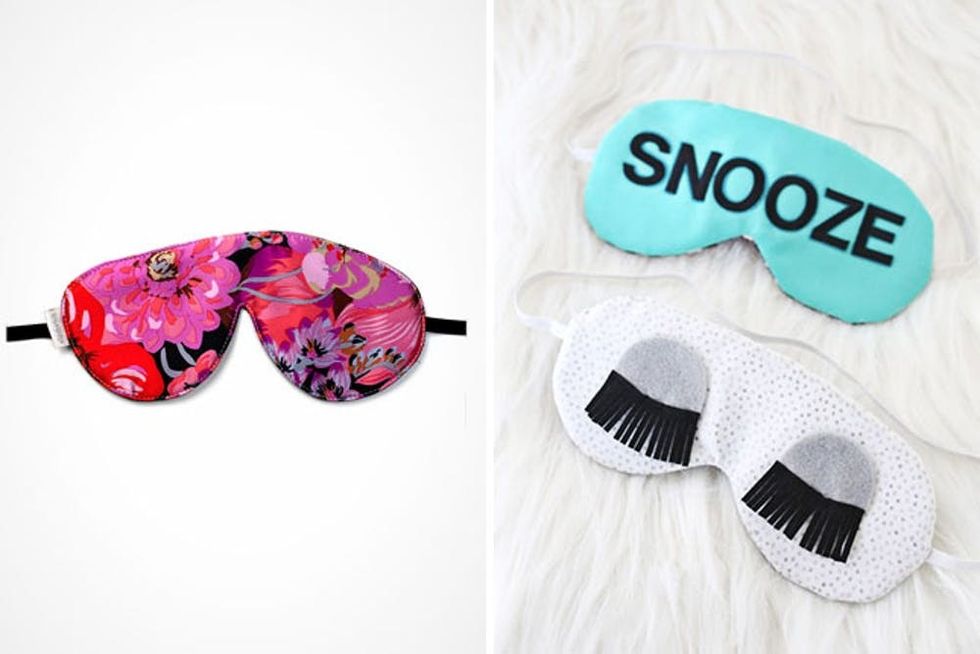 8. elizabeth W Midnight Garden Sleep Mask ($22): You can't really argue with a 100% silk eye mask (and the case against it gets even harder when you consider its black velvet elastic strap). But if you have to penny pinch your pampering, this is how to DIY yourself the a cozy cotton mask that will ensure you drift away to dreamland sweetly. (via A Beautiful Mess)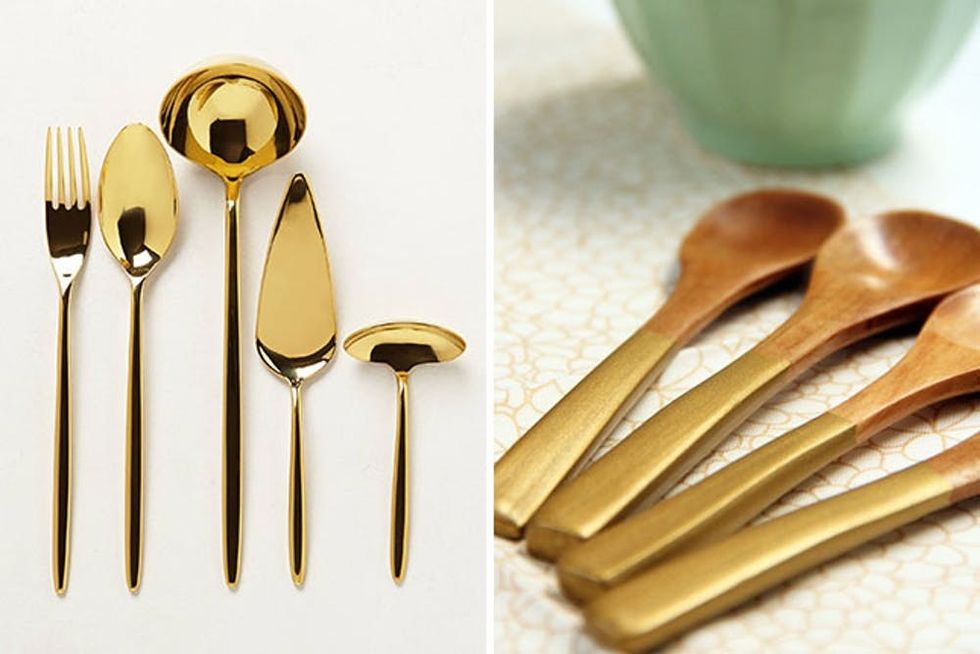 9. Anthropologie Doma Serving Set ($128): At the dinner table, every detail counts, from the sear on the roast to the sparkle of the serving wear. This gold serving set is one way to guarantee the latter, though we're sure basic wooden spoons wouldn't mind a luxe makeover of their own. All you need to make it happen is gold paint (by now, you should consider it a DIY standby). (via Lovely Indeed)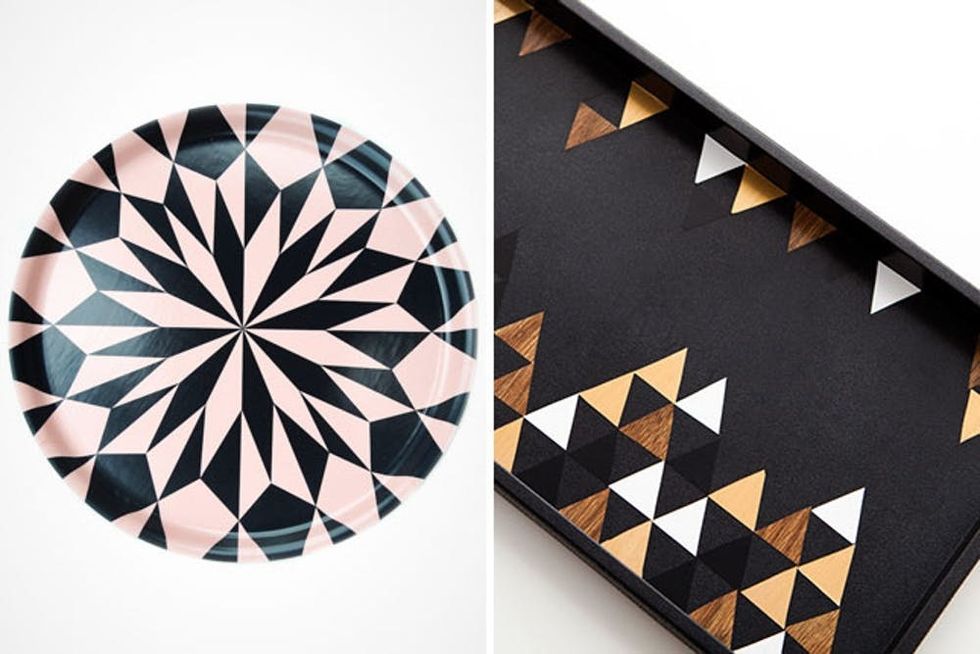 10. Leif Star Serving Tray ($36): Whether you're planning on passing drinks at your NYE party (classy!) or just want something to spruce up your snack table (plates and napkins could use something cute to sit on), a tray just makes sense, and especially one that can double as decor once your guests leave. To make the party supply any-room ready, spruce up a thrifted piece with shapes cut from contact paper. (via Brit + Co)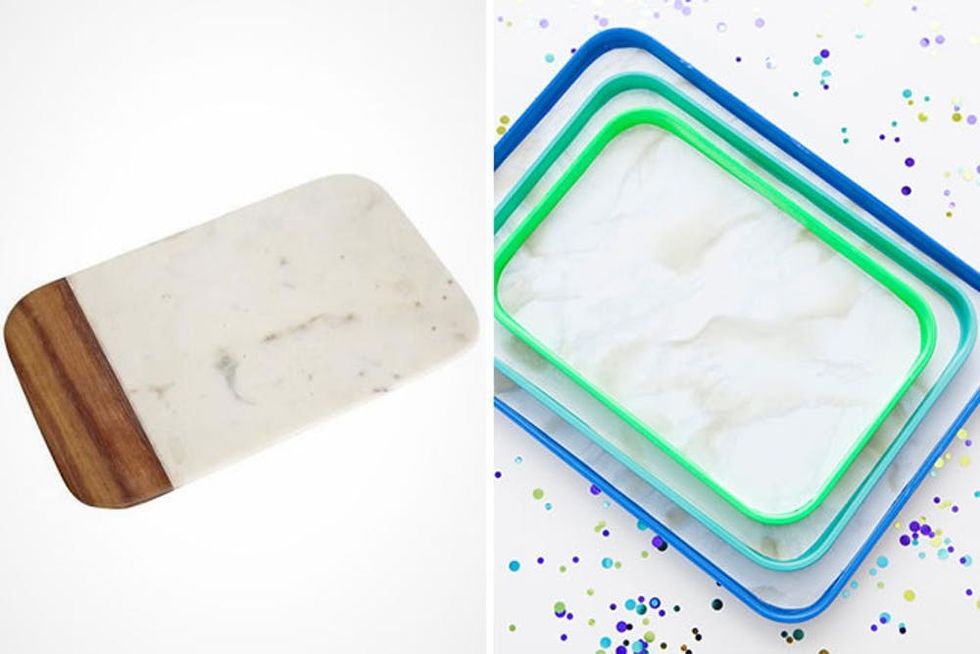 11. Marble Cheese Board ($45): Oh you fancy, huh? <— is pretty much everyone's reaction to marble accessories. Fake out your guests by applying marble patterned contact paper to any surface, from plastic trays now primed for cheese + crackers to thrifted side tables in need of a glam-made-easy update. (via Brit + Co)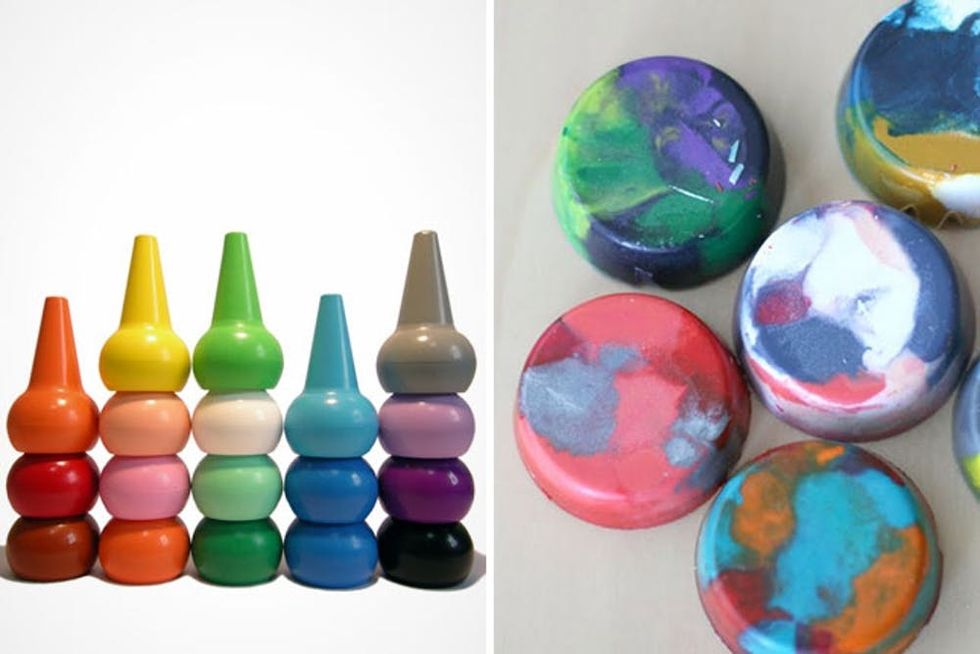 12. Studio Skinky's Playon Crayon ($12): True, these stackable crayons are cute, especially with a rounded shape made for easier gripping by tiny hands. But you can make equally eye-catching (oooh, that tie-dye!) and easy-to-use crayons with just a muffin tin and the bits from Crayola boxes past. (via Say Yes)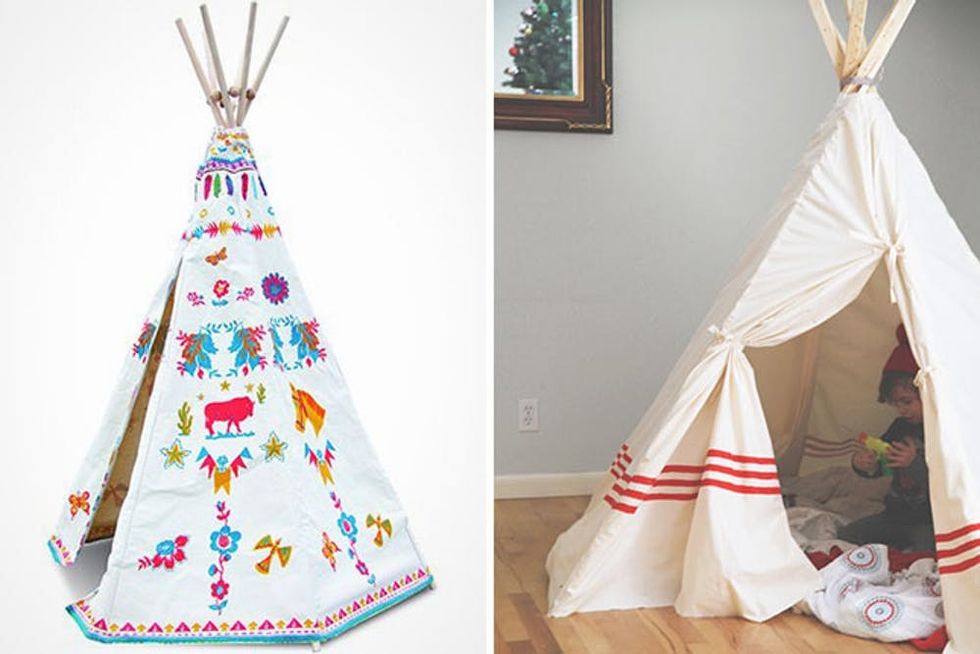 13. Vilac Teepee ($160): Give your kids somewhere way cool to get creative, though you don't have to splurge on a fully embroidered fortress for your pack to think it's a legit play space. DIY a teepee for fun indoors or outside with wooden poles and yards of cotton for a total of $22. (via Cotton + Curls)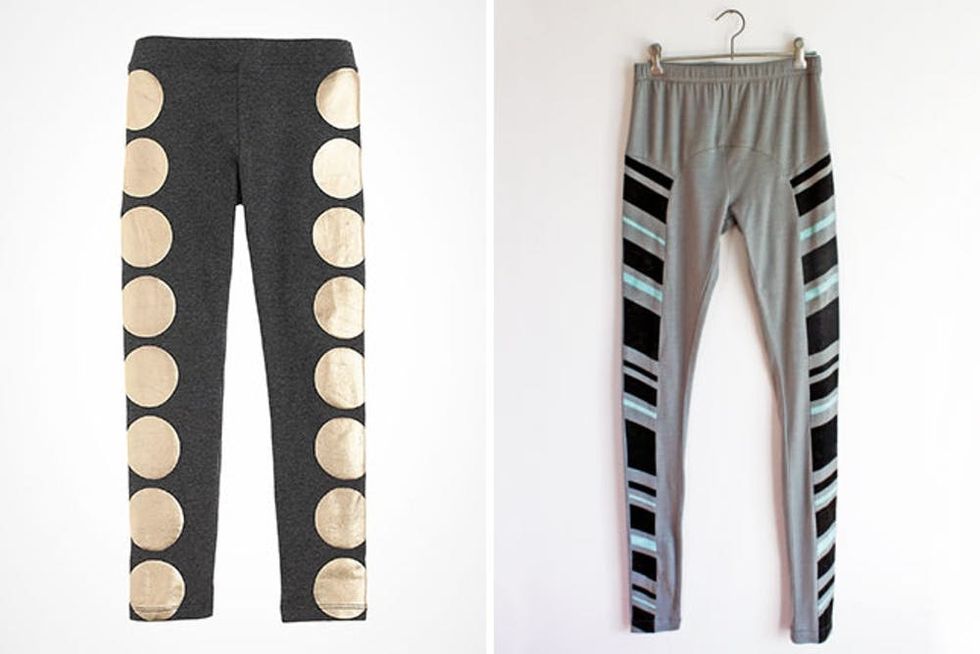 14. J.Crew Girls Everyday Leggings in Foil Dot ($32): Not gonna lie, we'd absolutely slip on a pair of these gold foil dot leggings under an oversized knit and knee-high boots. Outfit you and your mini in matching printed leggings for less by painting patterns onto your plain pairs. (via Kollabora)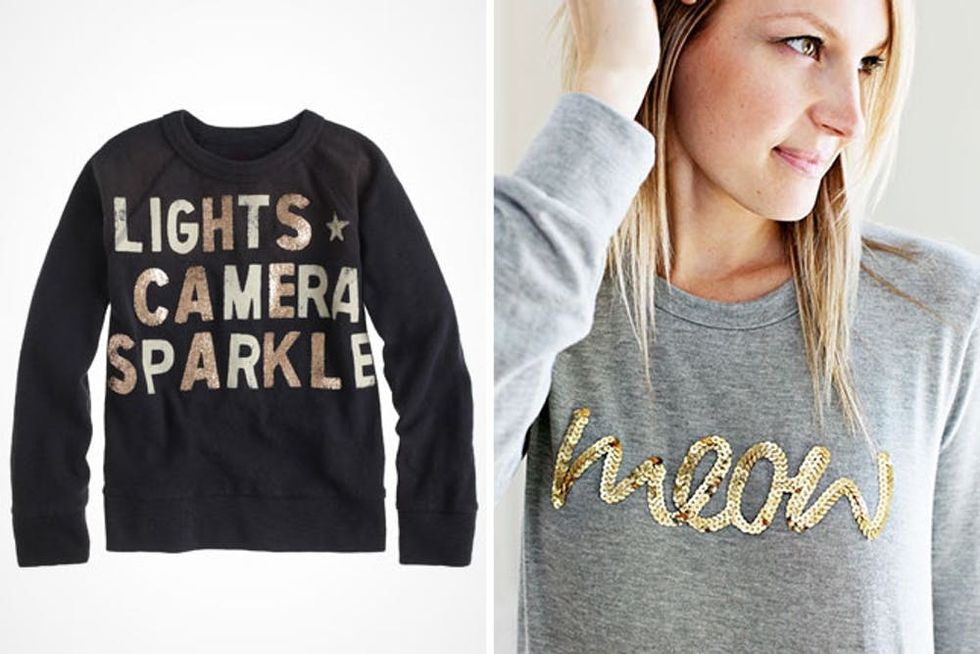 15. J.Crew Girls Lights Camera Sparkle Sweatshirt ($58): A statement sweater is even better when the wording sparkles. Get the same effect on last season's sweaters by using sequined trim to create the most glittering cursive words ever. (via A Beautiful Mess)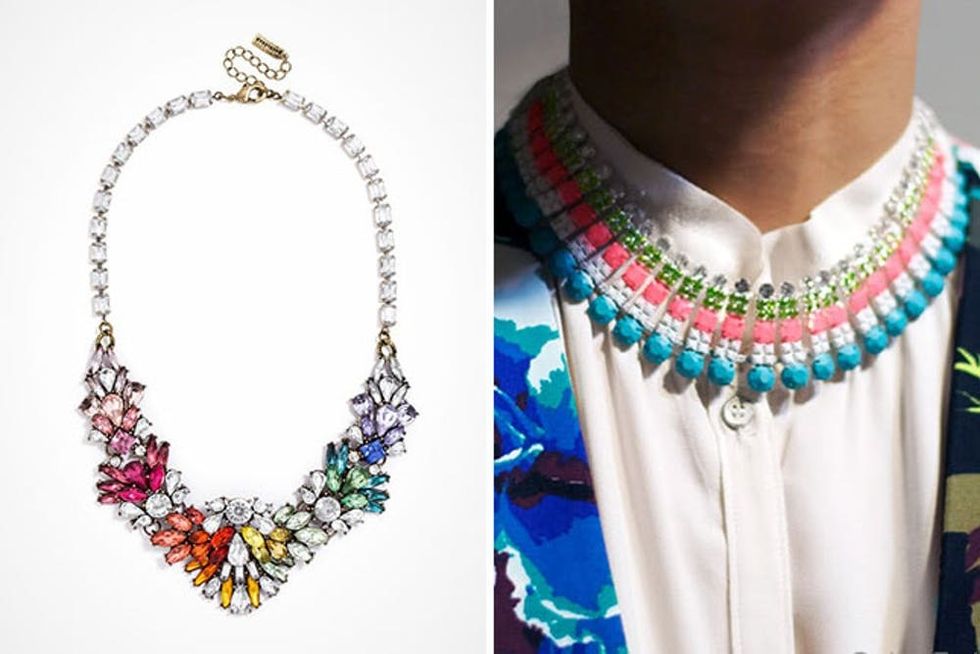 16. Baublebar Rainbow Brite Bib ($58): We're nuts about how this Baublebar original adds a pop of color to a traditional rhinestone choker, but whip out a few paint pens, bottles of nail polish or even cans of spray paint and you can DIY the same effect on that costume jewelry collecting dust on your dresser. It's a jewelry re-vamp worthy of a holiday party reveal. (via Swellmayde)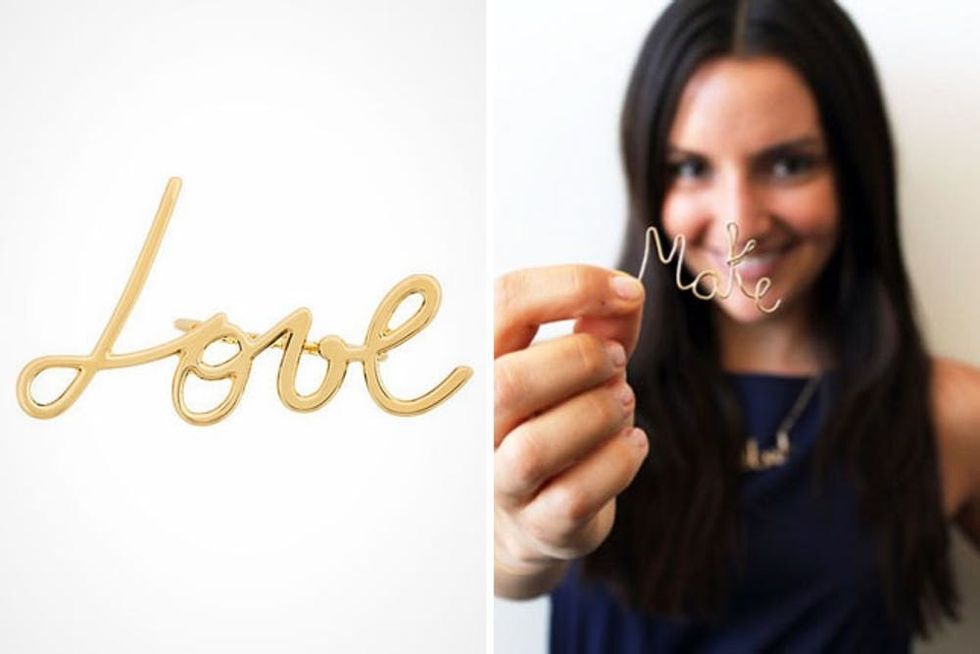 17. Lanvin Gold Double Finger Love Ring ($695): Don't break up with the idea of this aww-inducing double finger ring when you glance at the price tag. Like Jenny from the Block sang, love don't cost a thing… when you DIY the statement ring with metallic wire instead! Don't stop at ring bling — make charms for bracelets and necklaces for all the special peops in your crew. (via Brit + Co)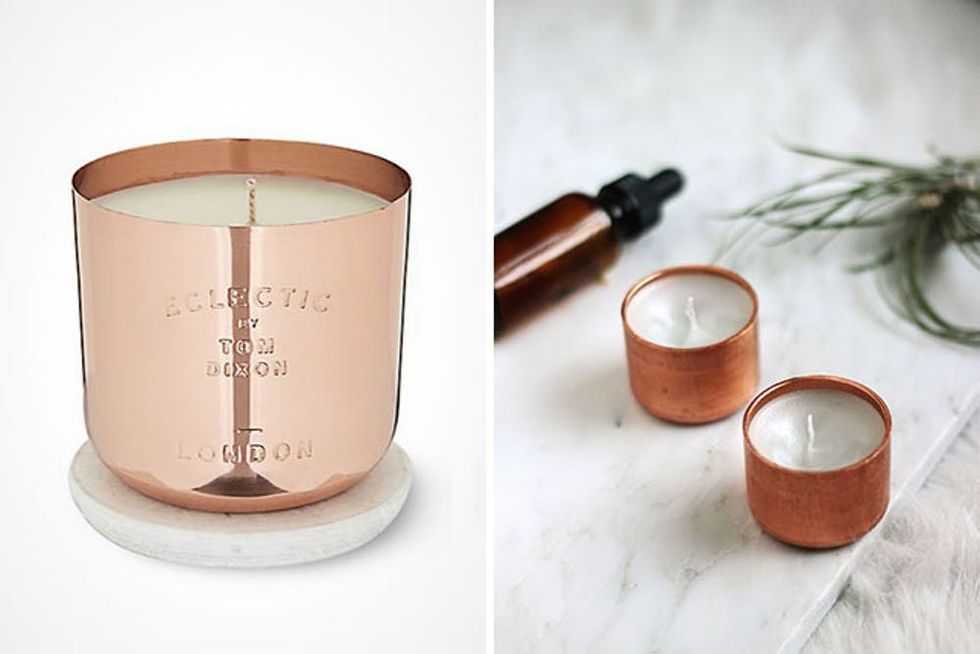 18. Tom Dixon London Copper Medium Candle ($80): If you're anything like us, you've been known to splurge on a candle or two. As worth it as we're sure this UK-made stone and copper candle is (scented to smell like red brick to evoke the salty smell of the Thames — swooooon) get the look by filling copper caps — a hardware store staple — with melted wax. (via The Merrythought)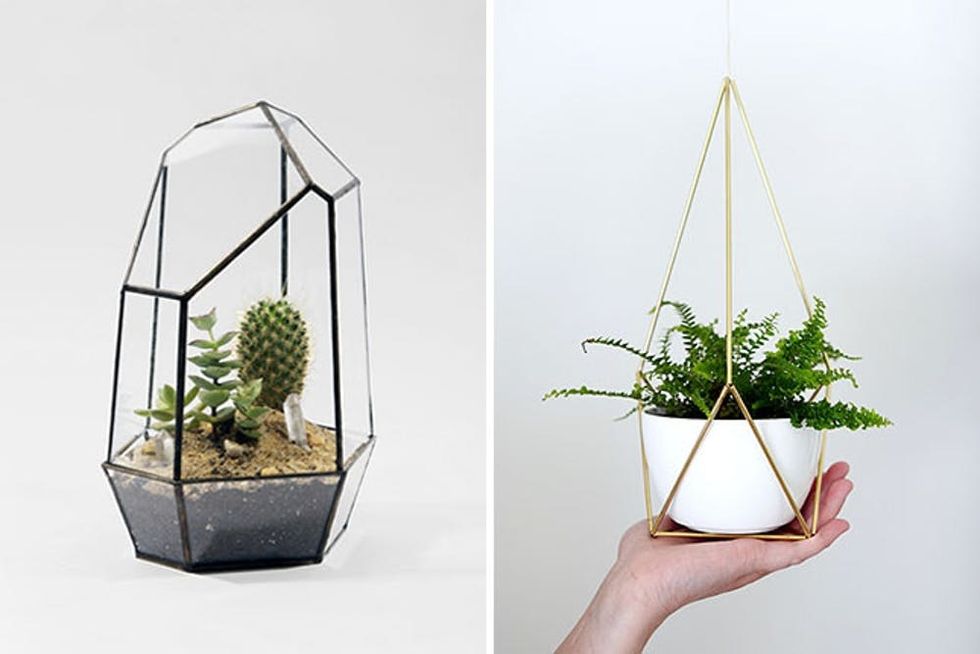 19. Score + Soldier Quartz No.1 Planter ($320): A geometric terrarium like this is probably at the top of everyone's want list, and after scoping the price tag, we're fairly certain it's going to stay there. Surprise your plant-loving pals with a just-as-stunning version made of brass tubes you could find at any hardware store. (via Nalle's House)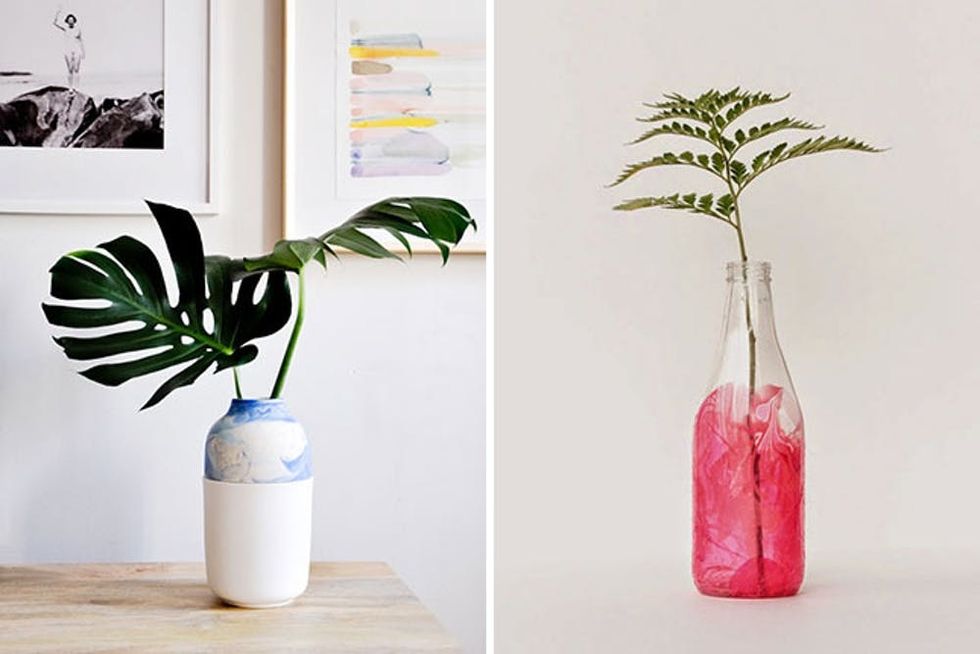 20. Leif The Gradient Vase in Blue & Peach ($210): Who wouldn't want this insanely gorg vase dressing up their tabletop? Get the marbleized look on the cheap by restyling a glass bottle with an easy-to-learn marbling technique using nail polish and water. And that's how one man's trash becomes another man's coveted Christmas gift. (via Poppytalk)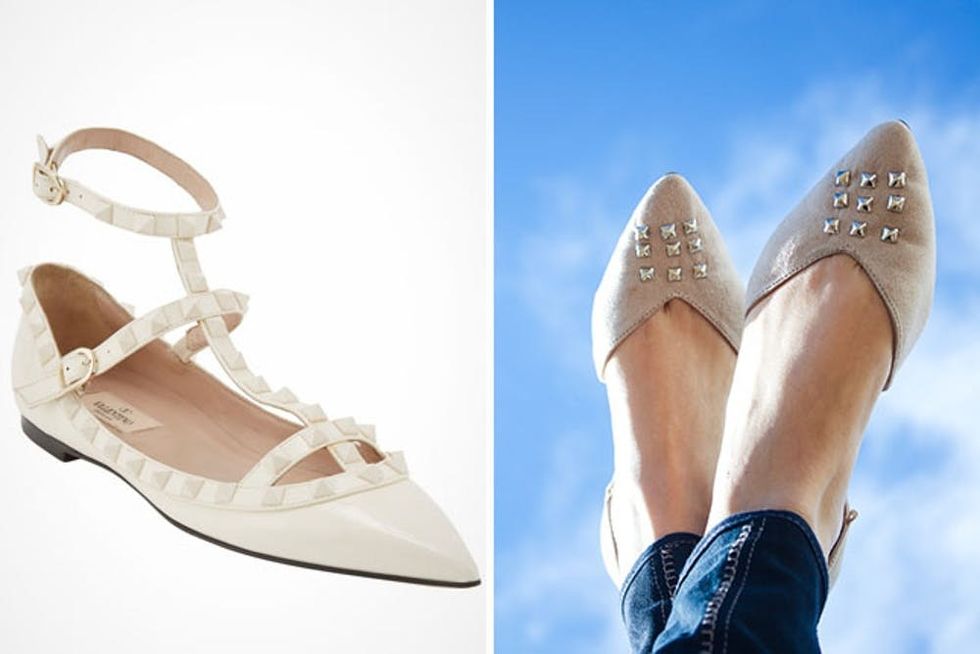 21. Valentino Punkcouture Cage Flats ($995): We've had these spiked Valentino flats on our "Dream Closet" Pinboards for months now. Take action that doesn't involve swiping your plastic and amp up a plain pair of pointed-toe flats with studs. Create your own graphic pattern or outline the perimeter for a runway-ready look. (via Best Friends for Frosting)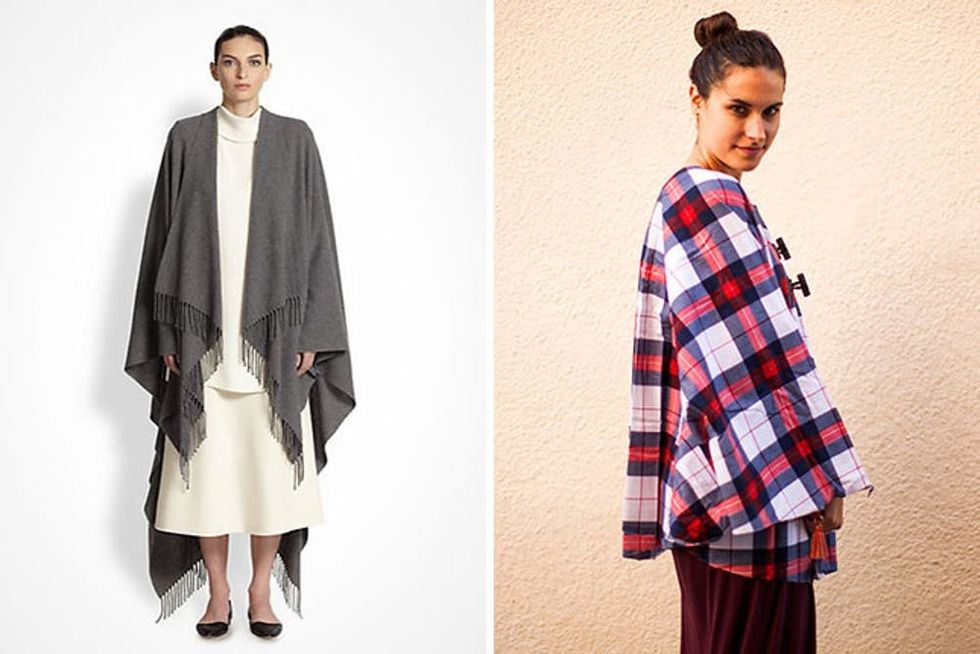 22. The Row Rina Cashmere Cape ($3,190): Blanket capes are a big trend this season, but you definitely don't have to break the bank in order to snuggle up on the go. Construct your own cool coverup out of super warm fabric (we used bedsheets!) with zero sewing skills. (via Brit + Co)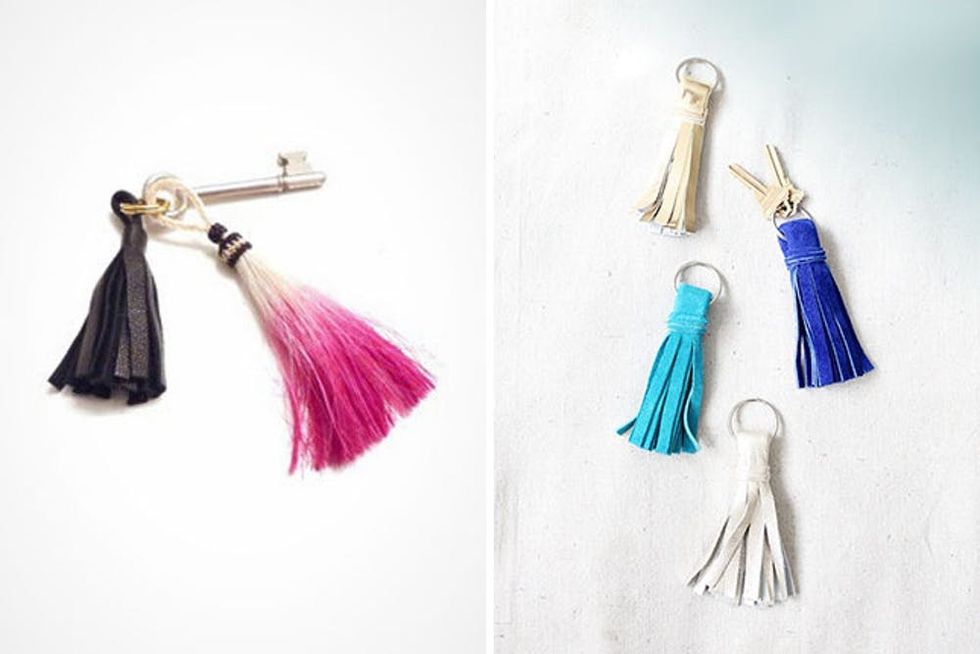 23. Morgan Parish Key Chain ($30): Don't forget about your keyring! You touch this accessory almost as much as your smartphone daily, so it definitely deserves to be dressed up. We have to agree with Gwyn that tassels are a great go-to, so just DIY one (or four) using leftover faux leather scraps. (via Design Love Fest)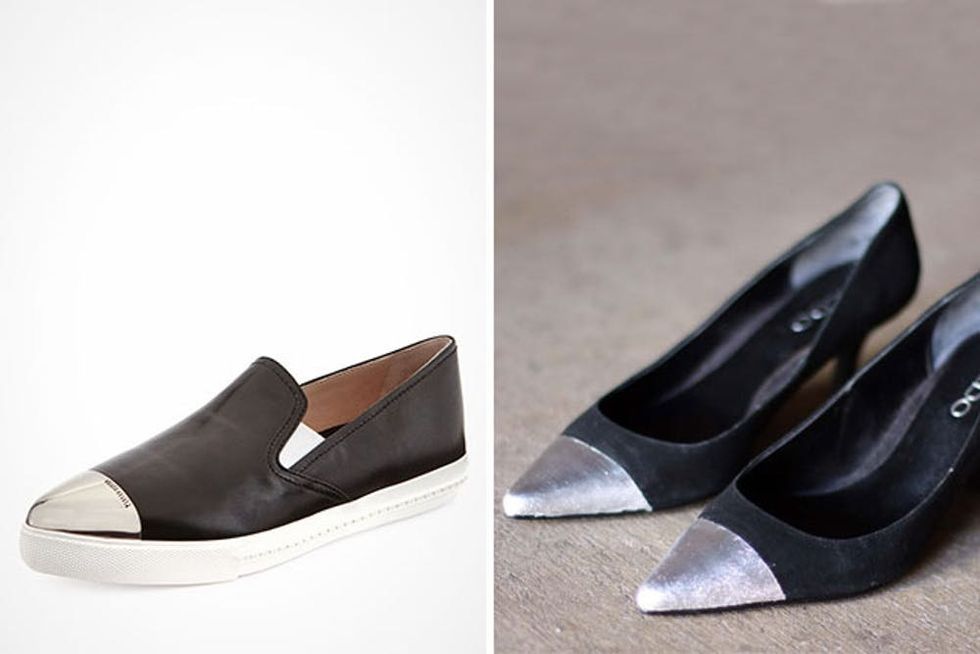 24. Miu Miu Metal-Toe Leather Skate Shoe ($490): One glance at these silver-toed sneaks and we knew they were a shoe in to be hacked. Give any pair of steppers — slip ons, stilettos or otherwise — a next-level makeover with silver paint. (via Refinery29)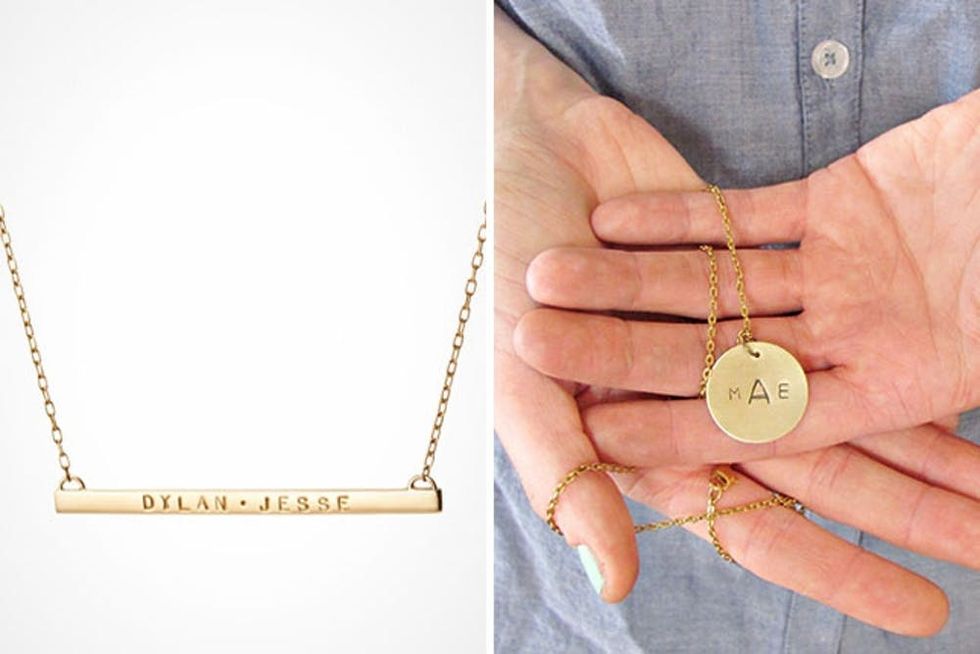 25. Jennifer Fisher 2 in. Skinny Tag Necklace ($750): Adding someone's initials to anything adds an unparalleled personal touch to your gift. But you don't have to be a metalsmith to hammer your S.O.'s name into a pendant. With a stamping kit as your secret weapon, you'll be the queen of jewelry customization. (via Shrimp Salad Circus)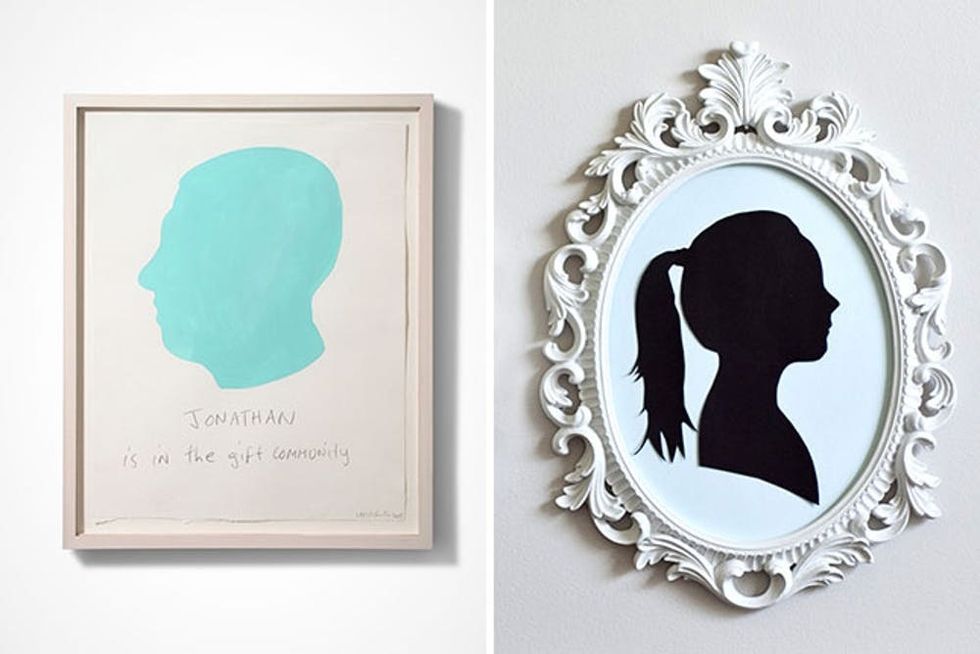 26. Carter Kustera Custom Silhouette and Text Portrait ($350): We love the artist's original touch on these silhouette portraits, though your own versions are way less than a few art classes away. Enlarge a profile pic of your subject, cut it out and paint their form in classic black. Or, take a cue from Gwyn's muse and finish it in a more modern hue, and frame it to make it look profesh. (via Project Nursery)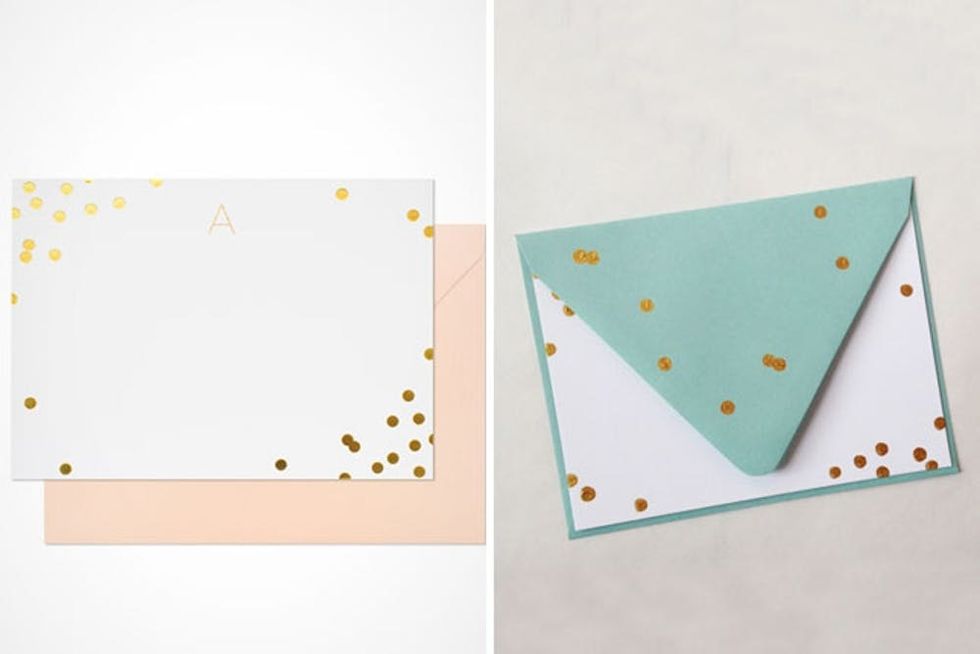 27. Ellis Avenue Cards ($26 for 6 cards): Set your circle straight with a collection of elegant stationery that looks like a million bucks, but doesn't cost anywhere near that. Blank cards are the perfect canvas for adding an ultra luxe touch with gold dots — just dip a pencil eraser into the paint to keep each speck uniform. (via Em for Marvelous)
Can you believe the savings with this gift guide hack? Will you be DIY-ing your gifts this year? What are you planning on making? Tell us in the comments below.
(Image via CelebMafia)
Fashion