Everything You Need to Pack to Cook While Camping
Jun 23, 2018
The only thing that tops sleeping under the stars is roasting s'mores and hot dogs over the campfire. But before you can indulge in campfire cookery, you must remember to pack everything needed first, even if you prep a bunch of make-ahead camping meals or are assembling simple campfire veggie packets. To begin with, there's fuel, fire starters, and a cooler. We recommend car-camping (going to a drive-in campsite rather than hiking in) to effortlessly bring all of your supplies with you. As for the specific items to hit the site with? We've found the below are the essential items you should pack.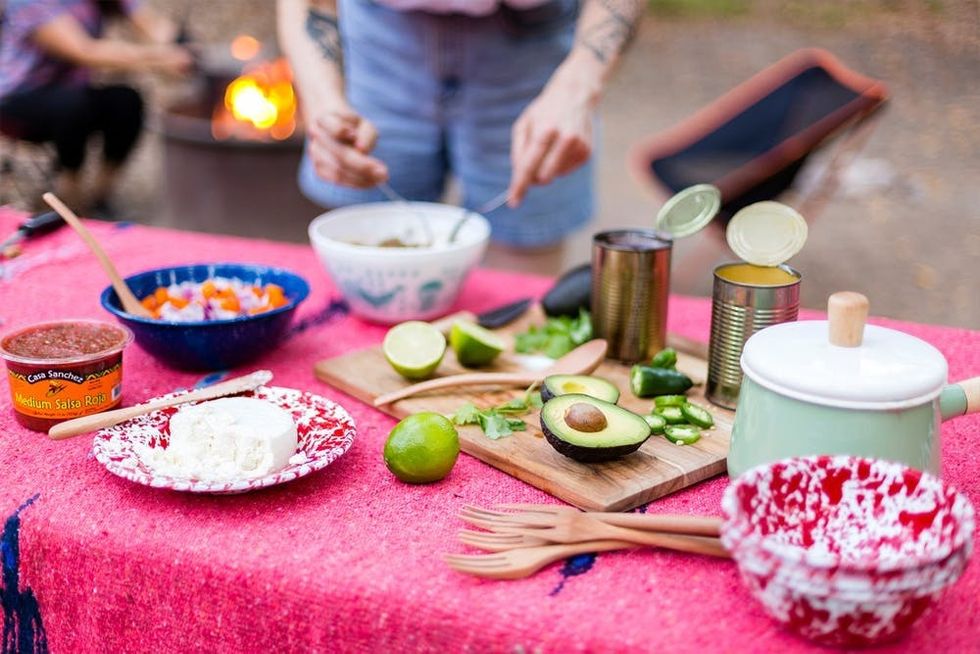 ---
prep and cooking tools
Aluminum Foil: The kitchen staple comes in handy even if foil packets aren't on the menu. Line your grill if the grates look like they've never been cleaned. Wrap up leftovers and stash in the cooler. Or, cover your picnic table if it's looking a little too gross to eat on.
Chef's Knife: After struggling to use our dull spare knives, we realized that packing a sharp, all-purpose chef's knife is so worth it. Dull knives are actually more dangerous than sharp ones, because they tend to slip and skid. You don't want to get a cut while you're outside and away from medical attention or running water. Make sure you have a cover for your knife blade so you don't accidentally cut yourself.
Cooler: A insulated container will keep your food properly chilled before you use it. Hard-sided coolers are more effective than soft-sided coolers, and you can pack them with ice packs and dry or regular ice to keep your food at a safe temp all trip long.
Cutting Board: You don't want to have to rely on the surface of a campsite picnic table to chop your meat and veg. Bring a large, thin plastic cutting board that's easy to rinse off to safely prep. It's handy for cutting up meats once they're cooked through, and after you wash and dry it, your cutting board can act as a clean surface to set up your ingredients for s'mores.
Fire-Safe Pot and Skillet: If you're cooking anything other than grilled meats, veg, or foods in a foil packet, pack a pot or skillet wit fire-safe handles. A well-seasoned cast iron skillet works well on the grill or in the fire, and a stainless steel pot (not non-stick) can be used for liquid-y foods like beans or porridge and as a means to heat water for coffee, tea, and cocoa.
Spatula: A long-handled metal spatula is essential for flipping burgers or other items that would fall apart if you tried to grip them with your tongs.
Tongs: To safely get sturdy food on and off of your cooking source, be it a grill, a fire, or a camp stove, bring metal tongs. The kind made for grilling are helpful because they're longer than your average salad tongs, so you can stand a safe distance away from the heat source while you cook.
Utensils: If you don't want to pack what's in your kitchen, try saving the plastic utensils you get with take-out, washing them after first use and stashing them with your camping gear. Or, you can get a camping multi-tool that has a fork, spoon, and knife all in one device.
essential food stuff
Cooking Spray: Spritz your meat with cooking spray before you put it on the grill, so it slides right off when it's done. Spray your foil packets before adding your ingredients, or add to your skillet to make sure nothing sticks. It's a lot easier than lugging a round a big bottle of oil… if that spills in the car, you're in for a huge mess.
Salt and Pepper: Even if you don't have a full selection of spices, salt and pepper can make anything taste good. If you have room to branch out, we recommend lemon pepper, Adobo, seasoning salt, or Old Bay.
cleaning supplies
Eco-Friendly Soap: A bottle of Dr. Bronner's or a similar brand goes a long way toward keeping clean in the woods. Use it to wash sticky marshmallow off your hands and to clean dishes after eating.
Paper Towels: For easy cleanup, bring along a roll of paper towels. They'll keep your cooking station tidy and free of leftover bits of food that can attract bugs, bears, and other creepy crawlies.
Trash Bags: Most drive-in campgrounds have an animal-proof dumpster, but you'll still want some garbage bags for collecting trash at your campsite throughout the day. Take a trip to the dumpster before bed to avoid unwanted guests during the night.
Water: Not every campground has running water. Apart from drinking water, get a big two-and-a-half gallon water jug with a spigot to use for washing hands and dishes.
fire
Lighter and Matches: Last but definitely not least, bring a way to light your grill or campfire. We always bring multiple sources of fire with us. Waterproof or strike-anywhere matches are reliable choices for the outdoors, while a long multi-purpose lighter gives you a consistent flame that's ideal for igniting charcoal or starting your campfire.
Wood, Charcoal, or a Camping Stove: Many campsites have fire pits and grills set up already, but be prepared and bring your fuel, either wood or charcoal. You can also bring a camping stove with you if you don't want to have to rely on stoking the flames yourself. Camping stoves are also handy if it might rain — it's a lot easier to set a tarp up or cook under an umbrella with a campstove than a fire, and you won't have to worry about lighting wet fuel.
Follow us on Pinterest for more camping inspiration.
(Photos via Brittany Griffin / Brit + Co)
Justina Huddleston
Justina Huddleston is a food writer living in Los Angeles. When she's not busy writing, she spends her time in the kitchen creating both virtuous and decidedly junky vegan food. Buffalo chickpea pizza, anyone? She's also been known to eat a plain block of tofu or beans straight out of the can for lunch, but somehow those culinary adventures don't make it to her
Instagram
. You can follow Justina on
Twitter
or see what's cooking in her kitchen on her blog,
A Life of Little Pleasures
.
Food Adulting