20 Creative Floors You Won't Be Able to Stop Staring At
Jul 04, 2016
So you want to give your floors a makeover, but you'd like something a little more exciting than a new area rug. The options are endless, but a creative floor pattern might be exactly what you're looking for. One of the boldest ways to revamp a bland room is to paint the floors… if you're up for that kind of commitment. Other creative ways to rock a brand new floor include stencils, hand-painted designs, graphic tiles and even marbled hardwood. To add a pop of personality to your home (and a new way to take your shoe #selfies to the next level), check out these 20 inspiring ideas to find the perfect way to bring attention to your floor. Dance party, anyone?
---
1. Marbled Wood Floors: This artist has discovered a way to make marbled wood floors that will totally win over your unicorn-lovin' heart. Each piece of wood is dipped into a marbling bath (just like you do with your fingernails and paper). Once your floors are done, stick with solids for the furniture and accessories, in any color scheme you want. (via Sneaker Studio)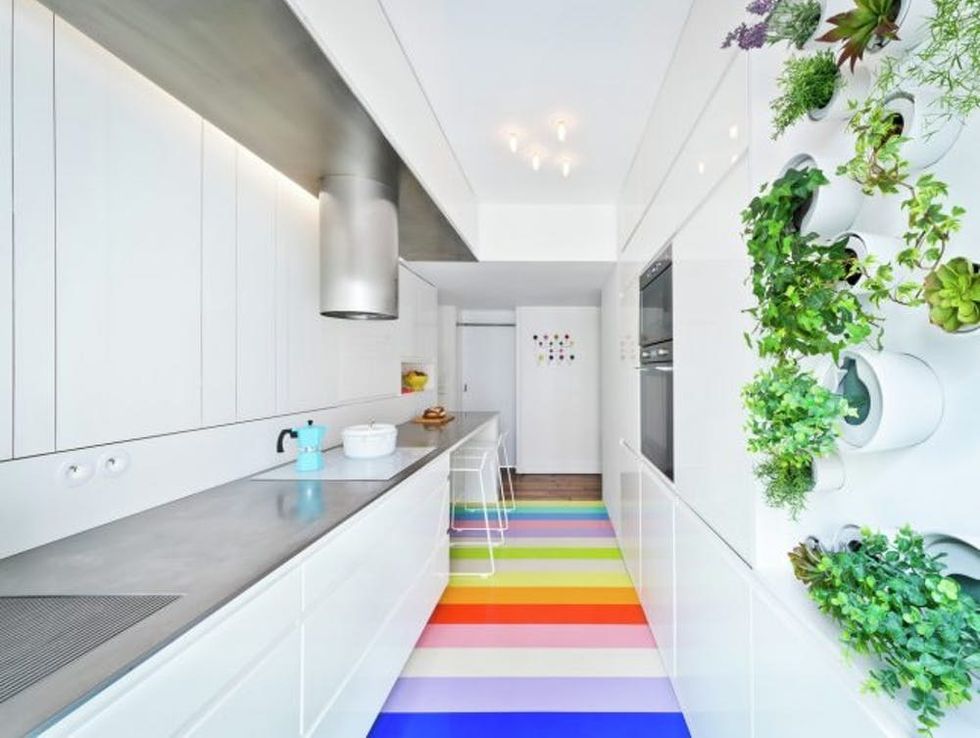 2. Rainbow Halls: Why settle for one floor color when you can embrace the entire rainbow? This look might not work in every home, but in a modern, all-white kitchen, it looks totally awesome. (via Arch Daily)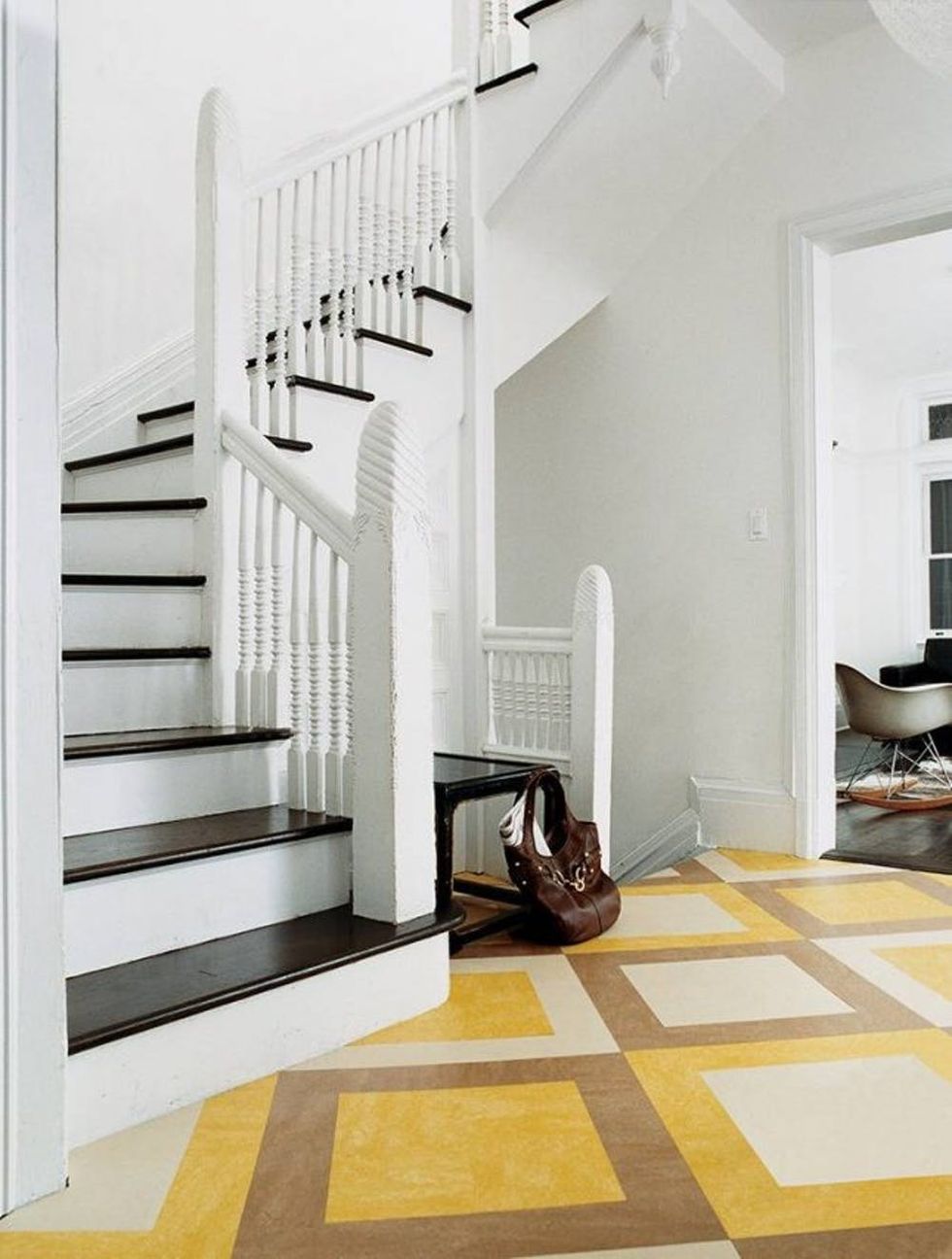 3. Checkered Entryway: Make a serious statement or brighten up a dark entryway with a bright splash of color and a bold checkered pattern on the floor. The look is fun and unexpected, but you can still keep it minimalist and modern with a similar color palette. (via Domino)
4. Woven Floor Tiles: It's a rug! It's tile! No, it's… a pretty adorable floor that you will not be able to stop looking at. Forget the #selfie, with a floor this gorgeous you're going to want to snap your shoe collection on the daily.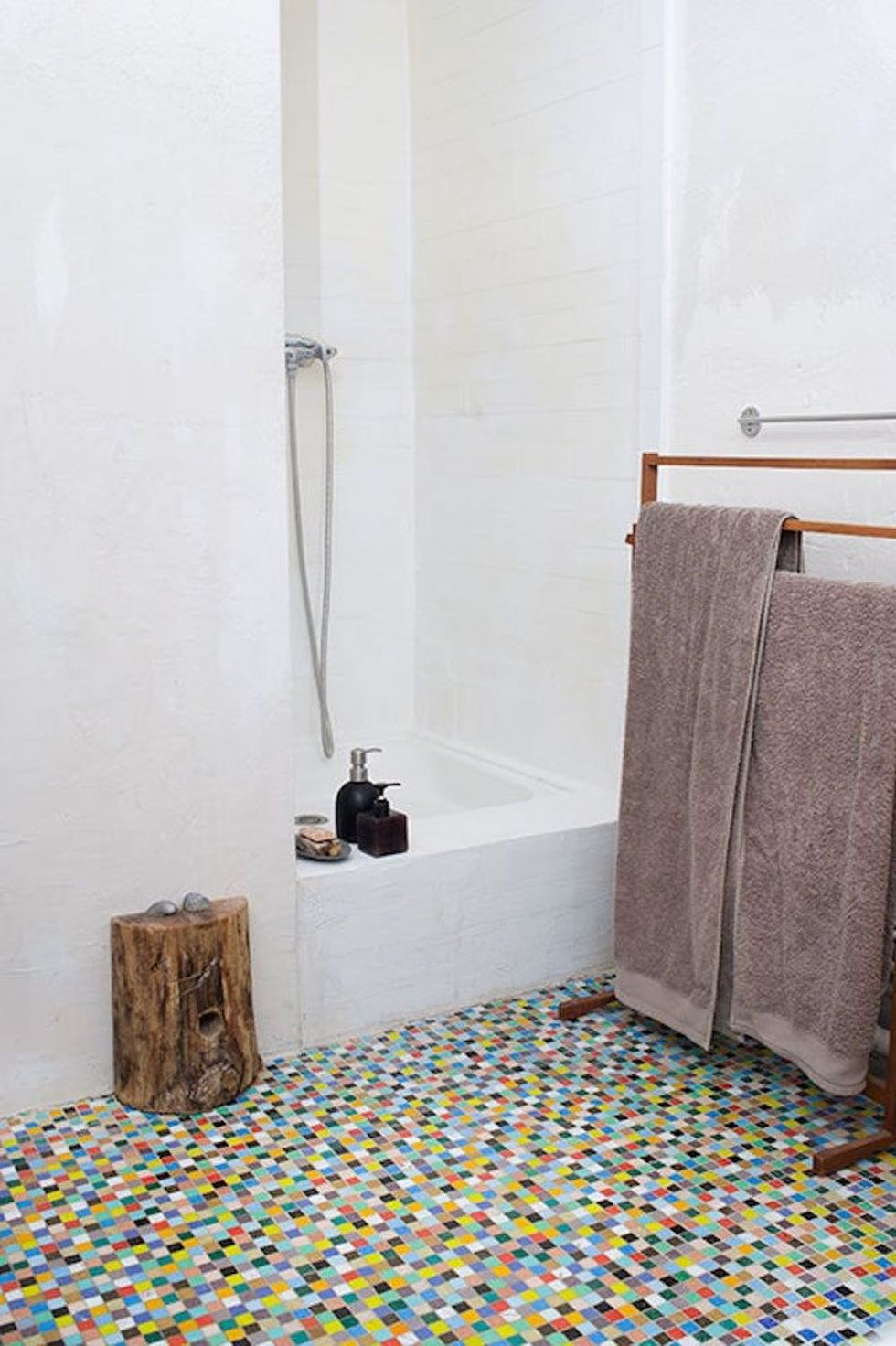 5. Tiny Rainbow Tiles: You'll be walking on sunshine with a floor this bright and cheery — it's almost too cute to cover up with a rug. Keep the walls white and the towels neutral to keep the bathroom looking chic. (via Design Sponge)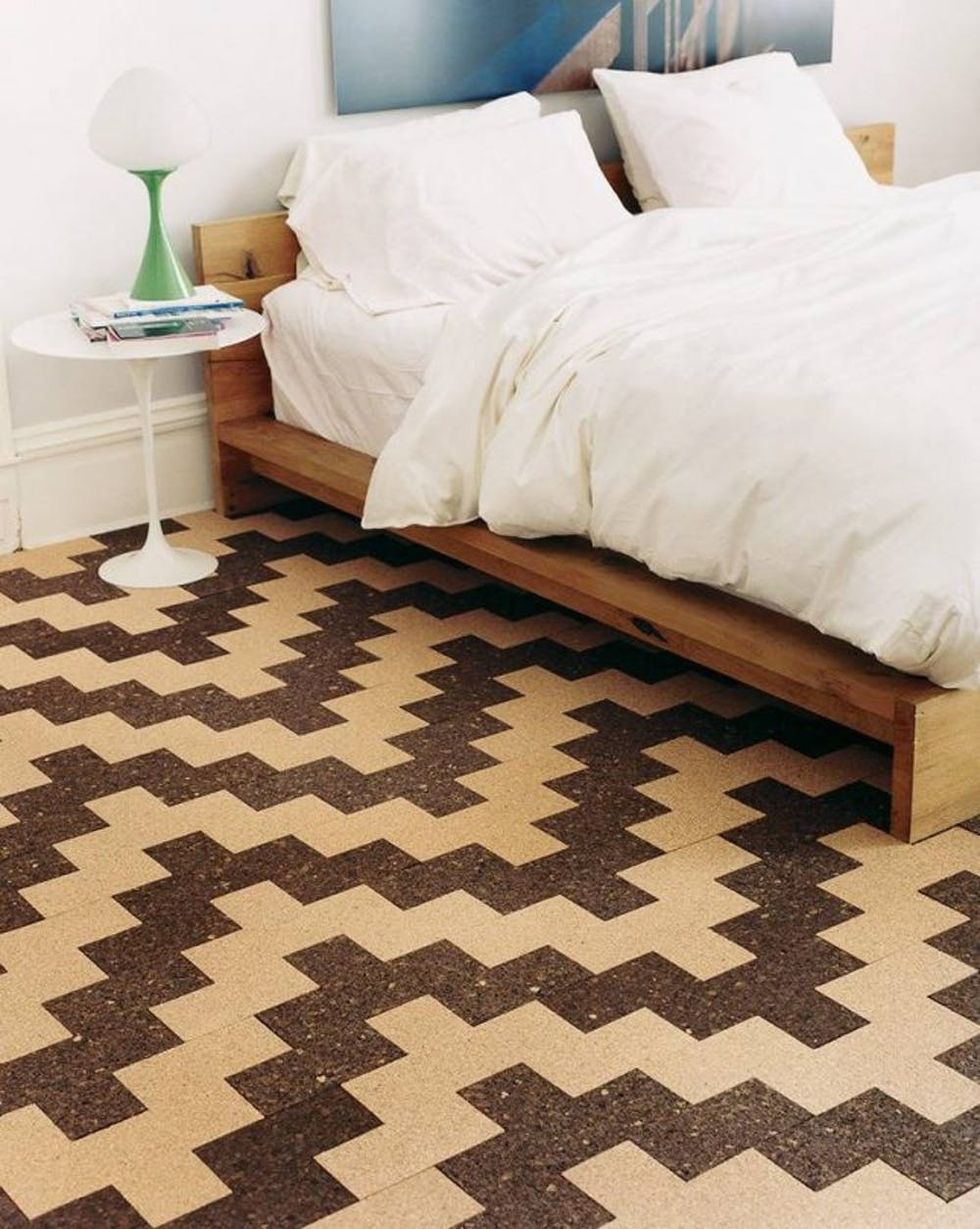 6. Pixelated Bedroom Floor: Forgo the typical square tiles for stacked rectangular tiles for a little pattern play. A monochromatic color scheme works well in a bedroom, where you don't want the floor to overwhelm the space. (via Domino)
7. Geometric Game: Believe it or not, this bedroom is actually inside of a bus, but you could totally take the look to your Airstream camper or laundry room. The geometric floor paint and killer color palette definitely give this tiny home a designer edge.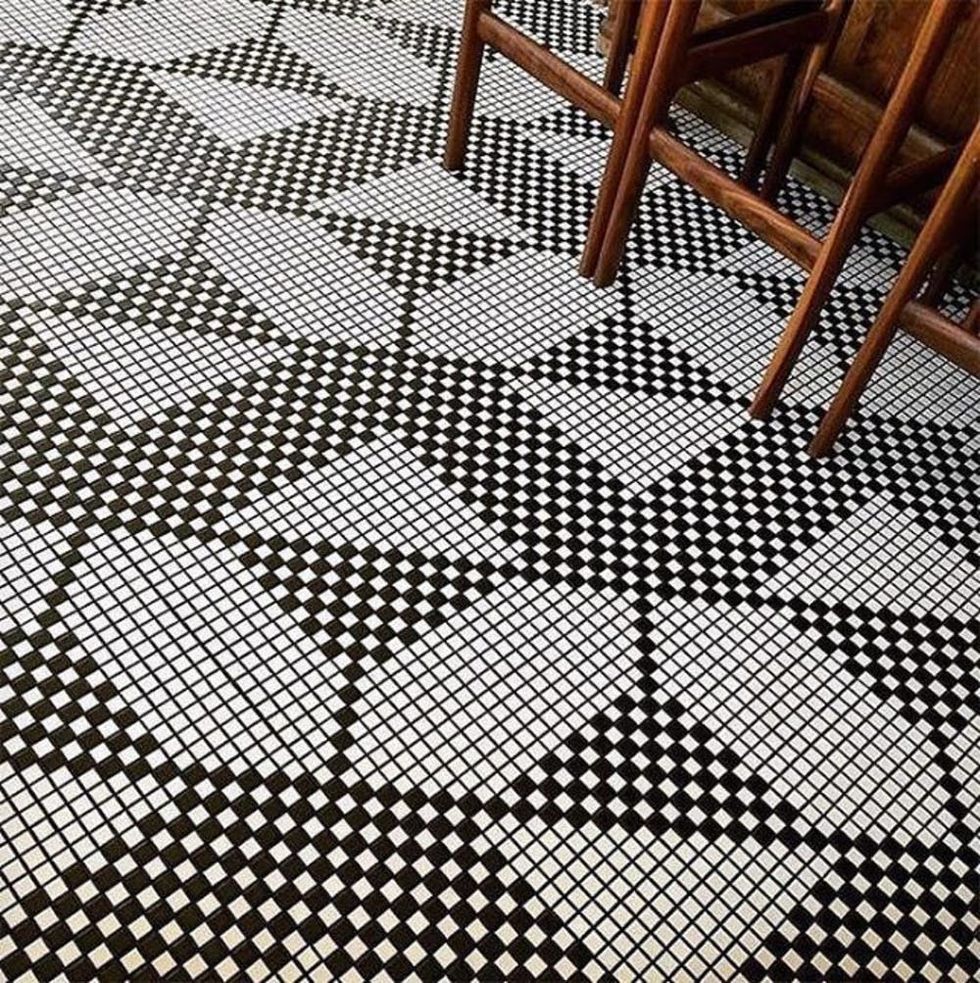 8. Black and White: If you're looking for a fresh, Scandi look, a bold but simple pattern on the floor sets up a perfect canvas for bright paint on the walls. The tiny tiles create a sort of optical illusion that would probably work best in a smaller space like a bathroom or a tiny kitchen. (via Design Sponge)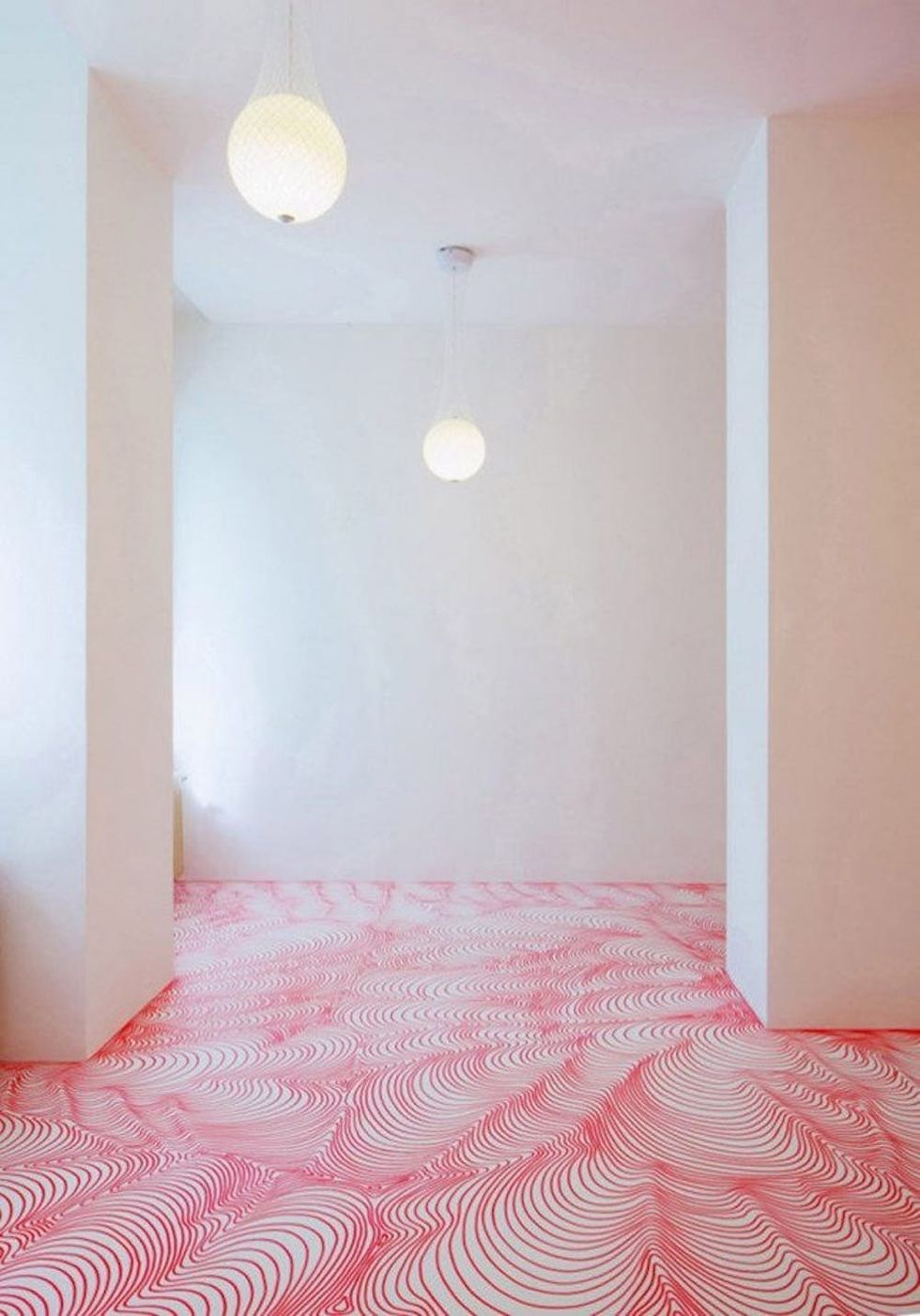 9. Sharpie Swirls: How are your Sharpie skills? If you're feeling super ambitious, get inspired by the work of artist Heike Weber. He creates these floors *entirely* with hot pink Sharpies. Time consuming, yes, but the end result is seriously hypnotizing. (via Where Cool Things Happen)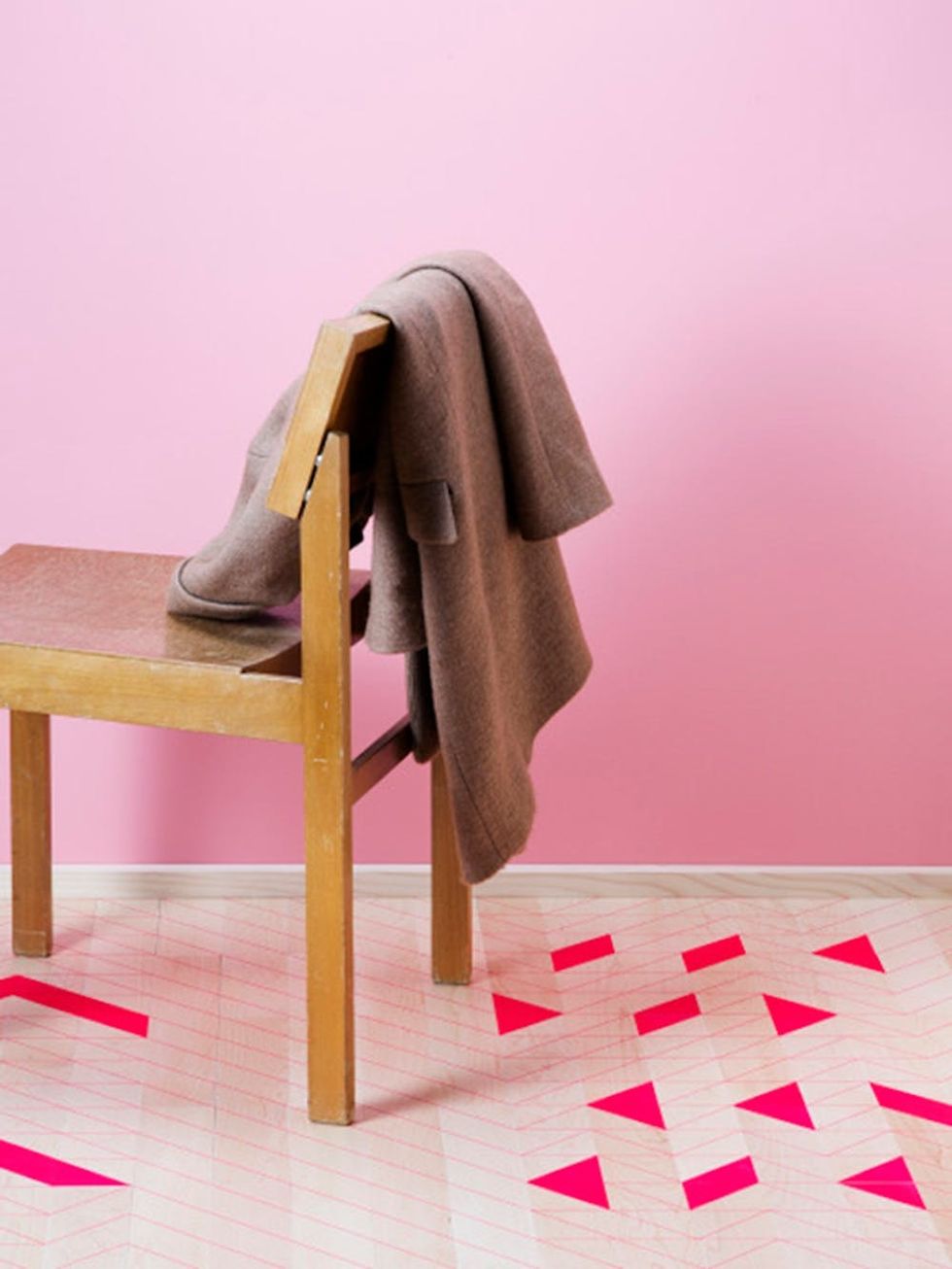 10. Neon Accent Shapes: Hate the sterile-looking floor in your bathroom? Turn it into geometric cuteness with stencils and an ombre color palette. If painting isn't an option, use vinyl stickers to create a temporary design. (via It's Nice That)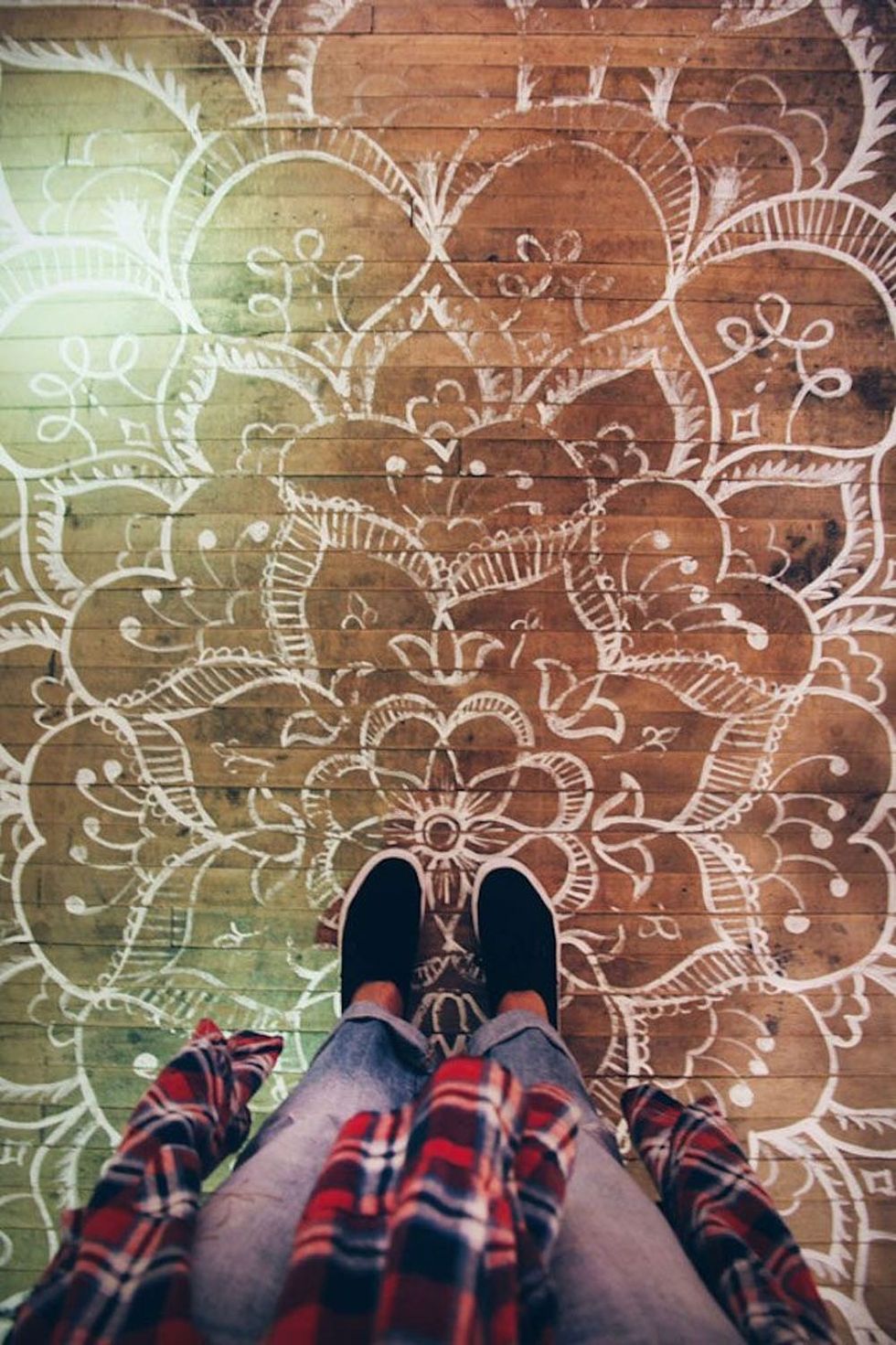 11. Rustic Mandala: Take your love of coloring books to the floors with giant painted mandalas. The flowing lines add a bohemian touch to your home, and you could totally do it freehand. You want a rustic, free-flowing vibe, so don't worry if it's not symmetrical. (via Free People)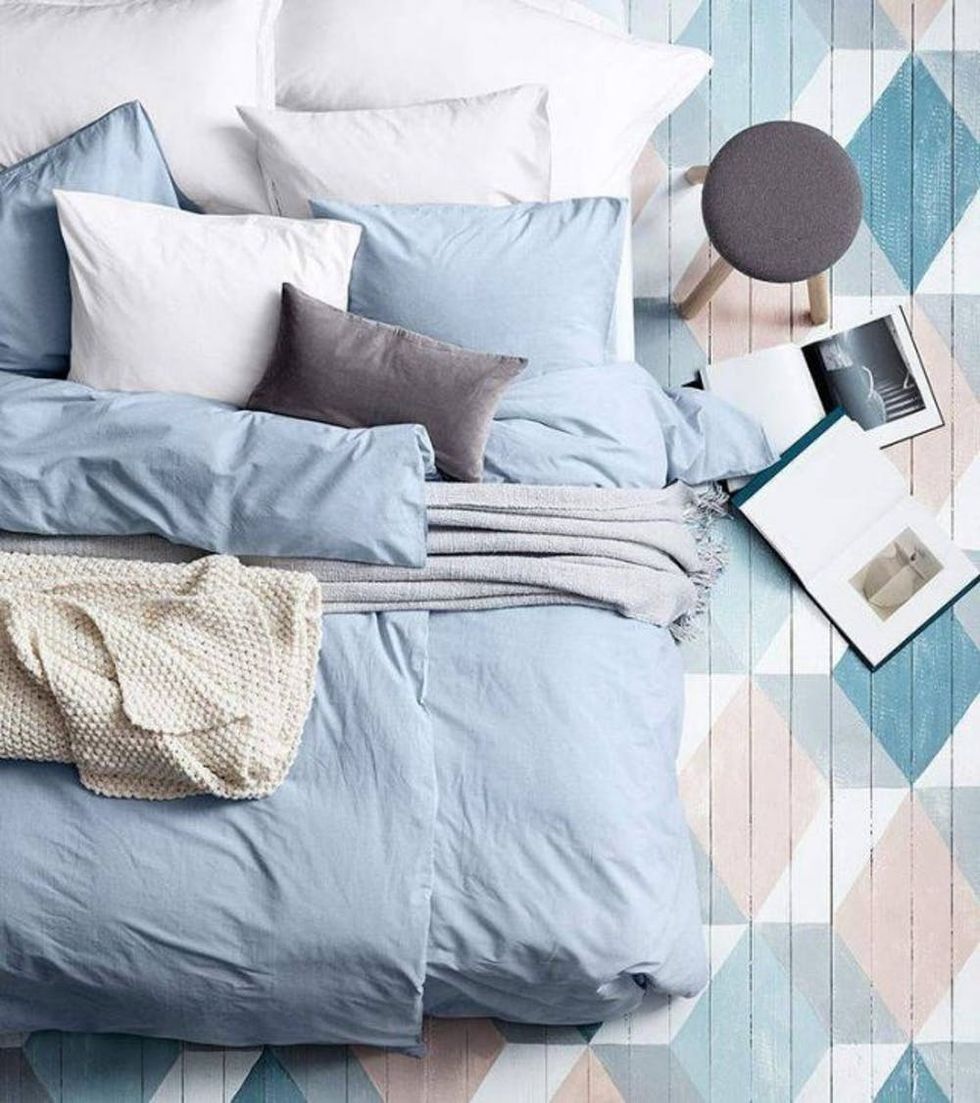 12. Pastel Patterns: This geometric pattern could work in any color scheme, and would look great in a powder room or bedroom. Transform a tired-looking white wood floor (or fake wood floor) into a pastel wonderland with a few coats of paint. (via Domino)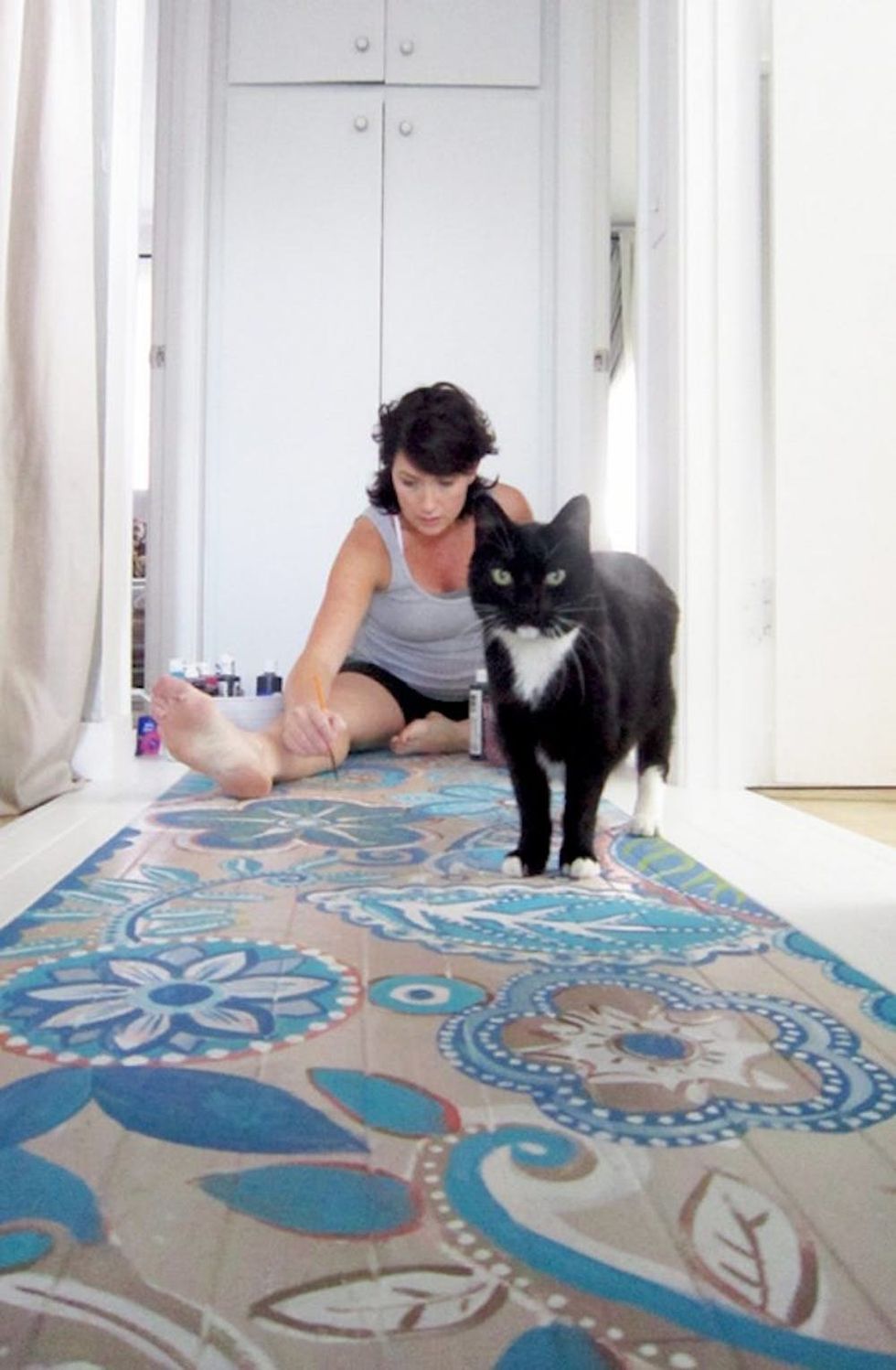 13. DIY Painted Floor: Sorry, renters; this one might not be an option for you. But for anyone who's got a long boring hall to decorate, painting a floral design could be just the thing to add a lot of personality to the space without worrying about slipping on a rug. Practice your painting technique for an awesome DIY project (furry co-painter optional, of course.). (via Alisa Burke)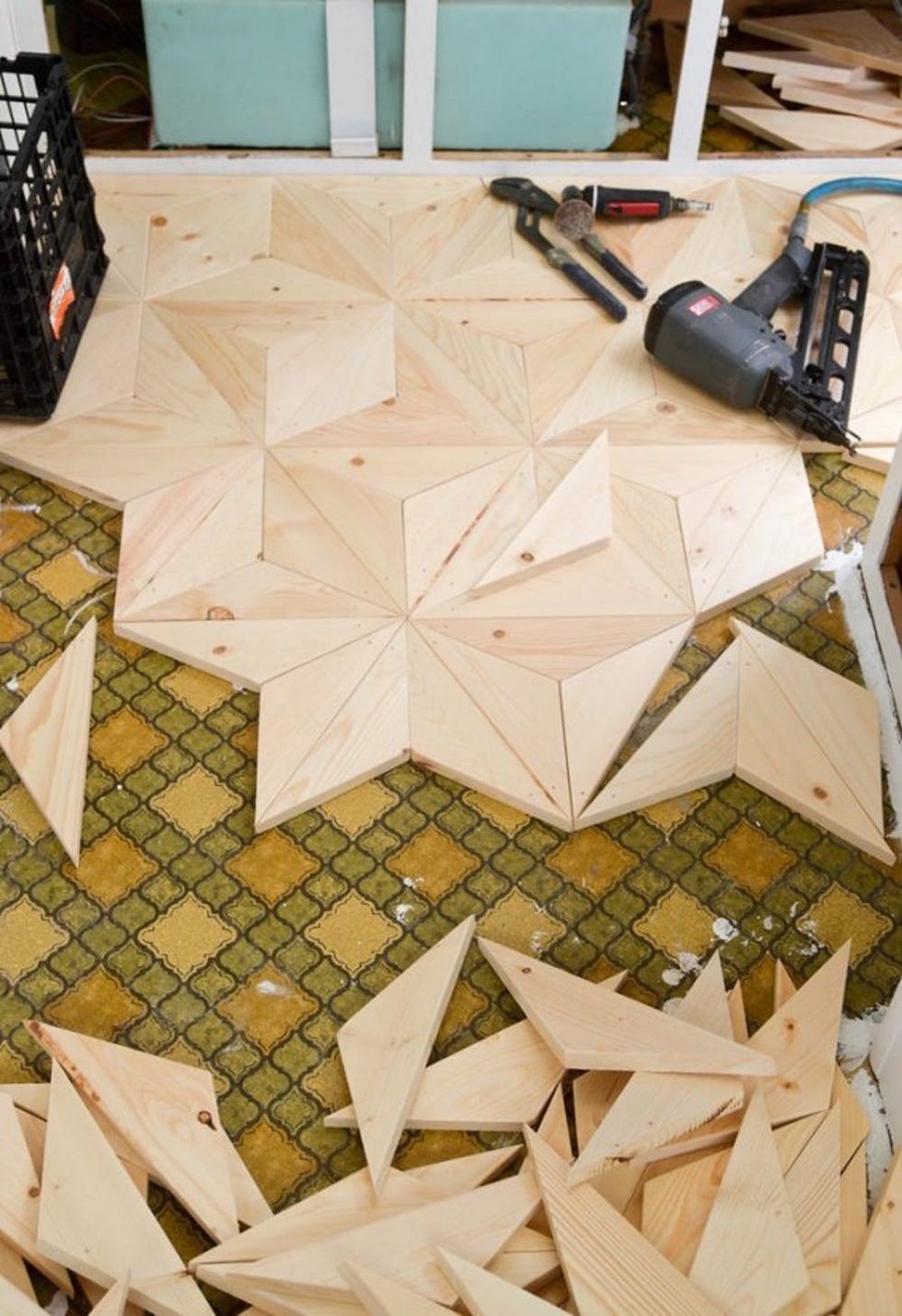 14. DIY Geometric Wood Floors: Did someone say super-ambitious weekend flooring project? This one is easy enough, but cutting out those little triangles could get a little repetitive, making this project ideal for a teeny tiny kitchen or a camper makeover. Just make sure your angles are super precise, to cut down on mistakes. Your weekend motto: Measure twice, cut once! (via Vintage Revivals)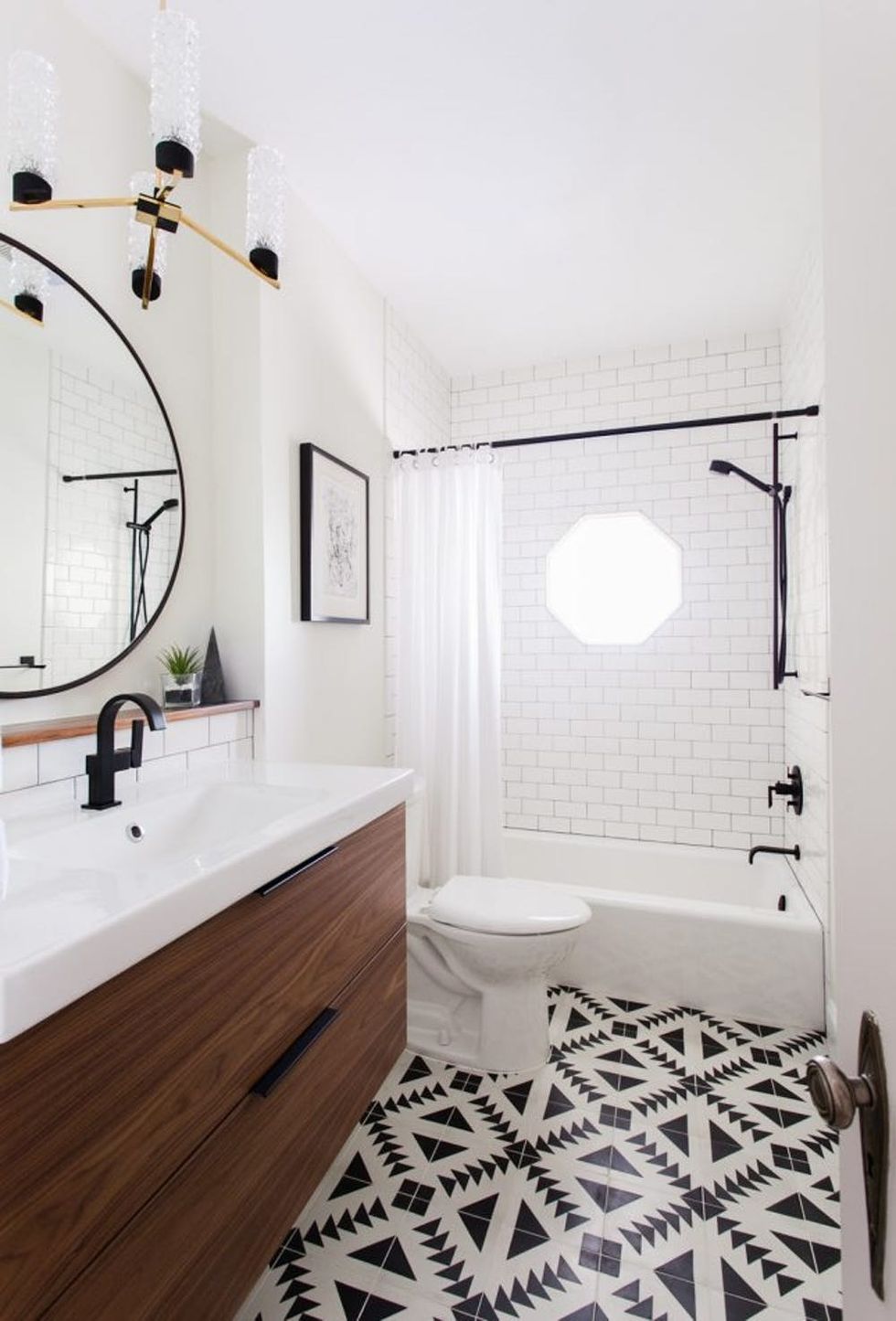 15. Bathroom Chic: Use black and white striped tiles to create a beautiful diamond floor. Part retro and part modern, this geo tiled floor works perfectly with black hardware and warm wood cabinetry. Bring in color with hand towels or a rad shower curtain. (via Erin Williamson)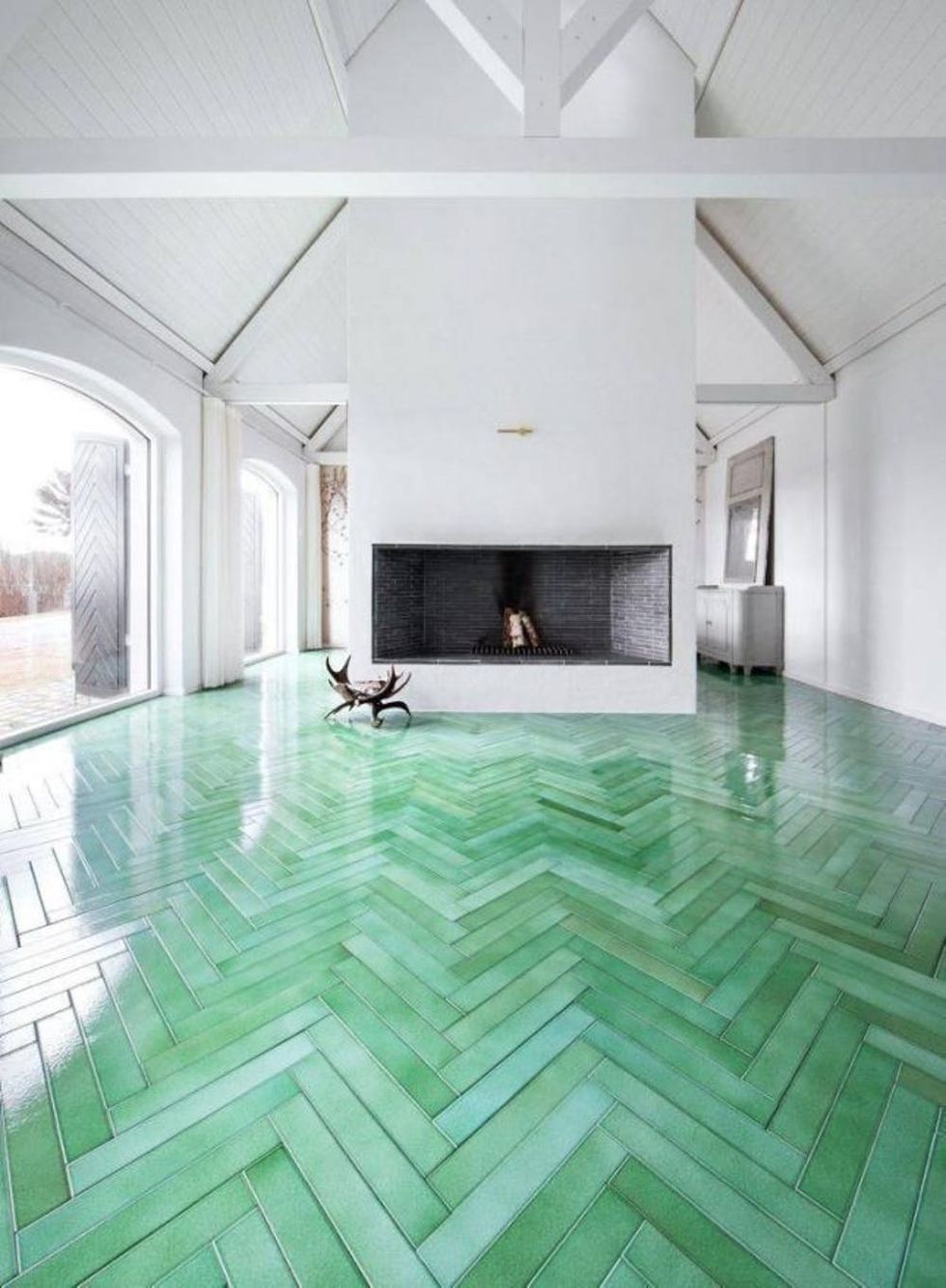 16. Green Herringbone: Who says colored tile has to stay in the bathroom? This is a big commitment for one floor, but if you stick with neutral furniture and a muted color palette, this show-stopping floor might just turn into the coolest feature in the house. (via Domino)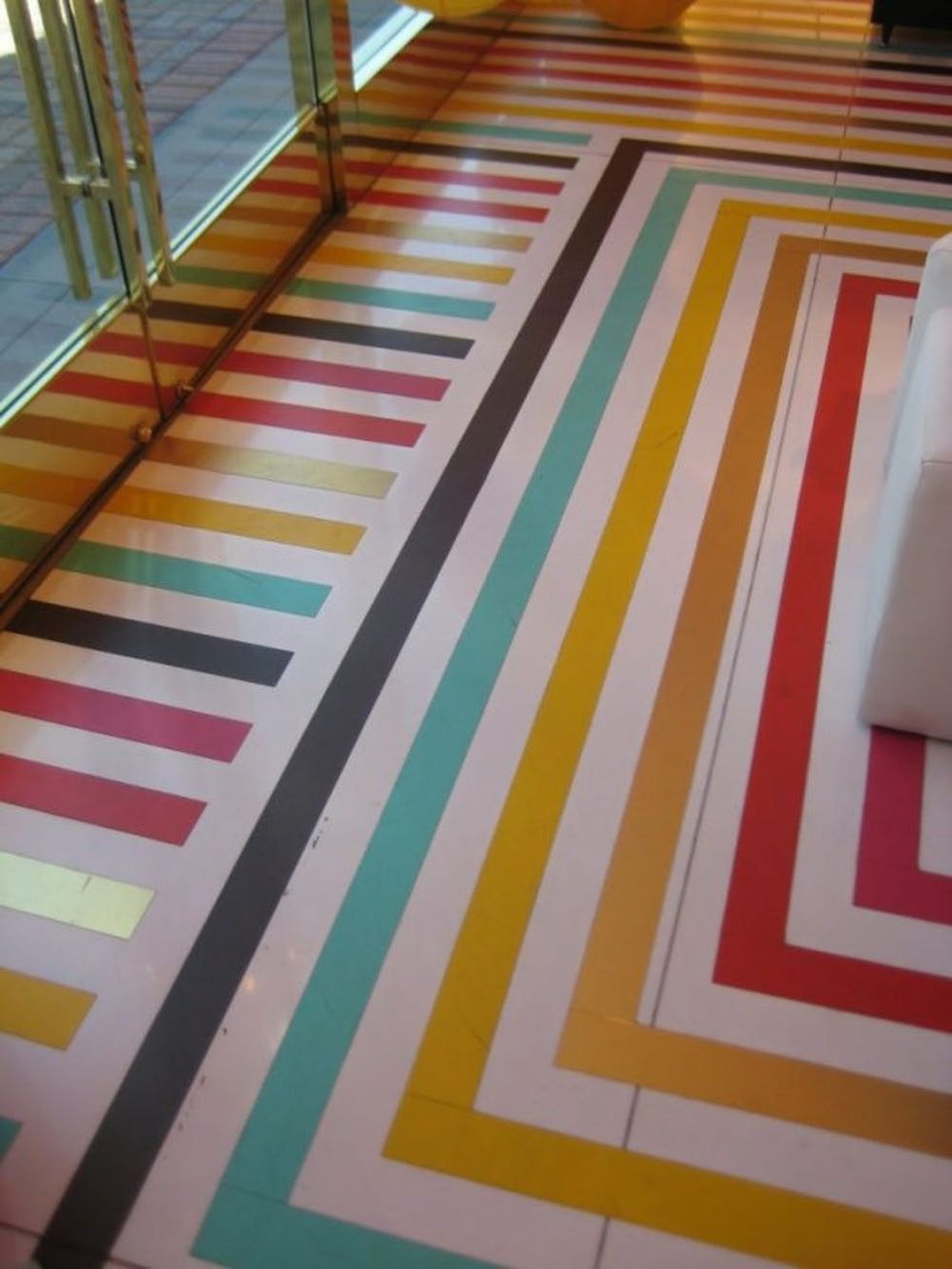 17. Rainbow Stripe Floors: More stripes? Yes, please. This floor may have been the design for a Kate Spade store, but it could easily be replicated with vinyl floor tape and a steady hand. Get ready to feel the rainbow in a BIG way with this modern color scheme. (via Decor Hacks)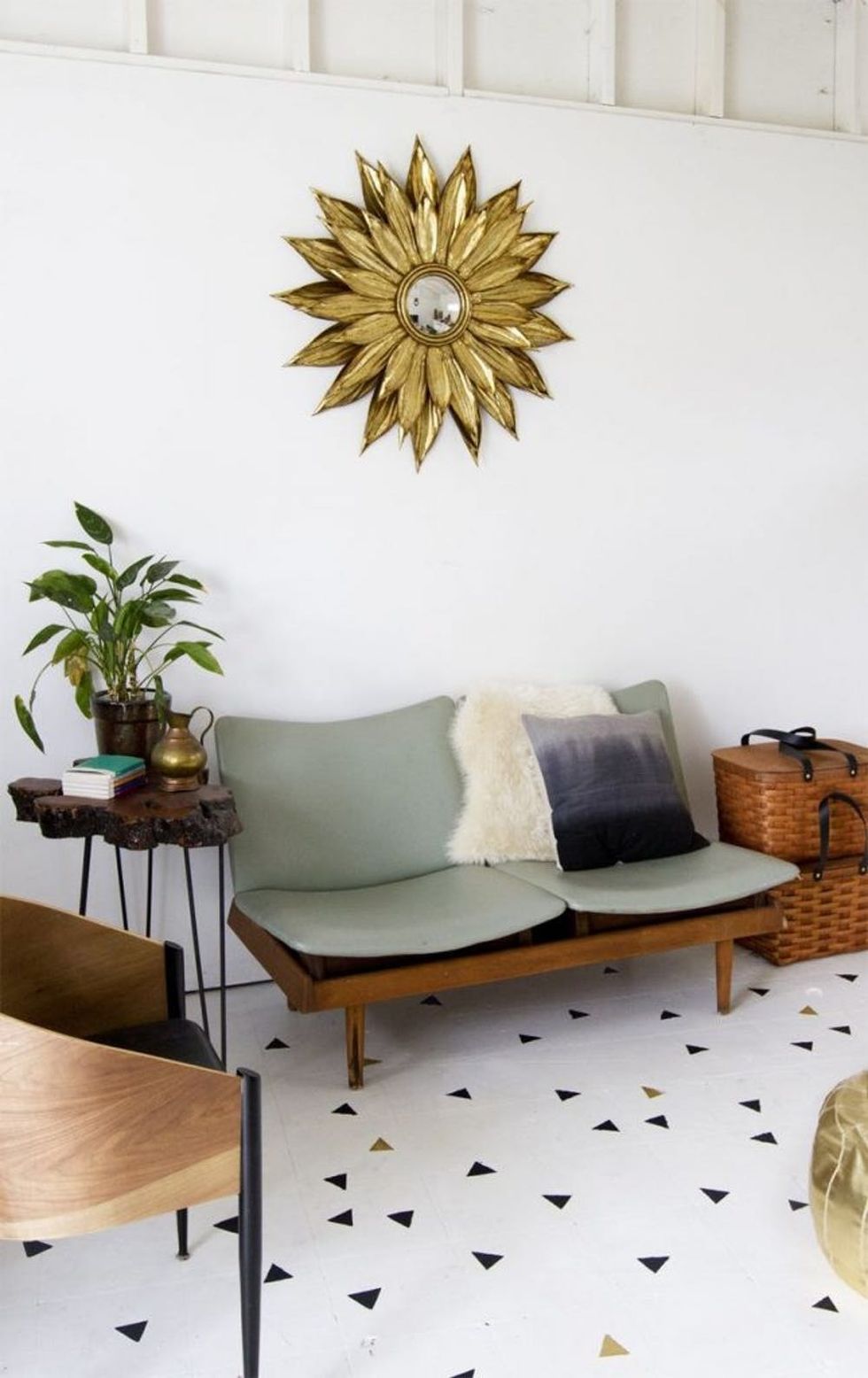 18. DIY Geometric Stenciled Floors: If you want a floor with some personality, but you don't want anything too bold that will clash with your existing patterns, a simple stencil might be the way to go. The least expensive and biggest impact comes from painting tiles you already have. (via A Beautiful Mess)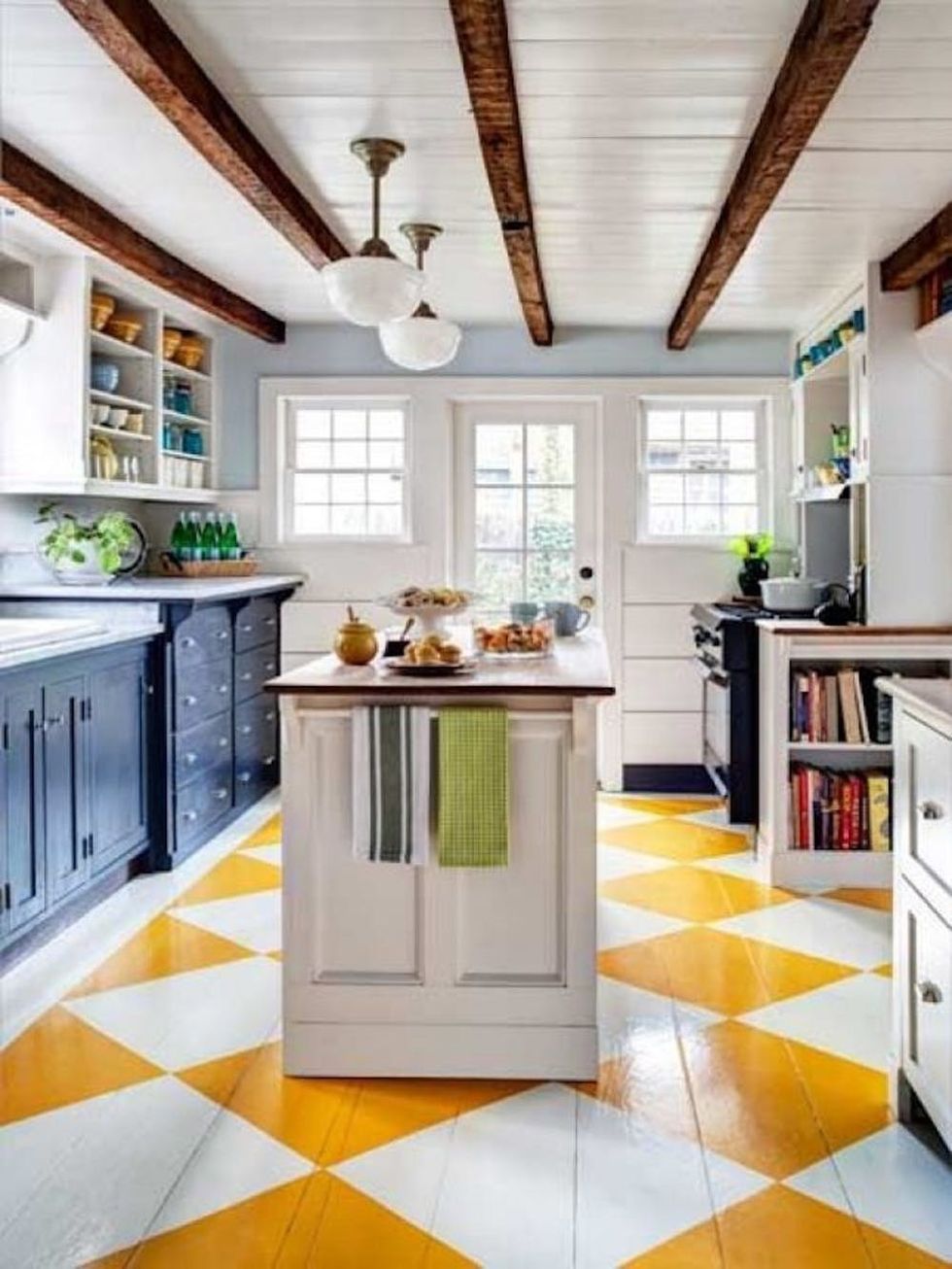 19. Checkered Kitchen: Checkers are classic, and when you pick a cheery color palette, you have a floor that simply can't help but demand attention. The combo of white wood and yellow graphic checks in this kitchen is a definite win. (via Domino)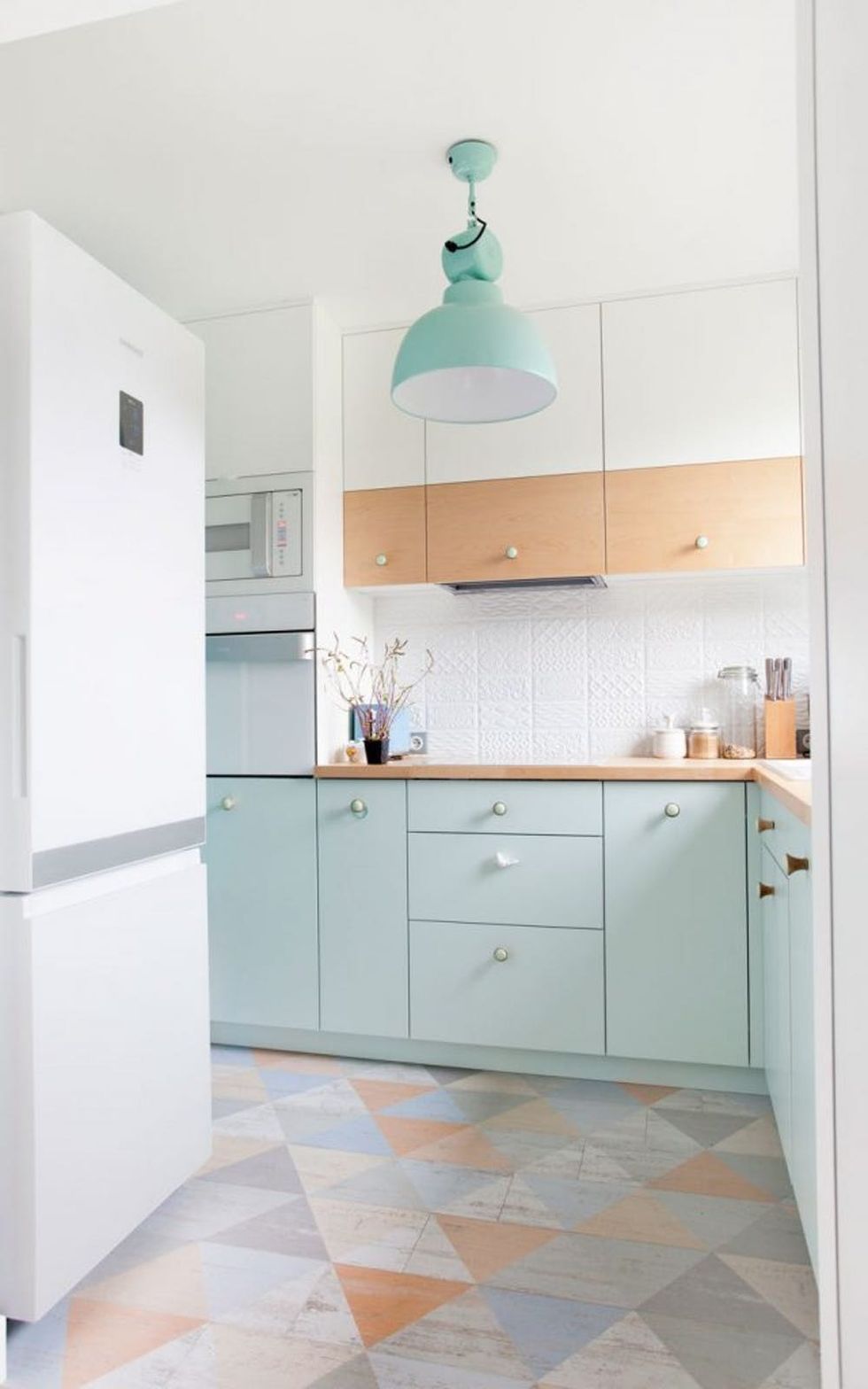 20. Pastel Perfection: This triangle floor is super trendy and offers a cool spin on a classic look. If you're looking for a creative floor to complement your colorful cabinets, look no further than this subtle geo pattern. (via Design Lifestyle Blog)
Which of these painted floor ideas is your favorite? Follow us on Pinterest for more decor inspo and DIY projects.