13 Hilarious Wedding Pic Ideas You Should Steal
Aug 06, 2014
What's more epic than a dinosaur crashing your wedding Jurassic Park-style? A dino AND Jeff Goldblumcrashing your weddingJurassic Park-style, that's what: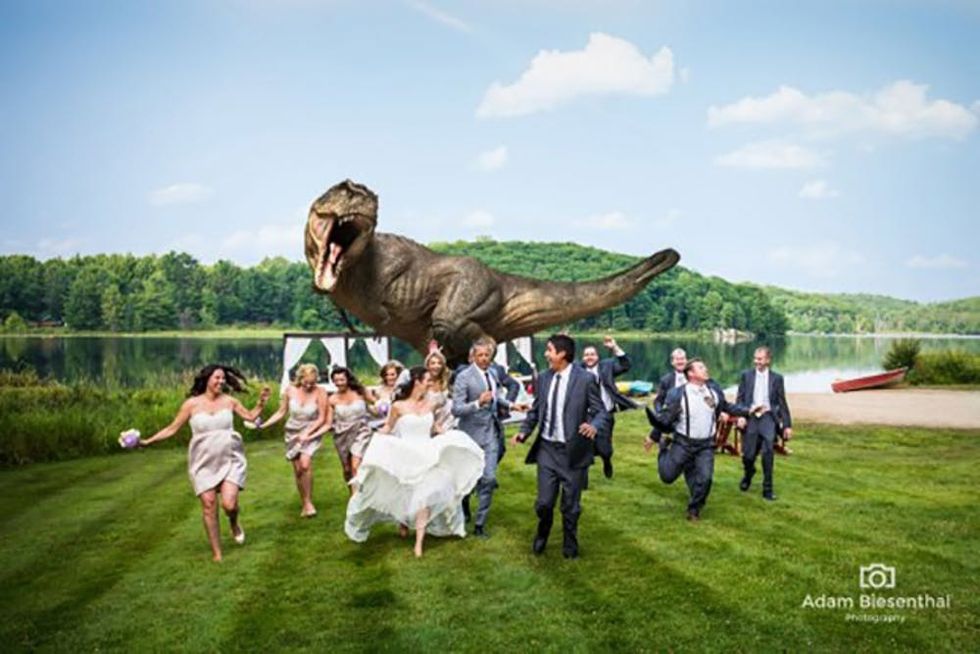 ---
Maybe you don't have a B-list celeb who can pose for your wedding outtakes, but that doesn't mean you and your crew can't pull together something viral. While we totally applaud the idea that a wedding is a serious commitment that two people enter into, we don't think that means it has to be boring and traditional. Y'all know we're all about the DIY touches that make any celebration gorgeous and personal. But we're also big fans of bringing some personality and humor into your keepsakes. TBH, we got over prom poses in high school. We love coming up with crazy + creative photo ideas, but we just have to follow them up with some ROTFL options. These will look way better adorning the mantle in your new home than any rigidly posed pic would.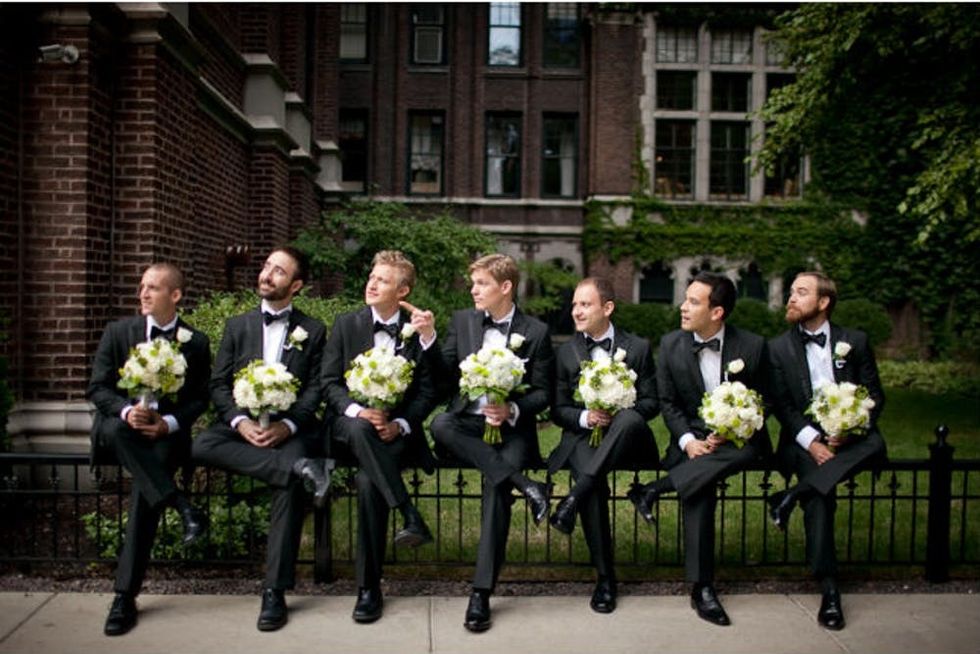 1. The Bridesmaid Pose: Looks like these groomsmen are just as over traditional posing as we are. And they're killing it with their gorgeous bouquets. (via Robb Davidson Photography)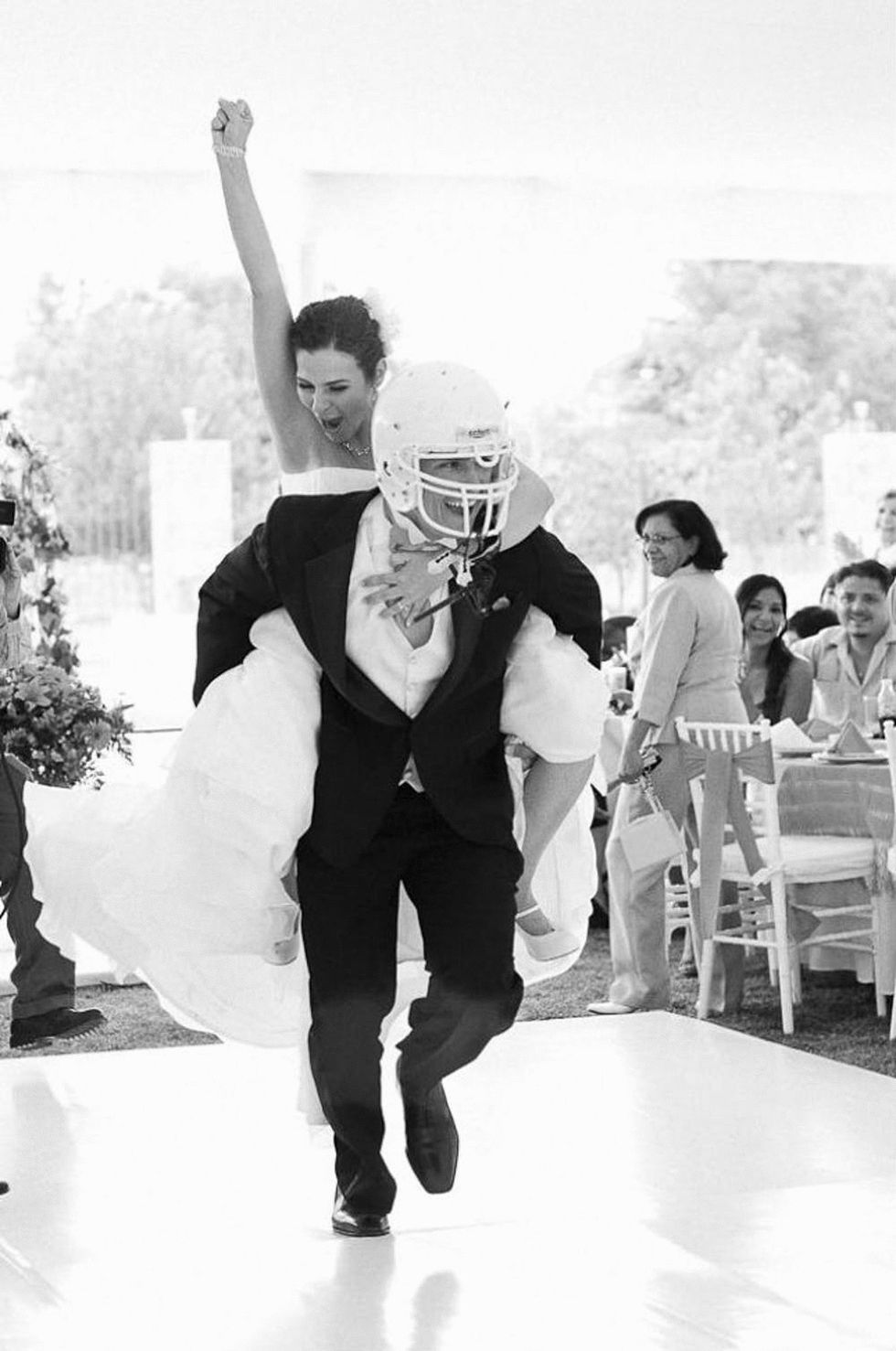 2. Touchdown: Whether your guy used to be the star of his team or he's struggling to hang on in his fantasy league, he'll appreciate injecting a dose of his (or your!) favorite sport into the special day. (via María Velarde)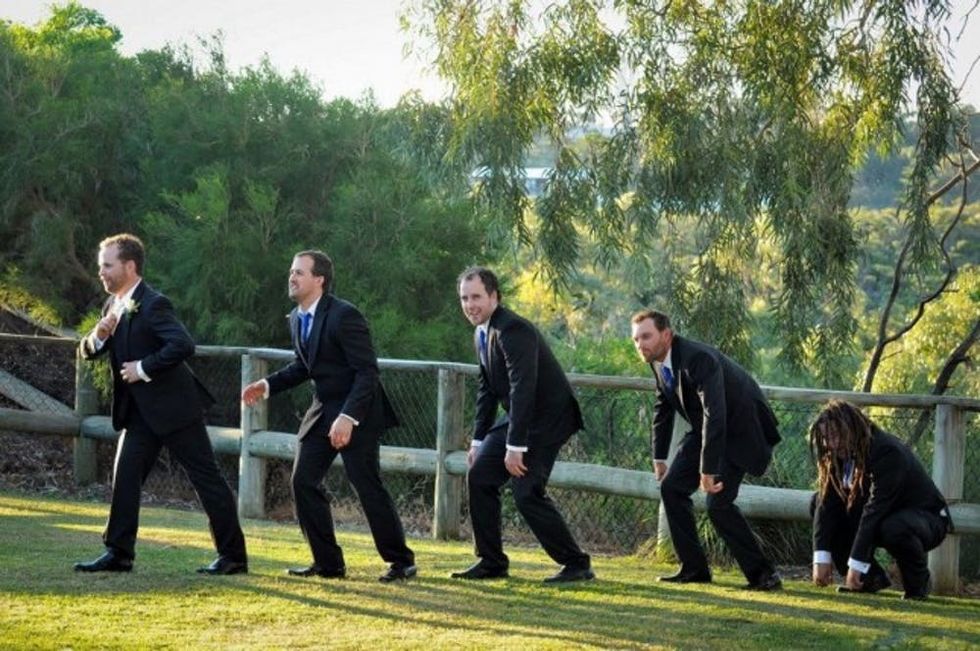 3. The Evolution of a Groom: You already knew you got the cream of the crop when it comes to your S.O.'s group of friends, but this photo is a cute and lol-worthy way to illustrate that fact to the world. (via Reddit)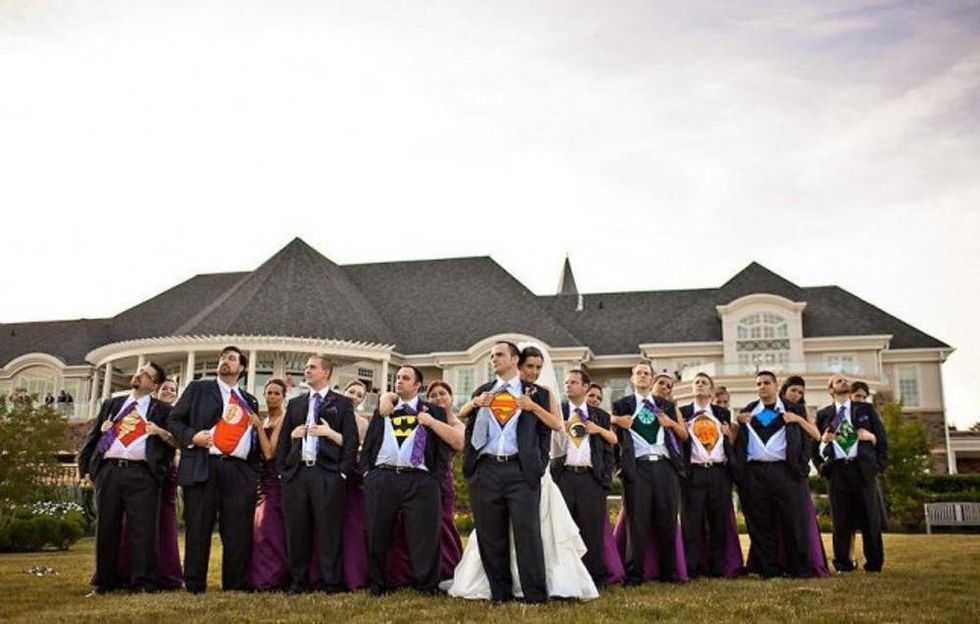 4. Protectors of the Innocent: He's the Superman to your Lois Lane, but it's time to let that secret identity out of the bag. If one (or both) of you are big comic book fans, you can't miss out on this photo op. (via Hoffer Photography Blog)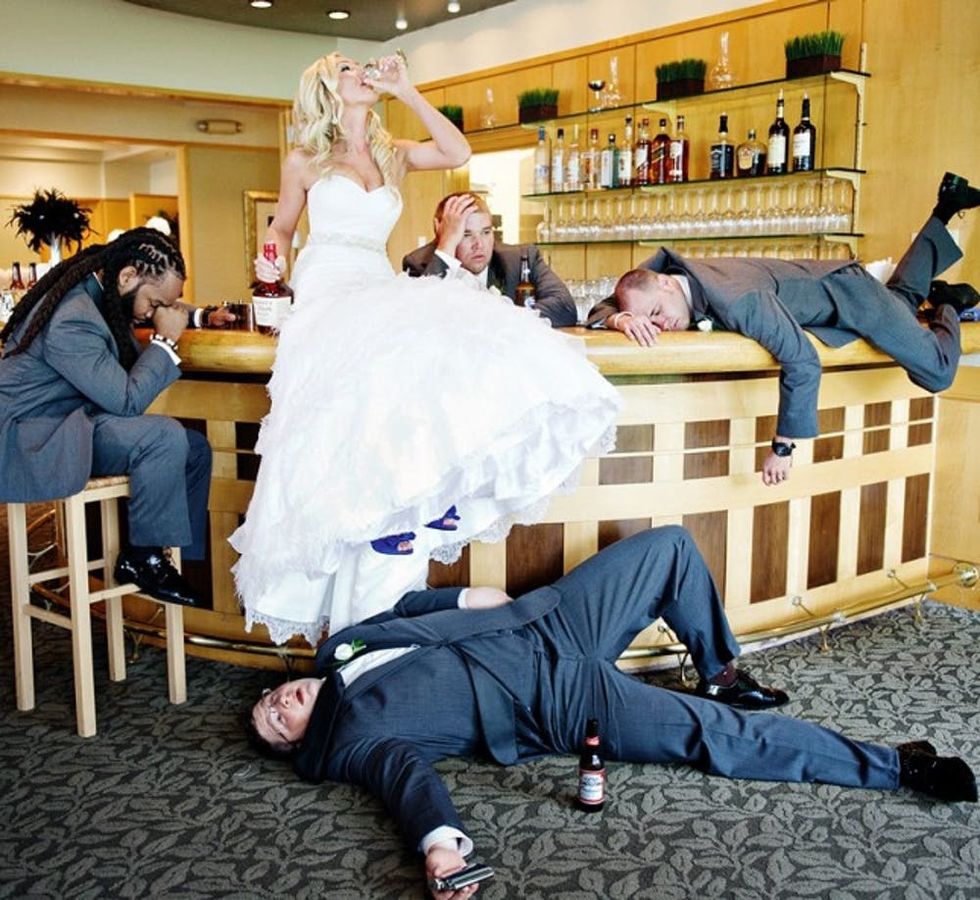 5. One of the Guys: You and he know you're his best friend and partner-for-life, but his buddies may need some convincing. Go head-to-head and prove you'll be the last one standing in his heart. (via Igo Photography)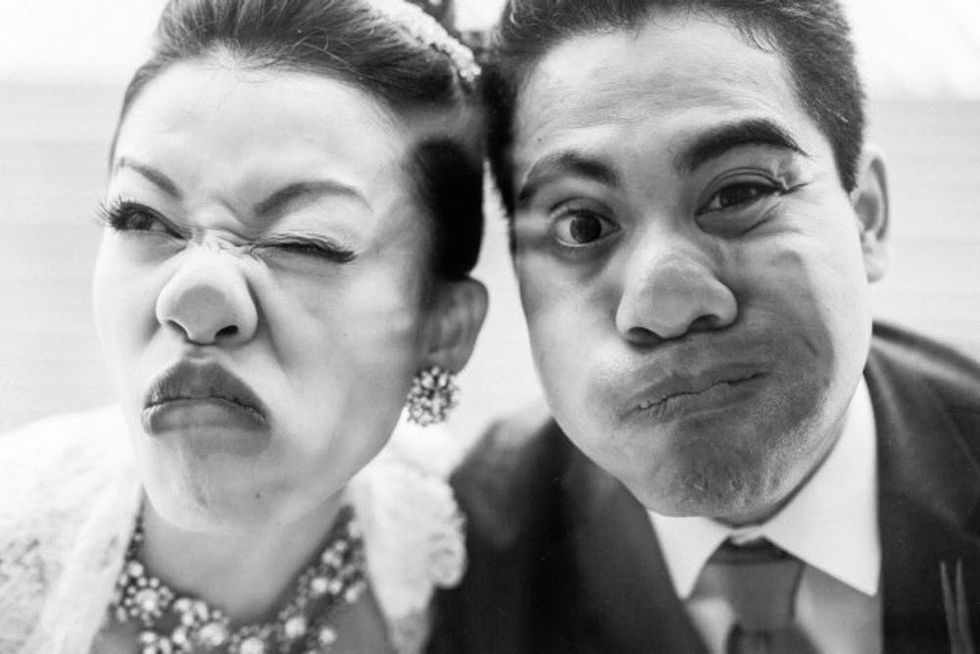 6. A Match Made in Heaven: Every bride wants to look beautiful for the Big Day, and we know you will. But this is also a great opportunity to prove you don't take yourself too seriously and that you and the groom are seriously meant-to-be. (via Hoffer Photography Blog)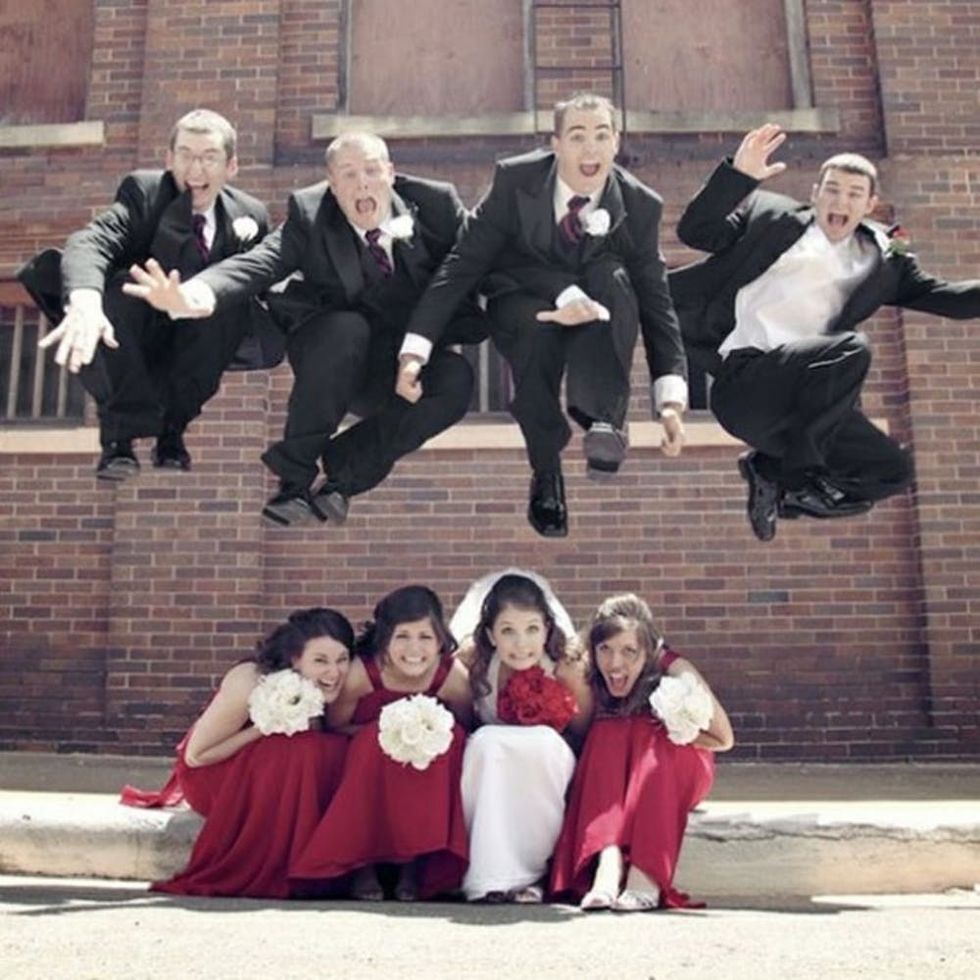 7. The Jumping Pic: This jumping pic is a classic for any occasion. Some fancy angling tricks can make this one look like you're truly jumping over the bridal party, but we wouldn't recommend *actually* jumping over them. (via Alex M Photography)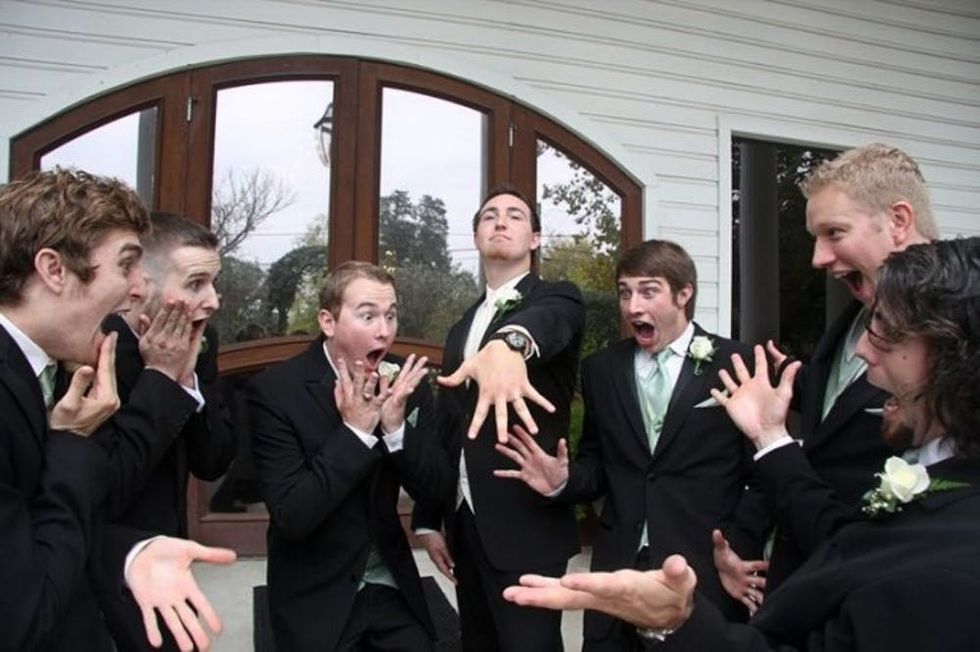 8. The Ring Pic: The groomsmen pics are killing it. (Come on, ladies! Let's step it up!) This pic is so true-to-life we are starting a slow clap for this shot. (via Plum Tree Studios)
9. Cold Feet: We know your fiancé is just as excited to get hitched as you are… and sometimes more so (Kanye, anyone?). But we're okay with embodying traditional wedding stereotypes for the sake of a good chuckle. (via Flickr)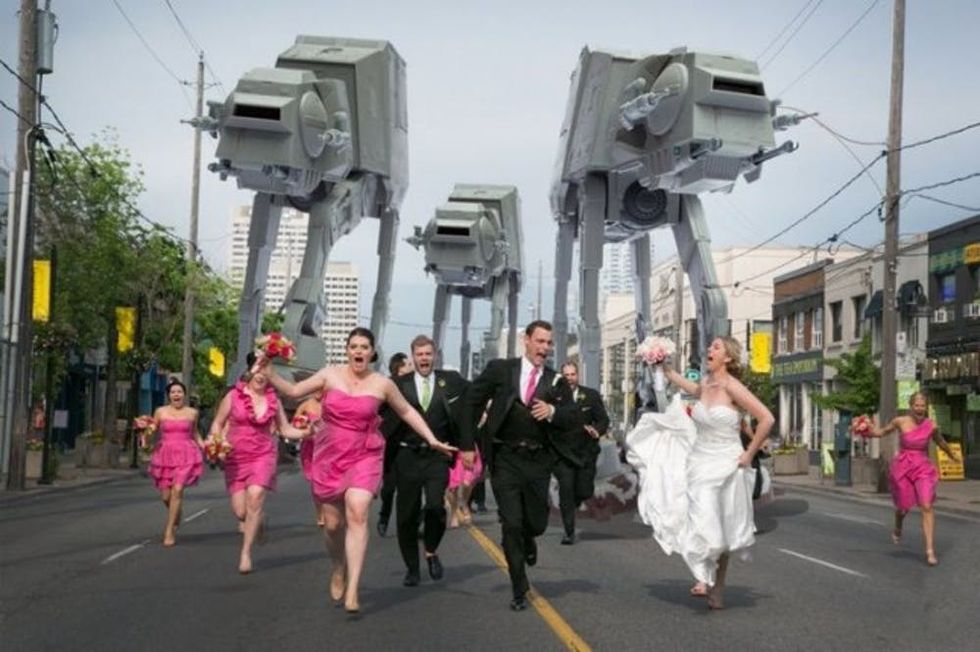 10. The Attack Pic: Attack pics are a hot new trend in wedding photography. We've shown you Jurassic Park and Jurassic Park with Jeff Goldblum and now we have… Star Wars AT-AT Walkers! (via Little Blue Lemon)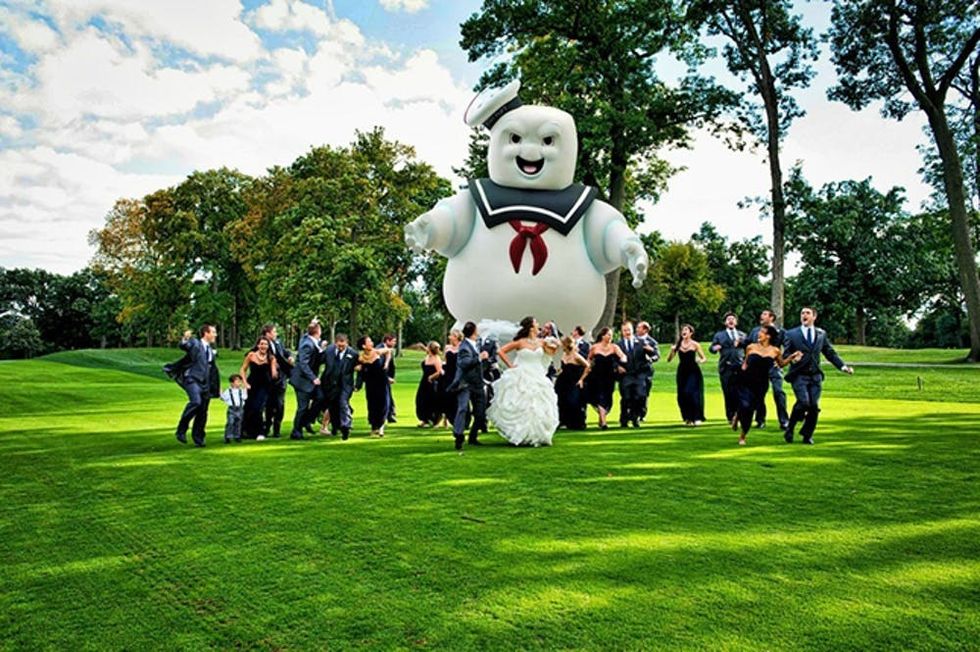 And the Stay Puft Marshmallow Man! (via Buzzfeed and Katie + Chris Sabino)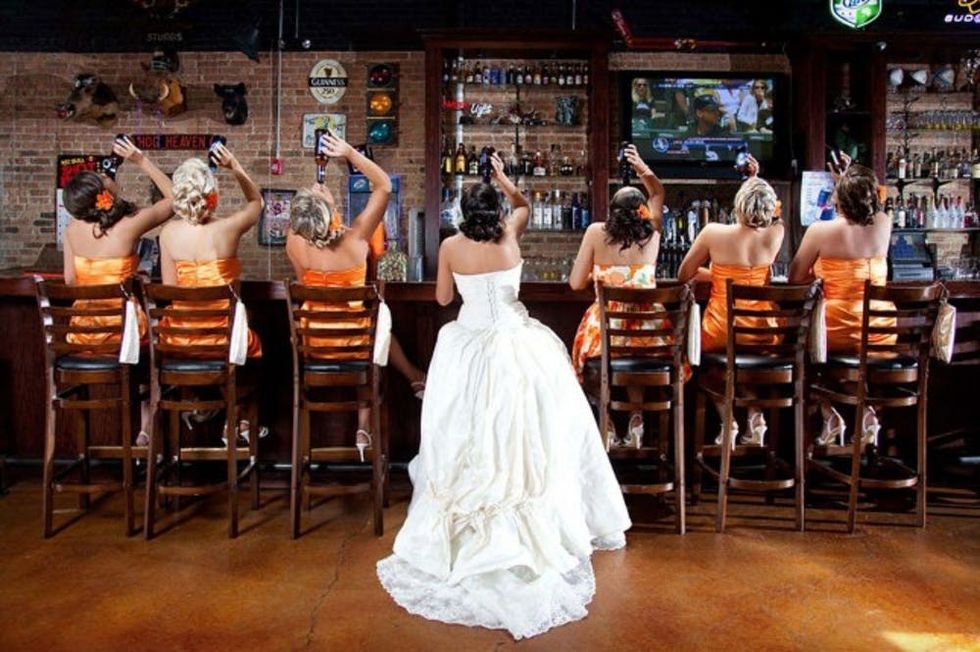 11. Cocktail Hour: The fact that most wedding photo sessions happen during the cocktail hour means the b + g miss out on the alcohol they're paying for. It's a travesty we don't quite have a solution for. Unless it's using this photo op as an excuse to catch up to your guests. (via Miller + Miller)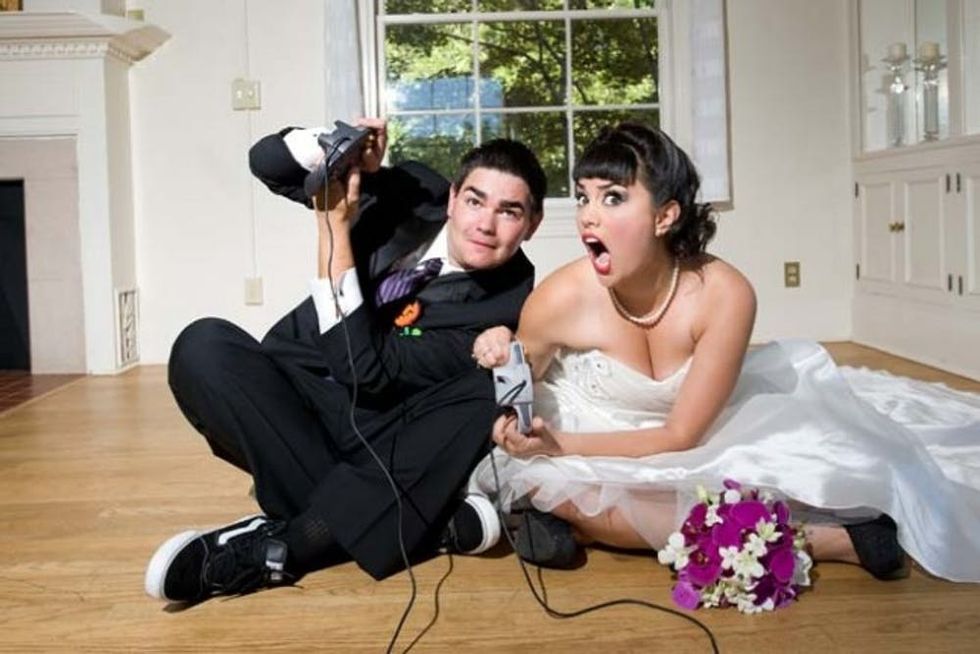 12. Gamers: The couple who games together stays together. Strike this pose to recreate what you and hubby look like on a normal night in, or actually play a few minutes as a de-stressor and let your photographer capture you candidly. (via Real Weddings Mag)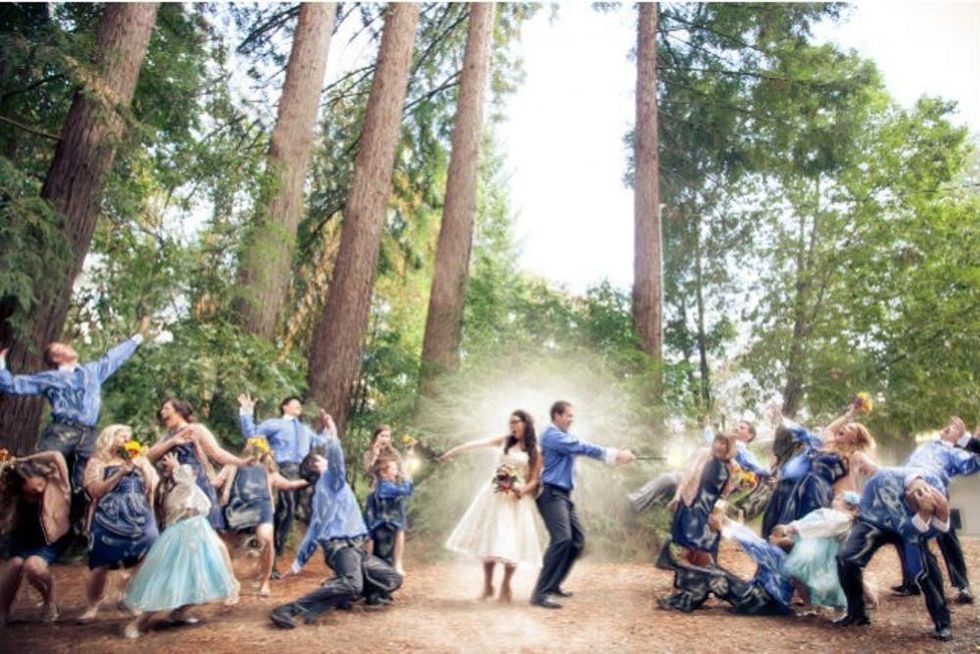 13. Magic: We just can't. Sure it's Photoshop, but can you imagine the look on your future kids' faces when they see their parents doing magic? And that could totally be the Forbidden Forest. (via Michelle Chiu Photography)
What hilarious photo ops did you use in your wedding? Tweet us the pics @BritandCo and share your best with us below — you could make our next round up :)!
Meaghan Pachay
Meaghan's love affair with cooking, crafting and all things DIY began at age eight, with her first reading of Little House on the Prairie. It shows no signs of petering out anytime soon.
Party