DIY Weddings: A Wonderland Cowboy Tea Party Made in Montana
Jul 21, 2014
When Paul and I got engaged after six years of dating, we decided the wedding had to be at "The Ranch," my parents' working cattle ranch in Montana that has been in our family since 1876. What better location to start a new home than at a homestead? My husband is from Manchester, UK, but we live in nearby Missoula, MT. We knew this wedding was the only chance we would have our friends from around the world gathered in one place.
---
I spent a full year crafting our "cowboy tea party" wedding, combining the best of rustic Montana with the classic details of an English garden party. I am a freelance writer by trade and an avid reader, so my favorite book, Alice in Wonderland, inspired our "mad" tea party. We focused on using colors in tangerine and teal so they would pop out agains the tawny hillside. Our guests were encouraged to wear hats and fascinators, and some people even designed their own.
The aim was for it to be an adventure as much as an event, and thanks to a microburst storm after dinner, it truly was. Family and friends gave speeches in the crowded garage while the storm passed. Our friend and professional San Francisco photographer Sonia Savio, brilliantly captured us, these surprise moments, my DIY details and the rustic beauty of rural Montana. Lucky for us, many friends and family pitched in to help us realize our vision and witness our freshly penned vows. They celebrated, humored my detail-oriented vision and never overtly attached the 'zilla suffix to my name.
My husband Paul had this to say about our wedding, "We wrote our own ceremony and vows, and had my mother Sue act as the officiant. One of the themes we incorporated into our wedding was the range of cultural backgrounds influences that have affected our lives. For example, my family has Scandinavian roots, so we incorporated a Scandinavian tradition of asking the guests to join in the vows. After we made our vows to each other, the guests were asked if they would promise to help and support the newly married couple in the future. As we turned to face our assembled friends, families, loved ones and plus-ones, they announced, loudly and as one, "We do!" The shiver that sent down my neck was one of my favorite moments of the day. Here are our 10 favorite DIY projects that made our wedding day sublime.
1. Painted Paper Flower Bouquets + Boutonnieres (Time: 15 hours): My everlasting flowers were made from old books on the Drummond Library discard shelf. This is the kind of project that deserves the label "Labor of Love." The first step was to paint the ripped pages teal and tangerine with watercolors and hang them to dry. Then, I cut the paper in the shape of petals and crinkled them. I attached each petal to a knotted floral stem and worked my way from the center to the outside of the flower. Once dry, I painted the edges of the petals with darker colors and hot glued pearls in the center. I wrapped six flowers around a silk hydrangea to fill it out. I stuck those stems inside a six-inch portion of a foam pool noodle and wrapped the entire noodle with grosgrain ribbon in white or mapped patterns. For the boutonnieres, I made smaller, brighter flowers and attached petals made out of construction paper with floral tape. I twisted the stem into a curlicue and attached a pearl pin.
2. Bespoke Manchester Meets Montana Wedding Invitation: Paul and I are lucky to call San Francisco/New Orleans graphic designerCody Dingle a close friend and one who understood our country/city mouse dynamic. He combined landmarks from Missoula, MT, Hall, MT and Manchester, UK. It's hard to say how much time Cody spent on it, but the beautiful artwork now hangs in our home.
3. Tea Pot Centerpieces (Time: 2 hours): Part of having a wedding out in the country is the reality of keeping things fresh. A large metal horse trough filled with ice kept drinks cold, but it would have been difficult to keep flowers alive for long in the hot August weather. I bought teal, tangerine and white flowers from Michaels. Then, I collected teapots from garage sales, thrift stores and vintage stores. Two months before the wedding, my aunt Judy, mom and I arranged them. We stuffed floral foam in the bottom and customized each bouquet to the teapot it sat in. Once the flowers were collected the process went surprisingly quickly.
4. Willow Arbor (Time: 20 hours): My brother Cooper got married just two months before I did, and he used his chops as a woodworker and artist to turn a cattle pasture into an alcove for the ceremony. Assisted by our friend Carl, he agreed to build a similar arbor for our day, by wrapping willow branches around a metal frame, creating a whimsical, tunnel-like canopy. It gave structure to the wedding ceremony, while fitting seamlessly into Big Sky scenery.
5. Homemade Limoncello and Root Beer With Custom Labels (Time: 5 hours): My husband's dad, Mario, is from Italy, and it is not an official celebration until we drink limoncello. Instead of buying all the beverages, my mom and I decided to make 12 bottles and 200 bottles of homemade root beer. We peeled the rind from the lemons and dropped the peels into Russian vodka. We let that infuse for about two weeks. Then, we removed the peel, added sugar and mixed it up. For a full tutorial, click here!
For the root beer, we used extract, sugar and champagne yeast. We mixed and bottled it six weeks before the wedding so that it would have time to carbonate. The result was a very old-fashioned root beer with light fizz. I signed up for a subscription to Beer Labelizer and printed out custom labels on label paper using my home printer.
6. Sapphire Gravel Favors (Time: 6 hours): My engagement ring and wedding ring were made of blue sapphires mined nearby in Philipsburg, Montana. I bought three bags of sapphire gravel to divvy up amongst the guests. With my subscription to Jam Labelizer, I made "You Rock" labels. Then, I printed them out at home onto round label paper. I filled cheap white paper favor bags with six ounces of gravel and included a little instruction card as to how you mine sapphires in your backyard.
7. Aisle Milk Glass Vases and Bouquets (Time: 4 hours): My sister-in-law Cat came up with the idea to use tree stumps to mark the isles for her own wedding. I found 20 generic glass vases at thrift stores for about 50 cents apiece and proceeded to spray paint half white to create faux milk glass. I made a mixture of food coloring and white glue and painted the others to look like colored/stained teal and tangerine glass. My aunt arranged eucalyptus, wheat and Chinese lantern flowers and set them atop the stumps to line the aisles.
8. Margarita Case/Wedding Quilt: Close friends, San Francisco carpenter Carl Robertson of Clayton Woodworks and Erin Blanton, made us a custom drink case, and we could hardly believe it when we saw it. The margarita drink box features tooled leather, hand lettering, monogrammed coasters, a homemade box from reclaimed wood, removable storage for salt and all the makings for the perfect margarita. It is pictured here atop my mom's handmade wedding quilt, peppered with custom embroidery.
9. Dyed Doily Table Runners (Time: 10 hours): I collected about 60 croqueted doilies and table runners. I'd inherited a third of them from my late Grandma Joyce, and the rest I collected at thrift and antique stores. I dyed them teal and tangerine by hand. Then, once washed, my mother-in-law and I stitched 17 five-foot table runners together a few days before the wedding.
10. "Eat Me" Cupcake toppers/"Drink Me" Cups (Time: 4 hours): I used Adobe Illustrator to design round labels and sent them to print at Vista Print. To make the cupcake toppers, I affixed two "Eat Me" labels together, front and back, with a toothpick in the center. Then, I attached the "Drink Me" labels to glassware and plastic cups. A nod to Alice in Wonderland, these items did actually help us grow in size, thanks to five flavors of cupcakes and a delicious Manhattan signature drink.
While our big day was greeted by a storm that took down the tents, tables, chairs and decorations, which could have meant the end to the festivities, almost everyone waited it out with us in a garage. We cleared the dance floor of debris to begin the first dances. The song "Singing in the Rain" was played, while 11 UK friends and family members performed a flash mob with Union Jack umbrellas. Everyone gathered on the floor to dance to "All You Need is Love," and we felt our trip down the rabbit hole successfully joined our families together.
Floral Design: Krista Johnson (Bride), Shelley Johnson (Mom), Judy Neil (Aunt)
Caterer: Bob Baker Barbecue
Venue: Bride's Family Home
If you have a super creative wedding you'd like to share, we want to know! Just send a note to editorial@brit.co or leave us a message in the comments below.
Party
Artist Dev Heyrana On How Bravery, Resilience and Sunshine Influence Her Work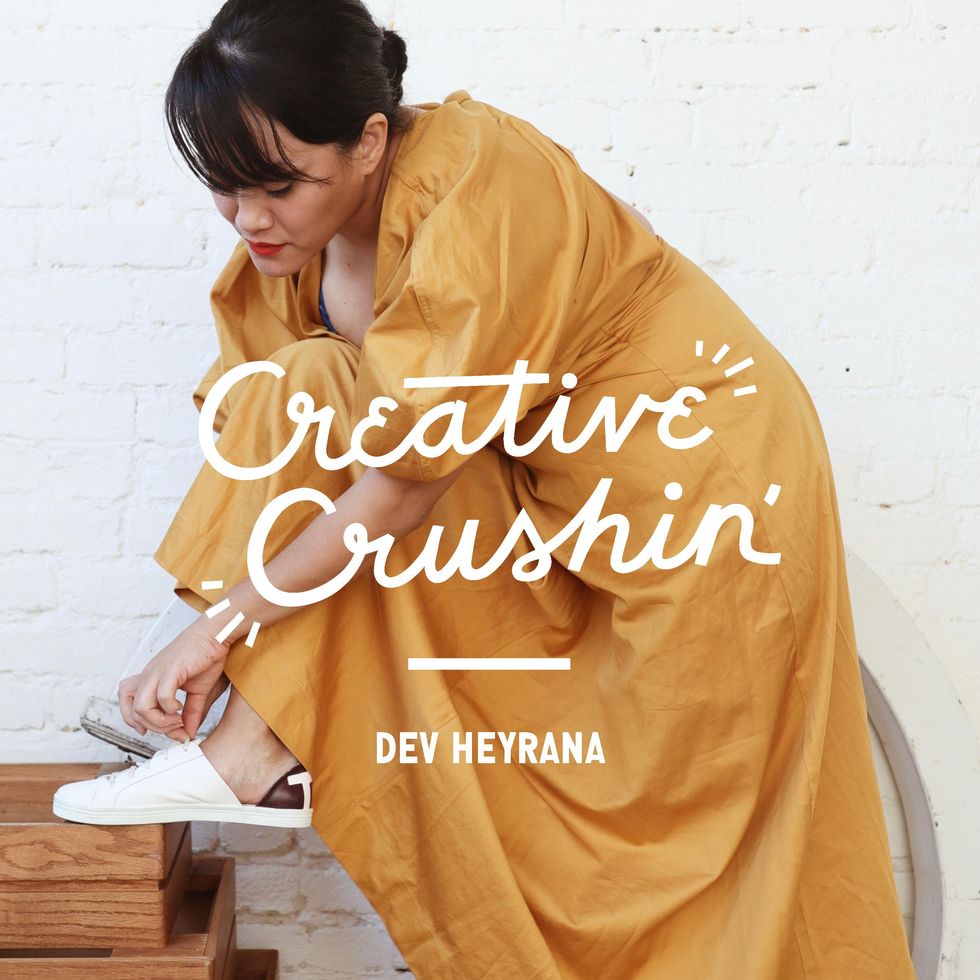 Ever meet someone who you feel immediate kinship with on a deep almost spiritual level? That is legit every person's experience upon meeting Dev Heyrana, the star of this edition of Creative Crushin'. A fine artist, hip hop dance teacher and constant collaborator, Dev's particular brand of creativity is one-of-a-kind. She manages to be warm, welcoming and woke, with a focus on inclusivity, social justice and motherhood that comes through in every piece of art she creates.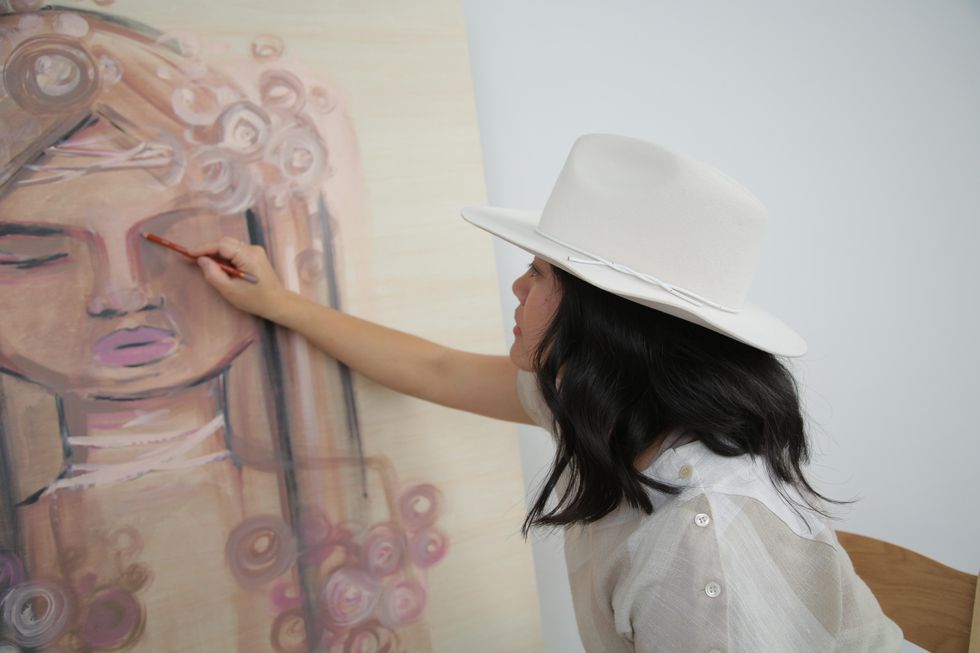 Anjelika Temple here, co-founder of Brit + Co and one of many humans who has benefitted from Dev's boundless generosity and kindness. We first connected at a launch event, then I asked her if she and her family would like to model for a B+C shoot (they did!), then months later, I asked the IG universe if anyone would be down to co-parent with me for a day so I could speak at a conference. Dev said yes! And for those that know her, none of these serendipitous moments are surprising.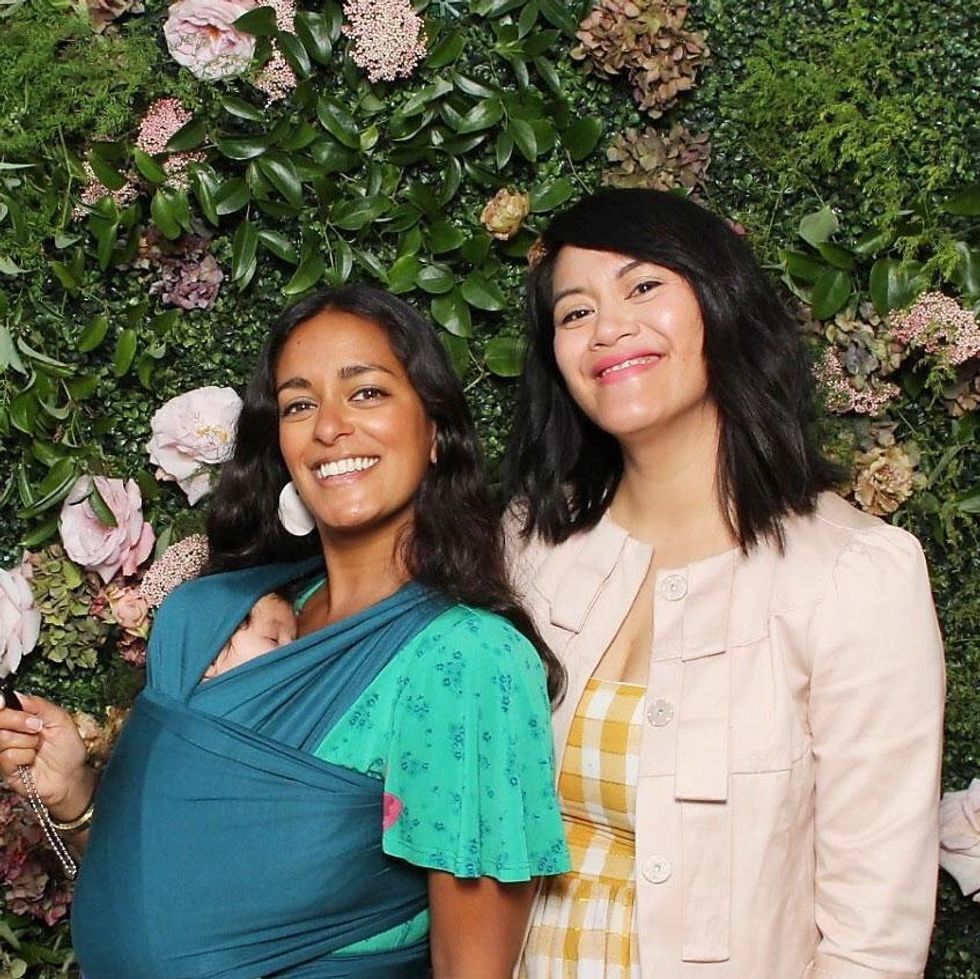 Now it's time to delve more into Dev's story, her creative inspiration, her thoughtful approach to parenting and what makes her more passionate than ever about bringing her point of view and artistic voice into the universe.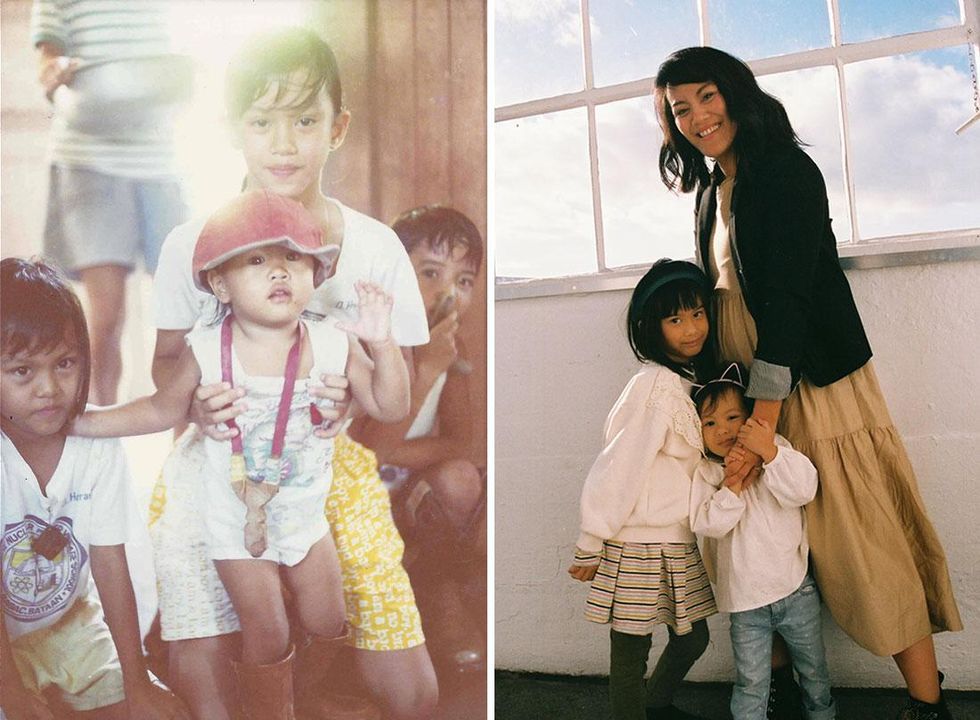 Anjelika Temple: First, foundations. Where did you grow up? What is your heritage? What did you study in school? Where do you live now?
Dev Heyrana: Born in The Philippines and immigrated to the U.S. when I was 9 years old. Me and my family are from the island of Cebu and I'm a proud Cebuana. My childhood in the Philippines felt like freedom. I had my swimsuit in my backpack for whenever we decided to swim and I biked everywhere.
Immigrating here at 9 yrs old was a transition, to say the least. My parents had big dreams but the move was heavy on them. It wasn't easy. I had to grow up fast. I took care of my sisters while my parents worked night shifts. By the age of 12 I would cook dinner and get my sisters ready for bed. Something I didn't realize was that kids my age didn't do those things until I got older. We would play these make-believe games to make, in hindsight, our hard situation brighter.
I think this is really when art played a big role in my life. It was something I could escape in and always felt healing.
I witnessed racism towards my family and didn't know how to make sense of it. These events left a mark. I was a quiet kid and observed everything and everyone around me. I think about my grandparents, Lolo Jose and Lola Rita, a lot as I walk through life. When I make decisions. As hard as it feels, you have two choices, do you let it take you down or take it one step at a time forward. I kept going and it really shaped me as to why I am the way I am today.
I studied Fine Arts at The Corcoran in DC. I owe that decision to my art teacher, Mr Giles, in High School. He was retiring and wore a Hawaiian shirt every day during my senior year. He was a curmudgeon and I felt incredibly special since out of everyone in the school he really believed in me. As grumpy as he seemed to the class, he would tell me things like "Go into the other studio and break some glass, then put it on a canvas." He's the reason why my abstract pieces have elements like clay and sand in them.
I've had incredible mentors and all were teachers. Mr. Giles in High School and Christine George in College. Christine was the one who told me to go either to New York or San Francisco because "D.C. is no place for an artist like you." She told me to not listen to anyone, how I can still paint, be a graphic designer, and, if I choose to, have a family. I've never had anyone tell me anything like that before.
I took a chance because of her. Moved and went to Design School in 2006 and I've stayed in the Bay Area ever since, raising two girls with the love of my life.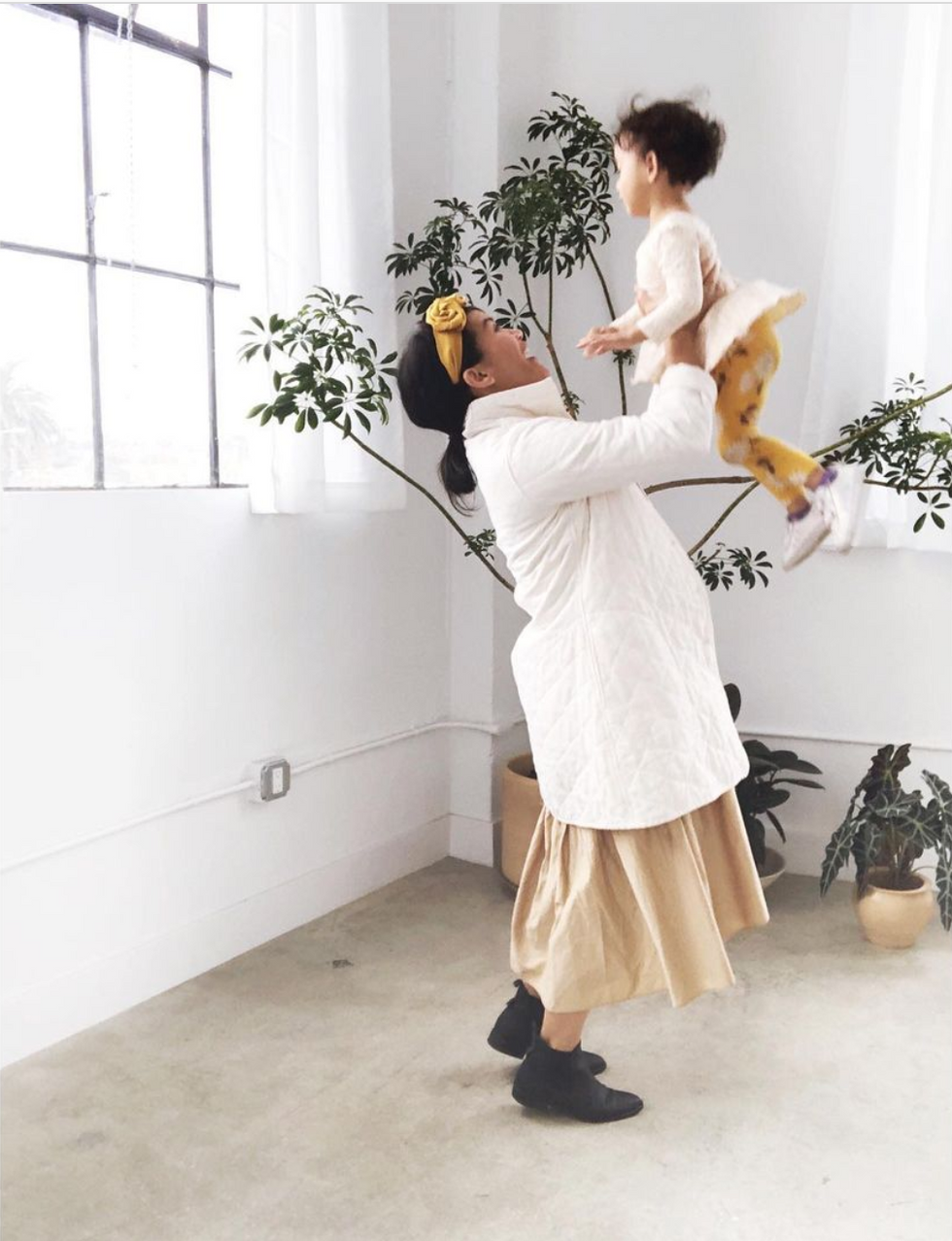 Anj: You are one of those magical human beings that has figured out how to be a full-time artist. What was your career path like before you were able to dive fully into your creative passions?
Dev: The most radical thing I could have done in my family, I did, I went to college for Fine Arts. A mix of being so young and having to do it on my own, I went with the school that gave me more scholarships. Even then I worked three jobs to be able to get through it. Hard work is ingrained in me.
With my sculpture background, I fell in love with Print and Packaging and why I came out here to San Francisco. I appreciated the security of having a career in Graphic Design. I also learned how to work with clients and the business side of things. Even then, I never stopped painting.
A few years ago I went through a pretty hard time with my health. I dealt with six surgeries in one year and I still have to do some follow-up ones. That experience almost broke me and what got me through was my family and painting in bed while I recovered.
When I finally got back on my feet, my heart just wasn't in Graphic Design anymore. So I made a two year plan. With a toddler and a mortgage, I wanted to make sure my steps were thought out. I put myself out there as an Artist while I still worked in Design. After a year I worked part time as a Graphic Designer and stepped down from my Creative Director position. I loved it, to be creative as an Artist and as a Designer. I looked at 2018 as my year to make the jump. If my work as an Artist balances out with my salary then I would quit in the Summer of 2019. And so here we are. I also am sharing a studio with my good friend, Naomi PQ, and I feel like my creative drive is just beginning.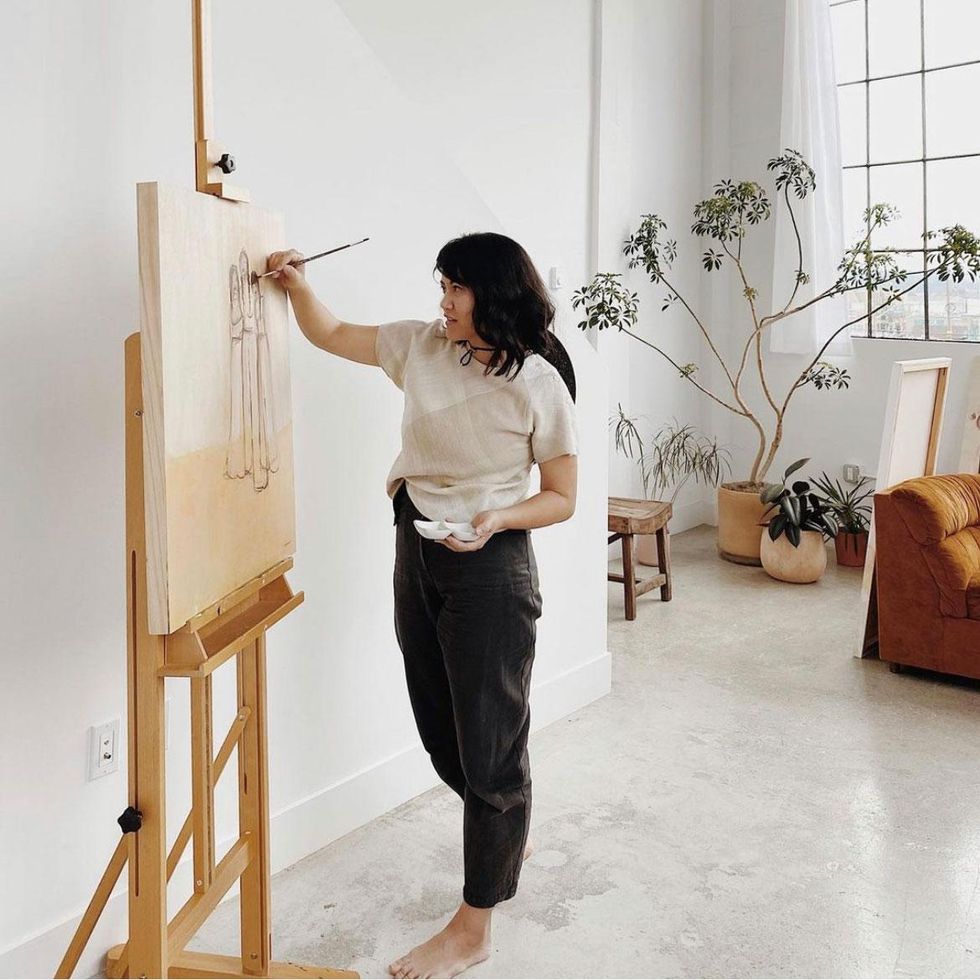 Anj: What do you love about painting? How do you feel when you're in a creative flow state?
Dev: Like every part of me is free. Free to express myself through the stroke of my hand. How all of it leads back to my heart. These elements I use to paint have a mind of their own and how I need to respect the process.
It centers me and reminds me that the process is just like the life we lead. I know I still have so much more to learn but while I'm painting no matter how it's going, I'll embrace this moment.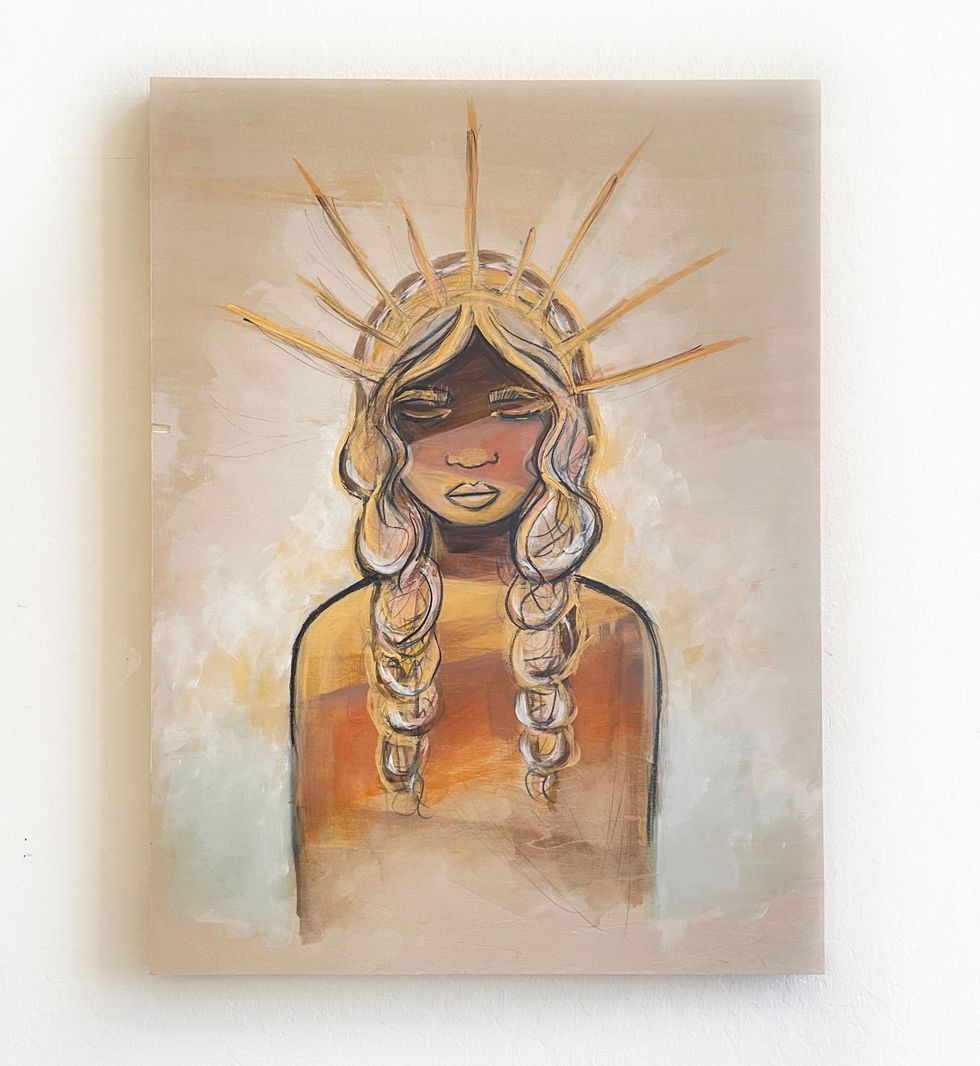 Anj: You reference your roots quite a bit in your work. Talk to me more about how your roots inspire your work.
Dev: One of my earliest memories is of my Lolo Jose teaching me how to water mango saplings. He converted to Buddhism when my mother was young, so he viewed the world with love and kindness. I didn't realize it then but watering those mango trees were life lessons. We need to take the time to nurture, practice patience, and respect all living things. I still imagine him walking beside me often, carrying his teachings as I find my way in this world.
Nature and the Sun drive my pieces. My abstract works are fragments of moments. Like the sunset I grew up with when I was seven years old in the Philippines, like how I saw the water in Cebu when I dove in as a young adult, and like when I saw the redwoods with my children for the first time.
I see earth in our skin and especially when I paint people. How our mango trees grew and blossomed because the dark earth was rich with nutrients. I imagine the Sun piercing through these women I depict. I paint their love and bravery because their resilience cannot be contained. I want to celebrate all of it.
This is the beauty of Art, I am able to paint exactly how I see it.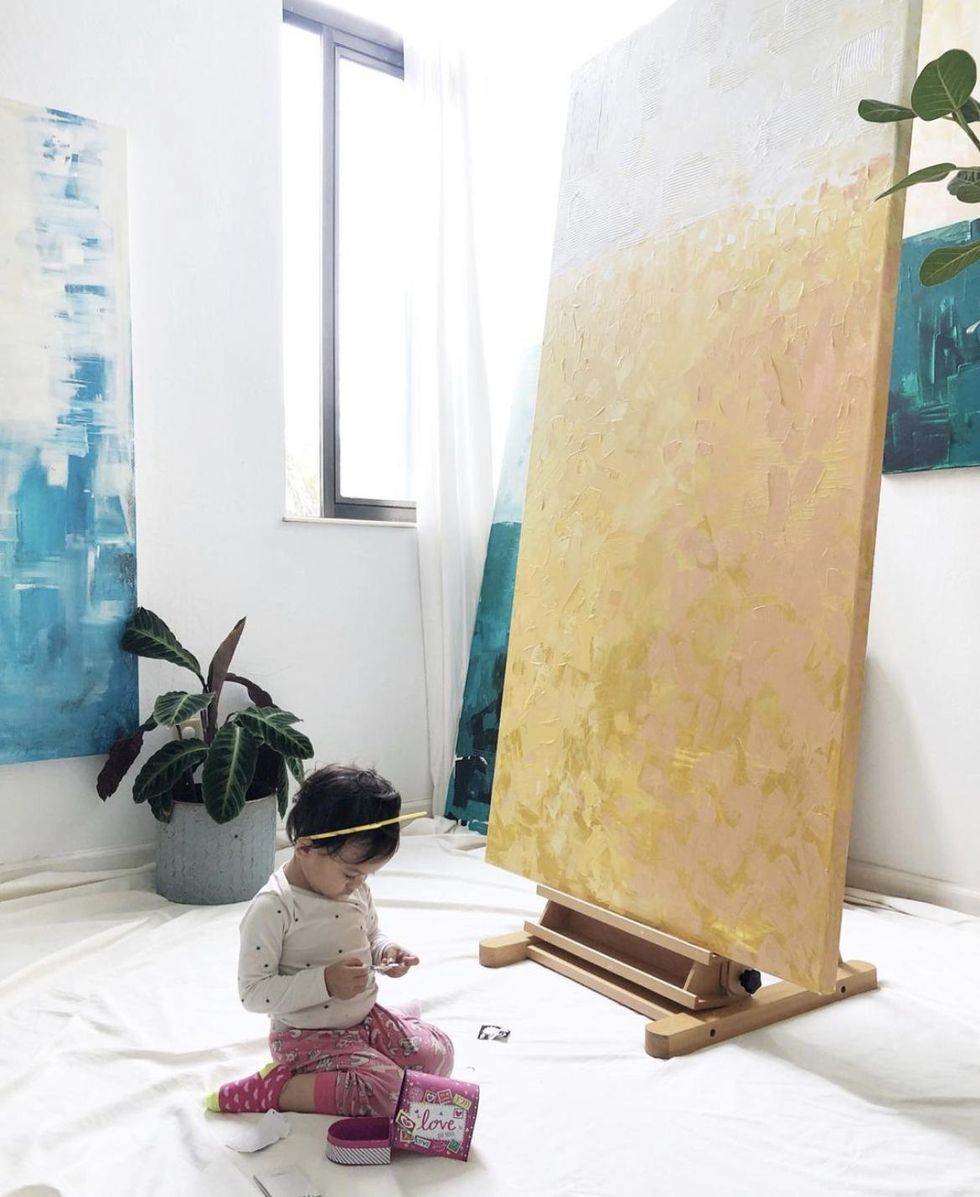 Anj: Motherhood and your daughters are also central themes in your work. How has motherhood changed your approach to creating artwork?
Dev: Everything. I was still deep in my Design Career and I would paint at home. One day Quinn, who was 3 years old at the time introduced me at the park to a mom. "This is my mom, she's an Artist." It struck me that my toddler knew who I was more than I knew myself. That's really when I really owned it. I am more fearless because of my girls.
I own my body, I thank people when they compliment me, and I am selective but fearless when I use my voice. I am more in tune how I speak about myself because of them. When I paint these women I want to celebrate them. I notice how I embrace myself is translated in my paintings.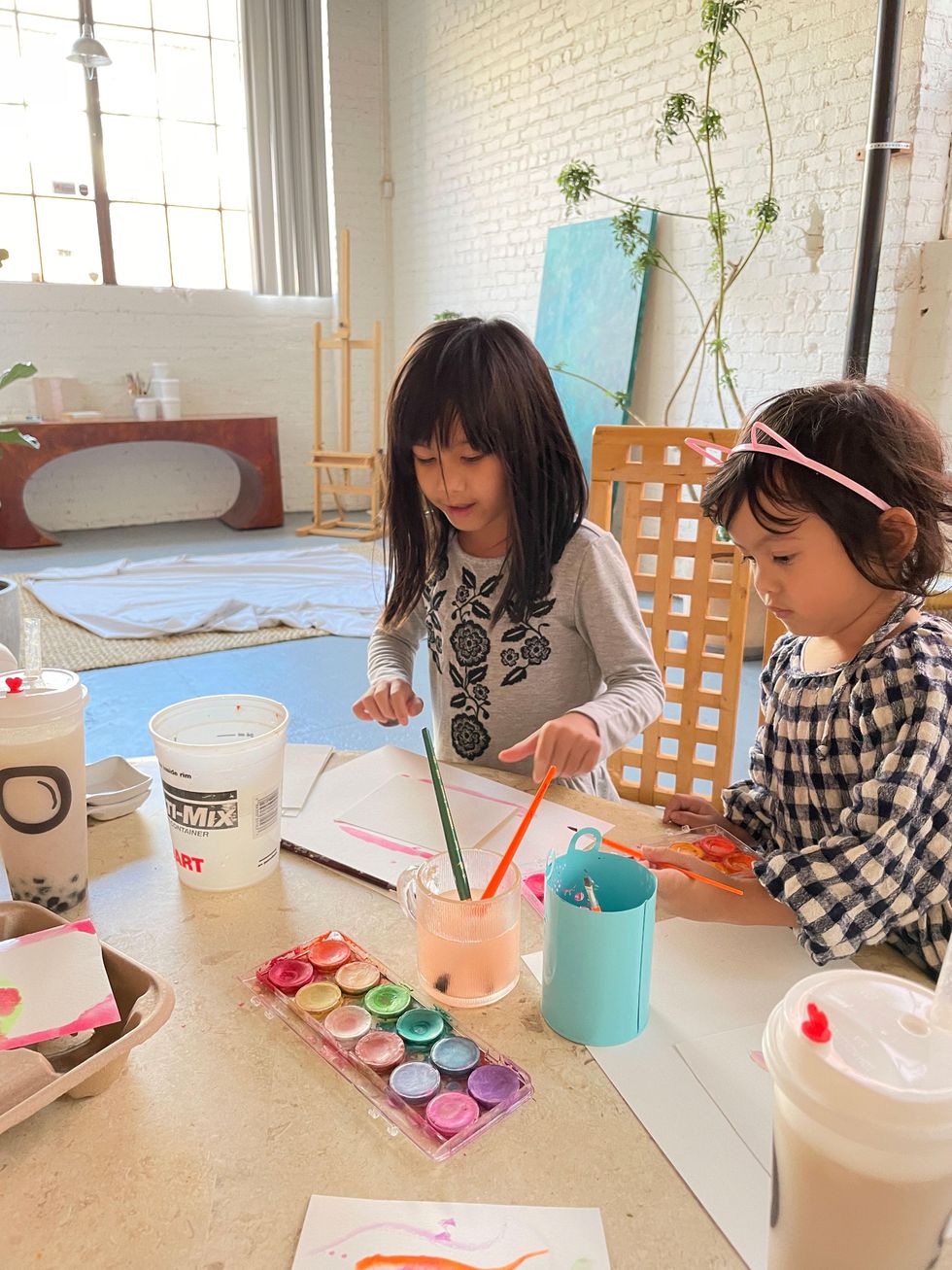 Anj: What advice can you give to parents who are trying to tap into their kiddos' innate creativity?
Dev: I don't have a lot of guidelines set up. I'll say "Let's draw the biggest fish we can draw" or "how many silly lines can we make" and I let them lead me. They ask me questions, show me things, and I sit there with my coffee watching their eyes wide with excitement. Watching them in their creative process is pure joy for me. Those silly lines can turn into a dragon or waves and next thing we know, we're drawing a big beach scene. My advice would be that you can suggest something to start it off but be open to how they take it. It is such a beautiful window into their minds.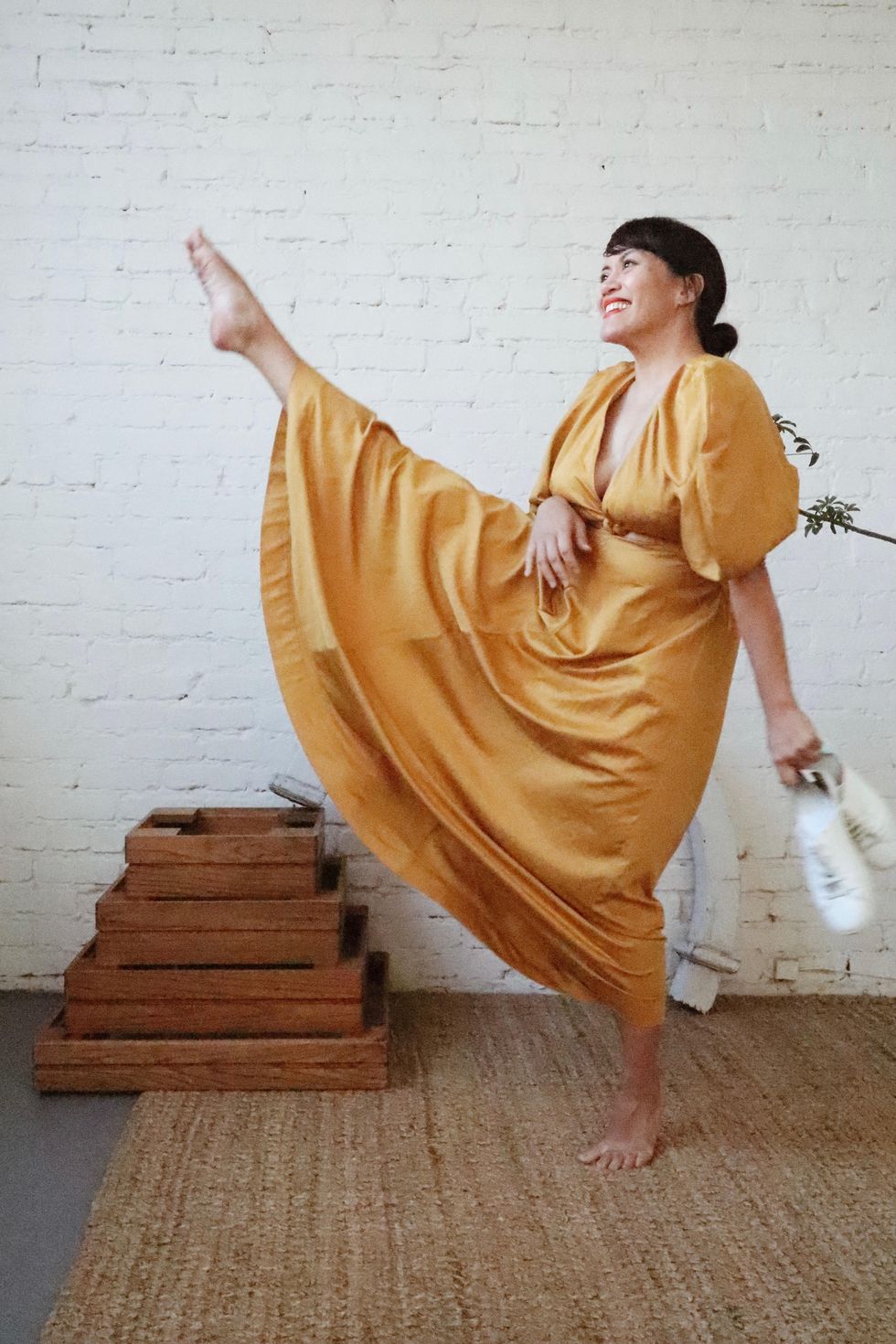 Anj: Shifting gears to HIP HOP DANCE! Talk to us about his component of your creative expression.
Dev: I loved the Hip Hop scene in DC and discovered how much fun the clubs were in college. My friends told me about this Hip Hop Crew I should try out for, I was so scared because I've never taken a dance class in my life. I got in and it was like having another family. We competed all over the East Coast, it was a blast!
I found hipline when I started my first Design Job and needed an outlet. It was exactly what I needed and one of the owners asked if I was interested to teach. I've been teaching there since 2009 and am still going strong. It's a wonderful community of women. Now we're virtual and reaching clients all over.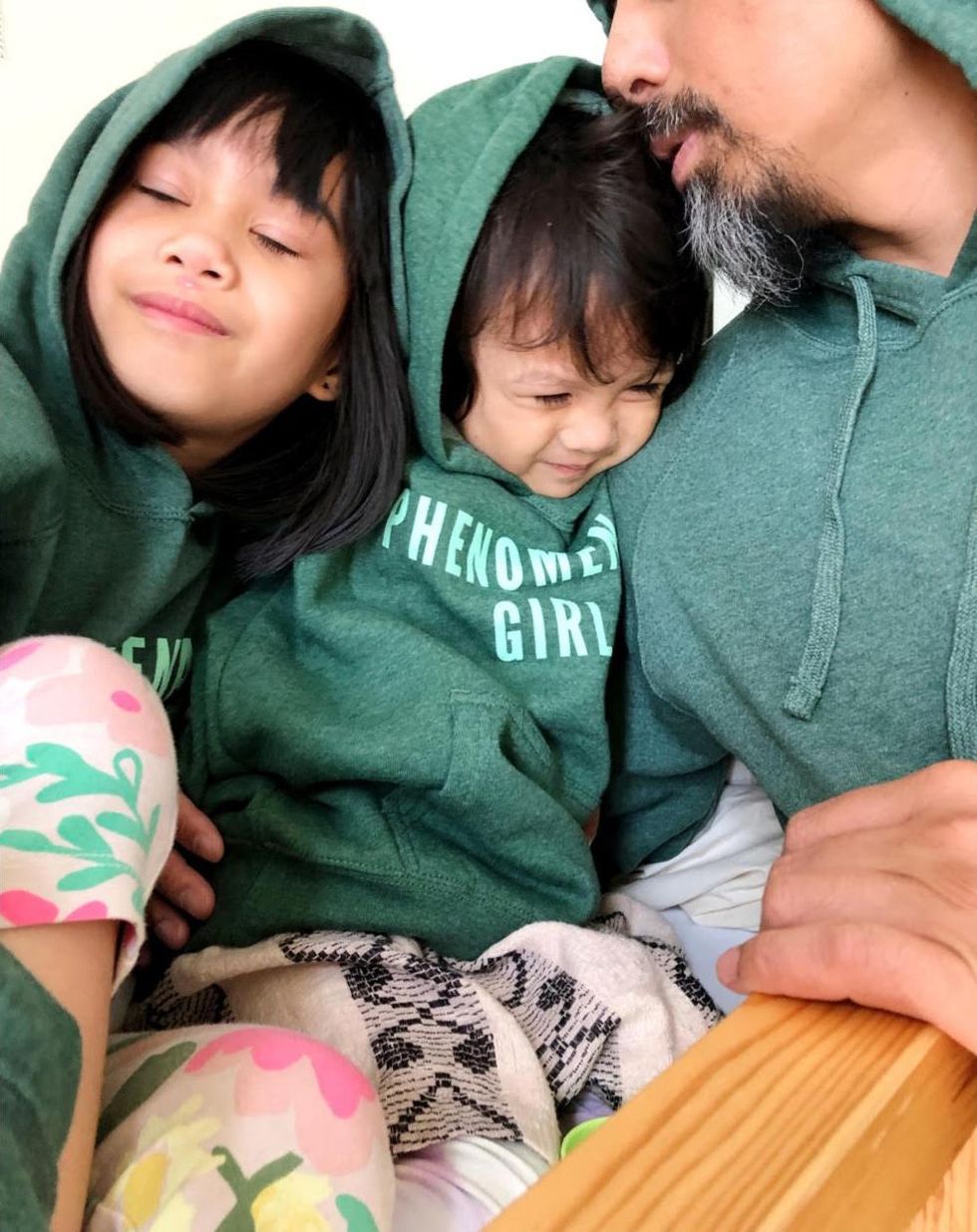 Anj: What does a typical [pandemic] day look like for you? How does it differ from your rhythm before COVID?
Dev: I've been practicing being kinder to myself lately. Both me and my husband work full time and so having the girls at home is a challenge. Some days we are amazed by how smooth it went and then there are others where if the girls are clean and bellies are full, it's a total win.
Now that we're on month 8 our rhythm before covid felt more chaotic to be honest. I felt like we were always rushing out the door while carrying so many bags. Now my husband and I try to have coffee together, if he has a break from his meeting, and we sit with Quinn before school to see what she has to do for the day. Rowan's preschool closed down but we were able to find a wonderful speech therapist for her and she has an Adventure Pod we go to two times a week.
The one thing we really try to do is go outside once a day. Have some magic in their childhood no matter how small. It could be just going up for a hike by our home and picking up leaves, riding our bikes, or watching the sunset from our window. Seeing how the girls' react to these adventures we have is pure magic.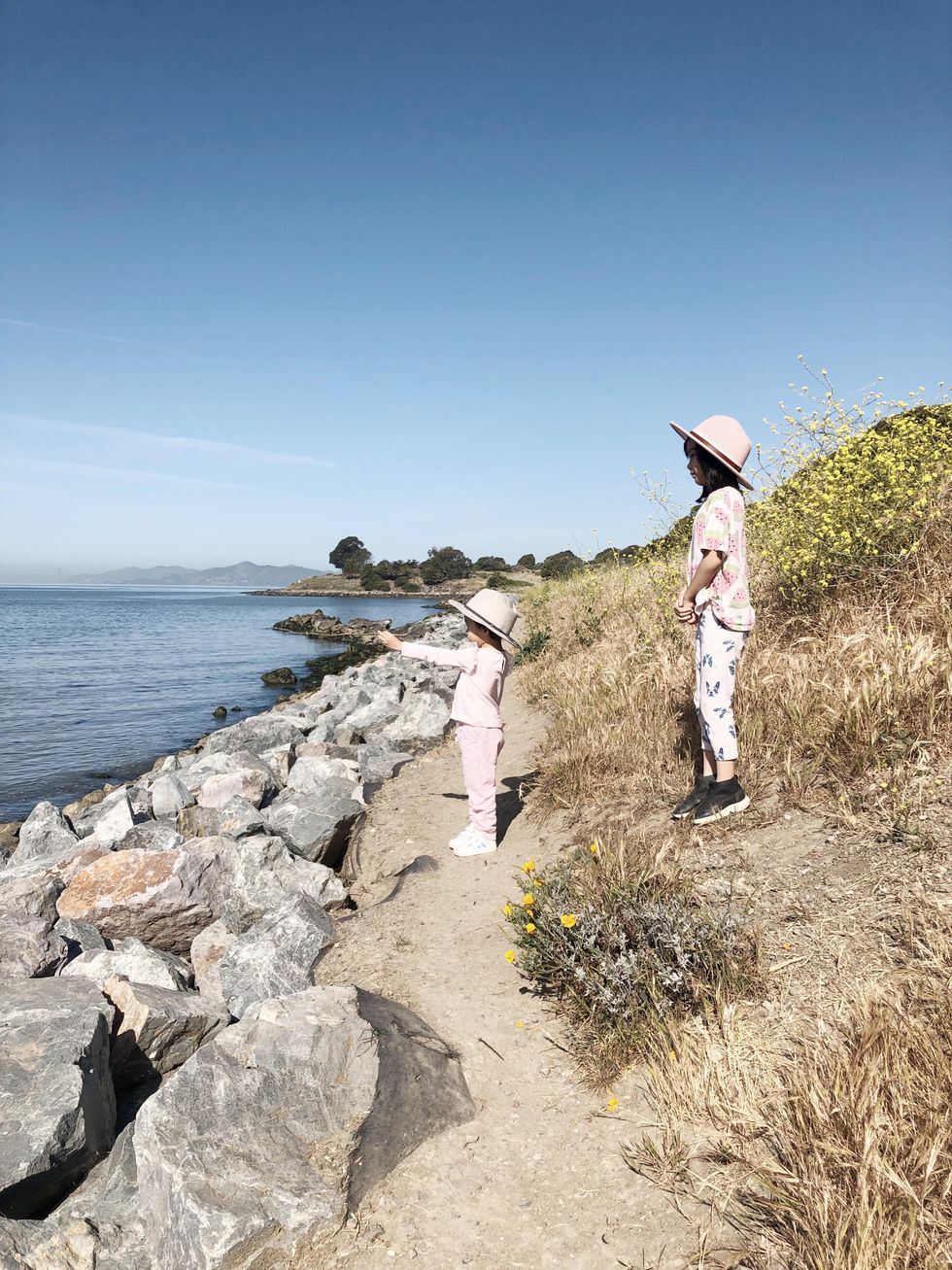 Anj: When you get creatively blocked or burnt out, how do you reset? Do you have tips you can share?
Dev: I go outside. I go out for a hike or go to the beach. Even if it's 15 minutes, something about grounding yourself in Nature is really healing. I also do exercise where I doodle for two minutes because it feels doable. Judgment-free doodles, always opens the doorway to more.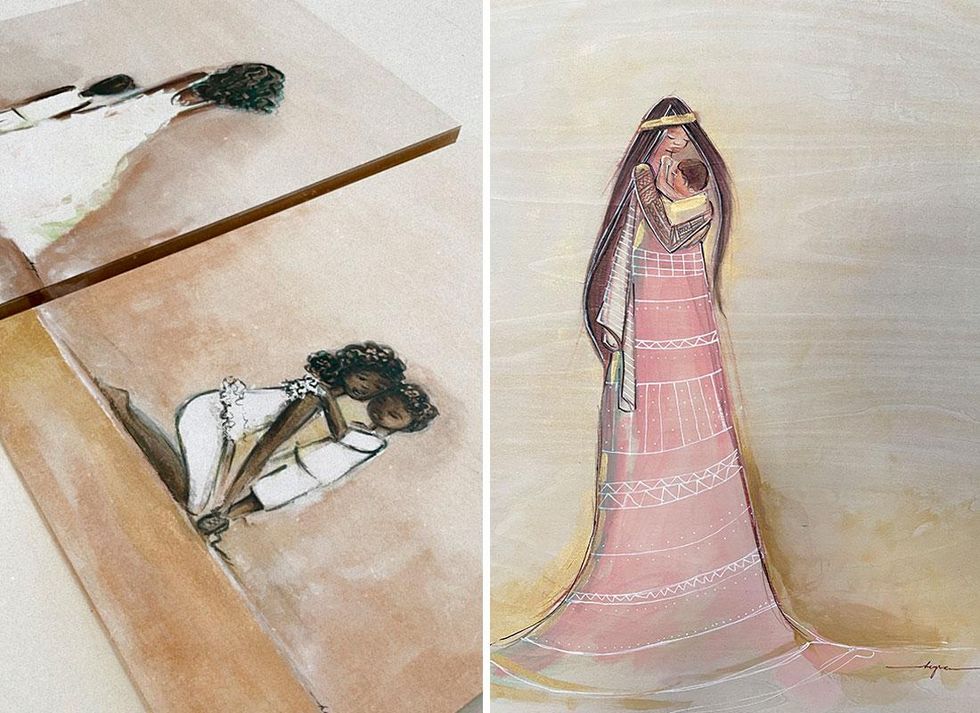 Anj: I know firsthand that community-building is huge for you. Tell us more about what your support system and creative community looks like.
Dev: I feel a lot of love and strength when I think of my community. My relationship with my sister led the way what women supporting women looks like. It's listening, asking questions, remembering, cheering for all the wins, being there even if it's hard, and taking time to invest in them. The way me and my sister show up for each other is why I have these amazing women in my life. I can talk to them about my family, motherhood, and we're all trying to balance it all while sharing my most recent project. I feel really blessed especially looking back in my college years where I don't know where Art would take me.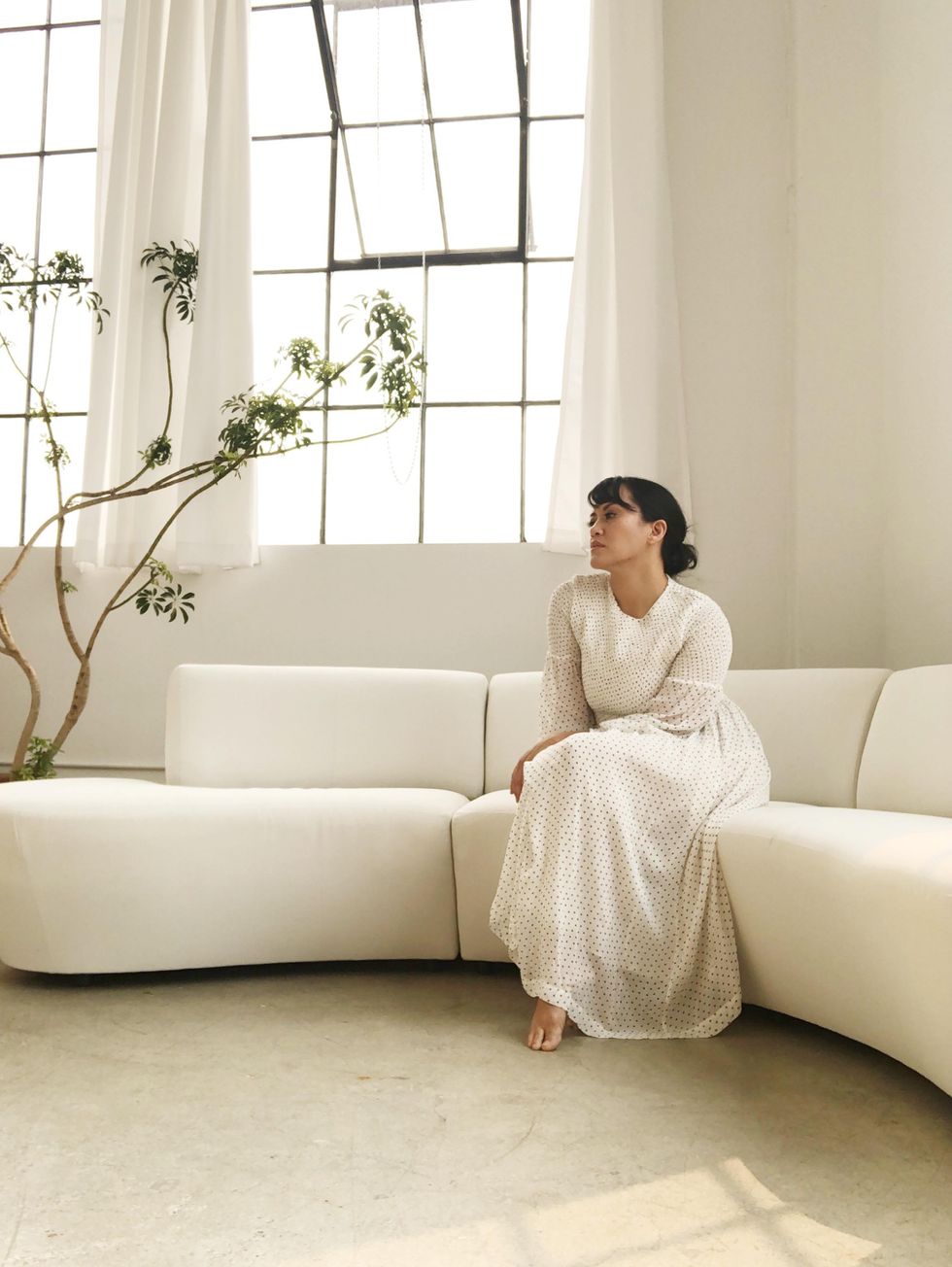 Anj: When you need to give yourself a pep talk, what does it sound like?
Dev: I usually take a deep breath then say or think "One step forward". Most of the time, I'm scared (as shit) but the thought of not trying scares me more. That one step forward can be hard as hell and maybe even heartbreaking, but I have to try.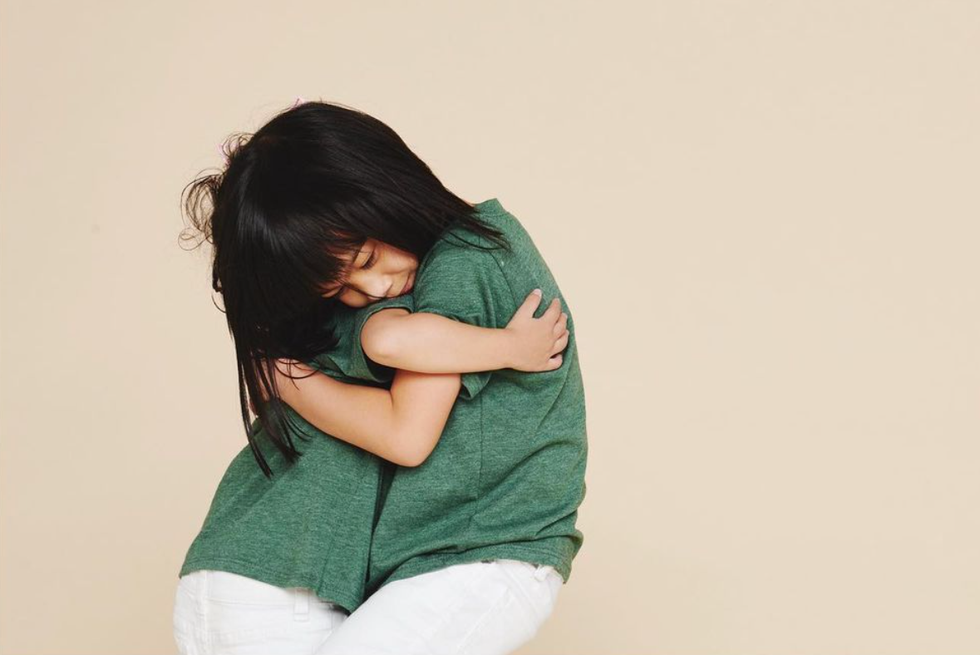 For more on this brilliant artist, mother and friend, follow Dev @_heyrana on Instagram and check out (and buy!) her artwork here.
Lifestyle