Make a DIY Ornament Garland in 10 Minutes or Less
Dec 05, 2012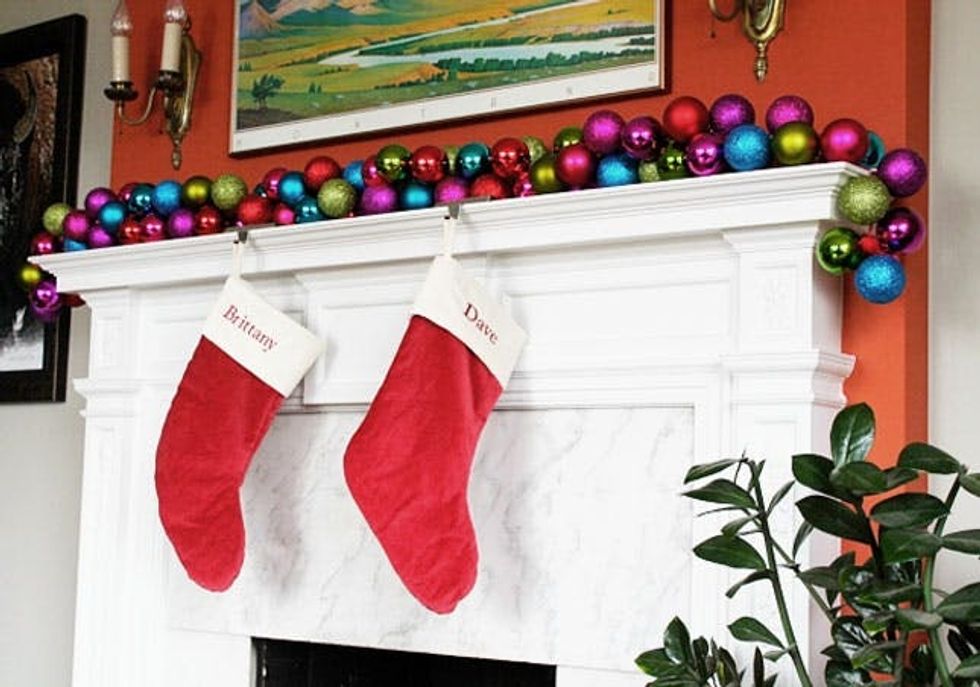 ---
If you know us, you know we have a small obsession with glitter and color. That's why when we saw this set of multi color ornaments from Target ($15 for a set of 50!), we knew we had to buy them. Instead of just using them for the tree, we figured out how to string them together in a long bundle so that they can be used as a garland as well. It's a great way to tie your tree and mantle together into one cohesive theme, and the same tactic works for decorating both — no ornament hooks needed!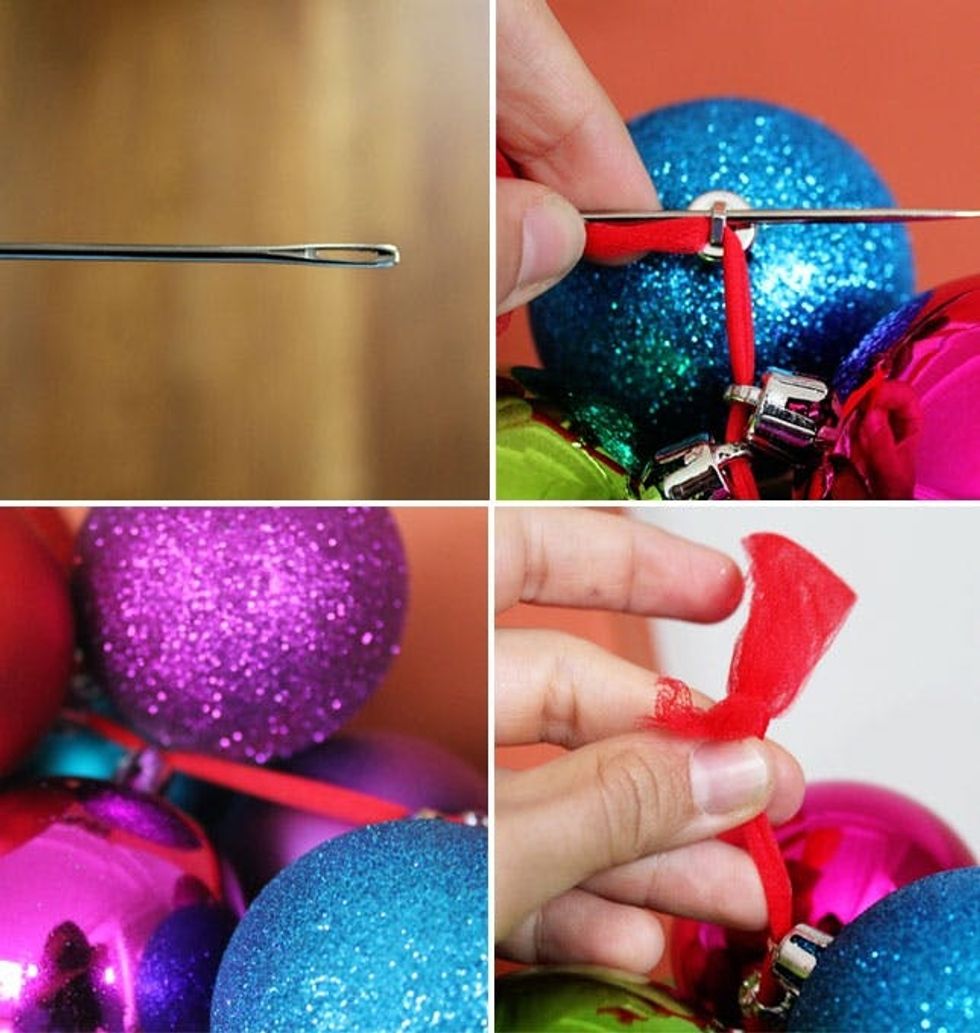 All you really need is one long embroidery needle and some tulle or ribbon. You want to be sure that you have ribbon that's sturdy enough to handle the weight of your ornaments. Luckily, our ornaments weren't so heavy so the tulle proved to work great. In fact, we didn't even need to secure the metal caps on the ornaments — they held perfectly. If yours don't do the same, we recommend hot gluing or super gluing the metal cap to the ornament before you start threading.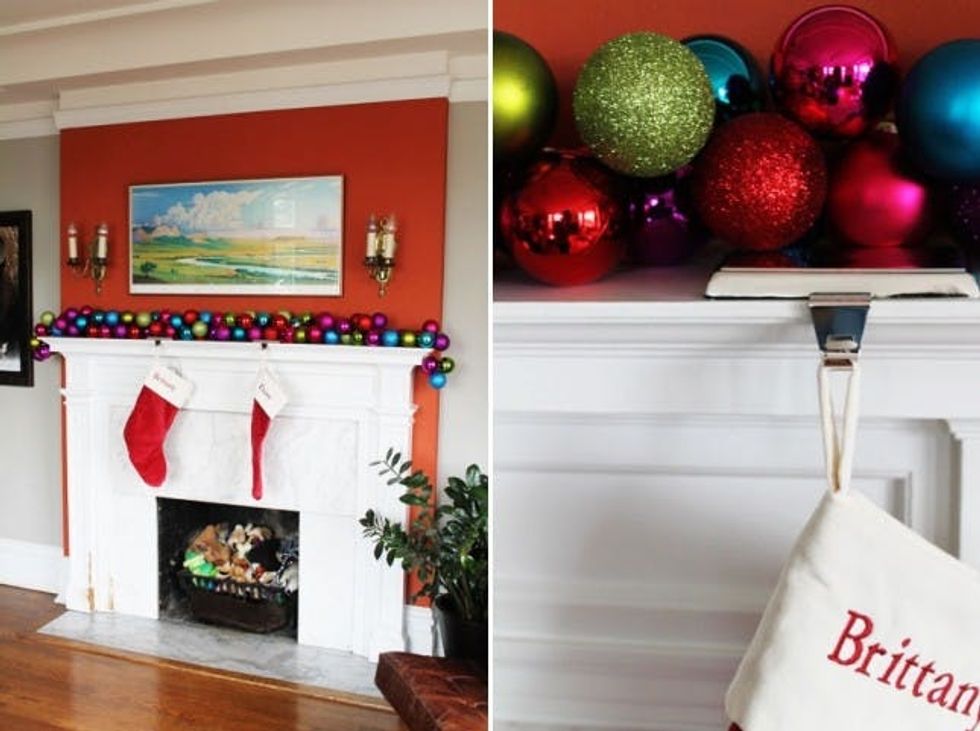 Once you have your materials, just start adding ornaments! Make sure to continuously bundle them tightly together to give the garland some volume as you go. We found that a set of 50 ornaments gave us about 3-feet of garland. The images below show two sets (or 100 ornaments) being used for the full mantle.
And yes, I use my fireplace as dog toy storage for Pixel. We had nowhere else for it.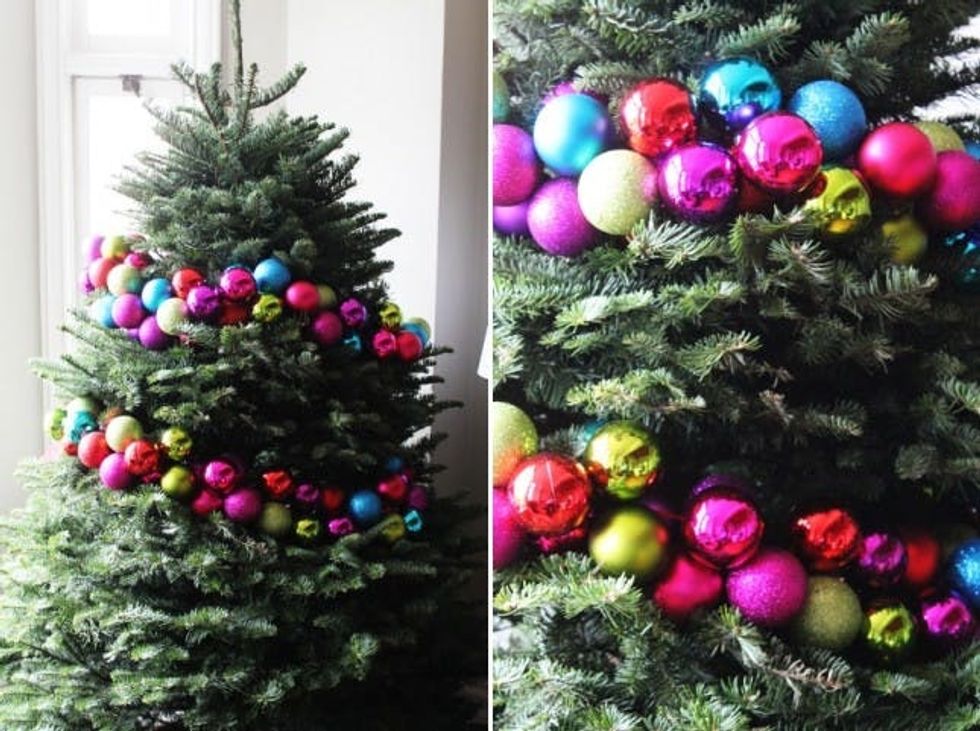 Bonus! These garlands also work great for decorating your tree in a non-traditional way. Here's a snap of the tree we started decorating using the two garland strands. So pretty.
You can lay these directly on the mantle, or tie them up at the beginning and end so that they swoop down a bit. Totally up to you. I went the lazier route and it still turned out well :)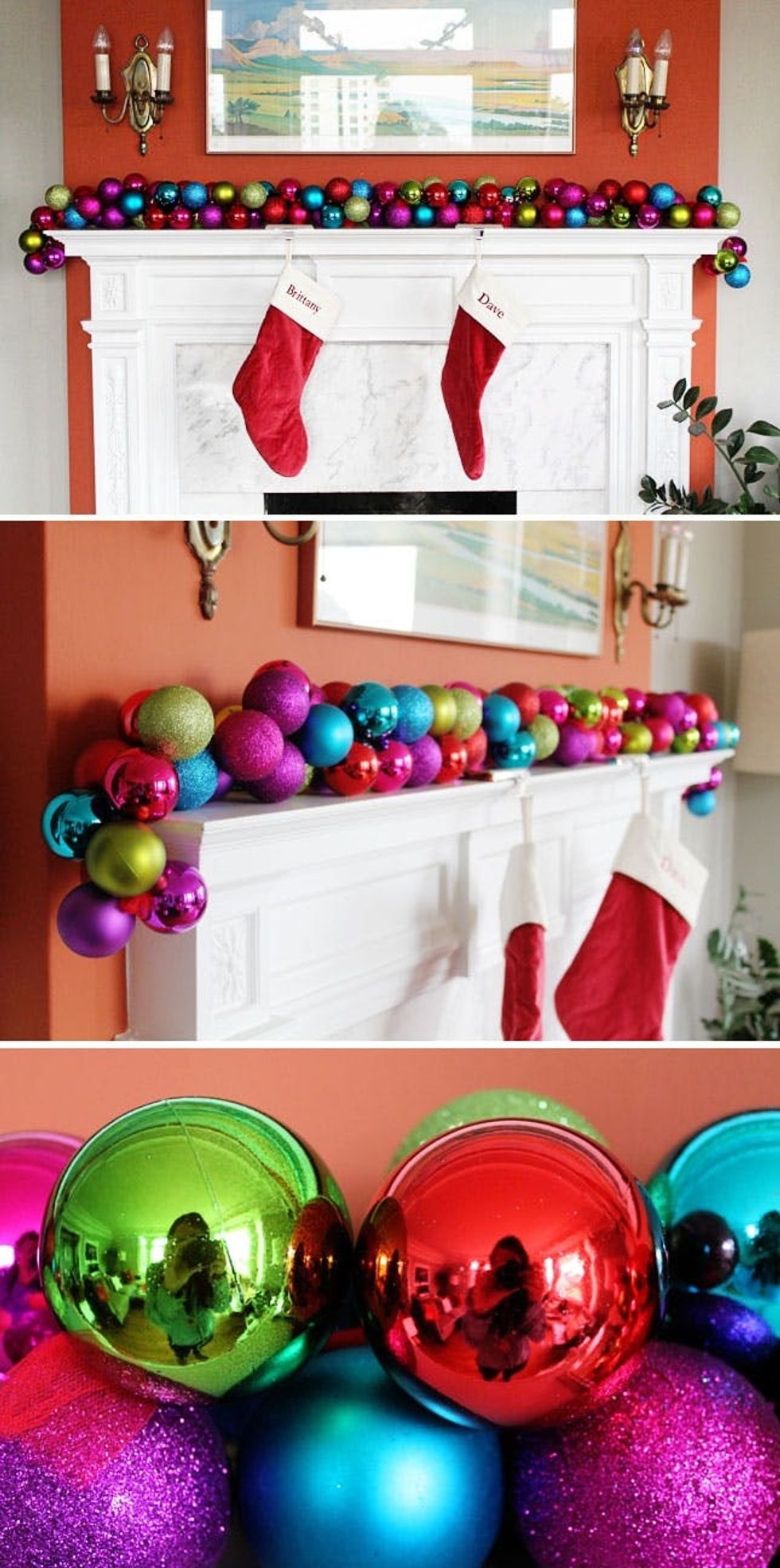 What other crafty things have you done with ornaments before? We'd love to hear them! Drop us a line in the comments below or find us on Twitter.
Brit Morin
Hi, I'm Brit, the founder and CEO of Brit + Co. I'm a young mom of two, tech nerd and design-inclined lady who has a zillion hobbies and curious about... just about everything! My mission from the beginning has been to unlock women's creativity and courage to try new things so that they can find the path to their true passions.
Home DIY
Still haven't taken up that new creative skills you swore you'd learn this year? Or ready to take your design skills to the next level? Let's say so long to the weirdest year ever by checking those big learn-something-new goals off our perpetual to-do lists.
We've teamed up with Clorox to give you the gift of unlimited creativity now through the end of the year. Once you sign up, you can take as many of our 120+ classes as you want for FREE for one whole month!
Here's how it works:

Head to brit.co/learn and sign up for the "All Access Pass."
Use the code "CLOROXCARES" at checkout to redeem your free month of classes.
You will be automagically signed up for Clorox's email list once you redeem your free all access pass. (It's the #1 Choice for Disinfection!)
Your pass lasts one month from when you checkout. This means you have unlimited access to all the classes during that month.
This offer is valid now through December 27, 2020.
Browse our catalog to find the right class for you, tell a friend and take the class together over Zoom, or organize a 'cocktails + crafts' night with a friend in your bubble so you can learn something new together.
What are you waiting for? Time to start learning all the things!

Thanks to Clorox for making this happen! When it counts, trust Clorox.
Lifestyle