Pretty Little Liars Series Finale Recap: A.D.'s Identity Is Finally Revealed
Jun 28, 2017
SPOILER ALERT! If you have not watched the series finale of Pretty Little Liars, stop reading now.
For the two-hour finale of Pretty Little Liars, a one-year time jump took the Liars and their fans to what seemed like a dream world (for all but one Liar).
---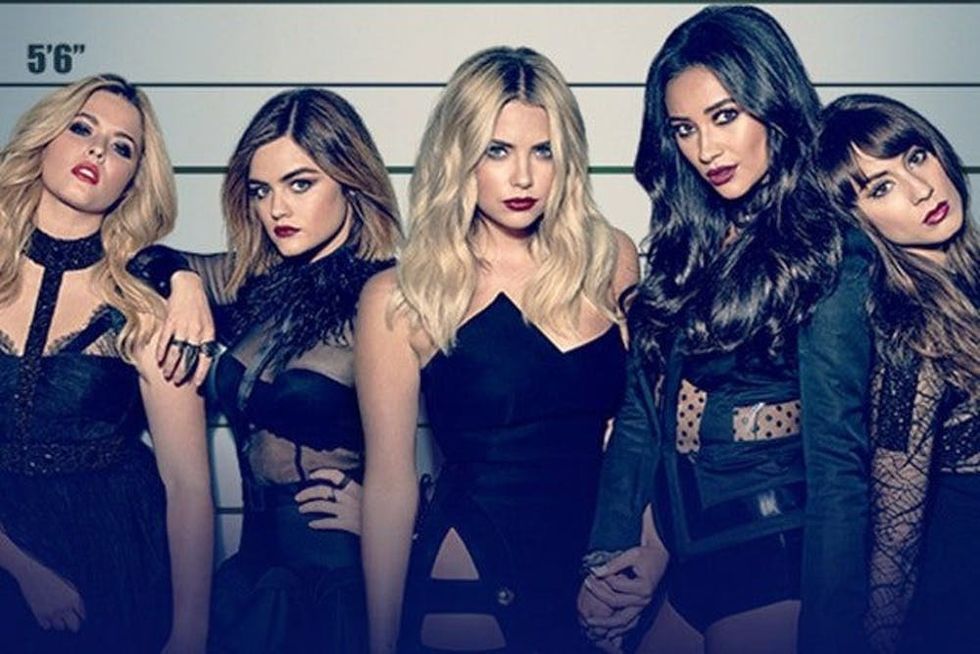 Emily and Alison are happily together, raising their twin girls, Lily and Grace; Ezra and Aria are planning their wedding and their book may become a movie; Spencer and Alison have spruced up the Lost Woods Resort; and Spencer is reconnecting with both her sister Melissa and Toby.
All is well, except with Caleb and Hanna. These two are still married, their businesses are going well, and they're trying to have a baby — but Mona is casting a dark cloud over everything. She's out of Radley and nearly done with her therapy, so Hanna has taken it upon herself to sponsor her old friend, something no one is supportive of, Caleb and her mom Ashley included.
And they're right to be suspicious, because Mona is working with A.D., who it turns out is a person fans have been suspecting for a while now — Spencer's twin, Alex Drake.
But Alex's backstory is even better than fans could have imagined. She was adopted by a wealthy British couple who abandoned her at an orphanage when it turned out she had some "issues." She ran away from the group home at age 10 and presumably grew up on the streets, until one day working as a bartender she met none other than Wren Kingston. He fell hard for Spencer's doppelganger and eventually helped her avenge Charlotte's death and insert herself into Spencer's life.
But Alex didn't love him back, not in the same way at least, so when he became too much of a liability, she killed him. RIP, Wren. That is truly a huge loss in the PLL universe.
And Alex Drake — a character who, by the way, is letting Troian Bellisario show off more of her impressive acting skills — has been posing as Spencer in order to sleep with Toby. She steps up her game by kidnapping Spencer and busting her mom Mary out of prison, keeping them both in a "do-it-yourself dungeon," as Ezra calls it when he lands there. With Spencer locked up, Alex full-on takes over her life.
Who figures out Spencer isn't Spencer? None other than Jenna. Toby suspects something is up, but Jenna and her super sniffer is the one who sounds the alarm.
And speaking of foes doing the Liars a solid, Mona has been acting like she's working with A.D. this entire time, but she doesn't actually know who A.D. is, so her real game has been to unmask A.D. and protect the Liars. All Mona ever wanted was to be their friend and to protect Hanna at all costs, so it's not a surprise she's working so hard to help them.
Ultimately, the gang saves Spencer and Ezra, and Mary and Alex are taken into custody. Afterward, we get a glimpse of Ezria's wedding and the girls saying goodbye, complete with a cameo by showrunner Marlene King as the wedding photographer!
But wait! That's not the end!
Mona gets her happily ever after too, working at a doll boutique in France with a swarthy French boyfriend — and keeping Mary and Alex locked up in the basement, because, as Alex says, "Of course she can. She's Mona." Mona really is the secret MVP of the entire Pretty Little Liars seven-year run. Can we please get a Mona spinoff?
And that's still not all!
In a weird tag, there's a slumber party for the group of high school girls led by queen bee Addison, that awful bully who threatened Emily, Paige, and Alison at Rosewood High. During the party, Willow, the Spencer of the group, comes back to the other girls and says she can't find Addison, but she heard a scream, an exact reenactment of the scene from the pilot where Alison disappeared.
What does that even mean?! Let the speculation begin. But overall, it was a pretty satisfying finale for Pretty Little Liars. It certainly was a fitting ending for a show that was so wild from start to finish.
What did you think of the PLL series finale? Tell us @BritandCo.
(photo via Freeform)
Andrea Reiher
TV critic by way of law school, Andrea Reiher enjoys everything from highbrow drama to clever comedy to the best reality TV has to offer. Her TV heroes include CJ Cregg, Spencer Hastings, Diane Lockhart, Juliet O'Hara, and Buffy Summers. TV words to live by: "I'm a slayer, ask me how."