17 Banh Mi Recipes That Are WAY Better Than Takeout
Jul 23, 2016
We've all had that late-night craving for banh mi — our favorite Vietnamese sandwich — only to find that our favorite spot is closed for the day. Lucky for you, there are plenty of delicious banh mi-inspired recipes that don't require a one hour wait (or your entire weeks' food budget). Plus, there are *SO* many great recipes, running the gamut from banh mi tacos to crostini and even nacho recipes. You wouldn't dare call to order takeout and ask for a banh mi hot dog, but you can sure as heck make one yourself! Keep reading for 17 unique banh mi recipes that'll ease your craving and help you learn how to make your own takeout at home.
---
1. Banh Mi Hot Dog: You won't find this hot dog at any ballpark stand. It's topped with shredded carrots, sliced cucumber and a spicy Sriracha mayo that ties together the hot dog and banh mi fusion. (via Lemons for Lulu)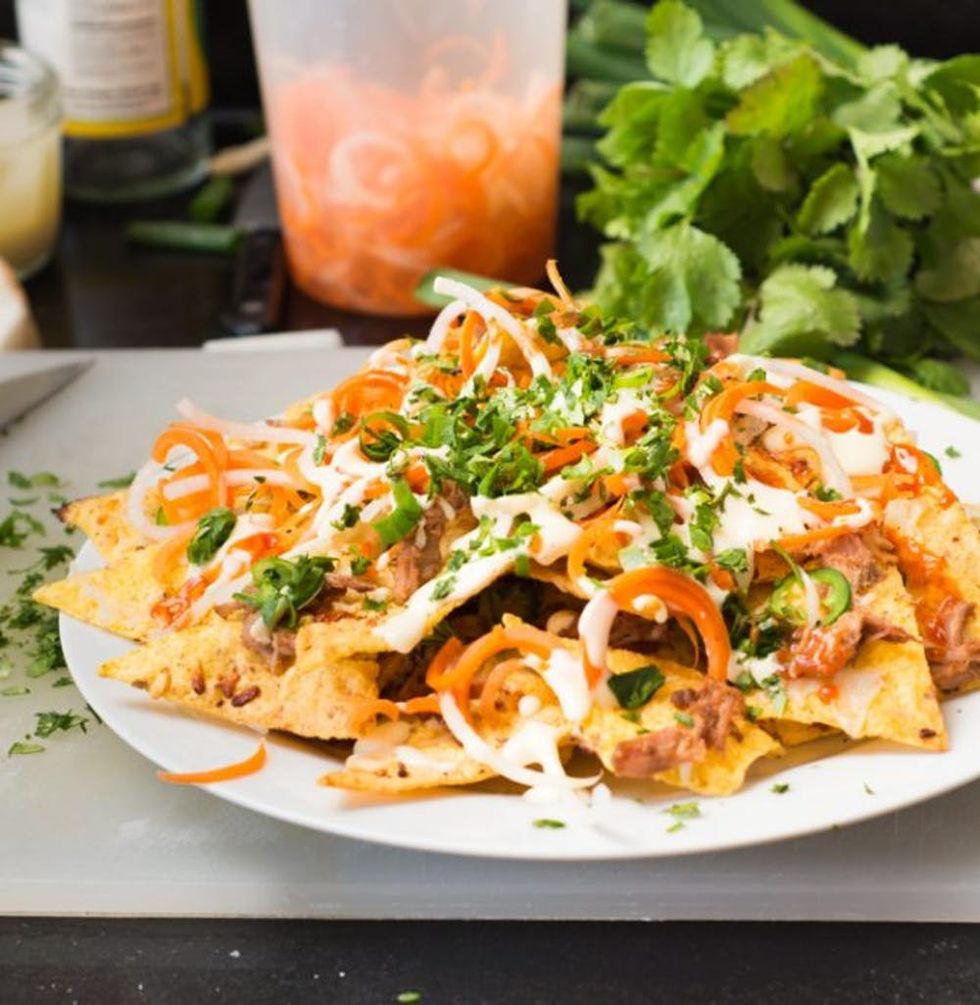 2. Banh Mi Nachos: Think outside your typical queso and salsa nachos and munch on this Vietnamese-inspired version. After a night of bar crawling, these will be your hangover life saver. (via Impromptu Kitchen)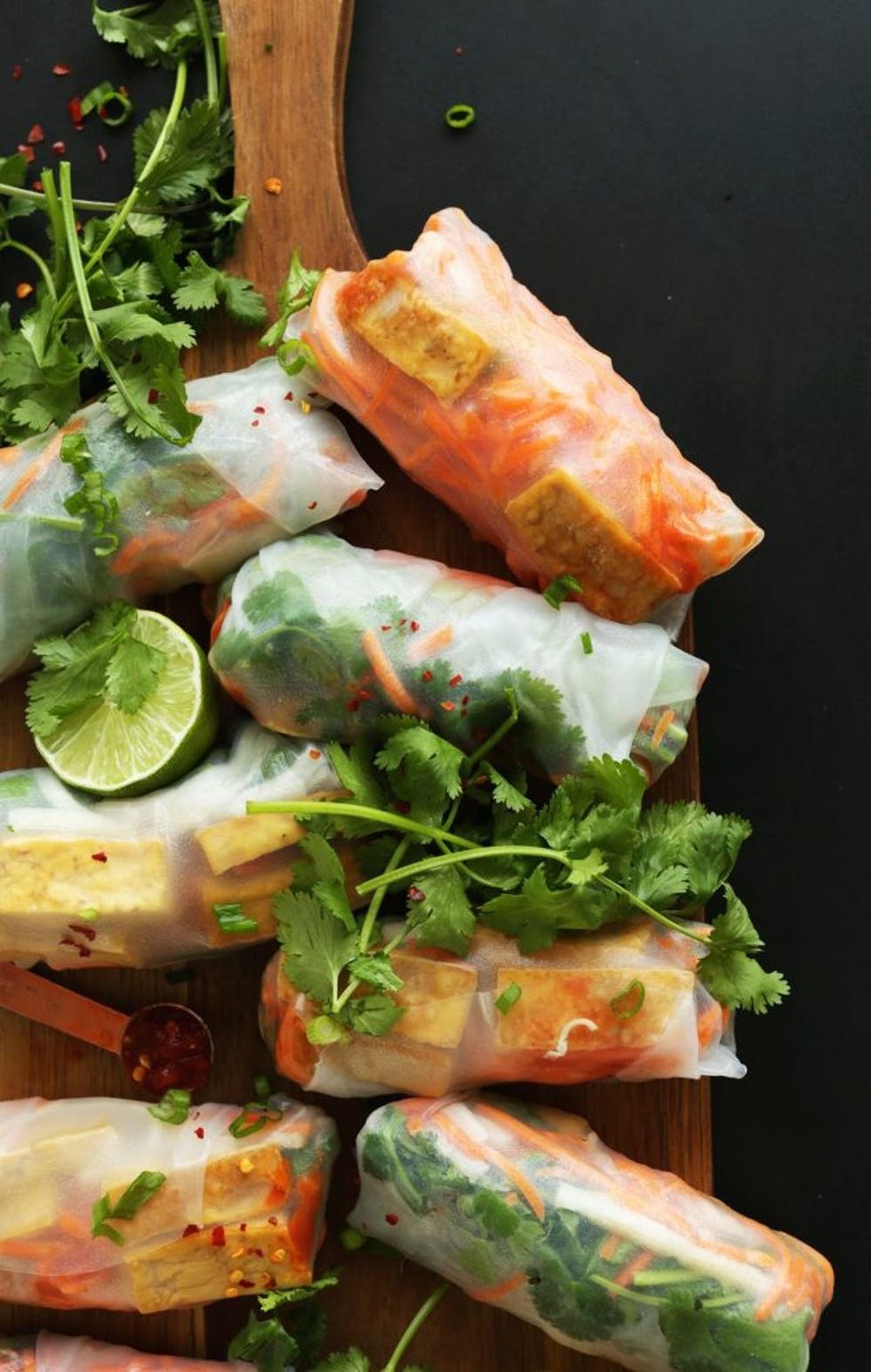 3. Banh Mi Spring Rolls: These spring rolls have all the classic banh mi flavors rolled into a tiny package. They're filled to the max with root veggies, tofu and sweet chili sauce for an extra kick. Serve alongside extra chili sauce or creamy peanut butter sauce for dipping. (via Minimalist Baker)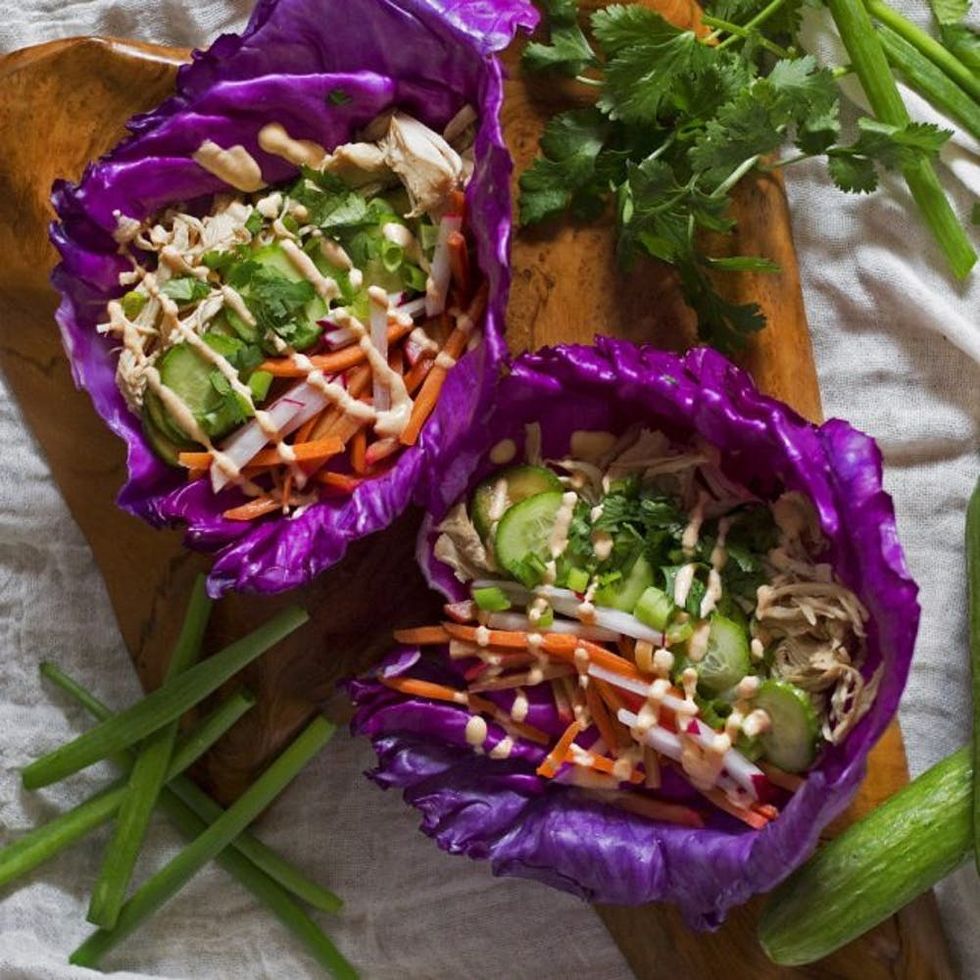 4. Slow Cooker Banh Mi Chicken Tacos: Nothing is better than coming home to a hot and delicious meal waiting for you to devour. These slow cooker tacos combine warm and comforting chicken with fresh pickled vegetables, all wrapped in a colorful purple cabbage wrap. (via Kelley and Cricket)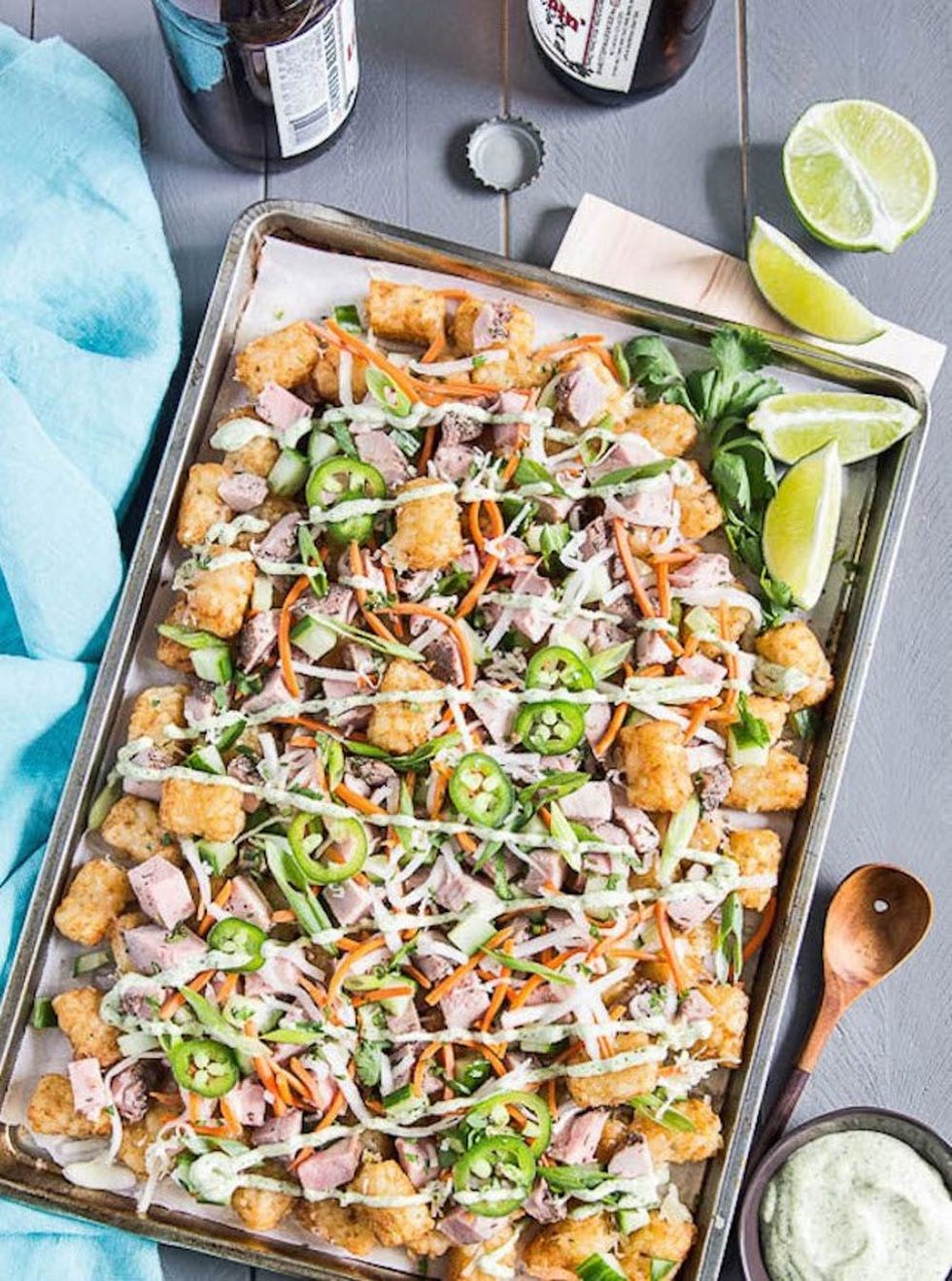 5. Banh Mi Totchos With Cilantro-Lime Aioli: The only thing that *may* be better than nachos are totchos (AKA tater tot nachos). Finish these off with a couple fried eggs and a generous helping of cilantro-lime aioli for good measure. (via No Spoon Necessary)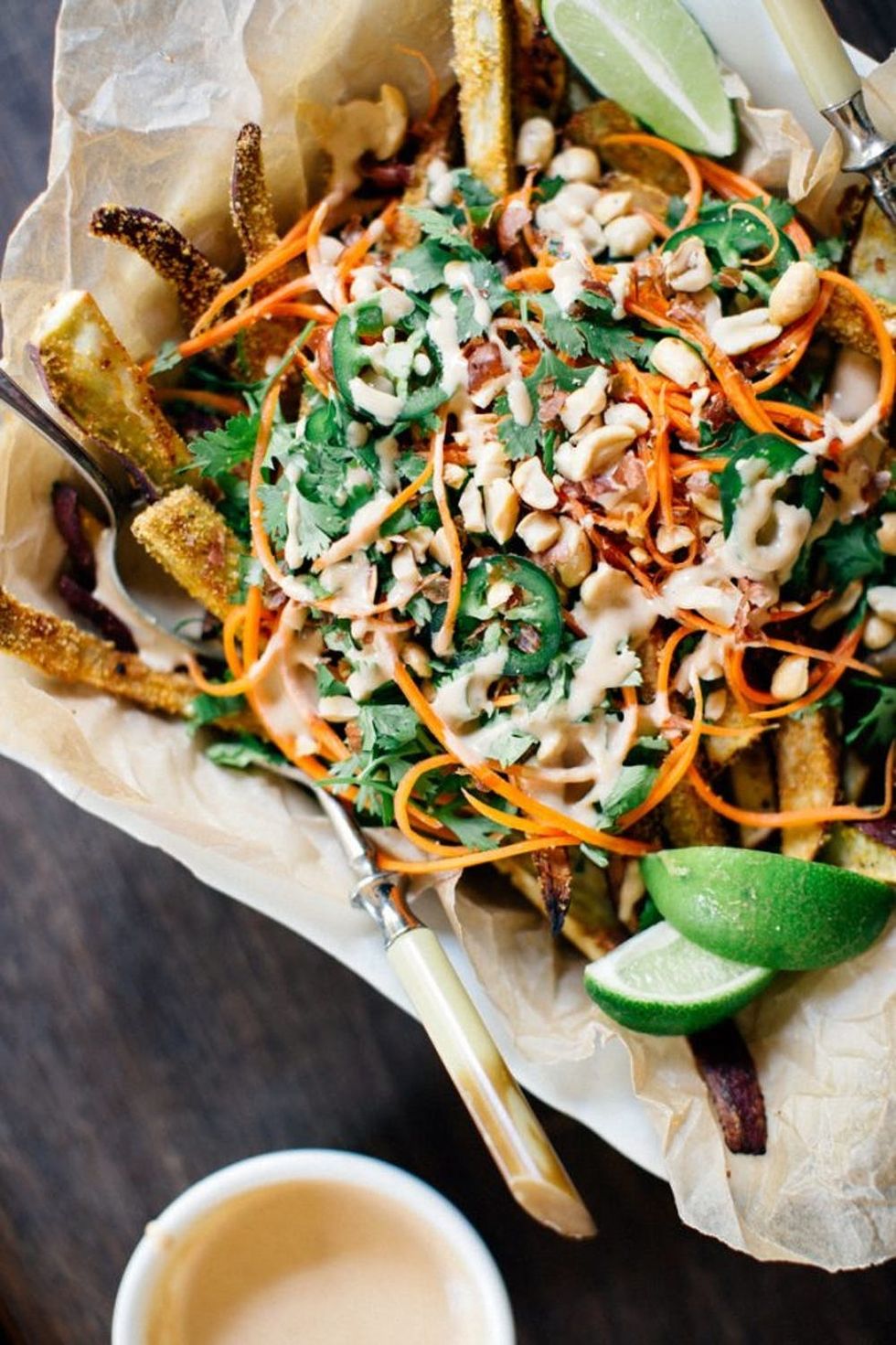 6. Loaded Banh Mi Sweet Potato Fries: Warning: These fries will change your life. The smokey seasoning on the sweet potatoes is mind-blowing, and the miso-lime dressing poured over the top will be your new go-to sauce. (via Earthy Feast)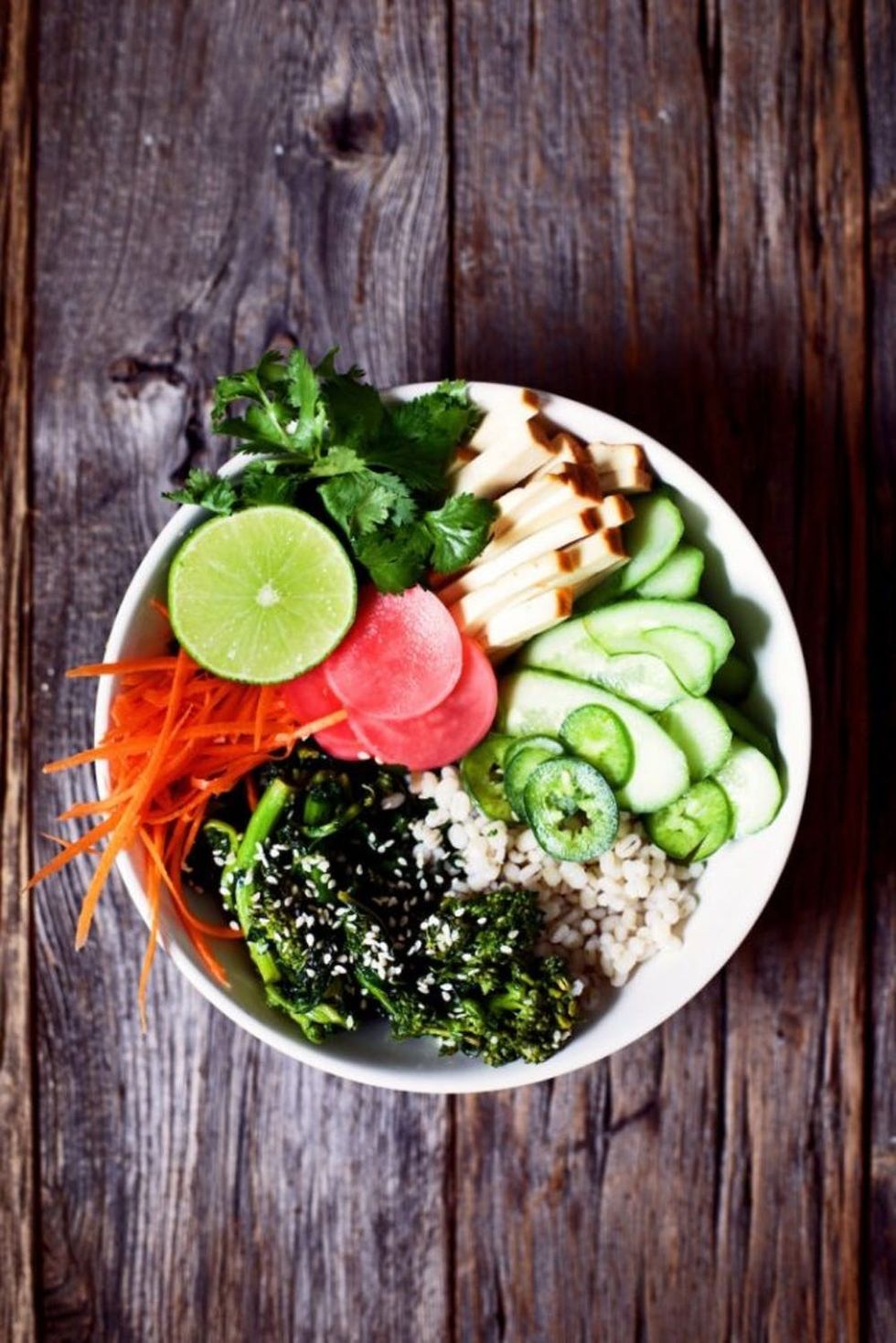 7. Banh Mi Barley Bowls With Seared Sesame Broccoli Rabe: Healthy doesn't always have to mean boring! This barley bowl screams traditional banh mi while nourishing your body and your taste buds. (via Yummy Beet)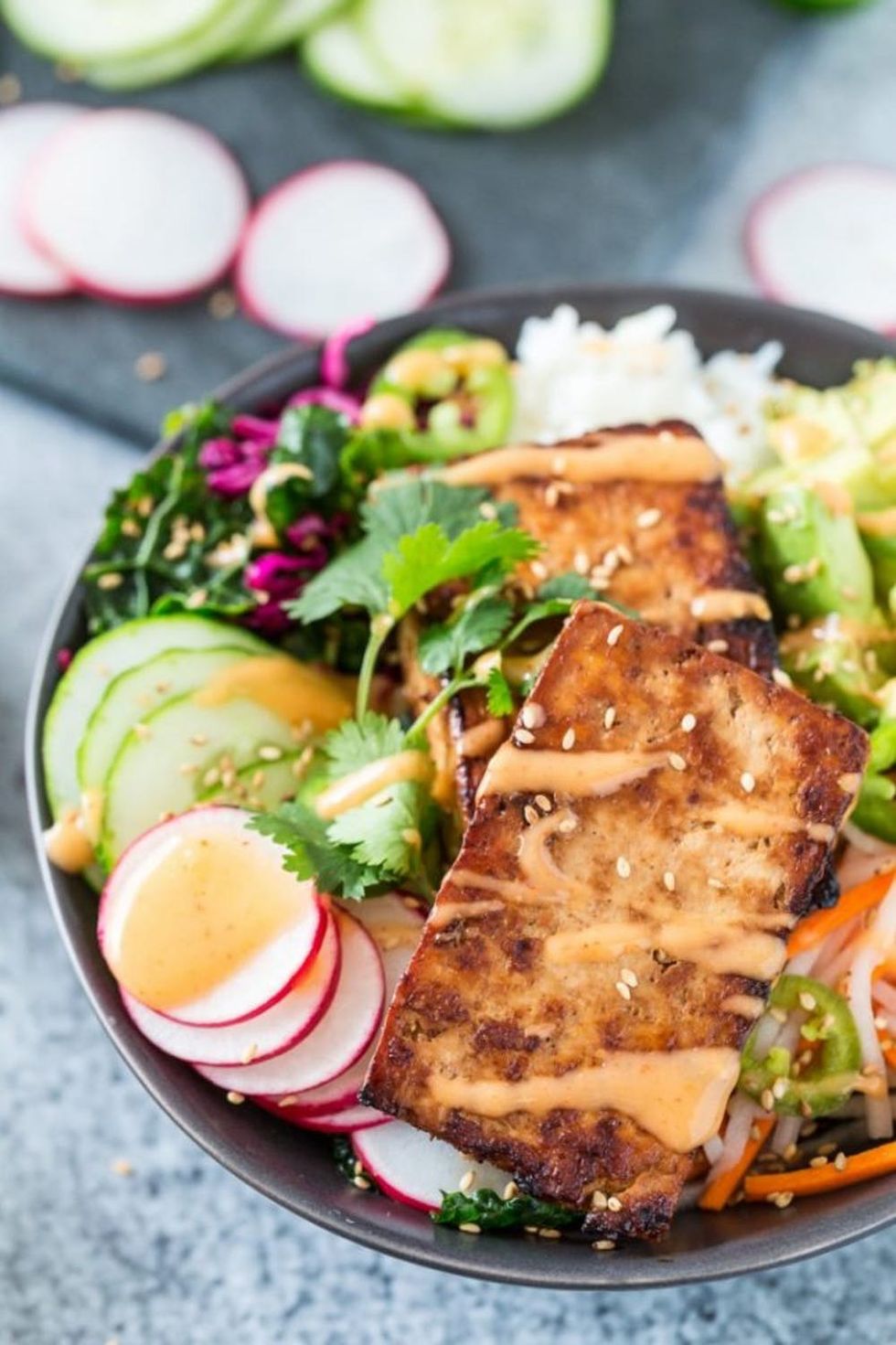 8. Banh Mi-Less Banh Mi Bowl: If you think you can't enjoy banh mi because you're a vegetarian, think again. This bowl has everything your standard banh mi would have except for the bread. Use crispy tofu as your protein and layer everything in a bowl before digging in. (via Keepin' It Kind)
9. Banh Mi Noodle Salad: Shrimp, candied peanuts and rice noodles add a unique touch to this salad. If you bring this to work for lunch, your co-workers will be hella jealous of your homemade takeout. (via Brazilian Flair in the USA)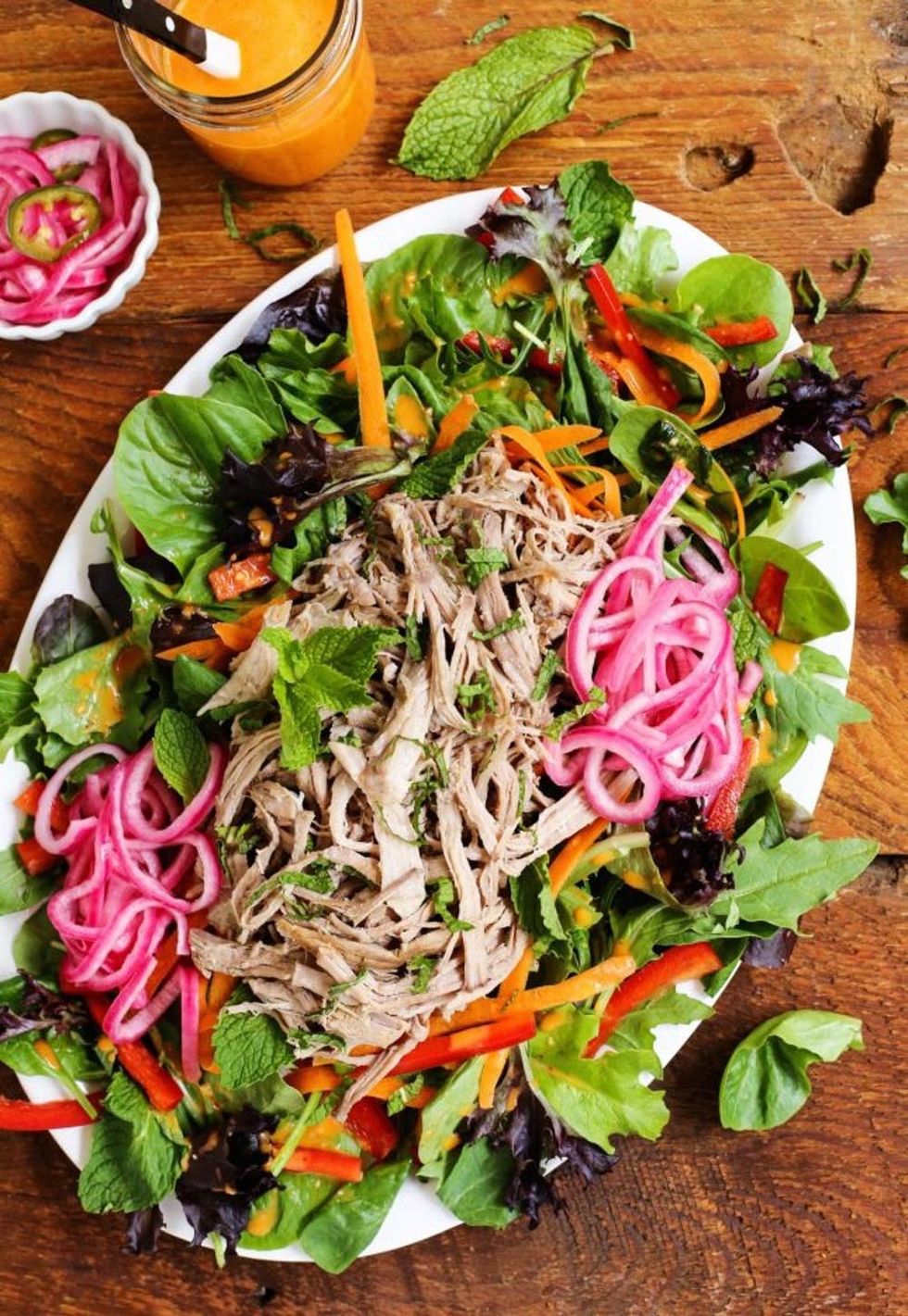 10. Banh Mi Salad With Sriracha Vinaigrette: This family-style salad is a meal that won't soon be forgotten. There are so many fresh flavors mixed into it, everyone will most definitely clean their plates without question. (via A Farm Girl Dabbles)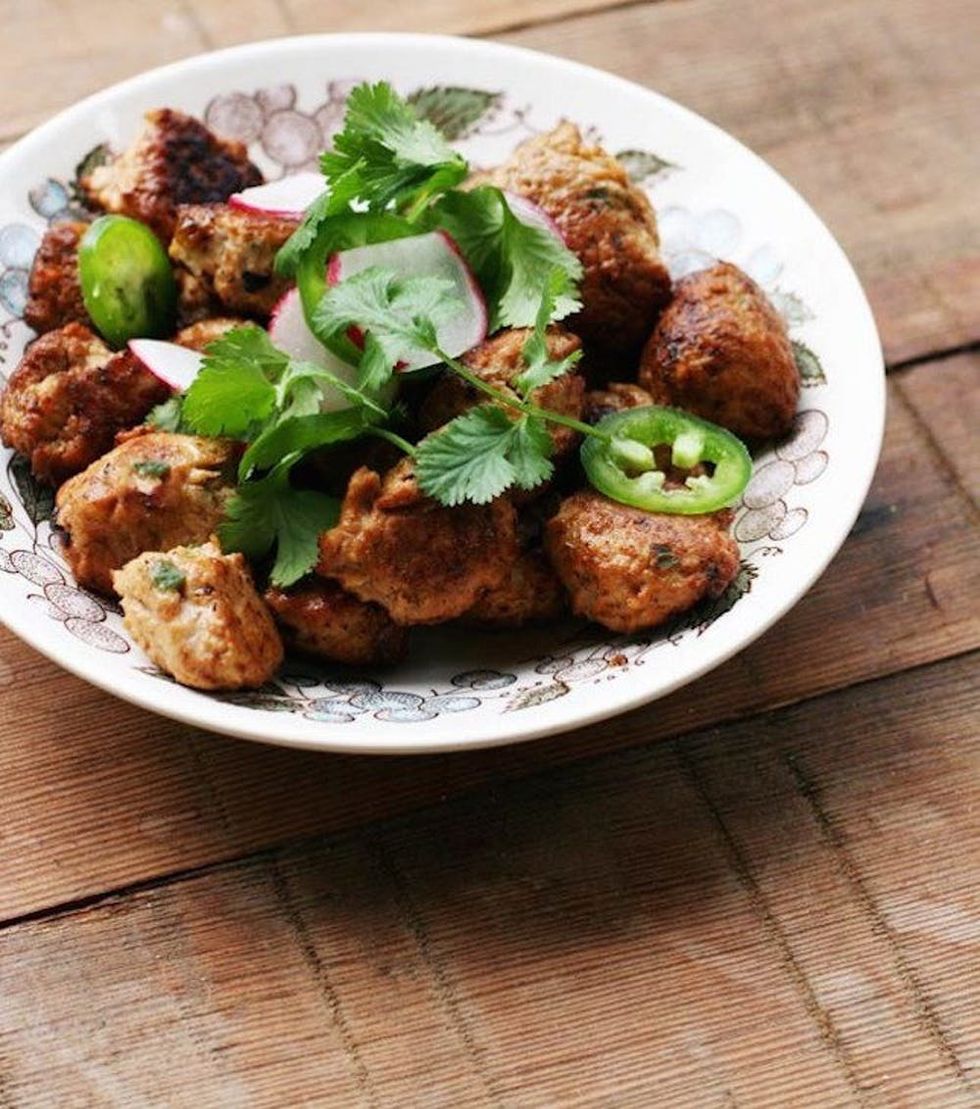 11. Chicken Banh Mi Meatballs: You can never have too many meatball recipes, especially when they're as unique as this chicken banh mi adaptation. You can serve these on a sandwich, in a pasta dish or on a toothpick as a quick appetizer. (via Cheap Recipe Blog)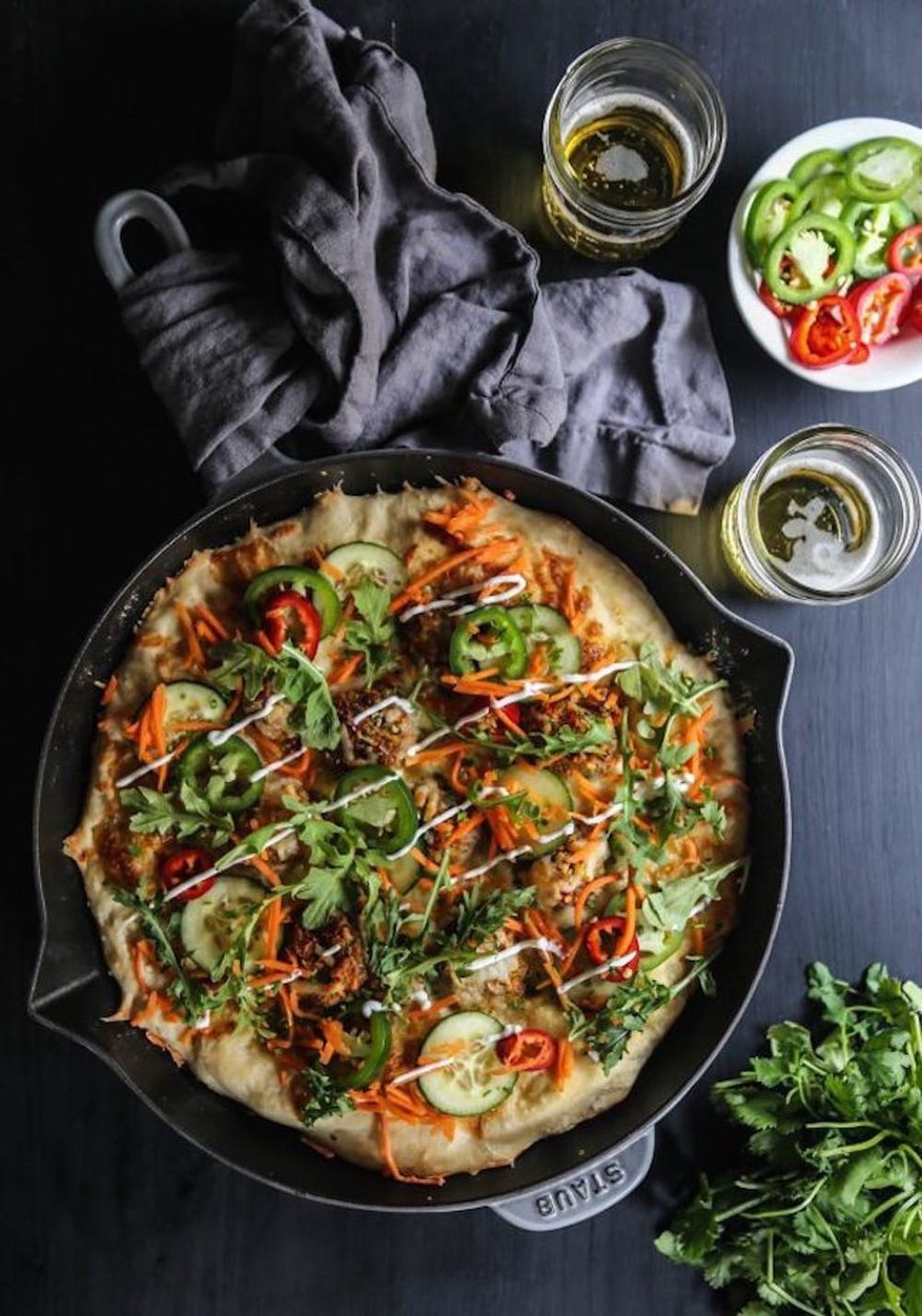 12. Chicken Meatball Banh Mi Skillet Pizza: When you're faced with the decision of ordering pizza or Vietnamese, the answer is simple: Neither! Make your own banh mi pizza at home and you've combined your two faves in under 30 minutes flat. (via Climbing Crier Mountain)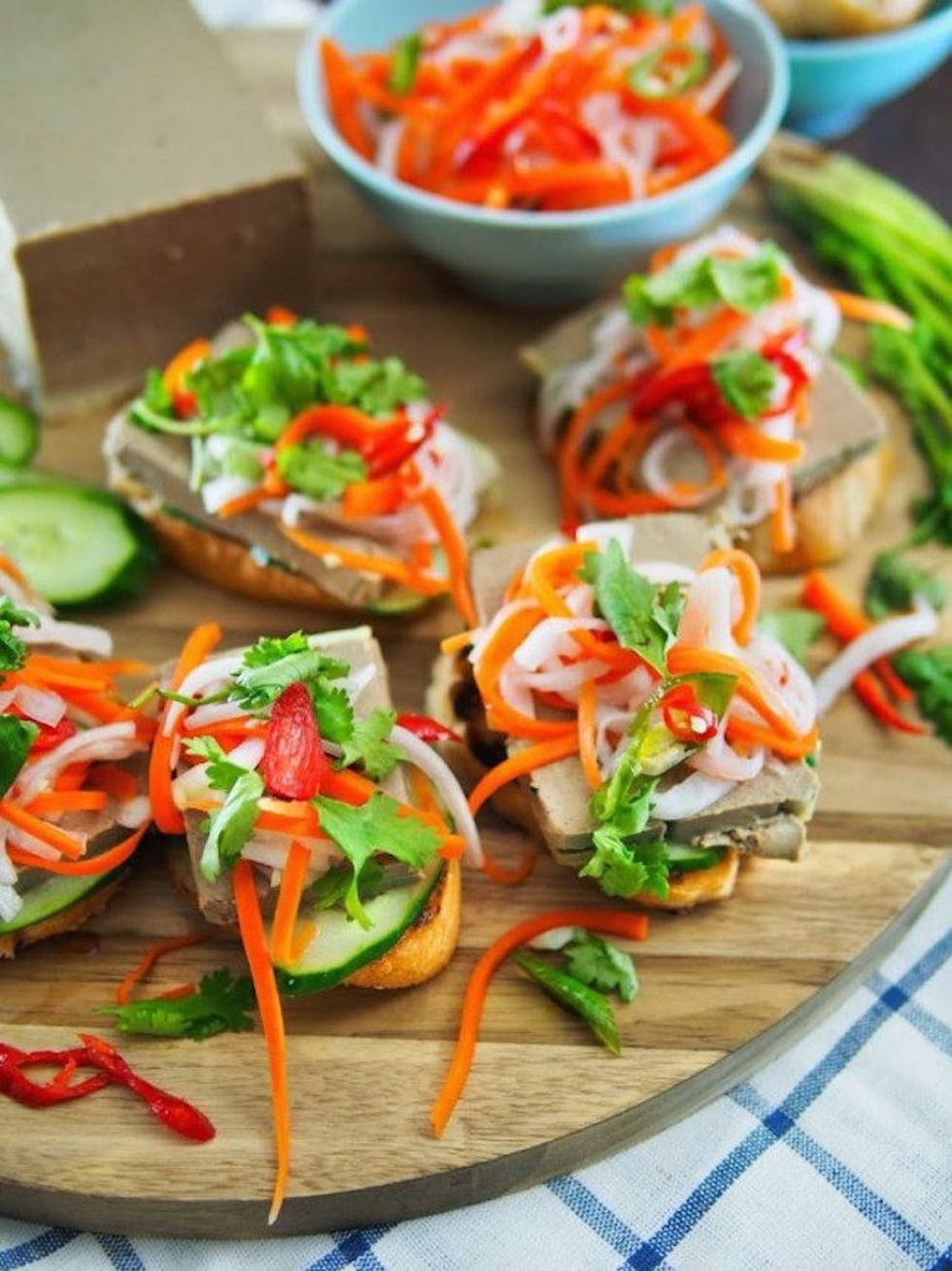 13. Banh Mi Crostini: A couple of these hearty crostini are a great way to start off your dinner party with a bang. Your guests will be VERY impressed that you made your own chicken liver and pork pâté to go on top, and you'll revel in the secret of how simple it is. (via Foodmanna)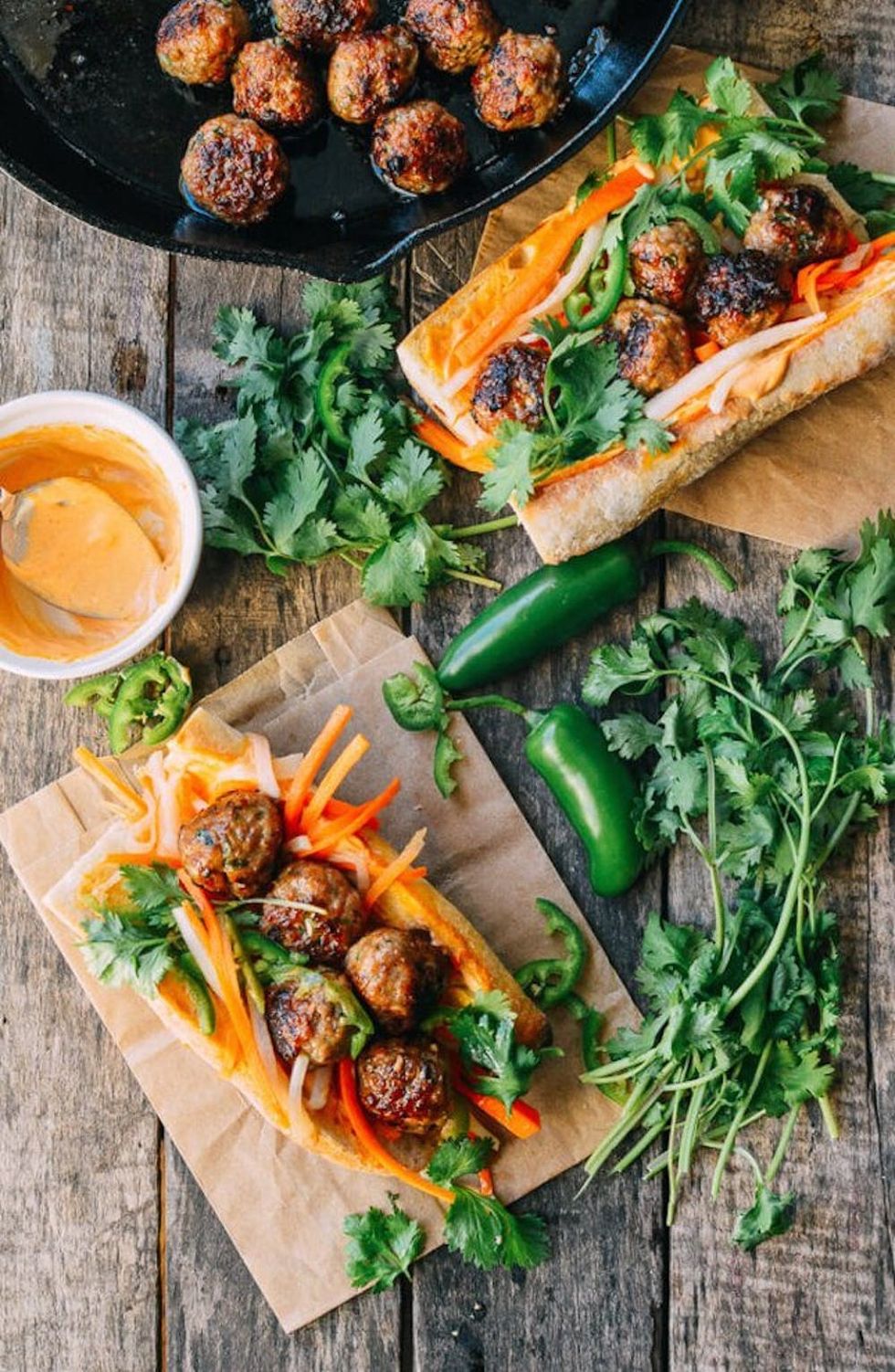 14. Meatball Banh Mi: Banh mi strictly refers to the roll used in the classic sandwich. Sure, there are traditional ingredients like pickled vegetables that are pretty standard, but the contents of the sandwich are really up to you. This one has savory pork meatballs that will serve as your new favorite filling. (via The Woks of Life)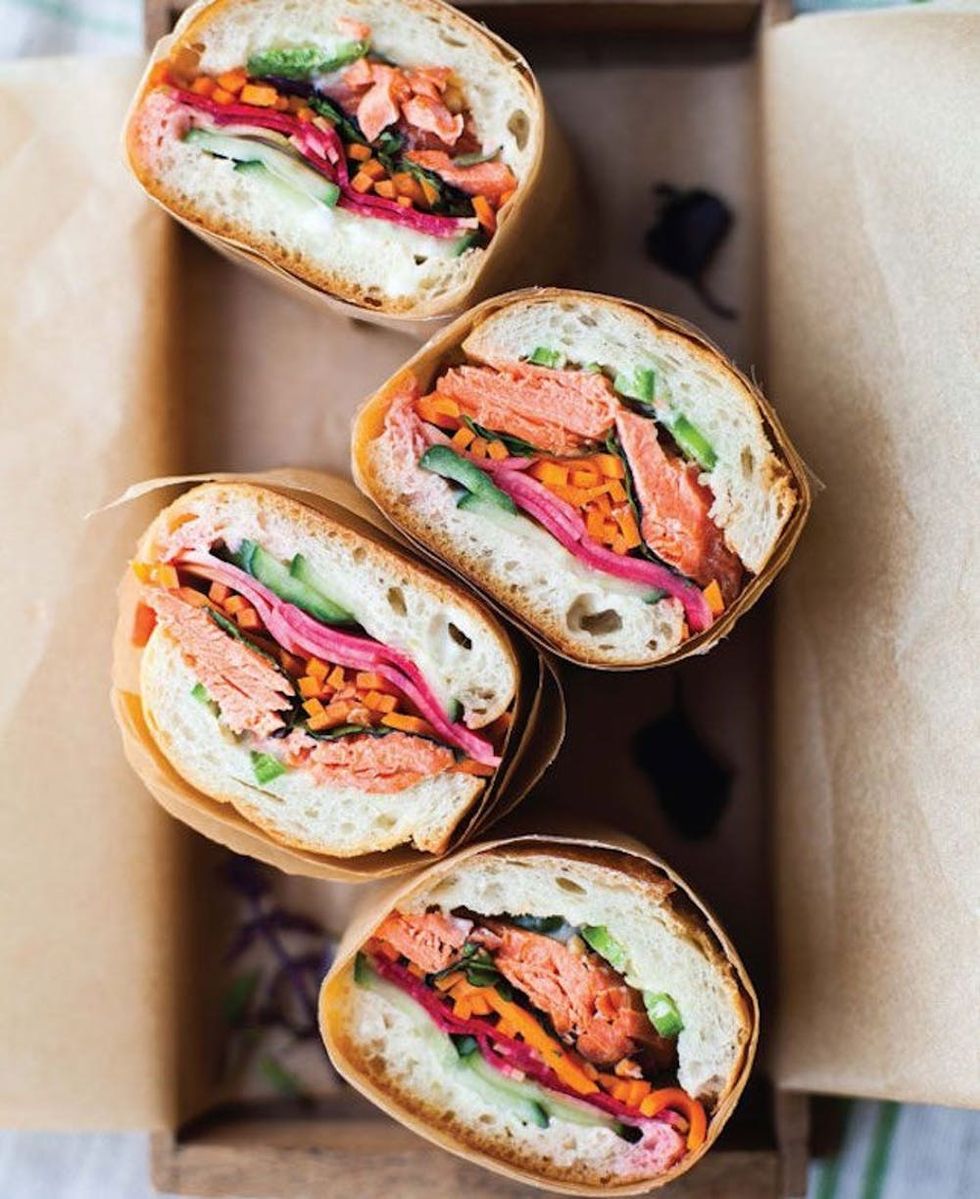 15. Salmon Banh Mi: Your picnic date called, and they want this salmon banh mi STAT. These would be great for an outdoor gathering or a romantic lunch in the park. (via Leite's Culinaria)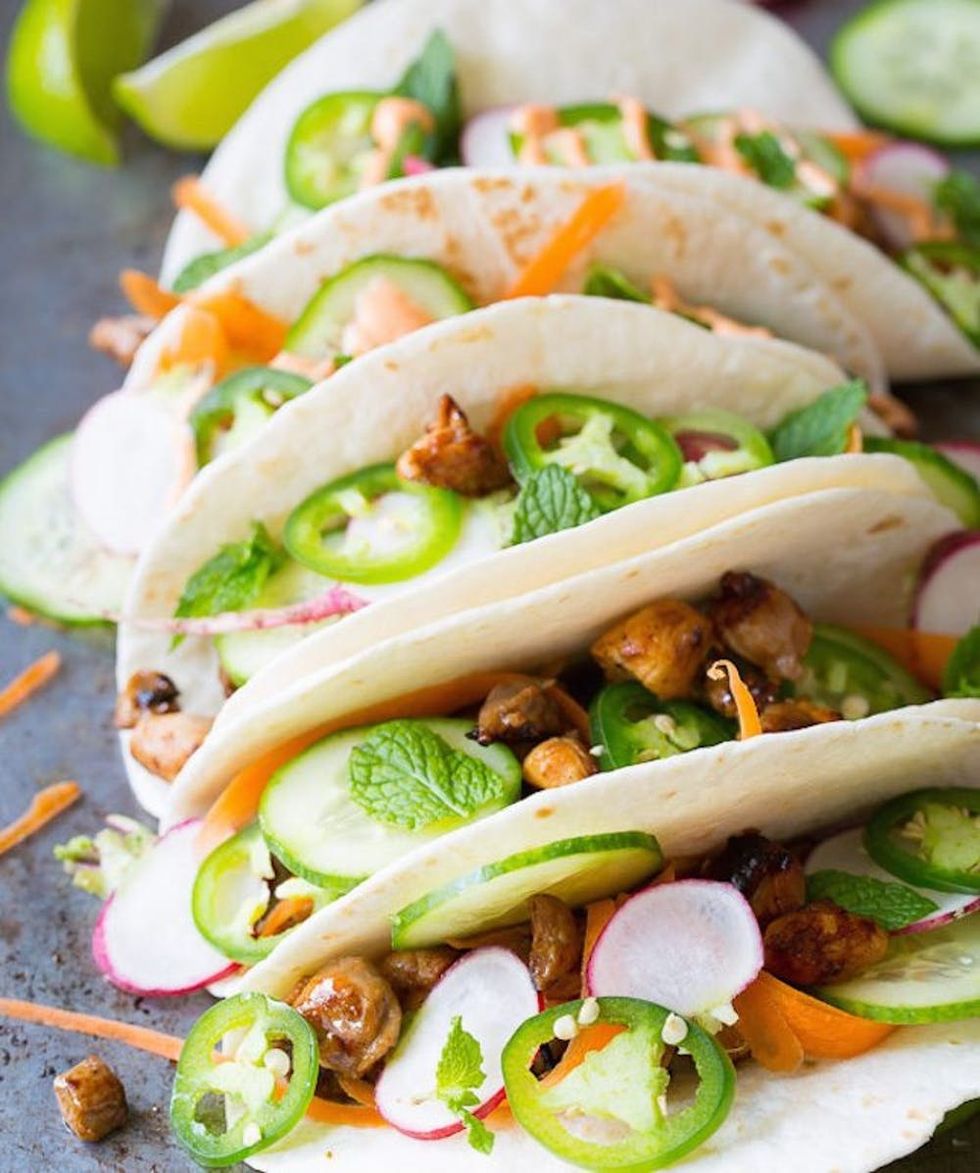 16. Vietnamese Banh Mi Street Tacos: These zesty tacos are worthy of any food truck, and you can make them in the comfort of your kitchen. They're full of a ton of chicken that's been marinated in lime juice, fish sauce and spicy jalapeños. (via A Spicy Perspective)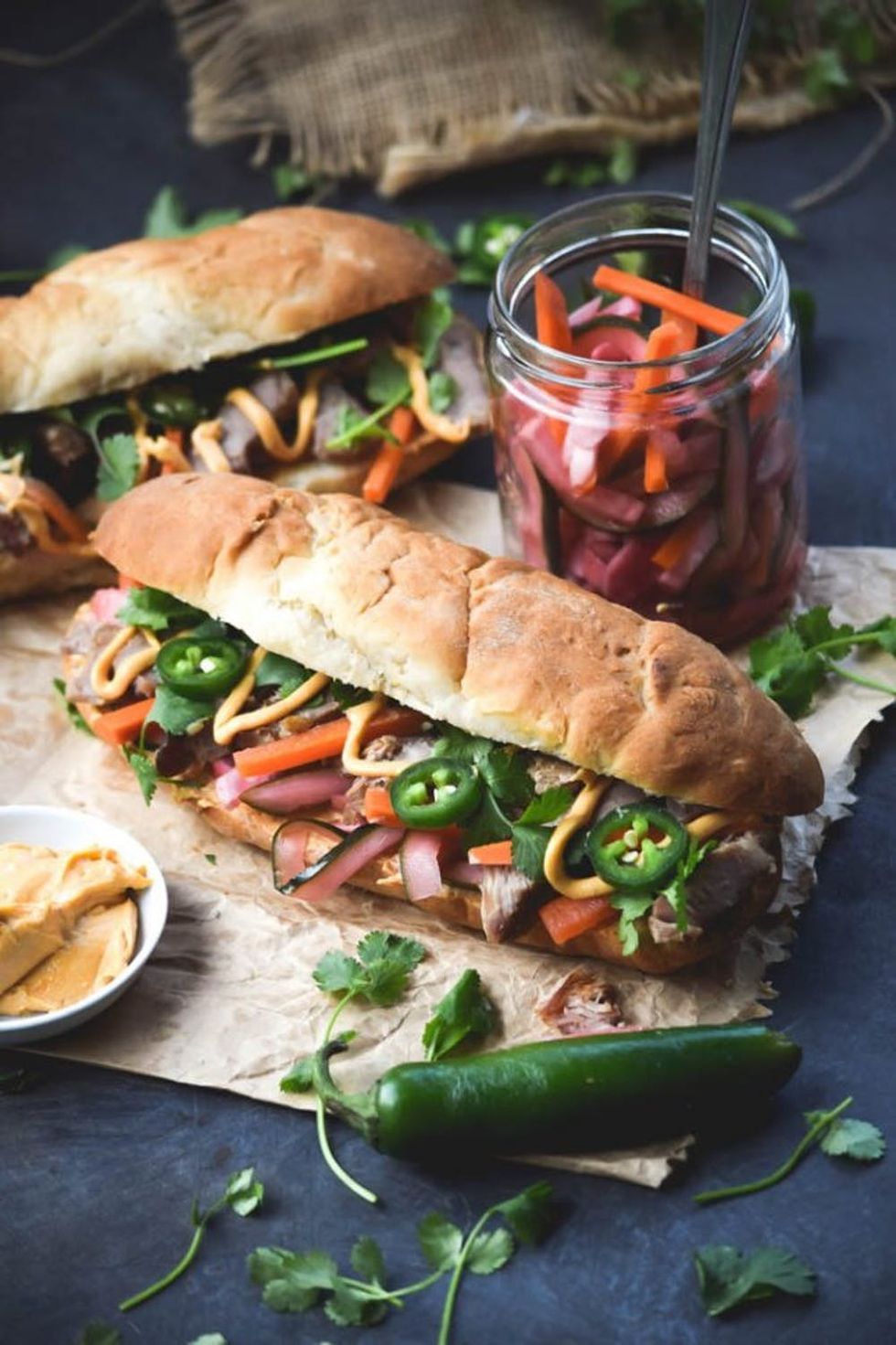 17. Vietnamese Pork Banh Mi With Sriracha Tahini Mayo: You can't go wrong with the OG banh mi sandwich. When the craving hits, there's no better way to subdue it than with a pork-filled hoagie roll complete with a spicy mayo drizzle. Go ahead and lose the number to your takeout spot ASAP. (via Gringalicious)
Follow us on Pinterest for more easy lunch + recipe ideas.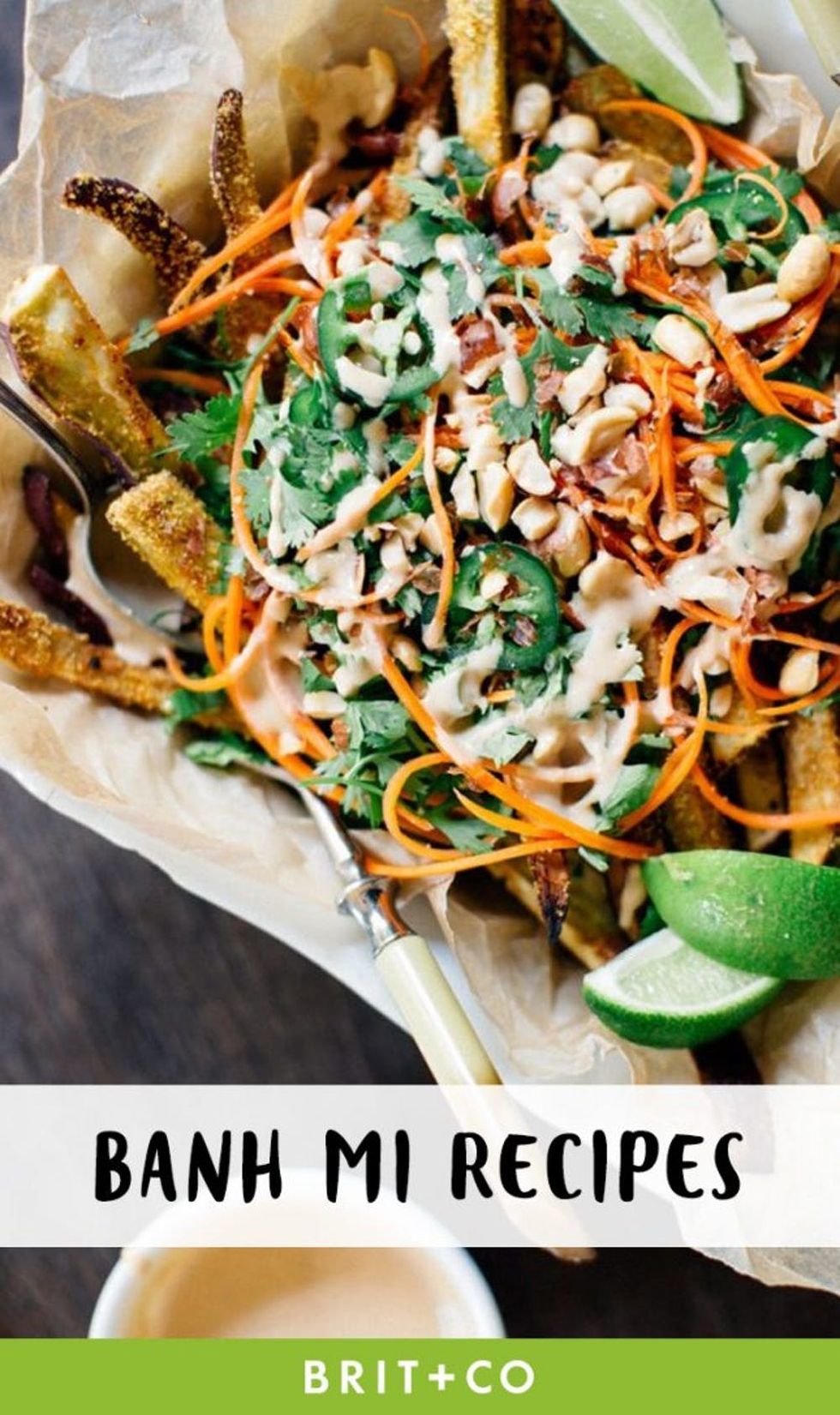 Paige Johnson
Paige is a blogger, food writer and culinary master from Louisville, Ky. She's a newlywed who's obsessed with dogs and renovating her 117 year old home. When she's not working on her blog —
My Modern Cookery
— you can find her binge watching F.R.I.E.N.D.S with a triple shot latte in-hand.