Dunkin' Donut Fries Are Basically Croissant Churros
Jun 27, 2018
Sometimes it seems like Starbucks gets all the love when we talk about our fave coffee chains, but Dunkin' Donuts, with its upcoming launch of Donut Fries (yes, Donut Fries!), has proved yet again that it's a more than worthy contender when you're deciding where to get your afternoon sugar-and-caffeine fix.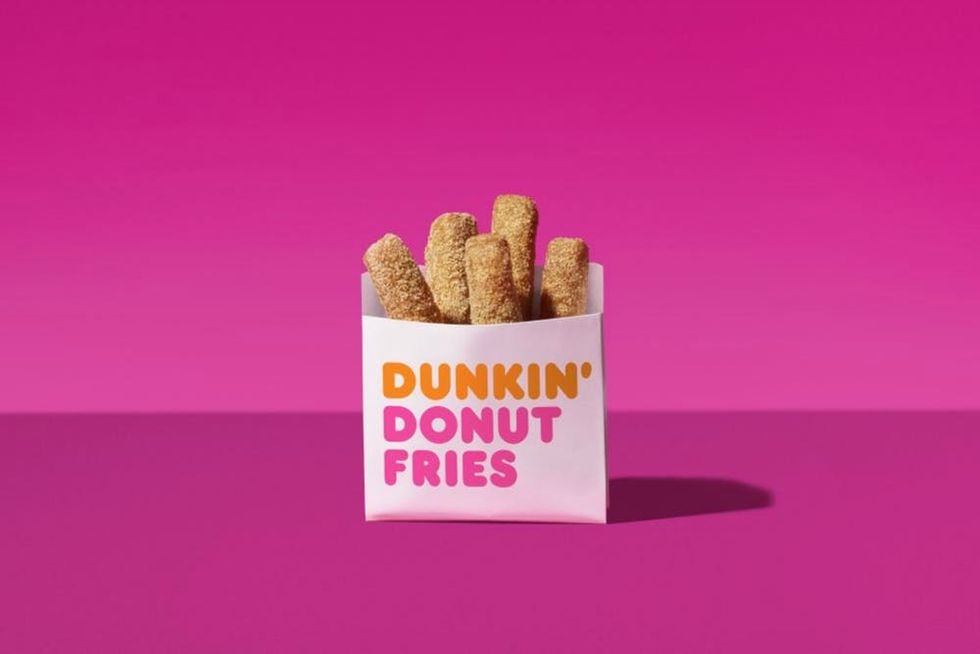 ---
According to the Dunkin website, the Donut Fries are made from fried croissant-style donut dough that's rolled in cinnamon sugar, so you get some crunchiness on the outside and nothing but soft, buttery dough inside. Think mini churros, only instead of chocolate sauce, you can dunk yours into a cup of coffee. Get ready to line up on July 2 for your first bite. You'll be able to get five hot Donut Fries for $2 . TBH, you might as well shell out $4 and get a double order, because you risk losing several of them to your hungry friends and co-workers.
Rick Golen, who holds the coveted title of "Manager of Donut Excellence" invented the treat. Um, where can we apply to be his successor? "We tested different kinds of dough [and] adding cinnamon and sugar for the right amount of crisp," he says, and the rest was history. DD tested the Donut Fries in Boston, where people are *truly* obsessed with the chain. Now, the rest of us will finally be able to get a taste of donut shop nirvana.
Dunkin' Donuts isn't the first chain to get creative with fries in recent memory. Earlier this year Taco Bell caused a scene when they launched Nacho Fries (which swapped ketchup for queso). Burger King is notorious for its Chicken Fries (and Fiery Chicken Fries), and even McDonald's has launched Gilroy Garlic Fries in California. Being obsessed with all kinds of fries is apparently something we all share.
Follow us on Pinterest to get the scoop on more yummy new food releases.
Justina Huddleston
Justina Huddleston is a food writer living in Los Angeles. When she's not busy writing, she spends her time in the kitchen creating both virtuous and decidedly junky vegan food. Buffalo chickpea pizza, anyone? She's also been known to eat a plain block of tofu or beans straight out of the can for lunch, but somehow those culinary adventures don't make it to her
Instagram
. You can follow Justina on
Twitter
or see what's cooking in her kitchen on her blog,
A Life of Little Pleasures
.
Food News