These 17 Fairy Floss Desserts Will Blow Your Unicorn-Loving Mind
Jun 14, 2016
Cotton candy isn't just for carnivals anymore! Foodies are doing amazing things with fairy floss lately, topping everything sweet that's good to eat, from cupcakes to donuts to ice cream sodas. Just a dab of spun sugar topping turns ordinary vanilla ice cream into something magical, as the liquid melts the sugar and fruit flavors invade your tastebuds. And these desserts are as Insta-worthy to look at as they are to eat. Here are 17 fairy-floss food concoctions that are giving us emoji heart eyes — and one is a "magical martini" that is not to be missed.
---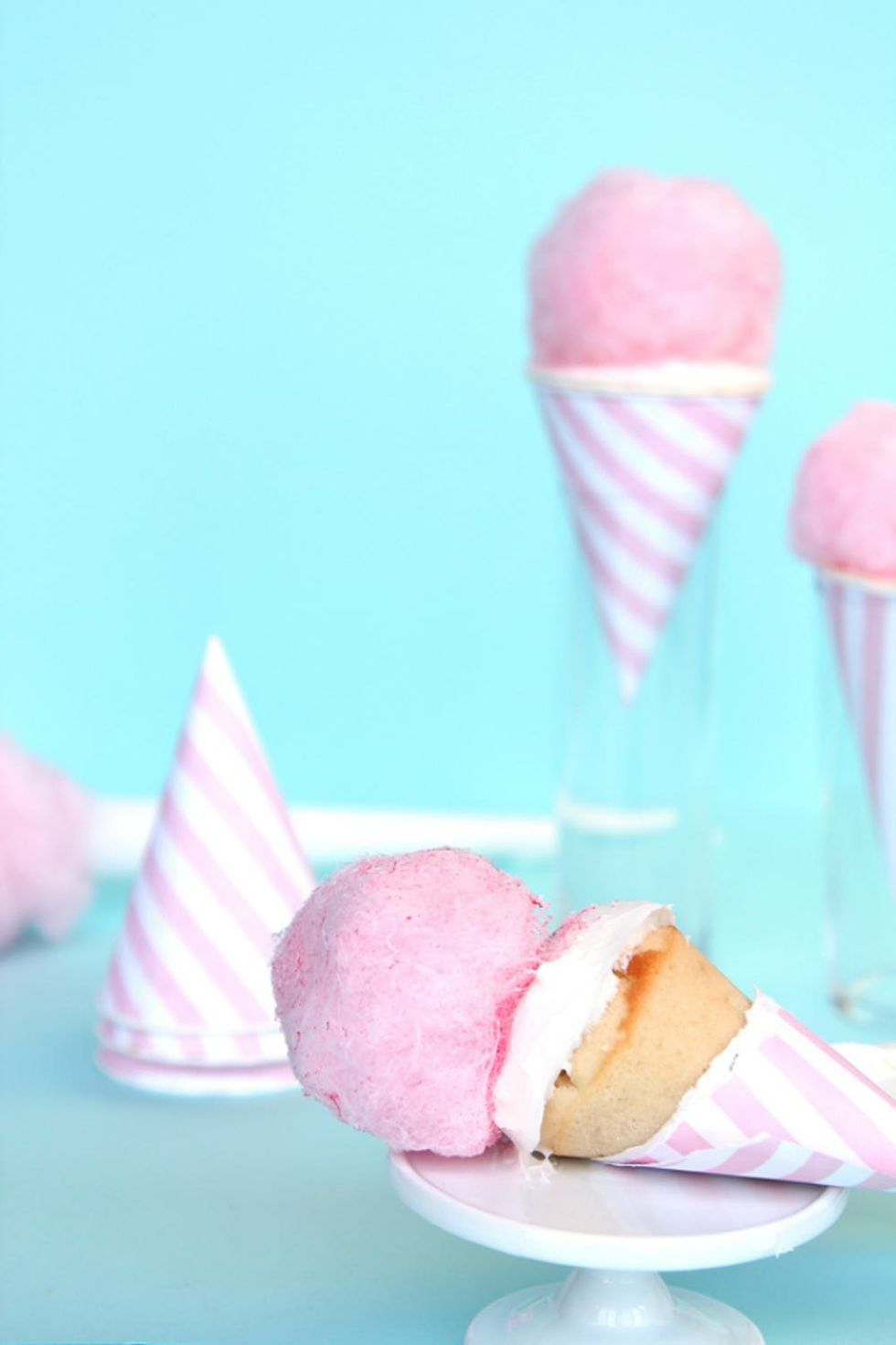 1. Cotton Candy Cupcakes: These desserts start with vanilla cake batter baked right inside a paper cone, making them easy to eat while mingling. The cakes are frosted with vanilla icing and crowned with ethereal fairy floss. Prepare yourself: When the cotton candy melts into the icing, you're on your way to sugar shock. (via A Subtle Revelry)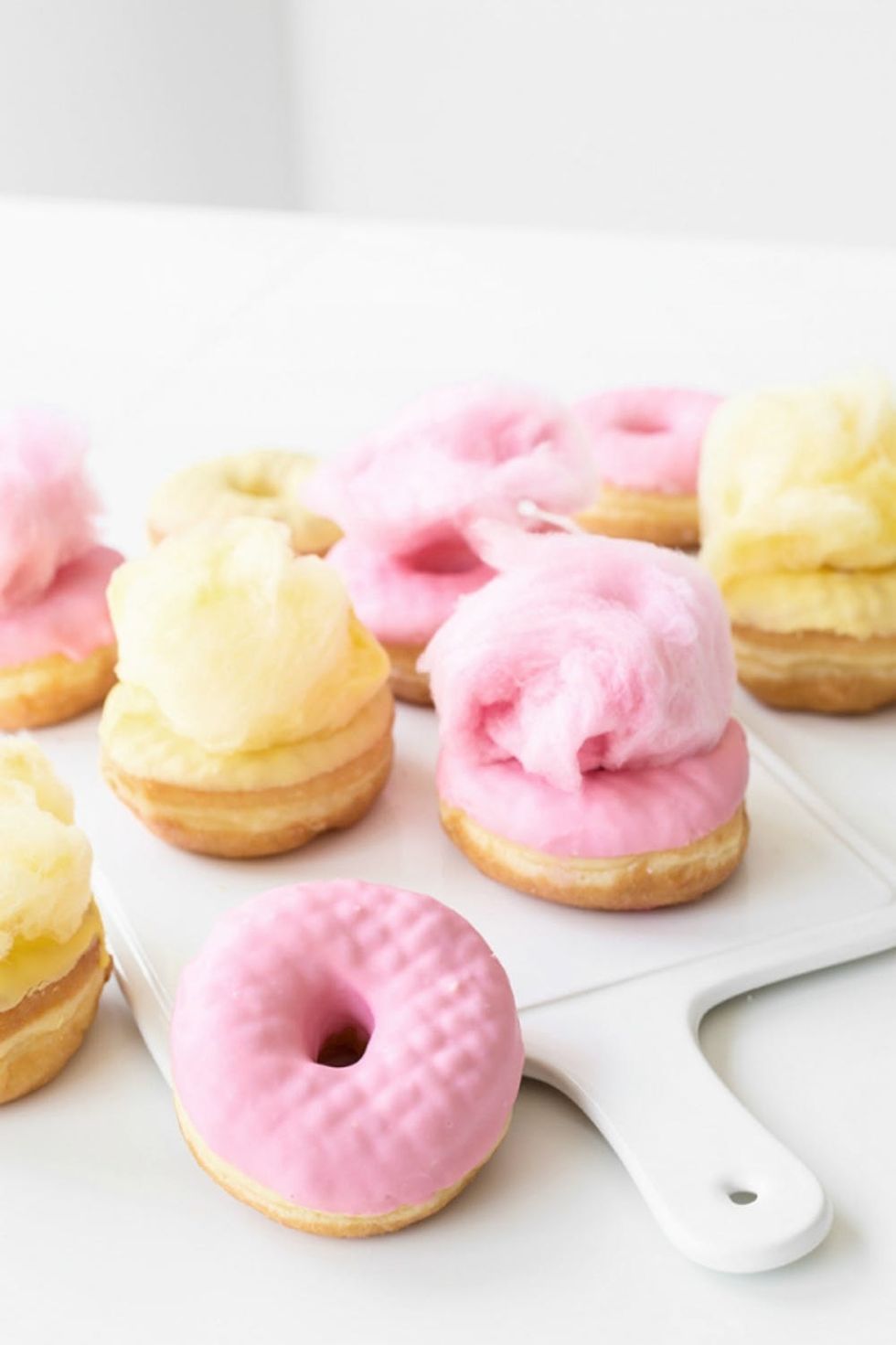 2. Cotton Candy Donuts: You can DIY these treats with any pastel donut (or a cake donut iced with pink frosting), topped with a cloud of magical fairy floss and edible glitter. The result is *almost* too pretty to eat. (via Studio DIY)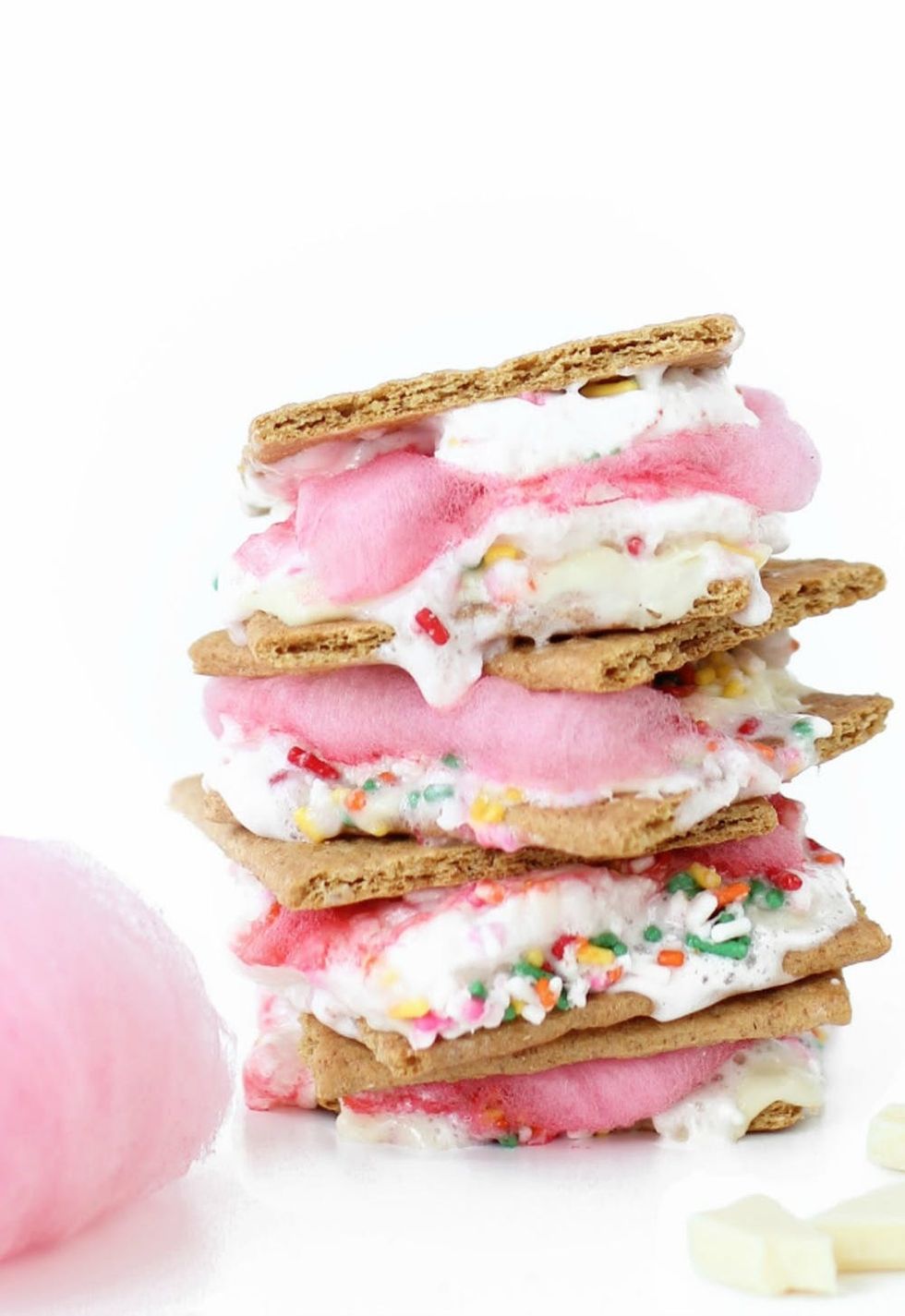 3. Cotton Candy S'mores: You've never seen a s'more like this before! Take homemade marshmallows, melted white chocolate, fairy floss and rainbow sprinkles; sandwich all that sweet delight between layers of crunchy graham-cracker goodness, and you're in dessert nirvana. (via Aww, Sam)
4. Fairy Floss Whoopie Pie: Here's some Insta-inspo for you. Imagine biting into this cookie, made of purple spun sugar that's been sandwiched between two sides of a golden whoopie cookie. Dots of funfetti and mini-marshmallow stars melt on your tongue as you bite in. You're basically in dessert heaven.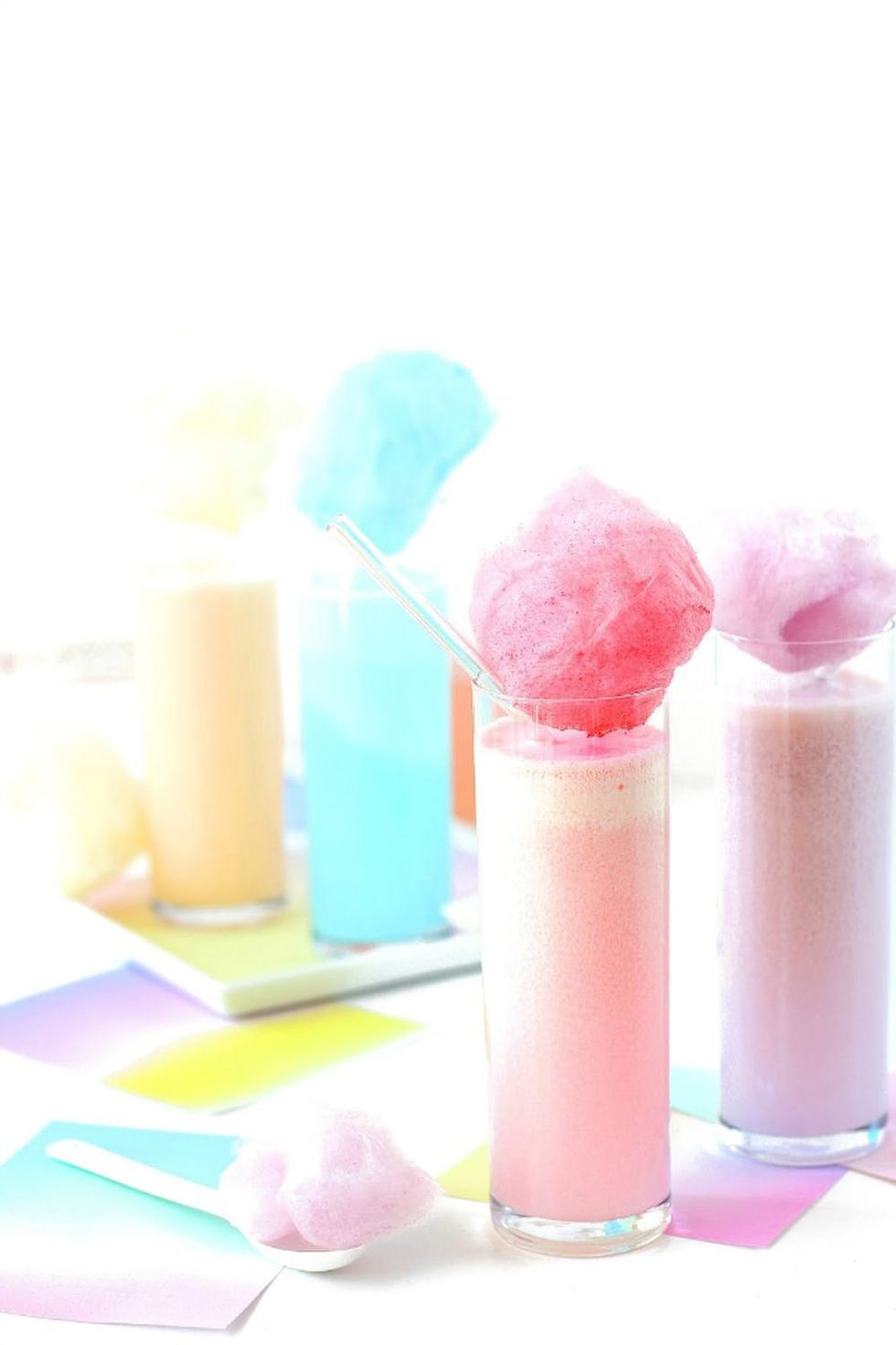 5. Pastel Cotton Candy Cream Soda: These tiny-but-mighty sodas are like old-fashioned egg creams gone pastel. They're dreamy to look at and soooo easy to make. Mix heavy cream with your favorite fruit soda and garnish with fairy floss. (via Aww, Sam)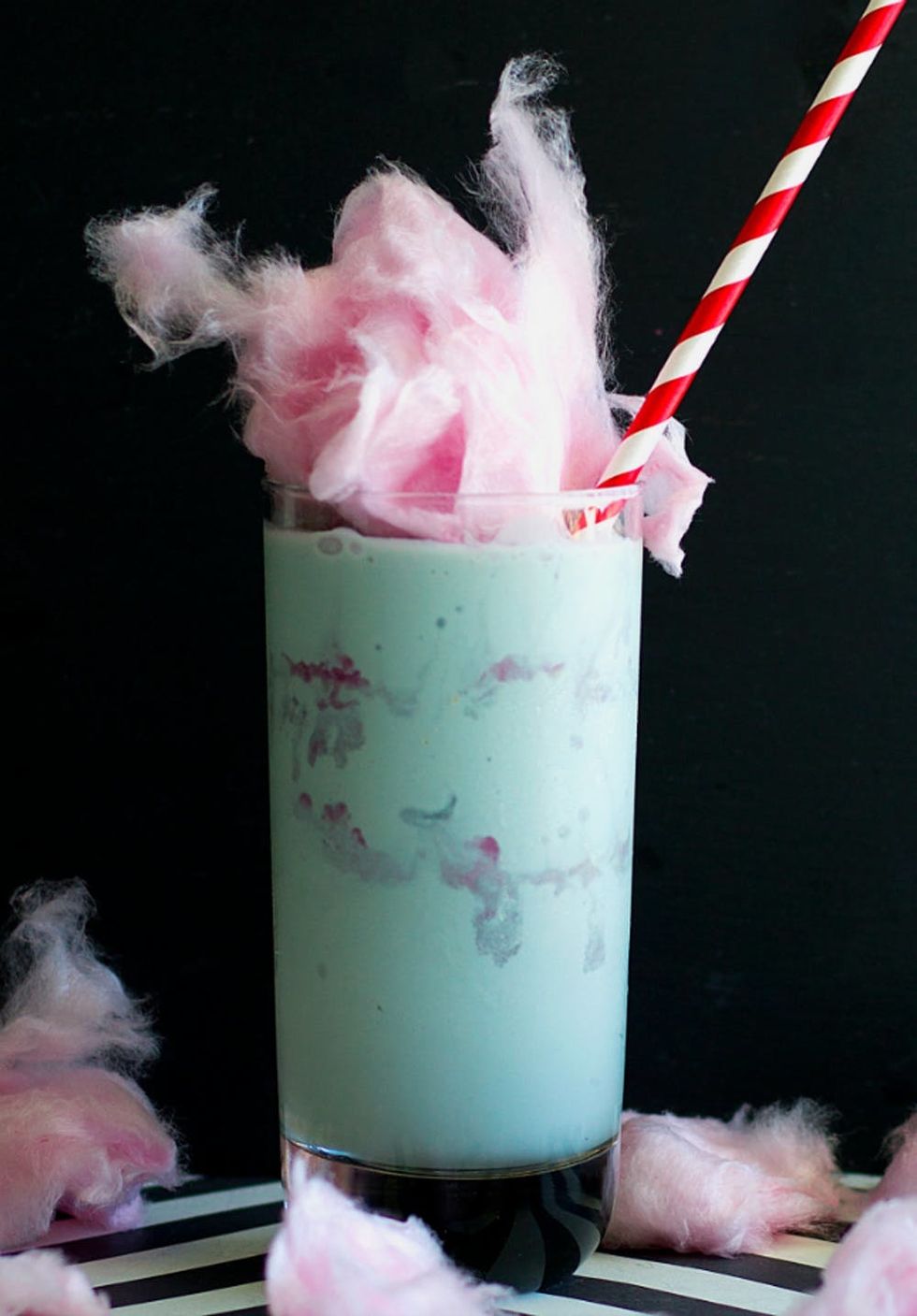 6. Cotton Candy Blizzard (DQ Copycat): What's better than a milkshake? This DQ Blizzard copycat, topped with fairy floss. This version is a relatively *skinny* treat, but your tastebuds will never know the difference. (via Kelley and Cricket)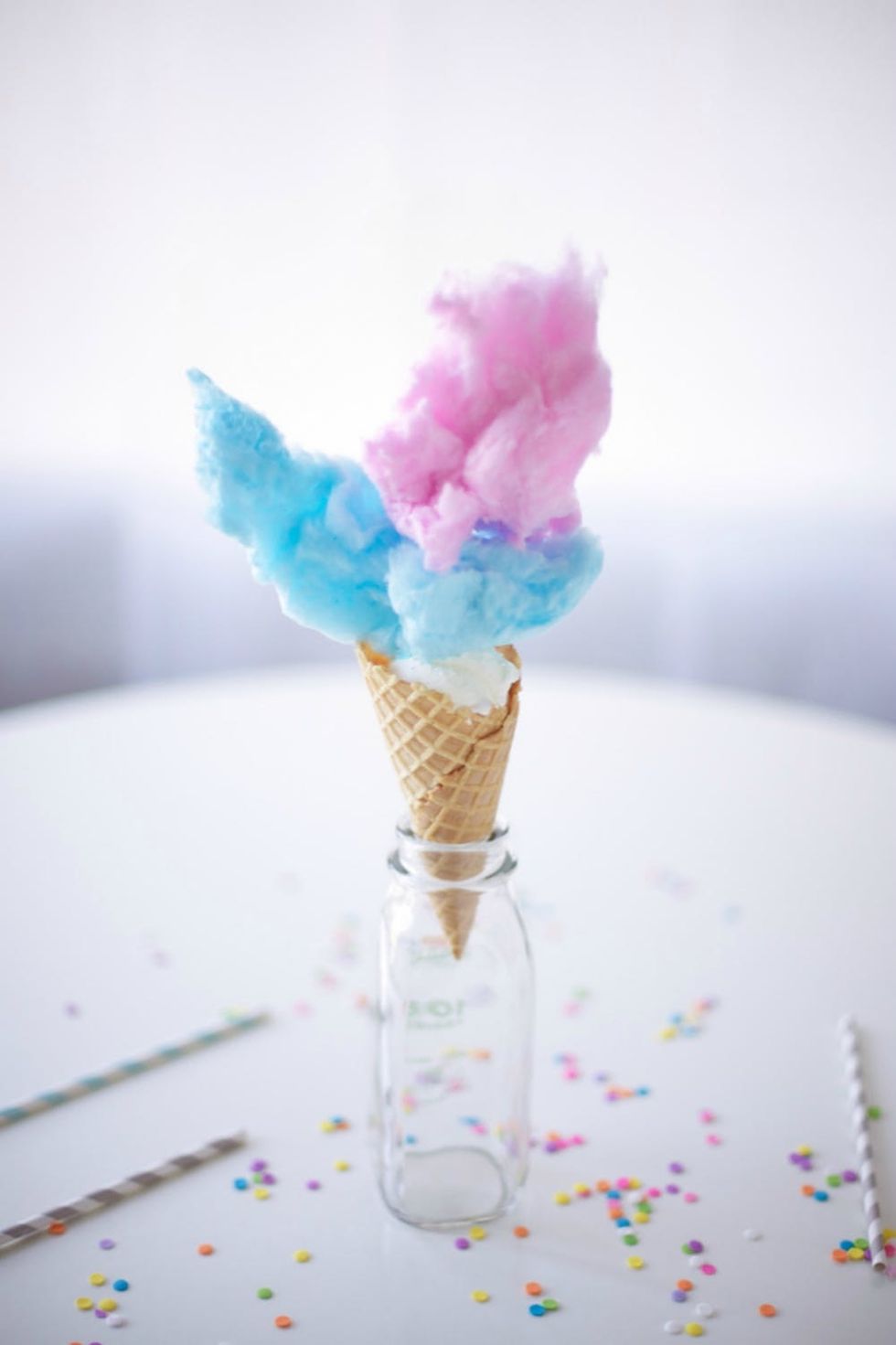 7. Cotton Candy Ice Cream Cone: This mix of decadent ice cream and sugar-spun berry fluff will bring back memories of every great carnival of your childhood, but today's version is tastier than the bagged spun sugar you adored. Hop in the time machine; this tasty treat is going to take you back. (via Coco Cake Land)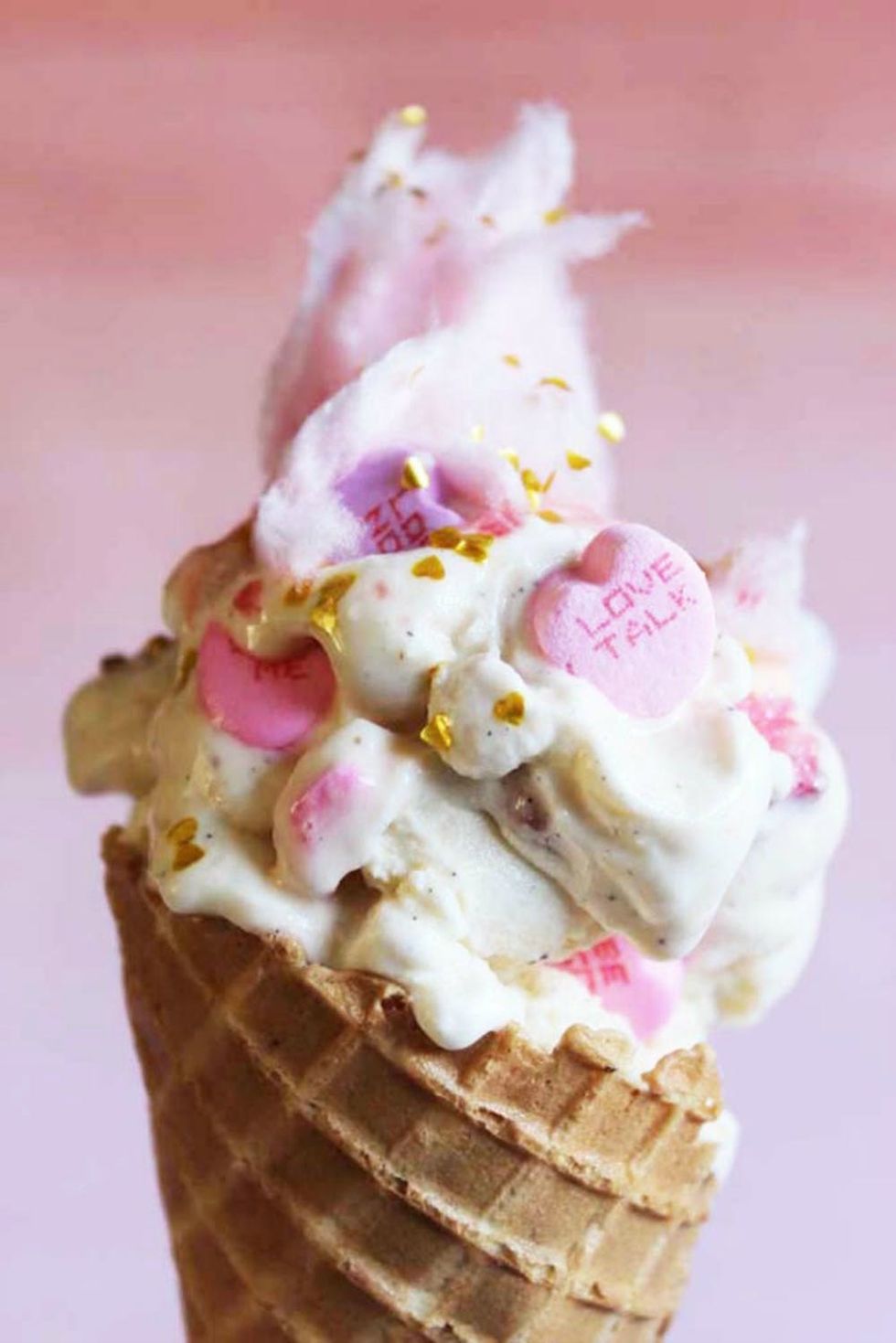 8. Love Talk Ice Cream Cone: Vanilla ice cream is paired with fairy floss, so spun sugar melts into the cone as you eat, while Sweetart candies and fresh raspberry mix-ins make it a visual delight. To borrow a childhood chant: Take a picture; it'll last longer! (via Poppytalk)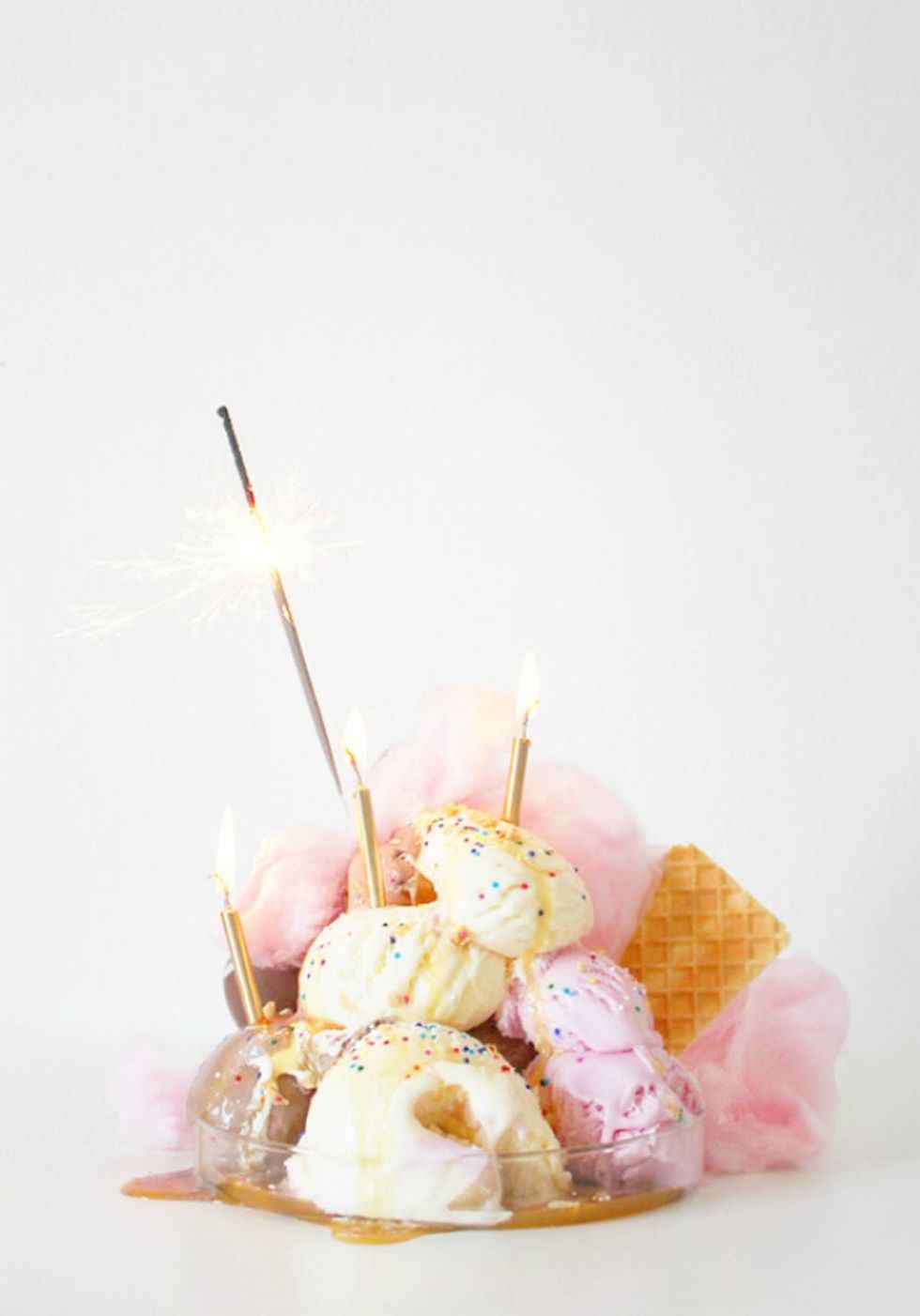 9. Fairy Floss Ice Cream Sundae: A Neapolitan mound of melting chocolate, vanilla and strawberry ice cream is smothered in fairy floss, then lit up with candles and a sparkler. This one is all the inspo you need for your next holiday table. It's a real taste explosion! (via Fluffë)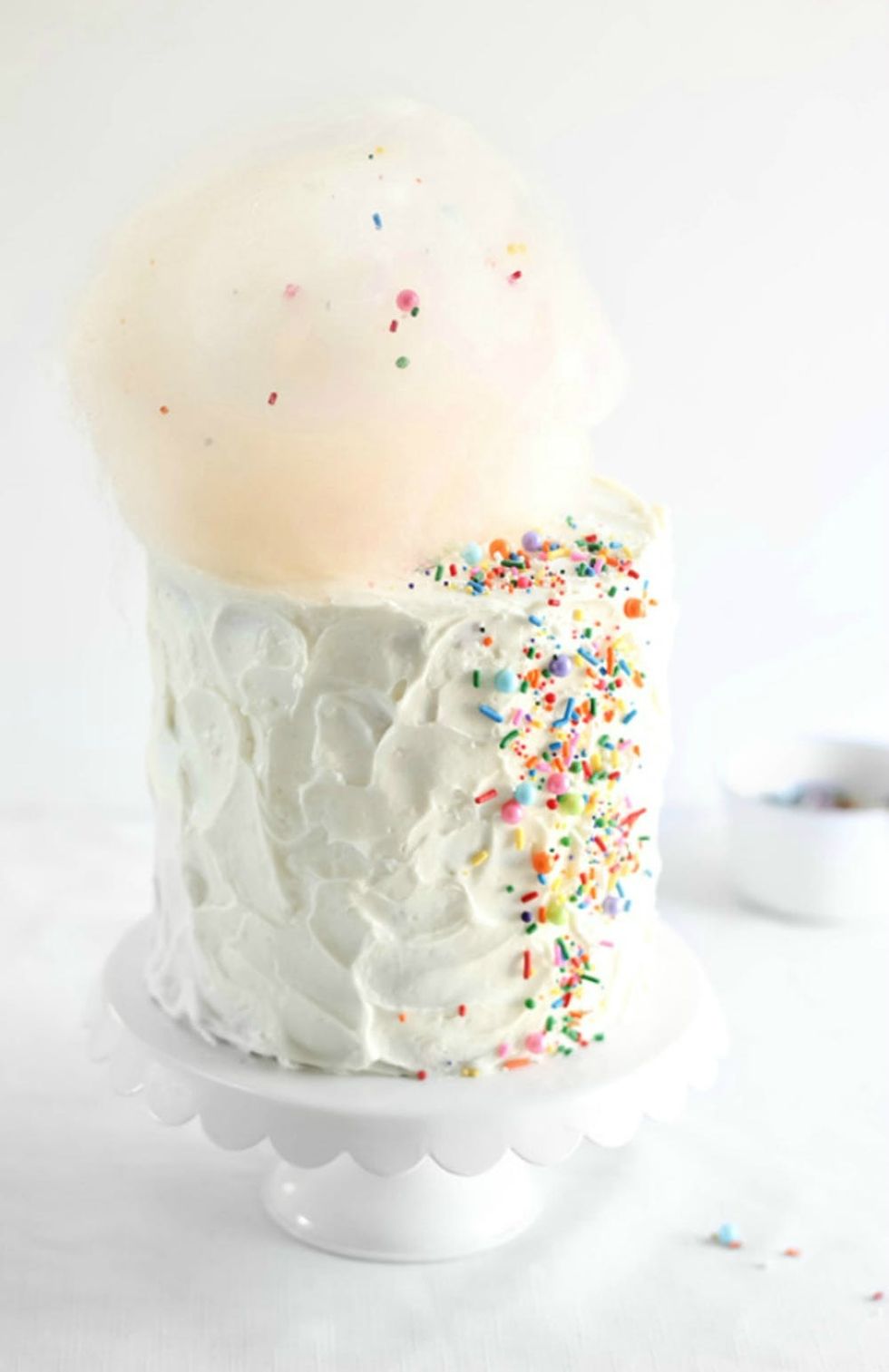 10. Lemony Rainbow Checkerboard Cake: This lemony layered confection, topped with sprinkles and a dollop of fairy floss, is concealing a colorful surprise. Cut the first slice to reveal a checkerboard rainbow hiding inside. (via Sprinkle Bakes)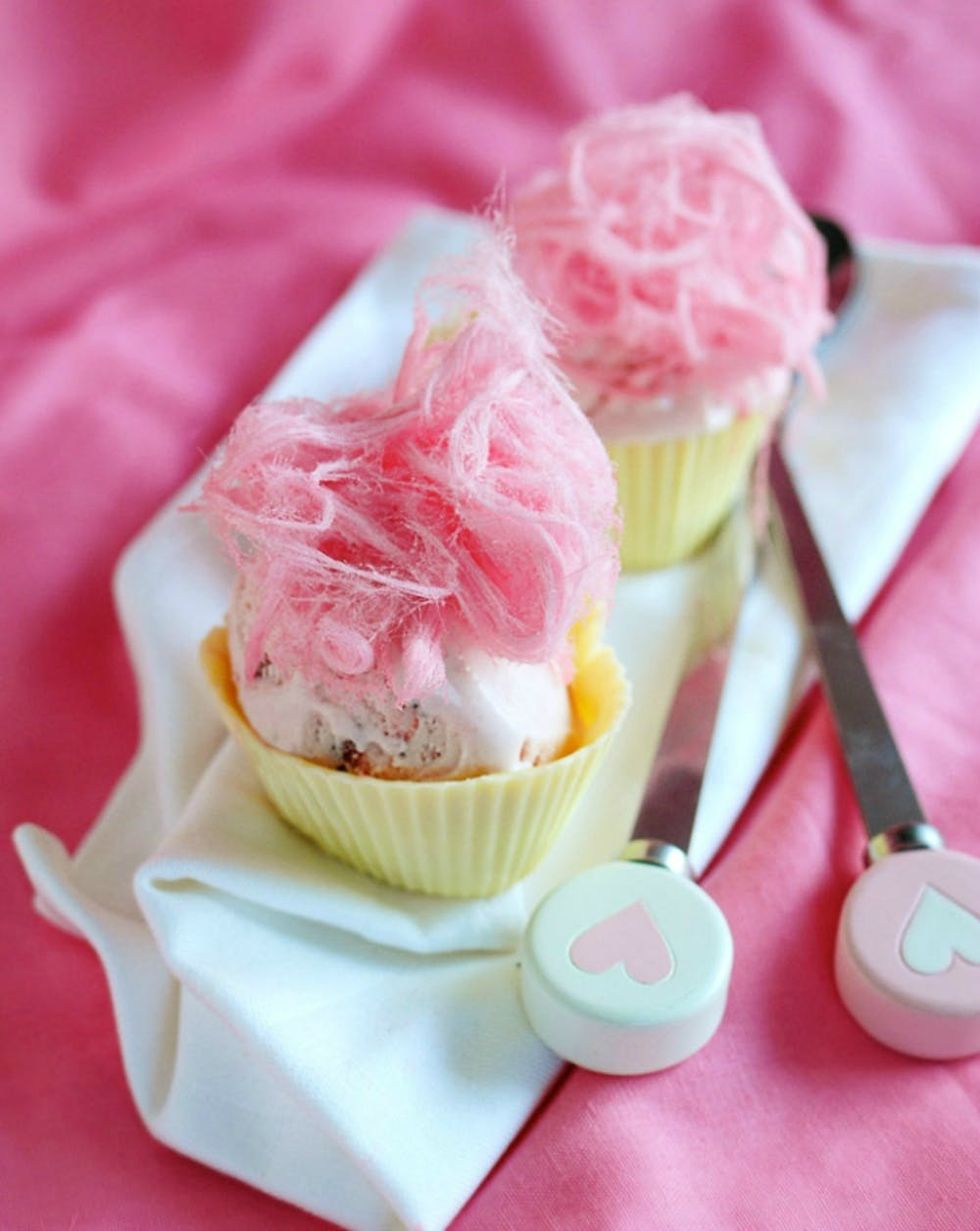 11. White Chocolate Heart Cups With Strawberry Ice Cream: The dollop of fairy floss and sprinkle of edible glitter adorning this confection have us transfixed. Even more importantly, the fruit flavors of the spun sugar mix with the creamy white chocolate in the most delicious way. (via Go Make Me)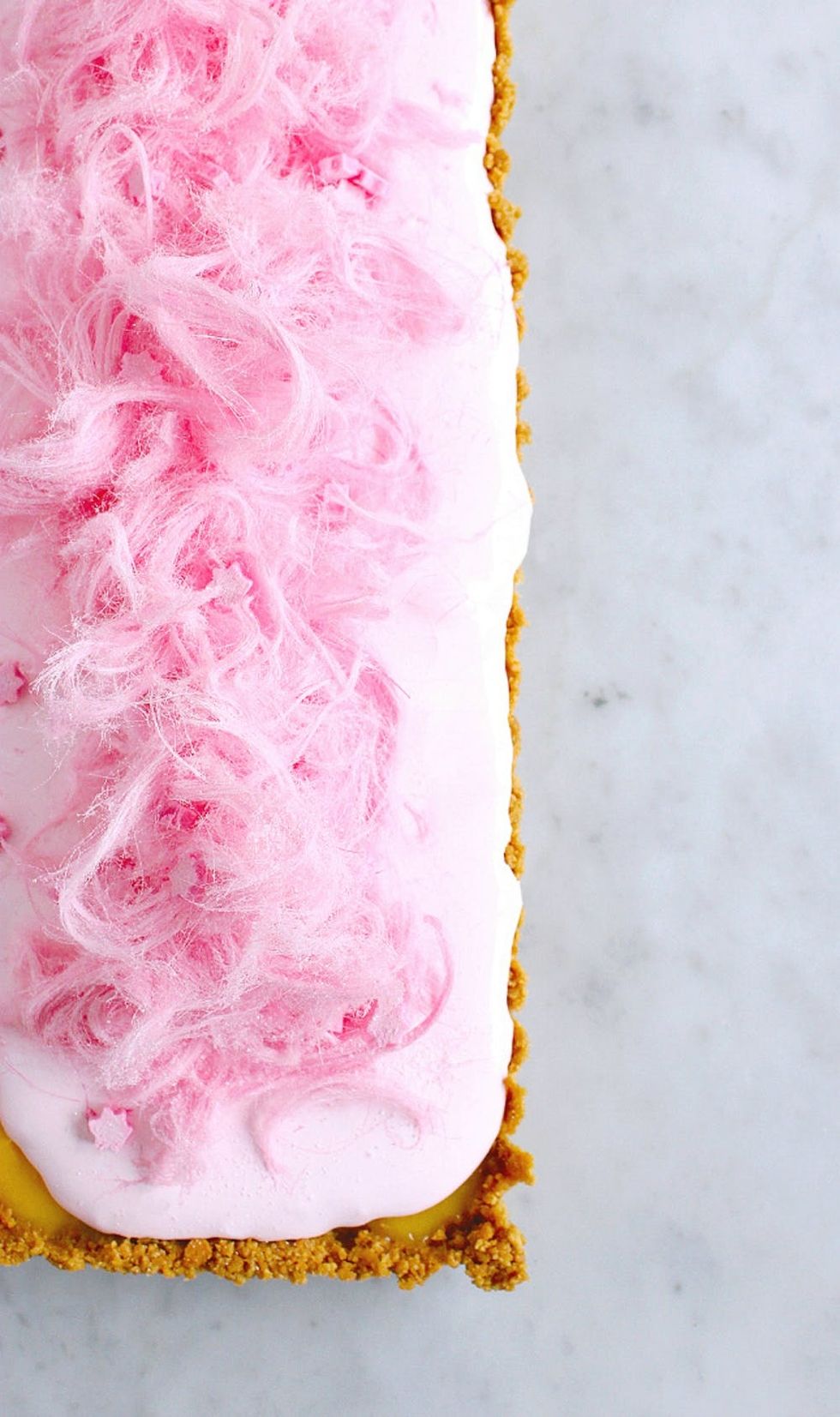 12. Lemon Muskmallow Pie: This cookie crust is filled with zesty lemon curd, then topped with sweet pink fluff and fairy floss. It's that combo of sweet and sour that gets us every time. Bonus: It looks just like the mane of a unicorn, making it perfect for a kid's theme party. (via The Hungry Babushka)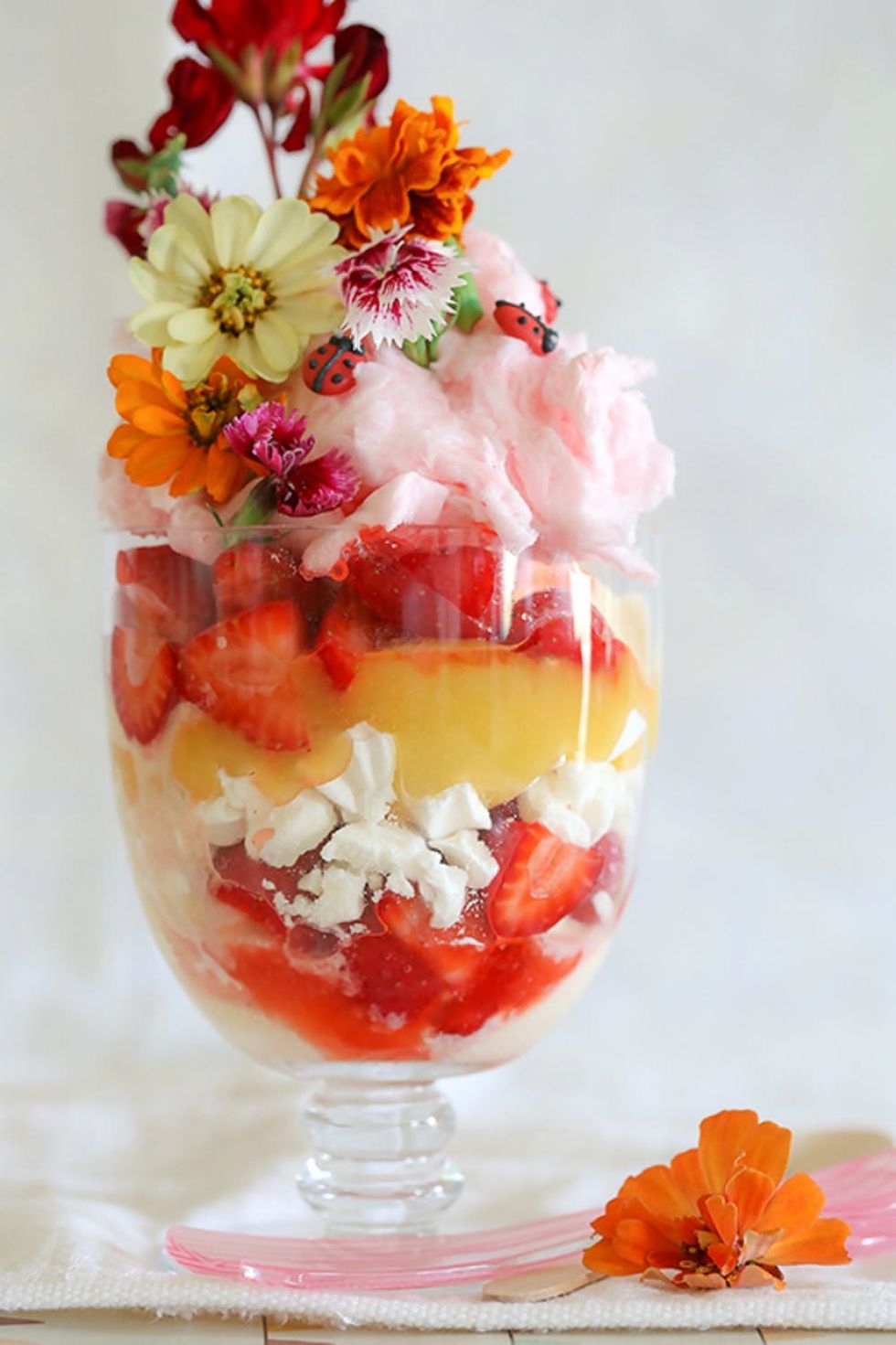 13. Fairy Floss Ice Cream Trifle: This dessert is served up parfait style, so that one layer melts into the next. Faux lady bugs and flowers add a whimsical touch to the already-colorful dessert. (via A Splash of Vanilla)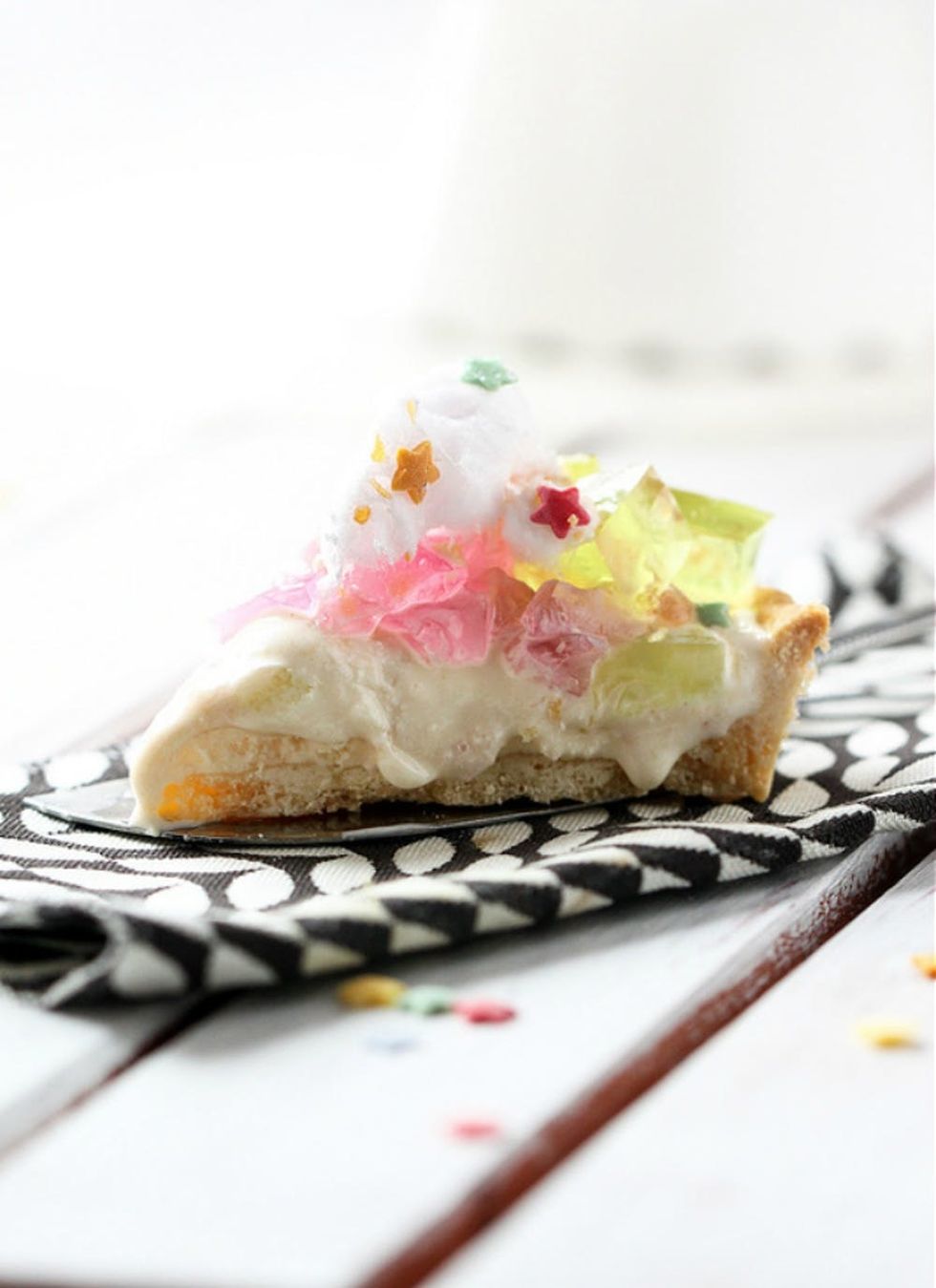 14. Jello Macadamia Nut Caramel Ice Cream Tart: If you're an ice cream cake aficionado, you'll love this cold treat. Individual wedges are topped with a colorful garnish of jello, fairy floss and sprinkles. It's basically magic in dessert form. (via Sincerely Fiona)
15. Candy Taco: This concoction is practically an homage to Sour Patch Kids. Sour Gummy Worms are the "meat" in this candy taco, topped with fairy floss, marshmallow shapes and sprinkles. Kids will go crazy for this yucky-yummy treat!
16. Emoji Ice Cream: Skip the birthday cake and head straight for the ice cream (don't forget the candle!) Of course, you can make a wish, but isn't this cone already your dream come true?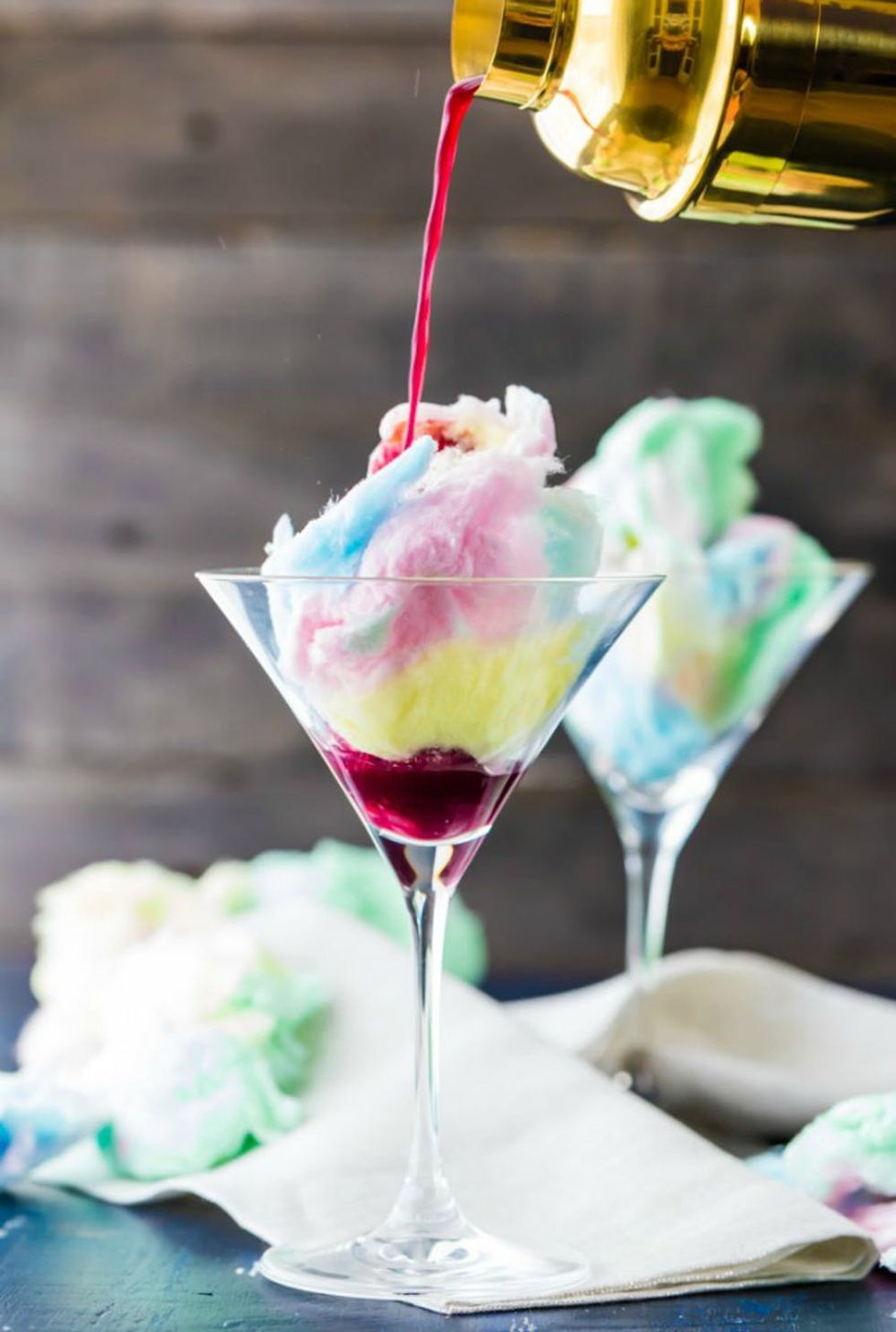 17. Magic Cotton Candy Martini: This amazing martini can be made kid-friendly by nixing the vodka. It's worth clicking through to see the amazing cotton candy-disappearing trick in action. (via The Cookie Rookie)
Are these fairy-floss recipes giving you emoji heart eyes? Follow us on Pinterest for more fun food inspo!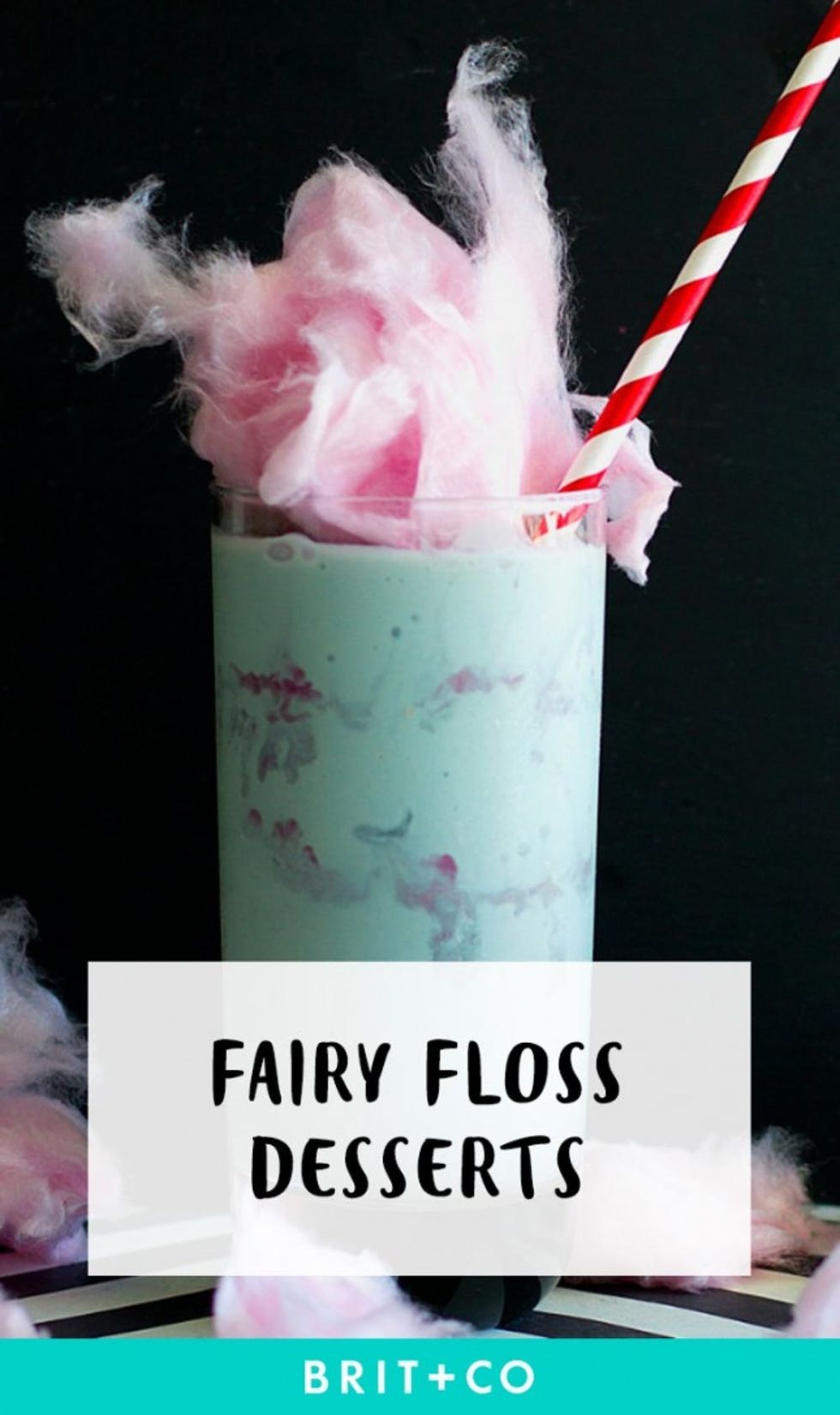 Sally Jones
Sally Jones is a writer and editor living in New York City. She has worked at many websites including iVillage, Ladies Home Journal, More, Parenting, Cosmopolitan, The Knot and YourTango, in jobs ranging from editor to COO. Renovation and interior design are her
unhealthy obsessions
hobbies. She has renovated every home she's lived in, including the rentals, and like... whoa, who does that? You can catch her at her blog
Renov8or
.