Show Your Gang Some Major Love With This Galentine's Gem-Inspired Brunch
Jan 20, 2017
Whether you're happily taken or on a mission to find your soulmate in the next year, Valentine's Day is making its way around the corner. For the single ladies, we haven't forgotten you. Galentine's Day comes first, and we're ALL about having a day to celebrate our favorite gal pals. What better way to show your gang how much you care than with this gem-inspired brunch? We've got a couple recipes to help you get started — from a how-to guide on making dazzling gem-inspired pancakes to a step-by-step for some fizzy raspberry gin sparklers. Don't forget to style up your table with a free printable for gem-shaped name cards.
---
Alright, let's get the ladies together. We've got a brunch party to attend!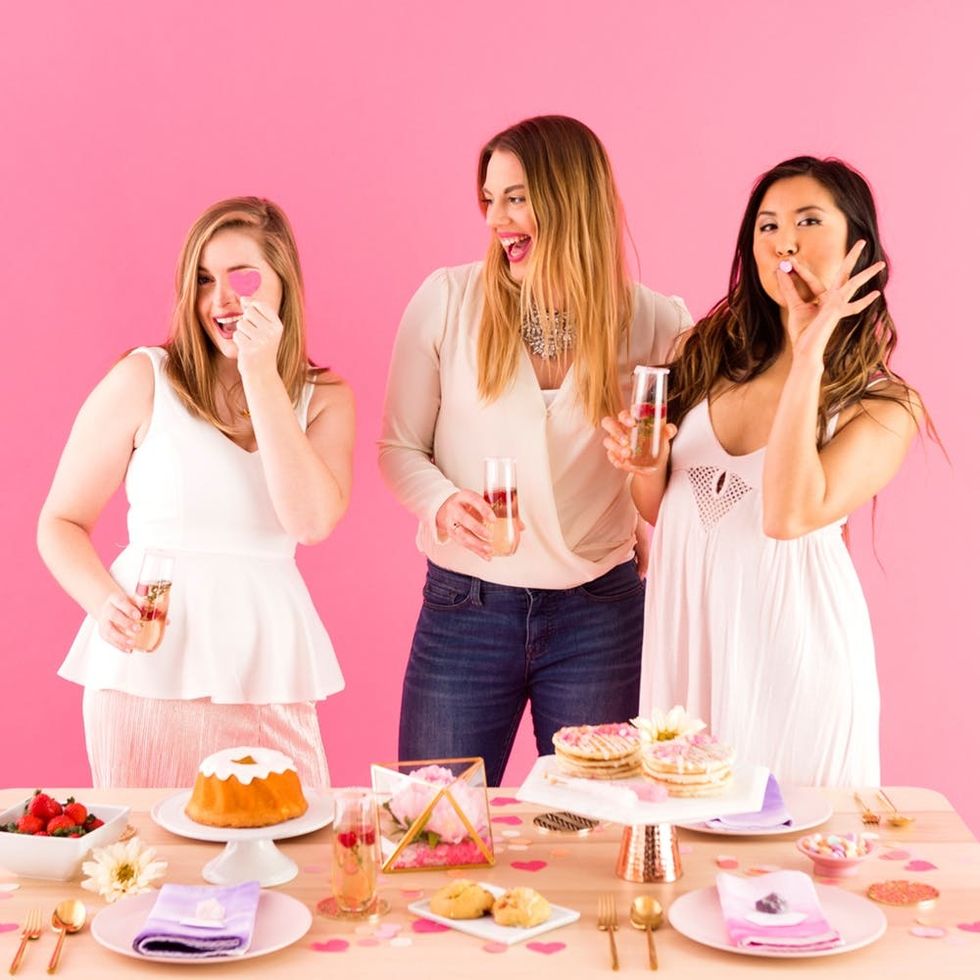 Gem-Inspired Pancakes
2016 was the year of the gem wedding cakes. 2017 is the year of the gem pancakes. This luscious delight will have ALL your BFFs in awe.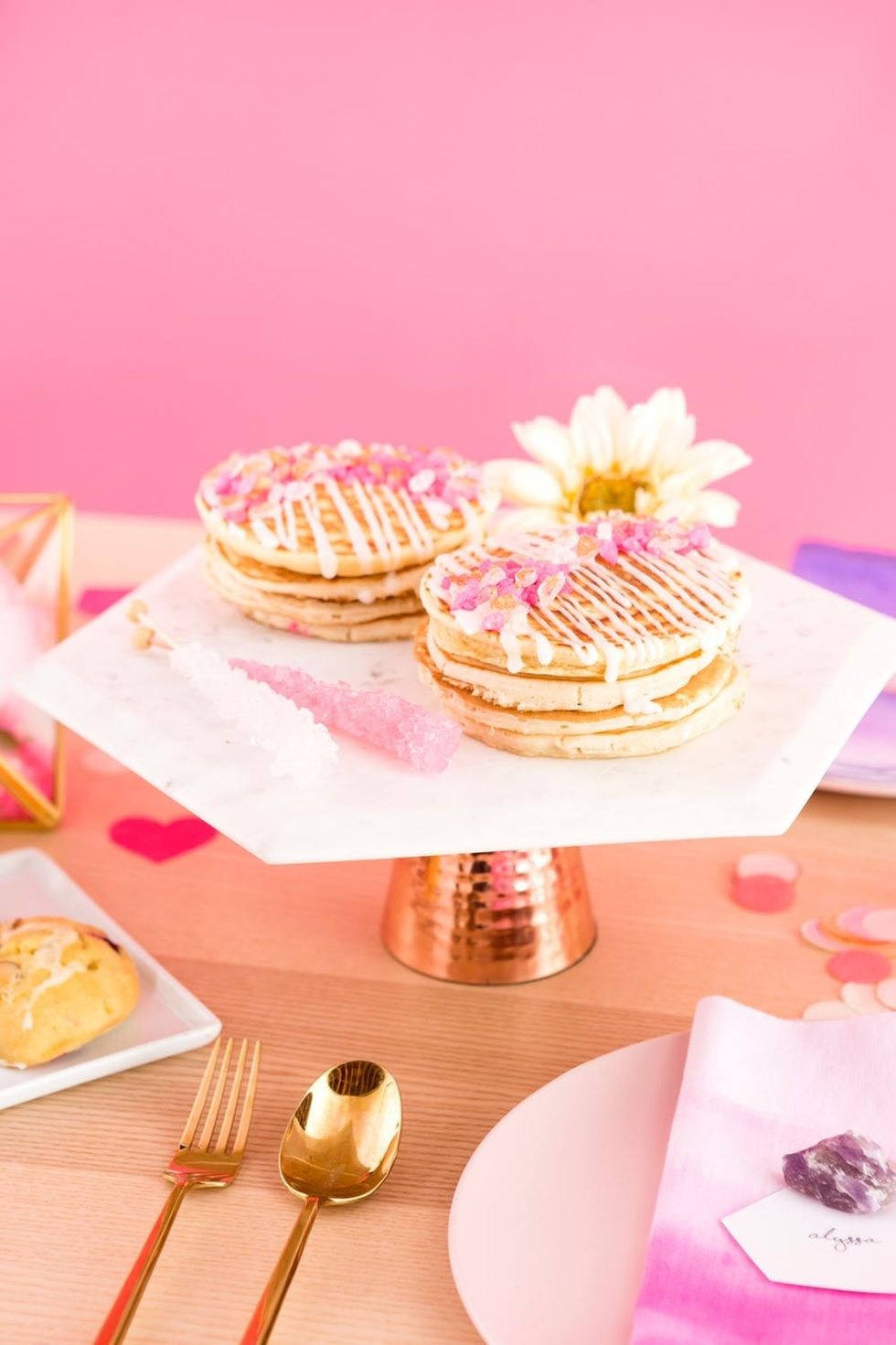 Let's hop to it!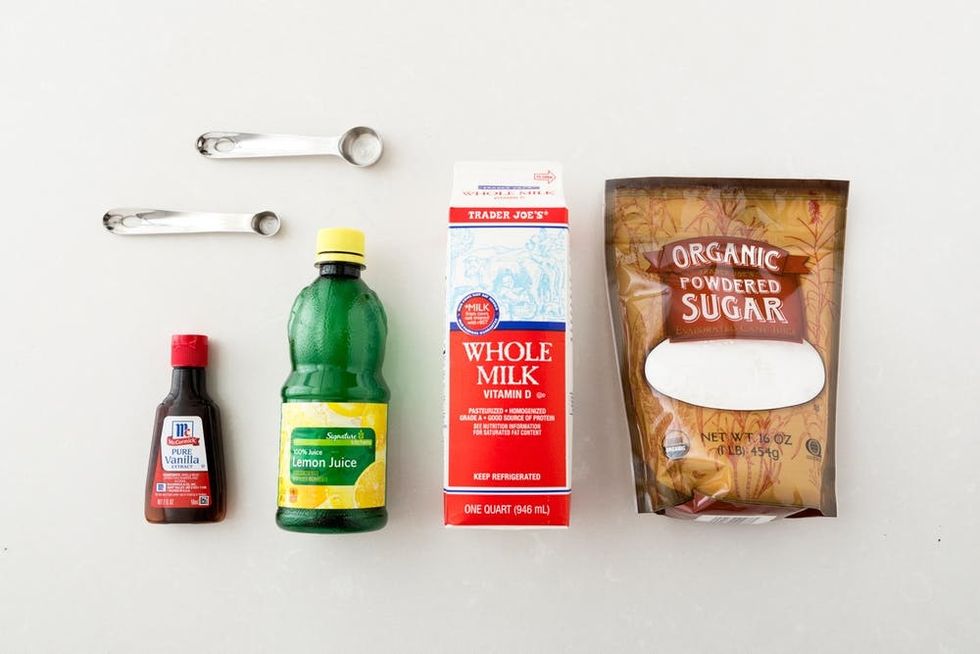 Ingredients:
For the icing glaze: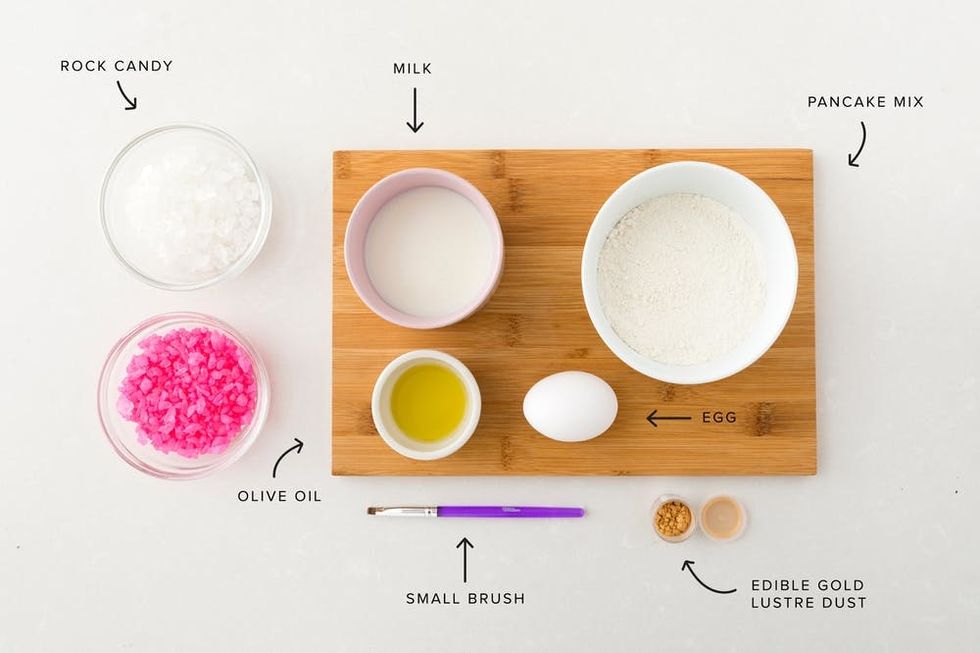 Ingredients:
For six four-inch pancakes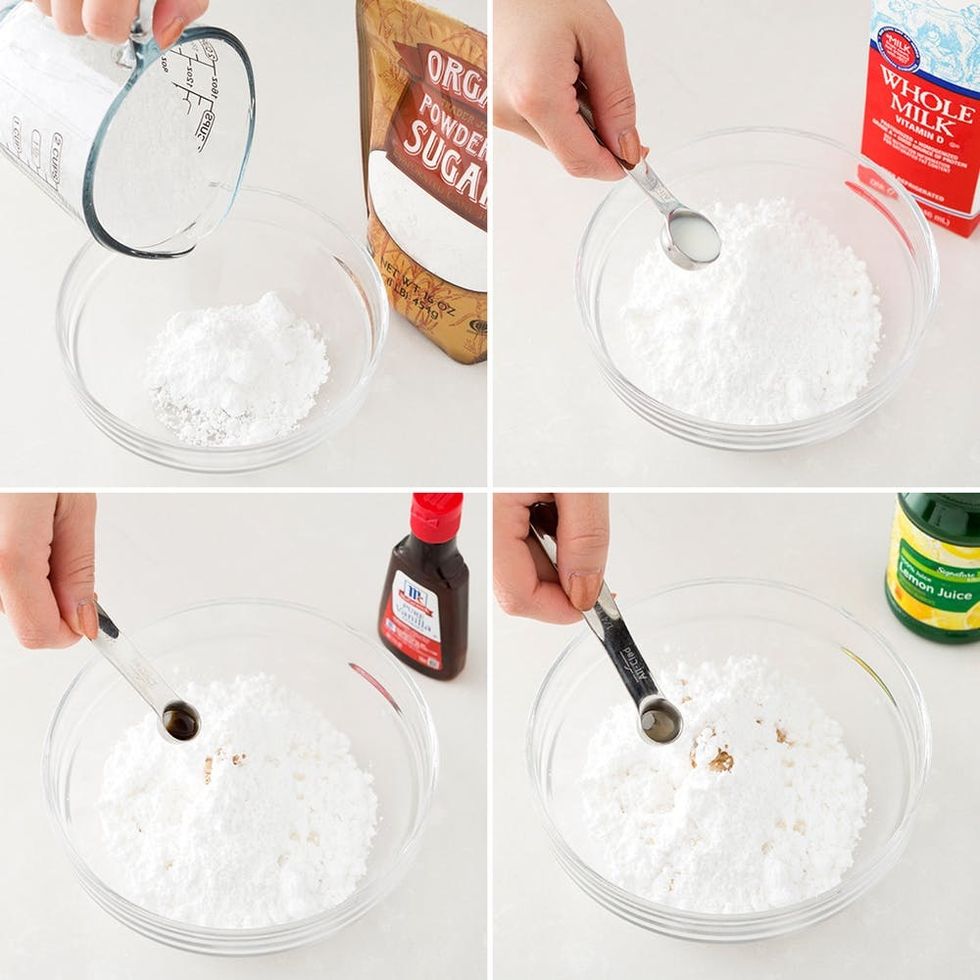 Put the powdered sugar, milk, vanilla and lemon juice into a small mixing bowl.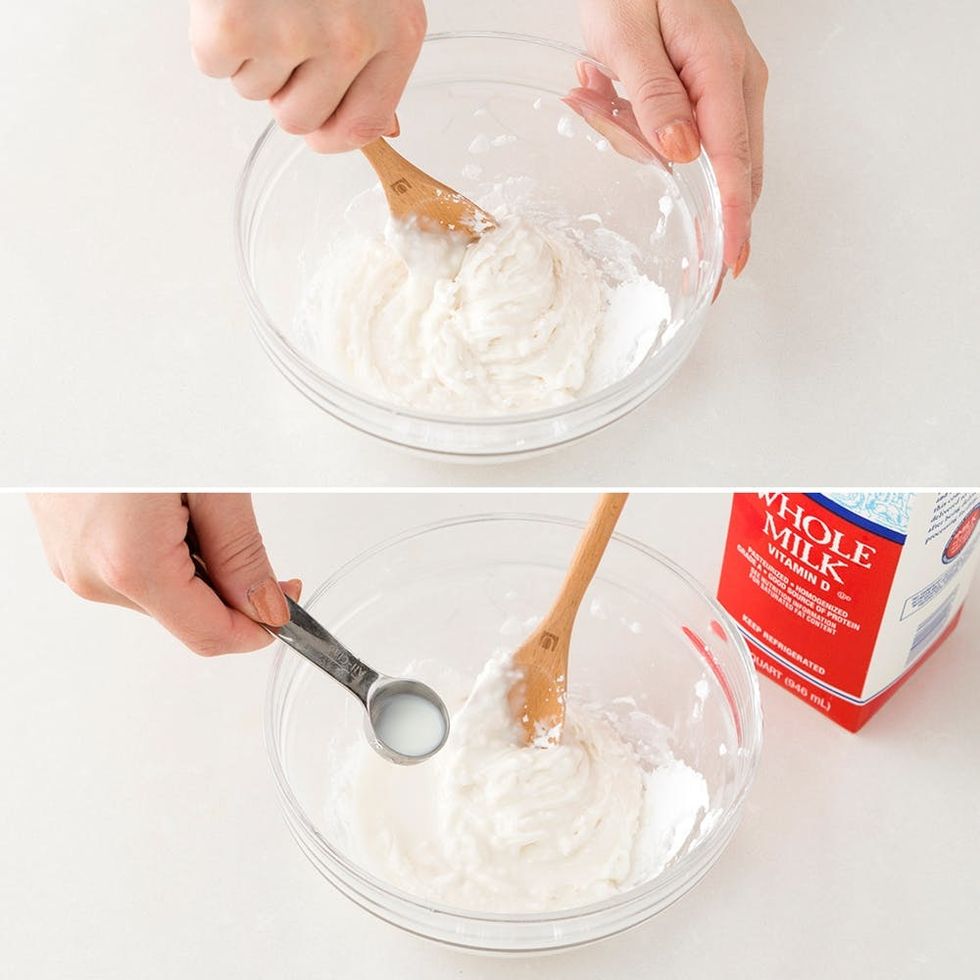 Stir until smooth. If the icing is too thick, add more milk.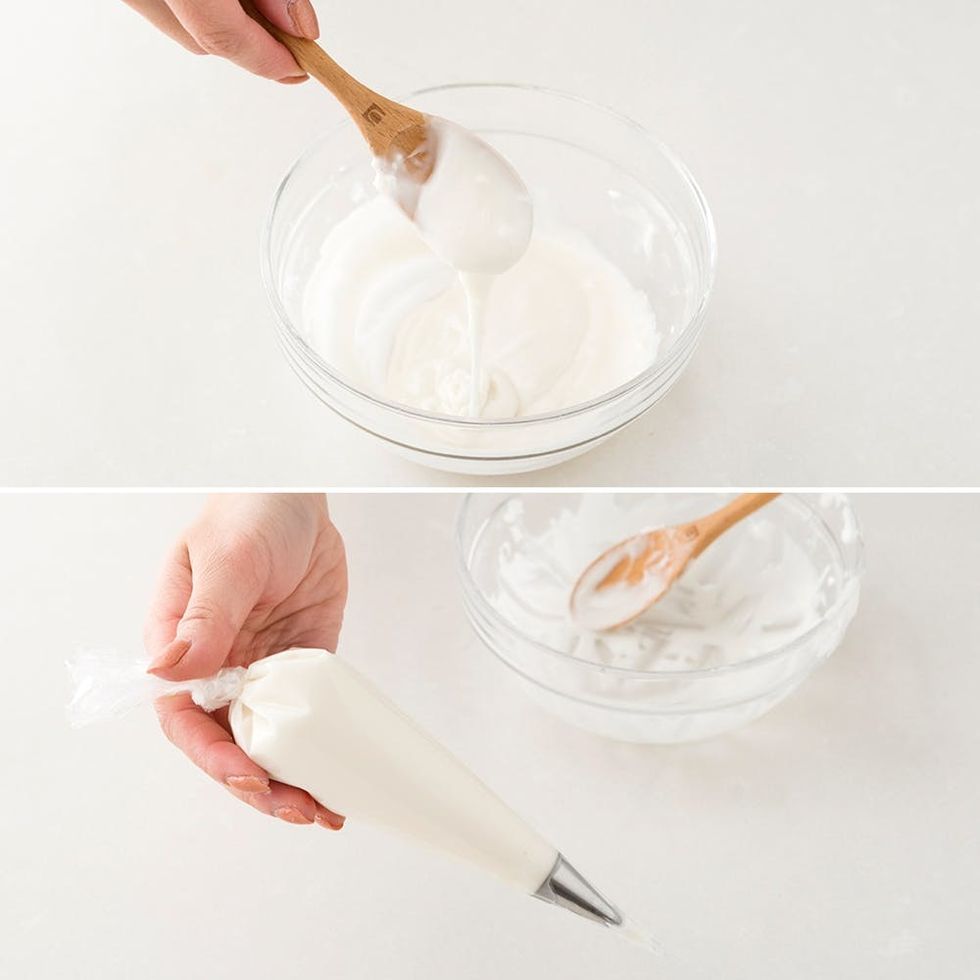 When the consistency is right, transfer the icing into a piping bag. Tie it off and set aside.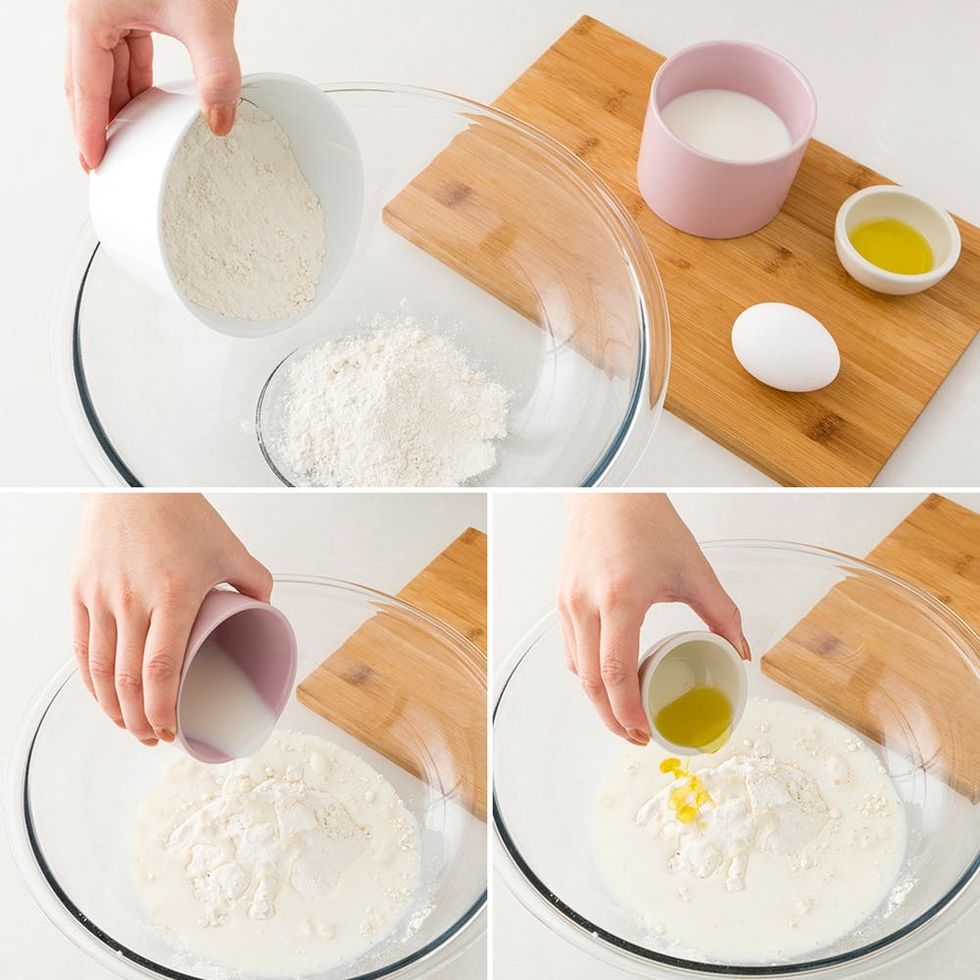 Combine the pancake mix, milk and oil into a large mixing bowl.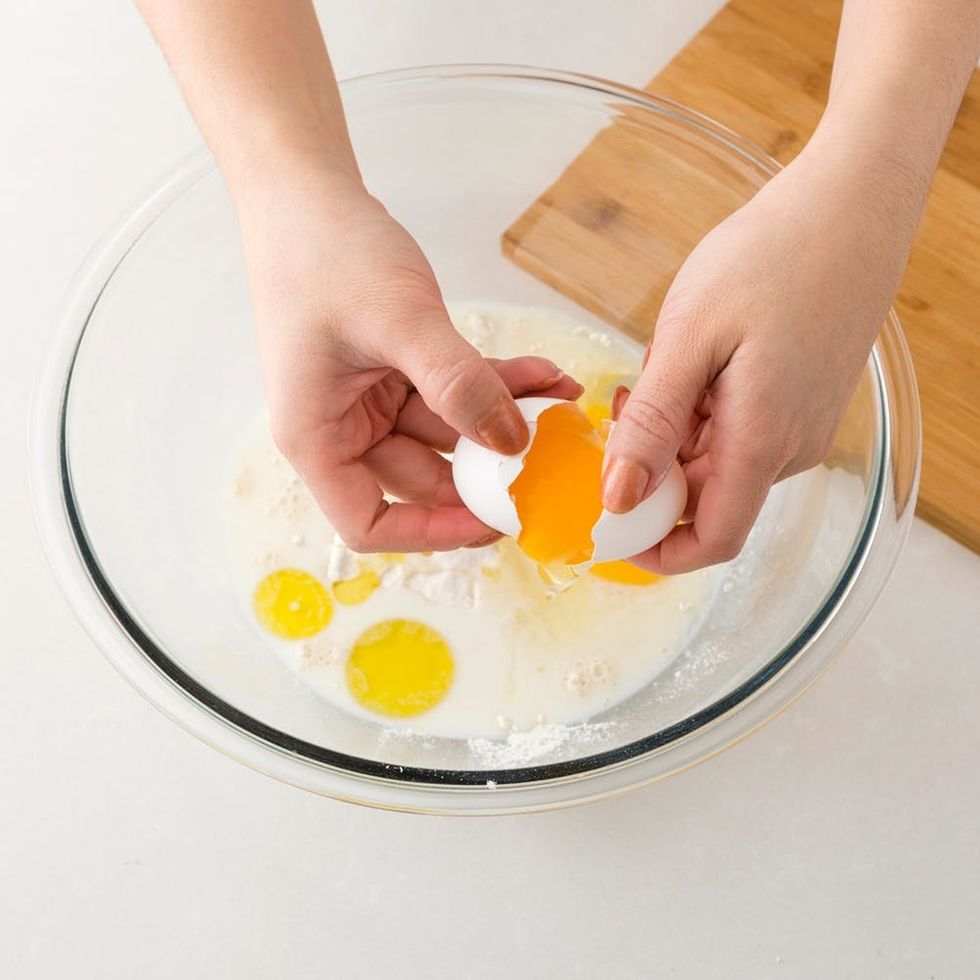 For a fluffier pancake, toss in an egg.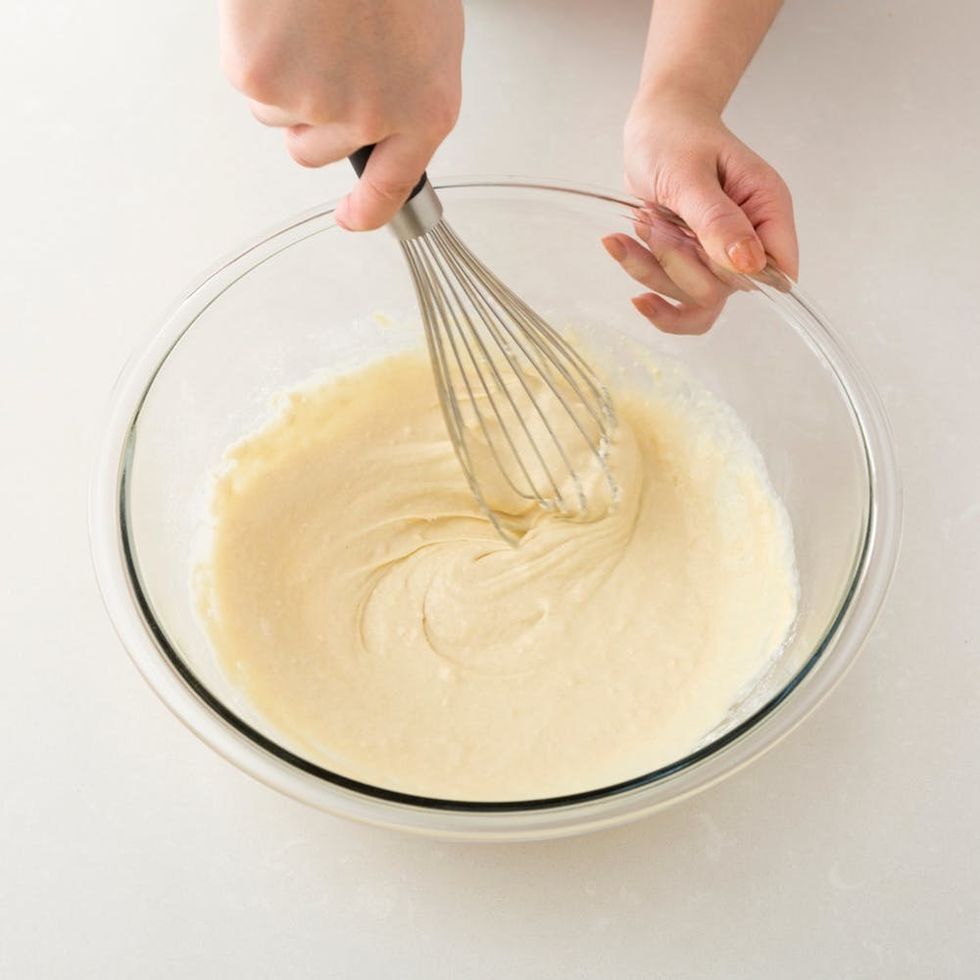 Whisk, whisk, whisk away until the lumps are gone. Do not over mix. If you over-mix, gluten will develop from the flour in your batter, making your pancakes chewy instead of fluffy.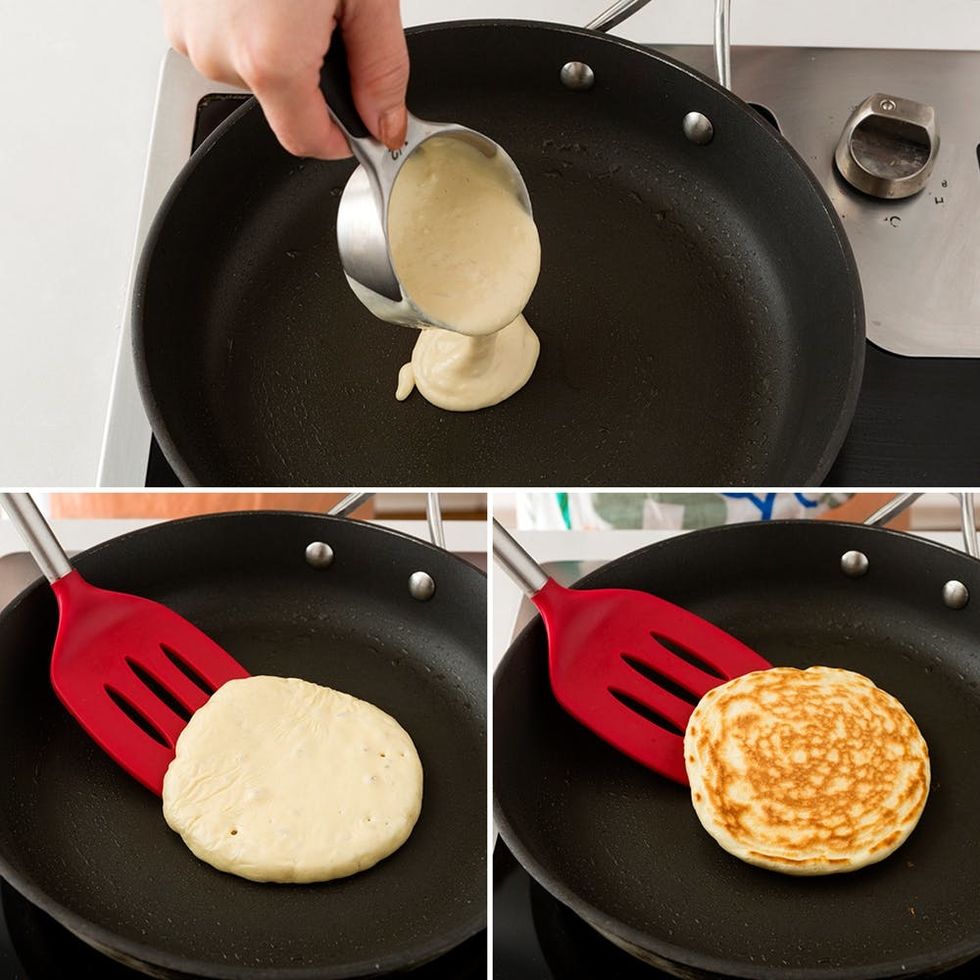 Heat a lightly oiled griddle or frying pan over medium high heat. Pour or scoop the batter onto the pan, using approximately 1/4 cup for each pancake. Brown on both sides and stack on the pancakes.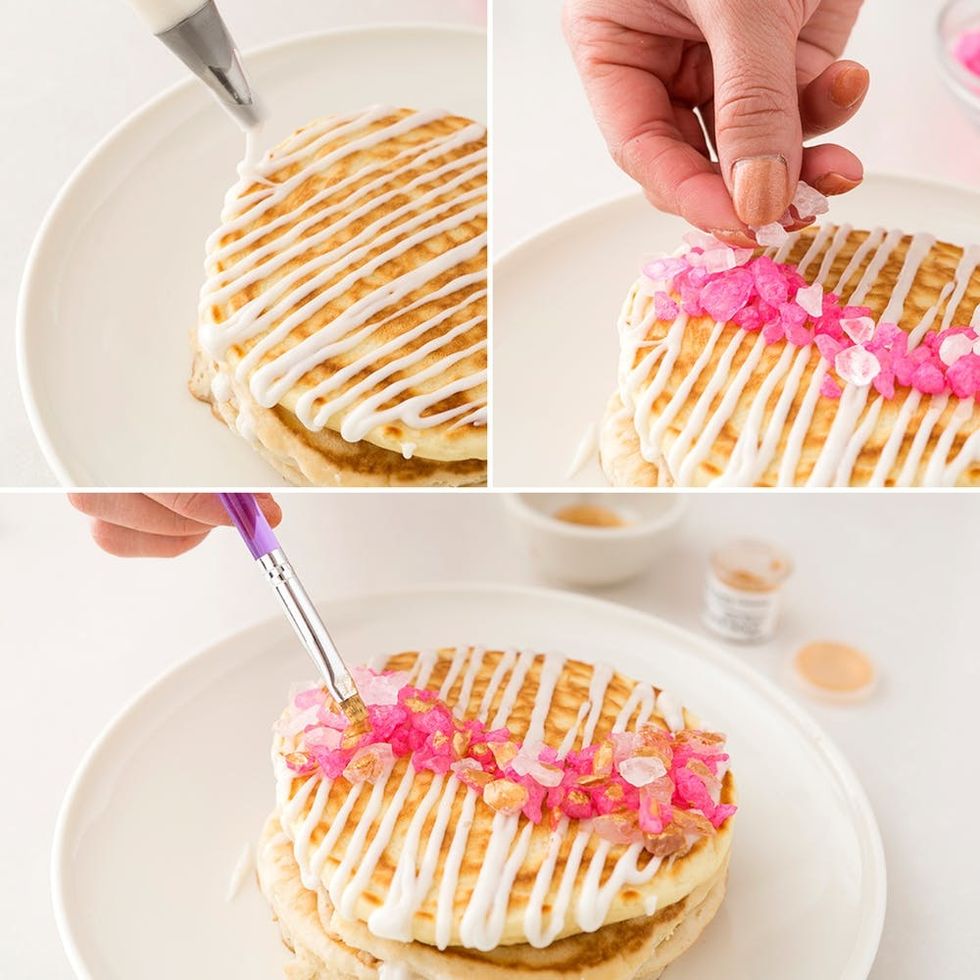 Now for the fun part! When your stack is ready, lay on the icing glaze. Using a swift but steady hand, pipe the icing so that you create beautiful zig zag lines. Top the pancake with your gem-inspired design using the rock candy.
Finish off the design by painting on some gold lustre dust. To use the dust, scoop a small amount into a sauce bowl and add a few drops of water or lemon juice.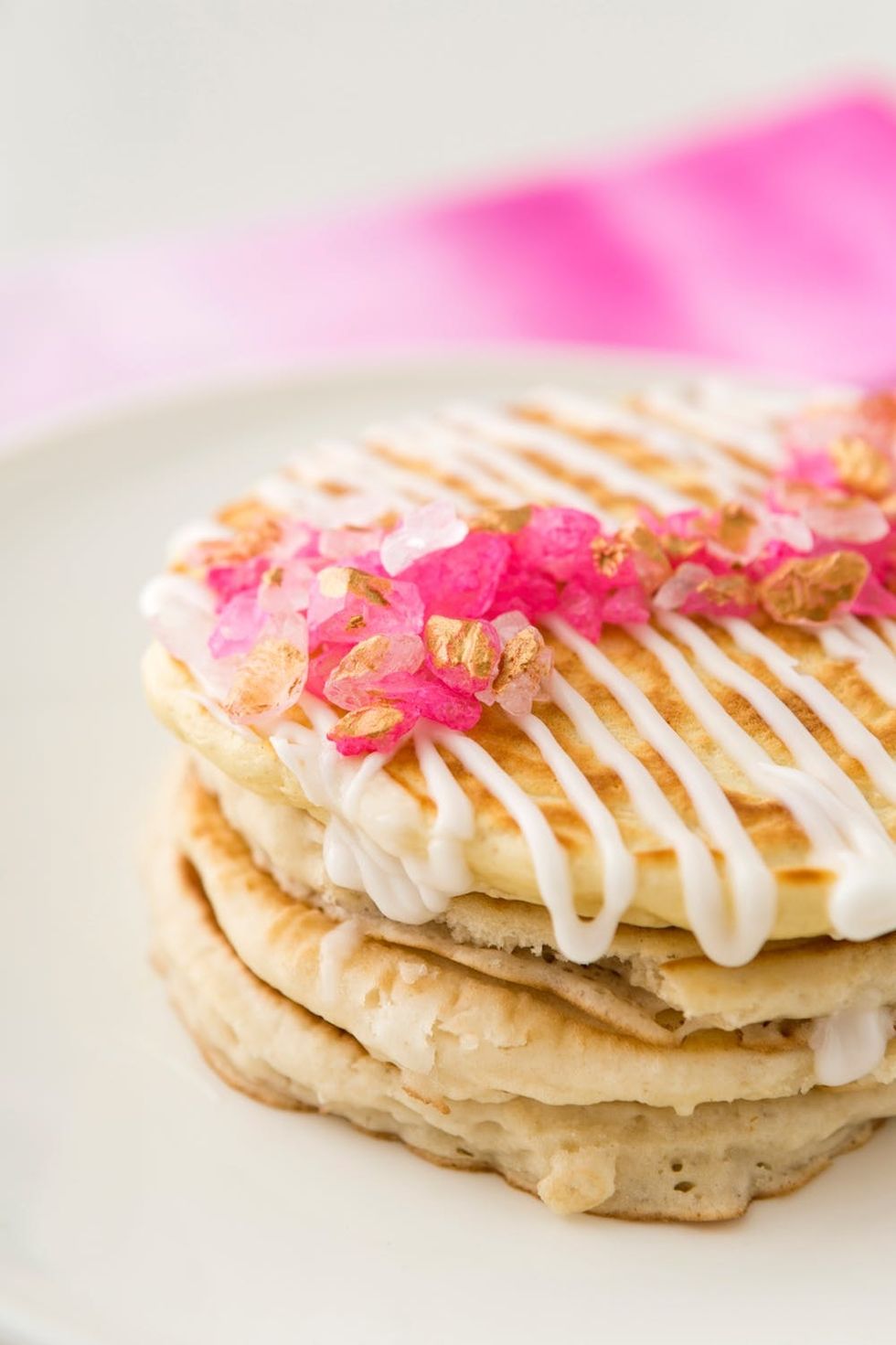 There ya have it — a shimmery, elegant stack of pancakes.
Raspberry Gin Sparkler
This refreshing Champagne cocktail will bring all the good vibes to the party. Top it off with a cute arrow for a special touch this Galentine's Day.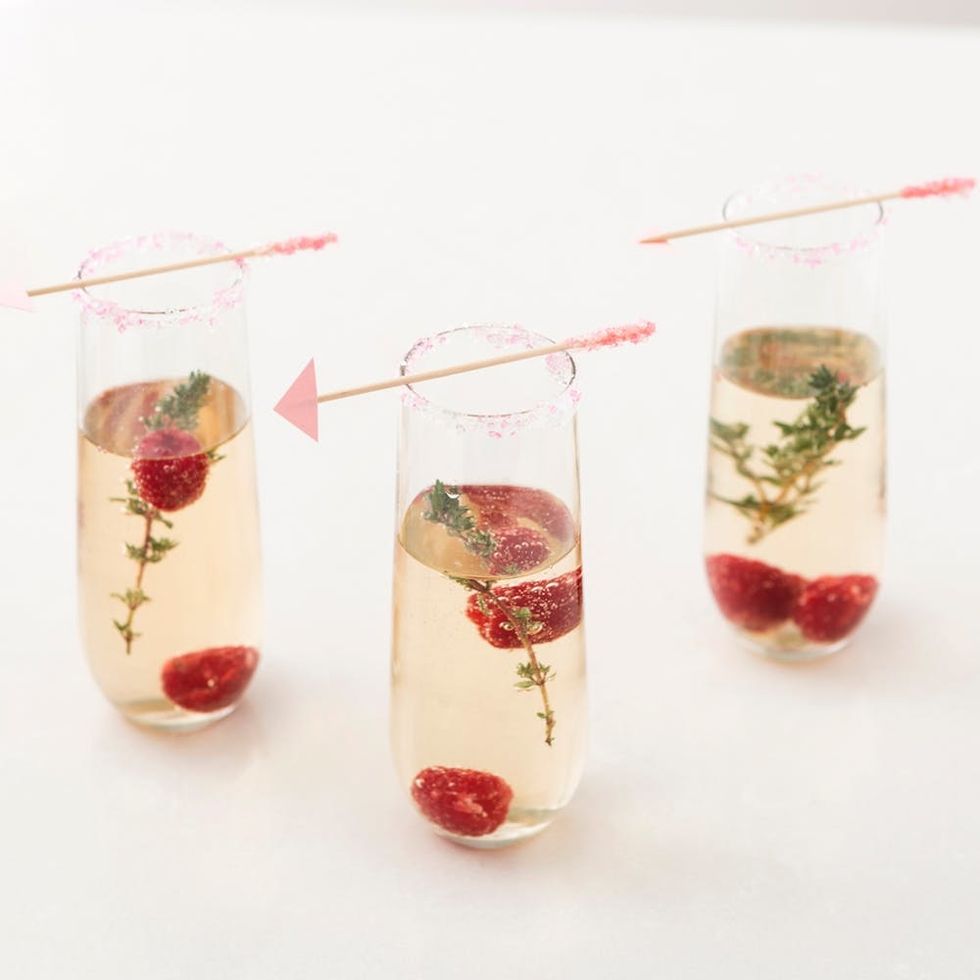 Let's make it sparkle!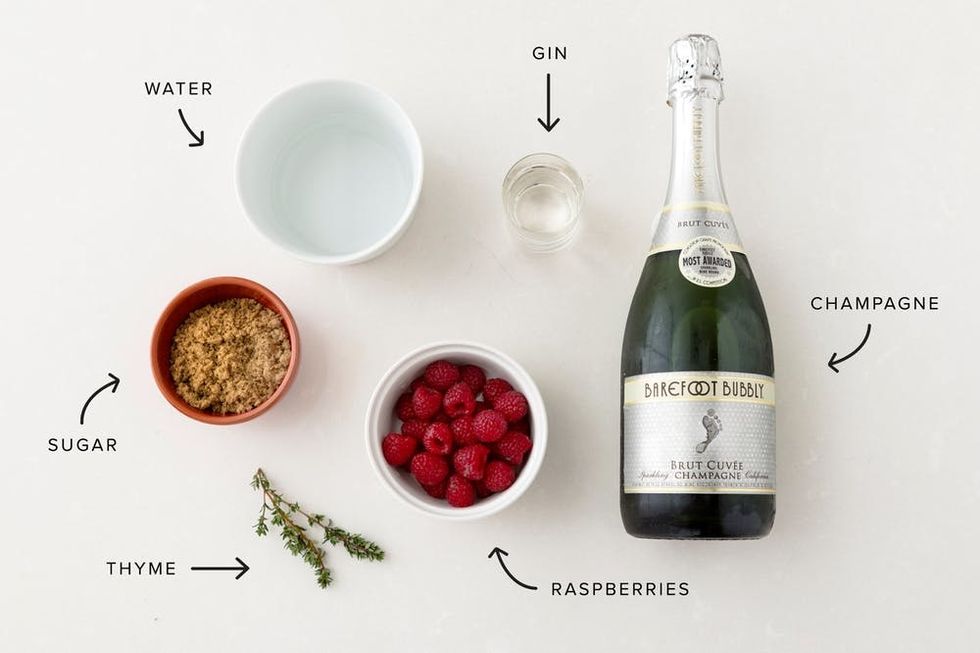 Ingredients:
Instructions: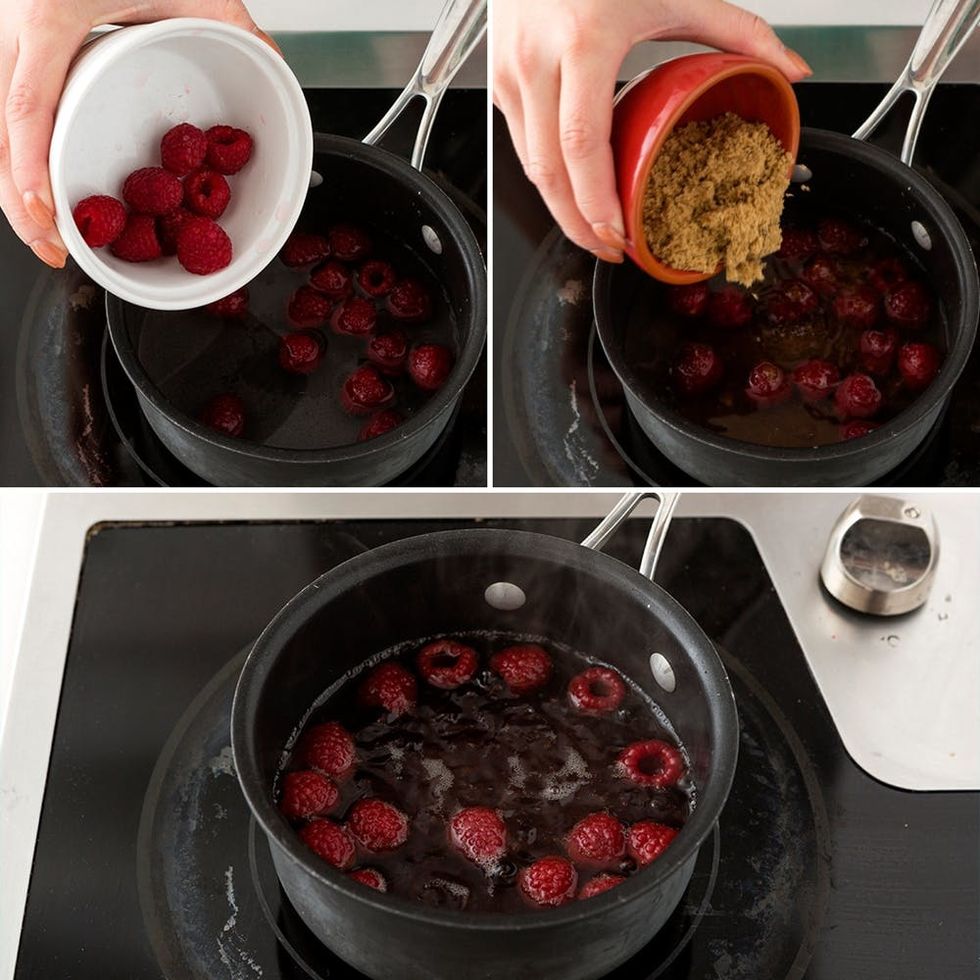 Combine the raspberries, water and sugar into a small saucepan and bring to boil. Reduce heat and let simmer for 10 minutes.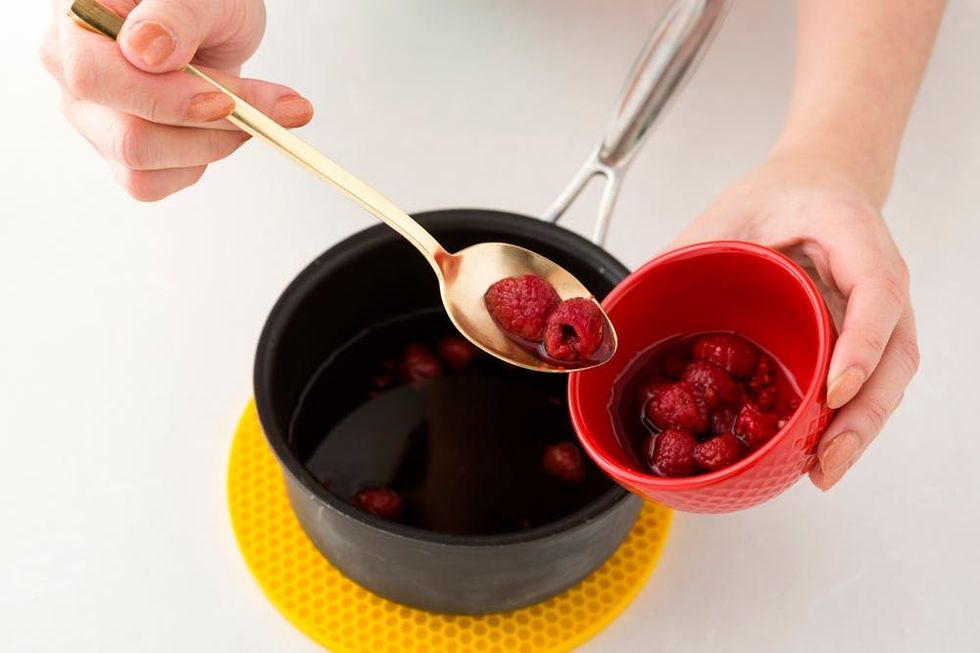 Remove from heat and scoop out the raspberries. The good news is you can save your raspberry syrup for at least a week in the refrigerator.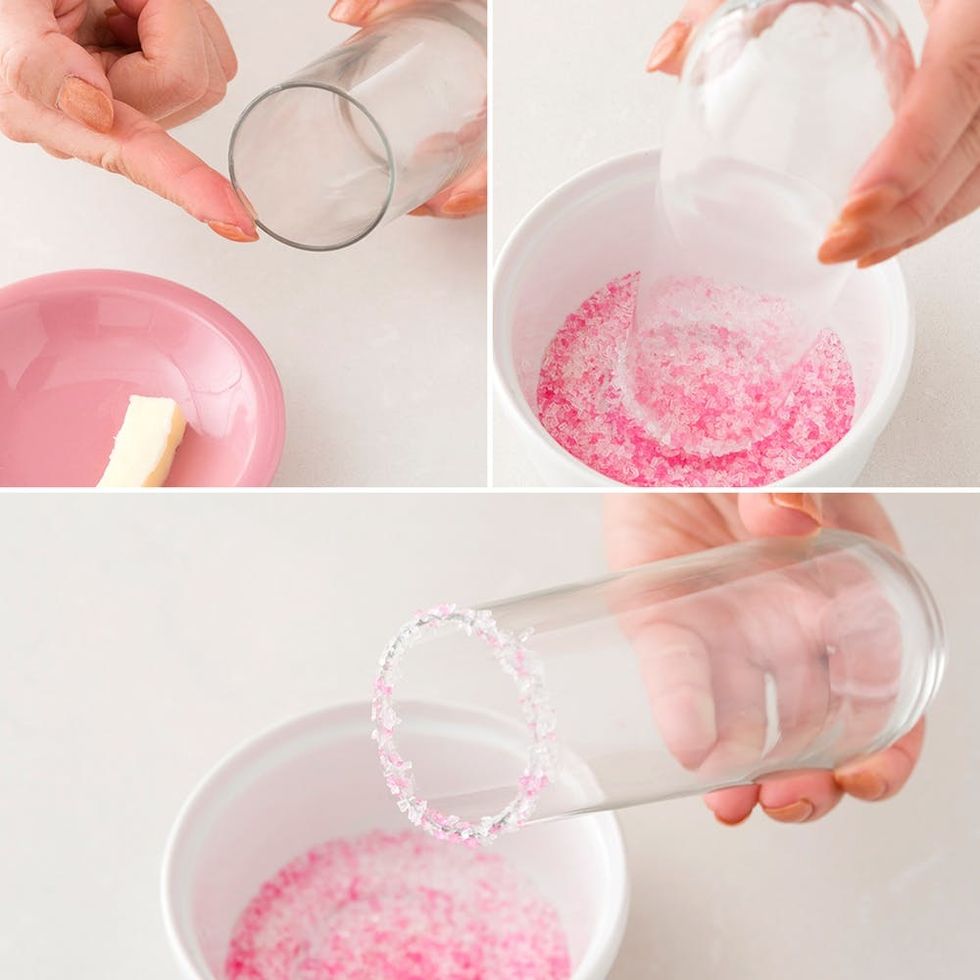 As your syrup cools down, let's line those glasses! Rub some butter along the edge of the rim and dip them into an assorted sprinkle mix.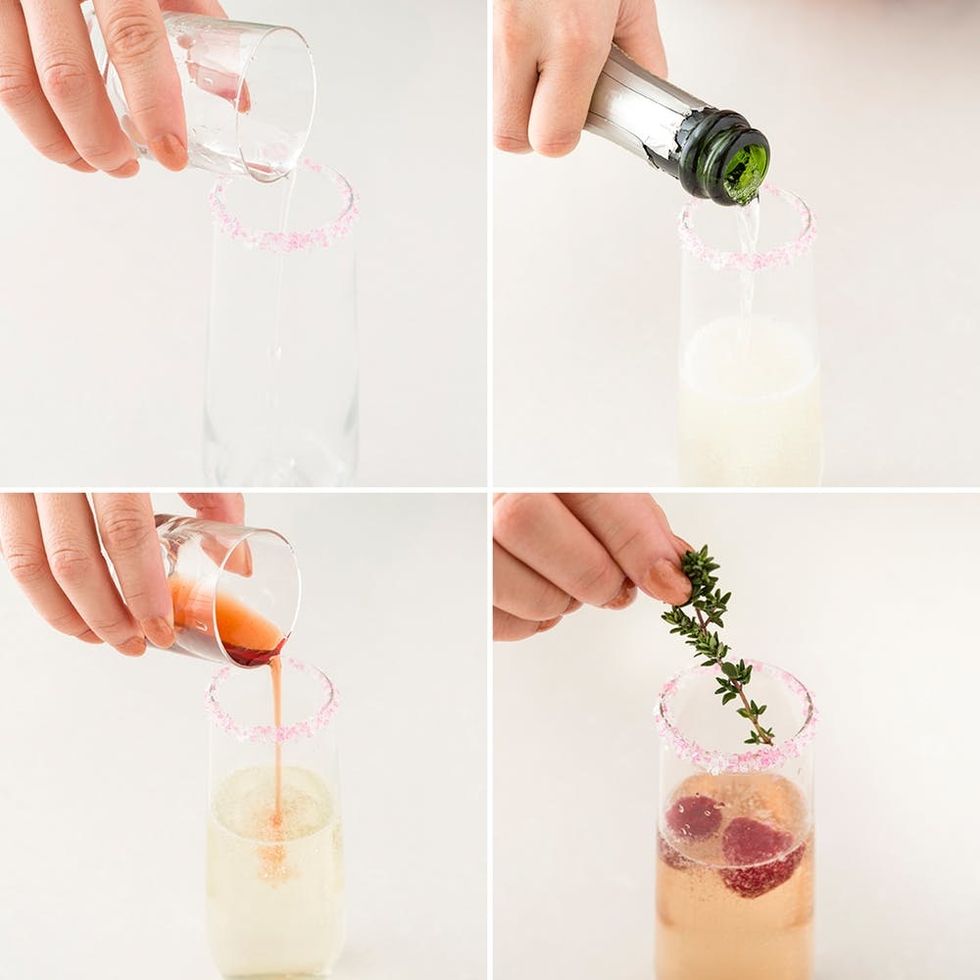 Carefully pour in one ounce of gin, some bubbly and about half a teaspoon of the raspberry syrup. Top off the drink with a couple of raspberries and a sprig of thyme.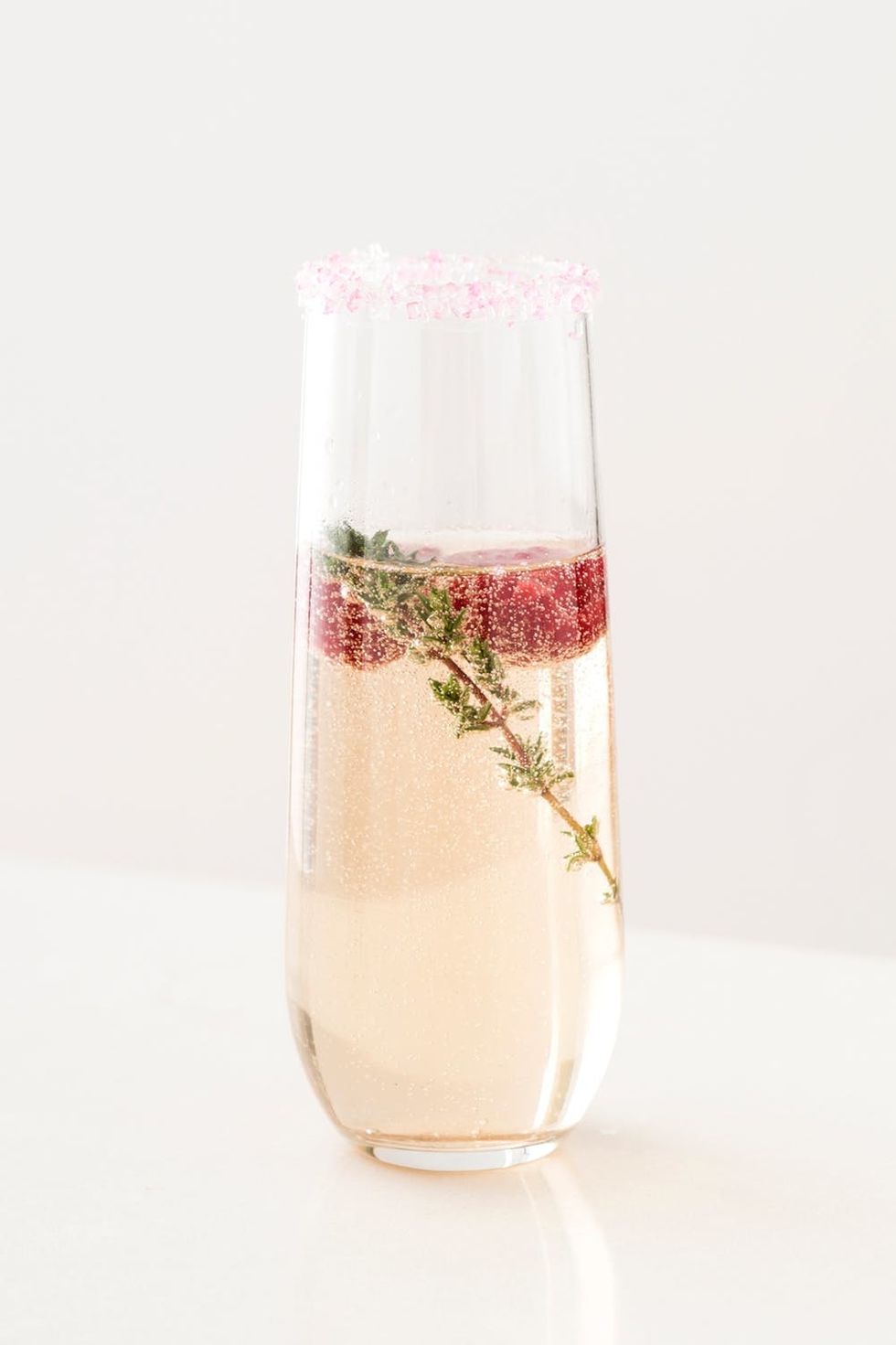 Look at the bubbles go!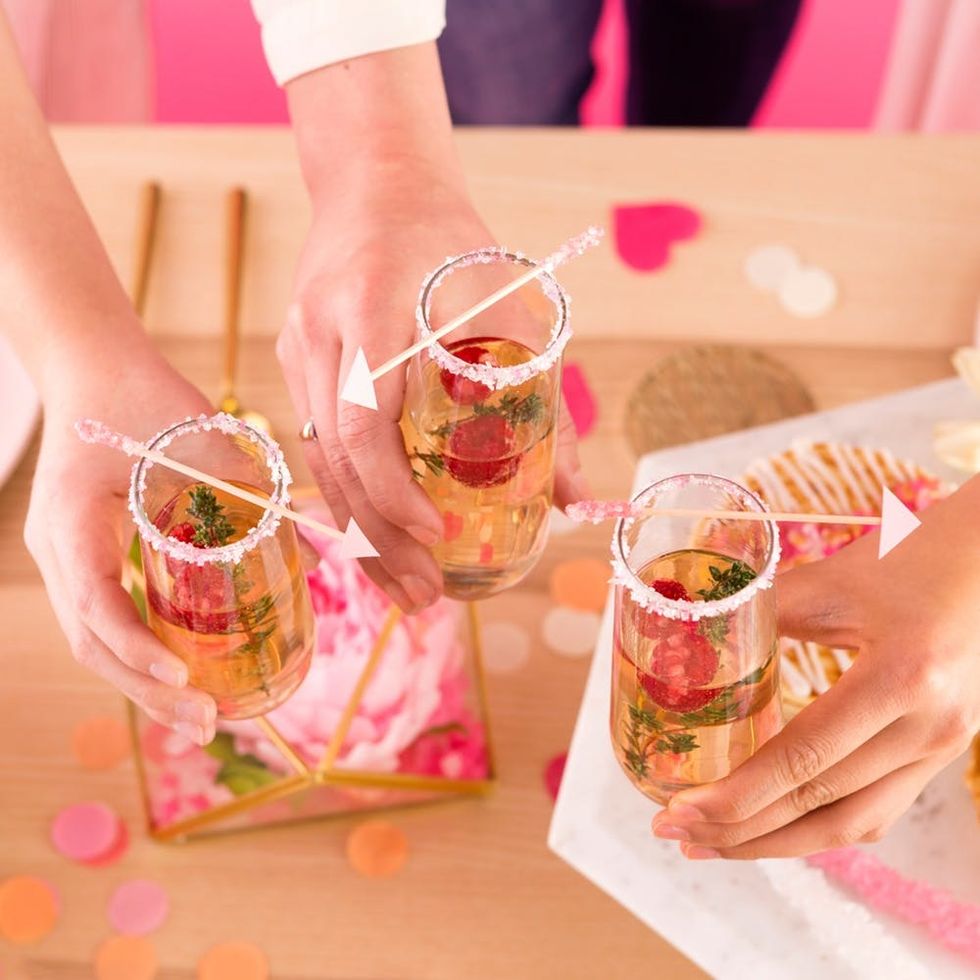 For some extra flair, add on these adorable arrows to garnish the drinks. They're easily made with a short skewer or toothpick, some sprinkles and cardstock.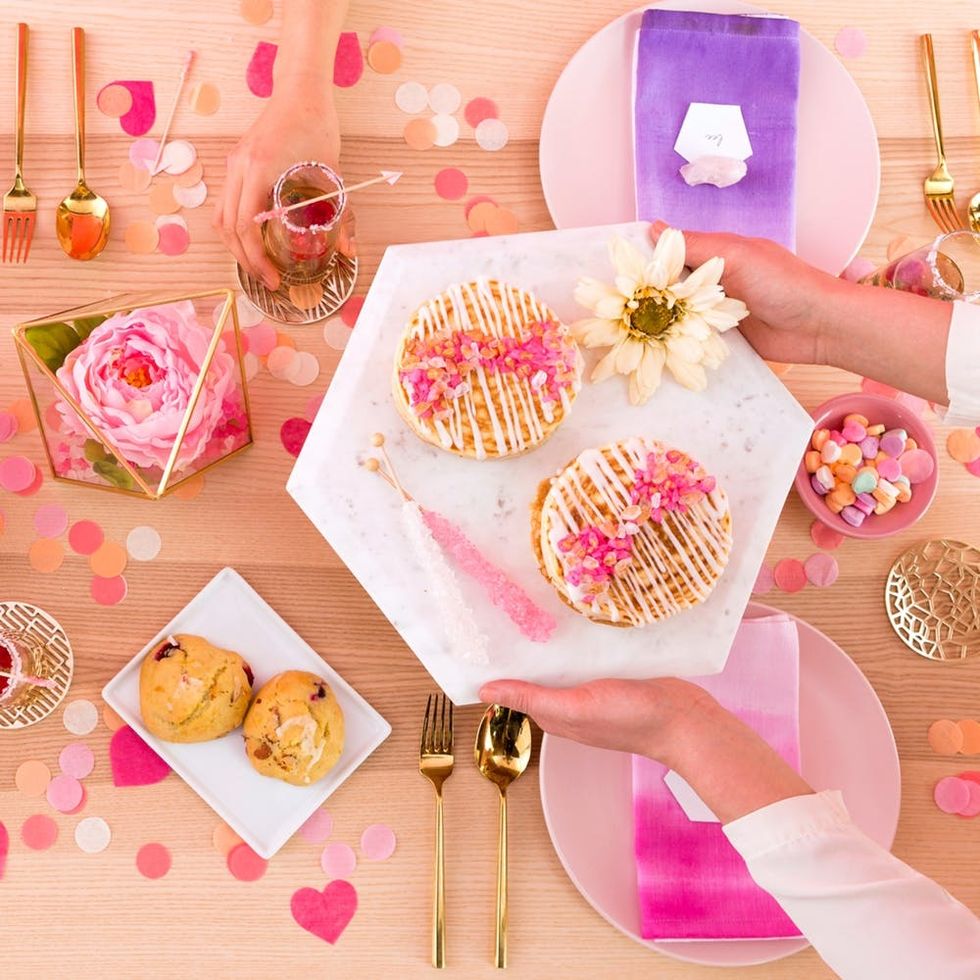 Looks like it's time for the brunch to start!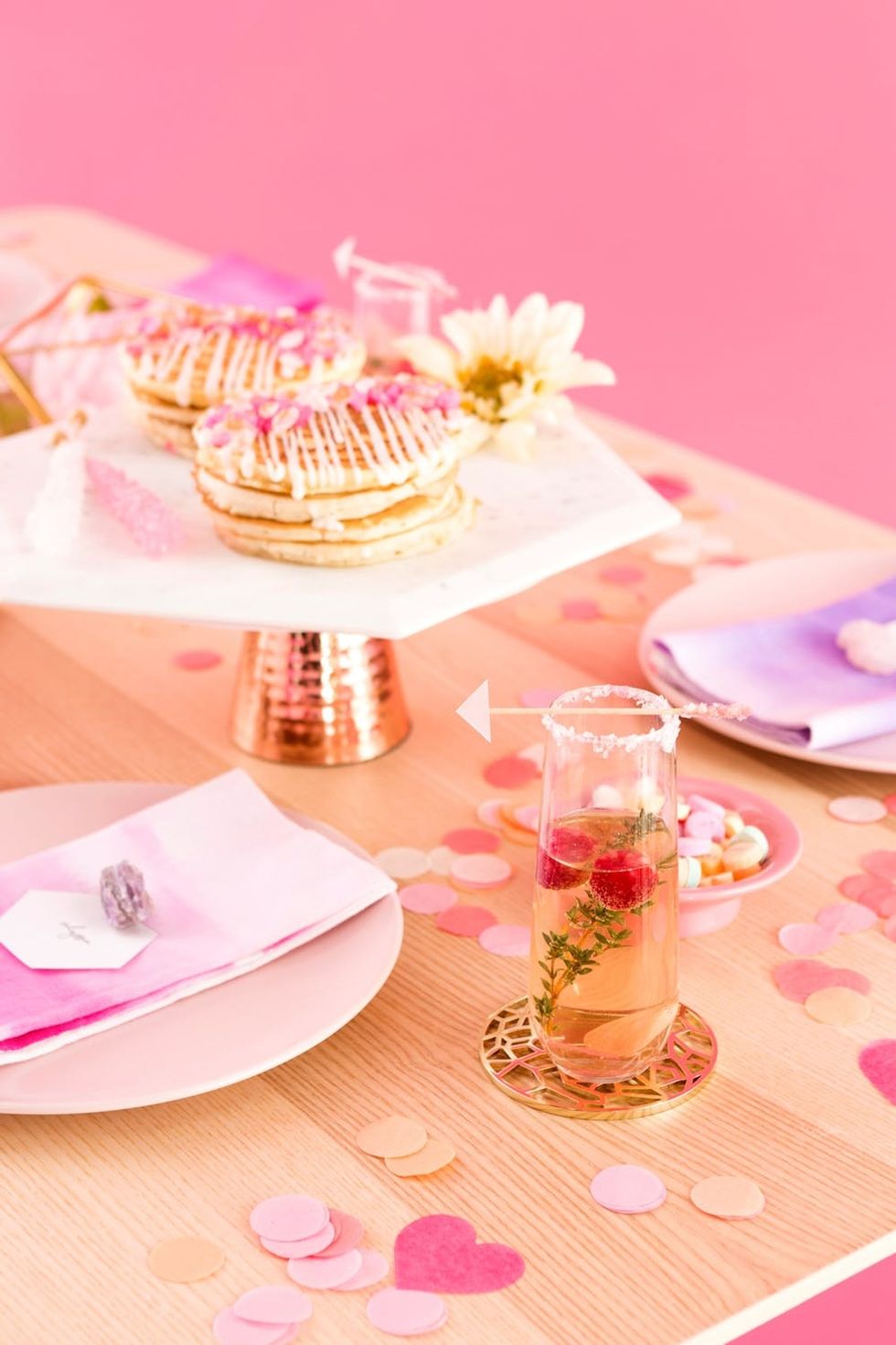 I'm absolutely digging the heart-shaped confetti. They really complement the handmade arrow toppers.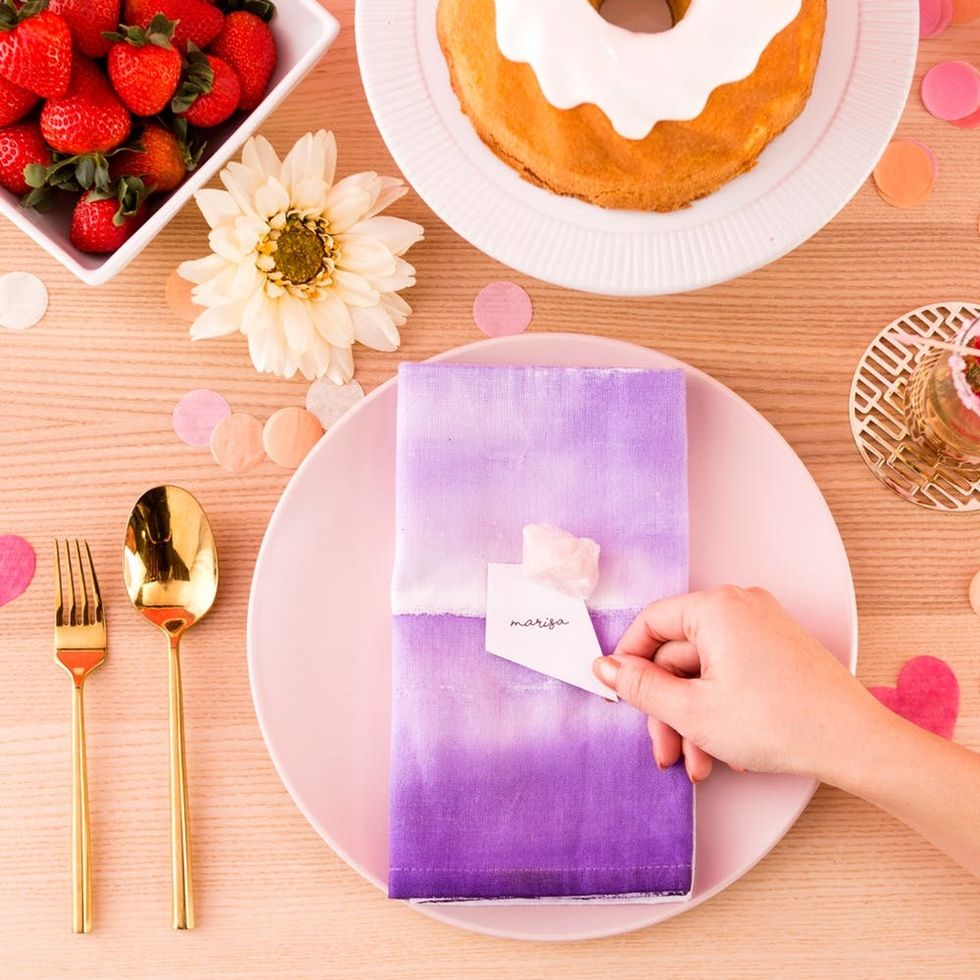 Bonus: Show your ladies how much of gems they are to you with this free printable gem-shaped name cards template. Highlight the party theme with your favorite gemstones as paper weights.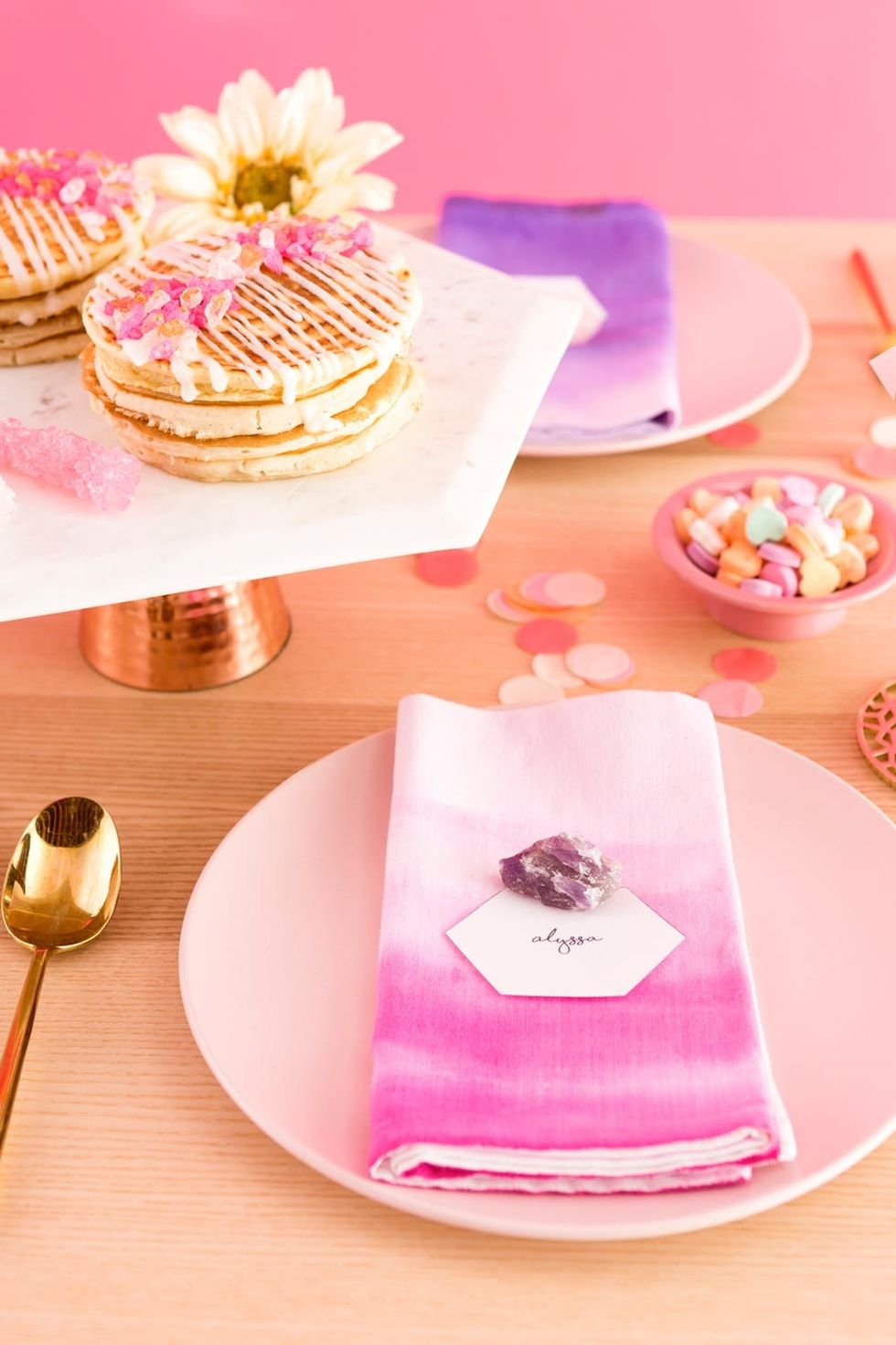 Trust me — your gals will feel extra special.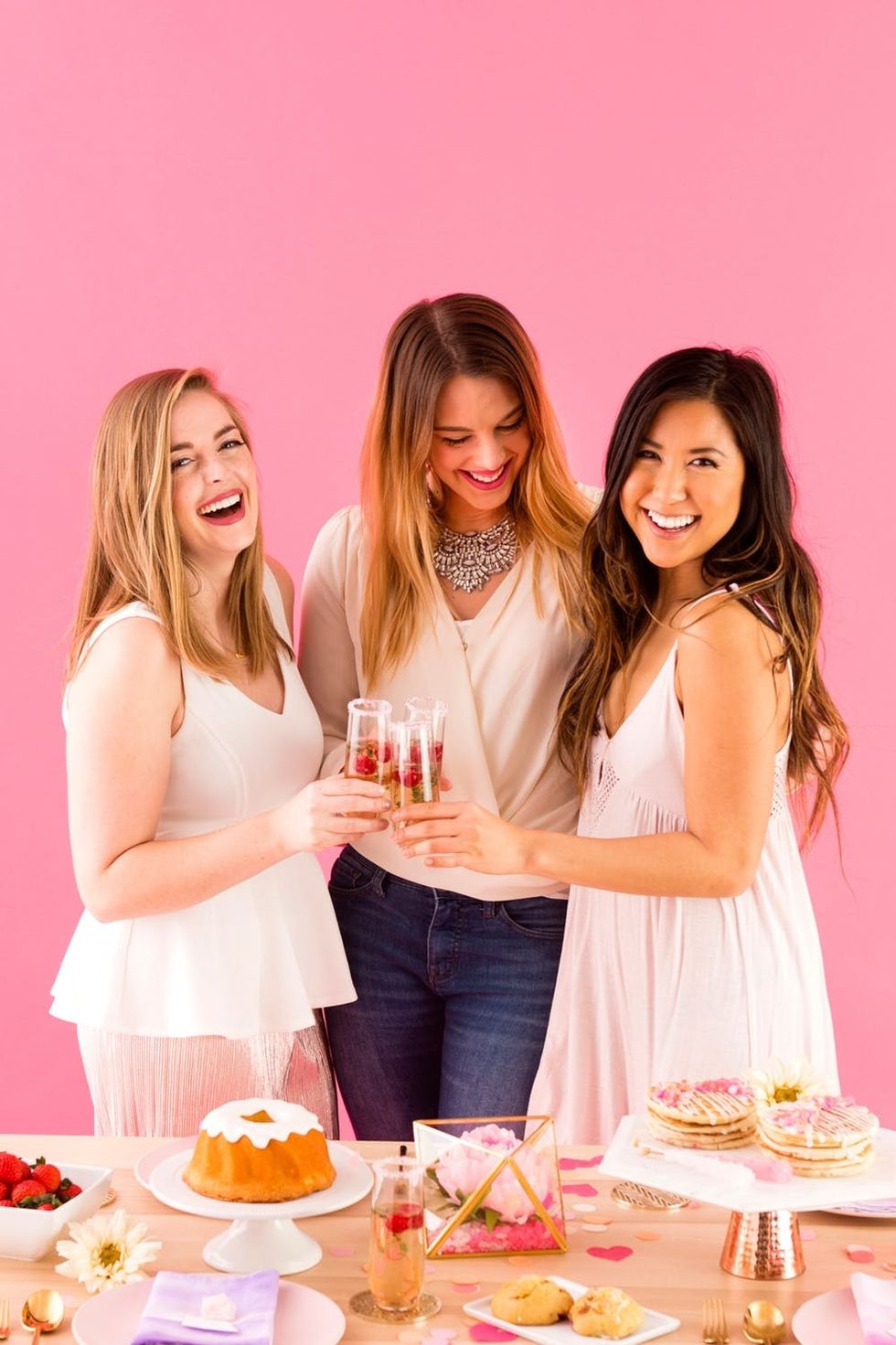 Cheers to Galentine's Day!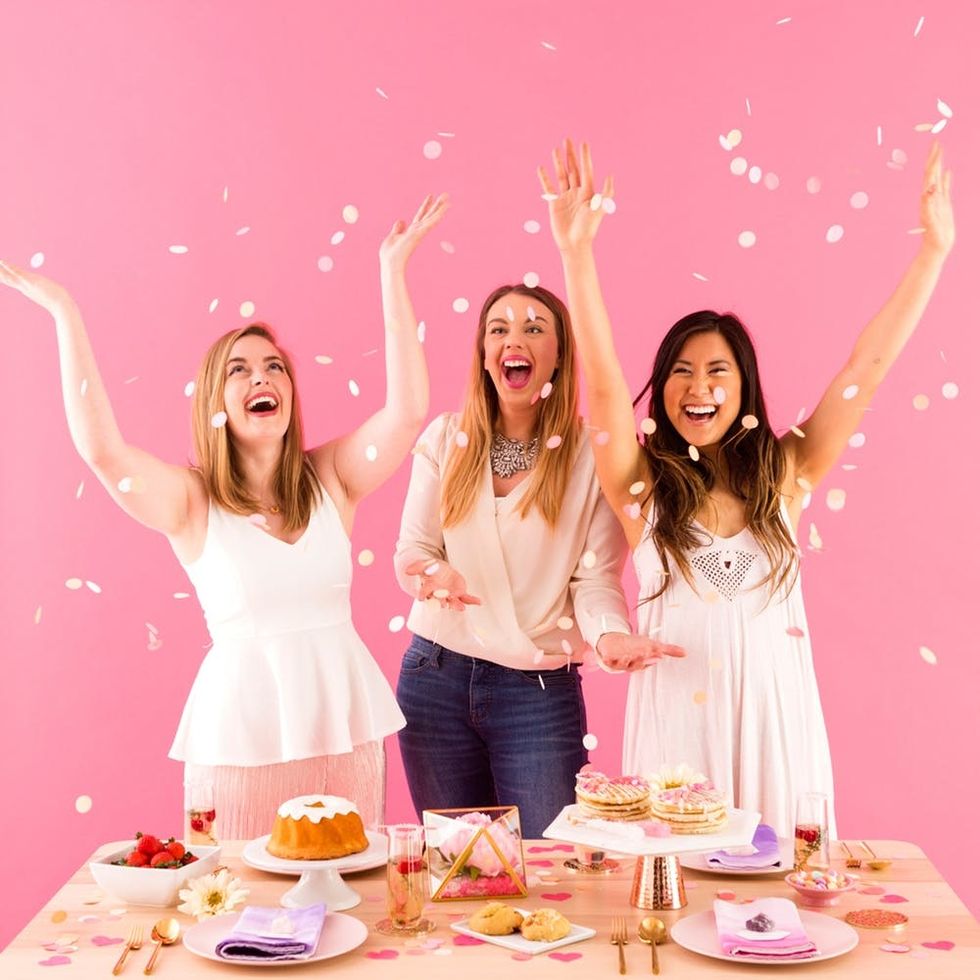 How are you celebrating Galentine's Day? Share photos with us on Instagram using the hashtag #britstagram!
DIY Production and Styling: Karen Pham
Models: Lee Schellenberger, Alyssa Rusin, Marisa Kumtong