15 Pop Culture Wedding Trends You'll Want to Steal for Your Own Big Day
Feb 03, 2016
You're engaged — congrats! You've been racking up the touble-taps on your creative Instagram engagement announcement and you've taken the time to savor the moment and just enjoy being future Mr. or Mrs. Now, it's time to start planning the big event in earnest — not least of all your own wedding-day look. If you're quite sure where to begin, look to your favorite bridal styles from the big and small screen alike for inspo. Whether you're looking to riff on an iconic silver-screen look or want to channel an unexpected trend and run with it, scroll on for 15 of the best wedding beauty trends from pop culture to get inspired for your moment in the spotlight.
---
Non-White Gowns: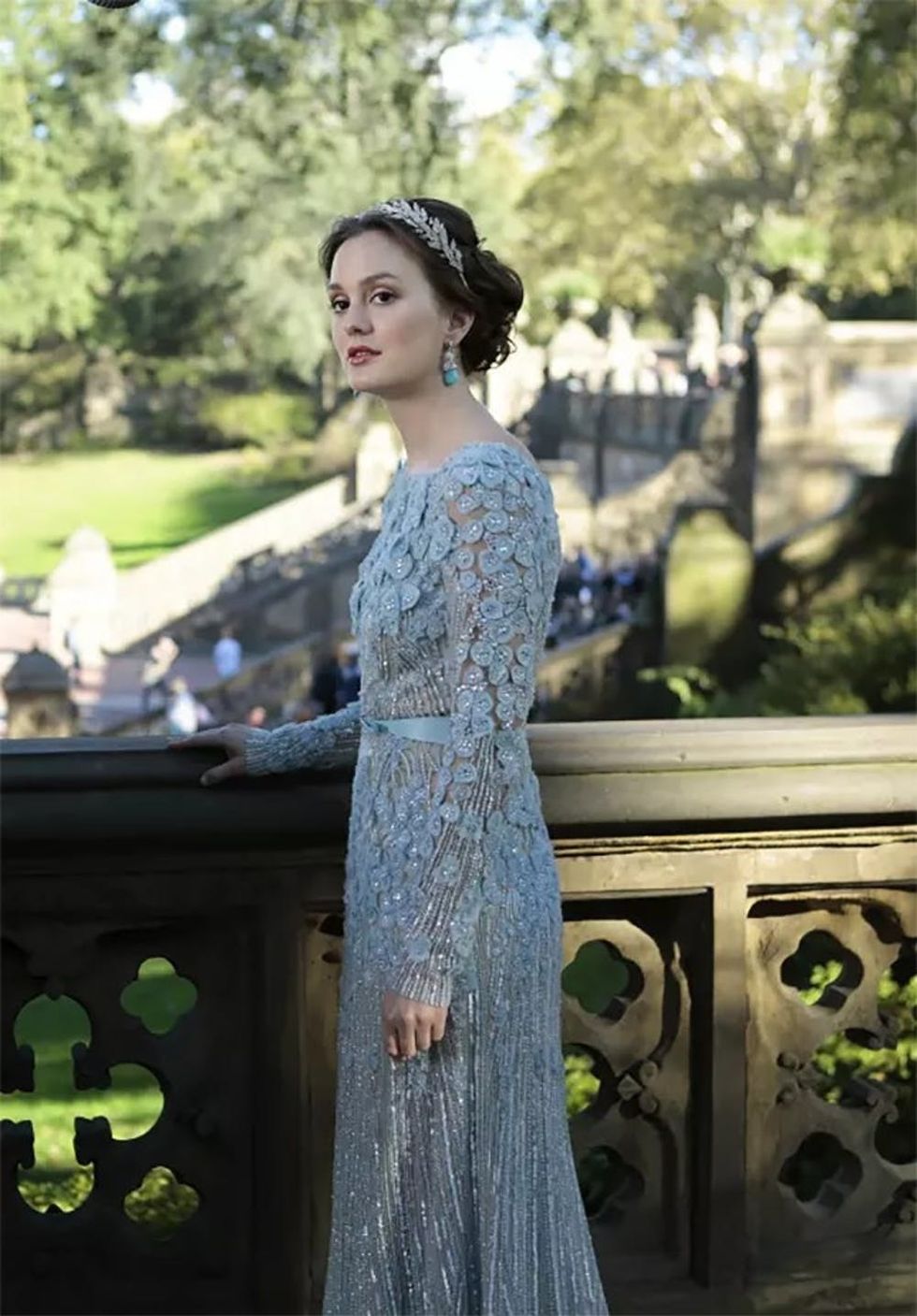 's Blair Waldorf was always slaying the fashion game, and you'd better believe her wedding day was no different. Rather than the traditional white, Blair went for an unconventional but gorgeous baby blue beaded Elie Saab dress paired with her trademark headband. These days, non-traditional brides can take a page from Blair's book and take choose from a wide variety of gorgeous colorful wedding dresses. (Photo via The CW)
Tiaras: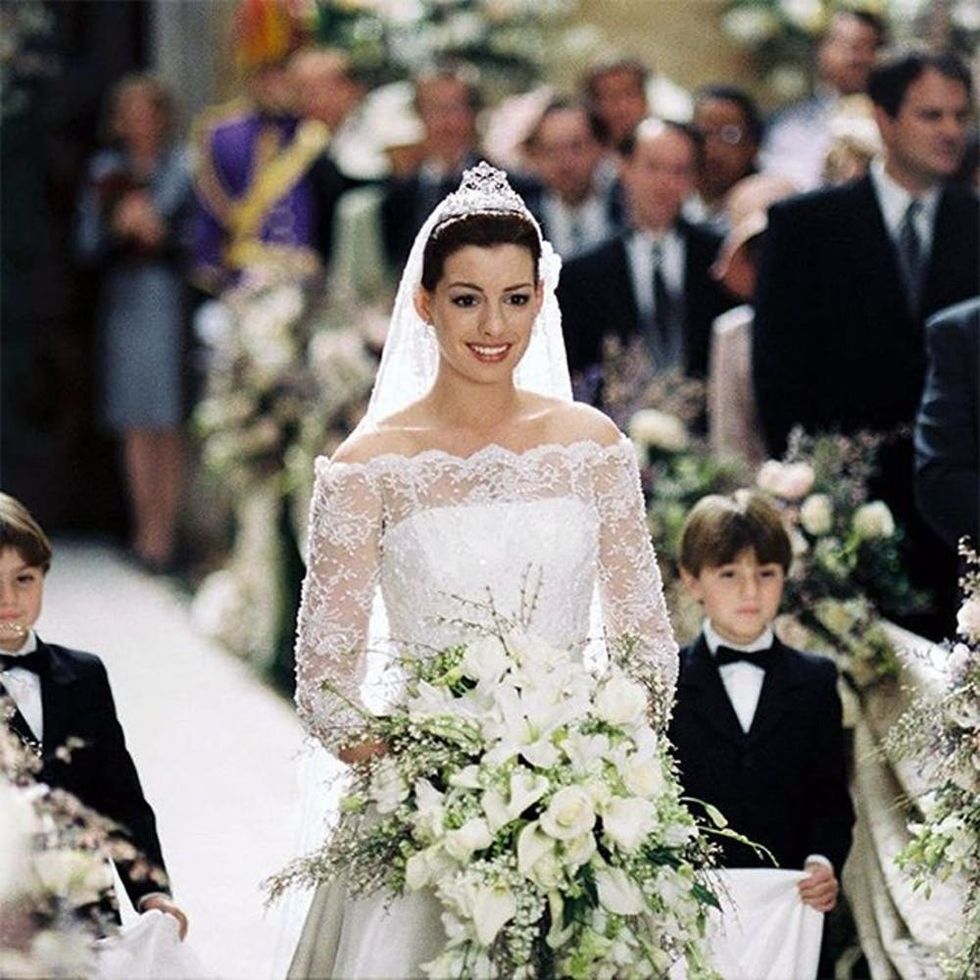 The Princess Diaries 2: Royal Engagement. It's just the right accessory to keep your veil in place while feeling your most regal. (Photo via Walt Disney Pictures)
Flower Appliques: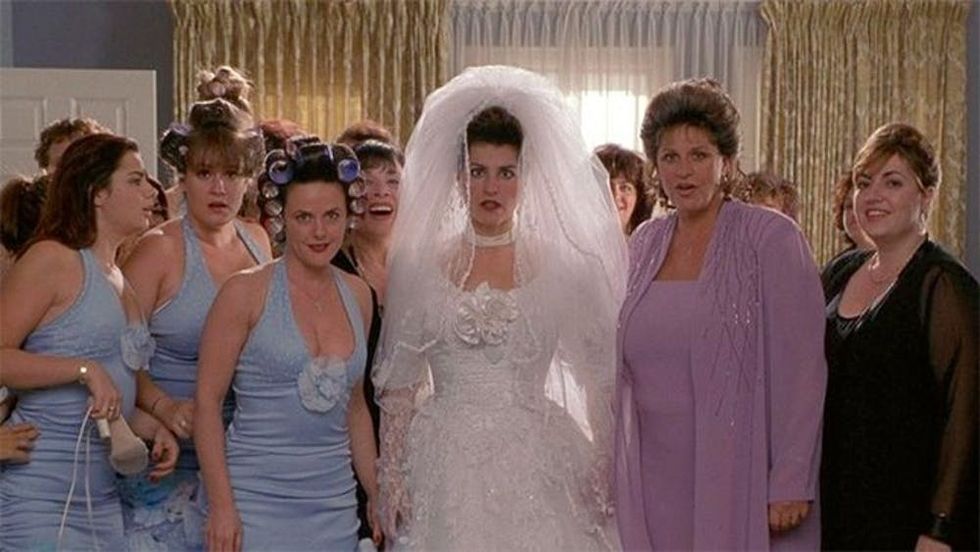 My Big Fat Greek Wedding might have thought she looked like a "snow beast" in all her nuptial regalia, but dial it back just a bit and it's a total win. As it turns out, 3D flower appliques were totally hot on the Fall 2016 bridal runways. (Photo via IFC Films)
Opera Gloves: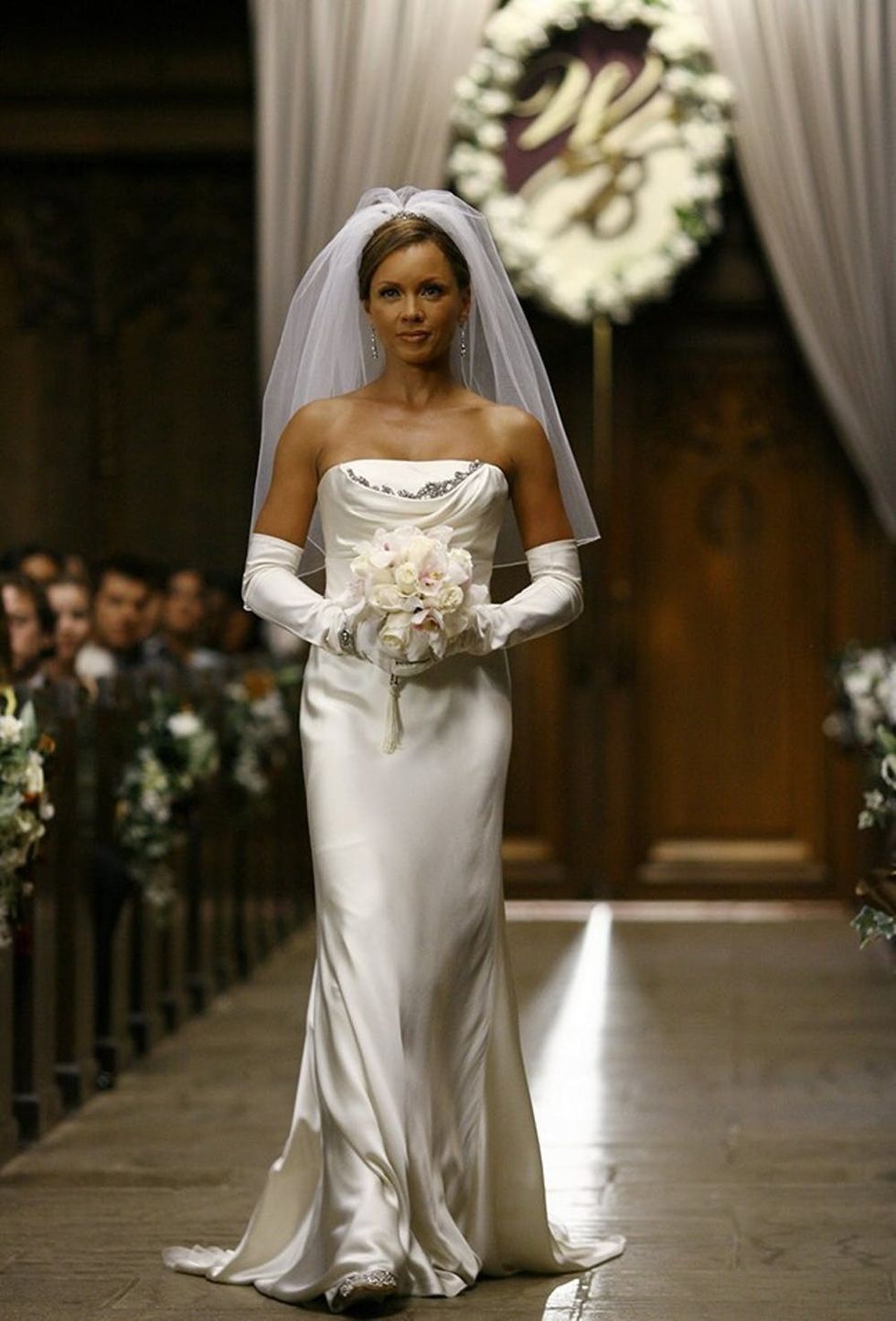 Ugly Betty's Wilhelmina Slater rocks the simple silhouette of her wedding dress with long, elegant opera gloves has us totally wowed. The gown is sleek and pretty on its own, but that extra addition lends an Old Hollywood glam feel that makes the whole look. (Photo via ABC)
Dramatic One-Shoulder Dresses: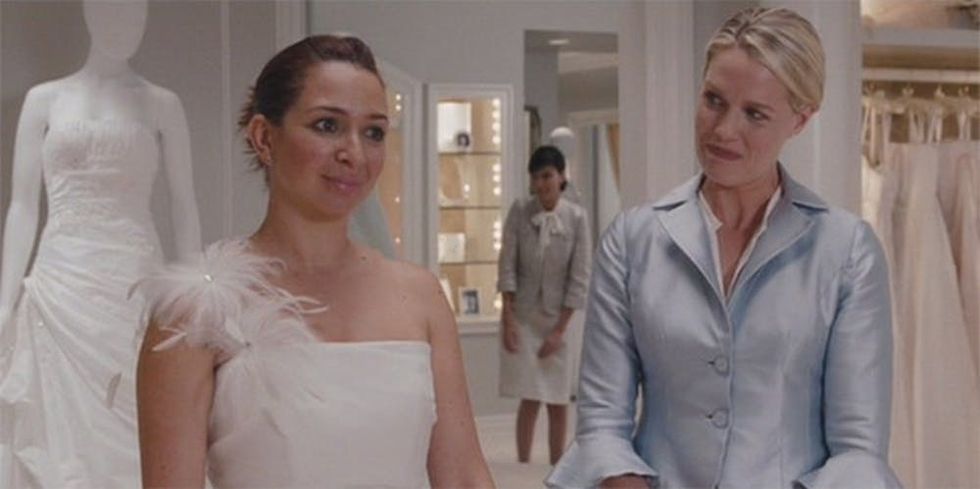 Bridesmaids enjoys this pretty style as much as we do. This style pairs well with an equally romantic updo and a birdcage veil. (Photo via Universal Pictures)
Veil Bun + Hair Jewels: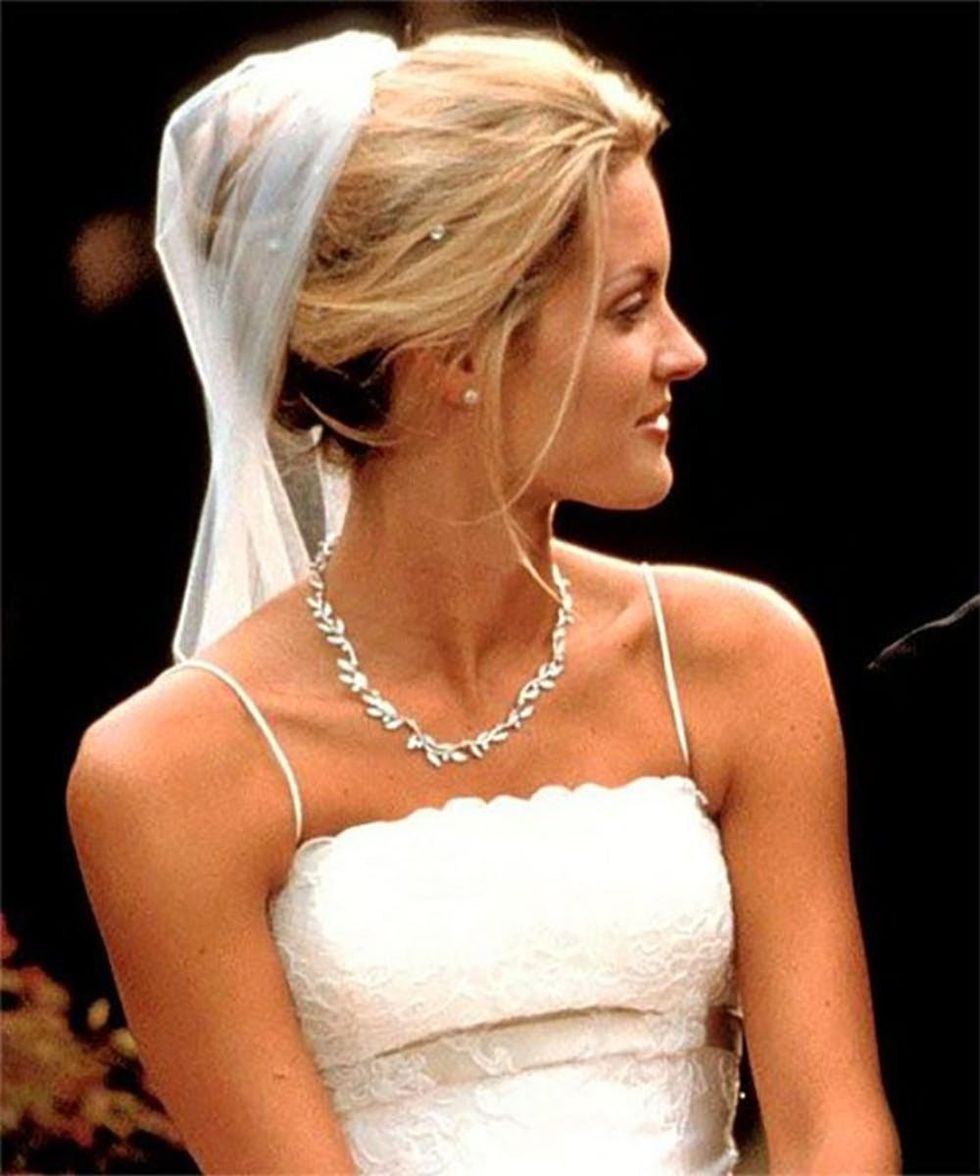 The Wedding Planner, but rival Fran's bridal look was just too good to ignore. Her chic chignon and simple attached veil and rhinestone hair pins (hey, the '90s are BACK) take her 'do from 0 to 100 with elegant ease. (Photo via Columbia Pictures)
Jeweled Headbands: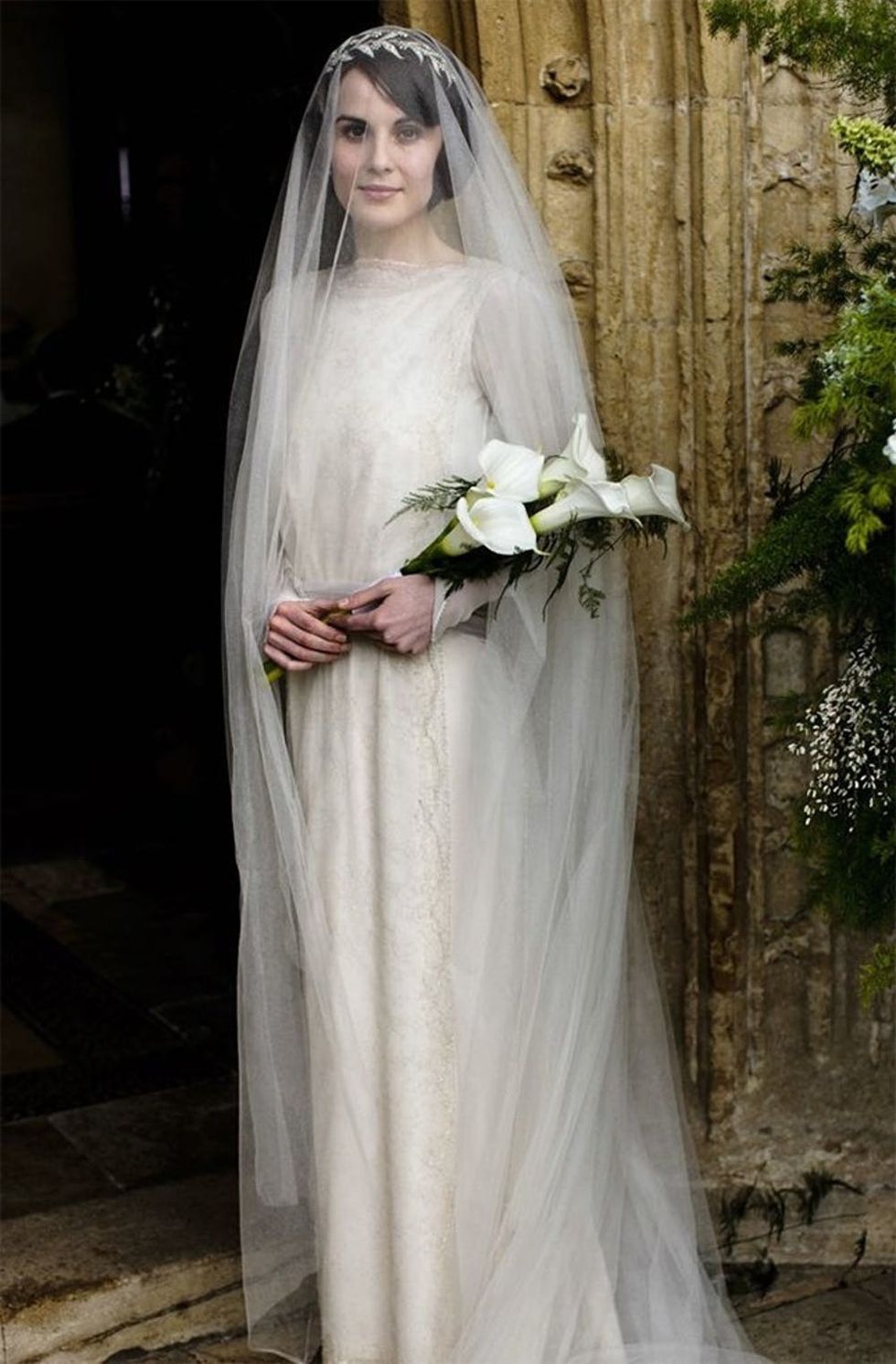 Downton Abbey showcased tons of show-stopping period piece costumes and accessories. When Lady Mary Crawley was set to get hitched, she was exquisitely dressed in this ensemble, including jewel encrusted filigree headband. Paired with a traditional long sweeping veil, the look is completely ethereal, an ideal choice for the traditional bride. (Photo via Carnival Film & Television Ltd)
Handmade Memento Skirt: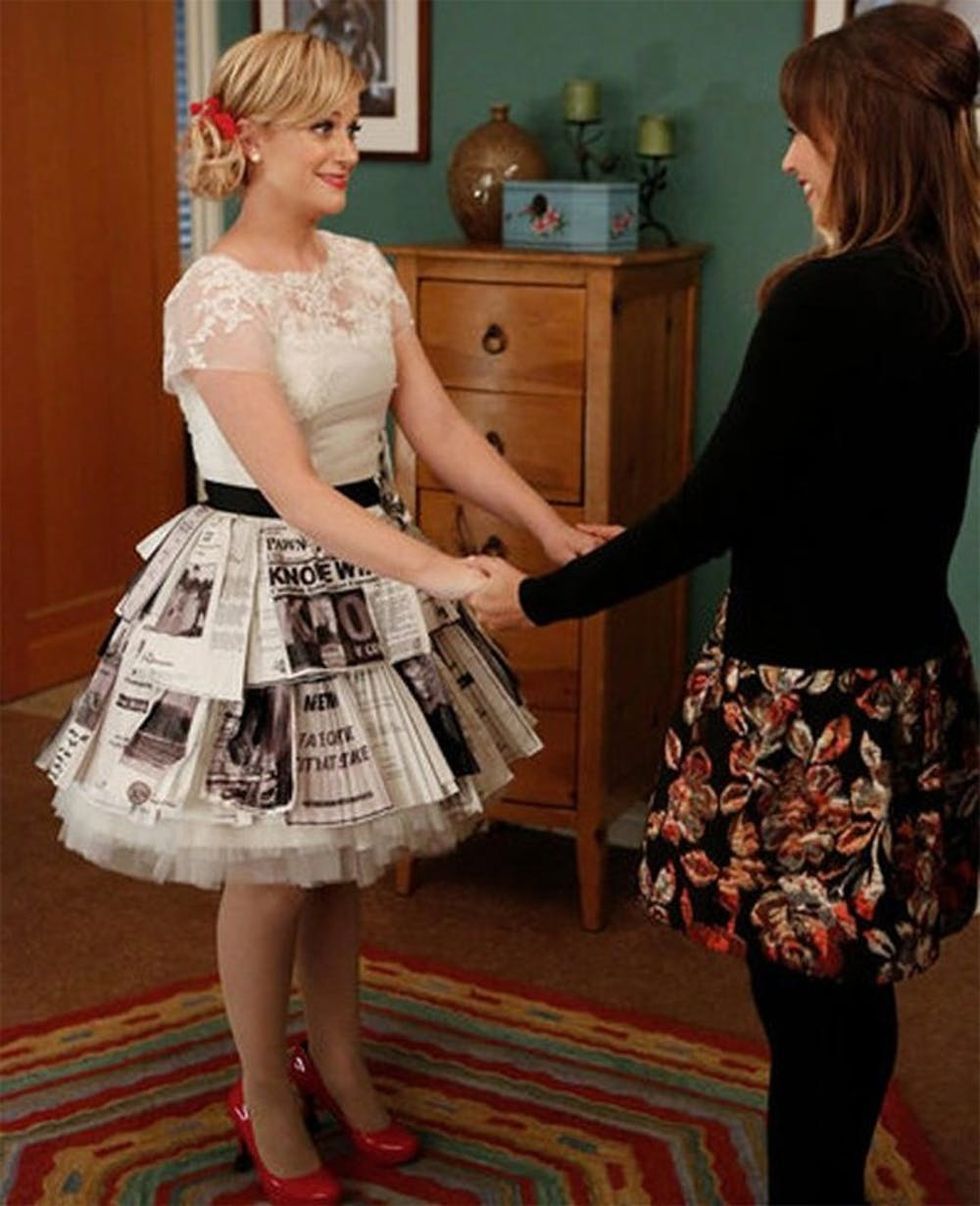 Parks & Recreation, Leslie showed off her DIY dress made to highlight her favorite memories and successes. This is an awesome idea for brides who love getting creative and want to include a unique and special touch to their big day.
Renaissance Style: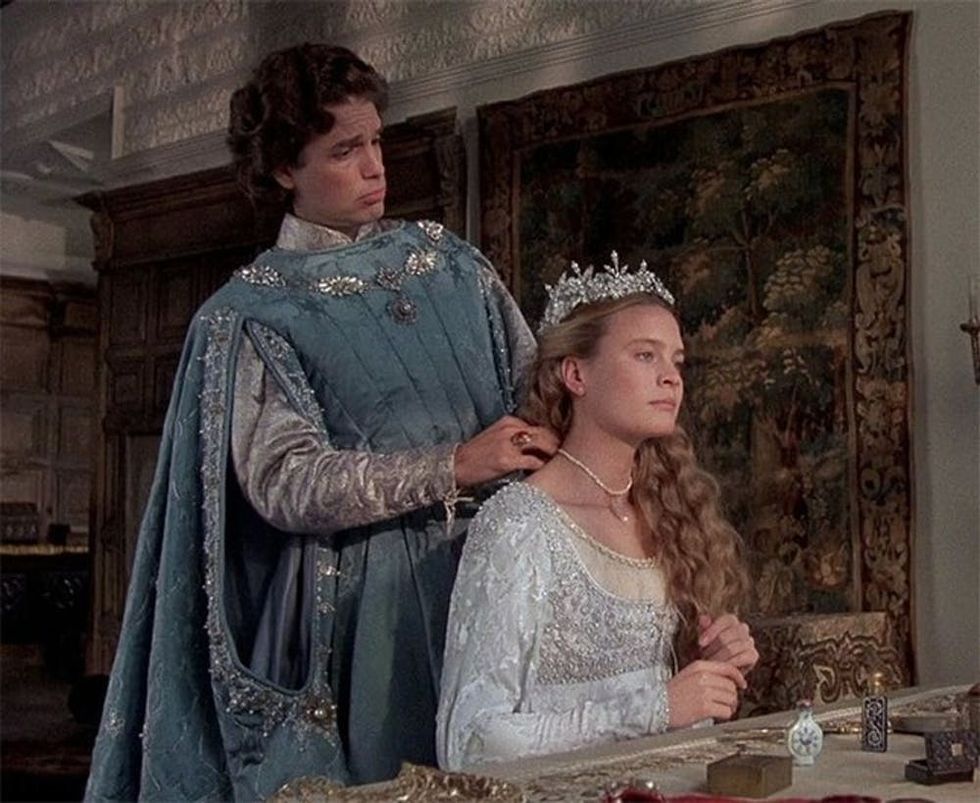 Princess Bride herself, wears a stunning, blue-hued gown in an intricate Renaissance style. The jeweled top, dramatic sleeves and empire waist all make for wedding day beauty straight out of a fairytale. Don't forget a princess crown of your own to anchor your veil in place! (Photo via MGM)
Updos With Fresh Flowers: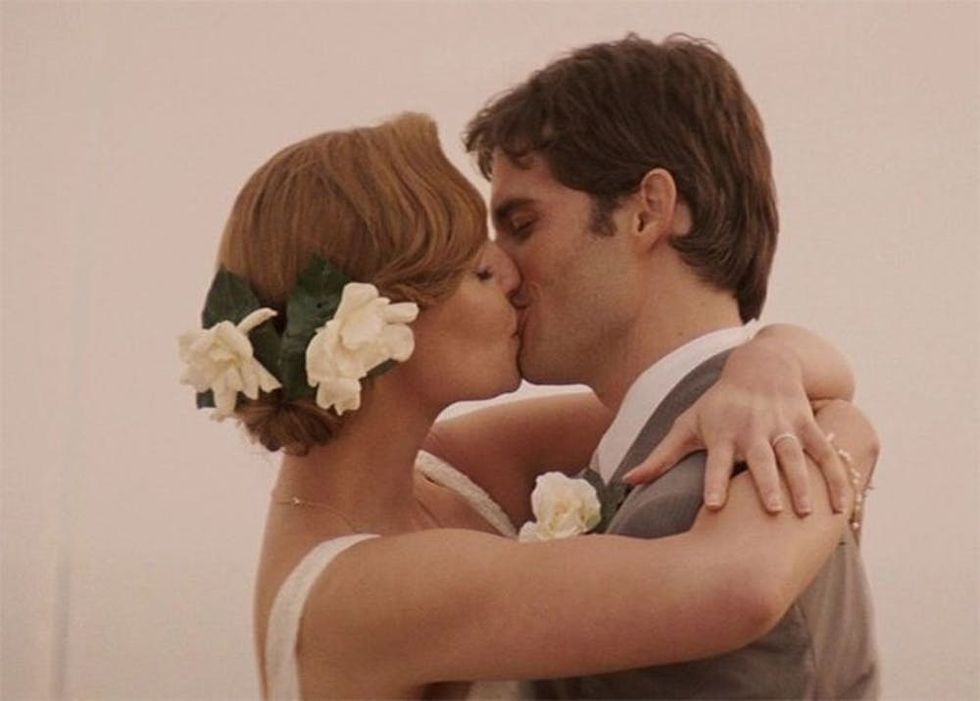 27 Dresses, romcom queen Katherine Heigl plays Jane — a girl who is always the bridesmaid and never the bride. Spoiler alert: She finds the man of her dreams and lives happily ever after. On her big day, Jane opts to accessorize her low bun with fresh, in-season flowers instead of blinged-out hair pins or jewelry. Try the trend for a tropical destination wedding, or wow 'em with a winter flower crown.
Chokers: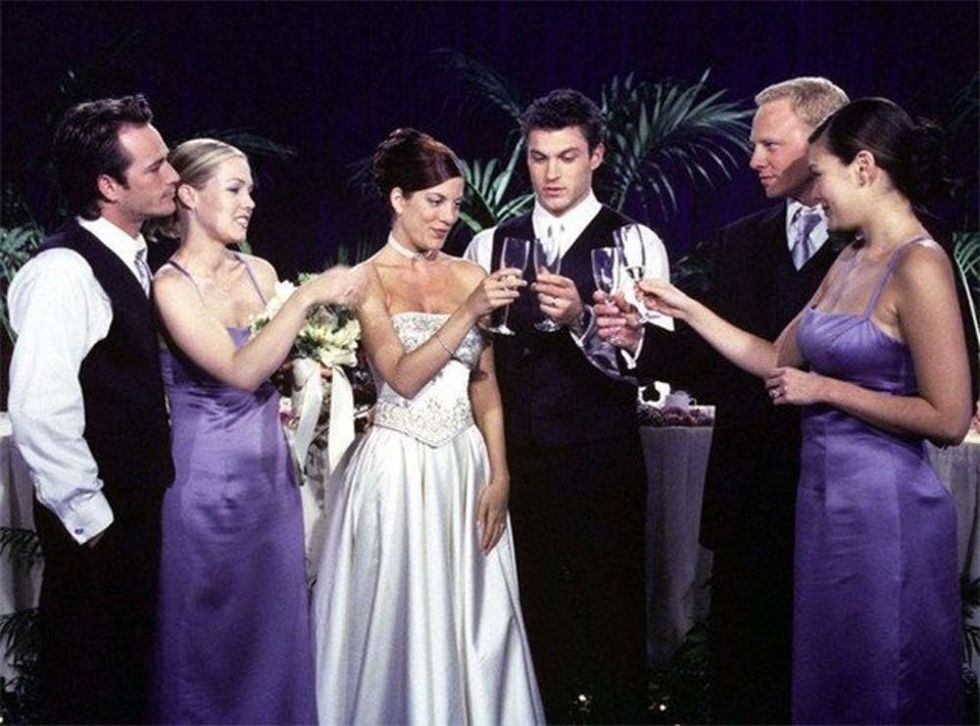 Beverly Hills, 90210 proves you can incorporate them into your wedding look for some major '90s throwback chicness. (Photo via Fox)
Feather Hairpieces: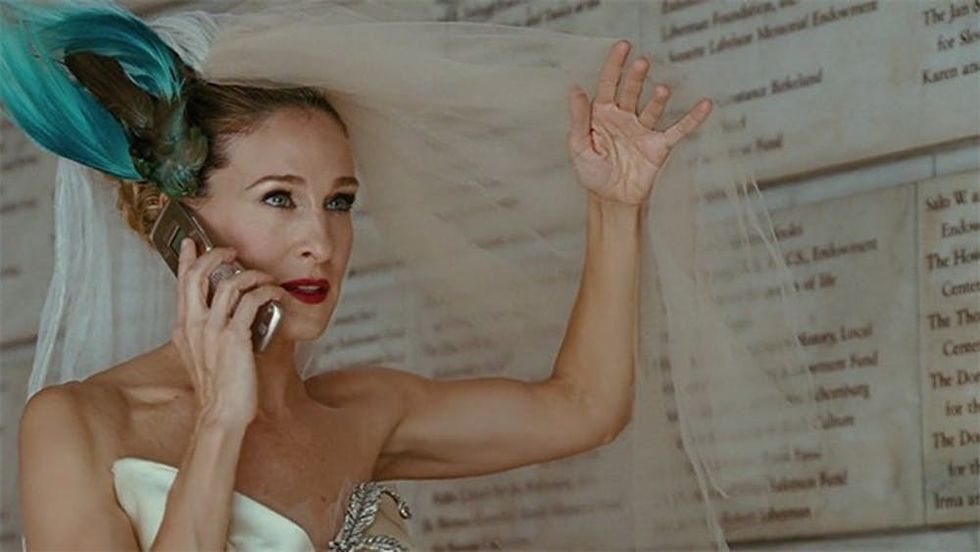 Sex and the City: The Movie, for tying the knot with Mr. Big, she incorporates a teal feather hairpiece into her updo that gives it instant edge and drama. (Photo via Warner Bros. Pictures)
Glitzy Belts: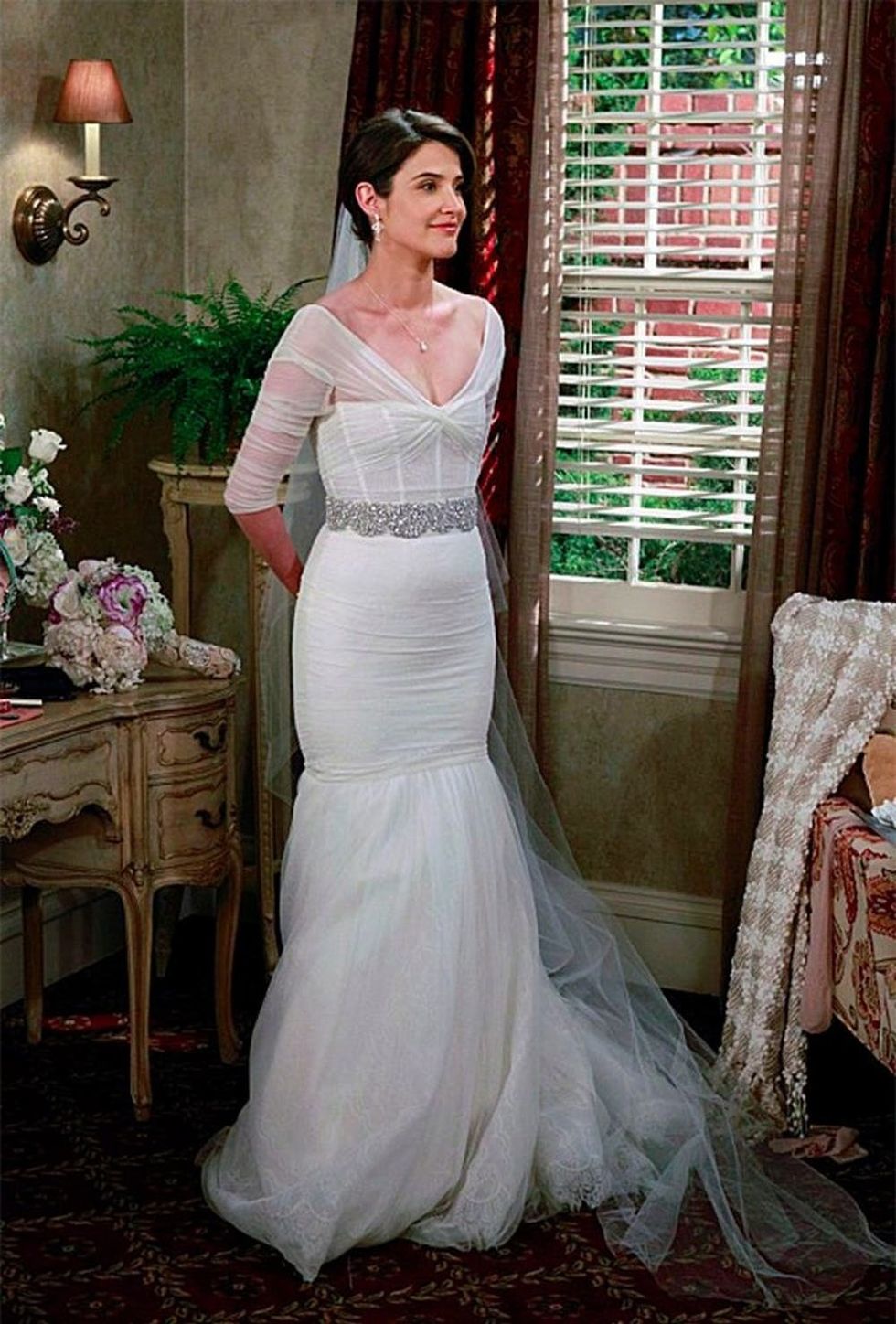 How I Met Your Mother. Her form-fitting dress is tasteful yet sexy, with shoulder and arm coverage and a sparkly belt to highlight the waist and provide just the right amount of bling. (Photo via CBS)
Wild Curls: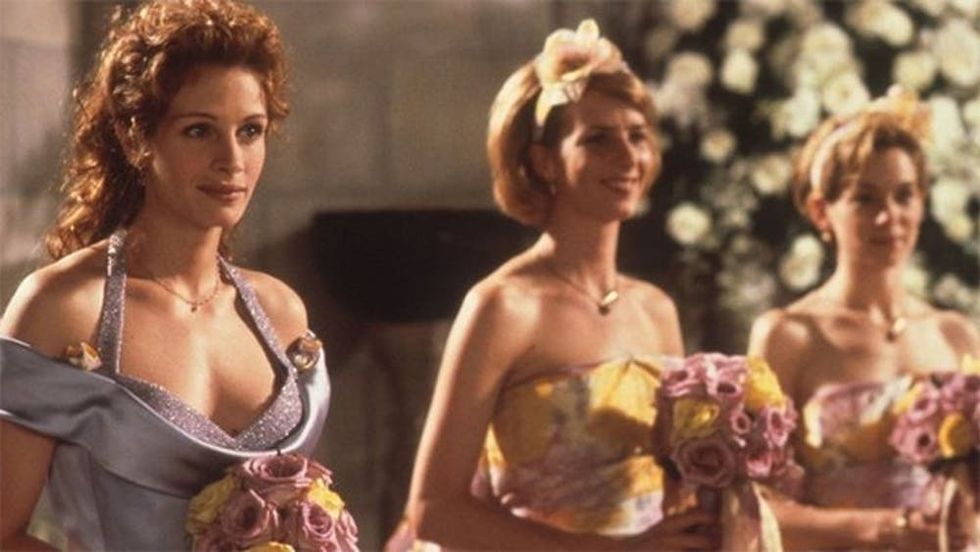 My Best Friend's Wedding. This effortless 'do would look fab draped in a veil and loose around your shoulders at your beachside reception. (Photo via TriStar Pictures)
Fringed Headwear: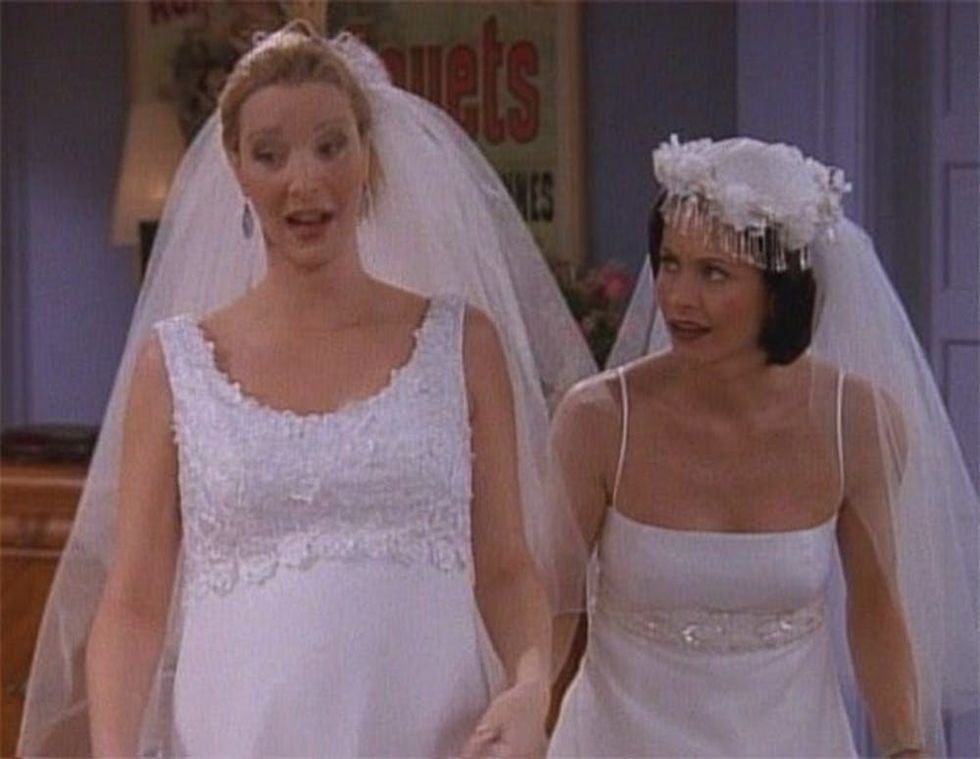 ' Monica Geller absolutely owns this look. Amp up your '20s bridal style by stealing Monica's sartorial win: Sport a fringed and beaded headpiece or hat with your veil attached. It's unexpected, a little bit vintage and 100% amazing.
Lauren Valentine
Lauren is a writer, artist, and film enthusiast born and raised in south Florida and currently living in San Francisco. When she's not writing she can be found doodling, accidentally spilling hot beverages, Instagramming, playing with any dog that will let her, or exploring SF.
Pop Culture