9 Dress + Tight Pairings to Get Your Through the Holiday Season
Dec 06, 2015
It's just about time to pull out a slew of festive frocks for your holiday party lineup, but it's COLD outside, and every girl knows that looking stylish and staying warm don't always mix — or at least it seems that way. While there are some that are daring enough to do the whole bare-legged thing, the rest of us just can't hack it. That's totally okay though, because tights. From sparkly stunners to lacy numbers, these nine tights and party dress pairings won't just keep you warm this holiday season — they'll blow your fancy cold-weather repertoire out of the water.
---
Pair a Next-Level Sweater Dress With Snowflake Tights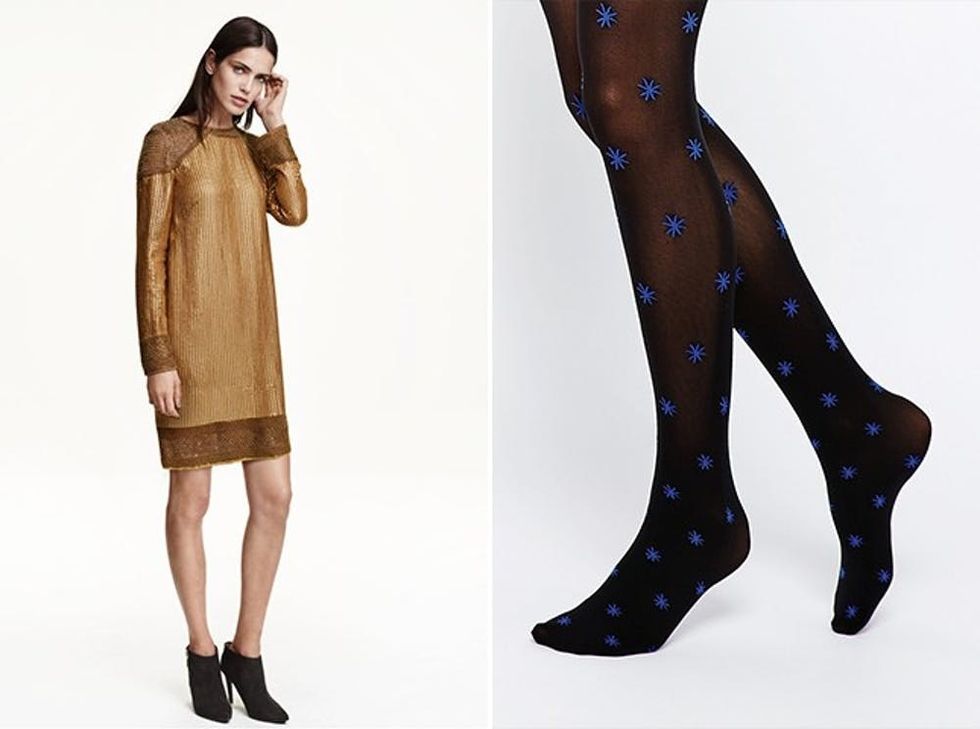 Jonathan Aston Twinkle Tights ($29): This laid-back frock is like your favorite sweater dress only 100x more festive with eye-catching embellishments in gorgeous gold. To take the statement piece to new heights and add an extra layer of dimension to your look, pair it with twinkle tights with pops of brilliant blue.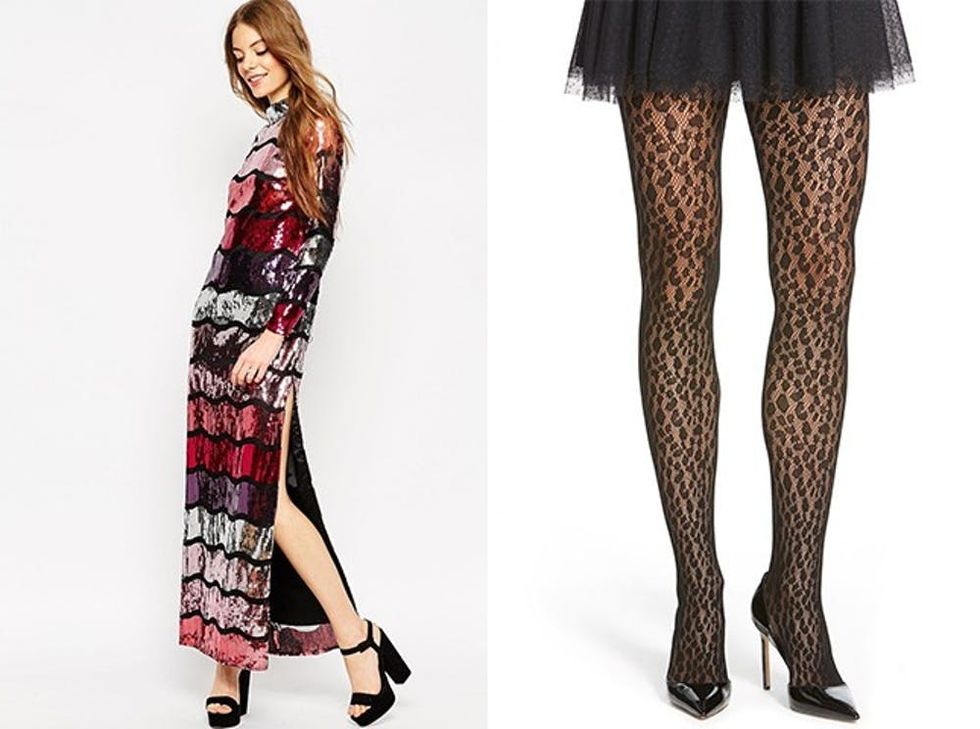 Commando Leopard Fishnet Tights ($38): While a long dress provides a protective barrier to keep those gorgeous gams toasty, an extra layer never hurts. Opt for a funky pair like these leopard print fishnets that'll add even more flair to your look with every step and swish.
Pair a Sequined Maxi With Spotted Tights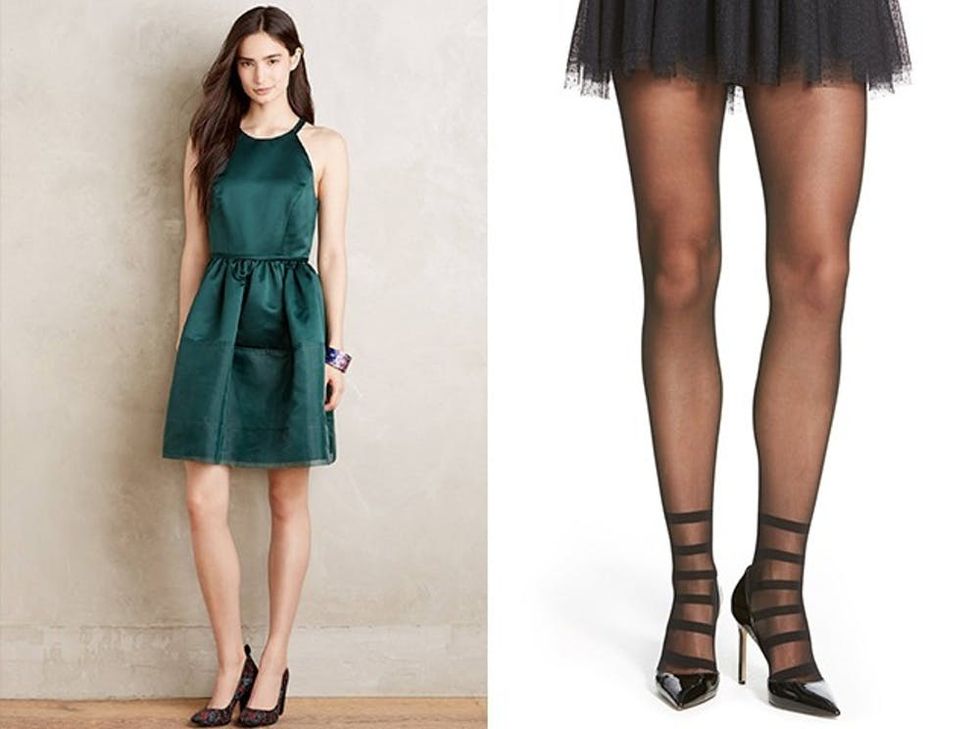 Commando Martine Stripe Bootie Tights ($34): Booties and mini dresses are a timeless combination, but if you're dying to bust out a new pair of pumps this holiday season, these banded sheers will give you the best of both worlds.
Pair a Sweet A-Line Dress With Striped Tights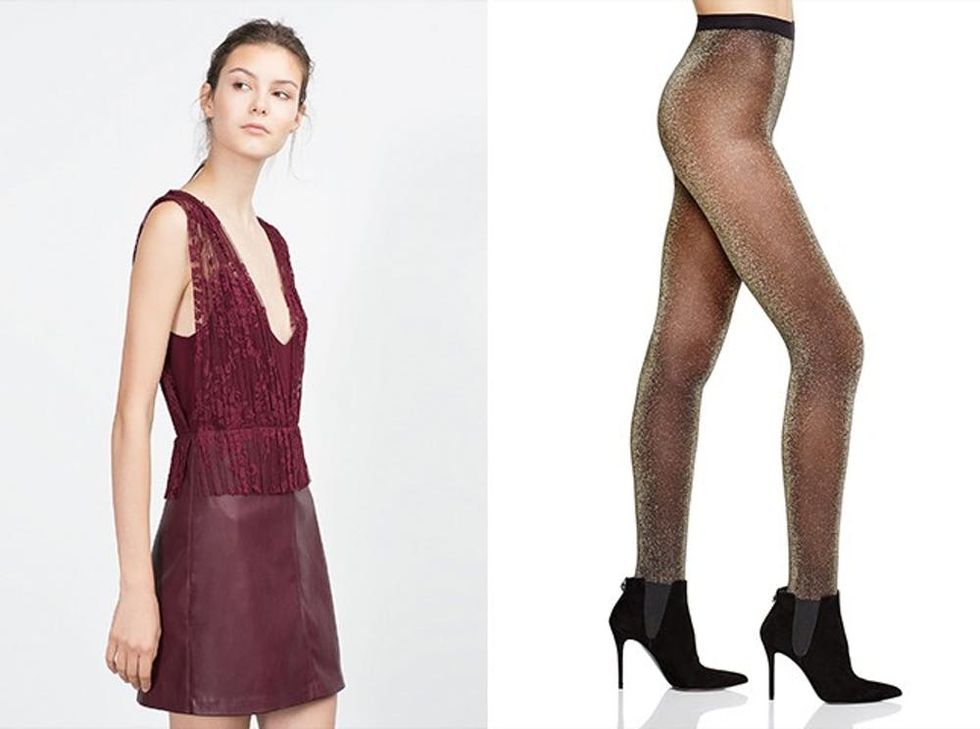 Hue Metallic Tights ($18): Ladylike lace gets a major makeover this year with sleek leather and metallic tights. Stealing the spotlight is so in the cards.
Pair a Lacy Dress With Metallic Tights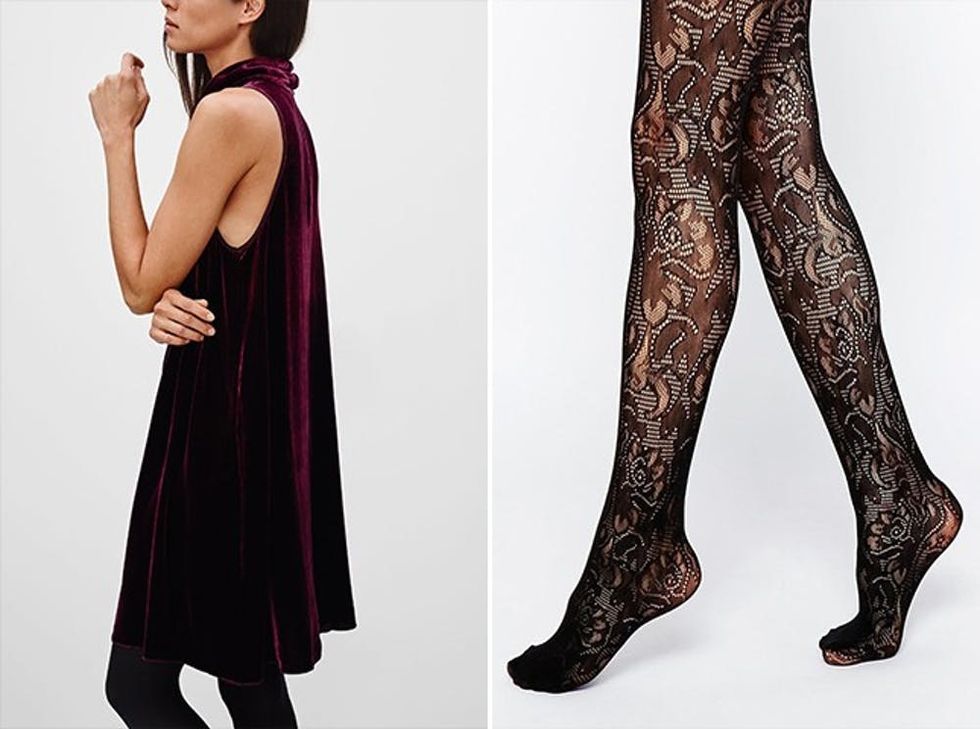 Jonathan Aston Tribute Over the Knee Tights ($27): Double up on texture for a flirty, feminine and totally modern feel with a super soft velvet swing silhouette and lacy sheers.
Pair a Velvet Dress With Textured Tights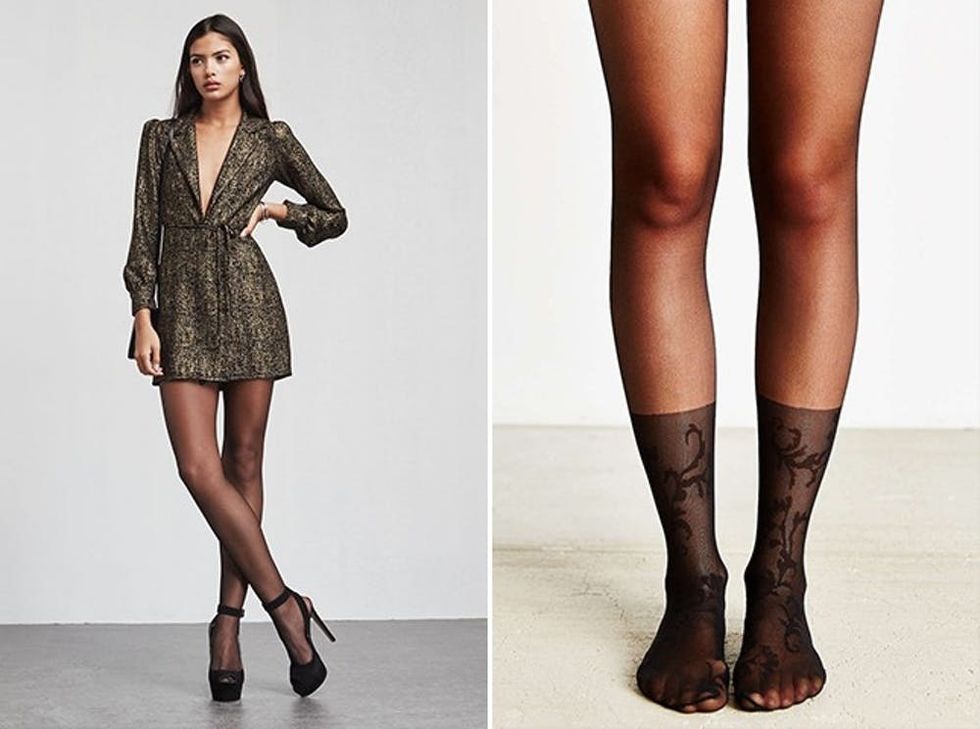 Placed Floral Sheer Tight ($14): Your chic style sensibilities don't have to go out the door for that office holiday party. This elegant collared dress is on-the-clock-party-appropriate (even more so paired with a lacy cami) and anything but boring. Pair it with these sock-inspired sheer tights with platform kicks.
Pair a Metallic Dress With Sock-Inspired Tights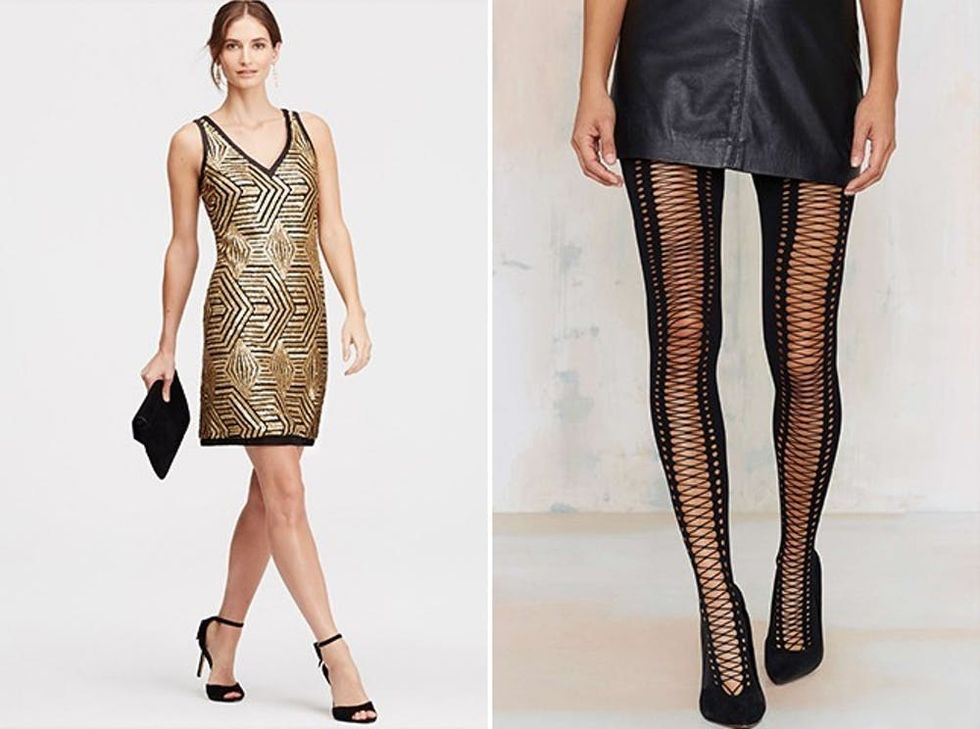 Piece of Opaque Lace-Up Tights ($18): A gorgeous geo pattern in dazzling sequins radiates glamour, making sure you don't go unnoticed, while trendy lace-up tights inject your party getup with a little edge.
Pair a Patterned Dress With Lace-Up Tights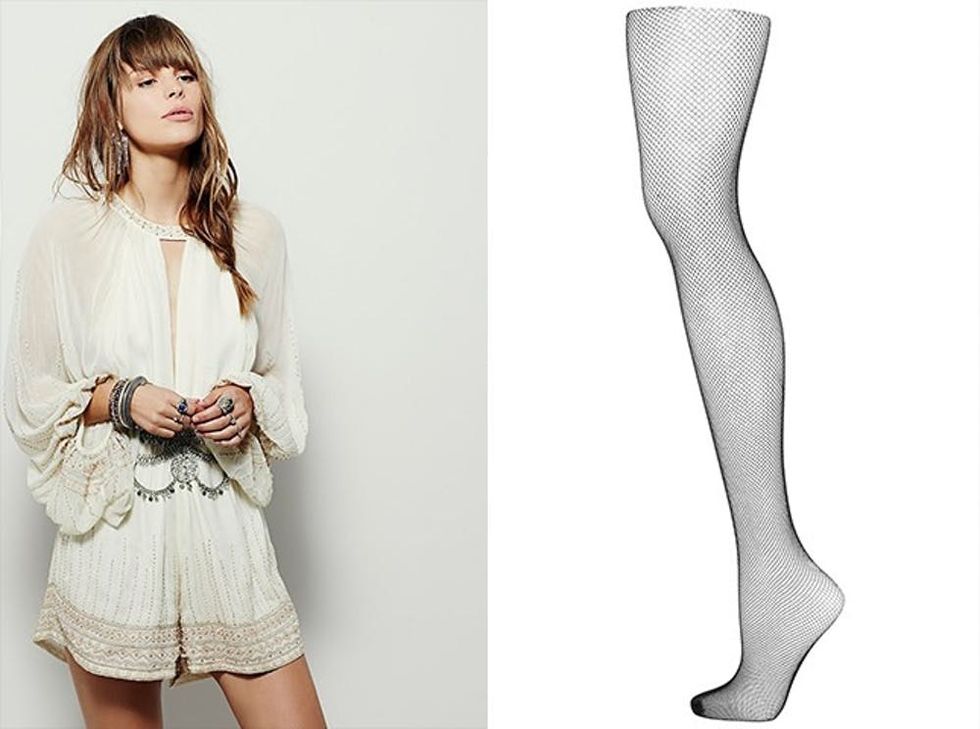 Topshop Micro Fishnet Tights ($12): With its light and airy fabric and snowy white hue, this stunning romper is both elegant and ethereal. A pair of micro-fishnets will add a subtle tough-girl undertone to the striking ensemble, while silvery accents solidify its status as the ultimate holiday look.
Pair a Winter Romper With Fishnet Tights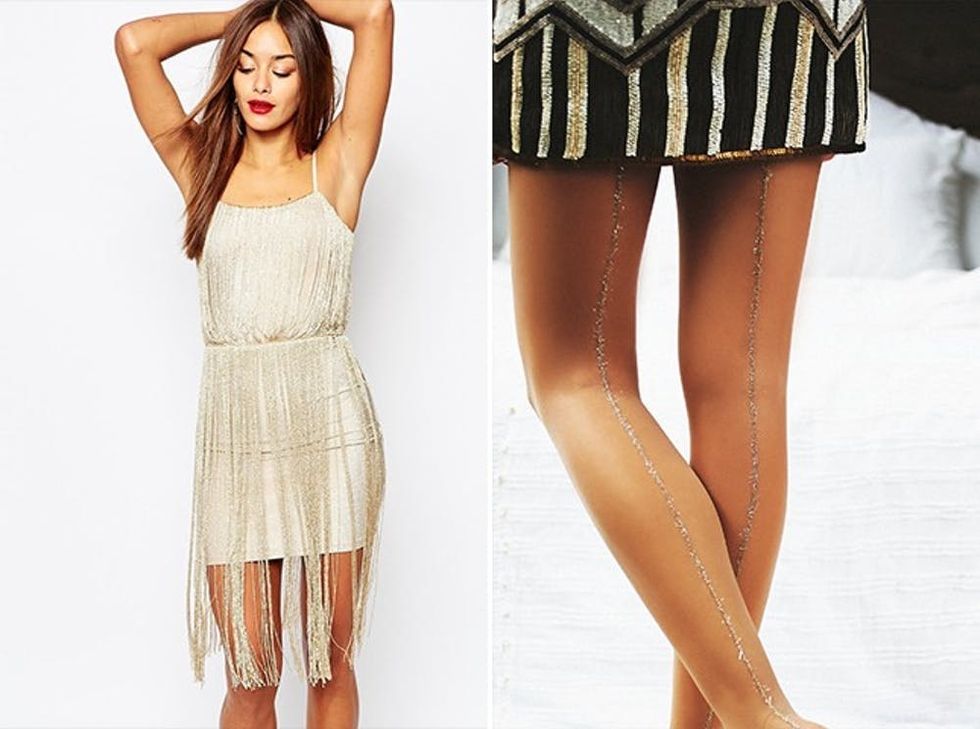 Memoi Backseam Lurex Tights ($20): When your party getup looks like this, it deserves a few equally eye-catching accessories, and that's where these shimmery striped tights come in. Complete the outfit with a gilded clutch and metallic steppers.
Pair a Fringe Dress With Backseam Tights
Libby MacCarthy
Libby MacCarthy is an urban planner turned writer with a love (bordering on unhealthy obsession) of all things fashion and beauty related. She lives for perfectly brewed coffee, farmer's markets, dinner parties and perusing impeccably designed boutiques. When she's not on the hunt for the latest trends, you'll likely find her plotting her next adventure or nose deep in a book. Libby currently splits her time between the East Coast and her adopted home of France. Follow her daily adventures on
Instagram
.