13 Ways to Personalize Your Pens and Pencils
Aug 24, 2014
Back to school time is here and that means stocking up on supplies like notebooks and pencils for the kids… and for you! This year, dress up those yellow no. 2s and blue Bics with a little personalization by way of paint, pom poms and tape. Now if anyone tries to steal your pencils — which they will once they get a load of these — you'll easily be able to identify the culprit!
---
1. Pom Pom Pens: You know all those free pens you get from the bank and the dentist? They sit around because you don't want to use them, because (real talk) they're ugly. Now you can totally dress them up and turn them into your new favorite free pen with this awesome pom pom DIY. (via The Casual Craftlete)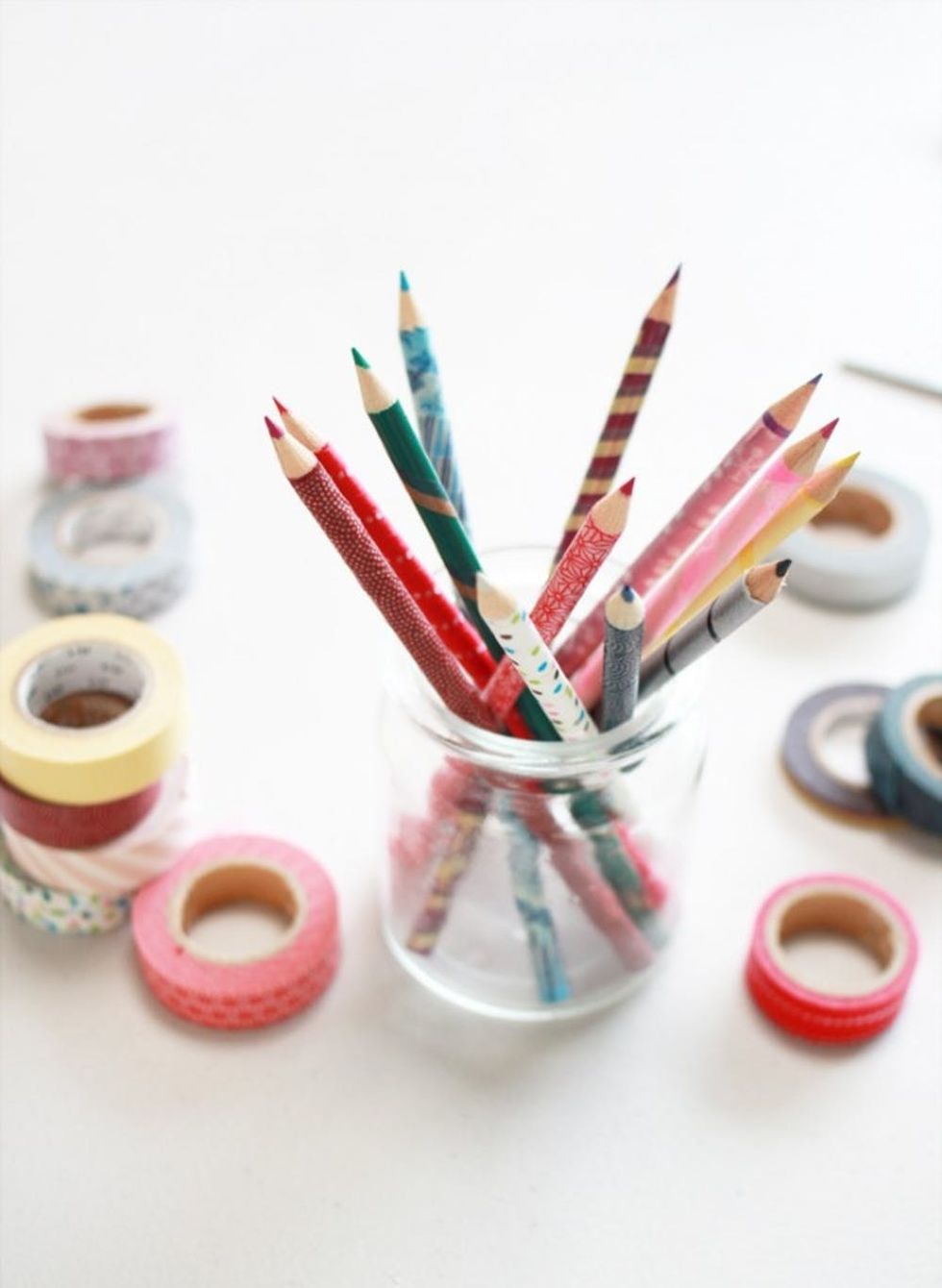 2. Washi Tape Pencils: We'll sum this tutorial up in five words: Hold pencil, wrap tape, finished. Give these to your kids for their first day of school. Your creations will act as a reminder that you are the coolest mom of all the moms. (via High Walls Blog)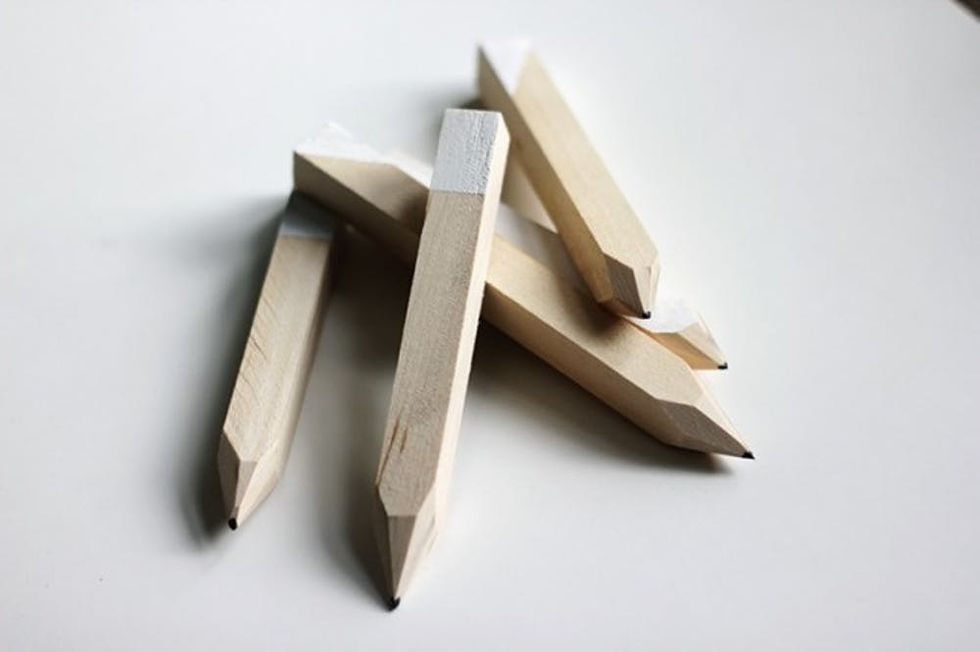 3. Wooden Pencils: Like what you see? These really are as easy as drilling a hole through a long piece of wood. This blogger chose to leave the pencils in their natural state, but they'd look pretty jazzy with some neon stripes. (via The Merry Thought)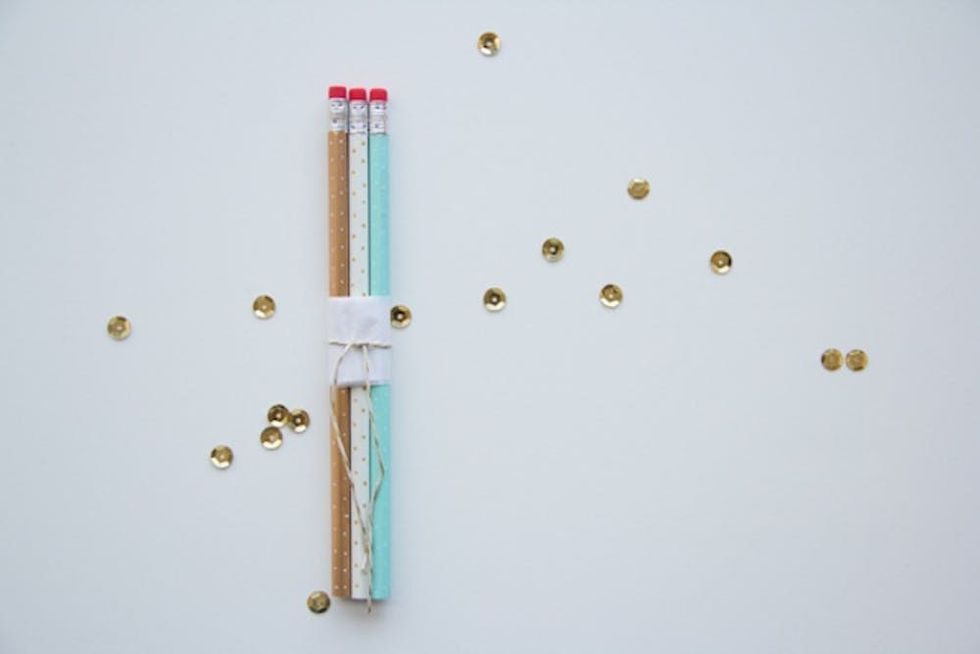 4. Polka Dot Pencils: A little bundle of gold polka-dotted pencils are so cute and easy to make. Just spray paint the pencil with your favorite colors, then draw dots on them with a gold Sharpie. This isn't rocket science, people… or even basic biology. It's just that easy! (via Lovely Indeed)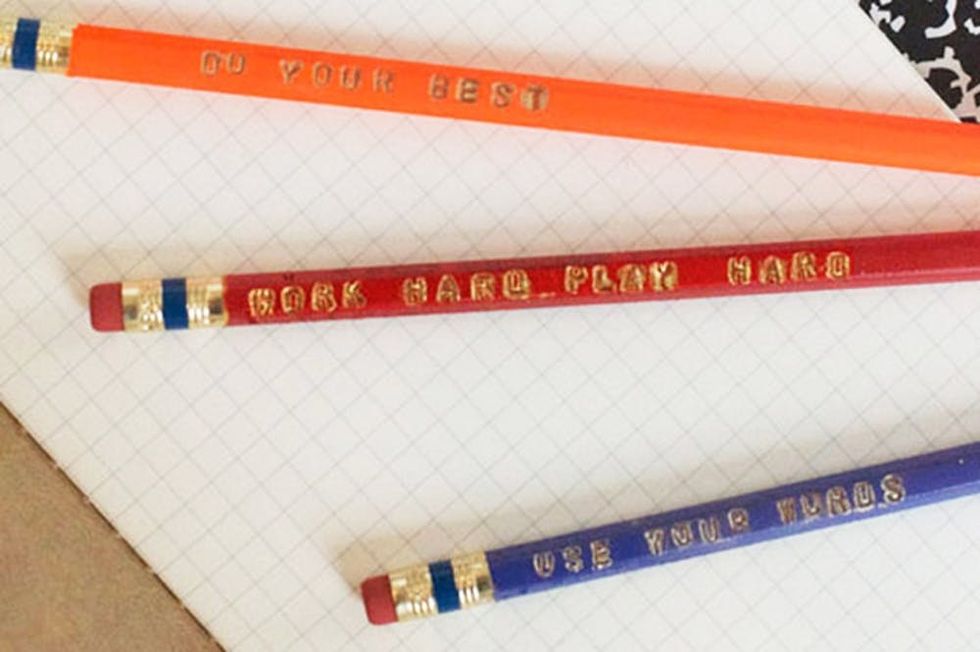 5. Stamped Pencils: Why use a plain old pencil when you can put a cute message on them! Instead of just writing on them with a Sharpie, make them a little fancier with gold stamps. (via Camille Styles)
6. Fabric Wrapped Tassel Pens: Tassels, there can never be too many tassels in our lives. (via Alyssa and Carla)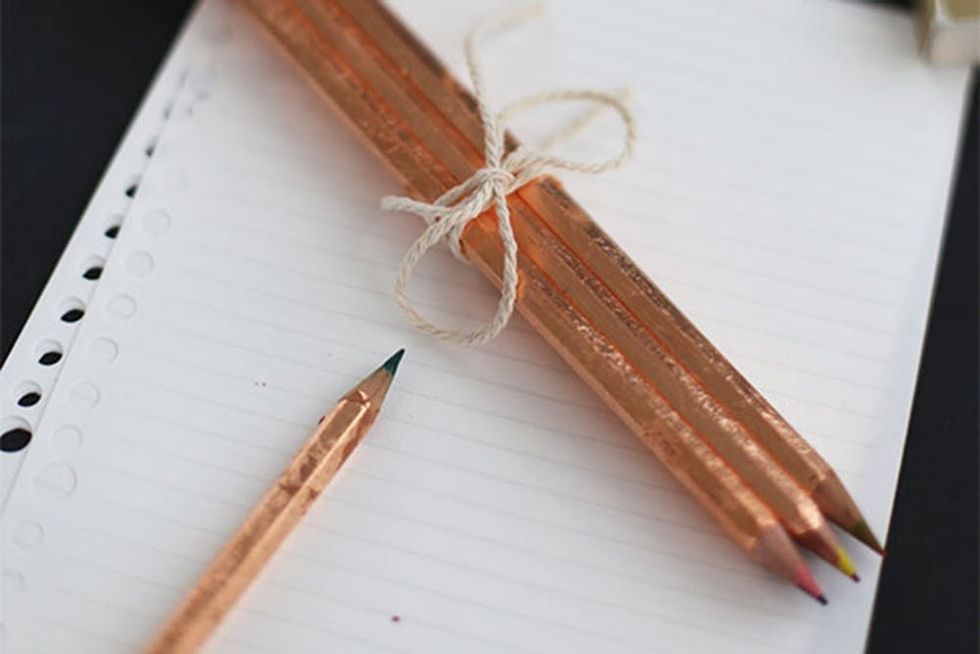 7. Glam Office Supplies: It's important to remember the golden rule when heading back to school: Dip everything in gold and you'll be almost too cool for school… but seriously, stay in school, kids. (via Say Yes to Hoboken)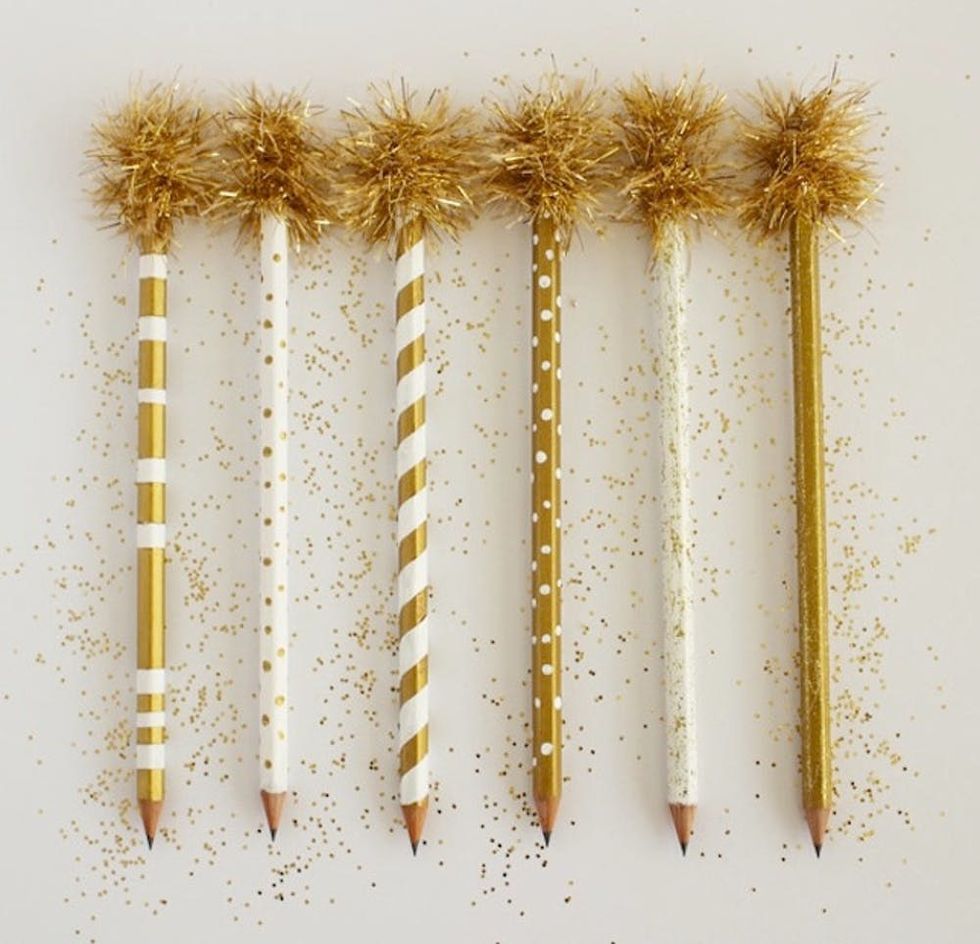 8. Gold Pencils: Give yourself a reason to celebrate everyday with these ridiculously festive party pencils. We don't know if we should write ourselves a note or use them as swizzle sticks. (via The DIY Dreamer)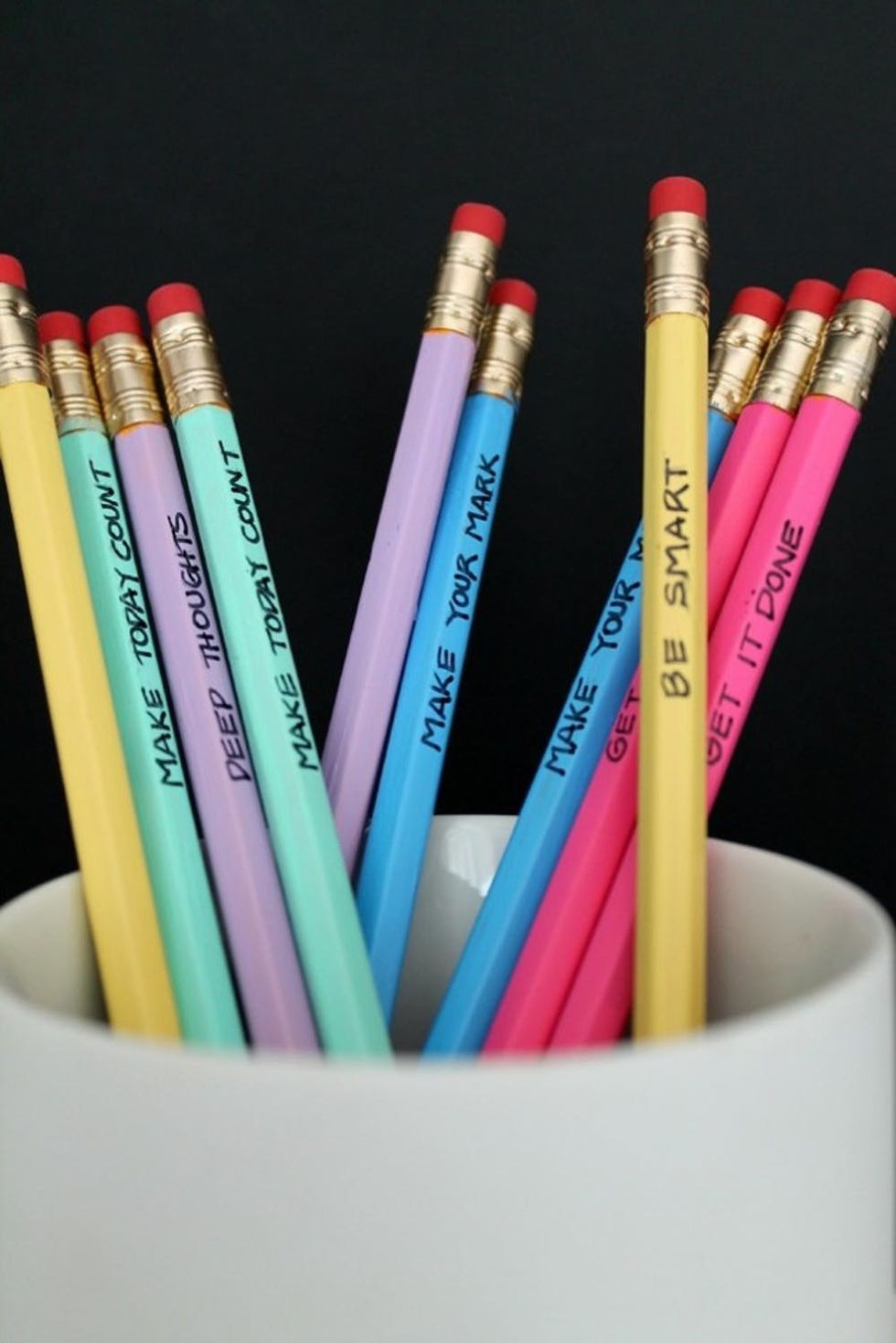 9. Happy Thoughts Pencils: Send your kids off to class with some pretty pencils that also carry an encouraging message. Such a sweet way to remind them you're thinking of them even while they're at school. (Awww, MOM!) (via Hello Natural)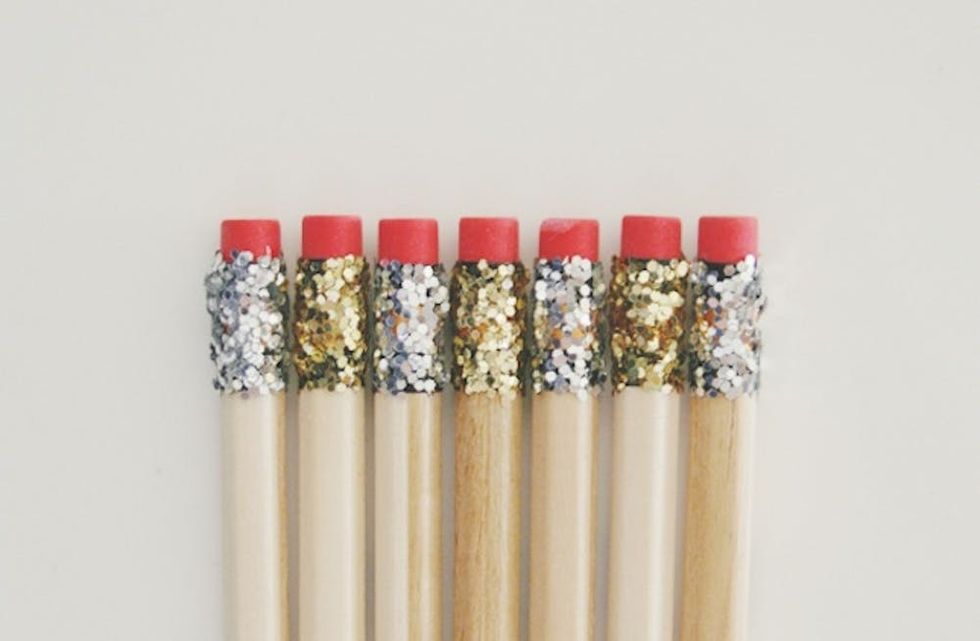 10. Glitter Pencils: Ridiculously easy and completely fabulous, these glittery beauties NEED to be on our desks. (via Lunch at Saks)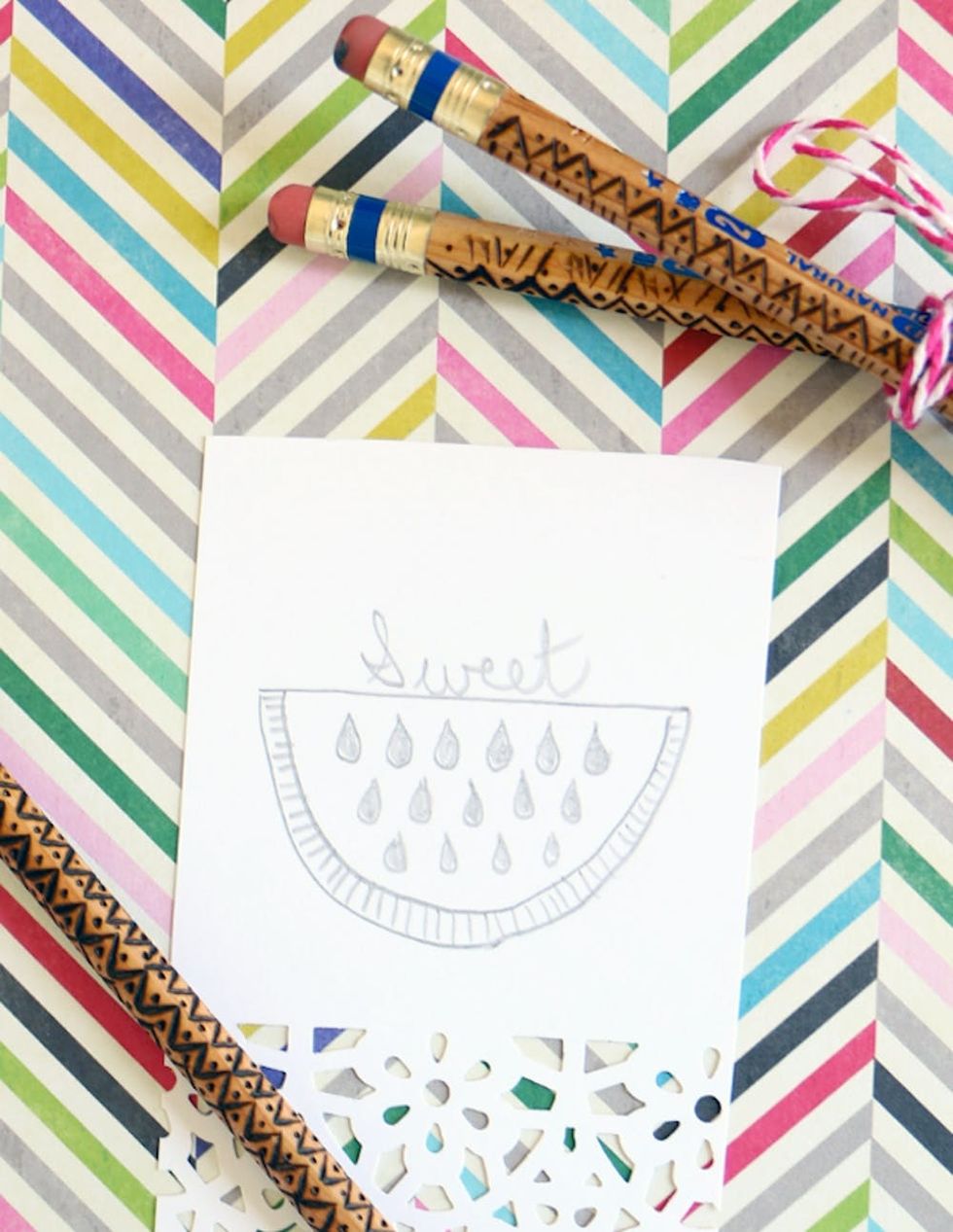 11. Wood Burned Pencils: Add a cool tribal look to your pencil with this wood burning technique. It's literally as easy as drawing with a hot pen. But unlike ink or paint, this design will never rub off! (via Blitsy Crafts)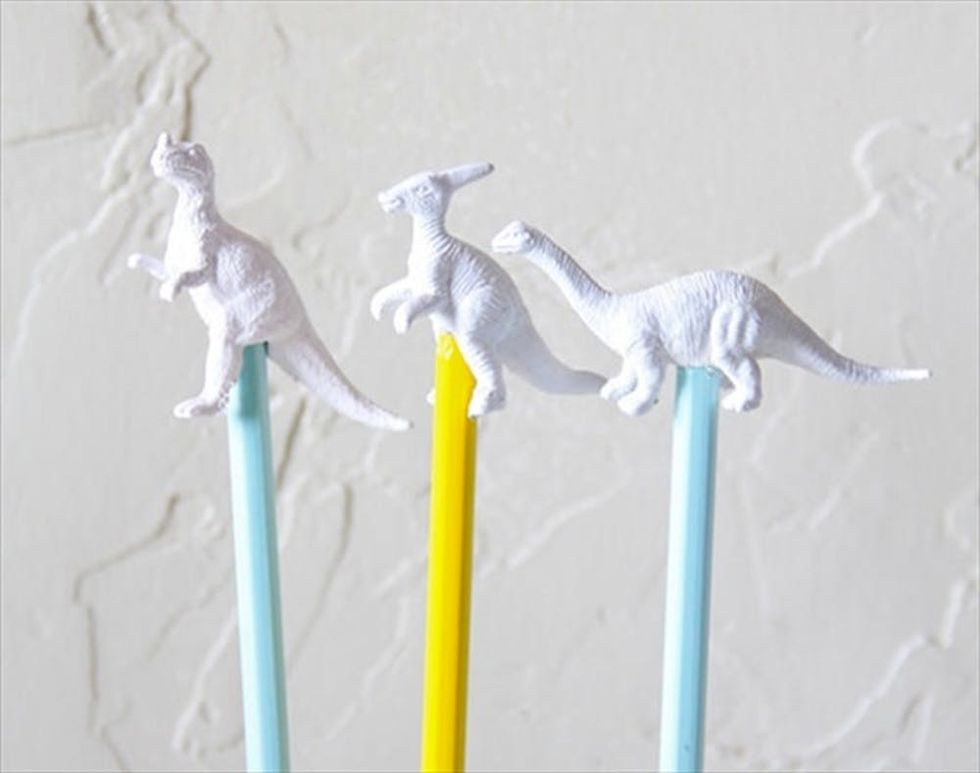 12. Animal Topper: Sure, the kids will love these, but we're digging them too! Play with all kinds of colors and animals to get the perfect zoo in your pencil cup. (via DIYS and Crafts)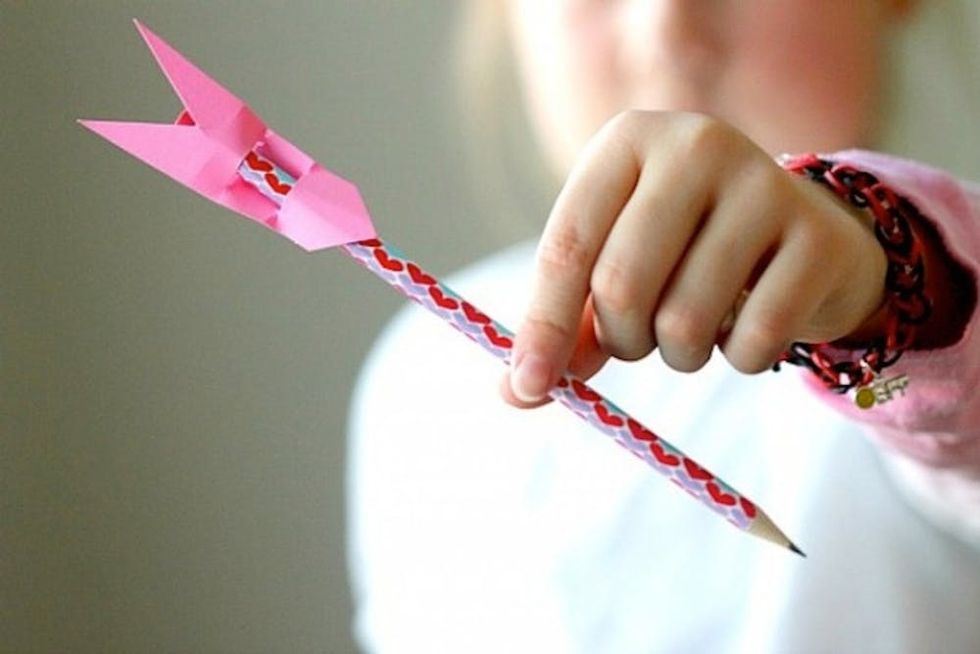 13. Cupid's Arrow Pencil: It doesn't have to be Valentine's Day to make some cute little, Katniss-approved pencils that look like arrows! (via Mom Dot)
What is your favorite way to personalize your desk accessories? Do you reach for pens or pencils? Talk to us in the comments below!