20 Quesadillas for Weeknight Meals in a Hurry
May 12, 2016
If you're a millennial, you're probably used to people saying that you're a part of the "instant gratification" generation. Just because you live for 30-minute dinners and express check-out doesn't mean that you're impatient — you're just busy! For those hectic nights, quesadilla recipes make the best quick meal with the added bonus of a quick cleanup. These aren't the same dorm room recipes you fixed in the microwave — these adult quesadillas are filled with everything from curried kale to a classic Caprese. Break out your favorite cheeses and have Siri set your timer, because these 20 quesadillas will get you through dinner in no time.
---
1. Spinach and Artichoke Quesadillas: When in doubt, turn your favorite dip into a rad quesadilla filling. By using frozen spinach and canned artichoke hearts, you'll make even quicker work of your dinner, all while adding a ton of nutritional benefits. (via The Whole Bite)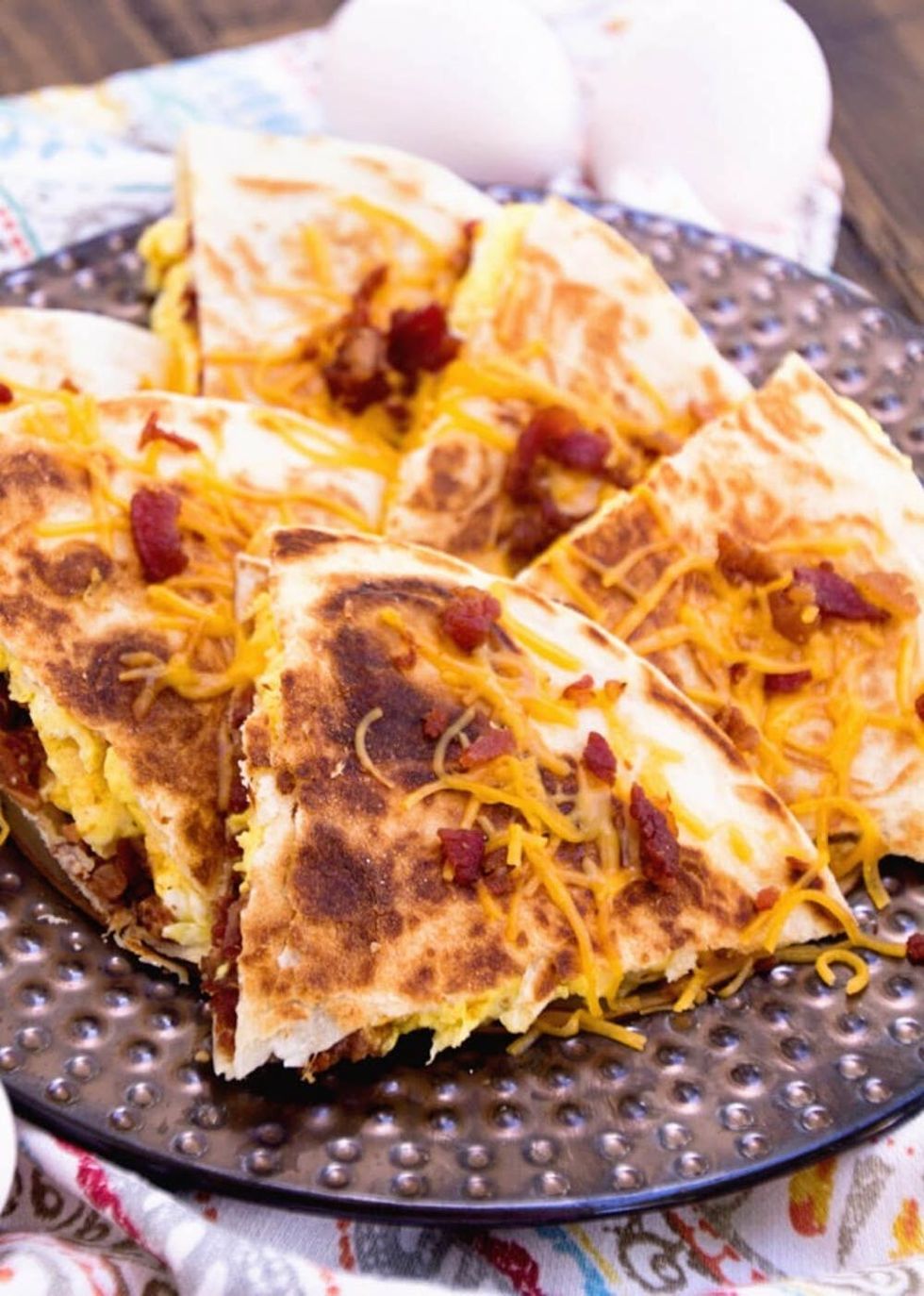 2. Bacon, Egg and Cheese Quesadillas: Whether you want to whip up an on-the-go breakfast or a quick "brinner" to ease that craving, this quesadilla will do the trick. You can even use bacon bits instead of frying bacon if you're in a real hurry. (via Julie's Eats and Treats)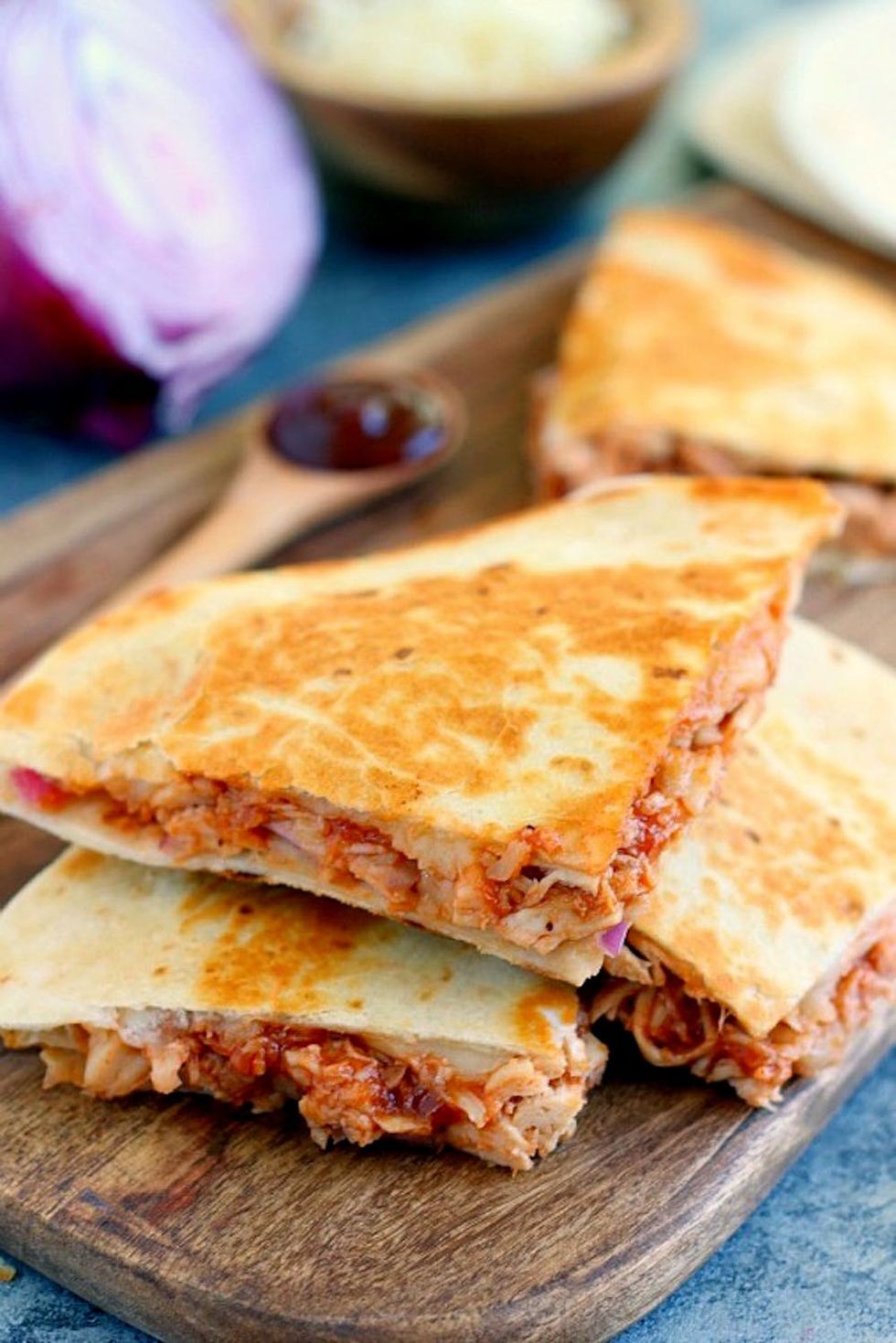 3. BBQ Chicken Quesadilla: Leftovers are the quickest option for a delicious quesadilla filling. Simply shred your BBQ chicken from the night before and add a mound of your favorite cheese for an instant upcycled dinner. (via Pumpkin 'n Spice)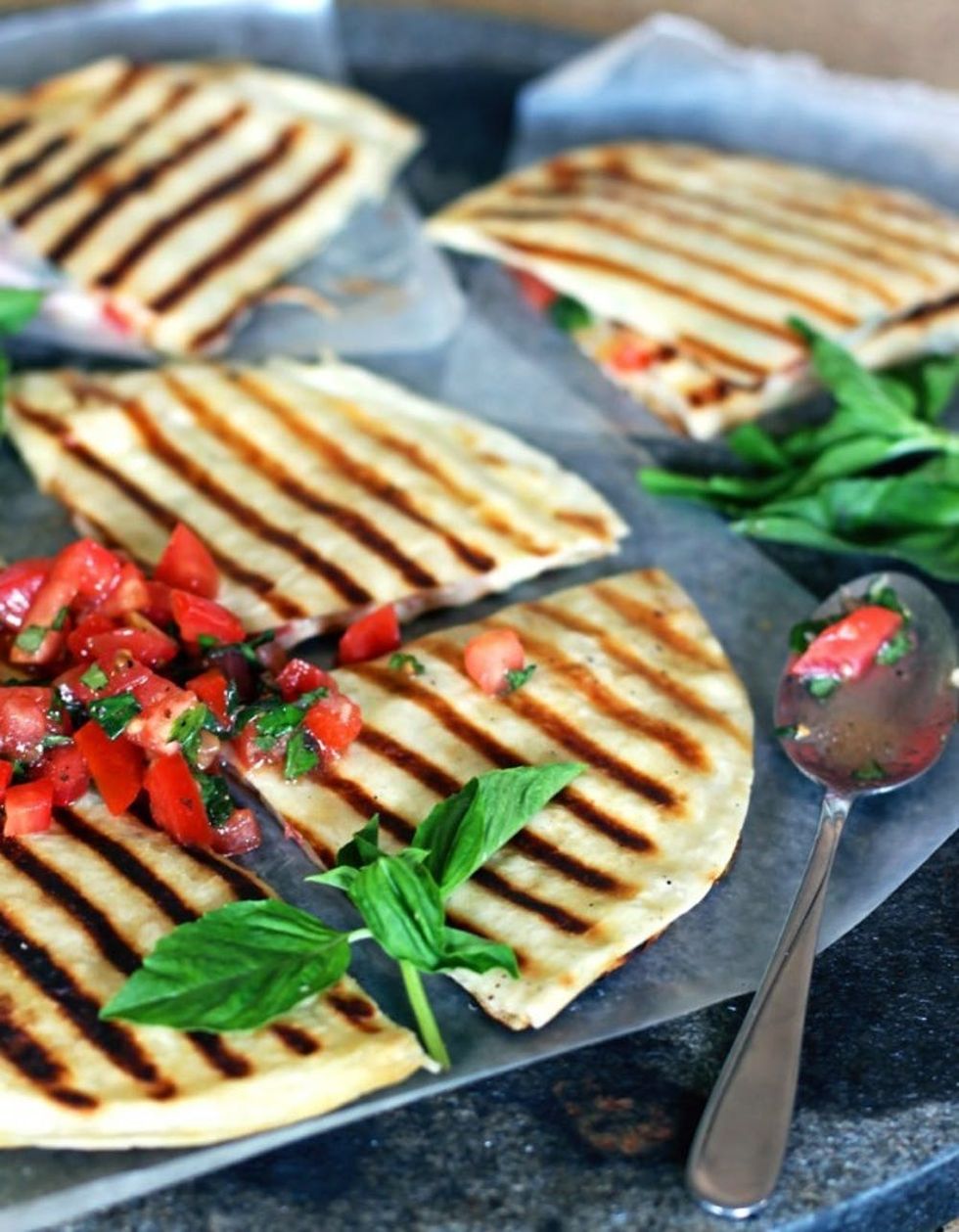 4. Caprese Quesadillas: Who can say no to a quesadilla filled with fresh mozzarella, balsamic vinegar, tomatoes and basil? It's a classic Italian combo that has an epicurean feel with little effort. It's simply perfection. (via Bits of Umami)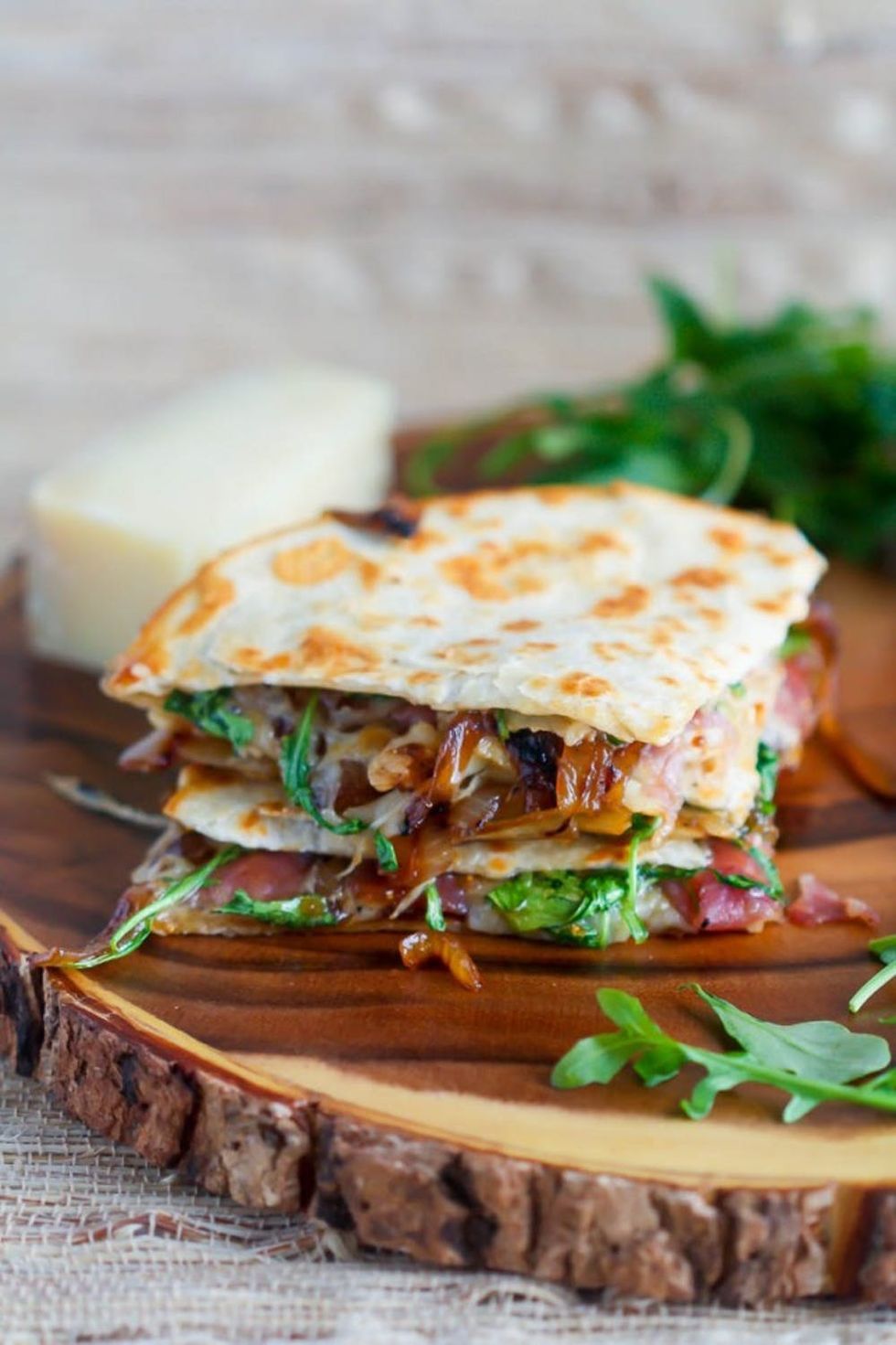 5. Caramelized Onion, Prosciutto and Fig Quesadillas: This fancy-pants quesadilla is one you'd see on the menu at a hot new bistro. It may take a little more effort than some, but it's SO worth it. (via What Should I Make For…)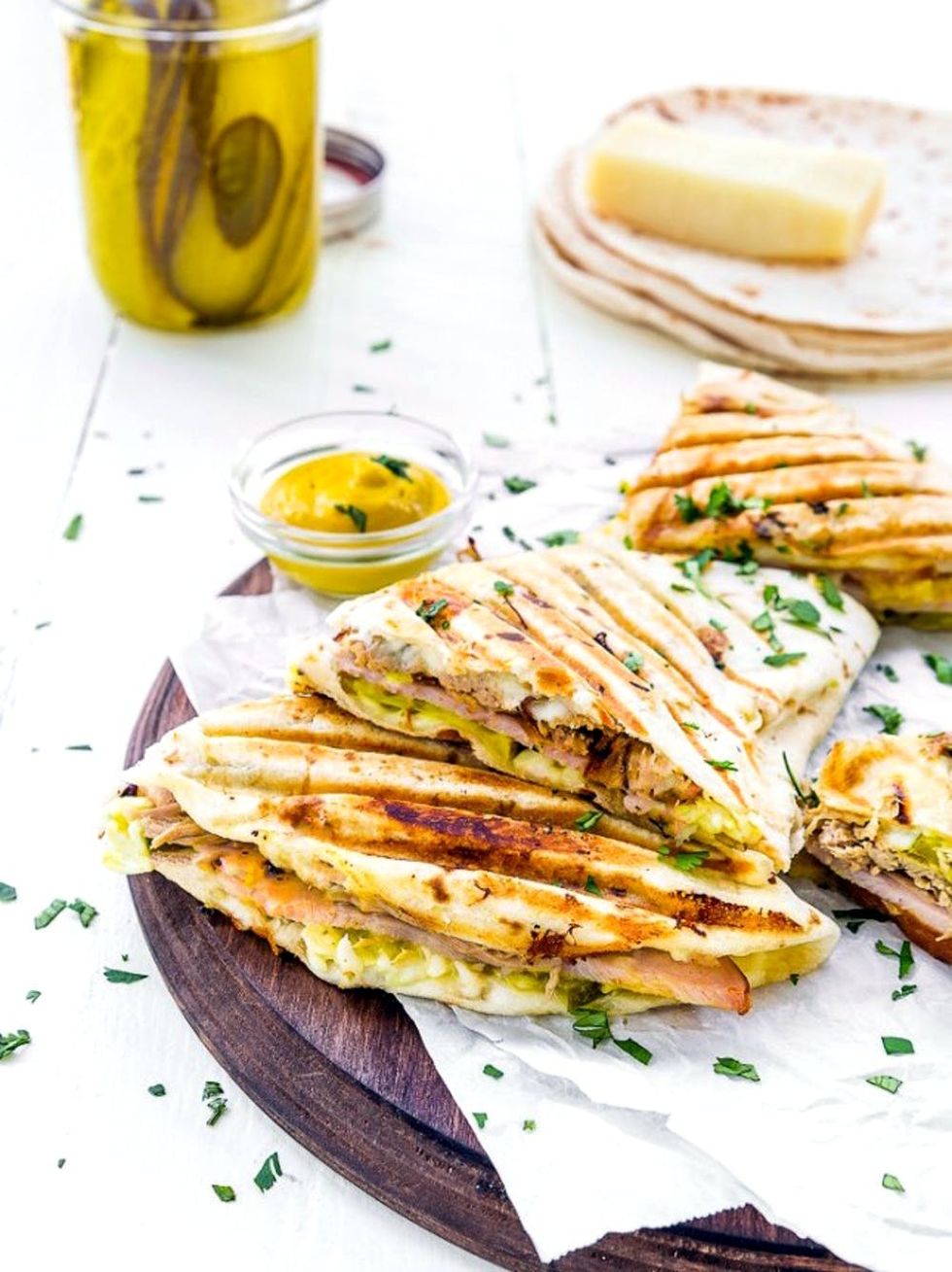 6. Cuban Quesadilla: Just because a quesadilla is a fairly simple meal doesn't mean it doesn't deserve a little extra attention. Start the pork in your slow cooker before work, and when you come home, your house will be filled with the aroma of Cuban food. From there, dinner will take a mere 10 minutes. (via Mommyhood's Diary)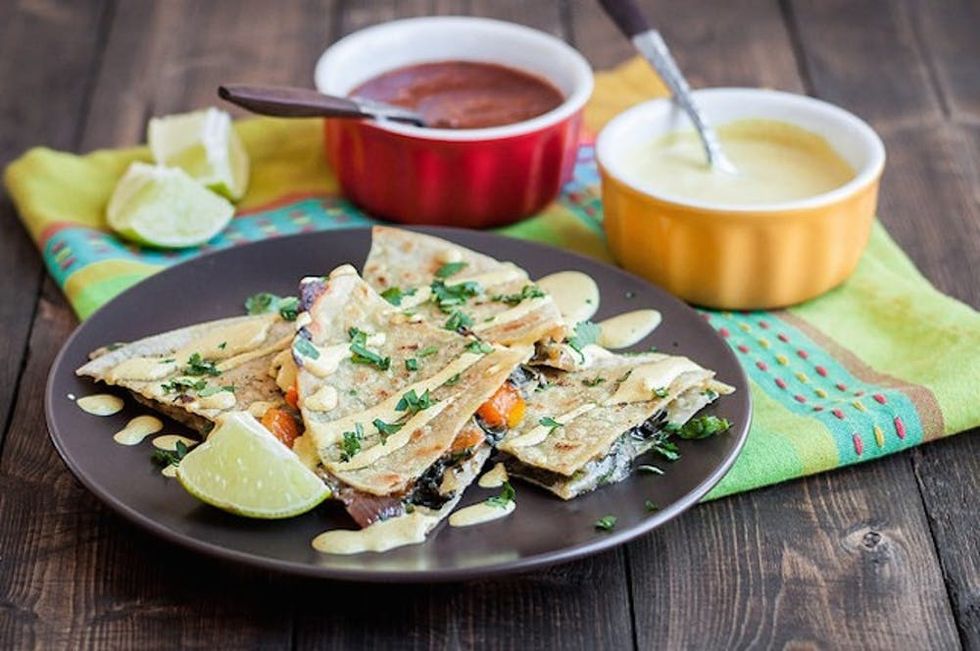 7. Curry Kale Quesadillas With Sweet Pepper Sour Cream: Say hello to your newest meatless-Monday fave. If you like a meal that packs a big flavor punch without a lot of labor, this quesadilla is your new go-to. Heads up: You'll want to slather that sweet pepper sour cream on everything. (via Natural Comfort Kitchen)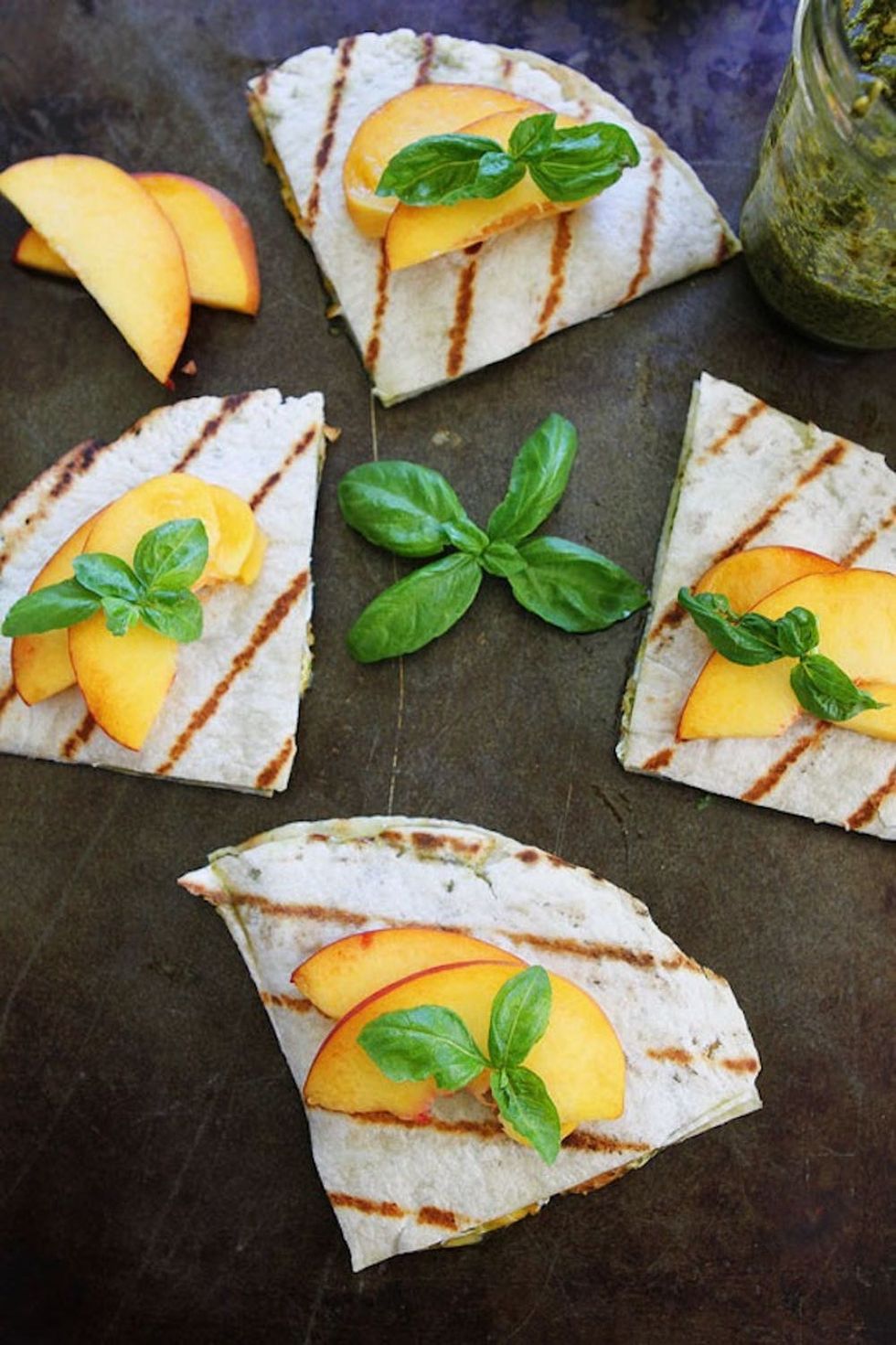 8. Grilled Peach, Pesto and Mozzarella Quesadillas: Four ingredients is all it takes to make these sweet and savory grilled quesadillas. For a fun girls' night in, have all of the ingredients ready to go and your guests can build their own. (via Two Peas and Their Pod)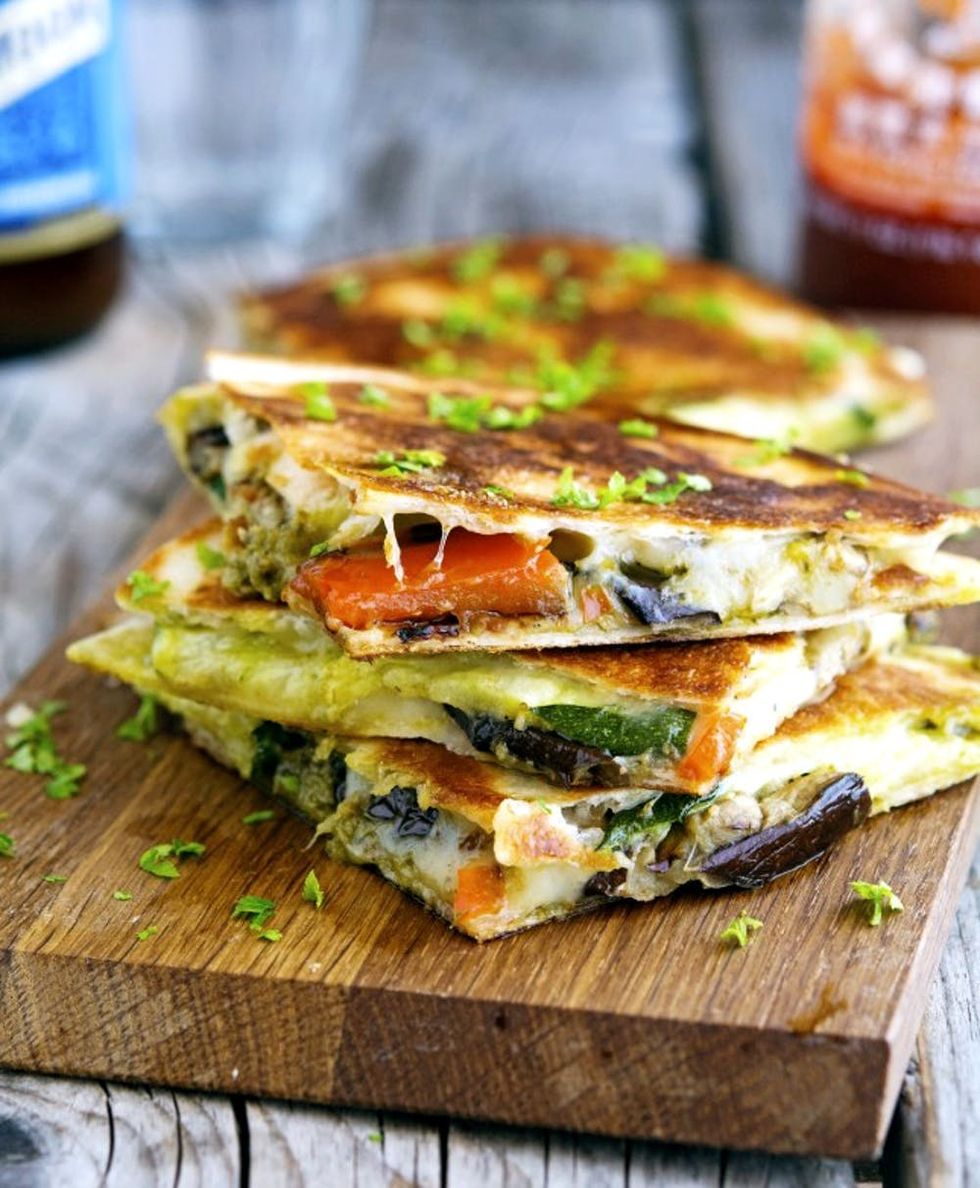 9. Grilled Vegetable Quesadillas With Kale Pesto: It may be tempting to stuff your quesadilla to the max with these delicious grilled vegetables, but you must resist. Over-filling your quesadilla leads to a messy flip, and nobody wants that. If you still find it difficult to flip your quesadilla, try using a plate to turn it over and slide it back into the pan to finish cooking. (via The Iron You)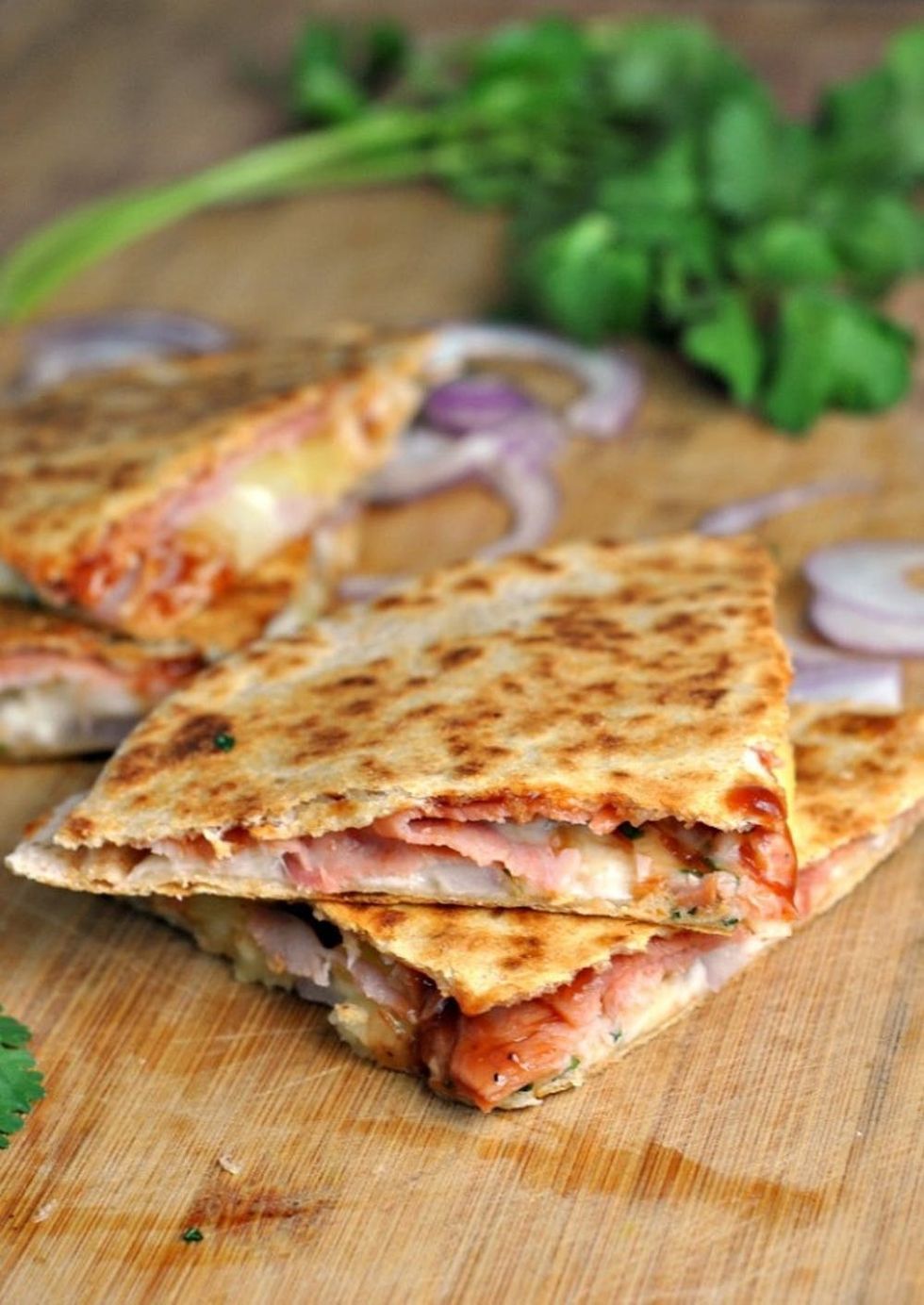 10. Hawaiian Pizza Quesadilla: For nights when you have a major Hawaiian pizza craving but no dough handy, this quesadilla will save the day. Plus, it's ready in way less time than a pizza delivery. (via Prevention RD)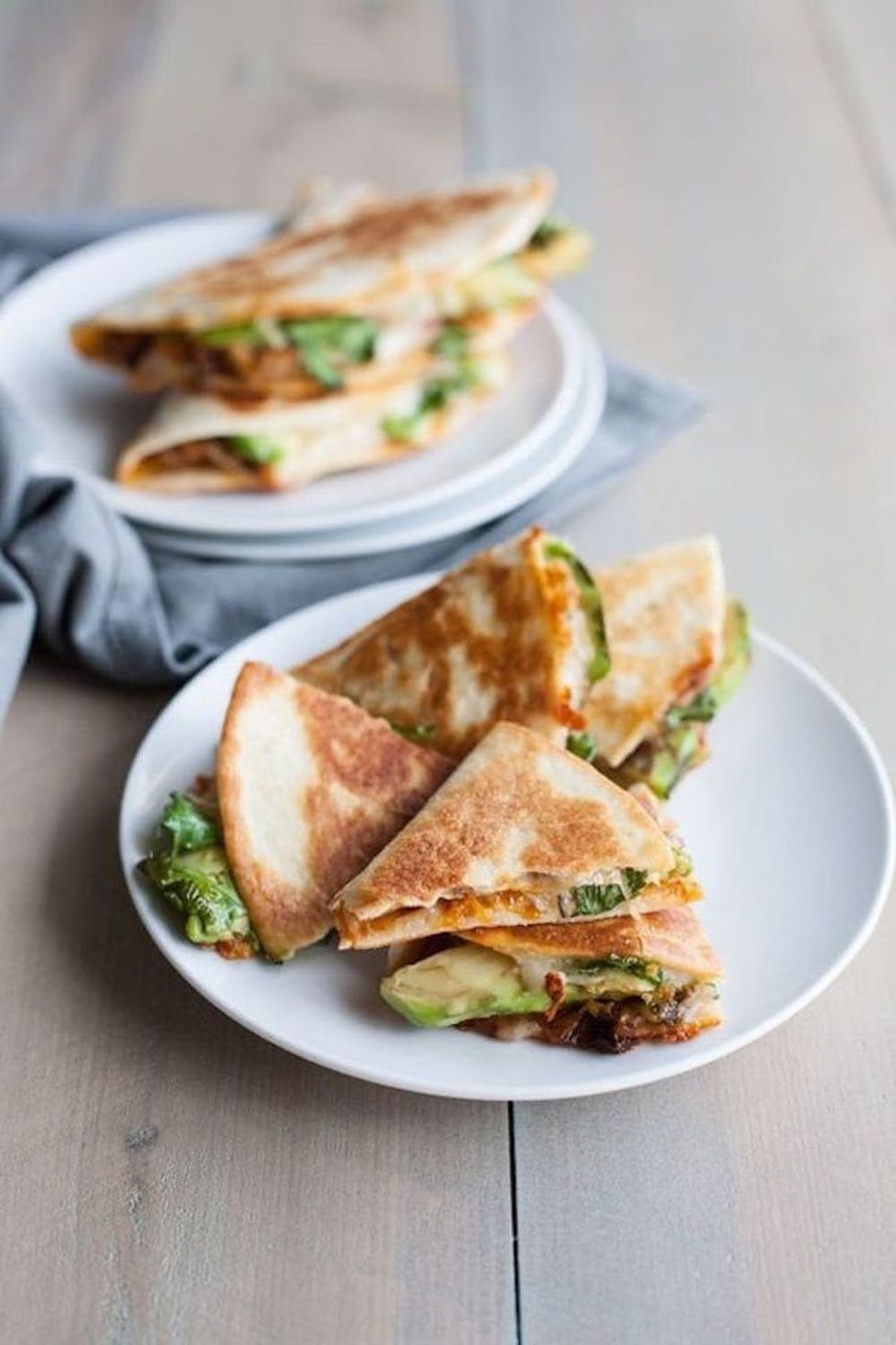 11. Kimchi Quesadillas: That kimchi that's been sitting in your fridge for a while is *finally* getting its shining moment. It's sautéed until warm and crispy, then slathered on top of a tortilla and covered with mozzarella. Add some buttery avocado to the top and all of your dinner dilemmas are solved. (via Bourbon and Honey)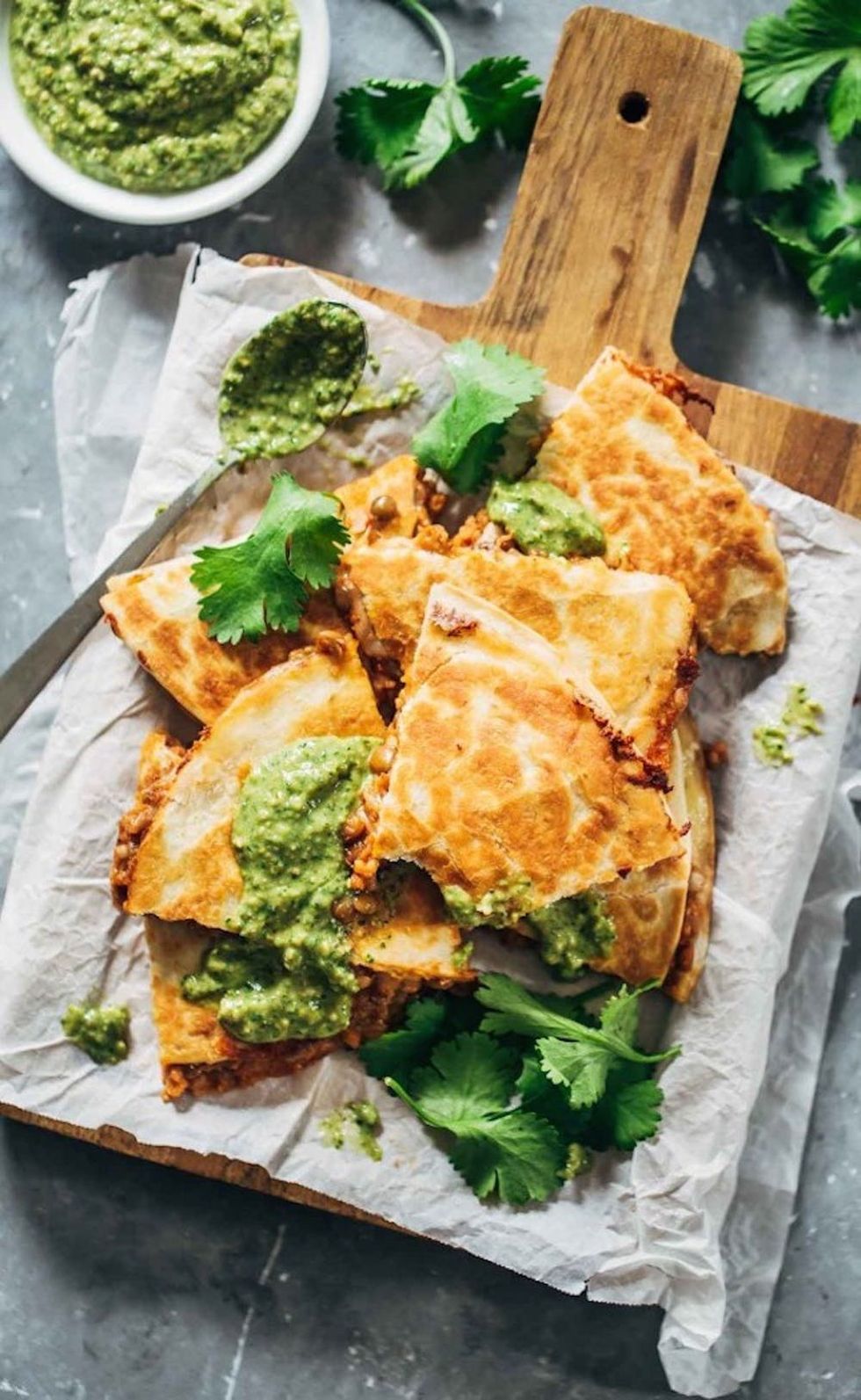 12. Quick and Easy Lentil Quesadillas: If you think a quesadilla isn't filling enough for dinner, think again. These quesadillas are full of spicy lentils, brown rice and pepper jack cheese, making them vegetarian-friendly AND filling. (via Pinch of Yum)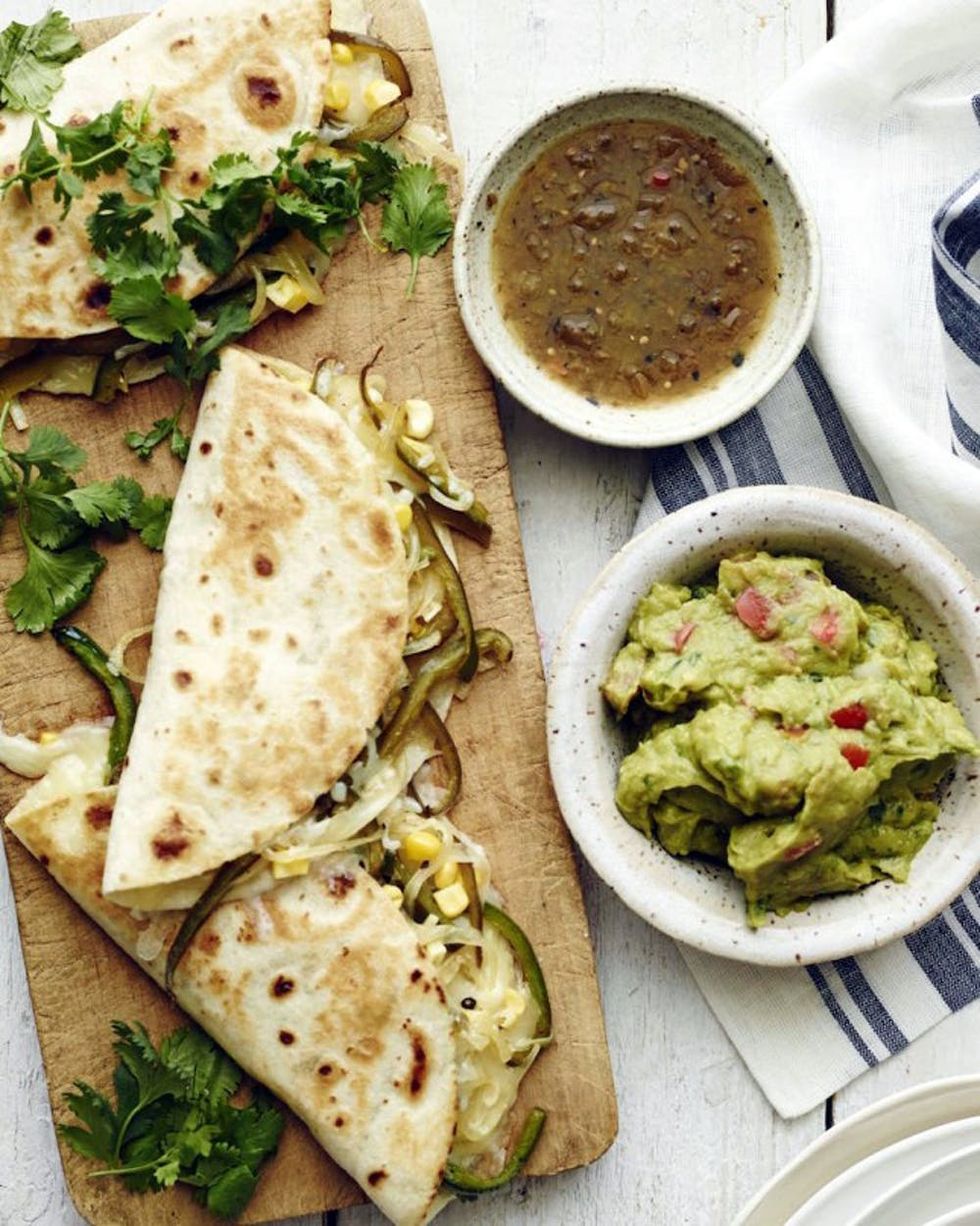 13. Poblano Corn Quesadillas: Get back to basics with this sweet and smokey quesadilla with poblano peppers and corn. Serve with a side of guac and a frosty margarita to complete the meal. (via What's Gaby Cooking)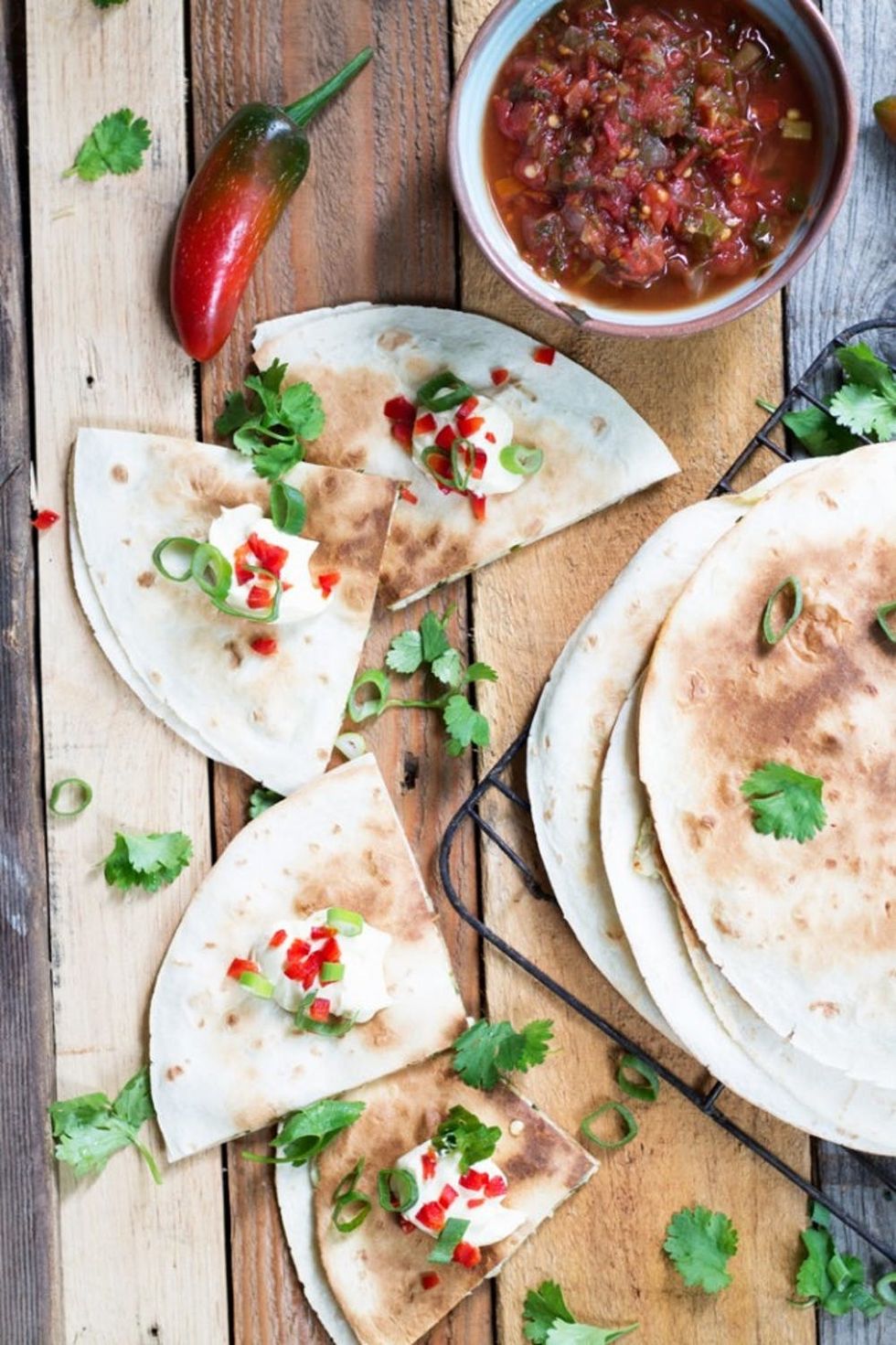 14. Chicken and Jalapeño Quesadillas: Raise your hand if you like things spicy! Fresh jalapeños give this quesadilla a serious kick, but you could always balance the heat with a little extra sour cream. (via My Littler Larder)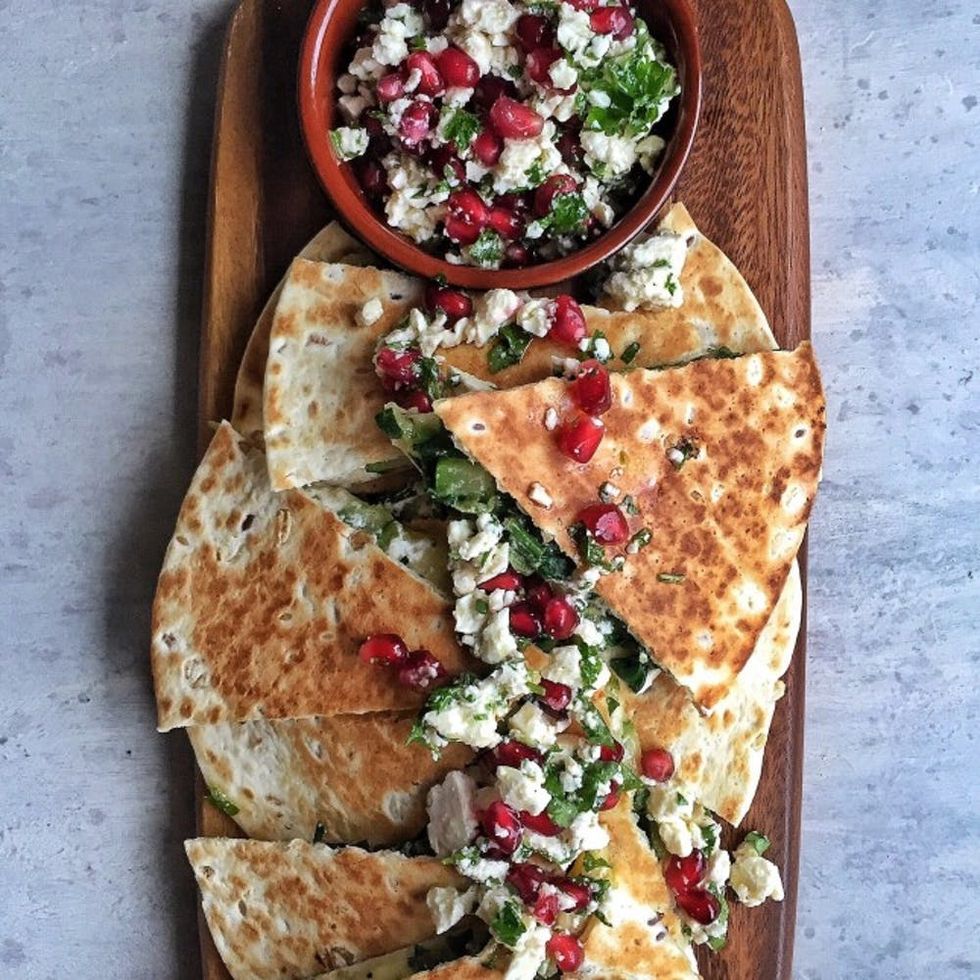 15. Spinach and Zucchini Quesadillas With Pomegranate and Feta Salsa: It's not often that you find a restaurant-worthy meal that's elegant AND that you can eat with your hands. This quesadilla hits so many flavor notes and comes together in only 10 minutes. (via Cravings in Amsterdam)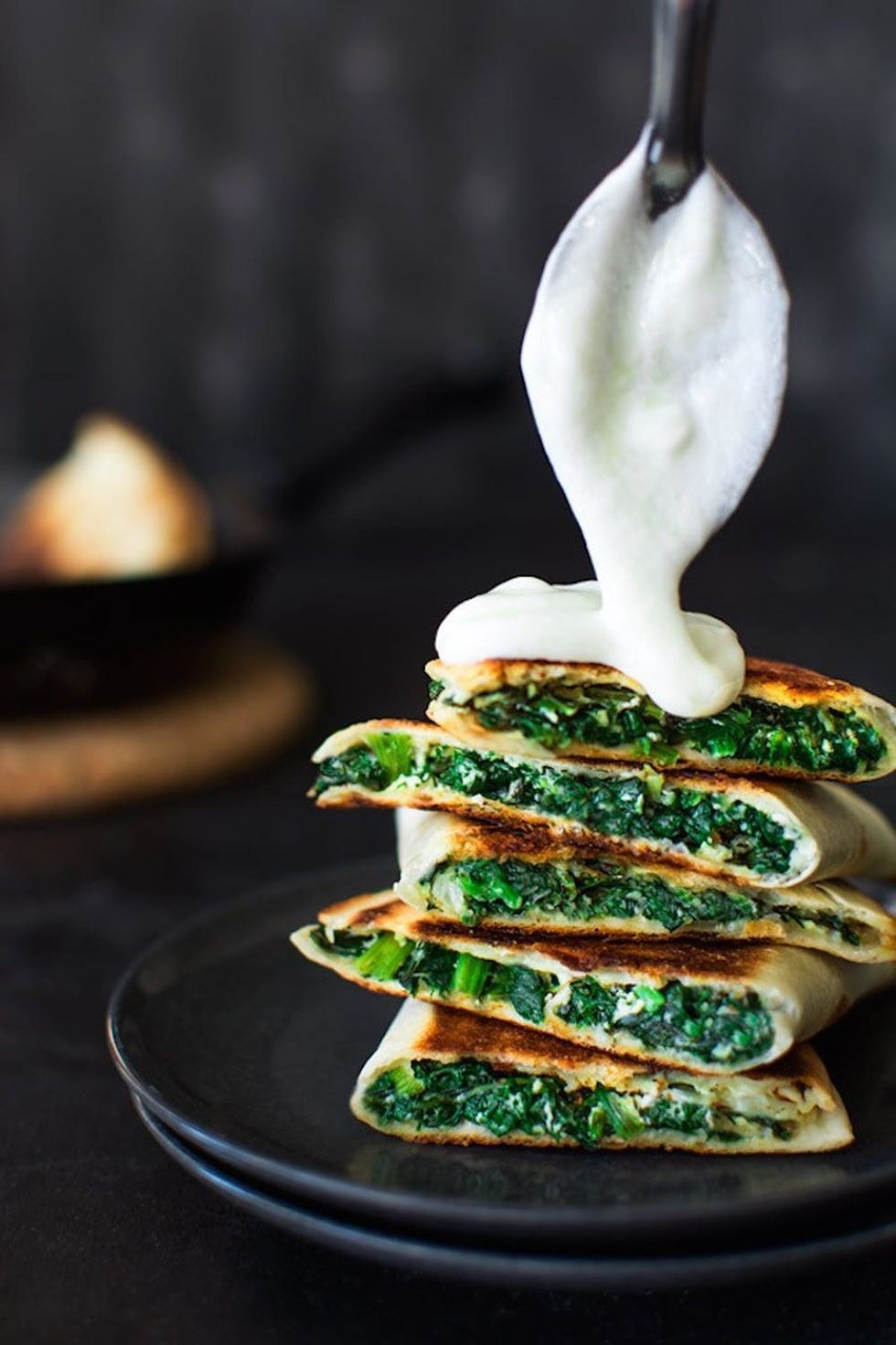 16. Spanakopita Quesadilla: Traditional Greek Spanakopita takes over an hour to make. Skip the frozen phyllo dough and whip up this quesadilla version in under 20 minutes. Serve with homemade tzatziki sauce to enjoy even more Greek flavor. (via Cooktoria)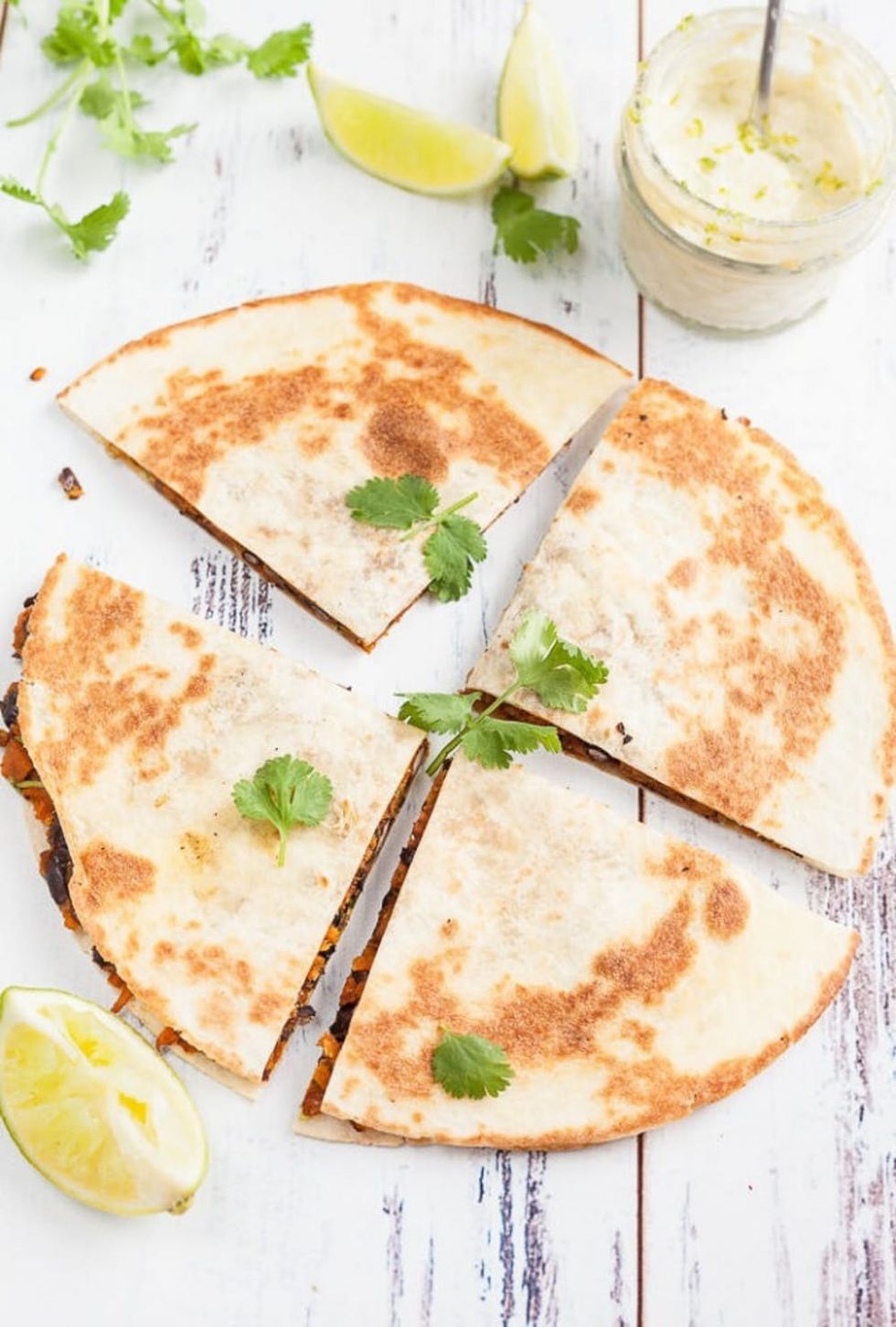 17. Sweet Potato Quesadilla With Black Beans and Harissa: While most quesadillas are loaded with cheese, this vegan version is completely cheese-free. Whether you're vegan, dairy-free or simply not a fan of fromage, this quesadilla will win your heart. (via Delicious Everyday)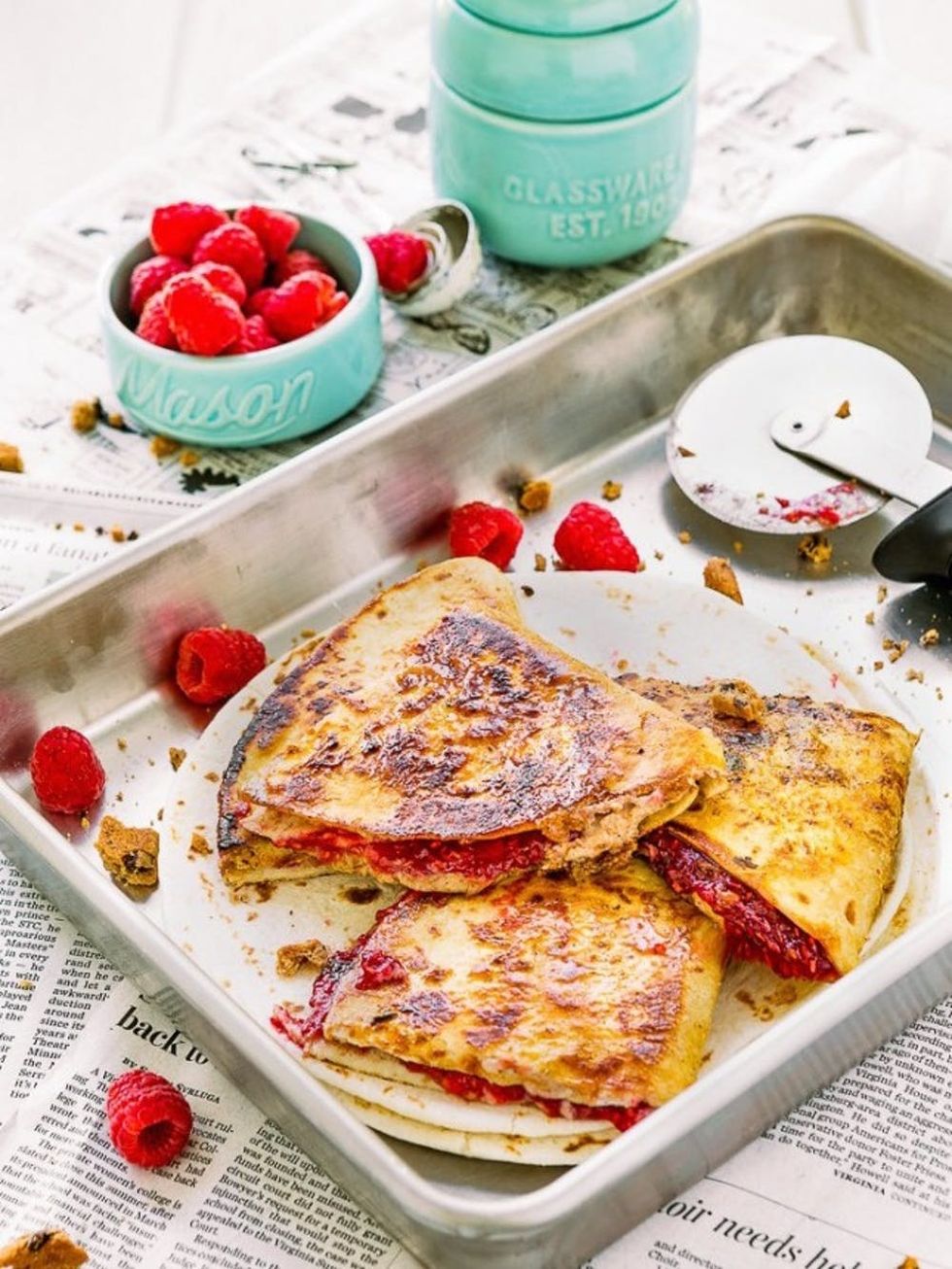 18. Sweet Raspberry Chocolate Chip Quesadilla: If a dessert quesadilla for dinner is wrong, then we don't want to be right. There may even be crumbled chocolate chip cookies on the inside, along with cream cheese and raspberry jam. Yes, please. (via Mommyhood's Diary)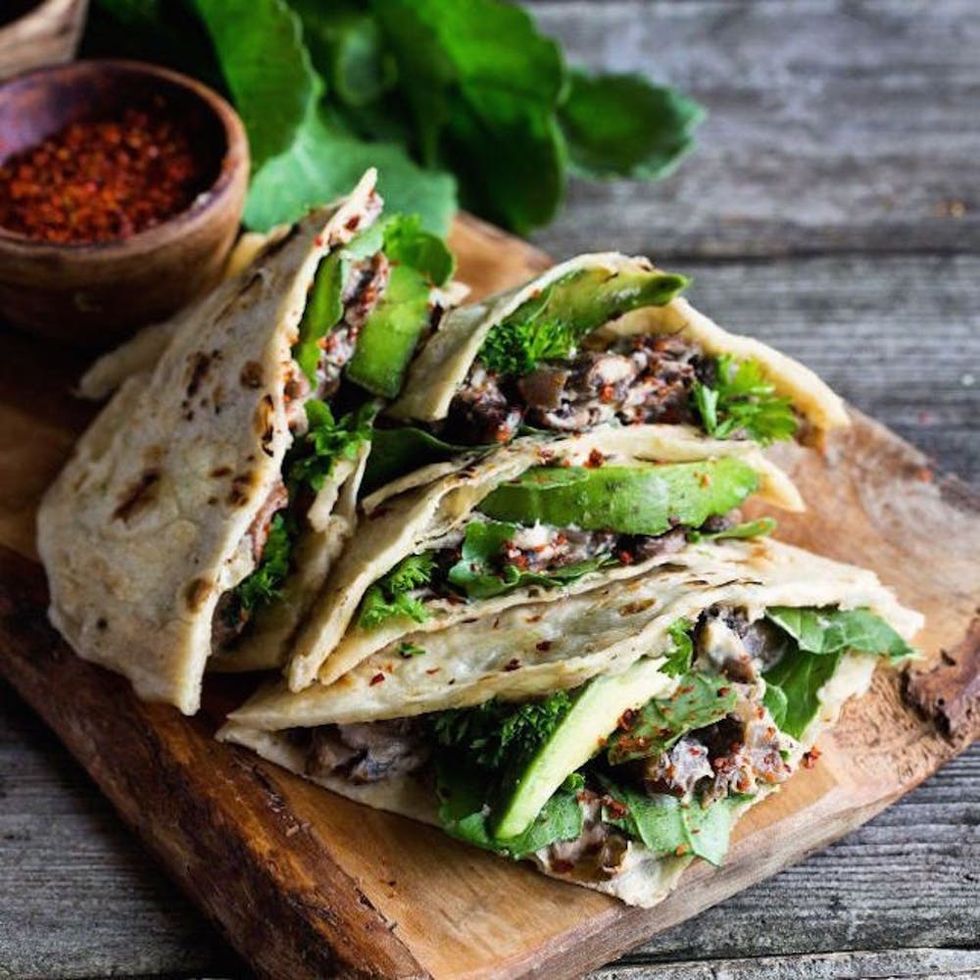 19. Sautéed Mushroom and Avocado Quesadillas: You can definitely feel good about eating this veggie-filled quesadilla. If you have a panini press, try using it to make the top and bottom cook at the same time so you don't have to worry about flipping. (via Dreamy Leaf)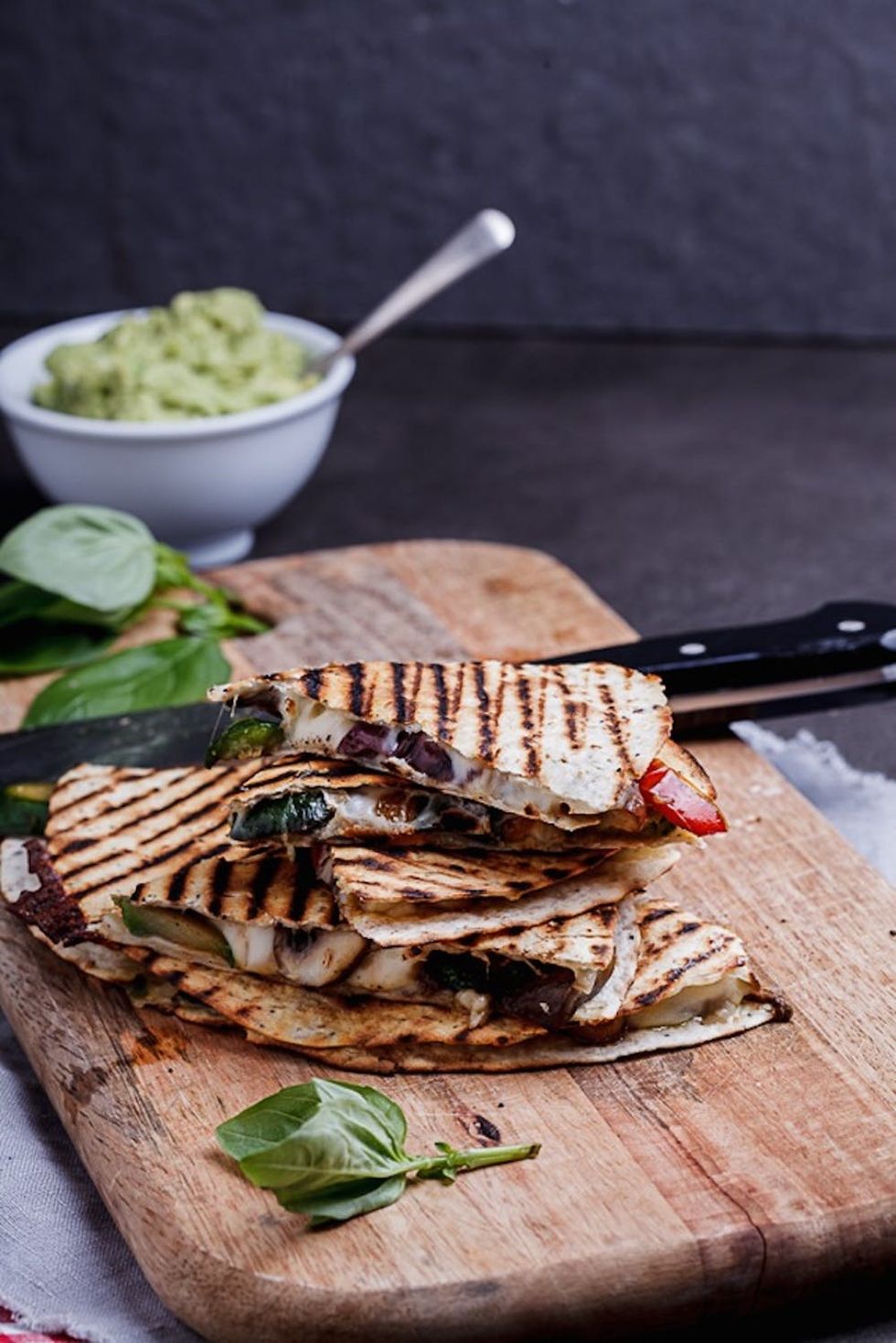 20. Vegetable-Loaded Pizza Quesadillas: This quesadilla calls for over a cup of vegetables and tastes like your favorite brick-oven pizza order. It really doesn't get much better than that. (via Simply Delicious)
Follow us on Pinterest for more easy + delicious recipe ideas.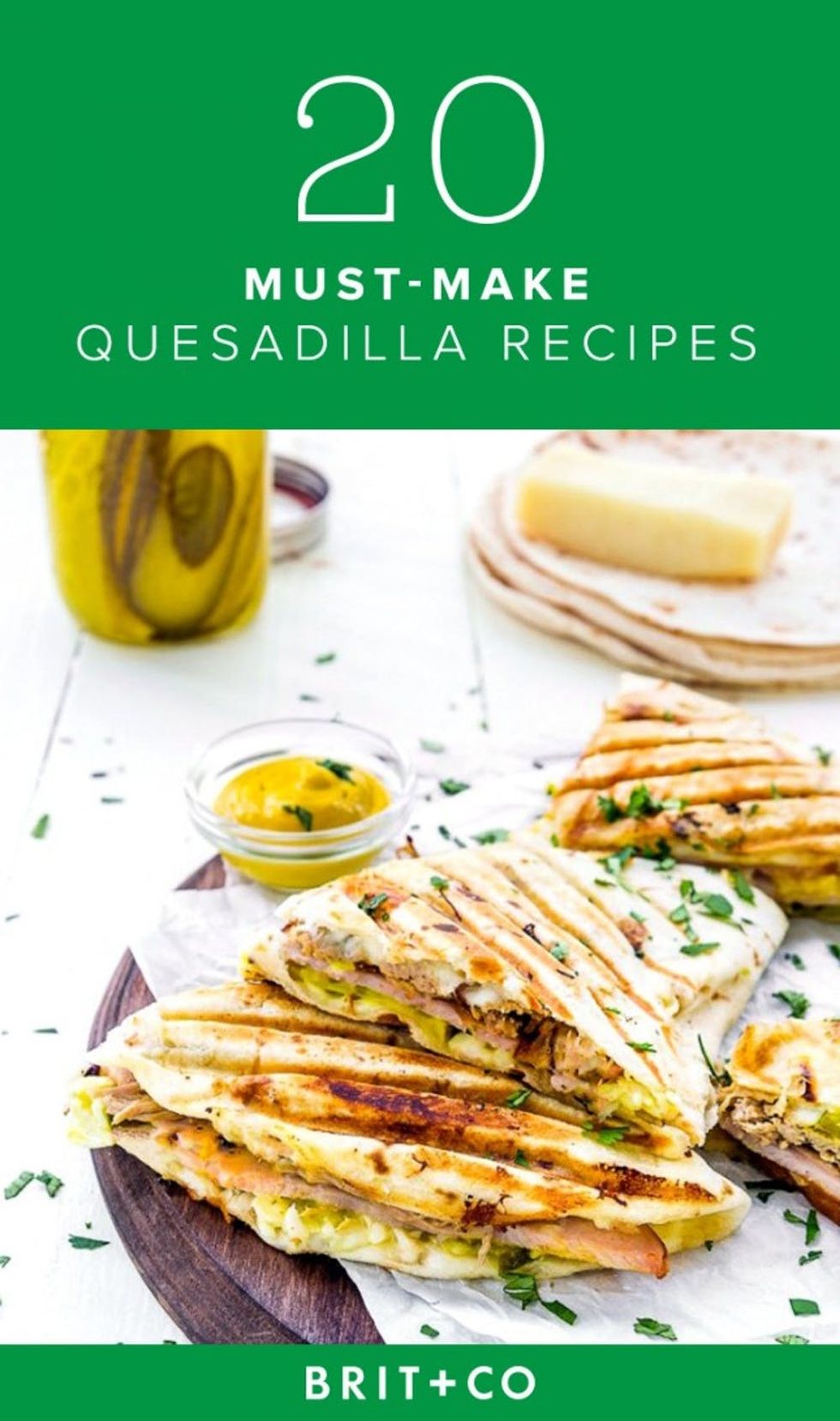 Paige Johnson
Paige is a blogger, food writer and culinary master from Louisville, Ky. She's a newlywed who's obsessed with dogs and renovating her 117 year old home. When she's not working on her blog —
My Modern Cookery
— you can find her binge watching F.R.I.E.N.D.S with a triple shot latte in-hand.