People's Most Beautiful Woman Revealed + 10 More Ladies We'd Add to the List
Apr 22, 2015
There are those unnervingly beautiful celebrities you can't help but stare at and just think "is that person actually human?" – Angelina Jolie, we're looking at you. And there are the ones that seem so relatable, it kind of feels like they're your BFF. Sandra Bullock falls somewhere in between those two categories. She's been a permanent favorite of ours ever since the days of While Your Were Sleeping and Practical Magic and has only managed to get even cooler since then. So it should come as no surprise that the 50-year-old actress was recently named People Magazine's "Most Beautiful Woman" of 2015.
---
Upon hearing about the nomination, Bullock told People she laughed, thought it was ridiculous and told no one. This, in a nutshell, describes just why Bullock is the best kind of beauty – modesty is key. She goes on to explain how she defines the word "beautiful." Bullock tells People, "Real beauty is quiet. Especially in this town [Hollywood], it's just so hard not to say, "Oh, I need to look like that." No, be a good person, be a good mom, do a good job with the lunch, let someone cut in front of you who looks like they're in a bigger hurry. The people I find most beautiful are the ones who aren't trying." And that, Ms. Bullock is exactly why you made it to the top of the list.
People's "Most Beautiful" issue (which also features 192 other beauties) got us thinking about all the ladies we look up to – not only in the beauty department but also in regards to their career and life achievements. Here are 10 ladies who we'd place at the top of the list for being beautiful both inside and out.
1. Emma Watson: Yes, Emma Watson is a total stunner and an amazing actress but what we really love about this British beauty is her recent work as a U.N. Goodwill Ambassador and her advocacy for gender equality and the HeForShe campaign. If you're in need of a little mid-day inspiration, watch her historic speech, which has more than 6 million YouTube views. (Photo via Frederick M. Brown/Getty)
2. Karlie Kloss: This all-American supermodel (and T.Swift's BFF) is only 22-years-old but she's already proven herself to be much more than a pretty face. The model has an ongoing partnership with Momofuku Milk Bar on a line of cookies that have a charitable aspect. The proceeds from the cookies have provided half-a-million nutritious meals to those in need around the world. More recently, Karlie has also launched a scholarship competition where she will send 10 young girls to the Flatiron School this summer to learn to code — something she knows how to do too. (Photo via Stuart C. Wilson/Getty)
3. Mo'ne Davis: This 13-year-old first made history last August as the first African-American girl to play in a Little League Championship. But not only did she play, she also won and pitched a shutout. Oh yeah, and she's also the first Little League baseball player to appear on the cover of Sports Illustrated. More recently, Davis has launched a sneaker line where the proceeds go to the Because I Am Girl charity, a global initiative to end gender inequality, promote girls' rights and lift millions of girls out of poverty. (Photo via Jason Merritt/Getty)
4. Tess Holliday: This plus-size model has been an Instagram sensation for some time now due to her constant stream of positive body image messages. She was even the one to spearhead the popular hashtag #effyourbeautystandards. Earlier this year, Tess became the first plus-size model of her height and size (she's 5′ 5″ and a size 22) to be signed to a major modeling agency. (Photo via @tessholliday)
5. Amy Poehler: Amy will always have a place in our hearts as the legendary Leslie Knope, but outside the realm of her Parks and Rec character, Amy is making waves with her website Smart Girls. The site offers young women a place where they can learn issues facing their generation, read interviews with influential women + a whole lot more. (Photo via Larry Busacca/Getty)
6. Michelle Obama: Her husband runs the country, but Mrs. Obama is making big changes all on her own. The first lady has made the fight against obesity and for childhood fitness a major focus of her gig by launching the Let's Move initiative back in 2010. She's also worked with Jill Biden on Joining Forces, an initiative to help veterans and started Reach Higher, an effort to inspire young Americans to take charge of their future by continuing their education past high school. (Photo via Pool/Getty)
7. Jenna Lyons: You didn't think we'd leave out our #1 favorite lady boss, did you? This NY beauty is full of fashion tips, but we look to her even more regularly for some seriously notable career advice. The J.Crew creative director, who started working for the company 24 years as an assistant to an assistant, is no stranger to the value of hard work.
8. Tavi Gevinson: This fashion icon is only 18-years-old, but has already proven herself to be a serious businesswoman. Tavi started her own blog at age 11, has hosted a Ted Talk and is now the editor-in-chief of Rookie Mag.
9. Elizabeth Holmes: Here's a name you might not yet be familiar with, but we're betting you'll know it soon. At the age of 31, Holmes is the youngest self-made billionaire in world. The Stanford dropout founded Theranos, the world's leading biotech company. She and her company want to take high-tech approach to blood test by using a pin prick to the finger rather than a needle to the arm. Holmes wants to provide a faster and cheaper alternative to a process that has not been changed for decades. (Photo via Steve Jennings/Getty)
10. Beyoncé: Because, c'mon, we can't not include her on this list. Sure, Bey is something of beauty royalty, but she has also launched a vegan food service, is collaborating on a shoe line and runs the philanthropic initiative #BeyGOOD, which helps the homeless, sick children and the unemployed. (Photo via Jason Merritt/Getty)
Who would you place on your "Most Beautiful" list? Share with us in the comments below.
(Featured Photo via Jason Merritt/Getty)
Cortney Clift
Cortney is the senior writer and special projects editor at Brit + Co. She typically covers topics related to women's issues, politics, and lifestyle. When she's not buried behind her computer you'll find her exploring New York City or planning her next big adventure.
Party
Artist Dev Heyrana On How Bravery, Resilience and Sunshine Influence Her Work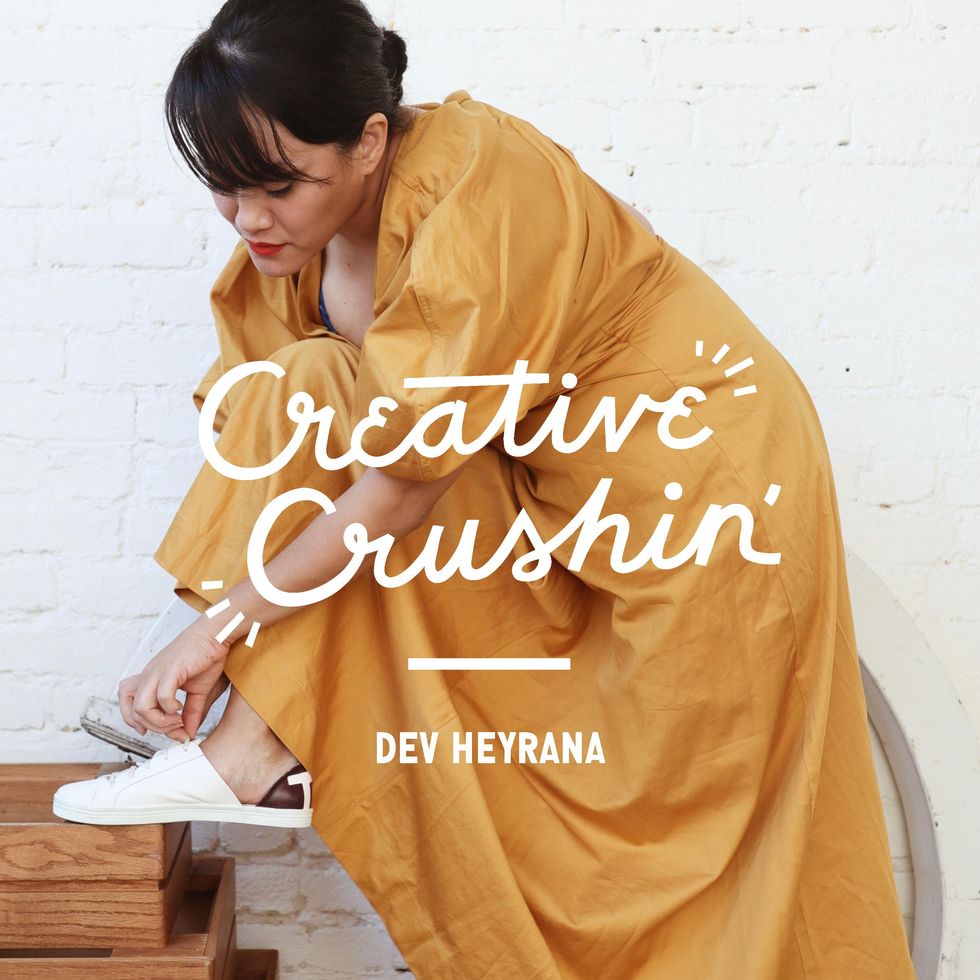 Ever meet someone who you feel immediate kinship with on a deep almost spiritual level? That is legit every person's experience upon meeting Dev Heyrana, the star of this edition of Creative Crushin'. A fine artist, hip hop dance teacher and constant collaborator, Dev's particular brand of creativity is one-of-a-kind. She manages to be warm, welcoming and woke, with a focus on inclusivity, social justice and motherhood that comes through in every piece of art she creates.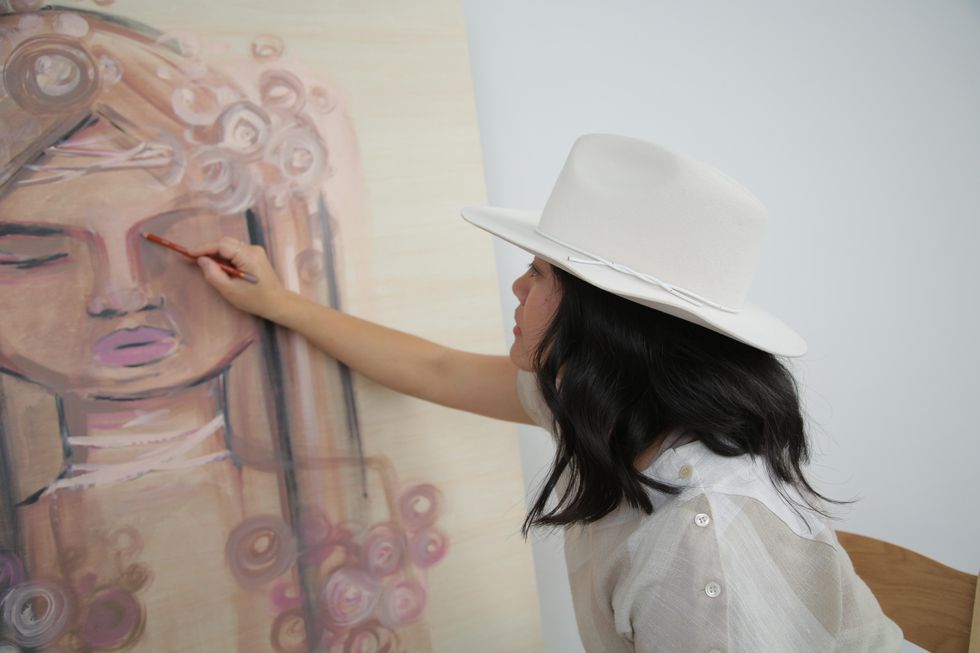 Anjelika Temple here, co-founder of Brit + Co and one of many humans who has benefitted from Dev's boundless generosity and kindness. We first connected at a launch event, then I asked her if she and her family would like to model for a B+C shoot (they did!), then months later, I asked the IG universe if anyone would be down to co-parent with me for a day so I could speak at a conference. Dev said yes! And for those that know her, none of these serendipitous moments are surprising.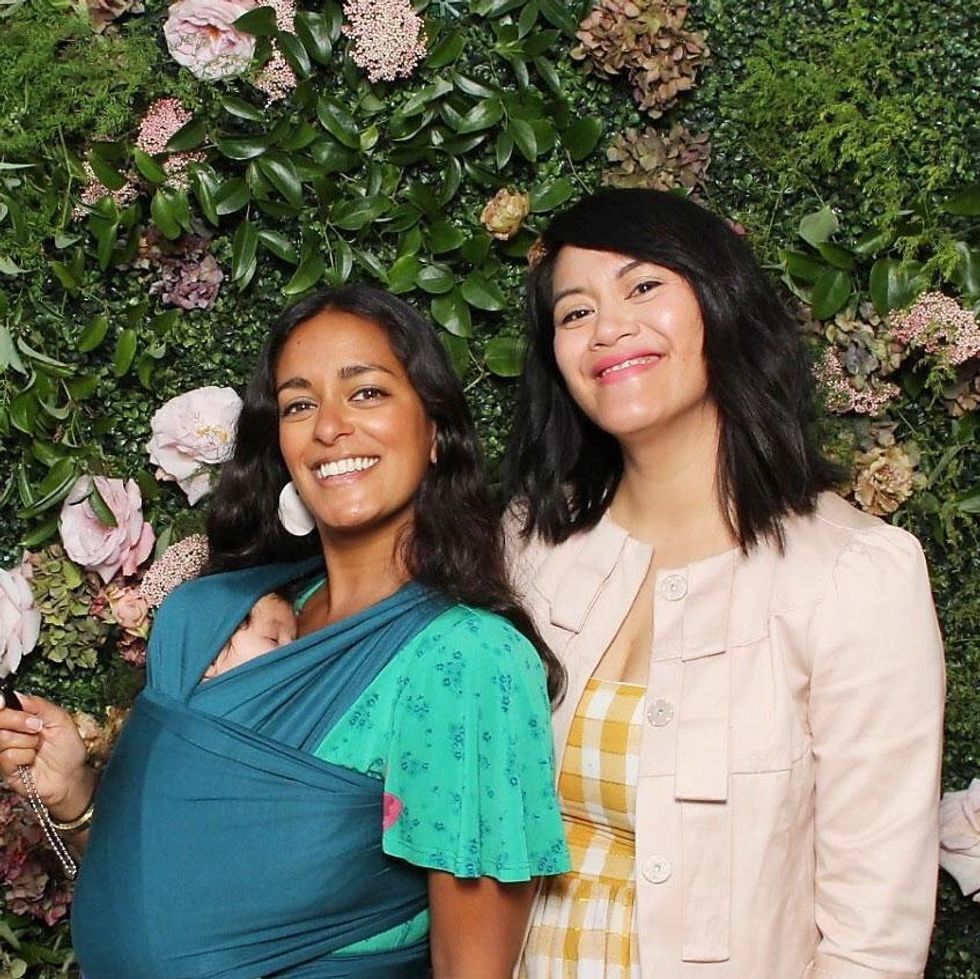 Now it's time to delve more into Dev's story, her creative inspiration, her thoughtful approach to parenting and what makes her more passionate than ever about bringing her point of view and artistic voice into the universe.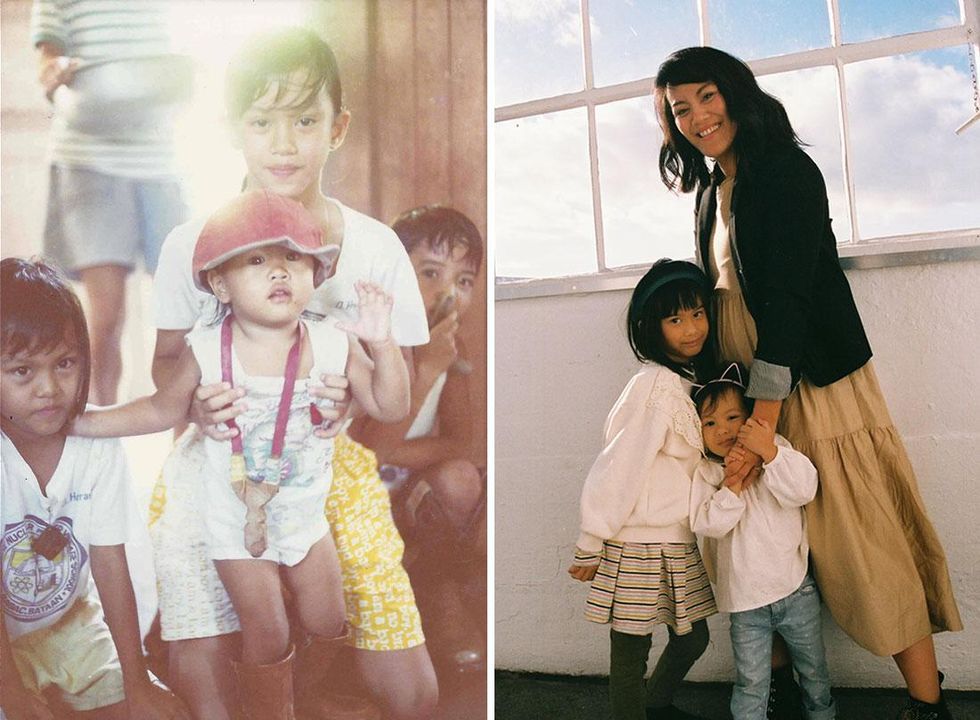 Anjelika Temple: First, foundations. Where did you grow up? What is your heritage? What did you study in school? Where do you live now?
Dev Heyrana: Born in The Philippines and immigrated to the U.S. when I was 9 years old. Me and my family are from the island of Cebu and I'm a proud Cebuana. My childhood in the Philippines felt like freedom. I had my swimsuit in my backpack for whenever we decided to swim and I biked everywhere.
Immigrating here at 9 yrs old was a transition, to say the least. My parents had big dreams but the move was heavy on them. It wasn't easy. I had to grow up fast. I took care of my sisters while my parents worked night shifts. By the age of 12 I would cook dinner and get my sisters ready for bed. Something I didn't realize was that kids my age didn't do those things until I got older. We would play these make-believe games to make, in hindsight, our hard situation brighter.
I think this is really when art played a big role in my life. It was something I could escape in and always felt healing.
I witnessed racism towards my family and didn't know how to make sense of it. These events left a mark. I was a quiet kid and observed everything and everyone around me. I think about my grandparents, Lolo Jose and Lola Rita, a lot as I walk through life. When I make decisions. As hard as it feels, you have two choices, do you let it take you down or take it one step at a time forward. I kept going and it really shaped me as to why I am the way I am today.
I studied Fine Arts at The Corcoran in DC. I owe that decision to my art teacher, Mr Giles, in High School. He was retiring and wore a Hawaiian shirt every day during my senior year. He was a curmudgeon and I felt incredibly special since out of everyone in the school he really believed in me. As grumpy as he seemed to the class, he would tell me things like "Go into the other studio and break some glass, then put it on a canvas." He's the reason why my abstract pieces have elements like clay and sand in them.
I've had incredible mentors and all were teachers. Mr. Giles in High School and Christine George in College. Christine was the one who told me to go either to New York or San Francisco because "D.C. is no place for an artist like you." She told me to not listen to anyone, how I can still paint, be a graphic designer, and, if I choose to, have a family. I've never had anyone tell me anything like that before.
I took a chance because of her. Moved and went to Design School in 2006 and I've stayed in the Bay Area ever since, raising two girls with the love of my life.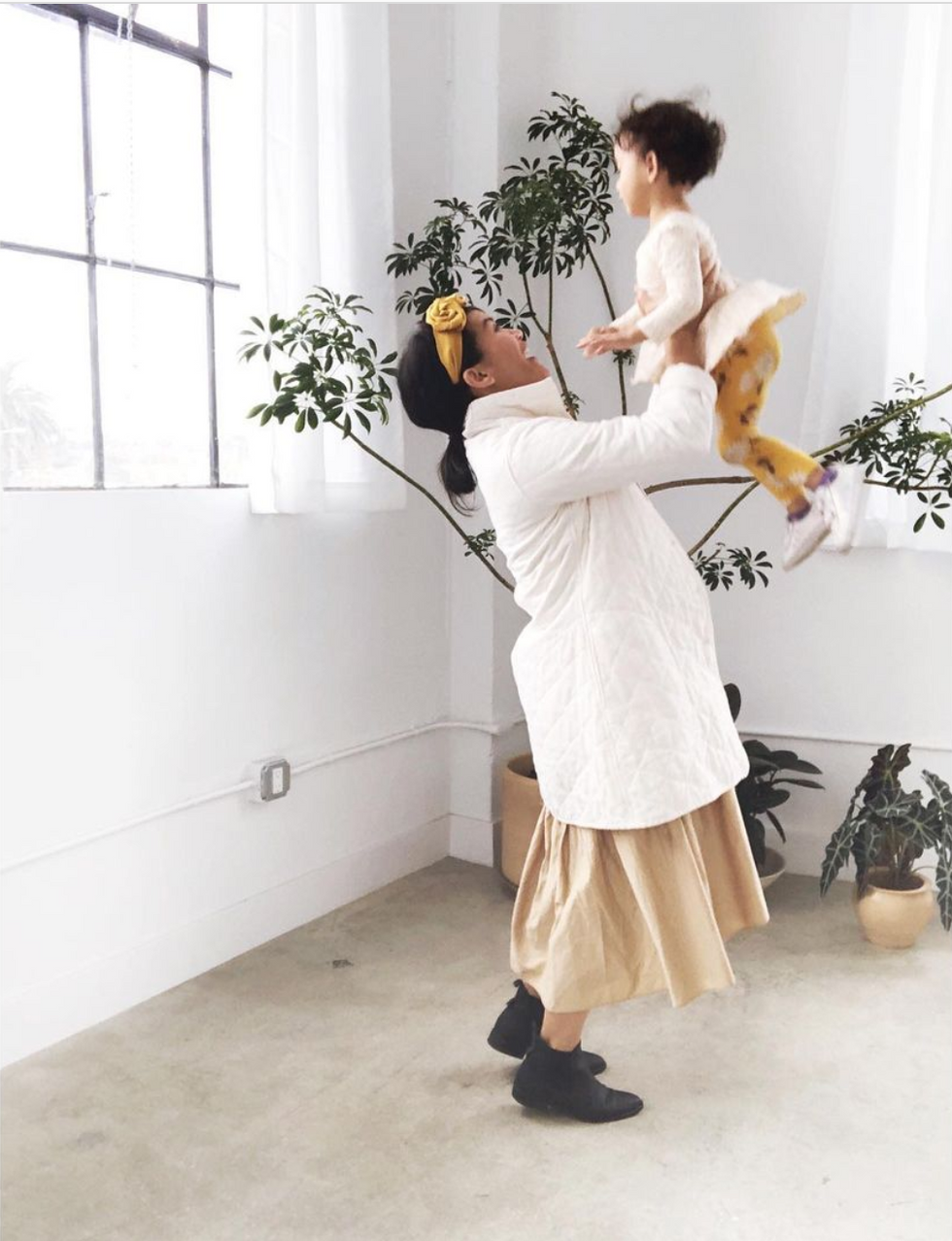 Anj: You are one of those magical human beings that has figured out how to be a full-time artist. What was your career path like before you were able to dive fully into your creative passions?
Dev: The most radical thing I could have done in my family, I did, I went to college for Fine Arts. A mix of being so young and having to do it on my own, I went with the school that gave me more scholarships. Even then I worked three jobs to be able to get through it. Hard work is ingrained in me.
With my sculpture background, I fell in love with Print and Packaging and why I came out here to San Francisco. I appreciated the security of having a career in Graphic Design. I also learned how to work with clients and the business side of things. Even then, I never stopped painting.
A few years ago I went through a pretty hard time with my health. I dealt with six surgeries in one year and I still have to do some follow-up ones. That experience almost broke me and what got me through was my family and painting in bed while I recovered.
When I finally got back on my feet, my heart just wasn't in Graphic Design anymore. So I made a two year plan. With a toddler and a mortgage, I wanted to make sure my steps were thought out. I put myself out there as an Artist while I still worked in Design. After a year I worked part time as a Graphic Designer and stepped down from my Creative Director position. I loved it, to be creative as an Artist and as a Designer. I looked at 2018 as my year to make the jump. If my work as an Artist balances out with my salary then I would quit in the Summer of 2019. And so here we are. I also am sharing a studio with my good friend, Naomi PQ, and I feel like my creative drive is just beginning.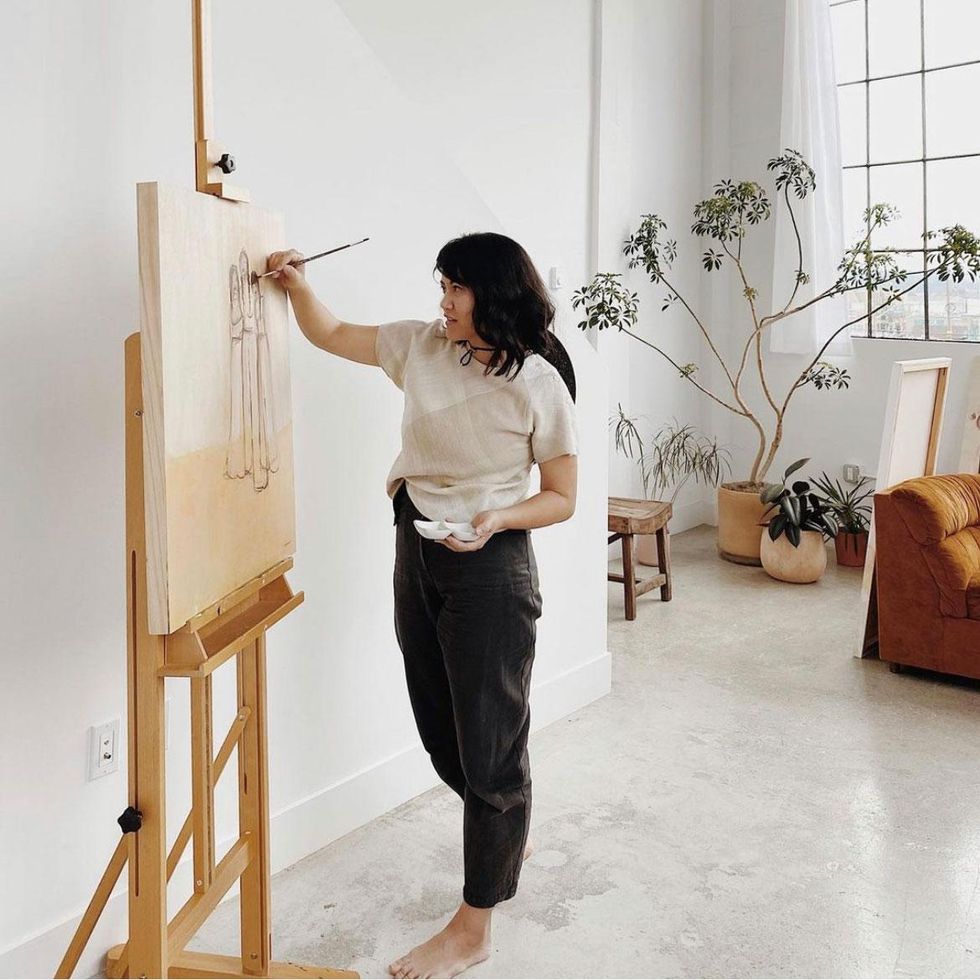 Anj: What do you love about painting? How do you feel when you're in a creative flow state?
Dev: Like every part of me is free. Free to express myself through the stroke of my hand. How all of it leads back to my heart. These elements I use to paint have a mind of their own and how I need to respect the process.
It centers me and reminds me that the process is just like the life we lead. I know I still have so much more to learn but while I'm painting no matter how it's going, I'll embrace this moment.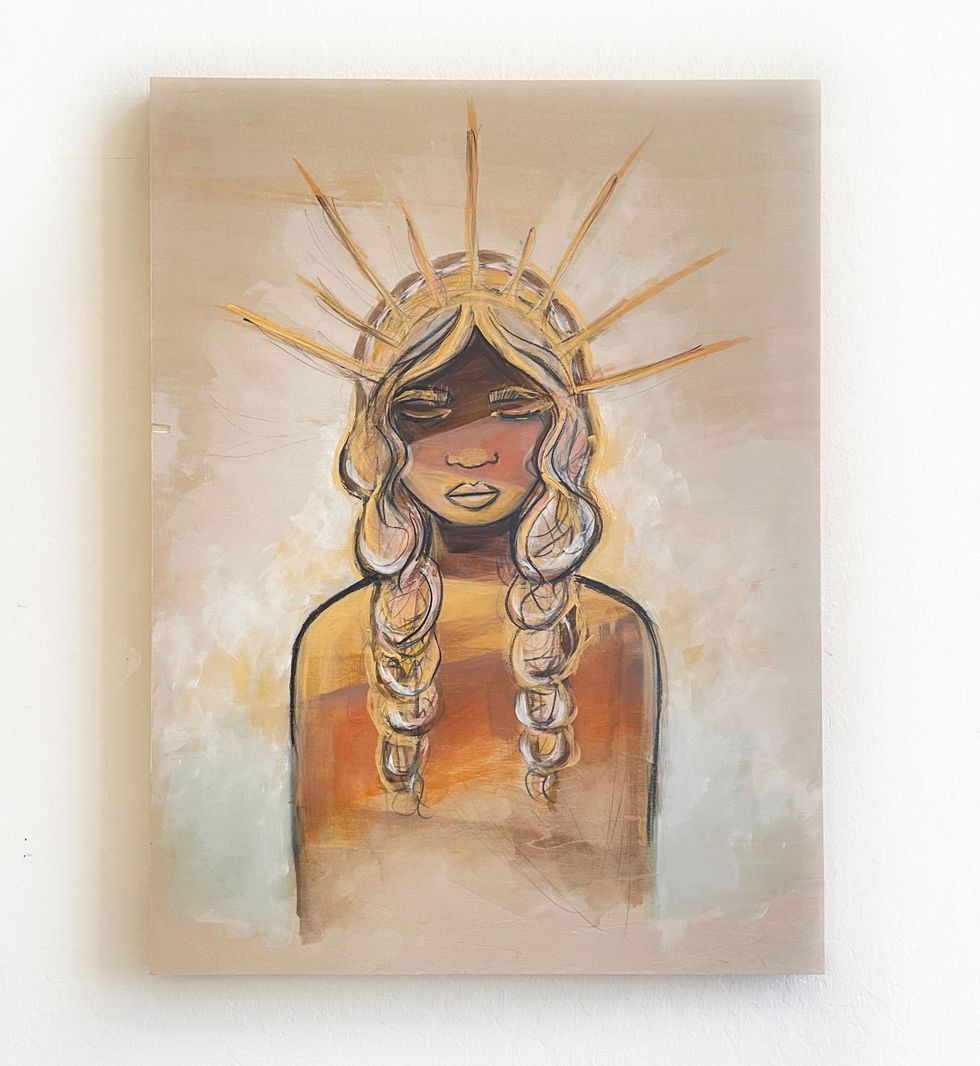 Anj: You reference your roots quite a bit in your work. Talk to me more about how your roots inspire your work.
Dev: One of my earliest memories is of my Lolo Jose teaching me how to water mango saplings. He converted to Buddhism when my mother was young, so he viewed the world with love and kindness. I didn't realize it then but watering those mango trees were life lessons. We need to take the time to nurture, practice patience, and respect all living things. I still imagine him walking beside me often, carrying his teachings as I find my way in this world.
Nature and the Sun drive my pieces. My abstract works are fragments of moments. Like the sunset I grew up with when I was seven years old in the Philippines, like how I saw the water in Cebu when I dove in as a young adult, and like when I saw the redwoods with my children for the first time.
I see earth in our skin and especially when I paint people. How our mango trees grew and blossomed because the dark earth was rich with nutrients. I imagine the Sun piercing through these women I depict. I paint their love and bravery because their resilience cannot be contained. I want to celebrate all of it.
This is the beauty of Art, I am able to paint exactly how I see it.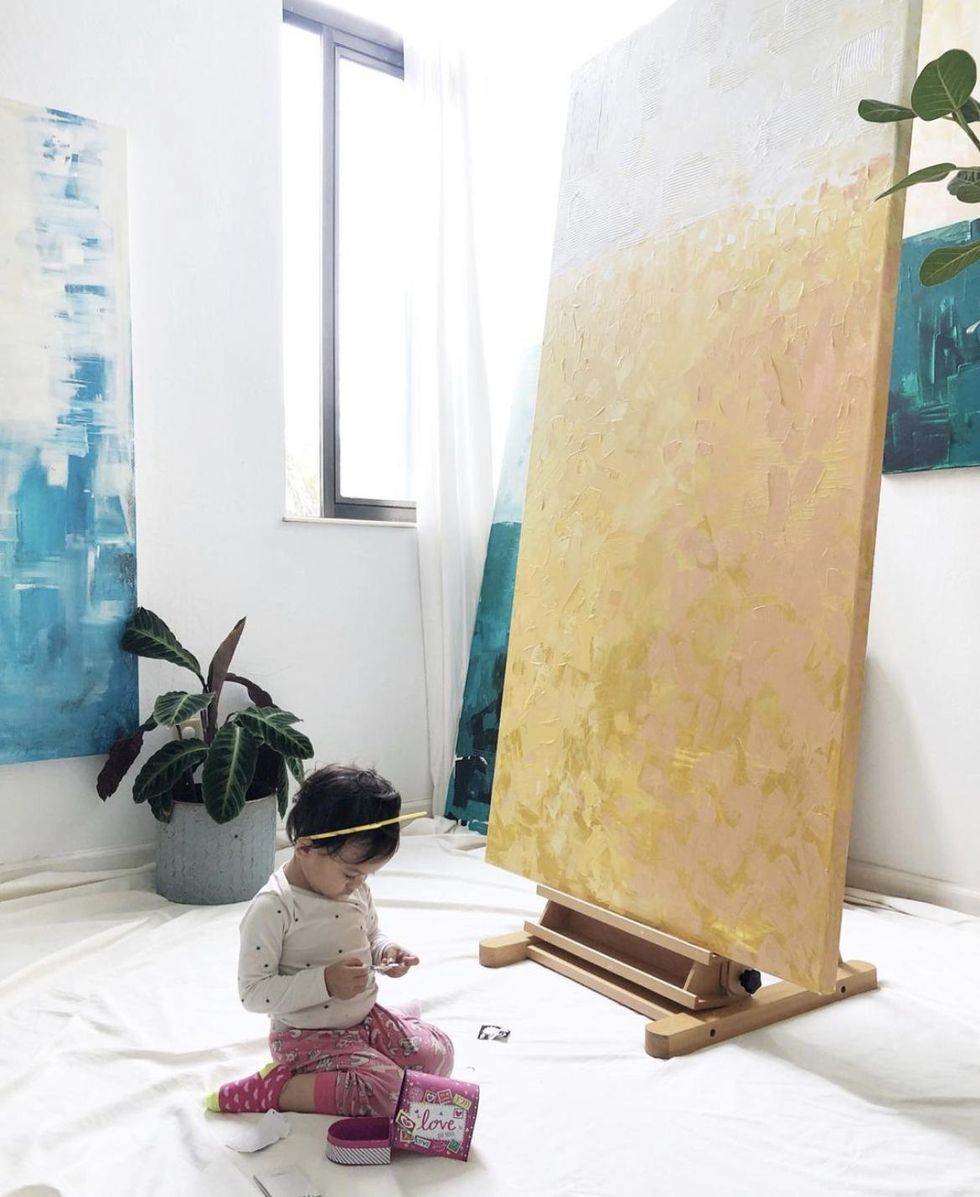 Anj: Motherhood and your daughters are also central themes in your work. How has motherhood changed your approach to creating artwork?
Dev: Everything. I was still deep in my Design Career and I would paint at home. One day Quinn, who was 3 years old at the time introduced me at the park to a mom. "This is my mom, she's an Artist." It struck me that my toddler knew who I was more than I knew myself. That's really when I really owned it. I am more fearless because of my girls.
I own my body, I thank people when they compliment me, and I am selective but fearless when I use my voice. I am more in tune how I speak about myself because of them. When I paint these women I want to celebrate them. I notice how I embrace myself is translated in my paintings.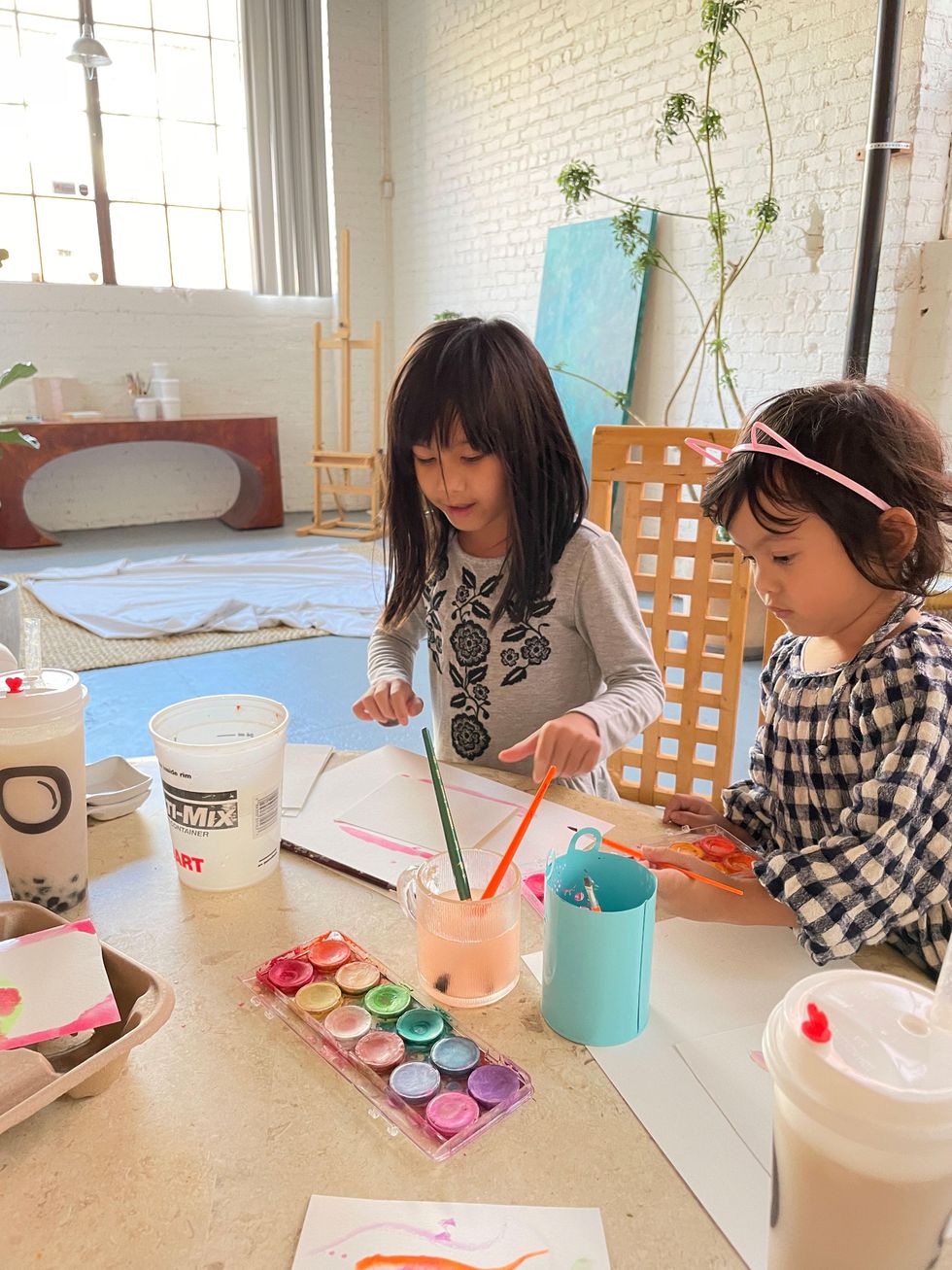 Anj: What advice can you give to parents who are trying to tap into their kiddos' innate creativity?
Dev: I don't have a lot of guidelines set up. I'll say "Let's draw the biggest fish we can draw" or "how many silly lines can we make" and I let them lead me. They ask me questions, show me things, and I sit there with my coffee watching their eyes wide with excitement. Watching them in their creative process is pure joy for me. Those silly lines can turn into a dragon or waves and next thing we know, we're drawing a big beach scene. My advice would be that you can suggest something to start it off but be open to how they take it. It is such a beautiful window into their minds.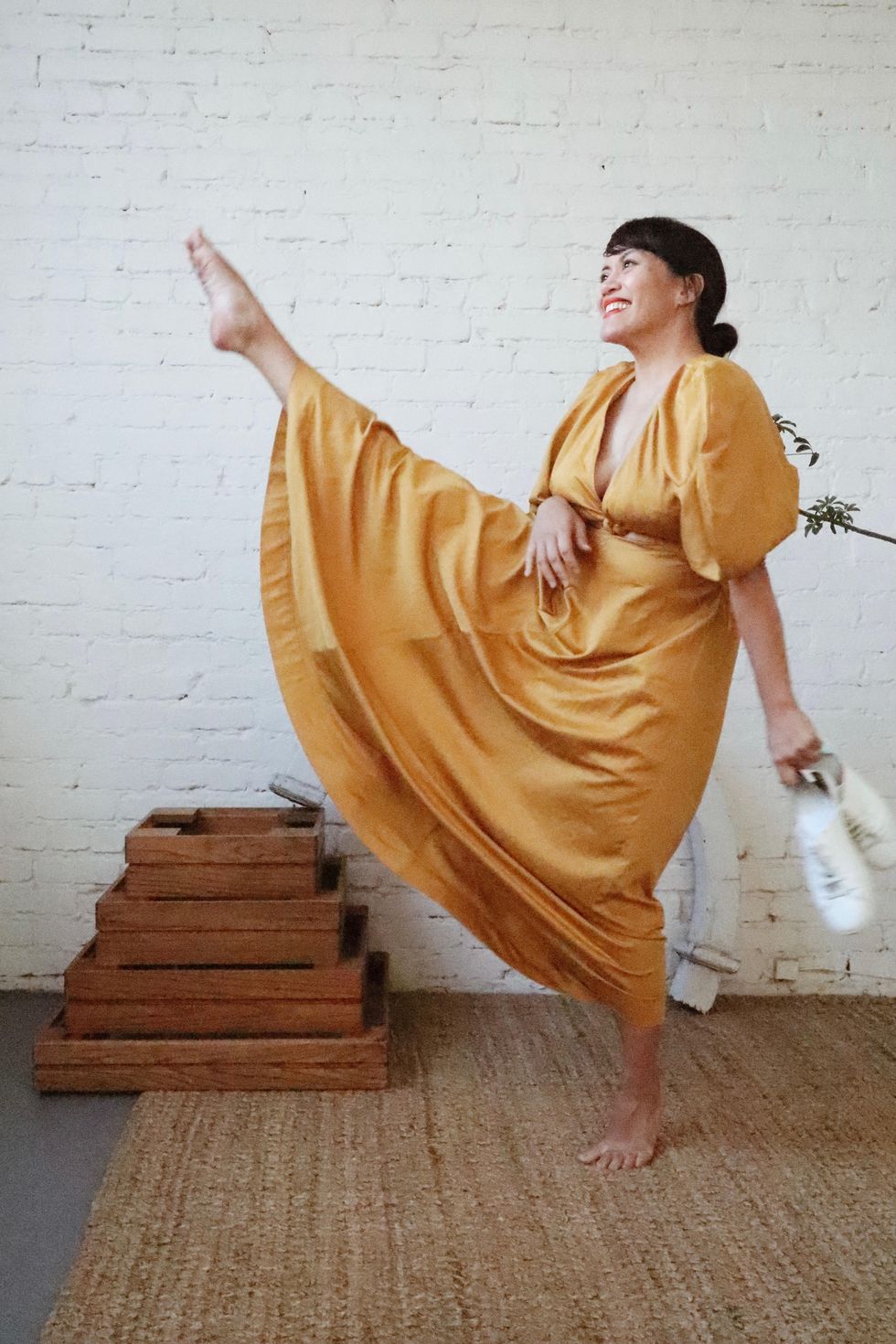 Anj: Shifting gears to HIP HOP DANCE! Talk to us about his component of your creative expression.
Dev: I loved the Hip Hop scene in DC and discovered how much fun the clubs were in college. My friends told me about this Hip Hop Crew I should try out for, I was so scared because I've never taken a dance class in my life. I got in and it was like having another family. We competed all over the East Coast, it was a blast!
I found hipline when I started my first Design Job and needed an outlet. It was exactly what I needed and one of the owners asked if I was interested to teach. I've been teaching there since 2009 and am still going strong. It's a wonderful community of women. Now we're virtual and reaching clients all over.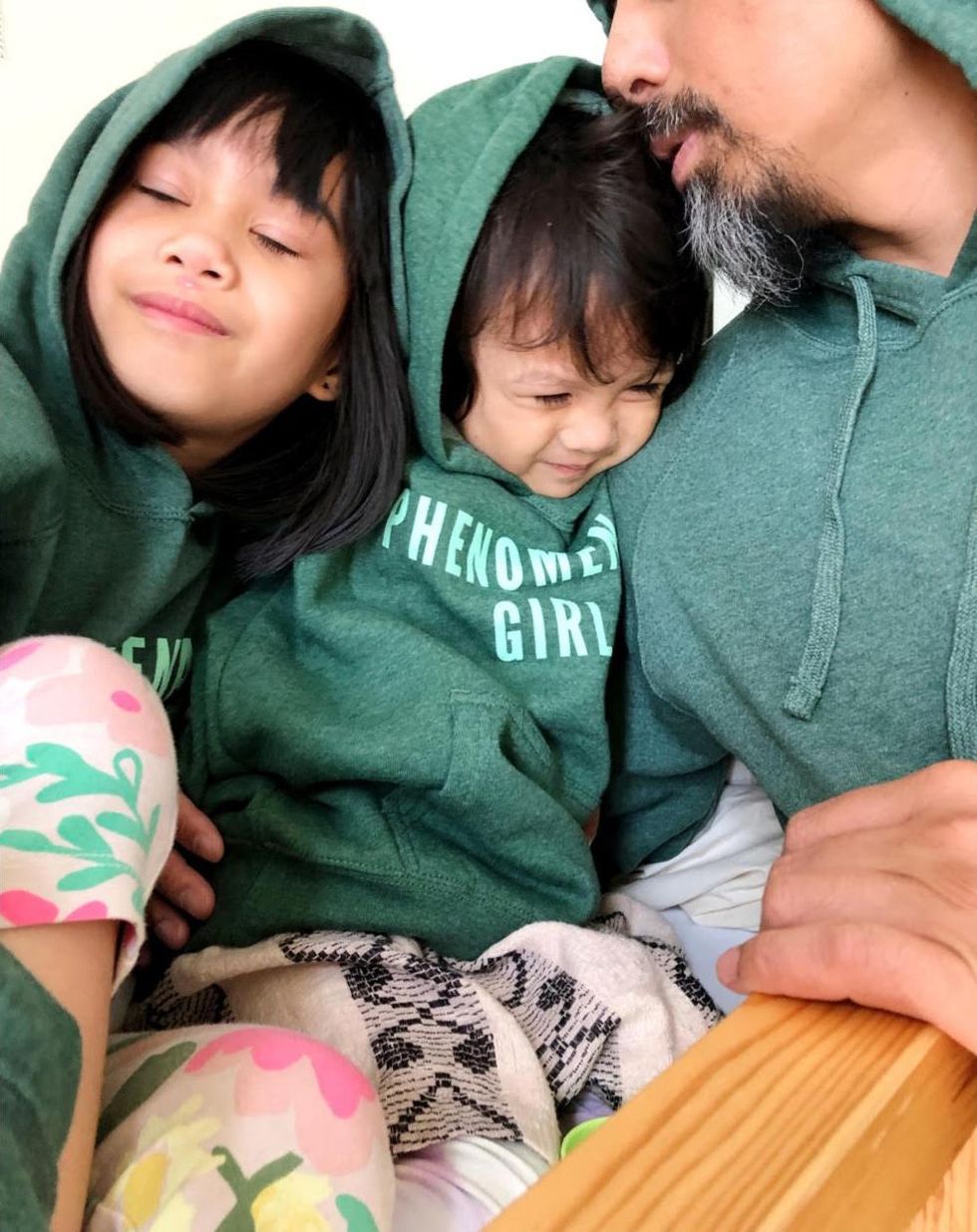 Anj: What does a typical [pandemic] day look like for you? How does it differ from your rhythm before COVID?
Dev: I've been practicing being kinder to myself lately. Both me and my husband work full time and so having the girls at home is a challenge. Some days we are amazed by how smooth it went and then there are others where if the girls are clean and bellies are full, it's a total win.
Now that we're on month 8 our rhythm before covid felt more chaotic to be honest. I felt like we were always rushing out the door while carrying so many bags. Now my husband and I try to have coffee together, if he has a break from his meeting, and we sit with Quinn before school to see what she has to do for the day. Rowan's preschool closed down but we were able to find a wonderful speech therapist for her and she has an Adventure Pod we go to two times a week.
The one thing we really try to do is go outside once a day. Have some magic in their childhood no matter how small. It could be just going up for a hike by our home and picking up leaves, riding our bikes, or watching the sunset from our window. Seeing how the girls' react to these adventures we have is pure magic.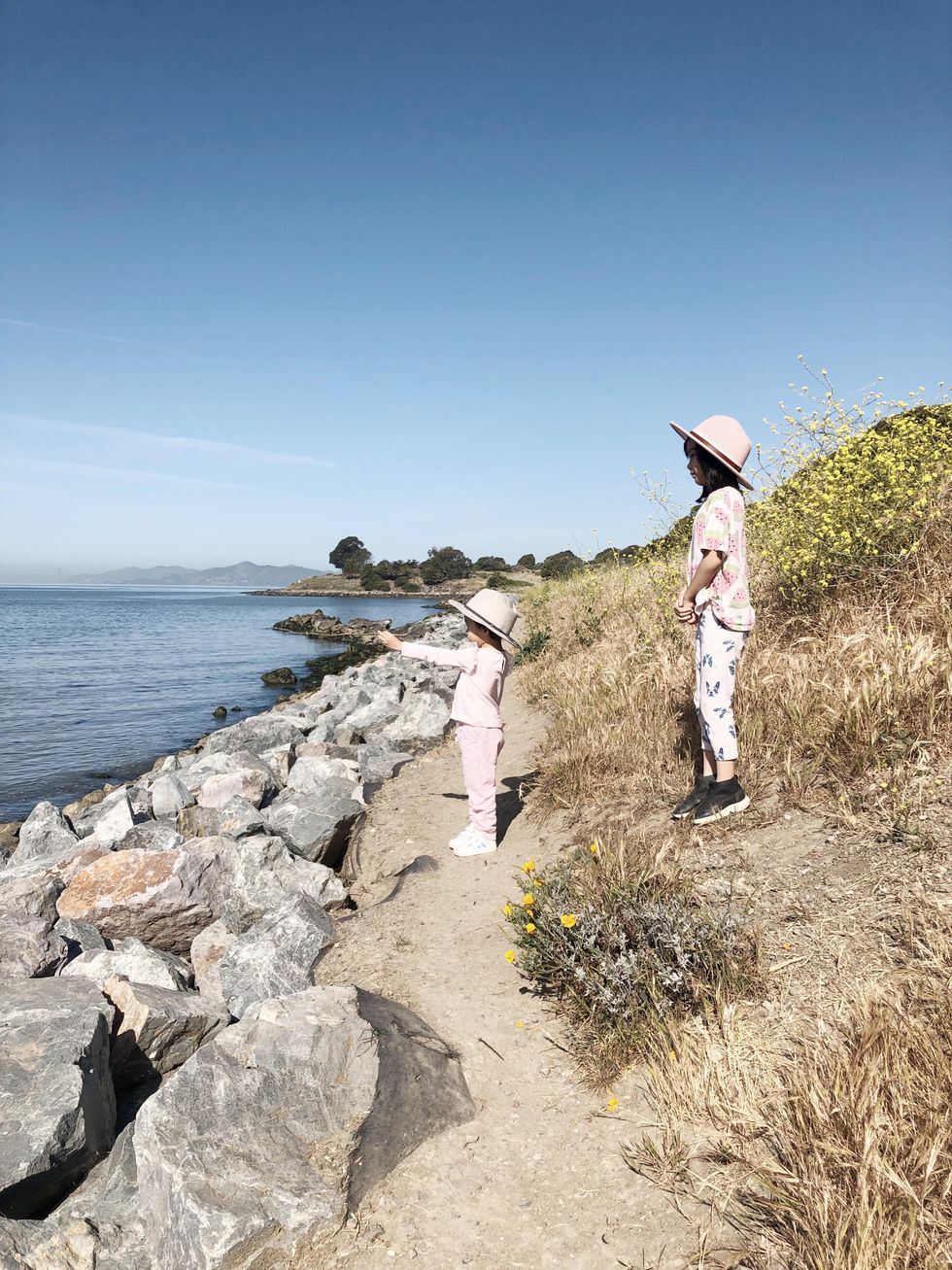 Anj: When you get creatively blocked or burnt out, how do you reset? Do you have tips you can share?
Dev: I go outside. I go out for a hike or go to the beach. Even if it's 15 minutes, something about grounding yourself in Nature is really healing. I also do exercise where I doodle for two minutes because it feels doable. Judgment-free doodles, always opens the doorway to more.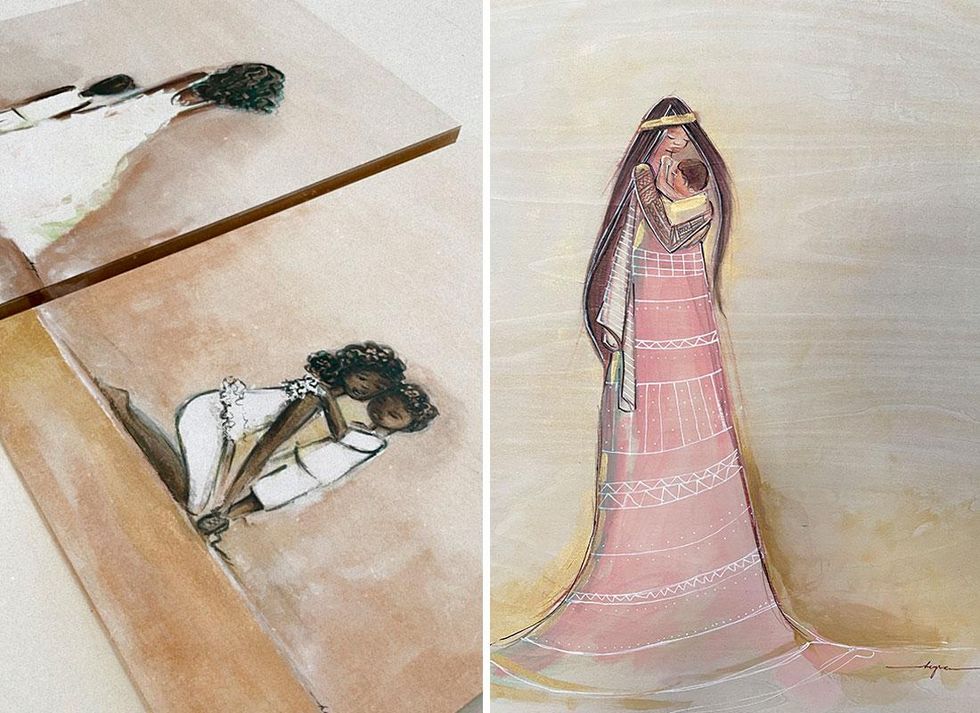 Anj: I know firsthand that community-building is huge for you. Tell us more about what your support system and creative community looks like.
Dev: I feel a lot of love and strength when I think of my community. My relationship with my sister led the way what women supporting women looks like. It's listening, asking questions, remembering, cheering for all the wins, being there even if it's hard, and taking time to invest in them. The way me and my sister show up for each other is why I have these amazing women in my life. I can talk to them about my family, motherhood, and we're all trying to balance it all while sharing my most recent project. I feel really blessed especially looking back in my college years where I don't know where Art would take me.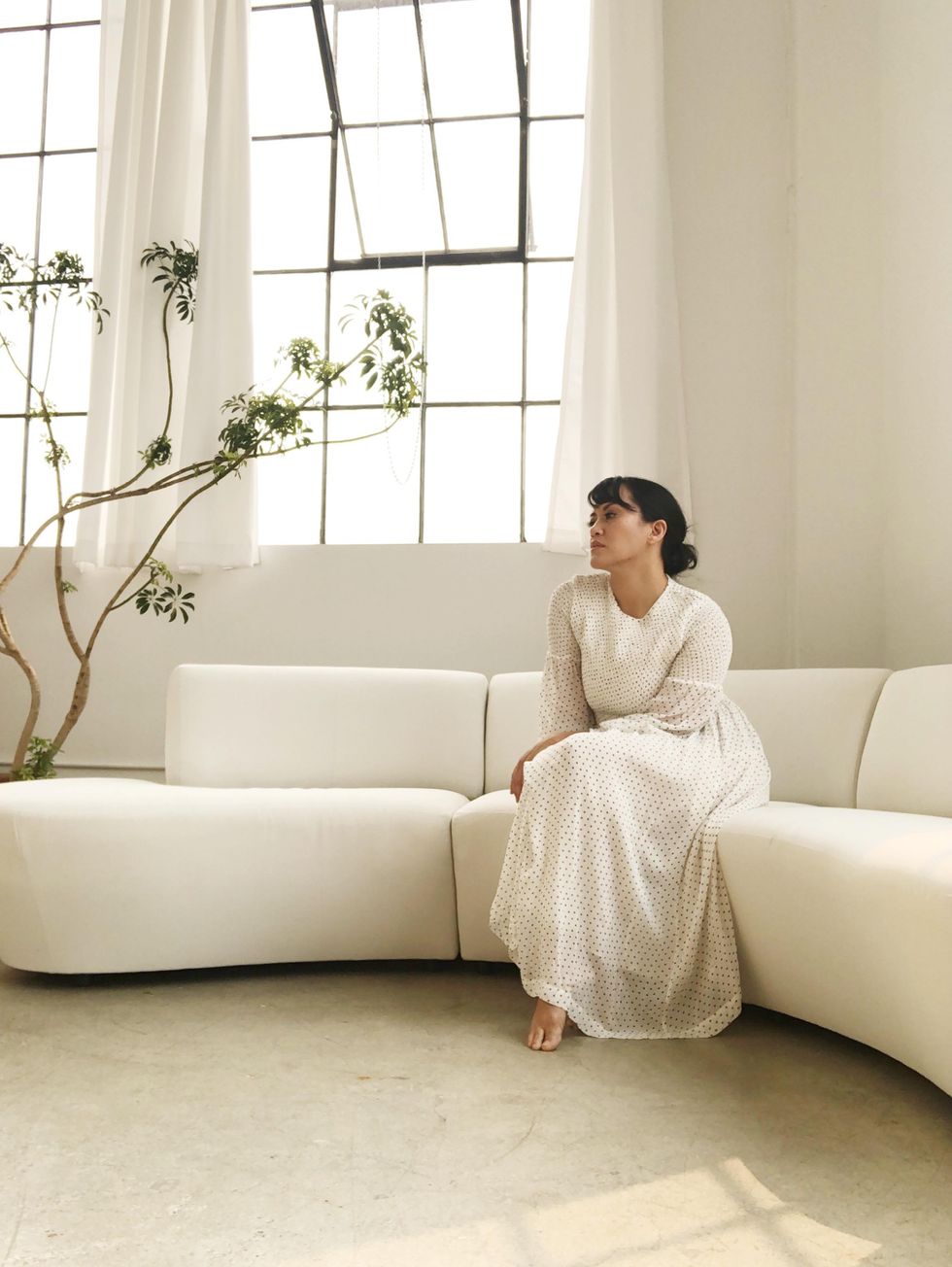 Anj: When you need to give yourself a pep talk, what does it sound like?
Dev: I usually take a deep breath then say or think "One step forward". Most of the time, I'm scared (as shit) but the thought of not trying scares me more. That one step forward can be hard as hell and maybe even heartbreaking, but I have to try.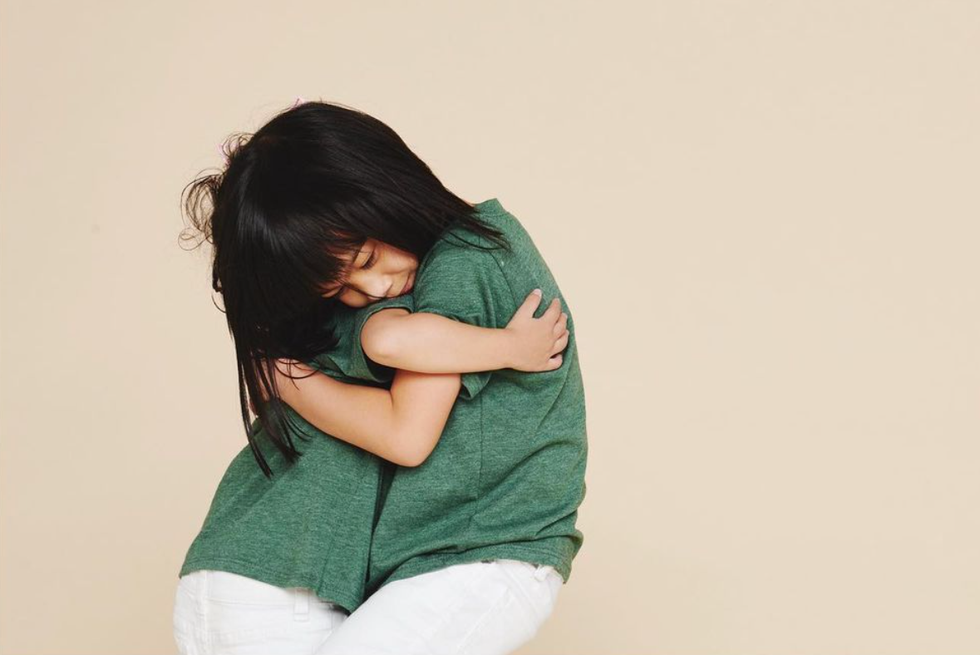 For more on this brilliant artist, mother and friend, follow Dev @_heyrana on Instagram and check out (and buy!) her artwork here.
Lifestyle