18 DIY Window Treatments to Update Your Space
Jul 28, 2014
One of the quickest and easiest ways to give a room a major facelift is to change out the window treatments. Let go of the dark drapes of winter, or the tired blinds that came with your rental, and embrace something new, crafty and totally your style. Luckily for you, we've got you covered in all of those departments. Not feeling too crafty? Several projects are no-sew! We've curated 18 of the most DIY-able, swoon-worthy window treatments on the web. Time to bust out your fabric swatches!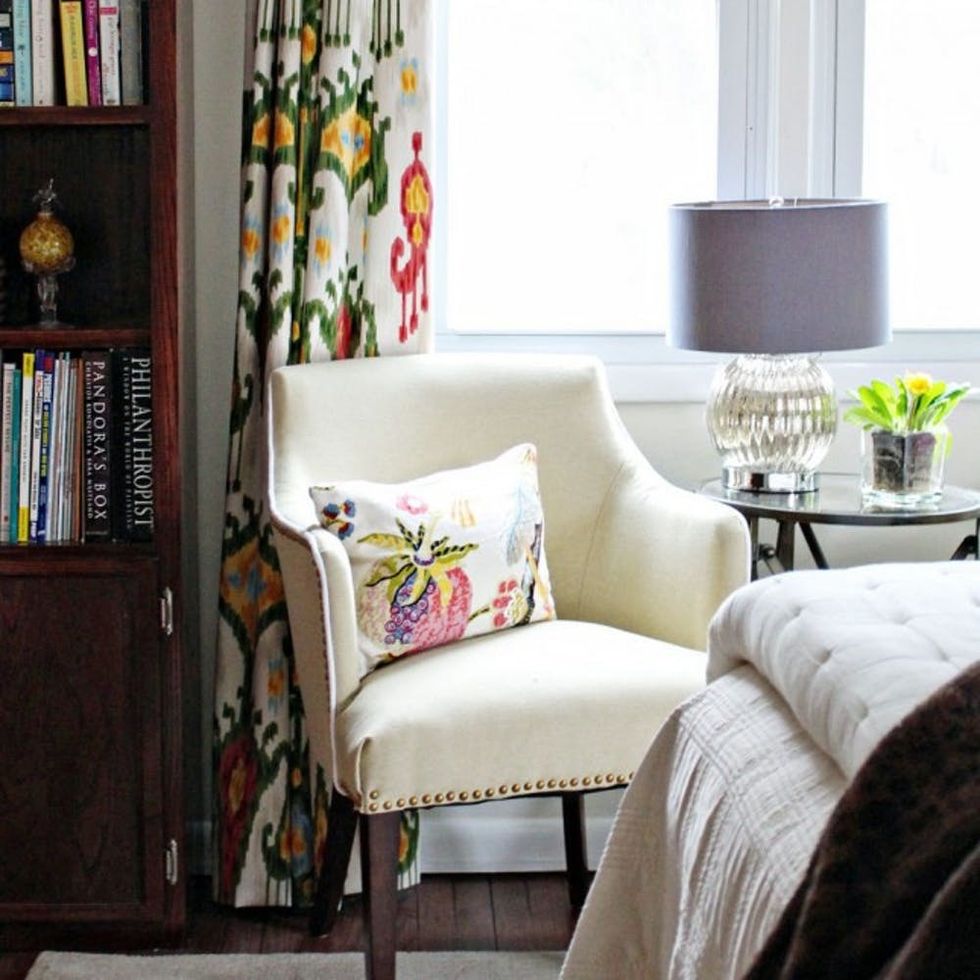 ---
1. Lined Curtain Panels: While not quite a blackout curtain, this lined panel will let you compromise between the gorgeous fabric and informing the sun that you need your beauty rest. (via Our Lake Life)

1. Fold + Clamp Tie Dye Curtains: From summer camp craft time to our new office curtains, tie dye is a perennial favorite. We love this modern update pairing it with a cow-skin rug and geometric pouf. (via The White Buffalo Styling Co.)

2. Basic Panel Curtains: This is the perfect tutorial for the sewing newbie. Once you master the basic panel, the sky's the limit! (via Two Twenty One)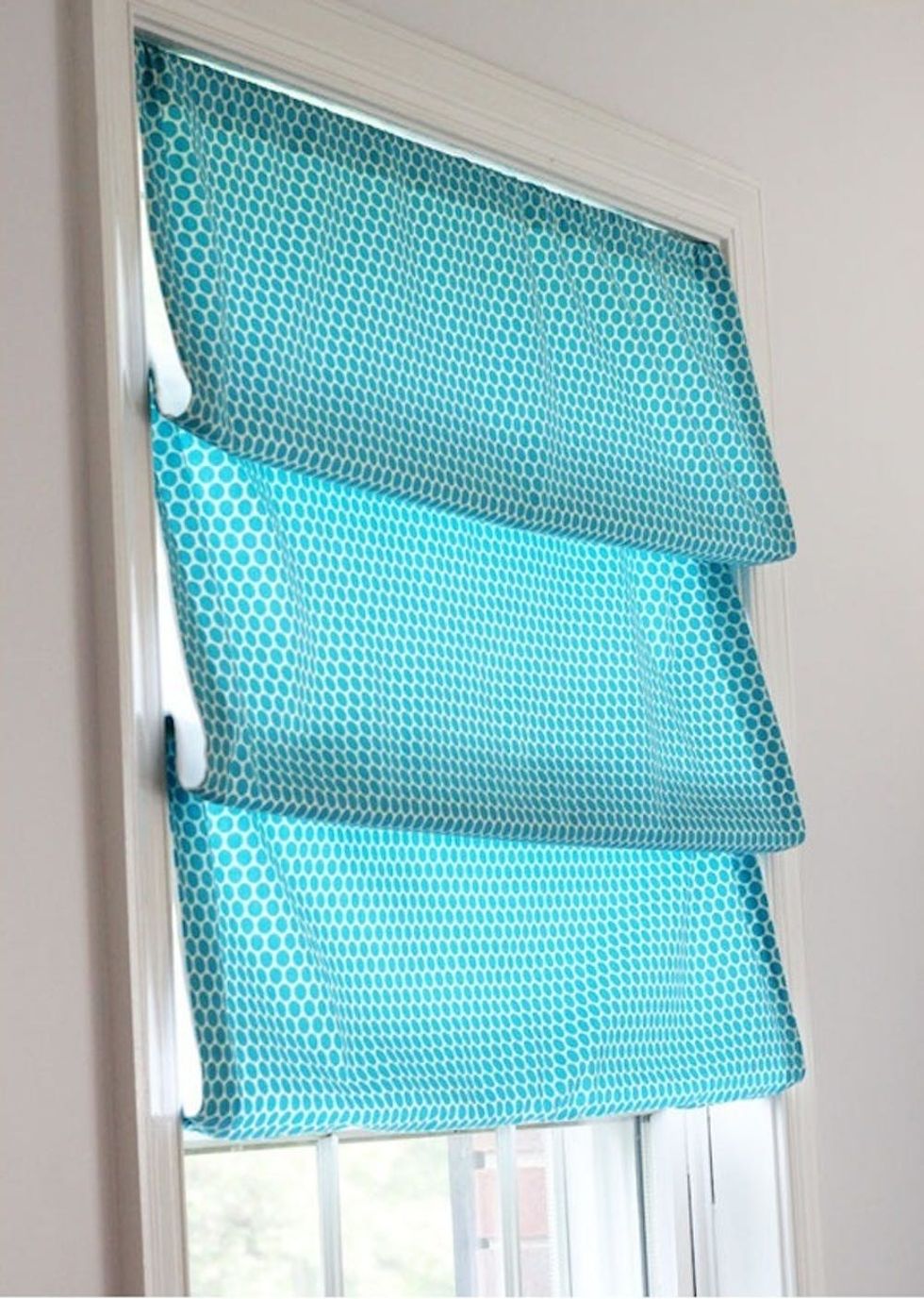 3. No-Sew Roman Shade: One yard of fabric and no sewing at all… sounds like a project even the least craft savvy DIYers can handle! (via In My Own Style)

4. Tea Towel Curtains: Maybe you went a little crazy whipping up some of our DIY tea towels, and now you have them coming out the wazoo (we feel you). Obvi they're too pretty to remain hidden in a closet or cabinet, so break 'em out and hang 'em up for a quick, homey window treatment! (via The Kitchn)

5. Ikat Curtain: Ombre and Ikat? They're like our two best friends! Of course we're stoked to DIY these window treatments. (via Classy Clutter)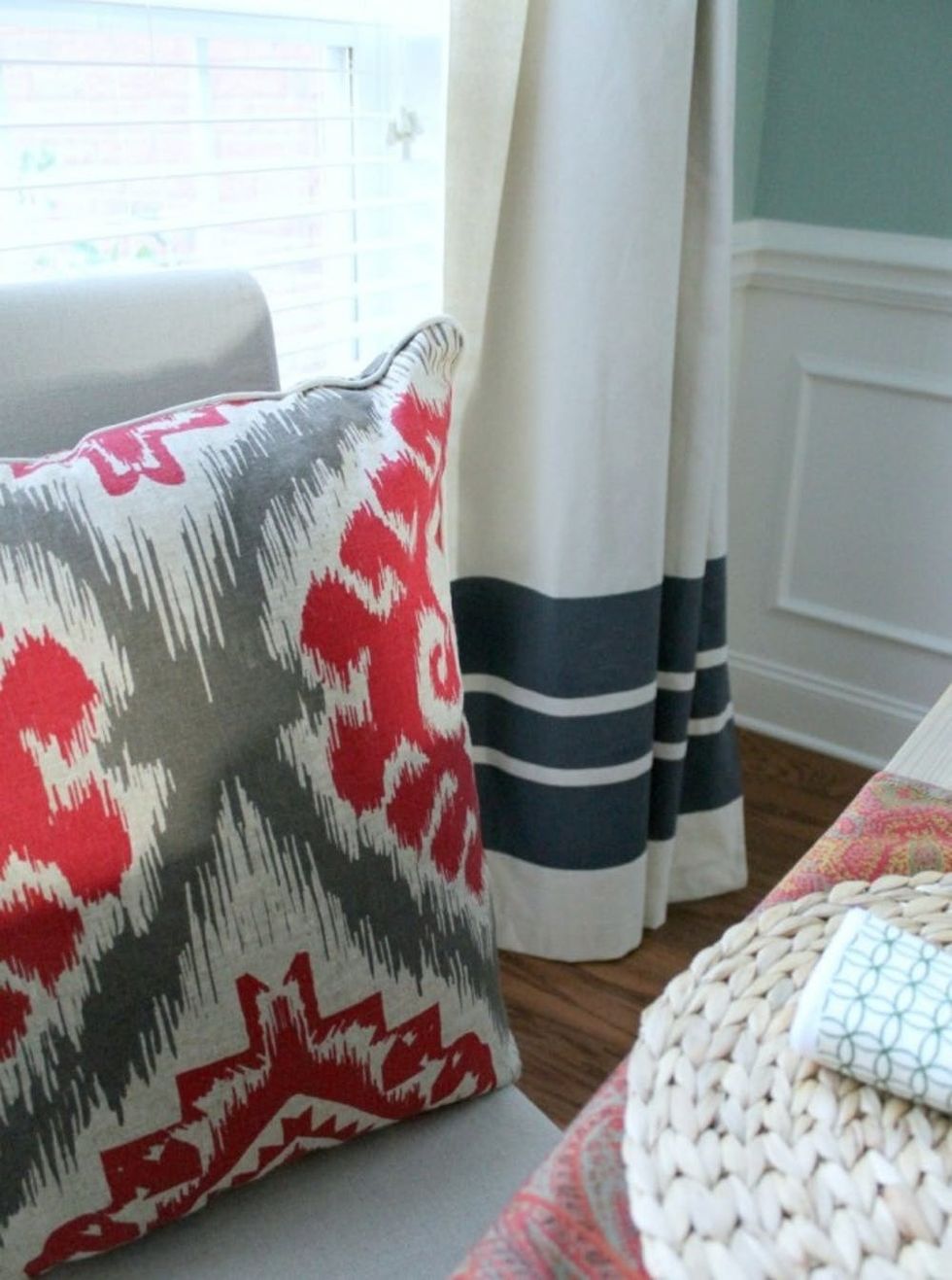 6. Painted Drop Cloth Curtain: Years of practice have made us very good at painting inside the lines. Now we know it was all training for this project. (via The Turquoise Home)

7. Ruffled Curtains: We love ruffles — they're flirty, feminine and add texture to an otherwise plain drape. We're even more in love with this tutorial to recreate them ourselves. (via Maison de Pax)

8. Cutout Roller Blind: We're all about the cutouts — from our heads to our toes to our… windows! (via Boligliv)

8. Lace-Covered Window Screens: Lace is way prettier than a normal screen and is just as fine-woven to keep out the pesky critters. Plus, we love how rustic it looks against the wood siding. (via Design Madde)

9. No-Sew Greek Key Curtain Panels: No cumbersome sewing machine? Check. Modern chic fabric design? Check. So these are pretty much going up ASAP. (via View Along The Way)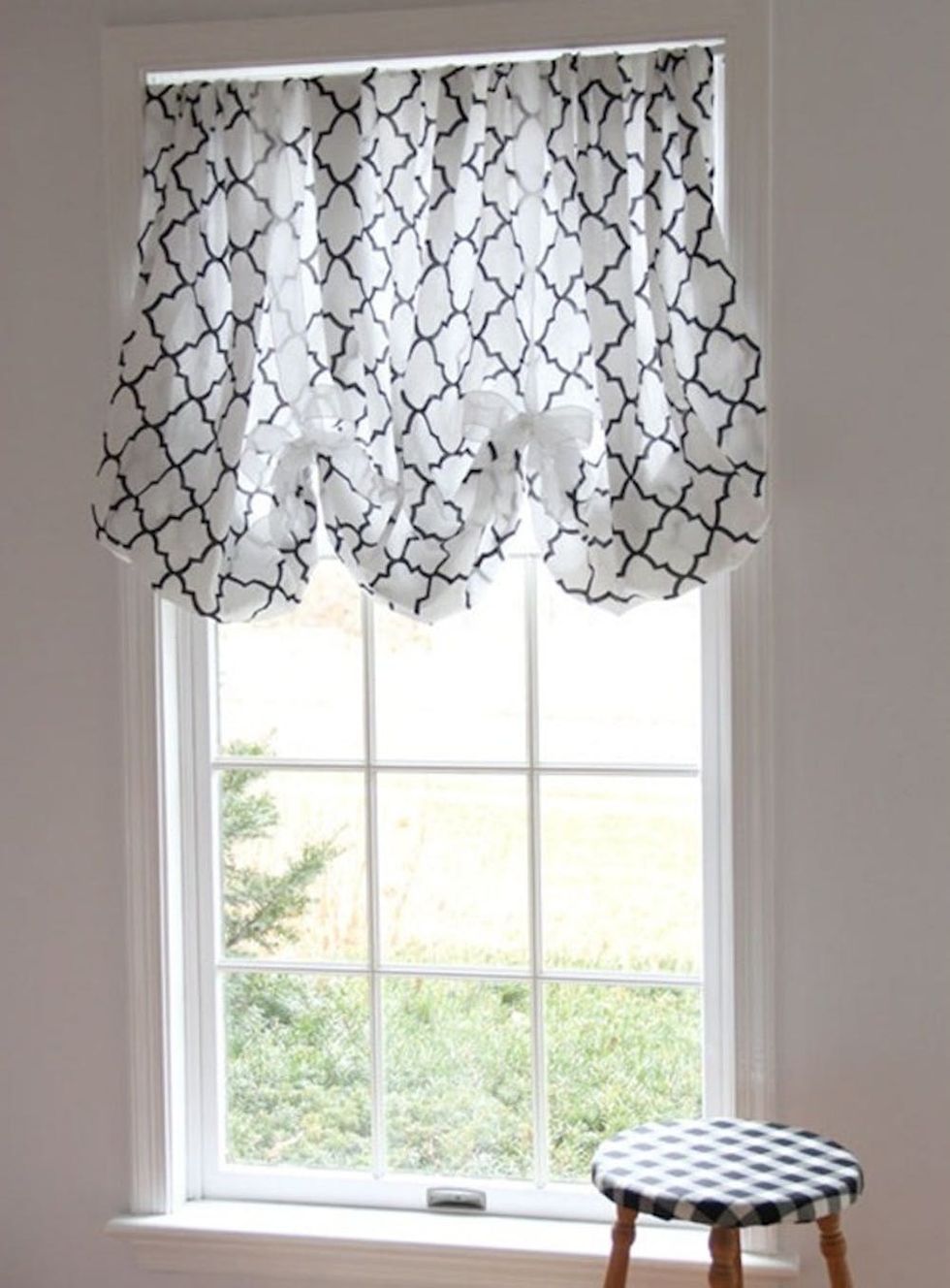 11. Fitted Sheet Window Shade: Grab the fitted sheet from that spare bedroom and whip up one of these babies for a super quick, no-sew option. (via In My Own Style)

12. Barn Wood Valance: Thrift an old wooden sign or paint a plank to make your own. The hardest part will be choosing which line oy lyrics to display on it. (via At Home On The Bay)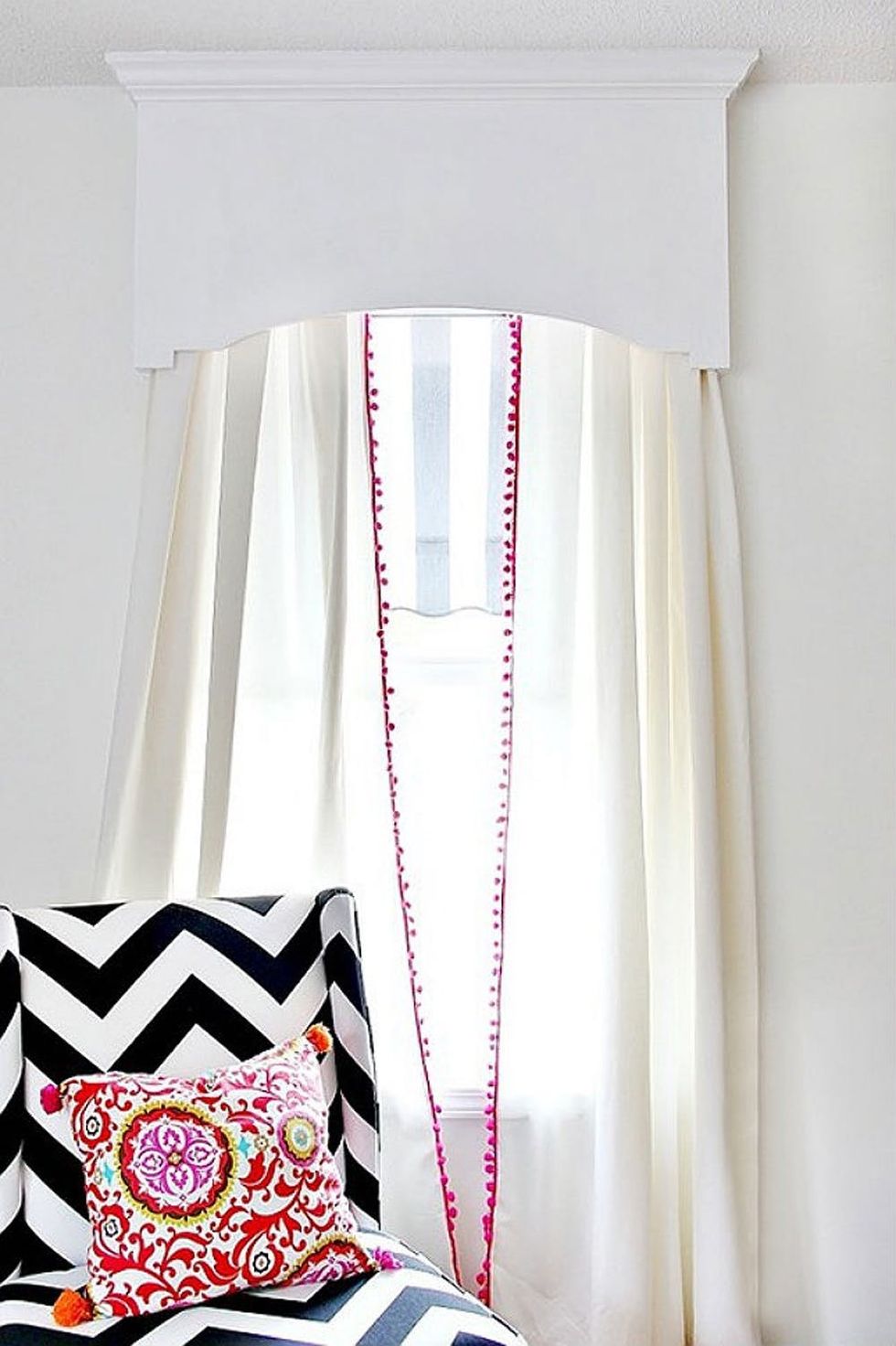 14. Cornice Board: Adding architectural interest is one of our top ways to revamp. Finding ways to DIY them is just icing on the cake. Let's just say that we love the pom detail on there, too! (via Thistlewood Farms)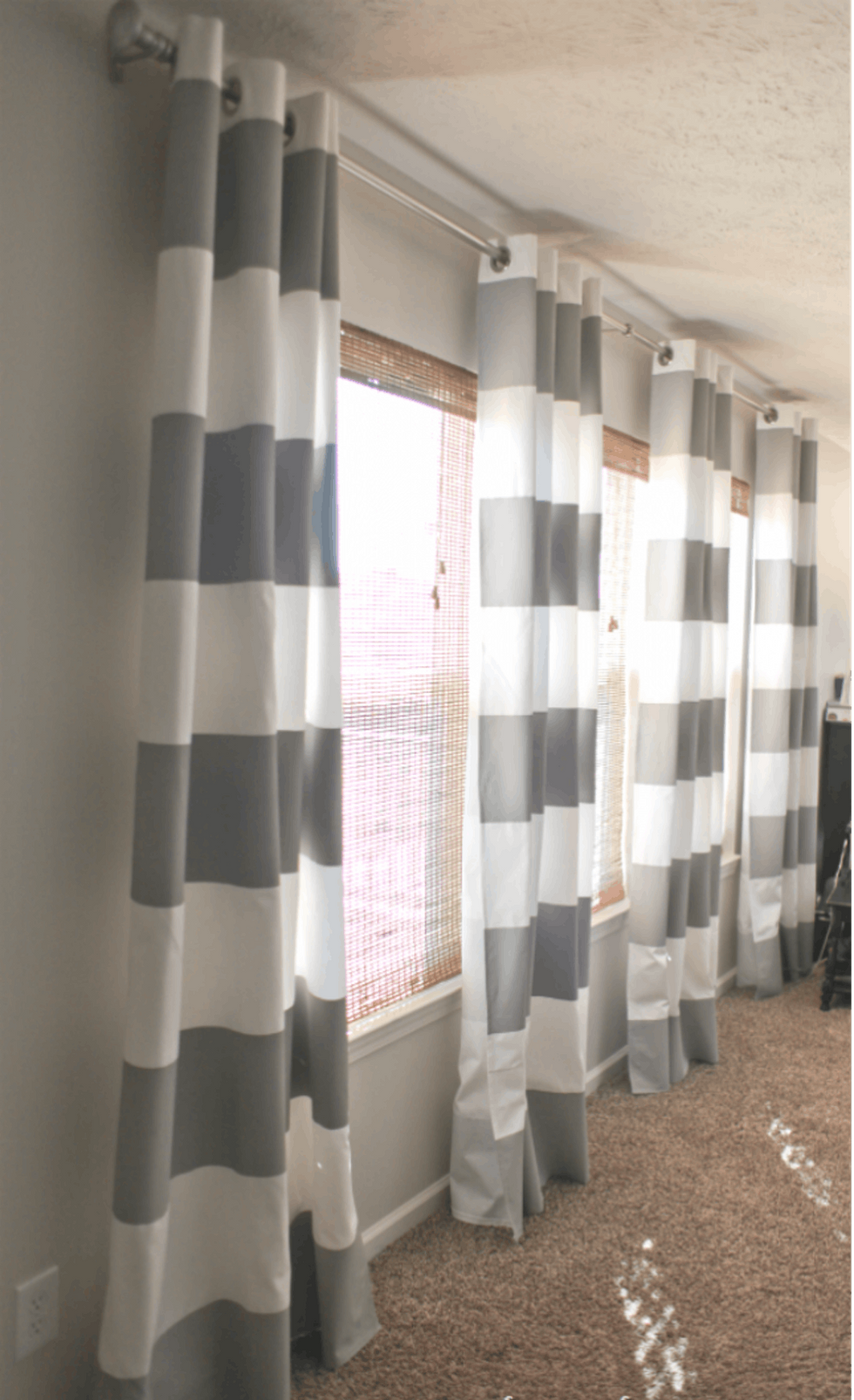 15. Paint-Striped Gray Curtains: No, one striped curtain option was not enough for us. Especially when this tutorial looks about as easy as hanging a shower curtain. (via Infarrantly Creative)
16. Ruffled Burlap Curtain Tutorial:Burlap and ruffles might be our new favorite combination. And hanging them against the gray walls and yellow chairs — we're moving in this weekend. (via The Caldwell Project)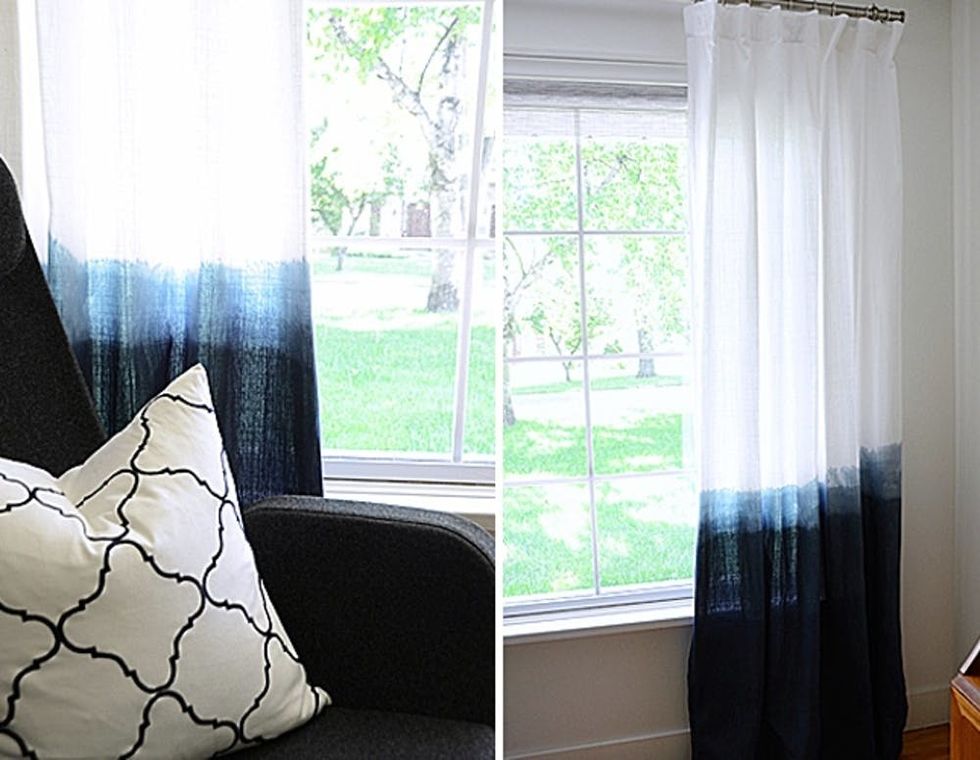 17. Dip Dyed Curtains: We've dip dyed our hair and our clothes, but now we're ready for something bigger… about eight feet bigger, that is. (via 4 Men 1 Lady)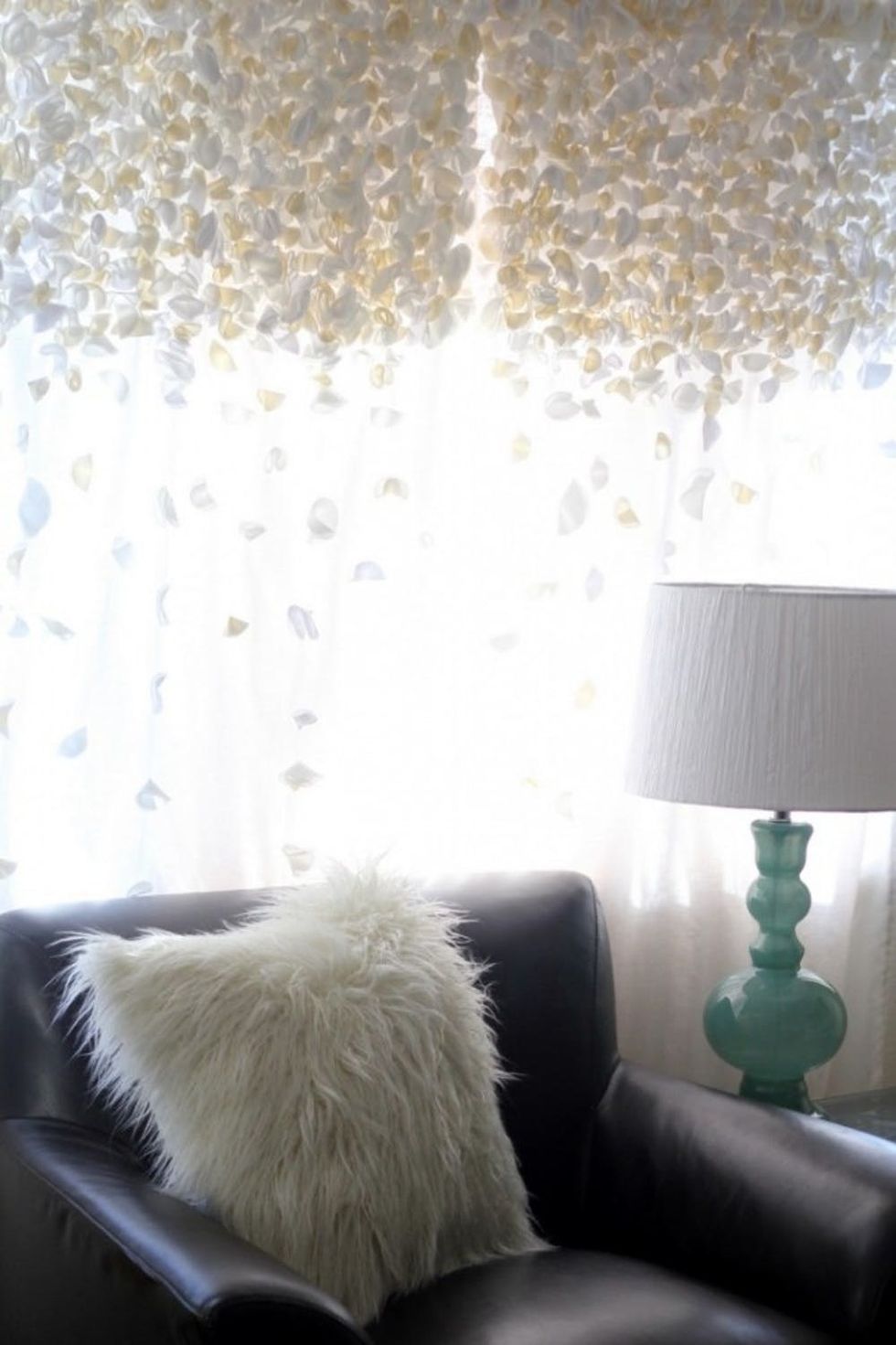 18. Flutter Curtains: Oh, Anthropologie, if only we could live inside your hipster walls forever. But if you're making us leave, we're taking a tutorial to recreate these amazing curtains with us. (via Kojo Designs)
Are you ready for a window upgrade? Comment below and tell us which treatment is your fave!
Meaghan Pachay
Meaghan's love affair with cooking, crafting and all things DIY began at age eight, with her first reading of Little House on the Prairie. It shows no signs of petering out anytime soon.
Home DIY