This Cinnamon Pecan Pie Recipe Is Literally Holiday Crack
Nov 08, 2016
If you didn't know — I LOVE pie. My last meal would be made up of pies — savory breakfast quiches, potpies, pizza pies and, of course, tons and tons of sweet pies. I recently came across this cinnamon bun crust hack on Pinterest and my heart skipped a beat. I am here to let you all know that this pie crust is the only pie crust you will need for the rest of your life. We used this crust to make an epic pecan pie, but it would go great with any holiday pie — pumpkin and apple are next on my list. You can even go crazy and bake these cinnamon bun pies into cakes to turn it into a piecaken!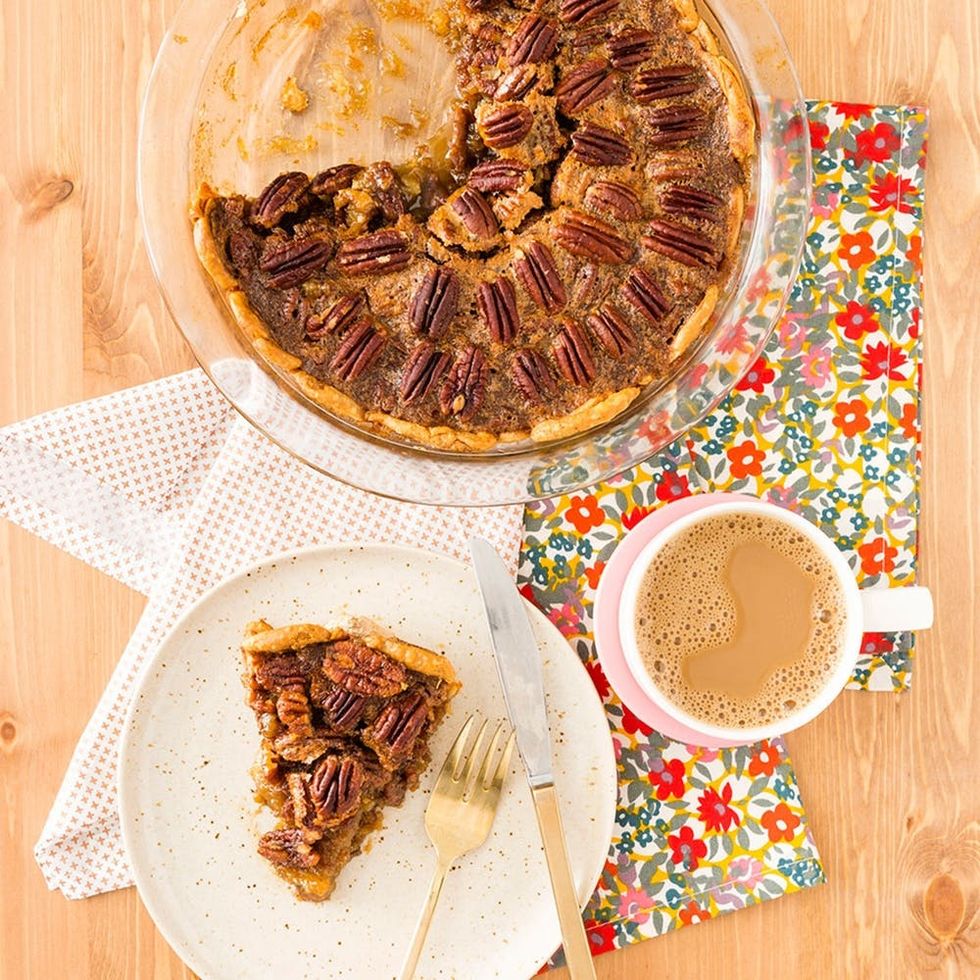 ---
Ingredients:
pre-made pie crust
1 cup granulated sugar
1/4 cup brown sugar
1 cup dark corn syrup
1 teaspoon vanilla extract (not pictured — whoops!)
1 teaspoon salt
2 Tablespoons ground cinnamon
4 eggs
1/2 cup butter
2 1/2 cups pecans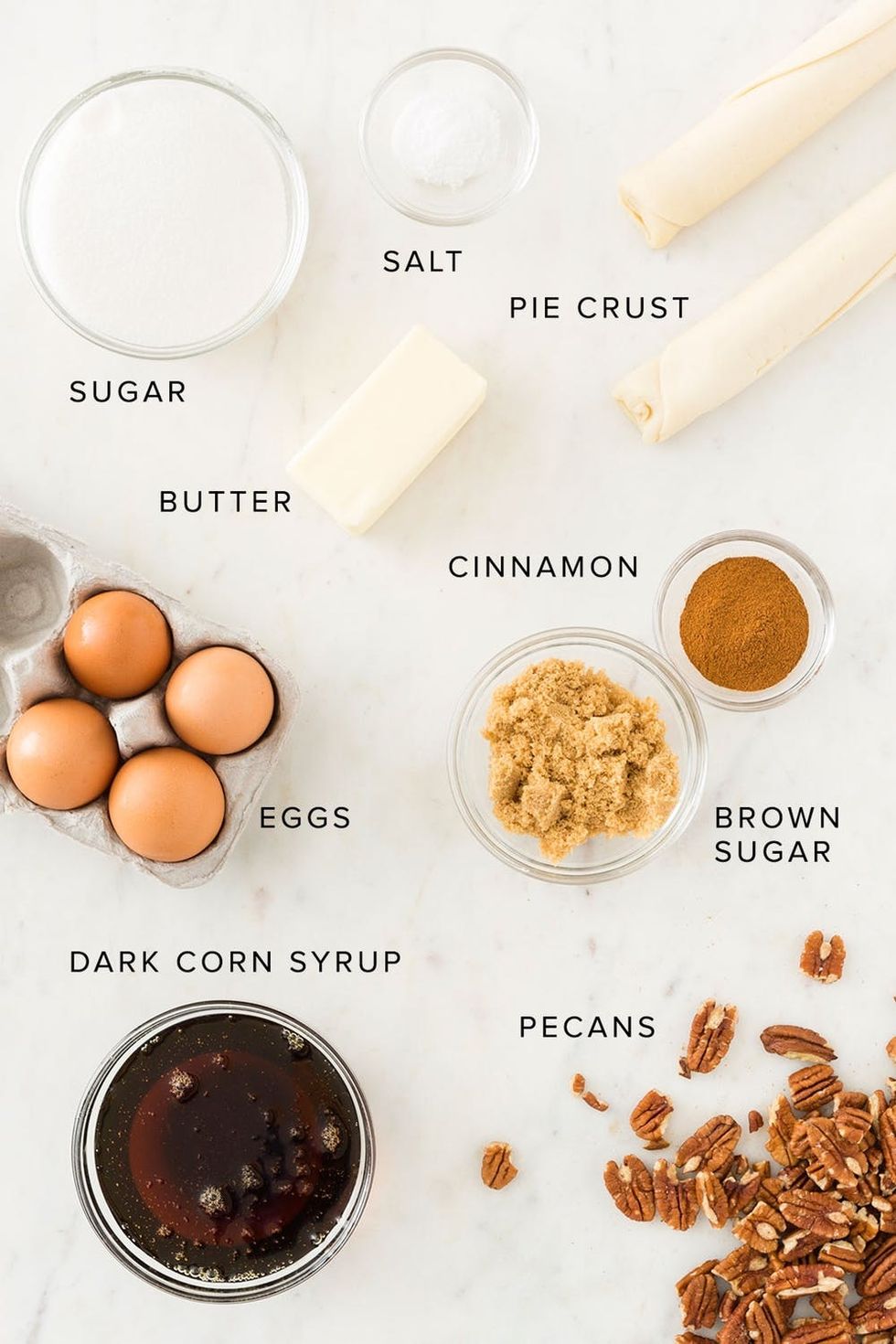 Instructions:
Unroll the pie crust and spread a handful of brown sugar and a dusting of cinnamon. Spread around the pie crust and roll back up.
Cut the crust into wheels and press into the bottom and edges of your pie pan. Pierce edges slightly with a fork or knife and bake in a 350-degree-Fahrenheit oven for 15 minutes.
In a bowl, whisk together sugar, corn syrup, vanilla, salt and cinnamon. Then whisk the eggs and stir until smooth.
Brown the butter by melting it in a small saucepan over medium heat for about 4-5 minutes. Slowly pour butter into the sugar mixture, and whisk to combine.
Stir in chopped pecans, then pour filling into the prepared pie crust. If desired, line the top of the filling with extra pecans in a pattern.
Bake for about 50-60 minutes, or until the filling is set. Remove the pie and let cool completely on a cooling rack for 3-4 hours, before slicing.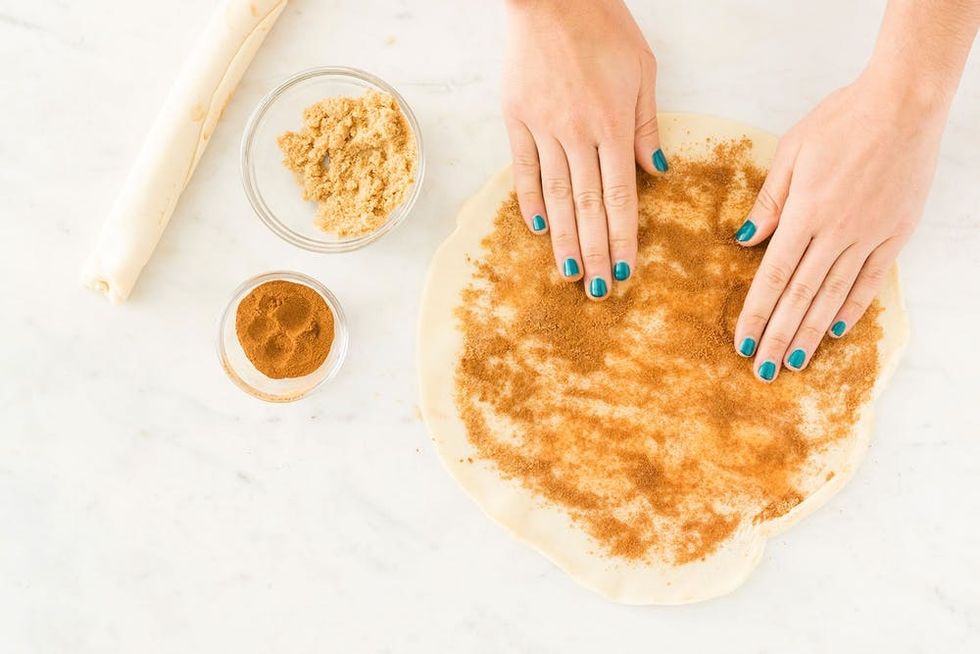 This pie crust may be my favorite thing of 2016. Unroll the crust and sprinkle with brown sugar and cinnamon. Use clean hands to spread around the dough.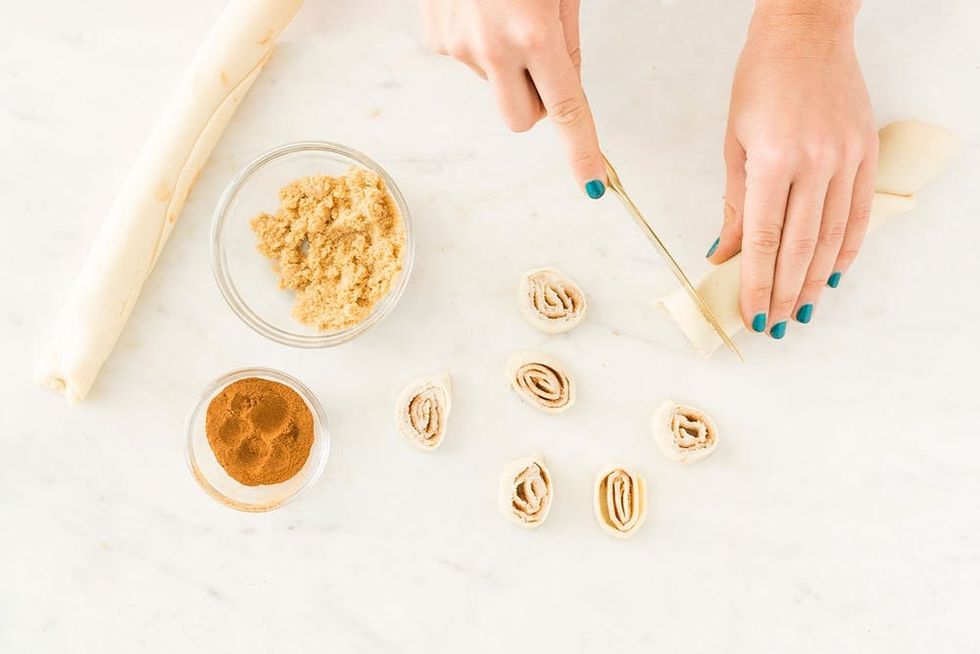 Roll the dough back up and slice into little pinwheels. You will need both rolls of dough for this crust.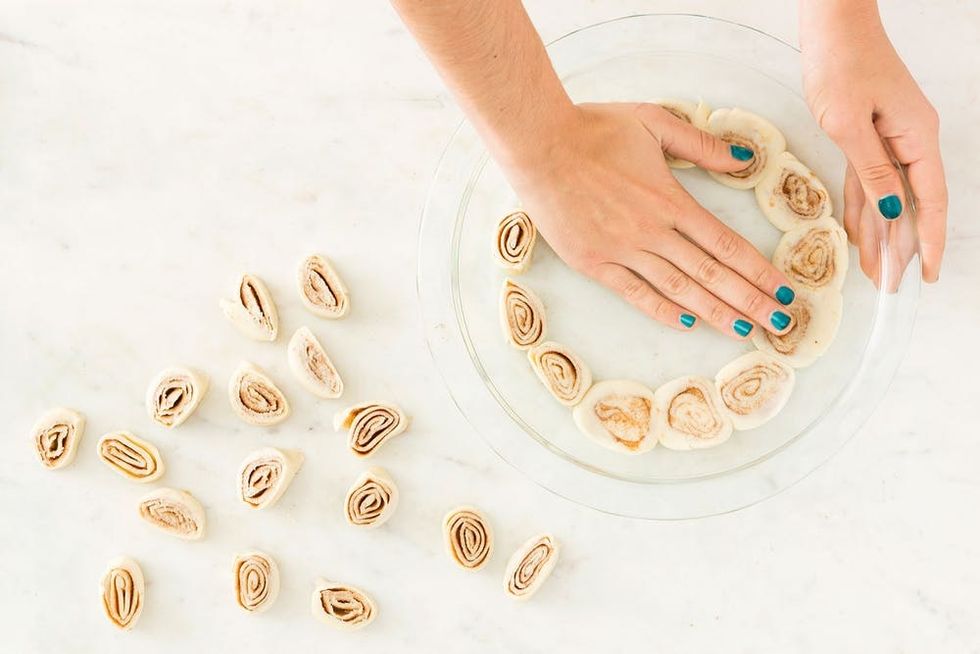 Place pinwheels on the bottom and side edges of the pan and flatten with the palm of your hand.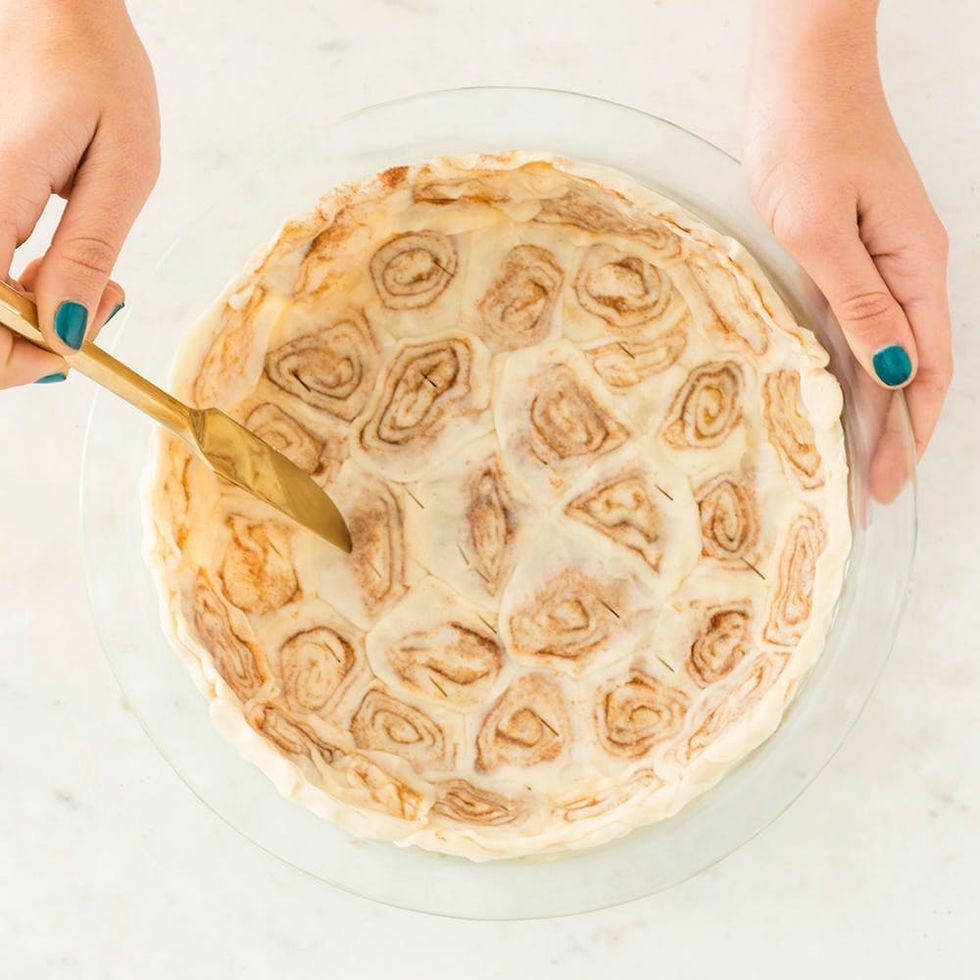 Lightly pierce with a knife and bake in a 350-degree-Fahrenheit oven for 15 minutes or until golden brown.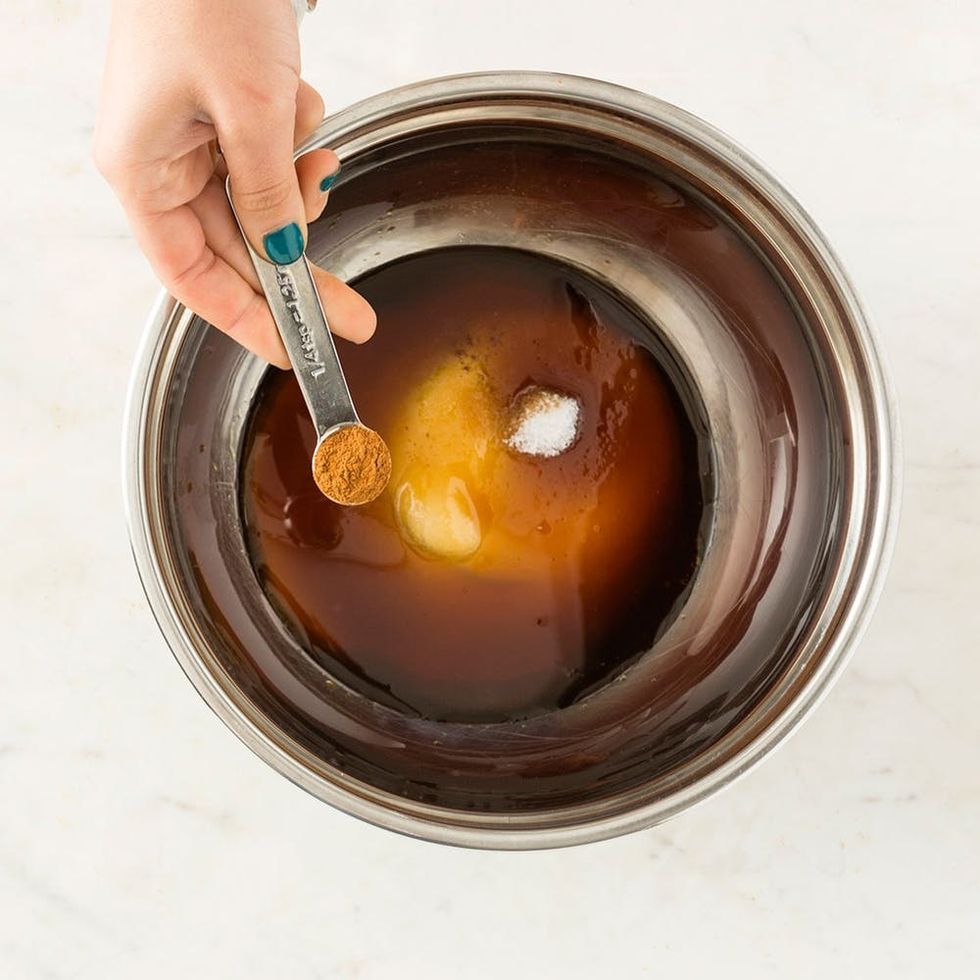 In a large mixing bowl add the dark corn syrup, white sugar, vanilla, salt and cinnamon. Stir until combined.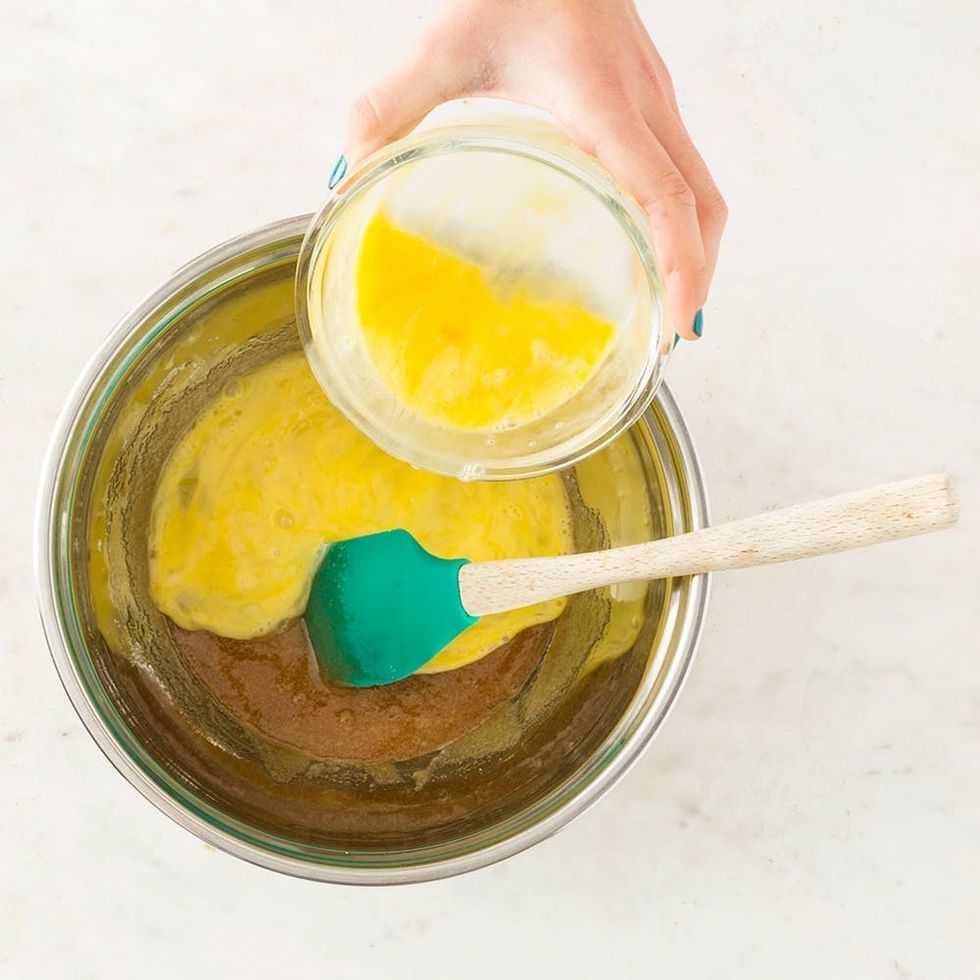 In a separate bowl, whisk four eggs together and then pour into the sugary mixture. Stir until combined.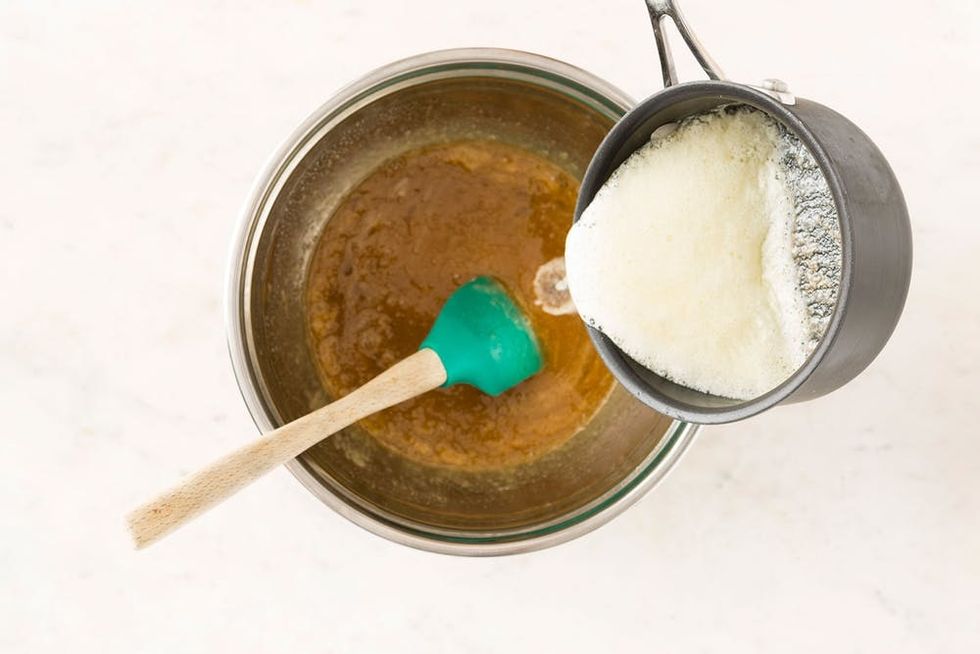 Brown the half cup of butter on the stove for 4-5 minutes. Add into the gooey mixture and stir 'til combined.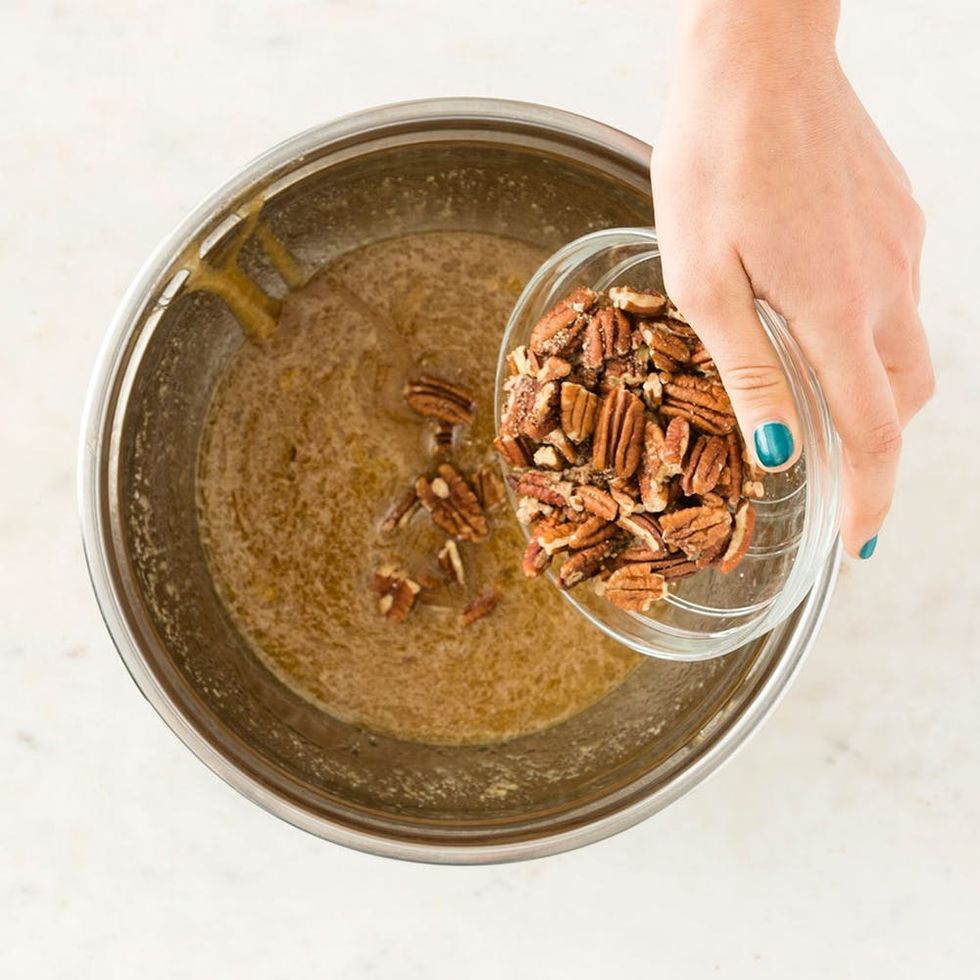 Top it off with two cups of pecans — we recommend leaving a half cup to decorate the top of the pie ;)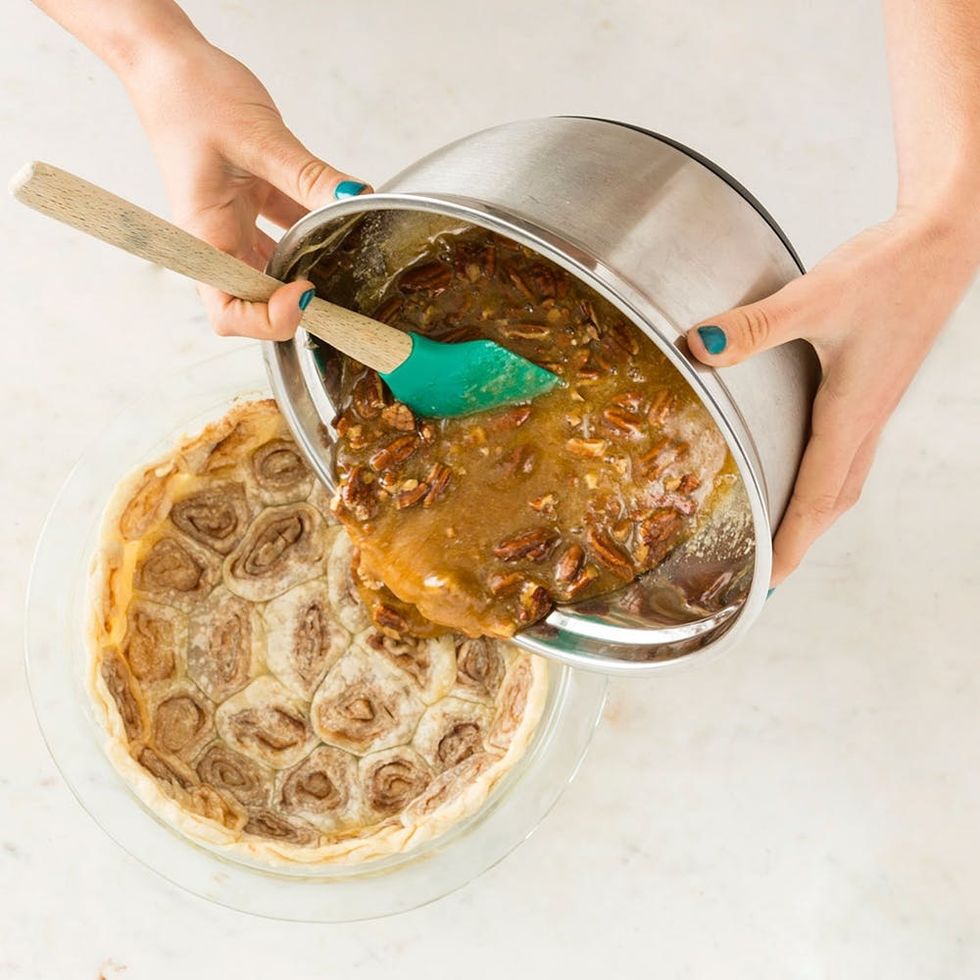 Pour it in and start to count down 'til you can indulge in this gooey goodness.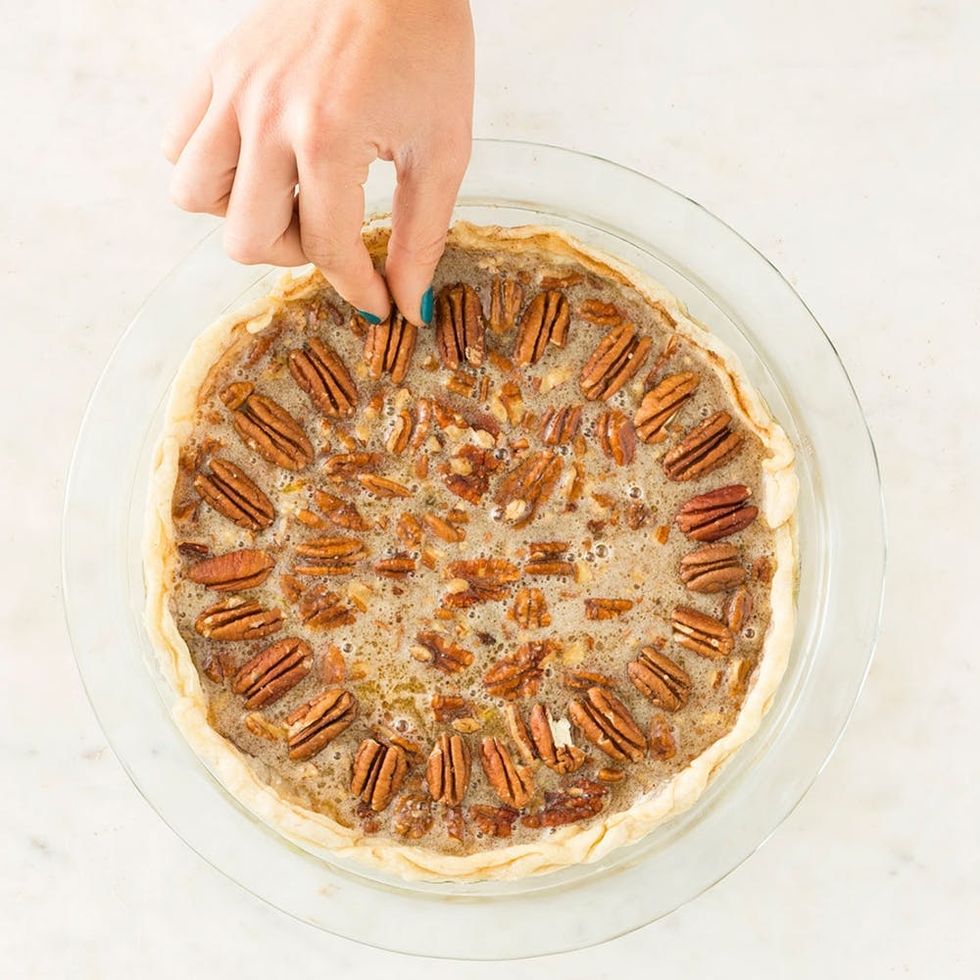 Use that extra half cup to decorate the top of the pie with a mandala pattern. Bake in a 350-degree-Fahrenheit oven for 50-60 minutes or until the pie has set. *Note — it will still be jiggly but firm ;)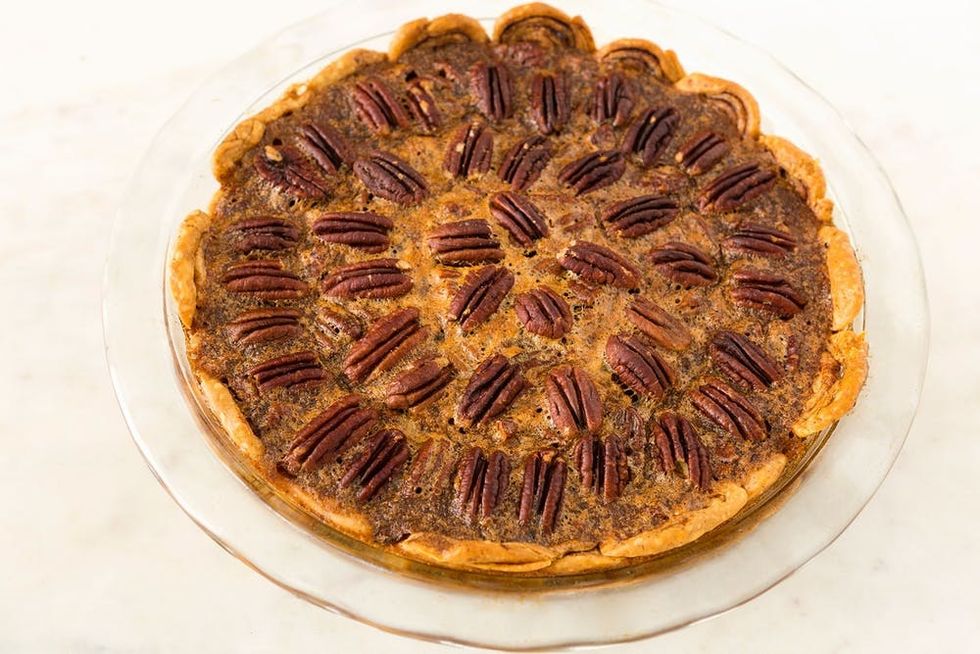 Let the pie cool for 3-4 hours before slicing into it. It will smell delicious, so hold back that temptation.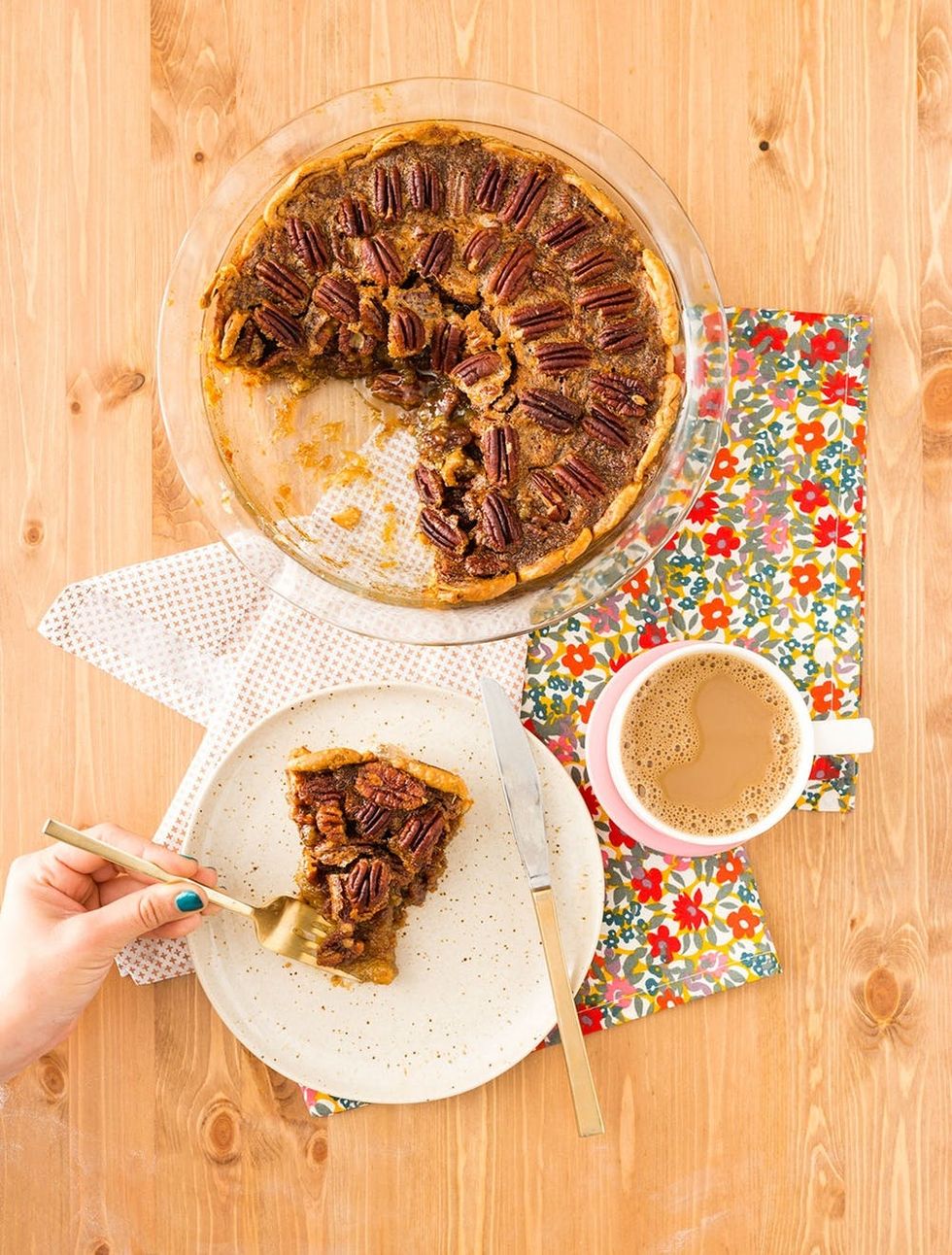 Let's dig in :)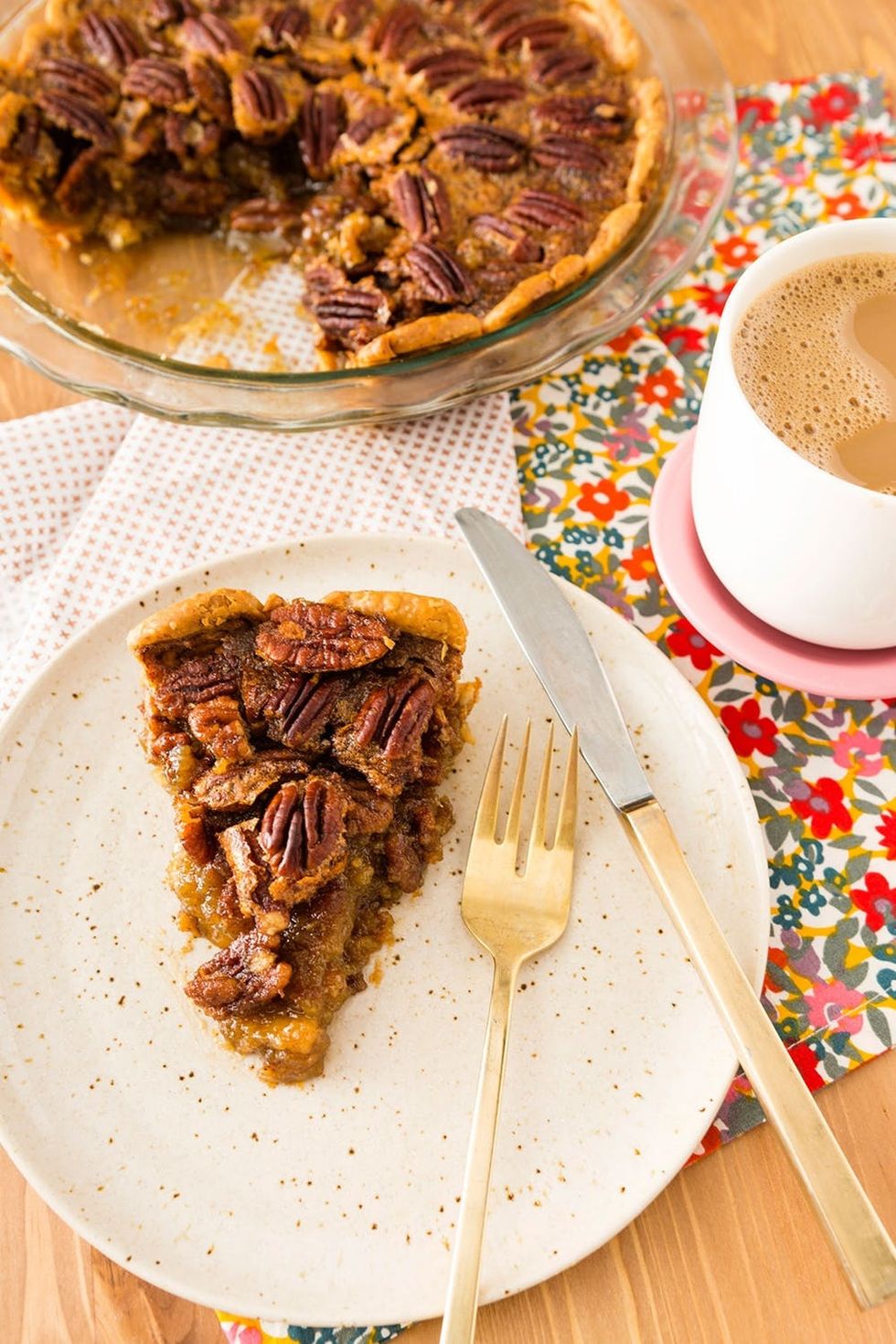 Do you see that gooeyness? Some of my coworkers call it crack (insert laughing face emoji here).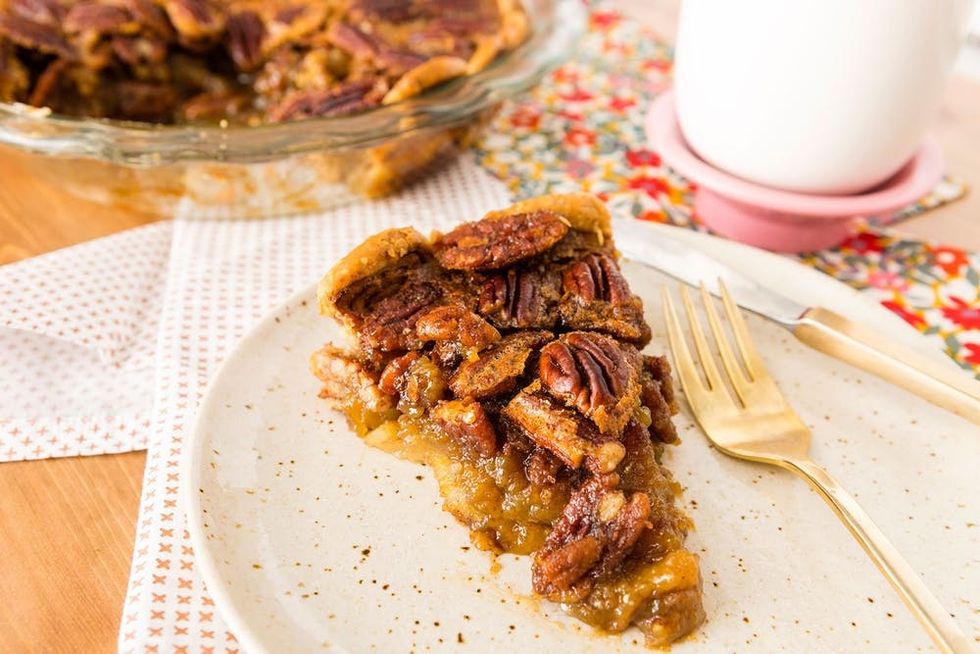 I swear your holiday guests will go CRAZY over this pie. Enjoy!
Show us your Holiday recipes by tagging us on Instagram + using the hashtag #iamcreative!
DIY Production and Styling: Kelly Bryden
Photography: Brittany Griffin
Kelly Bryden
Kelly Bryden, an east coast native, is stoked to be a part of the Brit + Co team. Design, DIY, and fashion are her passions. If she isn't crafting you can catch her on the dance floor or wrapped up in aerial silks.