Frozen Dough FTW! 16 Easy Recipes for Your Super Bowl Party
Jan 29, 2015
Looking to create a Super Bowl spread for the record books? You will need more than just chips and dip to achieve that. We're thinking freshly baked pizza, calzones and rolls would really up your game come Sunday. But who really has the time to whip up their own dough, decorate for the party and plate their appetizers? Don't worry, there's a simple solution: the mighty frozen dough. Put away that flour and water and get ready for some hearty, home-baked eats that will make the hostess life a little easier. Just think; with this head start you'll race to the finish line — err, end zone — for a game-winning spread with plenty of time to spare for socializing and sipping on punch.
---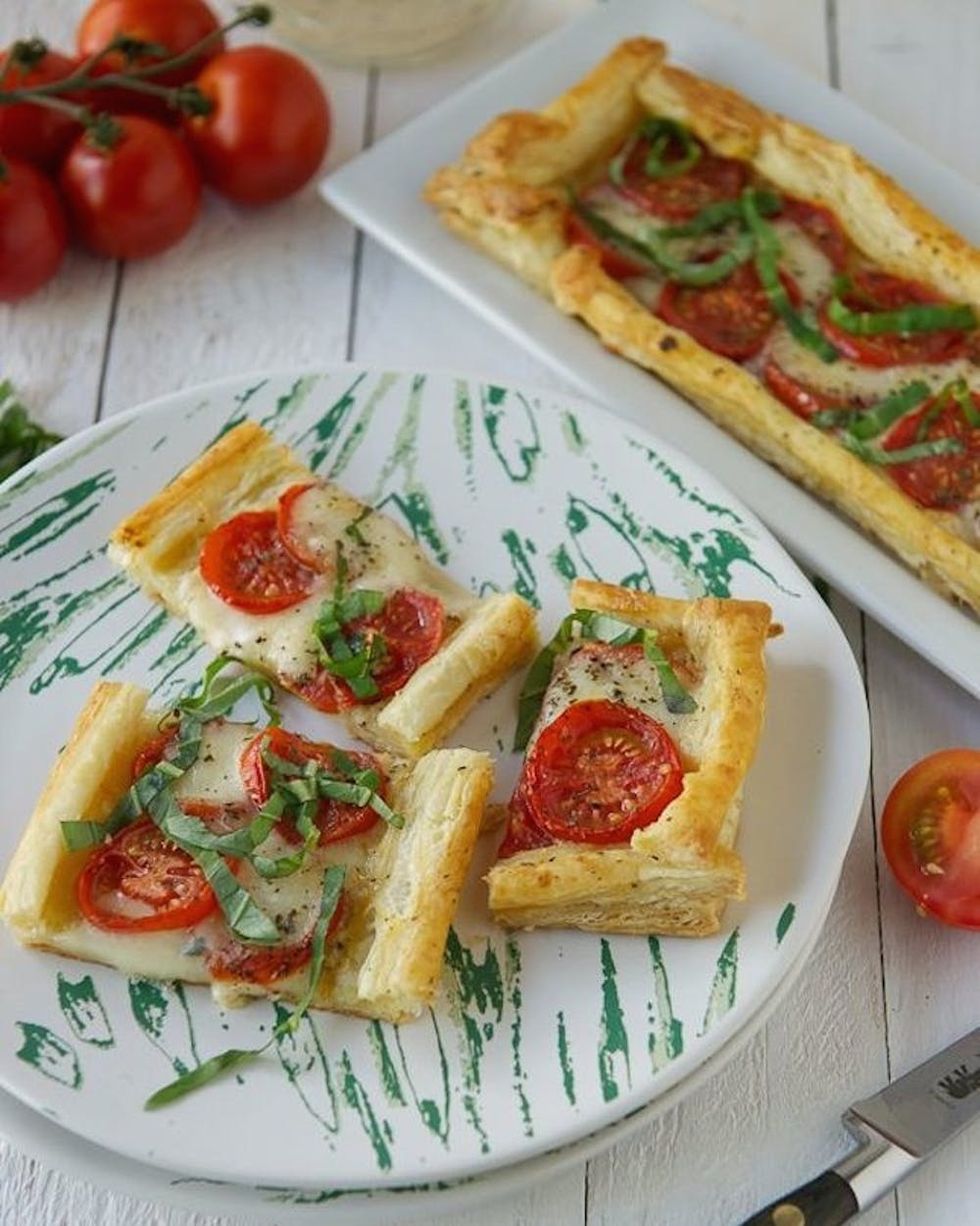 2. Caprese Tart: Cheese, herbs and layers of flaky puff pastry? Sold. This delish tart works great as a snack or even as a standalone meal. (via Lemons and Anchovies)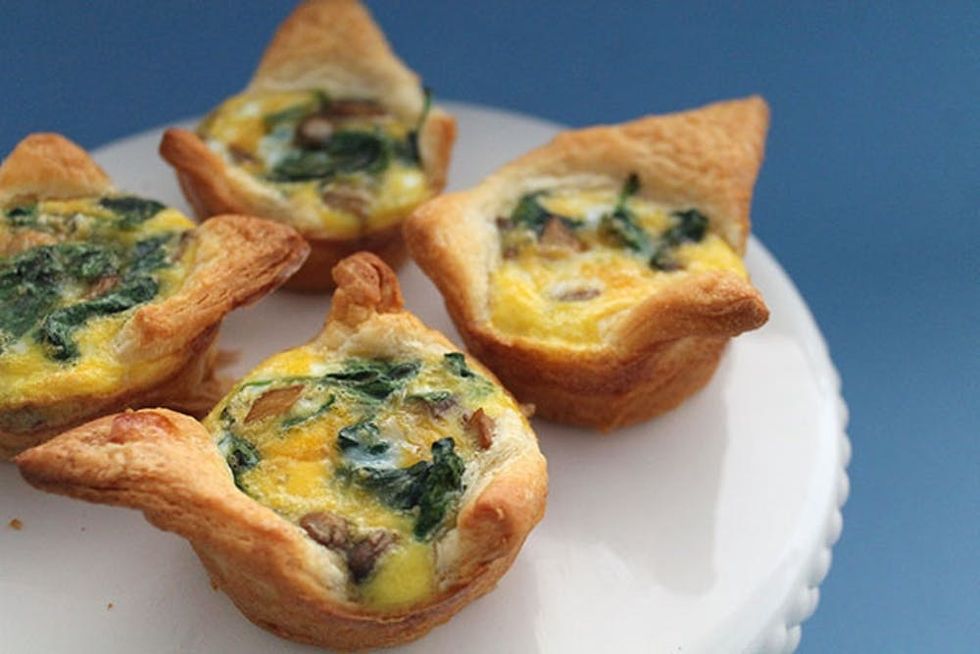 3. Mini Quiche: We are big fans of mini everything, and these cute lil quiches are no exception. Feel free to mix up the ingredients to your heart's content. (via Brit + Co)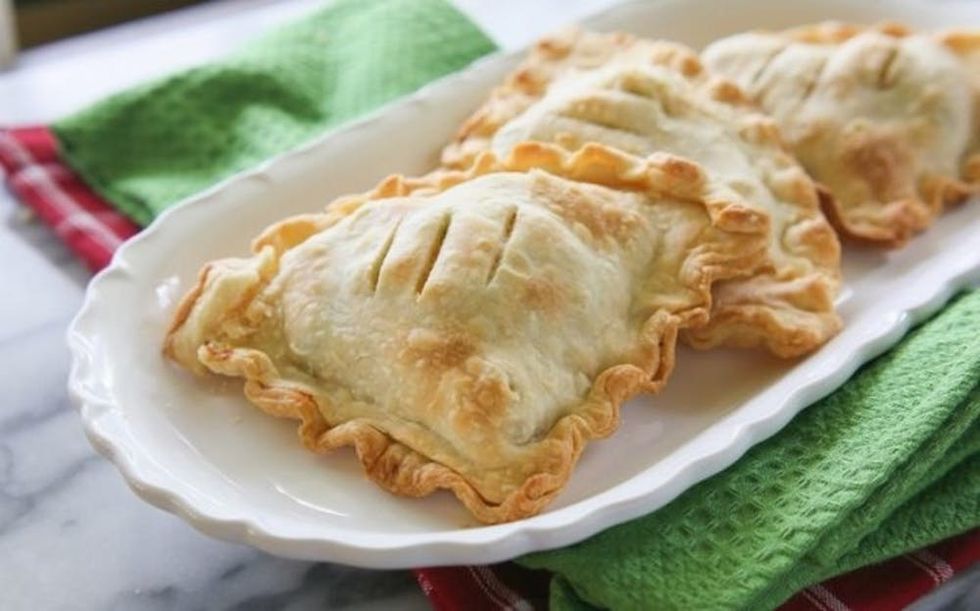 4. Tuscan Chicken and Broccoli Hand Pies: Make pot pies stuffed to the brim with chicken, broccoli and culinary essences of the Tuscan countryside. Your guests will be thrilled to get their hands all over 'em. (via The Girl Who Ate Everything)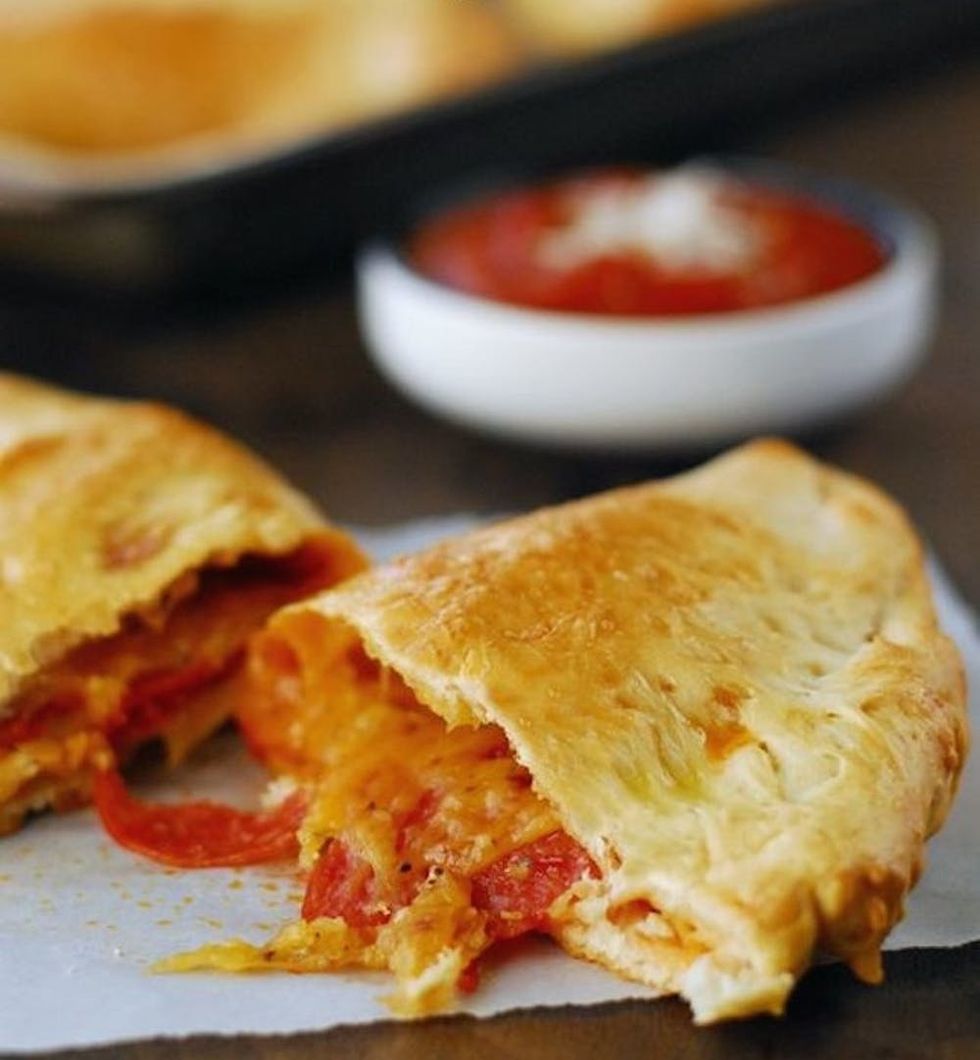 5. Easy Pepperoni Calzones: Oh my, nom nom! Make these oh-so-yummy and super simple calzones for an easy meal. You can even have your guests get creative with topping choices for a fun calzone party. (via The Gunny Sack)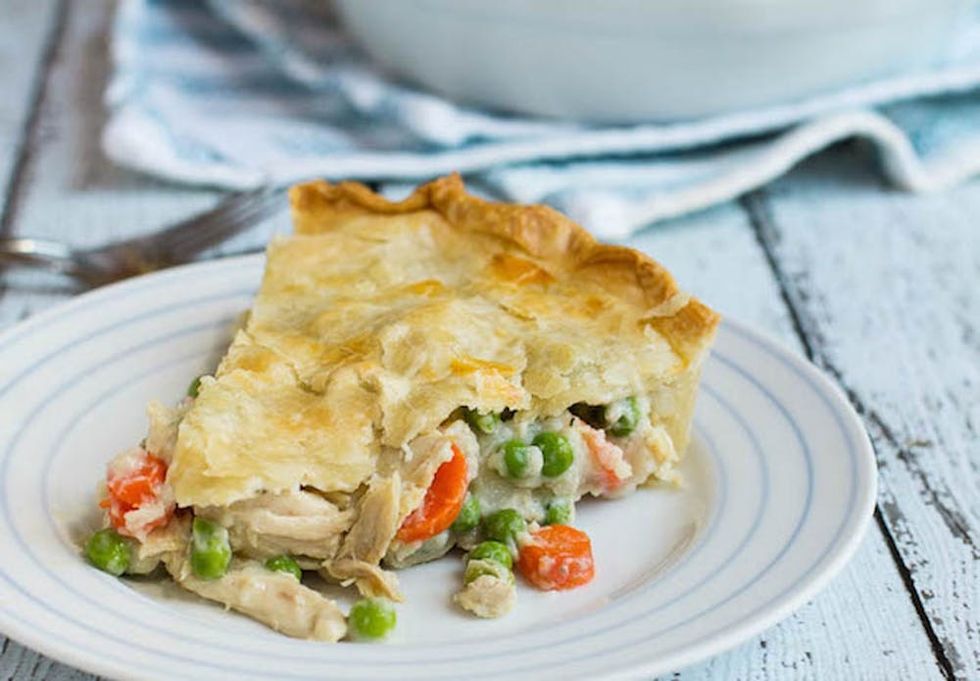 6. Chicken Pot Pie: Pot pie is not to be missed when it comes to having winter comfort food on hand. Keep it simple by using pre-made pie dough + rotisserie chicken for a pie that's packed with deliciousness. The best part? It only takes about 30 minutes to bake. (via Spicy Southern Kitchen)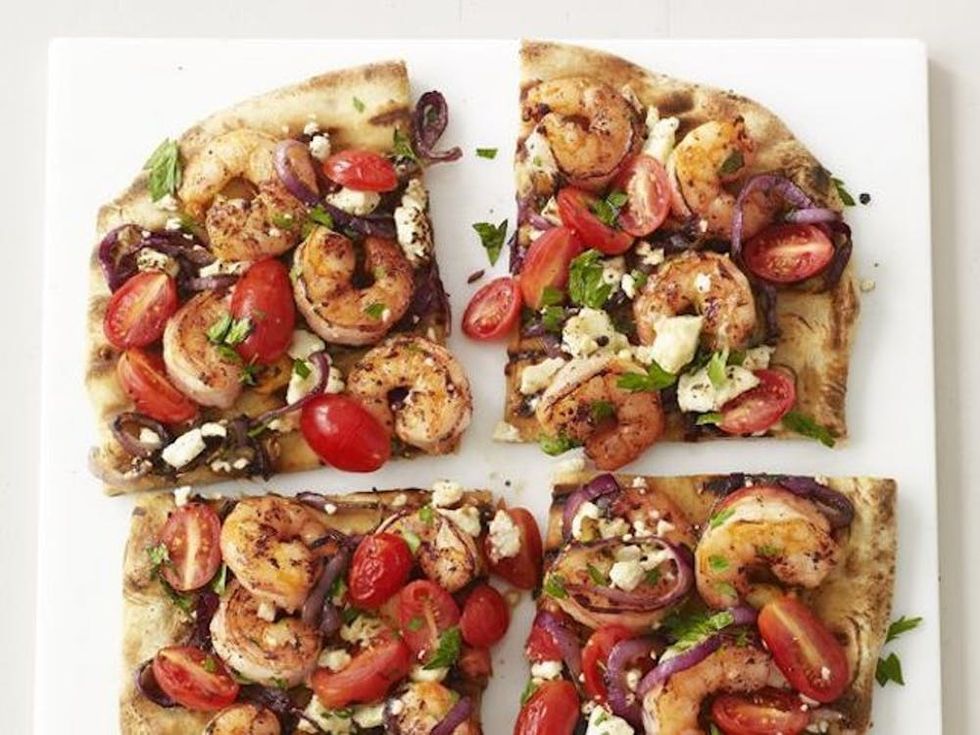 7. Grilled Shrimp Pizza: We said it before, and we'll say it again: Frozen dough opens up a world of possibilities. This shrimp pizza is a cinch to make. Bookmark this recipe for your future winter shindigs, when you'll surely need some food that's reminiscent of summertime. (via Food Network)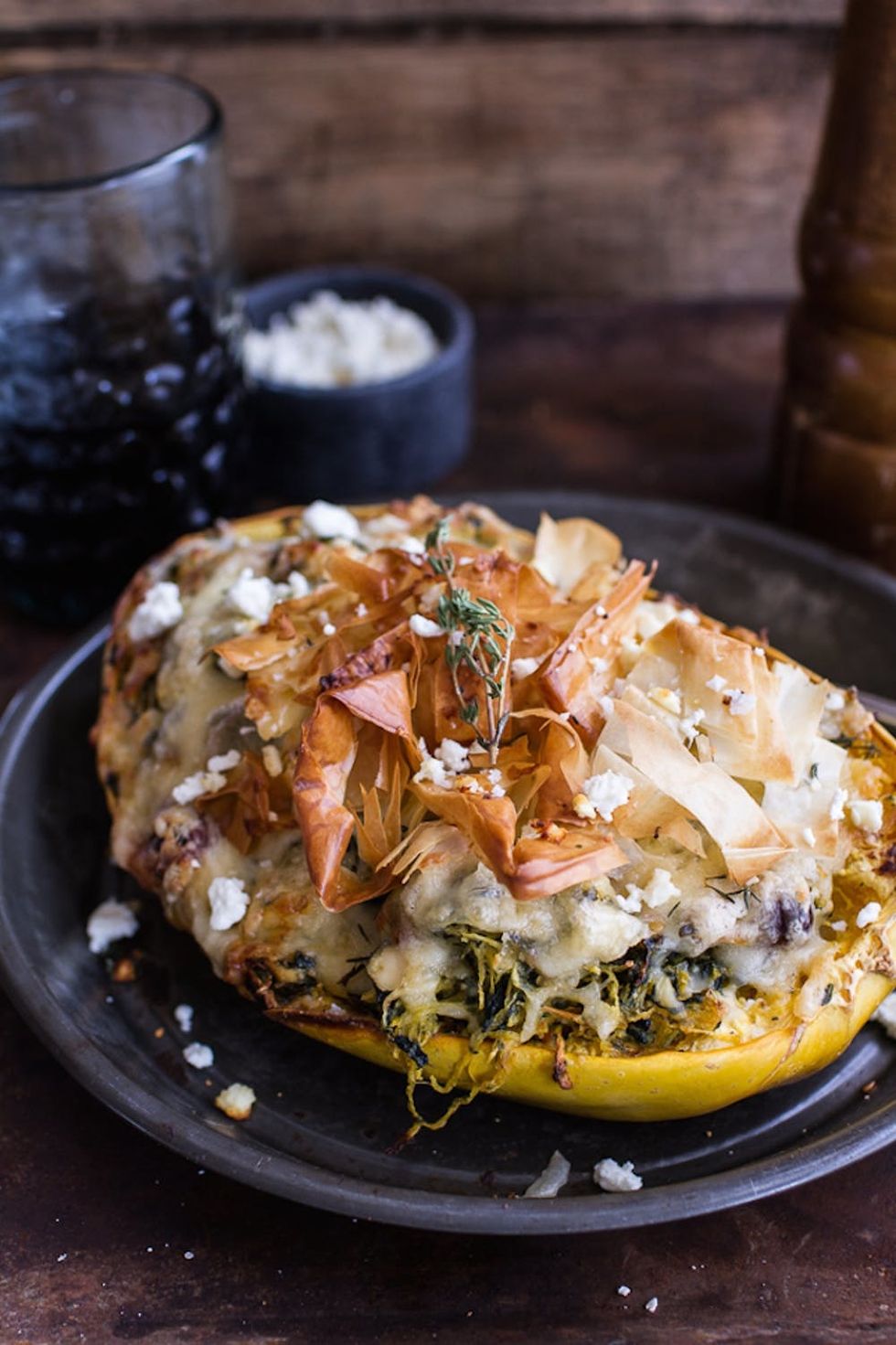 8. Spanakopita Stuffed Spaghetti Squash: Bored out of your gourd with squash? Stuff spanakopita into spaghetti squash and try this hybrid recipe that has got us cheesin'. Seriously. Look at that again, then repeat after us: YUM. (via Half Baked Harvest)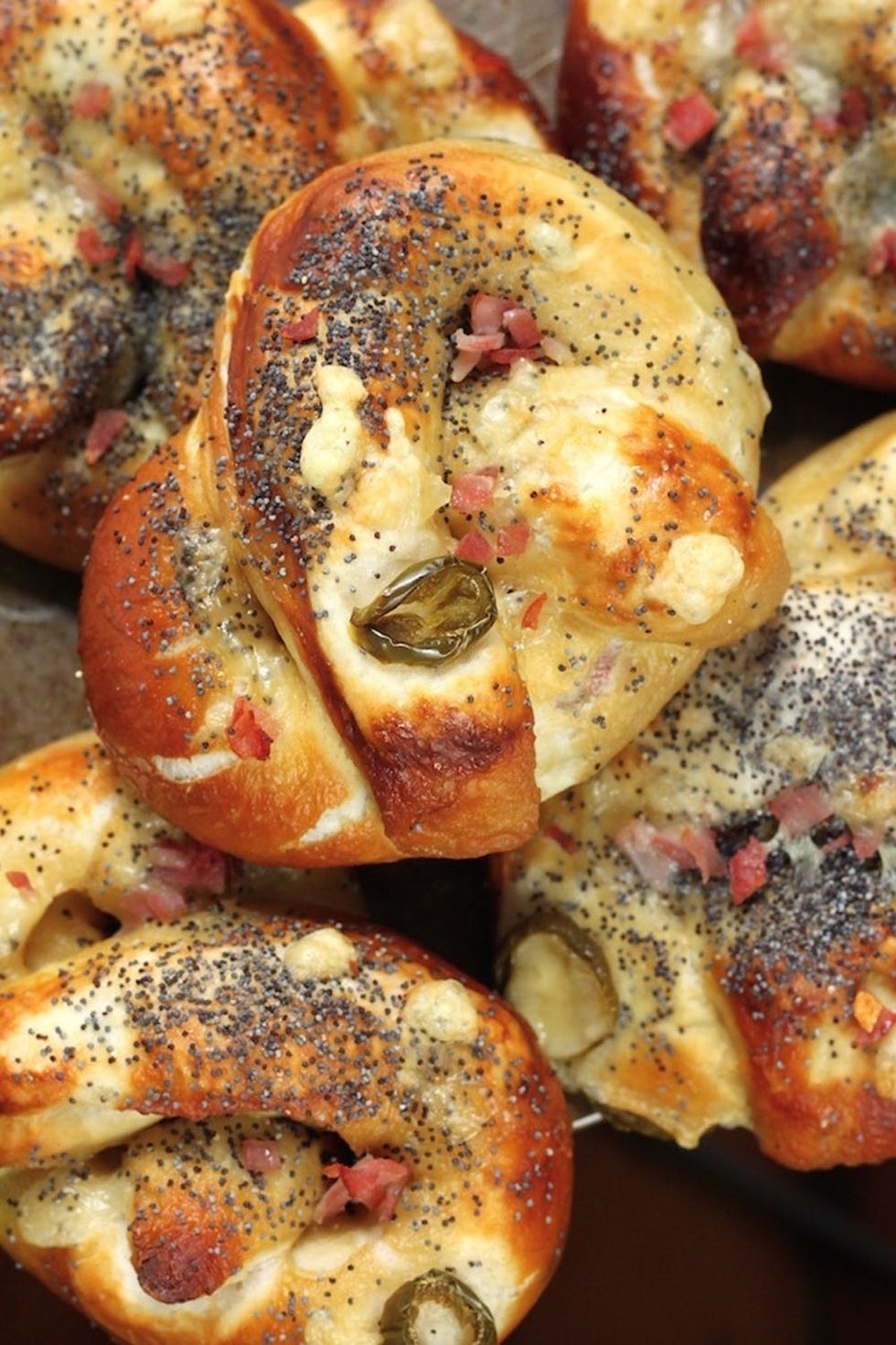 9. Ham, Swiss + Jalapeño Pretzels: You should totally be pumped for these pretzels. Ham, swiss cheese and a kick of jalapeño take these snacktime staples and upgrade them to a great game-time munch. (via Baker by Nature)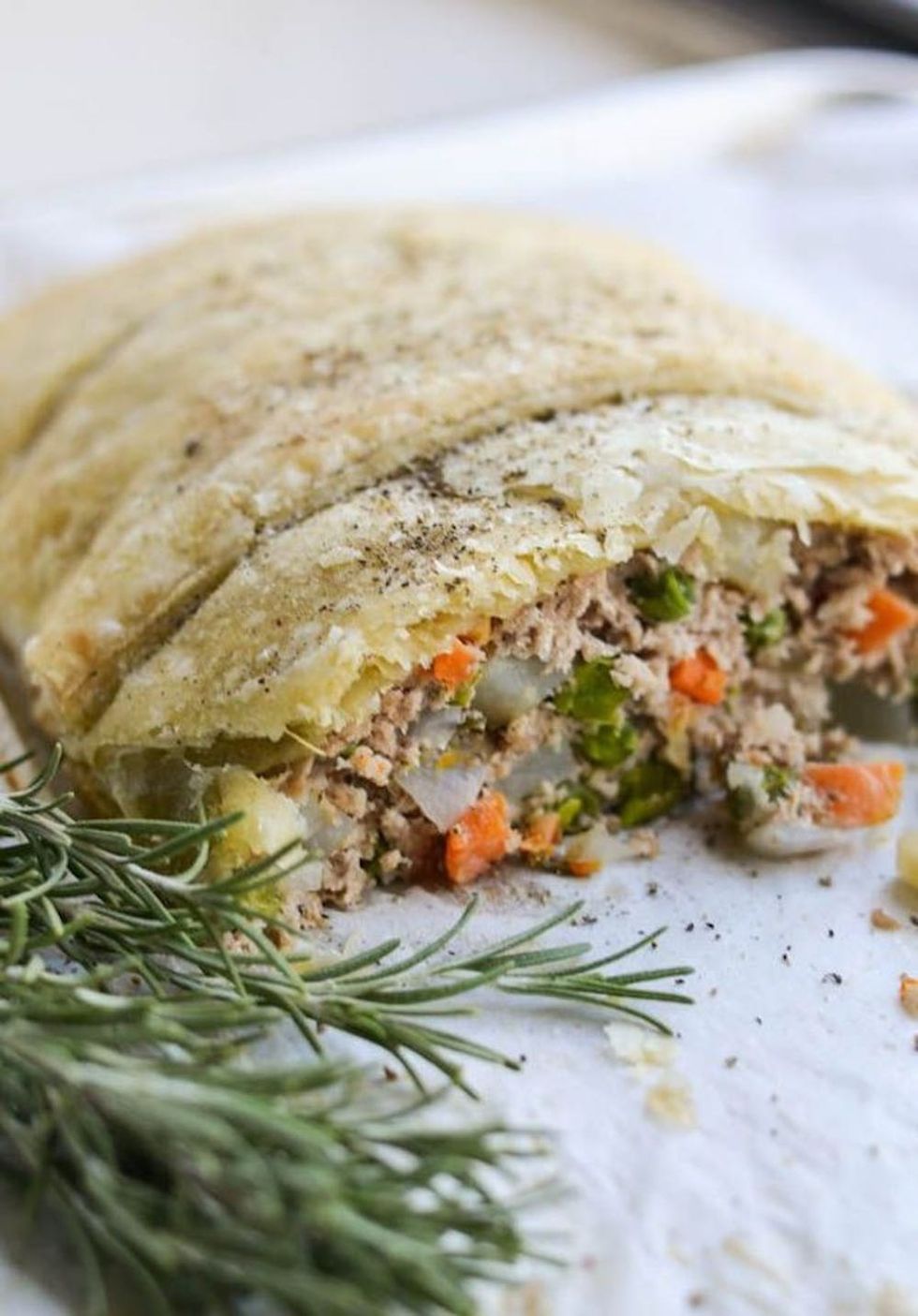 10. Beef Wellington: If you really want to impress your guests and even yourself, whip up this puff pastry classic. Use fresh rosemary to brighten things up, and get ready to dig in. (via Rachel Schultz)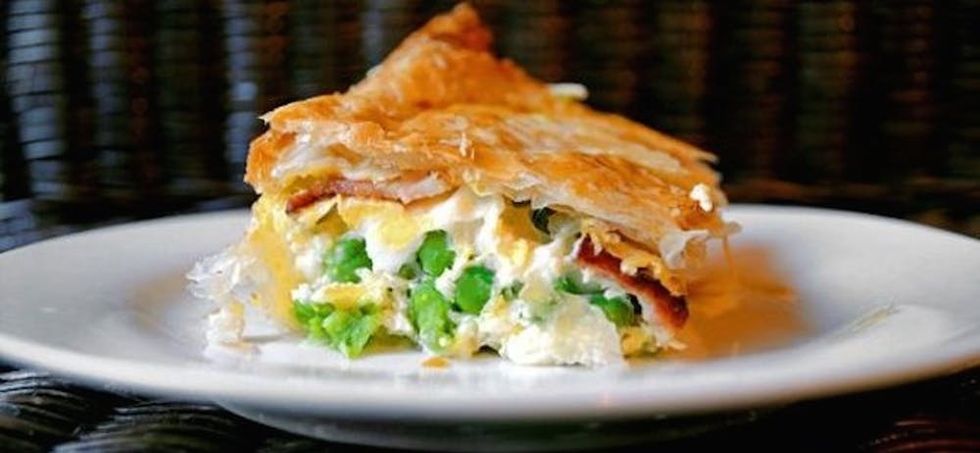 11. Bacon and Egg Pie: Bring an interesting twist to the bacon and eggs combo by baking 'em all together with some puff pastry and veggies. We're betting this would be great with a squirt of Sriracha sauce. (via Bunny Eats Design)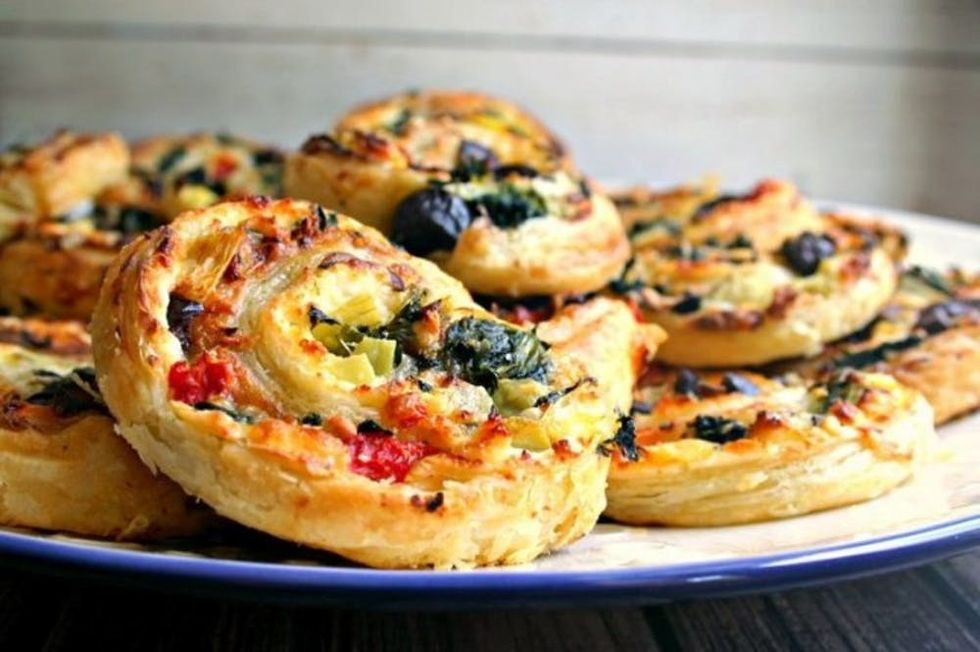 12. Cheesy Greek Swirls: Roll up a Mediterranean swirl that'll make for a great Meatless Monday meal (if there are any left over). Artichokes, olives and feta take you straight to Athens when you bite in. (via Life, Love and Good Food)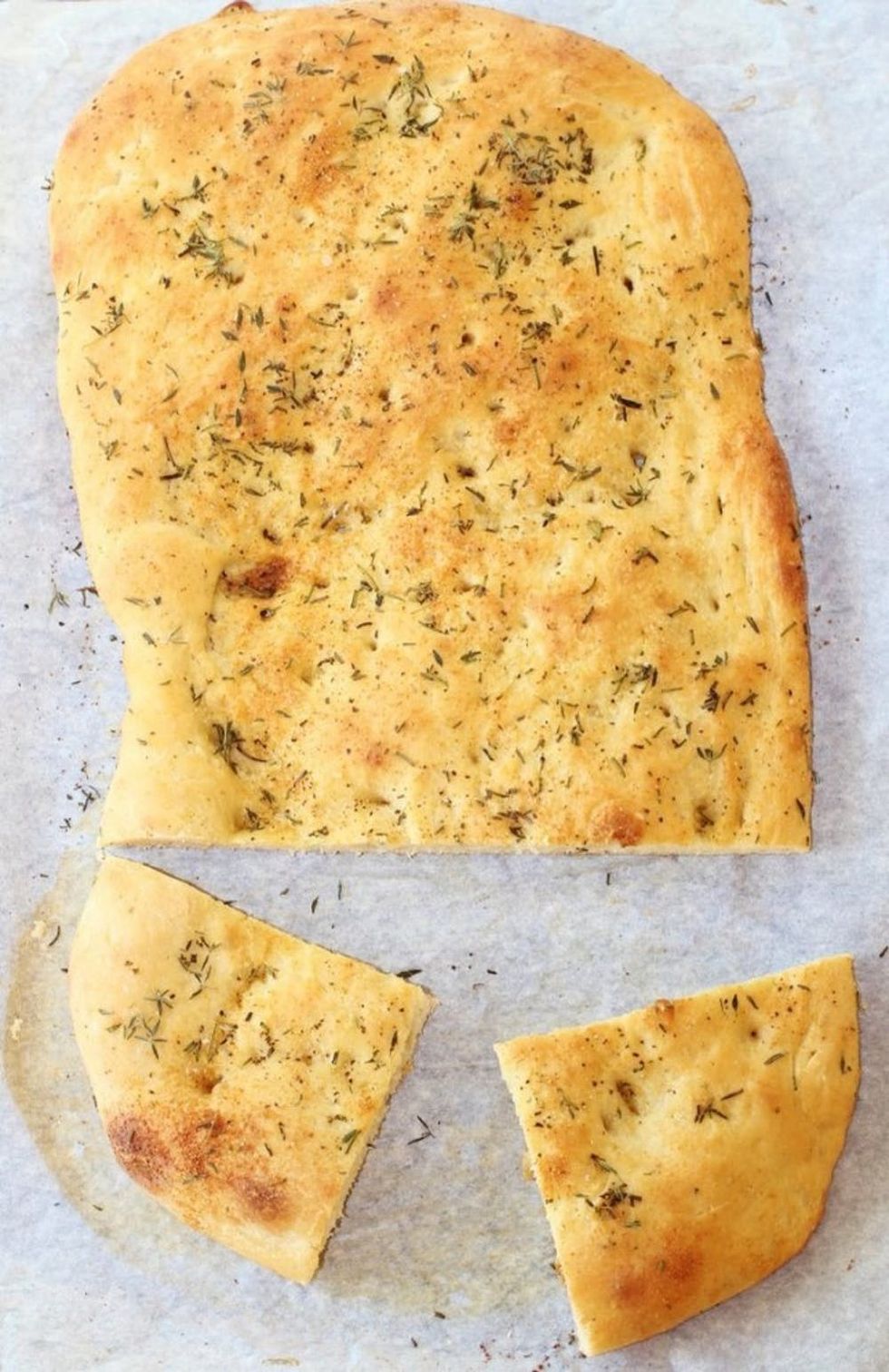 13. Garlic Herb Focaccia: Pair this easy-to-make focaccia with some delicious homemade dip or use it to build some killer paninis. It would also be a great base for bruschetta — in other words, you can't go wrong baking this bread. (via Syrup and Biscuits)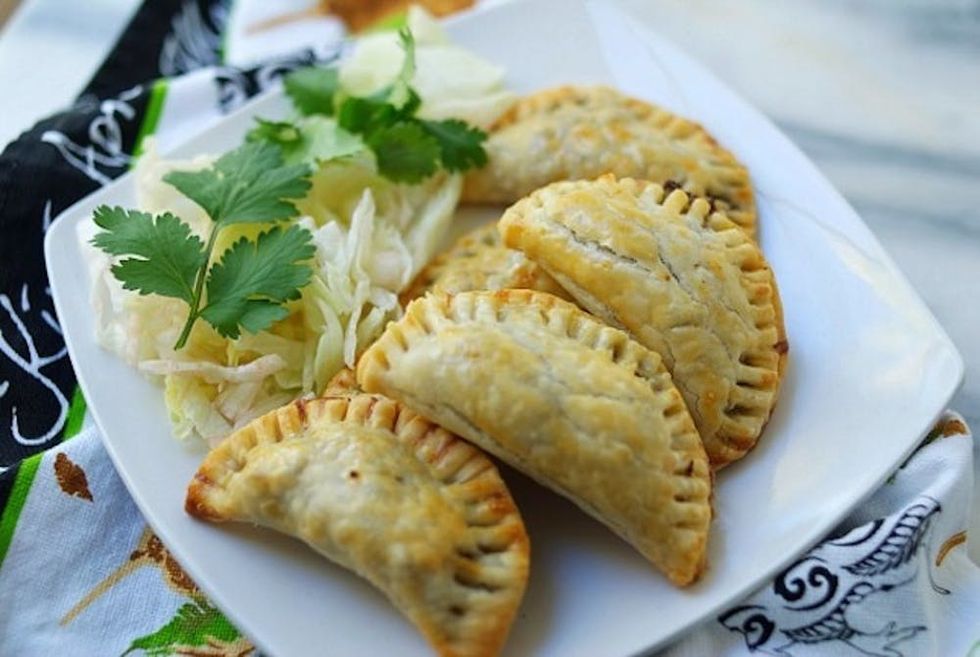 14. Beef Empanadas: Up your food game with these latin beef patties. Rework Super Bowl Sunday to be all about empanadas, and you'll have a #winning spread, fo' sho. (via It's All About the Yummy)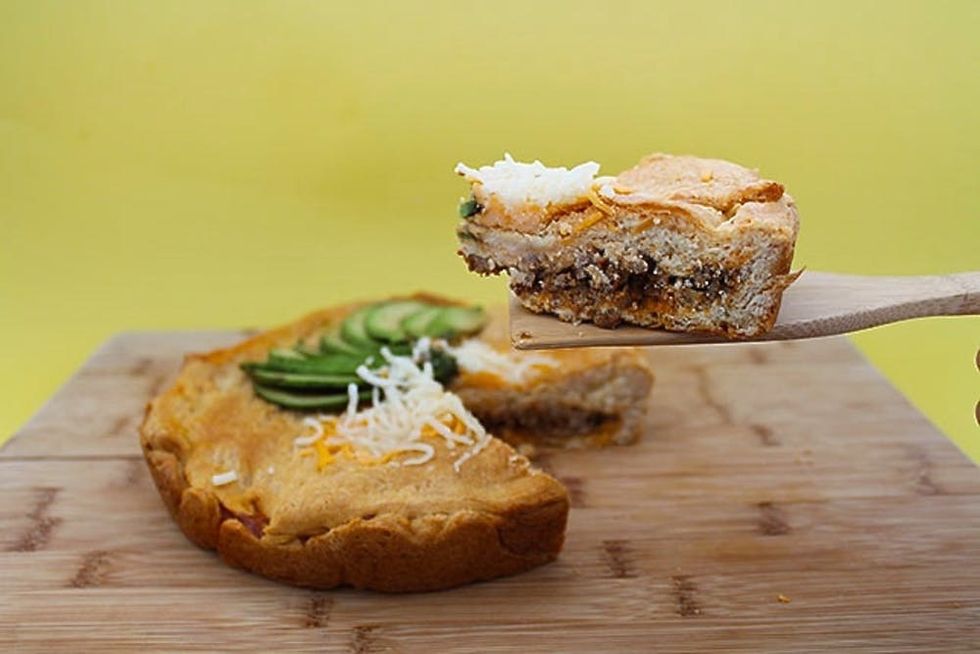 15. Taco Pie: Who needs tacos and all those fixin's when you can just bake it into one pie? Crescent dough FTW! (via Brit + Co)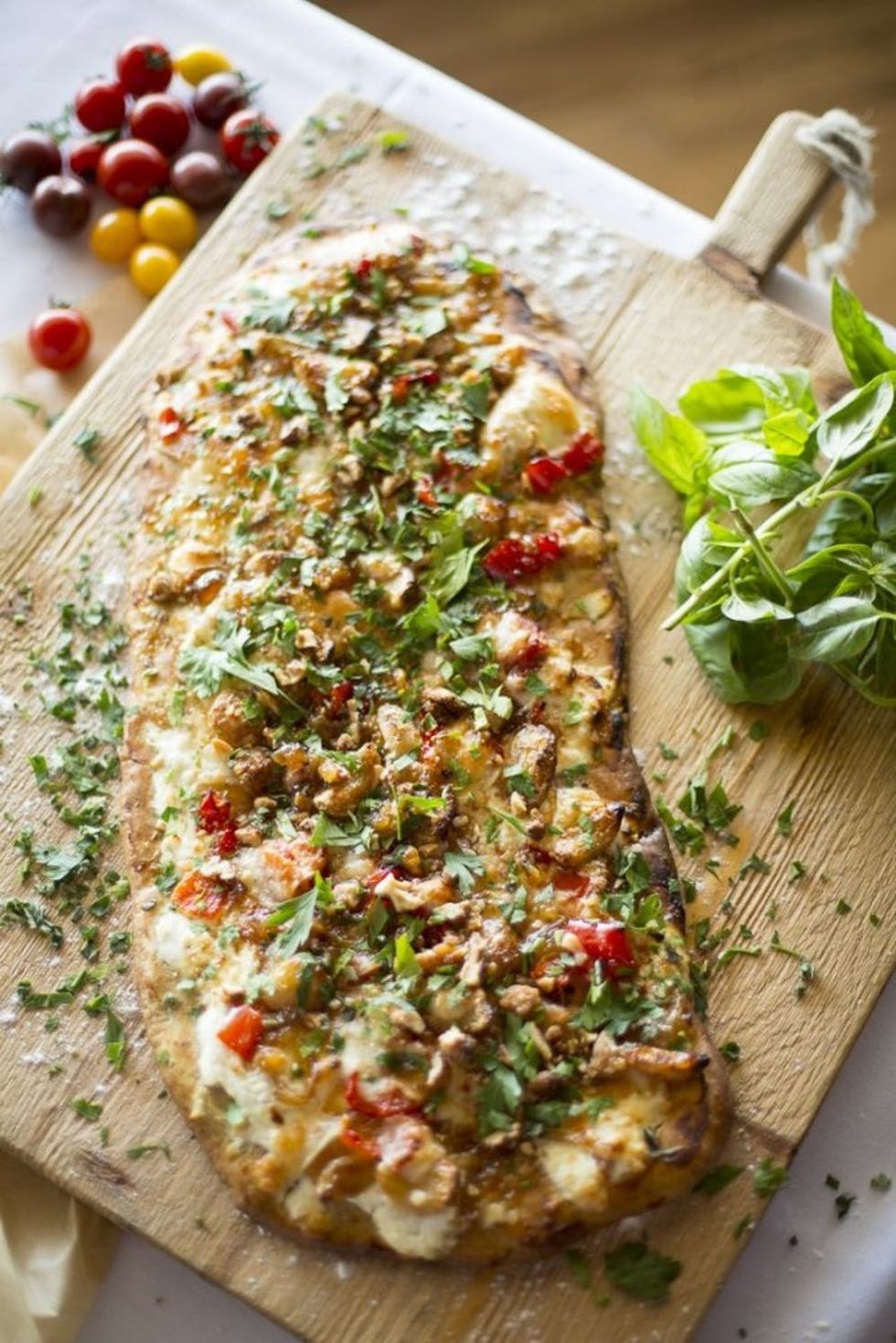 16. Tomato, Garlic + Herb Flatbread Pizza: Use frozen dough to save time and focus on the details, like all of the ingredients you can use to top this flatbread pizza. Tomatoes, garlic and herbs are just the beginning. Shallots, eggplant… the sky's the limit, so get creative. (via Valley and Co Lifestyle)
Which of these recipes has you ready to race to the freezer aisle with purpose? Are there any other frozen dough hacks you'll be making this Sunday? Chat it up with us in the comments!