You might be a fan of of flats, sneakers and sandals during the warmer seasons, but when the temps take a dip, it's all about the boot. Not only do they offer some serious protection against the elements, but they have the ability to turn even the most understated outfit into a sartorial home run. And there's no shortage of styles to choose from. Once you've scored the perfect pair (or five), the only question is how to really rock them — we mean, way beyond skinny jeans and a hoodie. To help you get more creative with your head-to-toe fall uniform, we've pulled together 10 of-the-moment outfits for (almost) every type of boot out there. Wear this now, totally thank us later ;)
---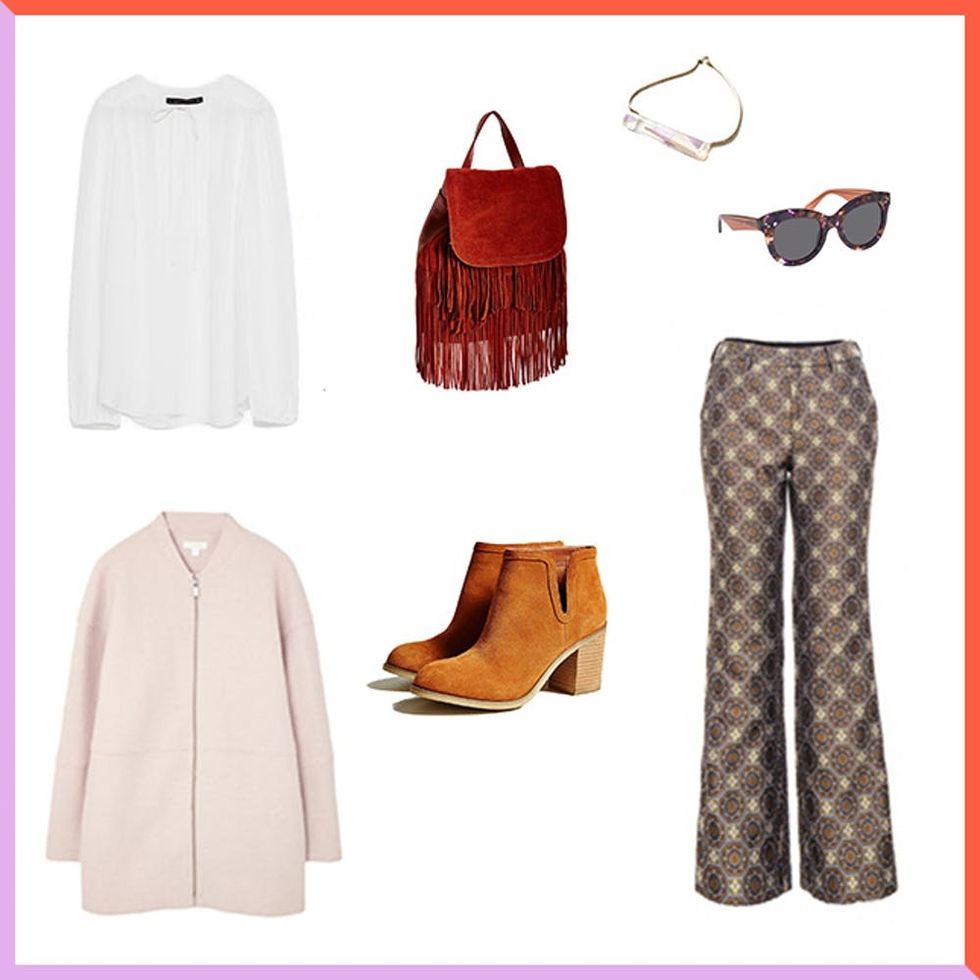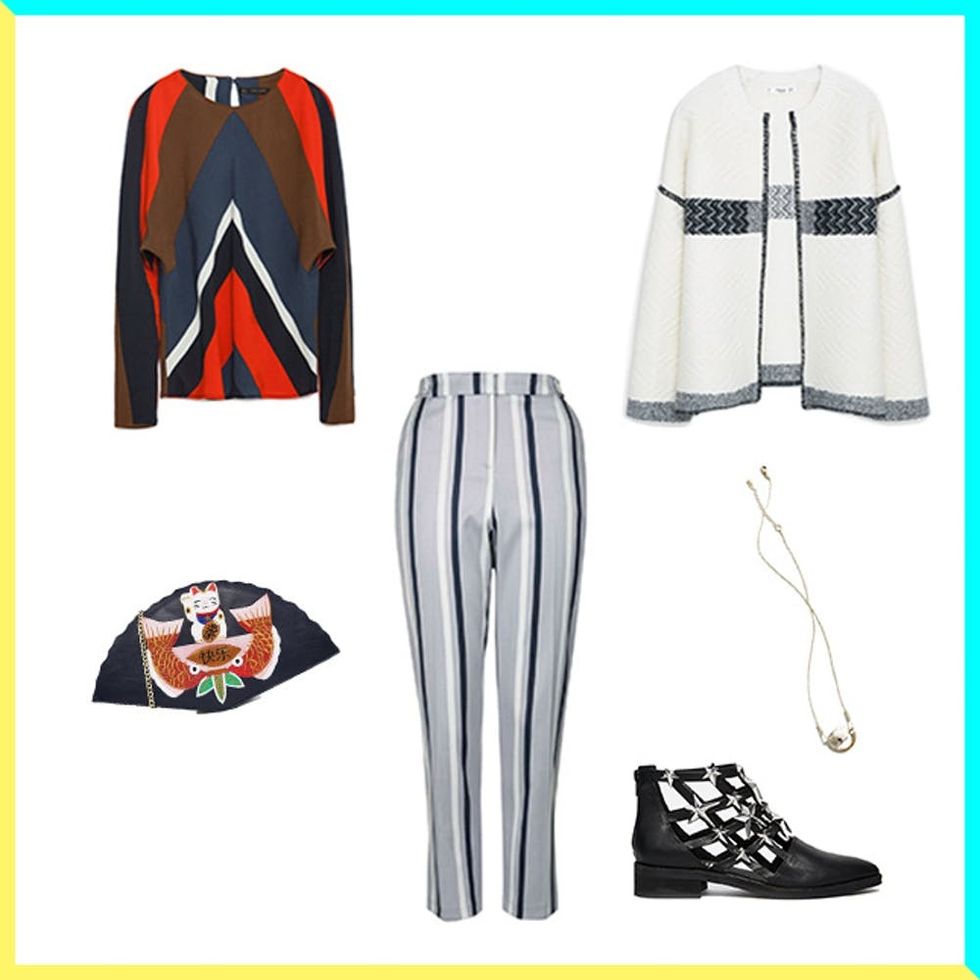 Every closet needs a pair of statement boots, and these Eeight Nelly beauties with cutouts make for a mean contender. Wear these with bold colors, like the ones found on this chevron top and these striped cigarette pants. Try an embroidered coat to tie the look together. Grab a quirky bag and get ready to take the office + happy hour by storm.
Eeight Nelly Cut Out Star Embellished Ankle Boots ($143) + Topshop Striped Cigarette Pants ($75), Mango Textured Wool Blend Cardigan ($80), Zara Multicolored Stripe Top ($40), Skinnydip Fan Cat Bag ($55), Great Minded Marble Necklace ($18)
How to Style Fringe Boots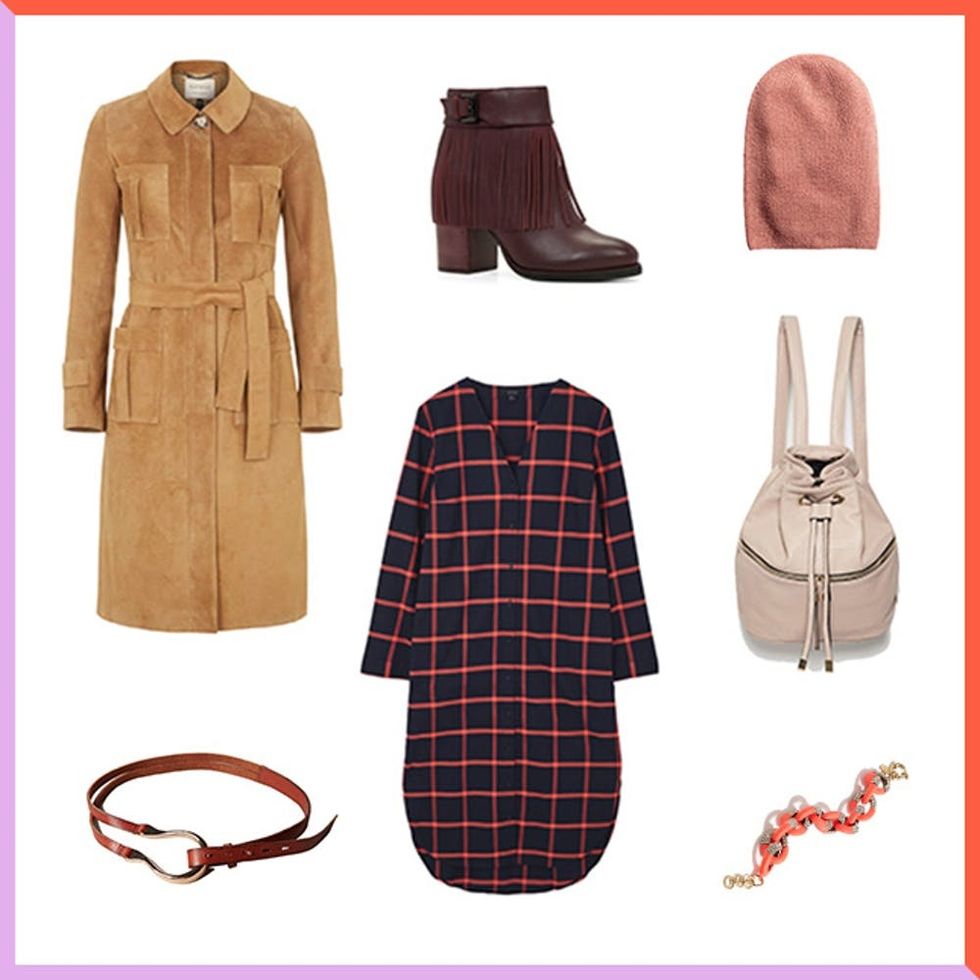 The latest way to work a little fringe into your wardrobe is on your feet. These embellished kicks offer an easy way to inject a little playfulness into a sophisticated/casual ensemble. Try pairing them with a checked shirt dress and long suede trench. Add a beanie, chainlink bracelet and drawstring backpack for an urban edge.
Aldo Tahlia Boots ($140) + Pebbled Faux Leather Backpack ($33), COS V-Neck Checked Shirt Dress ($115), Topshop Premium Suede Trench Coat ($500), J.Crew Half-and-Half Link Bracelet ($88), H&M Knit Hat ($13), Snaffle Bit Belt ($58)
How to Style Clog Boots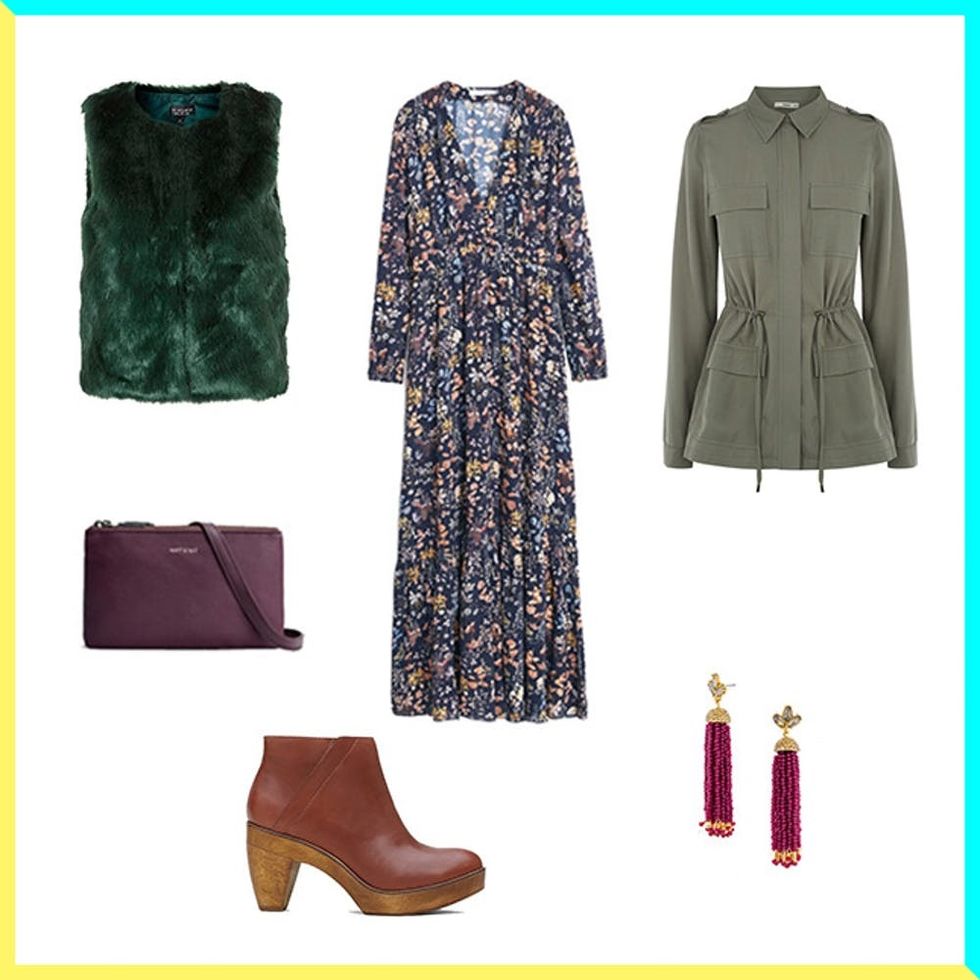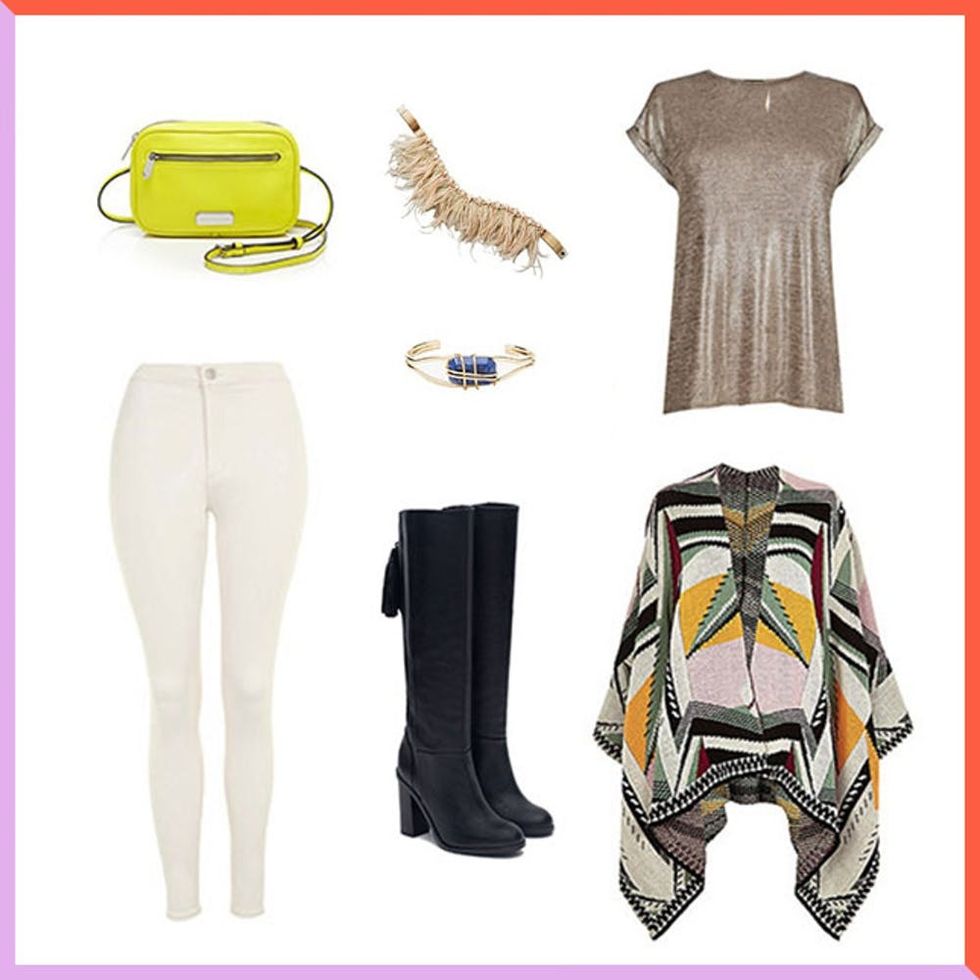 These tassel-embellished boots are all about spicing up your errday uniform. Toss them over a pair of off-white bottoms (because white after Labor Day is a definite yes), a metallic top and über cozy cape for the perfect brunchtime ensemble. Then take things to the next level with a few funky extras, like a neon crossbody, feathery belt and gemtastic cuff.
Zara High Heel Leather Boots ($179) + Topshop Moto Ecru Joni Jeans ($65), Warehouse Pink Metallic Wrap Back Tee ($43), River Island Cream Knitted Block Color Cape ($80), Marc by Marc Jacobs Sally Crossbody ($198), Feather Falls Belt ($30), Forever21 Wrapped Faux Stone Wrist Cuff ($6)
How to Style Western-Style Boots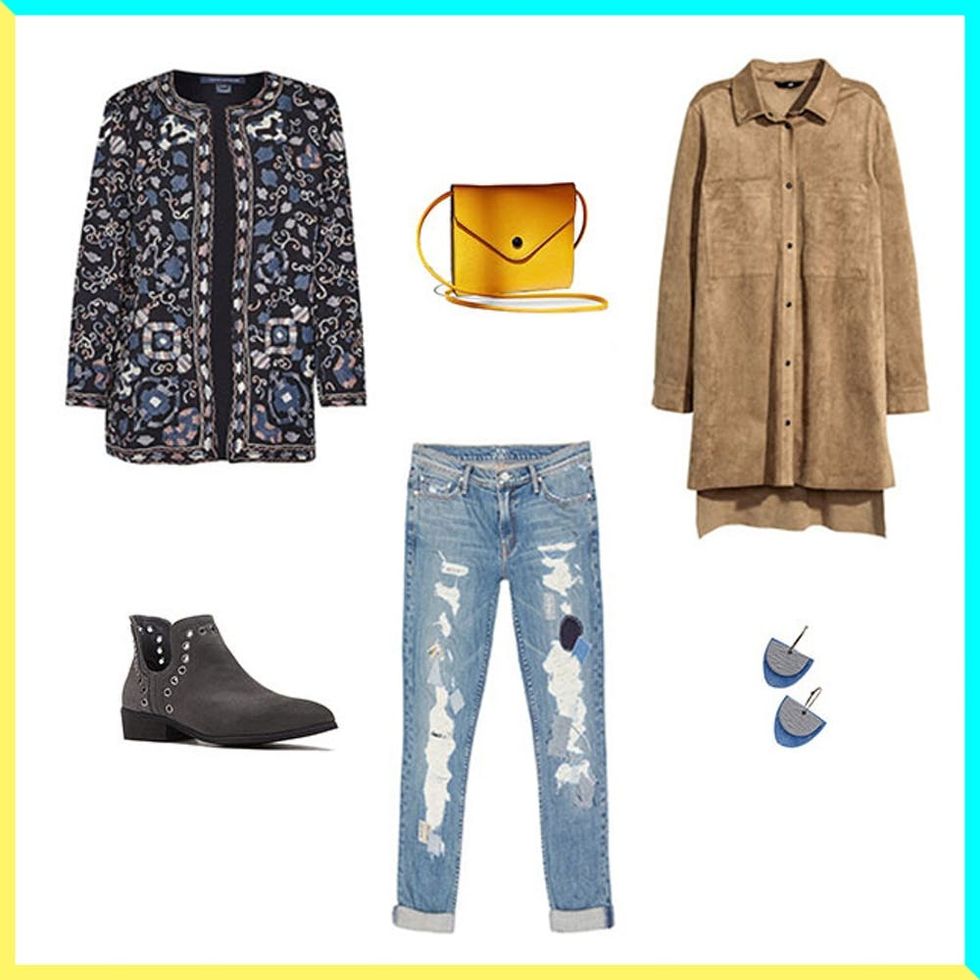 Cowboy boots aren't the only way to get your Western on. These ankle-grazing booties capture some of that out-West attitude, while serving up a serious dose of on-point style. Relaxed denim and an oversized suede shirt are absolute musts to play up their casual feel, while pieces like a structured kimono and sleek sac add a polished edge.
Forever21 Grommeted Faux Leather Boots ($35) + Mother Denim The Dropout Boyfriend Jeans ($345), H&M Short Shirt Dress ($60), Jibby and Juna Tidal Drops ($50), French Connection Ryo Embroidered Kimono ($348), Kimchi Blue Box Envelope Crossbody Bag ($34)
How to Style Fancy Heeled Boots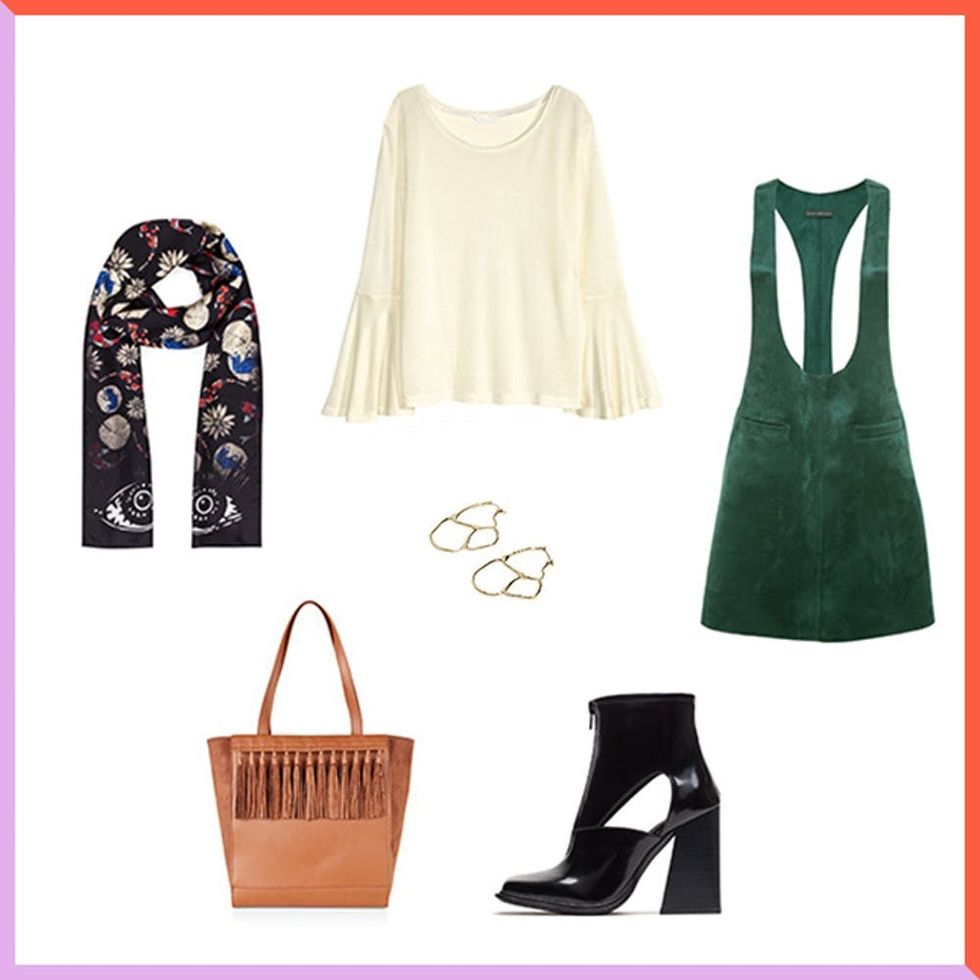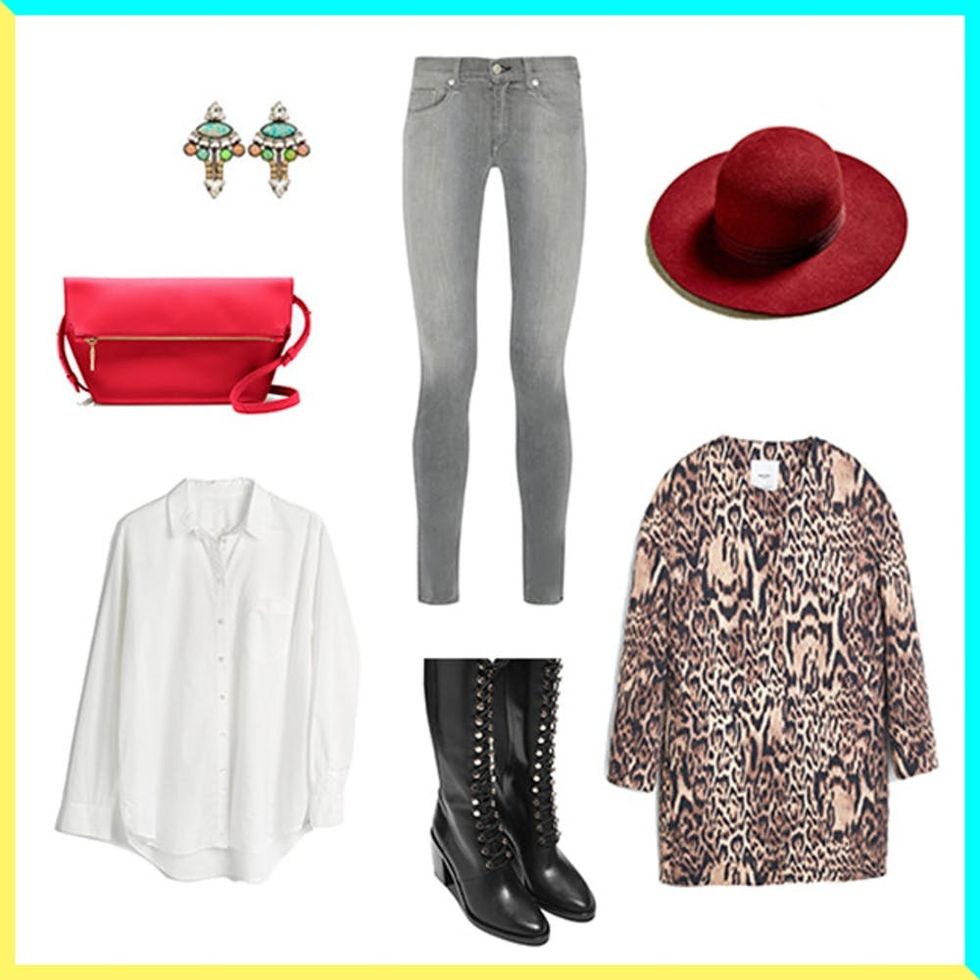 These lace-up boots are elegance + attitude in the best way. Pair them up with some classic pieces with a twist. Layer a collarless coat in an exotic print over understated basics like an oversized button-down and gray jeans. Throw in a few rouge and turquoise accents for a fresh pop of color.
& Other Stories Leather Lace Up Boots ($345) + Rag & Bone The Skinny Mid-Rise Jeans ($210), Madewell Oversized Boy Shirt ($75), Mango Animal Print Coat ($190), Brixton Magdalena Wool Hat ($60), J.Crew Bennett Crossbody Bag ($138), Lionette NY Mali Rainbow Earrings ($268)
How to Style Over-the-Knee Boots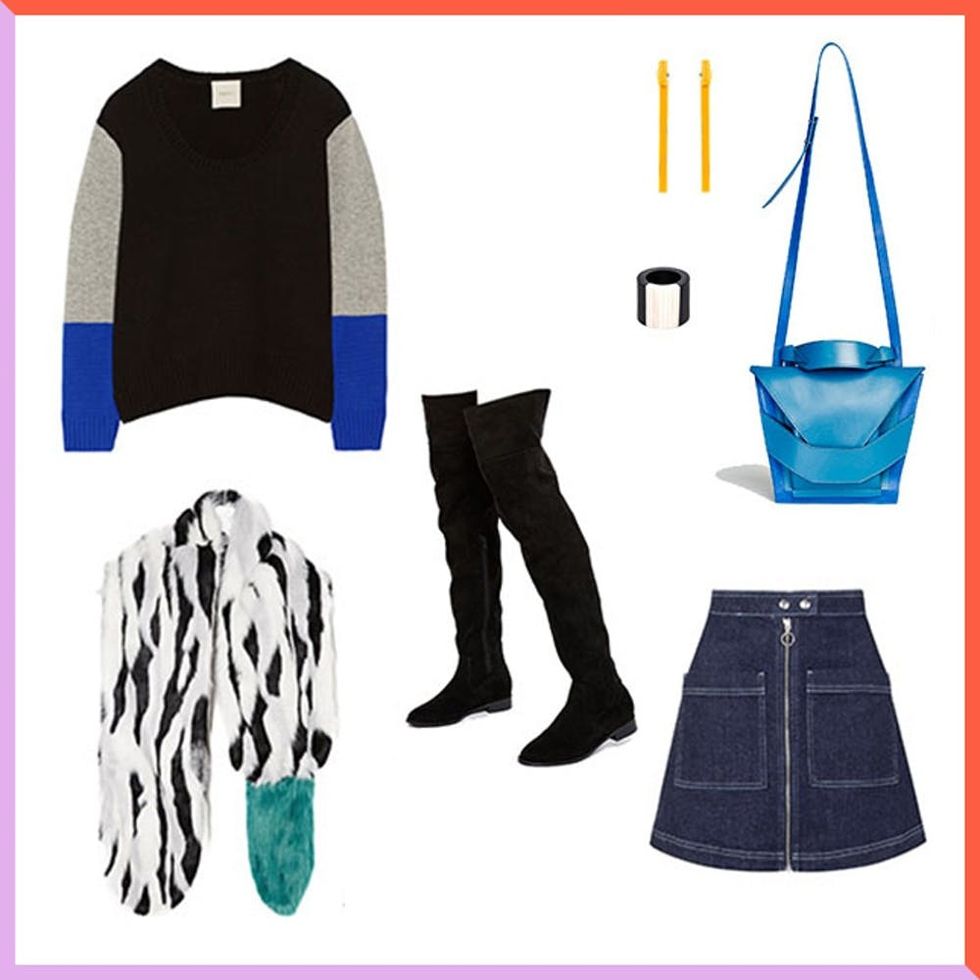 Upgrade your favorite mini skirt or dress with a pair of eye-catching over-the-knee boots. For an unexpected twist, style them with modern accessories, like a color blocked sweater, vibrant faux fur wrap and sleek, contemporary bag. For a more casual look, swap out these thigh-highs for a classic pair of riding boots.
ASOS Kiss Me Quick Over the Knee Boots ($90) + Topshop Moto Zip Front Skirt ($60), Mason by Michelle Mason Color-Block Sweater ($136), Linda Sieto Layered Blue Bag ($498), Gemma Redux Short Bar Earrings ($100), Monies Tube Ring ($145), ASOS Faux Fur Camo Scarf With Raccoon Tail ($63)
How to Style Chelsea Rain Boots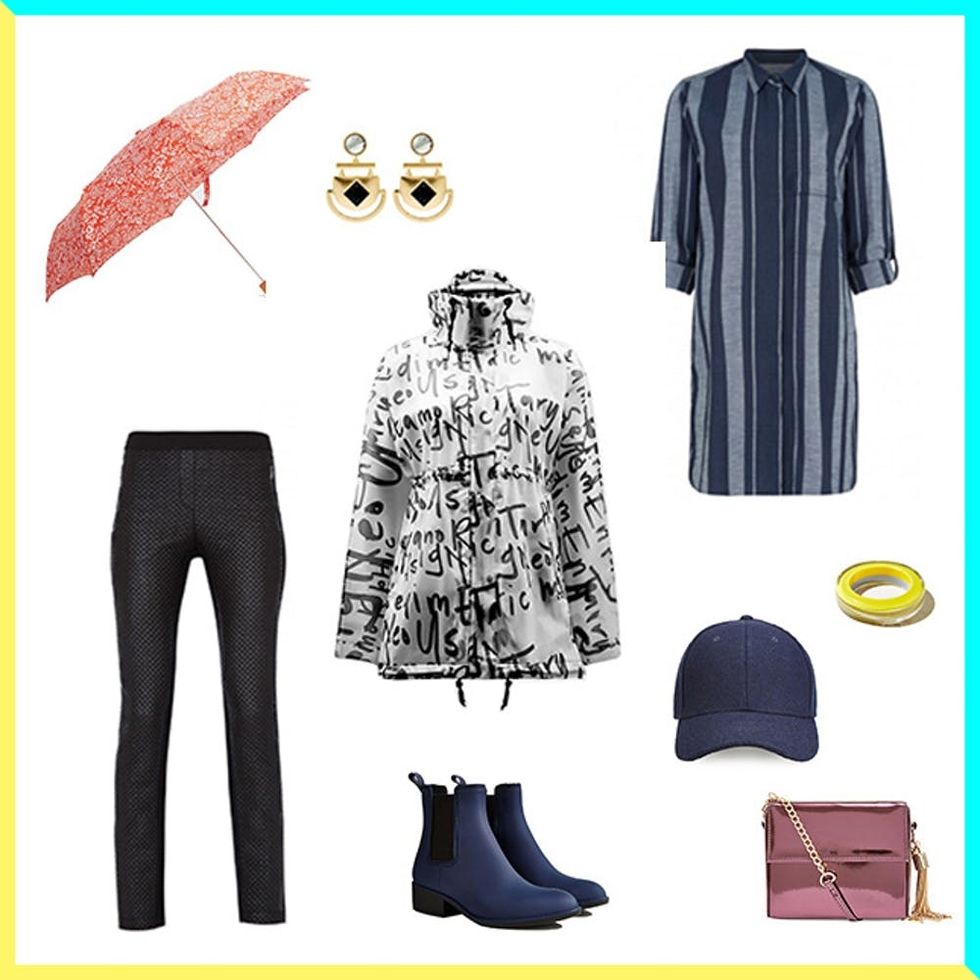 Soggy feet really aren't a great look for anyone, which is why these Chelsea rain boots are awesome. Style them up with a striking rain slicker and some faux leather pants that can stand up to a little drizzle. Accessorize with a trendy baseball cap, a shiny bag and baubles to ward off those rainy-day blues. Oh, and don't forget your umbrella!
Jeffrey Campbell Stormy Rain Boot ($55) + Hunter Rock Word Print Original Clear Smock ($270), Atterley Denim Stripe Shirt Dress ($22), BCBG Nicholas Quilted Faux Leather Pant ($178), Fulton Minilite Umbrella In Batik Print ($19), New Look Purple Mirror Metallic Box Clutch ($23), Whistles Wool Blend Baseball Cap ($95), Fez Pop Bangle Bracelet ($10), New Look Gold Graphic Contrast Semi-Circle Earrings ($11)
What's your go-to pair of fall boots? Tell us how you style them in the comments!