In the past, we've inspired you with some of the best ice cream cake recipes around. Why? Because everyone loves cake and everyone loves ice cream, therefore — the rest of the equation is self explanatory. People also love less mess with just as much creativity and wow-factor in their baking. That's why we've come up with not-so-traditional "ice cream" cakes that may look like the creamy stuff we love yet are anything but. Warning: You might need to grab a napkin now, because these photos are seriously drool worthy.
---
1. Chocolate Ganache Cone: Now here's the most delicious optical illusion we've ever seen. Top a regular cake or ice cream cake with chocolate ganache, an ice cream cone and sprinkles for this dripping-cool effect. (via One Charming Party)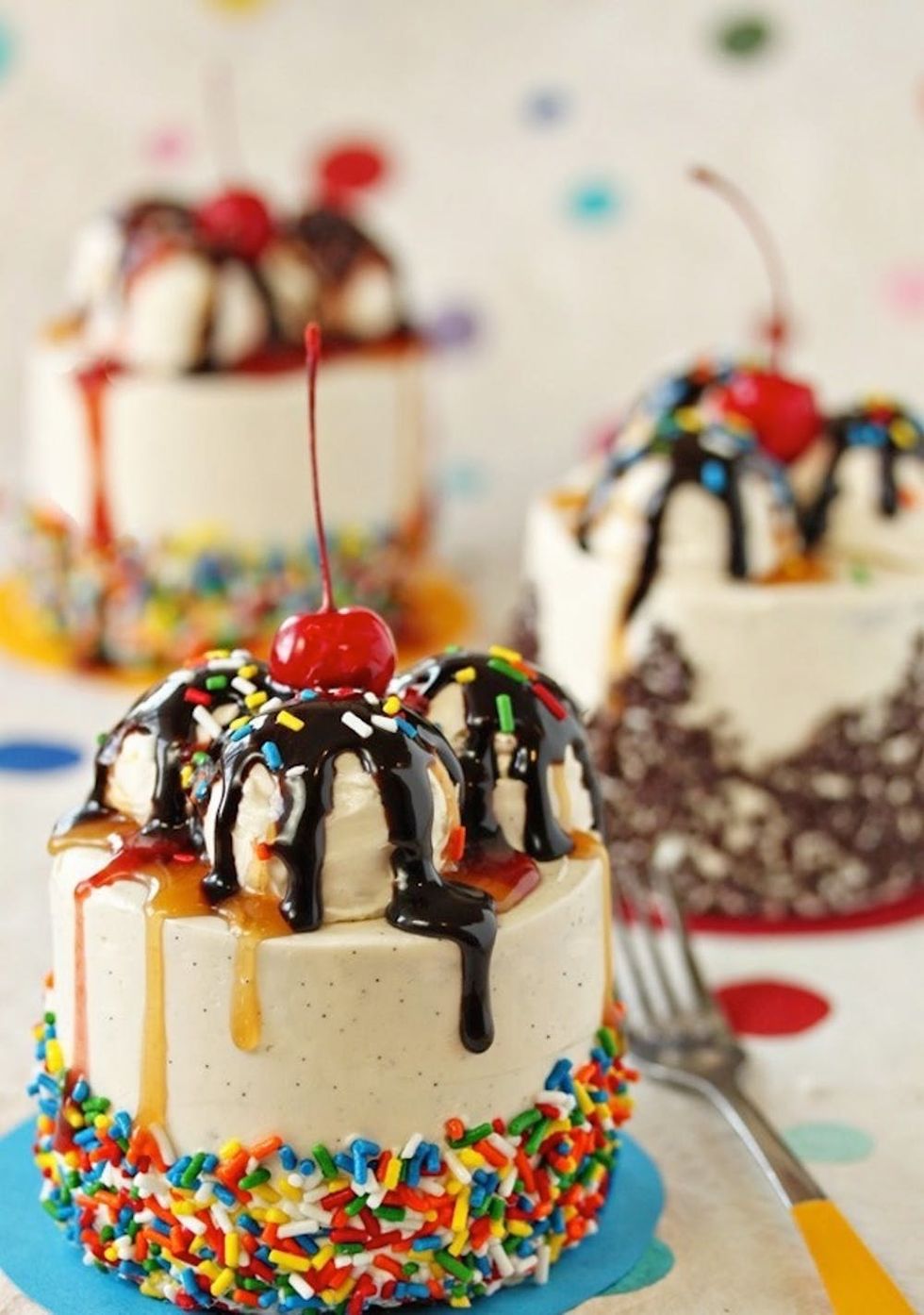 2. Mini Banana Split: These mini banana caramel cakes topped with scoops of buttercream icing are to die for… or to melt for, rather. (via Sugar Hero)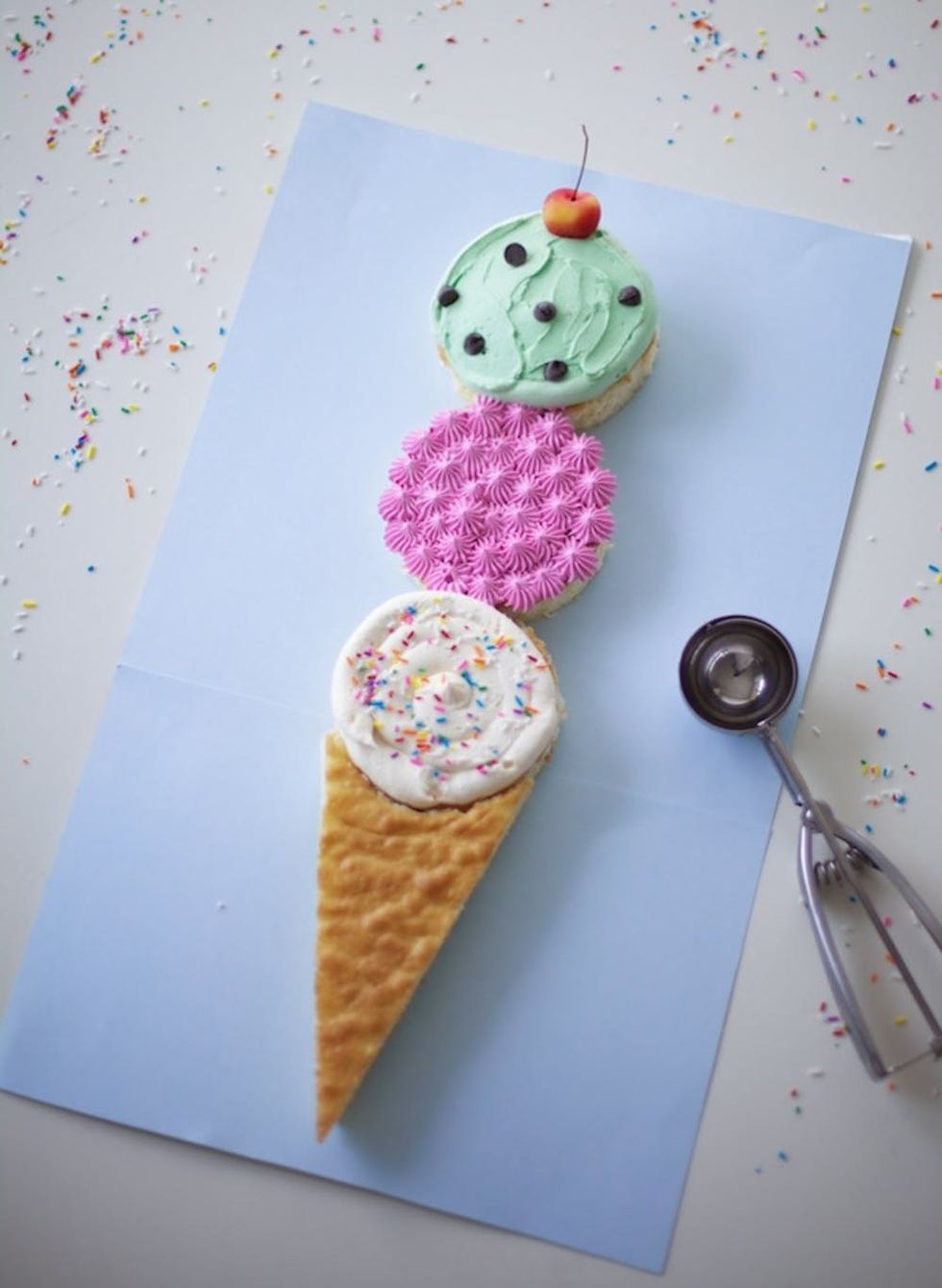 3. Three Scoops Cake: This stylin' creation can't be easier to make. Just bake one layer of cake mix, cut accordingly and decorate away. (via Craftsy)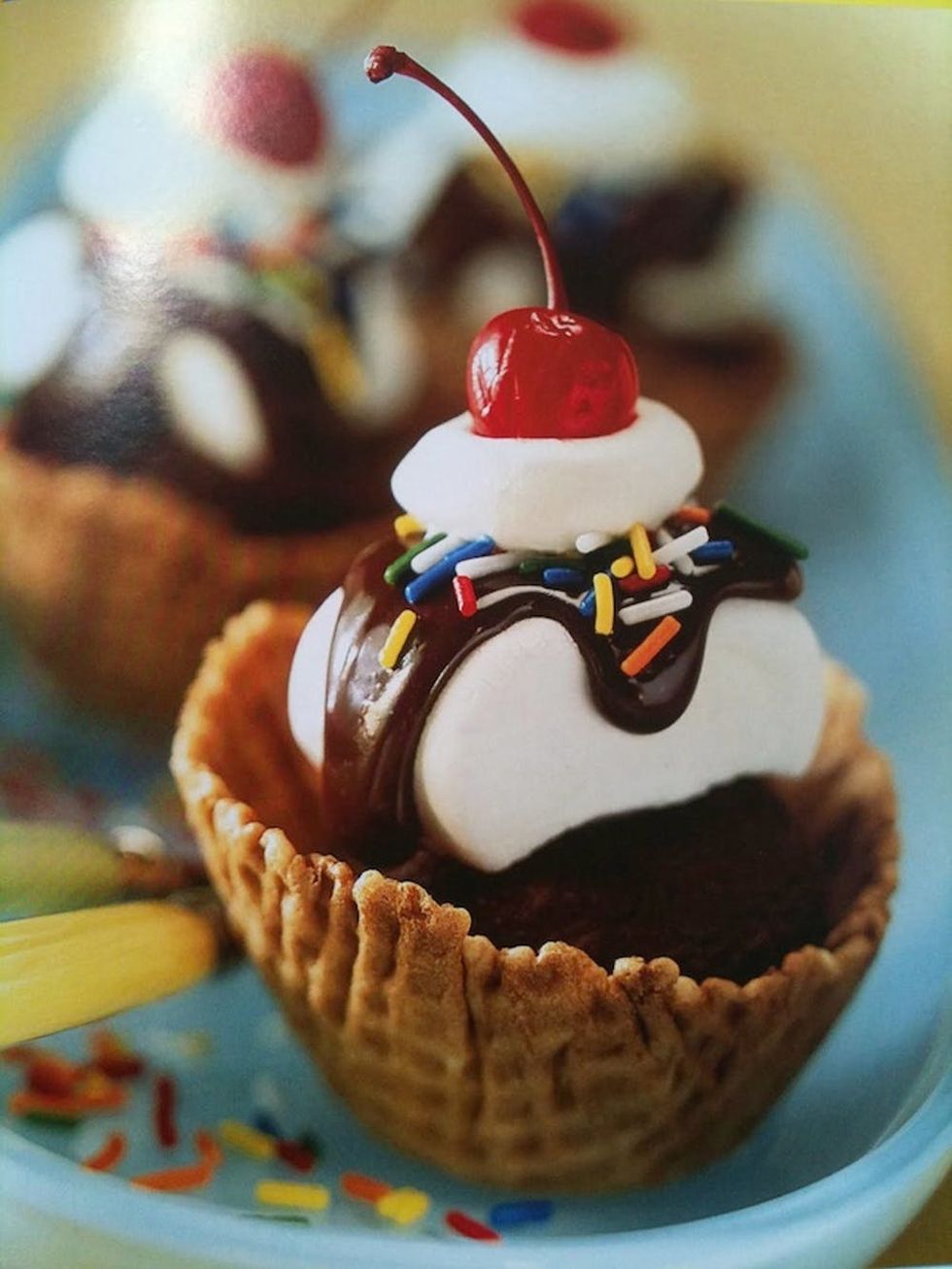 4. Marshmallow Fudge Sundae Cupcakes: We have four words for you… Mini. Ice cream. Cupcakes. (via Group Recipes)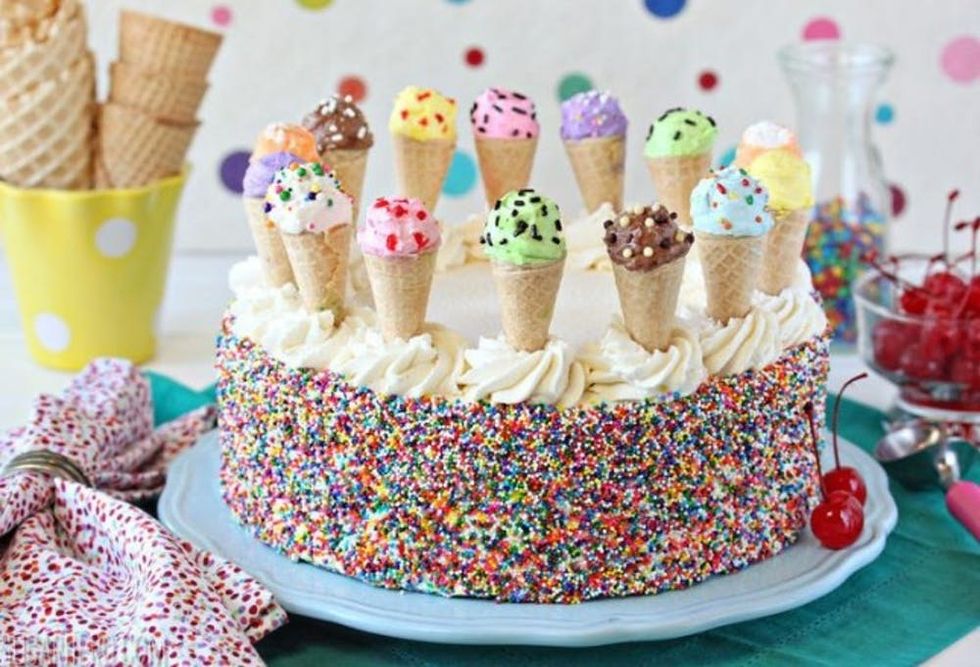 5. Ice Cream Sundae: Not one, not two, but 14 mini ice cream cones and their dyed buttercream icing tops make this cake the darling thing it is. If you think the outside is pretty, wait until you dig in. (via Sugar Hero)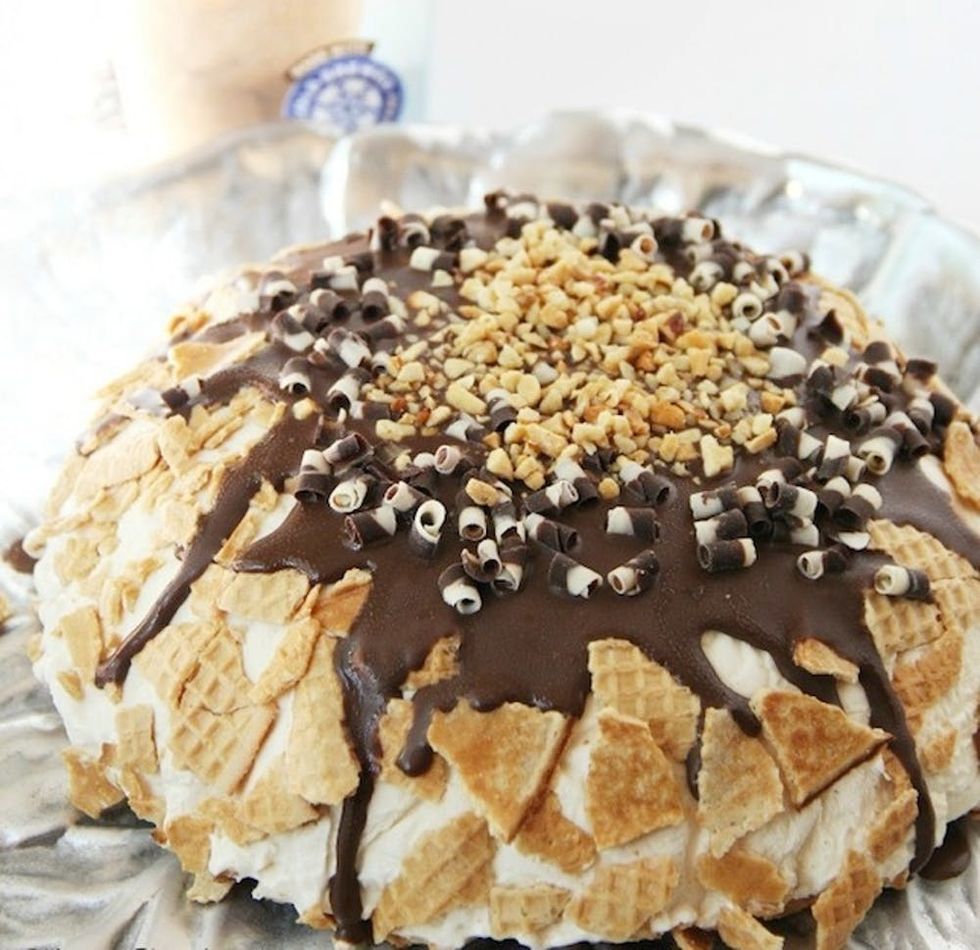 6. Iced Coffee Sundae Cone Cake: This cake is for those of you who think your ice cream is incomplete without a cone. It's made with heavy whipping cream and iced coffee mix. (via Bitz 'n' Giggles)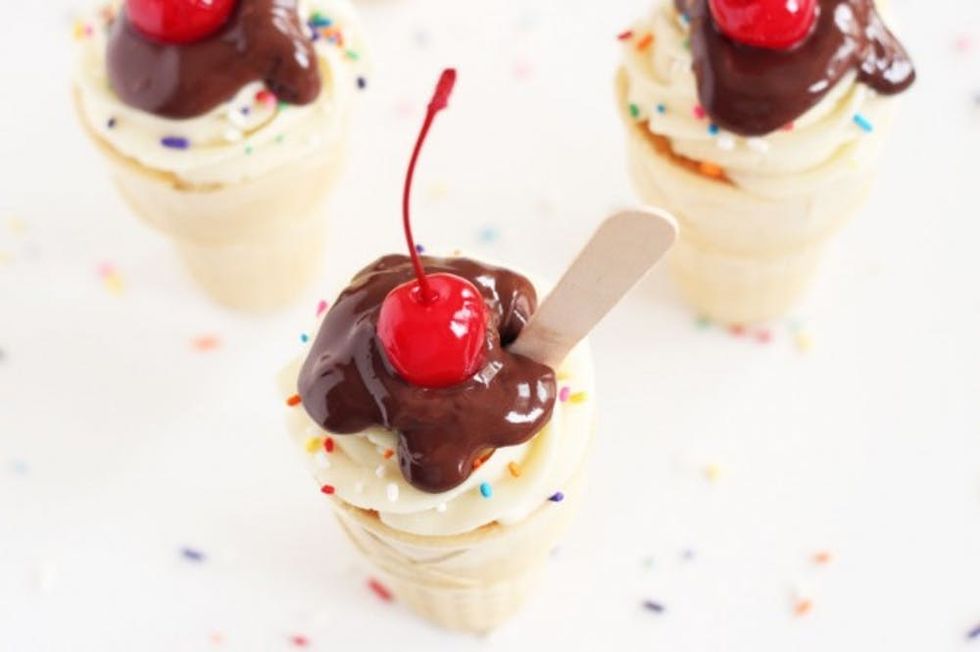 7. Ice Cream Cone Cupcakes: Wanna make these ASAP!? You can order the kit for these cuties in our shop. (via Brit + Co)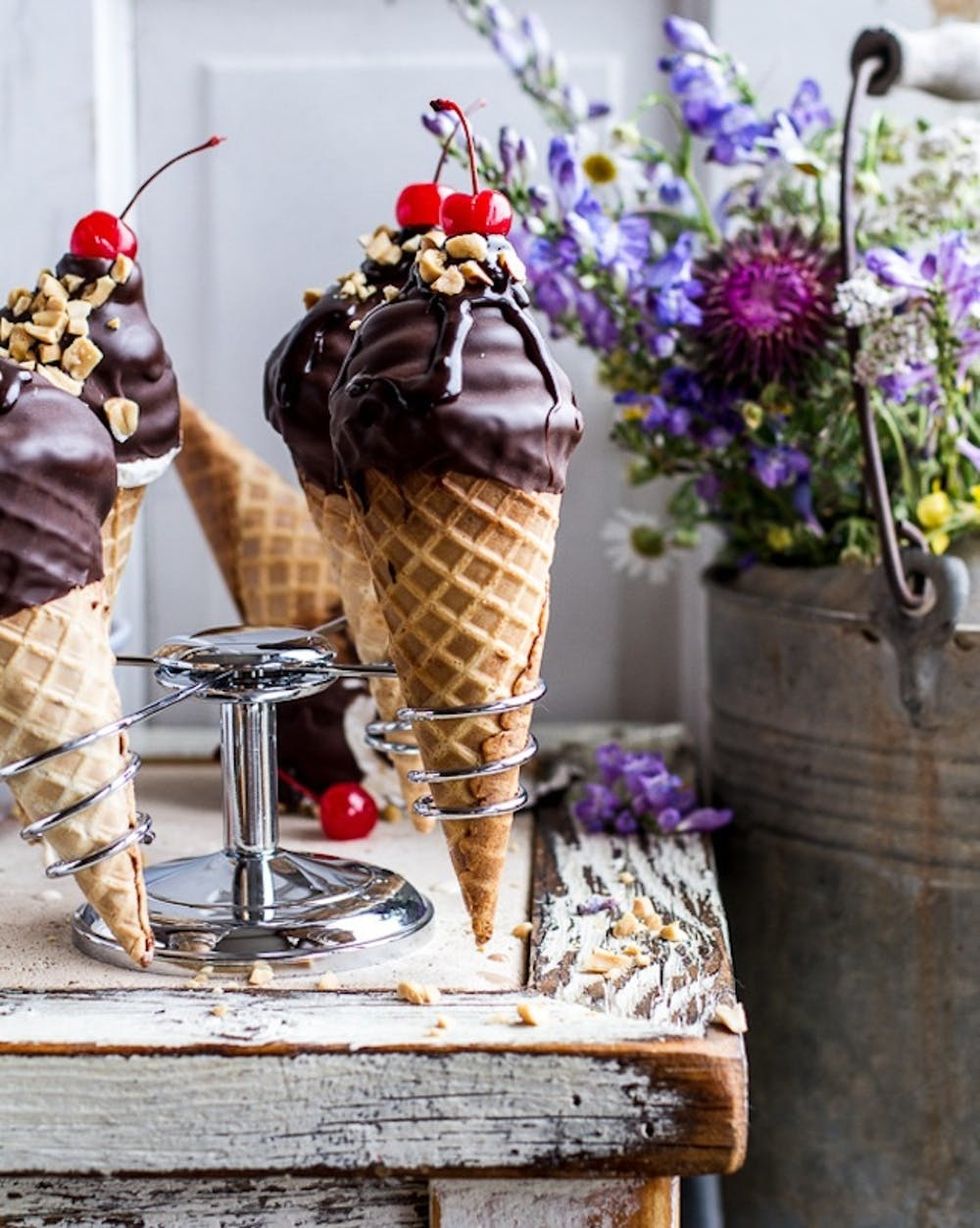 8. Hot Fudge Brownie High Hat Cupcakes: You had us fooled until the first bite — of moist, cakey (sans drippy) goodness. (via Half Baked Harvest)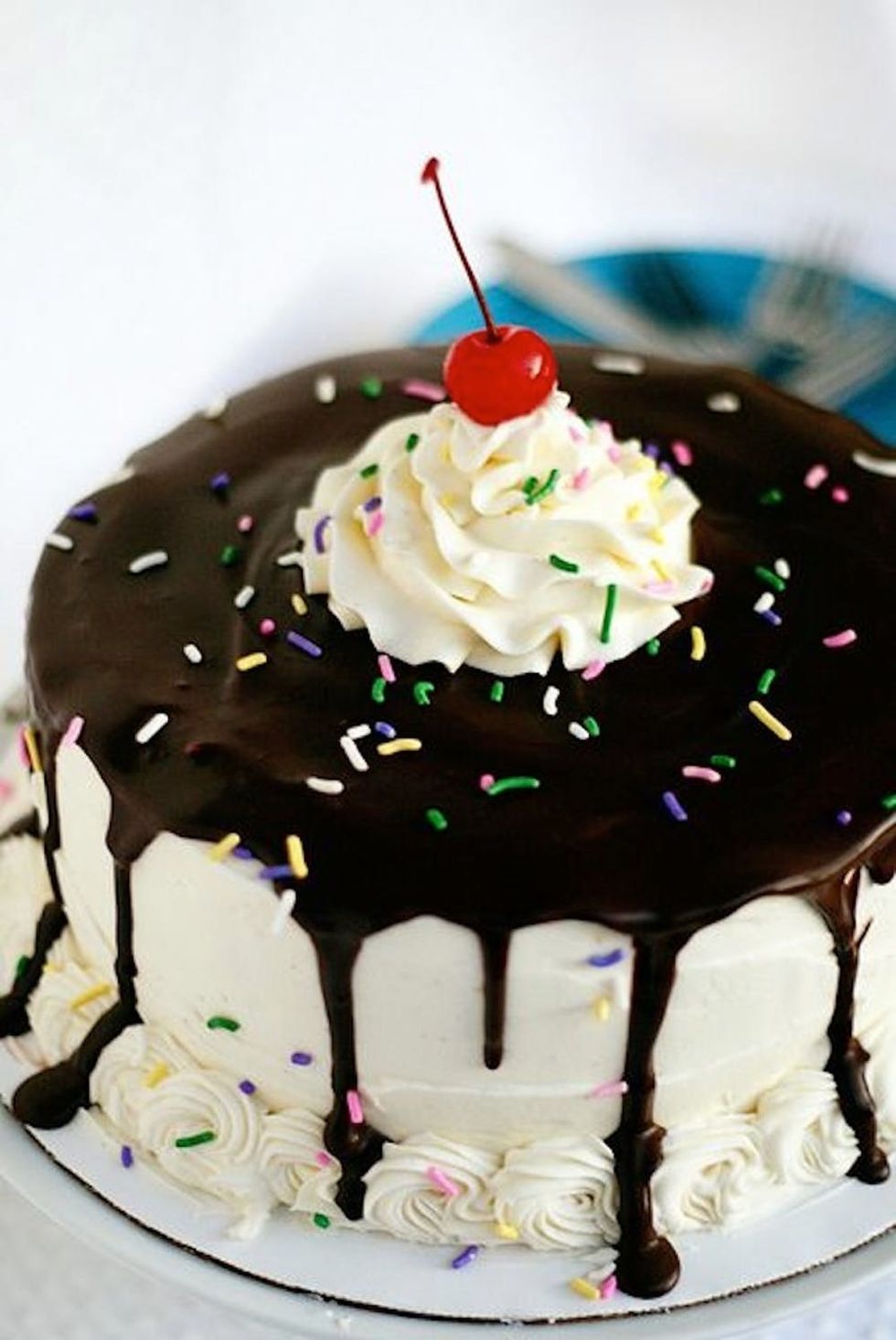 9. Not Ice Cream Sundae Cake: What's hiding in the middle of this cake? Vanilla bean mousse and fluffy cake batter. And what's on top? Chocolate ganache. We're sold. (via Sunny Side Up)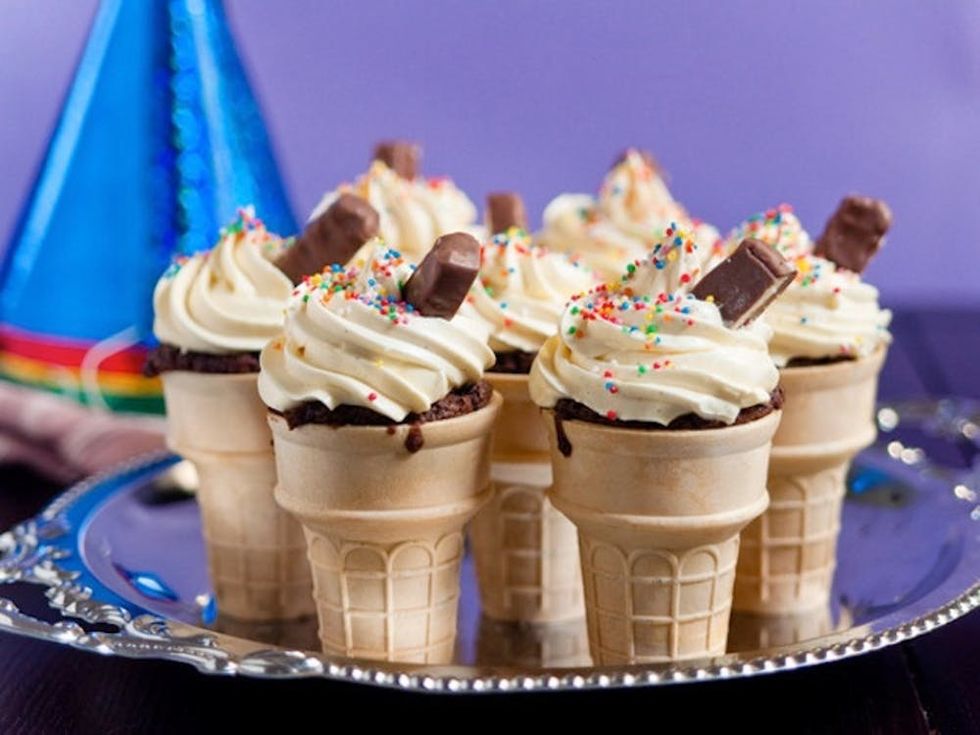 10. Ice Cream Cone Cupcakes: The messier you are with the batter, the more authentic these cone-cups look. Baking doesn't get much easier than that. (via Off the Spork)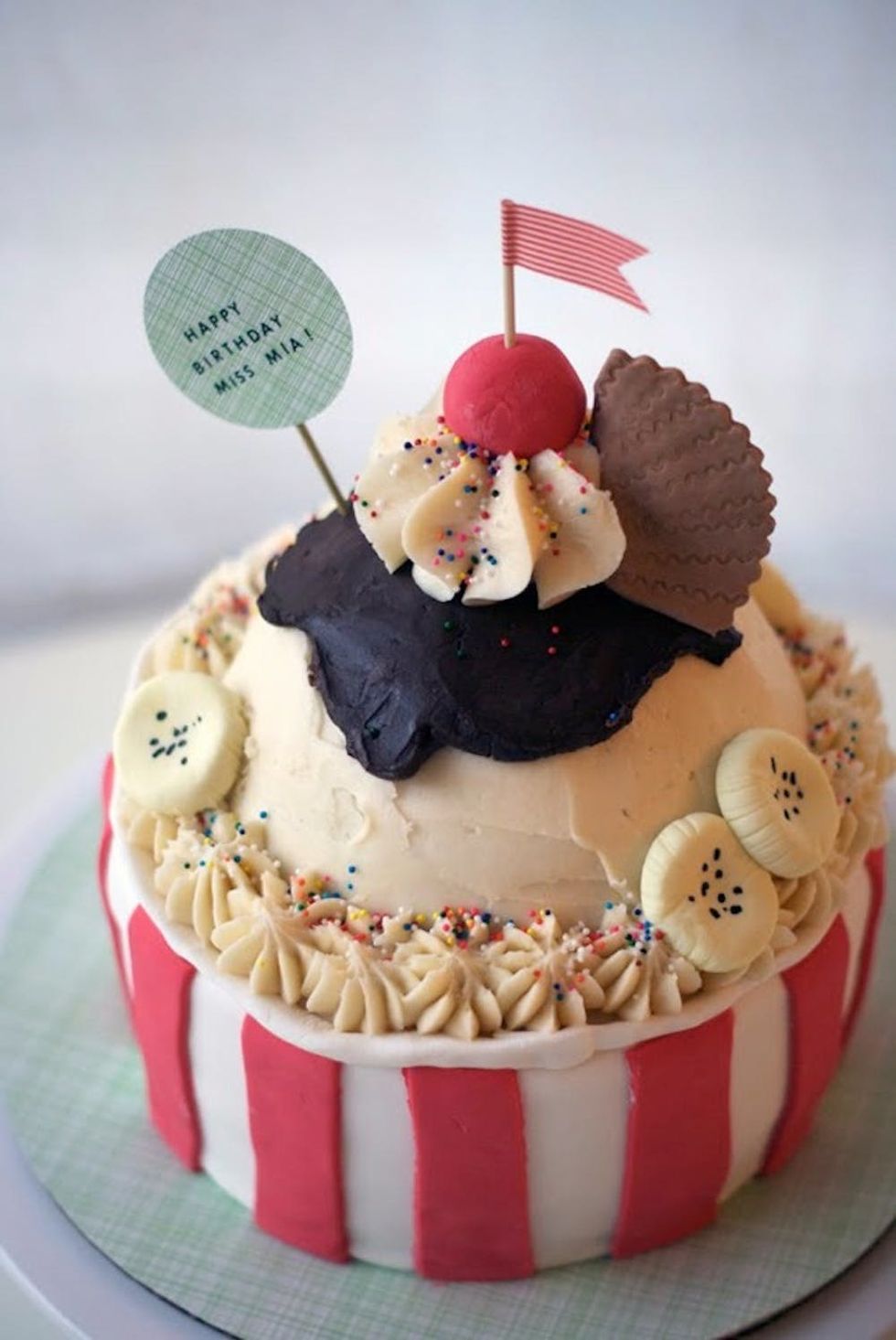 11. "Ice Cream" Sundae: We thought we'd located some of the best-decorated cakes out there, but this one takes the, well… cake. (via Coco Cake Land)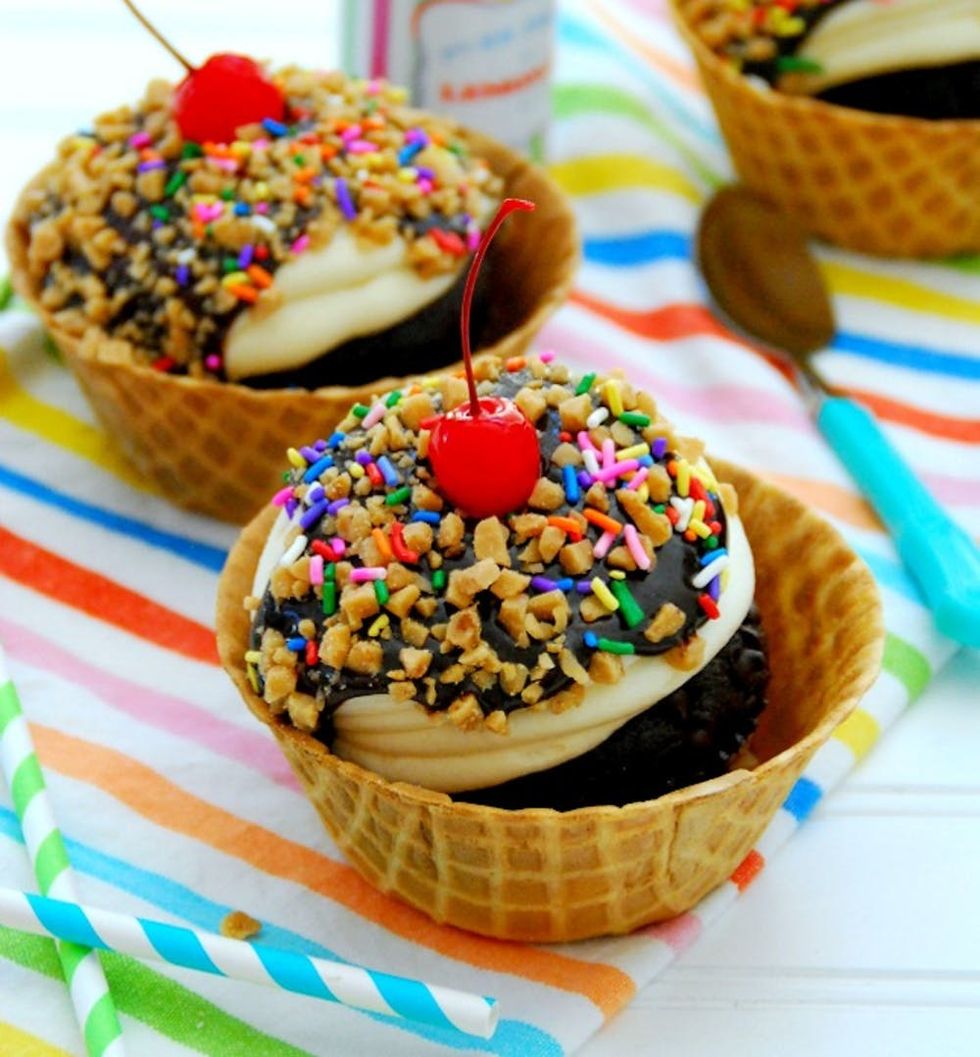 12. Toffee Sundae Cupcakes: These deserve to be added to our list of unusual cupcake recipes. Yup, they're right up there along with the ones dressed up like pancakes and flower bouquets. (via The Domestic Rebel)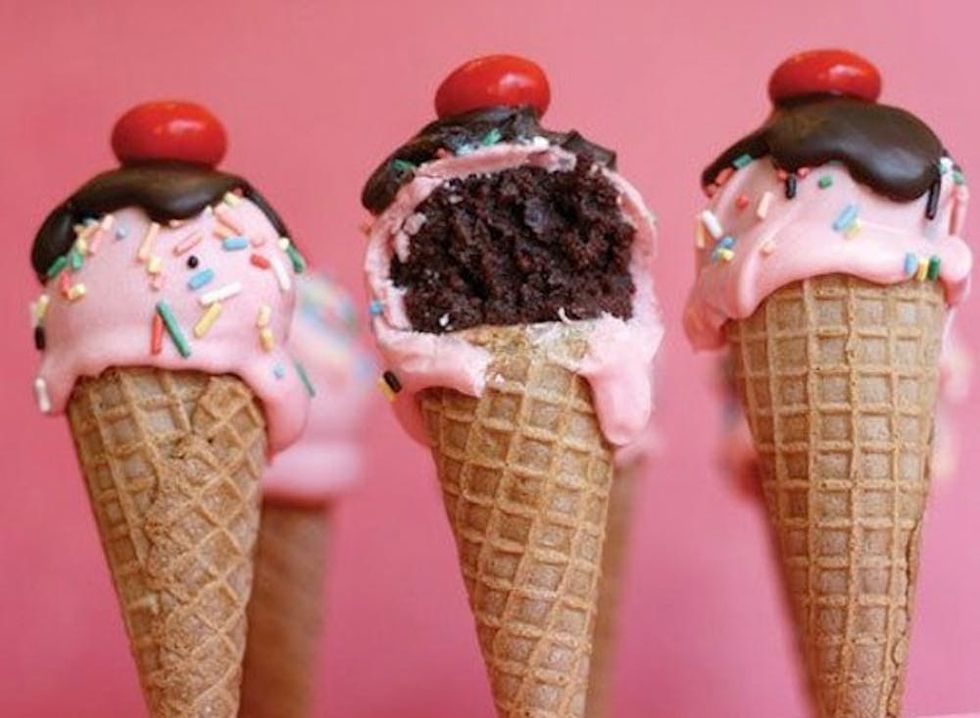 13. Ice Cream Cone Cake Pops: Cake pops are everywhere these days. They might as well show up in your ice cream cone. (via Bakerella)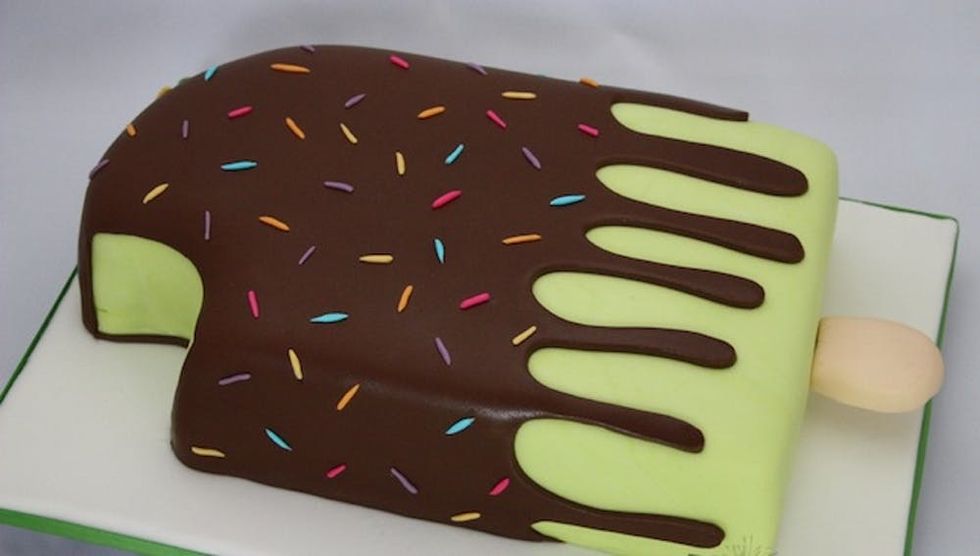 14. Ice Cream Bar: Who wouldn't want a bite of this clever cake? Order it online or be inspired and make your own. (via Cake Central)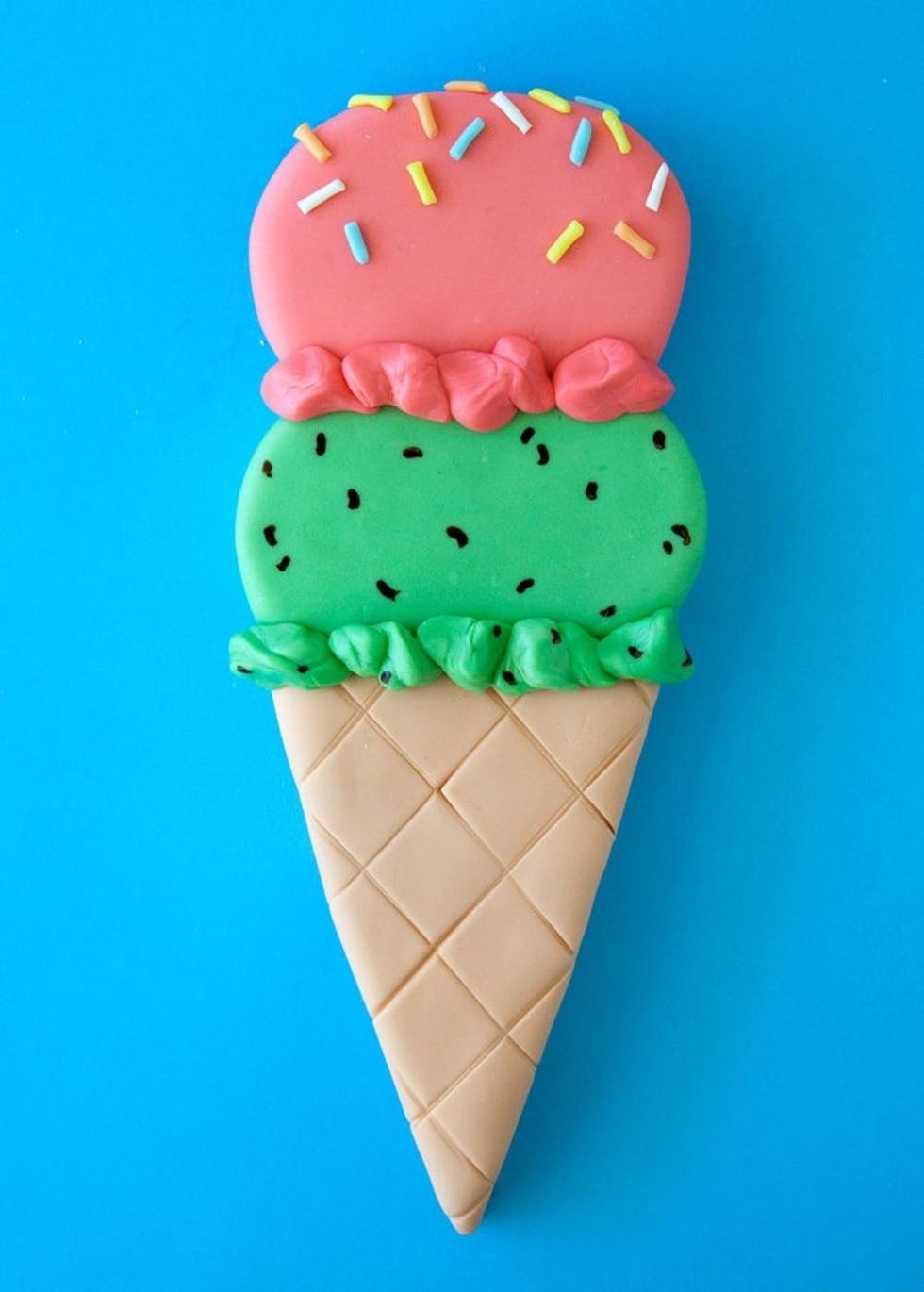 15. "Ice Cream" Cone Cake: We got a little creative over here. Okay, a-lotta creative. (via Brit + Co)
16. Sprinkle Cake With Birthday Cake Buttercream: Behold — Oreo-crumb-buttercream icing underneath sprinkles. (via The Moon Blush Baker)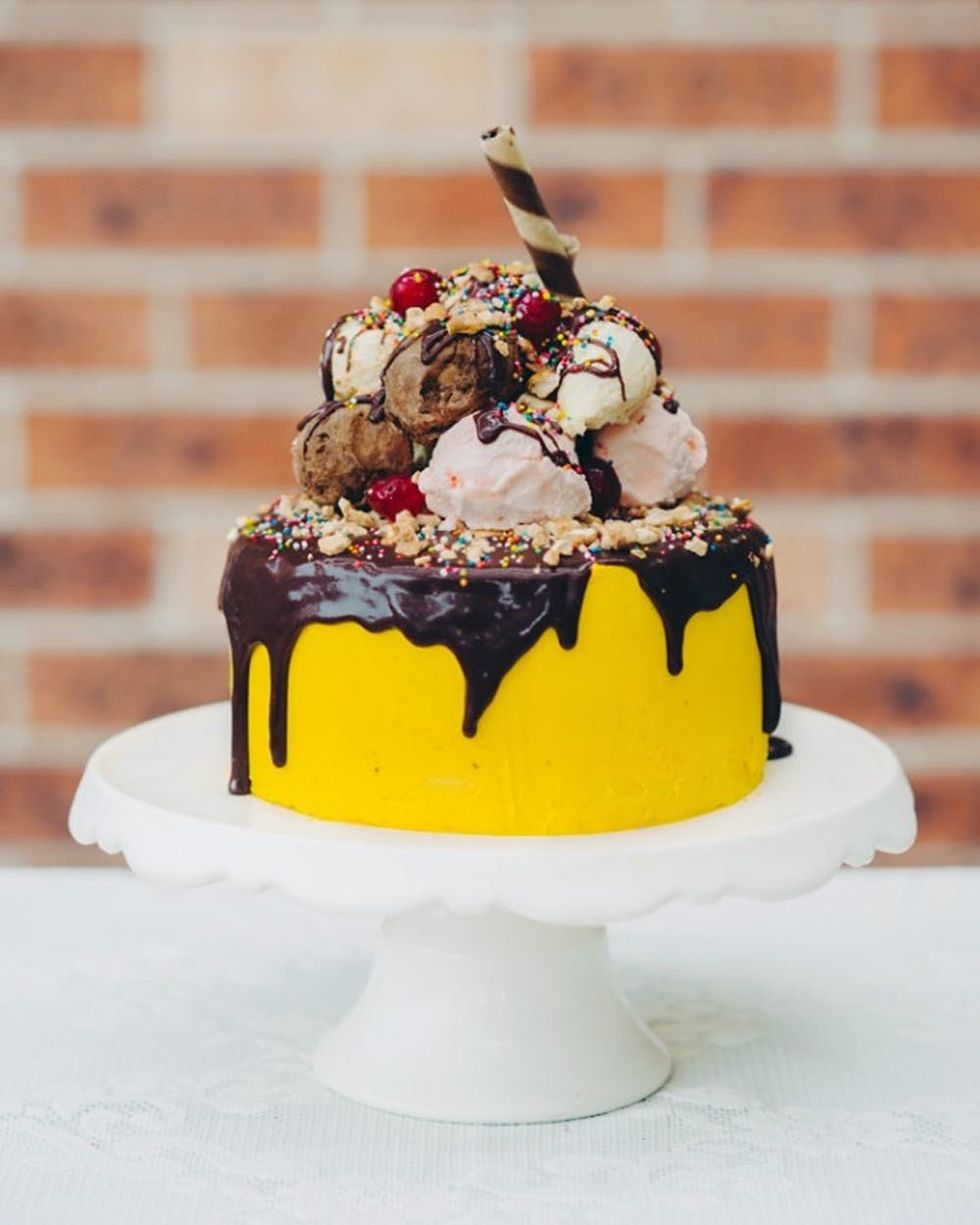 17. Banana Split Birthday Cake: Our sugar craving is fulfilled just by looking at this batter-buttercream-ganache masterpiece. (via Alana Bread)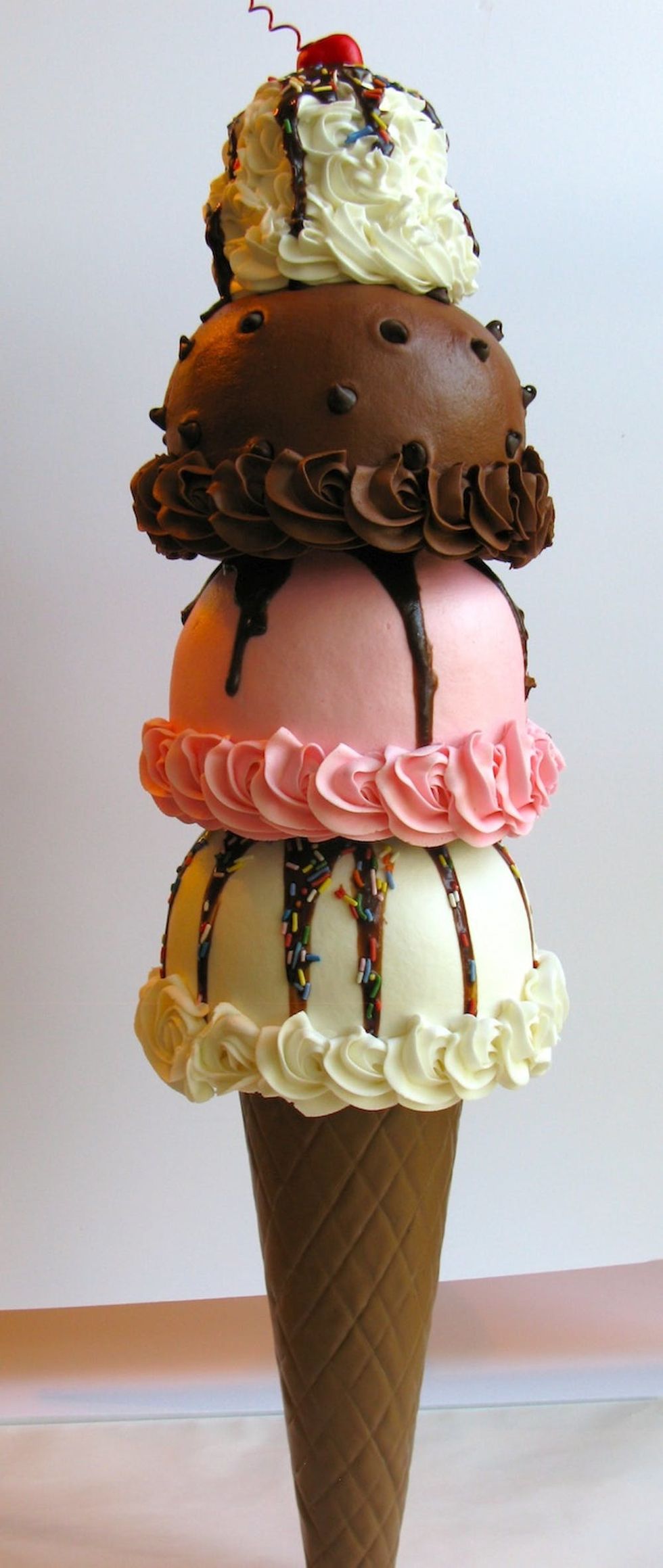 18. Cone Cake: This takes sugar to a whole new level. (via Cake Central)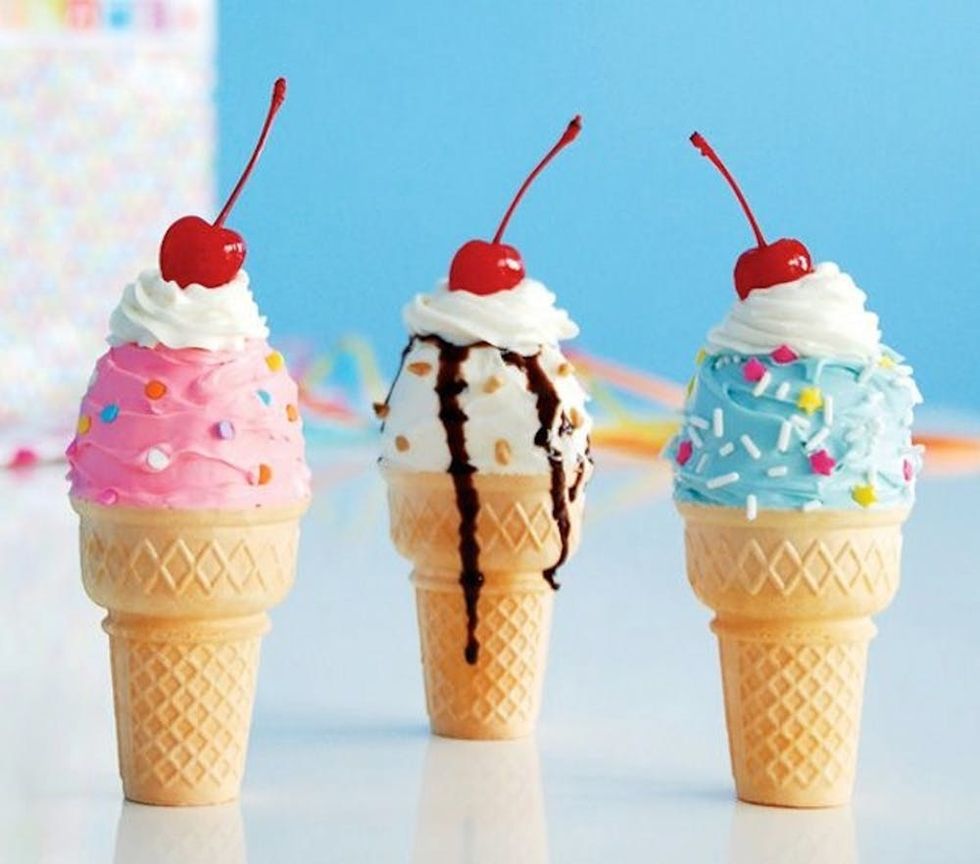 19. Cone Cupcakes: We thought you needed another amazingly tempting photo in your day. These are perfect for a decorate-your-own-dessert party. (via She Knows)
What other ways can you marry ice cream and cake? Throw some ideas in the comments below!