6 Game-Winning Looks to Rock on Super Bowl Sunday
Jan 30, 2015
Let's be real, the Super Bowl is really just a good excuse for throwing a party with amazing food (read: dips for days, bite-size nibbles and wings). And a party — even a football-centric one — calls for a stylish look. Whether you decide to post up at your favorite bar or you plan on heading to a house party to catch all the Seahawks vs. Patriots action, game time is no time to ditch your well-honed sense of style. From the avid fan to the "I'm just here for the nachos" party-goer, we've pulled together six trendy game-day outfits that will keep you on top of your fashion game, while still reppin' some team spirit.
Die-Hard Patriot
---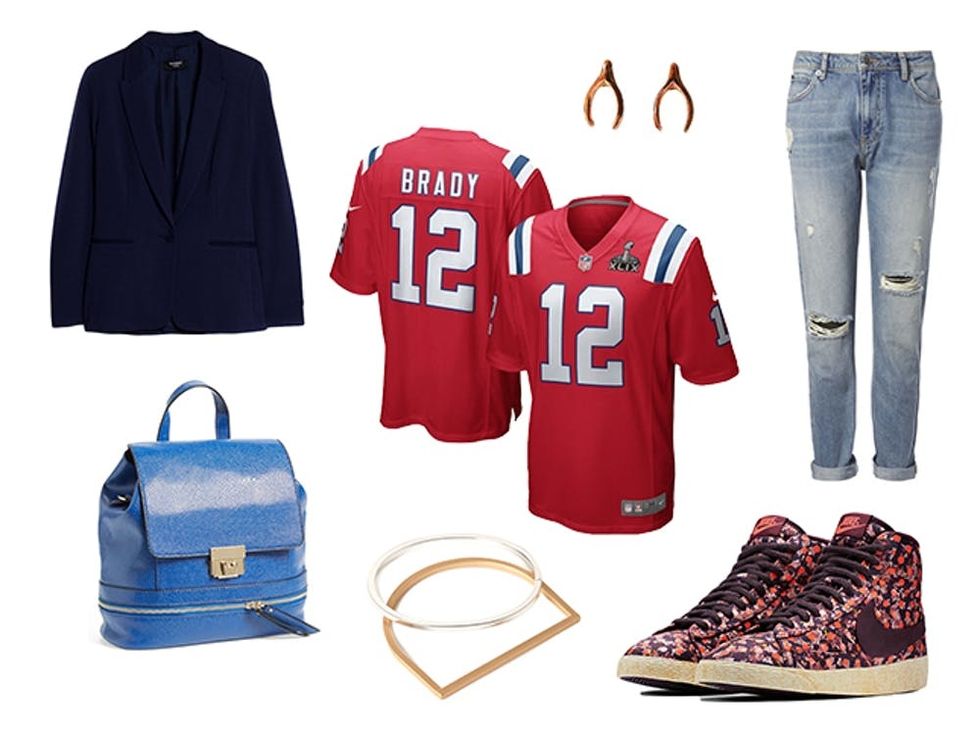 You eat, sleep and breathe New England football all season long, so of course you'll be sporting a Patriot's jersey when Sunday rolls around. Leave your leggings at home and show off your team pride with distressed boyfriend jeans for a relaxed, cool-girl edge. In honor of occasion, accessorize with athletic-inspired pieces like high-top Nikes and a sleek leather backpack. Wishbone studs (for good luck) and geometric bangles (because you'll need to make some serious noise once your boys score a touchdown) add a feminine touch to the look. Throw a tailored navy blazer on top for a polished finish that pulls the entire outfit together.
Mens New England Patriots Tom Brady Super Bowl XLIX Game Jersey ($120), Forever21 Cutout Geo Bangle Set ($7), Phyllis & Hazel Wishbone Brass Earrings ($20), Leith Zip-Around Backpack ($98), Nike Blazer Mid Vintage Liberty Sneaker ($100), Whistles Distressed Boyfriend Jeans ($180), Mango Essential Blazer ($80)
Seahawks Super Fan
While you won't find any foam fingers here, this Seahawks-inspired getup will still earn you most stylish dedicated fan status. A team jersey anchors the look, while on-trend pieces like a metallic midi skirt, elongated bomber jacket and wedge sneakers give it a fashion-forward edge. Bright green accessories play up the jersey's accent colors and will leave no doubt about who you're rooting for.
Men's Seattle Seahawks Russell Wilson Navy Super Bowl XLIX Game Jersey ($120), Whistles Pleated Metallic Skirt ($140), Cos Contrast Sleeve Jacket ($190), Aldo Kainer Wedge Sneaker ($80), ModCloth There She Glows Earrings ($15), Cambridge Satchel Company Fluoro Mini Satchel ($195)
New England Bandwagon Fan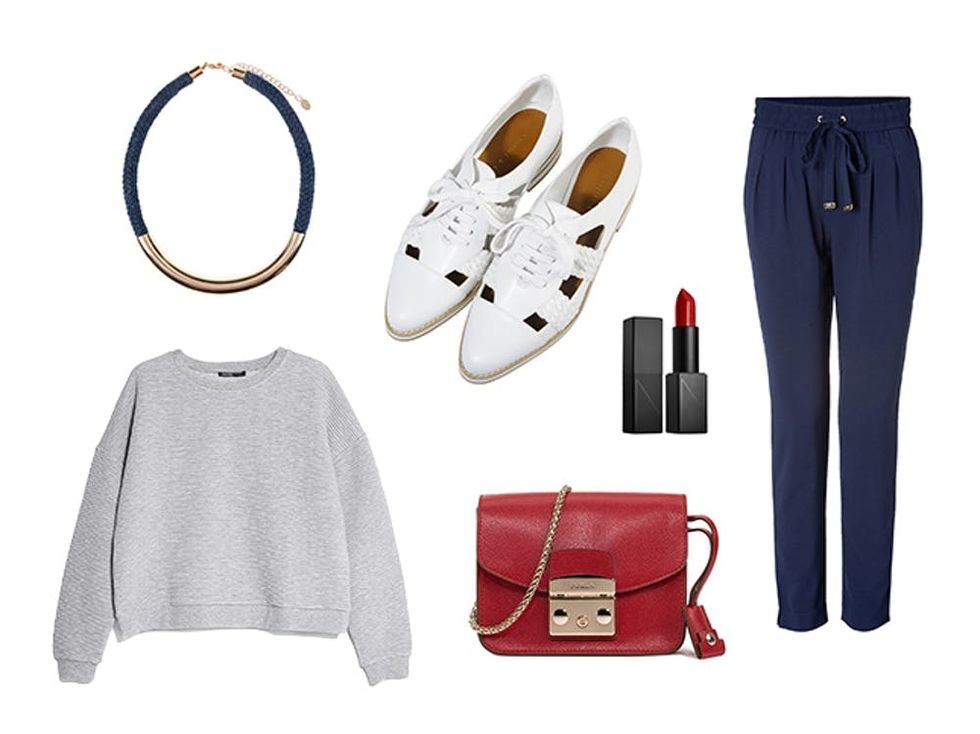 Okay, so maybe you don't get what all the hype is about, but you can definitely get on board with an evening filled with socializing and snacks. All your friends are showing their love for New England, so it looks like you will be too — but within reason. Crepe joggers and a textured sweatshirt will give your look a little athletic appeal to suit the occasion, but with a slightly more refined twist. Dress things up with simple yet impactful accessories in the Patriots' color scheme.
Mango Striped Textured Sweatshirt ($30), Juicy Couture Crepe-Draped Track Pants ($155), NARS Audacious Lipstick in Rita ($32), Charles Keith Woven Strap Oxfords ($63), Furla Metropolis Mini Cross-Body Bag ($298), Accessorize Armour and Plait Torq Necklace ($5)
Semi-Seahawks Supporter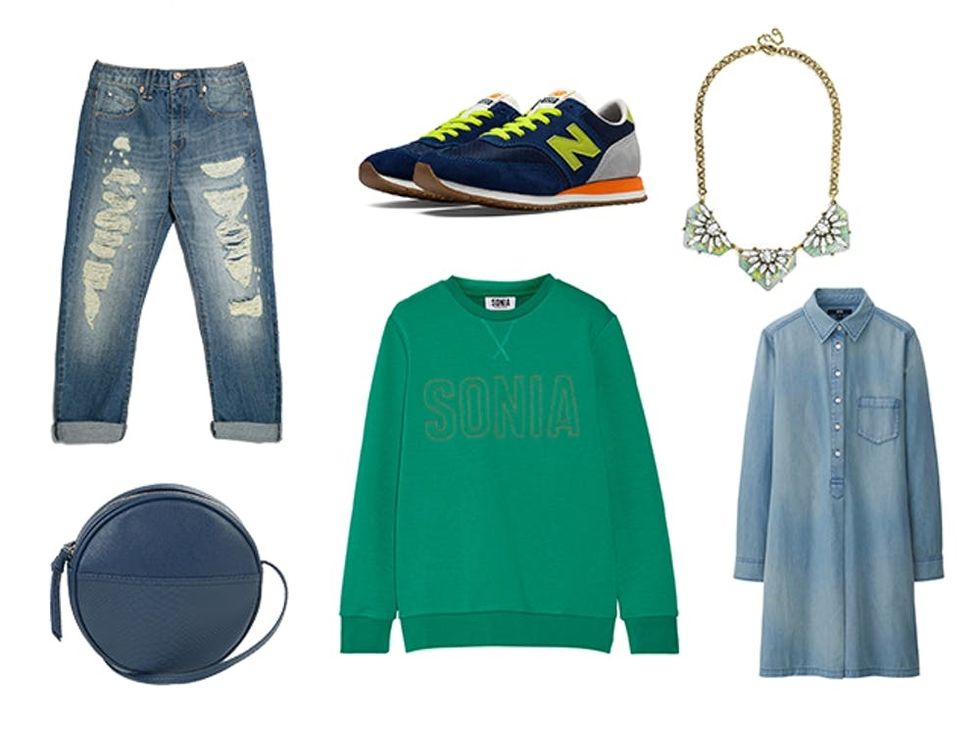 Maybe the Super Bowl is the only day of the year you (kind of) watch football, and you usually end up routing for whoever is wearing the best uniforms. Green and blue happen to be your colors, so this year, it looks like the Seahawks are your team. To go along with your casual attitude towards the sport, keep your look as equally laid back with understated separates. Layer a bold green sweatshirt over your go-to pair of jeans for the ultimate casual ensemble, or a denim shirt dress for something a little more feminine. Step things up with navy and lime green New Balance kicks that were practically made for this occasion. A statement necklace and funky crossbody bag liven things up.
Pieces Blue Kalei Round Cross-Body Bag ($30), New Balance 620 Sneakers ($80), Sonia by Sonia Rykiel Embroidered French-terry Sweatshirt ($160), Bauble Bar Crystal Prism Collar ($42), Mango Boyfriend Angie Jeans ($35), Uniqlo Denim Long-Sleeve Dress ($40)
Perfect Patriots Party Host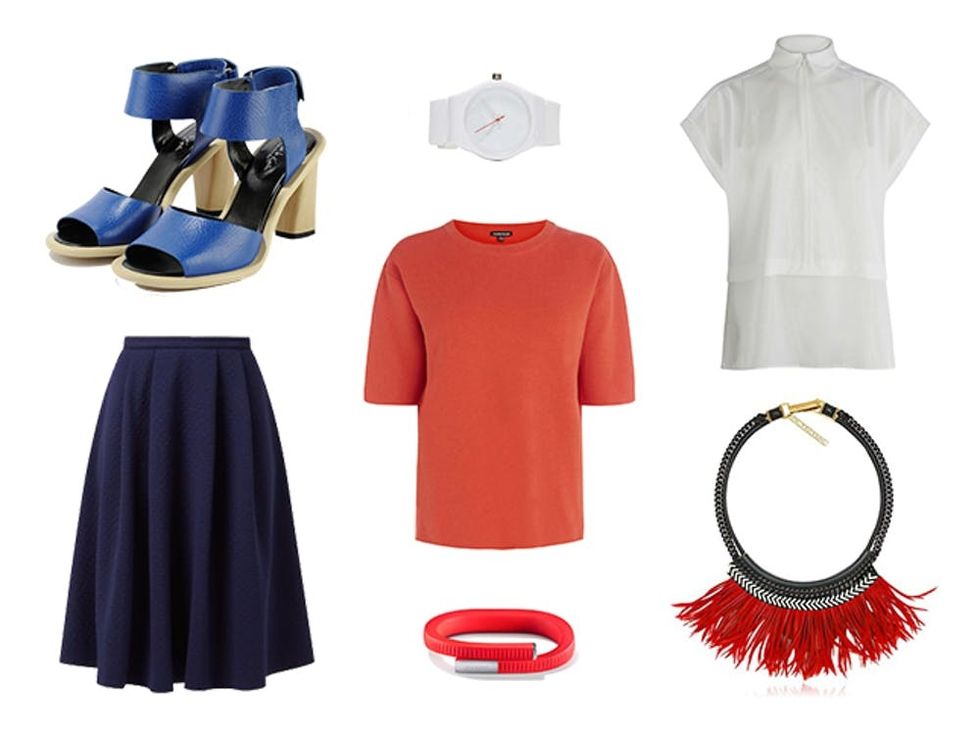 Root for your team while playing the perfect host in modern, minimalist separates that pack a punch. Layer a short-sleeve sweater and paneled zip oxford over a pleated midi skirt for a preppy look. Spice things up with a mix of modern and tribal accessories. Wearable tech and a sleek time piece add an activewear edge, while a funky ostrich feather collar necklace and bold block heels introduce a dash of personality.
Rumba Delancey Snow Patrol Watch ($45), New Look Navy Jersey Pleated Midi Skirt ($28), Warehouse Milano Three-Quarter-Sleeve Top ($68), Fiona Paxton Freja Necklace ($354), Charles Keith Leather Strap Block Heels ($103), Warehouse Clean Zip Front Shirt ($68), Jawbone Up24 Fitness Wristband ($130)
Hyped-Up Seahawks Party Host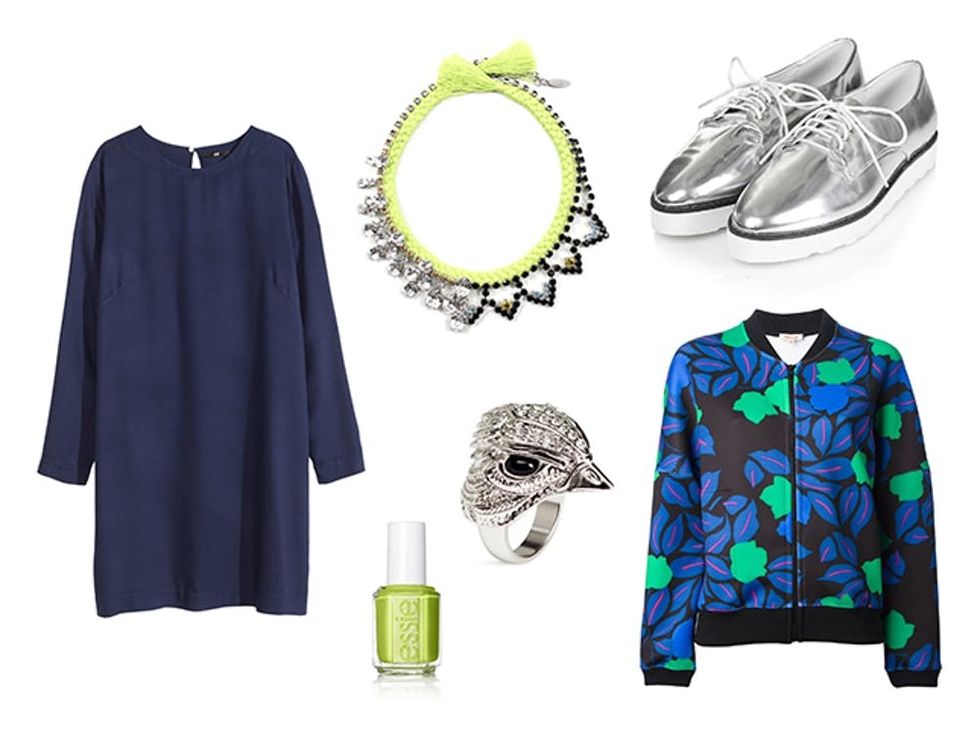 You may be running the show, but that doesn't mean you can't get in on the action. Proudly display your team's colors while serving up the snacks in a classic shift dress and jazzed-up trimmings. A bright statement necklace in Seahawk green and a bird's head ring are fun, funky pieces that show where your alliances lie. Continue the Seattle theme with neon nails and a sporty, printed bomber in blue and green. A final, flashy detail — quicksilver platform oxfords — completes this bold look.
H&M Long-sleeved Dress ($25), Joomi Lim Split Personality Necklace ($398), Essie Nail Polish in The More the Merrier ($9), P.A.R.O.S.H. Printed Bomber Jacket ($158), Topshop France Lace-Up Shoes ($55), H&M Bird's Head Ring ($8)
How are you showing your support for your team this Super Bowl Sunday? Tell us in the comments!
Libby MacCarthy
Libby MacCarthy is an urban planner turned writer with a love (bordering on unhealthy obsession) of all things fashion and beauty related. She lives for perfectly brewed coffee, farmer's markets, dinner parties and perusing impeccably designed boutiques. When she's not on the hunt for the latest trends, you'll likely find her plotting her next adventure or nose deep in a book. Libby currently splits her time between the East Coast and her adopted home of France. Follow her daily adventures on
Instagram
.