10 Reasons Why You Might Choose Socks Over Tights This Fall
Oct 08, 2015
We'll admit it — we've always had a love-hate relationship with socks (weird, right?). Maybe it all goes back to the arsenal of flats that dominated our closet back in the day, from D'Orsay's to Chucks, all of which we'd wear barefoot. Or that once boot season came along, we wanted all the attention to focus on our fresh kicks (and mayyybe get an extra use or two out of those ugly white gym socks while we could). But now that we've diversified our style, we couldn't be more pumped to don these soft + snazzy accessories — even over tights! — which is why we're going to be wearing them with everything from sandals to mules and menswear-inspired kicks this season. Not sure how to navigate the whole showing-off-your-socks thing? We've put together 10 pairings to help you step out in style.
---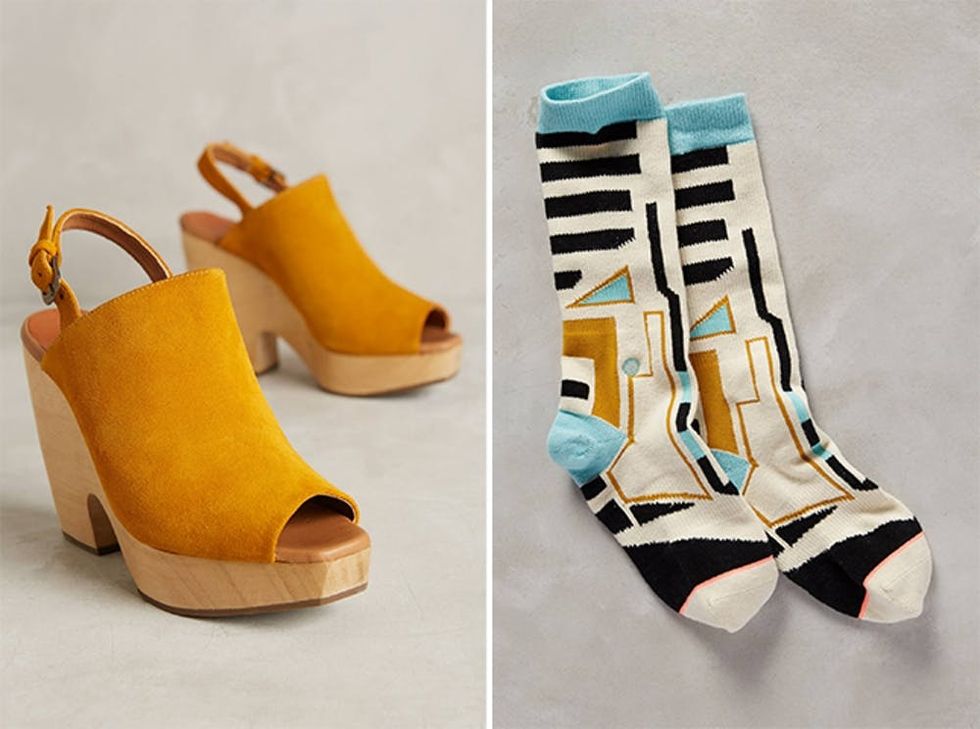 1. Rachel Comey Serra Slingbacks ($488) + Stance Cleopatra Socks ($12): Mules are an unlikely candidate for stockings, but when the temps take a dive and you're not ready to part with those sartorially on-point steppers, this makeover will quickly make them your new cold weather BFFs. This look is all about making a statement, so bright graphic socks are where it's at. Wear this look with a flowy top and pleated midi skirt.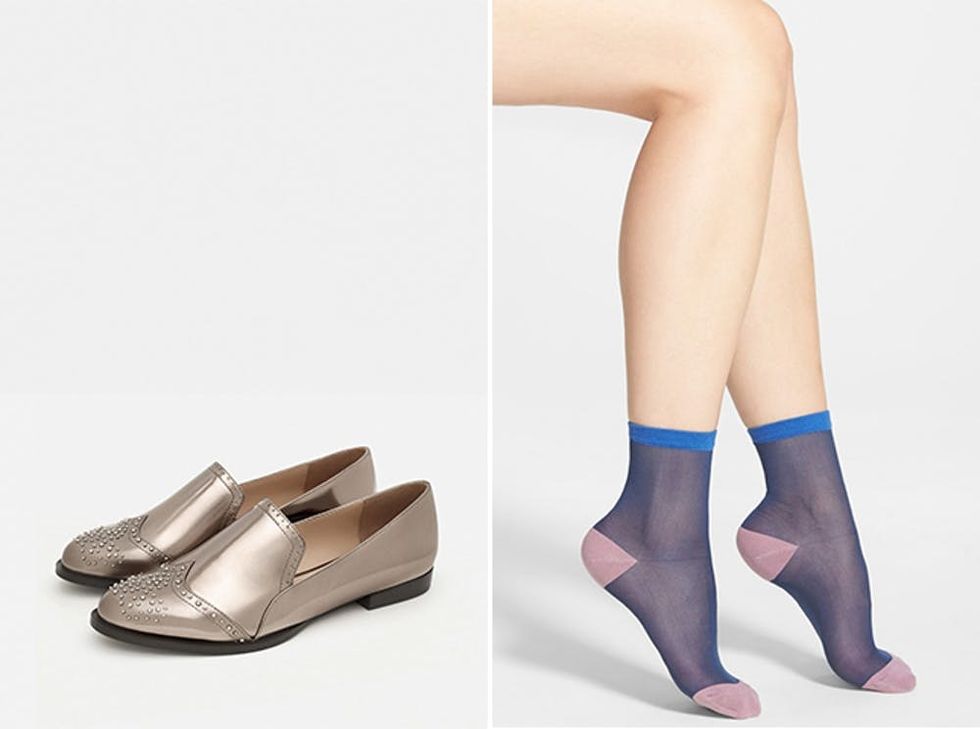 2. Zara Metallic Loafers ($50) + Free People Anastasia Sheer Socks ($14): Sleek and studded, these modern loafers demand socks that are equally as arresting, and these color blocked sheers are it. Pair 'em up with cropped pants and an understated tunic and prepare to take home the prize for chicest office style.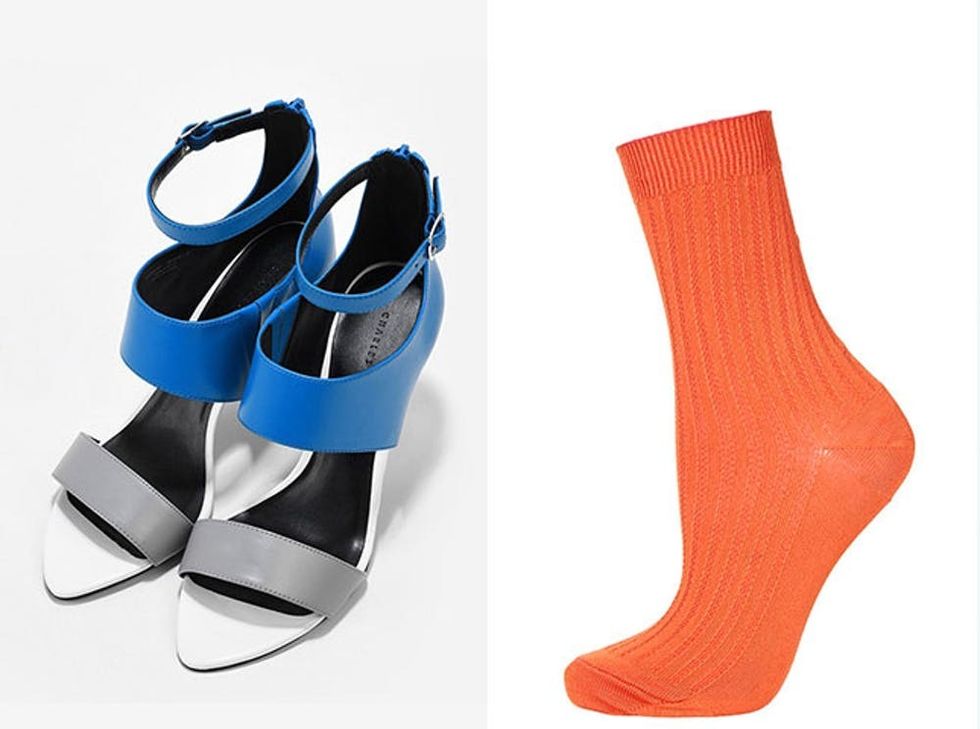 3. Charles & Keith Strappy Open-Toe Sandal ($57) + Topshop Slinky Rib Stitched Ankle Socks ($6): The easiest way to transition your fave sandals to the new season isn't exactly braving the elements with bare toes. It's all about the playful socks, friends. And right now we're all about the contrast between these bold architectural heels and bright orange stockings.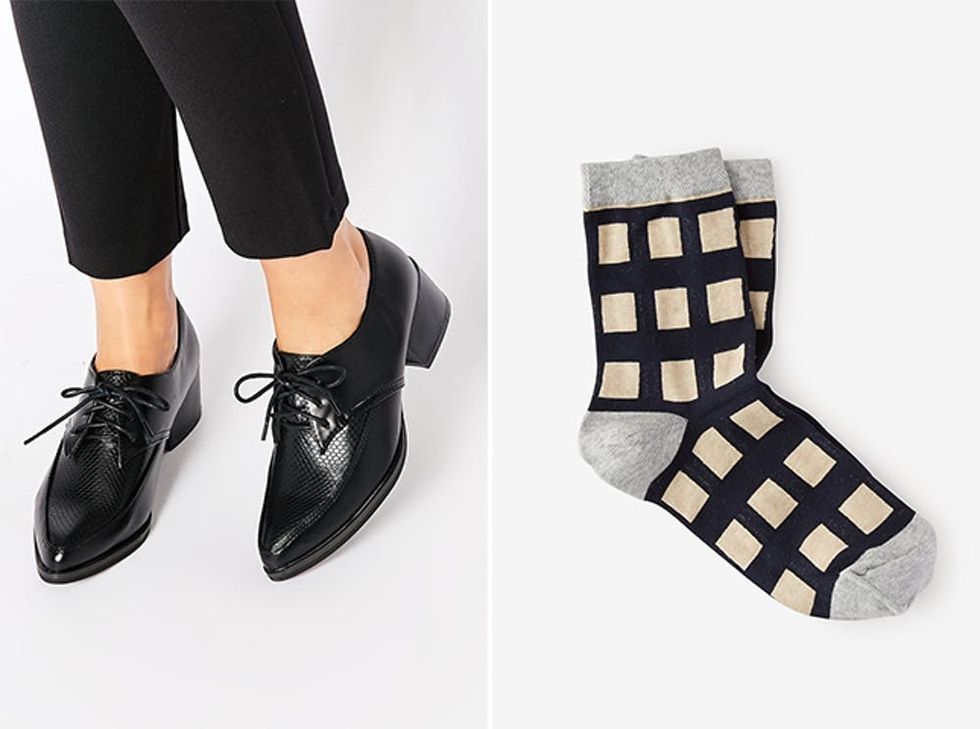 4. Daisy Street Kitten Heel Snake Effect Masculine Shoes ($51) + Hansel from Basel Square Peg Sock ($7): Menswear kicks are kind of our thing, and while we love the look with an au naturale ankle, these eye-catching square peg socks pack a major punch. Get ready to take everything from tailored trousers to laid-back overalls to the next level.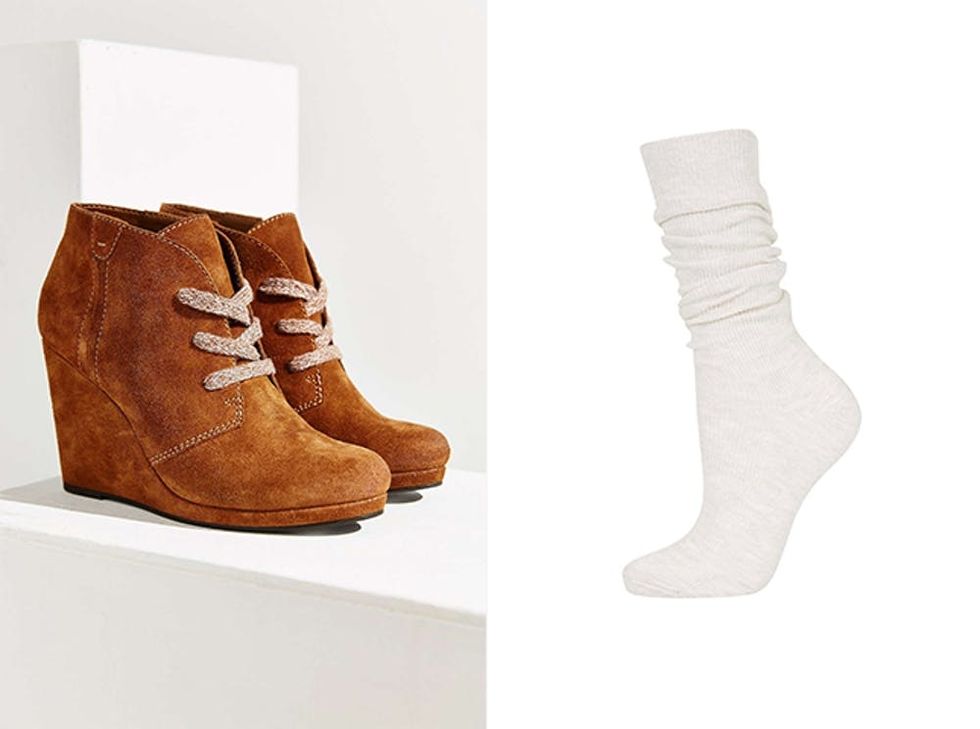 5. Dolce Vita Gael Wedge Ankle Boot ($130) + Topshop Slouchy Ribbed Socks ($10): Wedge booties are about to get real — real stylish, that is. The suede on these bad boys make them look oh-so cozy, so we're going to play into that with a pair of slouchy ankle socks. Layer them over tights for a look that's ready to take on fall weather.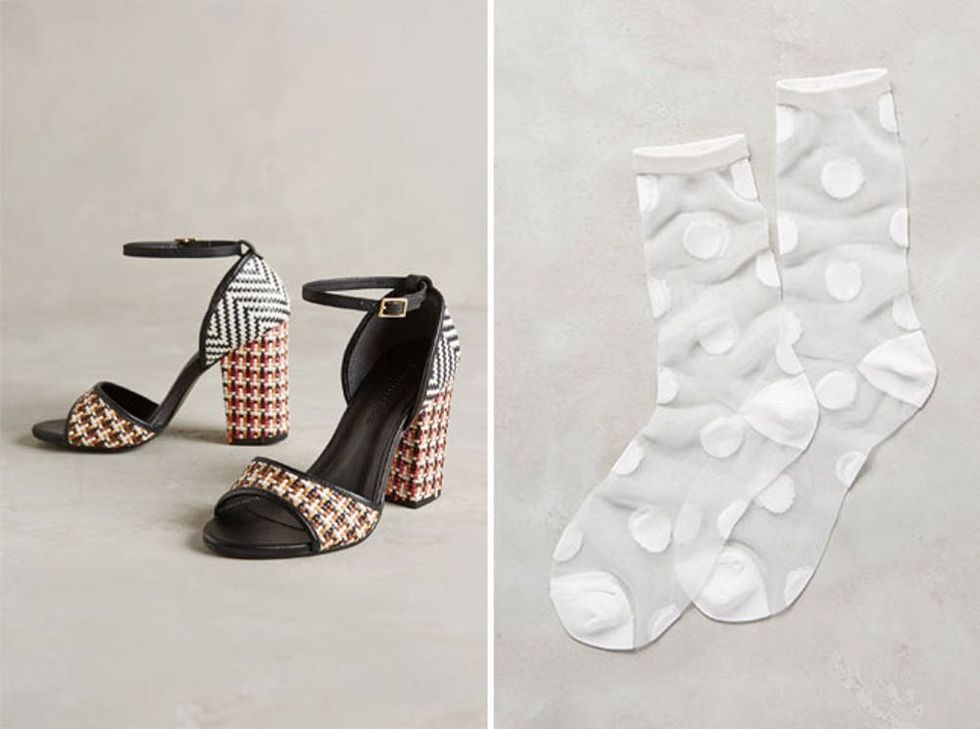 6. Raphaella Booz Wovenscope Pumps ($158) + Hansel from Basel Sheer Dot Ivory Socks ($24): Micro manage that whole mixing prints thing by styling bold graphic heels with socks boasting bold polka dots. Because why not?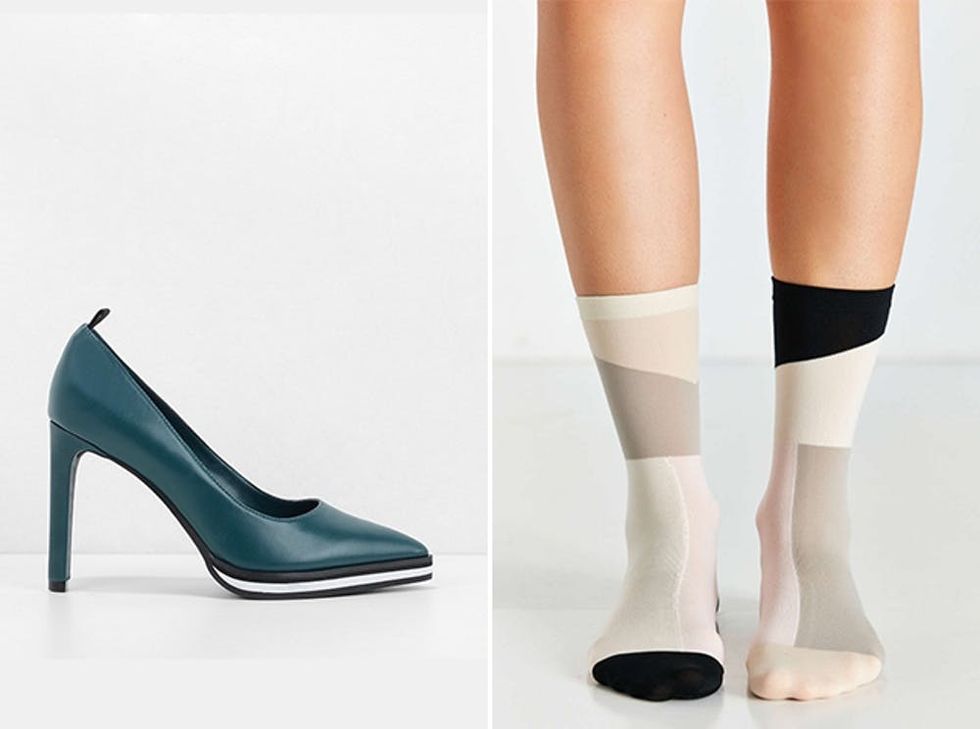 7. Charles & Keith Covered Pumps ($57) + Hansel from Basel Mismatched Socks ($30): These pumps have an undeniable athletic edge that we're more than ready to highlight with contemporary color blocked socks. Together they make a real work of art. Wear with joggers for an added sport-chic effect.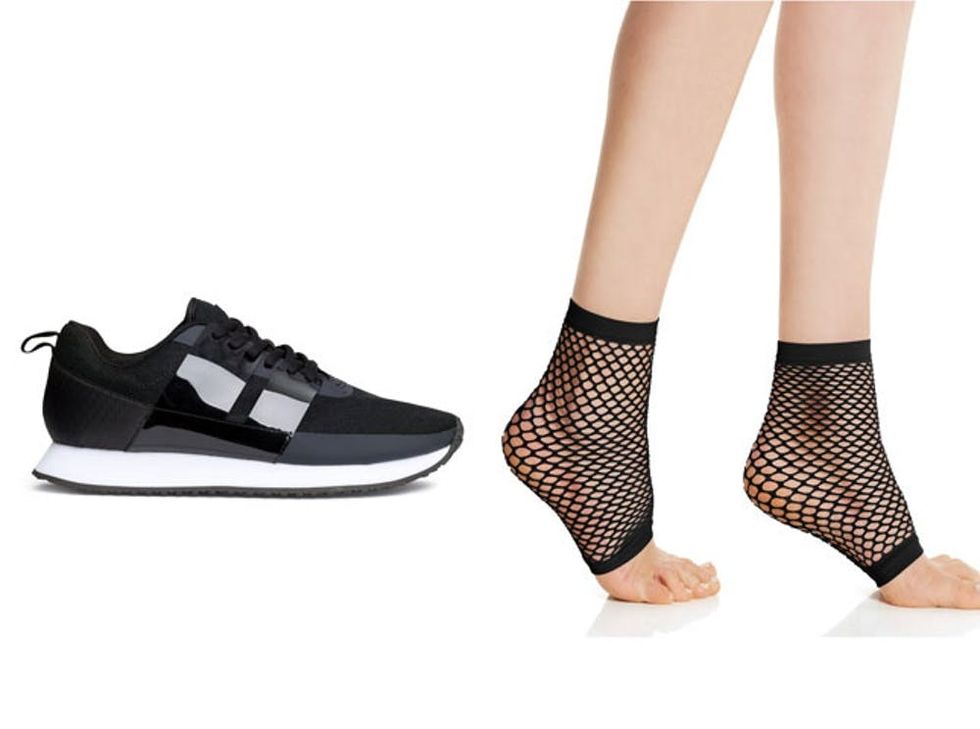 8. H&M Sneakers ($40) + Vince Camuto Open Toe Fishnet Socks ($5): Sneakers always seem to get the plain-old white-ankle-sock treatment (snooze), but why not branch out? We're diggin' the idea of rocking a pair with totally unexpected fishnets. Take this pairing to the office with leather-look culottes and a non-frumpy turtleneck.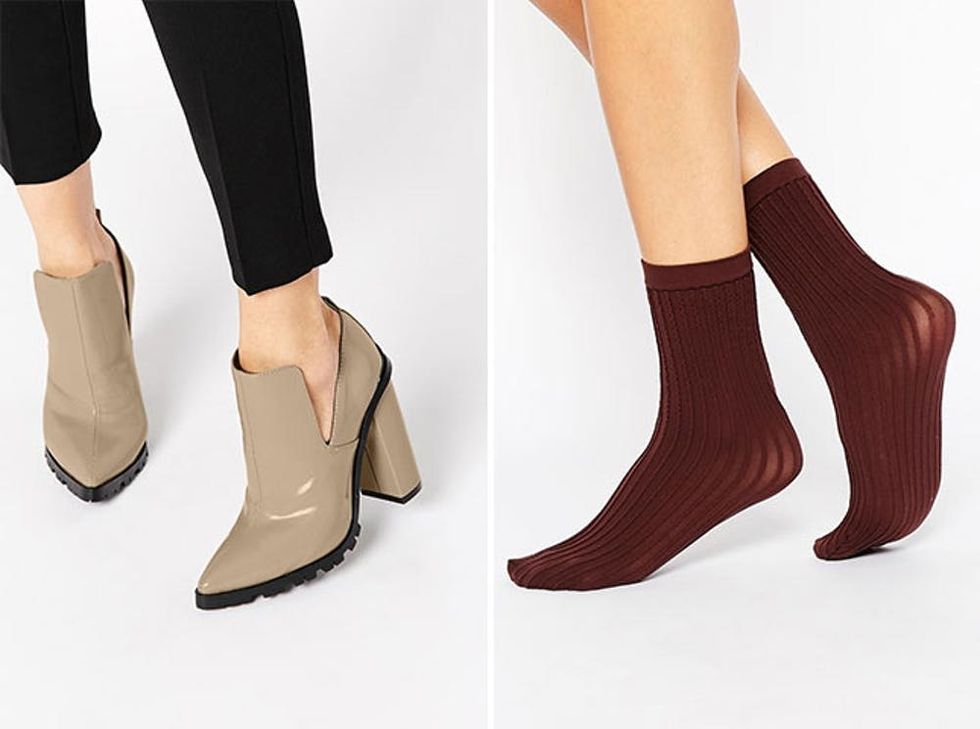 9. ASOS Edgware Pointed Cutout Ankle Boots ($81) + Wolford Stripe Touch Wool Socks ($26): Ribbed socks are one of those versatile accessories that feel cozy while looking really, really posh. Here they add dimension to these shiny pointed-toe boots and give them the ultimate fall edge, especially paired with cropped flares or skinny jeans.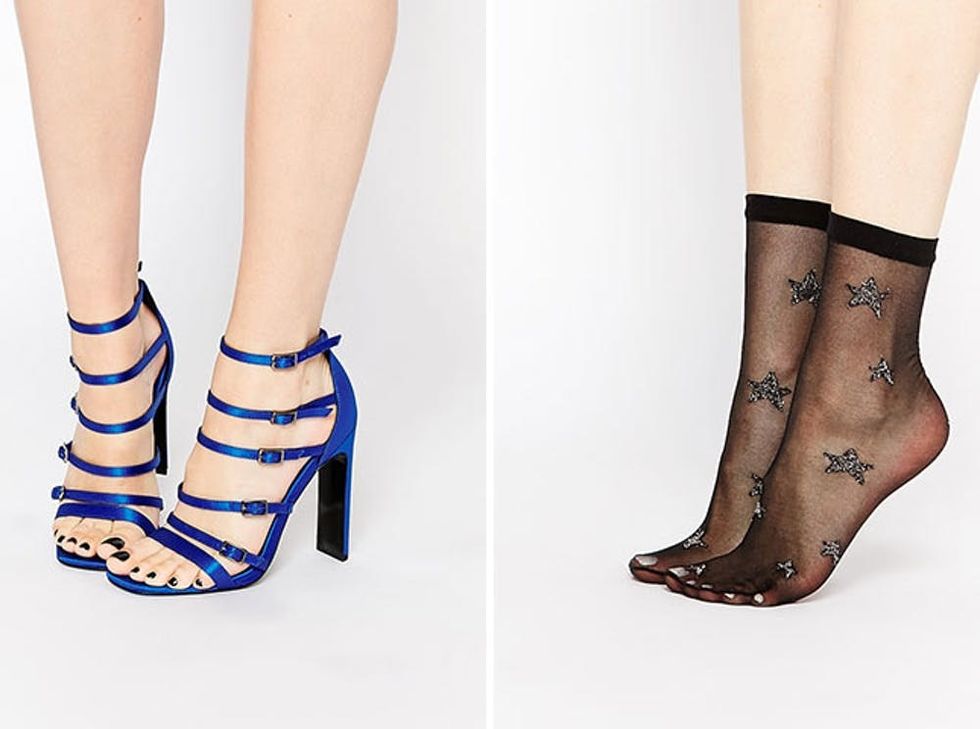 10. ASOS Hypnosis Caged Heeled Sandals ($81) + ASOS Metallic Sheer Star Socks ($8): Get a jumpstart on your Christmas dress ideas by starting with the shoes + socks first. Glitter socks are always on-point, holidays or not, and turn up these glam pair of cage shoes like we could have never imagined. We feel like cropped crushed velvet trousers and a white button up are calling our names…
What's your take on the statement sock trend? Tell us how you'd wear it in the comments!