20 Lessons on Finding (and Staying in) Love from This Dreamy Instagram Feed
Nov 07, 2016
In 2015, Detroit native and self-proclaimed hopeless romantic Brooklyn Sherman launched The Way We Met — a Web site and Instagram feed dedicated to sharing true love stories. In just over one year, she has received over 10,000 submissions and has racked up almost 400,000 followers.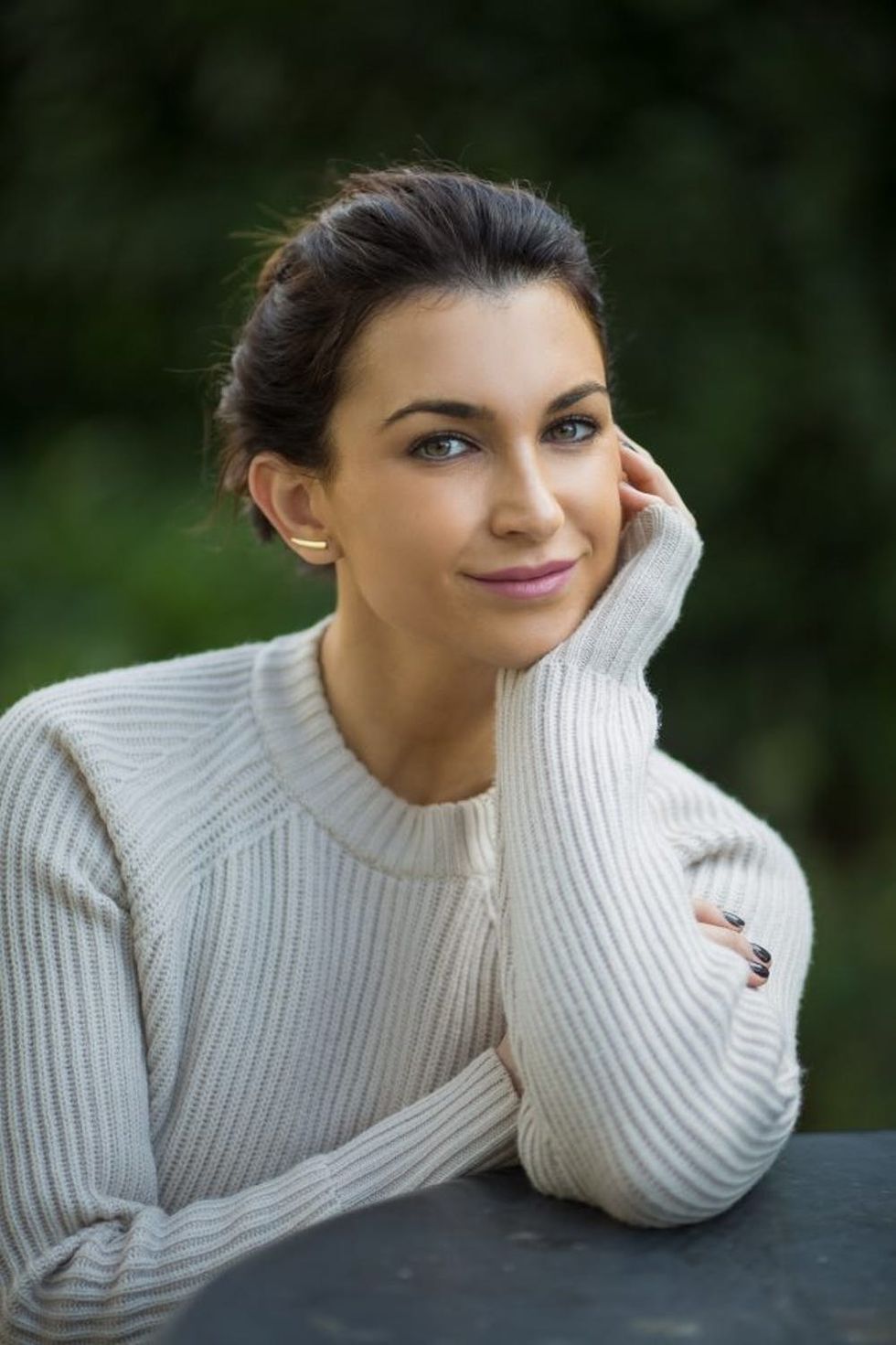 ---
Sherman was inspired to launch the account after a terrible breakup from her boyfriend of six years. "It was like the love from The Notebook," she says of the relationship that first broke her heart. Her friends knew that she had survived a major split and turned to her for advice when their own relationships went south. She took her expertise to a blog and ultimately developed her interest in love into The Way We Met.
"I want to post stories that make readers rethink what they already know," Sherman says. One of her favorite parts about her work is the opportunity to learn about new cultures and the challenges that couples face after their first meeting.
Sherman also takes pride in inspiring her readers to make in-person connections. While there are many success stories from online dating, she believes that, when it comes to finding relationships, people tend to be disengaged from those around them. Positive comments from her online community remind Sherman that her work has an impact as long as she is helping people open their minds about love. "It sounds cliche, but love really is the most important thing," she says.
Scroll down for 20 love stories — and the lessons they've taught us — from The Way We Met.
1. It never hurts to say hello to your fellow Uber Pool riders. Renee and Blake lived just two blocks away from each other, but it took a chance meeting in the back of an Uber to bring them together.
2. True love sees the beauty in an ugly sweater. Scarlet was working part-time selling ugly Christmas sweaters and tree ornaments at a mall kiosk. Rico — who worked at the neighboring phone repair kiosk — caught her eye, and after a few days of silent flirting, Scarlet threw on an ugly sweater, walked up to him and asked, "Do you think I can pull this off?" He obviously said yes, and they've been together through the good, the bad and the ugly ever since.
3. Friendship can be the best foundation. George and Brianna were best friends for a decade before they redefined their relationship. After 10 years of supporting each other through breakups, they started seeing their friendship in a different light at Brianna's mom's wedding. "It's crazy to think that my soulmate has been with me this whole time," Brianna says. "I just wasn't ready to accept it yet."
4. Pay attention to the road. Even highways can be romantic. In case you needed ANOTHER reason to keep your eyes off your phone and focused on the road — these lovebirds met 25 years ago on the 5 Freeway in California. He was driving at 60 MPH down the highway with his dog in the passenger seat when he yelled out to a beautiful blonde in a yellow SUV. "Are you married or do you have a boyfriend?" he shouted. When she yelled back that she was single, he asked for her phone number and memorized the digits she shouted back until he could get off the road and write them down. They've been married for more than 20 years.
5. Sometimes 140 characters is all you need to make an impression. We all know there are hundreds of apps specifically designed for dating out there, but Ruby and Kevin met on Twitter! They sent these adorable photos to each other before they even met in-person. Today, they're happily married.
6. A good love story can start with your grandparents. Jake and Jess grew up having their grandparents — who were best friends in high school — force them to take pictures together. "I remember I would push my brother out of the way just so I could stand next to her for the photo," Jake says. They started dating as teenagers. Though they spent a few years seeing other people, they fell back in love when Jess made a surprise visit to Nashville. Ten years after a teenage Jake bought a ring for his high school sweetheart, the two finally announced their engagement. We're sure their families were very happy to hear the news!
7. Change up your routine. Hamza first saw Rojeen on a night when he happened to arrive at the gym two and a half hours earlier than usual. He was drawn to her immediately, and he stuck with his new workout schedule for a few more days until he finally saw her again. He didn't miss the opportunity to ask for her number this time! Don't forget to switch up your workouts and your schedule — you never know who you'll meet.
8. Your family may not approve. If you thought that meeting your S.O.'s parents went badly, think again! Kimothy and Dwight met on a hike, and their relationship continued to be an uphill climb thanks to Kimothy's disapproving mother. Due to Dwight's religion, Kimothy's mom insisted that the two break up, and when her daughter refused, she kicked her out of the house and cleared out her bank account. Three and a half years later, Kimothy's mother did not attend their wedding. "Choosing to walk away from biological family was the hardest decision I've ever had to make," Kimothy says. "But family isn't always blood. Sometimes you have to create your own family who will love you and treat you the way you deserve."
9. There's power in numbers — and in never giving up. When Laura ended a bad relationship in 2011, she decided that instead of stalking her ex on social media, she would write a book about going on 100 dates with 100 new people. After enduring 99 bad dates — including a guy who walked out of the restaurant when he found out her political affiliation — Laura met her now-husband Dave on the one-hundredth date. "I wrote my own love story and it has the perfect ending," Laura says.
10. Accidentally injuring someone may give you a great excuse to talk to them. As a beginner surfer, Alexis jumped off her board in the middle of a wave, while her board went the opposite direction and hit her now-S.O. in the head. "Sometimes people don't know what love is until they're hit over the head with it," she says.
11. Matching cars today, matching sweatsuits tomorrow. Tiffany was bringing her groceries out to unload in her car when she noticed a guy standing behind her white Jeep Cherokee, putting his own grocery bags into the trunk. After exchanging a few awkward words, she and the man realized they had the exact same car parked in neighboring spots. Tiffany laughed the situation off and said, "You can leave your groceries, though. I'll be happy to take them." He responded, "Only if you're going to make me dinner with them." A few weeks and a homemade meal later, the two were a couple!
12. Don't be afraid to be direct. Alexander didn't think twice when he walked up to Michael at an Atlanta bar and said, "You're the hottest guy here." They exchanged phone numbers before the night was over. In 2016, they were voted runners-up in a contest to be 2016's First Couple, and said their vows in Times Square on New Year's Eve after one decade together.
13. If you get pulled over while you're driving, being nice to the police officer can do more than get you out of a ticket. Maribeth was driving home from her job as a bartender when she saw flashing lights behind her and pulled off to the side of the road. She still smelled like booze from the bar, and even though she tried to explain to the officer that she had not been drinking, she was asked to step out of the car and take a sobriety test. Maribeth really hit it off with one of the officers on the scene, but in the name of professionalism, Danny did not ask for her phone number until the next day, when he showed up at her bar to see her again. "We're expecting our first baby girl…and can't wait to tell her the story of how daddy almost falsely arrested mommy," Maribeth says. 
14. Don't be so quick to put in your earbuds when you get on a plane. Natalie and Mickey met on a plate in 2005. Mickey tells the story best: "I sometimes try to list the number of coincidences that had to happen in order for me to end up sitting next to the future mother of my two children on an airplane full of at least 150 other strangers. But then my brain starts to hurt, so I just walk over and kiss Natalie on the forehead instead. It's like life shoved us together and said, 'You know what? I'm going to save you both a lot of time and heartache. Boom. Here you go. Your life partner. The end. Forever and ever, happily ever after and all that. Now leave me alone.'"
15. True love can overcome the senses. After 30 happy years of marriage, Mrs. Kuroki lost her eyesight due to complications from diabetes. She and her husband had planned to travel the world together, and instead, Mrs. Kuroki became depressed and withdrawn. For two years, Mr. Kuroki worked to plant thousands of flowers in the land he had once farmed outside their home to encourage his wife to come out of the house. His efforts paid off, and in addition to Mrs. Kuroki, thousands of visitors now enjoy the beautiful blooms and the story behind them.
16. Be polite on elevators — but not too polite. In the mid-eighties, a man was rushing out of his office to meet a friend for lunch when he saw "the most beautiful woman I'd ever seen" squeeze out of the crowded elevator. He stepped out of the way to let her through and got onto the elevator himself. Before the doors closed, though, he rushed out of the car and in the direction of the pretty stranger. He said hello and scored an invitation to join her for lunch. Thirty happy years later, we're pretty sure that his original lunch partner has forgiven him for ditching their appointment.
17. Love overcomes differences in culture and background. Ellen (who was from Australia) met Fini (who was from Zimbabwe) dancing under the moonlight in a park. The two had immediate chemistry and learned that they would soon be working at the same hospital. Ellen and Fini have faced challenges over the years due to their different backgrounds, including lost friends, visa complications and dowry negotiations that required Ellen to kill a chicken. "Fini and I always choose love and understanding over fear," Ellen says. "And together we have witnessed many miracles."
18. You can meet the right person in the most ordinary places. When she was 16, Mikayla ran into her friend Alex at the grocery store, where she was making a last-minute trip to buy a razor. "I realized I couldn't go another day without shaving my legs," she says. Alex was there with his older brother, who Mikayla was immediately crushing on. Within a week, they were a couple, thanks to Alex's matchmaking skills and Mikayla's commitment to clean-shaven legs!
19. Even the most un-romantic stories can have happy endings. Darianne and Ben met in line for the bathroom at a bar in Santa Monica. Ben was nice enough to let Darianne jump in front of him to use the men's room and, as if that wasn't gentlemanly enough, he bought her a drink later that night. They had their first kiss one month later, and just four weeks after that, they were engaged.
20. Trust your instincts. Jake was only weeks away from a destination wedding when she got a feeling that something just wasn't right in her relationship. While she was home visiting family to try to get some clarity, her ex-boyfriend Dan randomly texted her. It had been two years since they were last in touch, and they reconnected immediately. Jake called off her wedding and moved in with Dan instead. Soon after, they eloped on Leap Day and sealed their vows with $15 rings purchased at the courthouse. Jake's was hot pink.
Tweet us your love story @BritandCo!
(Photos via @thewaywemet, Getty and Victoria Gold Photography)
Alli Hoff Kosik
Alli Hoff Kosik is a freelance writer who is passionate about reading, running, rainbow sprinkles, her lipstick collection, watching embarrassing reality TV, and drinking pink wine. She lives in Brooklyn with her husband and (in her dreams, at least) three golden retriever puppies. Listen to her talk books on
The SSR Podcast
.