44 Creative Ways to Decorate Easter Eggs
Mar 20, 2019

---
When you factor in all of the egg hunting, Easter brunching, and a few photo ops with the Easter bunny, the time allotted for brainstorming egg decorating ideas slips away fast. No worries though — we've got you covered! Whether you're going all out with an intricate design or just need something to quickly DIY day-of, this eggy inspo has a little something for everyone. Before you start stocking those Easter baskets, grab a few Peeps and check out this list for the most egg-cellent ideas to DIY this year.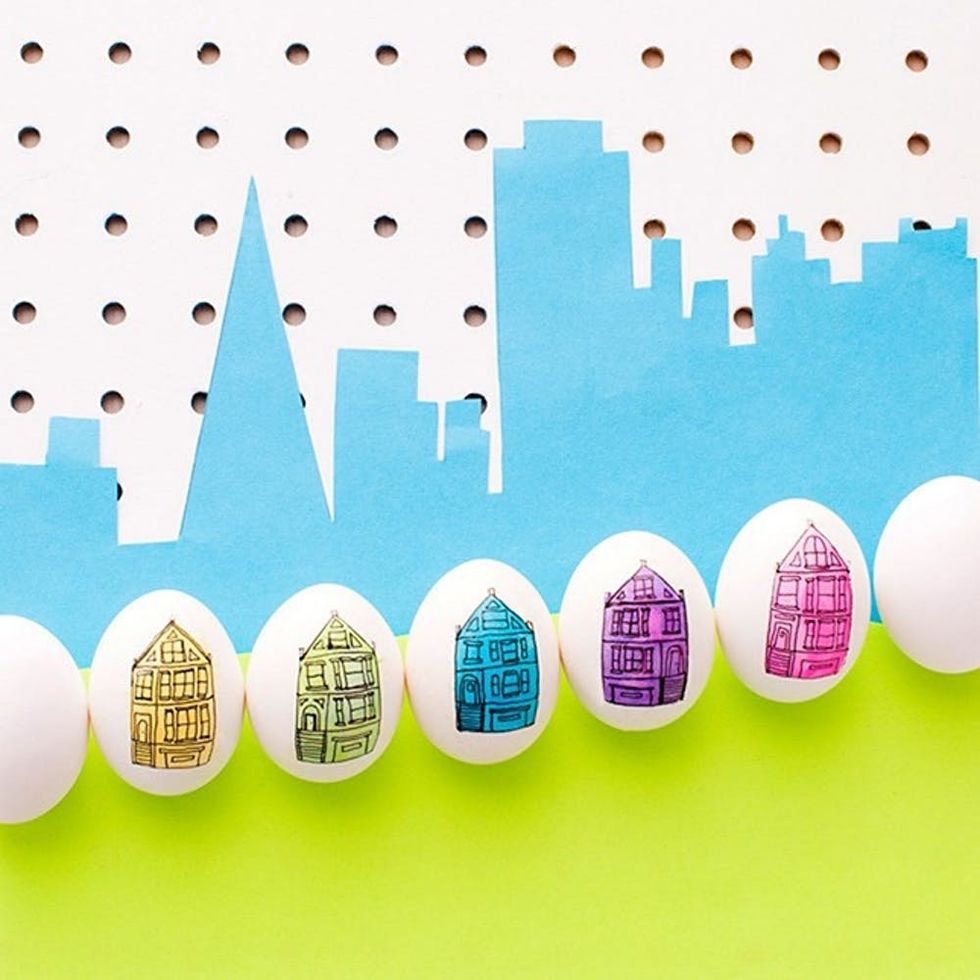 1.Full House Easter Egg: Proudly display your love for this '90s favorite with these nostalgia-packed wonders. Grab a waterproof pen and some painter's tape to help you color inside the lines. (via Brit + Co)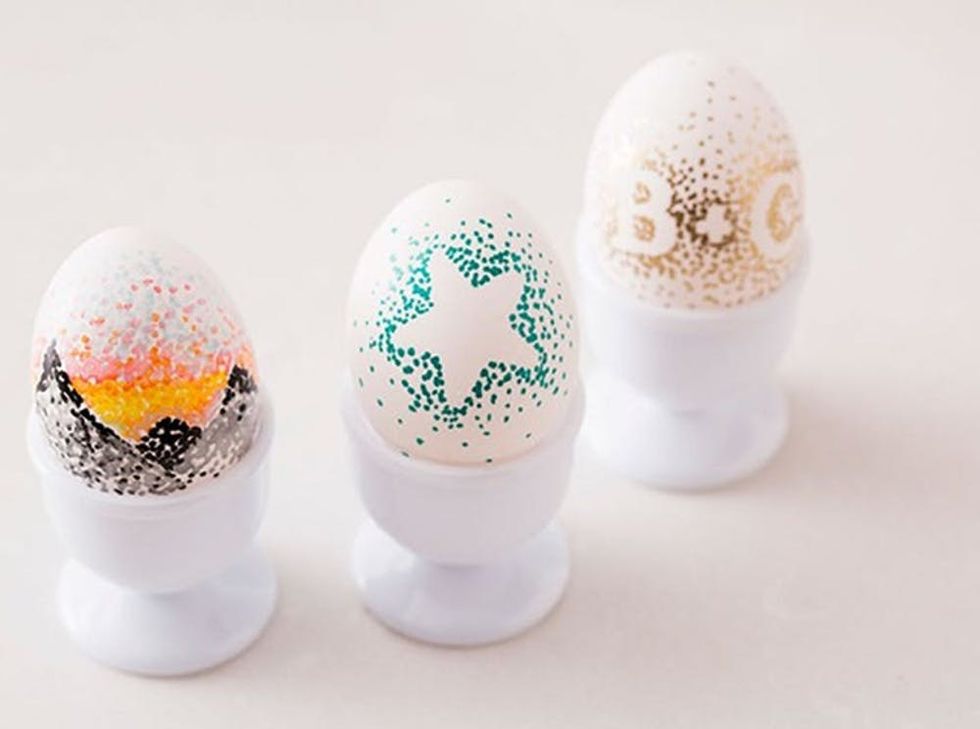 2.Pointillism Easter Egg: Turn those blank Easter canvases into mini masterpieces with this easy DIY that requires just stickers and markers to add dots to your masterpiece. (via Brit + Co)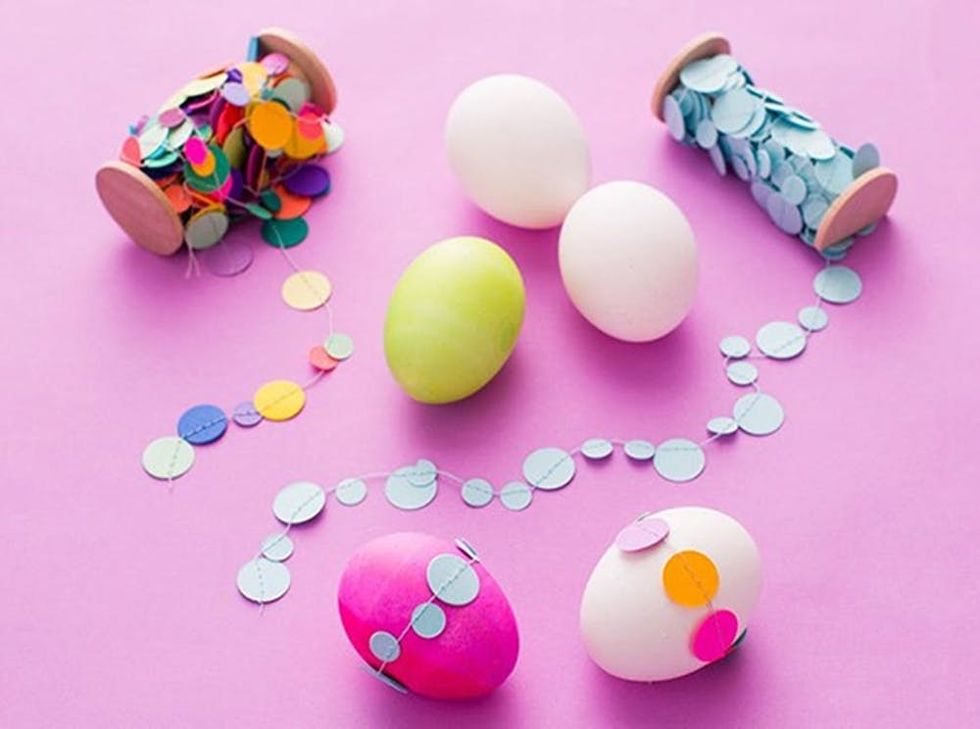 3.Paper Dot Garland Egg: If you're really short on time after the Easter brunch is prepped, grab some premade garland or embroidery floss and wrap up your eggs for the big finish. This DIY takes seconds to throw together, so you can get back to planning that Easter brunch. (via Brit + Co)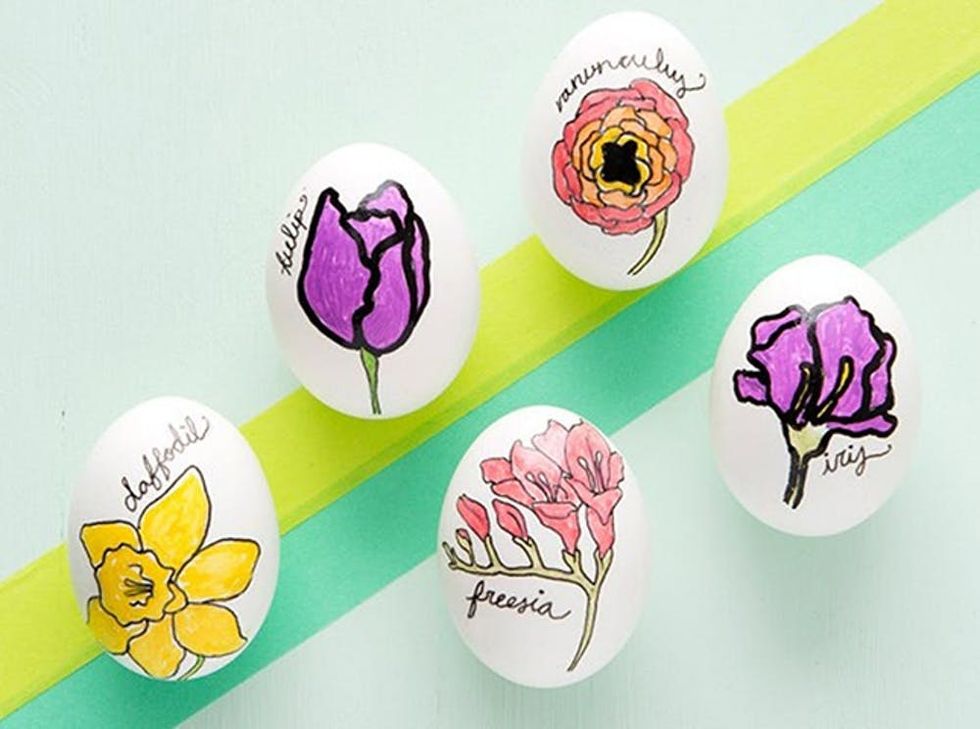 4.Floral Easter Egg: There's no better nod to those spring blooms than showing your eggs a little botanical love. Decorate them with your #squad's favorite flowers for a customized Easter basket. (via Brit + Co)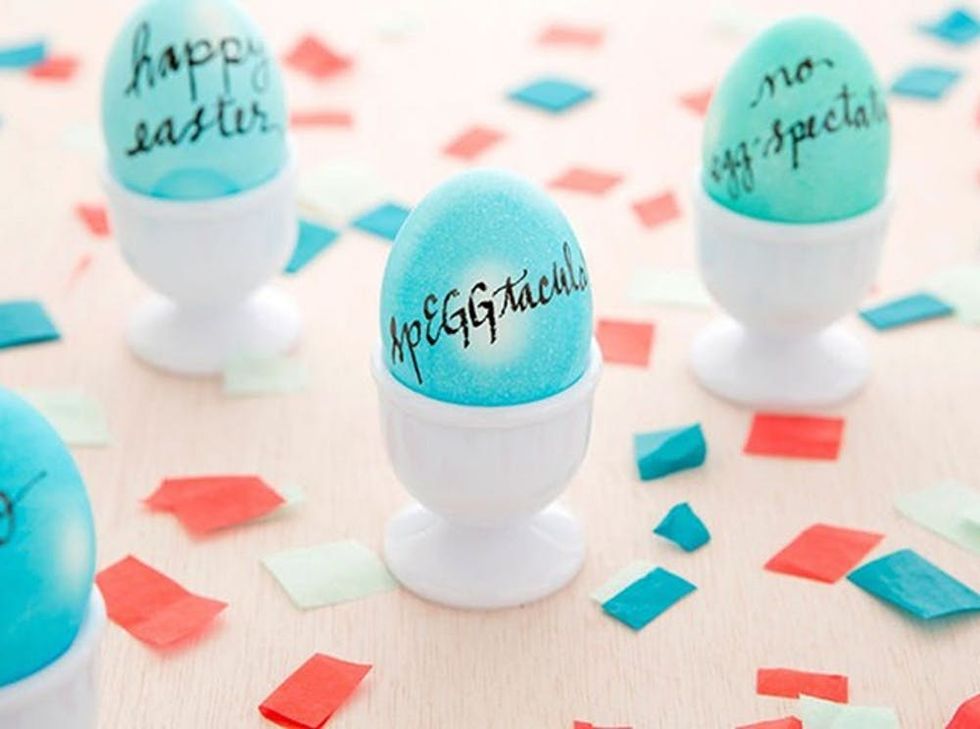 5.Calligraphy Egg: These calligraphy eggs add the sweetest personalized touch to those Easter gift baskets, and they'd also make some A+ placecards at your Easter brunch. (via Brit + Co)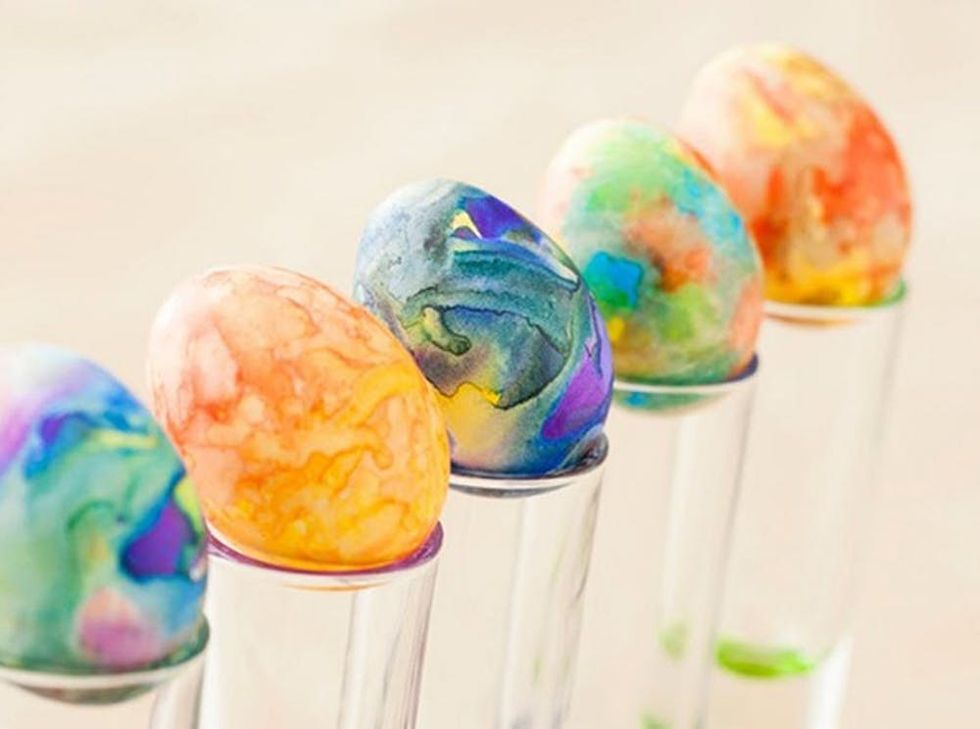 6.Sharpie Tie-Dye Egg: Put that Sharpie collection to good use and get in on the tie-dye trend. Just don't forget: They're too pretty (and toxic) to eat! (via Brit + Co)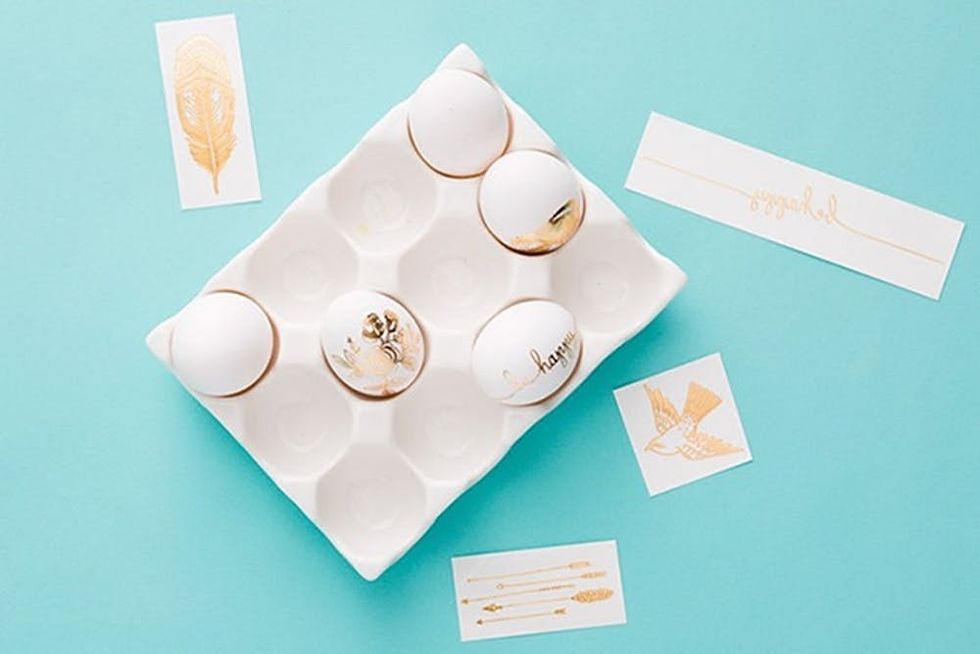 7.Tat Egg: This DIY is about as easy as it gets. And it further proves our point: You should always have gold temporary tattoos on hand. (via Brit + Co)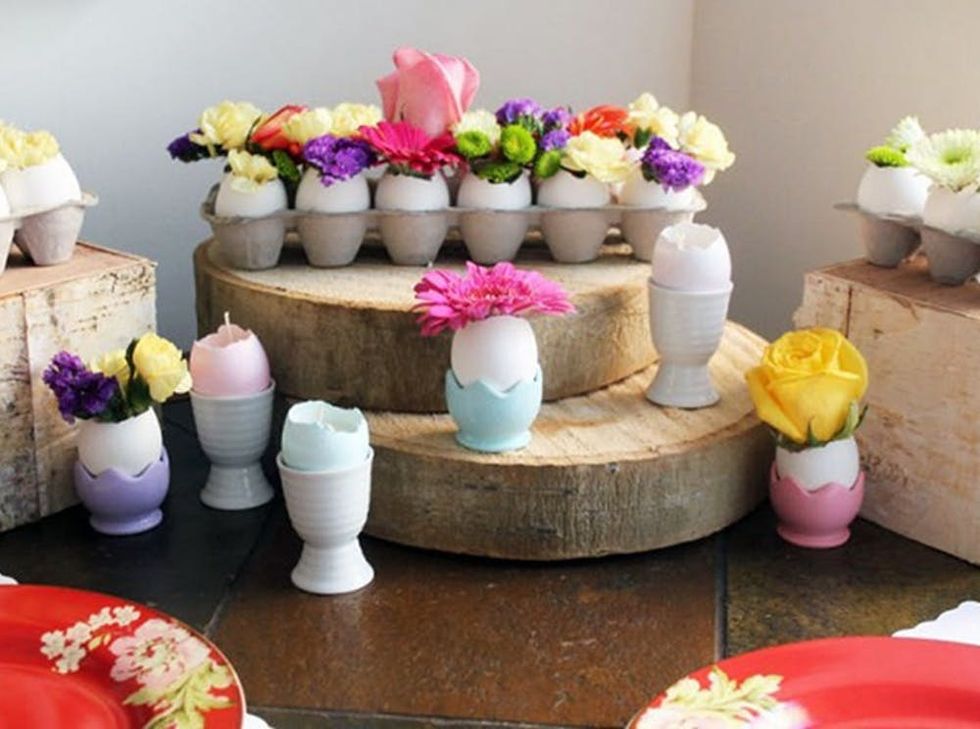 8.Egg Centerpiece: Save those eggshells from your brunch recipes and put them to good use for your centerpiece. Throw in fresh spring florals and set them into a carton for an Easter garden your guests will love. (via Brit + Co)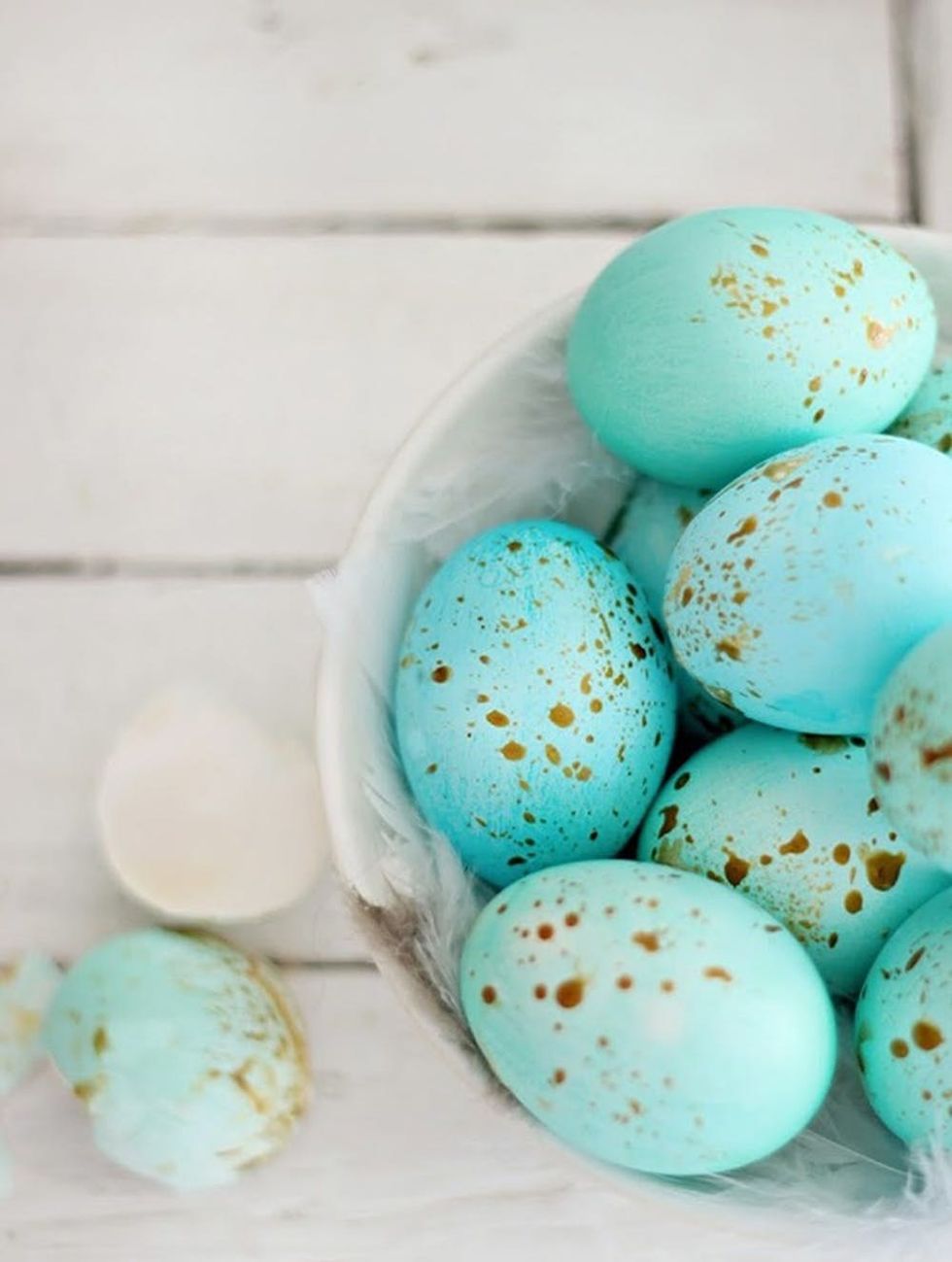 9.Golden Speckled Egg: These metallic wonders belong on the Easter mantle. Use a paintbrush to dab gold paint on the shell for a natural (but glam) look. (via Craftberry Bush)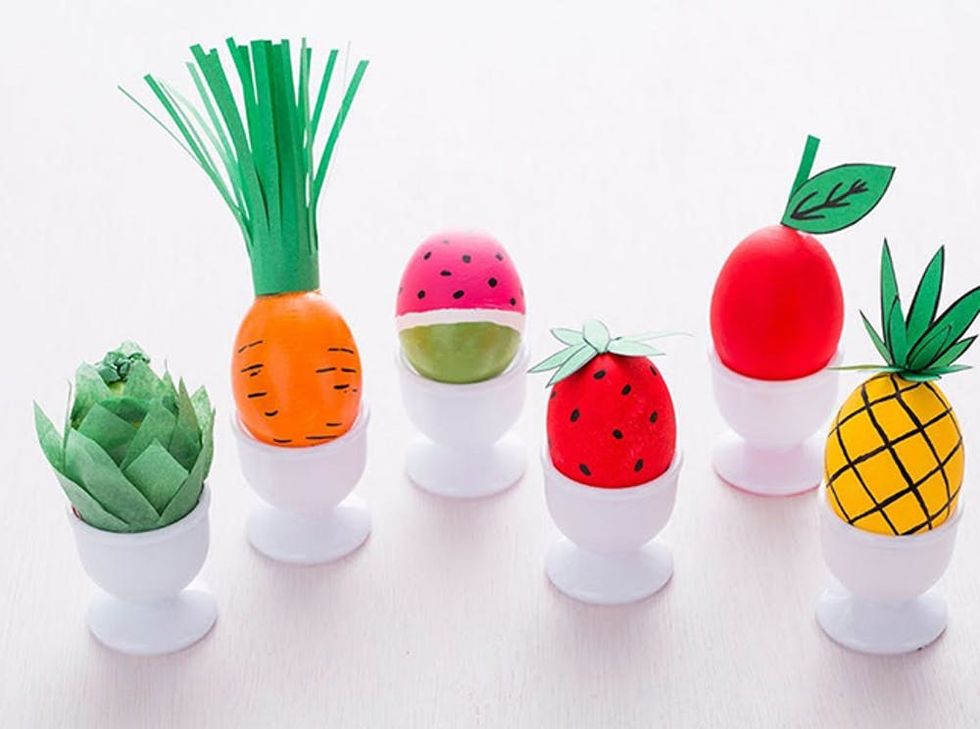 10.Fruit + Veggies Eggs: Remind everyone that fruits and veggies are still part of a balanced diet, even with all of those Easter sweets around. (via Brit + Co)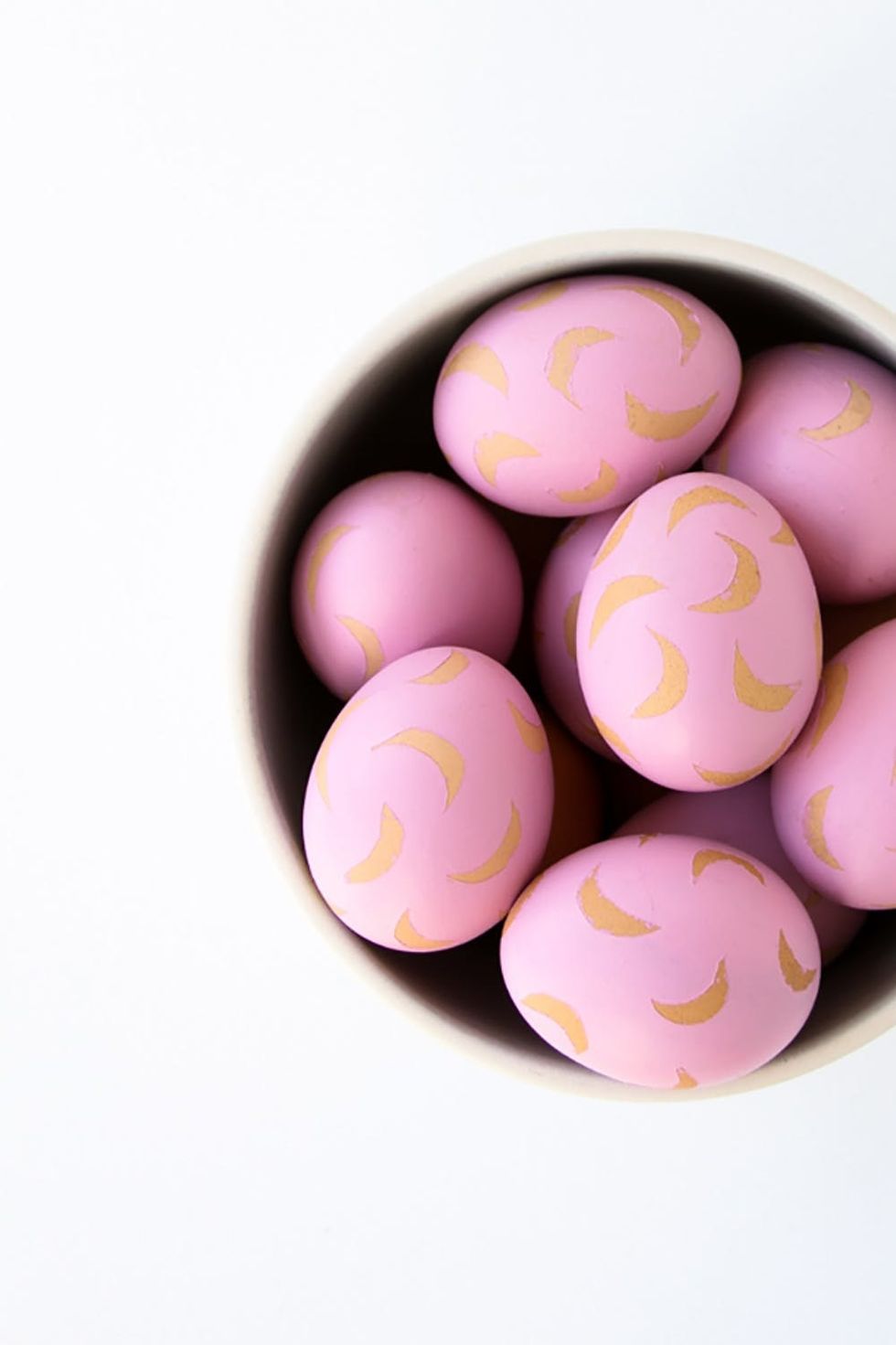 11.Crescent Moon Egg: Add a mystic edge to your collection this year and throw some crescent moons in the mix. For some edible goodness, opt for natural dye. (via Paper & Stitch)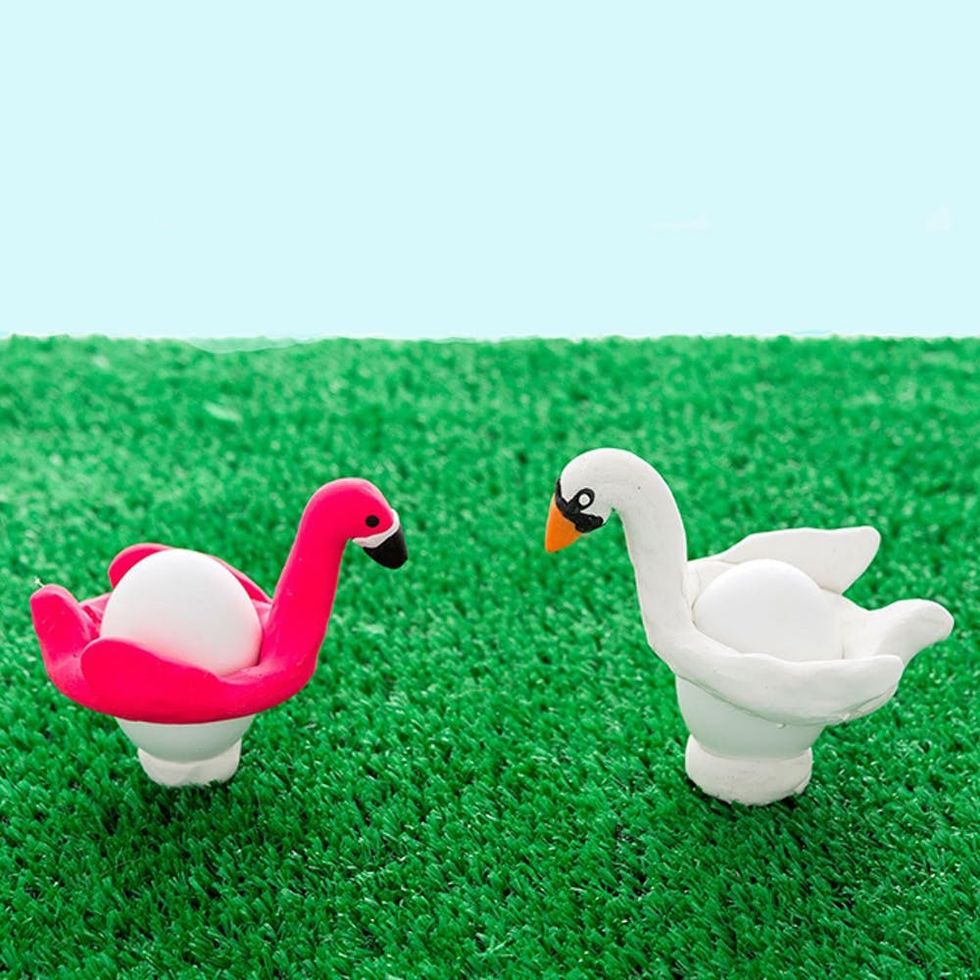 12.Swan + Flamingo Pool Float Egg: If your Easter grass is a traditional shade of green, you just can't go wrong with flamingos and swans. These birds will bring the Easter LOLs and make that egg hunt a lot more interesting. (via Brit + Co)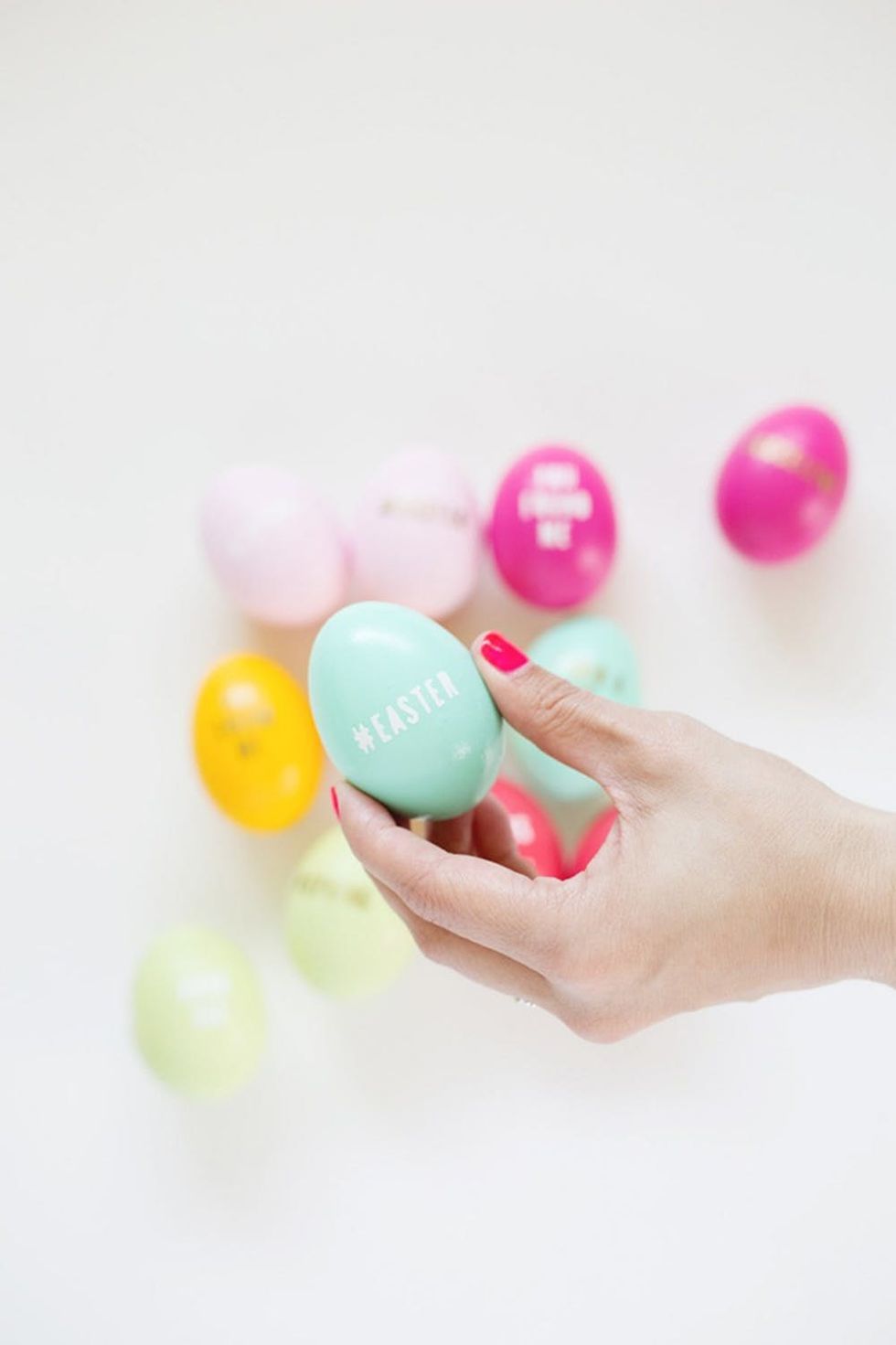 13.Typography Egg: Graphic designers and hardcore IGers will love this egg DIY. Have your hashtags at the ready to get those "likes" rolling in. (via Lovely Indeed)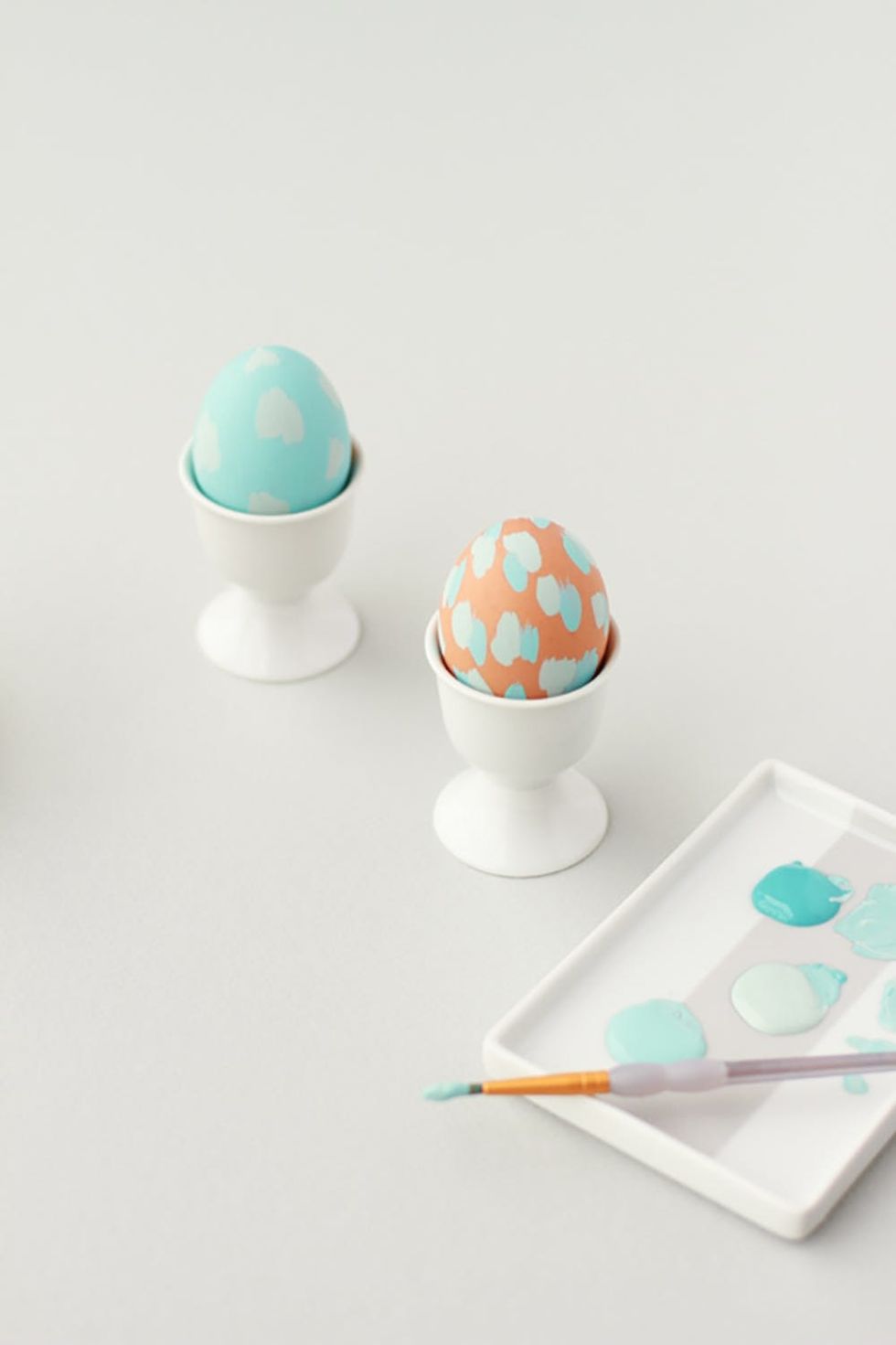 14.Painterly Egg: Sometimes a subtle pattern is all you need. Skip the dip dyes and go with something hand painted instead. These are sure to stand out from the rest. (via Paper & Stitch)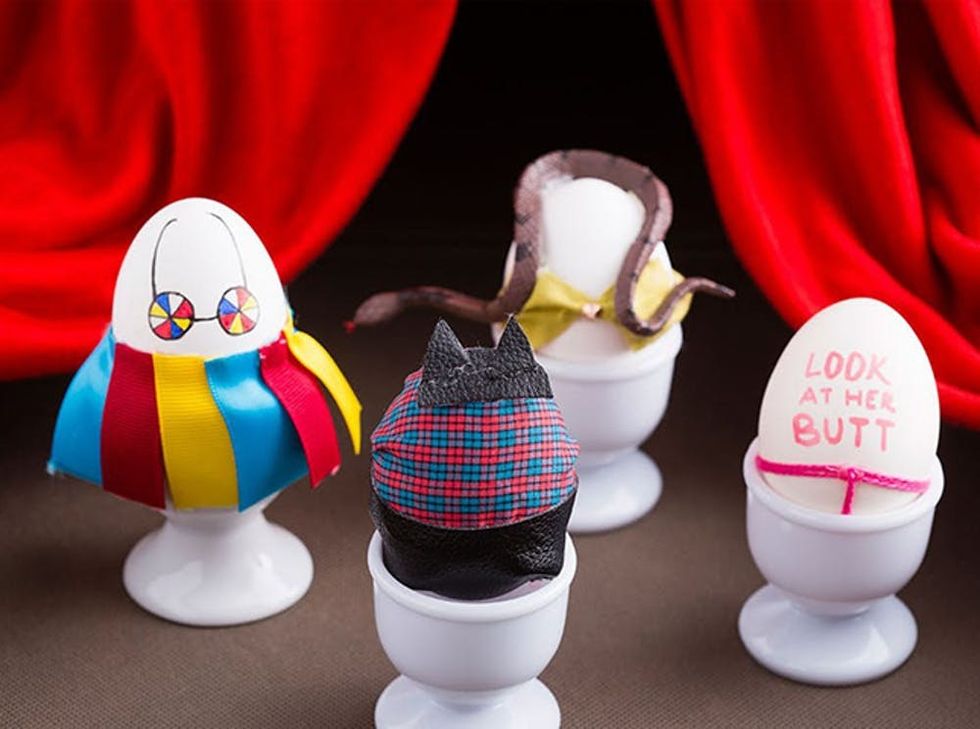 15.Pop Star Egg: Because there's no better way to pay Easter tribute to your favorite celeb than with their own eggy likeness. Have an Easter get-together with your squad and make it a contest for whose egg gets the most votes. Winner takes home a basket of Cadbury eggs and Peeps! (via Brit + Co)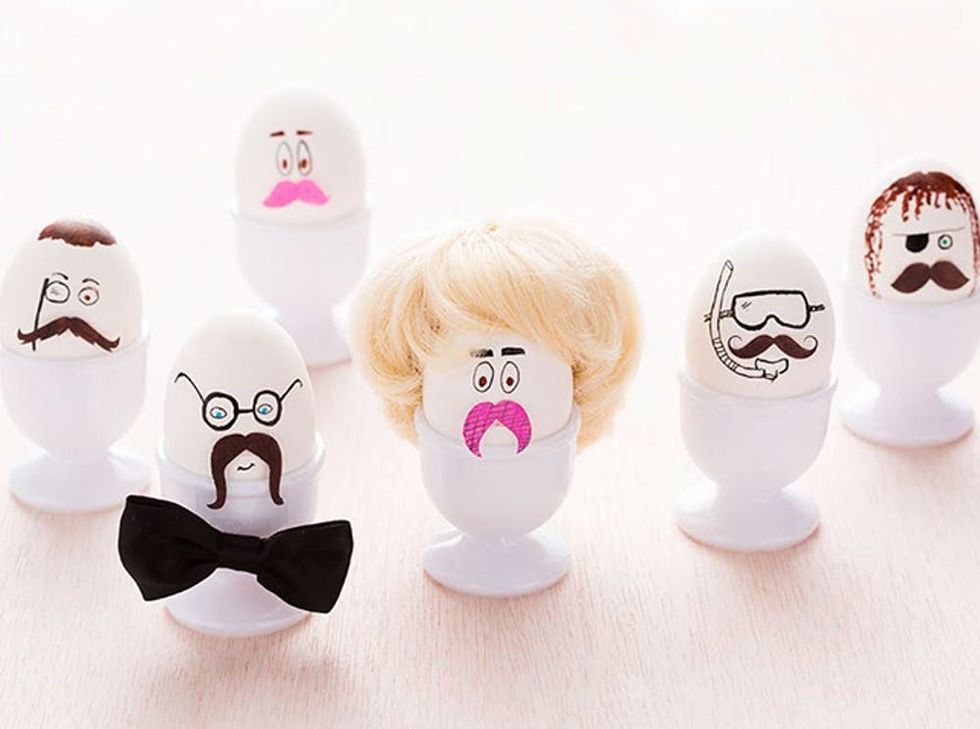 16.Hipster Egg: These 'stached little dudes are guaranteed to crack a smile or two at the Easter bash. Study up on your knowledge of mustaches, label the bottoms of your eggs, and turn it into a guessing game with your guests. (via Brit + Co)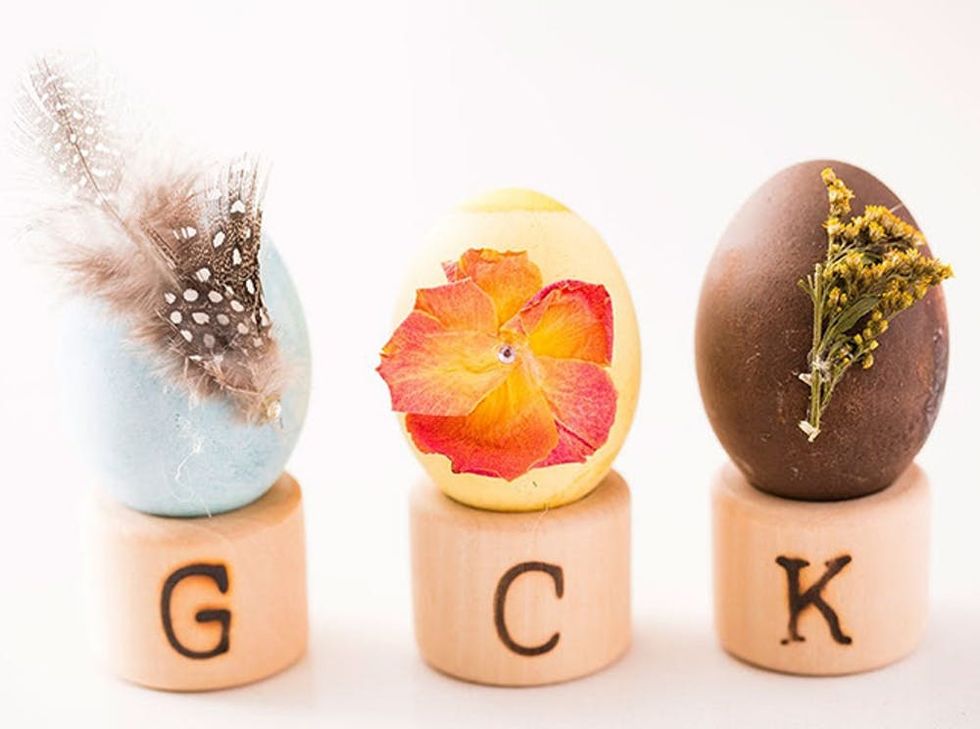 17.Naturally Dyed Egg: Give your craft drawer a little time off for this holiday and step outside to find inspo and materials that are au naturale. One of these at each place setting will offer a warm welcome to your guests. (via Brit + Co)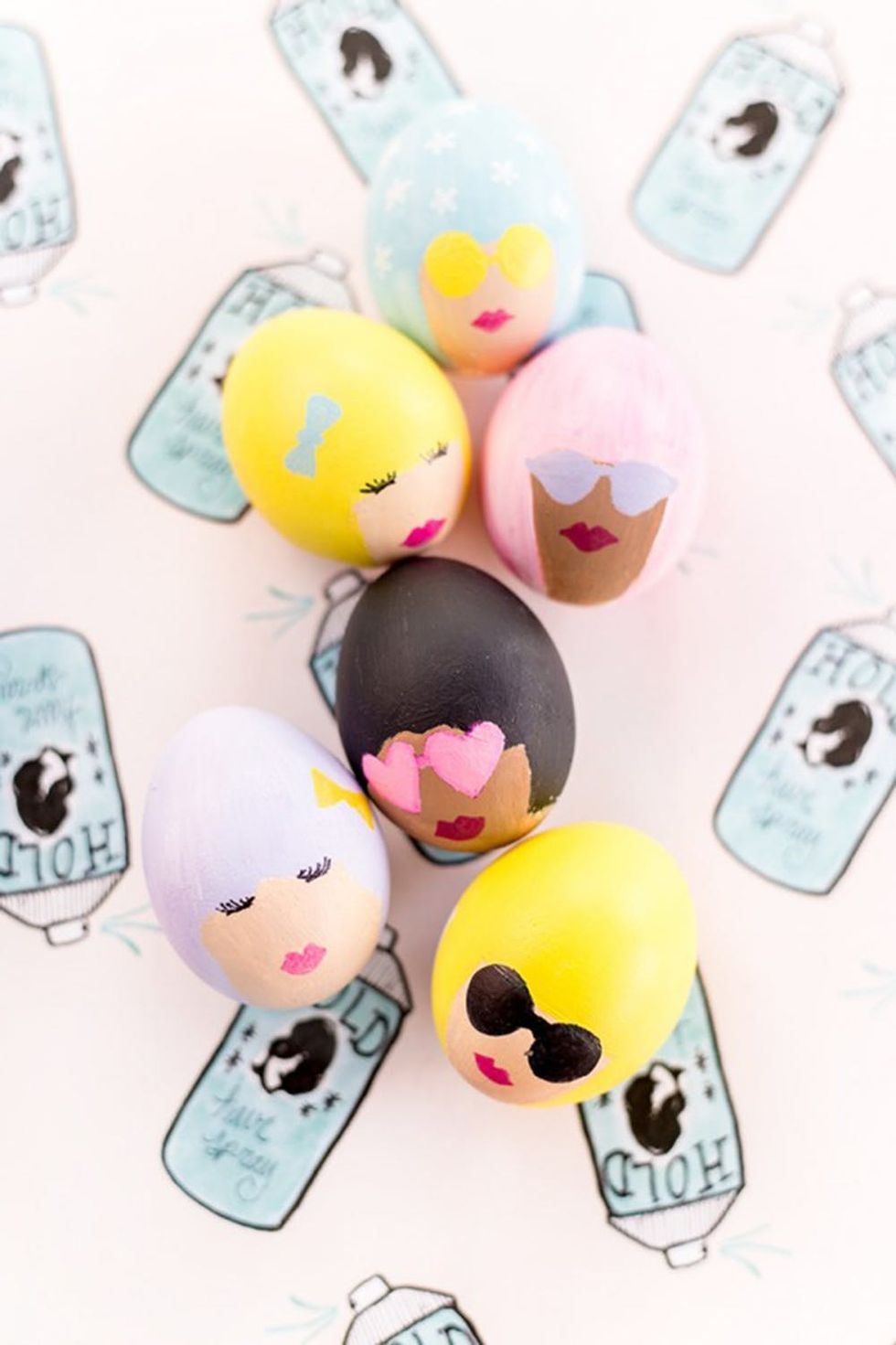 18.Bouffant Egg: These sassy little eggs are sporting some serious volume. Talk about an A+ basket choice for the hair goddess in your life. (via Studio DIY)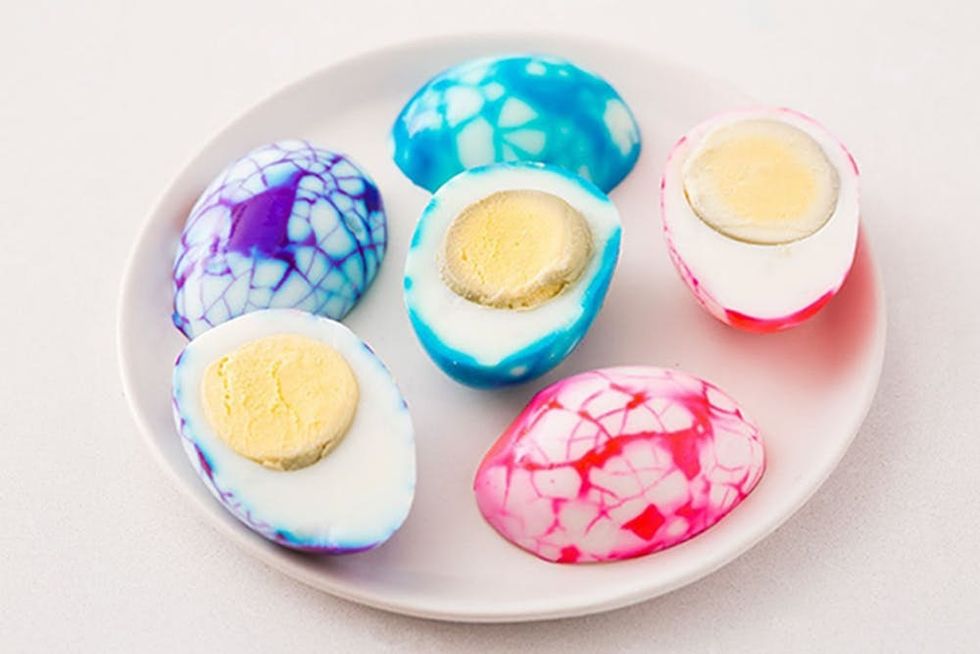 19.Mosaic Egg: Peeling off a cute design is like unwrapping an adorable holiday gift — it's just so sad! Luckily, these non-toxic mosaic eggs look best right when you're about to chow down. (via Brit + Co)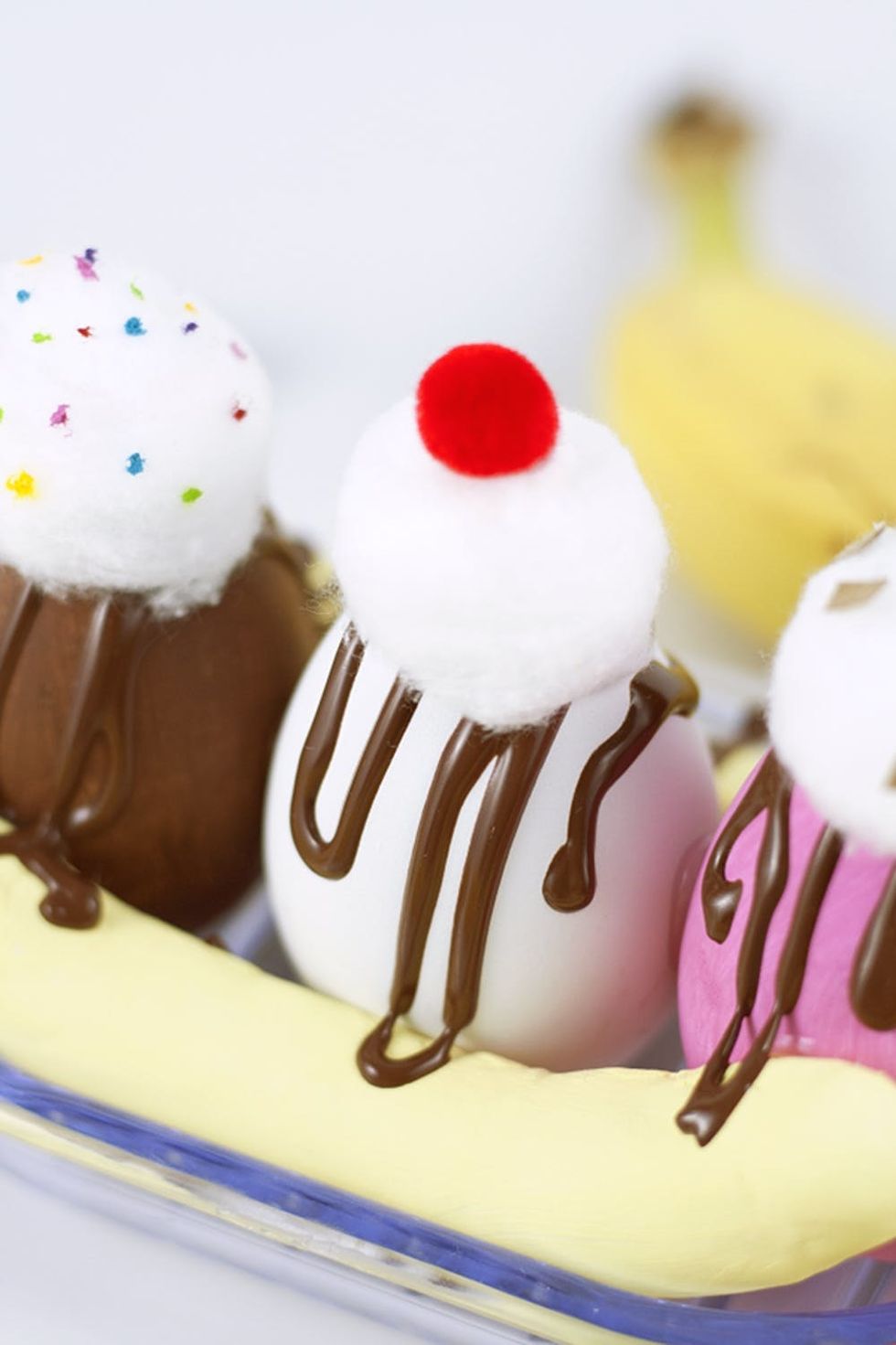 20.Egg Banana Split: Excuse us while we have a moment over this amazing eggy set up. This would be perfect for an Easter birthday or just a little ice cream social! Just make sure there's real ice cream waiting in the freezer. (via The Glitter in My Tea)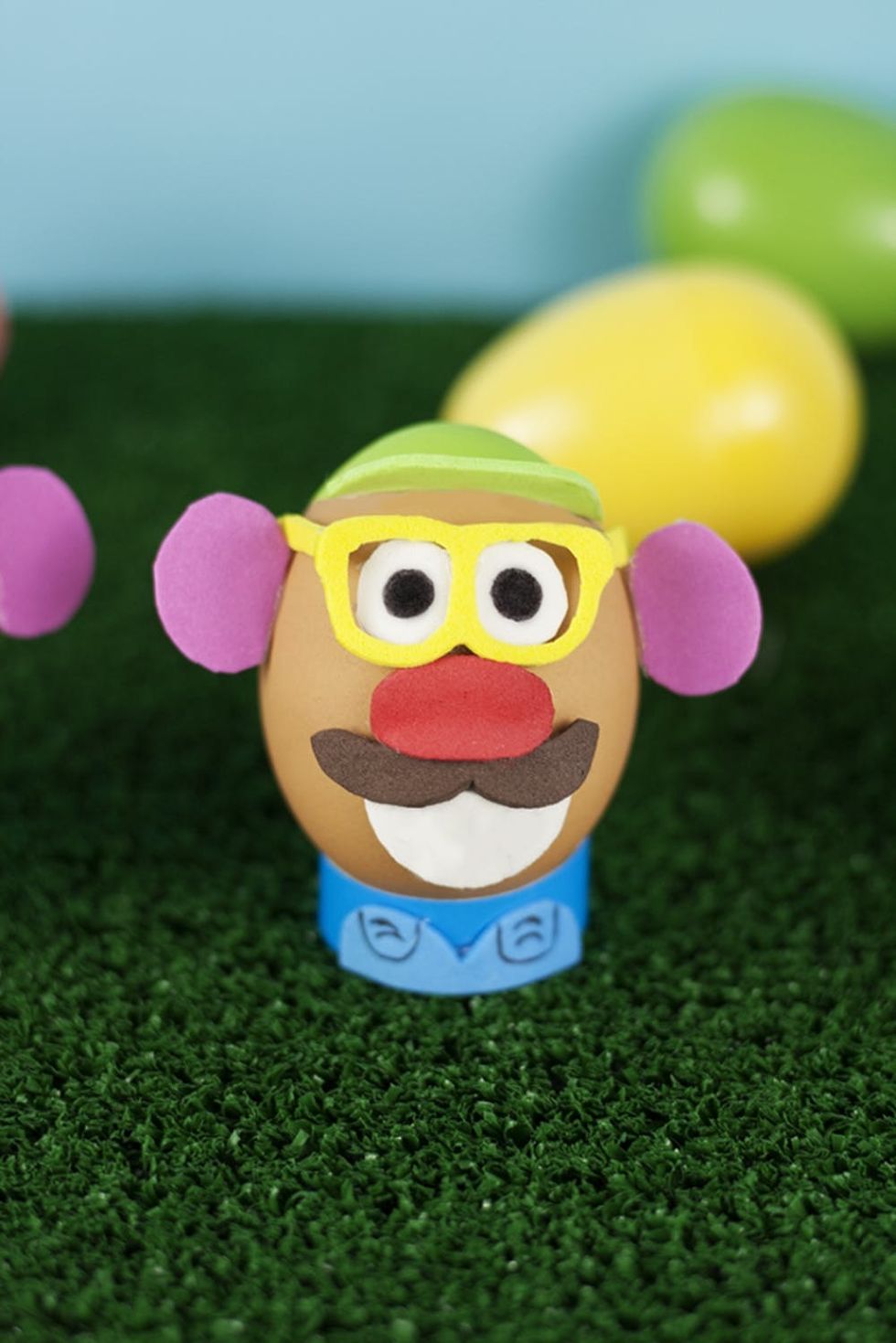 21.Mr. Potato Head Egg: This #TBT nod to our favorite spudsy guy is worth a trip down memory lane. Make all the pieces so your guests can create their own faces. (via The Glitter In My Tea)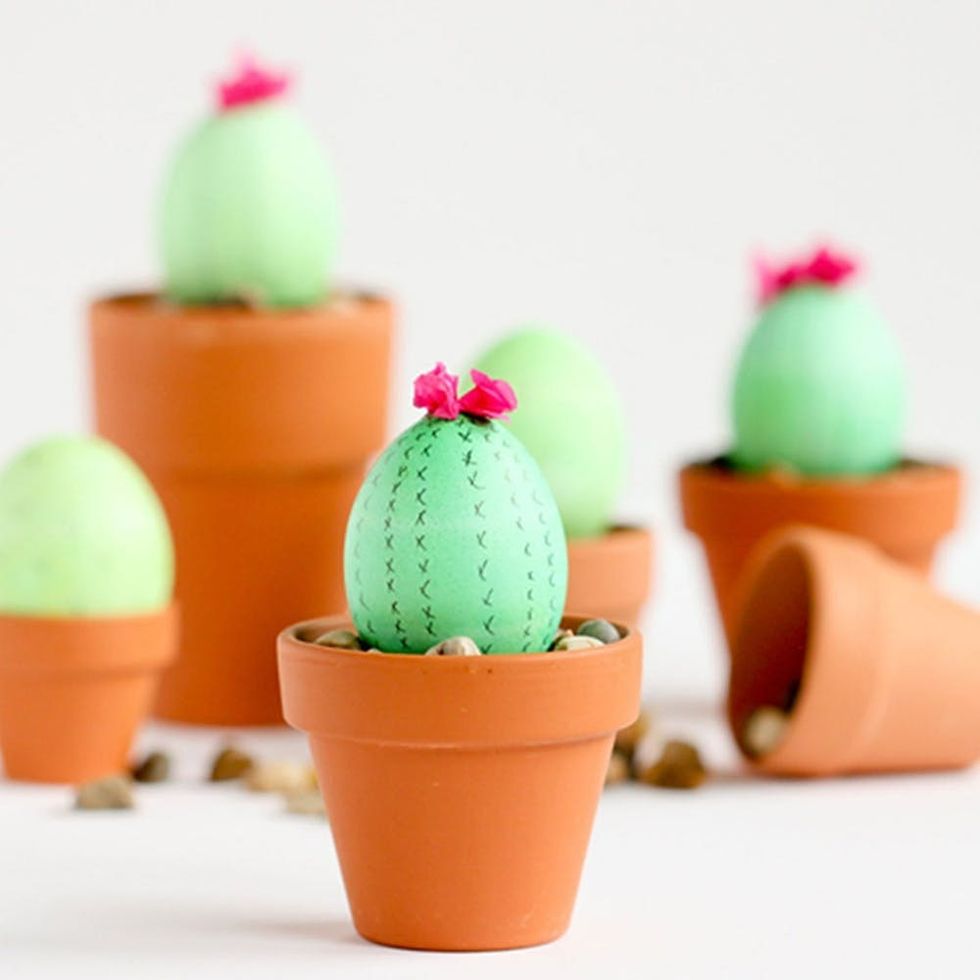 22.Cactus Egg: No need to worry about cactus prickers with these adorable little dudes. Personalize each "plant" with a color-coordinated bloom for a desert-chic Easter presentation. (via Brit + Co)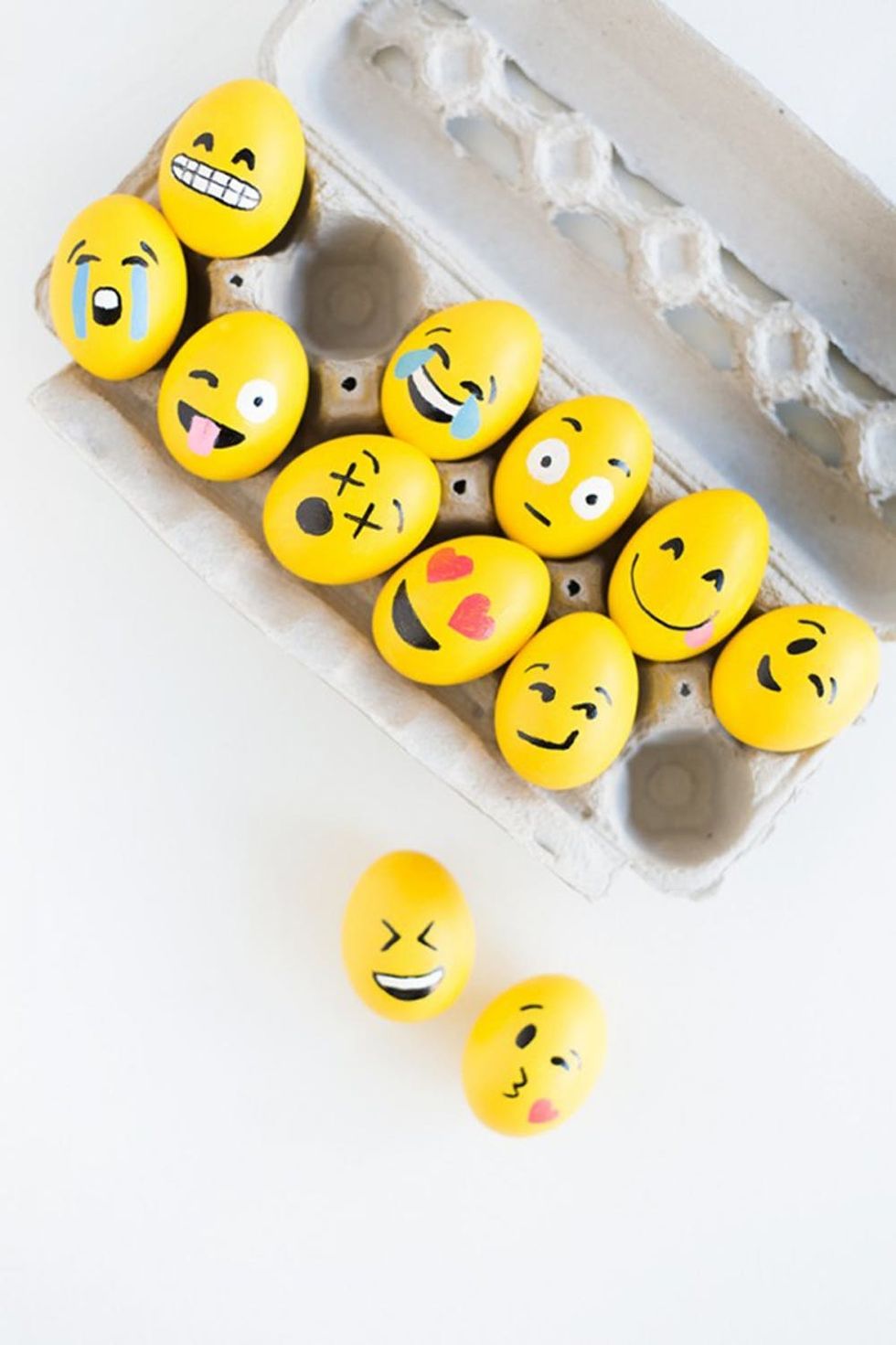 23. Emoji Eggs: Express your virtual feelings with cute emoji faces! (via Studio DIY)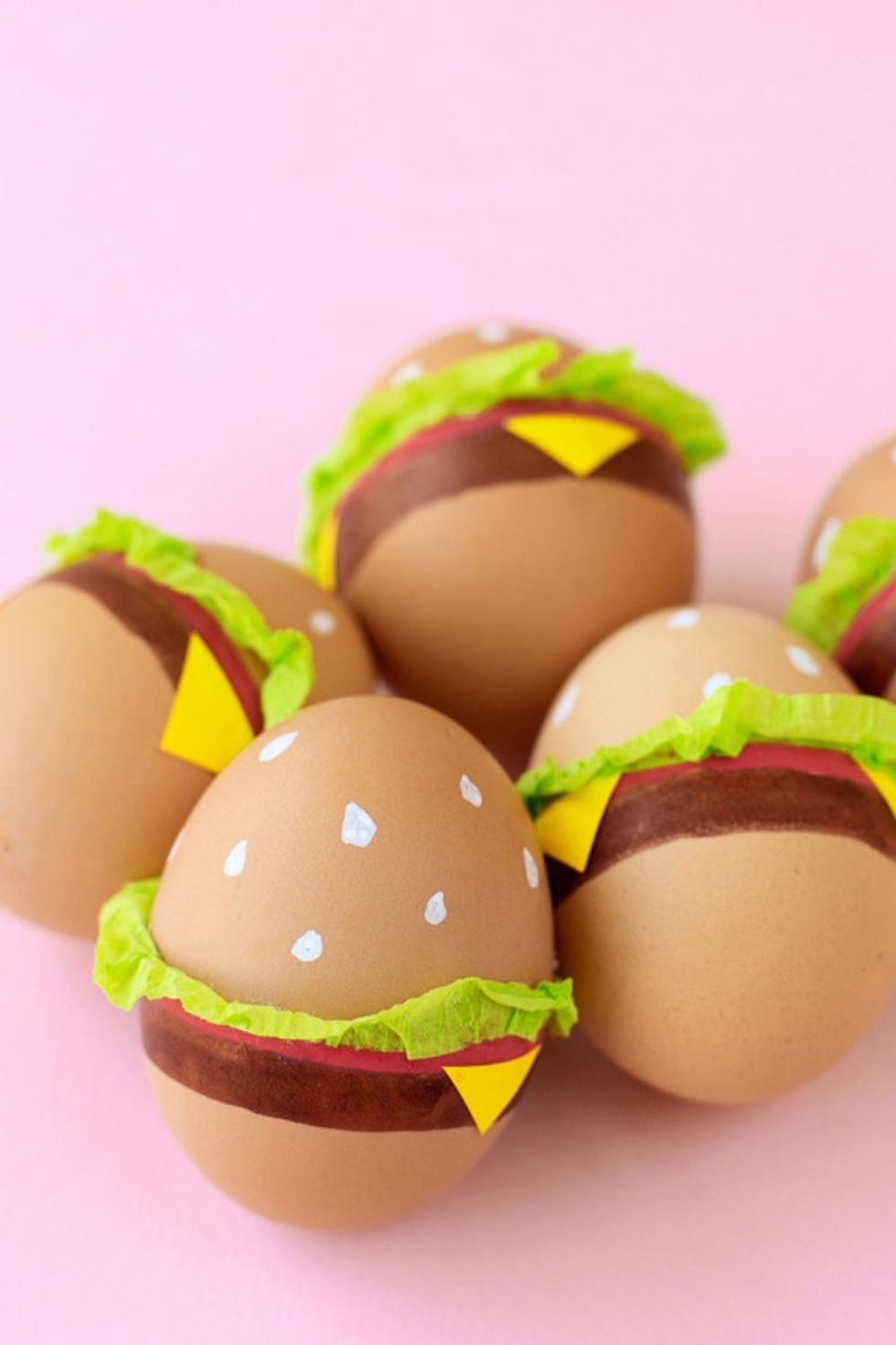 24.Burger Easter Egg: The perf answer to brown eggs — no dye needed! (via Studio DIY)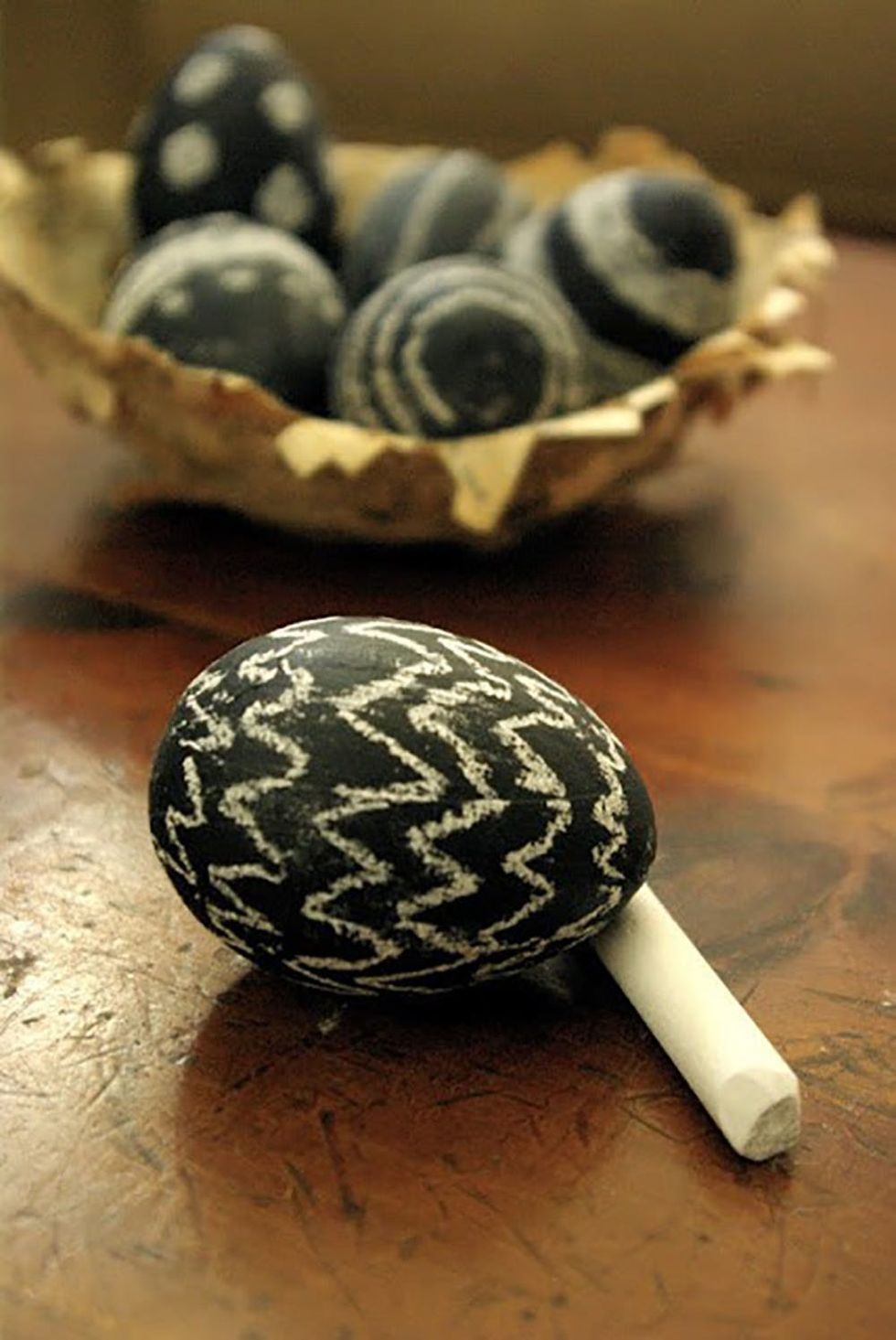 25.Chalkboard Eggs: We're big fans of chalkboard everything, and Easter eggs are no exception. (via Oleander + Palm)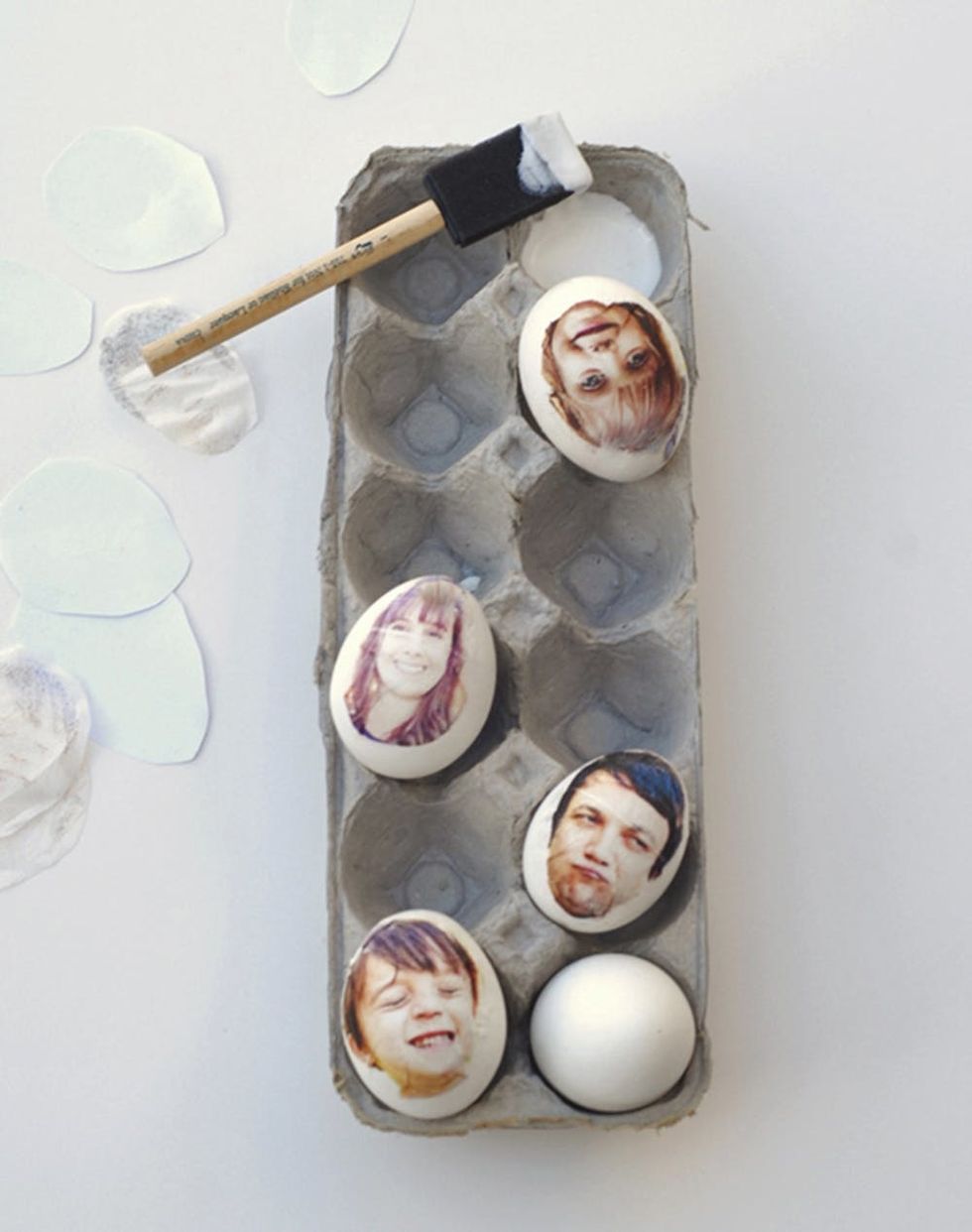 26.Photo Print Eggs: We can't decide if these are totally awesome or totally weird. Scratch that: These eggheads are exactly right. (via A Subtle Revelry)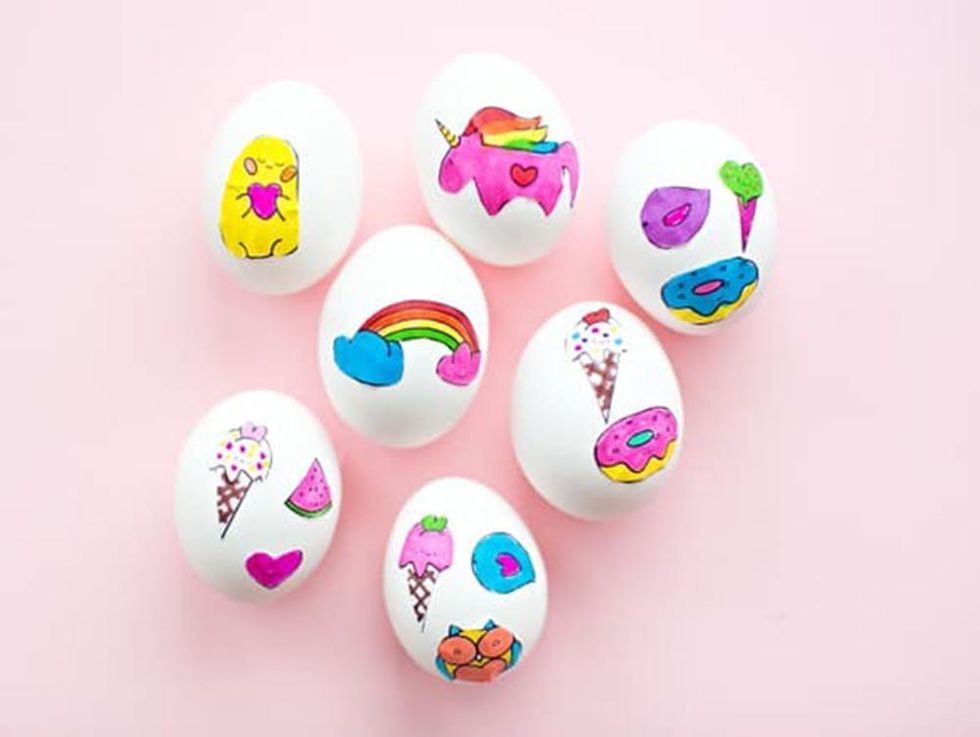 27.Easter Egg Sticker Art: Great for kids and adults and alike, just download your *adorbs* printable stickers and get to creatin' Easter art! (via Hello, Wonderful)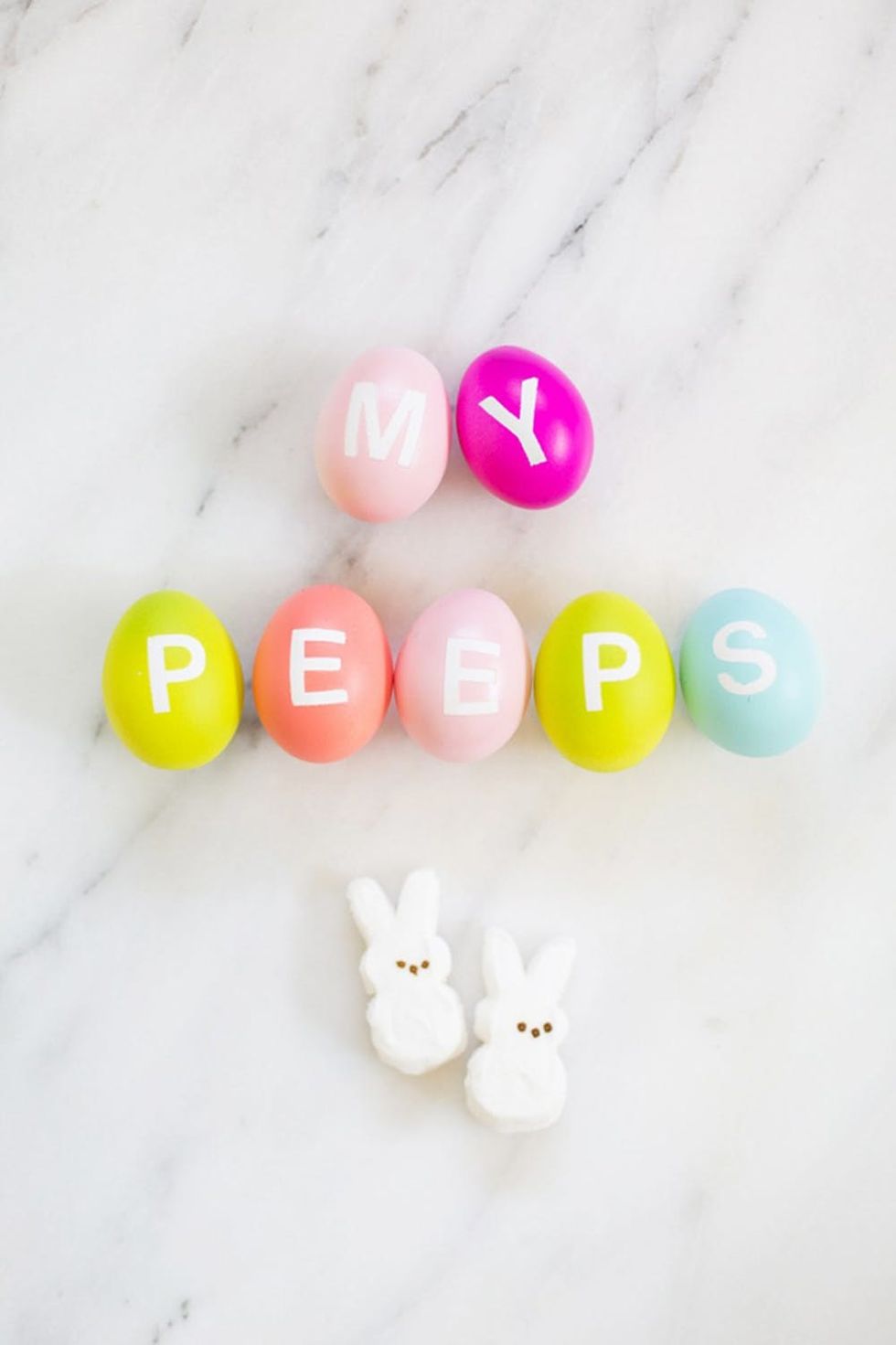 28.Alphabet Eggs: Send all your kids Easter messages with the cutest of DIY alphabet eggs. (via Lovely Indeed)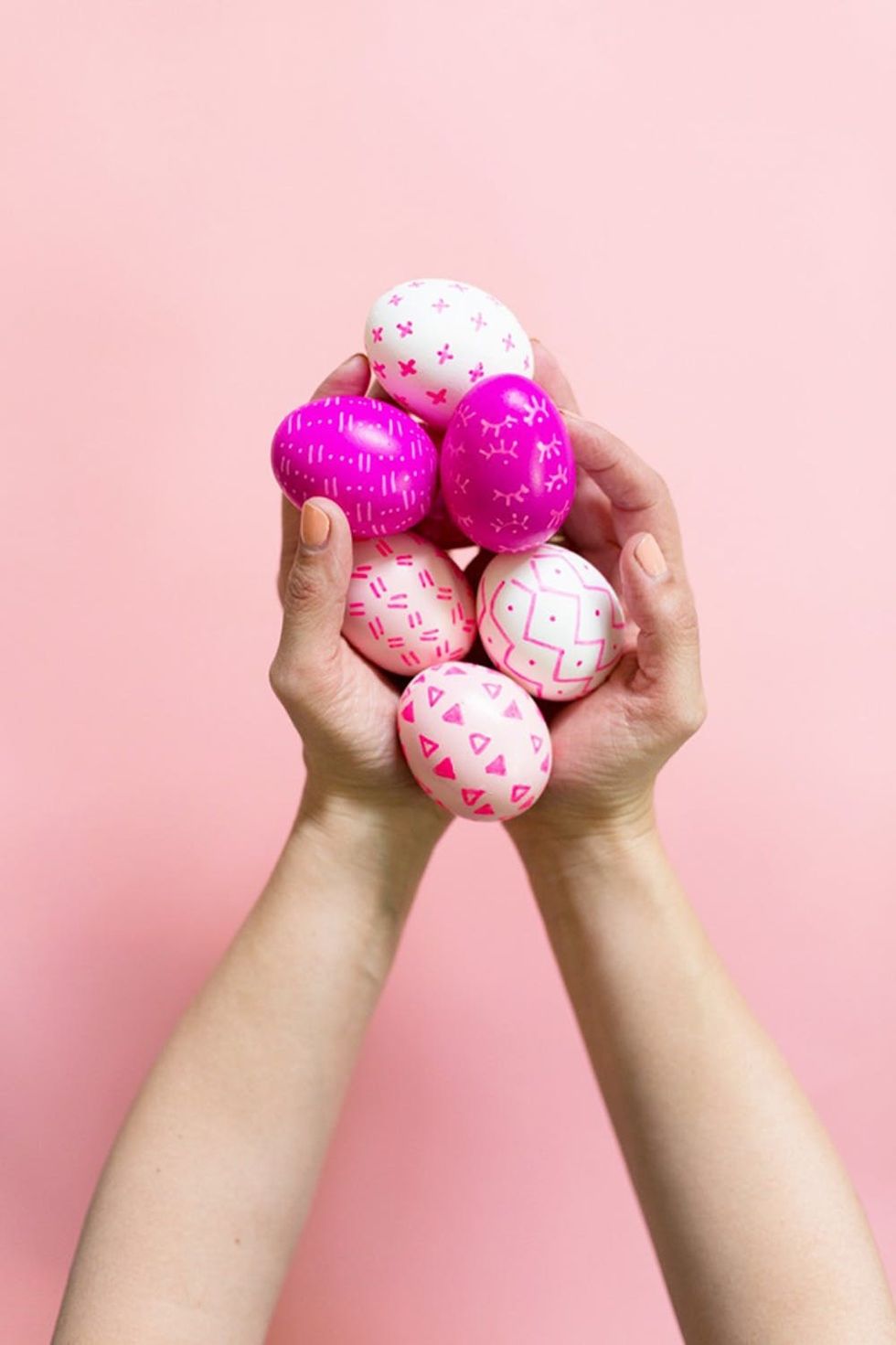 29.Paint Pen Patterned Eggs: Spray paint and paint pens make for a perfect pairing when it comes to simple and quick egg design. (via Lovely Indeed)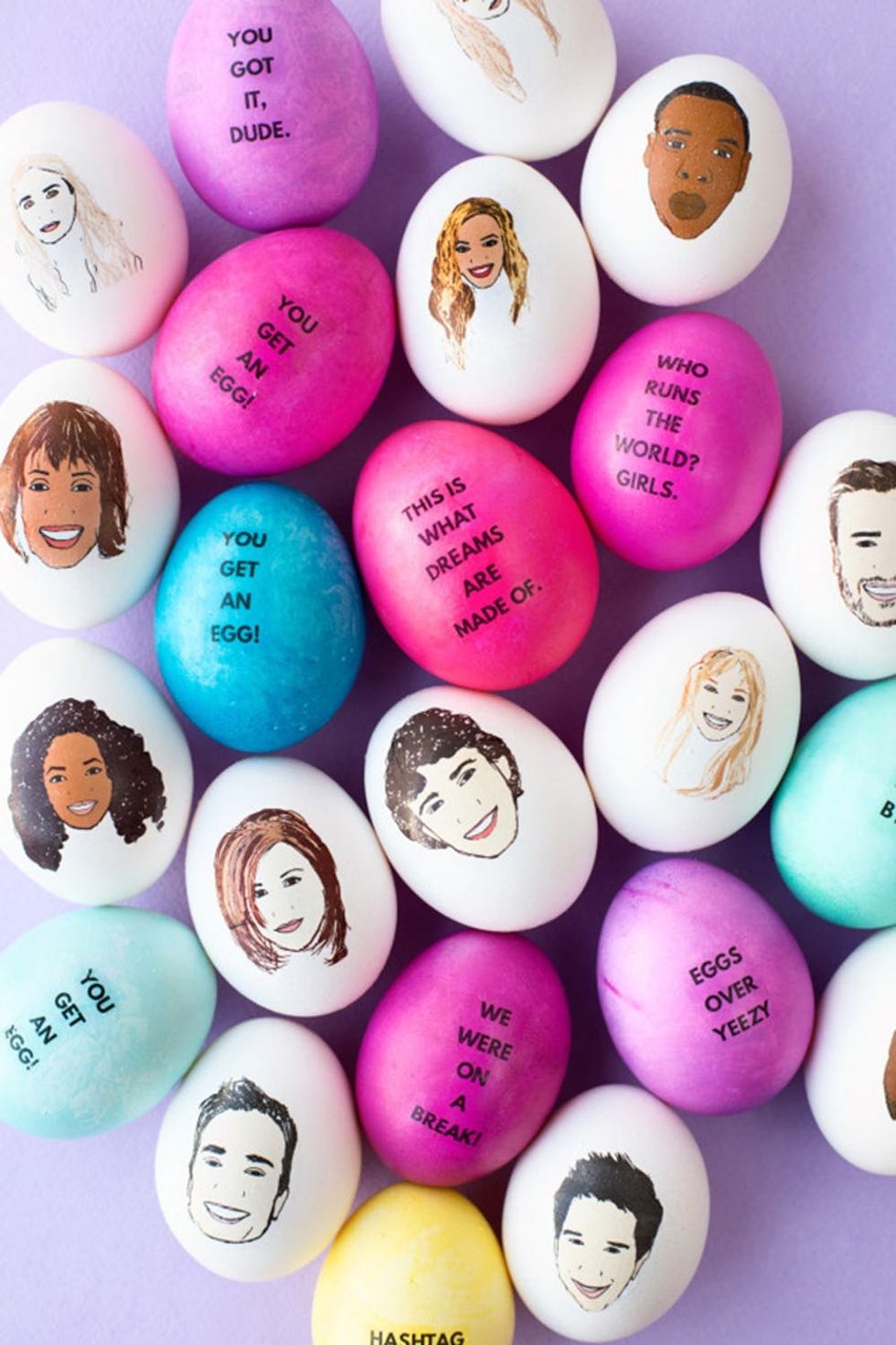 30.Celebrity Eggs: The secret here is tattoo paper — then you can choose all the stars and phrases. (via Studio DIY)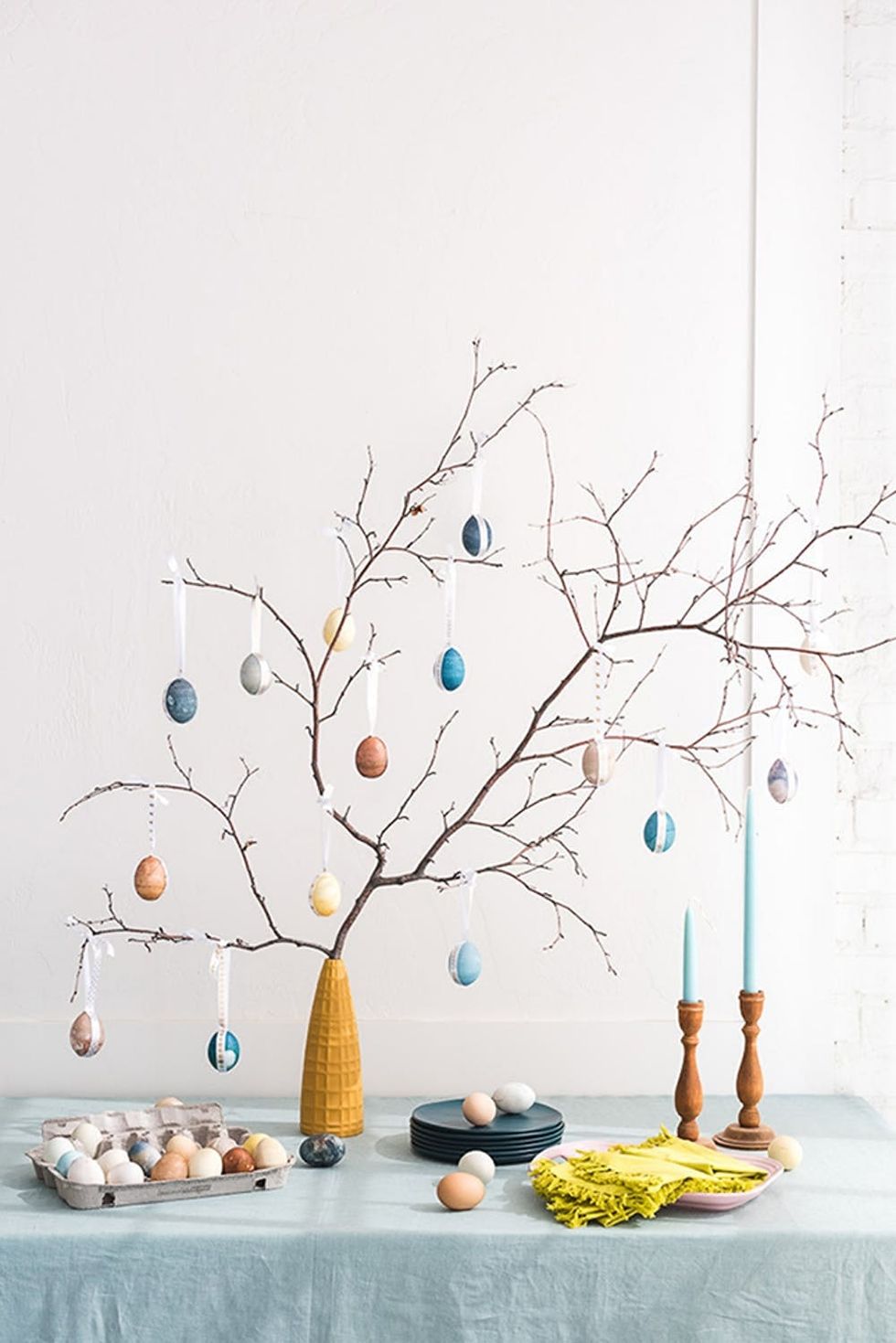 31. Easter Egg Tree: Your naturally dyed eggs will look right at home nestled in the branches of this graceful arrangement. (via The House That Lars Built)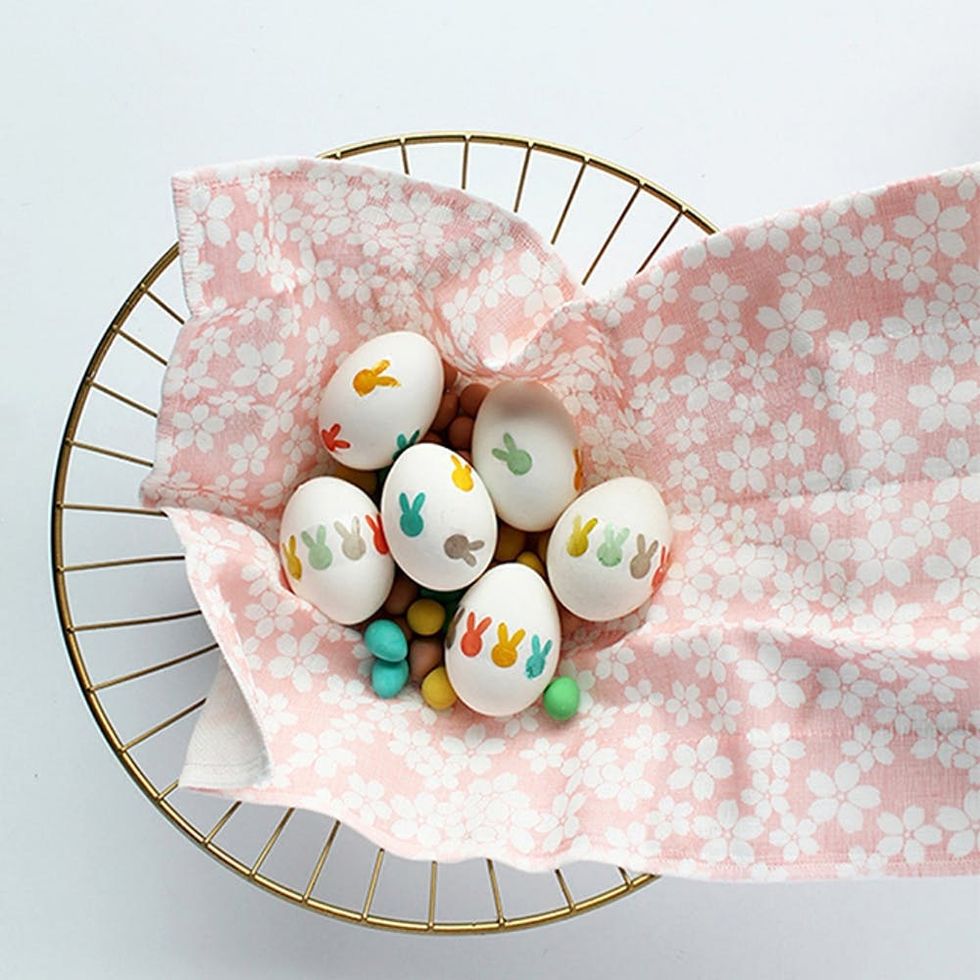 32. DIY Stamped Eggs: Simplicity and beauty go hand in hand. And if you don't have the exact shapes you want, make your own potato stamps! (via Squirrelly Minds)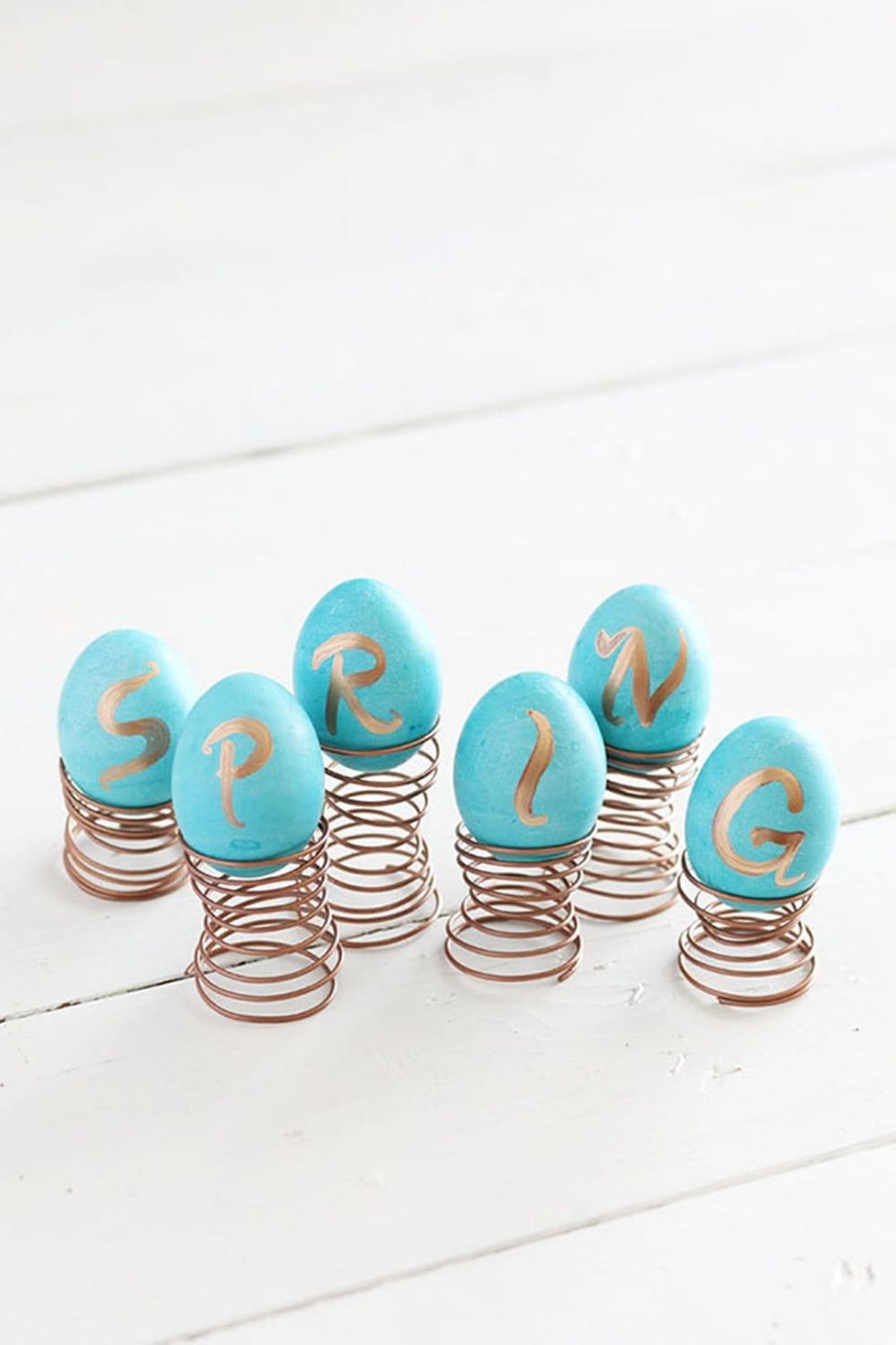 33. Spring Egg Easter Display: All you'll need is a little paint and some crafting wire to make these spring-y (get it? get it?) creations. (via A Beautiful Mess)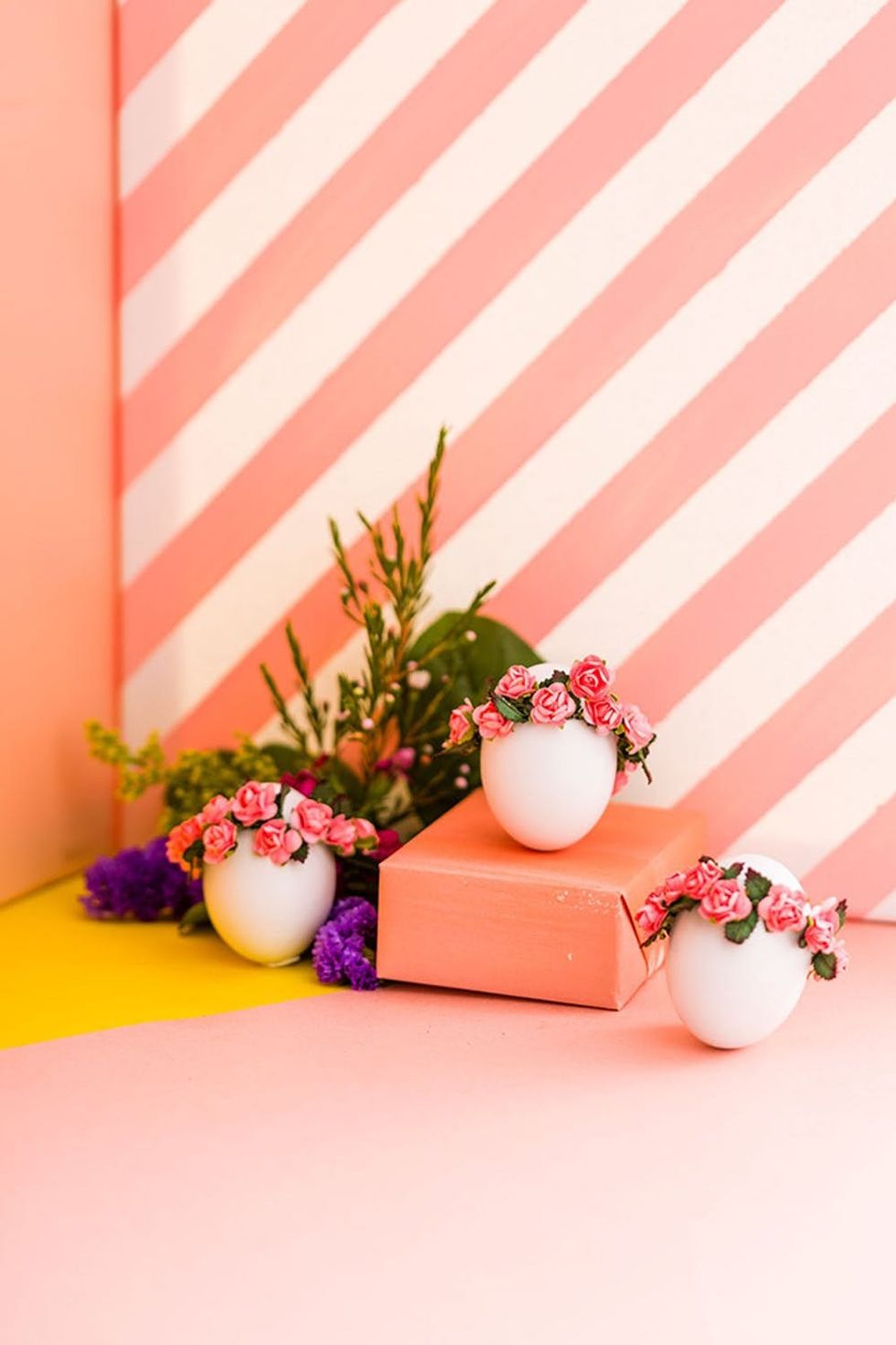 34. Flower Crown Eggs: Yass queen! Even your seasonal decor can rock a floral headpiece. (via Brit + Co)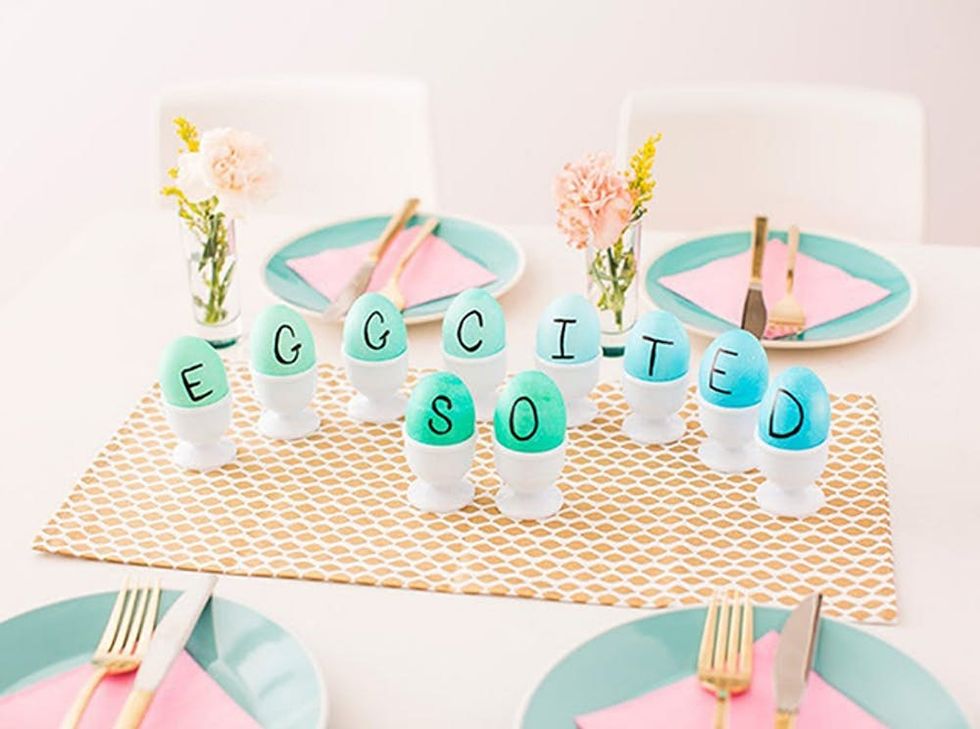 35. Punniest Egg Centerpiece: You can never go wrong with a pun, especially one this egg-cellent. (See what we did there?) (via Brit + Co)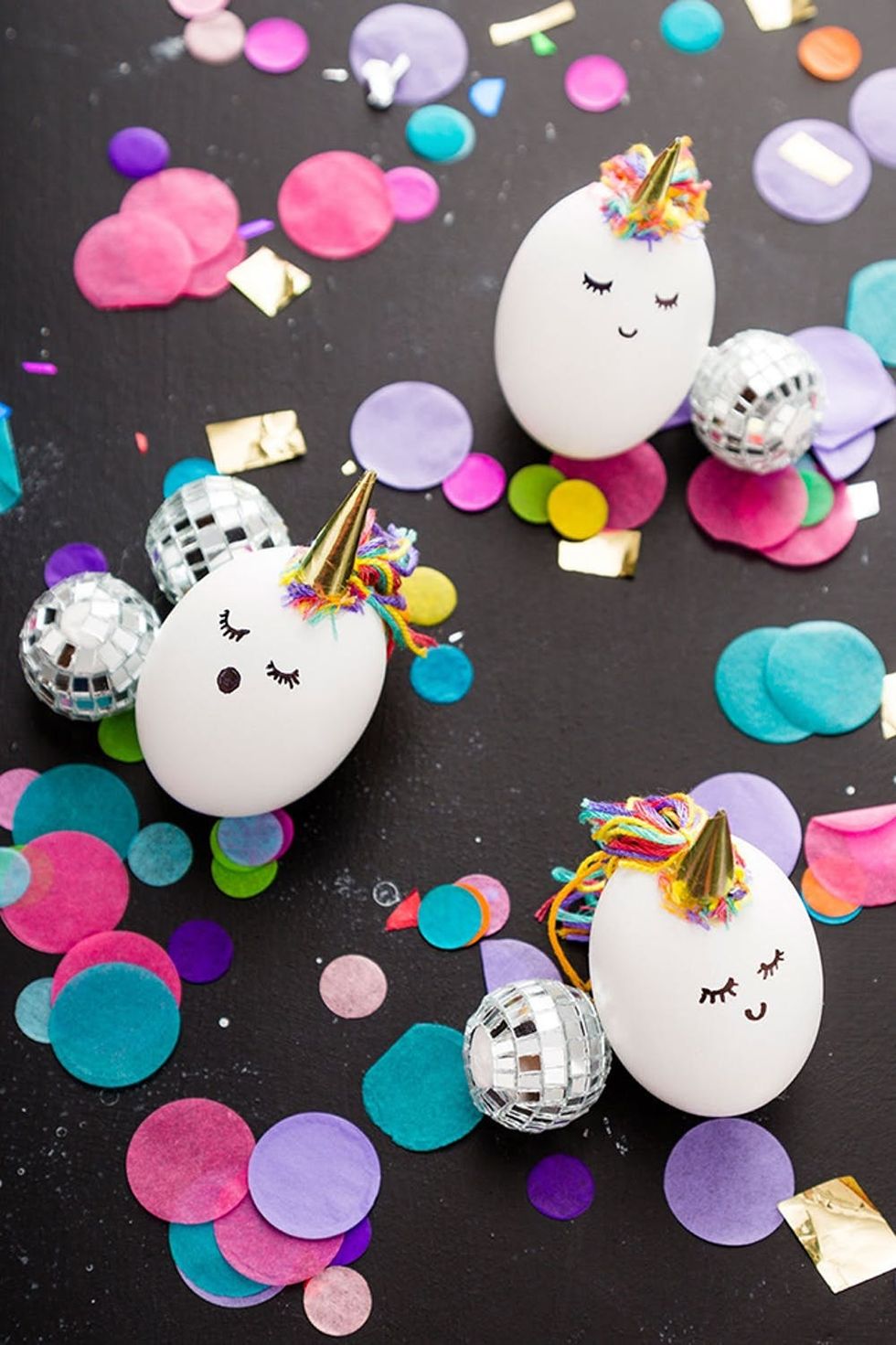 36. Unicorn Easter Eggs: Unicorns. So hot right now. (via Brit + Co)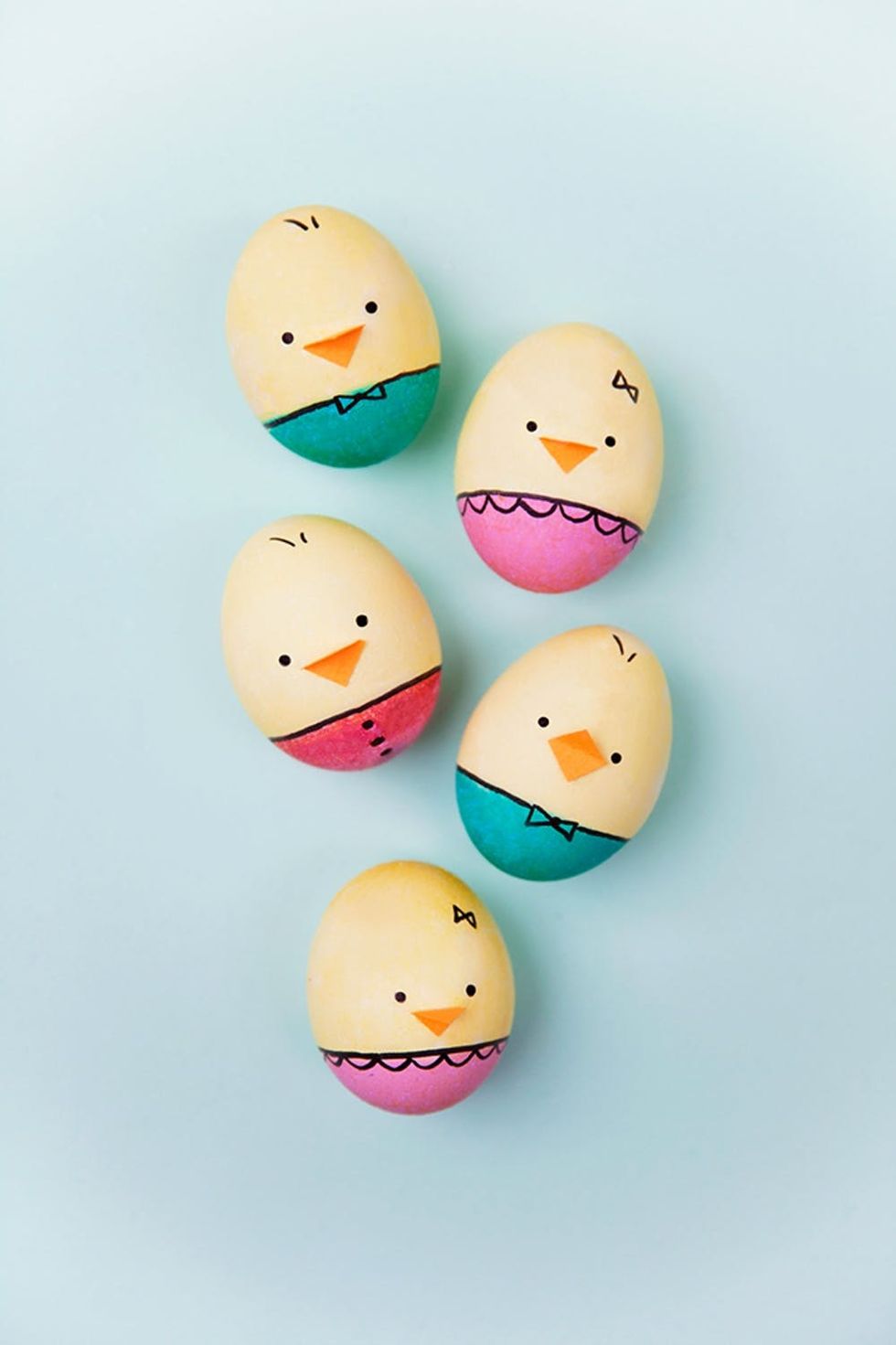 37. Baby Chick Easter Eggs: These cute chickies will be crowd faves with the kids as well as the adults. (via Tell Love and Party)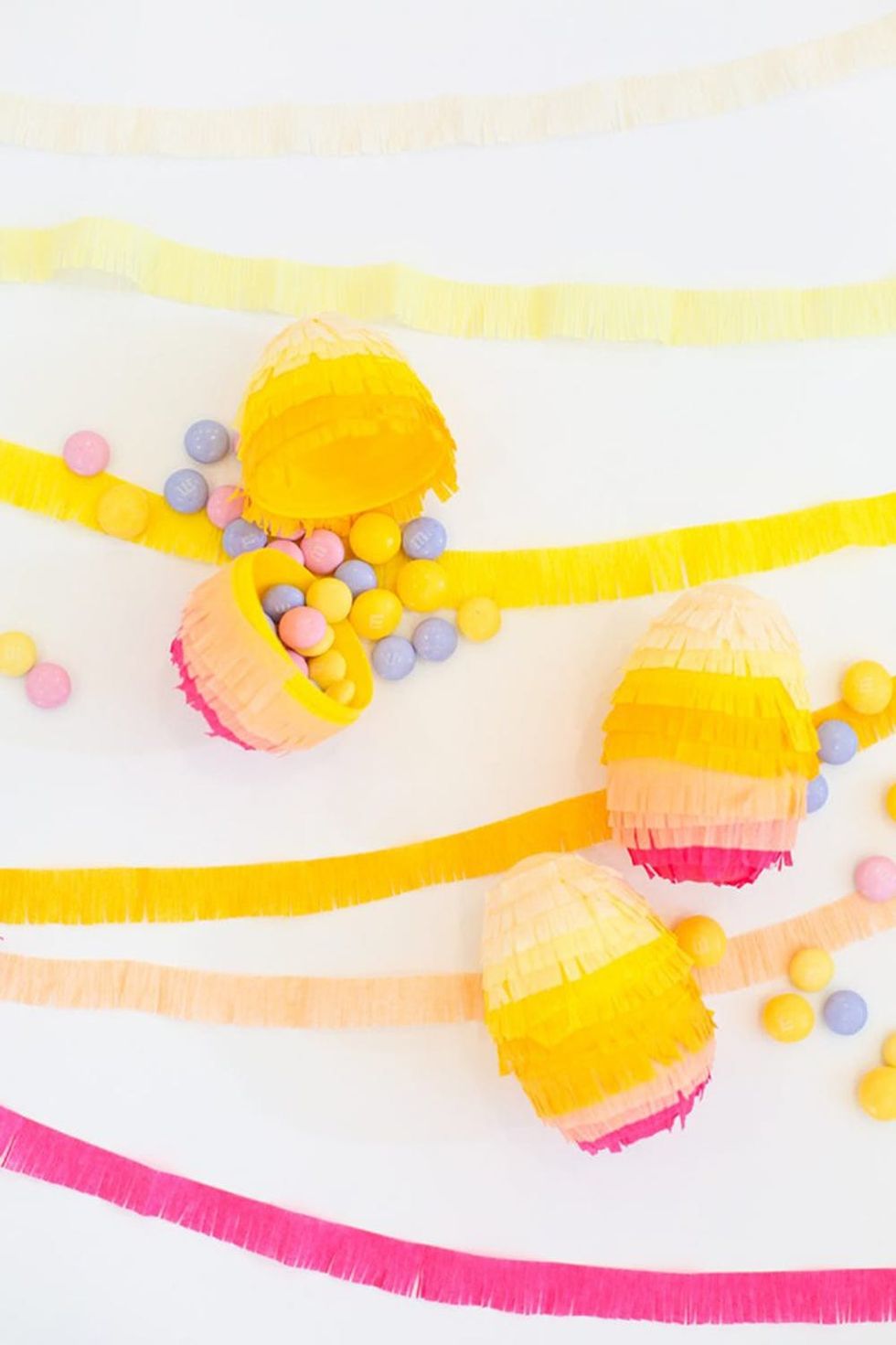 38. Piñata Surprise Easter Eggs: Marry your love of all things fringed with your love of chocolate eggs. It doesn't get any better! (via Lovely Indeed)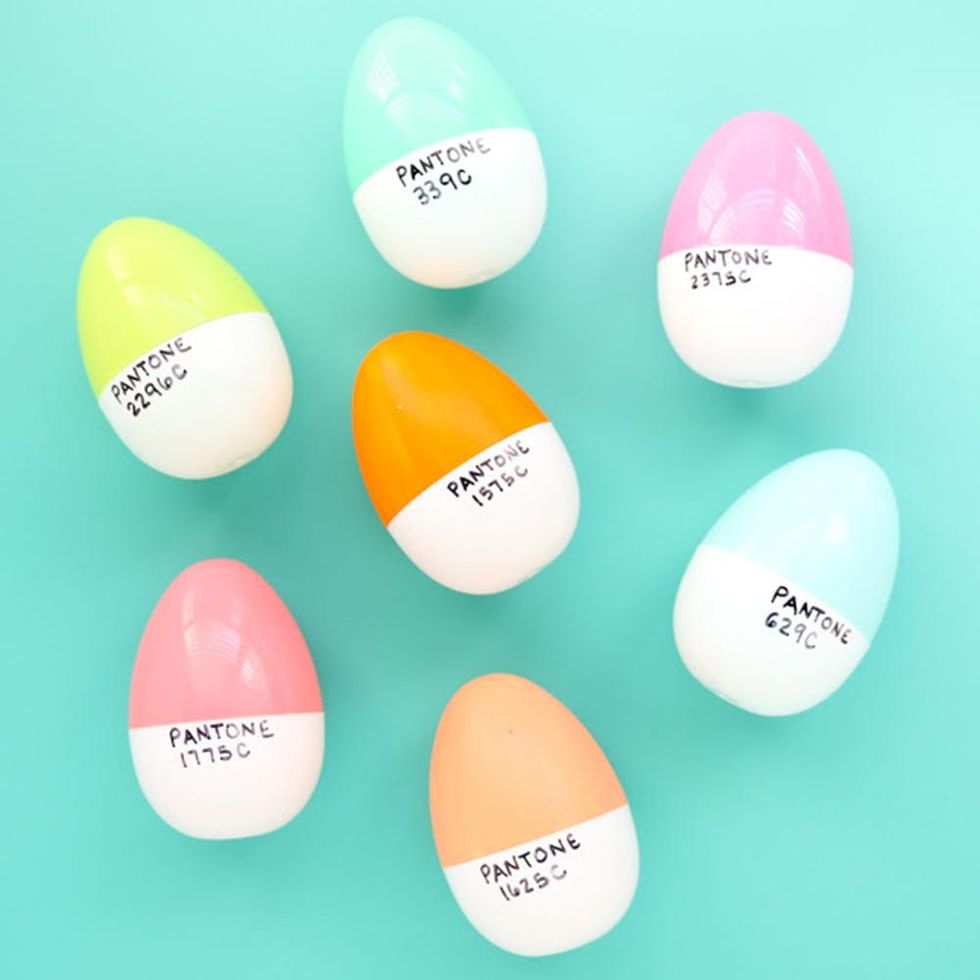 39. Pantone Easter Eggs: The inner graphic designer in you is already in love with this idea. Now it's time to bring it to life. (via A Kailo Chic Life)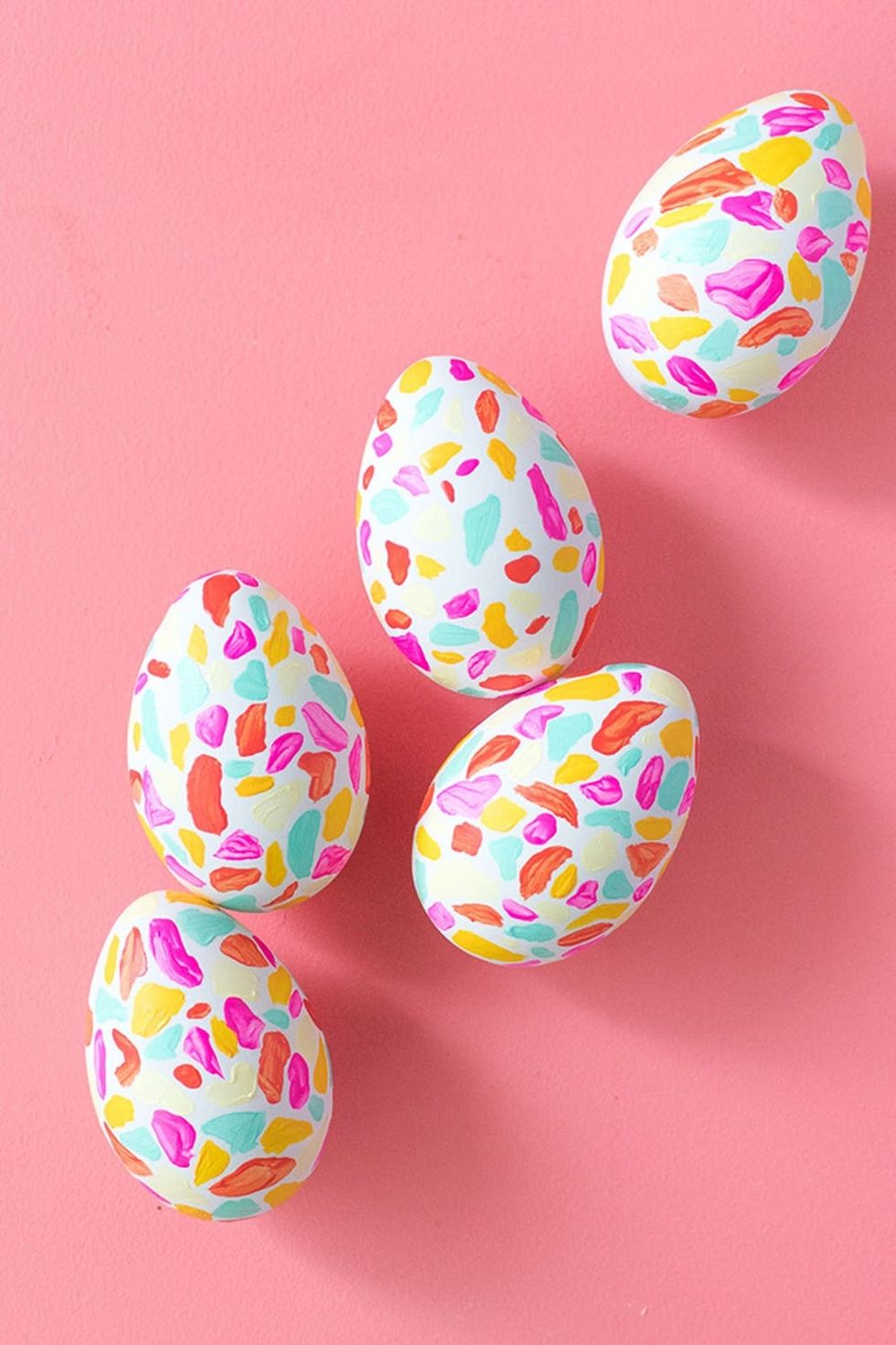 40. DIY Terrazzo Easter Eggs: This pattern popped up just about everywhere last year, and it's going strong now. And for good reason: It's a bright and colorful feast for the eyes. (via Club Crafted)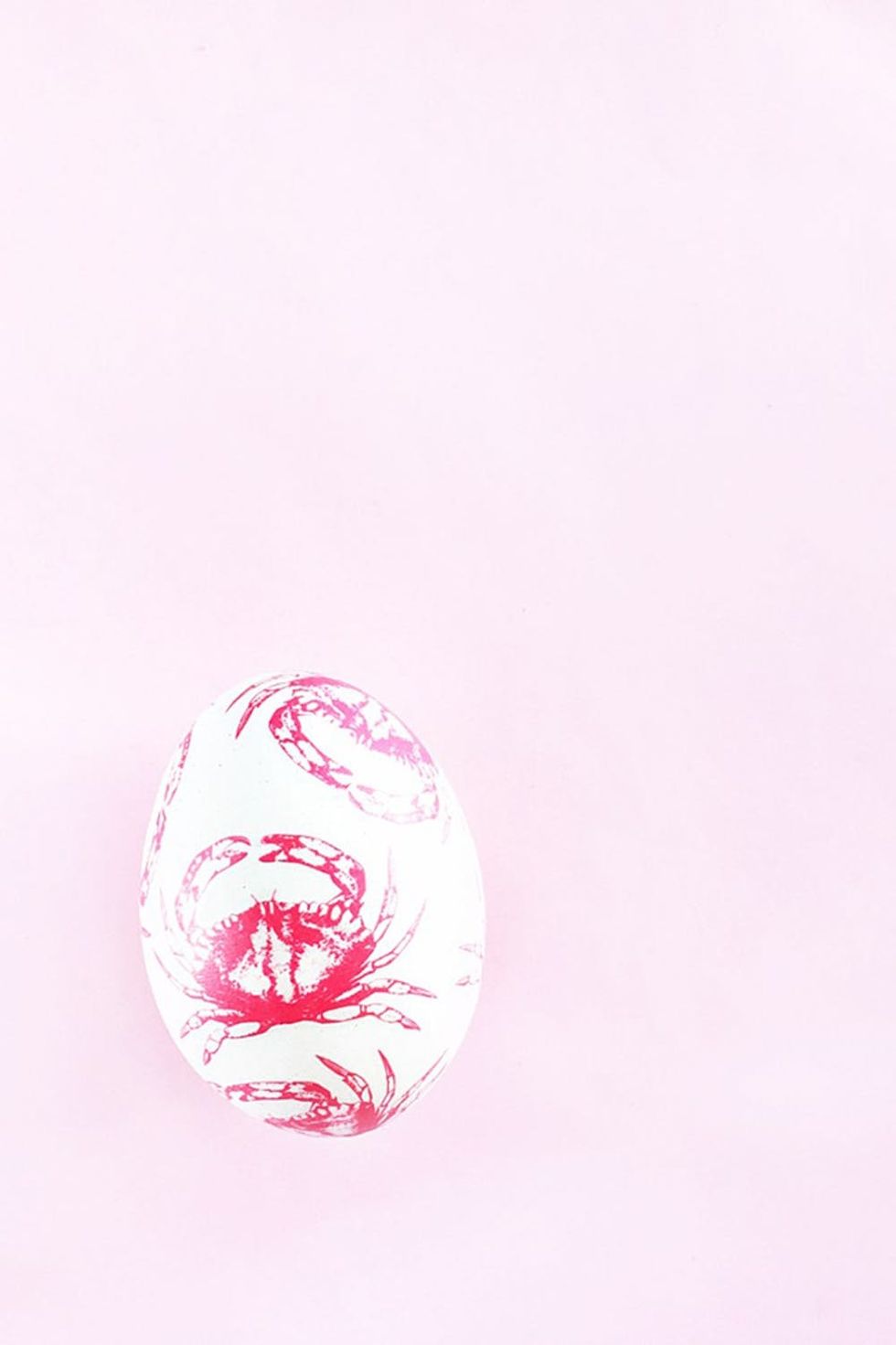 41. Nautical Themed Eggs: Put a seaside theme on your seasonal decor and it will fit right in with your Lilly Pulitzer vibe. (via Martiza Lisa)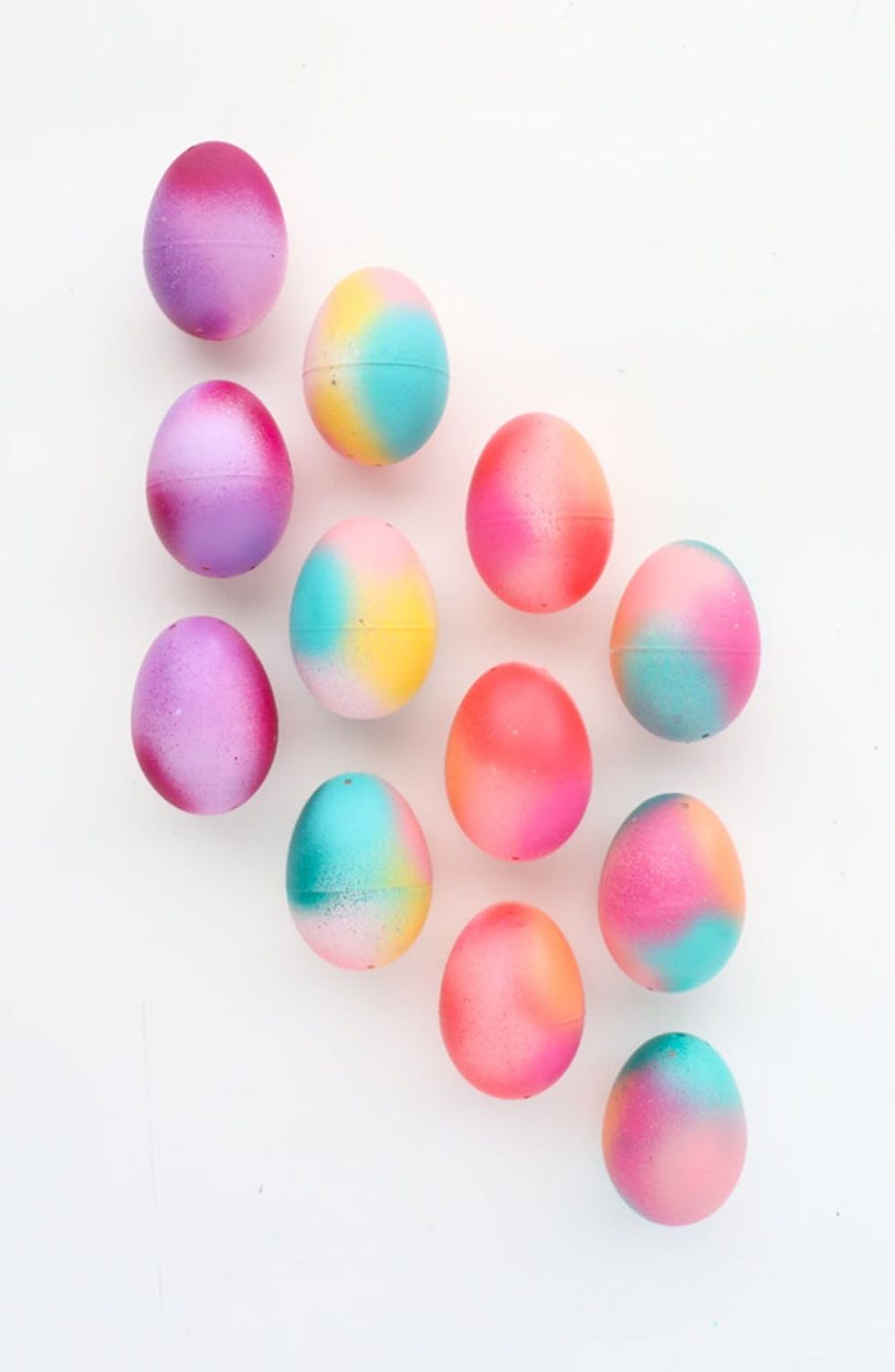 42. Gradient Easter Eggs: For when you can't decide on just one color palette. (via A Kailo Chic Life)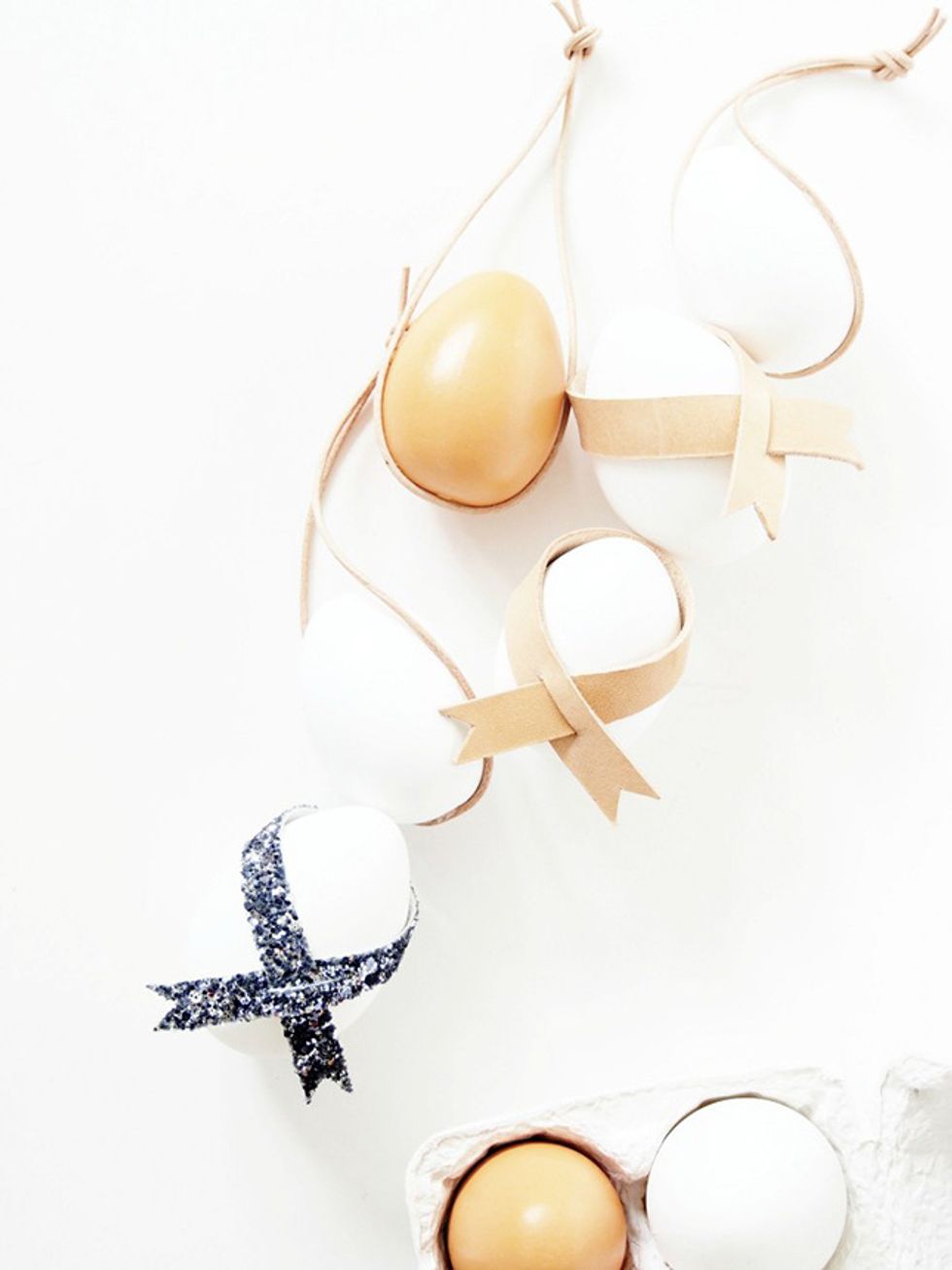 43. Leather Ribbon Eggs: You can reuse the leather year after year — no one will know that the eggs were purchased at the last minute. (via Monsters Circus)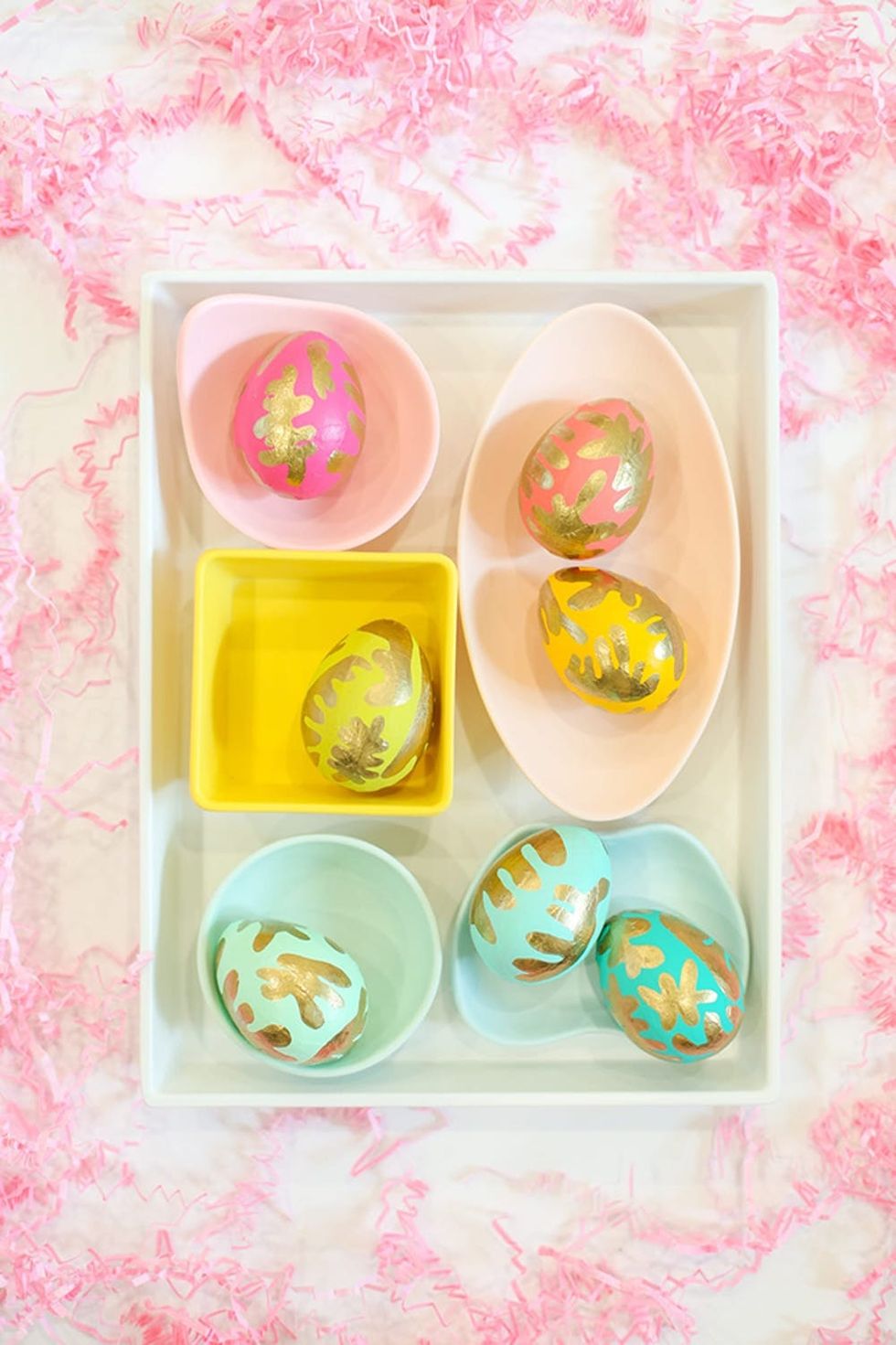 44. Modern Gold Painted Easter Eggs: Matisse himself would be proud of this gilded display of spring color. (via Lovely Indeed)
RELATED: 40 More Egg-cellent DIY Easter Egg Ideas
(Additional reporting by Anjelika Temple, Allison Wheeler, and Lindsey Graham-Jones)
Ariel Garneau
Ariel loves color, bold design, and eclectic decor. She goes by many names including "color decor wizard" and is also the voice behind PMQ for two (www.pmqfortwo.com) where she creates interiors and decor that are renter-friendly and creative.
Home Decor Inspo