15 Appetizer Recipes Perfect for Easter Brunch
Mar 06, 2019

No shade to honey-glazed ham or roast leg of lamb, but not everyone wants to host a formal Easter brunch. No matter if you're planning a sit-down meal or serving bites buffet-style, you can't go wrong with small plates that showcase the fresh produce of spring. Petite but mighty, these 15 flavor-packed appetizer recipes, ranging from crudité to dips, make for a deliciously informal Easter gathering.
---
1. Vegetarian Slow-Cooker Stuffed Mushrooms: Spinach-artichoke dip doesn't have to be served with bread. These low-carb shrooms are cheesy, hearty, and slow-cooked to perfection. (via Brit + Co)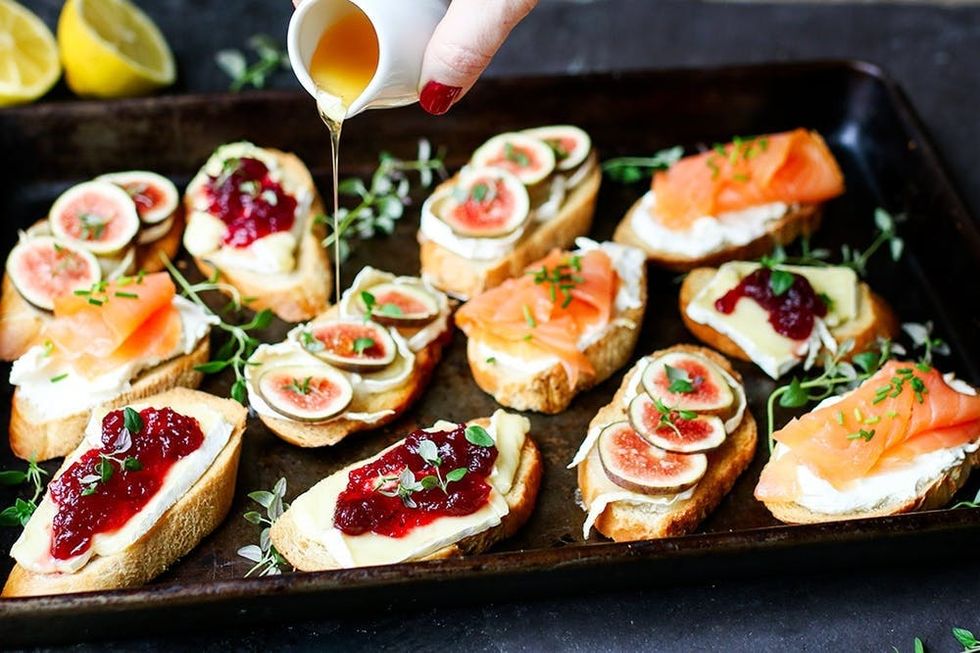 2. Easy Fancy Crostini: These sweet and salty, creamy and crunchy crostini will open your eyes to a world of happiness that is toasted baguette and cheese. We love the combo of goat cheese and smoked salmon, brie and jam, and burrata with sliced fruit and honey. (via Brit + Co)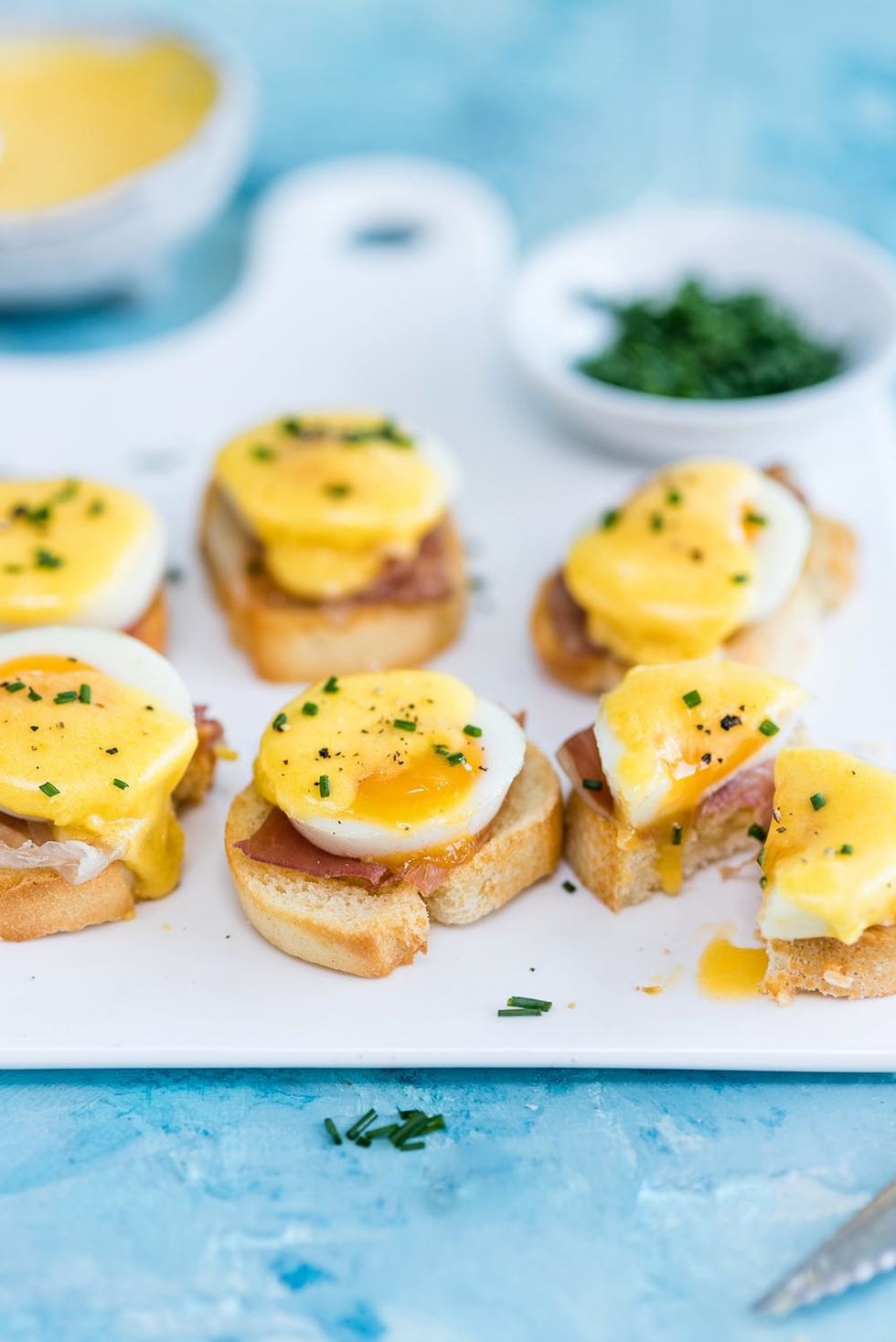 3. Bite-Size Eggs Benedicts: Benny bites will make a devoted fan of big-batch cooking. Prep mini toasts and runny quail eggs in the oven, then bind them together with prosciutto and homemade hollandaise. (via Brit + Co)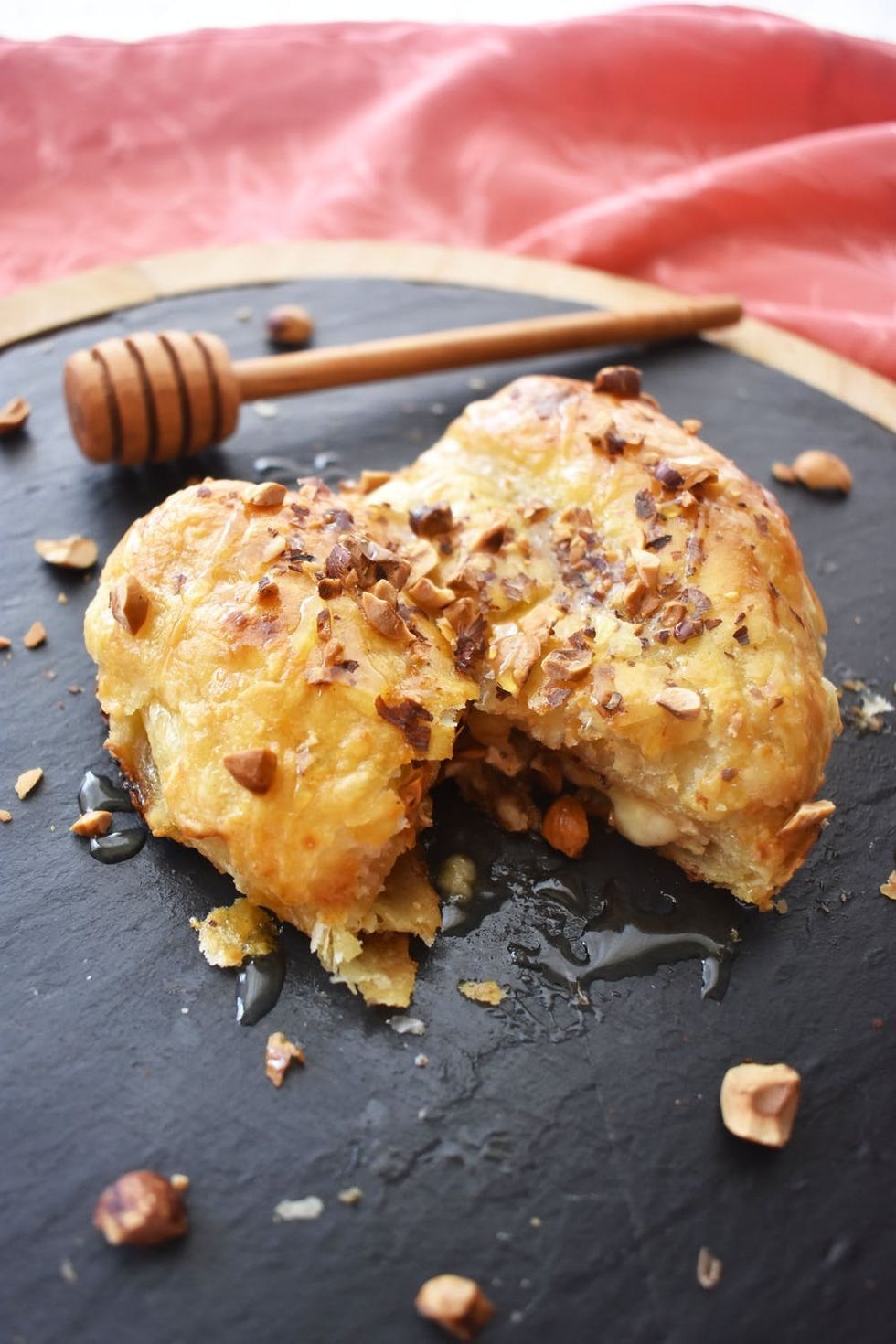 4. Honey-Hazelnut Baked Brie: Beautify a wheel of brie by baking it in puff pastry. It gets drenched in honey and topped with roasted hazelnuts for added flavor. (via Brit + Co)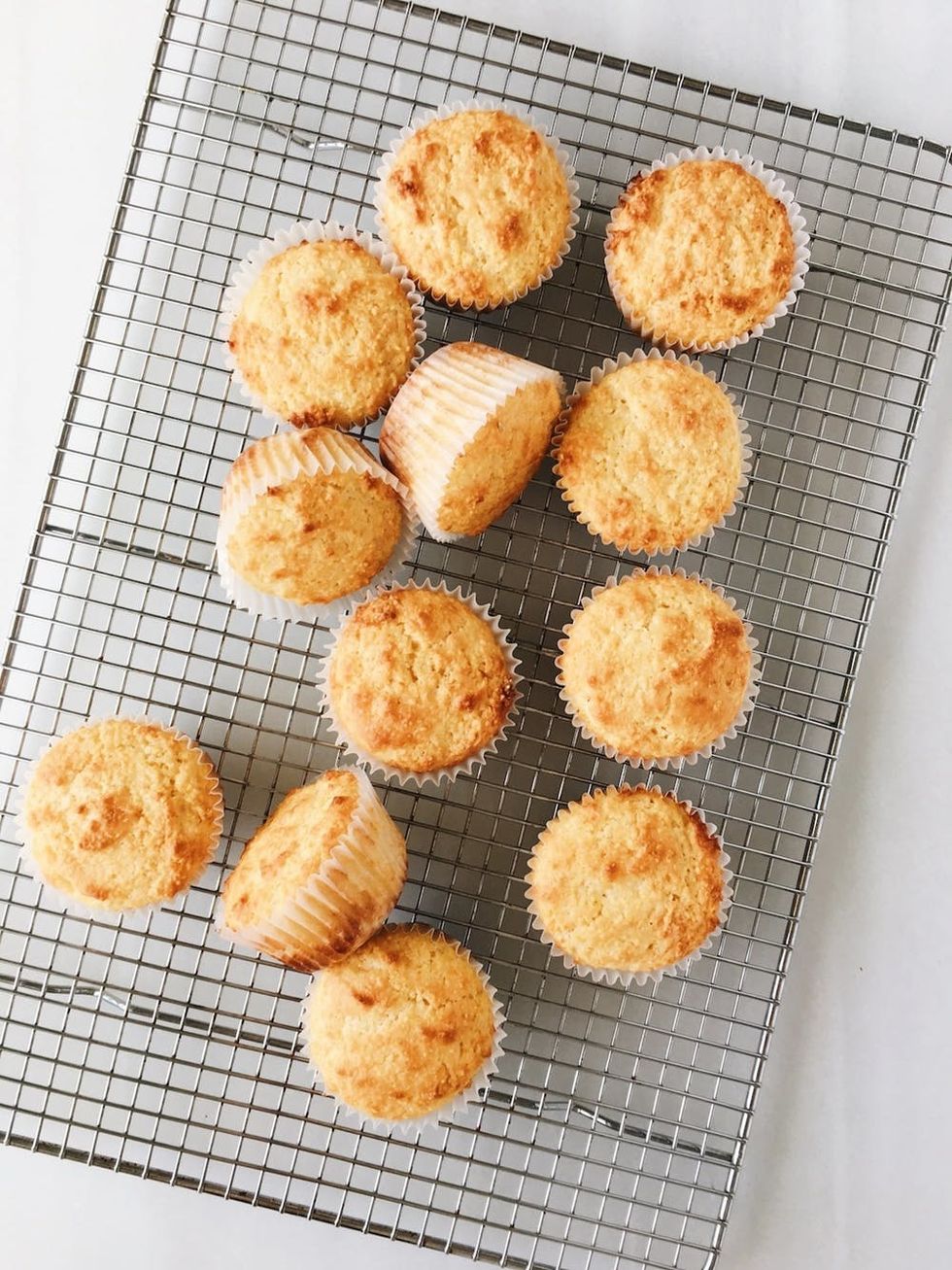 5. Easy Buttermilk Cornbread Muffins: These moist, crumbly cornbread muffins are only lightly sweetened, which means they can be paired with anything from fruity jam to succulent Easter ham. (via Brit + Co)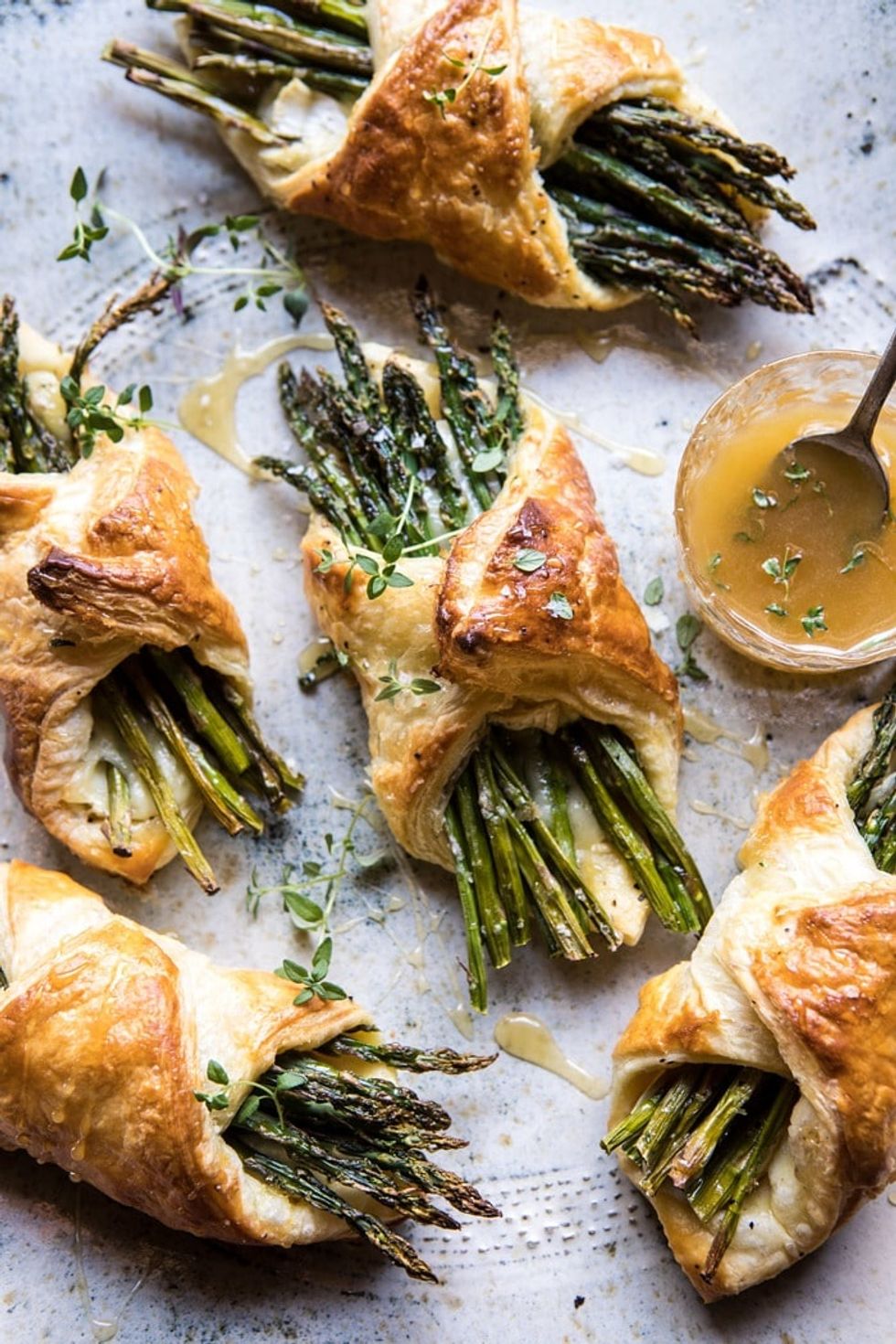 6. Asparagus and Brie Puff Pastry With Thyme Honey: With a roll of store-bought dough, anyone can whip up this impressive appetizer. Consider forming these into smaller bites so your guests can eat them while standing and mingling. (via Half Baked Harvest)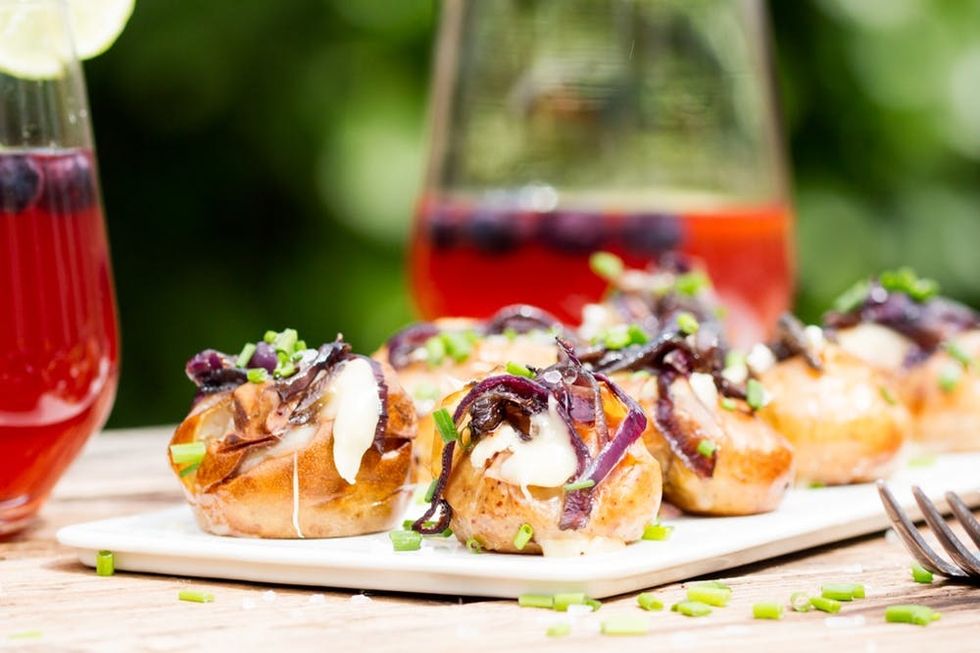 7. Mini Brie-Stuffed Baked Potatoes: No special-occasion meal is complete without potatoes. Stuffed with gooey brie, sweet caramelized onions, and sharp chives, these spuds will get the party started. (via Brit + Co)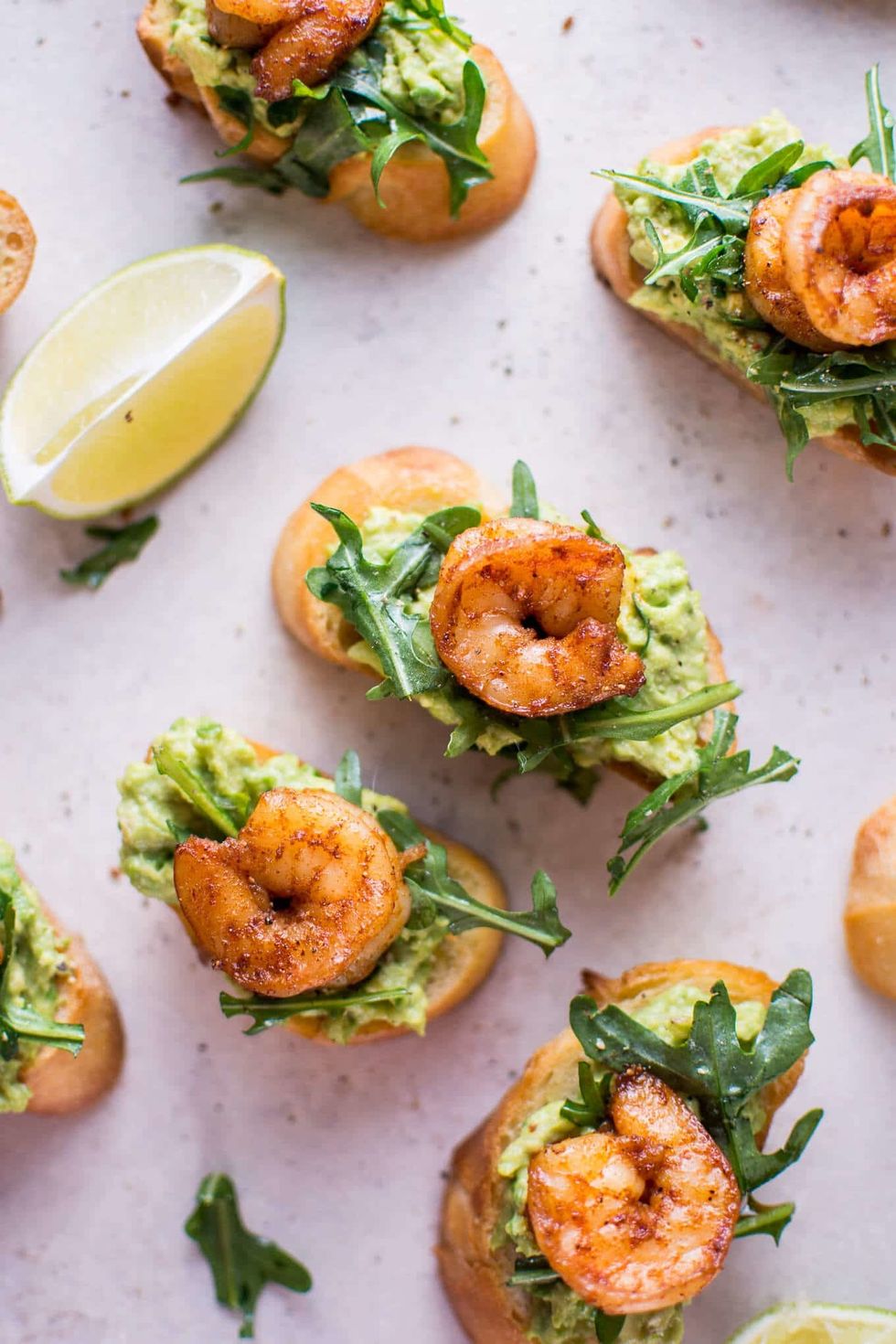 8. Garlic Shrimp and Avocado Crostini: Anyone can get behind an avocado-slathered baguette — especially one that's adorned with smoky shrimp. (via Salt and Lavender)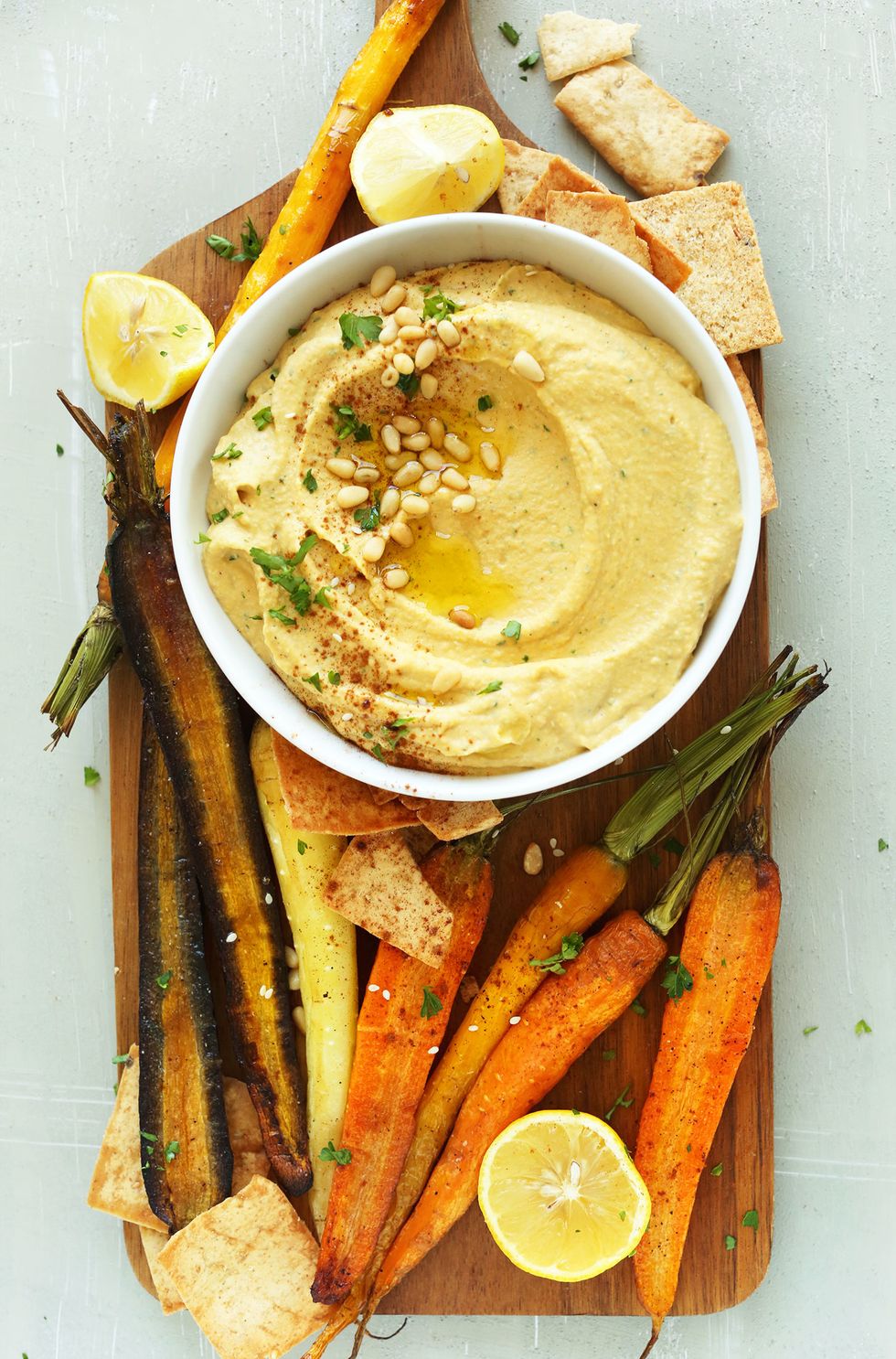 9. Butternut Squash Hummus: With roasted and fresh garlic, lemon juice, parsley, and spices aplenty, this dip is bursting with flavor and begging to be served with whole-grain pita chips or roasted carrots. (via Minimalist Baker)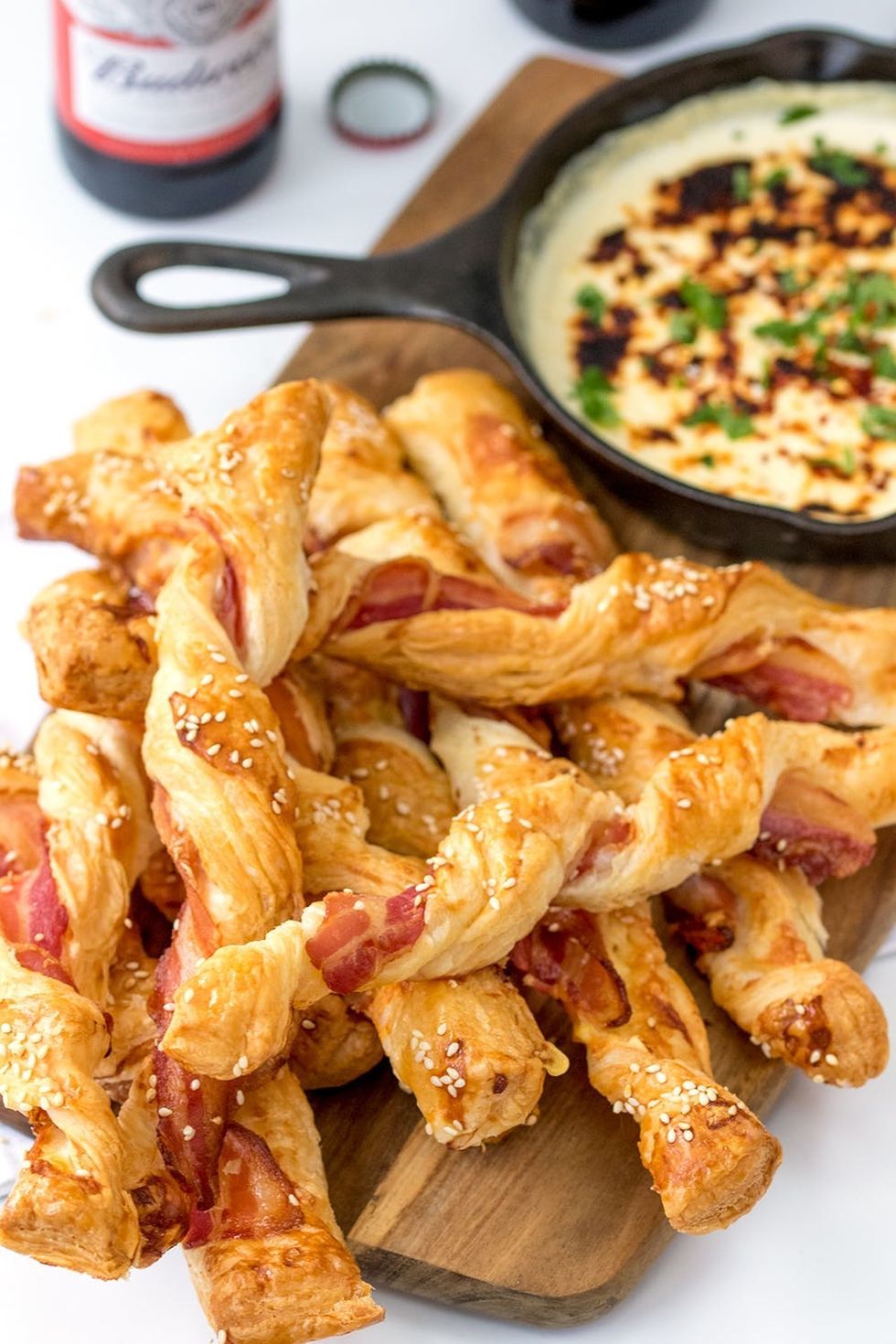 10. Bacon Pastry Twists: Puff-pastry wrapped bacon doesn't need a dip to be delicious, but if you have the time, mix up a batch of our creamy beer cheese for dunking. (via Brit + Co)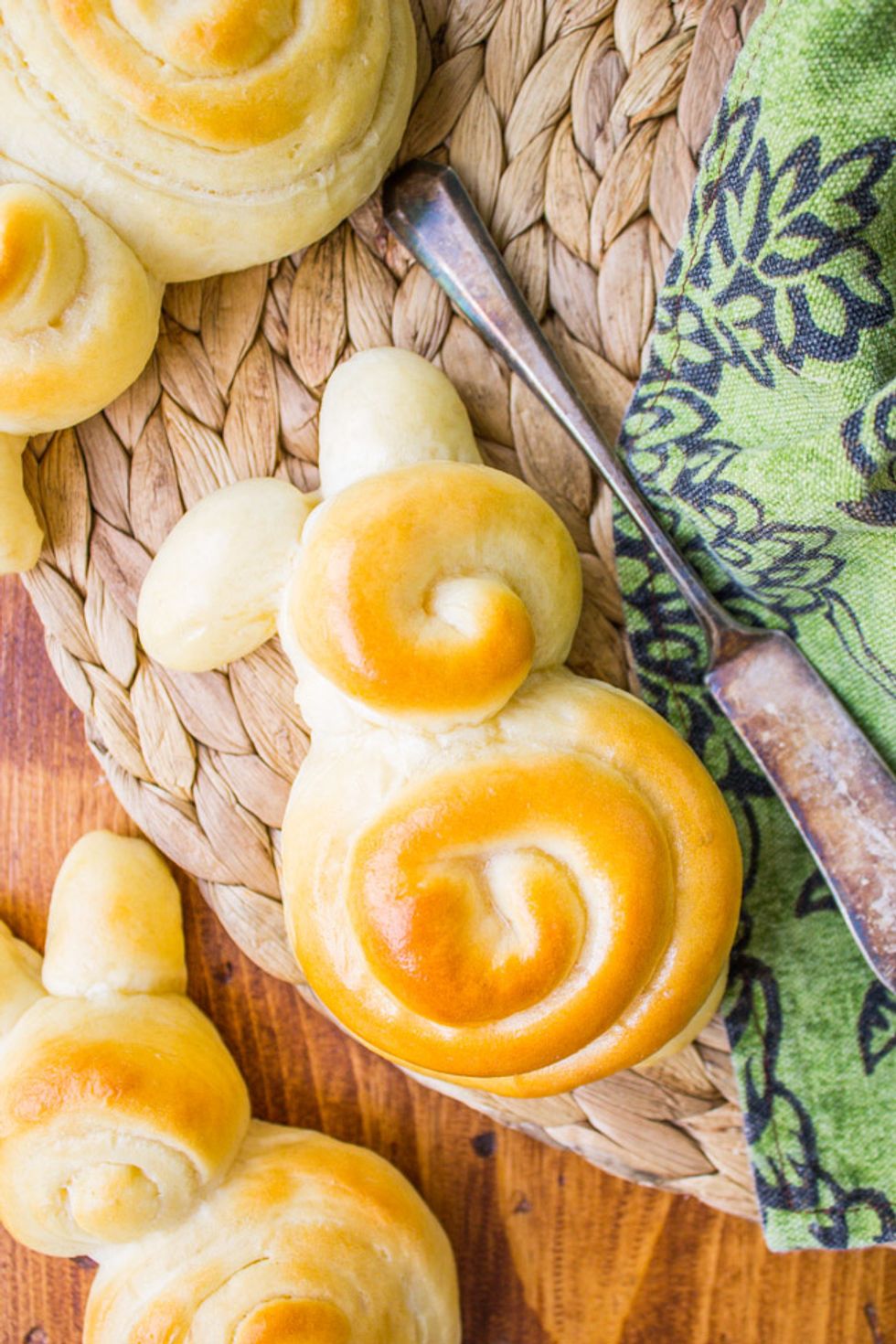 11. Easter Bunny Dinner Rolls: Bunny rolls are so festive, they double as decorations. They're plenty buttery, but no one would complain if you served them with assorted butters for spreading, such as cinnamon or chive-flecked. (via The Food Charlatan)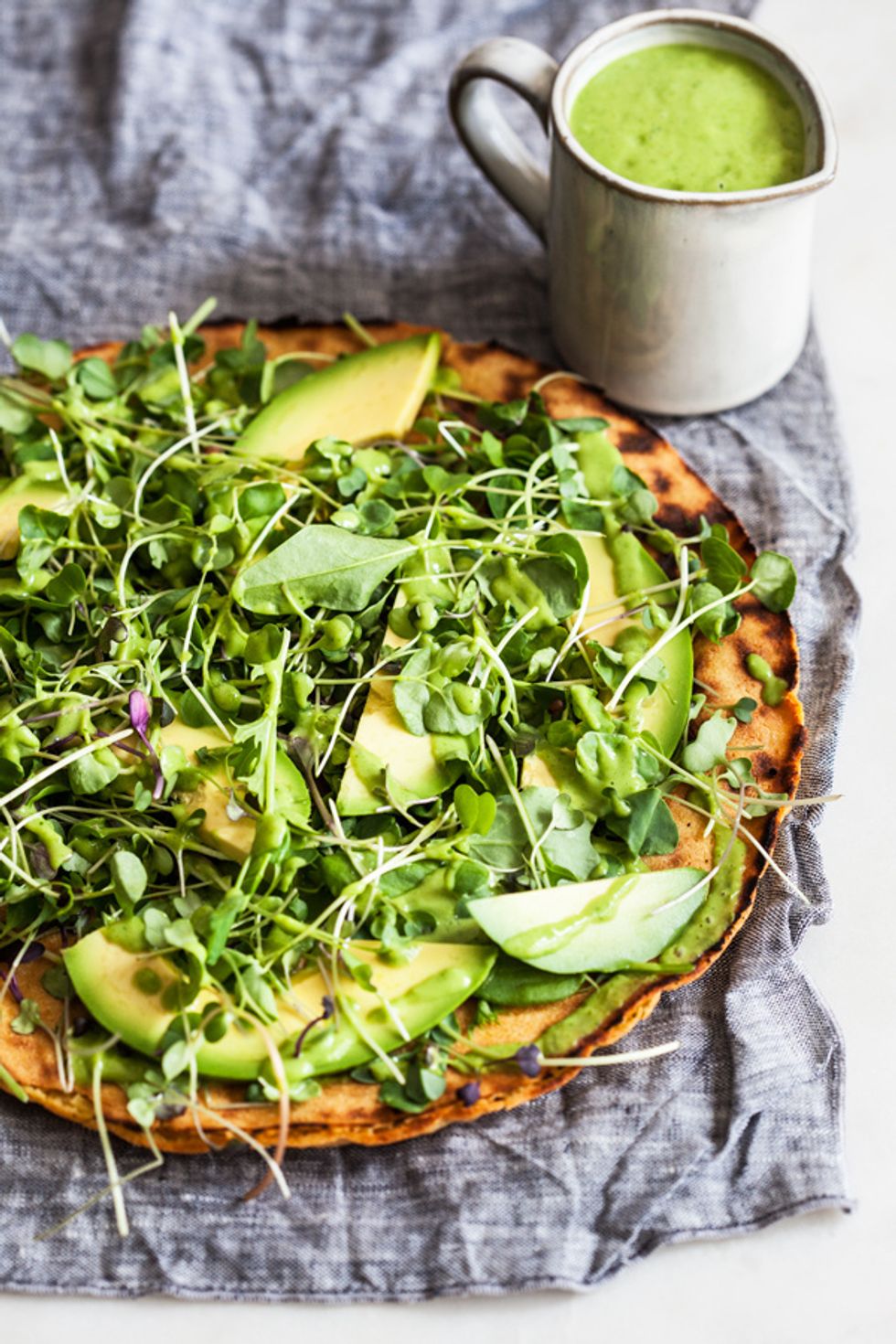 12. Green Goddess Spring Socca: Top this chickpea-flour crepe with the best produce you can find at your farmers market (think greens and avocado) and lots of tahini green goddess dressing. (via The Full Helping)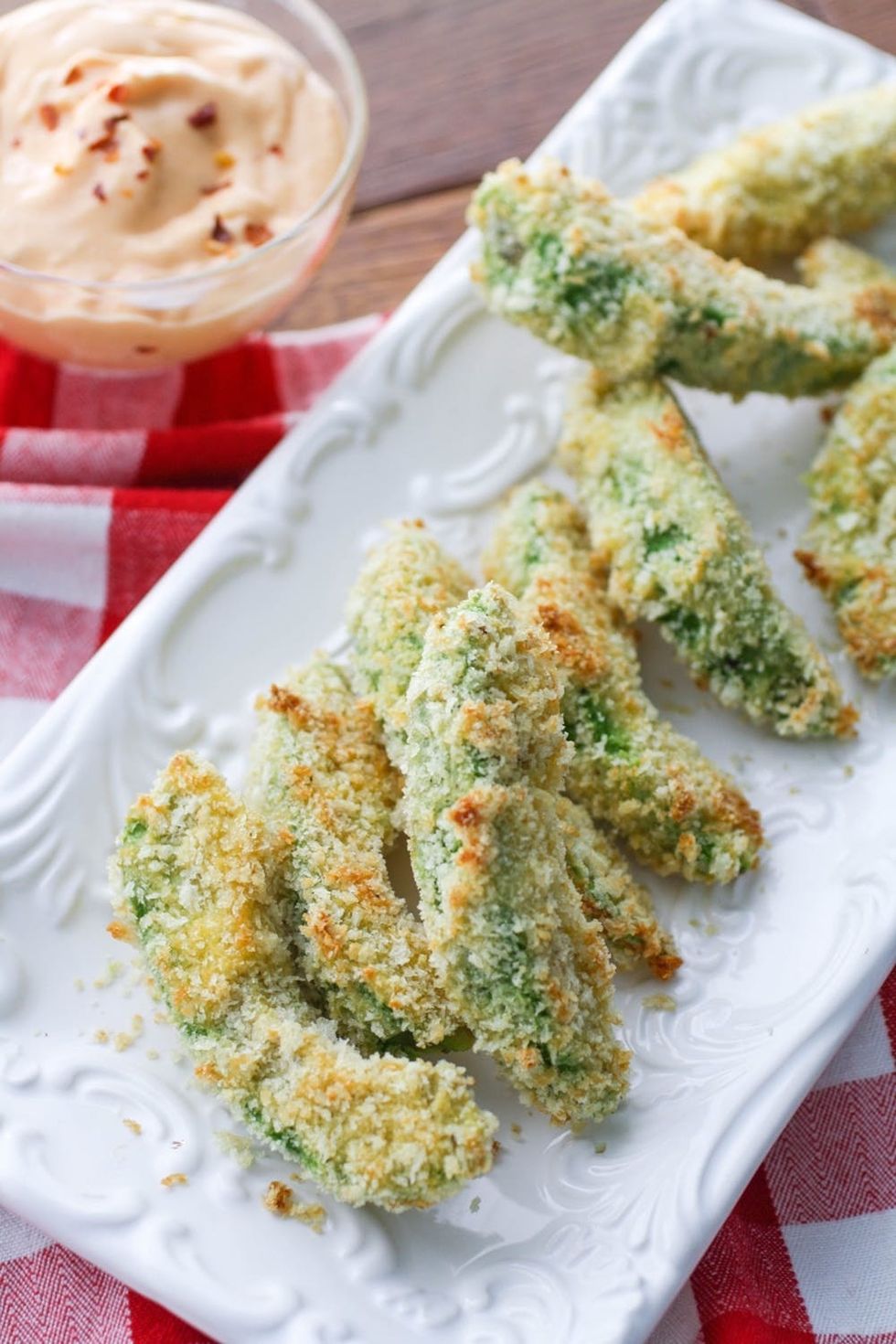 13. Baked Avocado Fries: Almond meal and gluten-free breadcrumbs yield a crispy crust on these creamy avocado "fries," which are best served with spicy aioli. (via Brit + Co)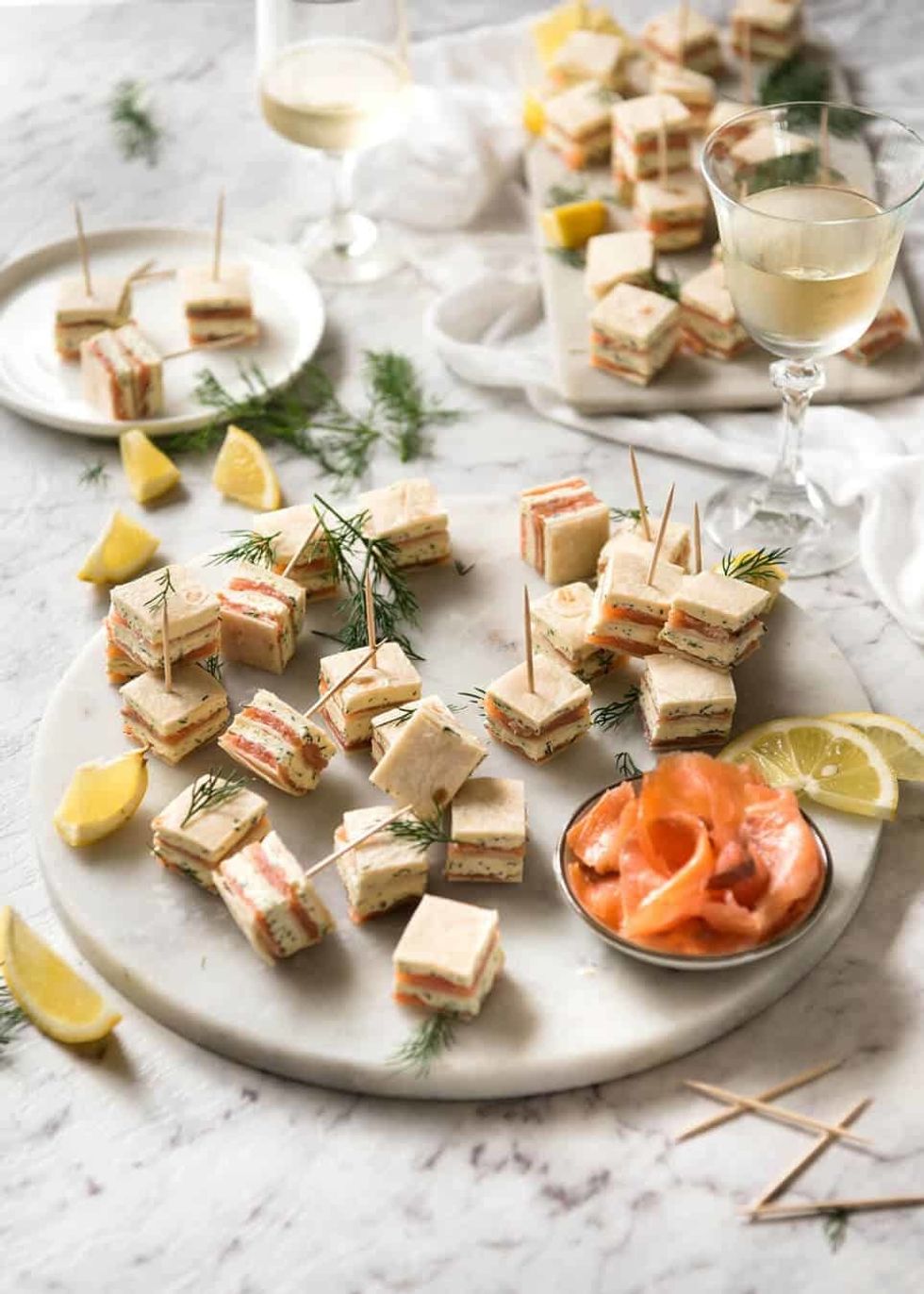 14. Smoked Salmon Bites: These beginner-friendly bites come together with three layers of tortillas, garlicky cream-cheese, and smoked salmon. Speared with toothpicks, they make a classy appetizer that guests will assume you spent much longer making. (via RecipeTin Eats)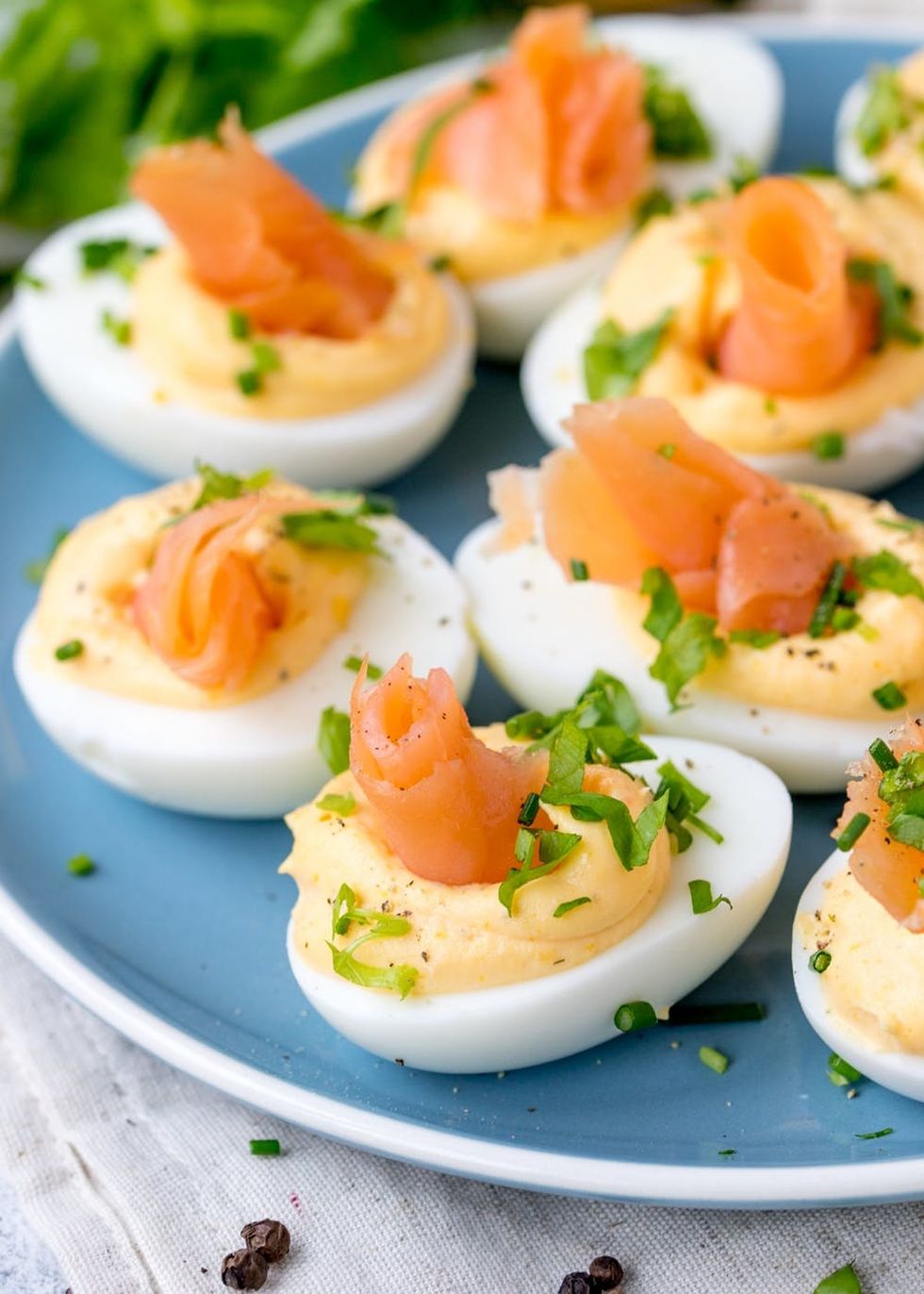 15. Deviled Eggs With Smoked Salmon: Deviled eggs are a timeless Easter appetizer. This version freshens up the classic with smoked salmon, lemon juice, chives, and dill. (via Brit + Co)
Still in Easter planning mode? Follow us on Pinterest for more celebration-worthy recipes.
Additional reporting by Sally Jones
Sara Cagle
Sara is a food and lifestyle freelance writer in Los Angeles. She writes a weekly events column for the Los Angeles Times and loves writing food content for Brit + Co. After all, the English language's most fun adjectives are best applied to delicious foods. In her free time, she's a hip hop dancer, avid moviegoer, and thorough face-mask user.