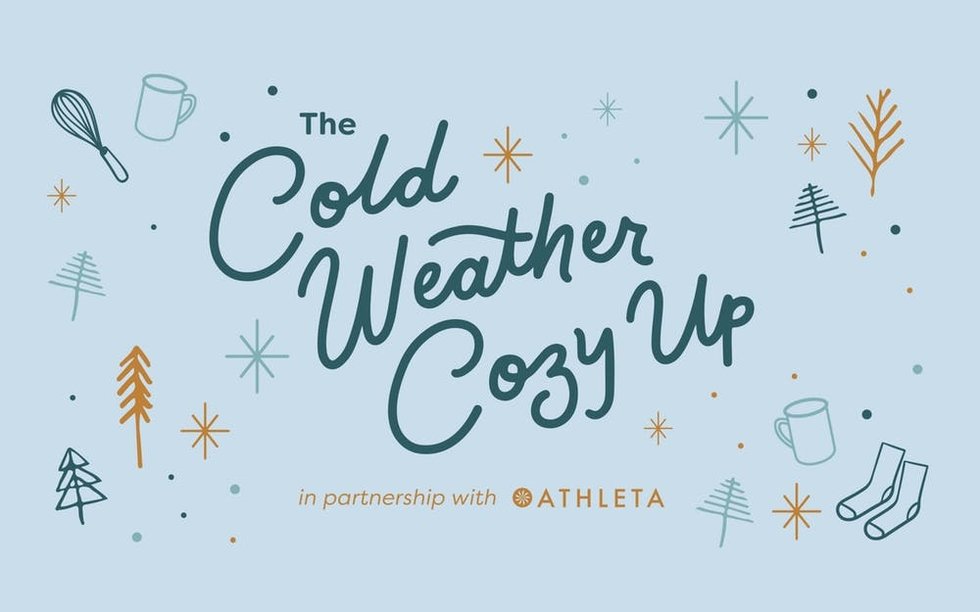 We love to stay cozy around the holidays and colder months. To celebrate the holiday season, we've partnered up with our friends at Athleta and created this winter cozy guide to help you embrace the chill all season long! Look for fun adventures to do with your girlfriends, comfortable holiday travel style, and ways to really soak in the season, indoors and out.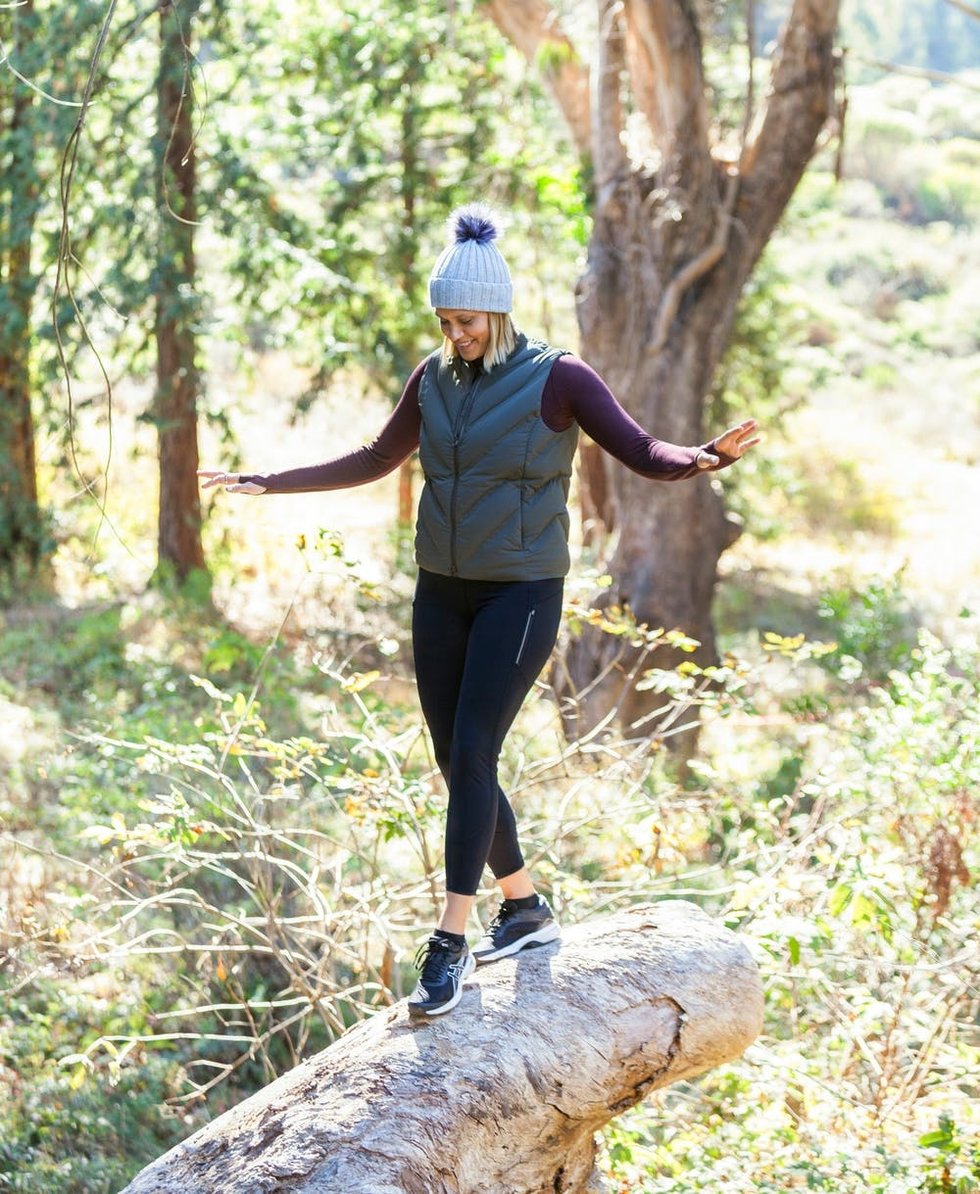 9 Motivating Ways to Get Moving This Winter
Cozy gear and stay warm tips to keep you going
Whether you prefer to workout in the mornings or after work, the colder (and darker) months ahead can make either a challenge. But working out through the winter has so many benefits, like a major mood boost from increasing your exposure to daylight (and other perks we'll go into later). Building up the motivation to get out there, however, is the hard part. We got you.
Here's all the motivation you need to keep moving and feeling great all season long.
1. Dress the part. Not only will new gear inspire you to work out but it can also make you feel more comfortable while you're moving (making you want to do it even MORE). Look for breathable fabrics that wick away sweat so it evaporates faster, keeping chills at bay. You want to stay warm but also dry. Athleta's new winter products are specially designed for outdoor workouts with reflective, quick-drying and insulating features. Our model Allison wears Athleta's Rainier Tight in Plush SuperSonic, with a soft, brushed interior, so you actually want to slip into them on a cold winter morning.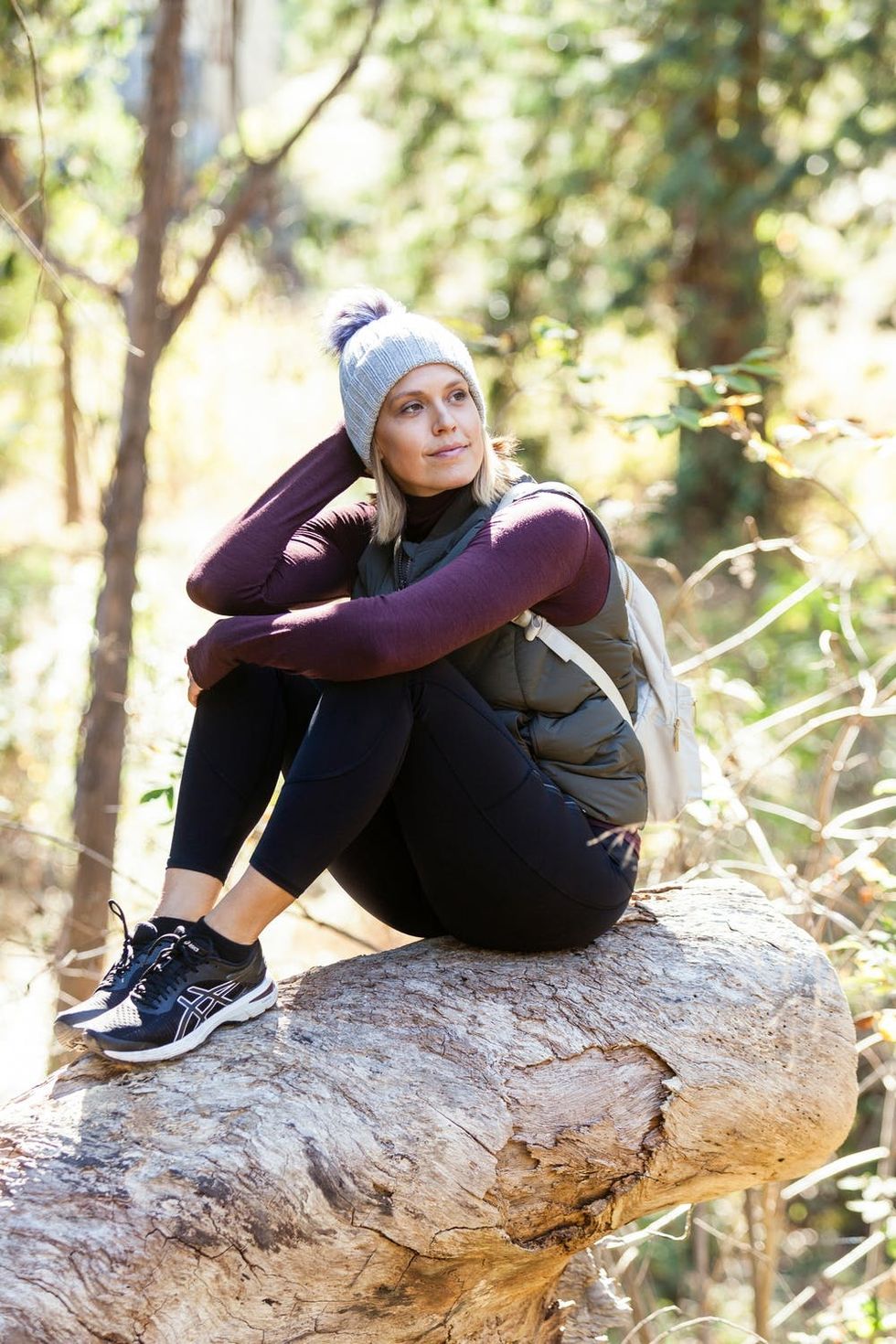 Layering is key, obvi. The Foresthill Merino Wool Ascent Turtleneck has thumbholes to keep your sleeves in place and your hands warm. The wool is designed to regulate heat and feels soft and stretchy, making it great for all your outdoor adventures. "This would be great for skiing!," Allison said as soon as she put it on. The Inlet Vest is made with recycled nylon (many of Athleta's products have sustainable features, which we LOVE) and the fabric protects you from wind and water.
Layering is hard to get right. Miami has a totally different dress code than New York — we get that! — so do what feels comfortable to you. Here's a cheat sheet to avoid being too hot or too cold.

2. Find your happy place. Is there a hiking trail that fuels your zen or a running path that leaves you feeling inspired every time? Wherever you choose to get your move on, find a time that really suits your schedule, when you'll have few excuses to ditch your workout. Making it part of your daily routine will better your chances of getting over the winter hump.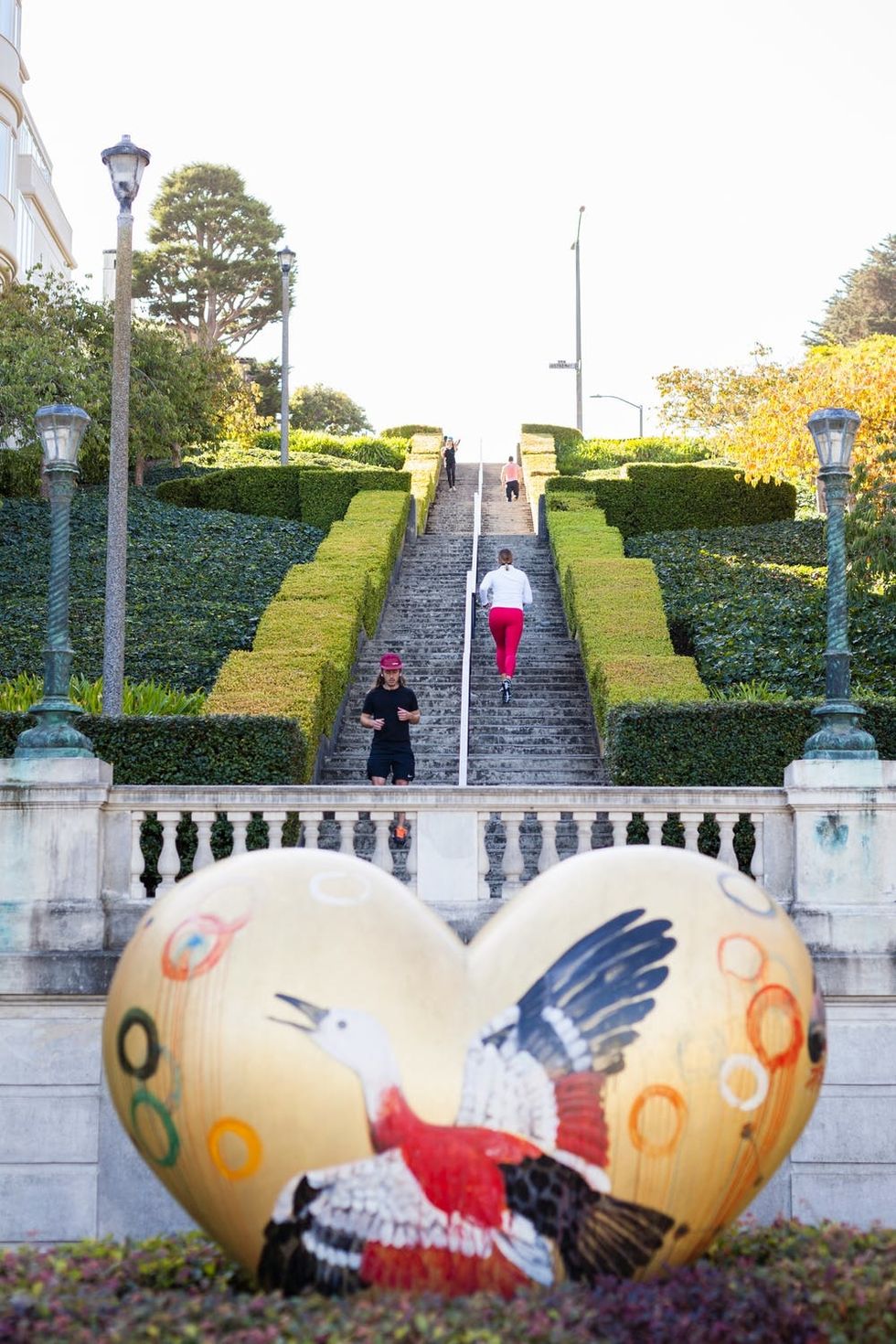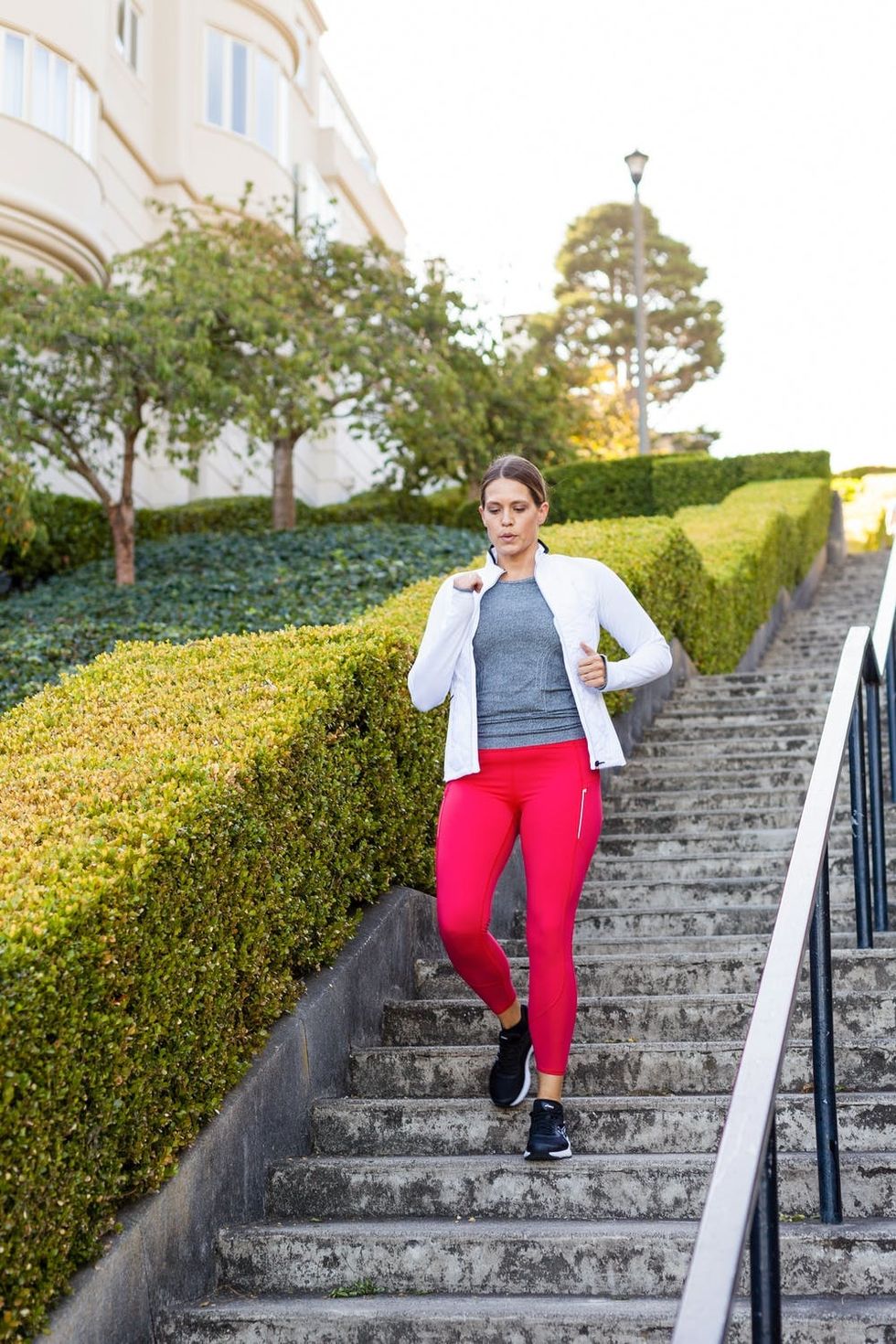 Our happy place? The 288 Lyon Street Steps in our hometown of San Francisco. They make for a great early morning workout with lampposts so you can see — and be seen — before the sun's up. (The heart sculpture, Migrant Heart, was designed by Hung Liu in 2004 as part of a city-wide installation.)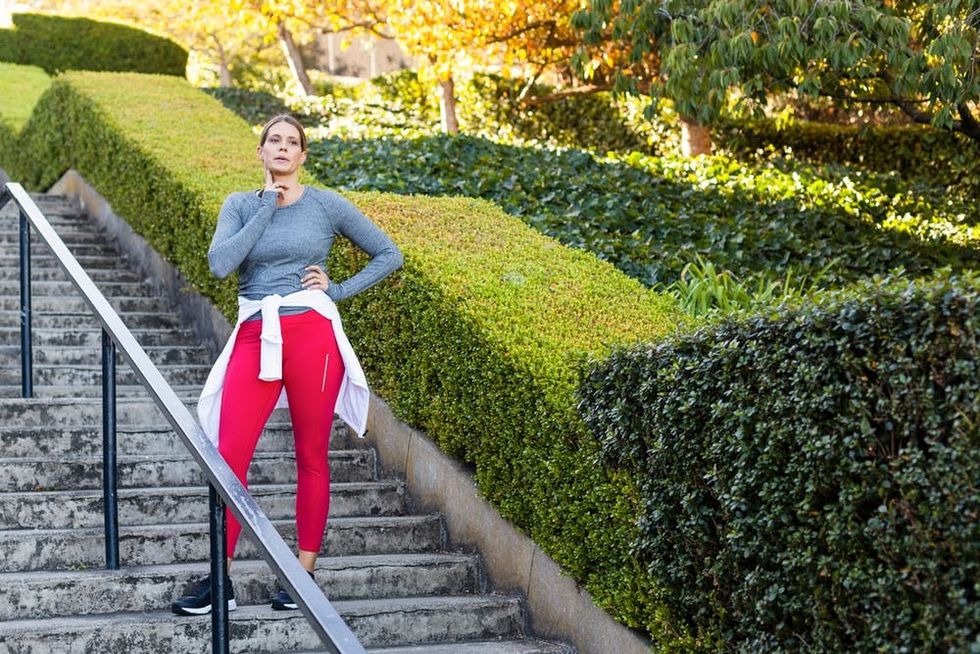 3. Set no-fail goals. Setting realistic goals is so important to staying motivated. Think daily micro goals. Want to run a 5K? Run/walk 30 minutes every day for four days, take a rest day and then aim for 3 miles on your sixth day. Trying to run a 5K out the gate and failing can lead to negative thoughts, lowering your chances of achieving any goals. Keep your mind motivated and your body moving with little victories each day. Then, when you've achieved one goal, move on to the next. Missed a day or even a week? Hey, life happens. Don't feel guilty about it or let it discourage you. Just get back in the game and move on, literally.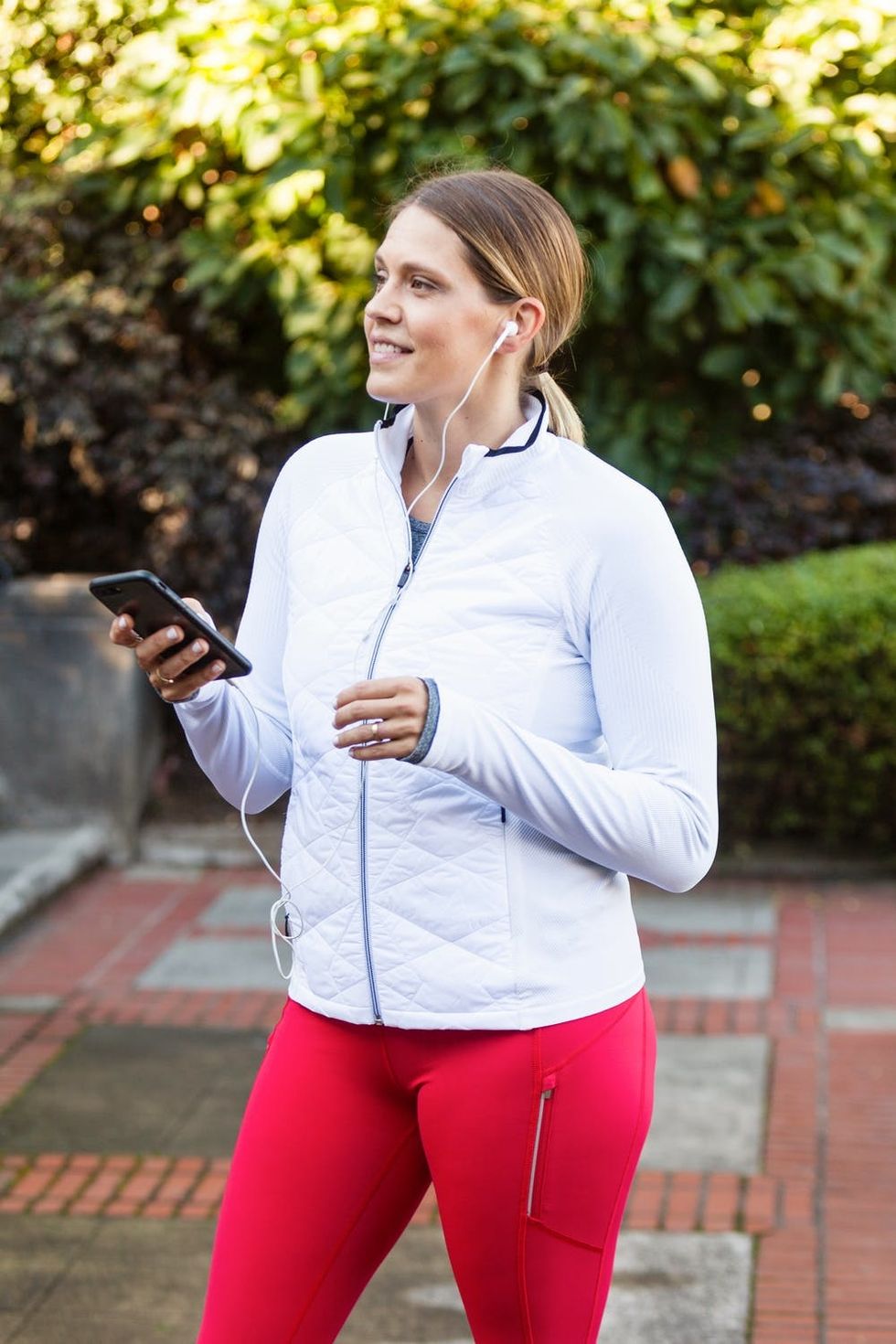 4. Turn your phone into your trainer. Don't have the budget for a real-life trainer? Whatever you love to do — yoga, pilates, running, hiking — there's an app for that! Try these for starters (at-home workouts are legit when there's 10 feet of snow outside) and look here for more digital motivation.
5. Pick a motivational mantra. So much of fitness motivation has to do with your brain rather than your body. Positive thinking makes a huge impact on hitting your long-term goals. Here's one we love: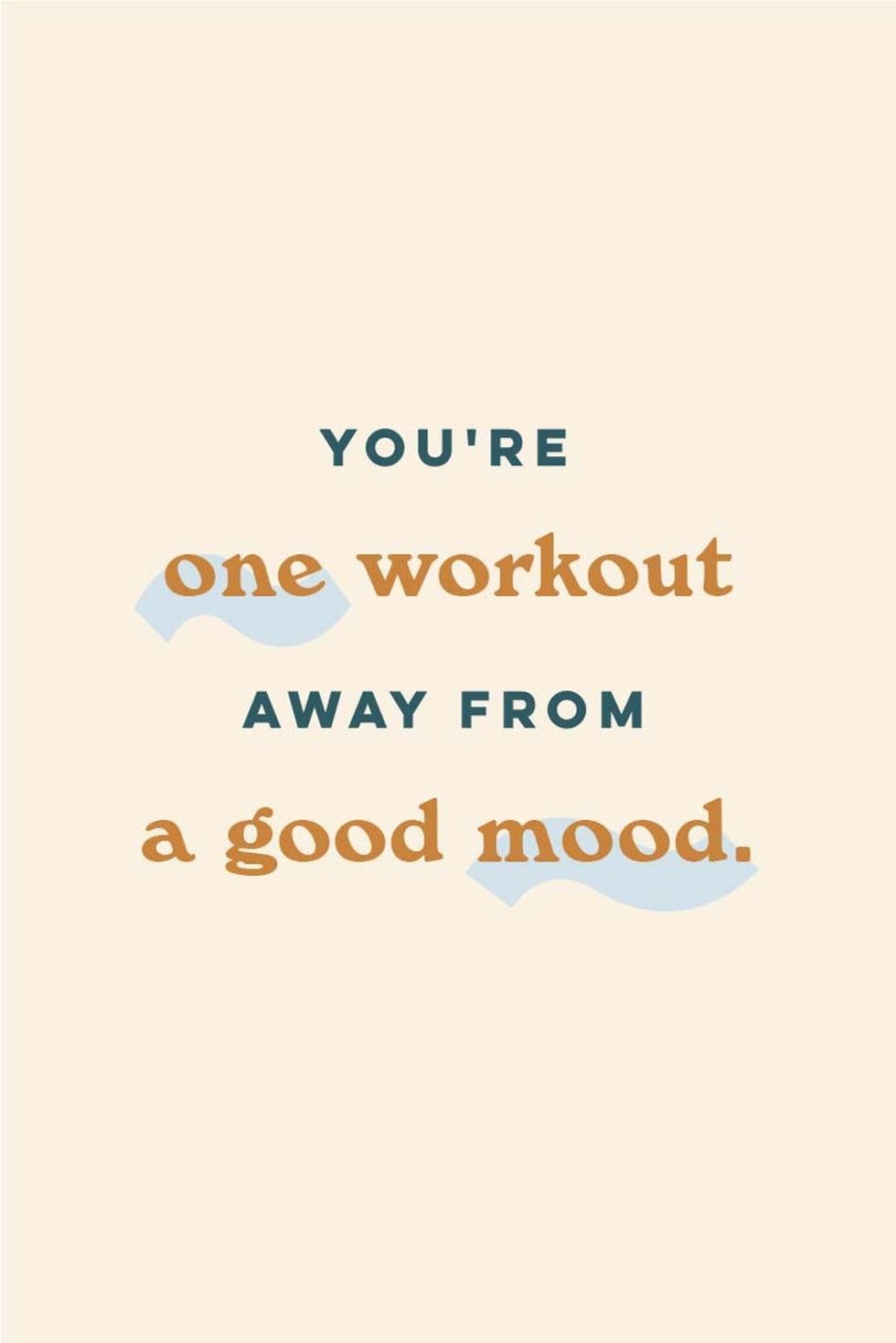 Whatever you find that speaks to you, write it down and place it on your fridge, your bathroom mirror, your nightstand … wherever you'll see it every day.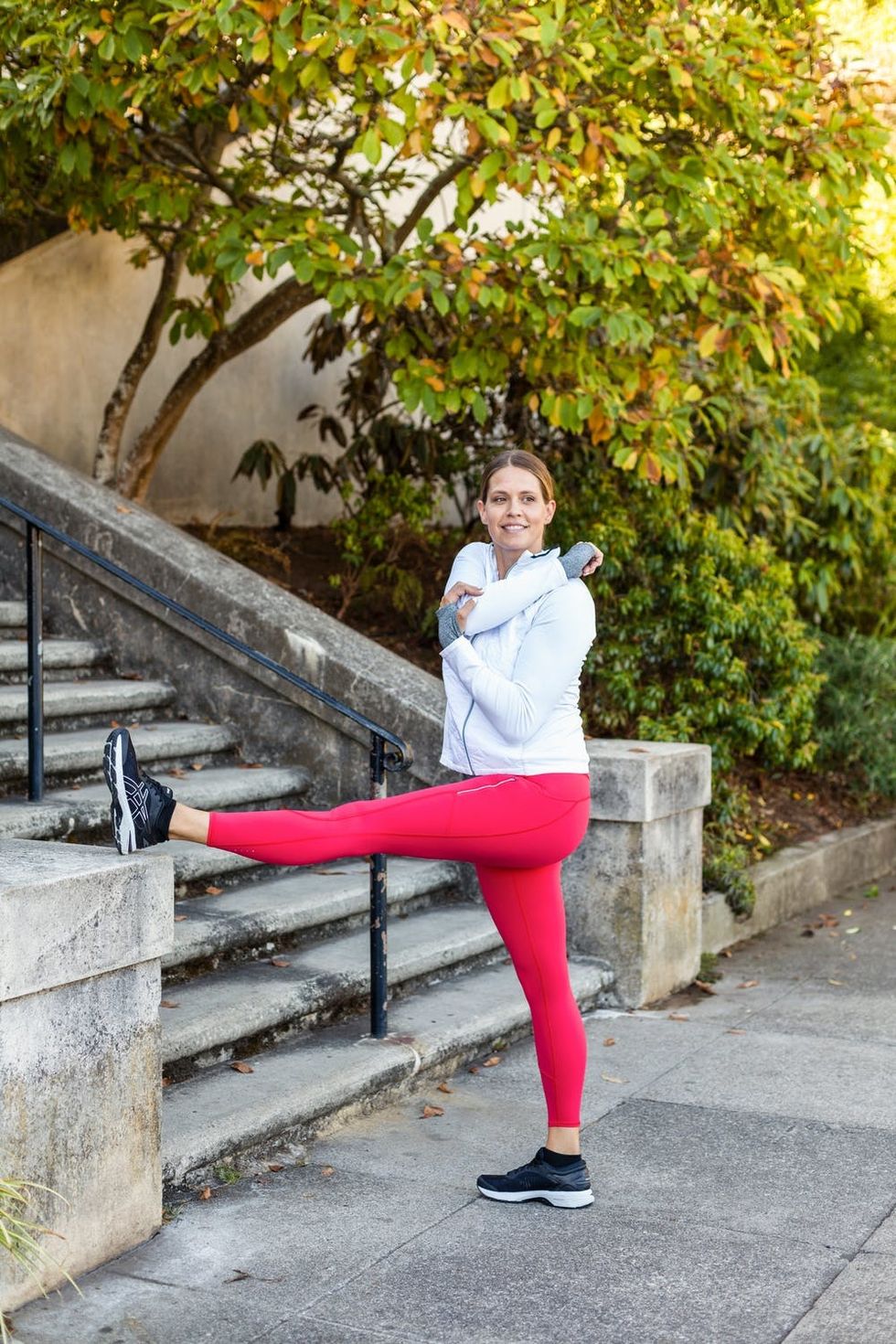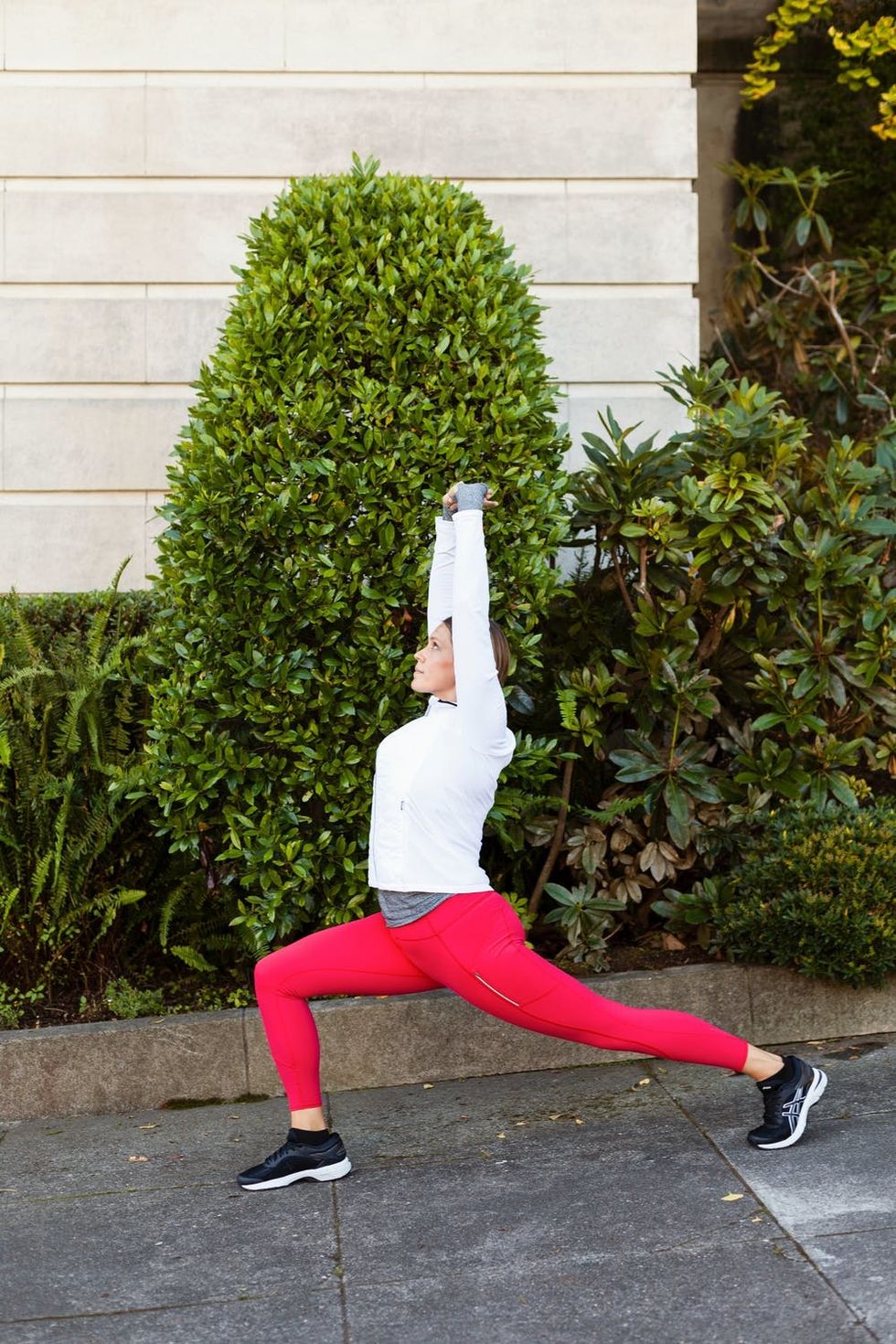 6. Warm up. Here's the appetizer to your workout feast, and it's especially important during the cold weather months. Spend 10 minutes stretching and just moving: jumping jacks, skipping in place, butt kicks + high knees. Once you get your limbs ready and your body temp up, you'll be ready to take it to the next level.
The Flurry Force Insulated PrimaLoft® Jacket feels surprisingly light but warm enough for colder days. The fabric also wards off light rain. Allison's Rainier Tights (this time in Hibiscus Red) have reflective details in the back, so you can be seen during early morning or evening workouts
7. Consider the perks. Outdoor winter workouts can increase your dose of vit D — something we can lack as the days grow shorter. (Pro tip: Don't forget the sunscreen!) And it can also boost your mood. Your body works harder to stay warm during outdoor winter training, so it produces more endorphins, leaving you feeling happier! And bonus: working out = great work/life/holiday stress reducer.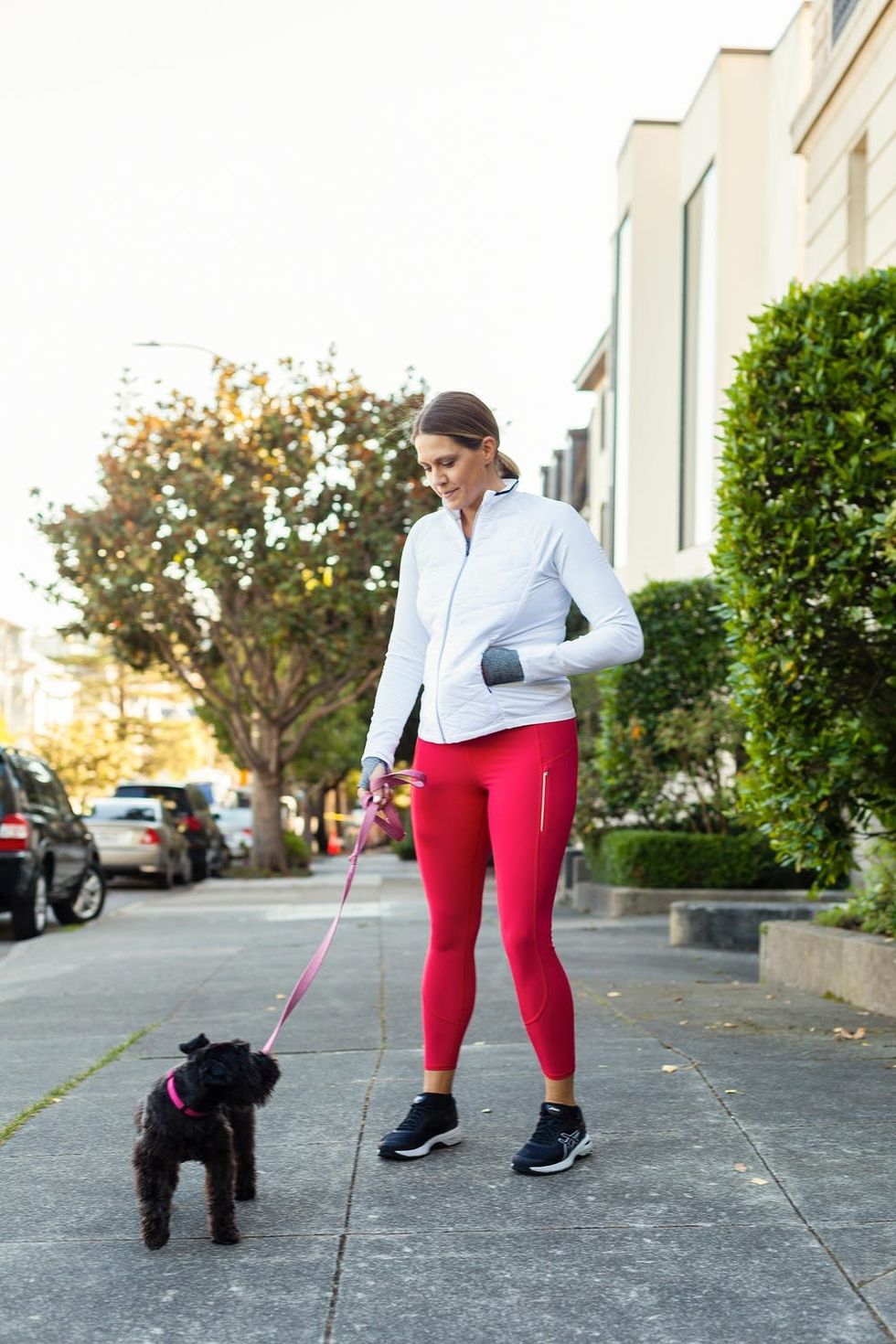 8. Don't go it alone. Committing to working out with a friend or group can be a great motivator (that feeling of accountability gets us every time). It's also way more fun! Join a bootcamp class or running group. You might be able to find a free one in your area — one of our faves is the November Project. Your dog totally counts as a buddy too (here are a few ways to get your pup involved). You could even call a long-distance friend and catch up during your hike or brisk walk — whatever it takes to make feel supported in your workout.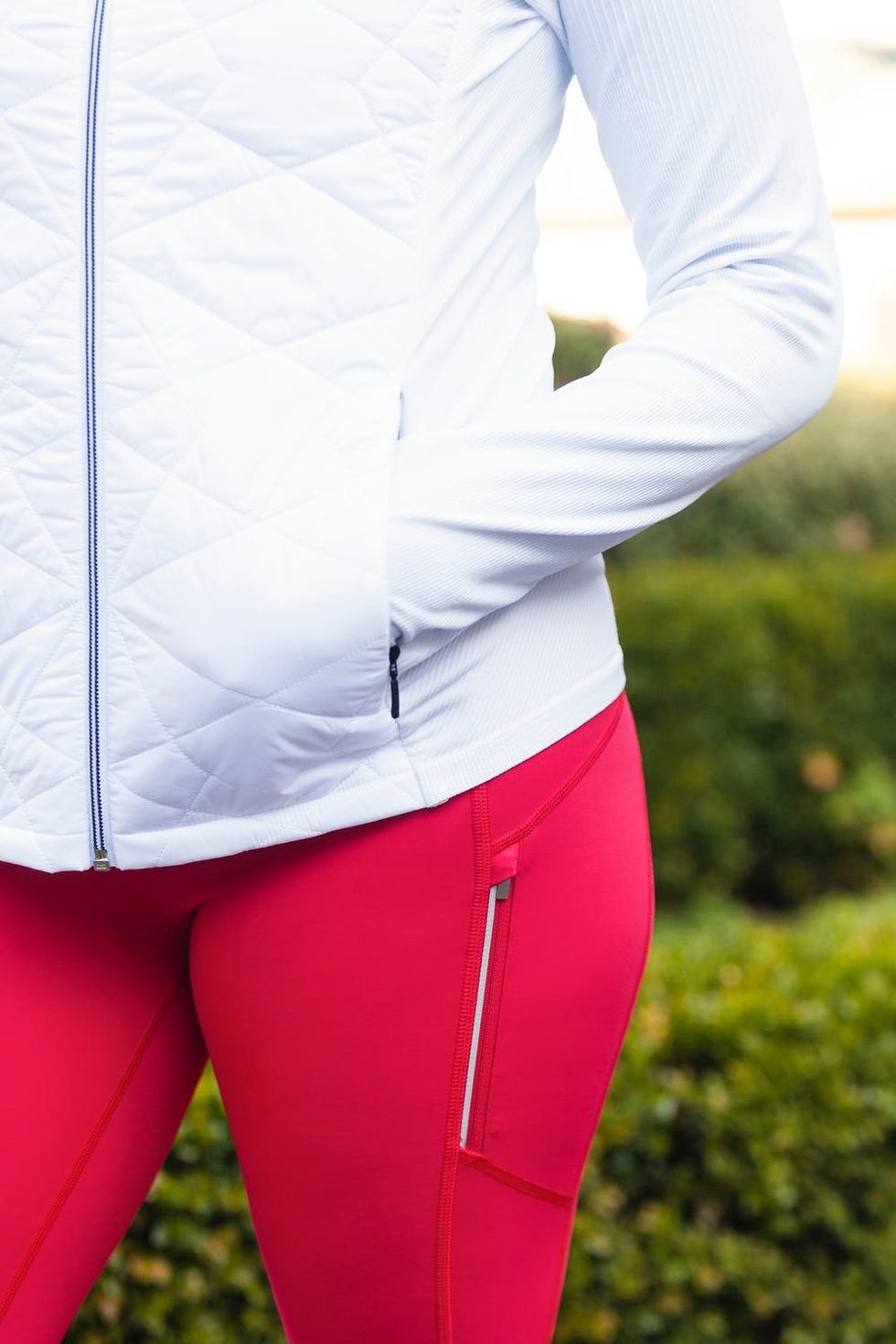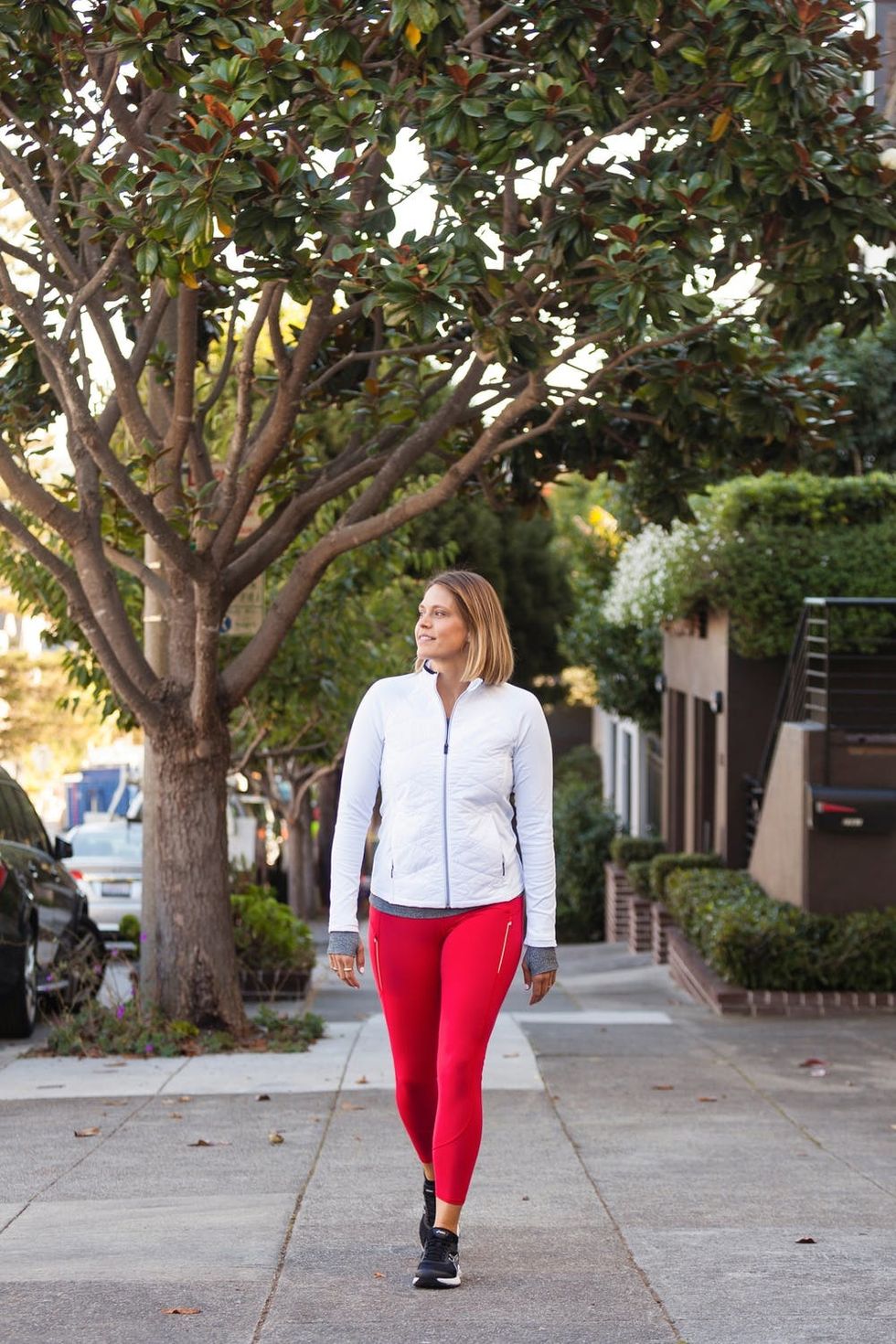 9. Reward yourself. Over time, your training will start to feel like its own reward as your brain begins to associate sweat and activity with an endorphin boost. Still, a post-sweat reward can be a great motivator. Stash your cash in the Rainier Tight zip pockets for your post-workout smoothie or brunch with pals or treat yourself to some shopping therapy.
Check out Athleta's new winter products for your favorite workout or just to feel cozy and comfortable throughout the season. Now that you're on track to setting your winter workout goals, stay tuned for more tips for sharing the holiday season with friends and family. You got this!
Author + Creative Direction: Theresa Gonzalez
Photographer: Kurt Andre
Graphic designer: Casey Callahan
Model: Allison White
B+C Studios in partnership with Athleta