39 Creative DIY Wall Art Ideas to Decorate Your Space
Sep 15, 2013
Now that Fall is here, we're thinking about redecorating our homes here at Brit + Co, which means it's the perfect time for some DIY inspiration. There are literally thousands of different ways to make beautiful art for the walls of your home or office.
BRIT + CO GUIDE: Wall Art Ideas
---
But we narrowed it down a little to our top 39 favorite ideas. Whether you're into metallics or neon, color block or obmre, 2D or 3D there's an idea here to fit your home and your budget. Be sure to tell us in the comments which is your favorite.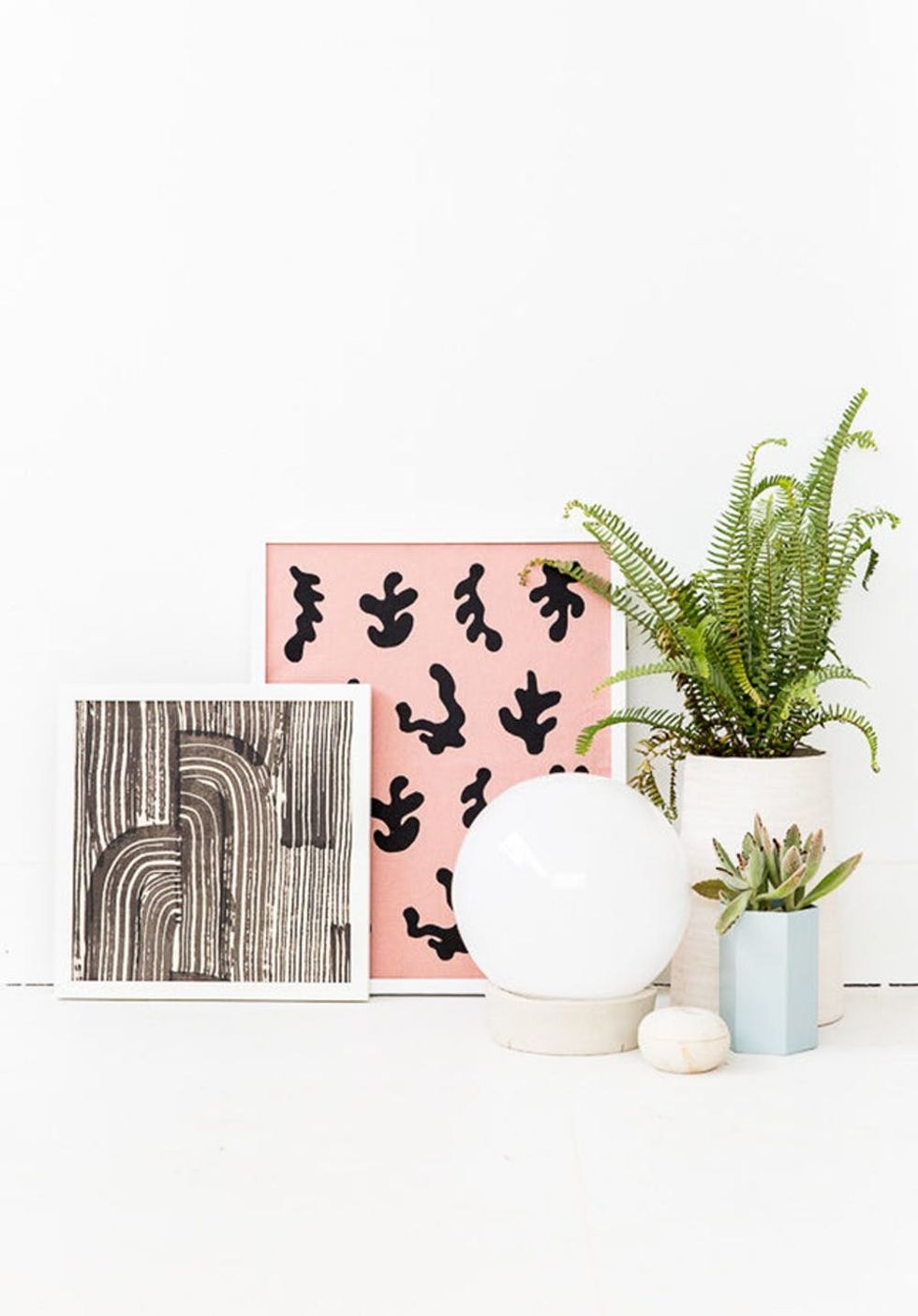 1. DIY Art Hack: Turn items you already own, into works of art — in minutes. All you need is some creativity and large enough frames. (via Paper & stitch)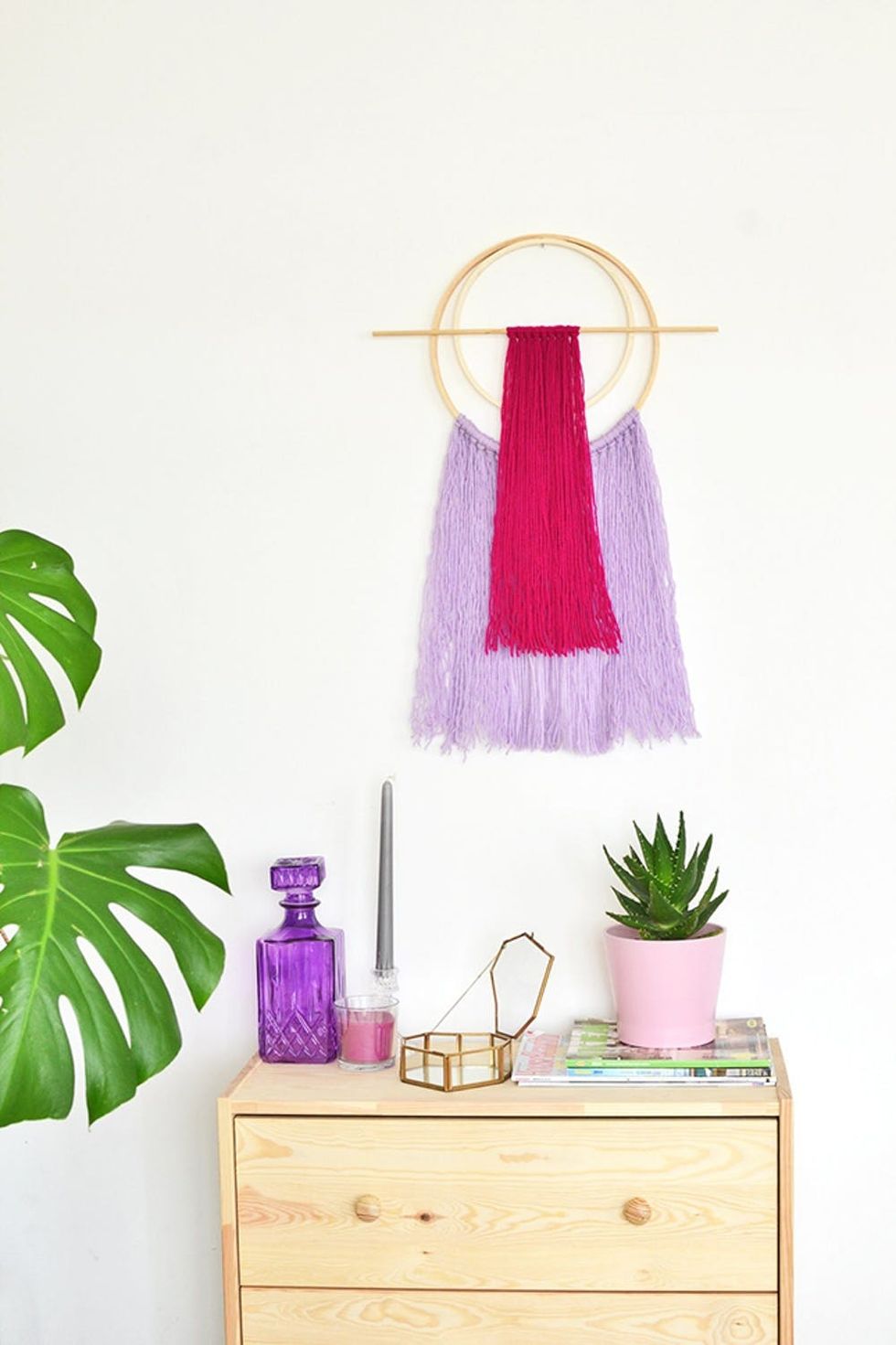 2. DIY Embroidery Hoop Wall Art: Really flesh out a space with a colorful yarn display. You can find everything you need online, or in a thrift store. You got this. (via Enthralling Gumption)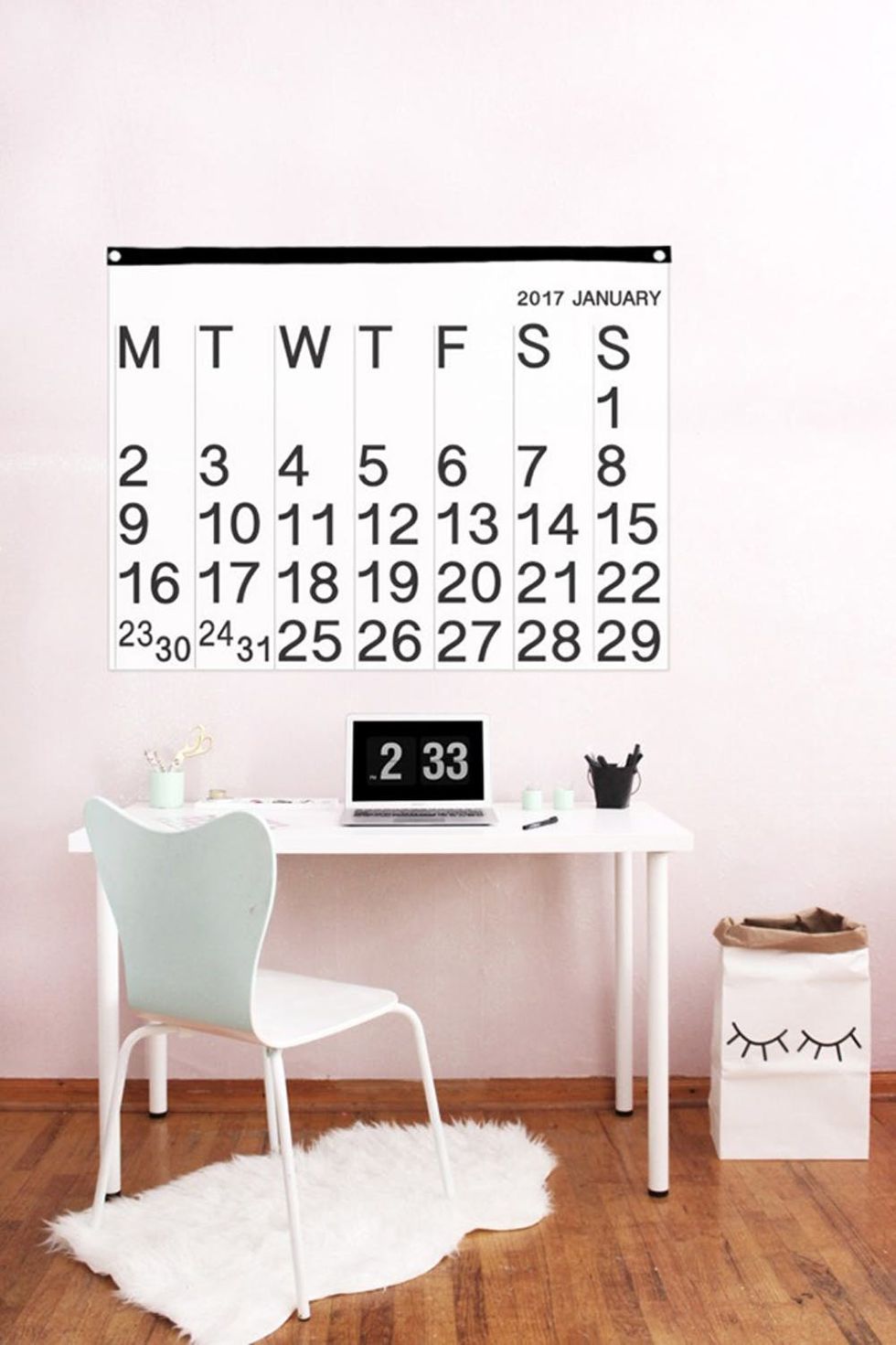 3. Printable Stendig Calendar: Sometimes the beauty of a piece lies in its utility. This giant calendar will keep you track, and looks striking in its simplicity. (via A Joyful Riot)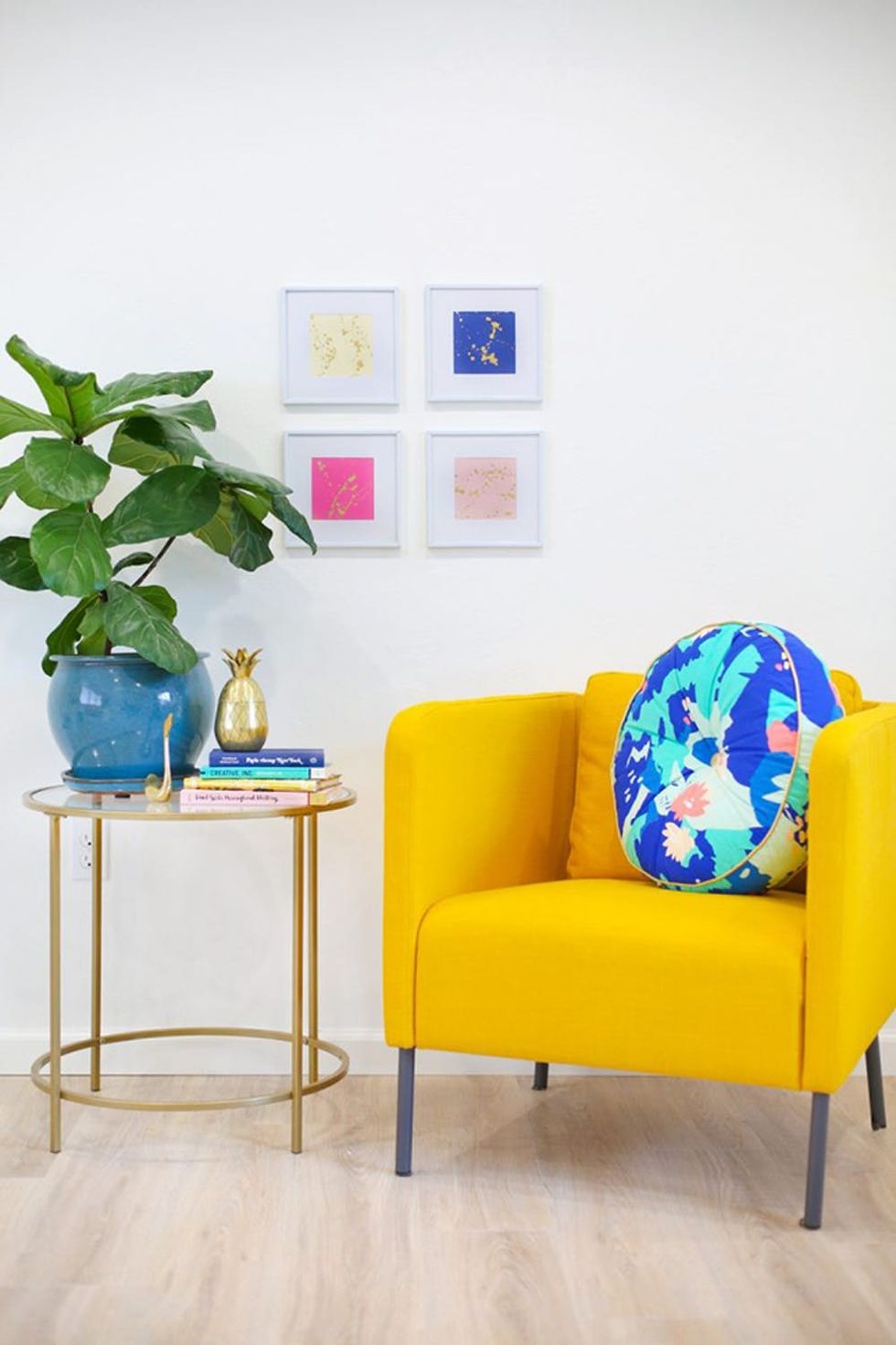 4. DIY Leaf Splatter Print: Create a set of them for a bold injection of color, or display them selectively to add balance. (via Lovely Indeed)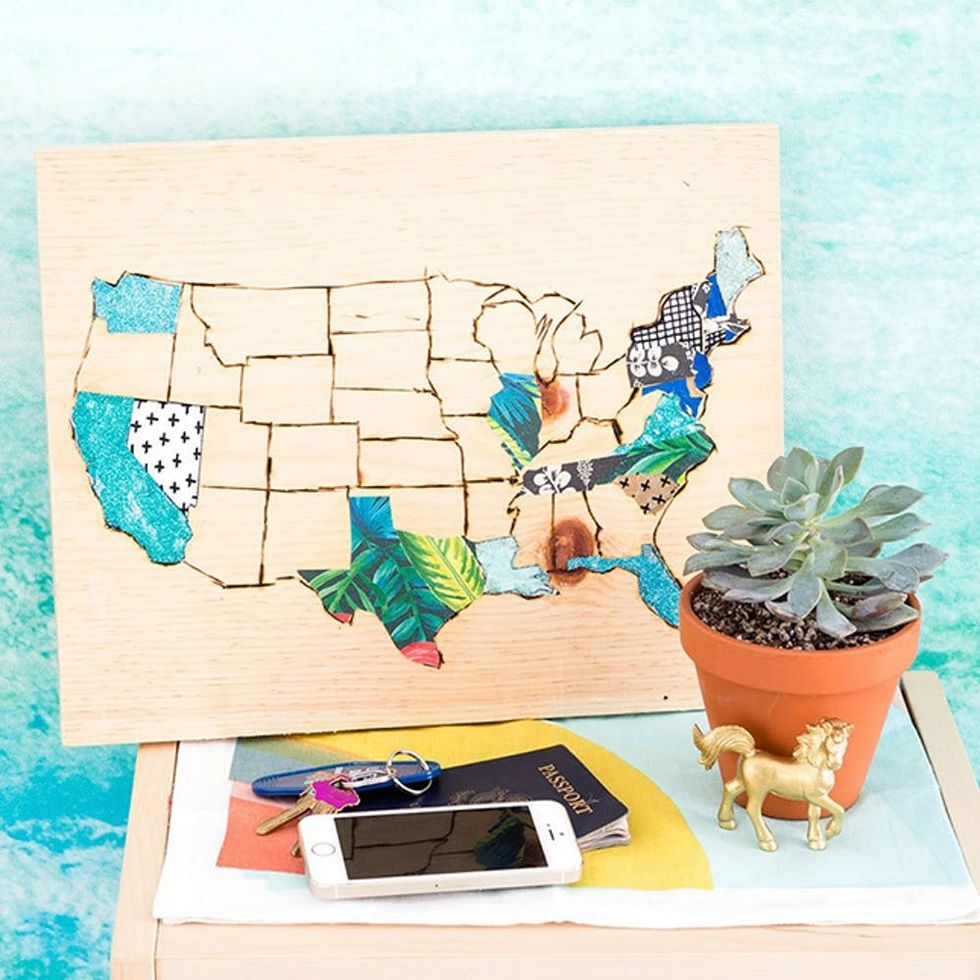 5. Wood Burned Travel Map: For a little reminder about where you've been, and where you still want to go. (via Brit + Co)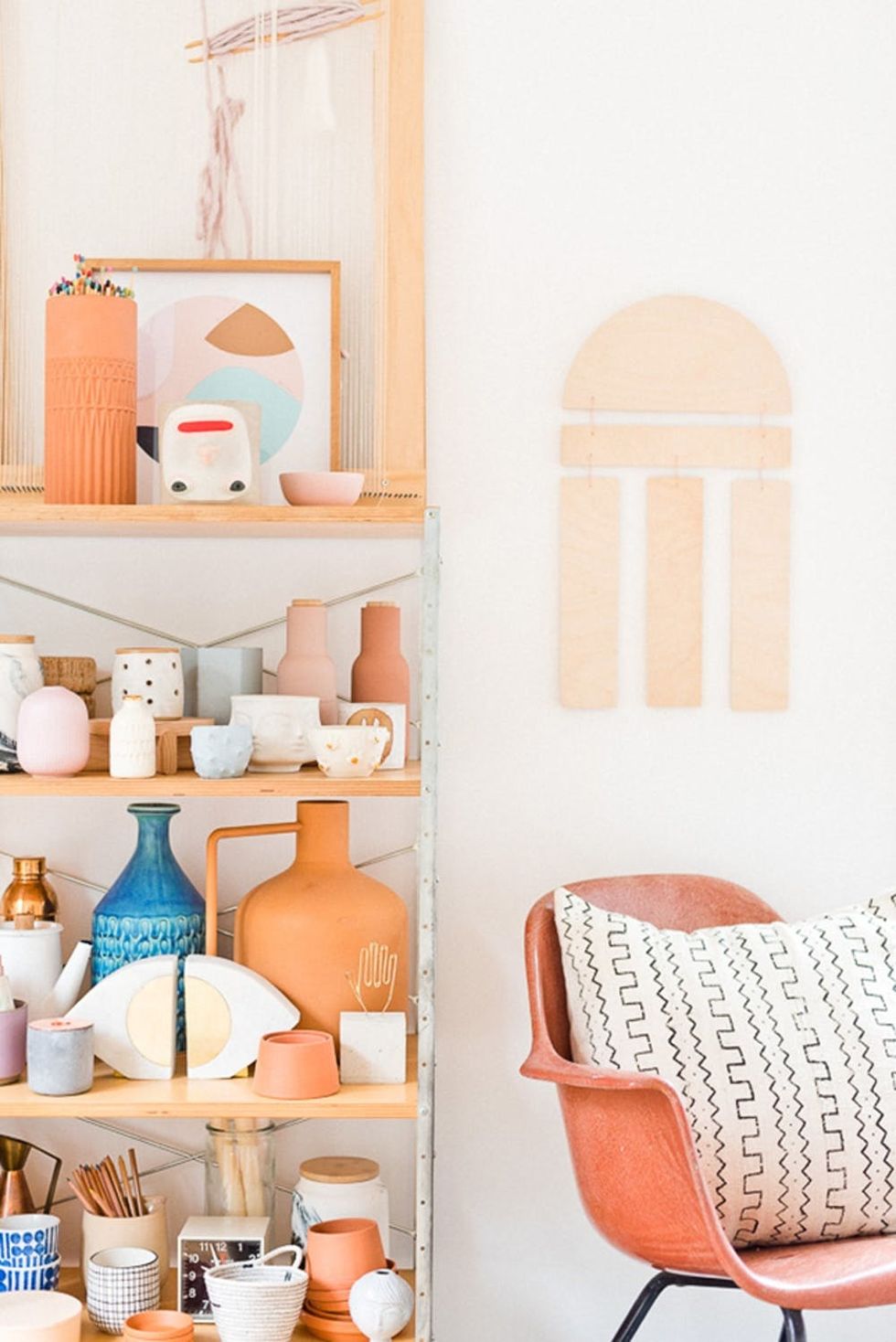 6. DIY Reversible Wall Hanging: What's better than one boho piece? Two of them! Who knew reversible was the way to go. (via Paper & Stitch)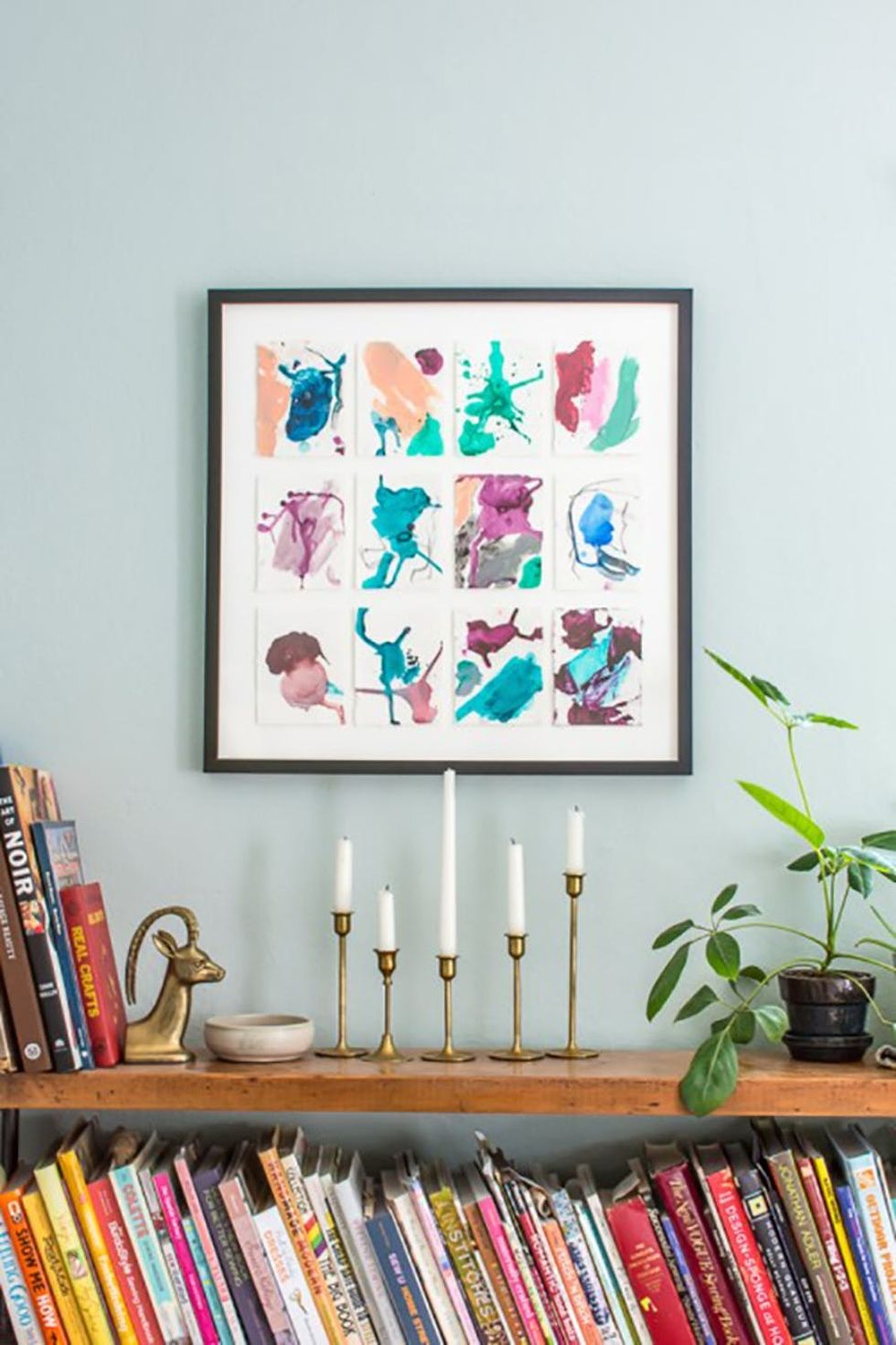 7. DIY Abstract Wall Art: Make a statement with the right frame, and a quick project. (via DIY in PDX)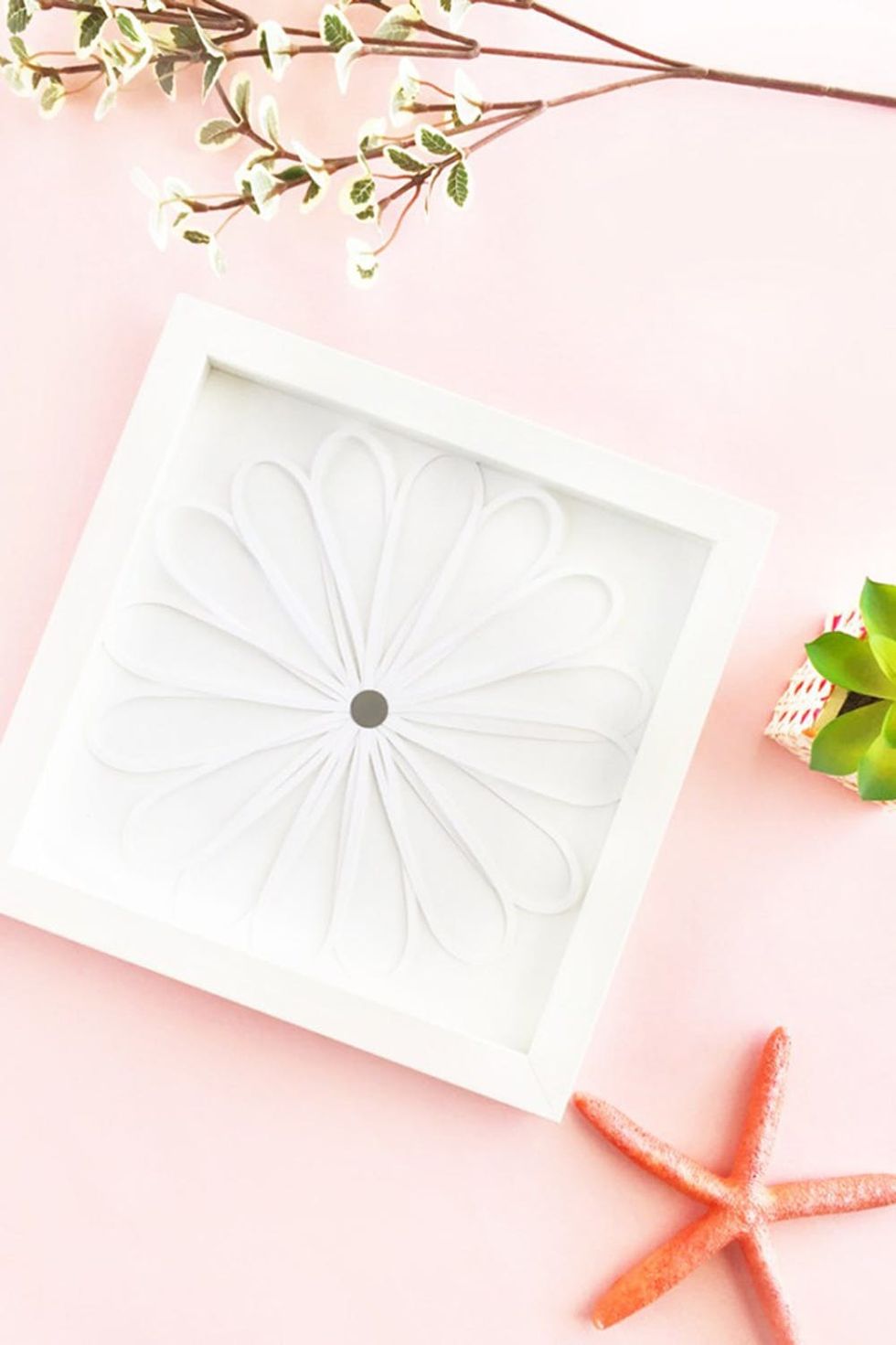 8. Easy Paper Flower Art: You know how you've been dying to use more shadow boxes in your decor? Start with this project, and see where it takes you. (via Martiza Lisa)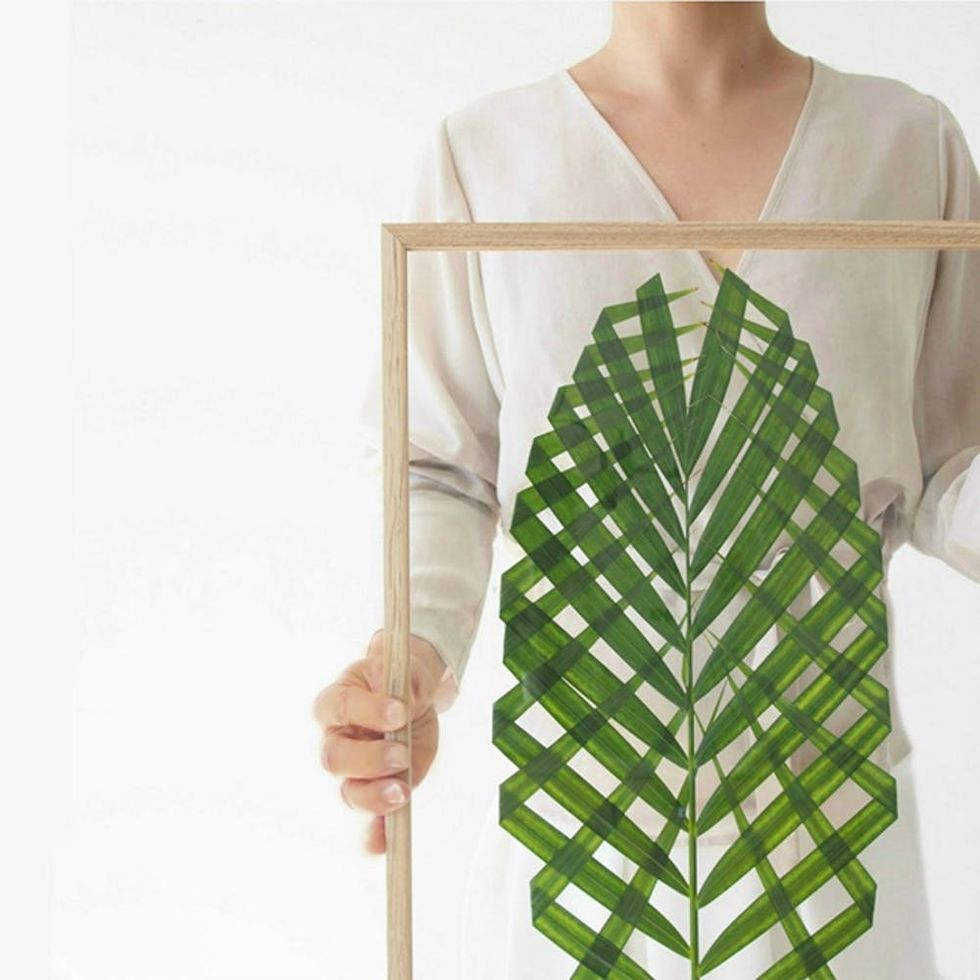 9. DIY Leaf Art: Consider yourself lucky enough to leave in a climate with palm fronds, and even luckier that you can create this stunning graphic piece using something you found outside. (via Monstercircus)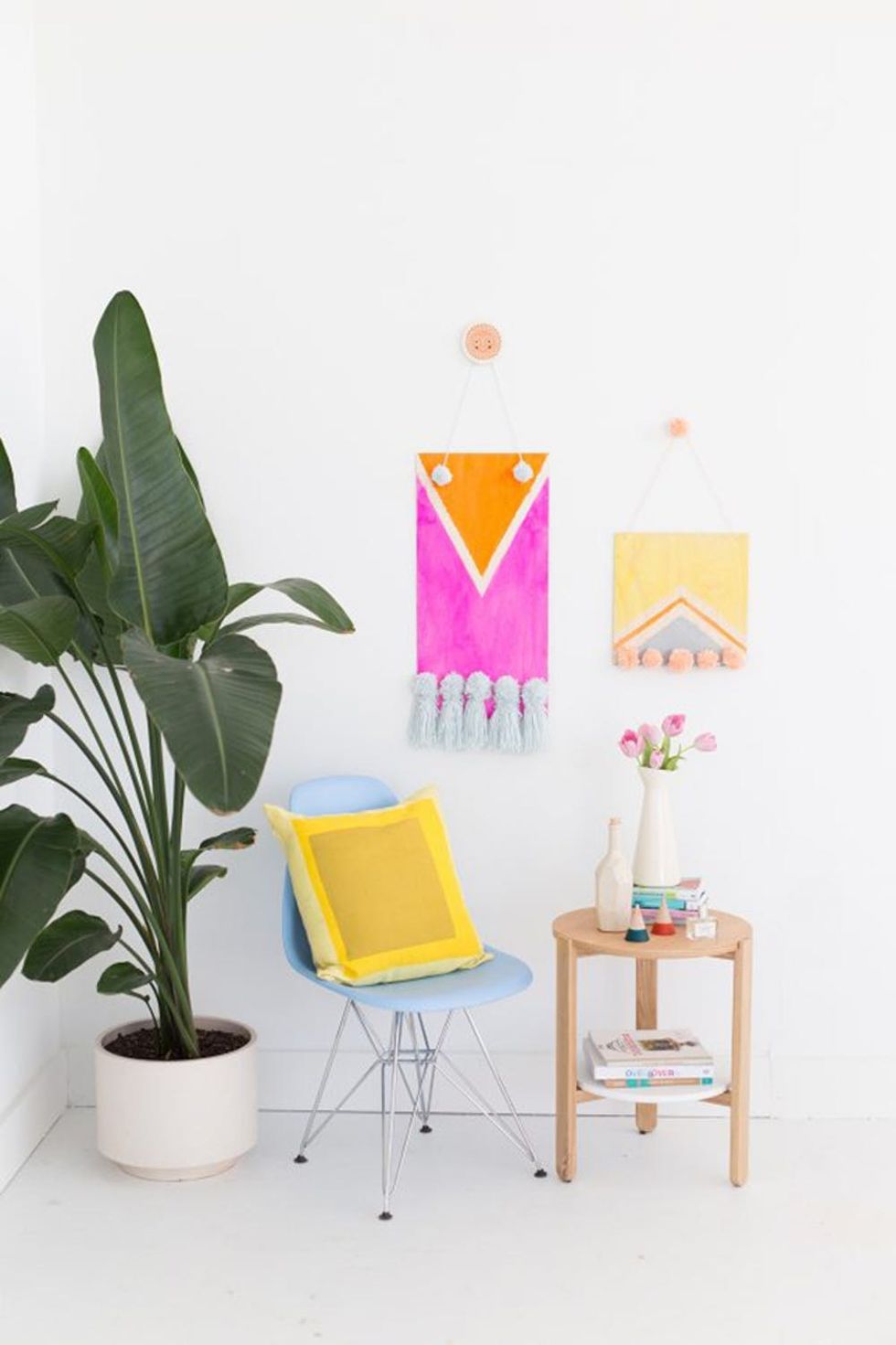 10. DIY Dyed Wall Hangings: Did you know you can dye wood? Well now you do. (via Handmade Charlotte)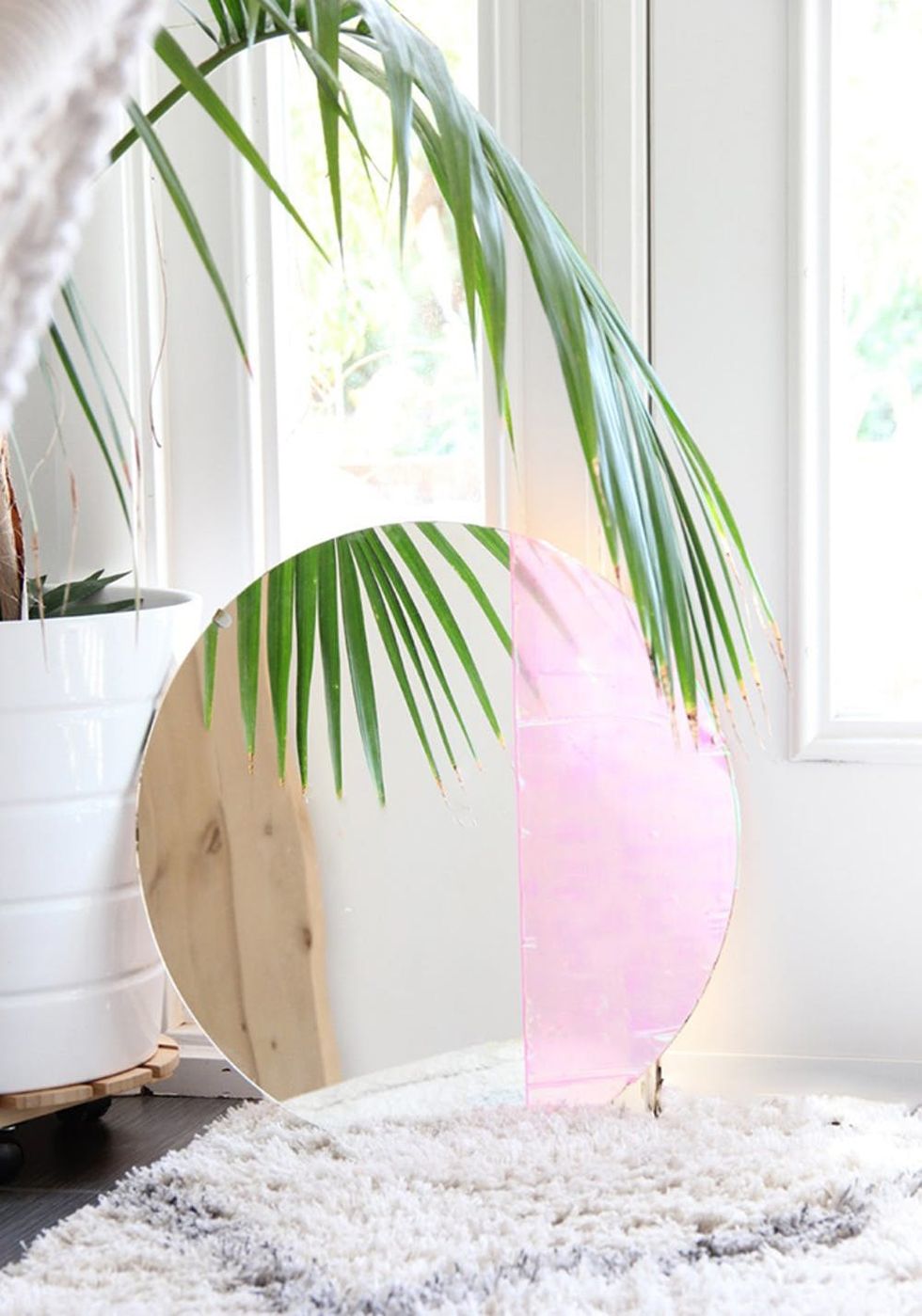 11. DIY Iridescent Mirror: Mirrors are the ultimate room expanders, so why not enhance a mirror? (via A Bubbly Life)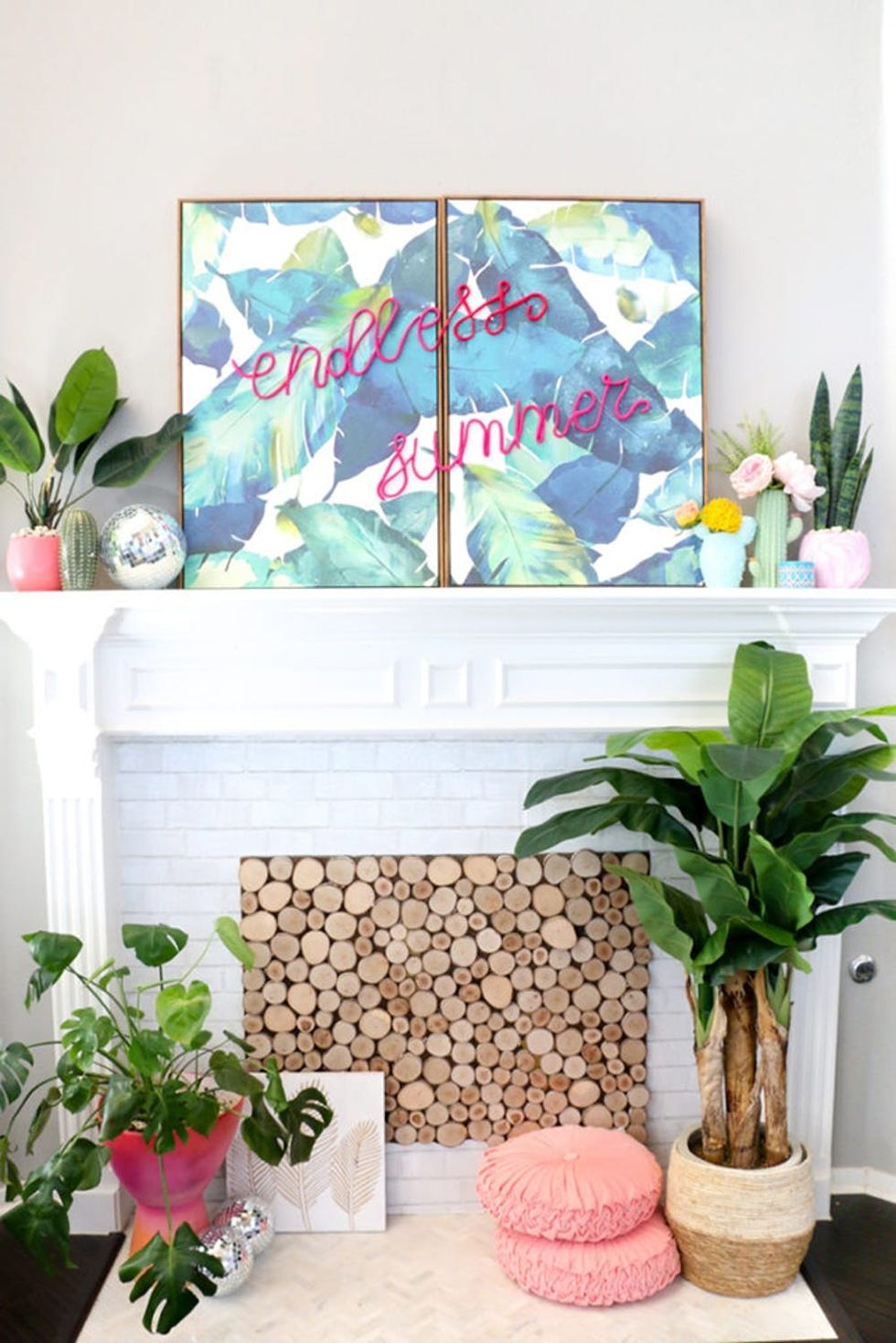 12. DIY Faux Neon Sign Art: This diptych hits all the trends with one piece: neon? check. Palm leaf? check. (via A Kailo Chic Life)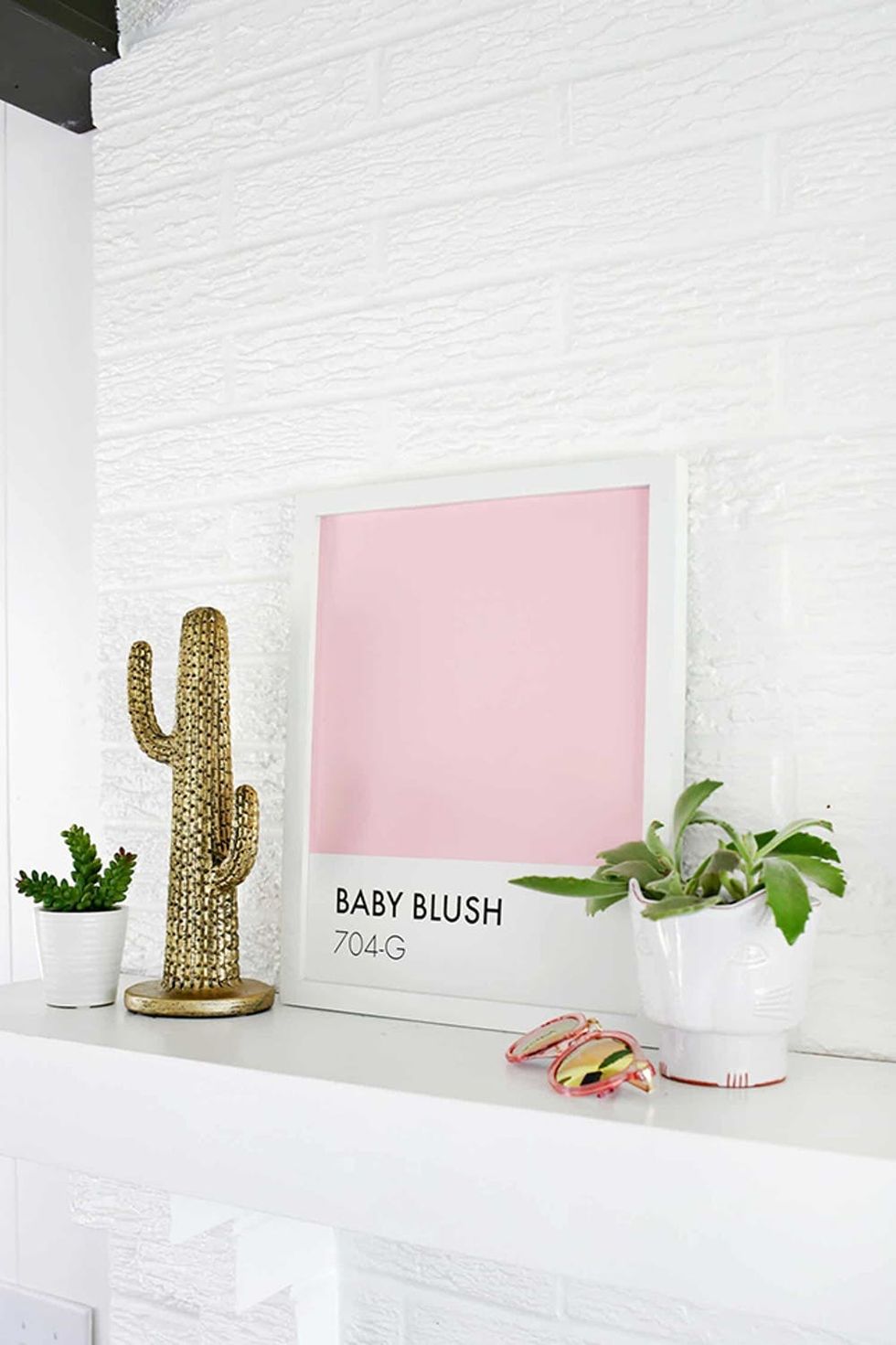 13. DIY Paint Swatch Art: Ever wanted to try out a new color without all the hassle? Now you can with ease. (via A Beautiful Mess)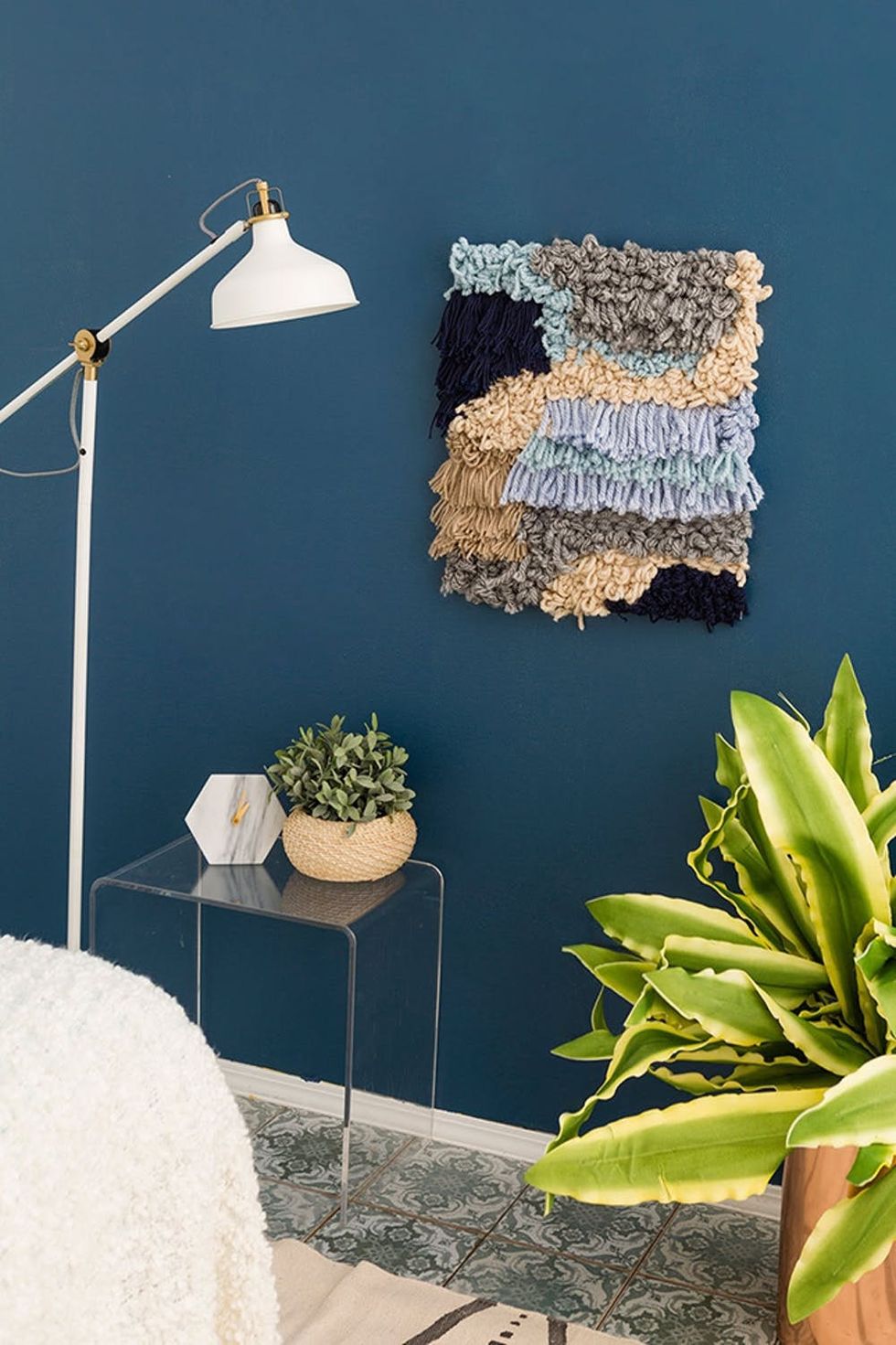 14. Wall Weaving Hack: Since you're dying to make one, you might as well use this hack. (via Brit + Co)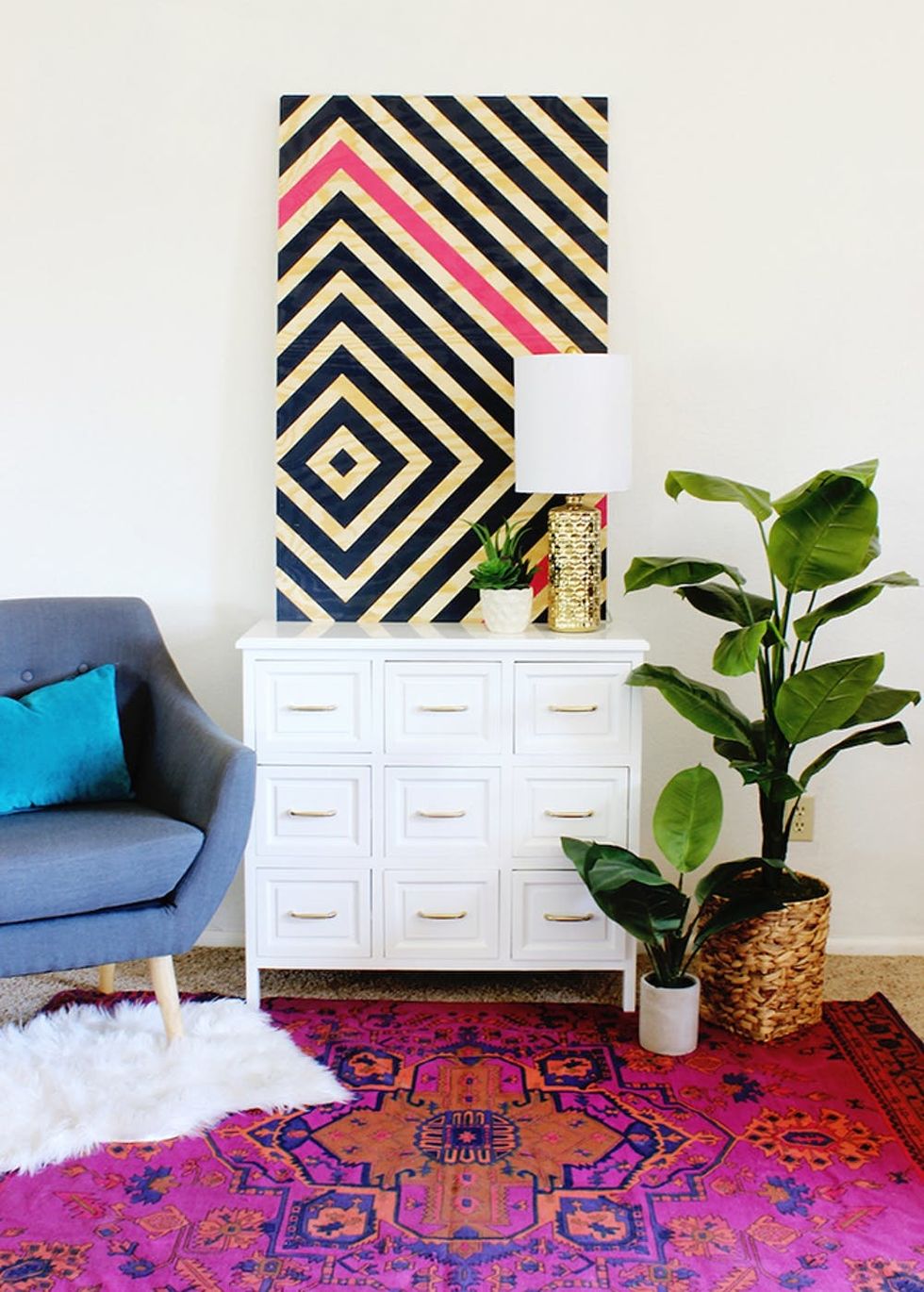 15. DIY Diamond Ripple Wall Art: This piece packs a graphic punch, and looks great with any decor style. (via Classy Clutter)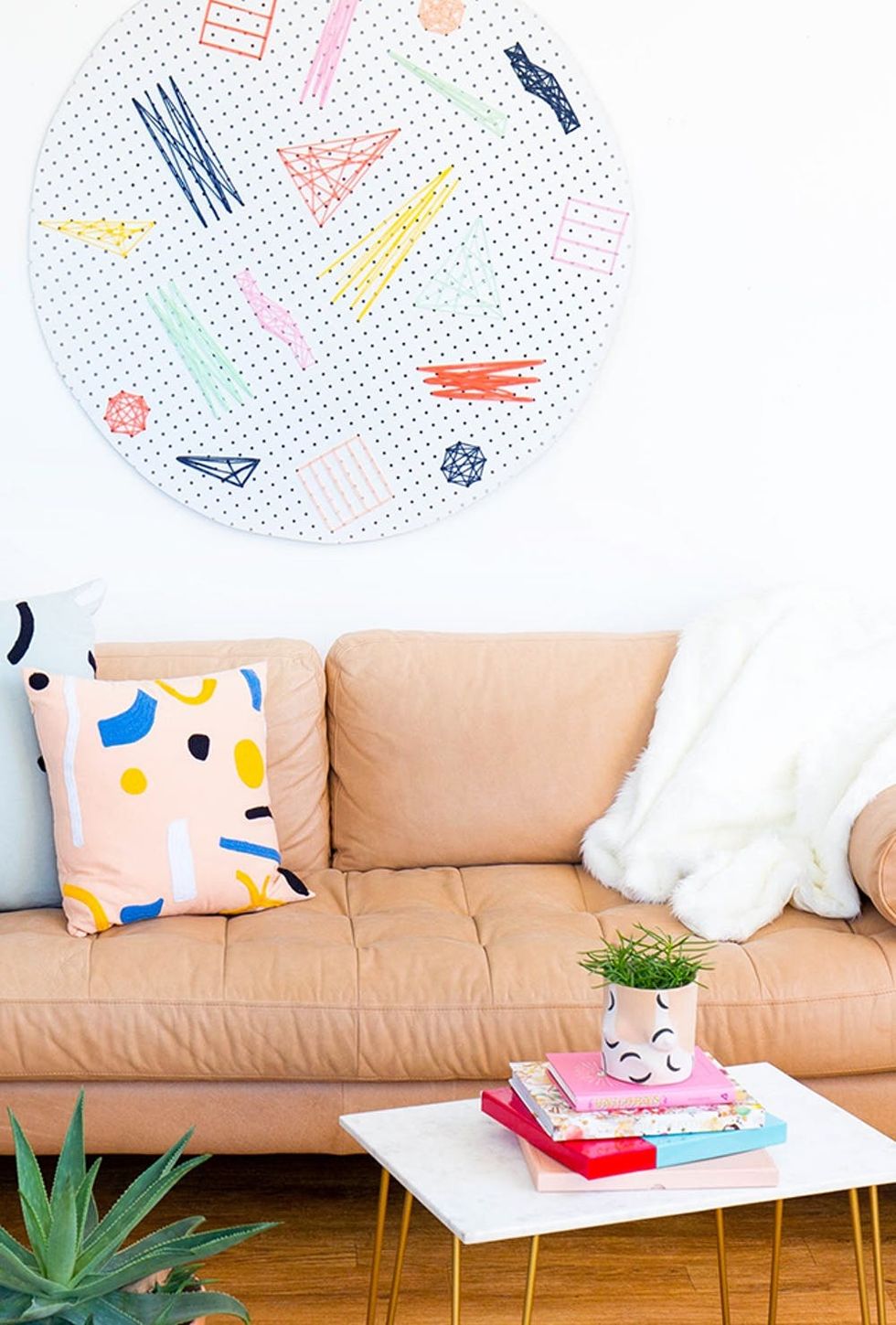 16. DIY Pegboard Wall Art: Get in on the pegboard trend with a circular beauty, and take a walk on the wild side with some memphis squiggles.  (via Sugar & Cloth)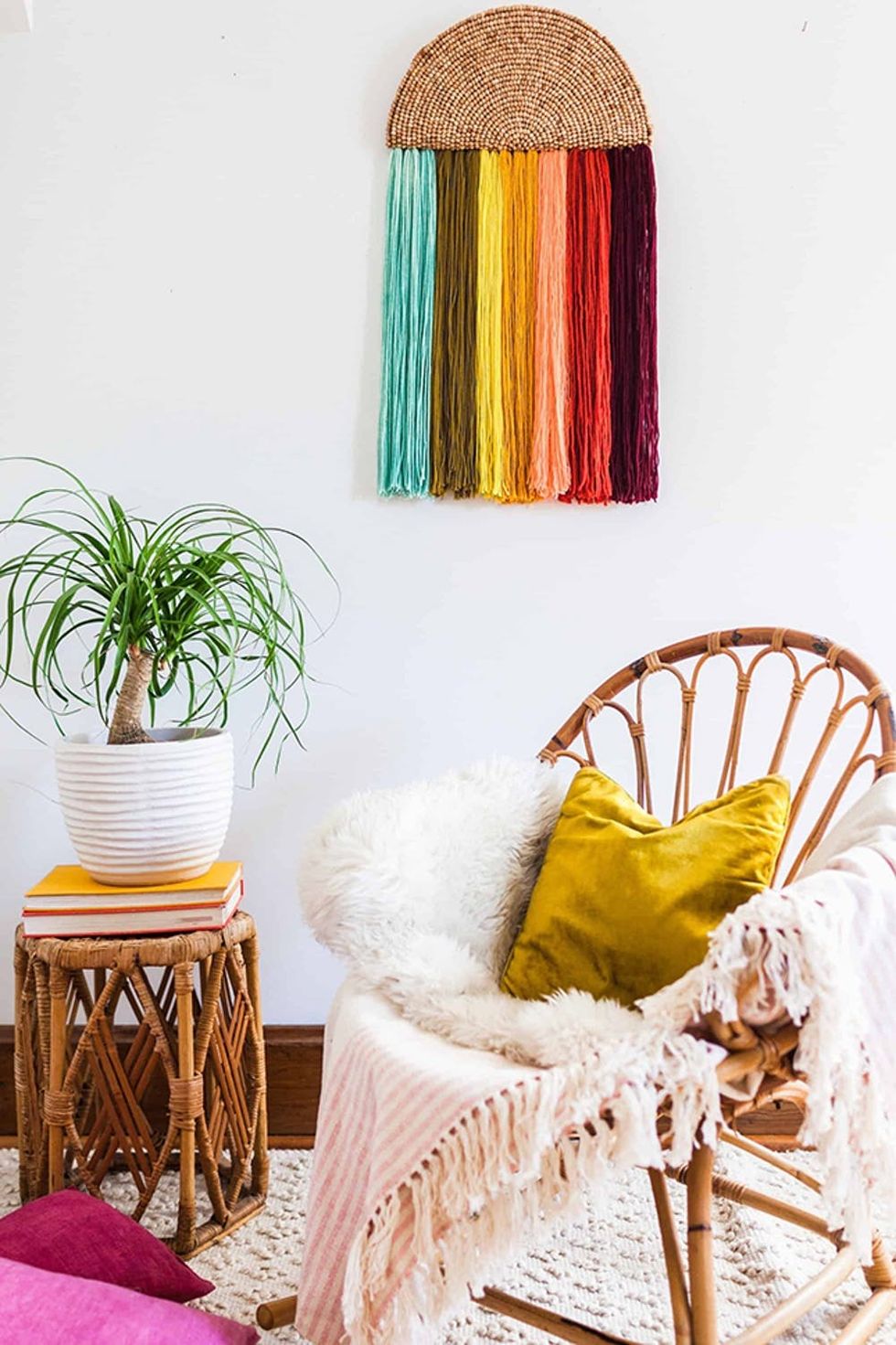 17. DIY Yarn Wall Hanging: Bring a permanent rainbow into your living room, with a well place piece of macrame. (via A Beautiful Mess)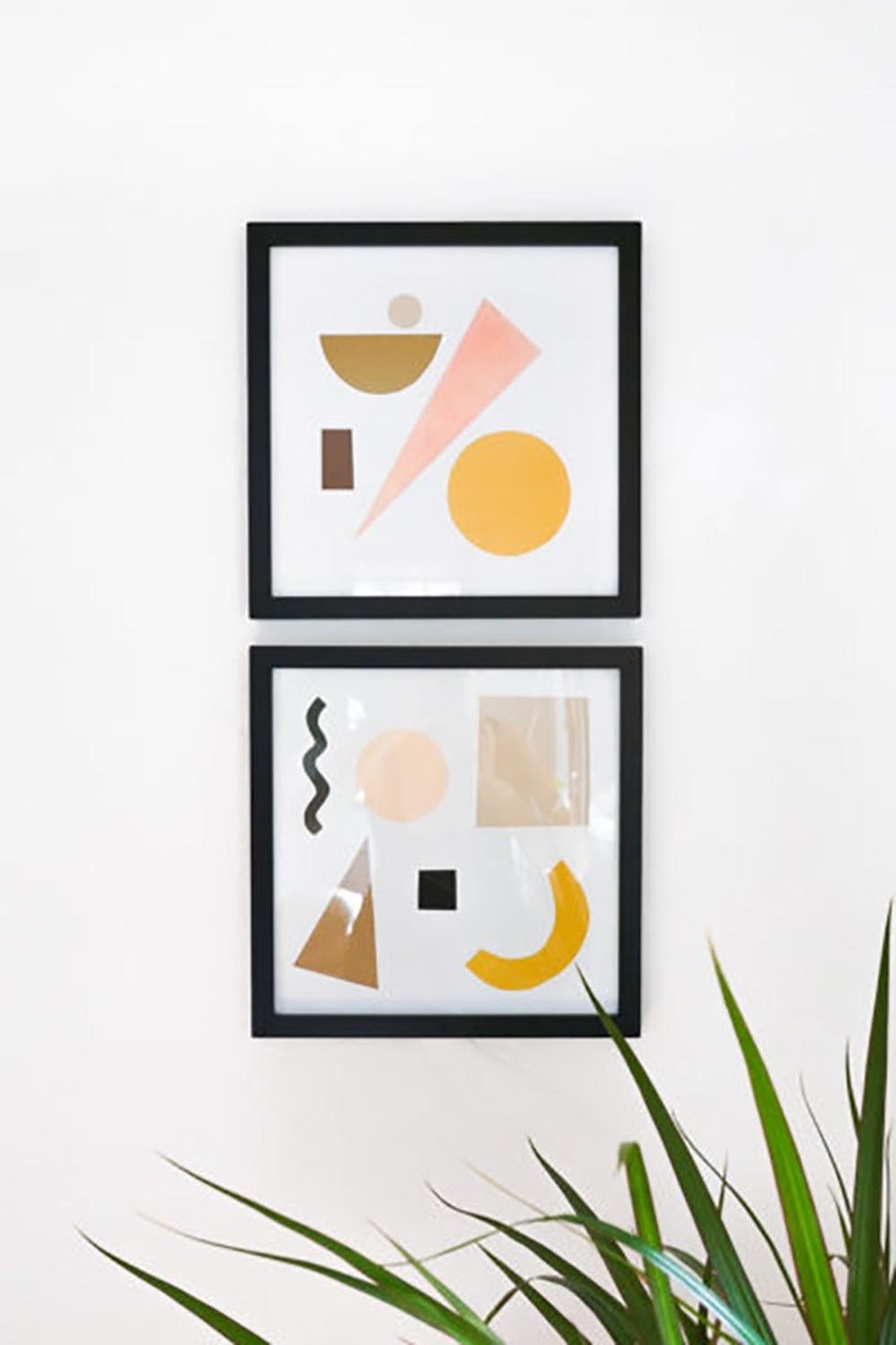 18. DIY Paper Shapes Wall Art: Your scrapbooking leftovers are all you need to make a pair of modern prints. (via Sugar & Cloth)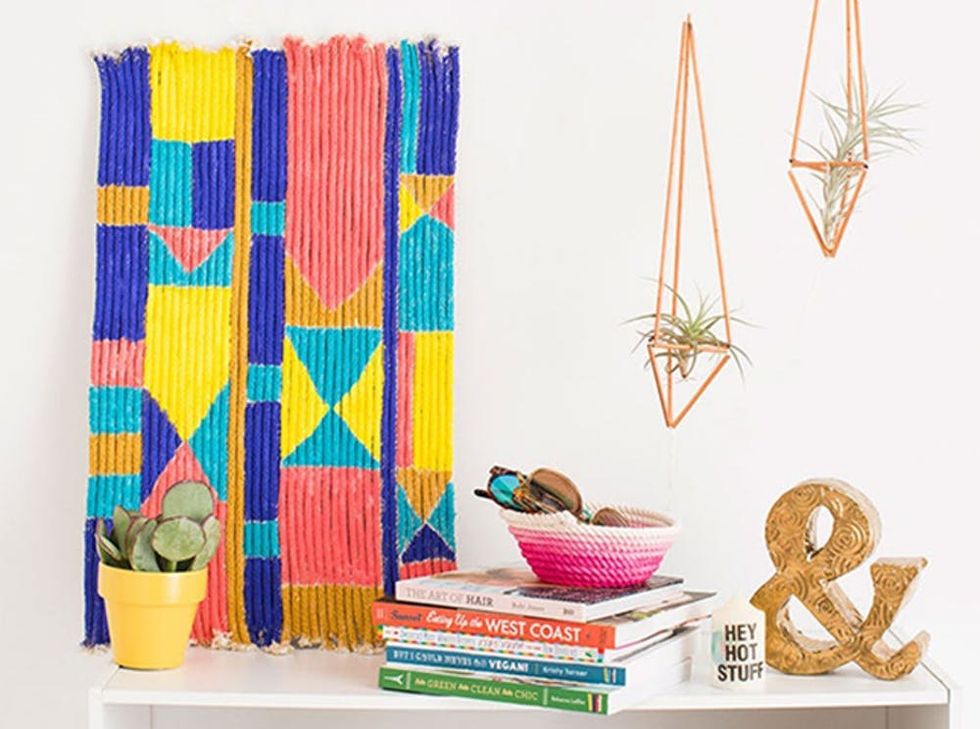 19. DIY Rope Wall Art: Another Anthro hack? Yes please. (via Brit + Co)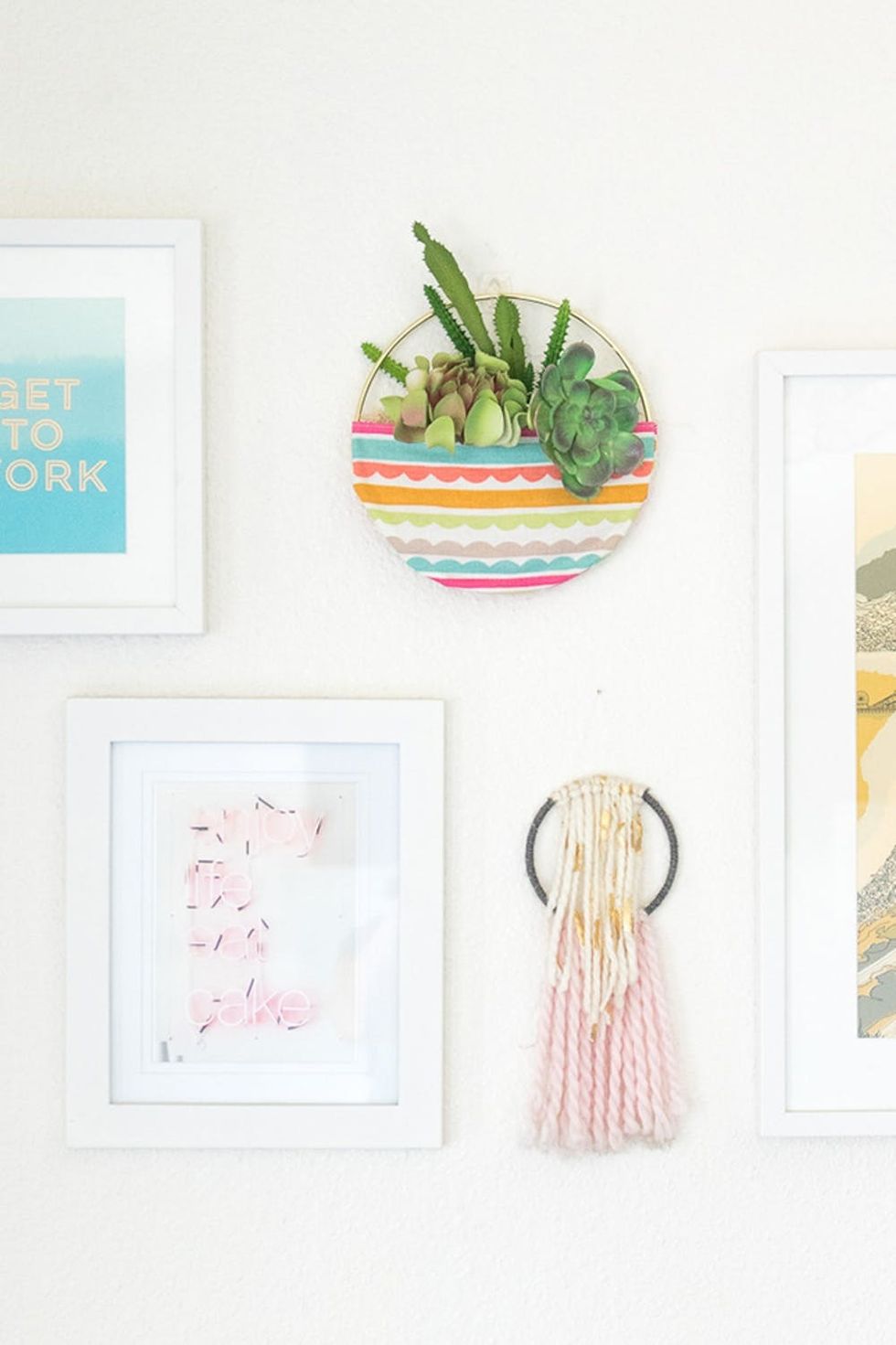 20. DIY Fabric Pocket Planter: Shelf space is at a premium, but your plant babies can stay snuggly on the wall. (via Brit + Co)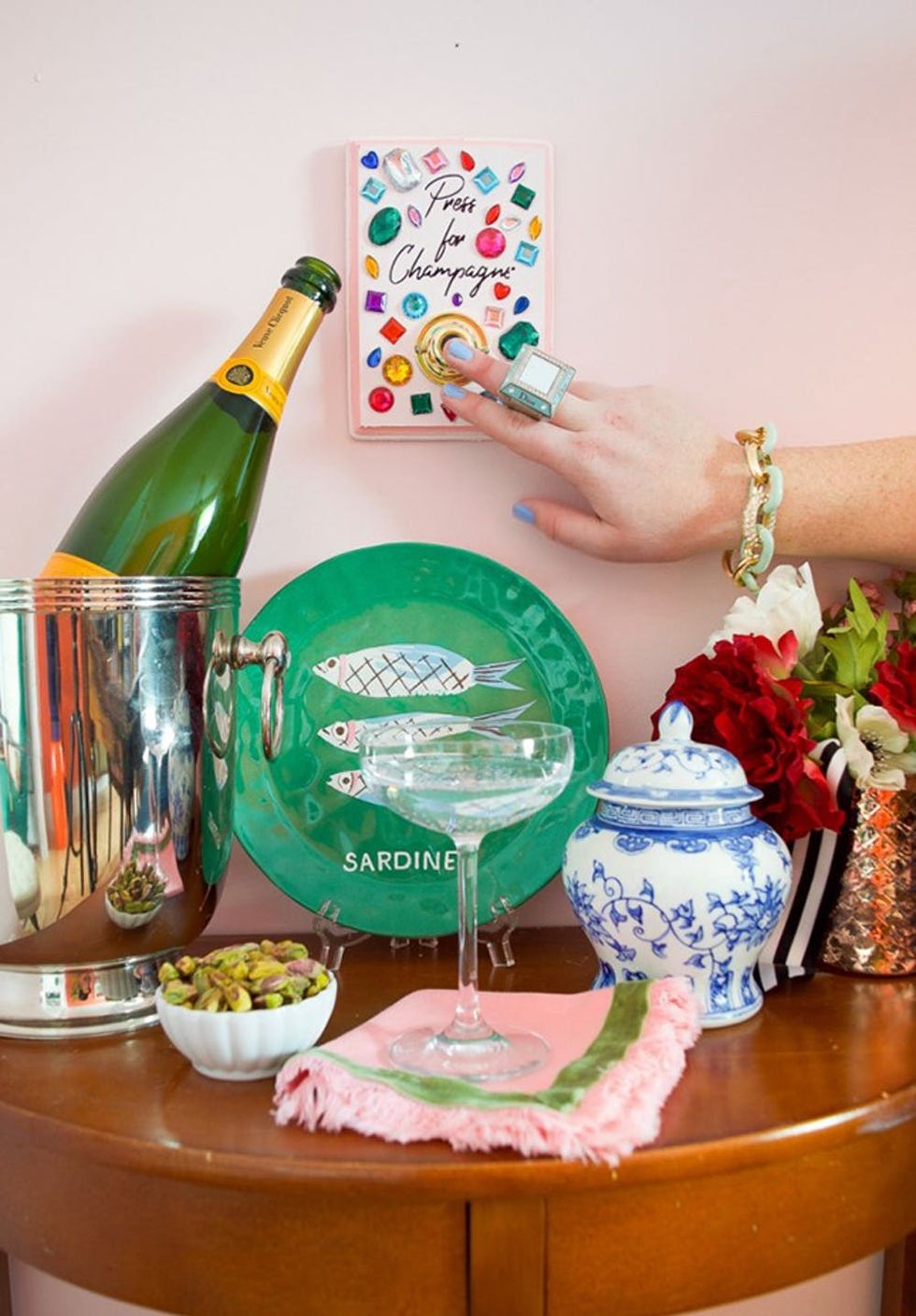 21. DIY Champagne Buzzer: You should absolutely own a champagne buzzer. How else will you let people know you're ready for another round? (via PMQ for two)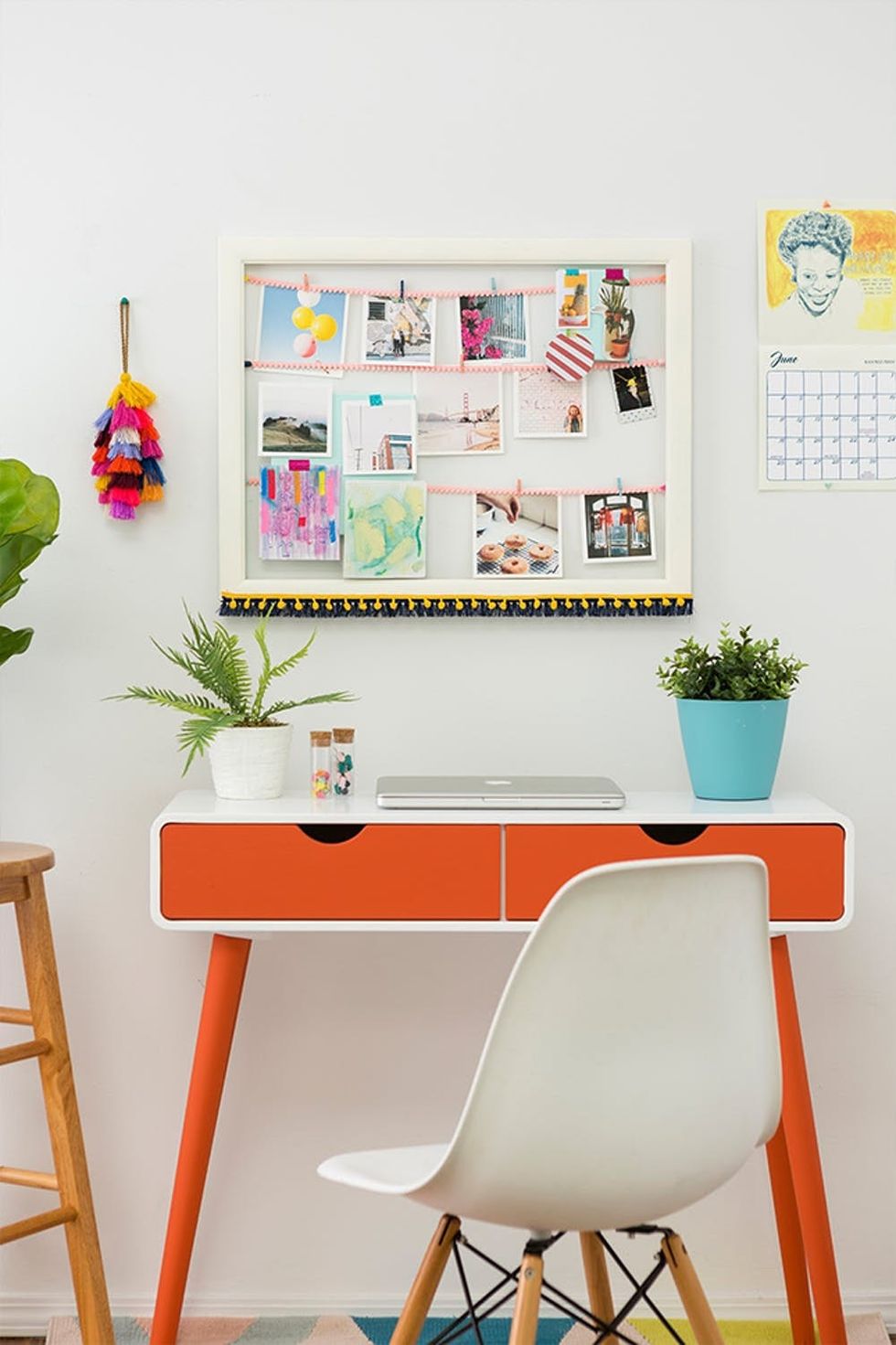 22. DIY Picture Gallery Frame: No space for a gallery wall? No problem, use this frame trick to display your favorite and best. (via Brit + Co)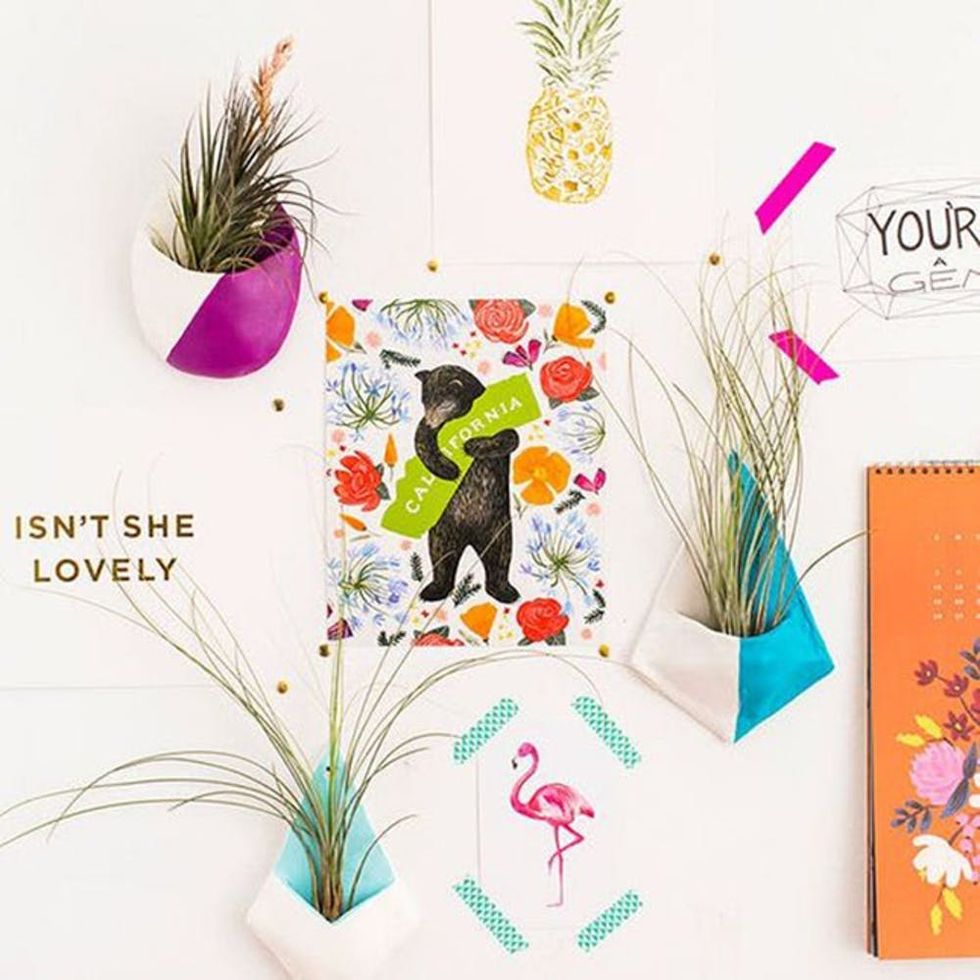 23. DIY Ceramic Wall Planters: Mary your love of clay, paint, and air plants. You deserve it. (via Brit + Co)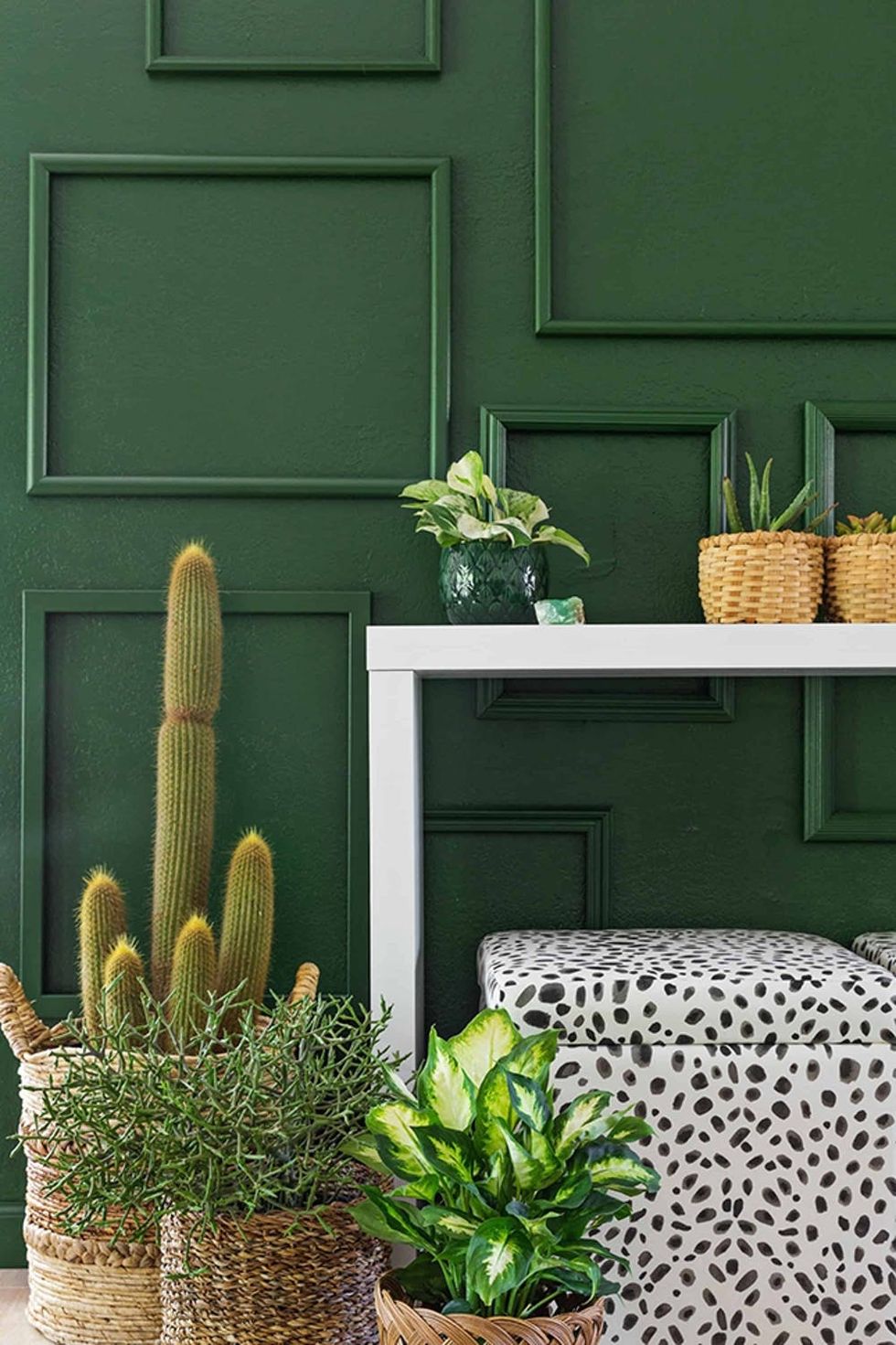 24. DIY Frame Accent Wall: For a more abstract take on art, what about doing an entire wall? (via A Beautiful Mess)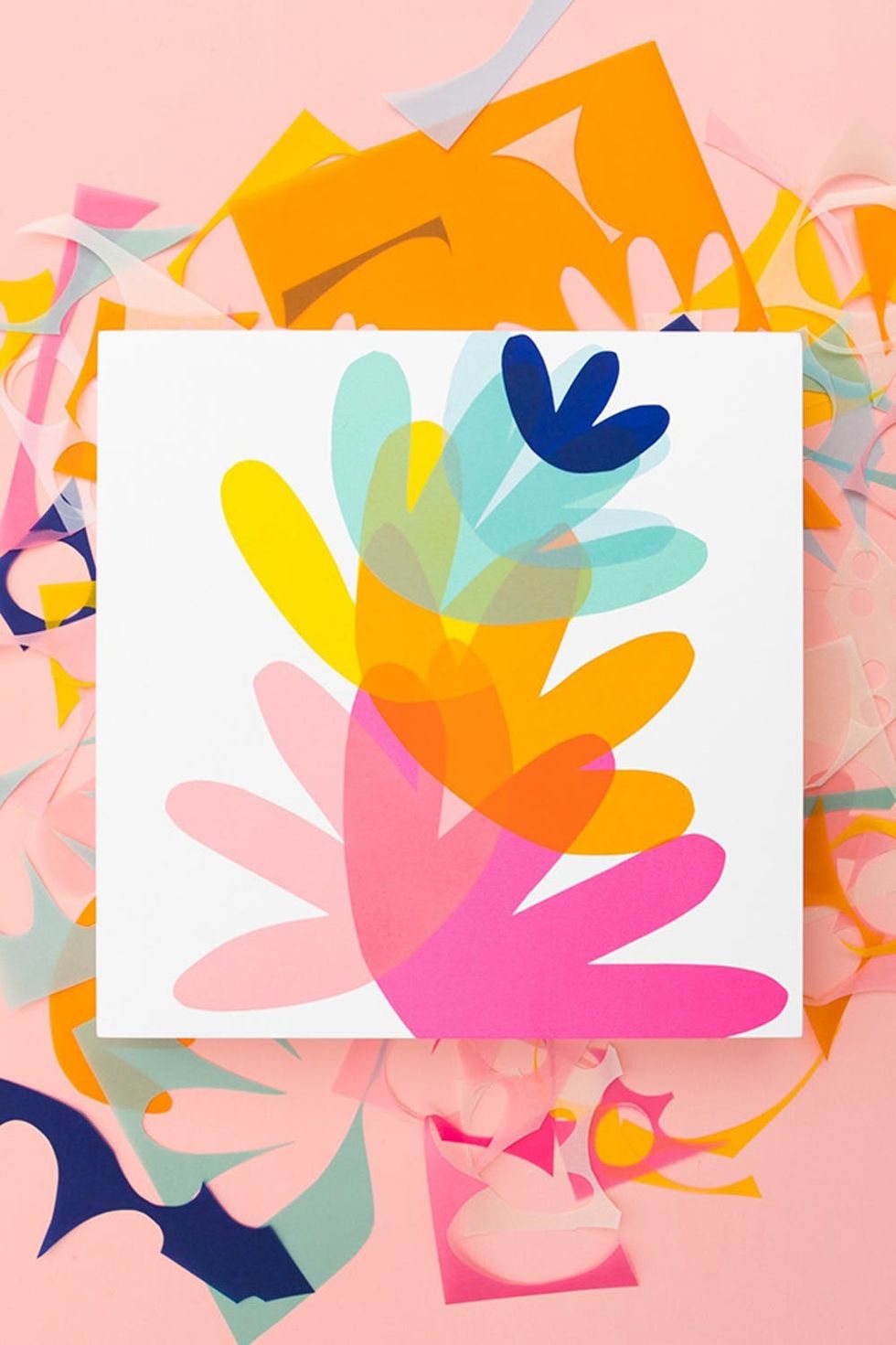 25. DIY Collage Wall Art: People will be calling you the modern day Matisse once they see the combos you can put together. (via Sarah Hearts)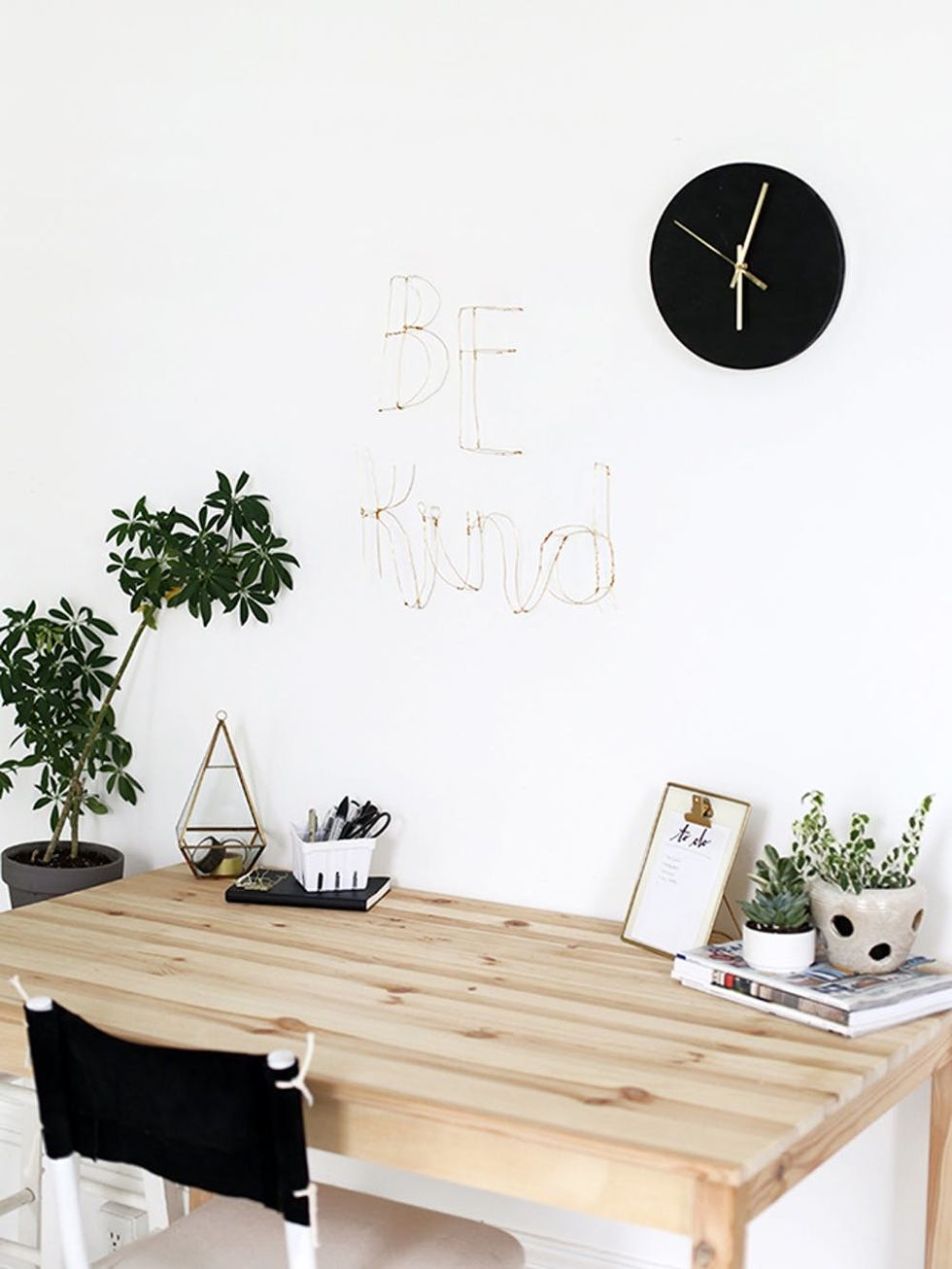 26. DIY Wire Wall Art: Looking for a more minimalist option? Try out some wire script, it looks pretty sharp. (via The Merrythought)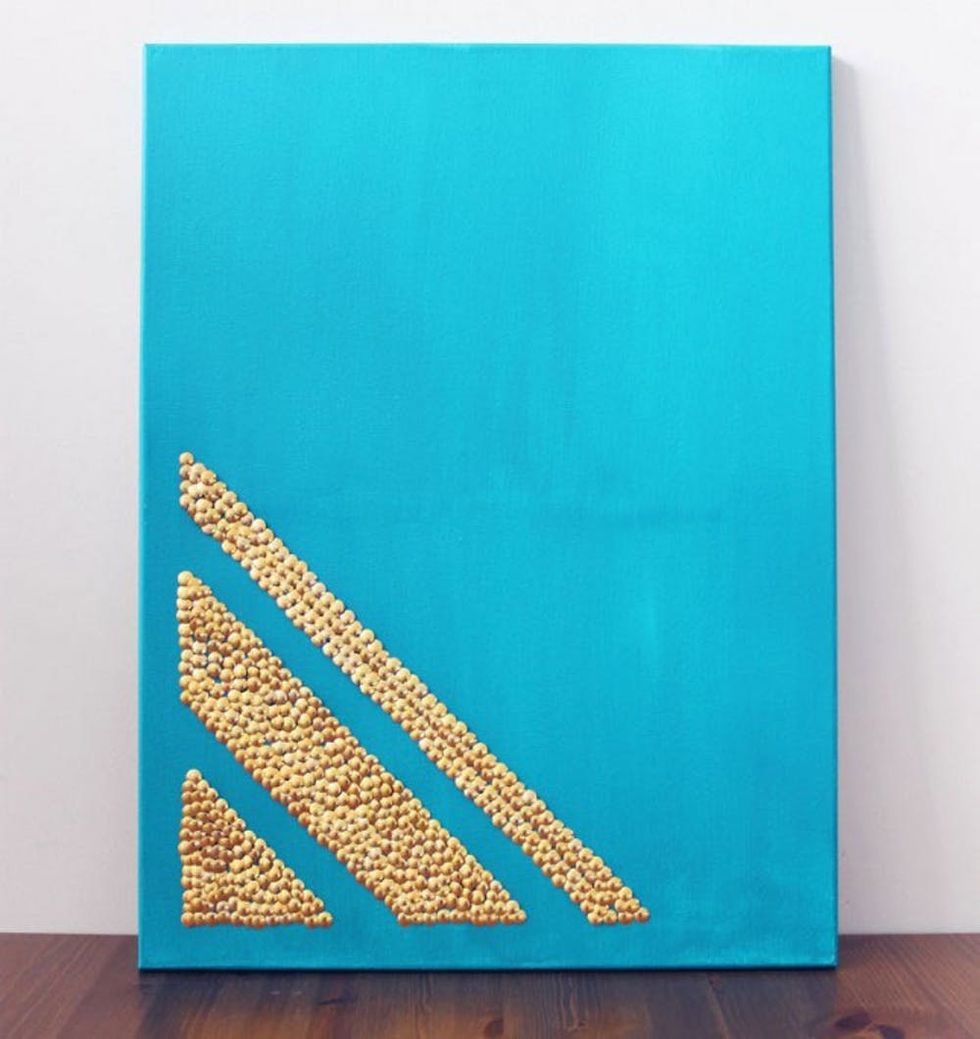 27. Thumbtack Wall Art: Who knew office supplies could be so chic? Using gold colored thumbtacks really elevates this piece to a work of art. (via Brit + Co.)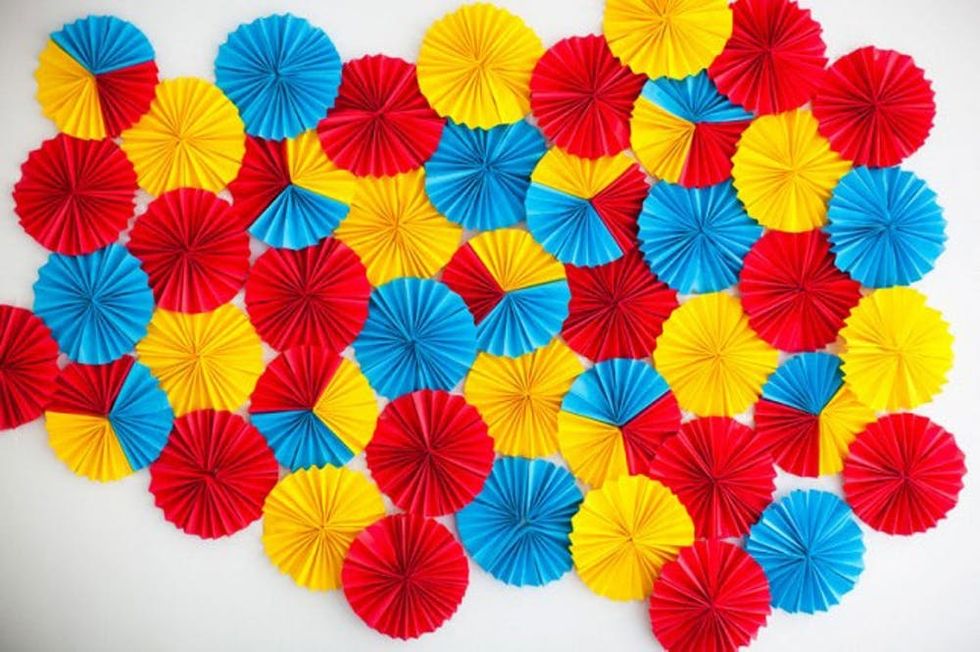 28. Rosette Backdrop: You can use these bright paper rosettes as a photobooth back drop or as an art installation. It's an easy way to add lots of color to your room very quickly. (via Brit + Co.)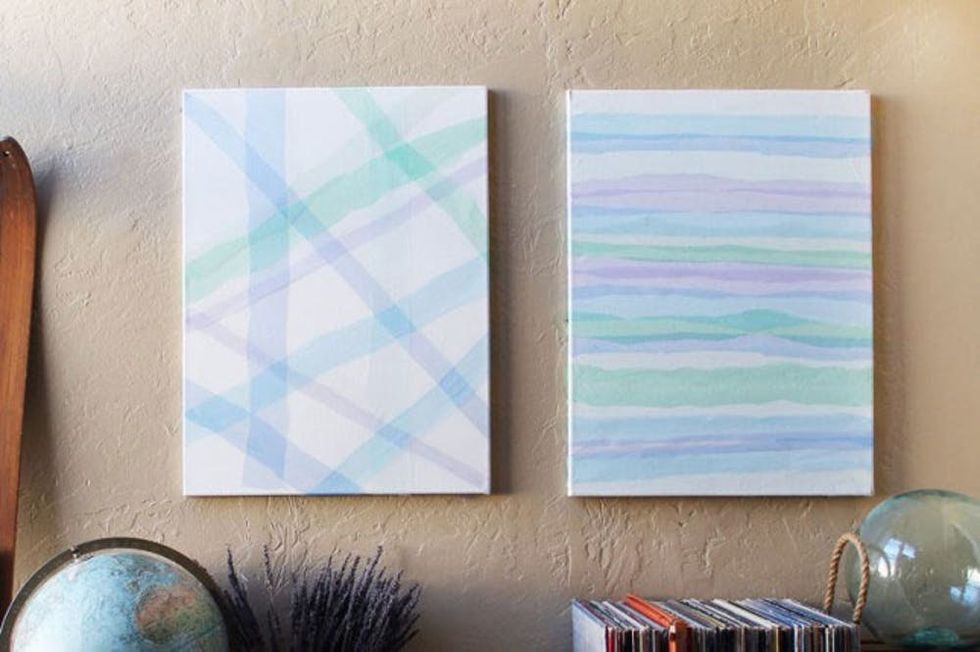 29. Tulle Wall Art: What looks like watercolor stripes from a distance are actually strips of tulle fabric. Use spray adhesive to attach the strips easily and without a lot of mess. (via Brit + Co.)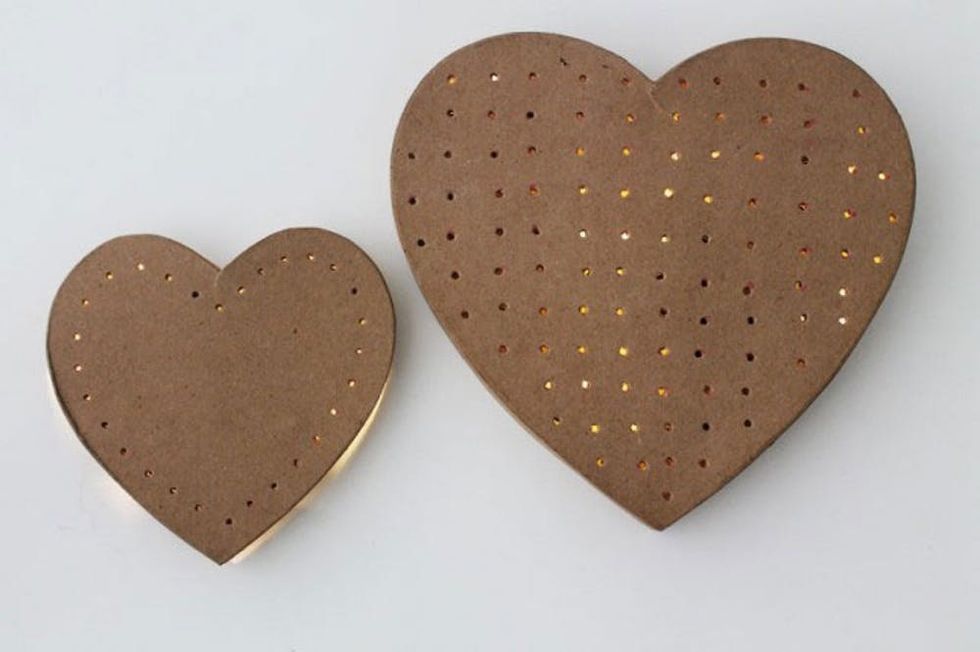 30. Glowing Hearts Wall Art: Use battery powered string lights to make this glowing work of art. Since you won't have to plug it in, you won't have to camouflage the cord. (via Brit + Co.)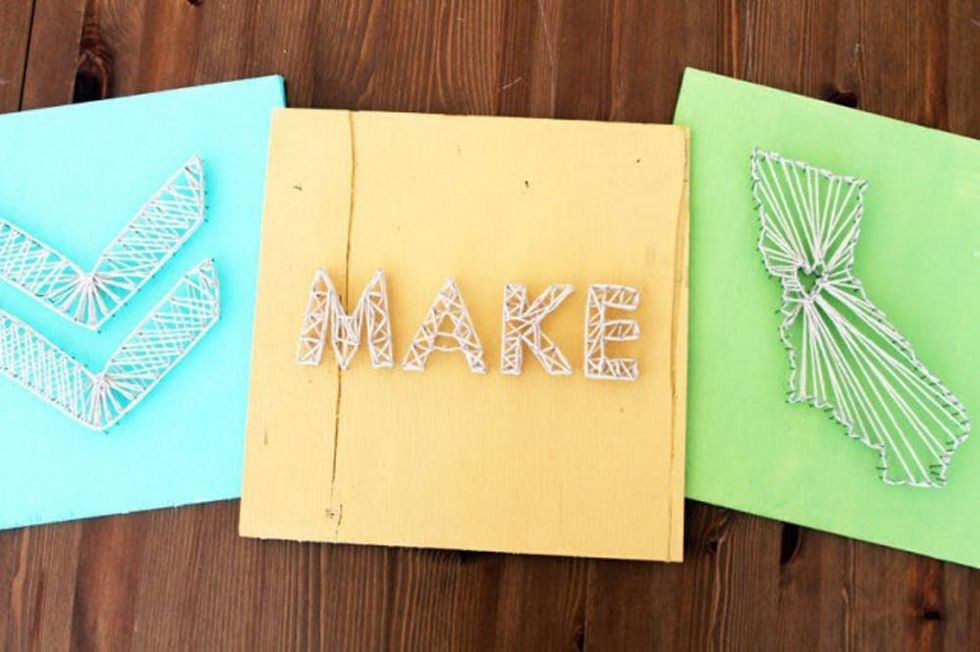 31. Nail String Art: You can make anything from abstract designs to words to shapes with this easy DIY. That's a wrap! (via Brit + Co.)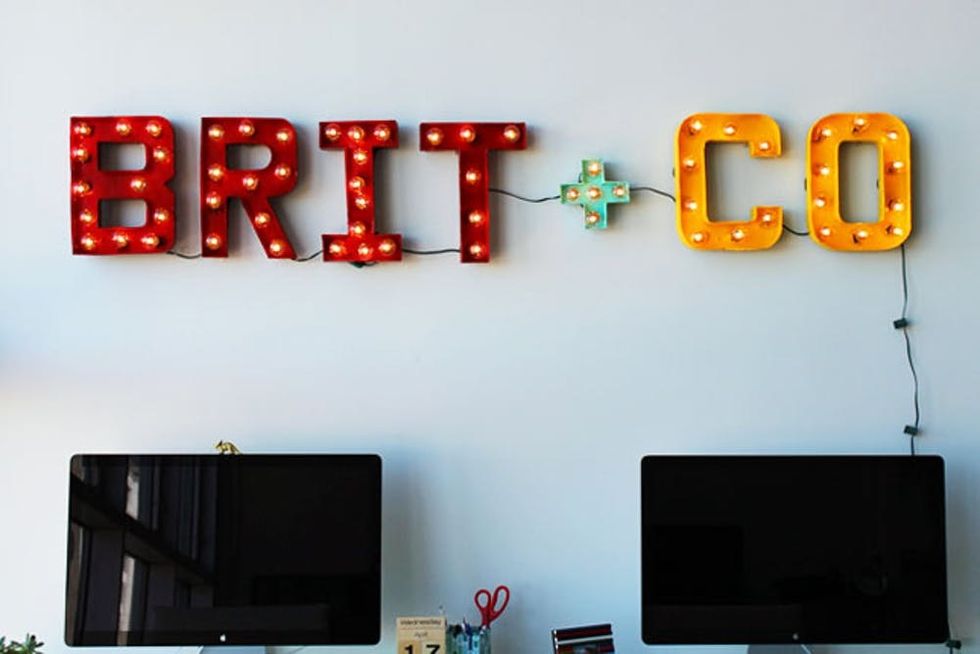 32. DIY Vintage Marquee: Making this marquee is definitely easier than it looks. The trick is to start with pre-made cardboard letters. (via Brit + Co.)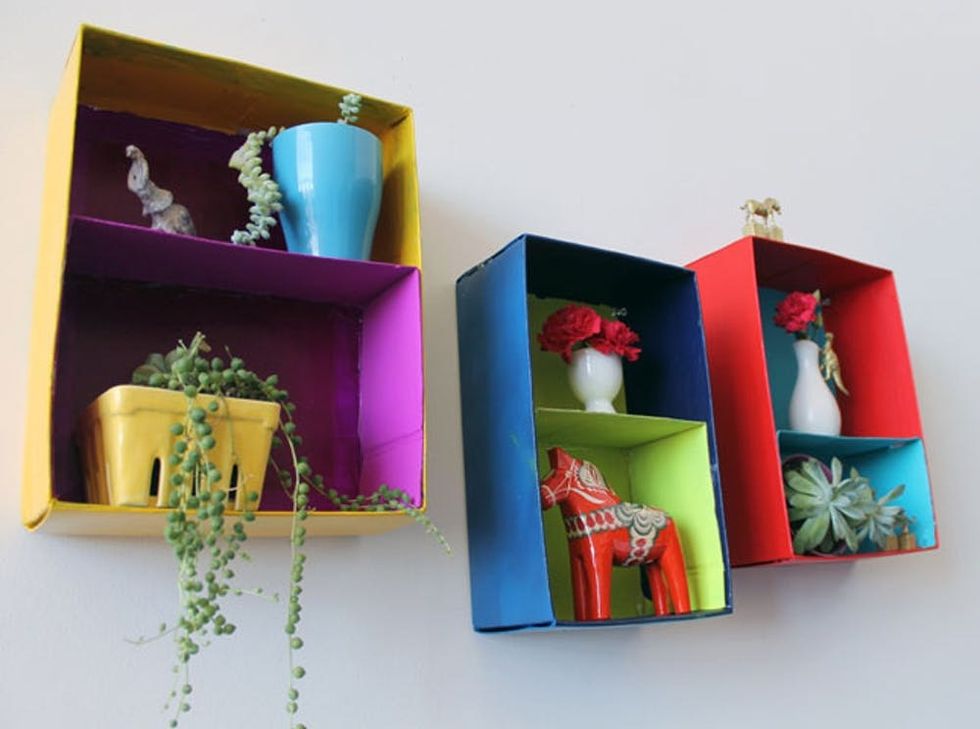 33. Shoebox Wall Art: Don't recycle those shoeboxes just yet! They can be transformed into colorful floating shelves with just a few coats of paint. (Plus, click through fro two more ideas.) (via Brit + Co.)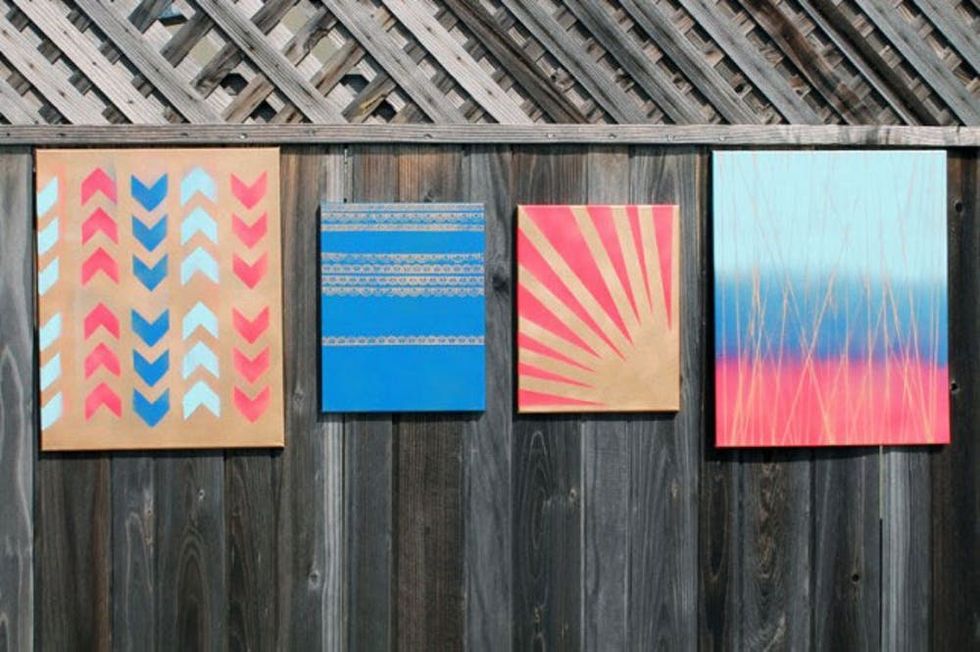 34. Spray Paint Wall Art: With a blank canvas, a roll of painter's tape (or lace washi tape), and a couple of cans of spray paint the artistic possibilities are endless. (via Brit + Co)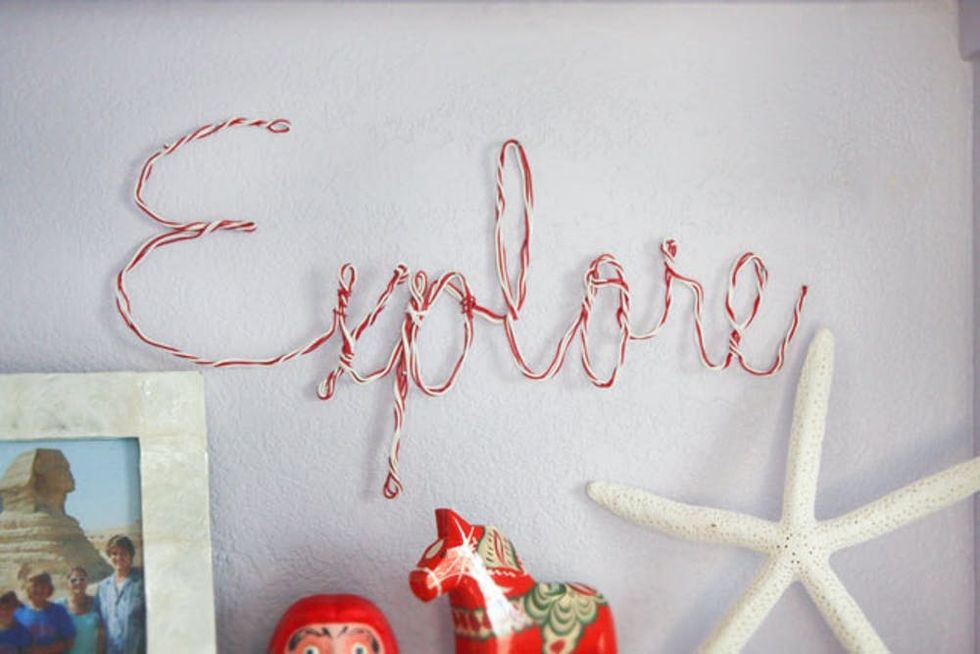 35. DIY Wire Wall Art: Head to the hardware store for the supplies for this creative sign. There are tons of colors and materials to choose from. What will you spell out? (via Brit + Co)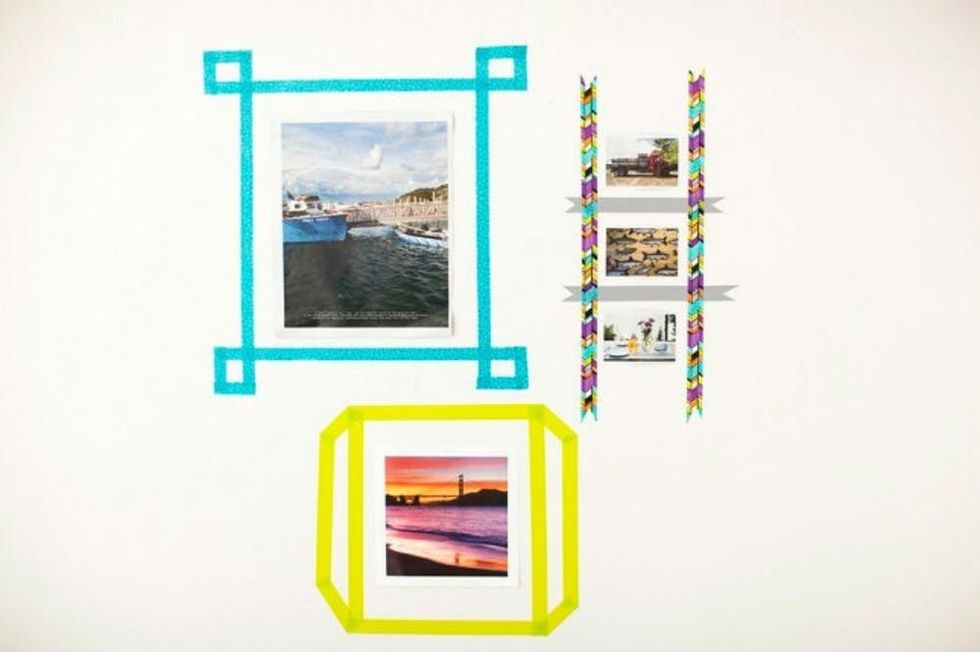 36. Washi Tape Frames: The frame is half the battle when hanging wall art. So why not turn the frame into a work of art itself using washi tape. (via Brit. + Co.)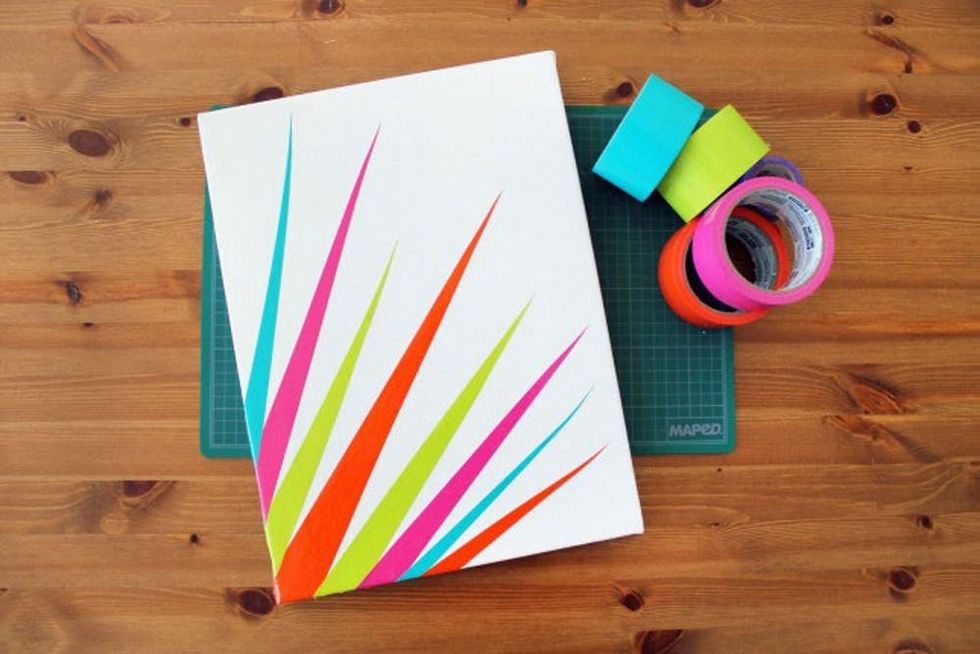 37. Duct Tape Canvas Art: This could easily be the fastest and most inexpensive piece of wall art you can make. (via Brit + Co.)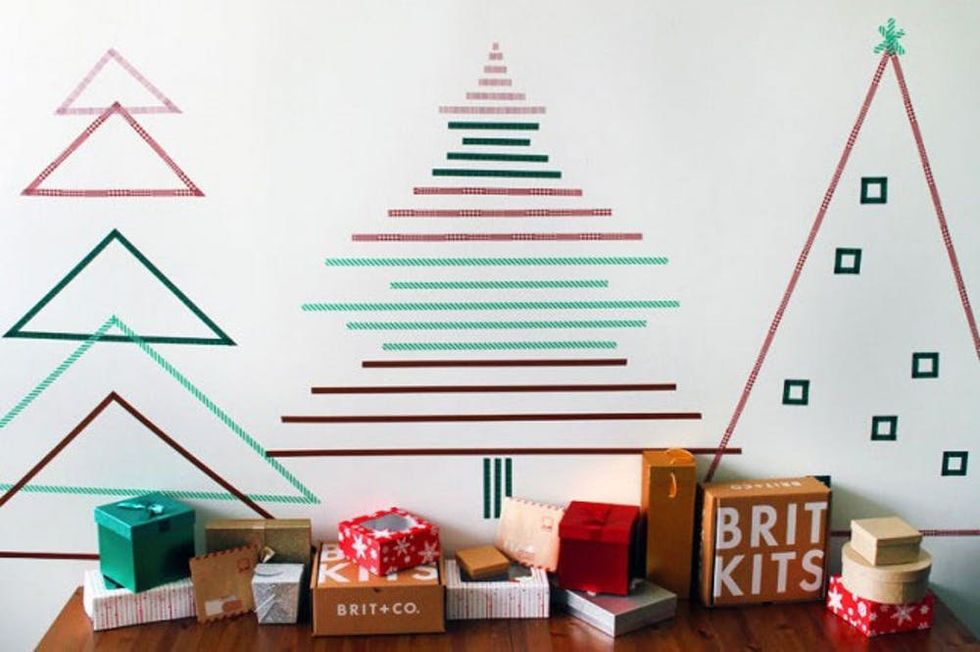 38. Tape Christmas Tree: No room for a real tree during the holidays? Make a trio of washi tape trees on your walls instead. The best part? No messy pine needles to clean up! (via Brit + Co.)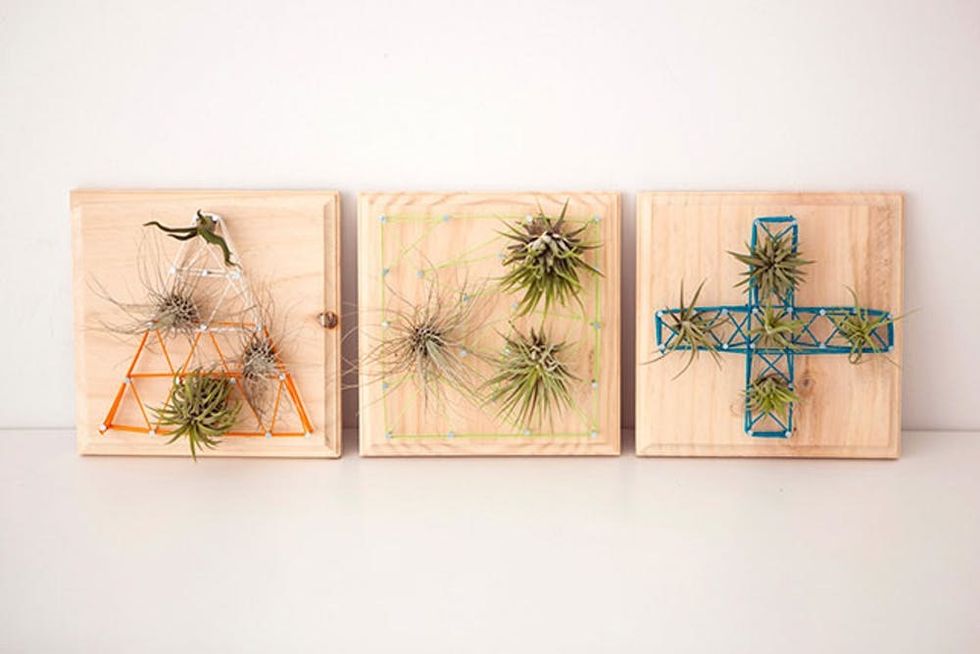 39. Living Wall Art: One of our favorite upgrades on a basic DIY is adding a few air plants to our string art plaques. Just be sure you leave enough space to nestle in the plants. (via Brit + Co.)
What's your favorite DIY wall art idea? Have you made any of the pieces on this list? Tell us in the comments!
Kristin Appenbrink
Kristin combines her love of words, a passion for creating, and a drive to learn new skills. Plus, as an obsessive ice cream maker and storyteller she always has a scoop to share.
Home DIY