31 Gorgeously Bright Easter Dessert Recipes to Celebrate Spring
Mar 05, 2019

Tasty produce, pastel palettes, and outdoor-entertaining weather make spring the ideal time of year to whip up creative desserts. It's no wonder that Easter sweets, like rainbow cakes and Peeps desserts, are some of our favorite to make. Here are showstopping, party-worthy Easter dessert recipes for a blissfully sweet holiday.
---
1. Pastel Peanut Butter Cups: PB cups get an Easter makeover with white chocolate candy melts, which you can find in various pastel colors. (via Brit + Co)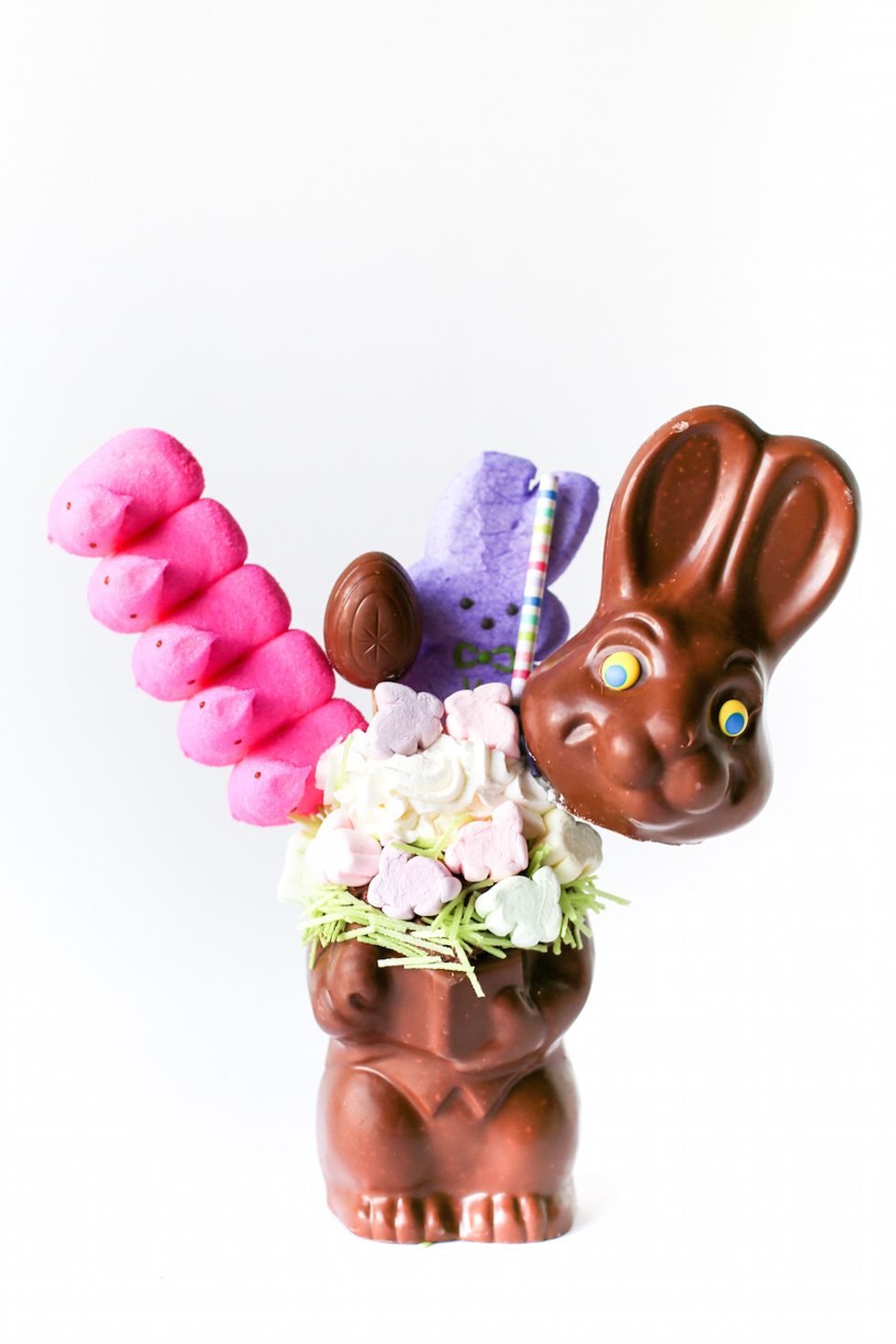 2. Easter Basket Milkshake: Hollow chocolate bunnies can hold a surprisingly vast amount of liquid, which is convenient since you'll want to slurp this vanilla Peeps milkshake for eternity. (via Salty Canary)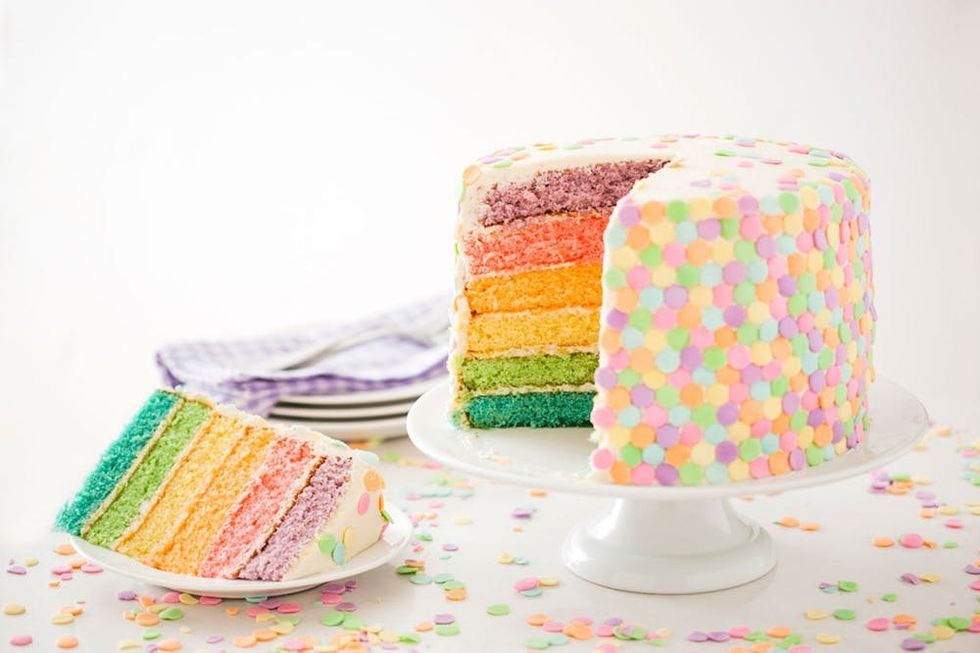 3. Spring Pastel Confetti Cake: Even if the flowers aren't in full bloom, this cake will compensate. Cutting into this beauty is like an explosion of springtime — and it's scrumptious to boot. (via Brit + Co)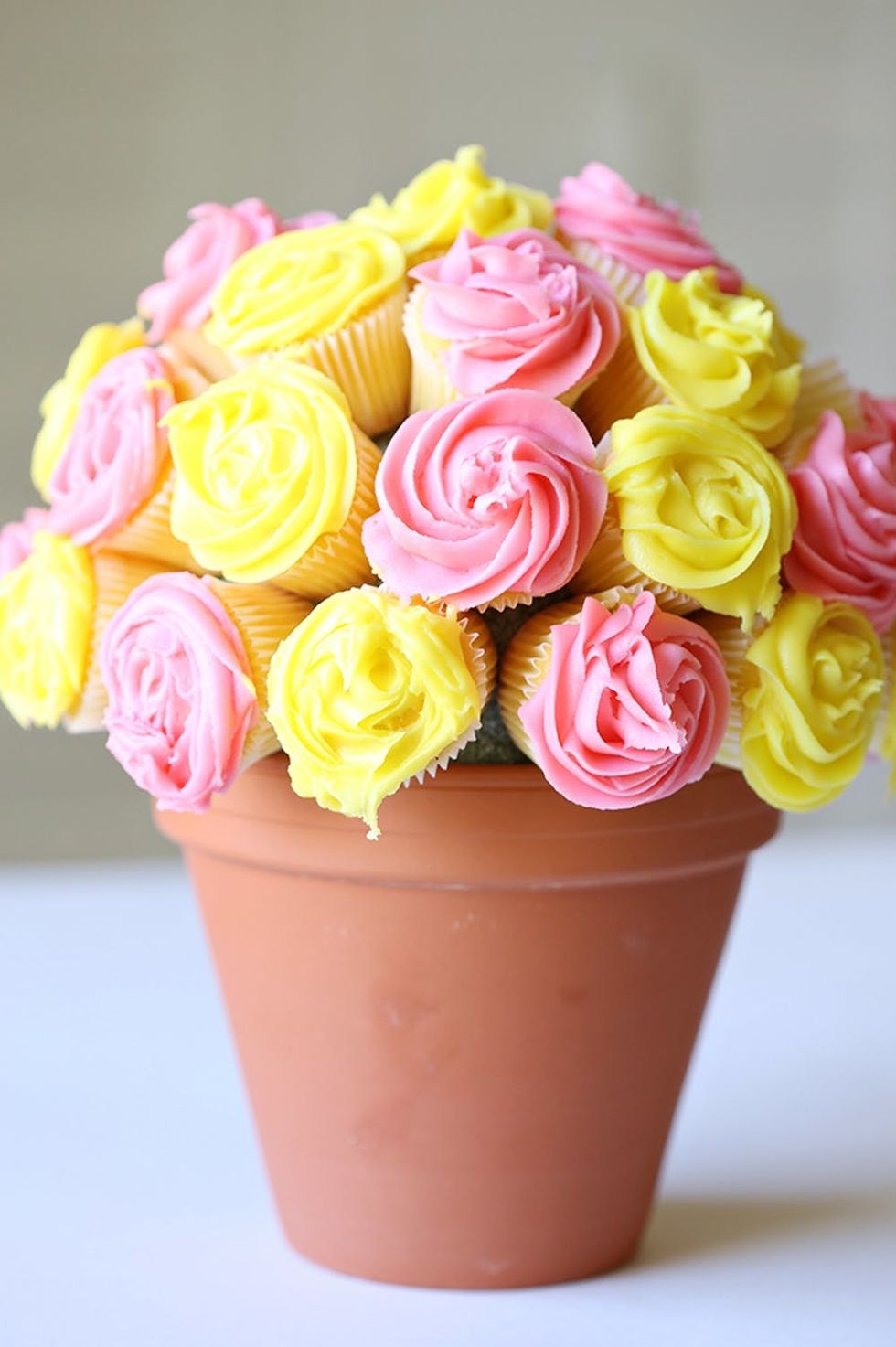 4. Flower Cupcake Bouquet: We know; we know — this is way too pretty to eat. Well, maybe we could have just one. (via See Vanessa Craft)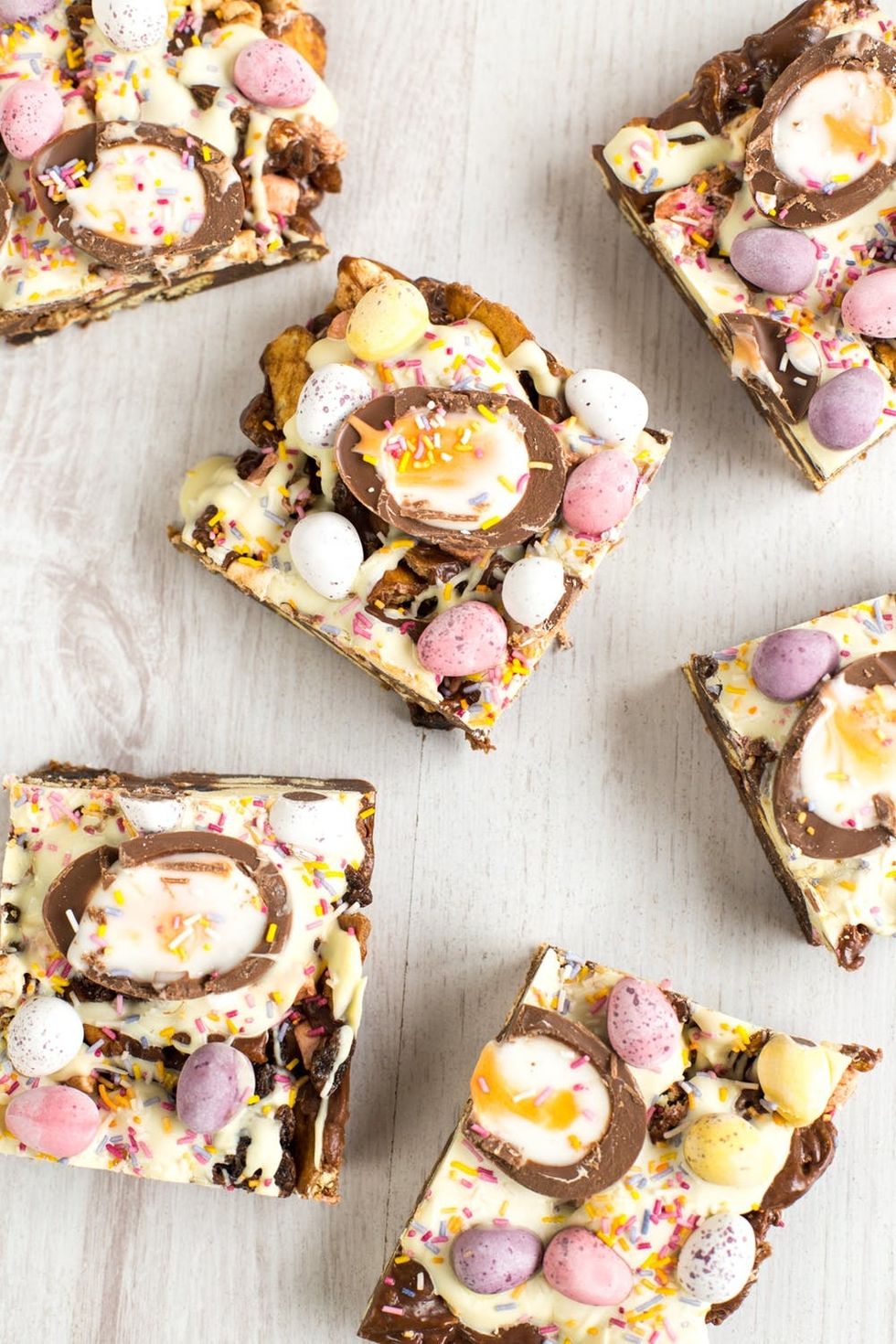 5. Creme Egg Rocky Road Bars: Milk chocolate, marshmallows, mini eggs, and crushed cookies make the most beautiful Easter-themed mess you've ever seen. (via Brit + Co)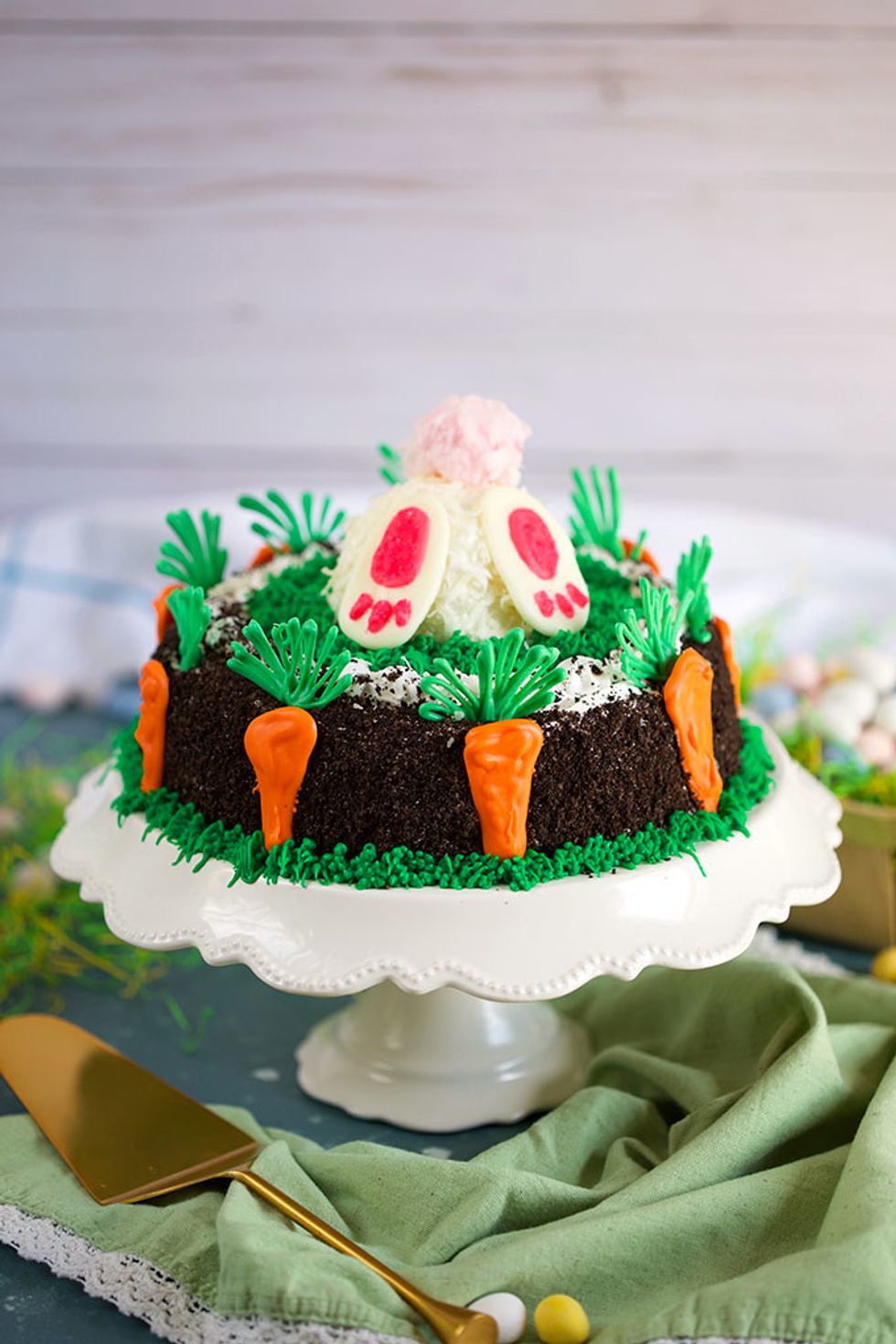 6. Easter Bunny Oreo Ice Cream Cake: This cake wins Easter. Use a store-bought ice cream cake so you can focus on homemade decorations, like a coconut-covered ice-cream bunny tush and carrots made of candy melts. (via The Suburban Soap Box)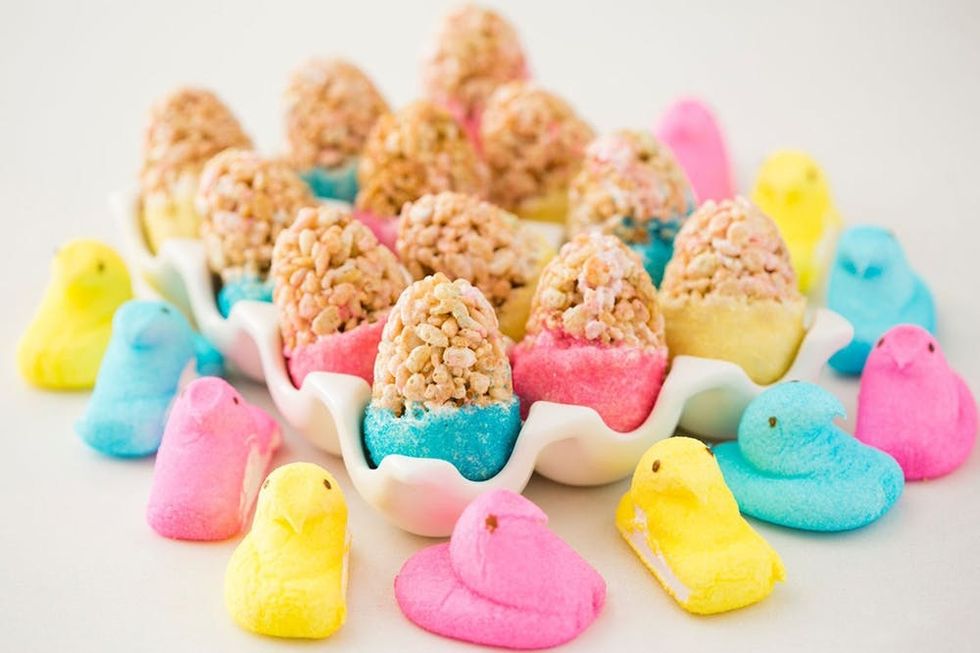 7. Peeps Rice Krispies Eggs: Your peeps won't be able to get over how lovely these Peeps Rice Krispies eggs are. The mock egg shells are made from melted white chocolate coated with a layer of glitter sprinkles, then adorned with real Peeps for an on-theme treat. (via Brit + Co)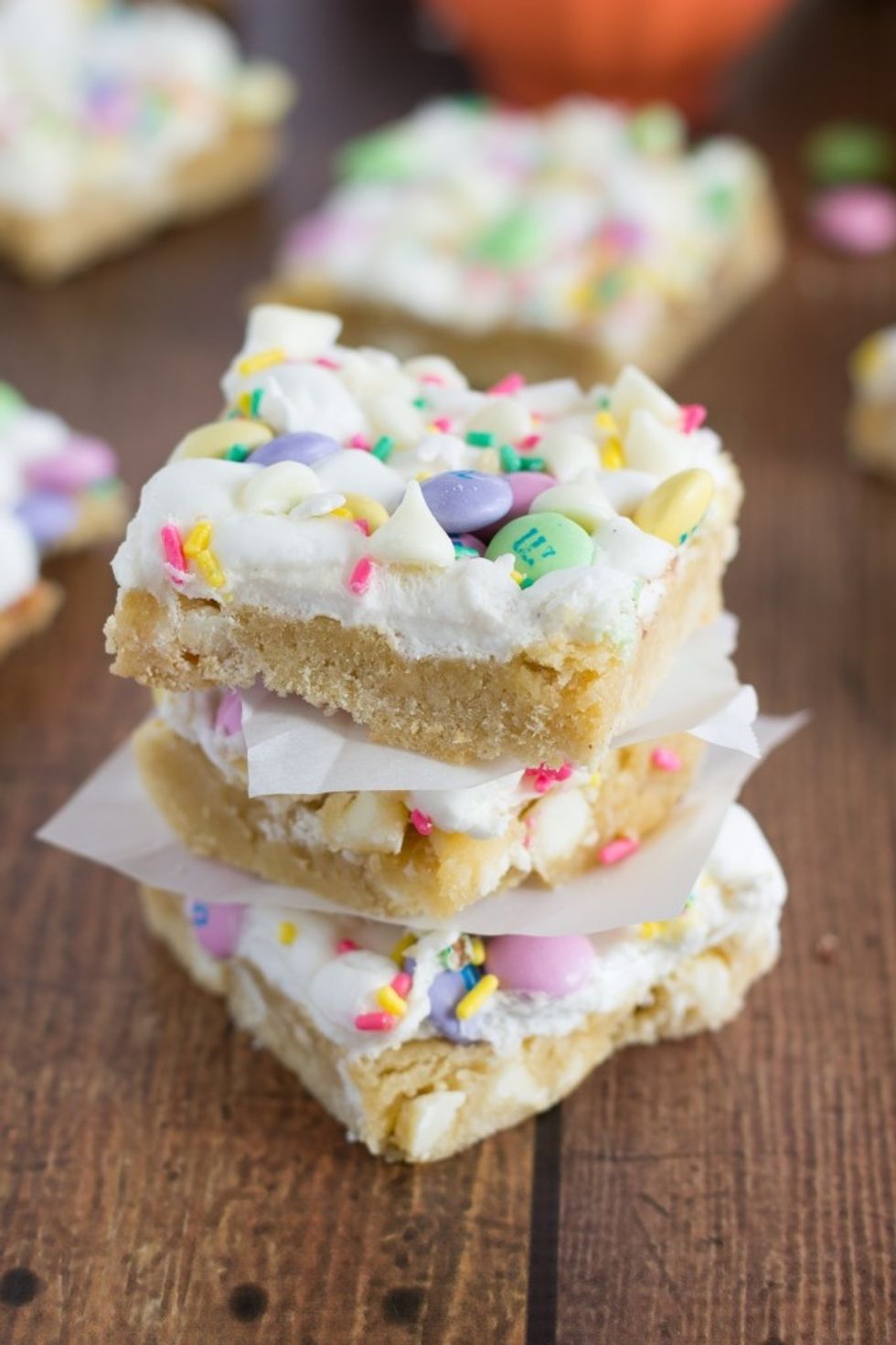 8. Spring Confetti Bars: The more colorful you can make the toppings on these confetti bars, the better. With a light vanilla flavor and tons of candy-coated sweetness, these bars are sure to please a crowd. (via Chelsea's Messy Apron)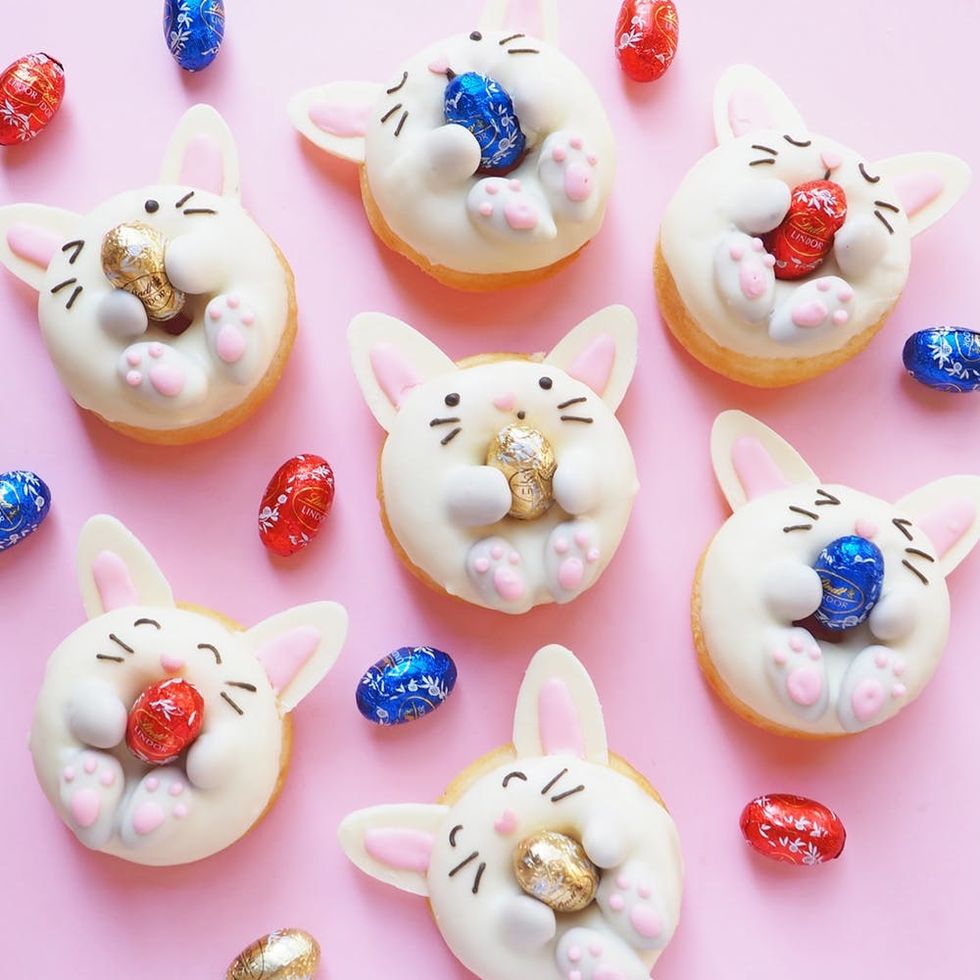 9. Easter Bunny Donuts: Finally, a socially acceptable way to eat chocolate for breakfast. If you don't have a donut pan handy, that's okay; you can make Easter bunny muffins. (via Brit + Co)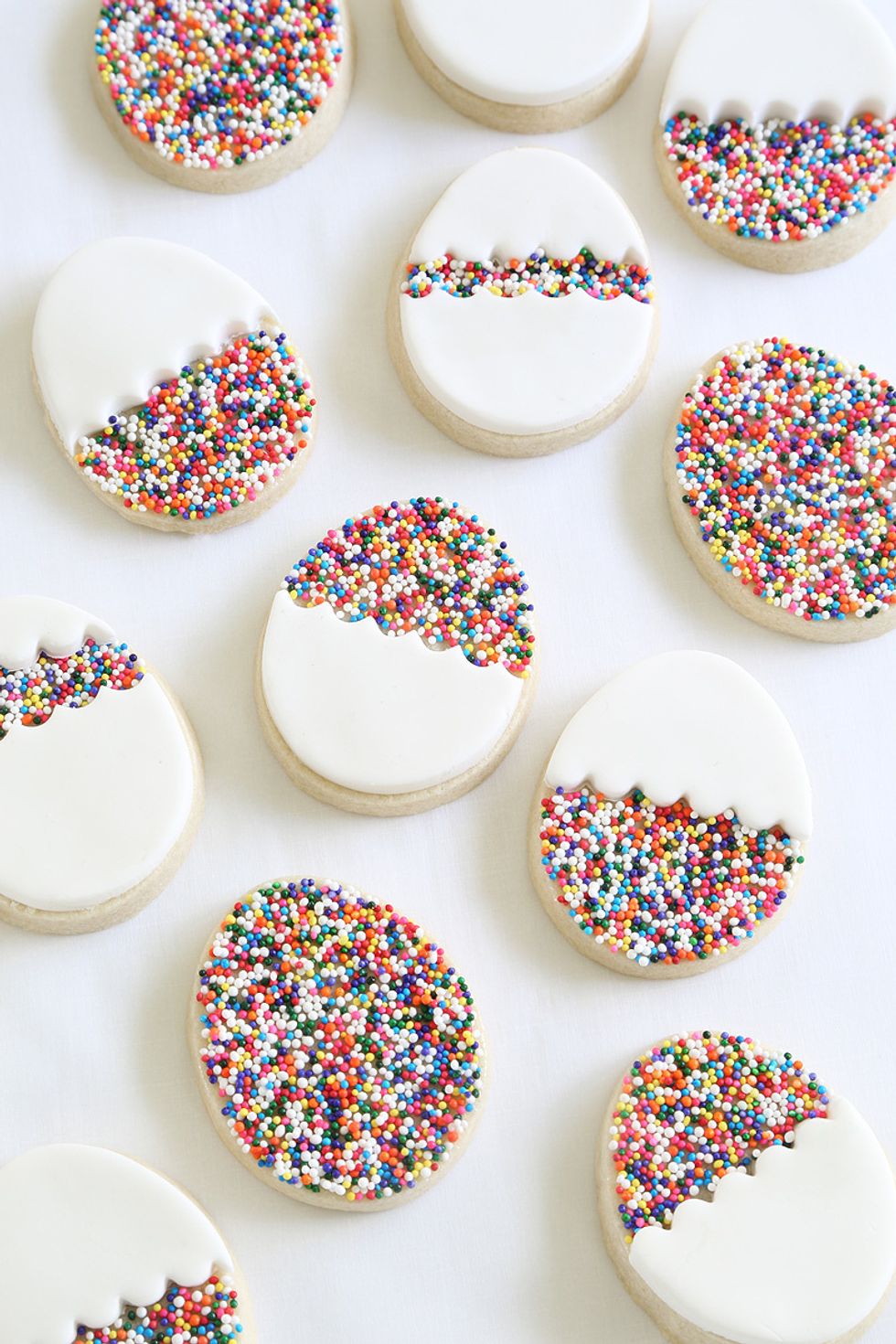 10. Egg-Shaped Sprinkle Cookies: Who doesn't love a sugar cookie? Use your fave recipe and a cookie cutter to shape these into eggs and multicolored sprinkles to make them pop. (via Sprinkle Bakes)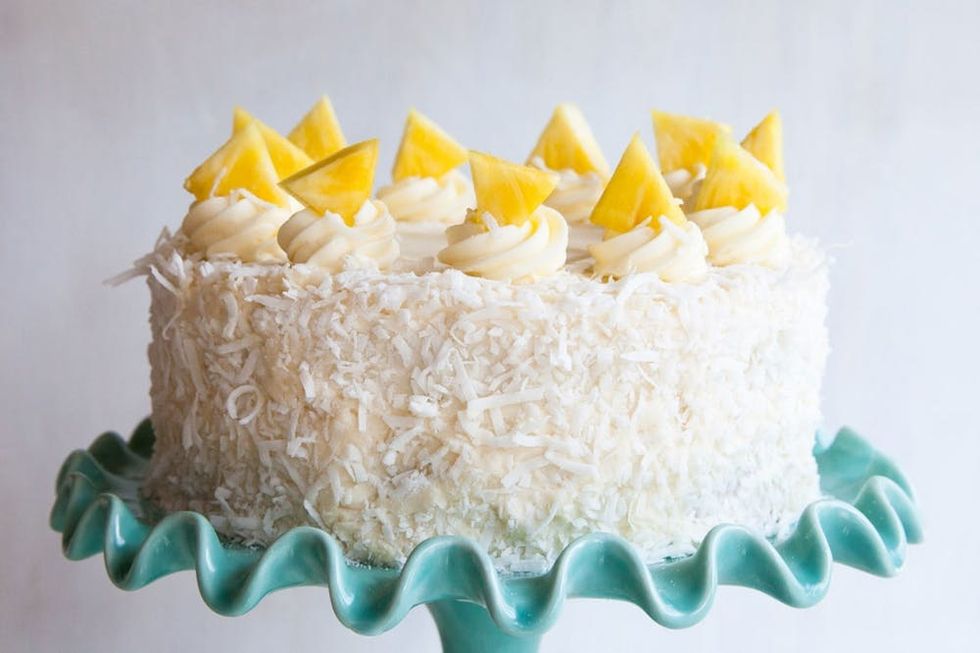 11. Piña Colada Cake: There may not be a better dessert for an outdoor party than this one. With dark rum and crushed pineapple, it's a tropical take on classic coconut cake. (via Brit + Co)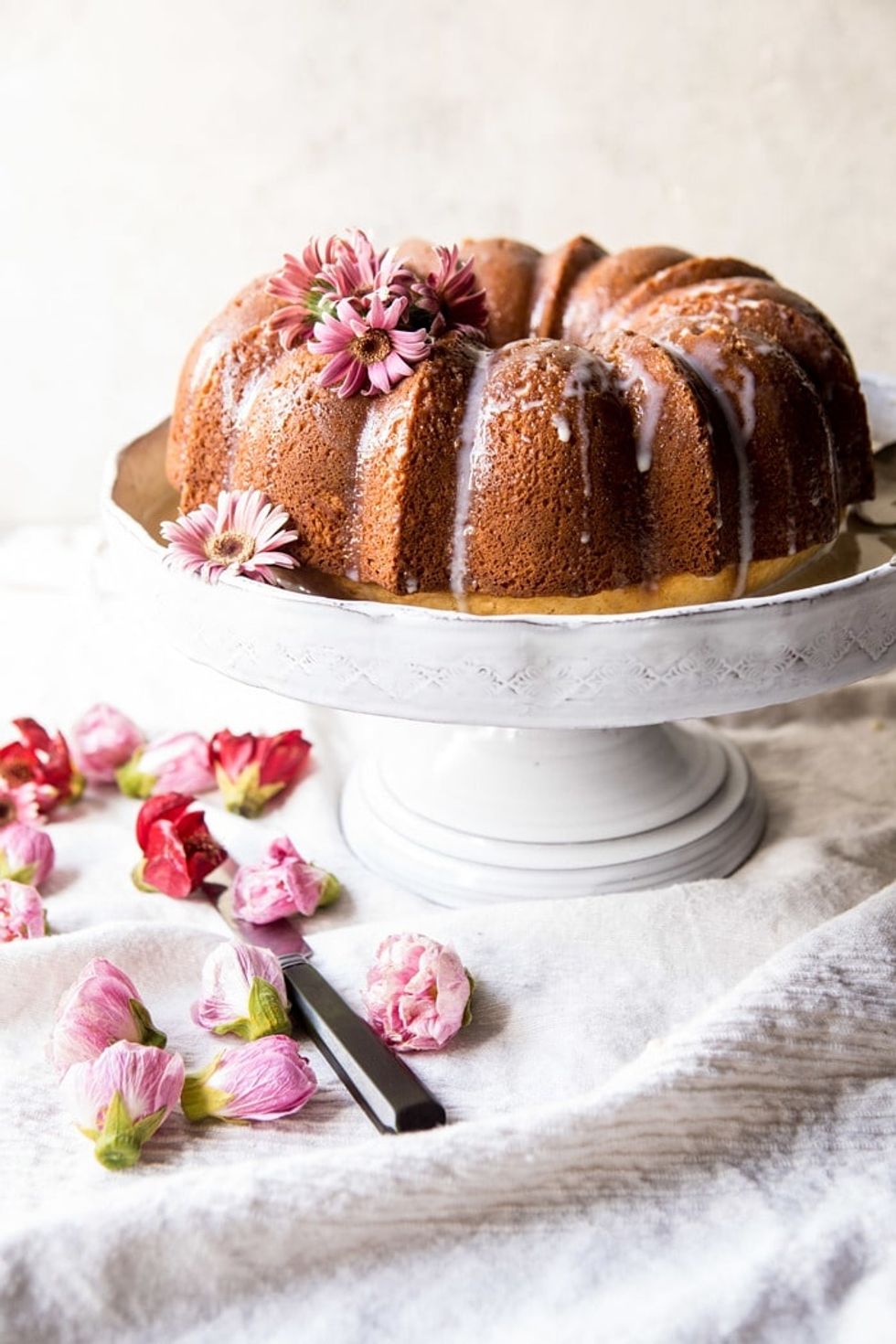 12. Cream Cheese Swirled Coconut Tres Leches Cake: This bundt cake is proof that if you combine three delicious desserts into one, you're likely to end up with a winner. The coconut-y cream cheese running through the center, as well as the sweet coconut glaze, infuses each bite with extra moisture and richness. (via Half Baked Harvest)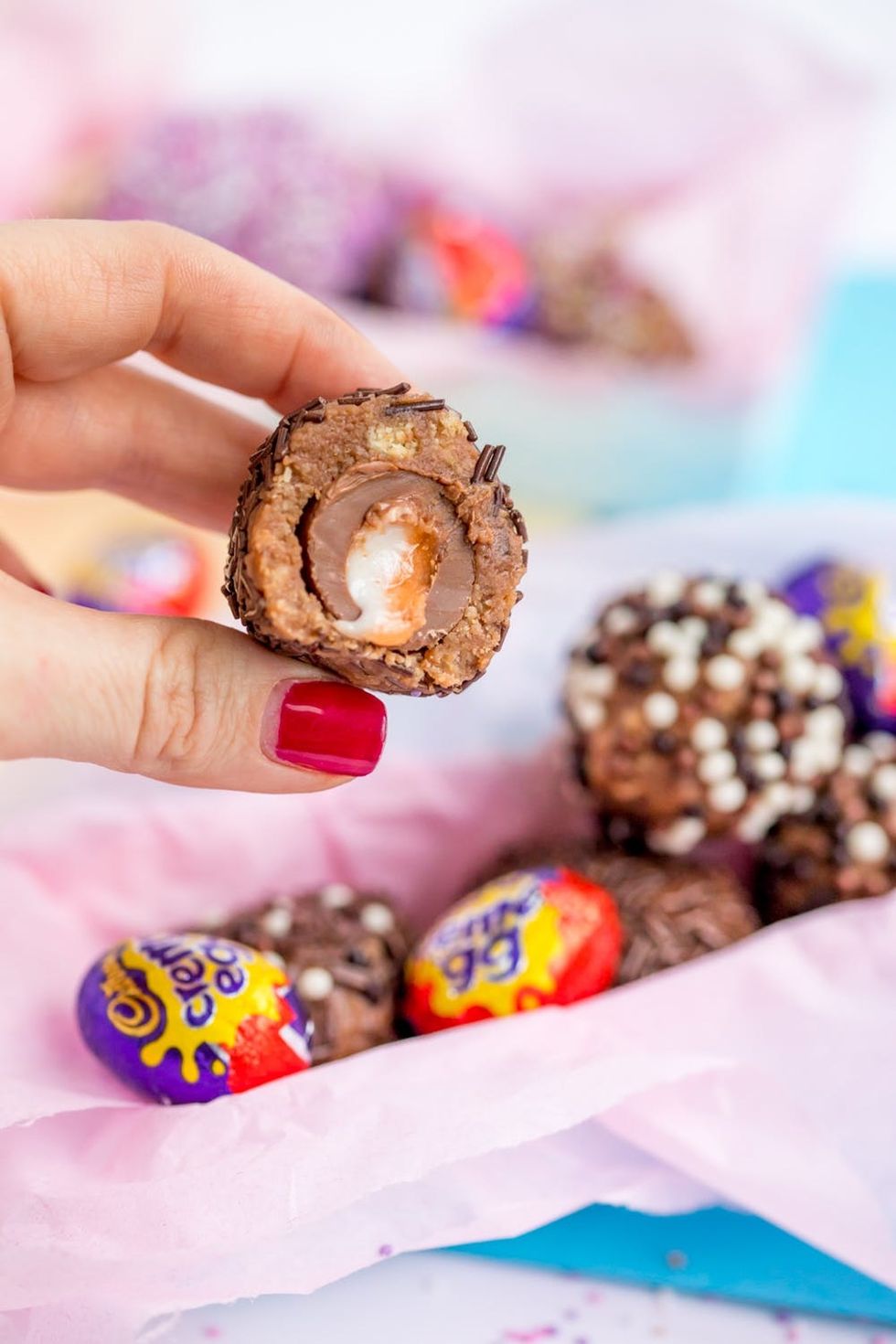 13. Easter Egg Truffles: Forget everything your parents said about not eating too much sugar. These cream egg truffles, wrapped in a chocolate-cookie mixture, are worth every bite. Just try not to eat them all before you can share them. (via Brit + Co)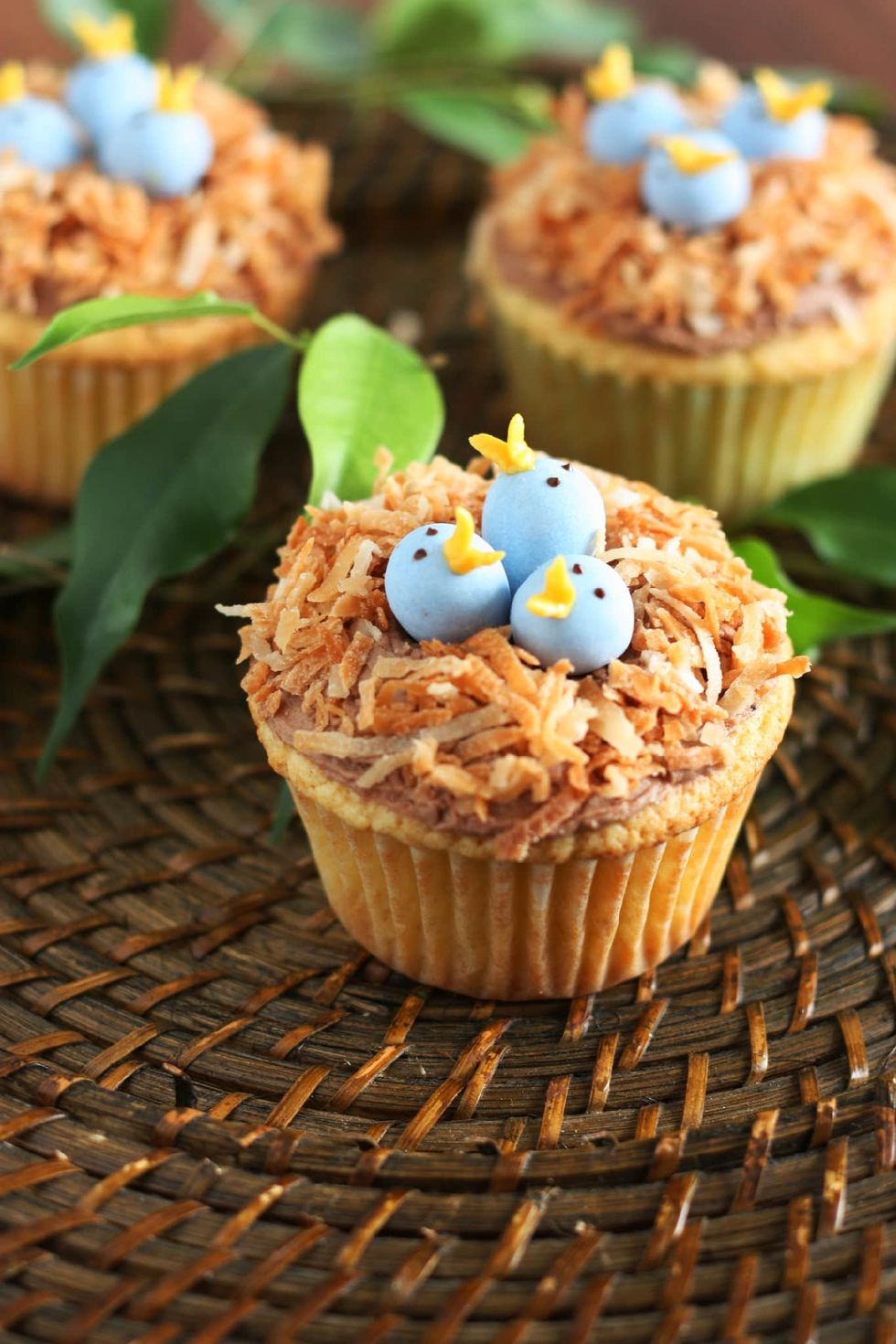 14. Bird's Nest Cupcakes: Chirp, chirp. A nest of toasted coconut allows these homemade birdies to roost in style. (via Cooking Classy)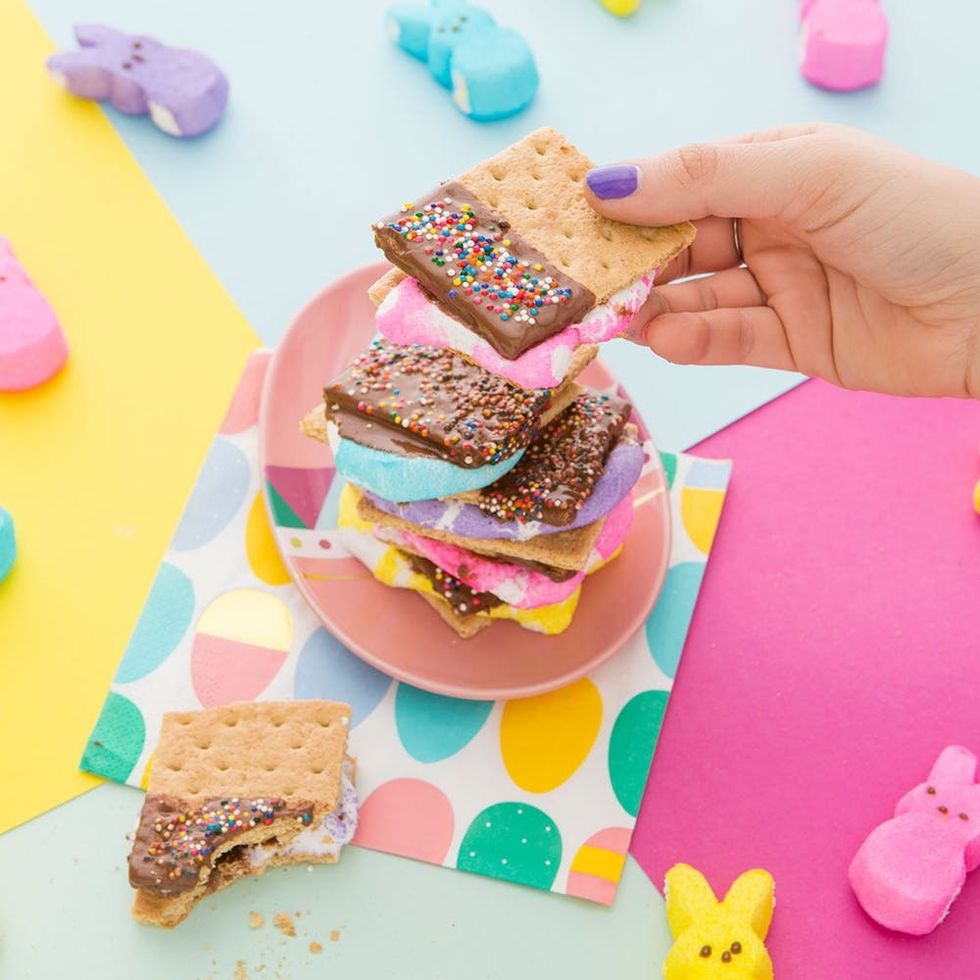 15. S'mores Peeps: Turn regular ol' s'mores into brightly colored sandwiches with chocolate-dipped graham crackers, sprinkles, and pastel-hued Peeps. (via Brit + Co)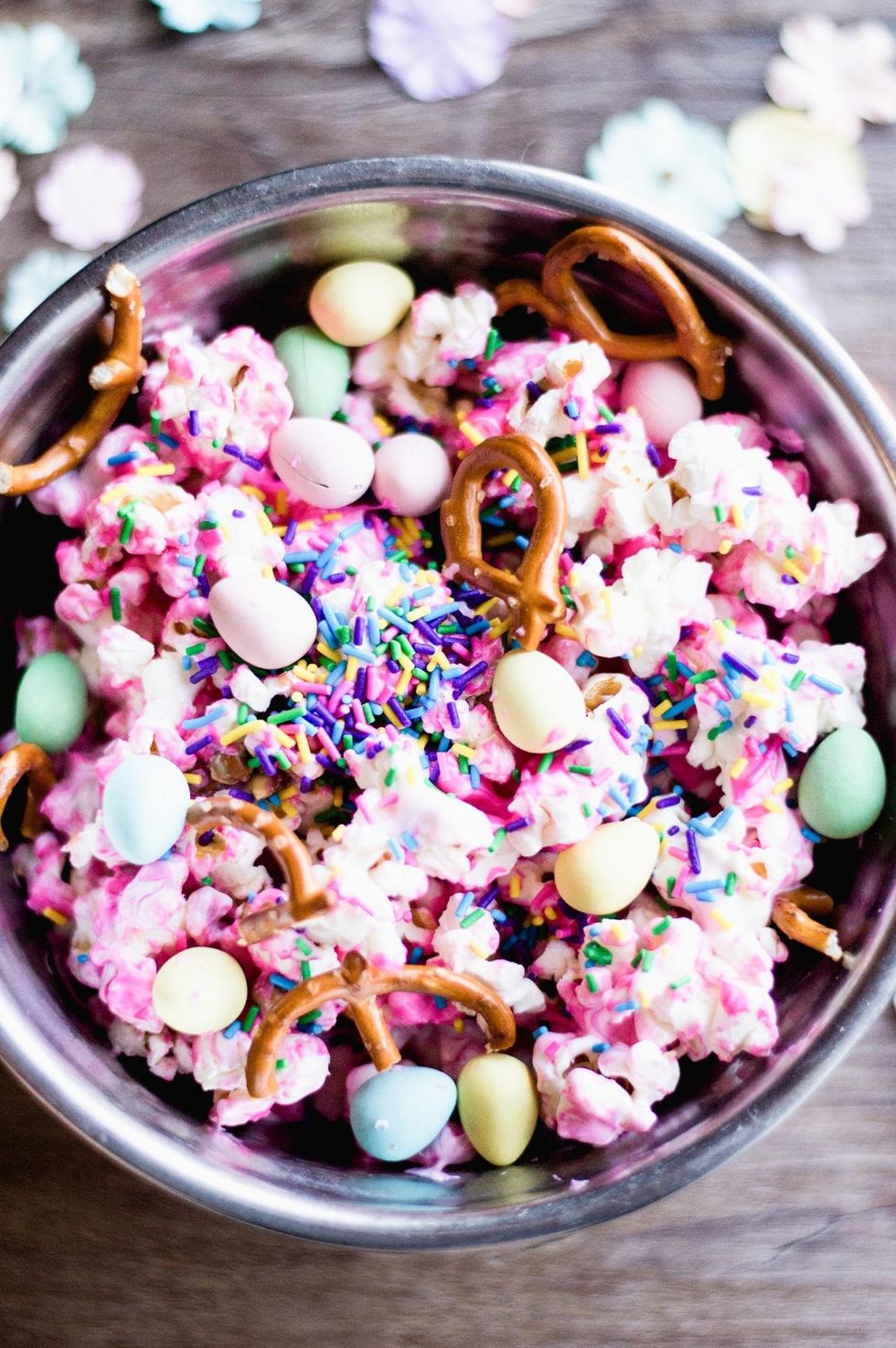 16. Easter Popcorn: Salty popcorn and pretzels are made addictively sweet with candy, white chocolate chips, and tons of sprinkles. (via Home Made Lovely)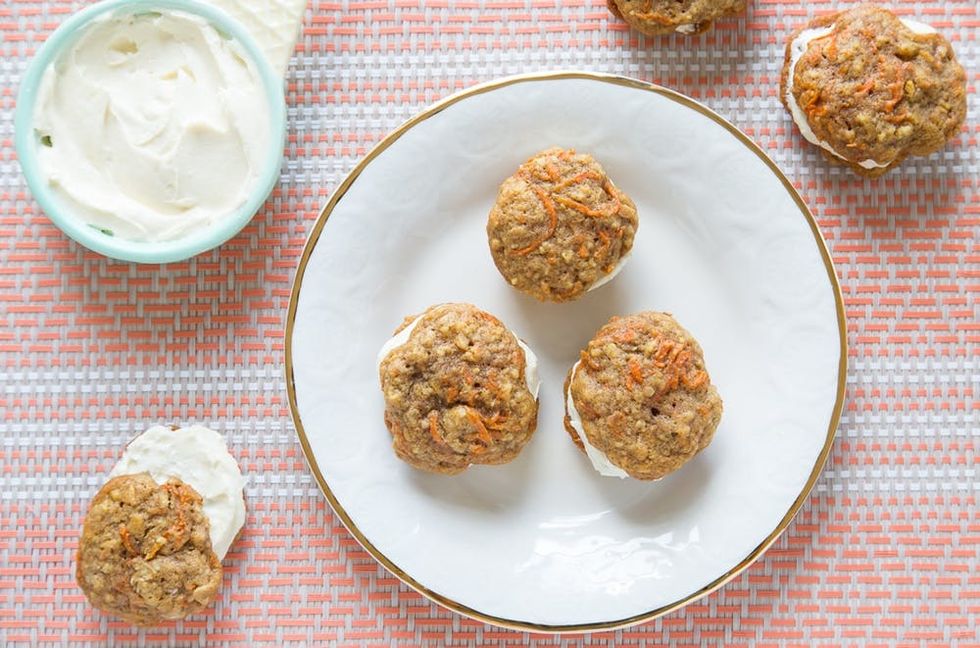 17. Mini Carrot Cake Cookie Sandwiches: This carrot-cake take on whoopie-pie comes together with two airy cookies sandwiched together by cream cheese frosting. (via Brit + Co)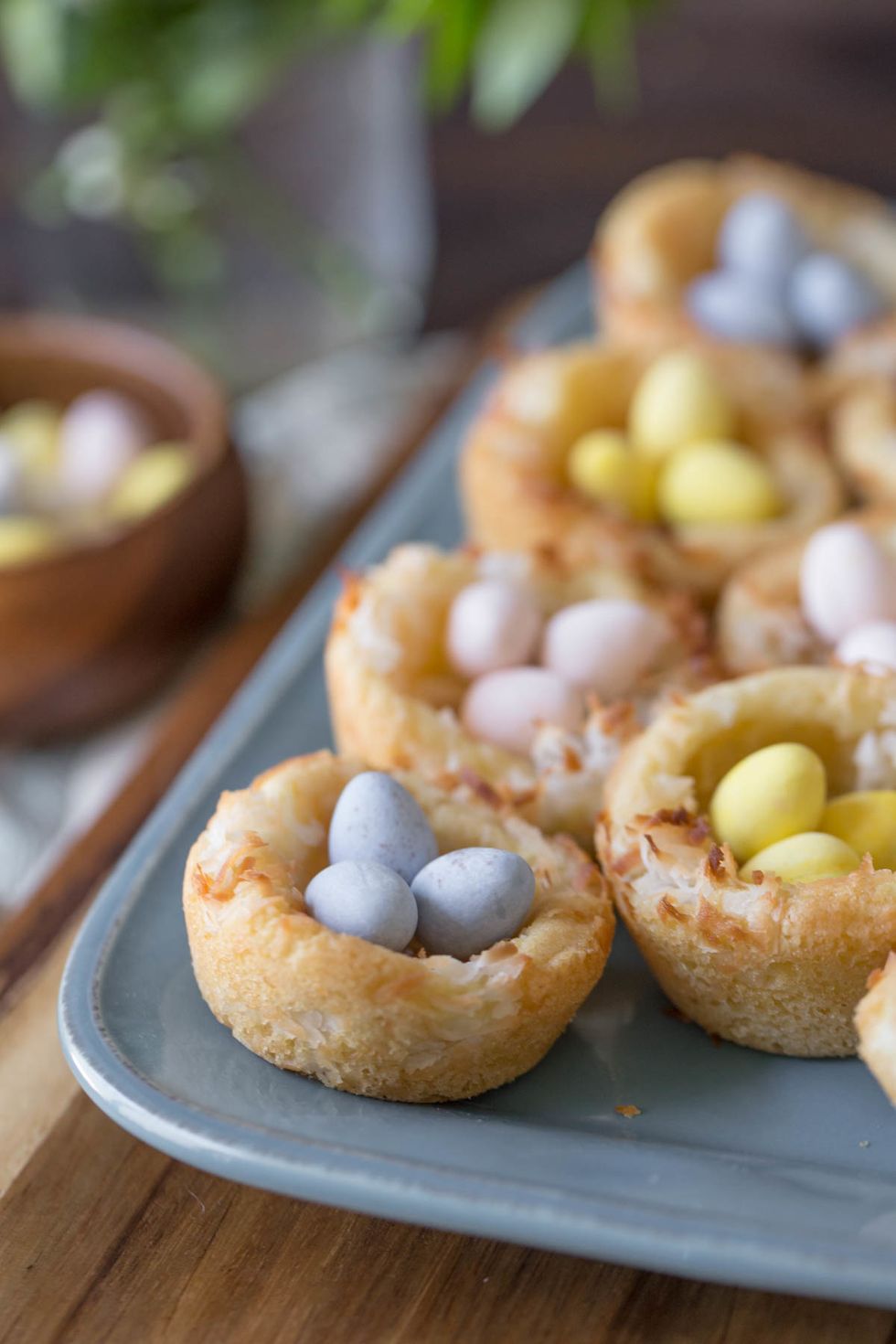 18. Sugar Cookie Easter Nests: A pinch of coconut on top of these cookies toasts up nicely in the oven, giving each one the appearance of Easter grass. Since their buttery flavor is so versatile, you can enjoy filling them with chocolate eggs and much more. (via Lovely Little Kitchen)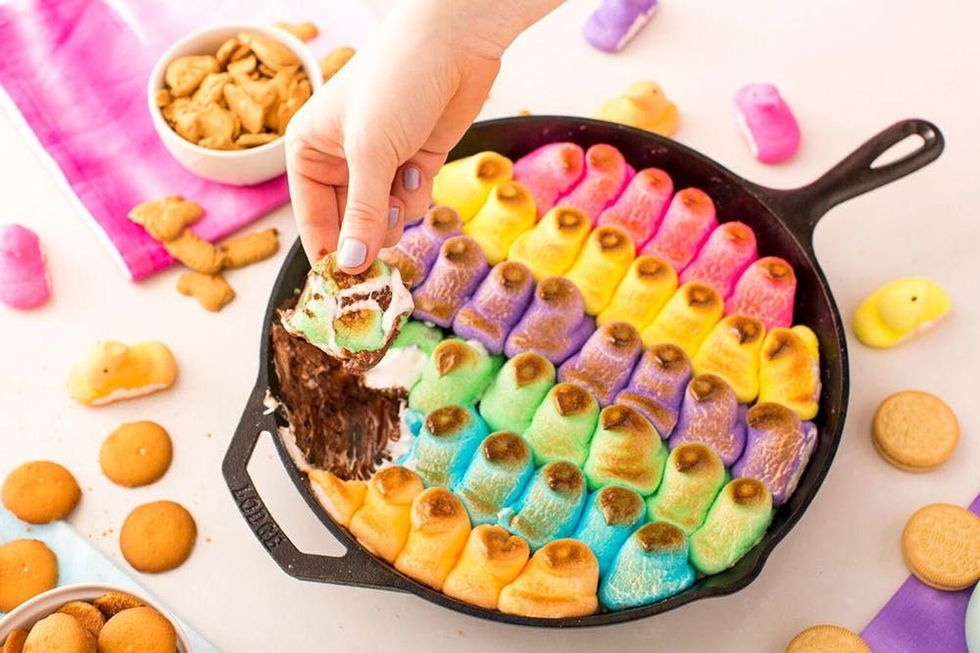 19. Peeps Skillet Dip: If you know someone who doesn't love Peeps, make this s'mores-like dip for them, and they'll definitely be a convert. (via Brit + Co)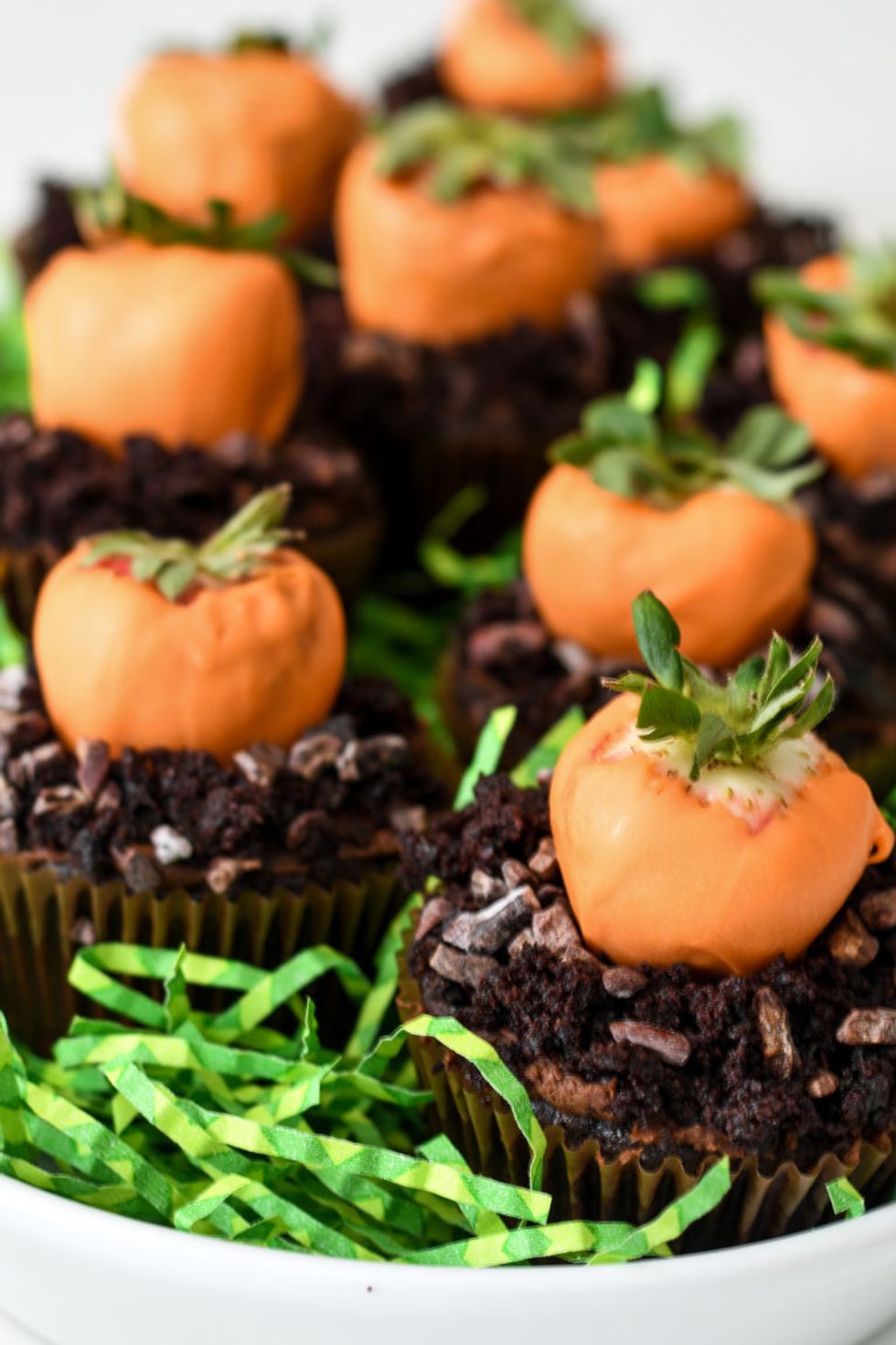 20. Carrot Garden Cupcakes: You don't need a green thumb to sprout these carrot cupcakes, but you will learn some awesome skills to add to your baking roster. Spoiler: The carrots are candy-covered strawberries. We couldn't help but spill the beans. (via Fork and Beans)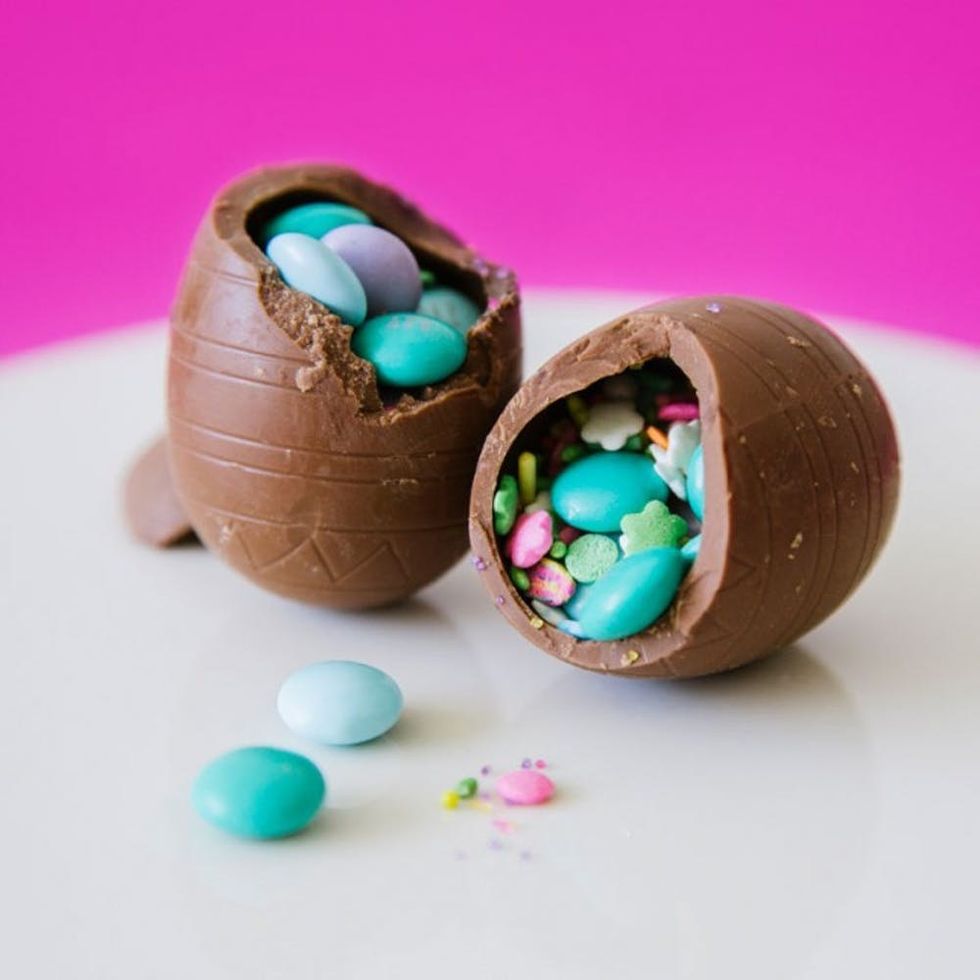 21. Chocolate "Confetti" Eggs: We love this edible version of cascarones (AKA confetti eggs). You simply buy hollow chocolate eggs, slice off the top, fill with candy and sprinkles, then secure the top back on with melted chocolate. (via Brit + Co)
22. Candylicious Junkyard Cookies: This cookie recipe is motivation for you to clean out your candy jar. Though it calls for specific candies like M&M's and Kit Kat bars, you can throw in whatever chocolate-based candy you have on hand. (via A Zesty Bite)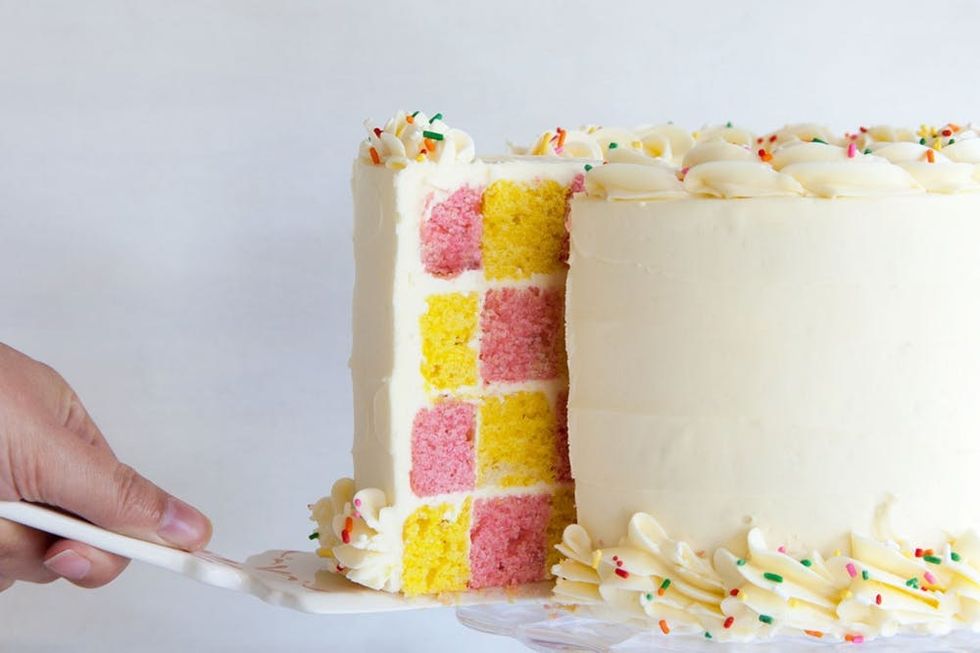 23. Checkerboard Cake: This cake is what the great British baker, Mary Berry, would call a "showstopper." Take a look at our instructions, and you'll find it's much easier to pull off than you may think. (via Brit + Co)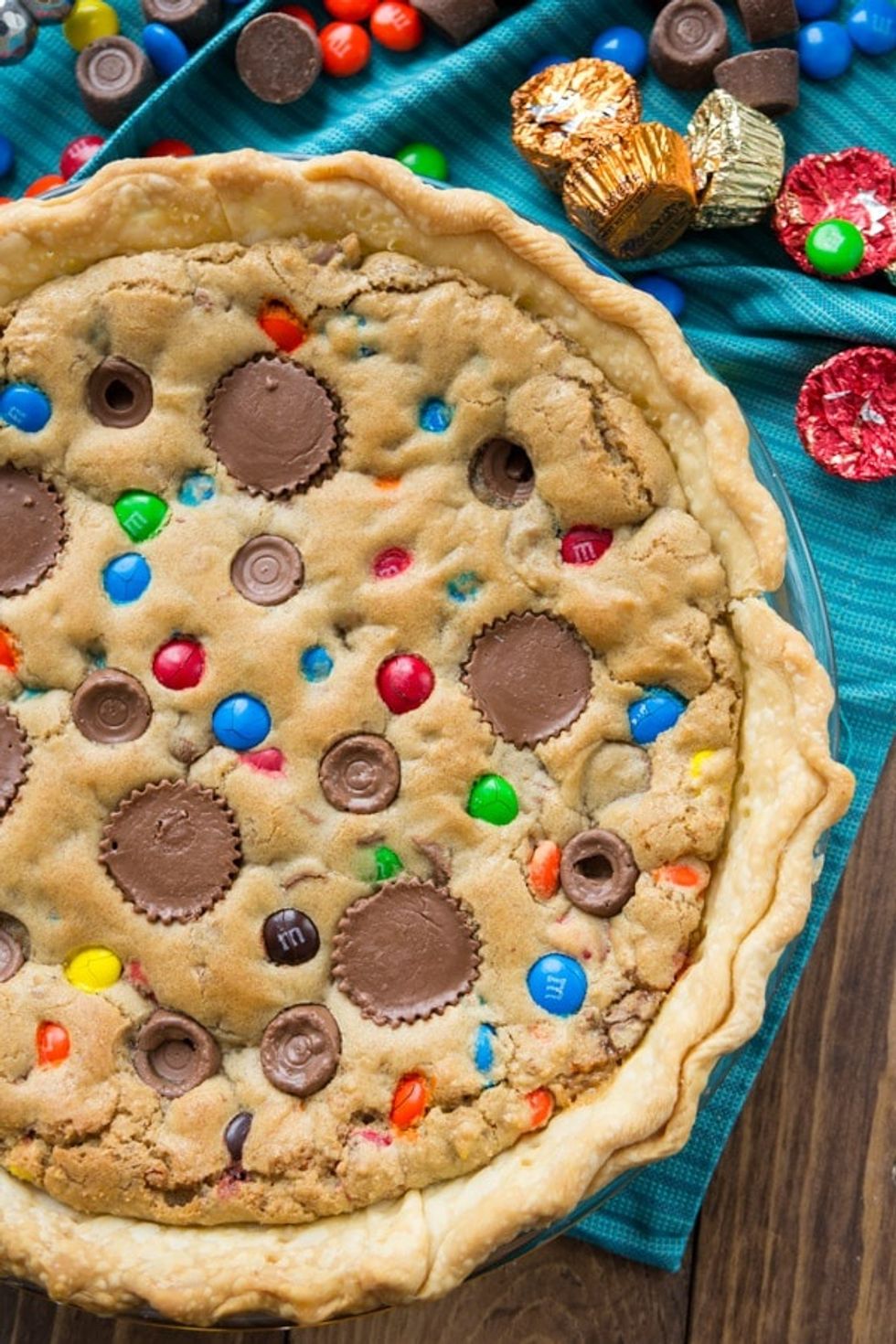 24. Candy Bar Pie: As if pie weren't enough to please your guests, this giant cookie dessert is also flecked with chocolate candy. (via Crazy for Crust)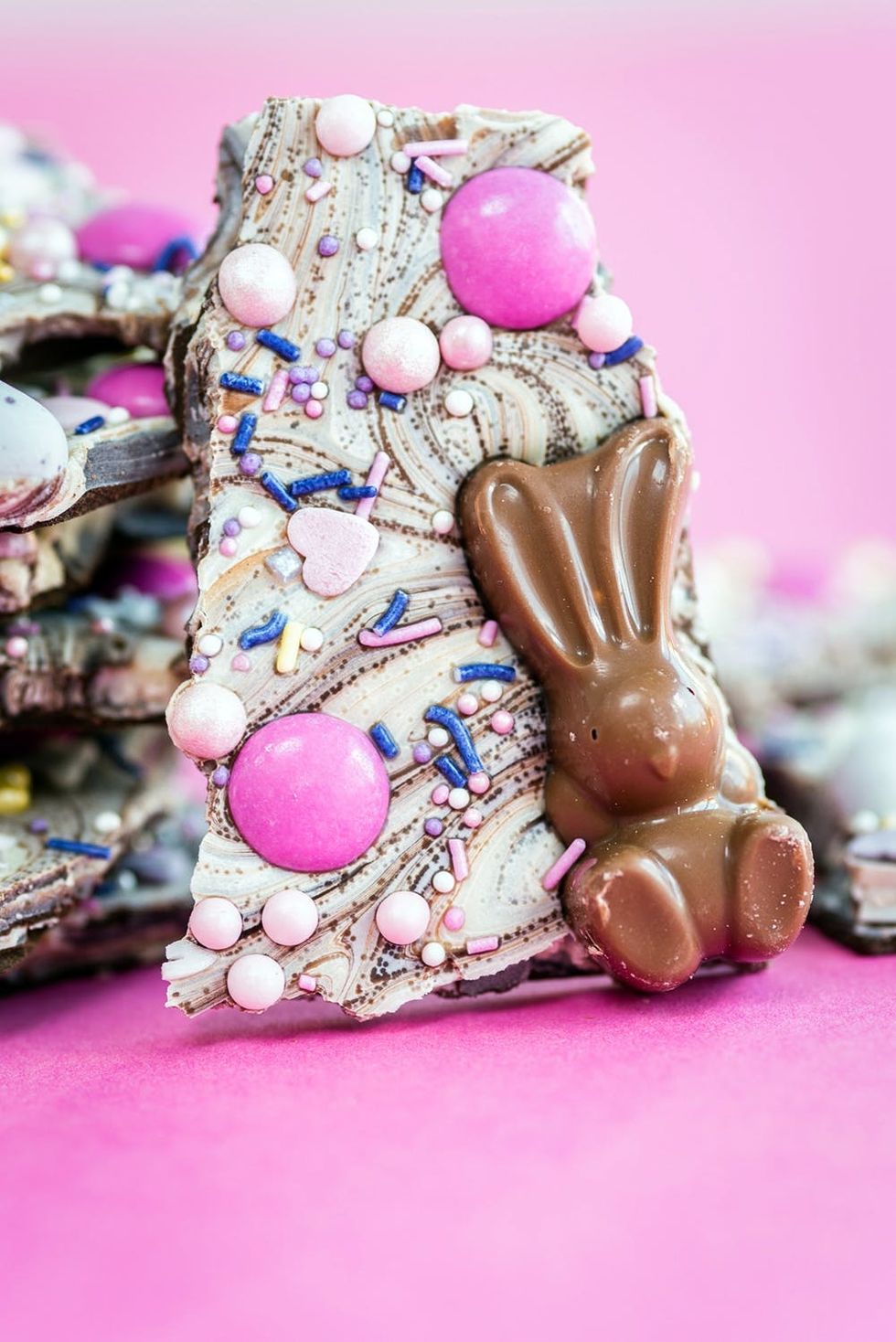 25. Easter Chocolate Bark: This festive treat is simple to make — just melt dark and white chocolate and adorn with pastel sprinkles, mini eggs, and other Easter candy. Place servings of the bark into cellophane bags as a sweet party favor for Easter brunch guests. (via Brit + Co)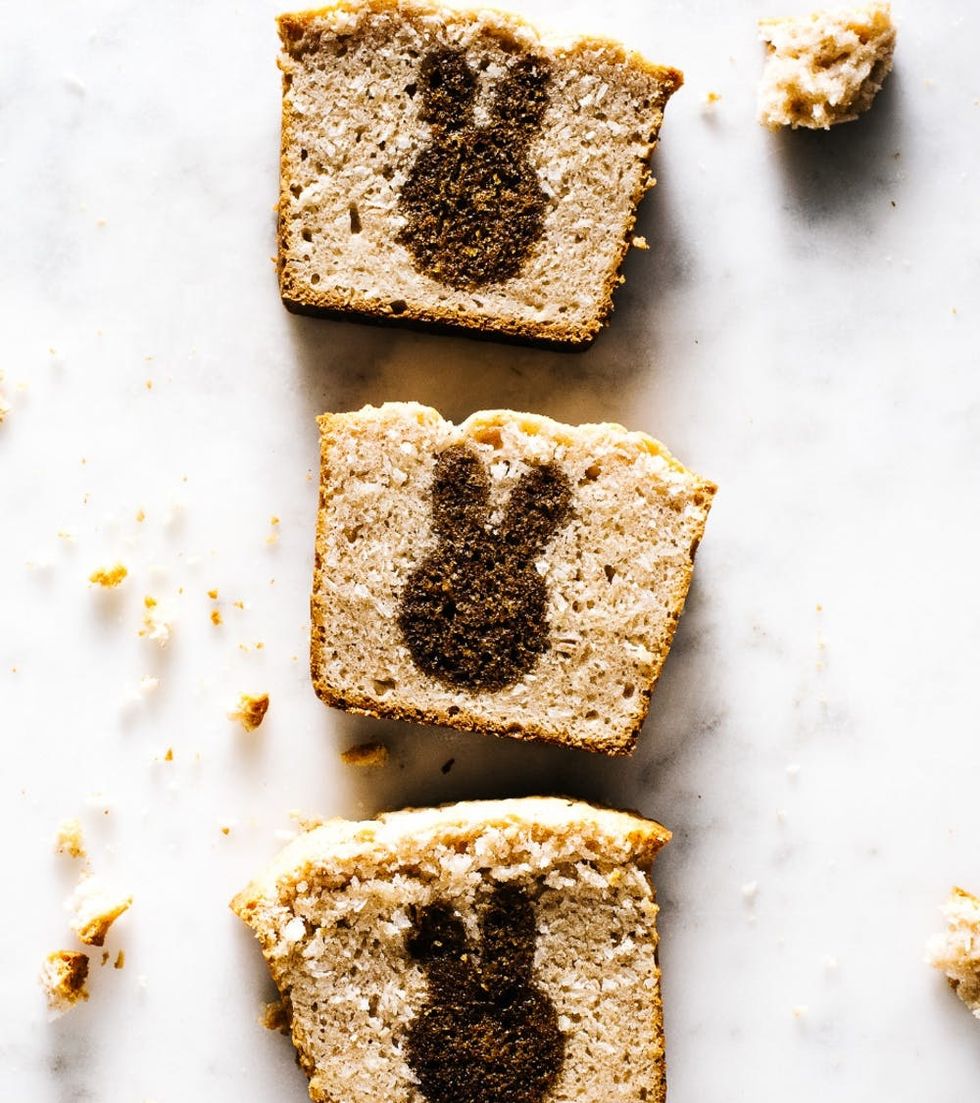 26. Carrot-Coconut Bunny Loaf: A bunny-shaped cookie cutter yields a creative, carrot-flavored surprise in the center of this buttery coconut loaf. (via I Am a Food Blog)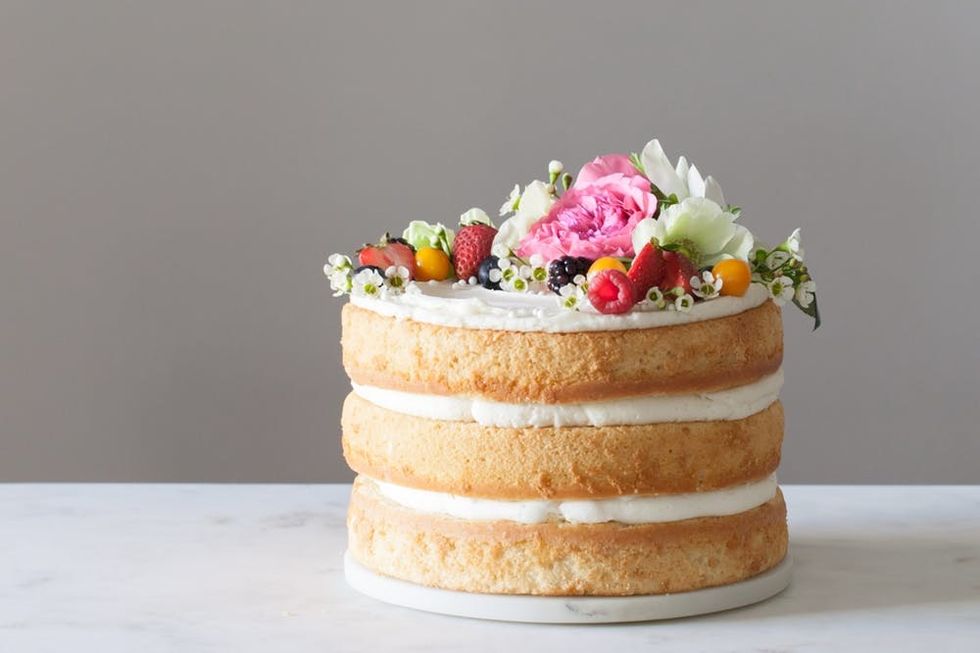 27. Floral Naked Cake: Not a frosting wizard? A naked cake's unfrosted exterior is extremely forgiving and benefits from rustic, natural touches — like spring flowers and produce. (via Brit + Co)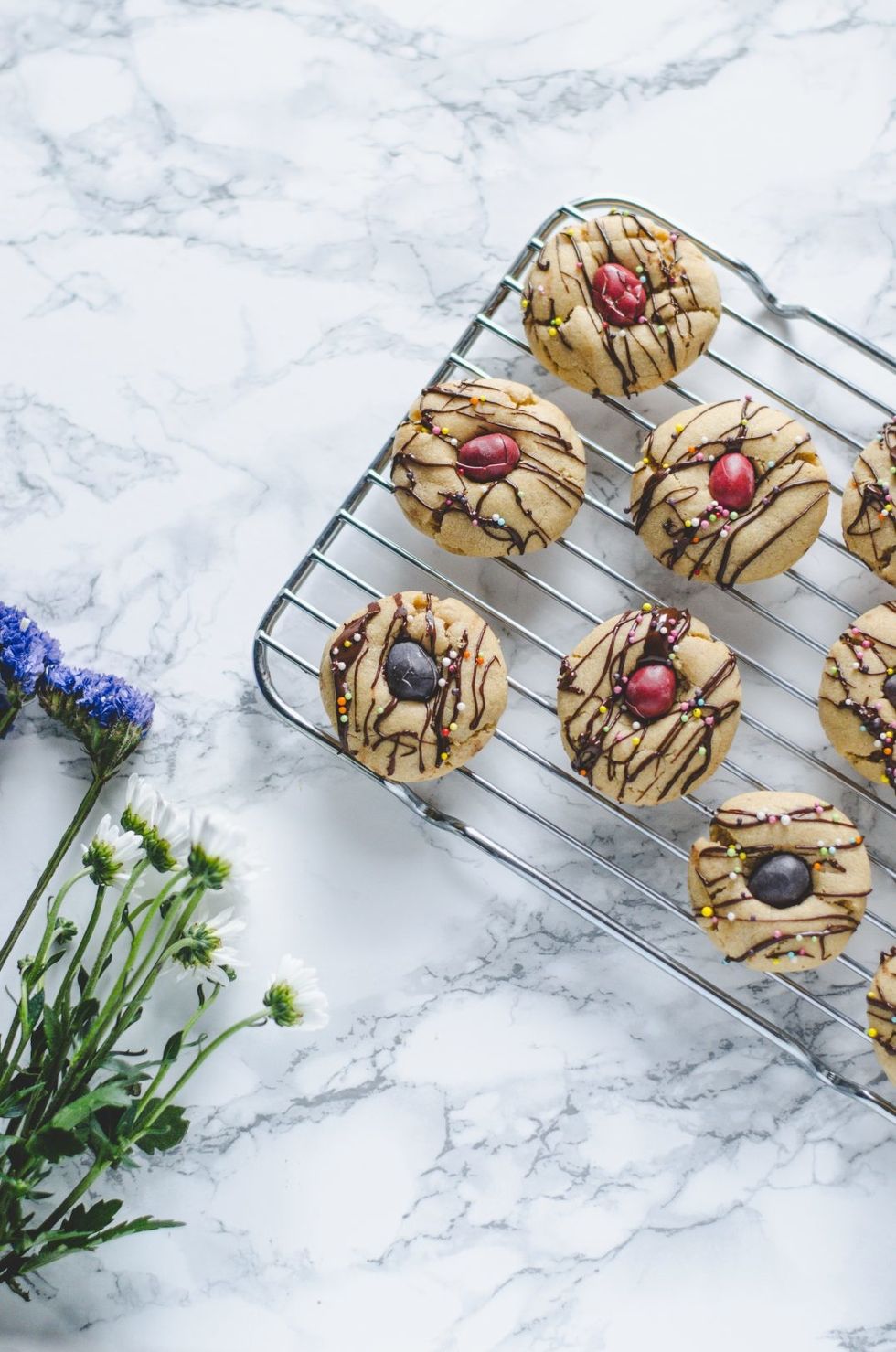 28. Peanut Butter Mini Egg Thumbprint Cookies: Blossom cookies are a staple during Christmastime, but the springtime version is just as loveable, as you can tell from these egg-studded, chocolate-drizzled peanut butter cookies. (via My Modern Cookery)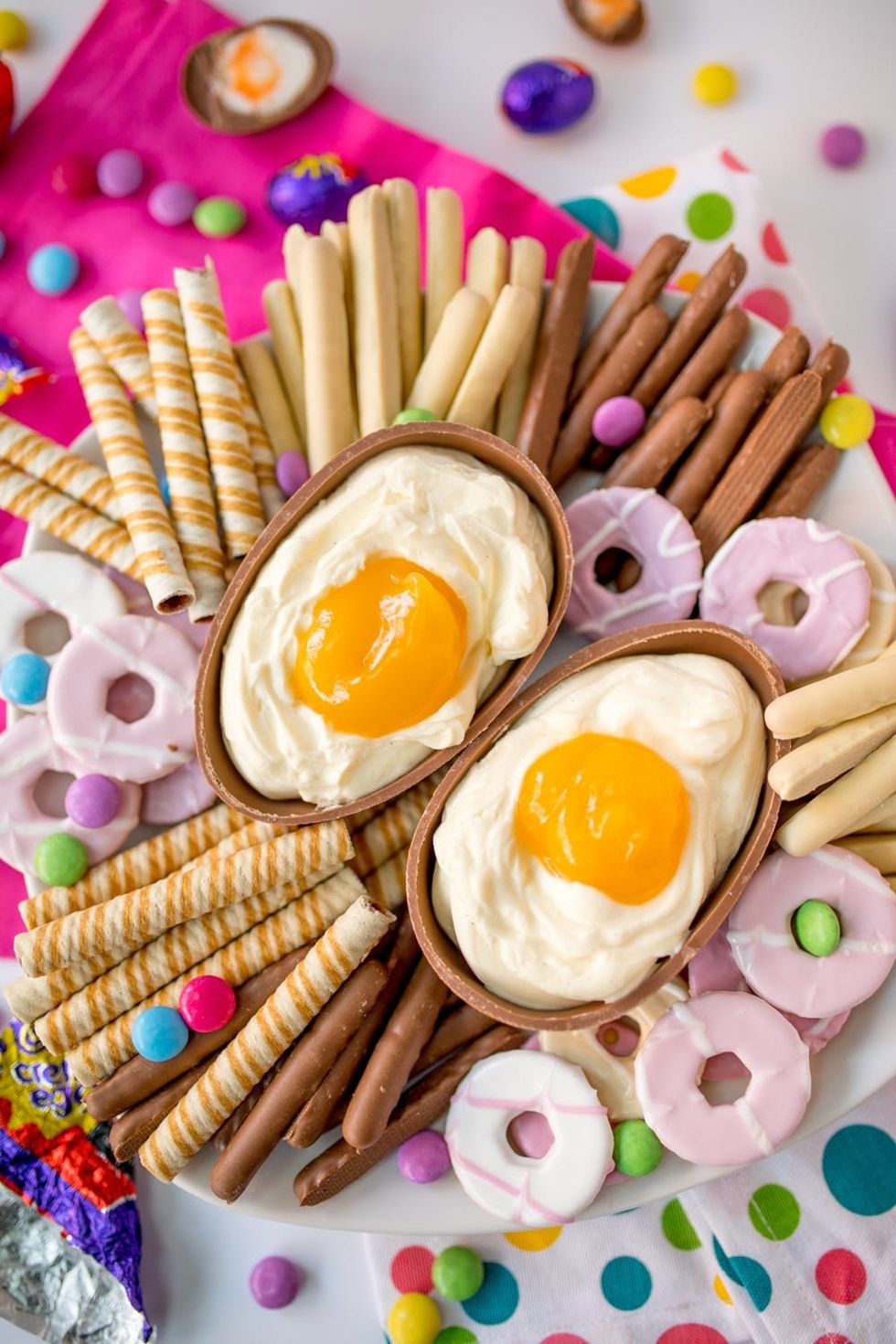 29. Cadbury Creme Egg Cheesecake Dip: Nothing brings a group of people together quite like dip, and this sweet Easter version — complete with a lemon-curd "yolk" — is sure to please. (via Brit + Co)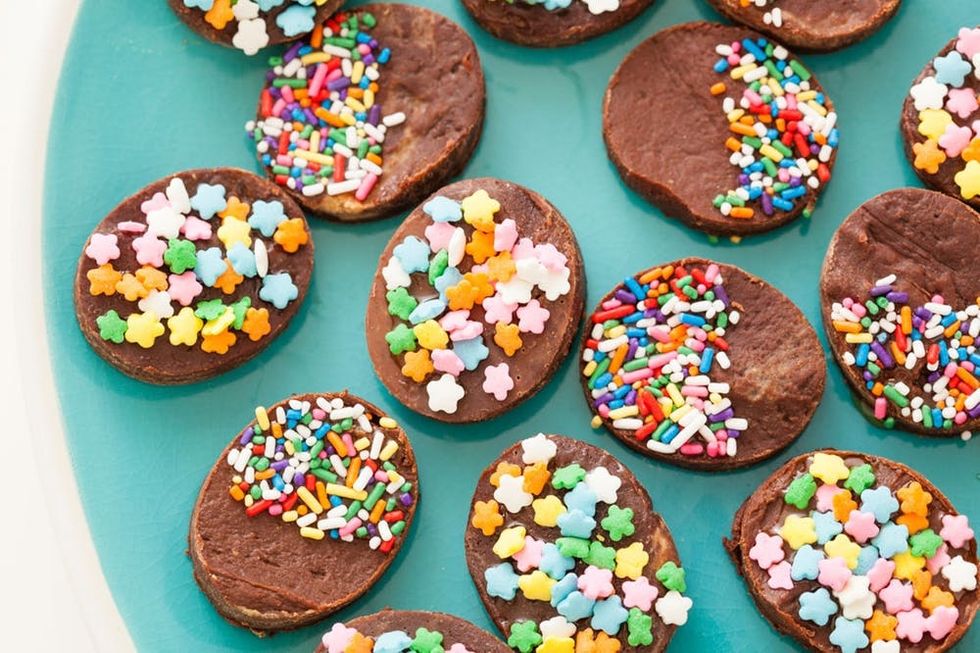 30. Easter Egg Fudge: This just might be the world's easiest fudge. Use chocolate chips, peanut butter cups, and condensed milk to DIY this addictive treat. (via Brit + Co)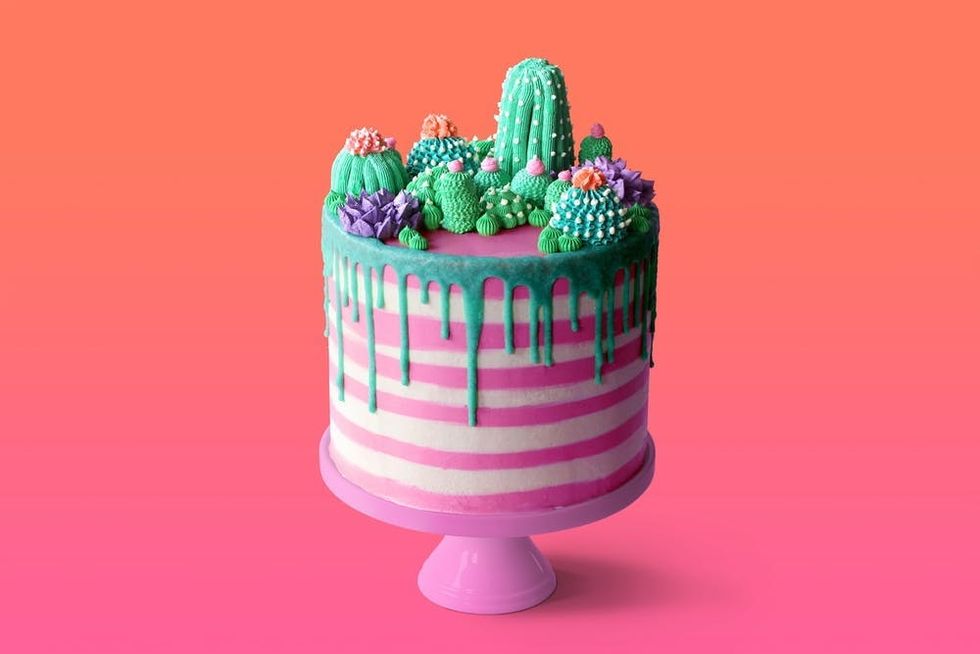 31. Cactus Garden Cake: Celebrate the season's blossoms with this vibrantly hued layer cake. (via Sugar Rebels)
RELATED: Insanely Pretty Make-Ahead Dessert Recipes for Easter
Additional reporting by Maggie McCracken
Brit + Co may at times use affiliate links to promote products sold by other, but always offers genuine editorial recommendations.
Sara Cagle
Sara is a food and lifestyle freelance writer in Los Angeles. She writes a weekly events column for the Los Angeles Times and loves writing food content for Brit + Co. After all, the English language's most fun adjectives are best applied to delicious foods. In her free time, she's a hip hop dancer, avid moviegoer, and thorough face-mask user.
Dessert Recipes