20 Last-Minute Easy Easter Brunch Recipes You Can Make in 30 Minutes or Less
Mar 15, 2019

So, it's the day before (or day of, we won't judge), and you're hosting an Easter brunch. We have you covered with foolproof last-minute Easter brunch recipes you can make in 30 minutes or less. And the best part? None of these dishes look rushed or last minute, so your friends and family will think you've been slaving away since Palm Sunday, when really you started cooking 20 minutes ago…
---
1. Twice-Baked Sweet Potato Egg Boat: Microwave a potato for roughly 8 minutes, then crack an egg inside and finish the dish in the oven. Mix and match the fillings according to preference or just use the ingredients you have on hand. (via Brit + Co)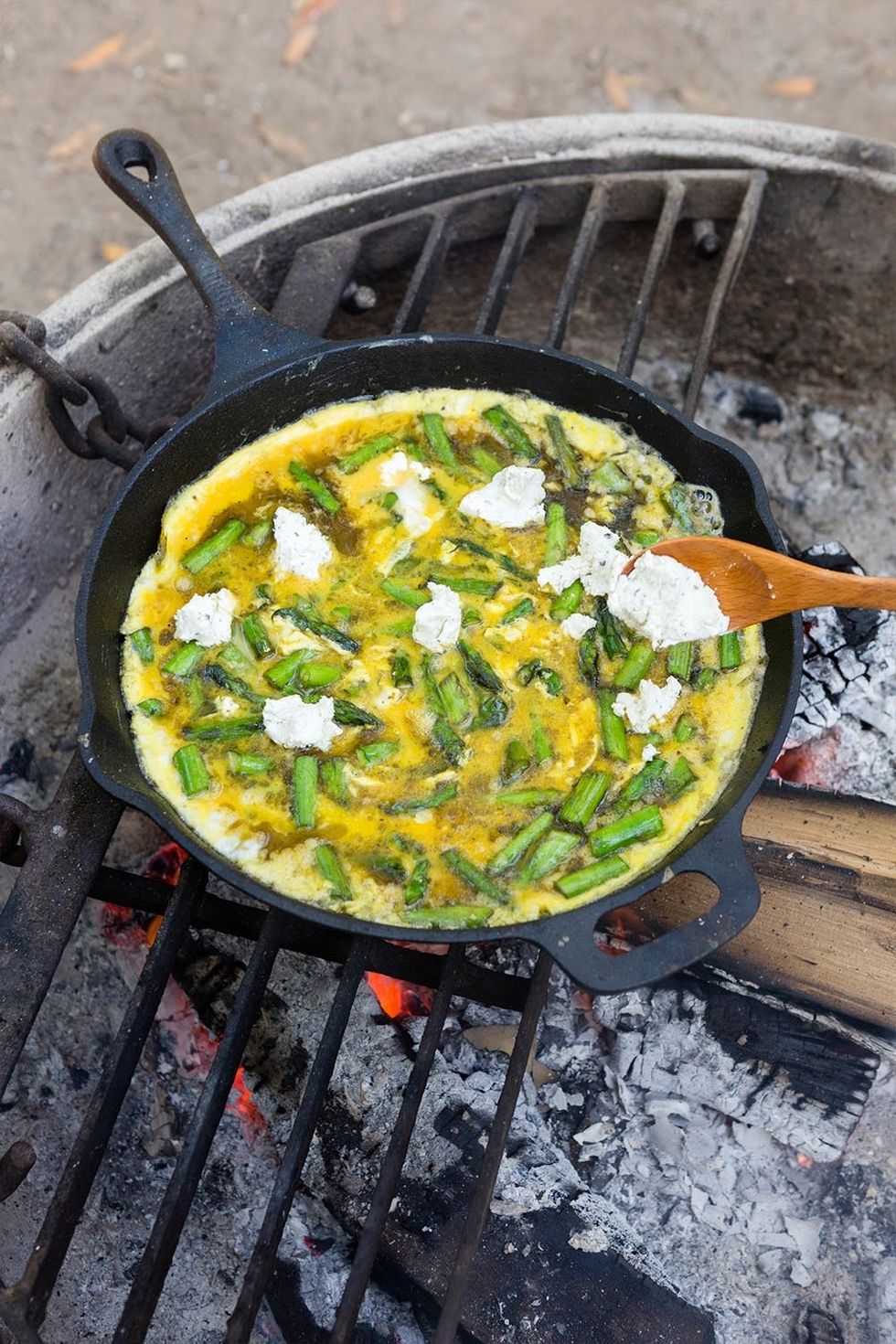 2. Asparagus Frittata: You can't go wrong with a frittata. This recipe is so quick to whip up, you can have this dish ready before anyone says they're hungry. Grill it over a fire pit, or simply cook it over your stovetop. (via Brit + Co)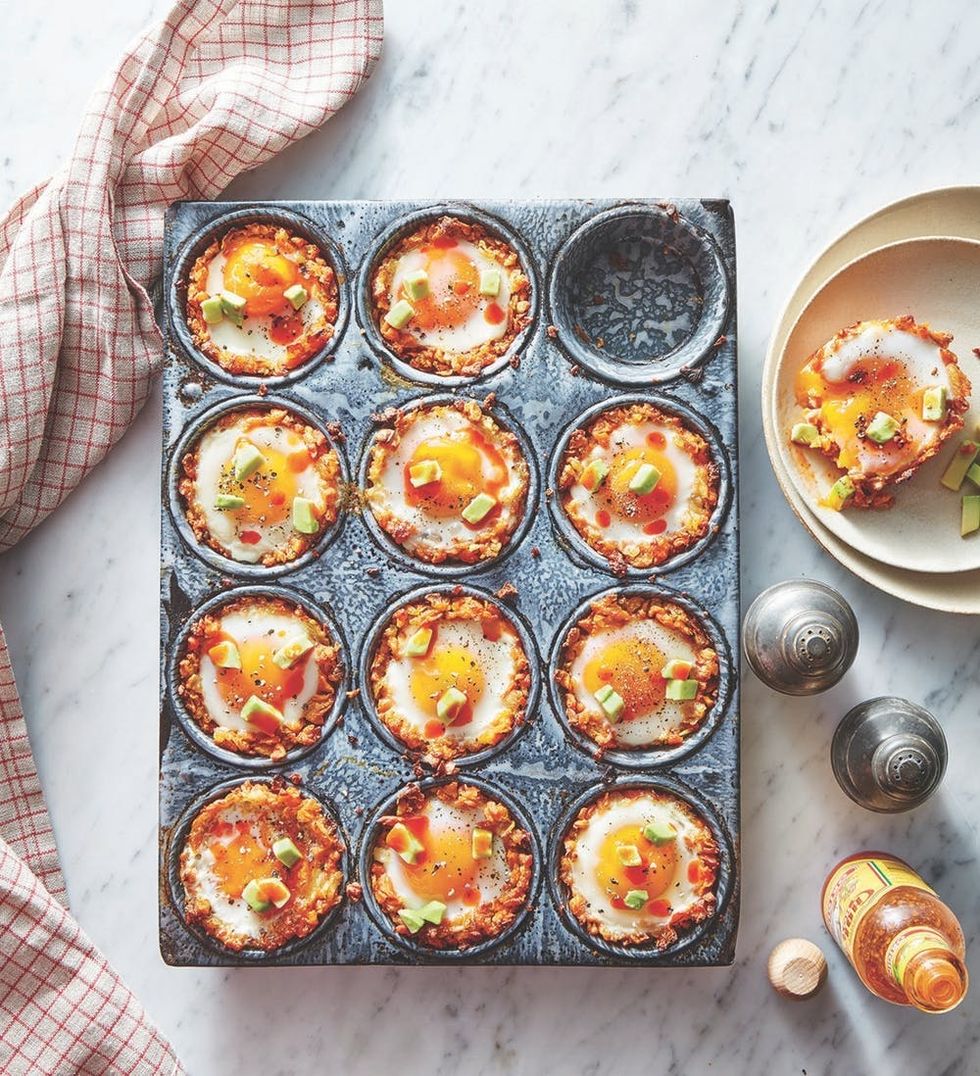 3. Hashbrown Egg Cups: We're kind of obsessed with these bites. And the best part is they star frozen tots (both regular and sweet). Top these eggs cups with hot sauce and diced avocado if you know what's good for you. (via Siriously Delicious by Siri Daly / Time Inc., Books)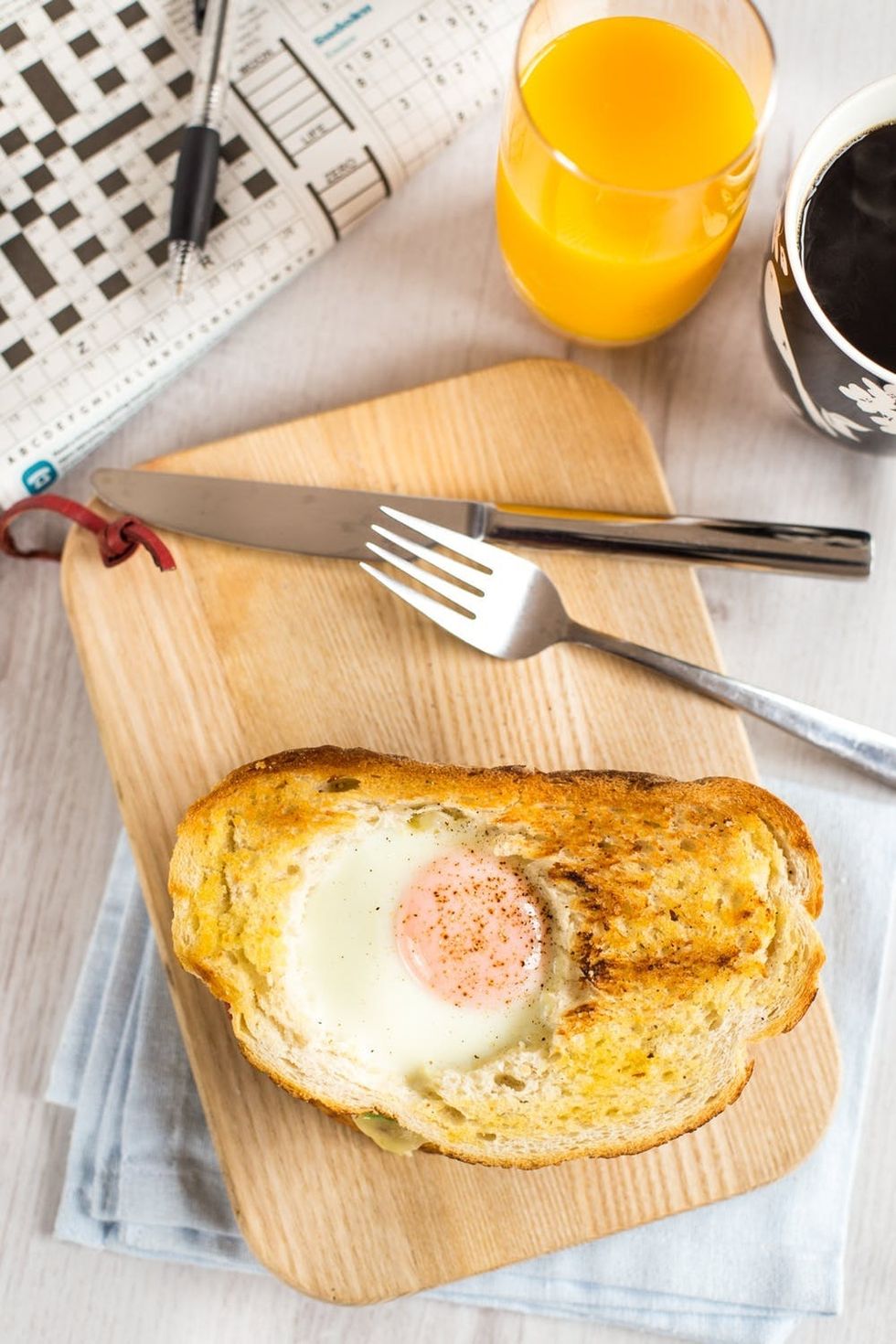 4. Grilled Cheese Egg in a Hole: A few minutes is all it takes to throw together these epic sandwiches. Give it an Italian twist with prosciutto, mozzarella, and pesto. (via Brit + Co)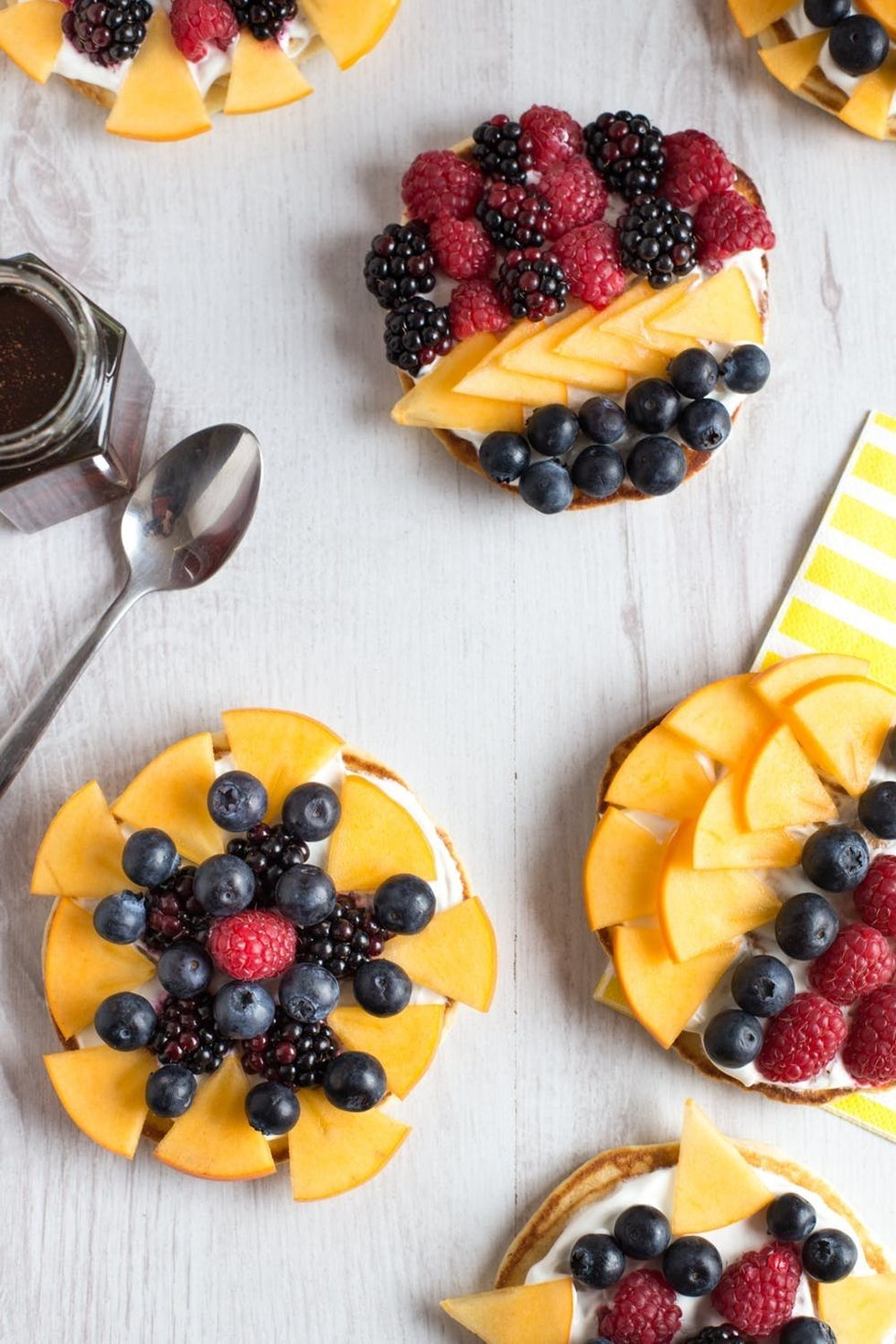 5. Pancake Fruit Tarts: If you want to show your family that you're a well-rounded adult, make them fancy and nutritious pancake fruit tarts. You could even use frozen waffles for a more turn-key solution. (via Brit + Co)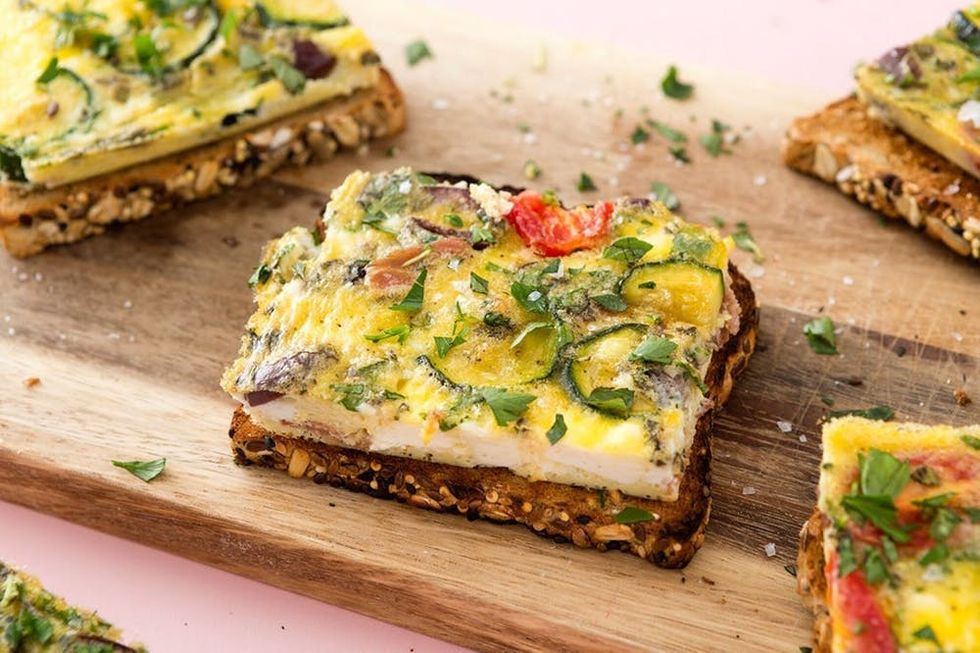 6. Sheet Pan Eggs: This dish will take you just 25 minutes. Enjoy a well deserved mimosa; you're going to pull of Easter on the fly after all. (via Brit + Co)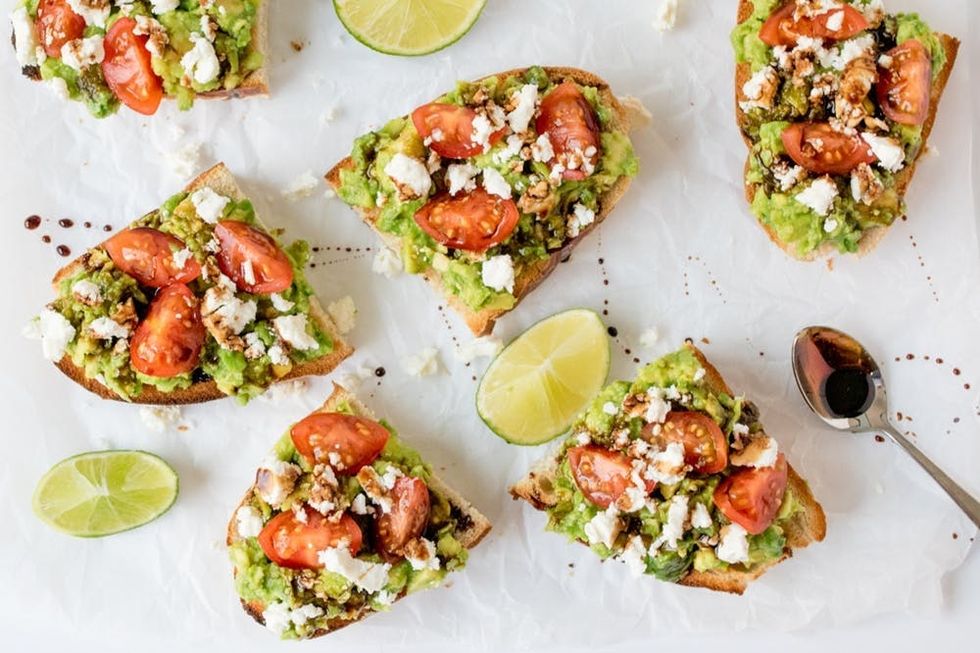 7. Avocado Toasts: Easter brunch is more than just pastries and breakfast foods. Try these springy toasts, drizzled with plenty of sweet balsamic glaze, for a quick savory lunch option. You can even opt to top it with a spring veg like pea shoots or sunflower sprouts. (via Brit + Co)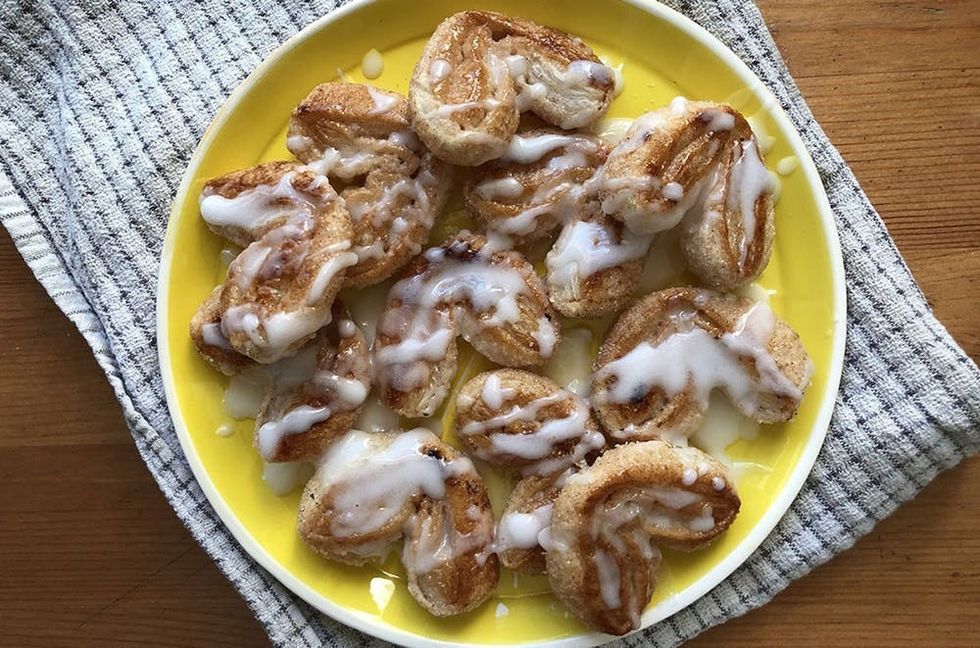 8. Cinnamon Bun Palmiers: Store-bought puff pastry is a freezer staple that can help you out in a multitude of situations, even if you buy it as a backup plan for Easter morning. A cinnamon bun version is certain to please the whole crowd. (via Brit + Co)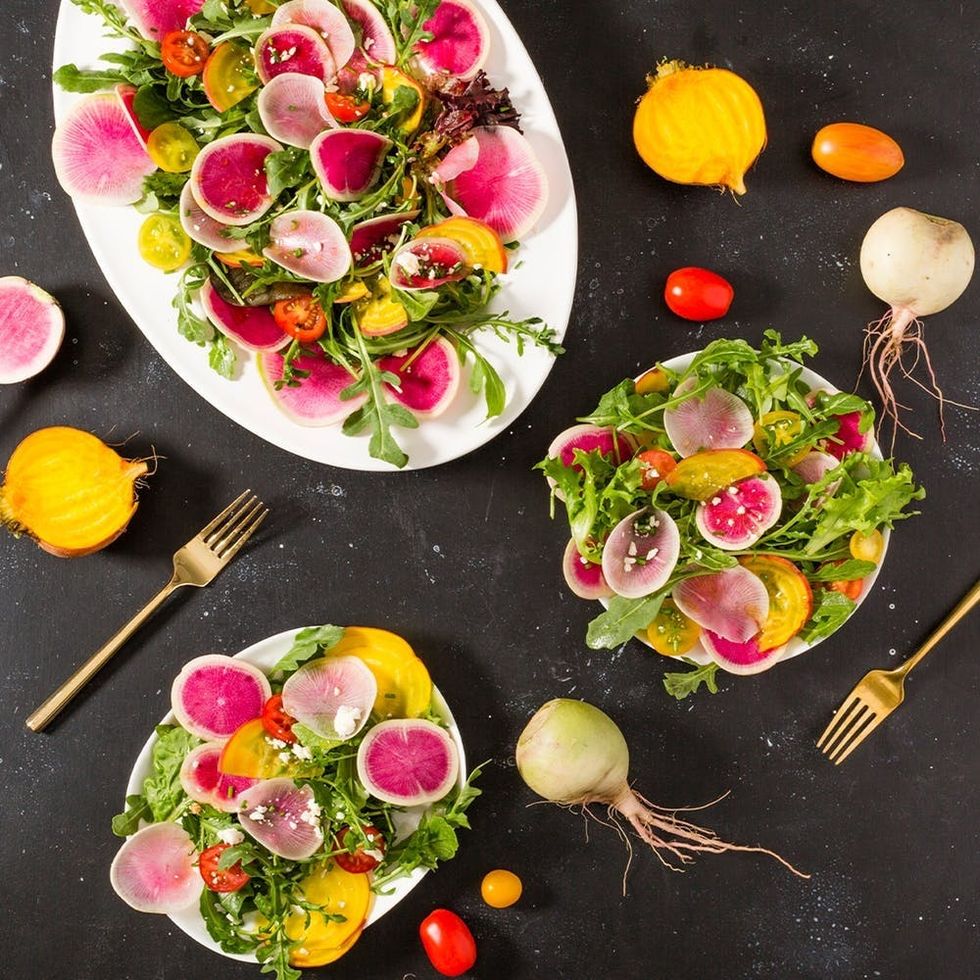 10. Watermelon Radish Salad: The best way to save time while making a dish is to skip the oven altogether — that's when salad comes in. The most difficult part of this beautiful salad is using a microplane to slice all the root veg. (via Brit + Co)
11. Lemon-Elderflower Waffles: Dust off that waffle maker. The kids *and* adults will love this one. (via Brit + Co)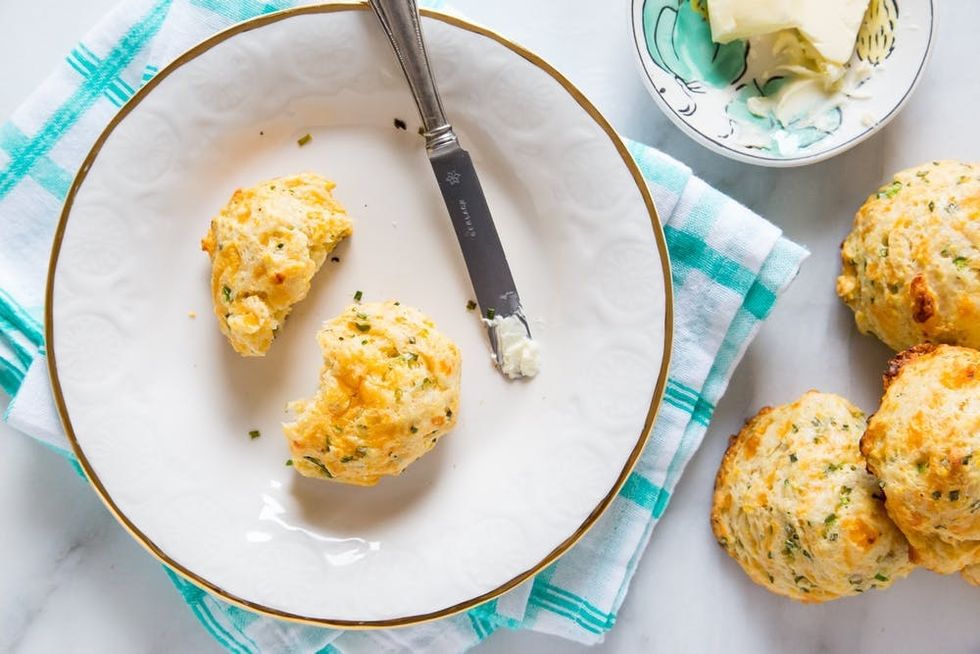 12. Cornmeal Drop Biscuits: These drop biscuits are almost like cornbread and have the added bonus of cheddar, chives and jalapeños mixed into the batter. (via Brit + Co)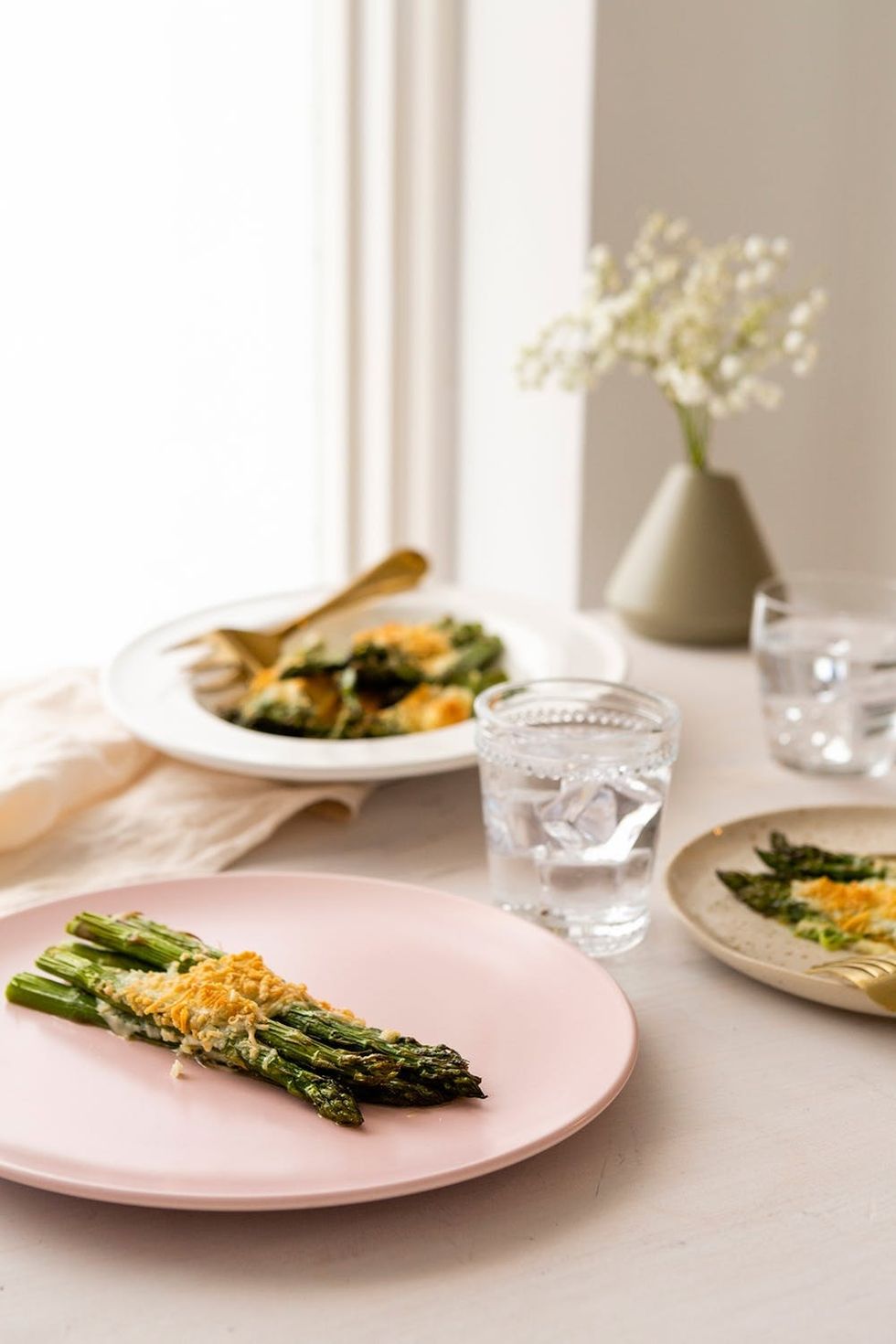 13. Cheesy Garlic Roasted Asparagus: Nothing says spring like asparagus. This savory and cheesy combination takes about 20 minutes in the oven. (via Brit + Co)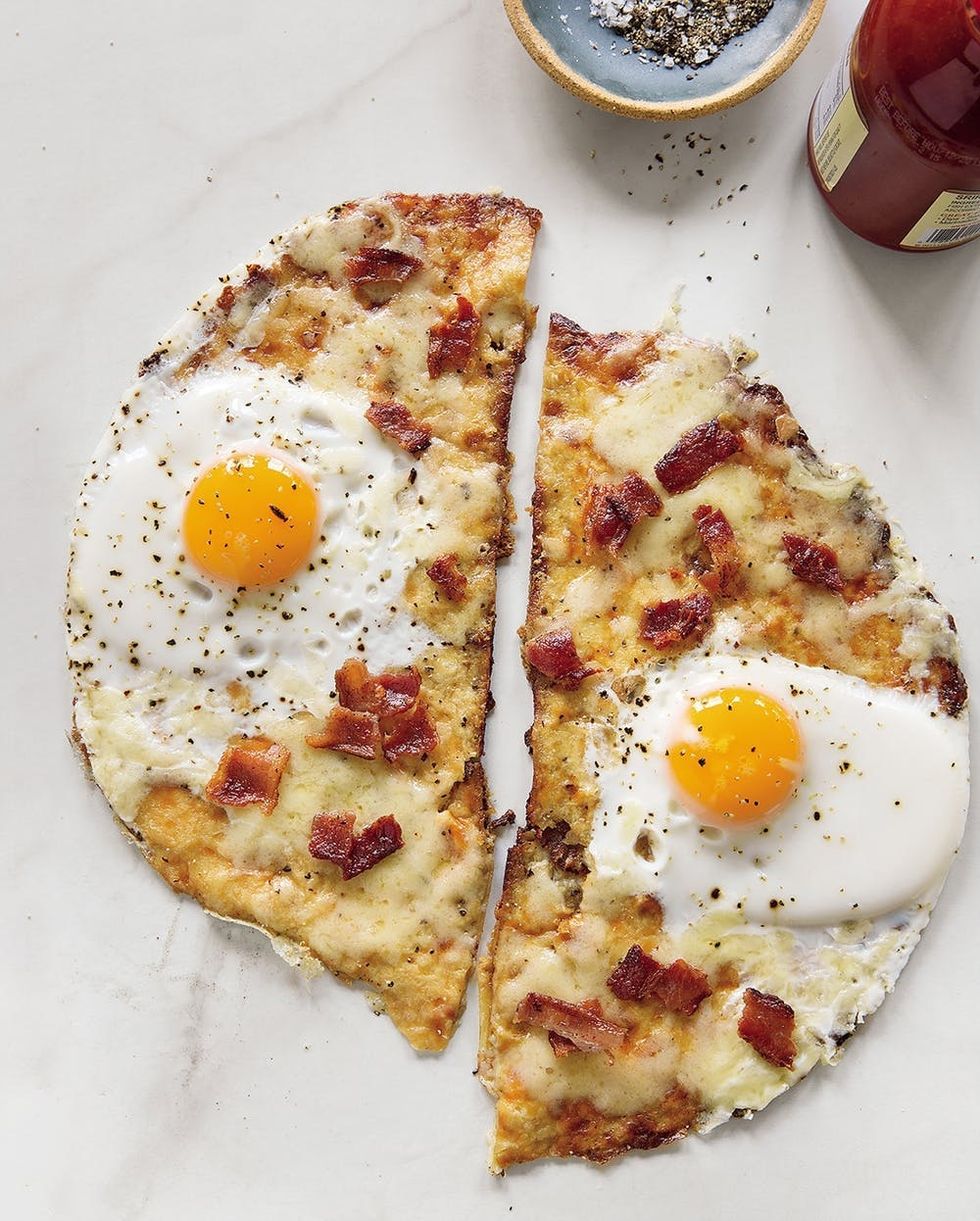 14. Eggs in a Blanket on Calilflower Crust: Everyone has that friend or family member who always seems to be on a diet. This particular recipe fits the bill for gluten-free, keto, and low-carb diets, and yet it's full of flavor. What more could they want? (via Cali'Flour Kitchen by Amy Lacey)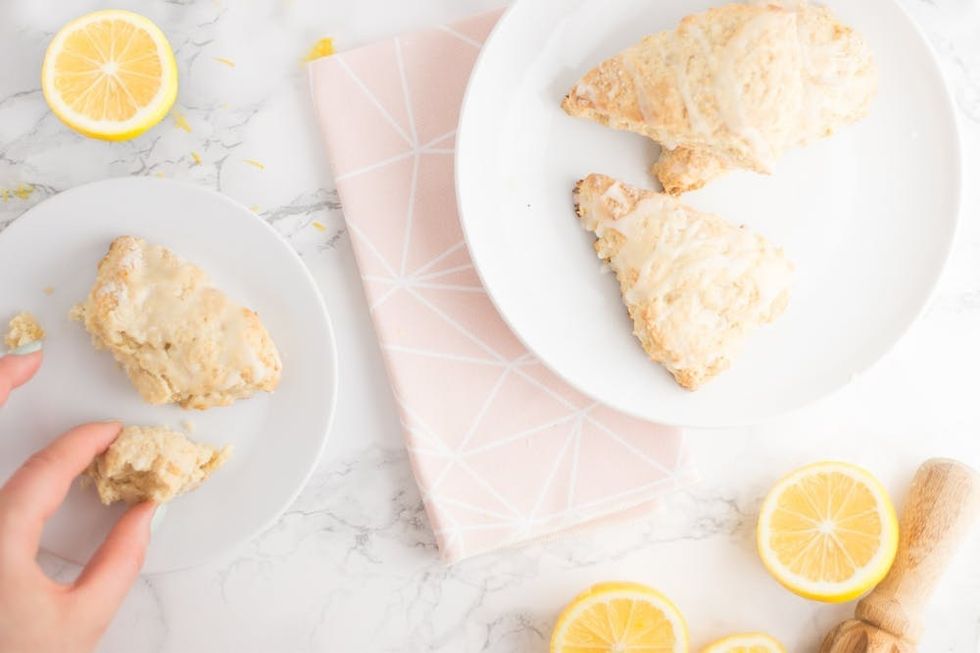 15. Vegan Lemon Scones: These fluffy and flavorful scones will also make your kitchen smell amazing, and they take less than 30 minutes to bake. (via Brit + Co)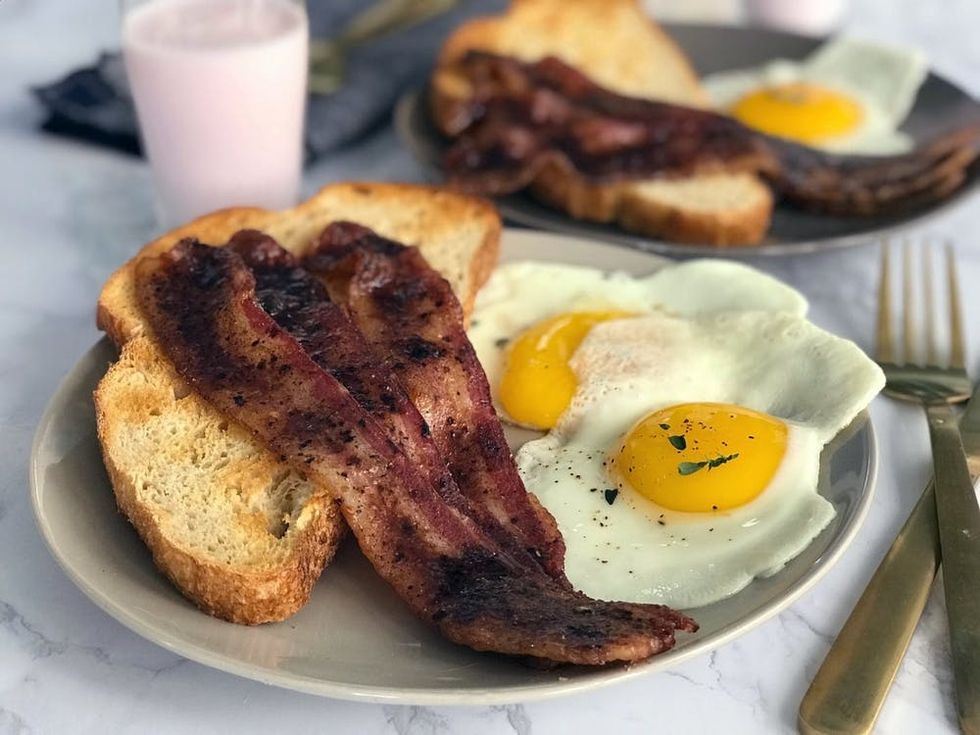 16. Candied Bacon: What's brunch without bacon? (via Brit + Co)
17. Egg Clouds: These little puffs make portioning for a crowd easy-peasy. (via Brit + Co)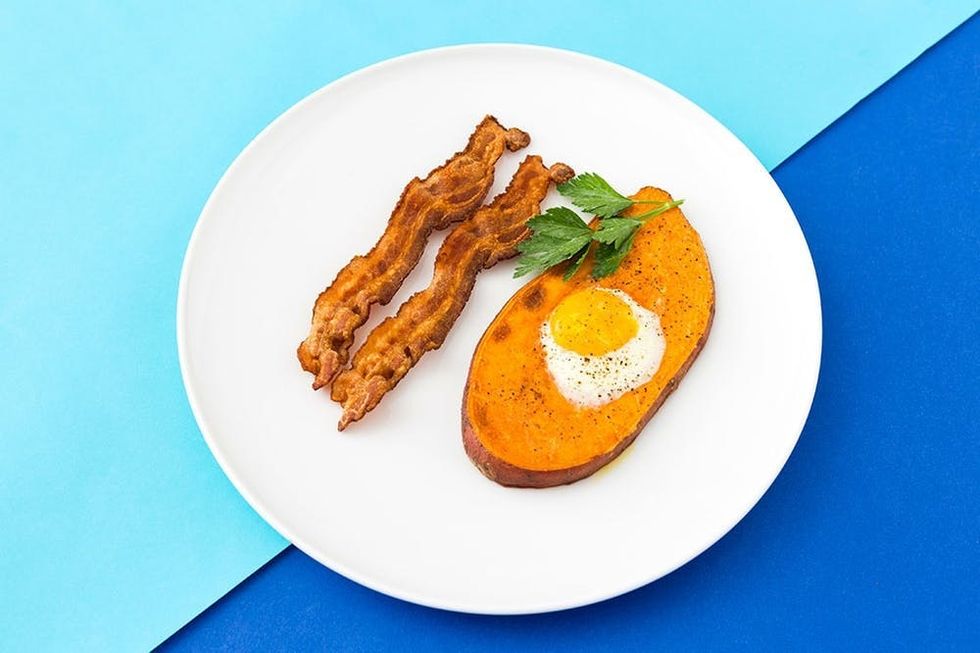 18. Sweet Potato Toast Crows' Nest: Add more spring color to your plate with sweet potato toast. Dress up yours however you like; we love the idea of an egg cracked into the center, then pan-seared until the whites set. (via Brit + Co)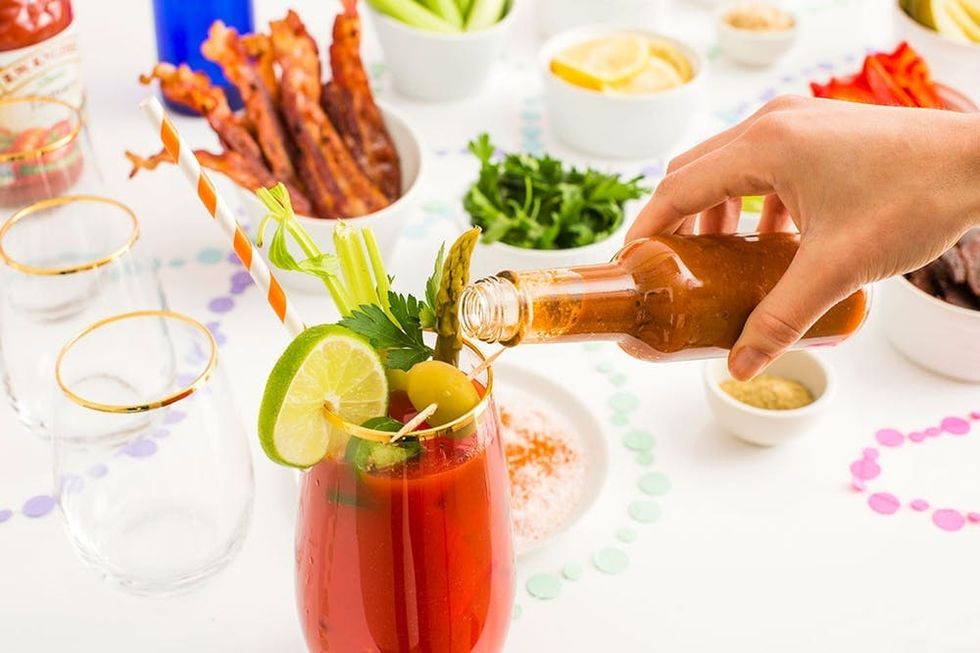 19. Bloody Mary Bar: Party-goers will sip and snack happily with a fully loaded drink, complete with pickled veg, bacon, and more noshable goodies. (via Brit + Co)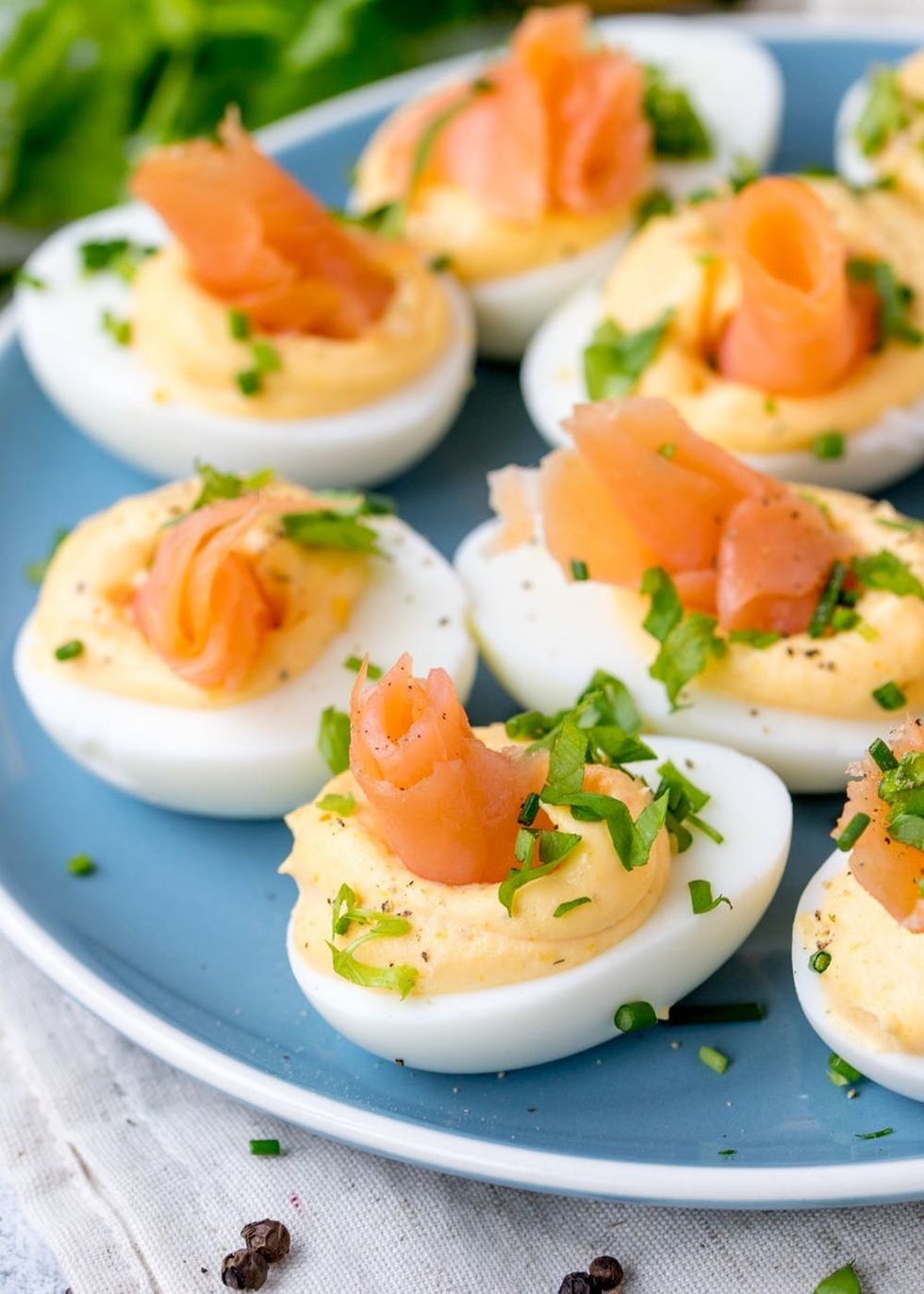 20. Smoked Salmon Deviled Eggs: It isn't Easter without a plate full of deviled eggs. These look fancy AF, but they only take minutes to assemble. (via Brit + Co)
Follow us on Pinterest for more easy + delicious recipe ideas.
Additional reporting by Gabi Conti
Brit + Co may at times use affiliate links to promote products sold by other, but always offers genuine editorial recommendations.
Paige Johnson
Paige is a blogger, food writer and culinary master from Louisville, Ky. She's a newlywed who's obsessed with dogs and renovating her 117 year old home. When she's not working on her blog —
My Modern Cookery
— you can find her binge watching F.R.I.E.N.D.S with a triple shot latte in-hand.